Will Kenneally
Will Kenneally is the Digital News Editor for the news unit of PBS Wisconsin. He hails from Madison where he studied journalism at the University of Wisconsin-Madison. In college, he ...
Johnson Backtracks on Juneteenth Proposal
The Republican U.S. senator proposed swapping the paid holiday of Columbus Day to created a paid Juneteenth holiday for federal workers. On Friday, he retracted his proposal.
Friday July 3, 2020
Students Push to Remove UW-Madison's Lincoln Statue
Students say the 16th president's past, which includes racism toward Black Americans and ordering the execution of 38 Dakota men, warrants the removal of his statue on UW-Madison's Bascom Hill.
Monday June 29, 2020
DHS Announces Two Testing Studies for COVID in Wisconsin
The Department of Health Services announced two studies to evaluate the spread of COVID-19 in Wisconsin, using antibody and wastewater testing. Public health experts said at a Wednesday media briefing that the studies provide another tool for them to provide recommendations on how best to prevent the spread of the ...
Wednesday June 17, 2020
Only Finalist for UW System President Withdraws
The finalist to be the next UW System president Jim Johnsen has withdrawn himself from consideration of the position, saying he wants to remain president of the University of Alaska. "After deep reflection as to where I am called to lead a university system through these challenging times, it is ...
Friday June 12, 2020
Recorded Phone Call Raises Criticism for Evers and Vos
Gov. Tony Evers was light on details Thursday as Republicans criticized Evers and his staff for recording a phone call with legislative leaders. Assembly Speaker Robin Vos also faced criticism for comments he made on the call about immigrant culture.
Thursday June 11, 2020
Evers Records Phone Conversation with GOP Leaders
Republican legislative leaders criticized the governor for what they called "unbecoming" conduct. Staff said the governor was not aware of the recording, which was used for notetaking.
Thursday June 11, 2020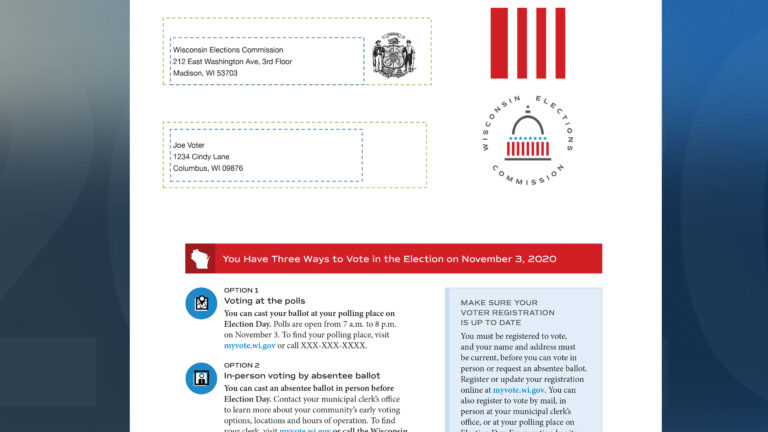 Elections Commission Reviews Draft Absentee Ballot Mailer
Commisioners asked staff to make changes to a mailer that will send an absentee ballot request form to millions of Wisconsin voters. They will give final approval on the mailer next week. The commission also voted to allocate roughly $5 million in federal funds to local elections officials to bolster security.
Wednesday June 10, 2020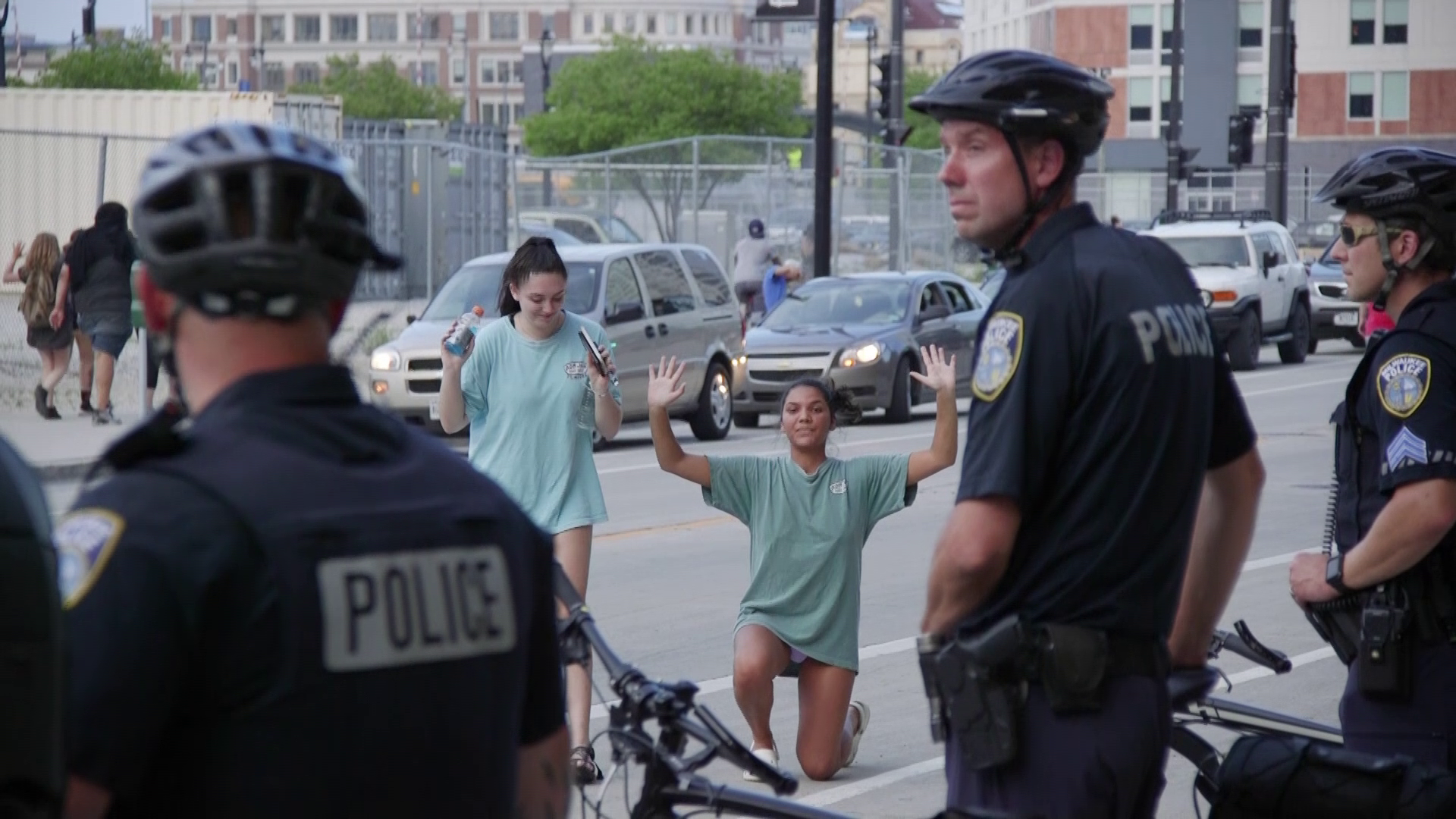 Wisconsin Responds to George Floyd
The death of George Floyd in Minneapolis sparked protests around Wisconsin, advocating change in police practices. Here & Now's Will Kenneally shows how Wisconsinites expressed their frustration with another black man dying in police custody.
Friday June 5, 2020
Protesters Say They Are Ready for Long Haul
Organizers of the Madison protests in the wake of George Floyd's death say they are prepared to keep going for the foreseeable future. "People are going to rebel until they are not going to rebel," said M. Adams, a co-executive director of the Madison-based Freedom Inc. "It's simple, you stop ...
Monday June 1, 2020
Protests Continue Around the State in the Wake of George Floyd's Death
Protests continued in Wisconsin into the weekend, advocating change to racial injustice in the wake of George Floyd's death in Minneapolis. Gov. Tony Evers activated 125 members of the Wisconsin National Guard Saturday after protests in Milwaukee turned violent Friday night. A Milwaukee police officer was injured by gunshot during ...
Saturday May 30, 2020
Biden Makes Two Virtual Stops in Wisconsin
The Democratic presidential candidate made virtual stops in La Crosse and Milwaukee, discussing plans for rural Wisconsin and criticizing the president's response to the coronavirus pandemic.
Wednesday May 20, 2020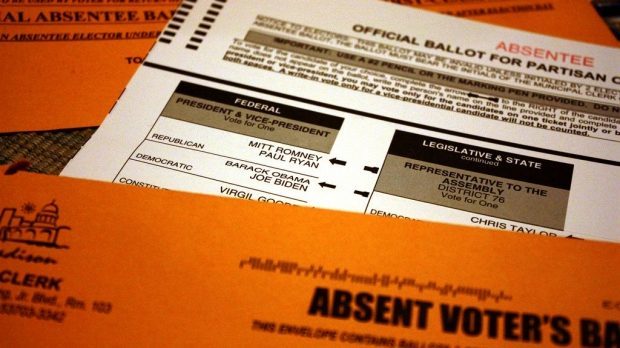 Update: Wisconsin Elections Commission Deadlocks on Absentee Ballot Decision
The Wisconsin Elections Commission deadlocked on whether to approve a proposal to send out absentee ballot request forms to all registered Wisconsin Voters. Funding from the proposal would come from federal coronavirus funds, and commissioners were at odds over specifics on how to allocate those funds. Commissioners also debated whether ...
Wednesday May 20, 2020
State Promotes Testing and Tracing Locally in Coronavirus Efforts
The state is preparing a testing and contact tracing-based response to the coronavirus after last week's Supreme Court ruling left details of opening businesses to counties. "While we all stayed home, we didn't become immune to the virus and the virus didn't become any less lethal," said Department of Health ...
Tuesday May 19, 2020
Evers Administration Ends Push for Statewide Approach
Gov. Tony Evers said during a media briefing Monday that it was not worth going through the rulemaking process since Republicans made their position clear that they did not want a statewide approach to combat the virus.
Monday May 18, 2020
County Approach Dominates Wisconsin's COVID-19 Future
In the wake of a Supreme Court ruling that struck down the governor's "Safer at Home" order, counties are left to decide what stay-at-home orders to enforce locally. Gov. Tony Evers says he will work with legislative Republicans via an administrative rulemaking process to coordinate a statewide response to the virus.
Thursday May 14, 2020
National Guard Helps Testing Efforts, Staffing Tuesday's Polls
As the state continues to increase testing, the Wisconsin National Guard will provide 25 testing teams as early as Wednesday to help the effort. The guard will also help fill a shortage of poll workers in the 7th Congressional District special election.
Tuesday May 12, 2020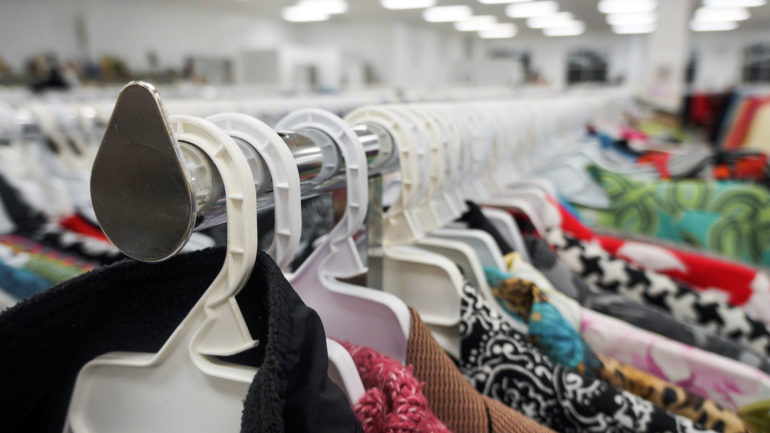 UW Leaders Work to Weather COVID-19 Pandemic
Among the sectors affected by the economic turmoil of the COVID-19 pandemic is the state's university system, prompting UW System President Ray Cross to release a scaling-down plan late last week. "The University of Wisconsin System must refine the missions of its comprehensive universities to provide greater institutional distinctiveness and ...
Monday May 11, 2020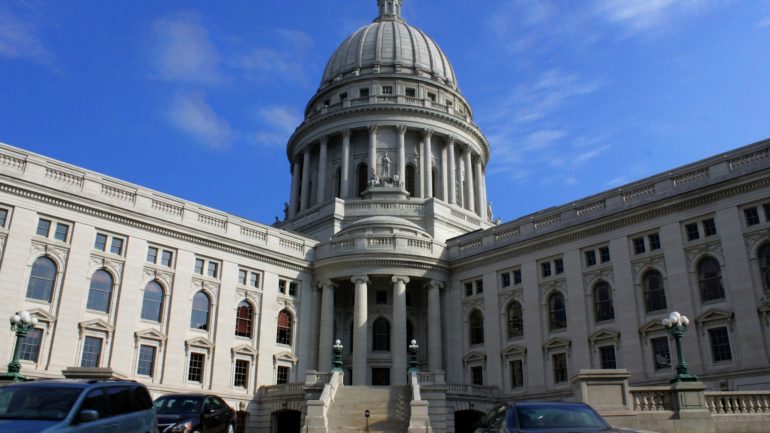 Wisconsin Makes Progress on Criteria to Reopen State
Wisconsin must meet certain "gating criteria" before it can start to reopen under the governor's order. According to new data from the Dept. of Health Services, the state has met two of the six criteria and is making progress on the rest.
Tuesday May 5, 2020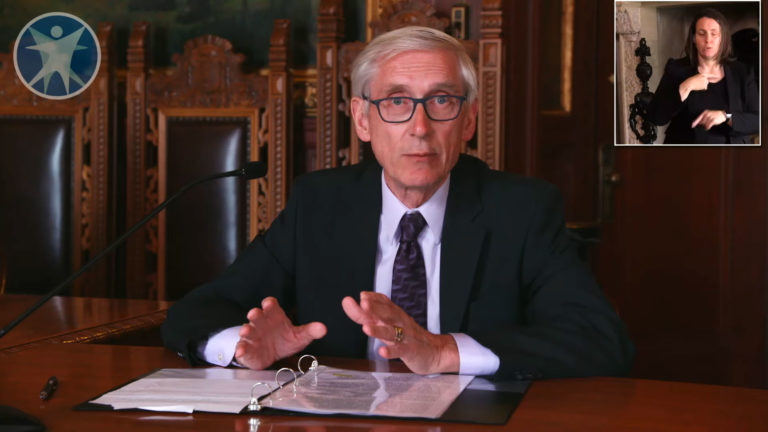 In a Monday announcement, the governor said the state would provide more resources to long-term care facilities like nursing homes and provide pop-up community testing sites around the state.
Monday May 4, 2020
Wisconsin Pushes New Guidance for More Testing
Health officials say any Wisconsinite who is symptomatic should receive a test, as they hope to increase the current testing level of 2,000-3,000 per day to meet the state's capacity of 11,000 per day.
Wednesday April 29, 2020
Evers to Reopen State Parks Friday
Many of the state parks that were closed to enforce social distancing efforts will reopen Friday. Operating hours will be reduced and capacity will be lowered to roughly 75%.
Tuesday April 28, 2020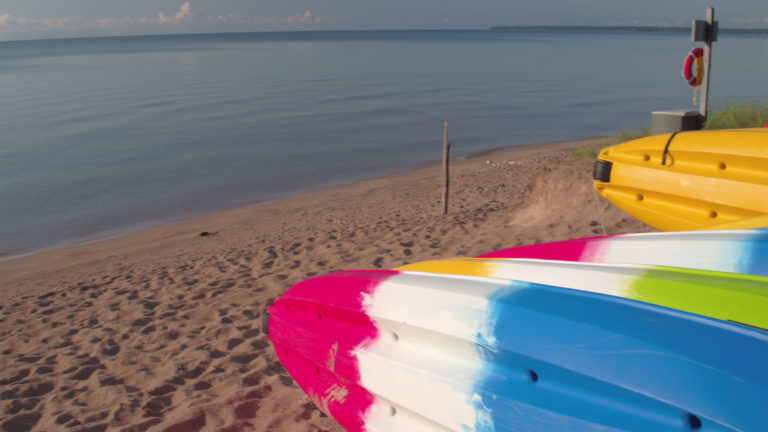 WMC Proposes Plan to Reopen Businesses
The plan would evaluate risks specific to individual businesses, and consider the health care infrastructure of the business's county.
Friday April 24, 2020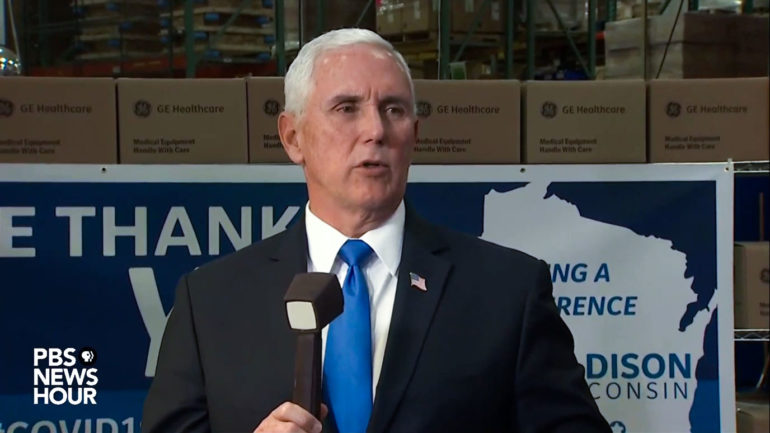 Update: Evers Extends 'Safer at Home' Order Through May
The new order extends "Safer at Home" social distancing through the morning of May 26. The governor says increased testing capacity and other public health measures are needed to be in place before the state reopens.
Thursday April 16, 2020
Update: Legislature Passes COVID-19 Aid Package
The bill received broad bipartisan support and would eliminate the state's one-week waiting period for unemployed Wisconsinites to receive benefits, among other provisions. The governor signed the bill Wednesday afternoon.
Wednesday April 15, 2020
Map: Wisconsin Spring 2020 Election Results
Dane County Judge Jill Karofsky beat incumbent Justice Dan Kelly for the Wisconsin Supreme Court. Former Vice President Joe Biden won the state's Democratic presidential primary, beating Vermont U.S. Sen. Bernie Sanders who won the state four years ago.
Tuesday April 14, 2020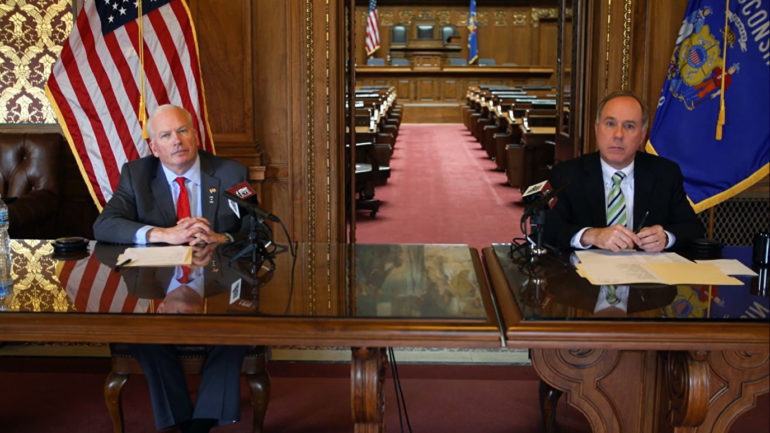 Wisconsin Votes Amid COVID-19 Pandemic
Wisconsin voters head to the polls with increased caution as the state's spring election moves forward amid the COVID-19 pandemic.
Tuesday April 7, 2020
Updated: Milwaukee DNC Postponed Until August
The DNC will be rescheduled to August 17 amid coronavirus concerns. Presidential candidates weighed in on the Wisconsin election, with Bernie Sanders advocating for it to be postponed, while Joe Biden advocated leaving it up to the state.
Thursday April 2, 2020
Evers Releases Second Bill to Combat COVID-19 Outbreak
The bill includes housing aid and a tax credit increase. Meanwhile, Republicans said Wednesday they support the governor's proposal to eliminate the one-week waiting period for unemployment benefits and expect legislation to come soon.
Wednesday April 1, 2020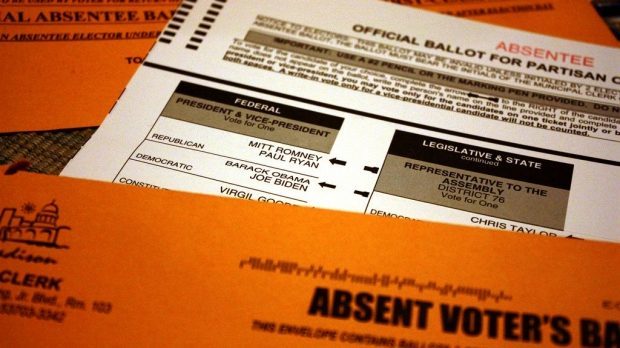 Update: Evers Calls for Widespread Absentee Ballot Legislation
Gov. Tony Evers asks the Legislature to send all registered voters absentee ballots ahead of April 7 amid election concerns during the COVID-19 outbreak. Later Friday, Evers also loosen licensing requirements for certain healthcare workers.
Friday March 27, 2020
America's Longest-Serving Legislator, Fred Risser, Retires
Wisconsin's, and the nation's, longest-serving legislator Sen. Fred Risser, D-Madison, announced Thursday he will retire after serving 64 years in the state legislature.  The 92-year-old was first elected to the Assembly in 1956, and won a Senate seat in 1962. According to a release from his office, Risser served under ...
Thursday March 26, 2020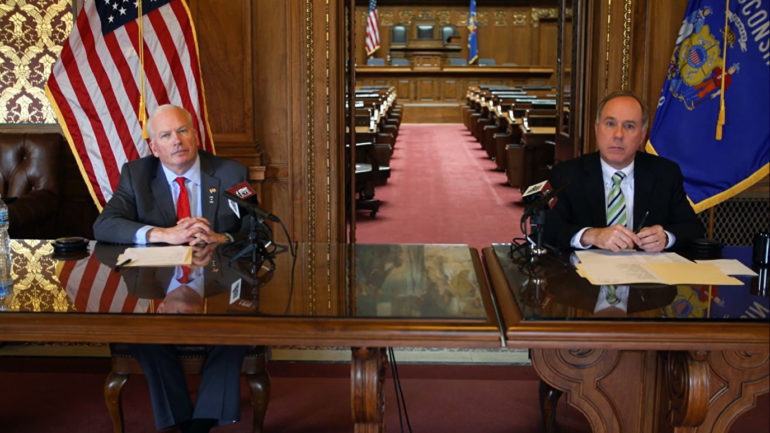 Legislative Leaders Want April Election to Move Forward
On a call with reporters, Assembly Speaker Robin Vos and Senate Majority Leader Scott Fitzgerald said municipalities should be prepared for April 7, but they are not considering altering the date at this time.
Wednesday March 25, 2020
Update: Evers Issues 'Safer at Home' Order
Gov. Tony Evers issued an order Tuesday mandating that Wisconsinites stay at home, effective Wednesday morning at 8. Certain exemptions are allowed for residents to leave their homes to receive healthcare and to get necessary supplies such as groceries. According to a release from the governor's office, Wisconsinites do not ...
Tuesday March 24, 2020
Evers: State Has 'Adequate Response' to COVID-19
Gov. Tony Evers does not think Wisconsin is ready for a shelter in place order, while health officials say the state's testing and equipment supply could face shortfalls.
Friday March 20, 2020
Update: Three Dead from COVID-19 in Wisconsin
Two men in Fond du Lac and Ozaukee Counties both died from the disease caused by the novel coronavirus, according to a release from Gov. Tony Evers late Thursday. A third death was announced by the Milwaukee County Medical Examiner Friday.
Thursday March 19, 2020
Senate Approves Coronavirus Aid
The U.S. Senate voted to provide paid sick leave for those suffering from COVID-19 and free testing. Wisconsin U.S. Sen. Ron Johnson was among the eight senators voting against the package.
Wednesday March 18, 2020
COVID Reaches Community Spread Phase in Wisconsin Counties
Dane, Milwaukee and Kenosha Counties all have community spread of the novel coronavirus, as the number of Wisconsin cases increases to 72. Gov. Tony Evers issued a statewide ban of gatherings of more than 10 people and closed schools "until further notice" amid concerns of the spread of the virus.
Tuesday March 17, 2020
State on Heightened Alert For Coronavirus
The state's Emergency Operations Center upgraded to its highest level of readiness as the governor and health secretary ban gatherings of more than 50 people.
Monday March 16, 2020
Three More Cases of Novel Coronavirus in Wisconsin
Two cases in Fond du Lac County and one in Waukesha County were confirmed today by the Department of Health Services. Two cases are still active in Pierce and Dane Counties. Universities around the state cancelled events and prepared to hold classes online in the wake of the spread of the disease.
Wednesday March 11, 2020
Sanders to Open Office in Wisconsin
With Bloomberg and Warren out of the presidential race, Wisconsin will have no presidential campaign presence until the Sanders campaign opens their Madison office on Tuesday.
Friday March 6, 2020
Evers Signs HOPE Agenda, Mental Health Bills into Law
The slate of bills includes studies on medication-assisted treatment and protection for state employees who use such a plan. The governor also signed a pilot mental health program in Outagamie County schools.
Tuesday March 3, 2020
State Prepares Testing, Response for Coronavirus
Wisconsin can now conduct in-state coronavirus tests according to a state health department briefing Monday. Laboratories in Milwaukee and Madison can test upwards of hundreds of samples.
Monday March 2, 2020
Update: Evers Vetoes More Republican Bills
Gov. Tony Evers vetoed a Republican plan to lower taxes with state surplus money, asking Republican leaders to come back to the table over K-12 funding. Republicans said the veto was an opportunity missed to lower taxes for Wisconsinites.
Friday February 28, 2020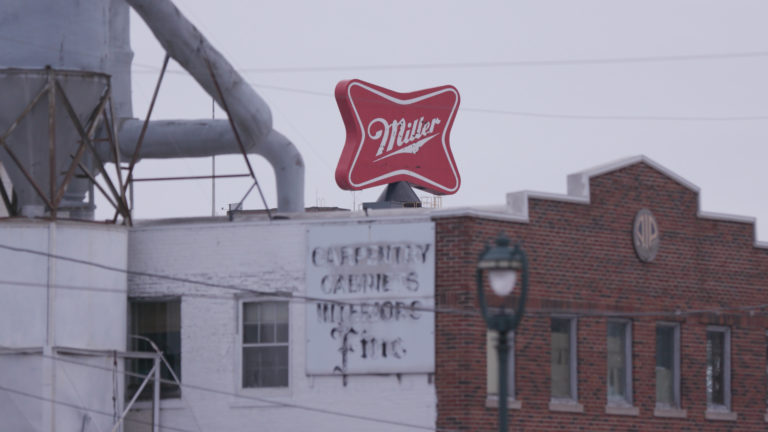 Update: Six Dead in Milwaukee Shooting
A 51-year-old Milwaukee man killed five others, then himself in a shooting at the Molson Coors campus in the city's "Miller Valley."
Wednesday February 26, 2020
Wisconsin Joins Vaping Investigation
AG Josh Kaul announced Wisconsin will join a 39-state investigation into the marketing practices of vape company JUUL.
Tuesday February 25, 2020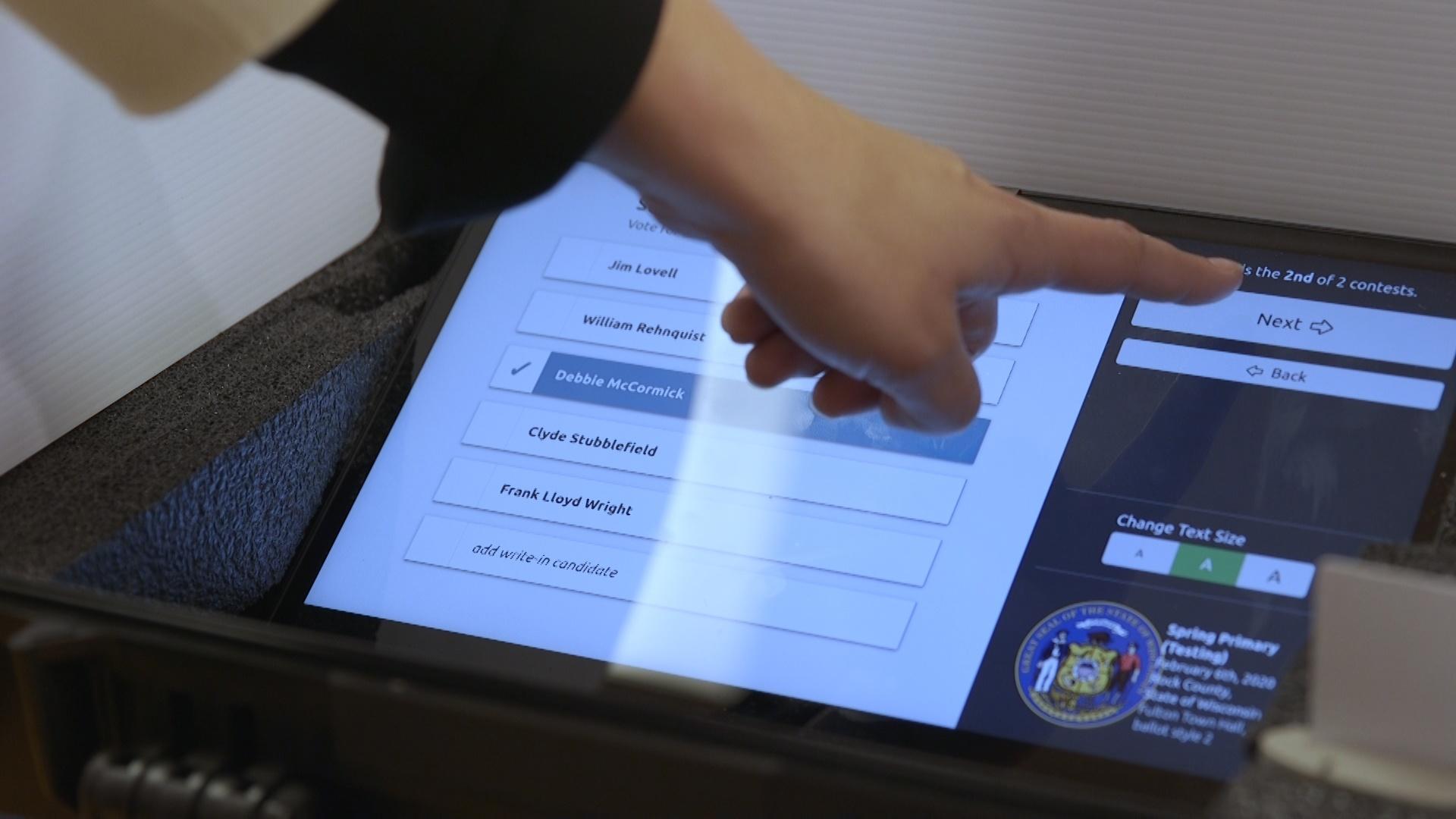 Microsoft Tests New Voting Software in Wisconsin
Fulton, a town in Rock County, tested new software this week to help ensure the accuracy of votes that get counted. When voters fill out a ballot, they receive an encrypted code that shows how they voted. Voters can later check a list to see that their unique code was counted and that the vote did not change. Officials say they will return to regular voting practices for the rest of 2020.
Friday February 21, 2020
Map: Tiffany and Zunker Win Congressional Primaries
State Sen. Tom Tiffany will face Ho-Chunk Supreme Court Justice Tricia Zunker on May 12. They defeated Jason Church and Lawrence Dale in the Republican and Democratic primaries respectively.
Wednesday February 19, 2020
Kelly, Karofsky Advance to April General
Incumbent Justice Daniel Kelly will face Dane County Circuit Court Judge Jill Karofsky April 7. State Sen. Tom Tiffany and Ho-Chunk Supreme Court Justice Tricia Zunker both emerged from their primaries, and will face each other May 12 to fill Sean Duffy's 7th Congressional District seat.
Wednesday February 19, 2020
Republicans Propose Tax Cut with Surplus Money
Legislative Republicans respond to Gov. Tony Evers's call for school funding with property tax cut, setting up a showdown over how to spend the state's surplus money.
Friday February 14, 2020
Legislative Republicans announce a package of agriculture-related bills amid Gov. Tony Evers's call for a special session.
Friday February 14, 2020
Elections Commission: No Competing Ballots in April Election
The Wisconsin Elections Commission voted unanimously to send only one ballot to a majority of absentee voters in the April general election.  To comply with federal law, overseas voters will still receive two ballots in April, but most absentee voters will only receive a single ballot with all races.
Wednesday February 12, 2020
Assembly Debates Handling of Sexual Assault Evidence Kits
The state Assembly is considering a plan to address sexual assault evidence kits over the objection of the attorney general and sexual assault advocacy groups.  The current bill contains many of the same provisions included in bipartisan legislation introduced last spring, but has drawn criticism for additions to the bill ...
Tuesday February 11, 2020
More Stories
---
Recent Here & Now Segments