Republican Analyst Bill McCoshen and Democratic Analyst Scot Ross examine this week's partisan power plays which resulted in two rejections from the state Senate. The two panelists also discuss national election results and how they factor into the upcoming 2020 elections.
Anchored by Frederica Freyberg, Here & Now is Wisconsin's weekly in-depth news and public affairs program where civic and political leaders provide context to the issues at the forefront of life in Wisconsin. 7:30 p.m. Fridays
Derailed
Derailed is a limited-run podcast from Wisconsin Public Radio about Wisconsin's high-speed rail line that never was. It's a look at how the project came together, how it fell apart, and what it says about how Wisconsin has changed.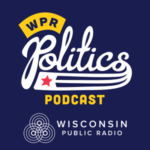 Politics Podcast
"WPR Politics" is a weekly podcast about the ins and outs of Wisconsin's political news with host John K. Wilson and WPR reporters Shawn Johnson and Laurel White.
PBS Wisconsin Documentaries