Political Scientist and UW Professor David Canon breaks down the impeachment proceedings as the House Judiciary Committee reviews evidence this week. House Democrats are considering which articles of impeachment should be included. Canon says he thinks that the House can present a clear case of abuse of power.
Anchored by Frederica Freyberg, Here & Now is Wisconsin's weekly in-depth news and public affairs program where civic and political leaders provide context to the issues at the forefront of life in Wisconsin. 7:30 p.m. Fridays
Derailed
Derailed is a limited-run podcast from Wisconsin Public Radio about Wisconsin's high-speed rail line that never was. It's a look at how the project came together, how it fell apart, and what it says about how Wisconsin has changed.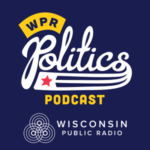 Politics Podcast
"WPR Politics" is a weekly podcast about the ins and outs of Wisconsin's political news with host John K. Wilson and WPR reporters Shawn Johnson and Laurel White.
PBS Wisconsin Documentaries