PBS Wisconsin hosts Garden & Landscape Expo, The Great Wisconsin Quilt Show, Auction, Get Up & Go! and more.
By supporting PBS Wisconsin events, you will increase visibility and engage with valuable target markets.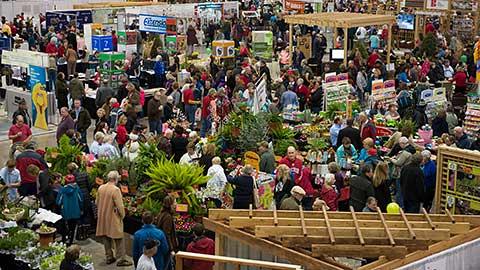 Be part of the collaboration of celebrated partners in public television sewing circles – Nancy Zieman Productions and PBS Wisconsin. Quilt Expo is a regional exhibition located in Madison, focused on Americans' love for the art, craft and joy of quilting. It's a tradition set for mid-September that captures the creative quilting spirit. Be a sponsoring partner in Quilt Expo, with benefits that reach a target audience who come together to celebrate quilting.
Think GREEN! Be a partner in this annual February event focused on helping people with their personal green spaces and gain greater access to the gardener, lawn buff and landscaper! Garden & Landscape Expo sponsors benefit by reaching a target audience that gathers to escape mid-winter, celebrate things green, and get the advice, products and services they need for the season to come.
Each spring, PBS Wisconsin hosts its annual auction fundraiser. More than 700 businesses donate thousands of items that are sold online to raise funding that supports PBS Wisconsin's programming and activities. Auction sponsorship is a unique and exciting way to join in the fun and support WPT's mission to inform and inspire.
Each August, thousands of children and their families and caregivers attend PBS Wisconsin's Get Up and Go! statewide. This fun-filled, free event highlights ways Wisconsin families can be active, enjoy the outdoors and be healthy! Get Up and Go! sponsors align with an engaged audience through on-air and event opportunities. Get Up and Go! features live music, dancing, favorite PBS characters, hands-on activities, crafts, community organizations and more.
PBS and PBS Wisconsin programs are extended to our viewers and the community through thought-provoking, entertaining and inspiring outreach programs held throughout the state. Everyone can benefit from our expert educators who share the powerful resources of Wisconsin PBS Kids. Viewers and community members can gather at WPT outreach programs to discuss issues important to our world. Sponsor these events and associate your business with the powerful community outreach mission of WPT.