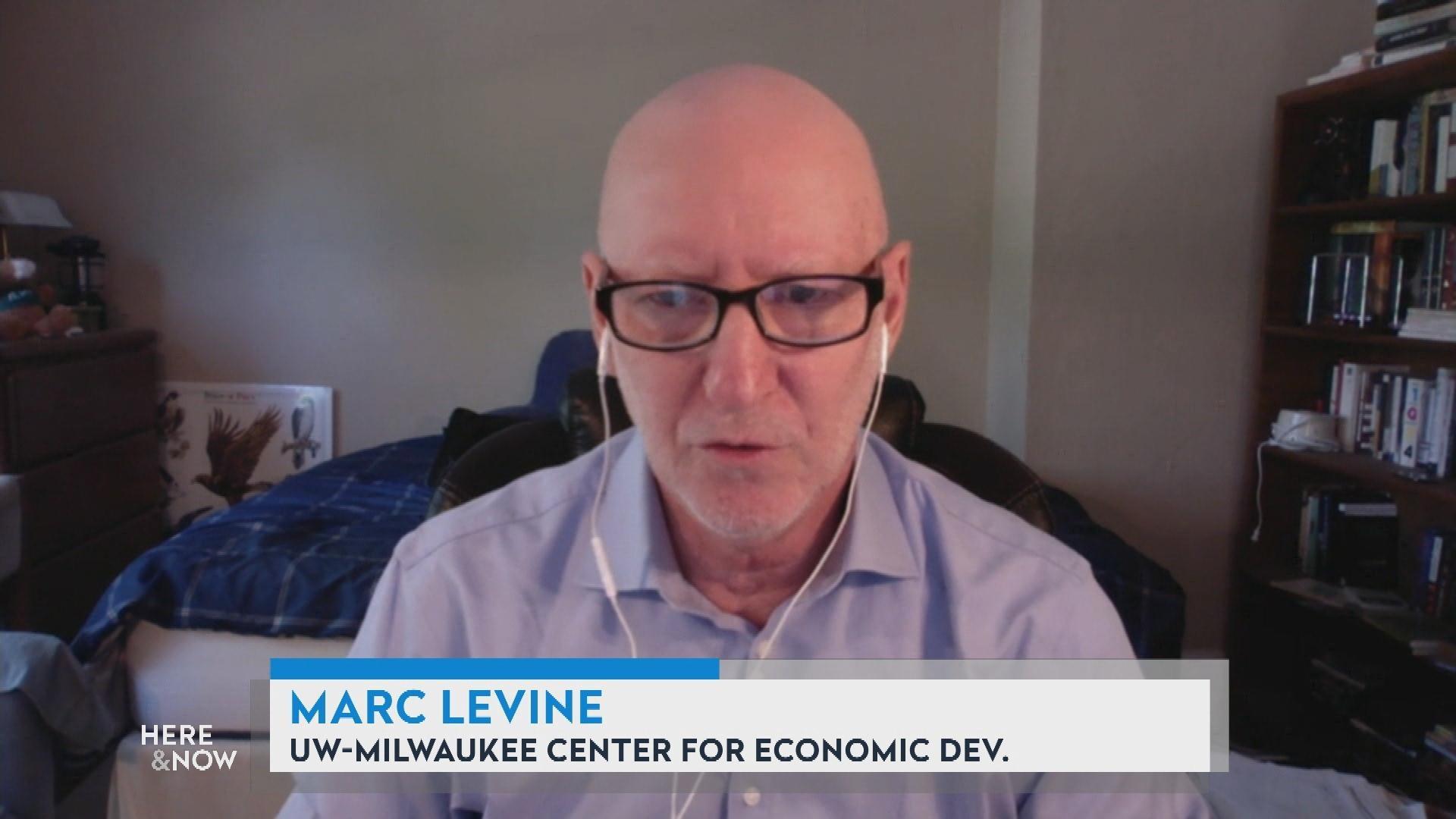 Marc Levine on the State of Black Milwaukee
UW-Milwaukee Emeritus Professor Marc Levine's recent report spells out the inequality Black Wisconsinites face in the state's largest city. He says the inequities represent, "the archetype of modern-day metropolitan racial apartheid and inequality." Levine explains the importance of doing metric studies to fully understand the city's disparities, such as black ...
August 7, 2020
social-issues
Latest Stories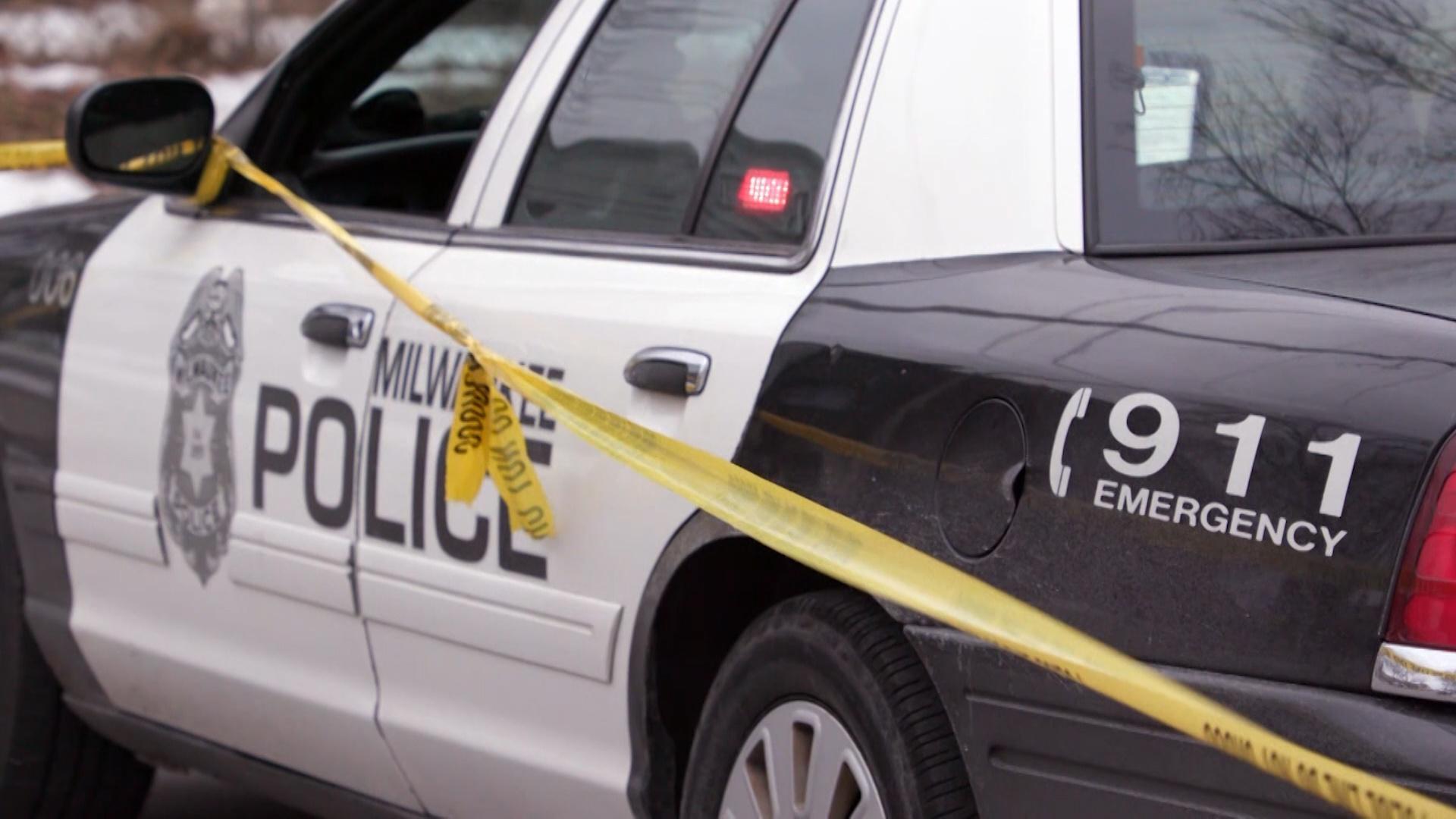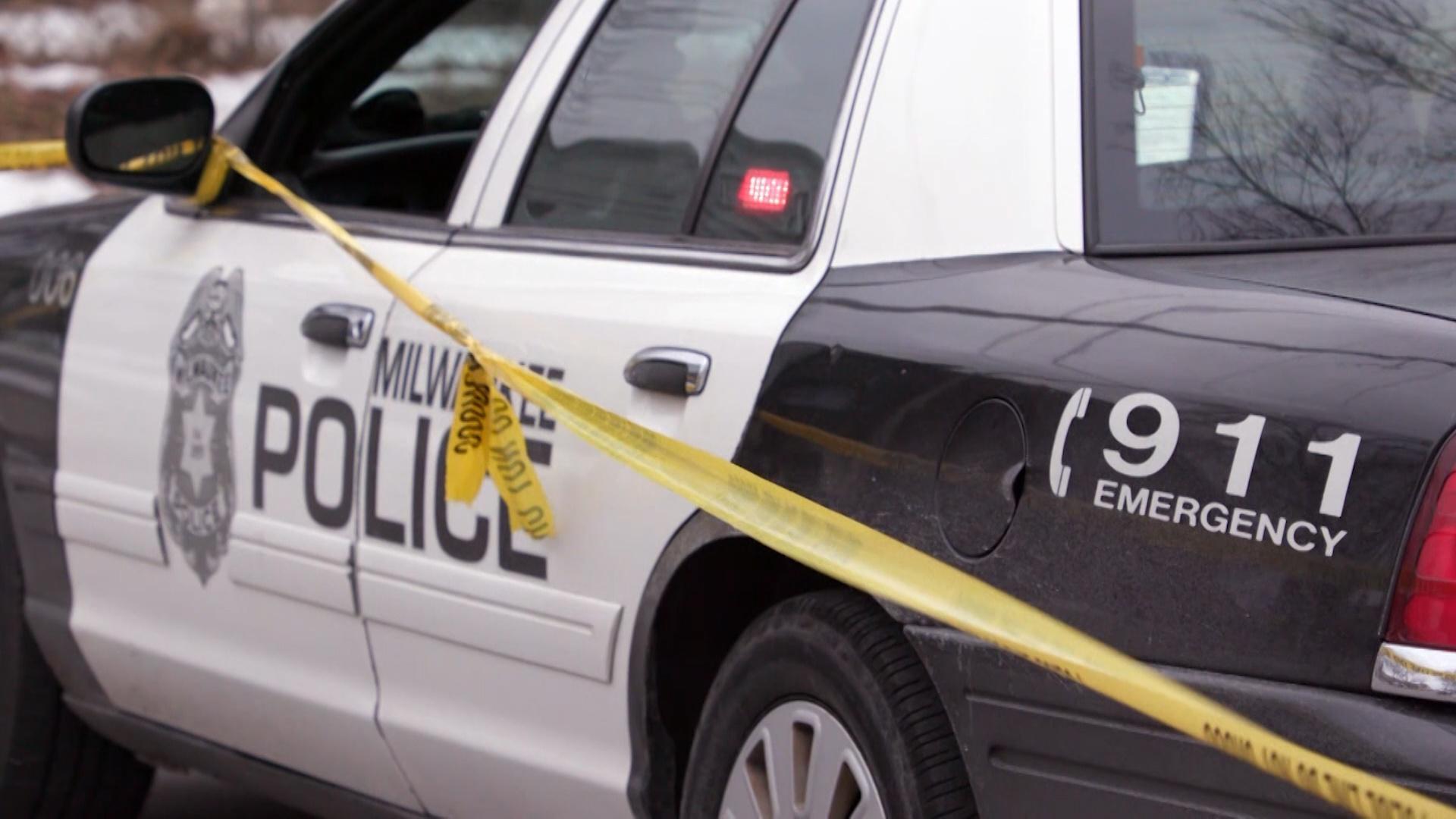 Police Union Contracts and Police Reform
Two months since George Floyd was murdered by Minneapolis police, the topic of police reform is still being discussed. Zac Schultz investigates how police union contracts impact how police are investigated for wrong doing and held accountable.
July 24, 2020
Wisconsinites Join National Strike
The group called for racial and economic justice.
July 21, 2020 • South Central Region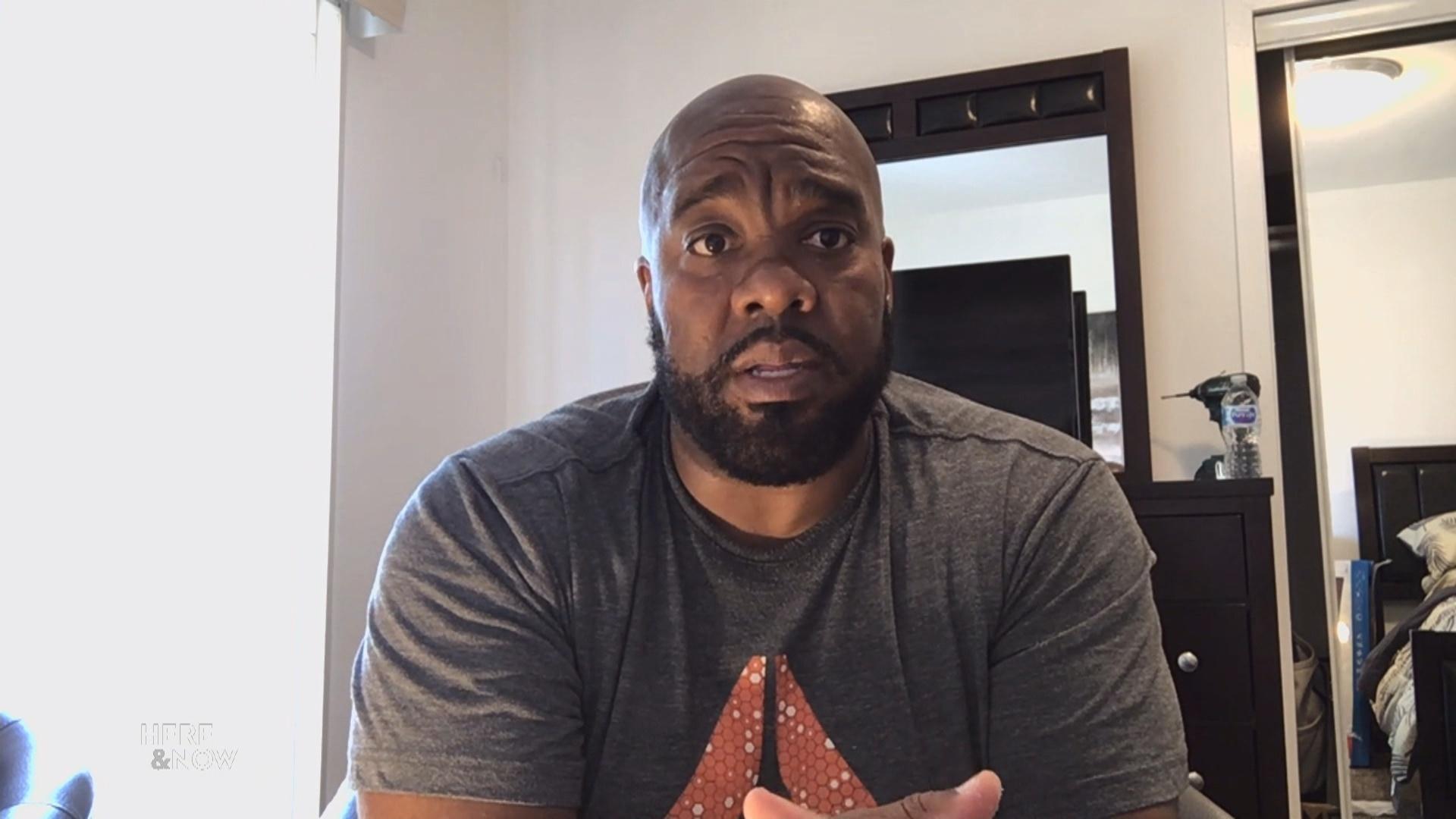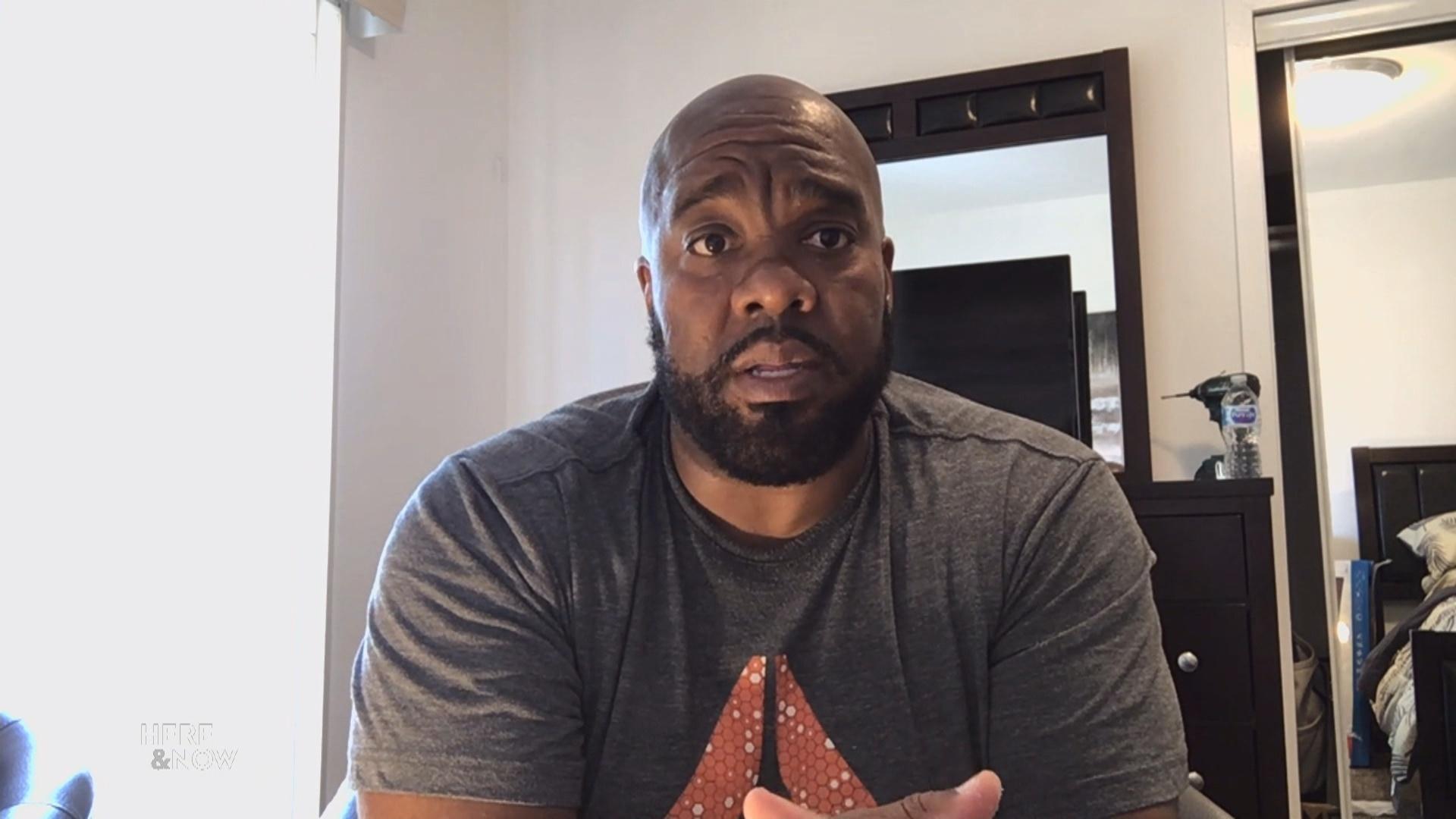 Boys & Girls Club of Dane Co. Distribute 15,000+ Free Masks
150 teens receiving resources as they work distributing masks as part of effort by Boys and Girls Club to support the unemployed, children and families and provide PPE during the pandemic as Dane County's mask mandate goes into effect. Michael Johnson, CEO of Boys and Girls Club of Dane County, advocating for representation of people of color at the Capitol in the form of a Vel Phillips statue.
July 17, 2020 • South Central Region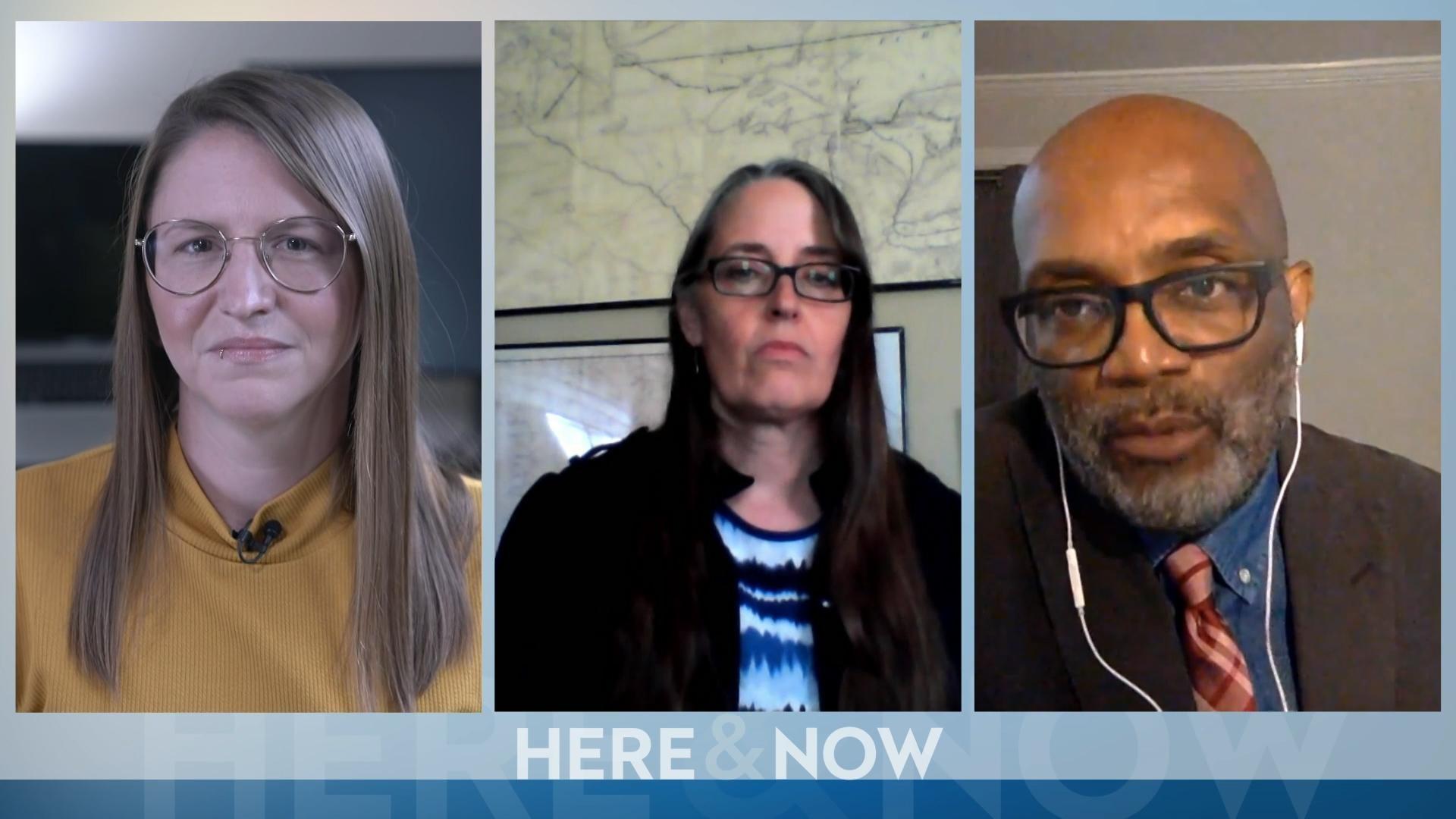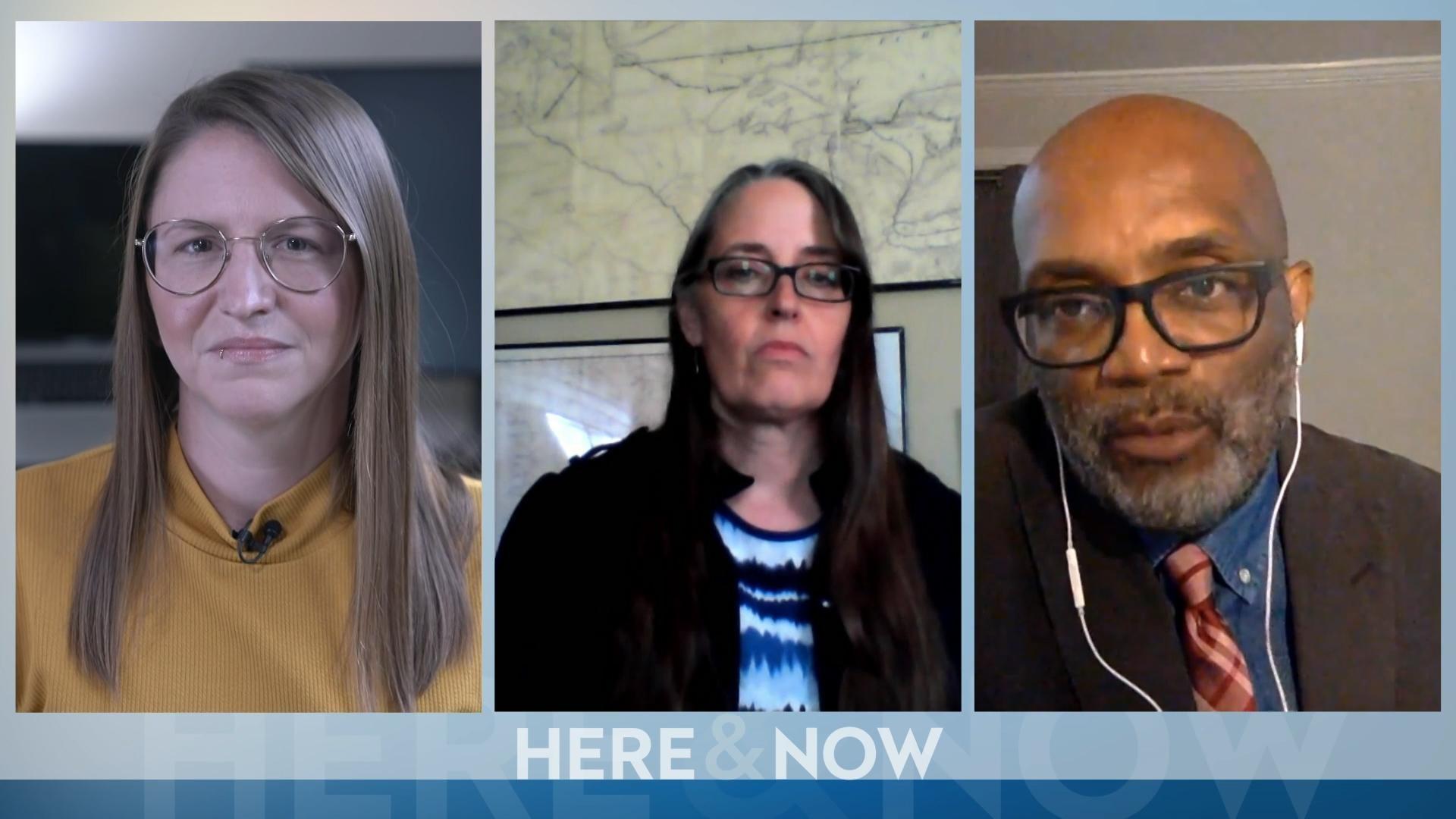 Noon Wednesday: History is Present in All That We Do
Two UW-Milwaukee professors are bringing meaning to the words "Black Lives Matter" in their own way. For Dr. David Pate, it includes a personal journey and action in the classroom. For Dr. Margaret Noodin, it involves listening, solidarity and healing with action and tradition.
July 15, 2020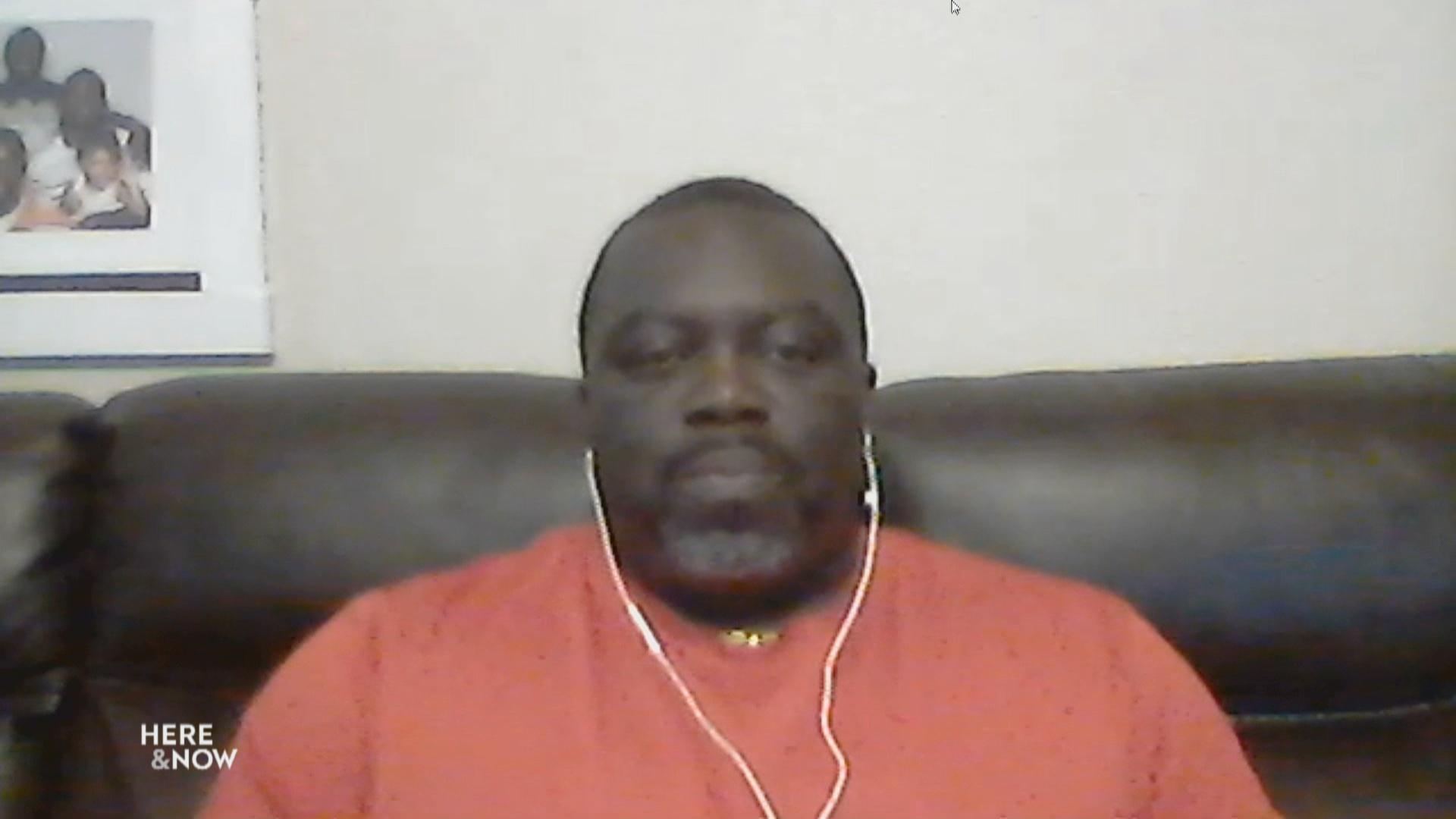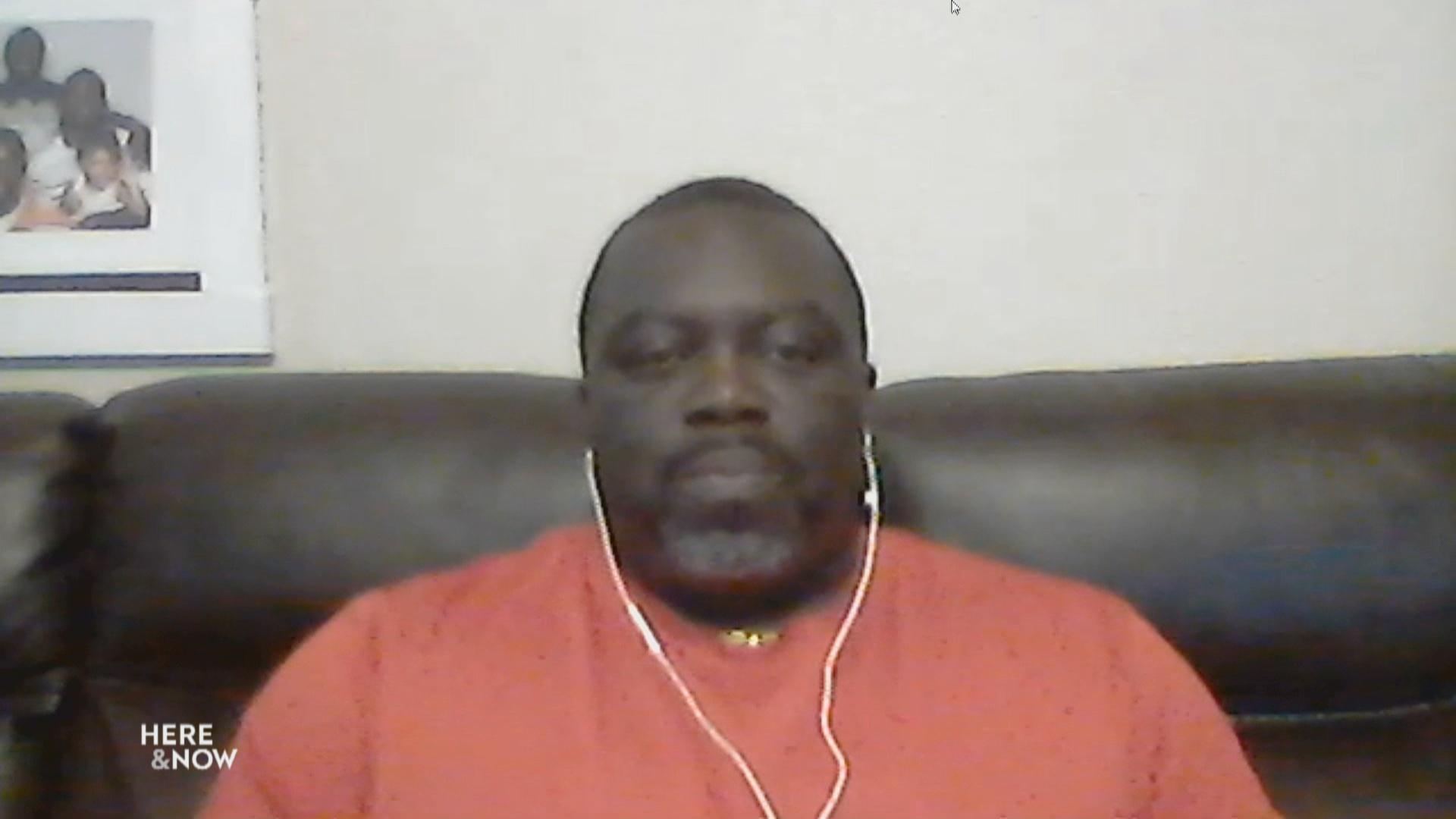 What Racial Justice Movement Looks Like in Central Wisconsin
Darrell Keaton is a community activist in Wausau and discusses how his community is working toward greater racial justice. Keaton founded Men & Women 4 Change Social Club to promote diversity and awareness of minority owned businesses and organizations in Central Wisconsin. Wausau will celebrate Juneteenth next year as a result of Keaton's work with the Wausau mayor and chief of police.
July 10, 2020 • West Central Region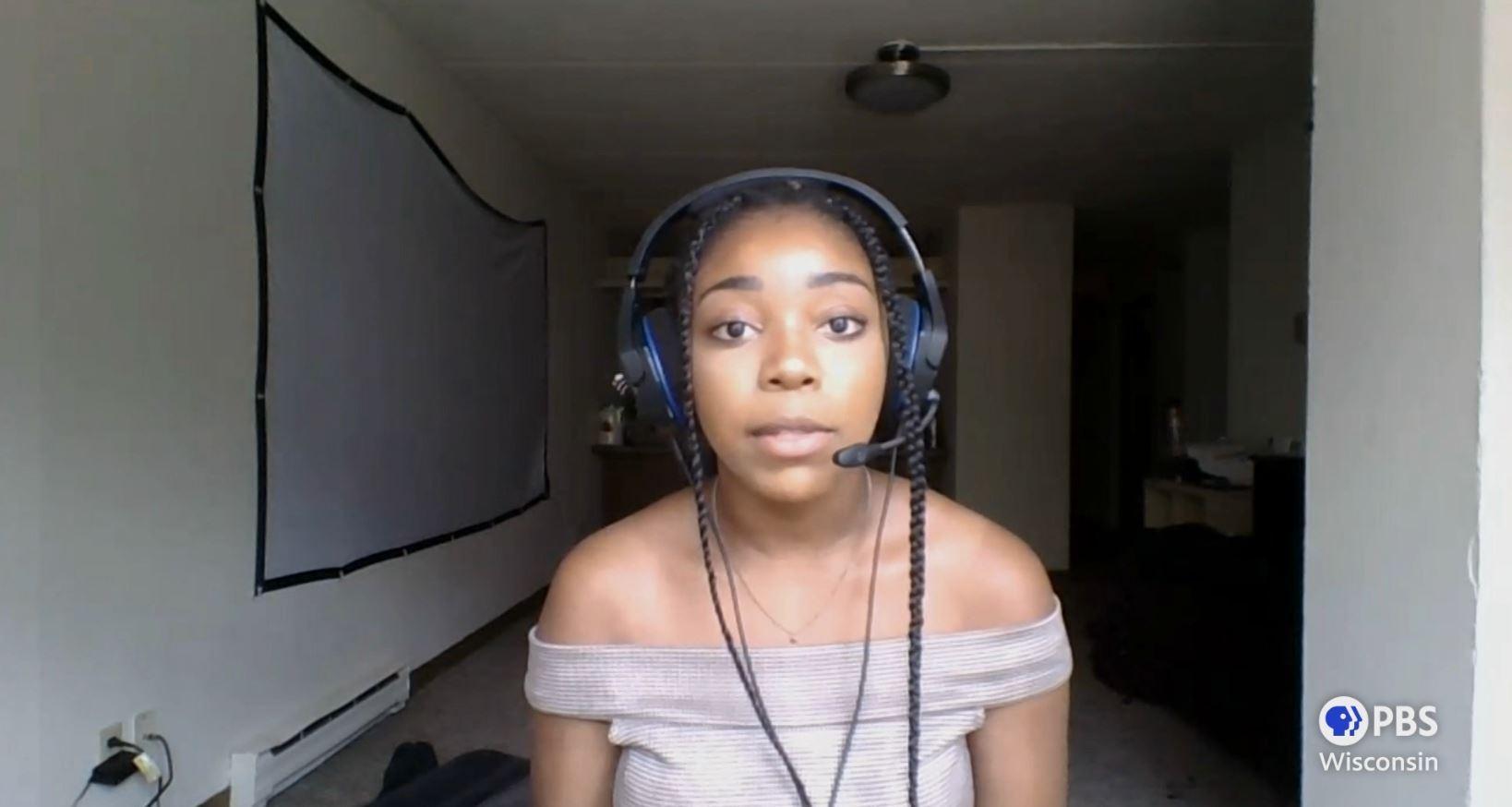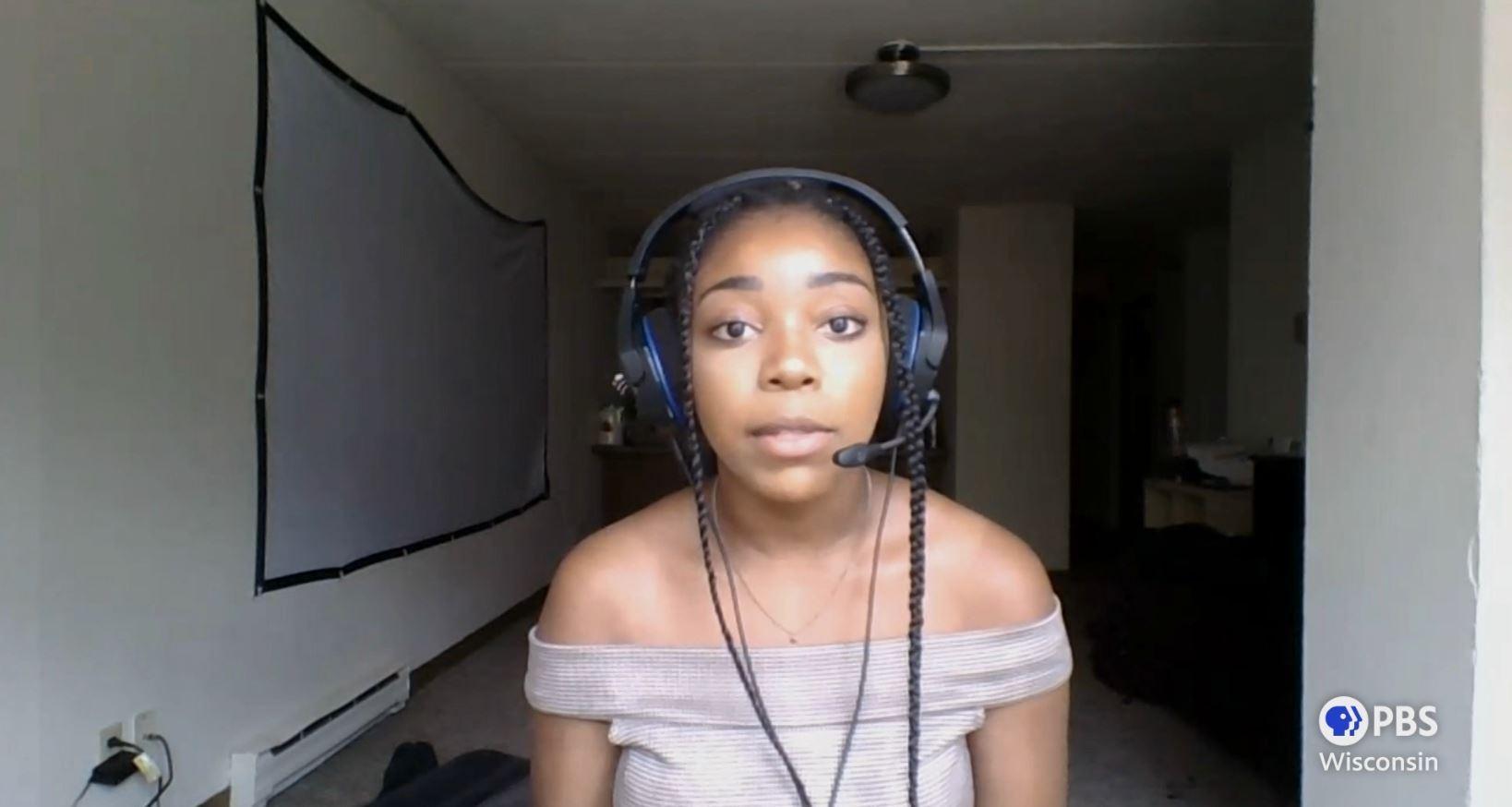 Youth Activist Group 'Impact Demand' Calls for Change
Ayomi Obuseh of the group 'Impact Demand' discusses the youth movement in the current racial justice demonstrations and the change they are calling for from elected officials. She says retaliations from white terrorist groups means they are applying pressure in the right areas and that means change is coming and "it's going to be effective."
July 10, 2020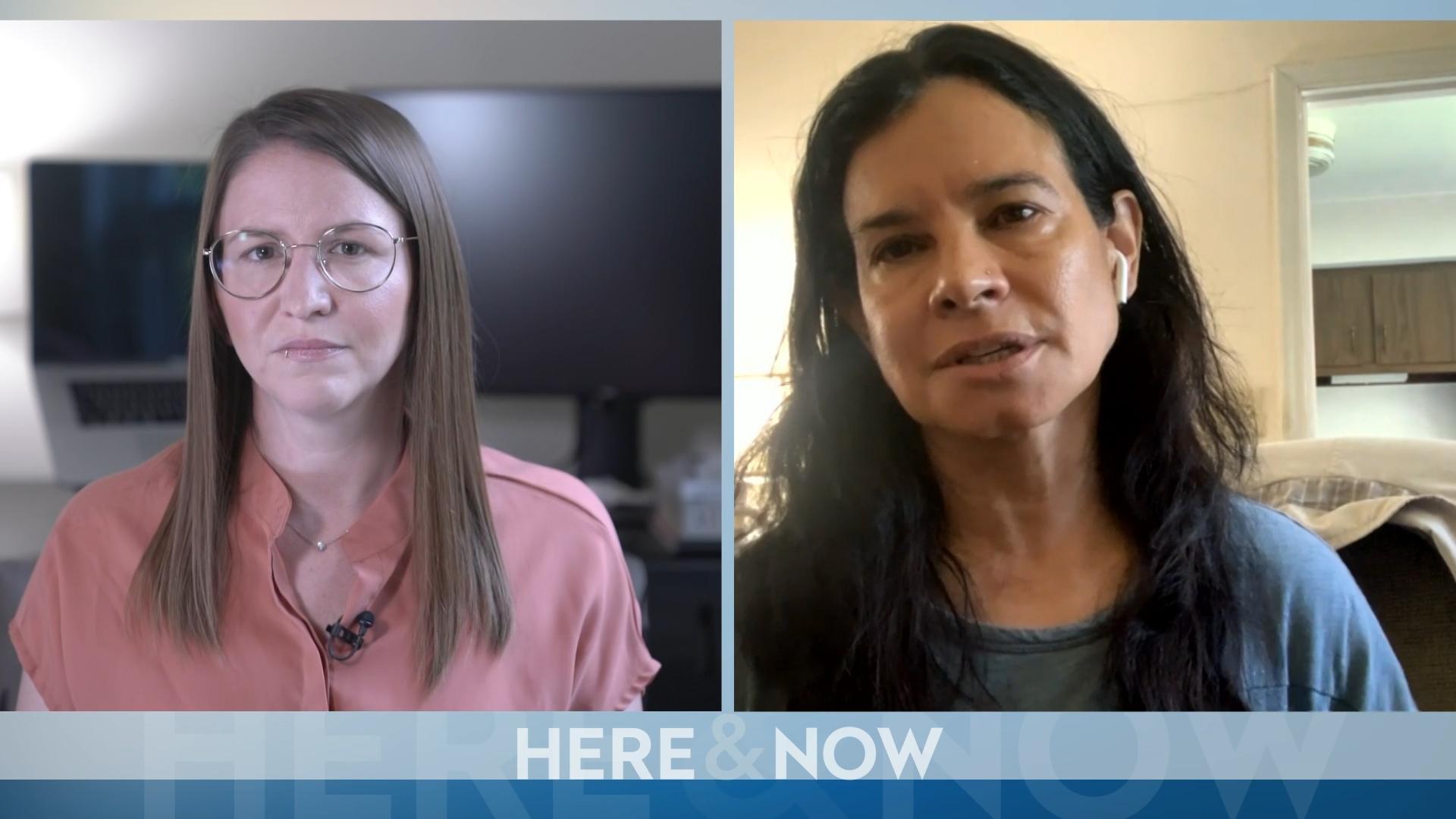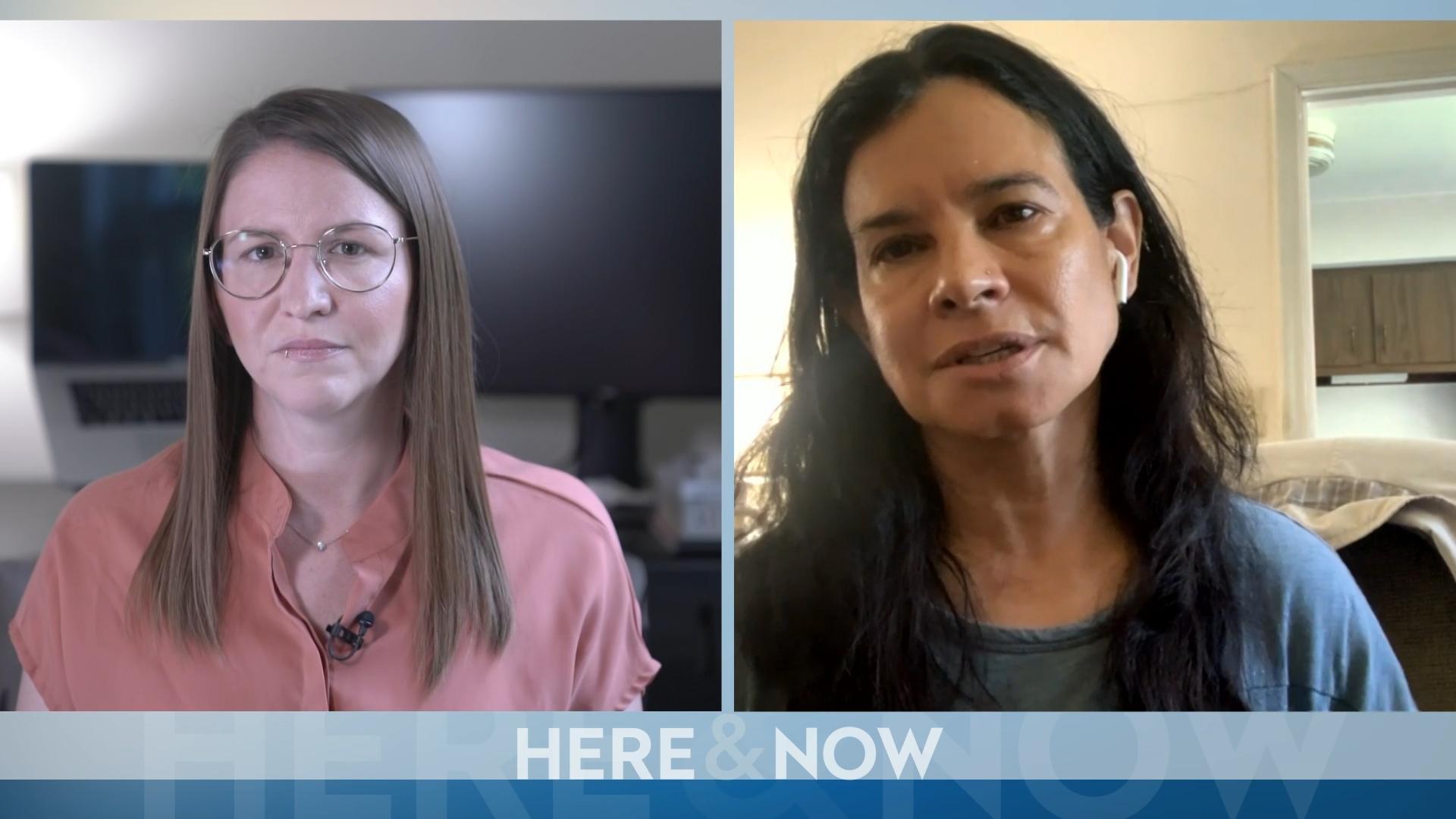 Noon Wednesday: Why Latinos Show Up for Black Lives Matter
Amid the protests and the pandemic, the Latino community is fighting for equality and justice. But what does that look like within a movement called Black Lives Matter? Christine Neumann-Ortiz, executive director of Voces de la Frontera, joins us today to talk about the significance of what some are calling Black and Brown Lives Matter.
July 9, 2020
65-Mile Protest Takes Message of Change to Governor
The 65-mile march from Milwaukee to Madison called for special sessions to tackle police and gun reforms and to eliminate police practices such as tear gas.
July 6, 2020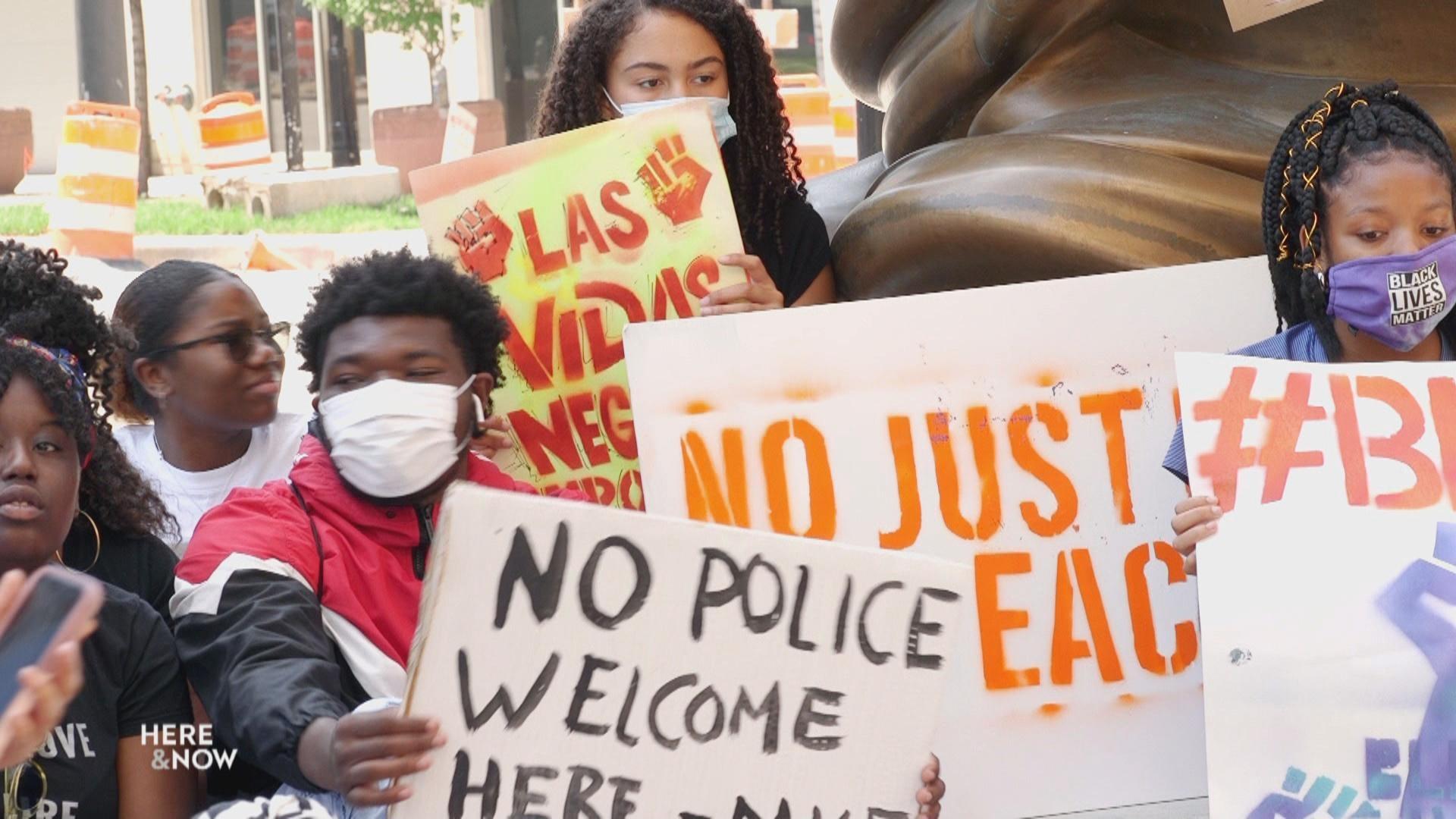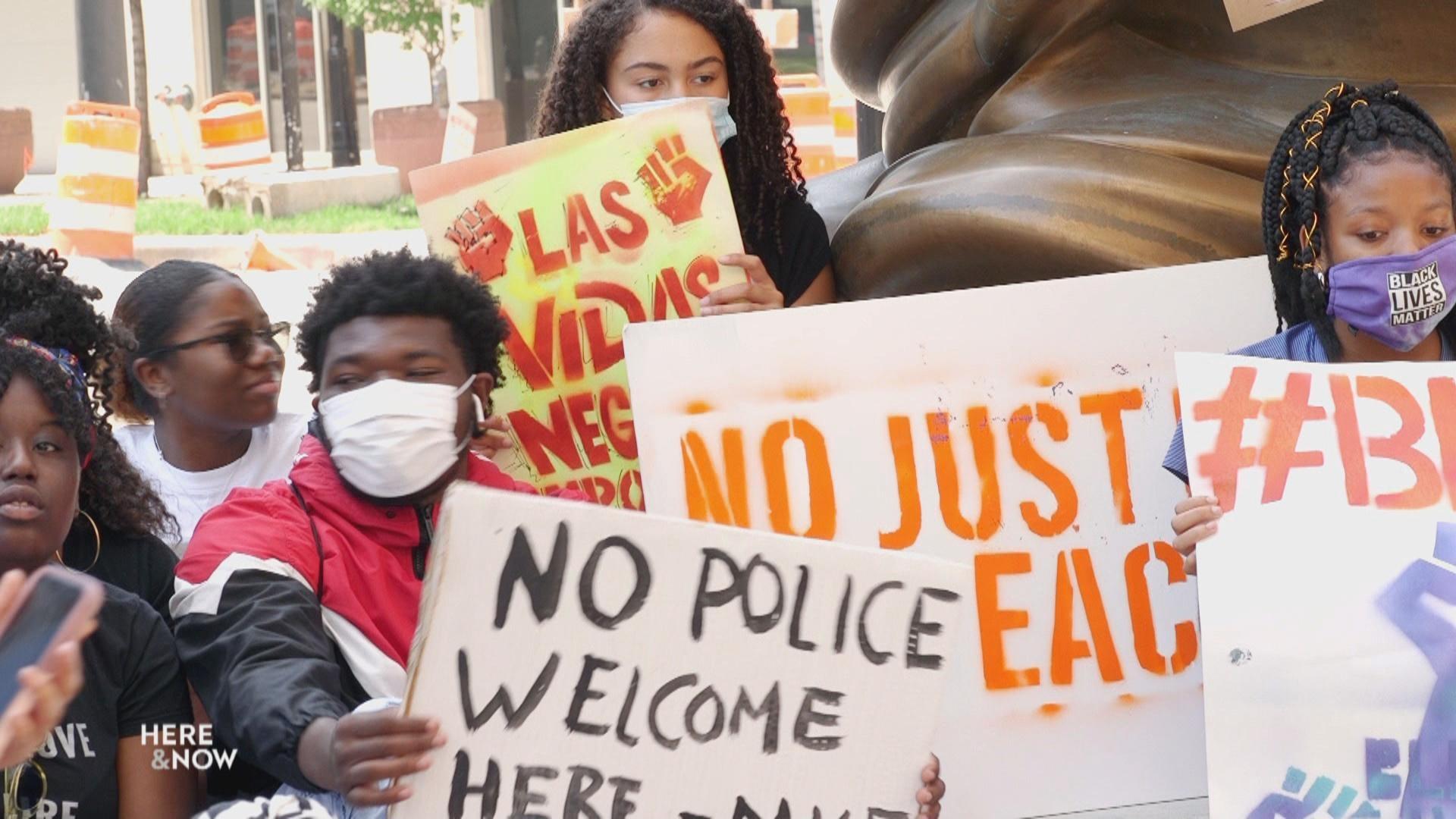 Youth Activist Group Marching 65 Miles, Demanding Reform
Young Wisconsinites with the 50 Miles More activist group are marching 65 miles from Milwaukee to Madison calling for action from Governor Tony Evers and Assembly Speaker Robin Vos on police and gun reform, banning the use of tear gas and rubber bullets and violence prevention. The group will finish their march at the state Capitol on July 4th.
July 3, 2020 • Southeast Region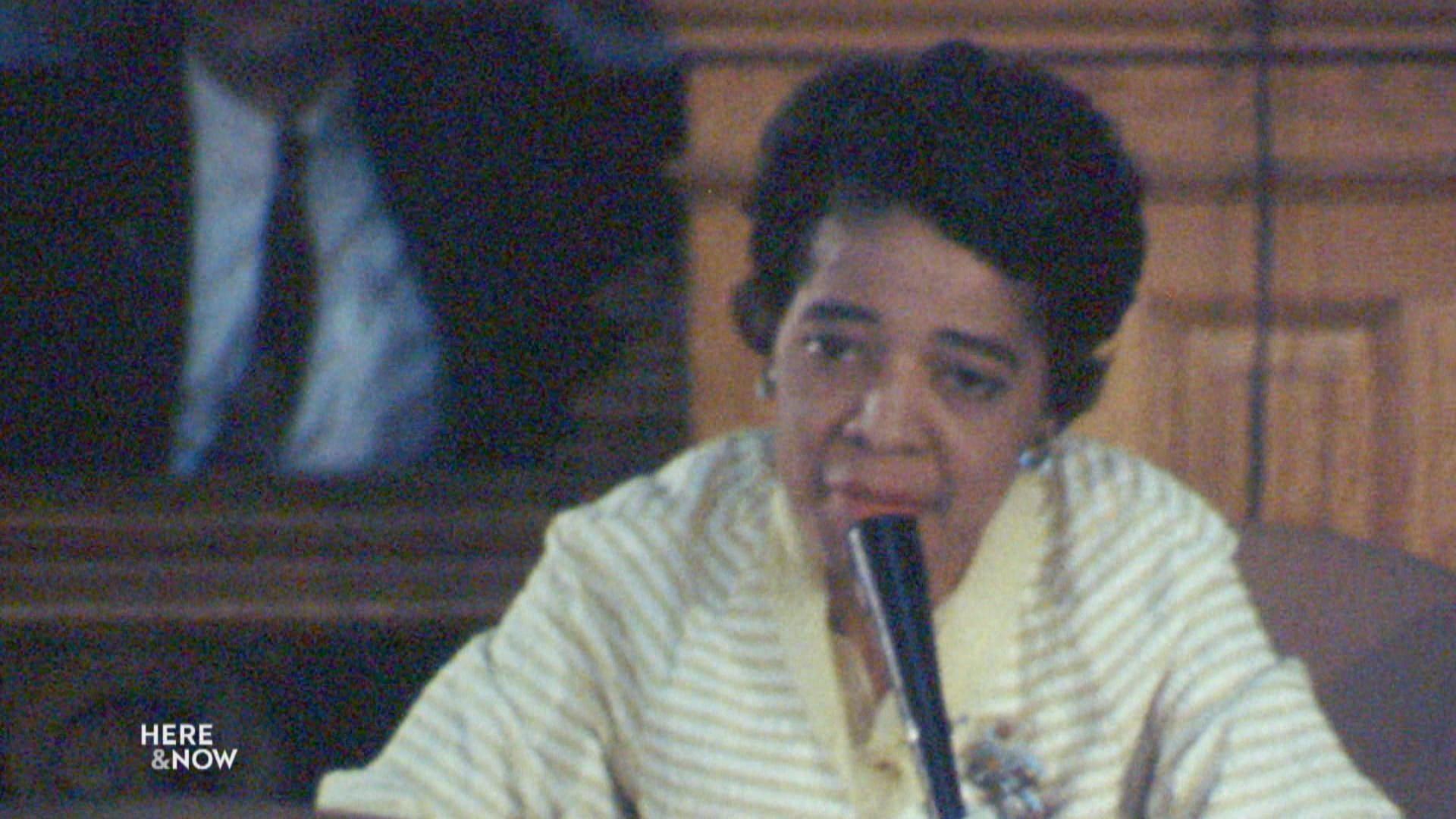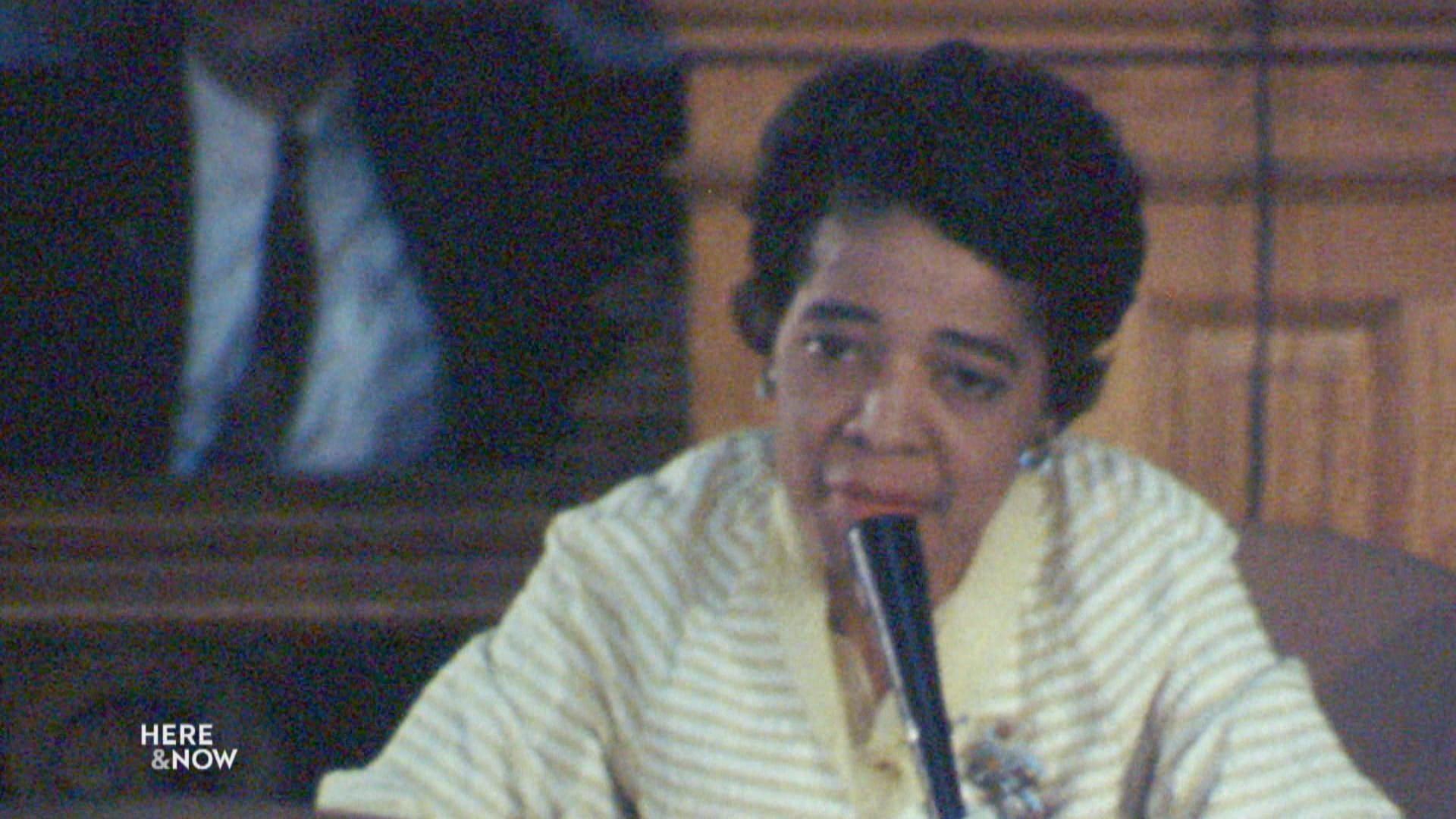 Calls for a Statue of Vel Phillips at the State Capitol
Phillips was the first black woman elected as Wisconsin's Secretary of State, first in the nation elected to statewide office, first black woman to graduate from the UW Law School, first Black person elected to Milwaukee's City Council and first black woman to be a Wisconsin judge. To learn more about Vel Phillips, watch "Vel Phillips: Dream Big Dreams," a 2015 documentary at PBSWisconsin.org.
July 3, 2020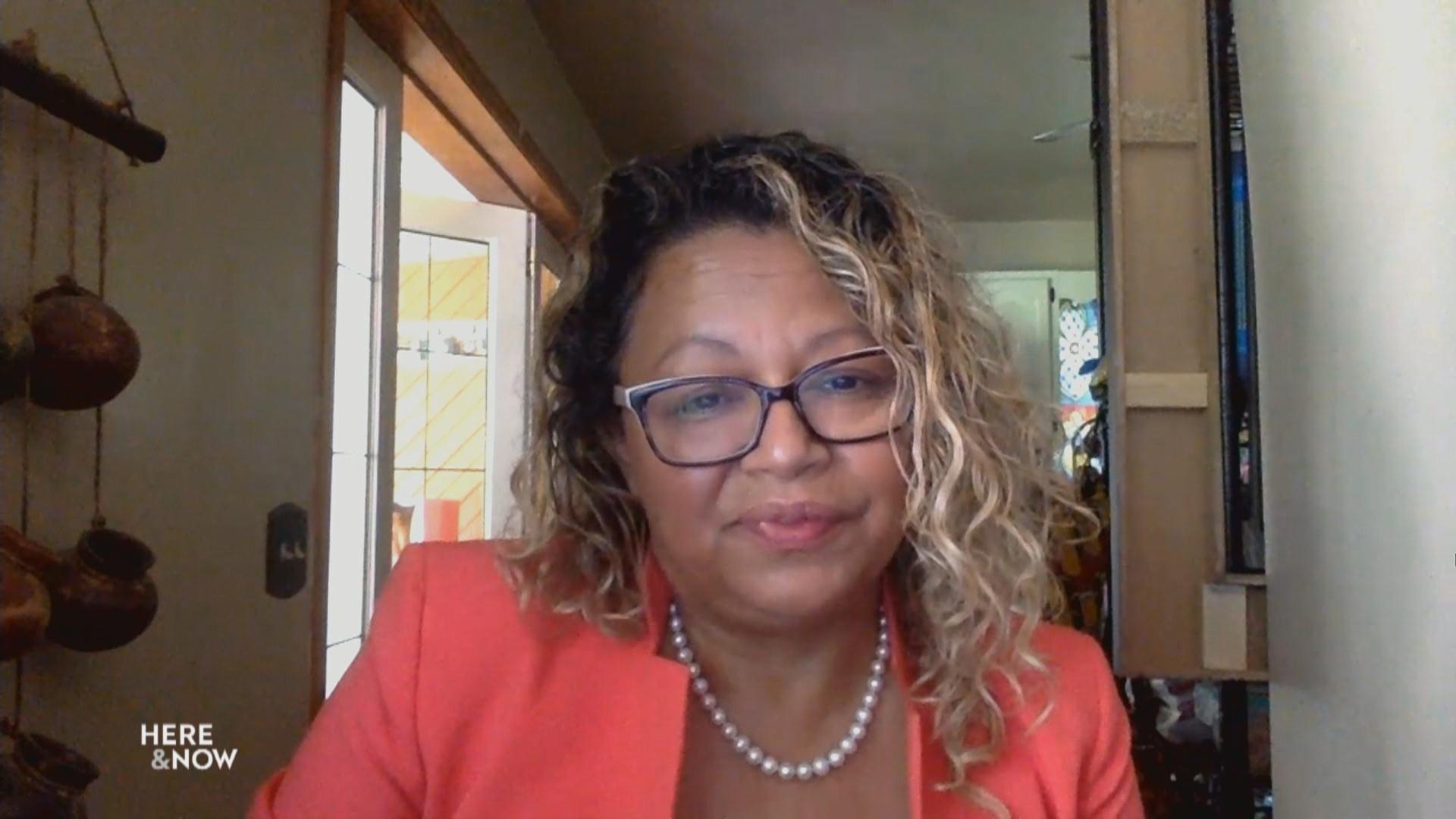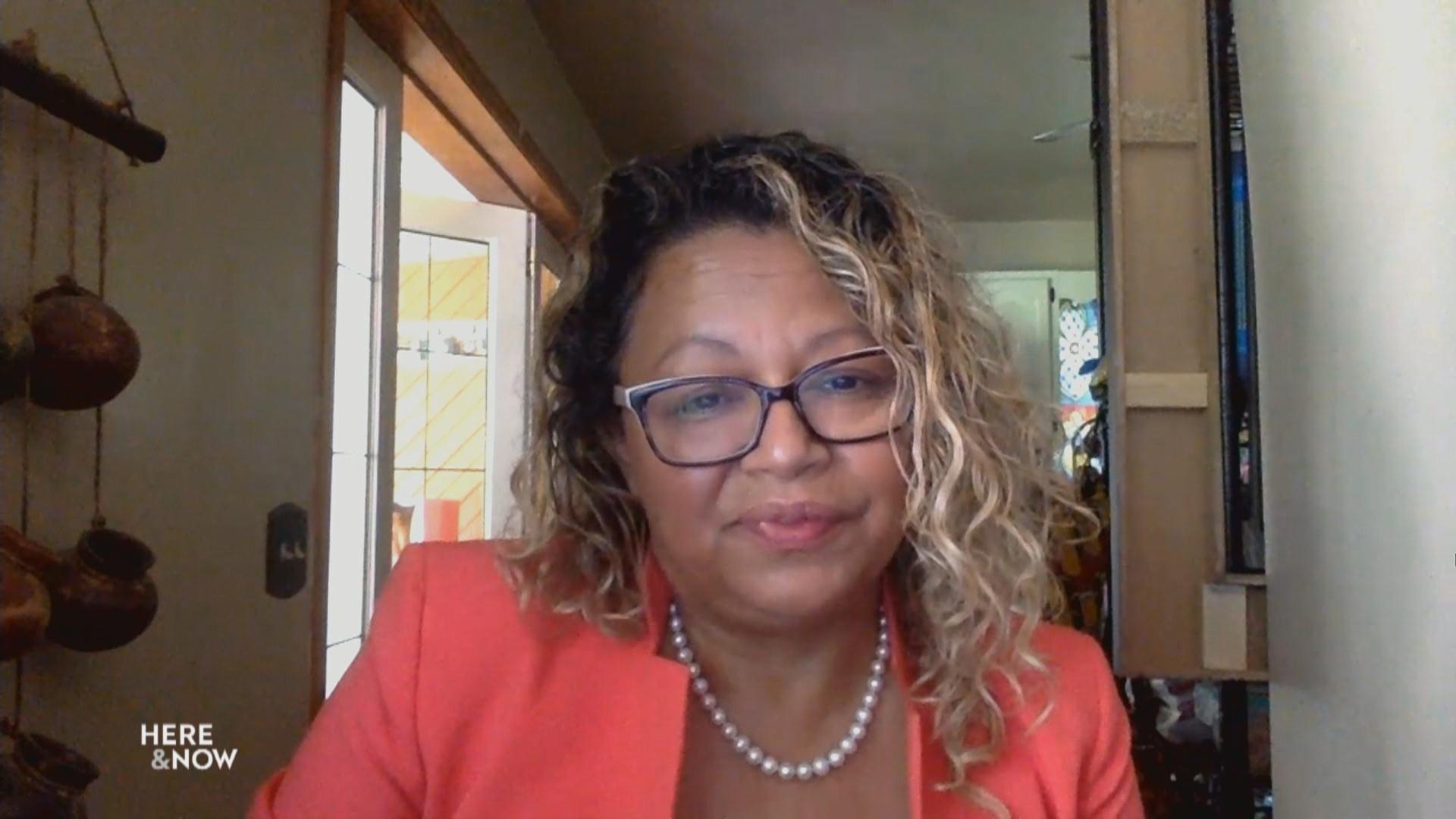 No Police Officers in Madison High Schools Starting in Fall
The Madison School Board voted this week to remove police officers – also known as SROs (School Resource Officers) - from the city's four main high schools. School Board President Gloria Reyes, a former police officer herself, discusses the board's vote and what the district plans to do ahead of the fall semester.
July 3, 2020 • South Central Region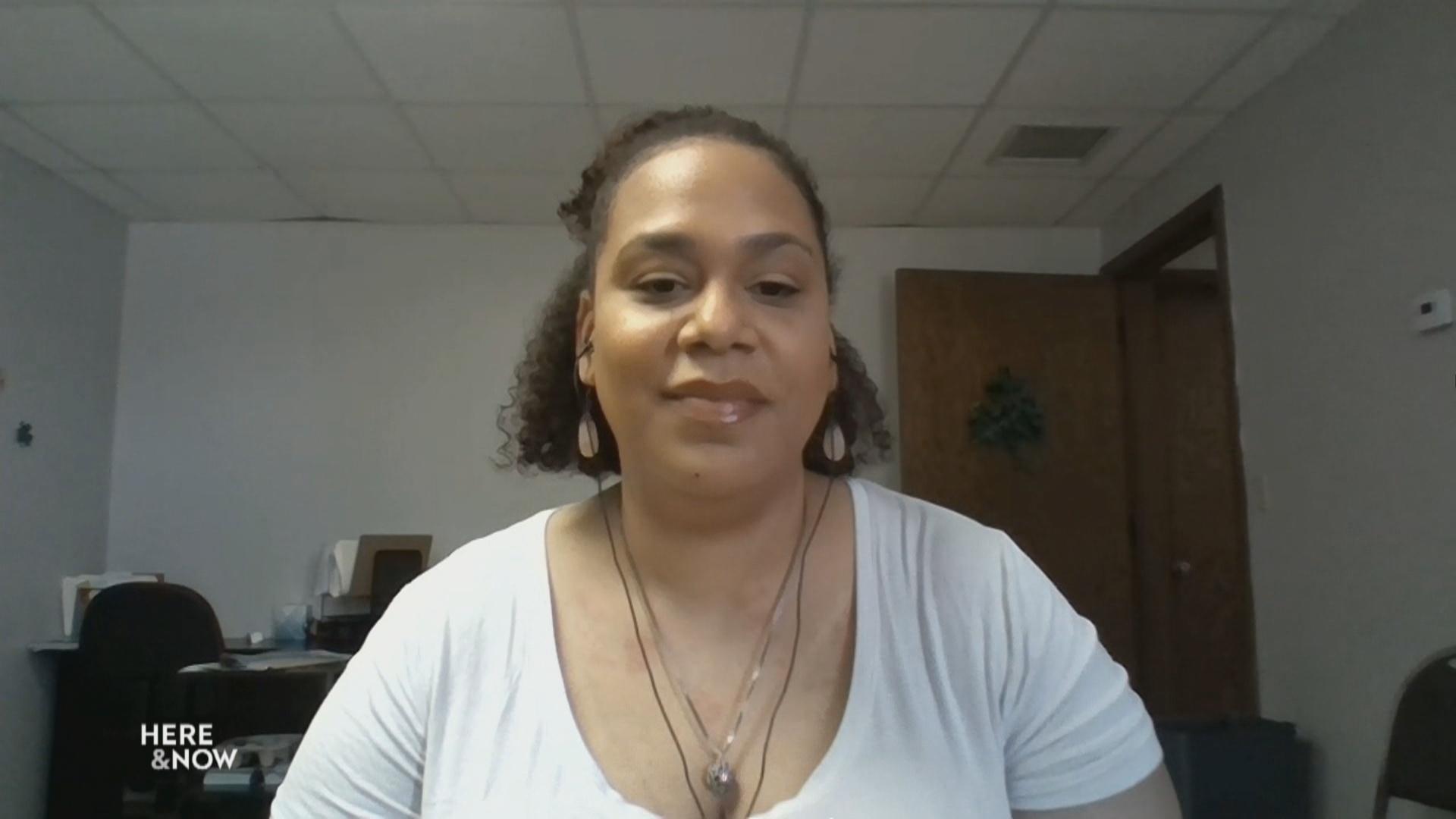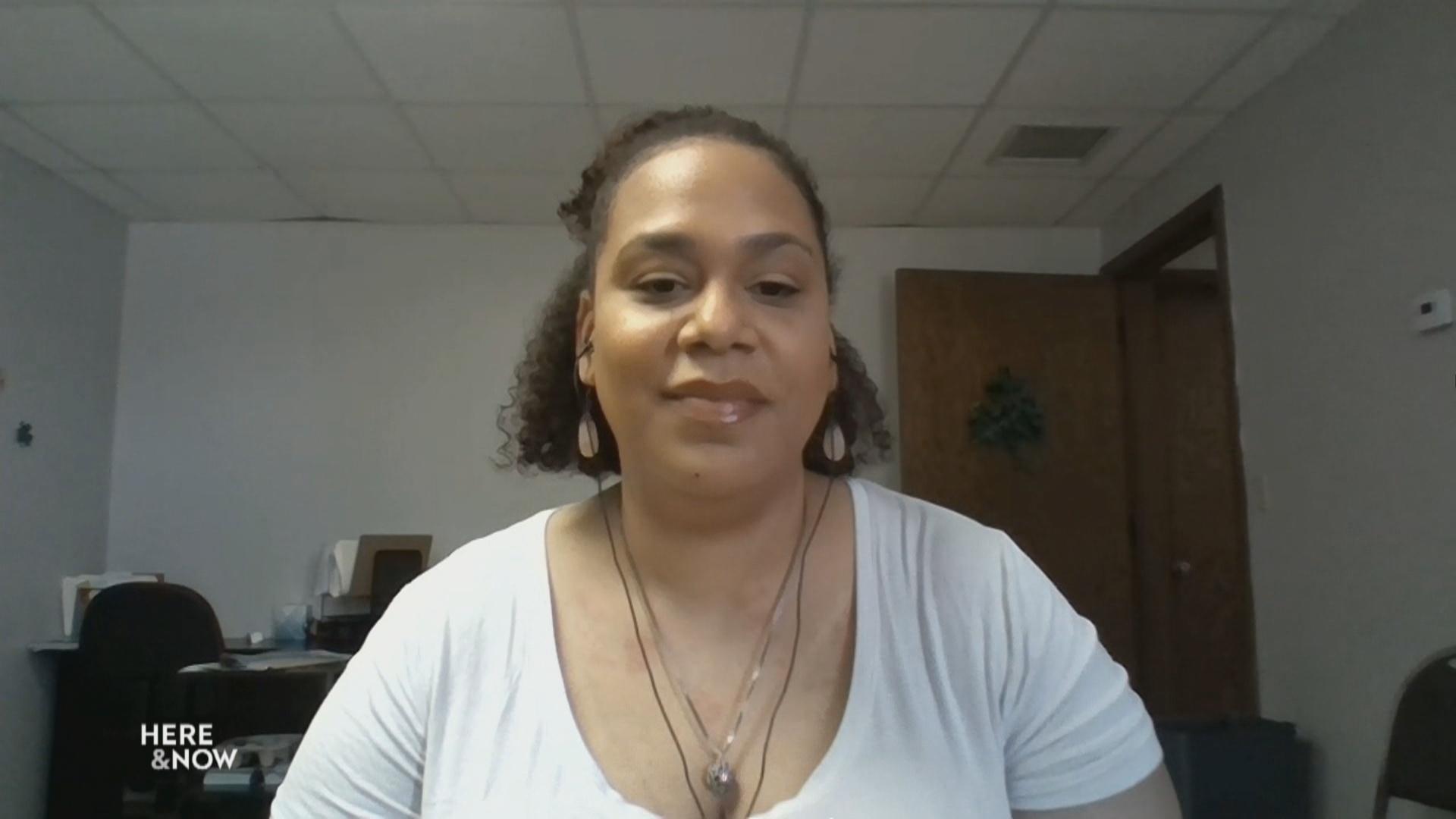 Black Leader Sees Narrative Shift Across US, Feels Different
Black Leaders Organizing for Communities leader Angela Lang discusses the status of the racial justice protests and where the state is now—whether demonstrations are continuing with the same energy or whether things are 'returning to normal.' She also talks about political organizing ahead of the 2020 presidential election and amid the pandemic.
July 3, 2020 • Southeast Region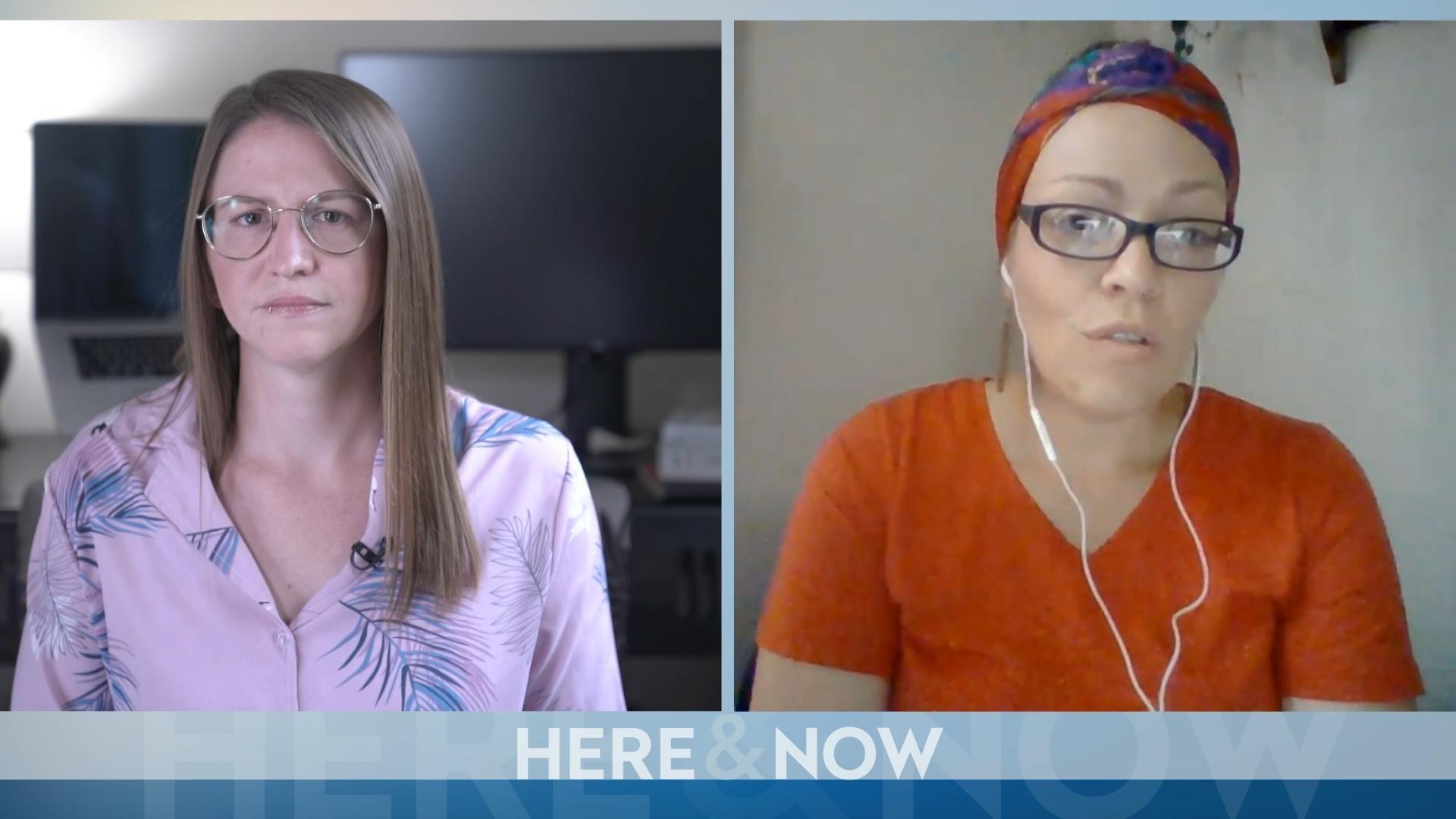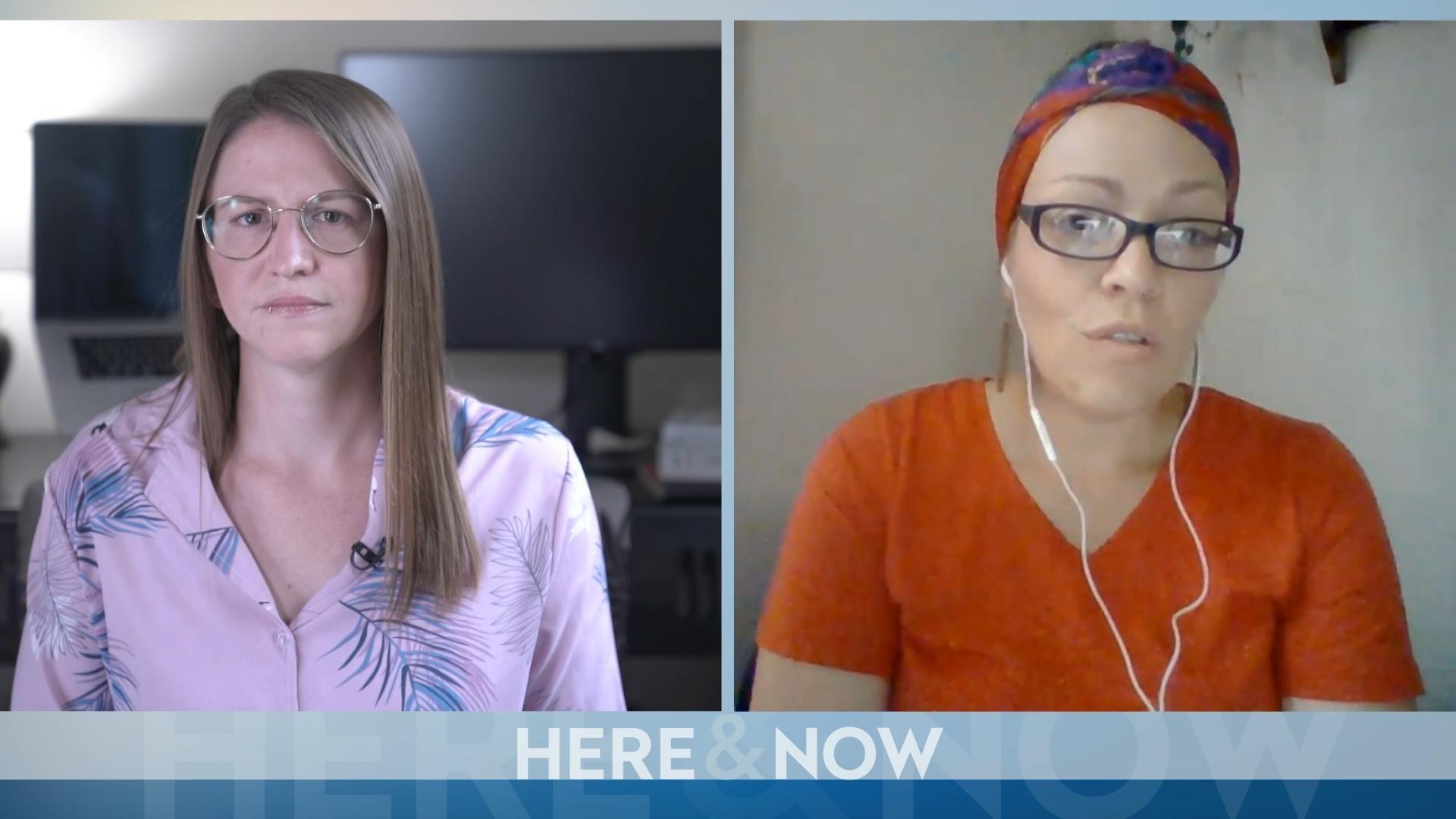 Noon Wednesday: Missing and Murdered Indigenous Women
Kozee Decorah, a 22-year-old Ho-Chunk woman was found murdered in May before she could make it home to Wisconsin. Lead organizer for Missing and Murdered Indigenous Women Kristen Welch joins us today to talk about the disproportionately high rates of violence against Indigenous women and the need to address it in Wisconsin.
July 2, 2020
Students Push to Remove UW-Madison's Lincoln Statue
Students say the 16th president's past, which includes racism toward Black Americans and ordering the execution of 38 Dakota men, warrants the removal of his statue on UW-Madison's Bascom Hill.
June 29, 2020 • South Central Region
FBI Joins Investigation Into Possible Madison Hate Crime
Althea Bernstein was attacked when lighter fluid was thrown and ignited on her face last week. The FBI and Madison police are investigating the incident as a possible hate crime.
June 29, 2020 • South Central Region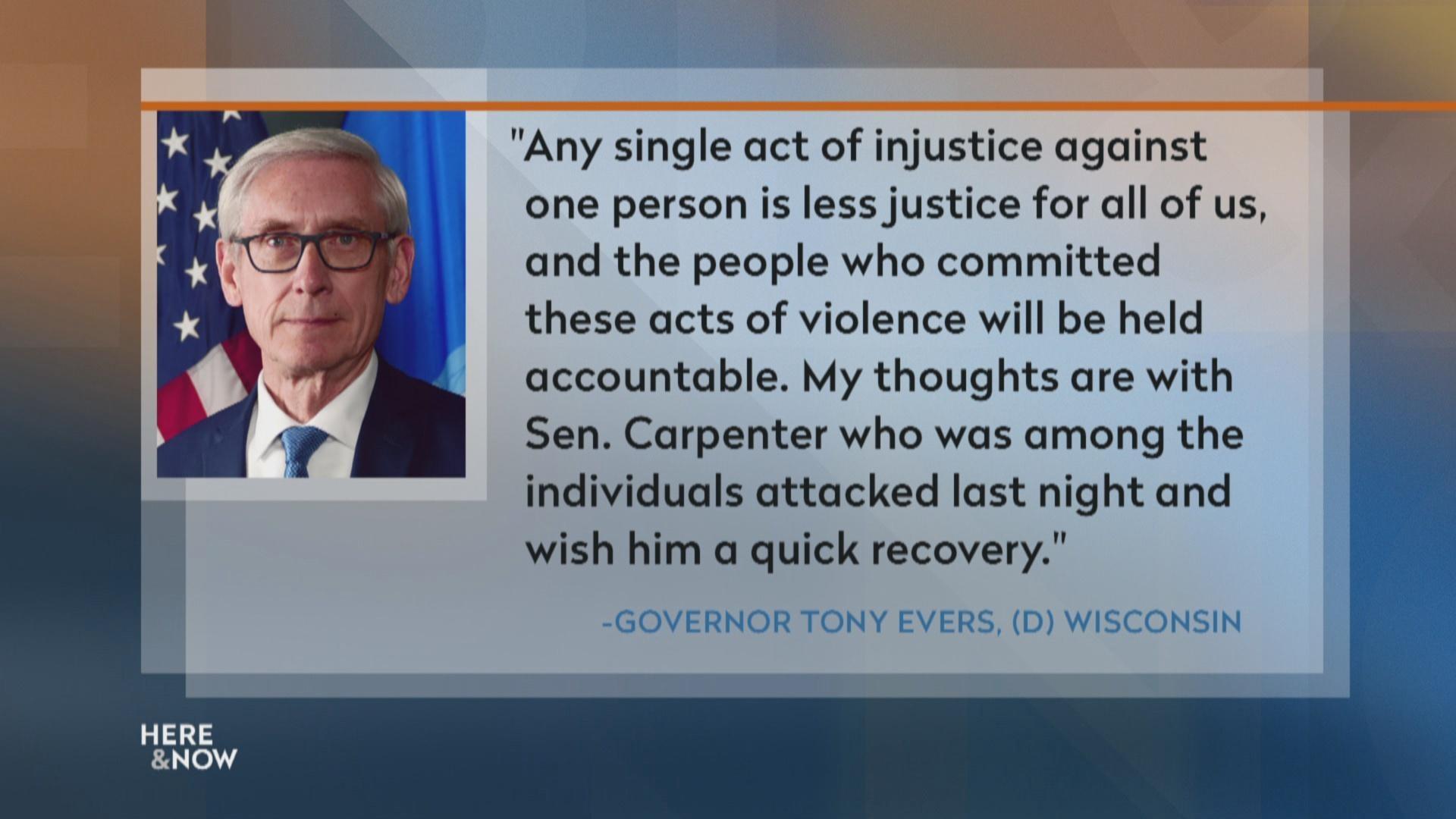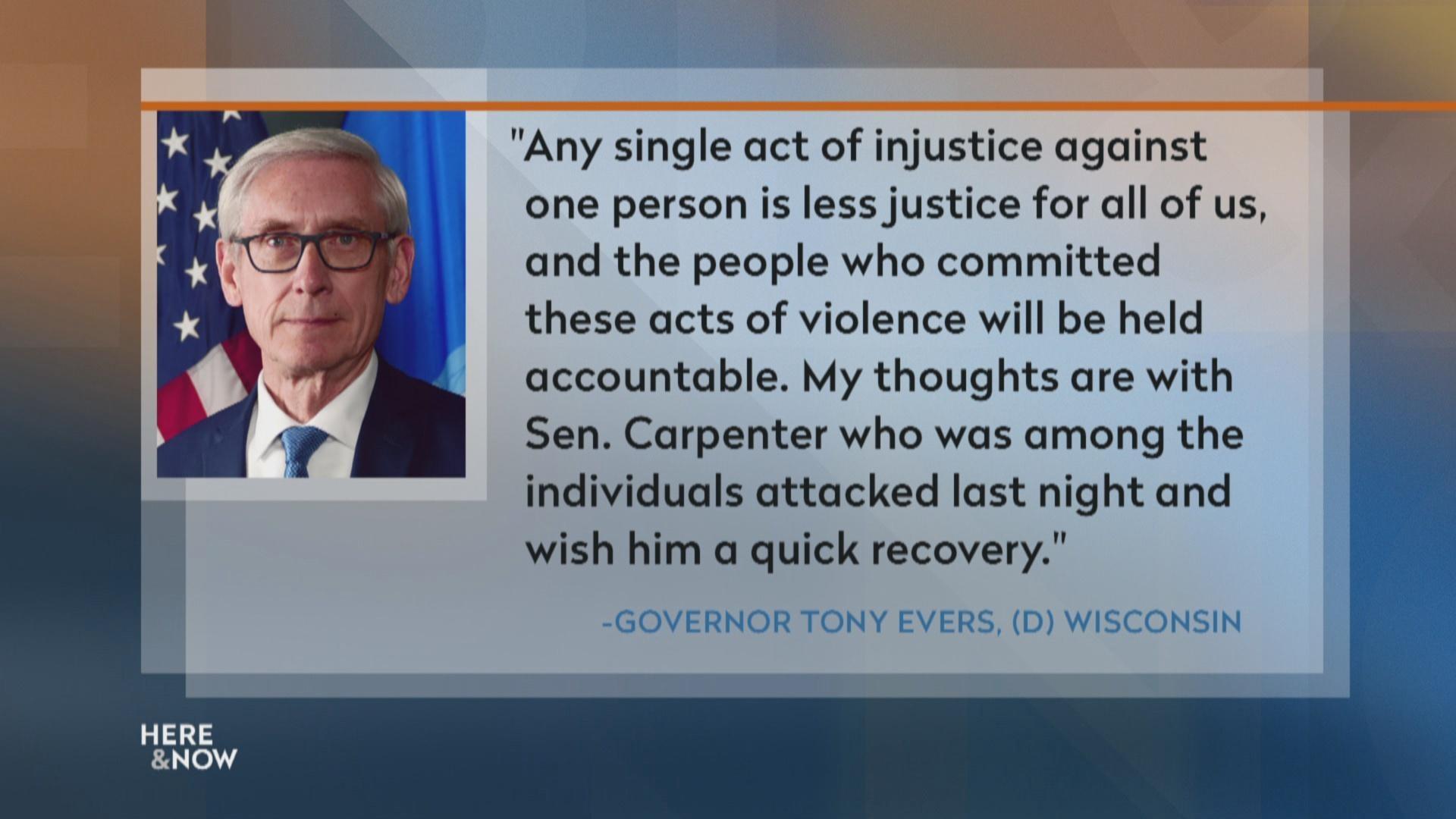 Gov. Evers Again Deploys National Guard to Protect Property
In the wake of this week's violence, Gov. Evers once again deployed the Wisconsin National Guard to protect state property and to support law enforcement. He said, "The Wisconsin National Guard will serve in a limited authorization meant to make sure people can exercise their First Amendment rights while ensuring the safety of members of the public and state buildings and infrastructure."
June 26, 2020 • South Central Region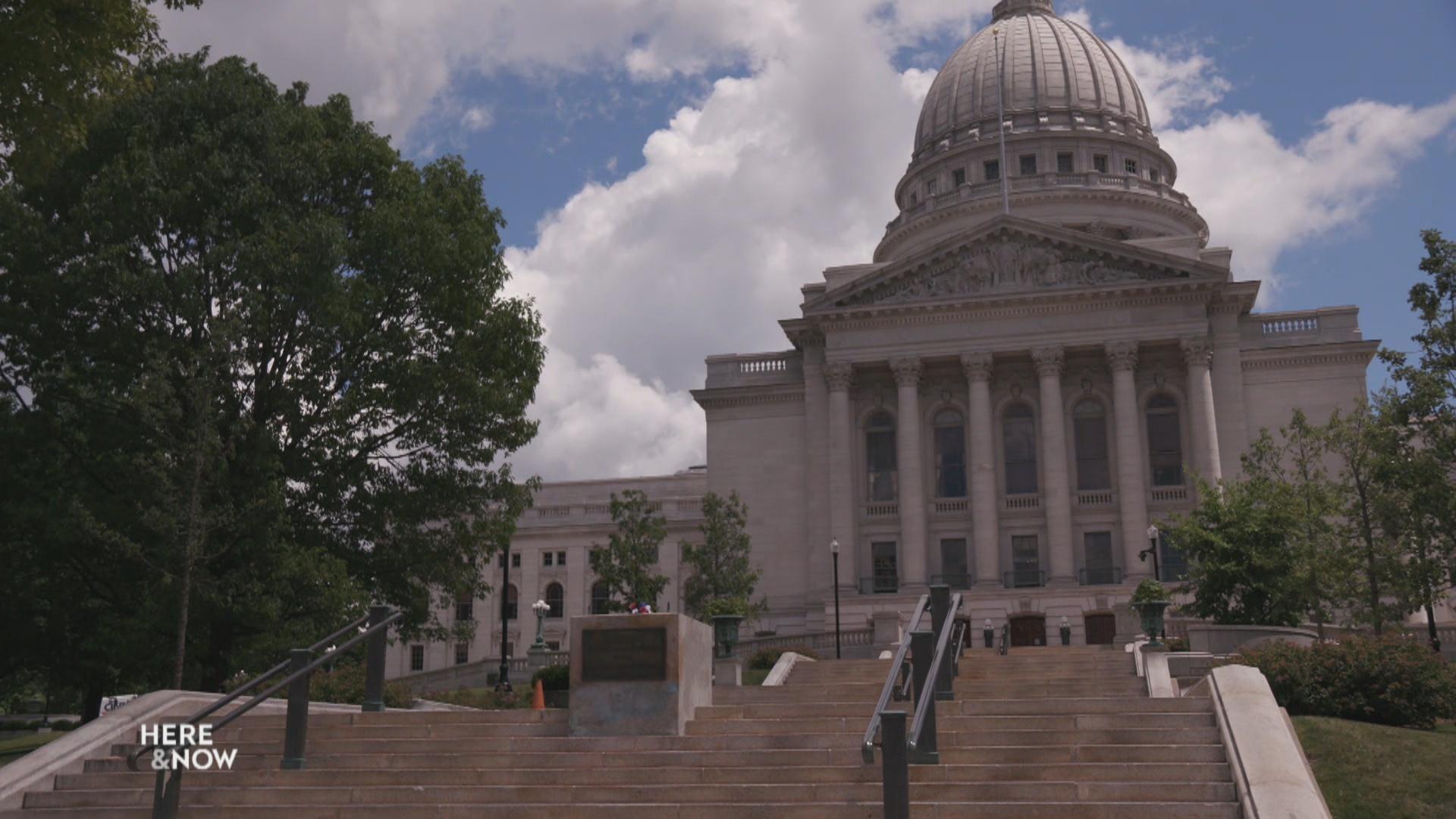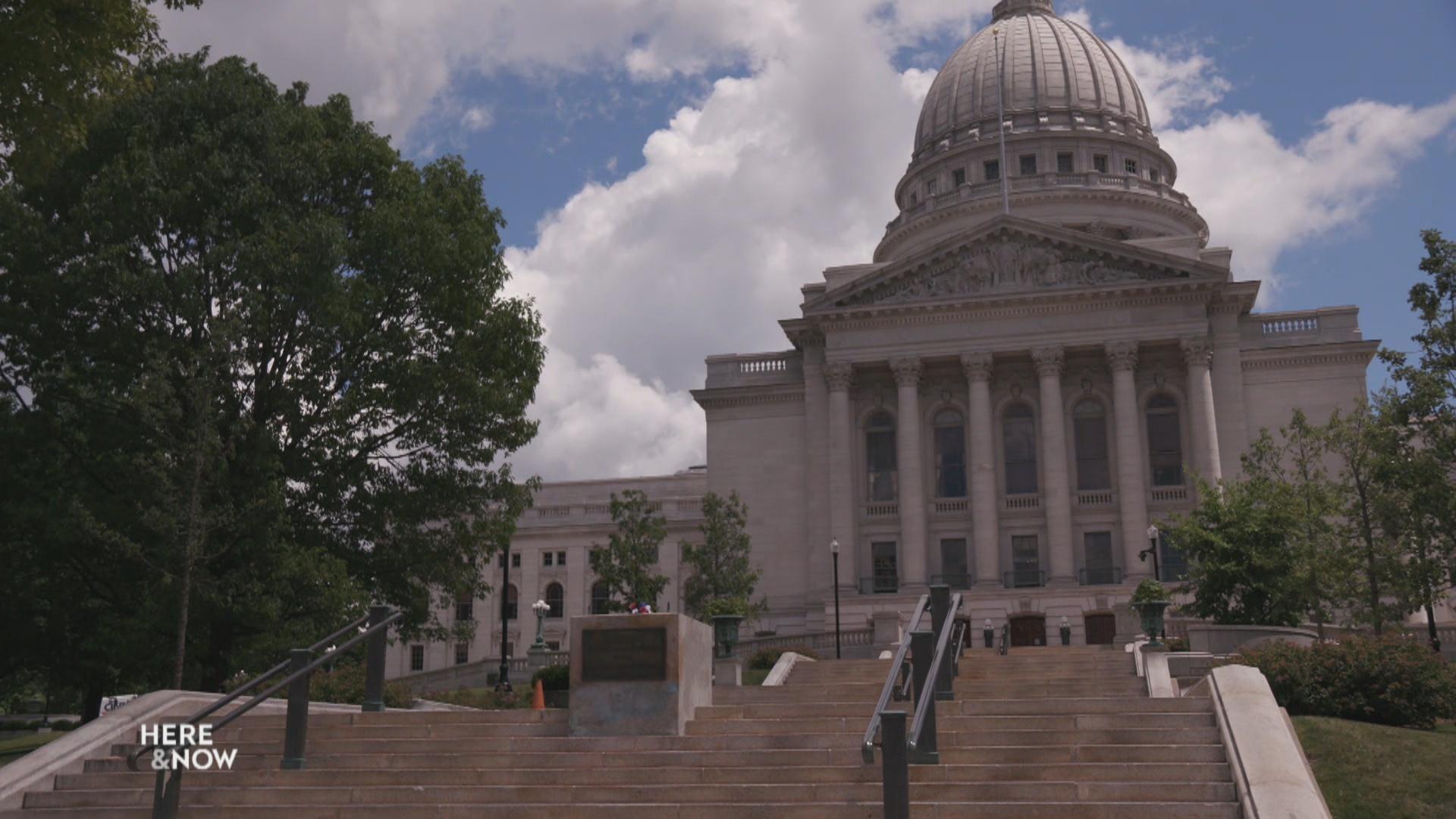 Closer Look at Tuesday Night's Turmoil in Madison
The arrest of Devonere Johnson, a Black activist in Madison sparked a protest that turned violent. State and city-county buildings were targeted, statues toppled and a democratic state senator attacked. Republican leadership called for the Madison Mayor and Governor Evers to take more forceful action against violent protestors. Evers authorized the National Guard to support law enforcement.
June 26, 2020 • South Central Region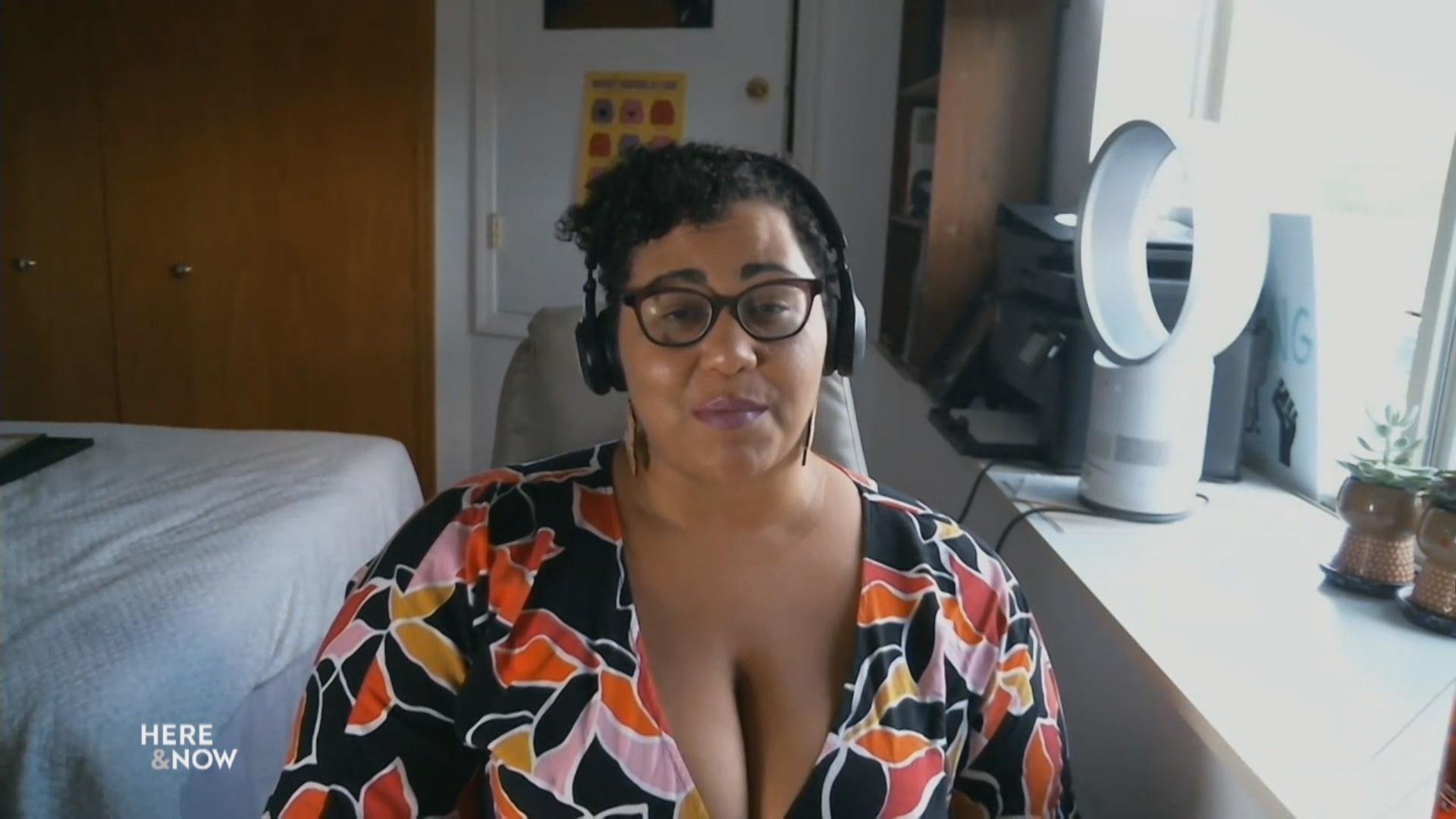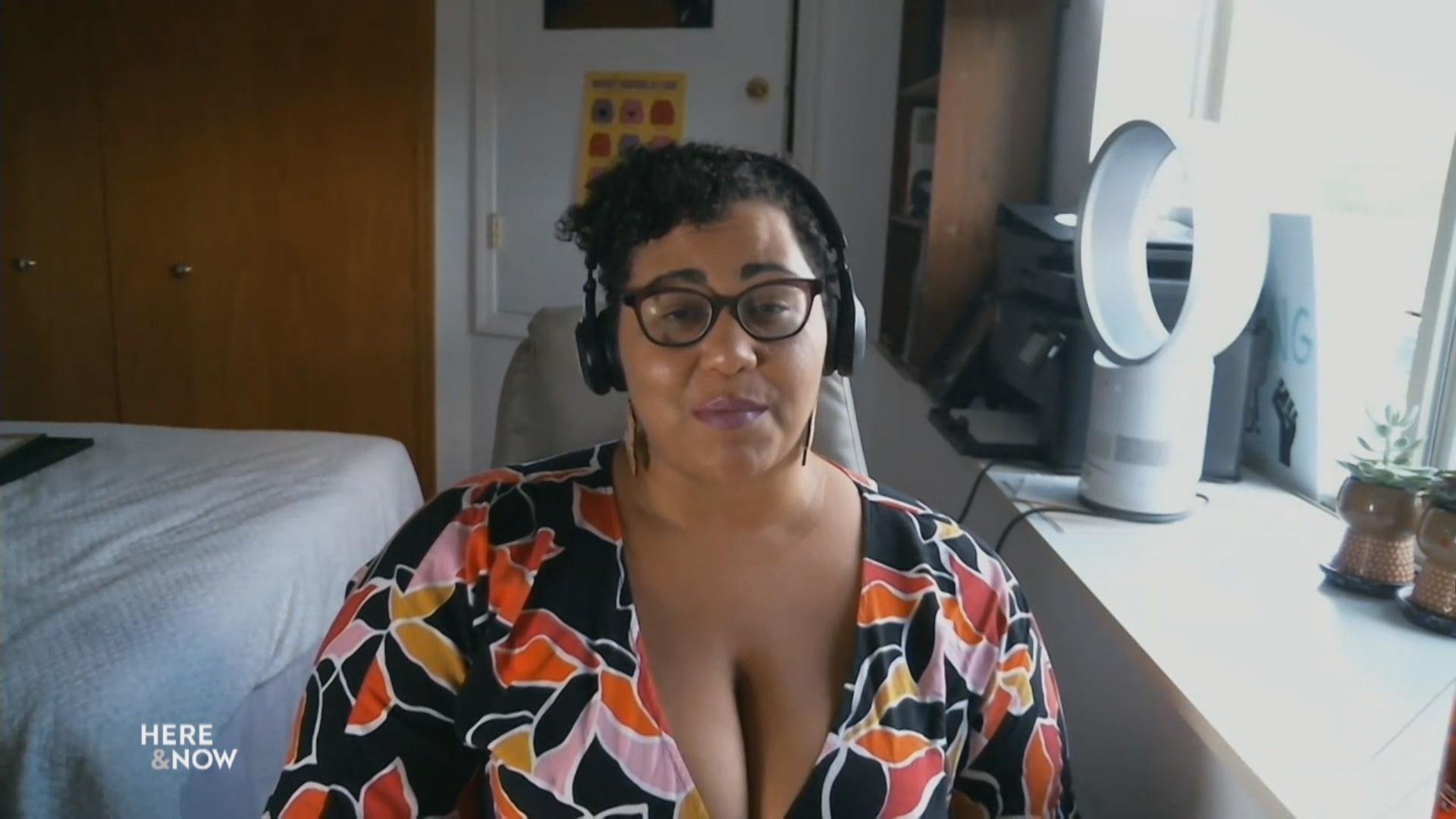 Schalk: What Sparked Protest to Turn Violent
Associate professor in the Department of Gender and Women's Studies at the University of Wisconsin-Madison, Dr. Sami Schalk's specialty is the intersection of race, gender and disability. She provides her perspective on what likely sparked the protest turning violent and the long-term change she believes should be the outcome of the protest.
June 26, 2020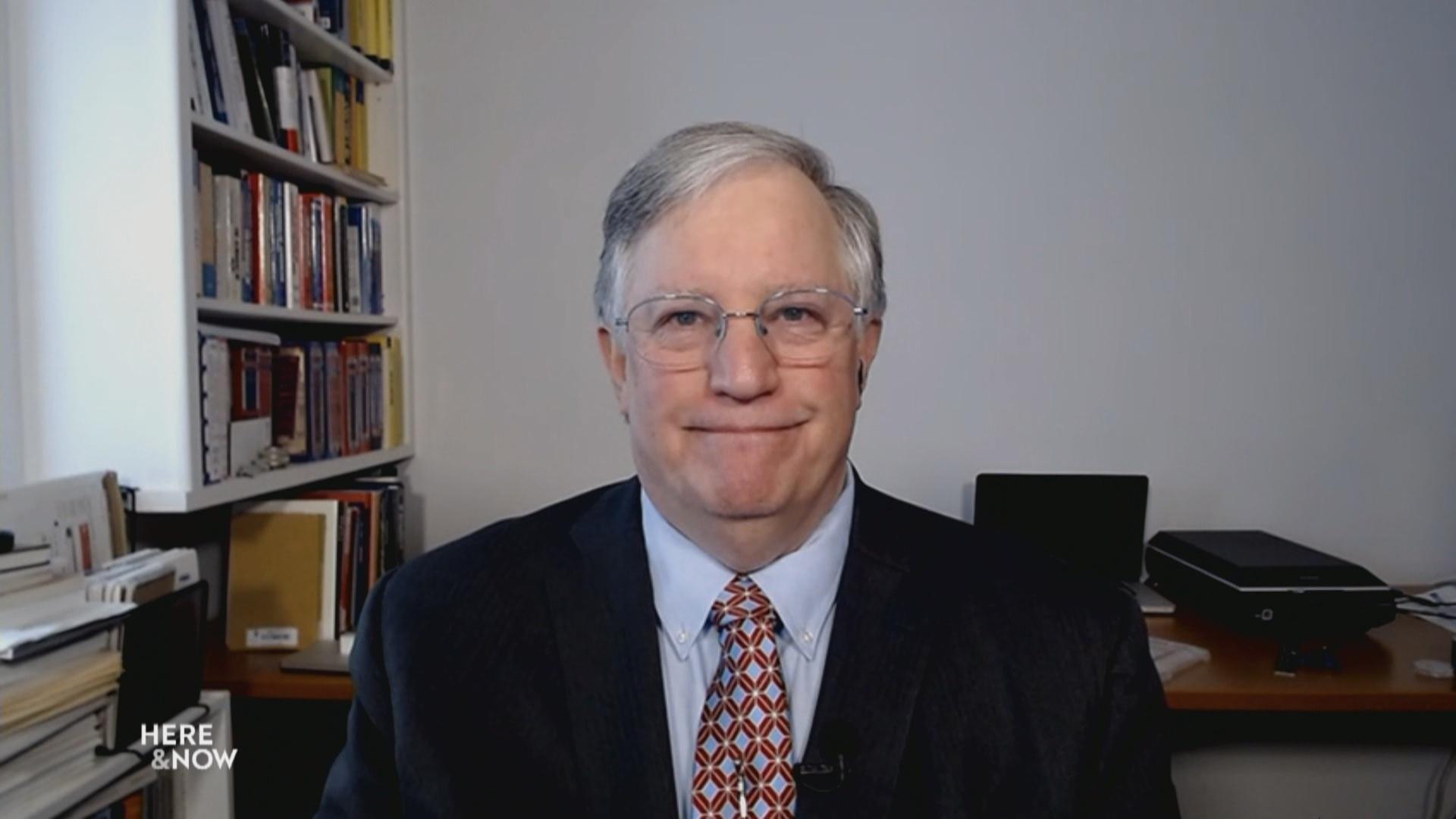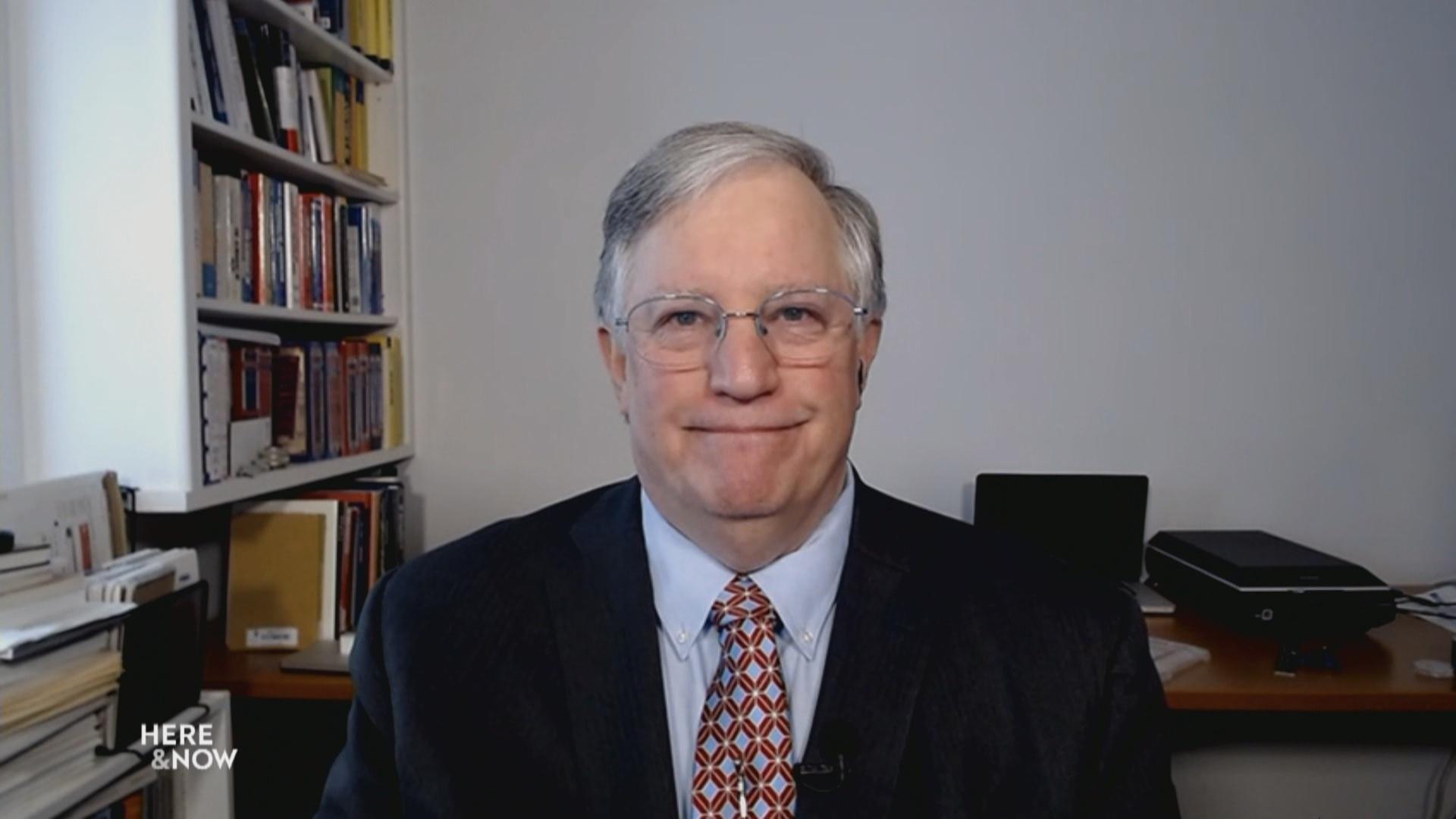 Wisconsin's Latest Poll Numbers
Marquette University Law School Poll Director Charles Franklin reveals the poll results around the presidential election, the protest movement, police reform, Gov. Evers approval rating and reopening schools.
June 26, 2020
Uprising in Madison Protests Cause Strong Reaction
Protesters responded to one of their own being forcefully arrested by toppling two statues at the state's Capitol building.
June 24, 2020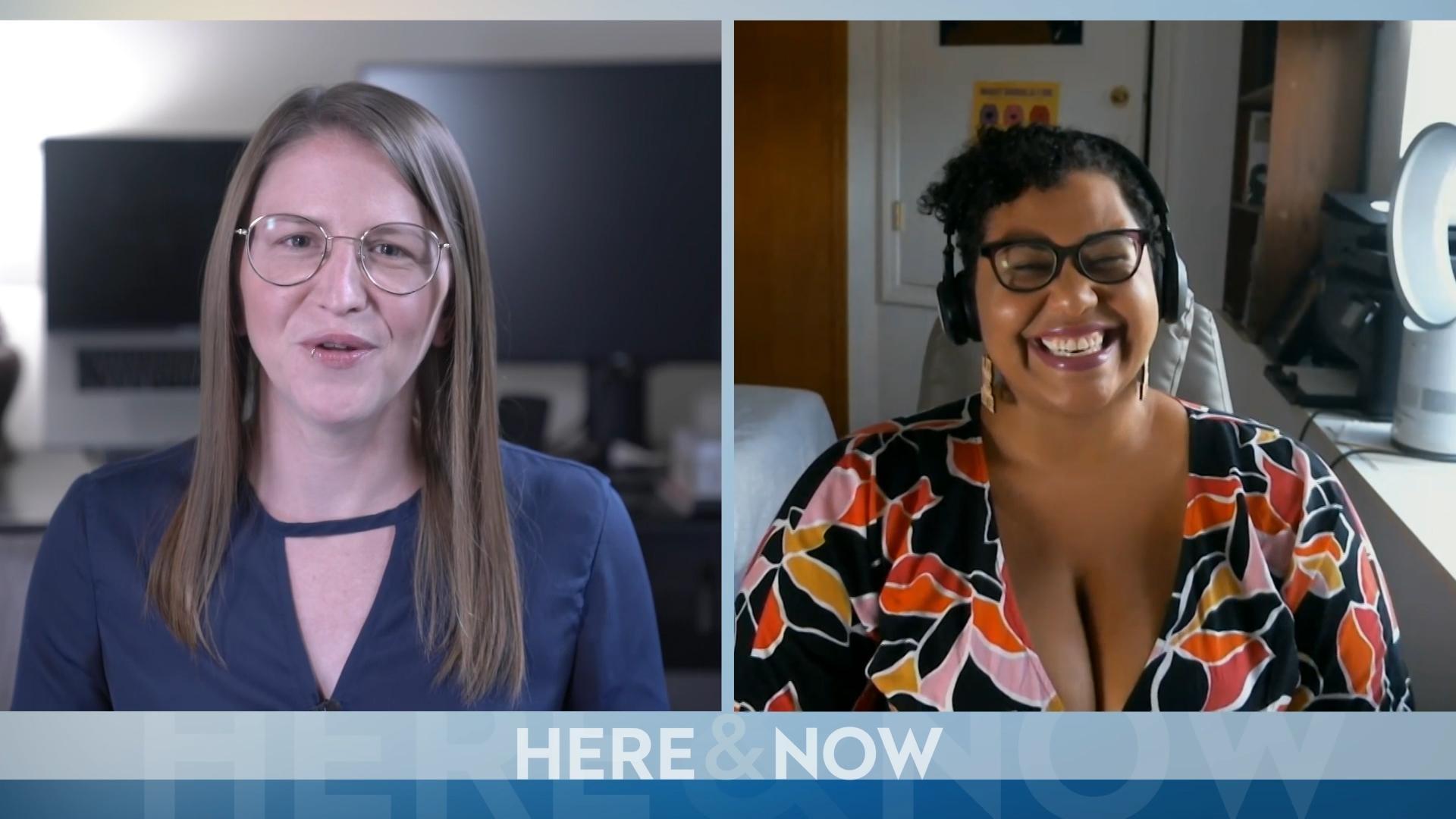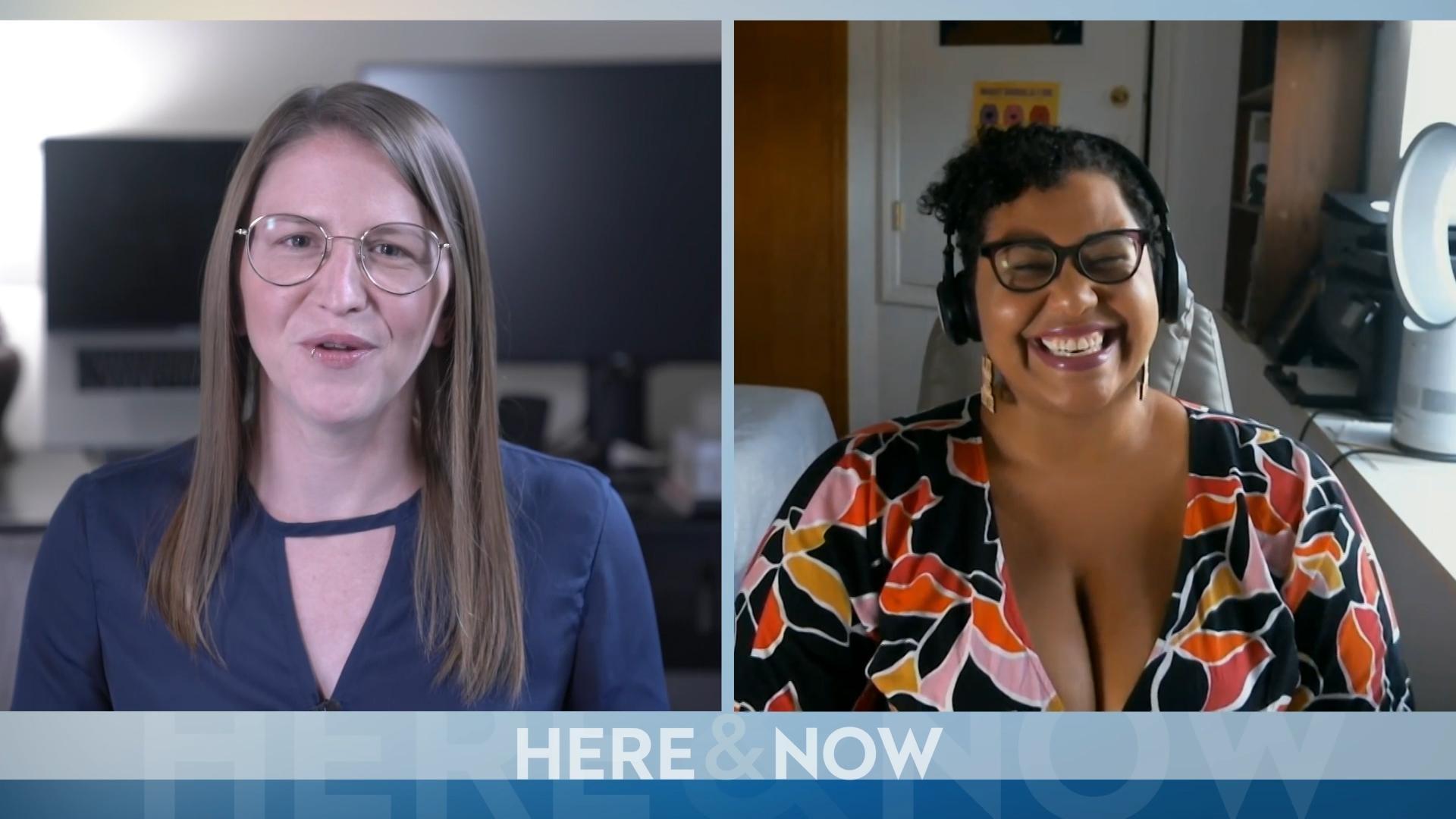 Noon Wednesday: Pride for Black Lives
As conversations about systemic racism continue, some are driving the message that inequities leading the Black Lives Matter movement intersect with those of the LGBTQ community. Dr. Sami Schalk talks about her research on race, queerness and disability, and her experience on how these communities combine with the protests.
June 24, 2020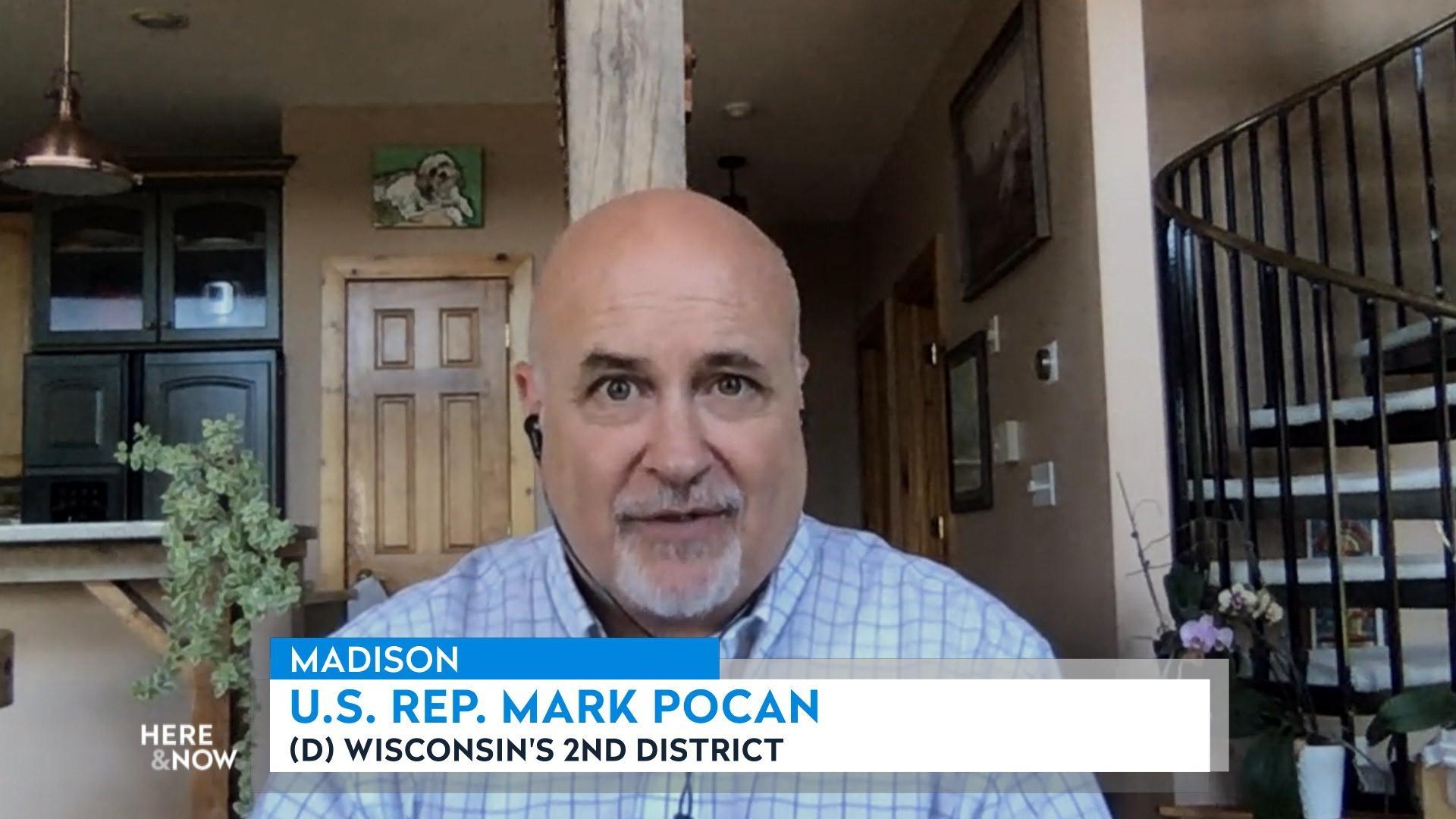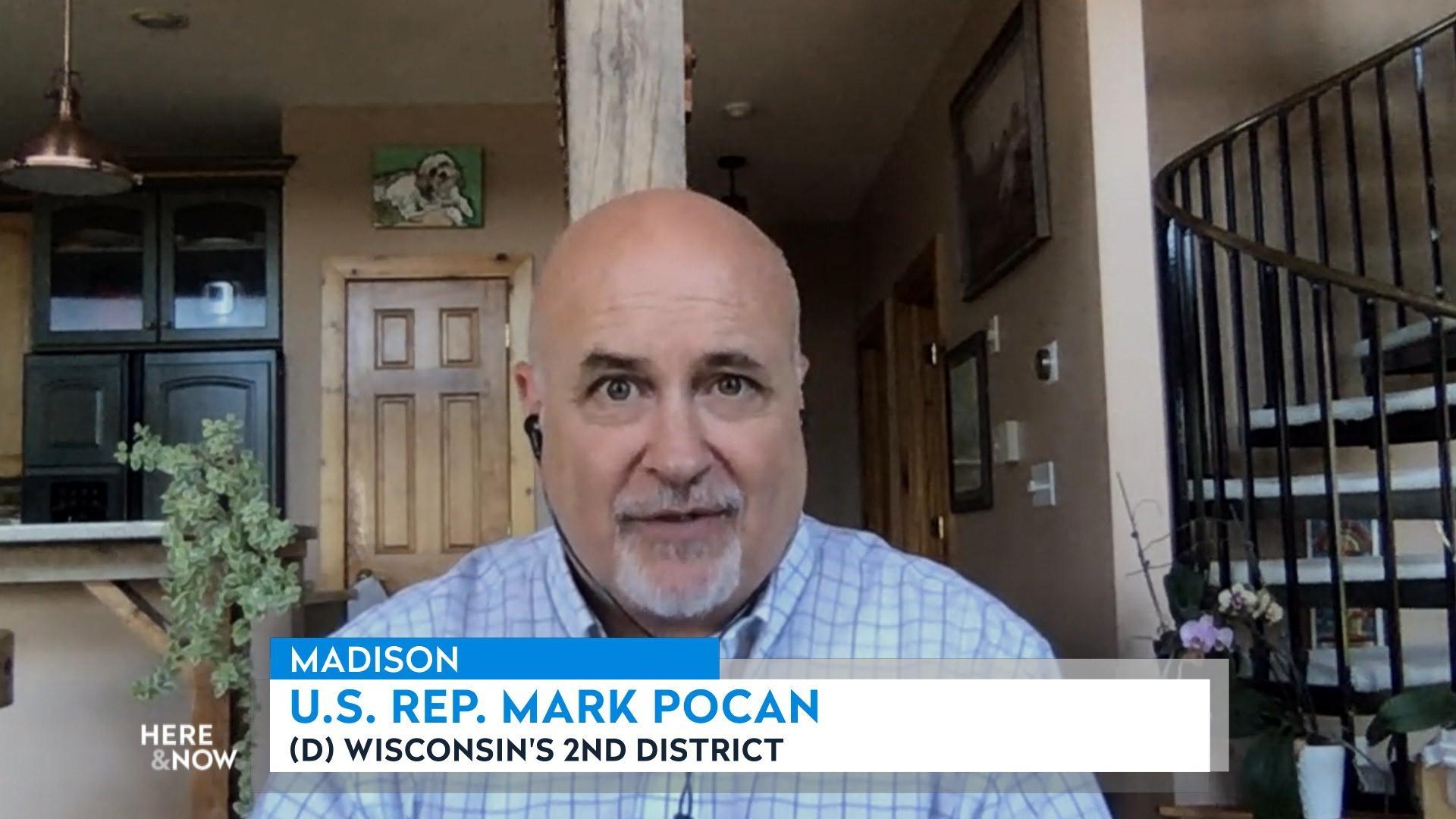 Pocan on Federal Police Reform, DACA & LGBTQ+ Workers Ruling
Democratic U.S. Rep. Mark Pocan provides an update on congressional Democrats' push to enact police reform at the national level. He also reacts to two U.S. Supreme Court decisions on DACA recipients and LGBTQ+ workers.
June 19, 2020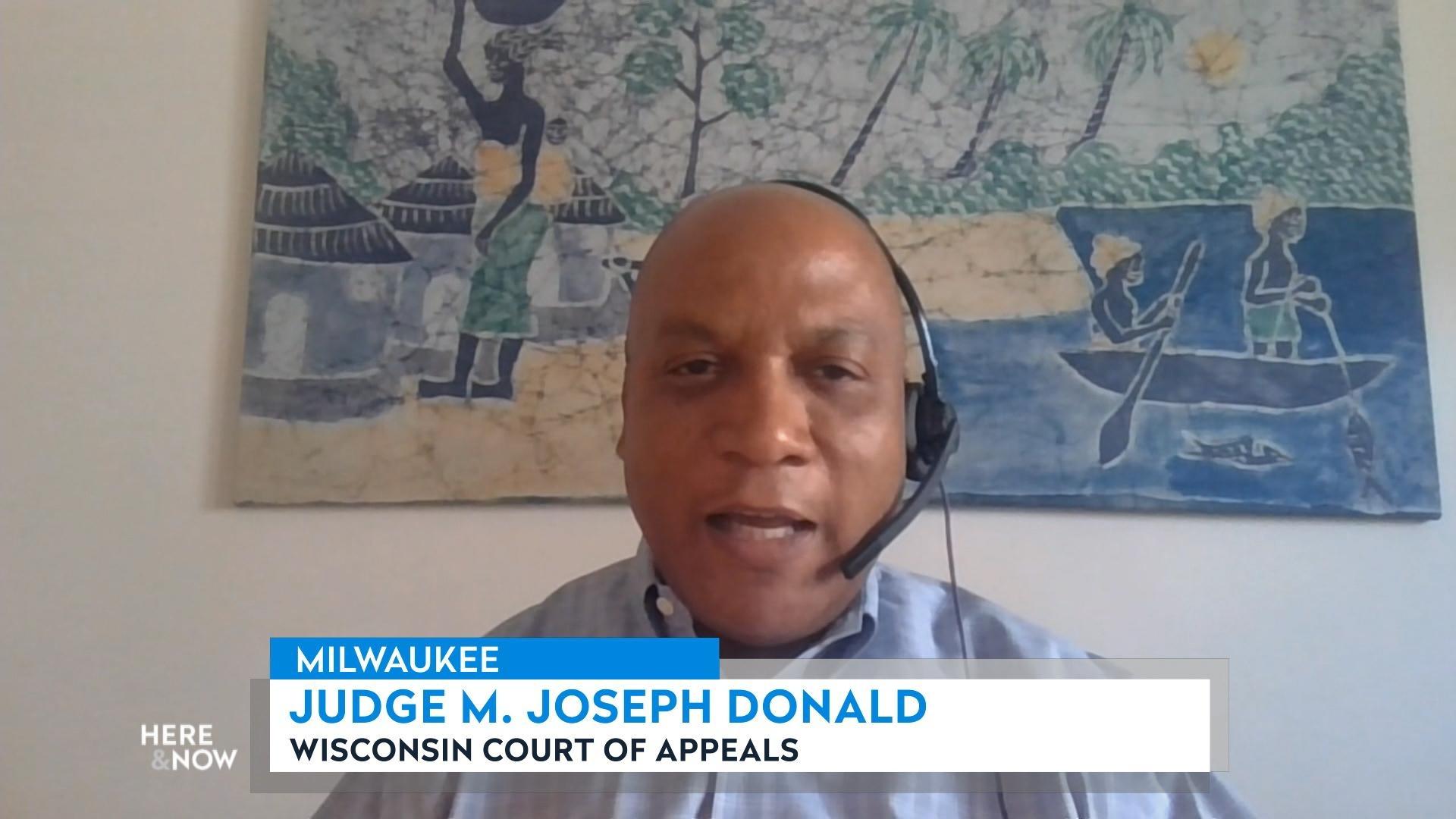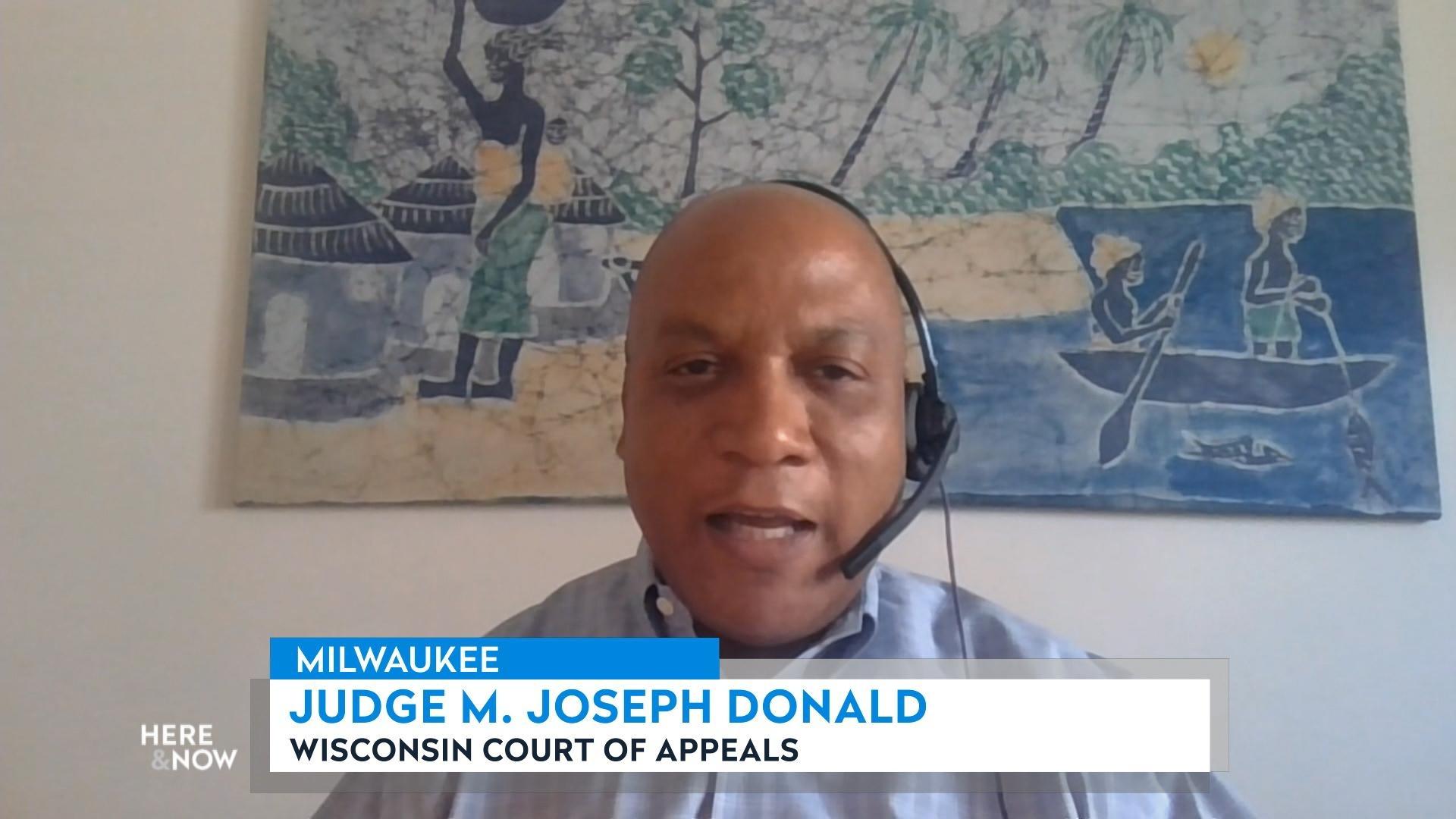 Diversity in the Courts, Justice System
Appellate court Judge Joseph Donald talks about inequality and barriers Wisconsinites of color face in the state's court system, suggesting ways the state can provide greater diversity and equality.
June 19, 2020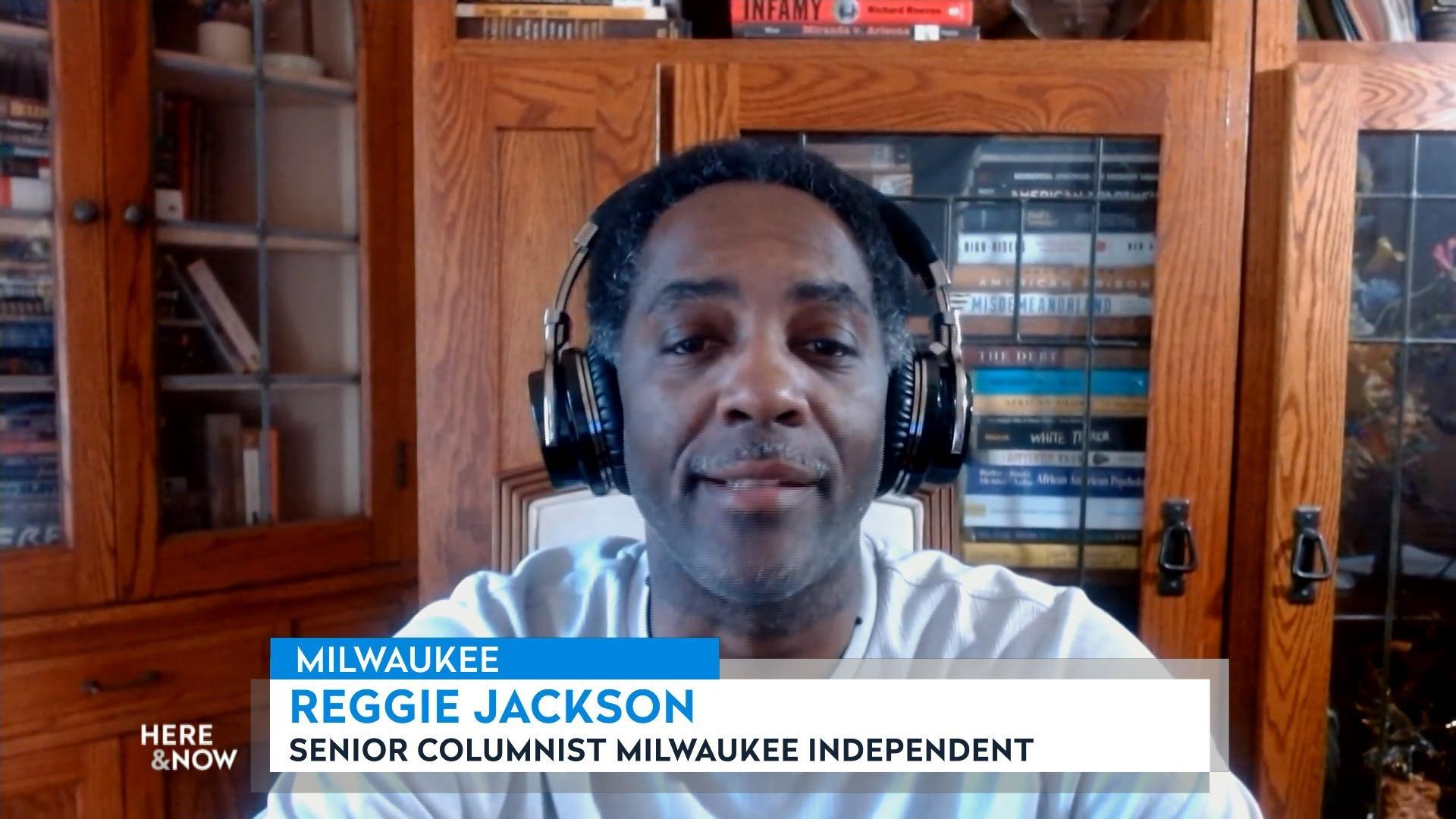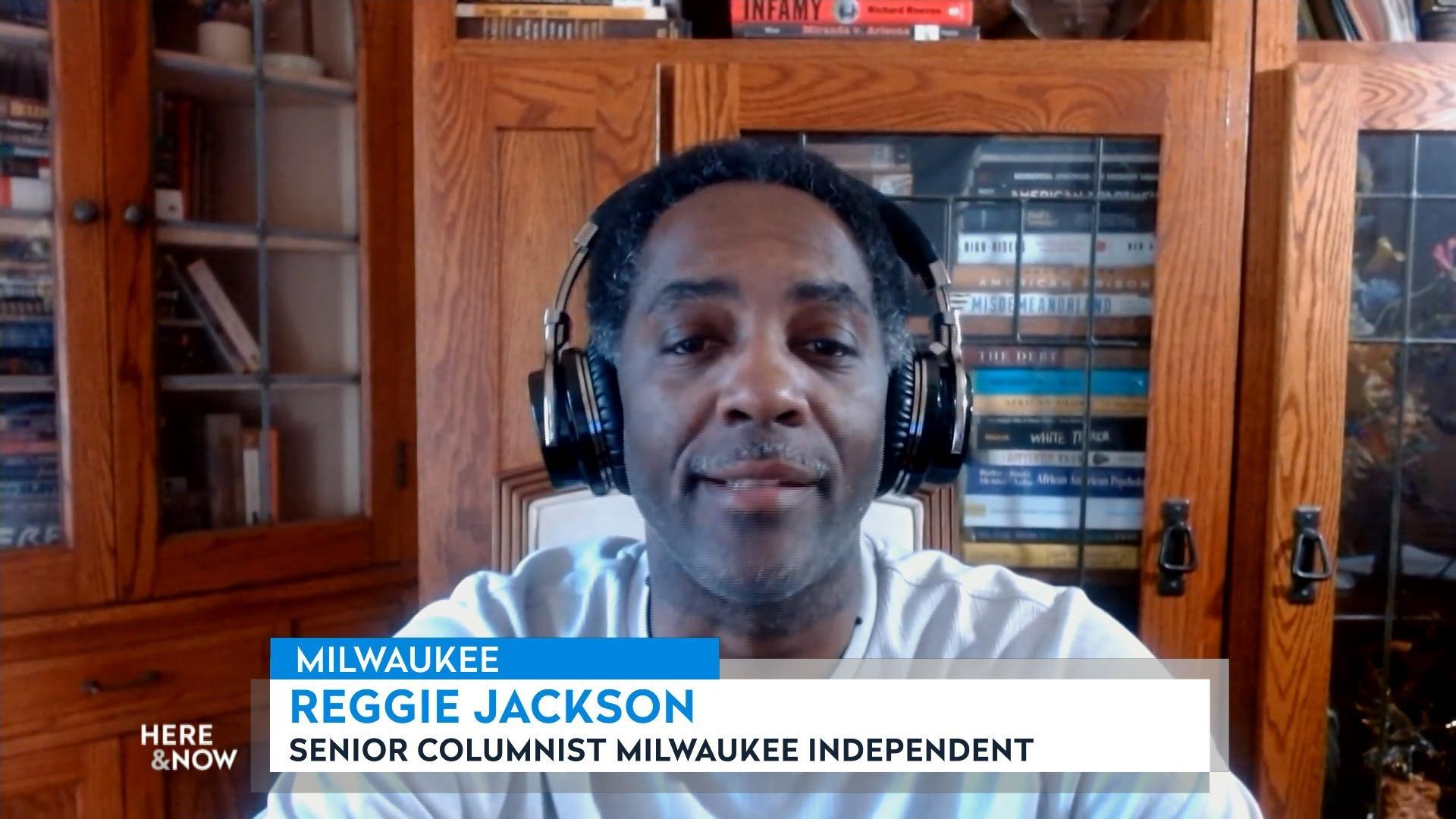 Celebrating Juneteenth in 2020
The Juneteenth celebration commemorates the end of slavery, but this year's celebration comes amid a global pandemic and in the wake of the death of George Floyd. Milwaukee Independent Senior Columnist Reggie Jackson discusses what he sees in the protests and how the country can move forward.
June 19, 2020
Evers, Barnes Release Police Reform Package as Wisconsinites Celebrate Juneteenth
The legislation proposed by the governor would create use of force standards and prohibit certain practices like chokeholds.
June 19, 2020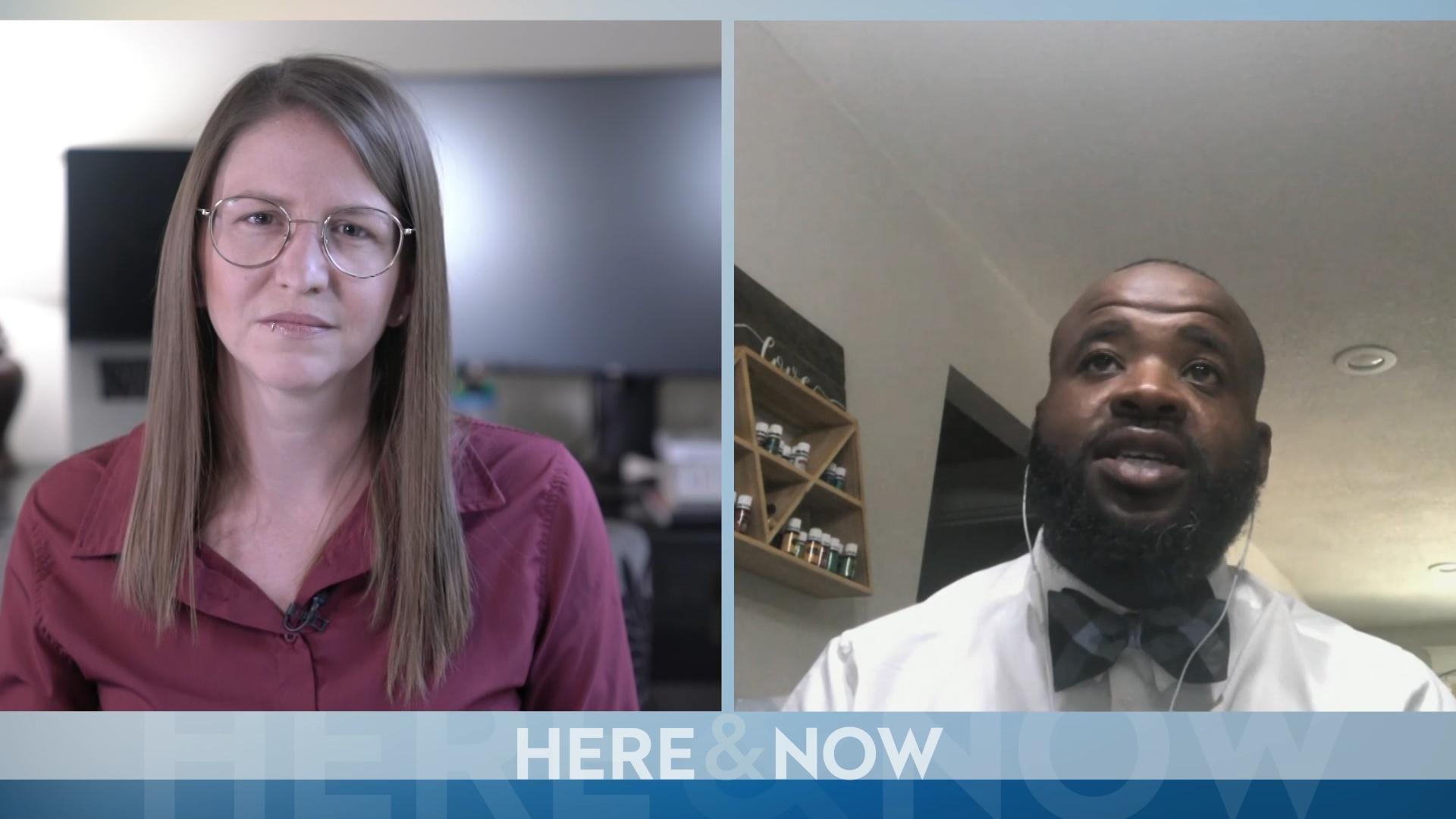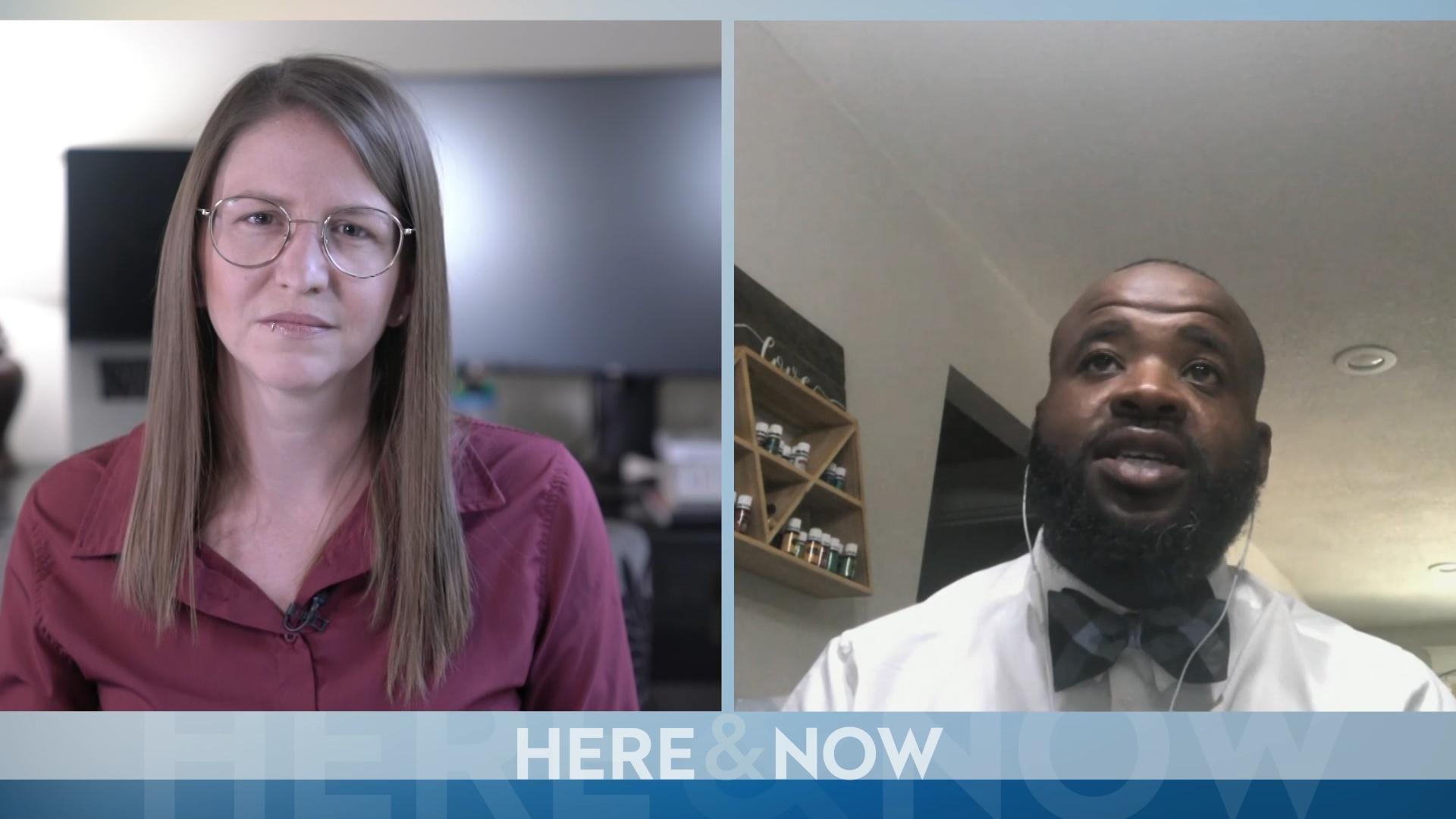 Noon Wednesday: Mentorship Over Protest
For some, taking to the streets in protest is how to be heard when it comes to race equity. For Dennis Beale, it's about mentorship and relationship building. He recently founded Power of Perception, partnering with the Eau Claire Area School District to create opportunities for African-American and biracial youth.
June 17, 2020 • West Central Region
Pride, Black Lives Matter Rally Celebrates Intersection of Movements
At a Friday rally at the state Capitol, demonstrators celebrated multiple movements as protests for racial justice continue during LGBTQ+ pride month.
June 13, 2020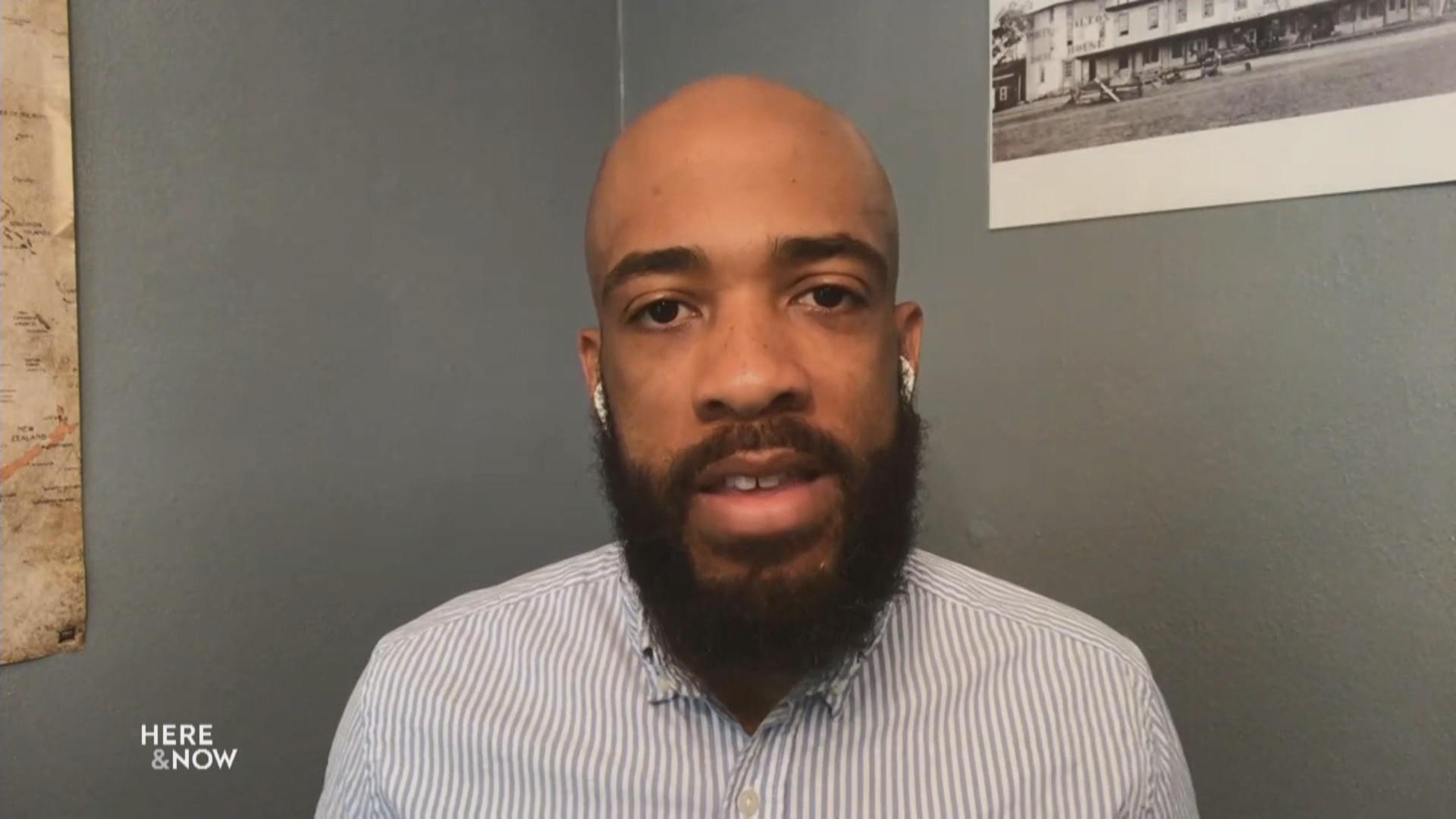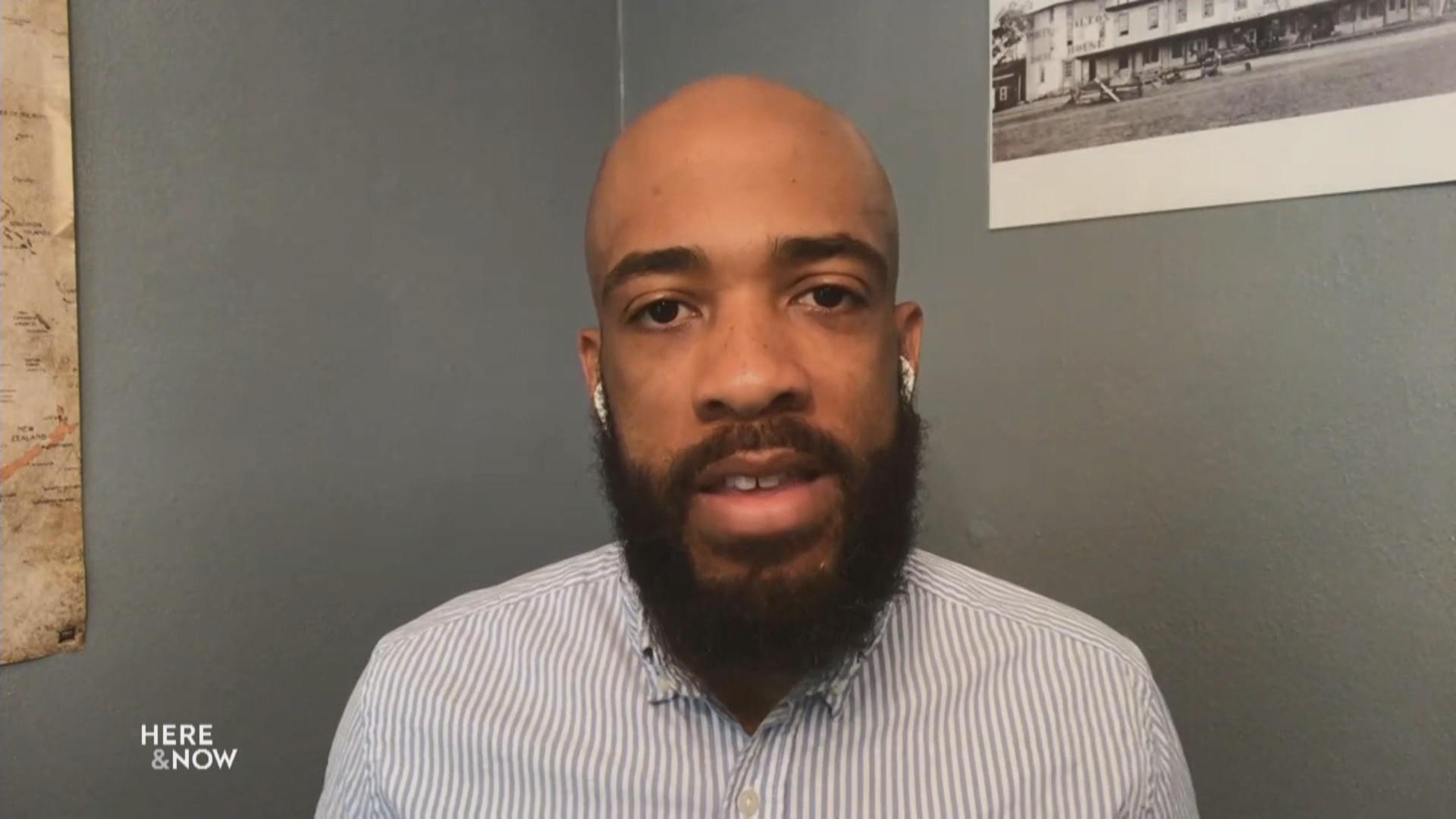 Taking A Hard Look at What is Being Funded at What Level
Lt. Governor Mandela Barnes joined reporter Marisa Wojcik this week on her online "Noon Wednesday" program to talk about police reform, racism and re-allocating police budgets.
June 12, 2020
Wisconsin-wide Protests Over George Floyd's Death Continue
Protests over George Floyd's death at the hands of Minneapolis Police, have mainly been in Wisconsin's larger metropolitan areas. Now, they are gaining traction in smaller cities like Wausau. In Milwaukee this week, thousands turned out for a protest led by Milwaukee Bucks basketball player Sterling Brown. Demonstrators in downtown Madison painted in huge yellow block letters "Defund Police."
June 12, 2020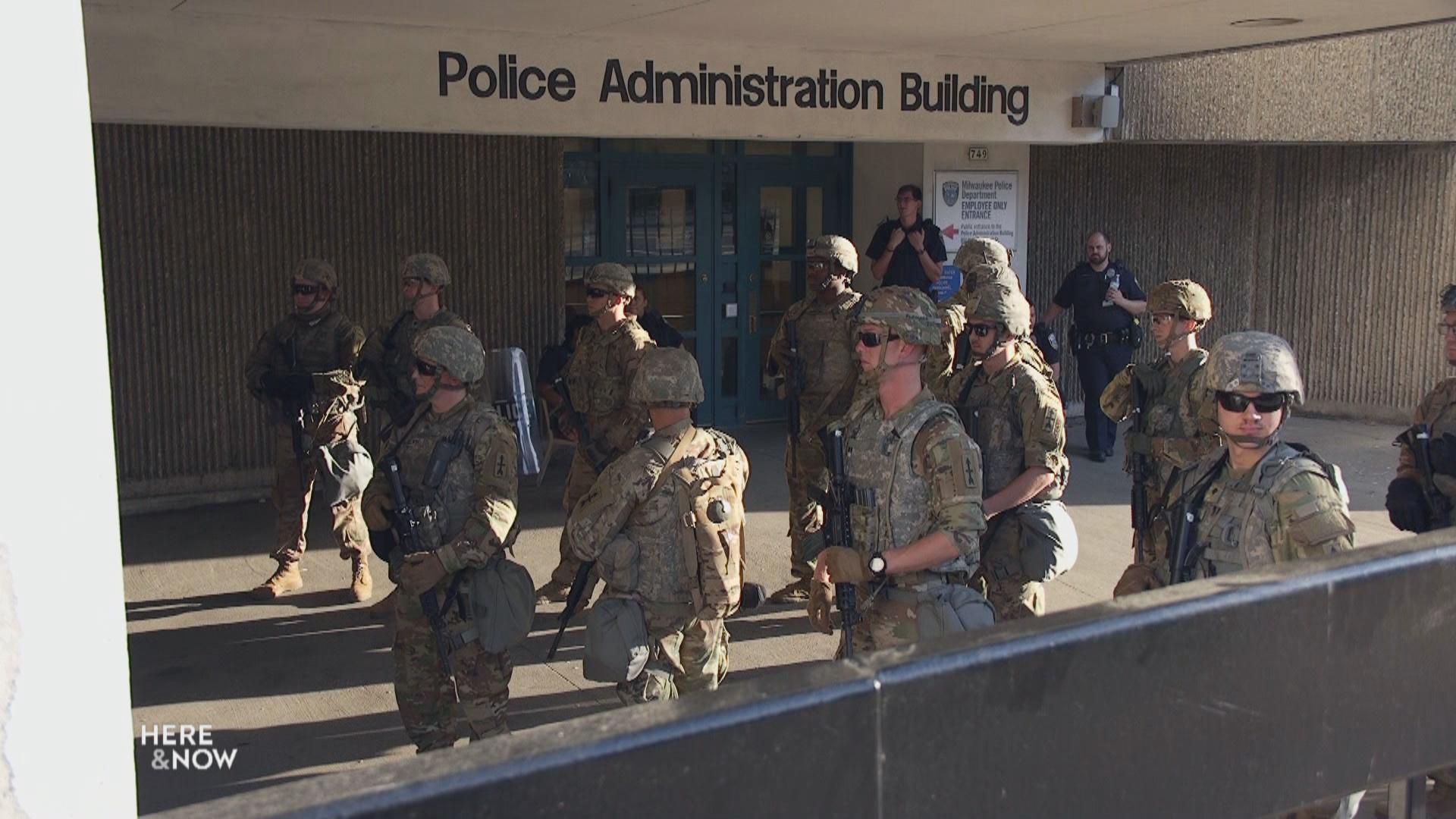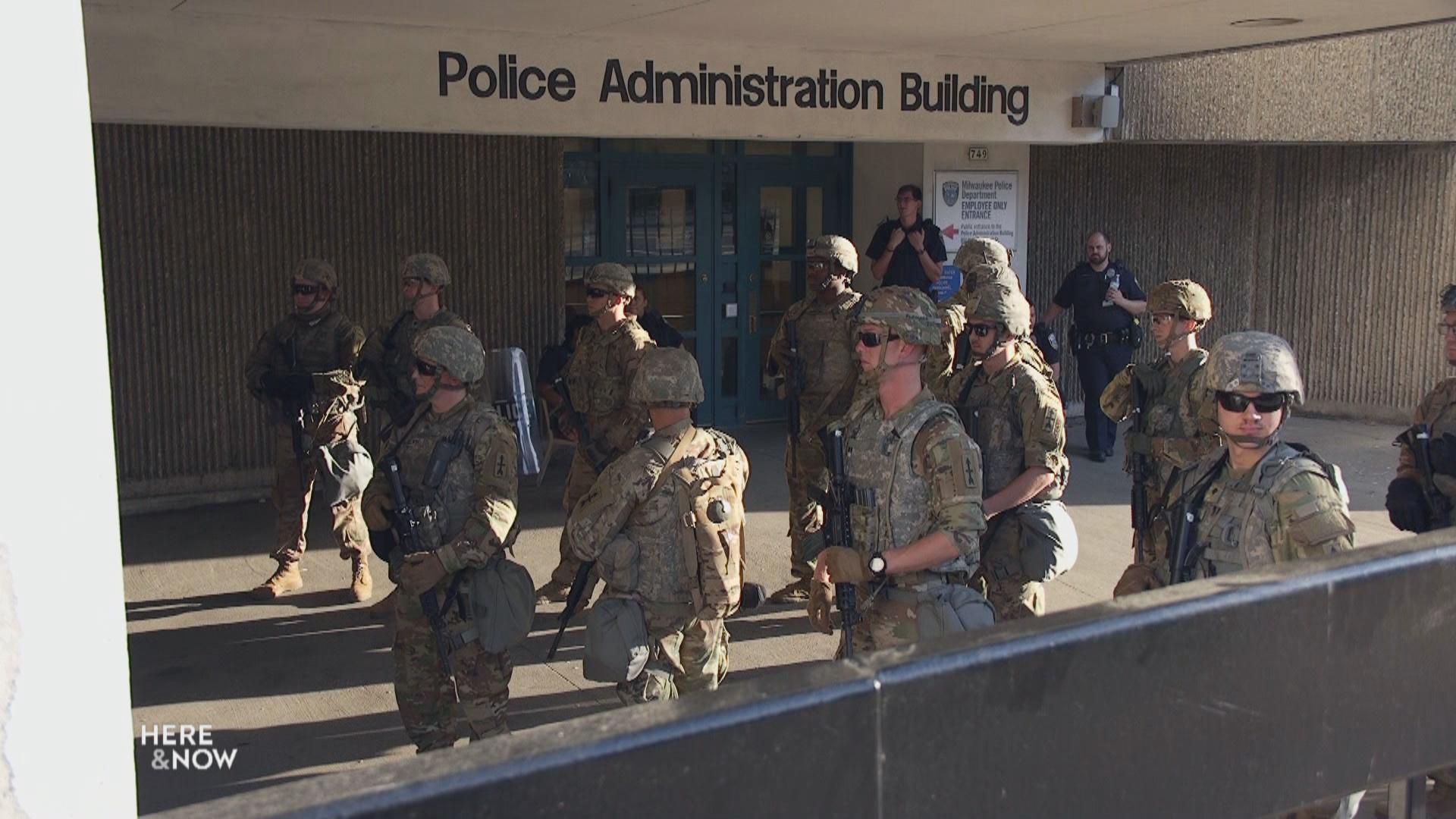 Wisconsin National Guard Ends Peacekeeping Mission
Governor Tony Evers ended the Wisconsin National Guard's mission to help restore peace and order in the wake of the George Floyd protest. Nearly 1,500 troops mobilized over the last week in response to requests from cities across the state. 125 Troops were deployed in Milwaukee. Additional request for help from guard troops came from authorities in Madison, Green Bay, Kenosha, and Racine.
June 12, 2020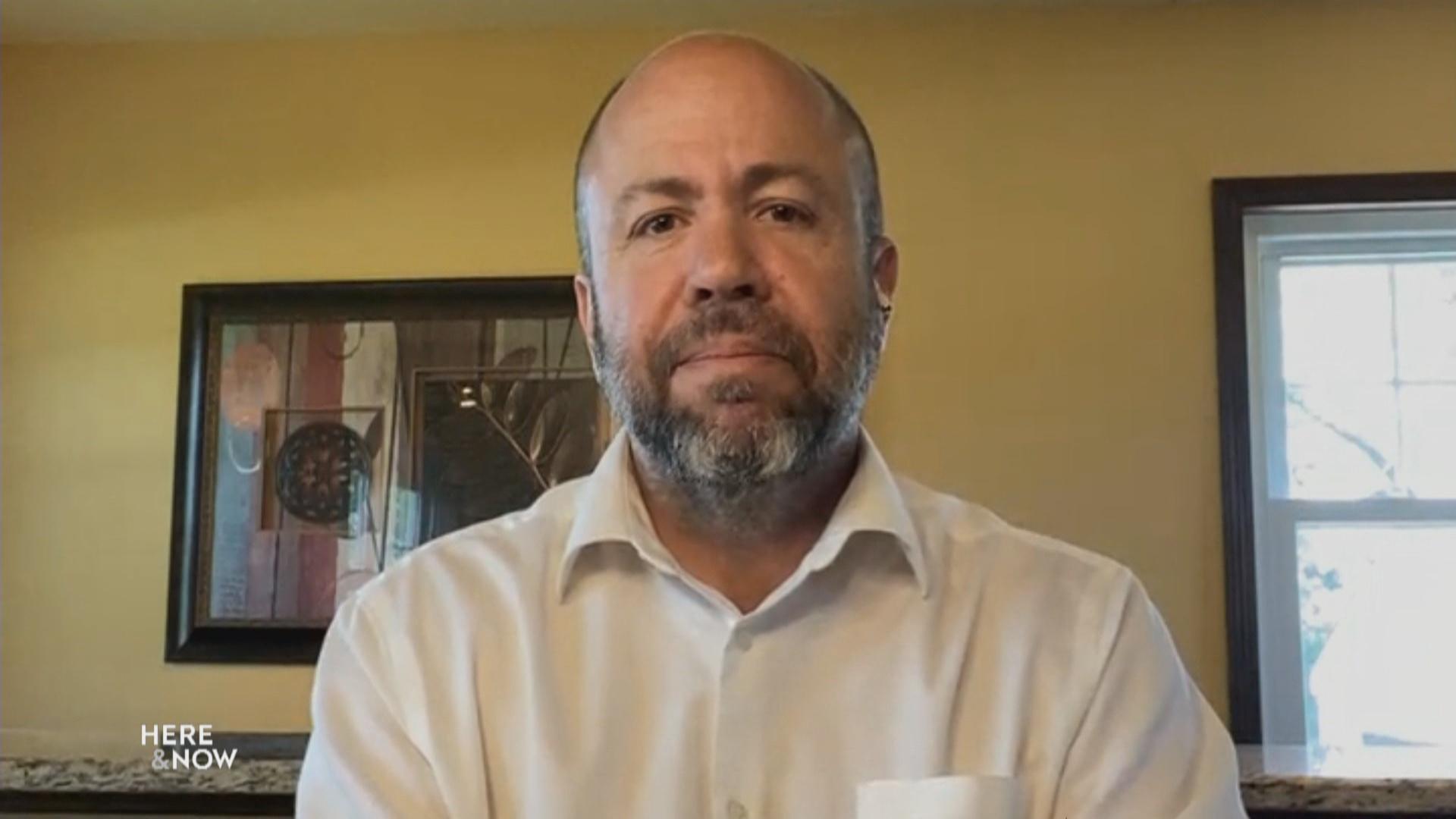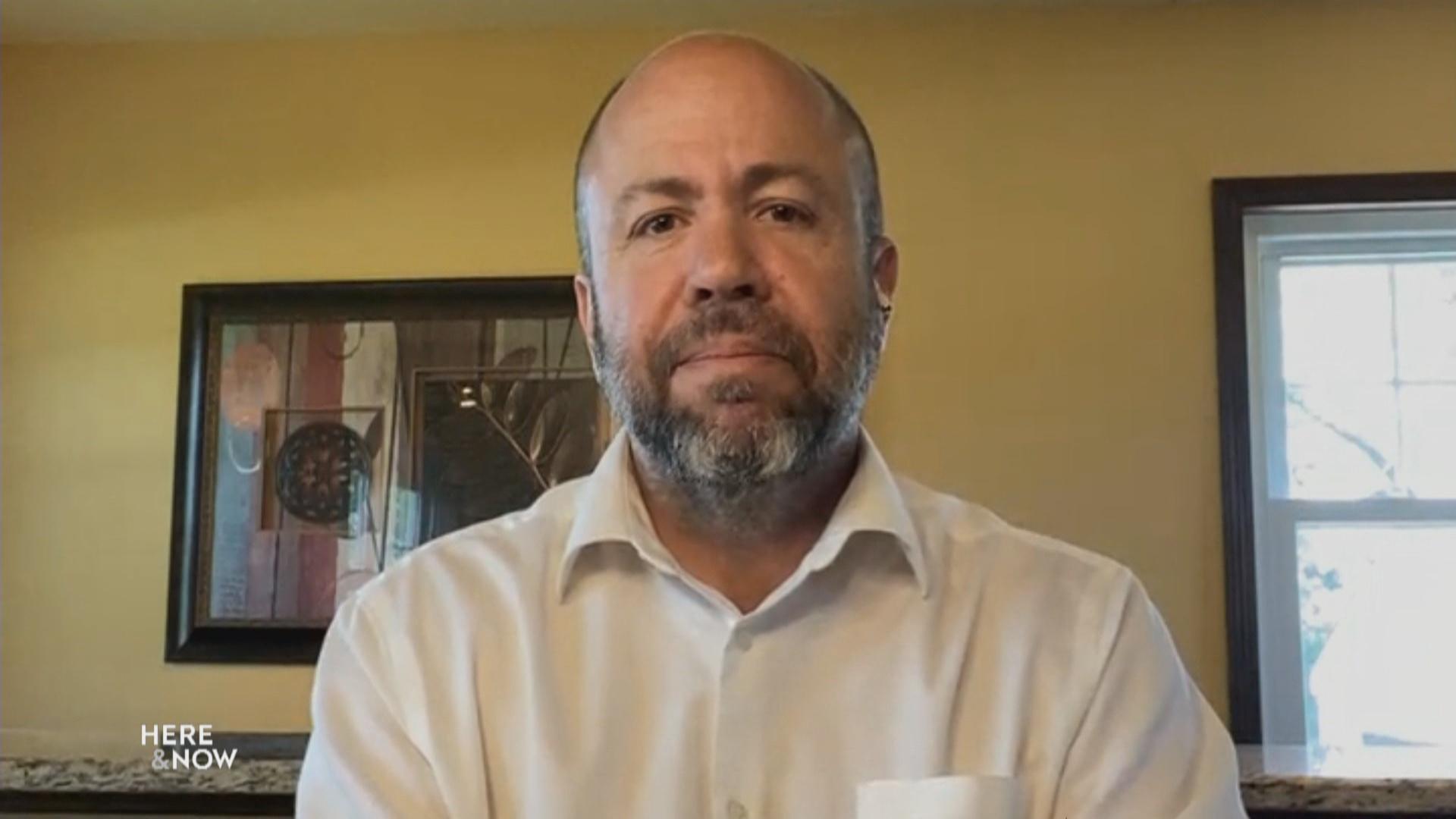 Assembly Majority Leader Jim Steineke discusses the Republican response to a Democratic police reform bill the governor is pushing the Legislature to take up. He also discusses the current partisan relationship between Republicans and Democrats, which has grown more tenuous after news broke of a recording Evers' staff made of a May meeting the governor had with Legislative leaders.
June 12, 2020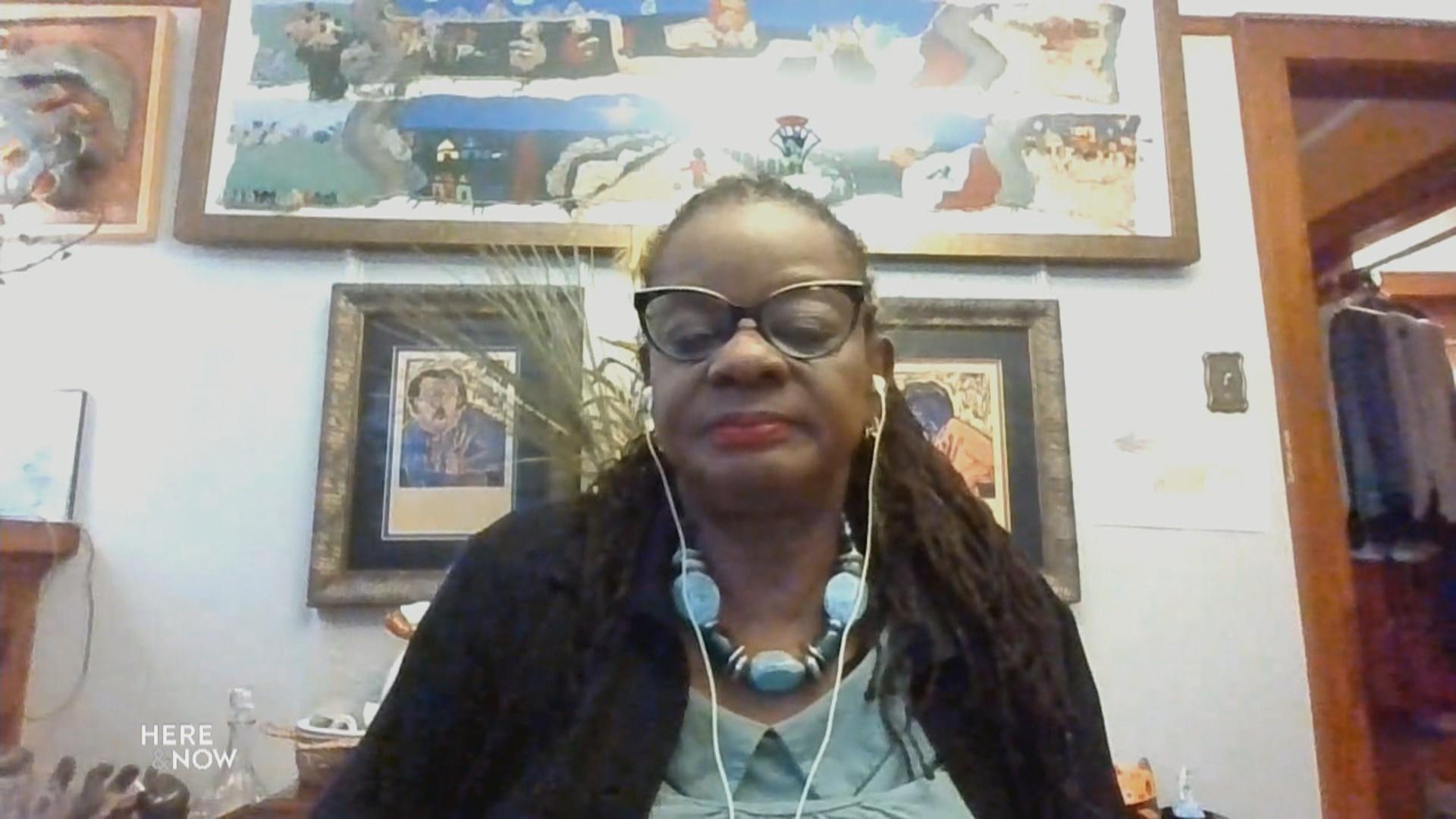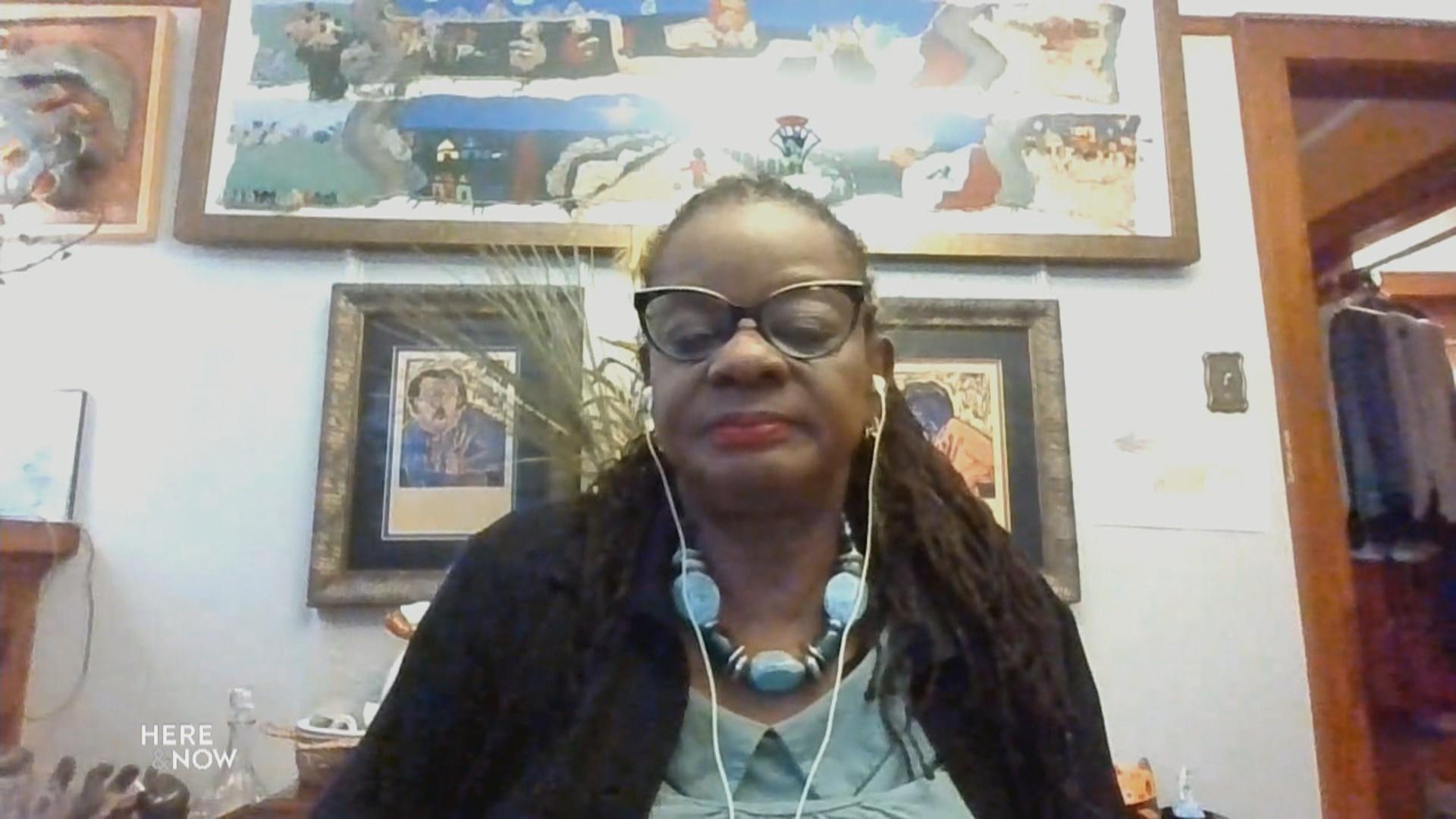 Gwen Moore on George Floyd, Structural Racism
U.S. Rep. Gwen Moore of Milwaukee discusses efforts by congressional Democrats to pass national police reform policy in the wake of the death of George Floyd in police custody. She also discusses ways to tackle systemic racism and inequality.
June 12, 2020 • Southeast Region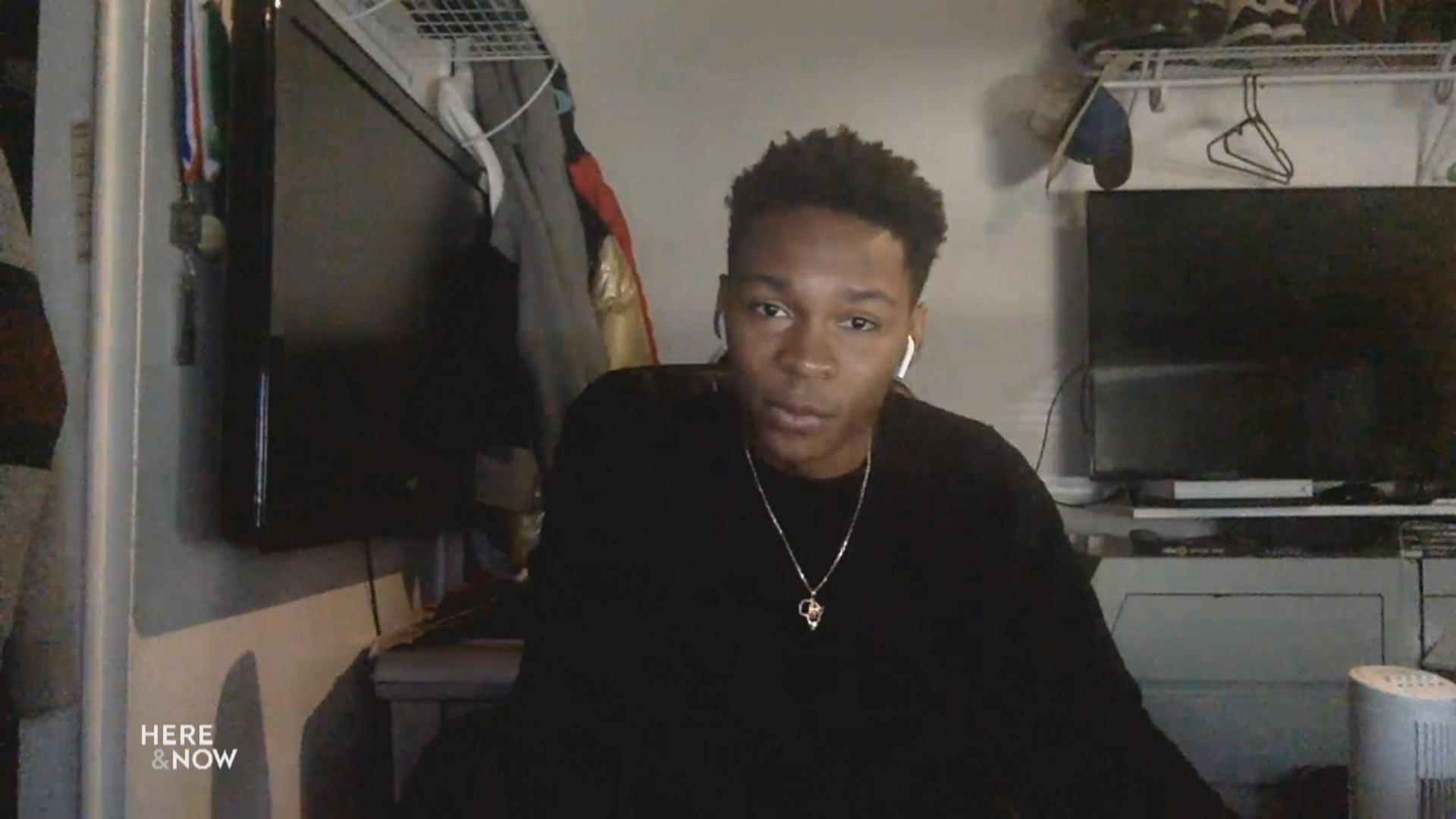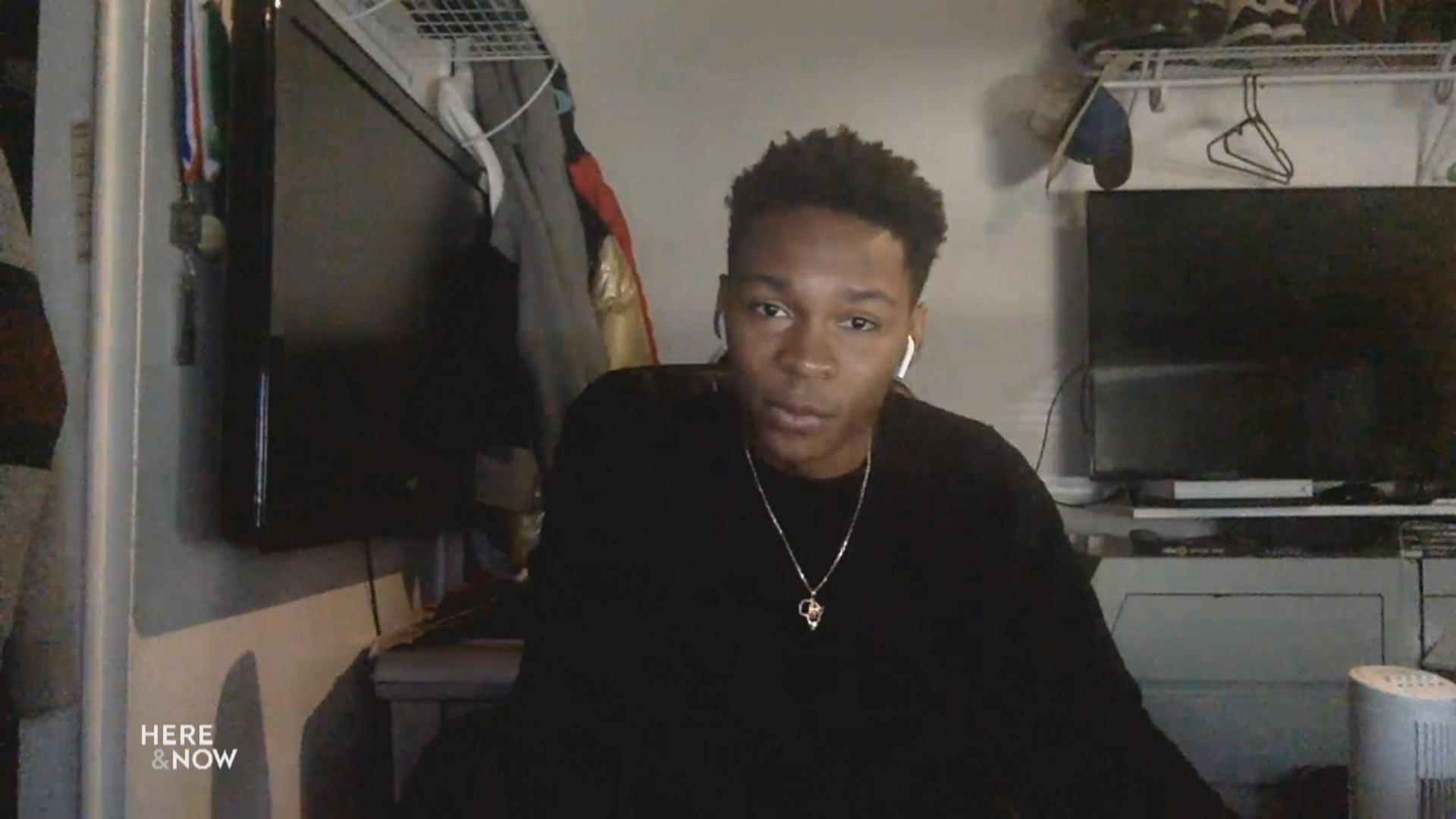 Youth Demonstrate for Racial Equality
A few months ago, Noah Anderson was leading a city-wide black student movement after his father Marlon was fired from Madison West High School for repeating a student's use of a racial slur during an altercation. He now reflects on the current movement, and what role the youth voice has in creating change.
June 12, 2020 • South Central Region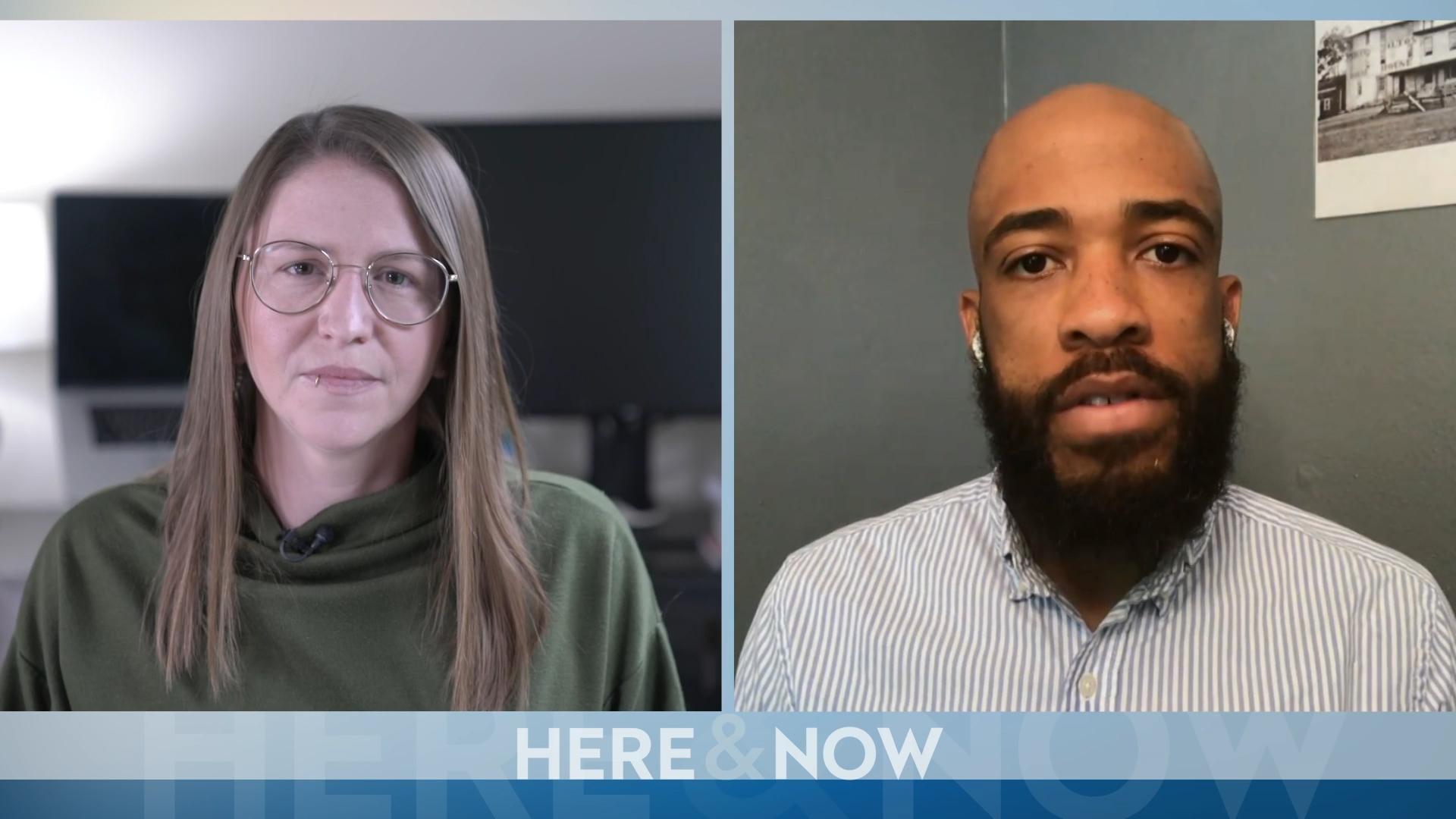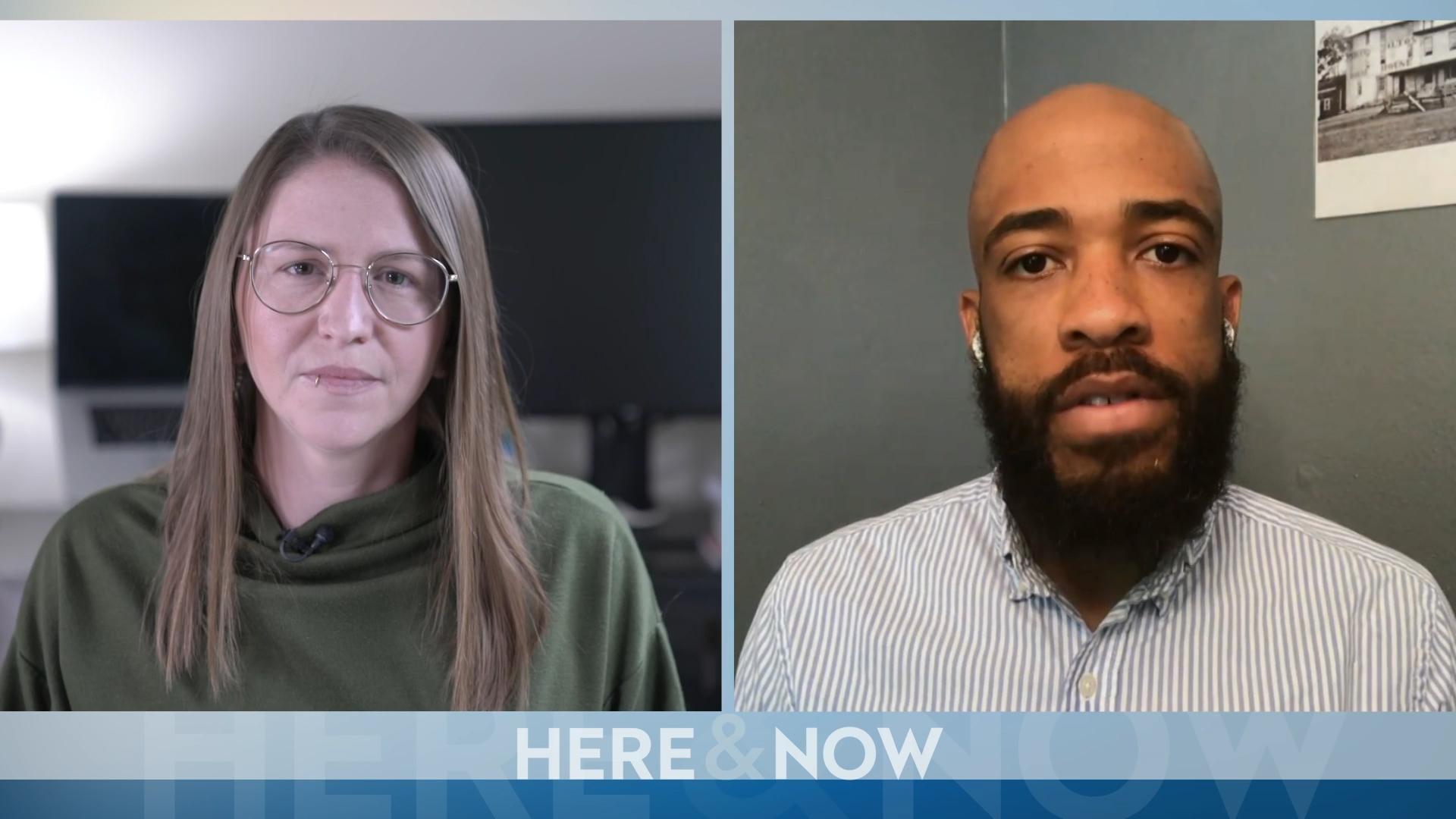 Noon Wednesday: Communities Chart Course to Address Racism
As protests over police brutality and systemic racism continue across the country, state and local leaders are grappling with how to address the needs of their own communities. Lt. Governor Mandela Barnes joins us to talk about his vision for Wisconsin.
June 10, 2020
Boarded-Up Storefronts Provide Canvas for Change
Artists take to boarded-up storefronts on Madison's State Street to spread messages.
June 10, 2020 • South Central Region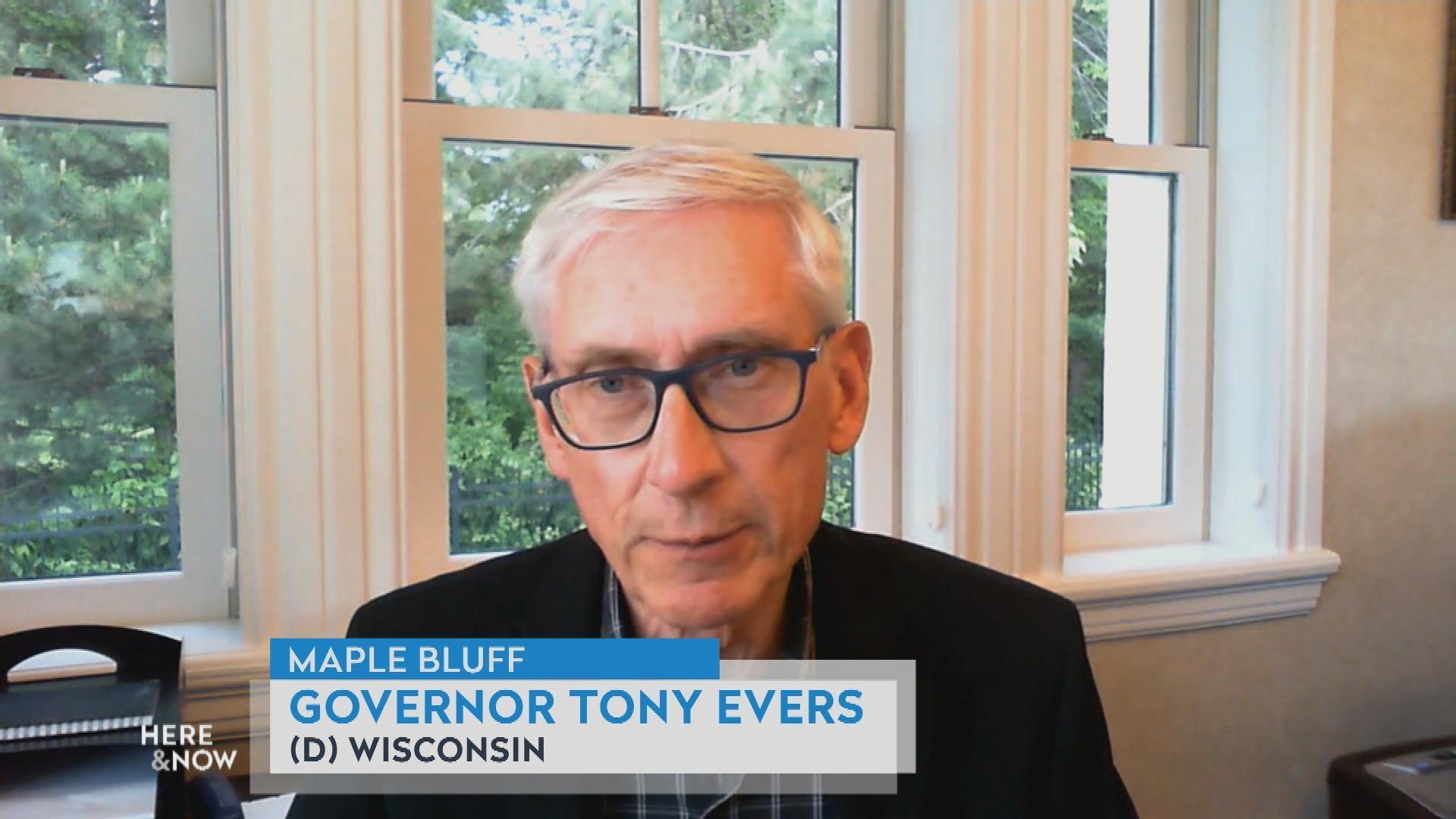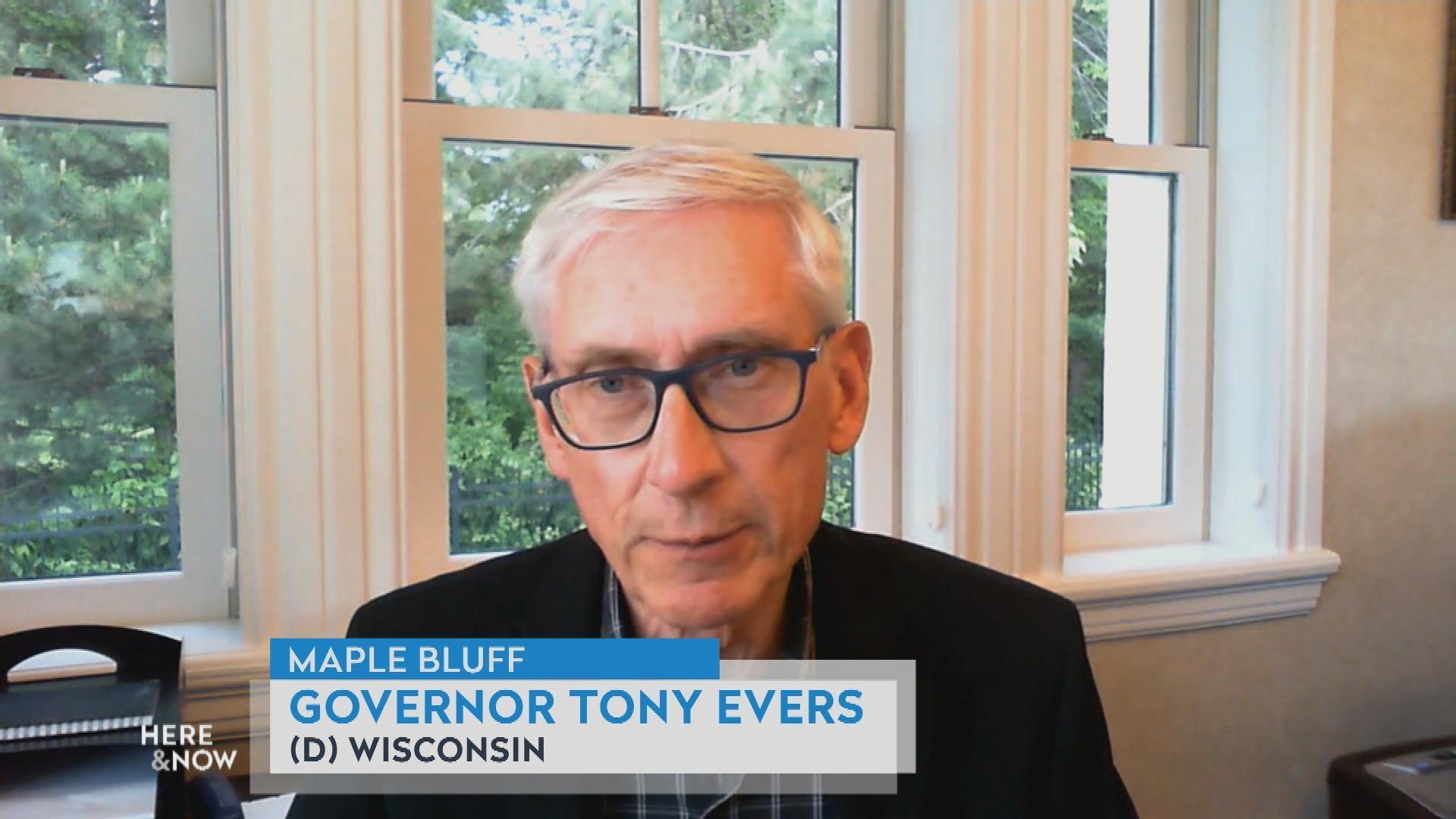 Governor Outlines First Step, Opportunities to Move Needle
Governor Tony Evers respond to protests in Wisconsin, answers questions about legislation he has proposed to limit police officers' use of force and requests to withdraw the National Guard
June 5, 2020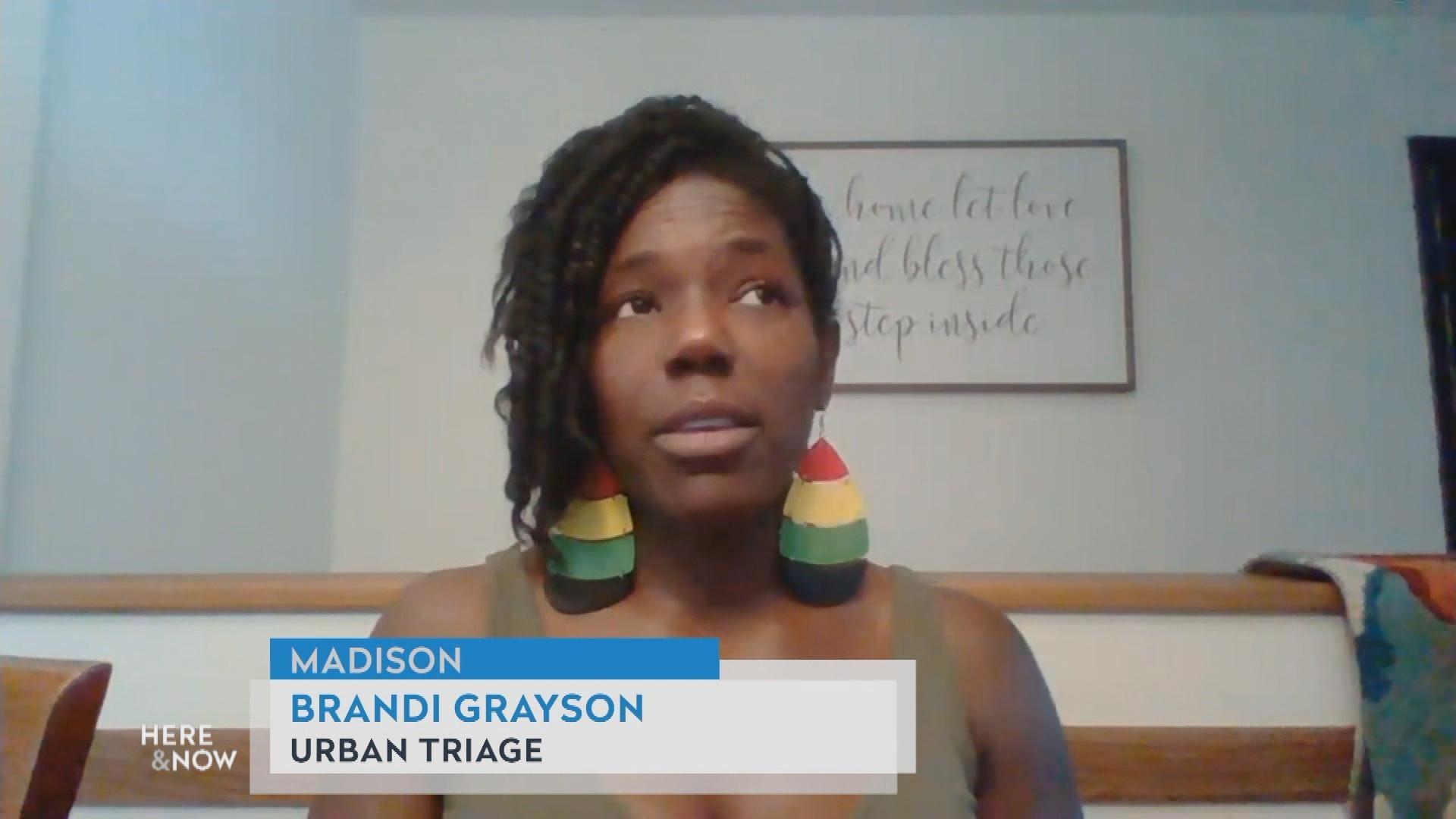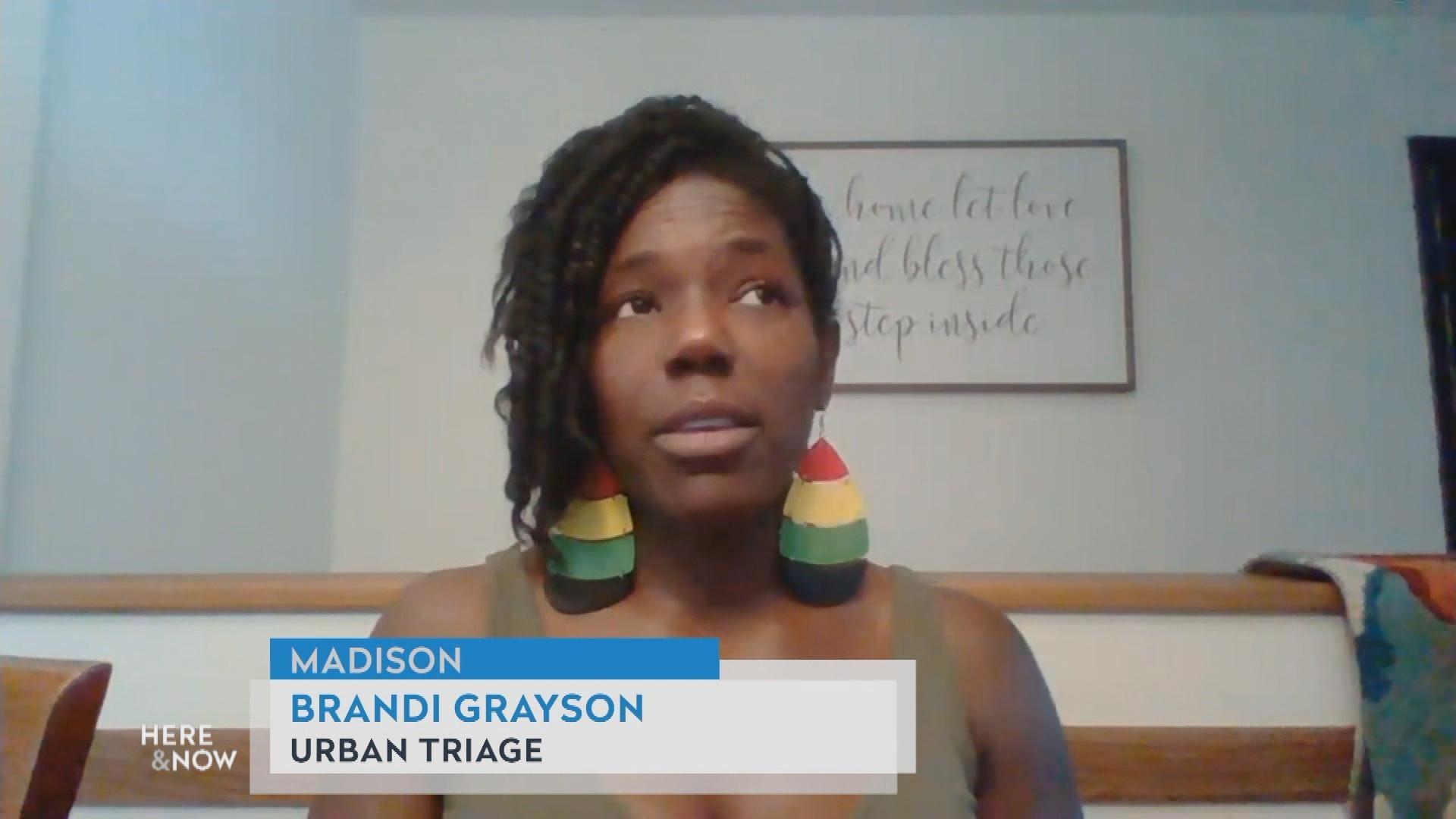 Brandi Grayson, founder of Urban Triage and an organizer of the protests in the state's Capitol, talks about what peace means in this movement, what protesters are asking for and what protests look and sound like on the ground.
June 5, 2020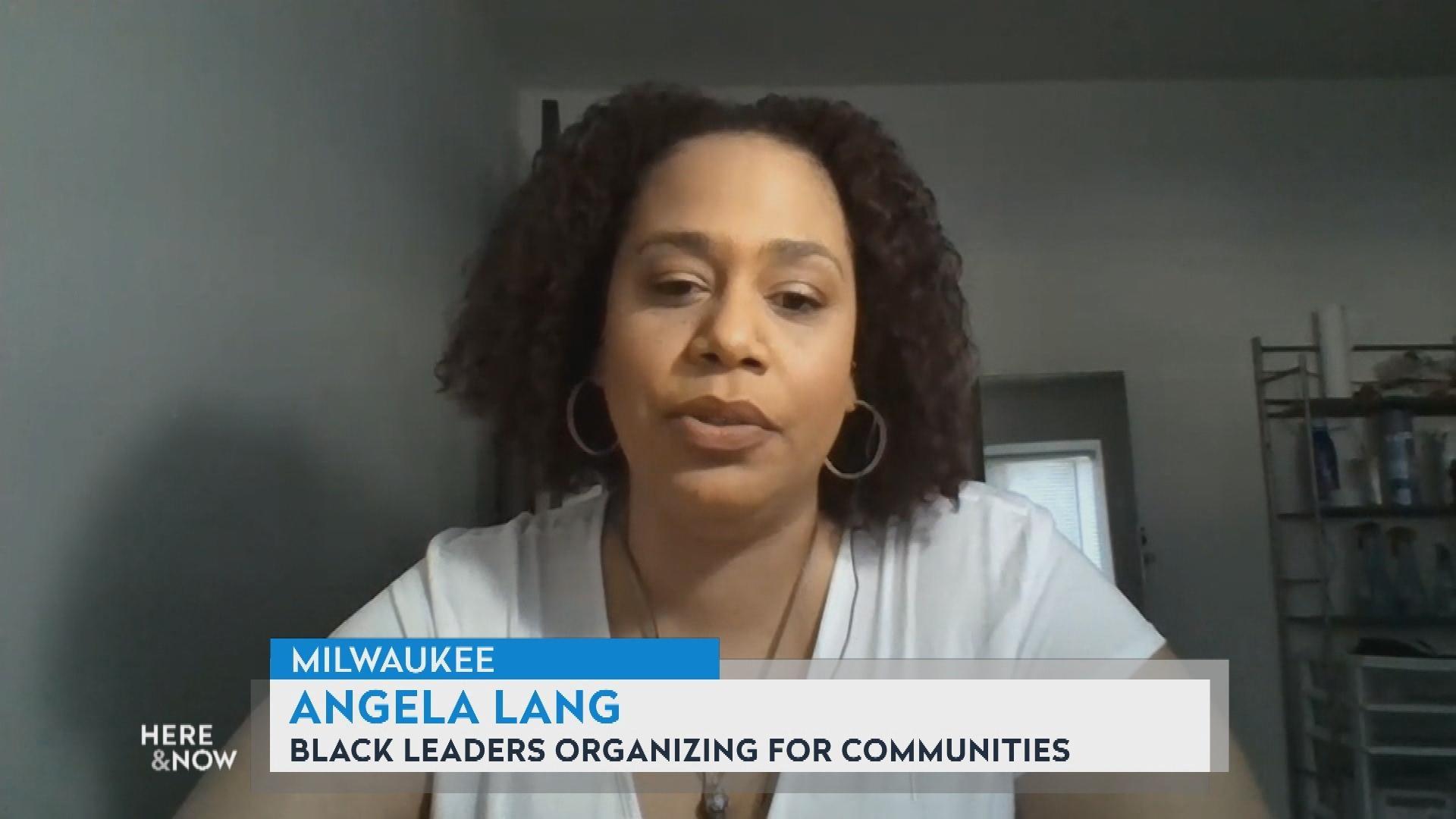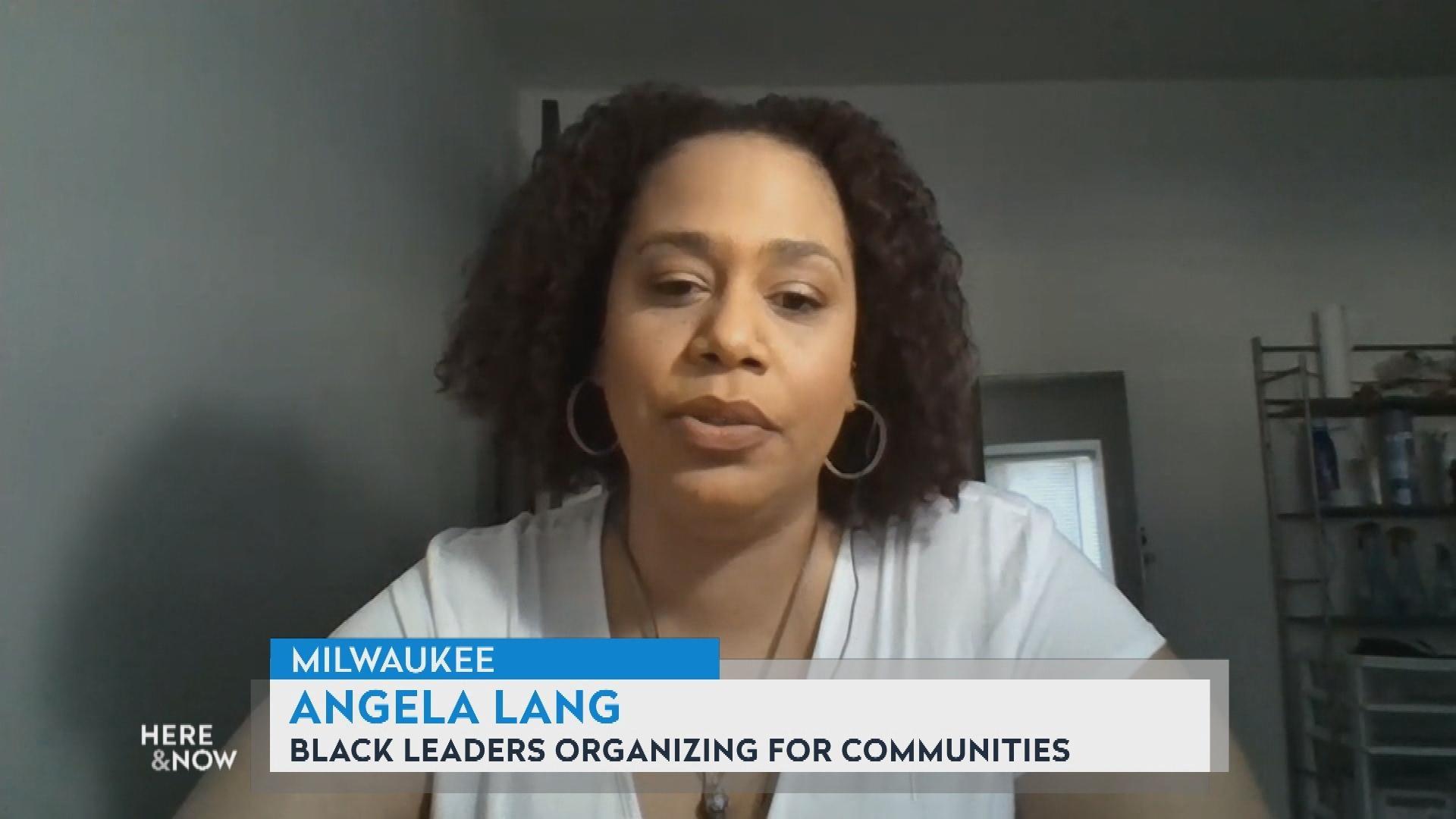 It Was Only A Matter of Time, Enough Is Enough
Angela Lang, executive director of Black Leaders Organizing for Change (BLOC), discusses the collaborative work she and other groups in Milwaukee are doing to organize the community around police reforms, including co-signing a list of demands.
June 5, 2020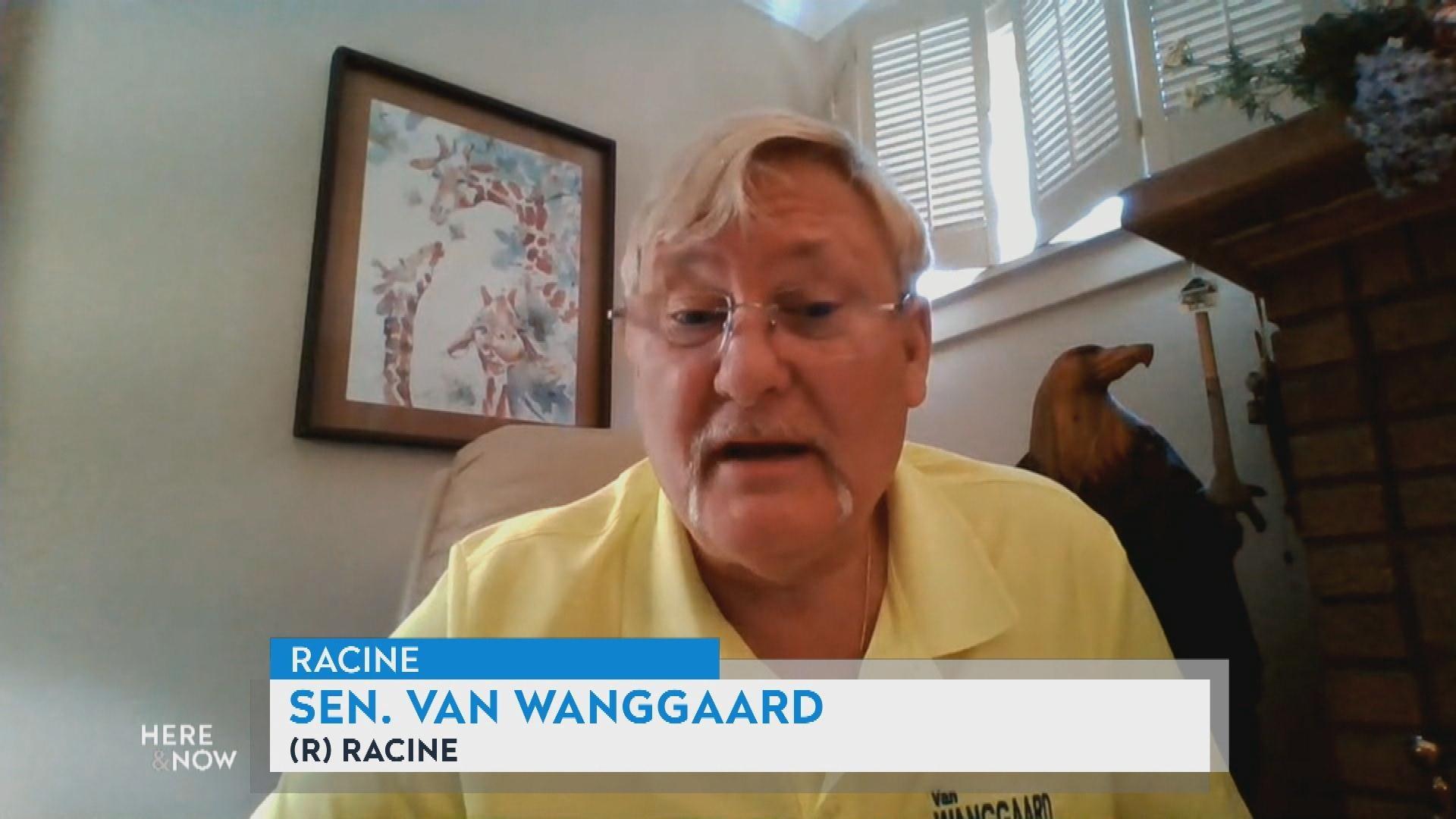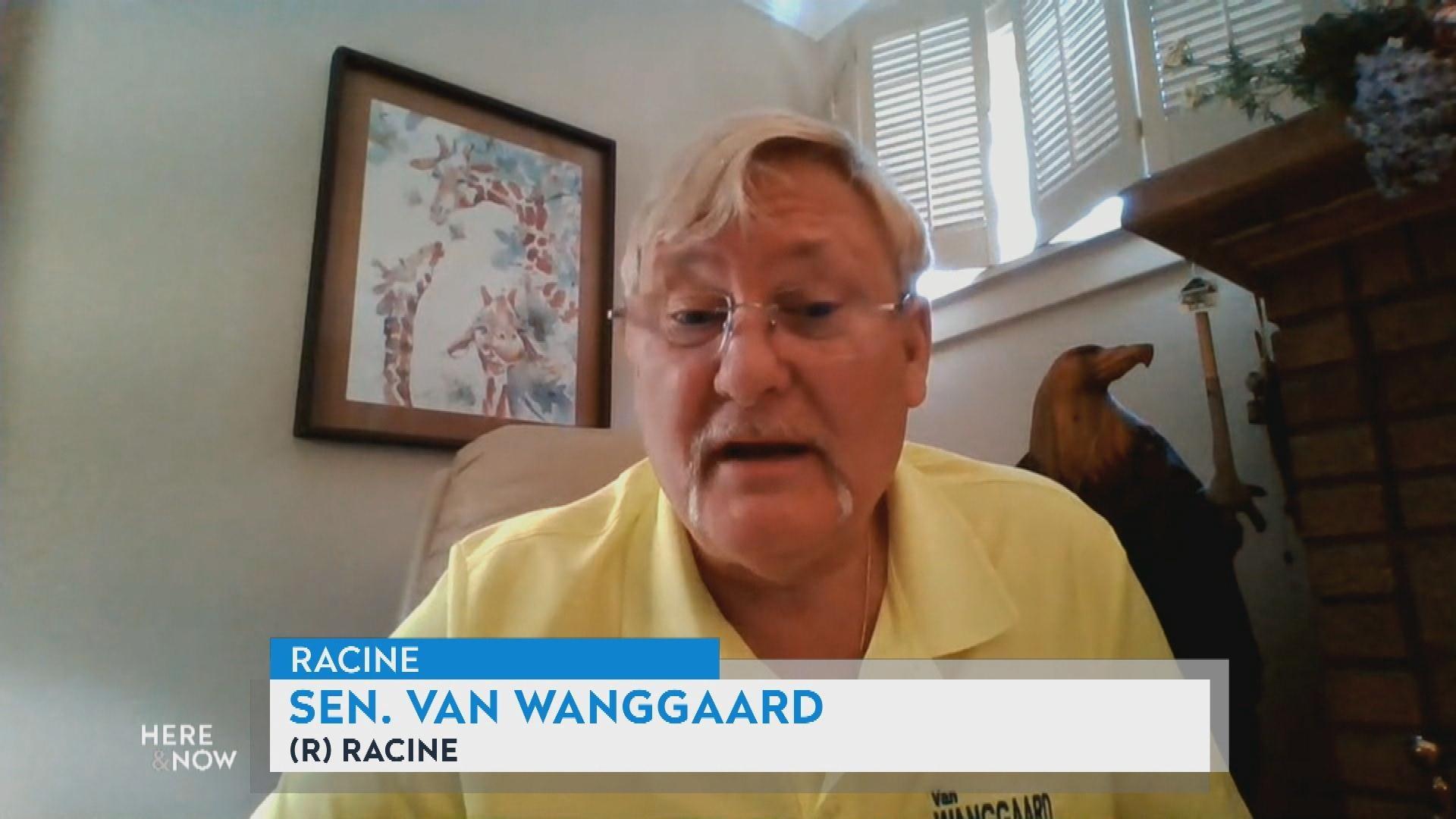 Proposed Bill Would Not Have Changed What Happened in Mpls.
Racine Republican Senator Van Wanggaard, a former police officer himself, explains his opposition to new legislation proposed by Gov. Tony Evers to limit use of force as only a last resort saying the root causes need to be addressed.
June 5, 2020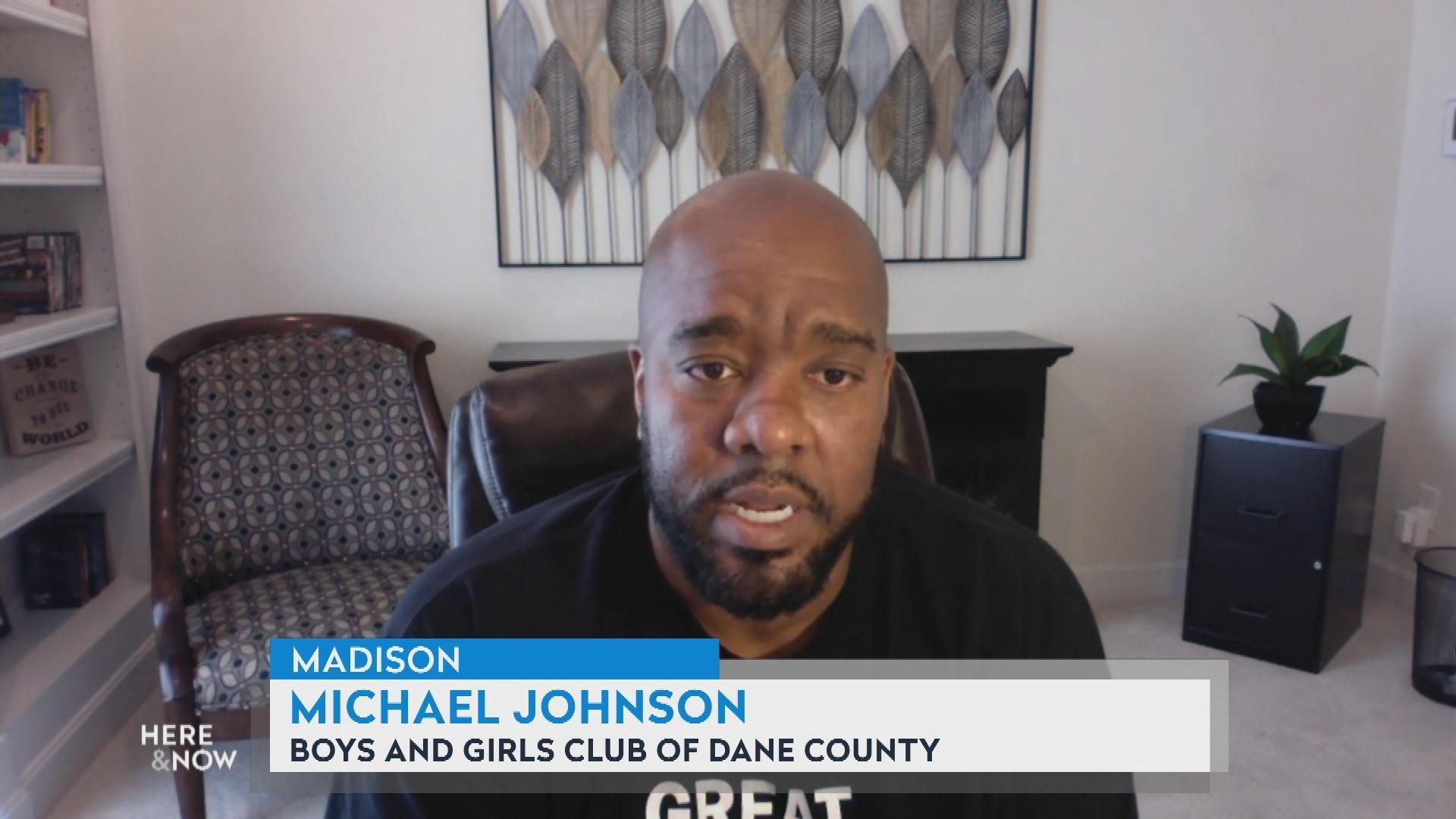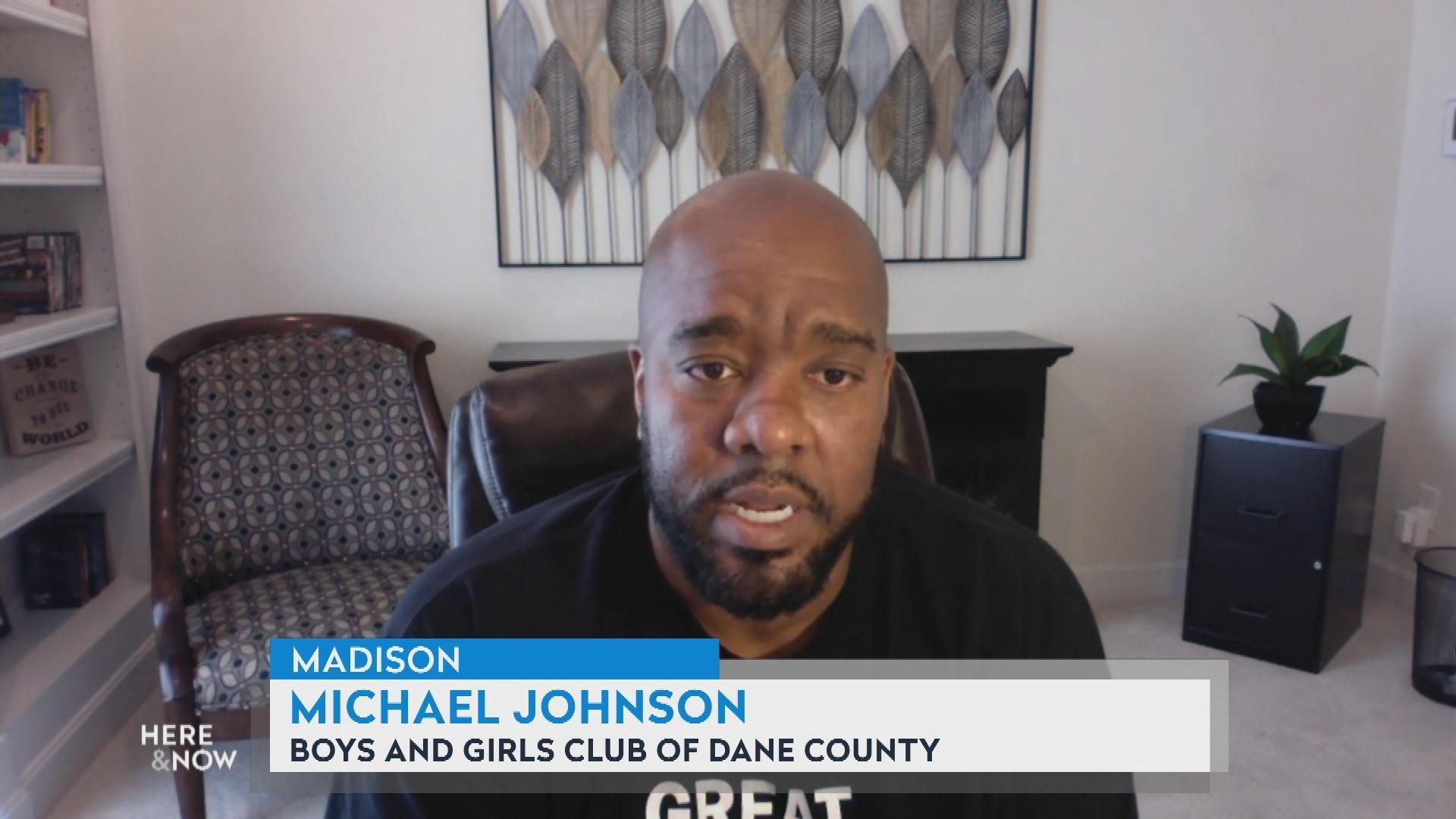 Michael Johnson, president and CEO of the Boys and Girls Club of Dane County, gives his take on George Floyd's death, which he has called a "modern day lynching" and what can be done to address system racism, including funding in municipal budgets and appropriate investments.
June 5, 2020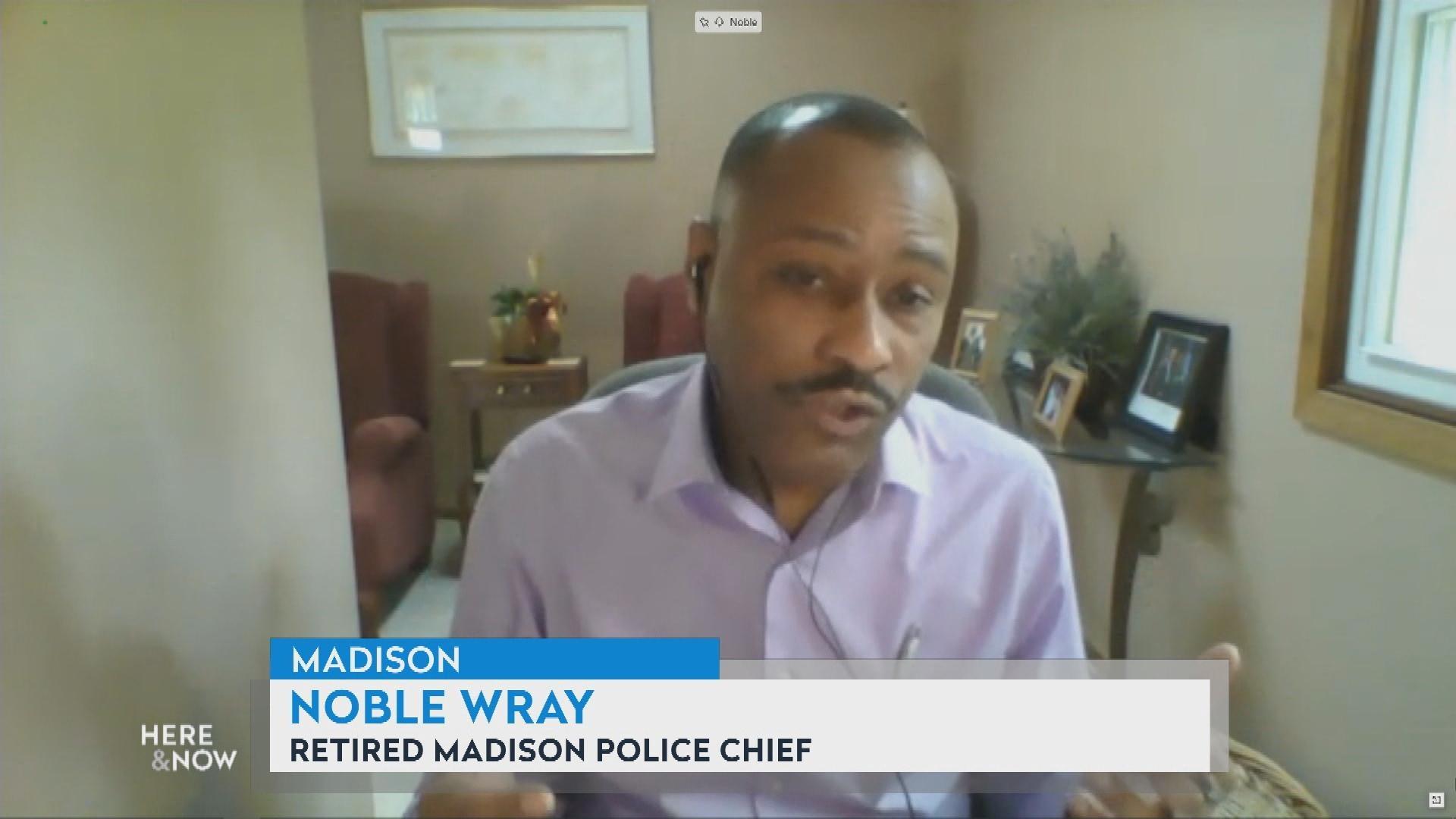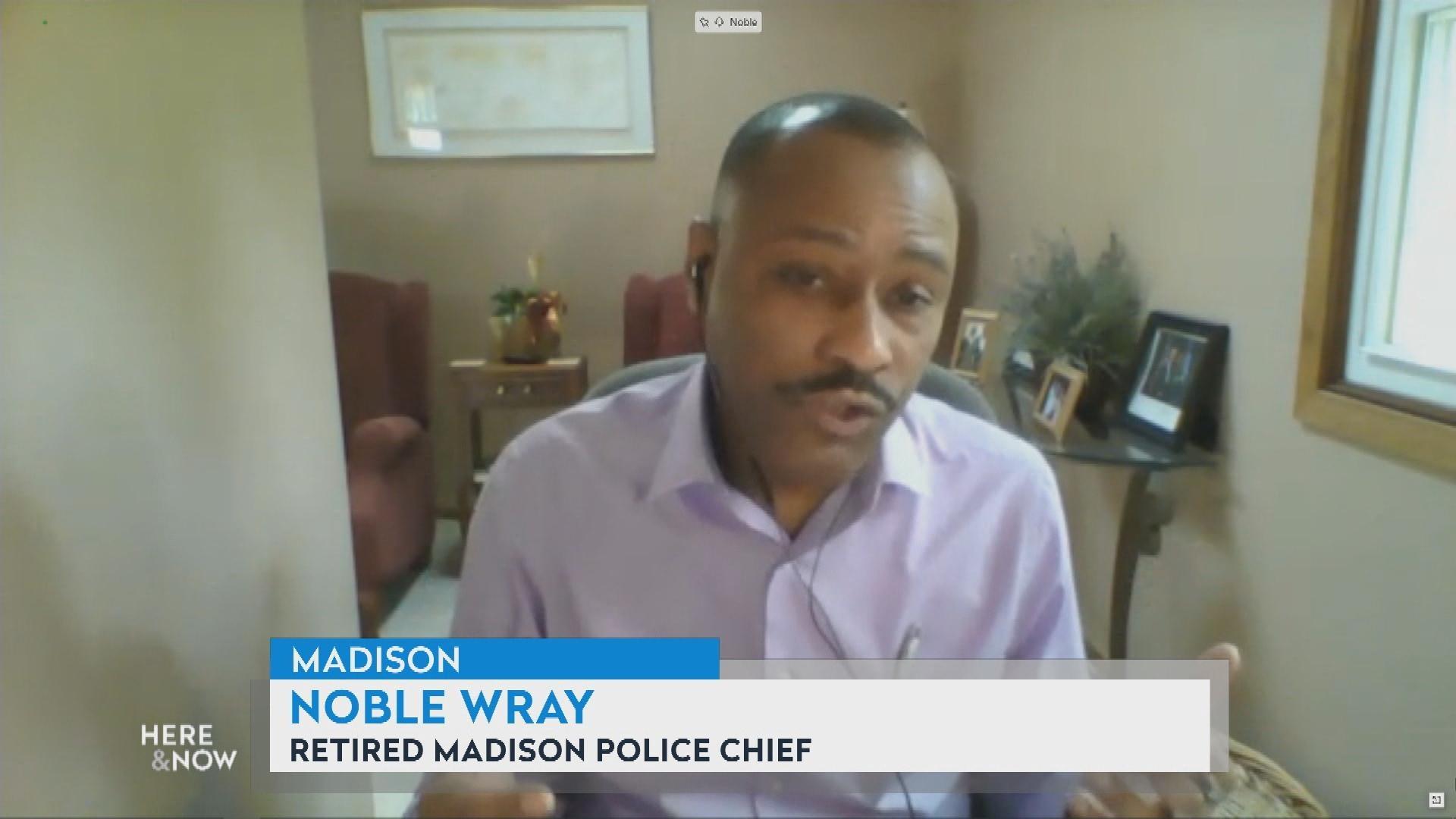 Gains by Police Reform Efforts Over Years Lost in An Instant
Noble Wray, retired Madison Police chief and nationally recognized consultant for law enforcement agencies on community policing and police reform, gives his take on the protests and what he thinks is most important for law enforcement to be doing.
June 5, 2020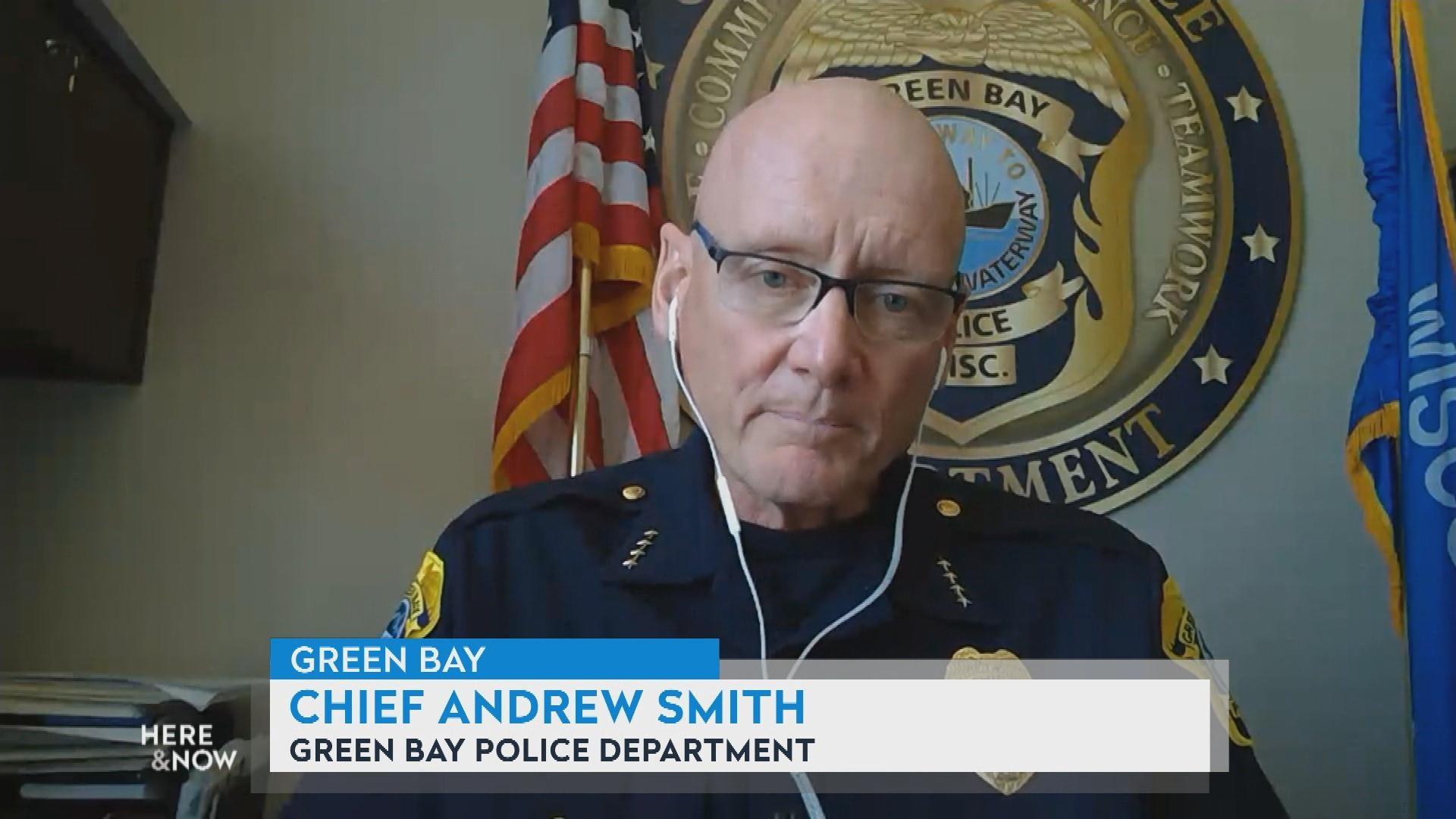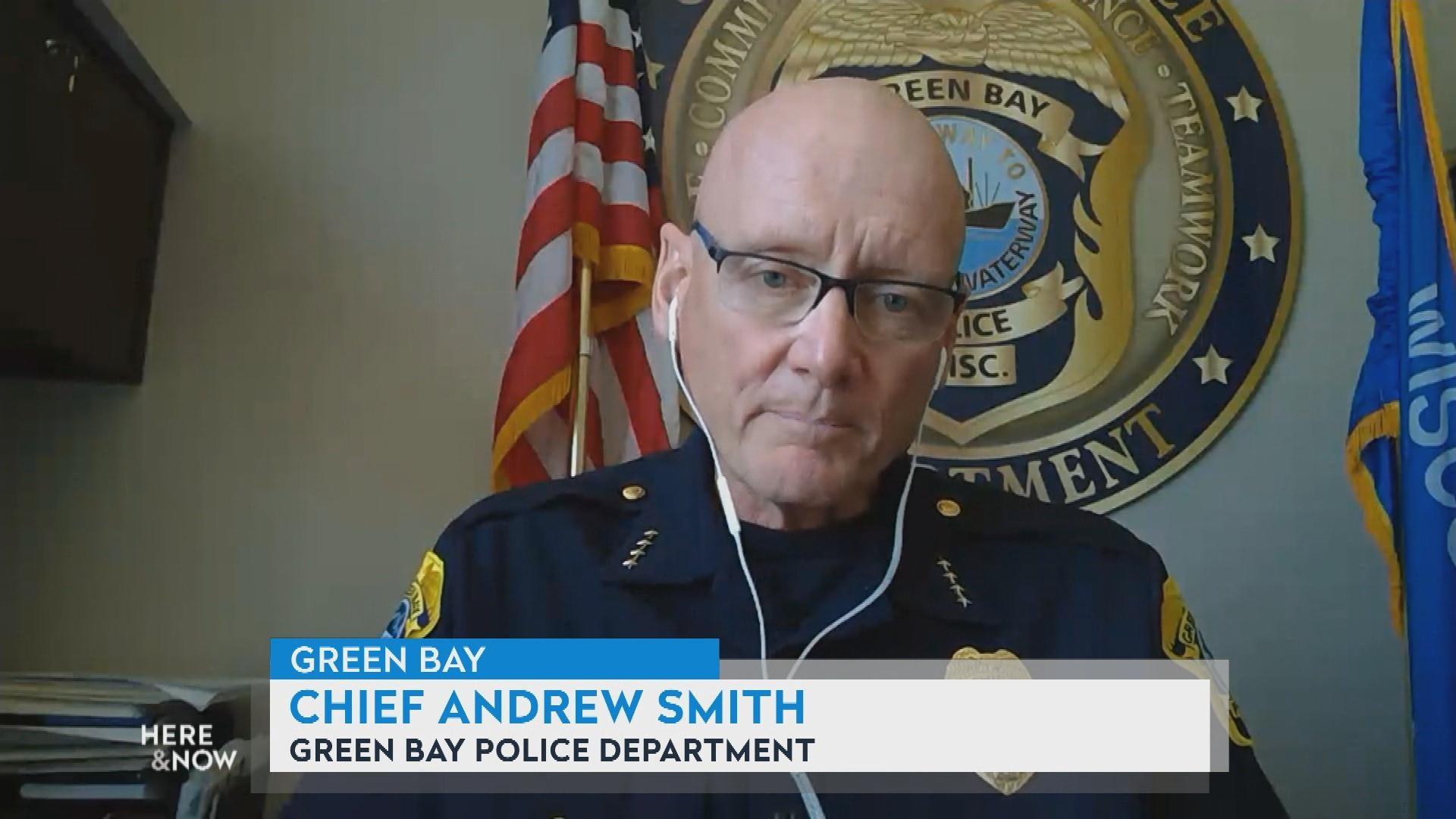 Green Bay Police Receiving Use of Force Refresher
Green Bay Police Chief Andrew Smith speaks to use of force training, police accountability, being invited to march with protesters and criticism his department is facing for how it has handled use of force.
June 5, 2020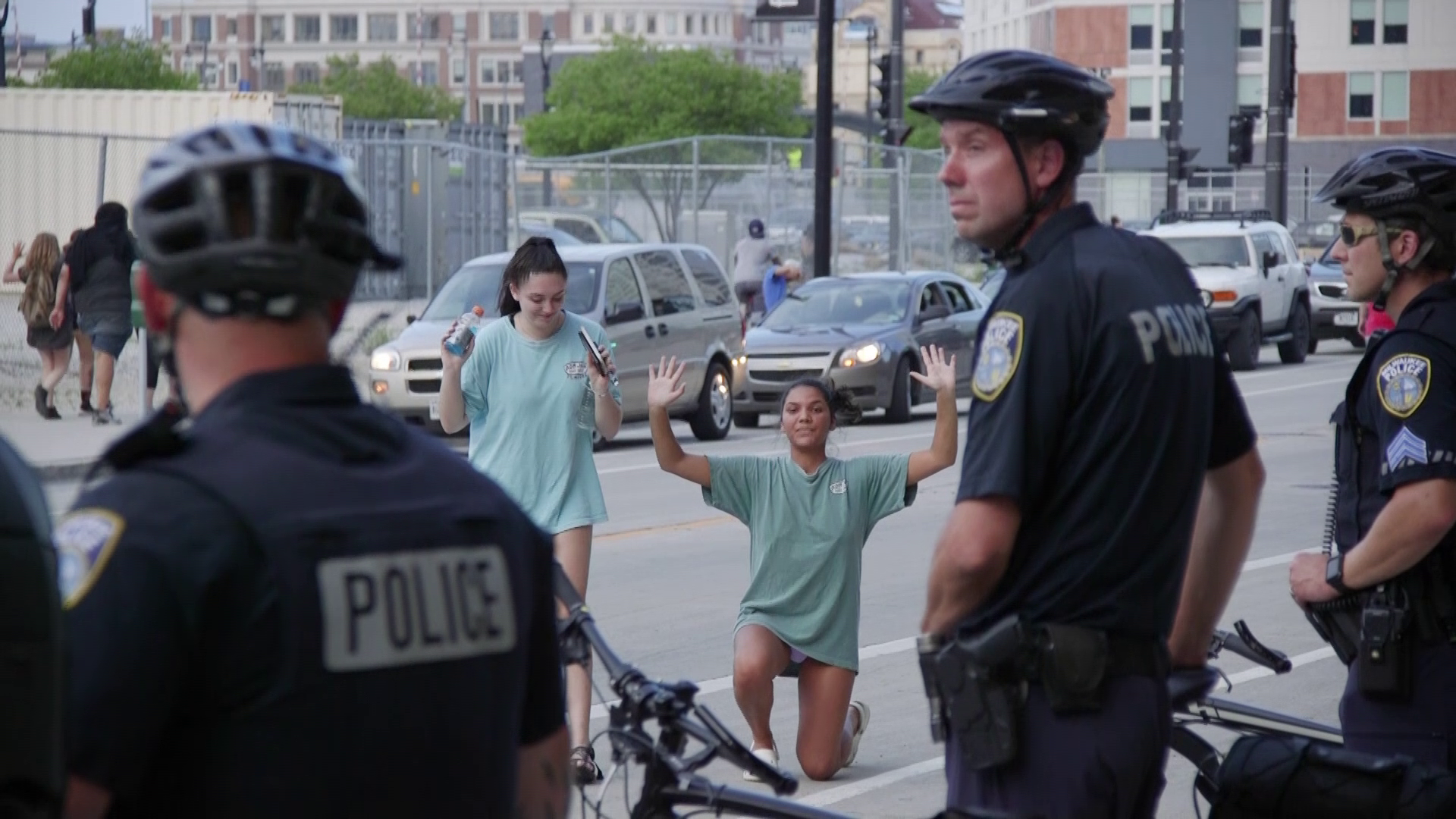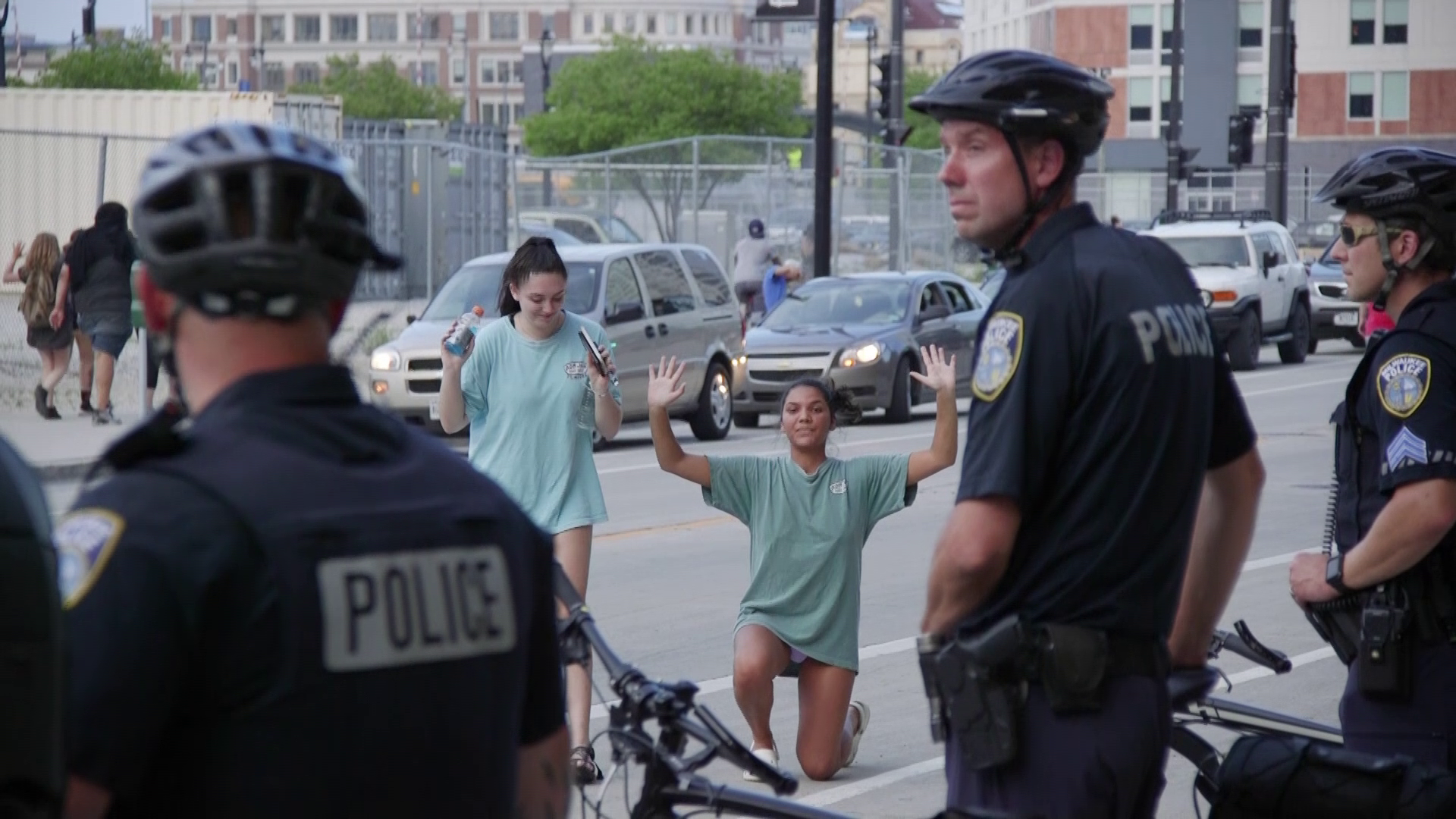 Wisconsin Responds to George Floyd
The death of George Floyd in Minneapolis sparked protests around Wisconsin, advocating change in police practices. Here & Now's Will Kenneally shows how Wisconsinites expressed their frustration with another black man dying in police custody.
June 5, 2020 • South Central Region
Gov. Evers Declares Racism a Public Health Crisis
In a Department of Health Services briefing normally reserved for COVID-19 updates, the governor declared racism a public health crisis that "has harmed generations of black and brown Wisconsinites."
June 4, 2020
Boarded-up Storefronts Become Canvas of Healing
Boarded-up storefronts are being turned into pieces of art as business owners pick up the pieces from vandalism during protests.
June 4, 2020 • Southeast Region
Protests Take Root in the Northwoods
It's not only Wisconsin's bigger cities seeing demonstrations in the wake of George Floyd's death.
June 4, 2020 • Northeast Region
WI Congressional Delegation Has Wide Range of Responses to Nationwide Protests
Wisconsin Congressman Mark Pocan (D) wants to examine the training standards for every police department in the nation.
June 3, 2020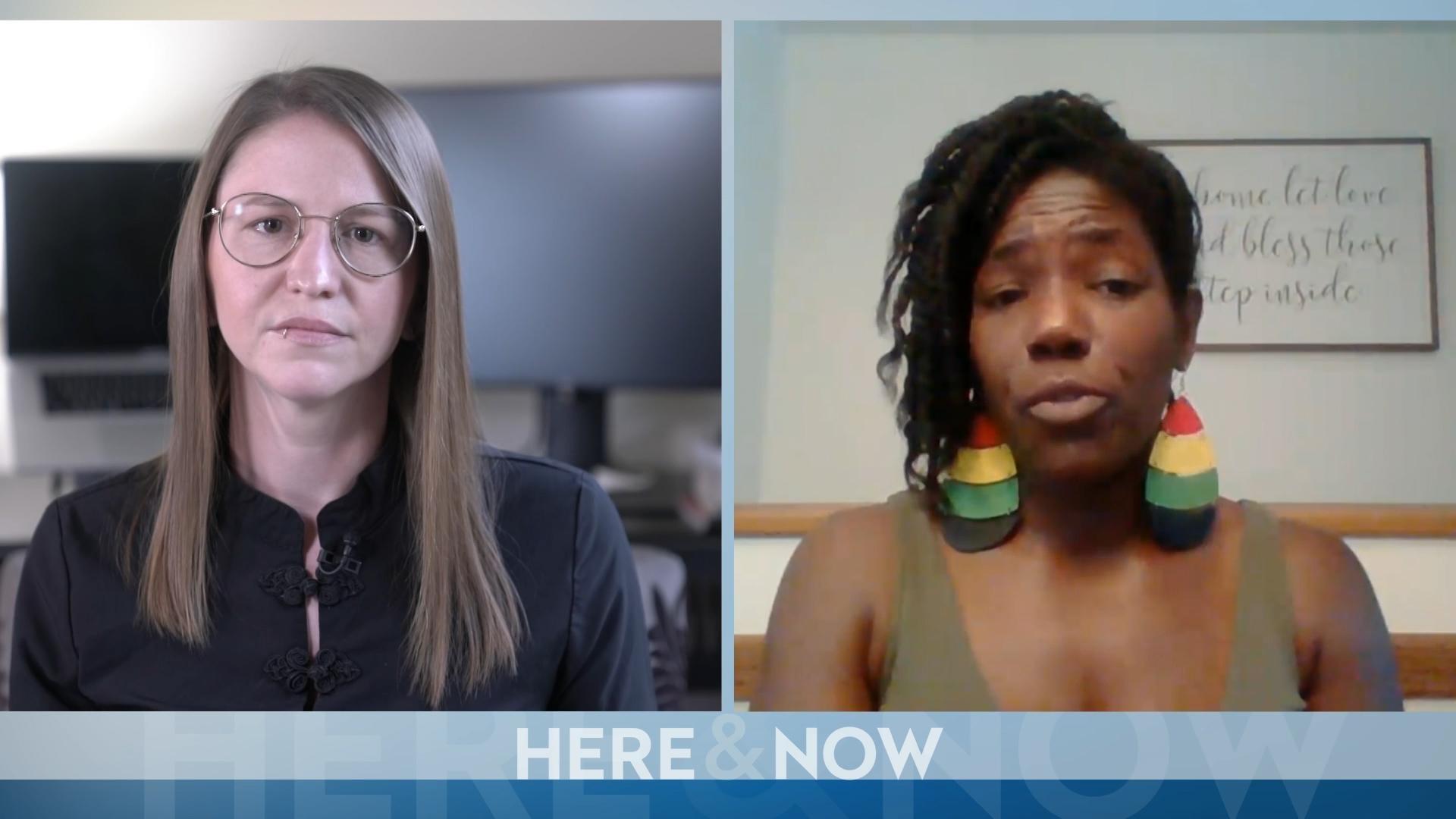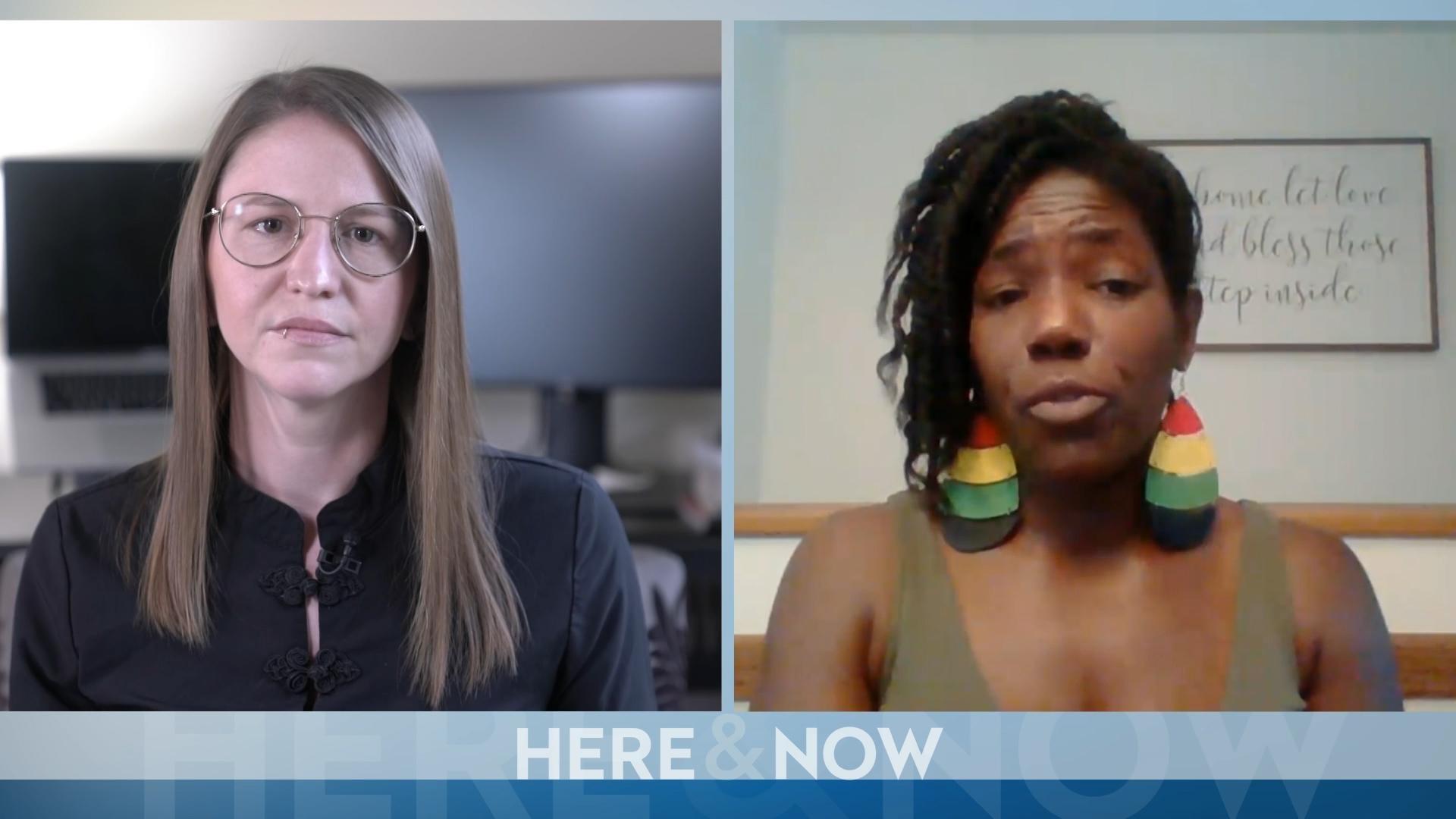 Noon Wednesday: How a Protester Defines Peace
Many words have been used to describe the demonstrations of protest that have been happening across the country and across Wisconsin. Today, we speak with Brandi Grayson, an organizer of the protests in our state's Capitol, about what peace means in this movement and what protesters are asking for.
June 3, 2020
Protesters Say They Are Ready for Long Haul
Organizers of the Madison protests in the wake of George Floyd's death say they are prepared to keep going for the foreseeable future. "People are going to rebel until they are not going to rebel," said M. Adams, a co-executive director of the Madison-based Freedom Inc. "It's simple, you stop ...
June 1, 2020 • South Central Region
Protesters Clash with Police Over Community Policing Concerns
Protests erupt in Wisconsin in the wake of George Floyd's death in Minneapolis, causing clashes with police.
June 1, 2020 • South Central Region
Protests Continue Around the State in the Wake of George Floyd's Death
Protests continued in Wisconsin into the weekend, advocating change to racial injustice in the wake of George Floyd's death in Minneapolis. Gov. Tony Evers activated 125 members of the Wisconsin National Guard Saturday after protests in Milwaukee turned violent Friday night. A Milwaukee police officer was injured by gunshot during ...
May 30, 2020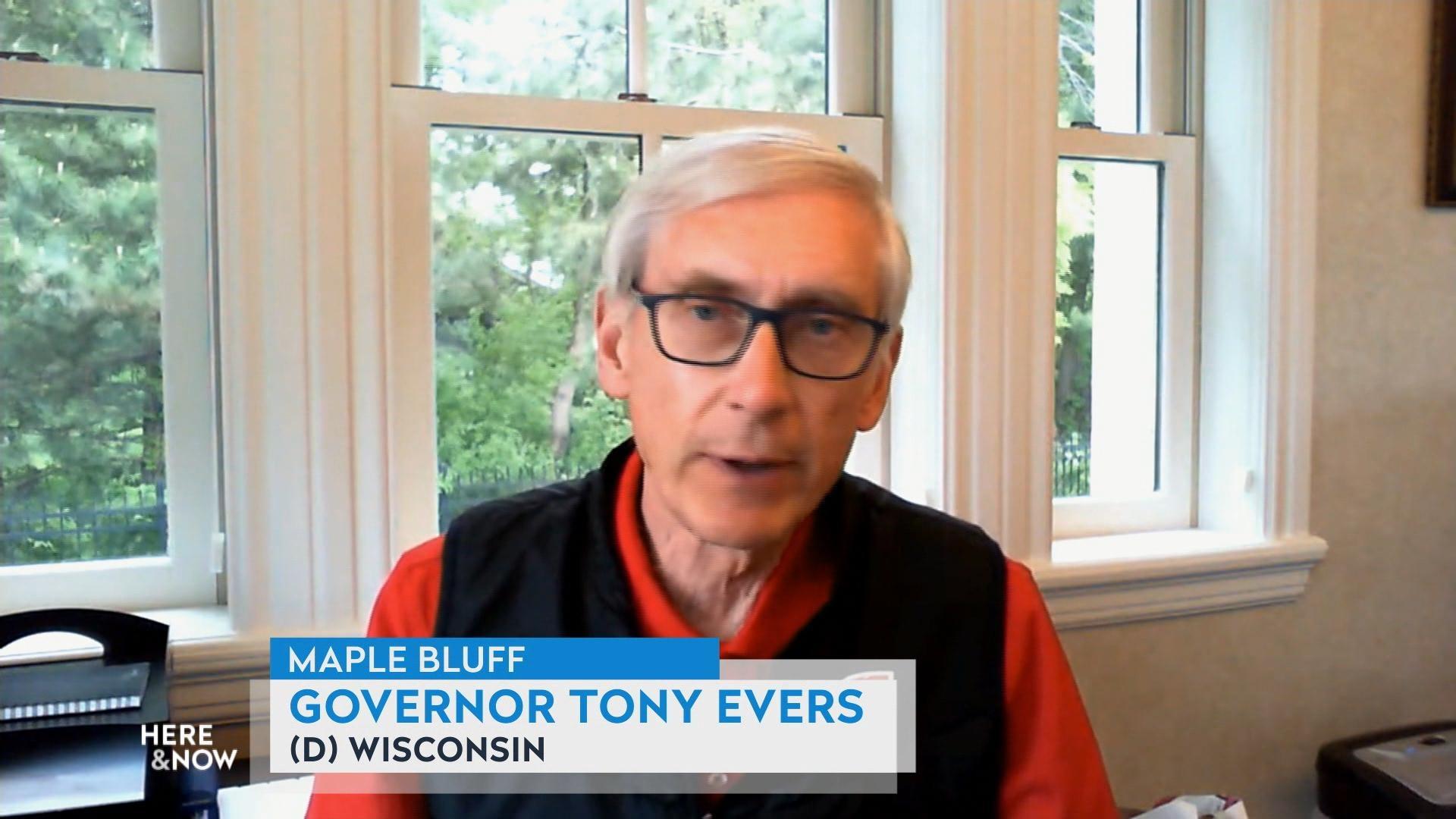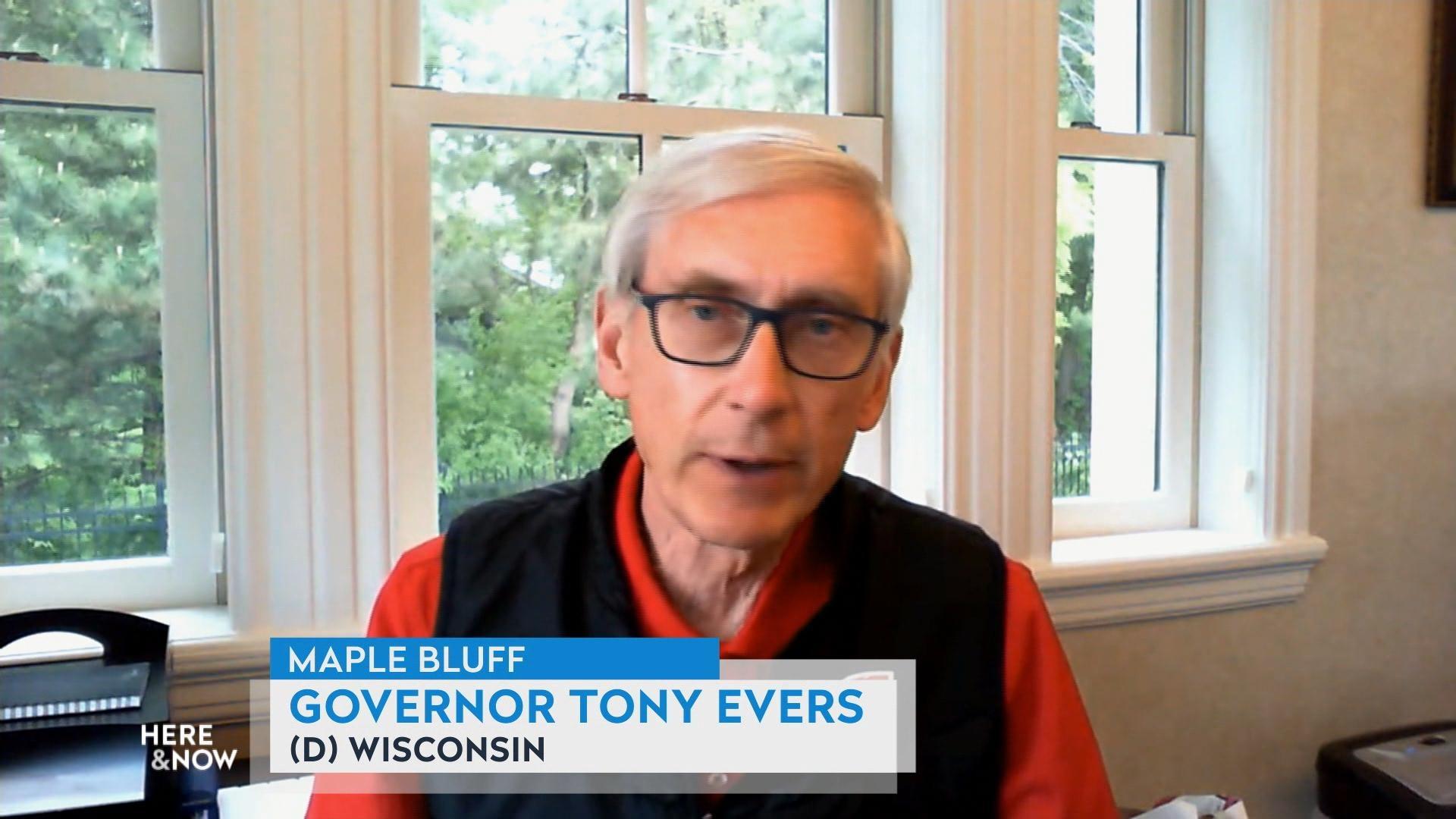 Governor Tony Evers Talks Pandemic, George Floyd
In the wake of the death of George Floyd in Minneapolis, Gov. Tony Evers discusses what that means for the people of Wisconsin who share concerns about racial inequity in policing. As the state opens up, the governor also talks about how Wisconsinites should prepare for the summer under the COVID-19 pandemic.
May 29, 2020
Protesters Rally in Milwaukee over George Floyd's Death
Milwaukee residents called for change in the wake of three contentious days of protest in Minneapolis over the death of George Floyd in police custody.
May 29, 2020 • Southeast Region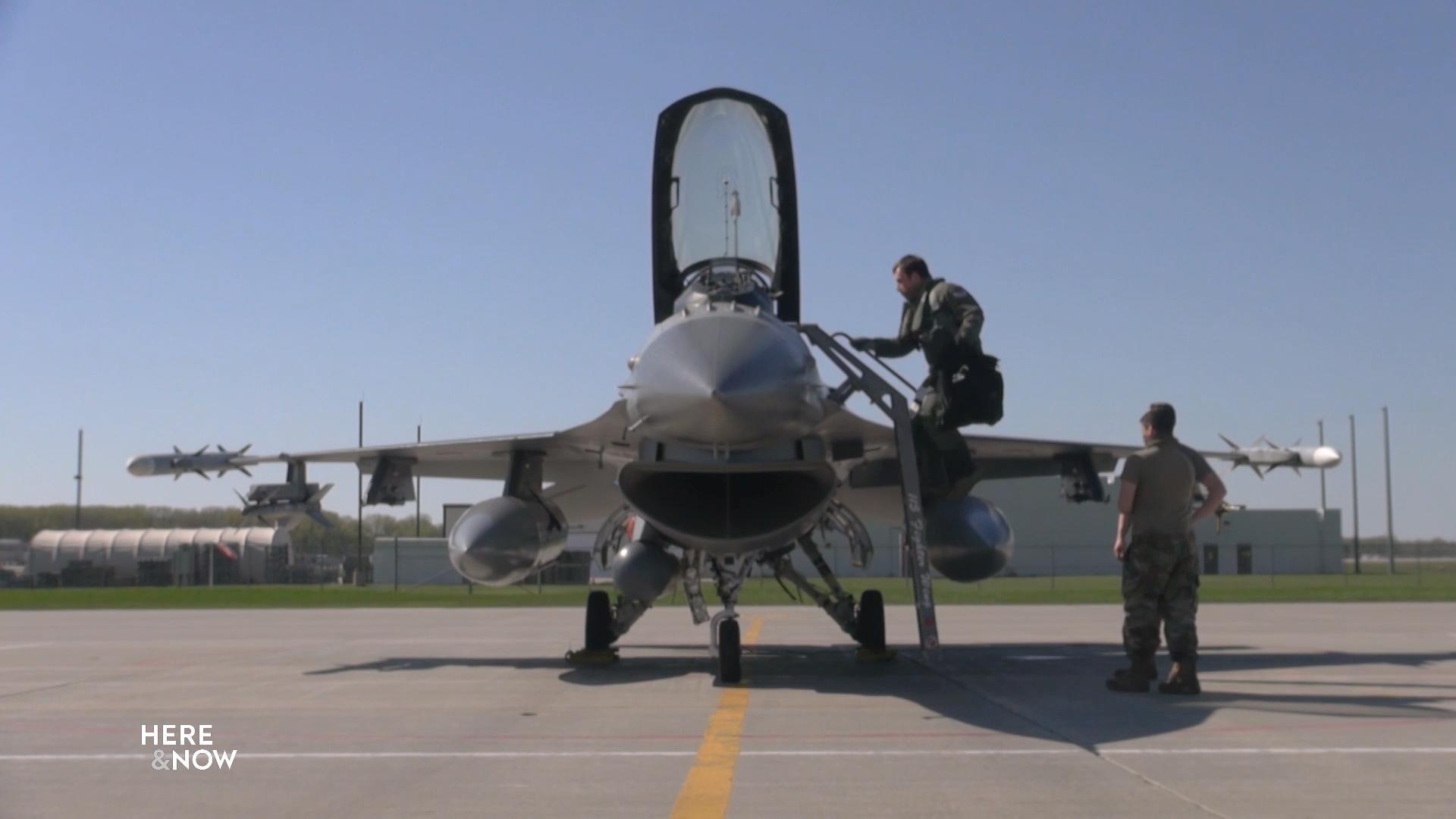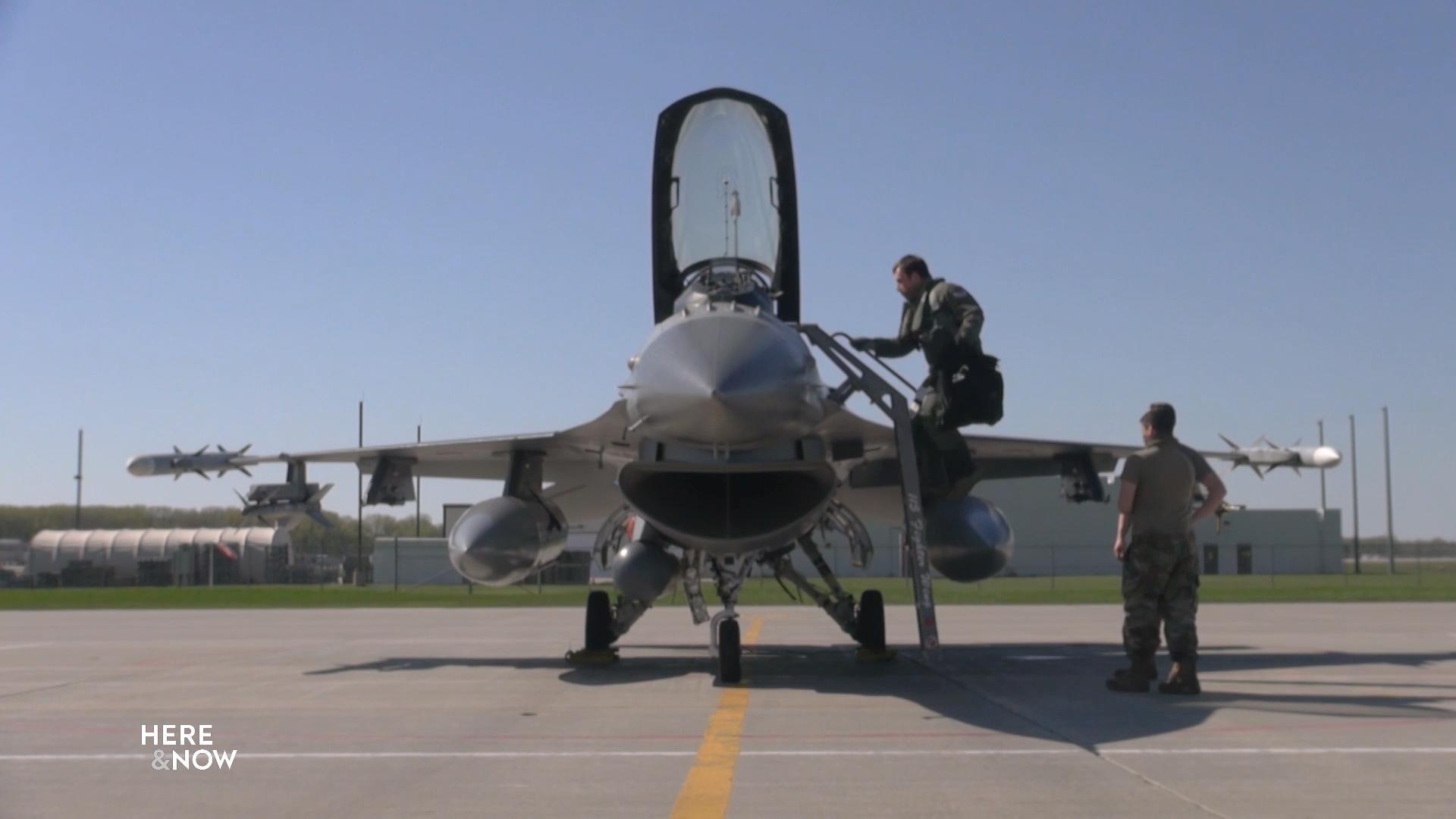 F-16 Flyovers Salute Health Care Workers, First Responders
F-16 pilots from the Wisconsin Air National Guard staged flyovers to honor and salute health care workers and first responders on the front lines of COVID-19. The 115th Fighter Wing, based out of Madison, took part in the national effort flying over hospitals in 17 communities across the state from Kenosha to Wausau and Eau Claire and back again to their base at Truax Field.
May 15, 2020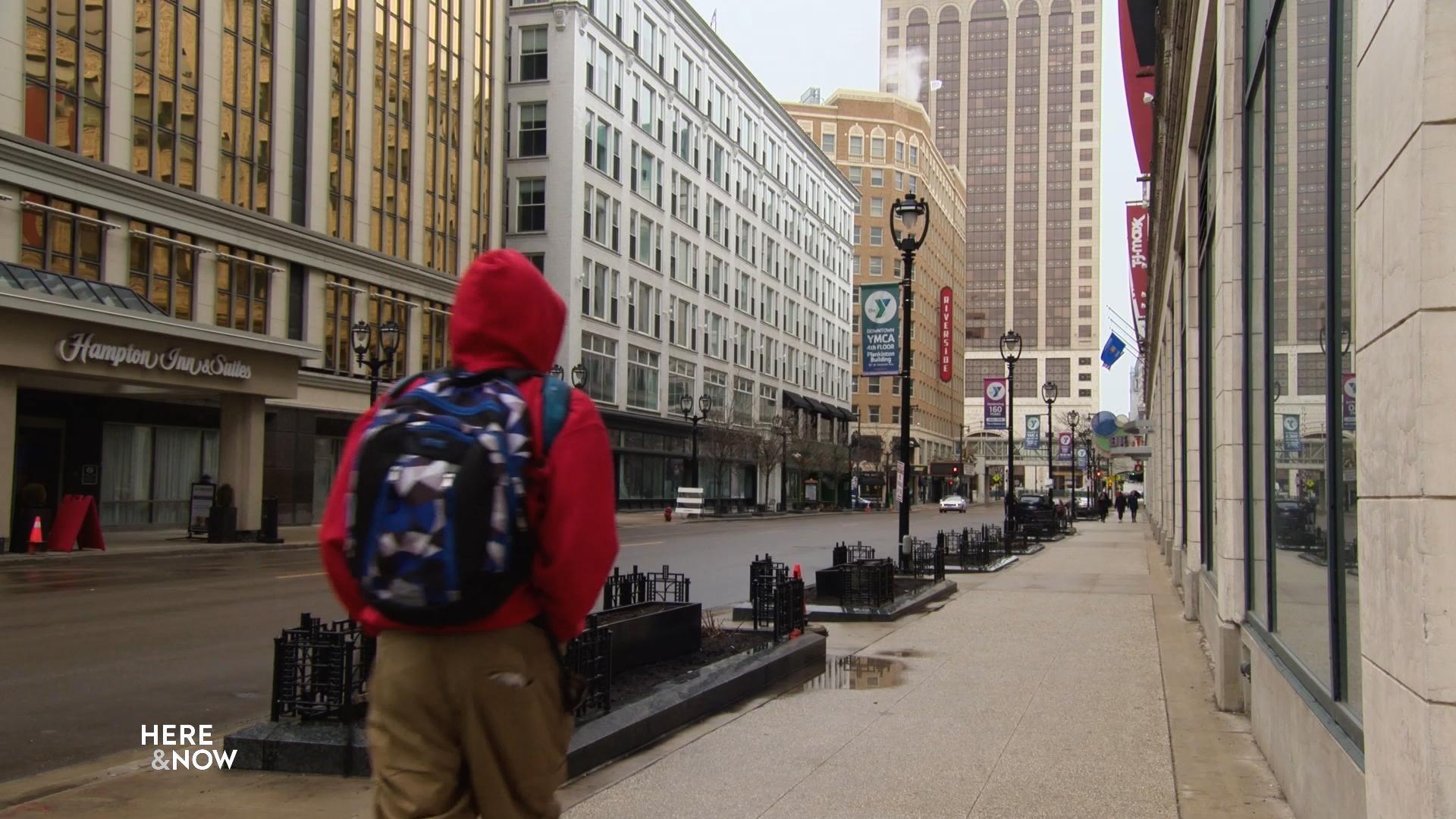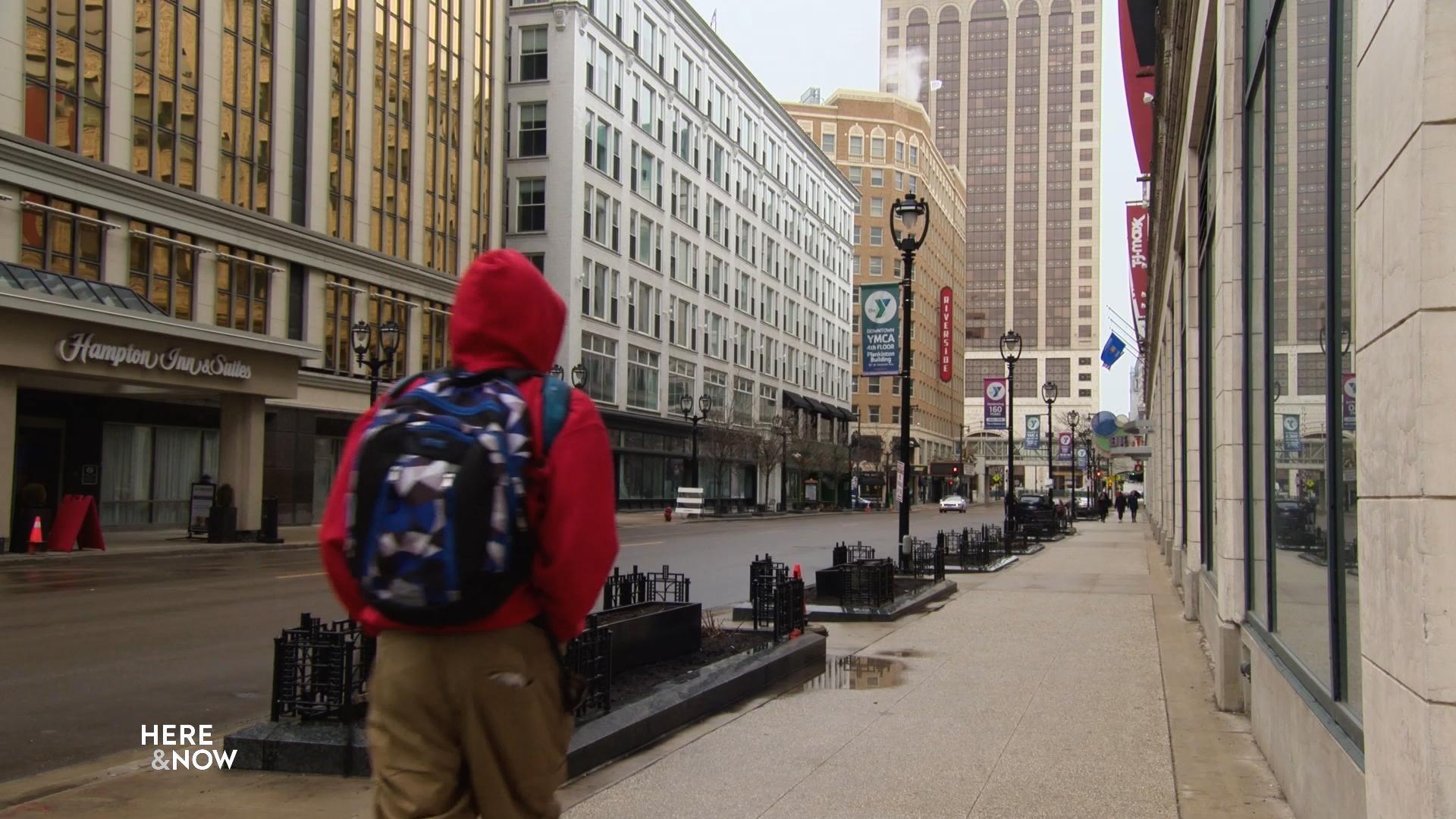 New Report Highlights Racial Divide in COVID-19 Outbreak
A new report from the University of Wisconsin-Milwaukee shows how coronavirus is spreading along lines of segregation in north Milwaukee, and African-Americans are being disproportionately impacted. Rep. David Bowen, D-Milwaukee, says, "This does not end the story about us. This is a continuation of just how much we have been through and how much farther we have to go."
May 1, 2020 • Southeast Region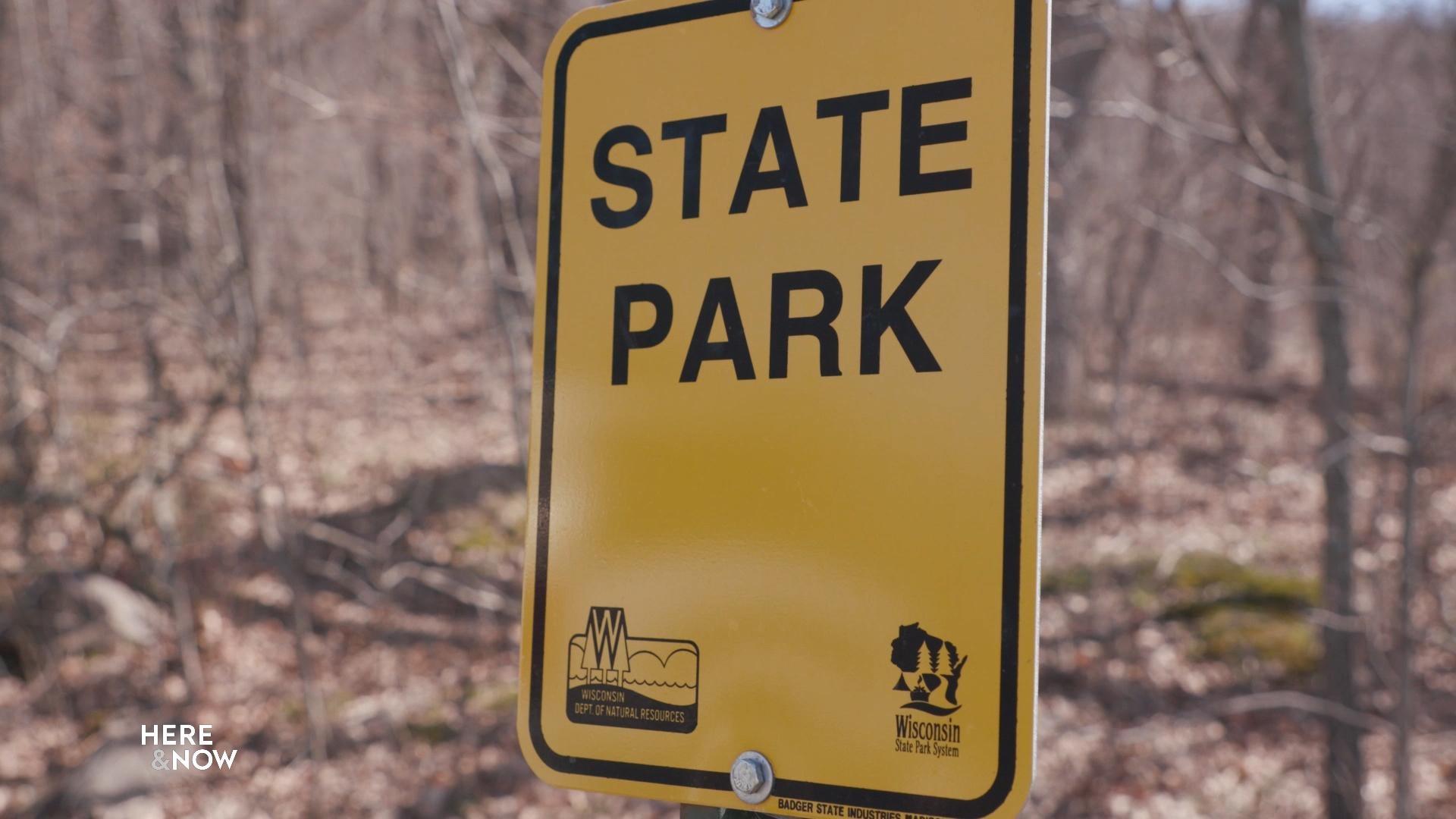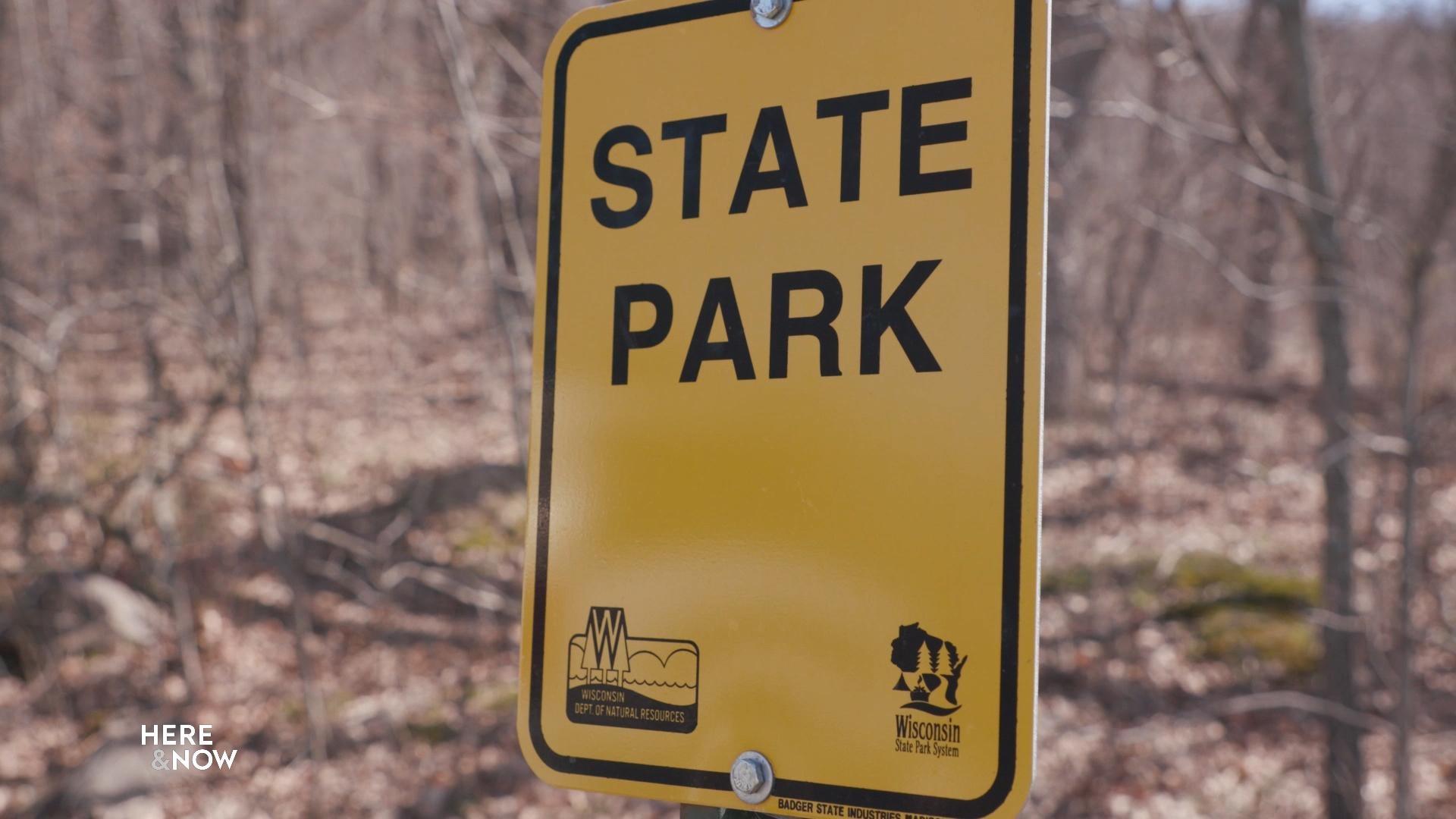 Wisconsin Parks and Businesses Set to Reopen
State parks like Devil's Lake are reopening after being closed due to overcrowding and vandalism. Additional businesses like dog groomers, car washes and small engine repair shops are also cleared to reopen under the new guidelines of the extended Safer at Home order.
May 1, 2020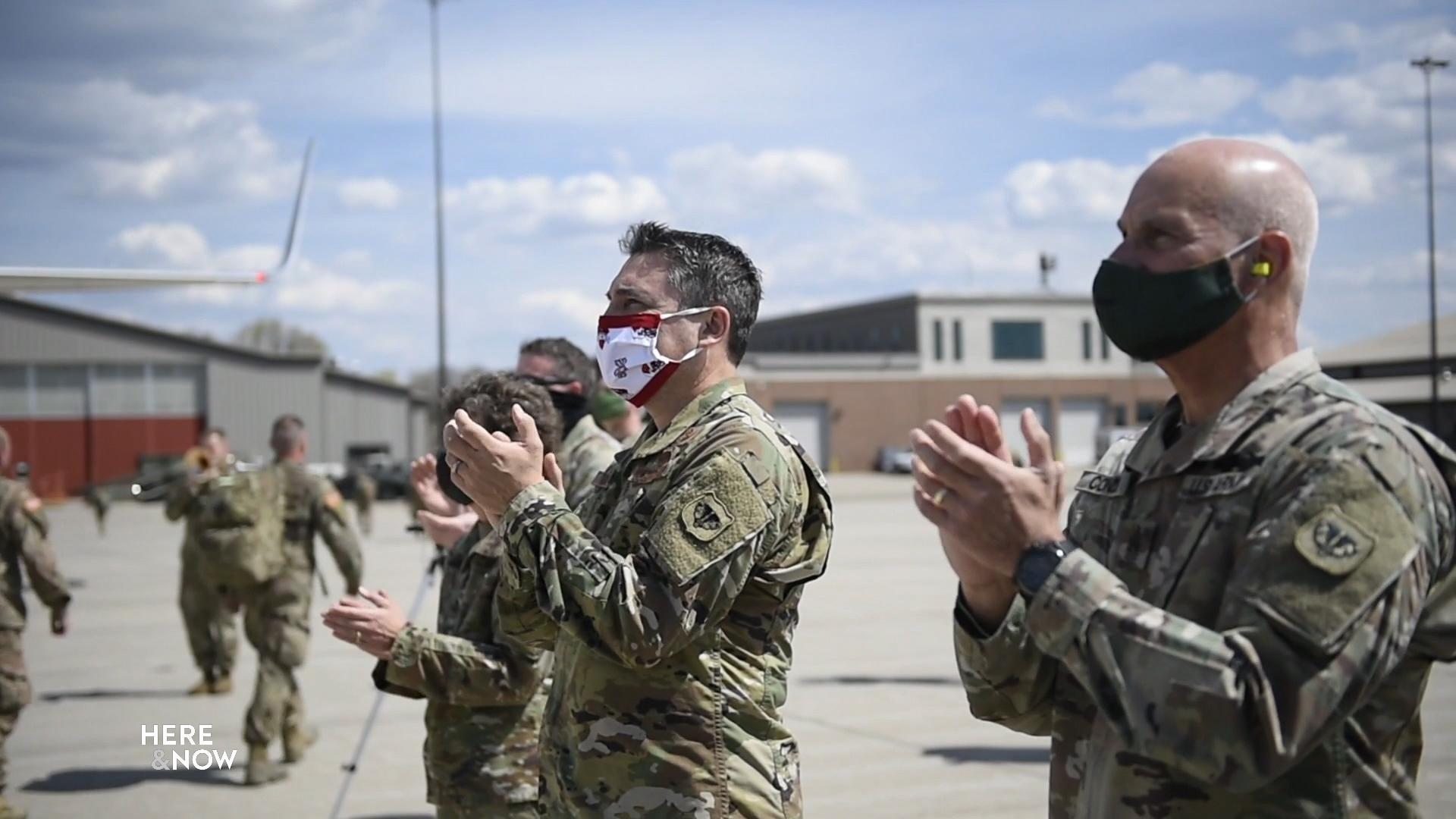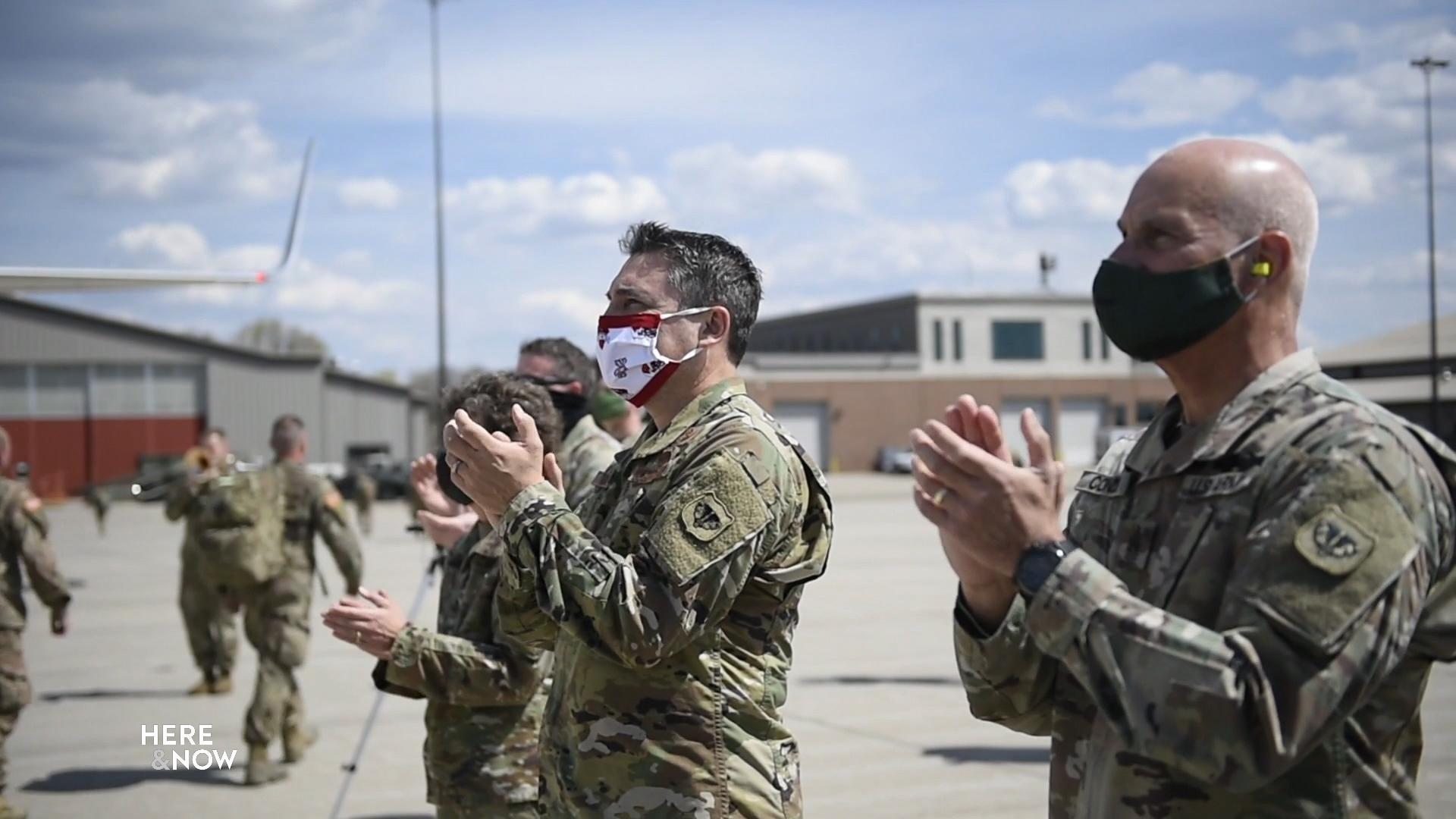 Red Arrow Brigade Troops Return from Afghanistan
Across the state, families awaited the arrival of about 150 members of the Red Arrow Brigade Troop of the Wisconsin Army National Guard. This week, President Trump told advisors he wants all troops out of war-torn Afghanistan as the COVID-19 outbreak continues.
May 1, 2020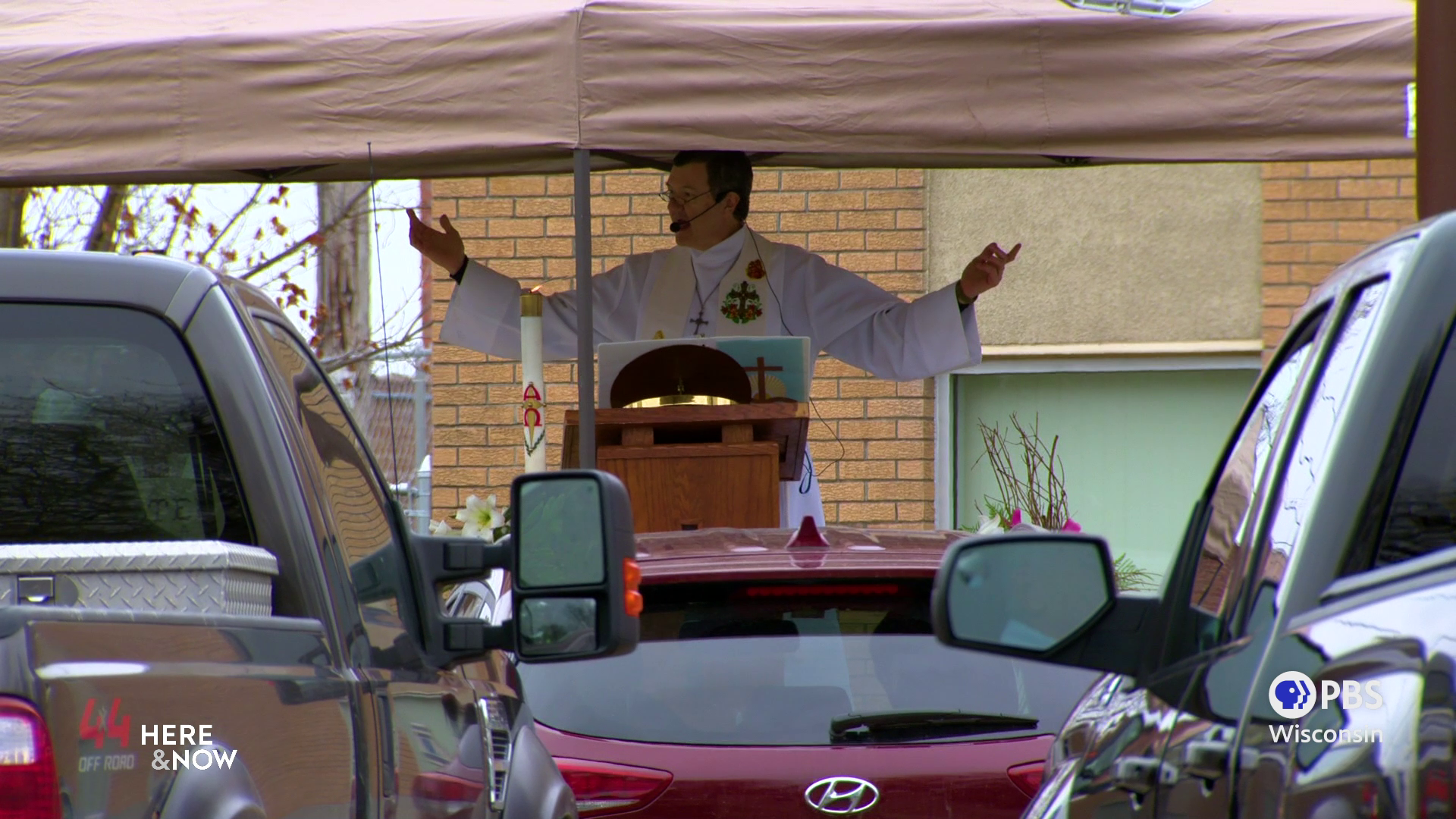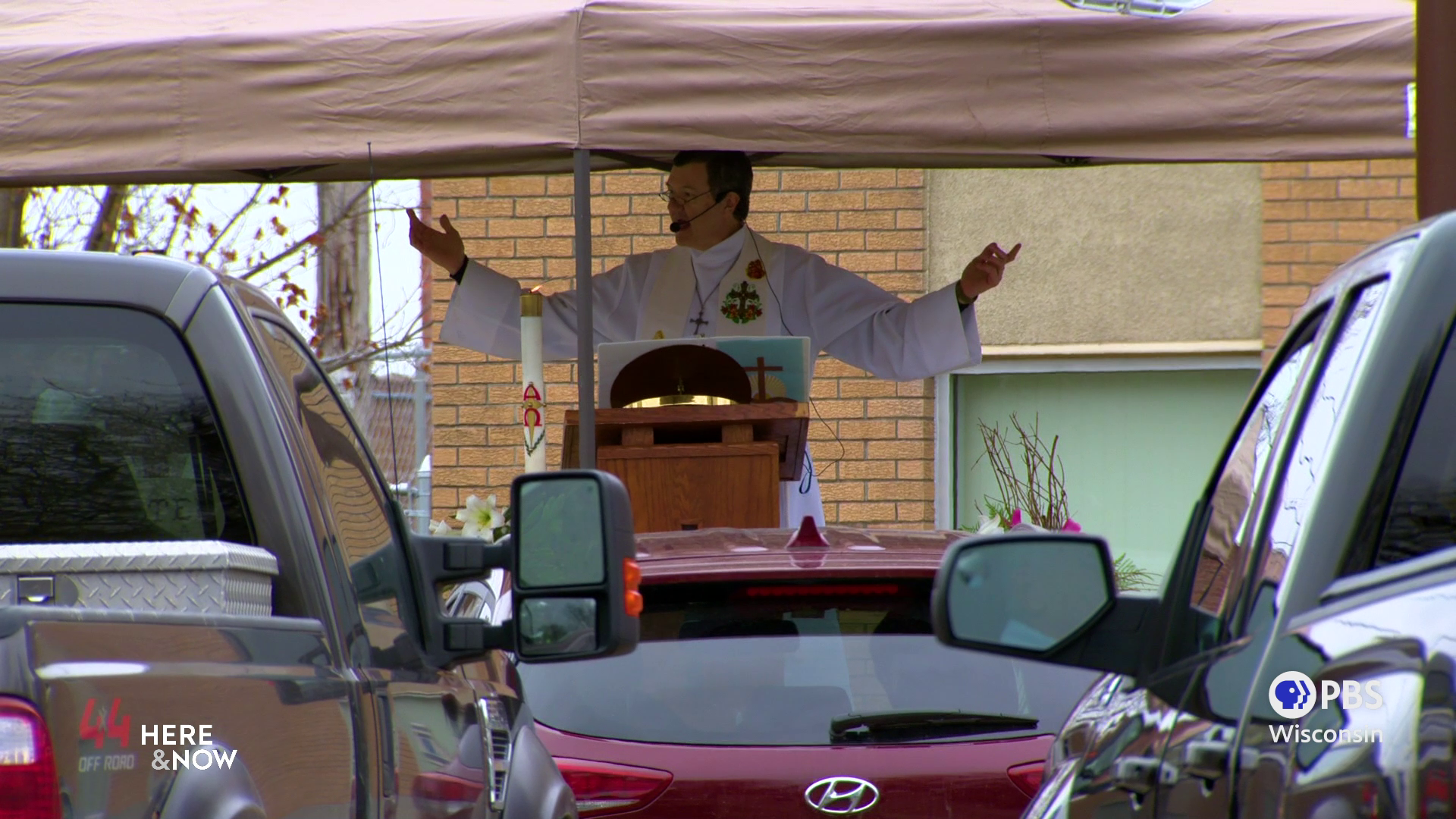 Congregations Find New Ways to Celebrate Faith
The outbreak of COVID-19 has made gathering together hard for many religious congregations, at a time when many need religion the most. Here & Now's Zac Schultz reports on how religious communities across the state are creating innovative ways to remain connected.
May 1, 2020 • South Central Region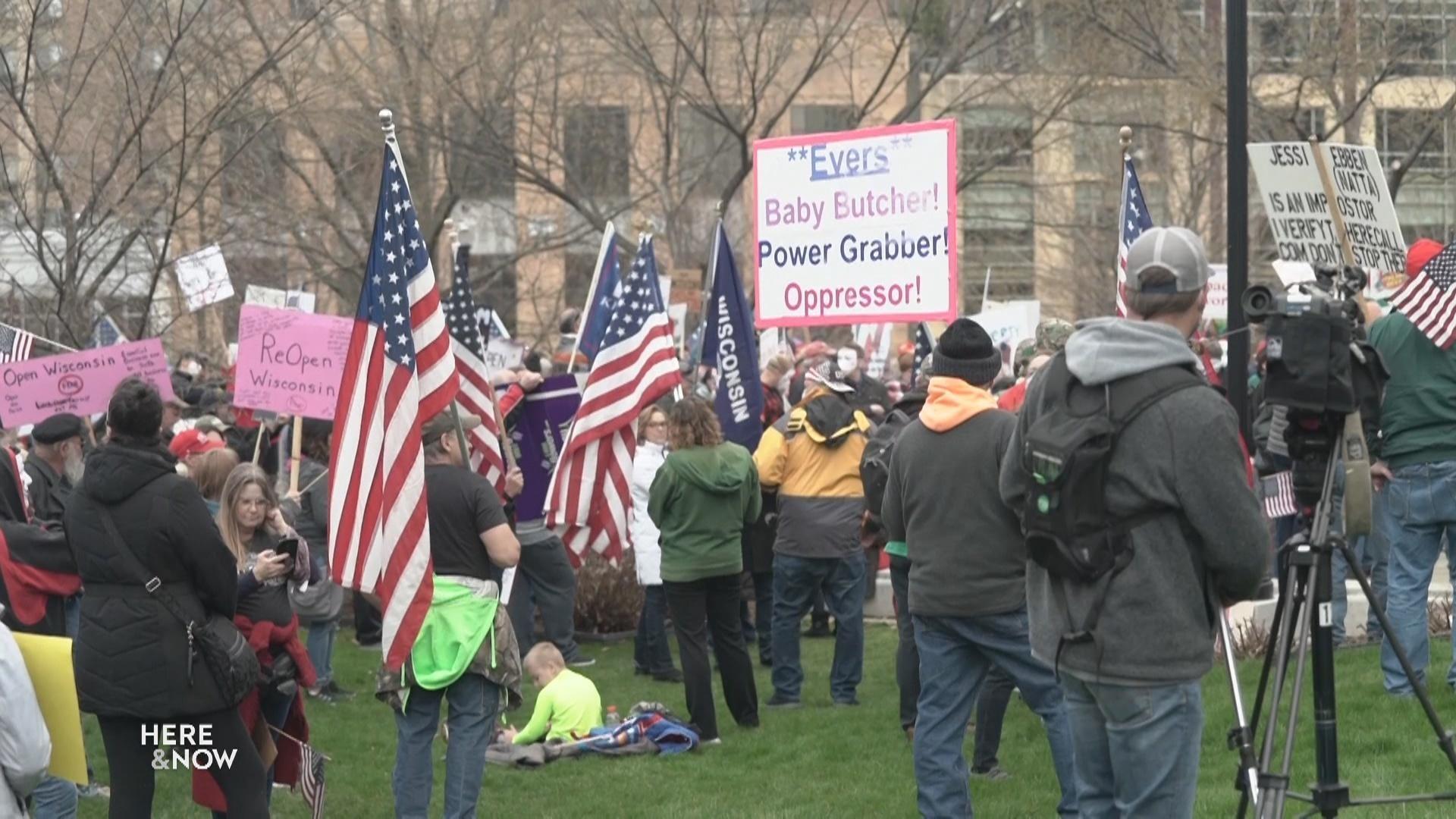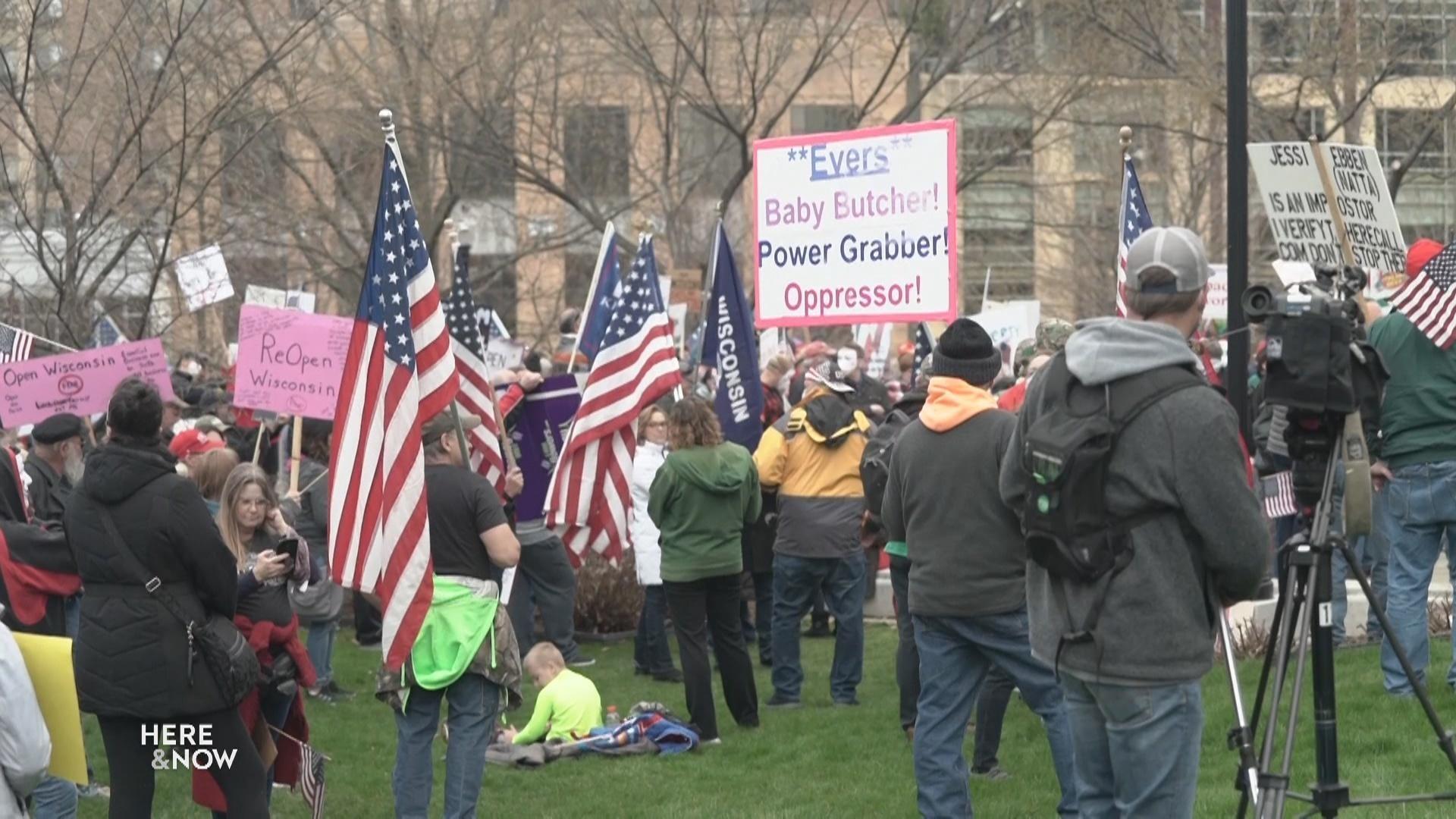 1,500 Rally at the State Capitol to Reopen Wisconsin
Protesters gathered at the state capitol demanding Wisconsin be reopened despite the governor's extended stay-at-home order. They are calling for Gov. Evers to open the state to allow economic activity to continue. As protesters rally at the capitol, Republican state legislators fight a similar battle in the state's Supreme Court to limit Evers' Safer at Home order.
April 24, 2020 • South Central Region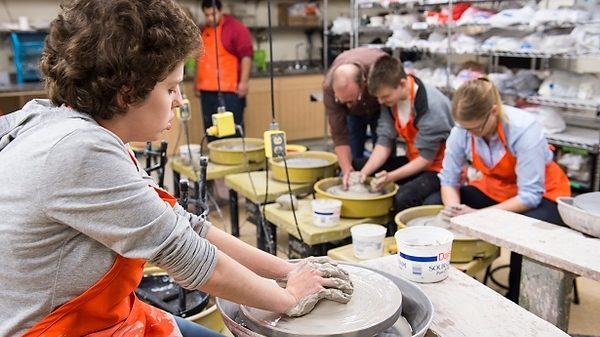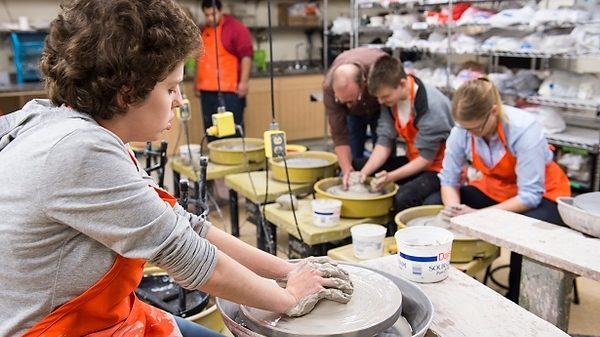 Nonprofit Sector to Be Challenged and Changed by COVID-19
Non-profit organizations face new challenges as the COVID-19 outbreak affects their daily operations and bottom line.
April 14, 2020 • South Central Region
Churches Hold Drive-In Easter Services
Church services around Wisconsin have moved online in the wake of Gov. Tony Evers's "Safer at Home" order. Easter Sunday however, some churches held drive-in services, with parishioners staying in their cars and listening to the service through their radios. There was confusion earlier in the week about whether drive-in ...
April 13, 2020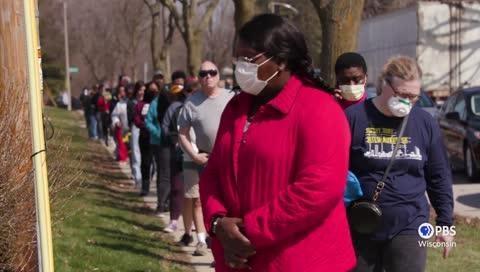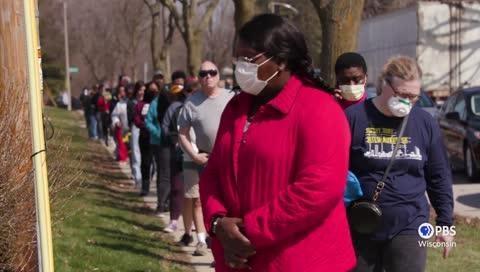 Reaction and Fallout after the April 7 Election
Here & Now Senior Reporter Zac Schultz reports on the looming legal battles that may follow the controversial April 7 election last week. As the state awaits results from Tuesday's elections, the frustrations remain high among voters and lawmakers
April 10, 2020
COVID-19 Threatens Black Communities on Milwaukee's North Side
"It's been tough to see such a concentration of the virus focusing on [the] African-American community," said state Rep. David Bowen. Milwaukee's African-American community faces the brunt of the COVID-19 disease.
March 30, 2020 • Southeast Region
Wisconsinites Stuck in Peru During Coronavirus Lockdown
With Peru on a coronavirus lockdown, Wisconsinites struggle to return home.
March 24, 2020 • South Central Region
Wisconsin Reps Introduce Bill to Halt Hmong Deportation
The legislation would delay deportation by 72 months to allow individual cases to be reassessed.
March 10, 2020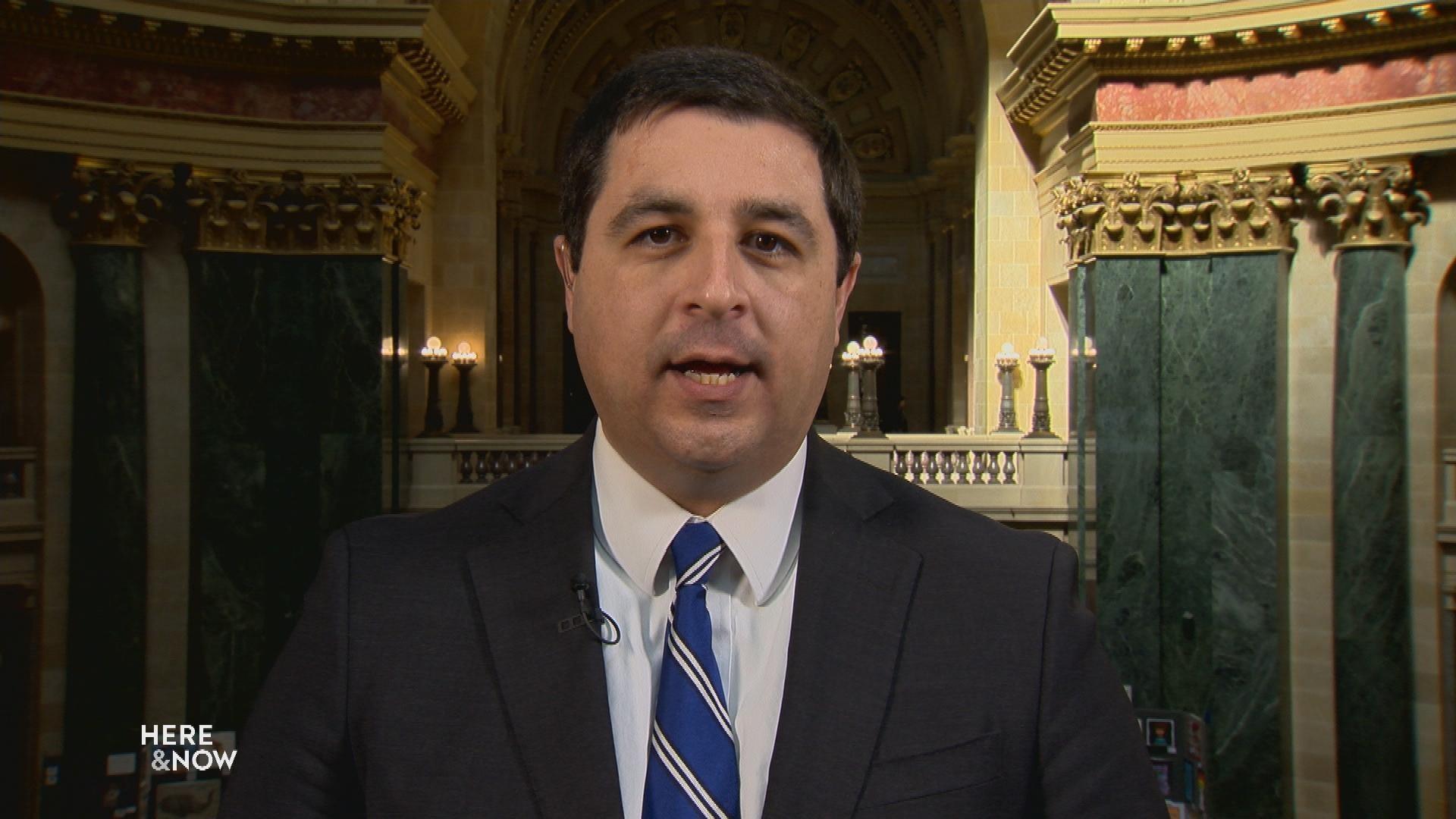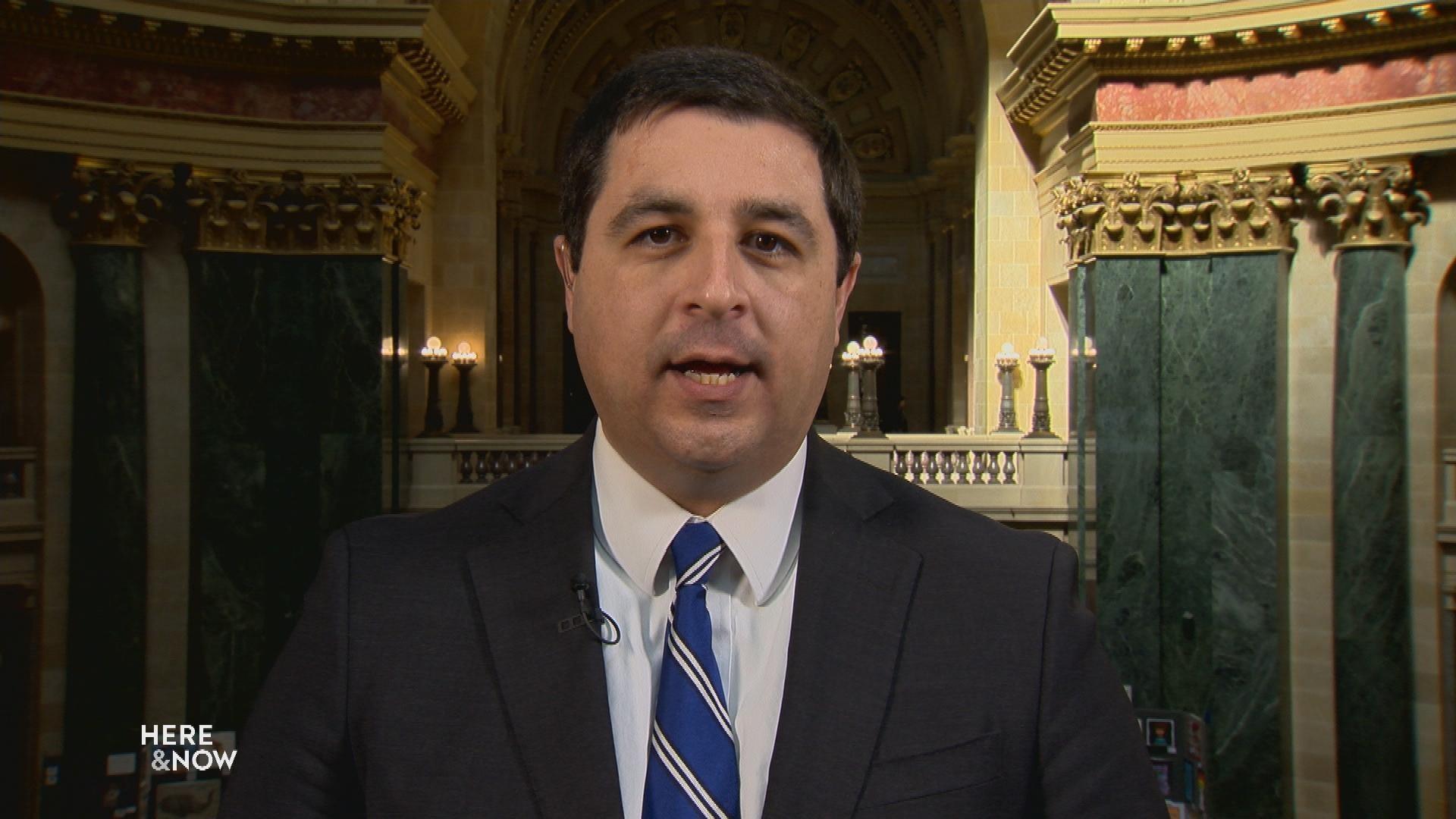 AG Josh Kaul on Milwaukee Shooting, Opioid Settlement
State Attorney General Josh Kaul discusses the mass shooting that tragically took the lives of five Molson-Coors employees in Milwaukee. "My heart goes out to the employees at Molson-Coors," he said. Kaul also explained the nationwide $1.6 billion opioid settlement he signed onto. Lastly, Kaul gave an update on the testing of rape kits in the state.
February 28, 2020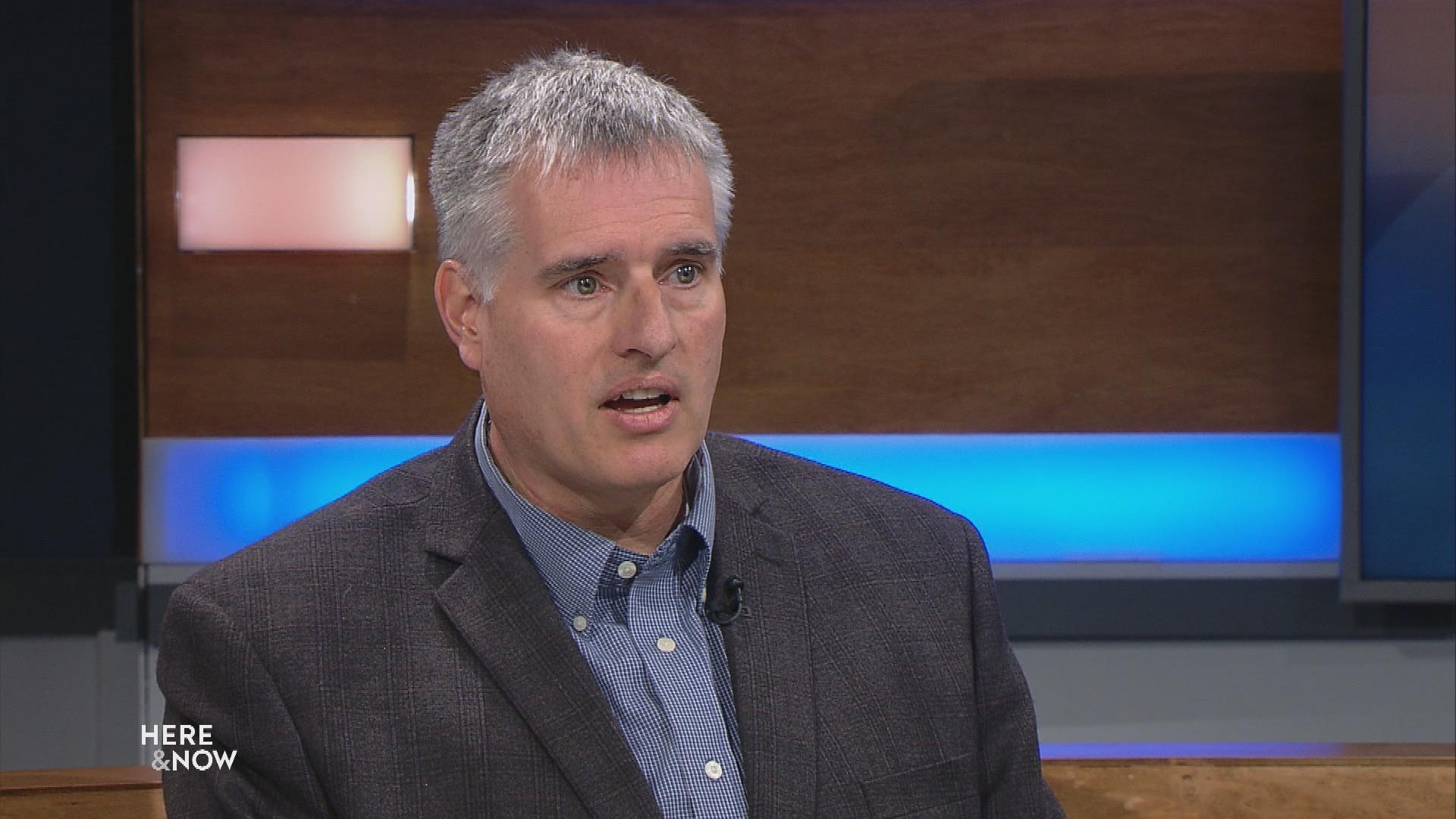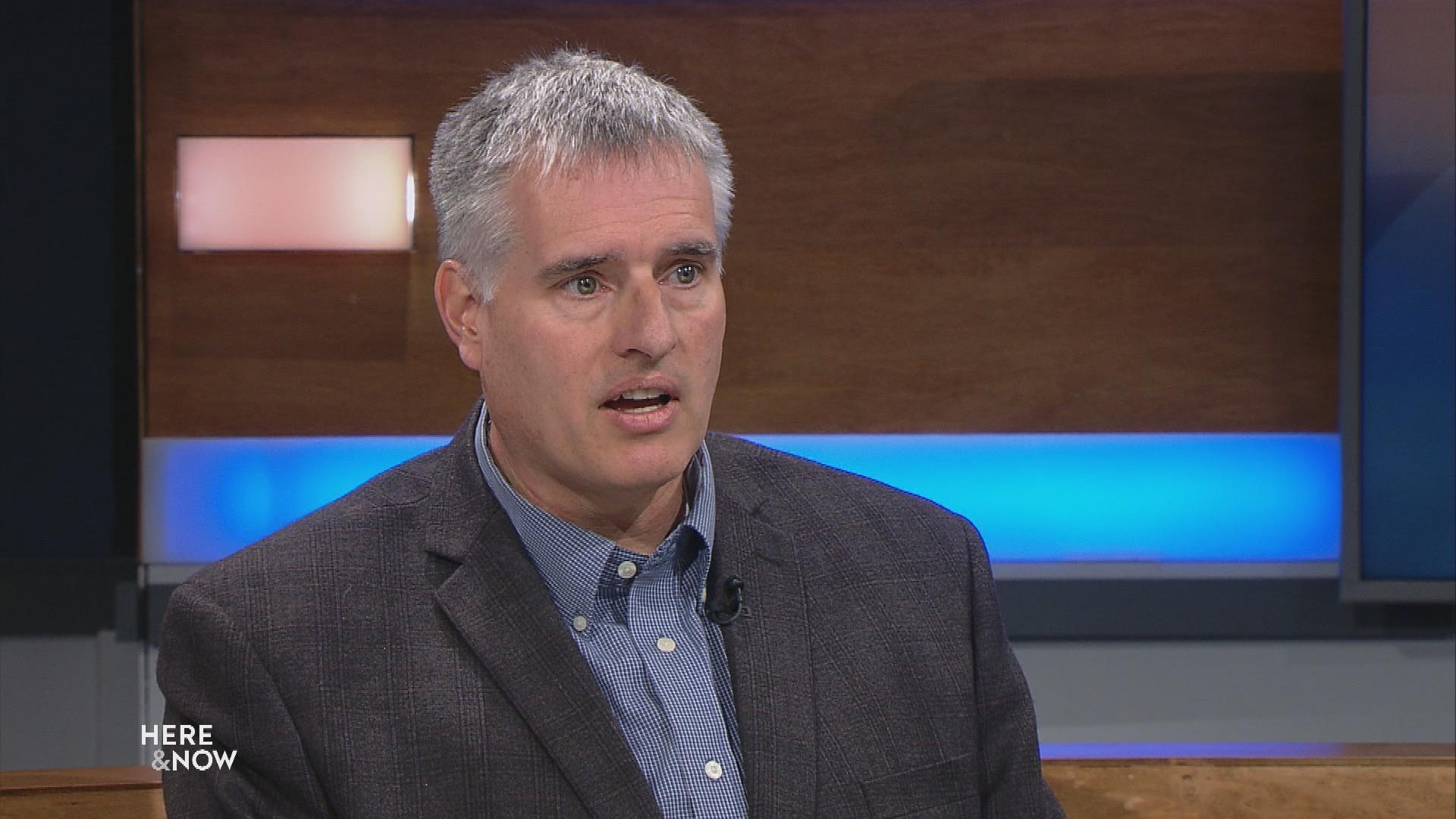 How to Prepare for COVID-19 in Wisconsin
Deputy Administrator of the State Department of Health Services Chuck Warzecha breaks down how Wisconsinites can prepare for a potential spread of COVID-19, formerly known as the Novel Coronavirus. This week the Centers for Disease Control declared that the virus has the potential to spread even more widely in the U.S.
February 28, 2020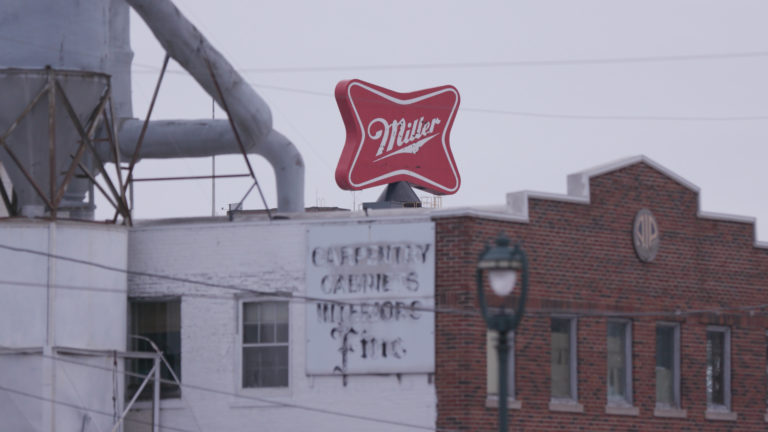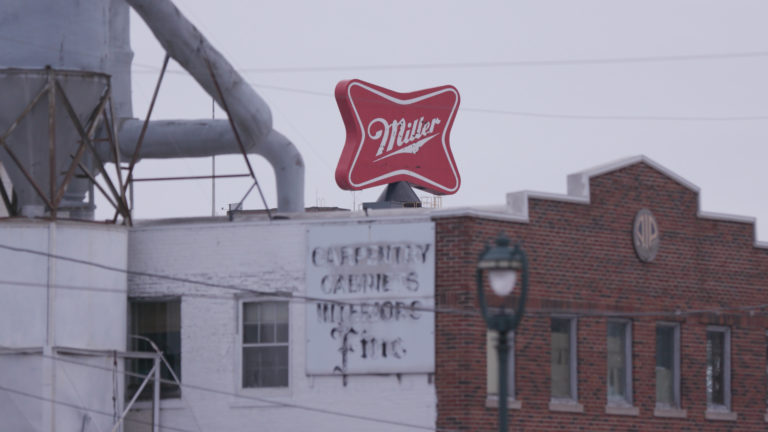 Update: Six Dead in Milwaukee Shooting
A 51-year-old Milwaukee man killed five others, then himself in a shooting at the Molson Coors campus in the city's "Miller Valley."
February 26, 2020 • Southeast Region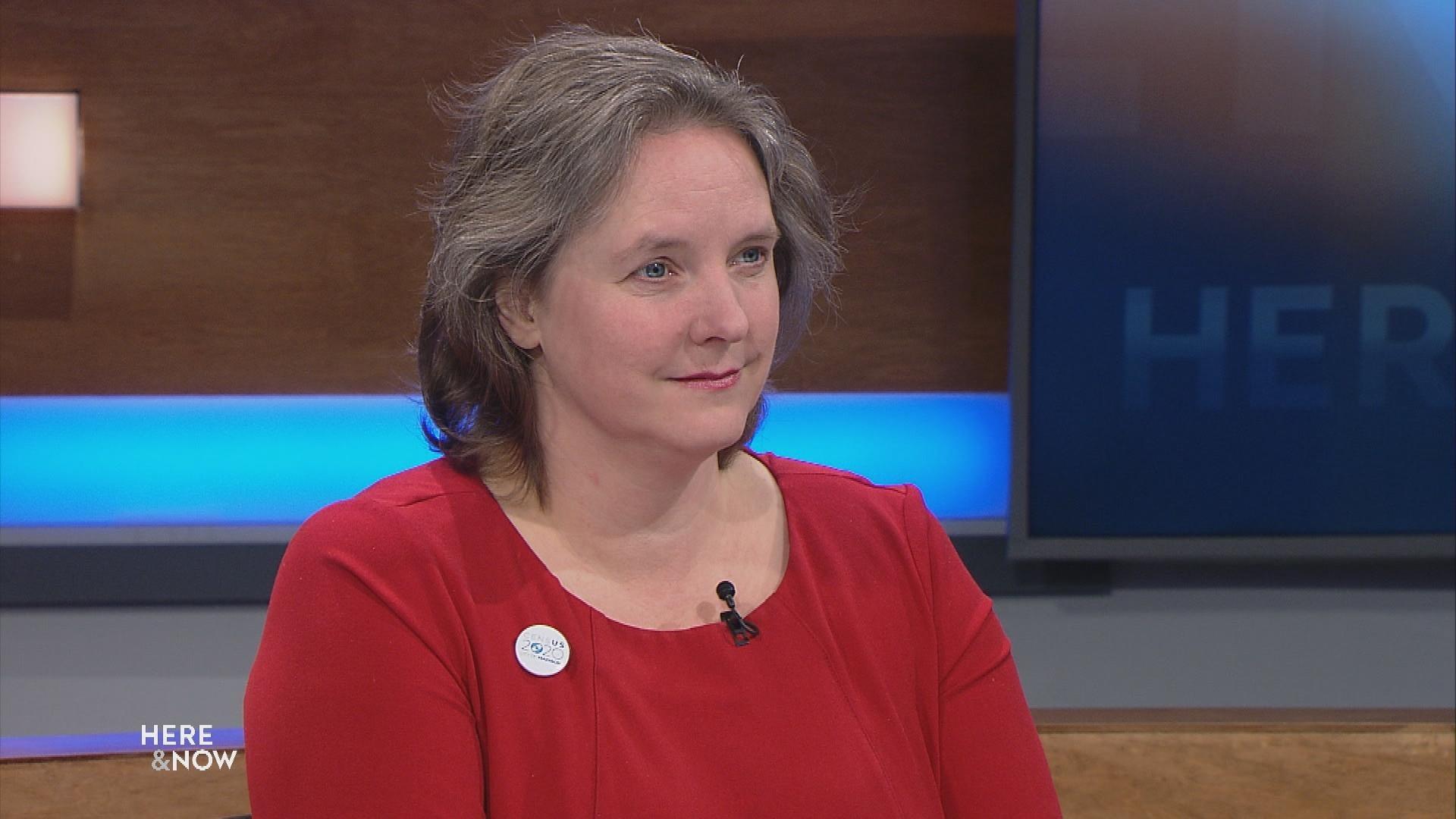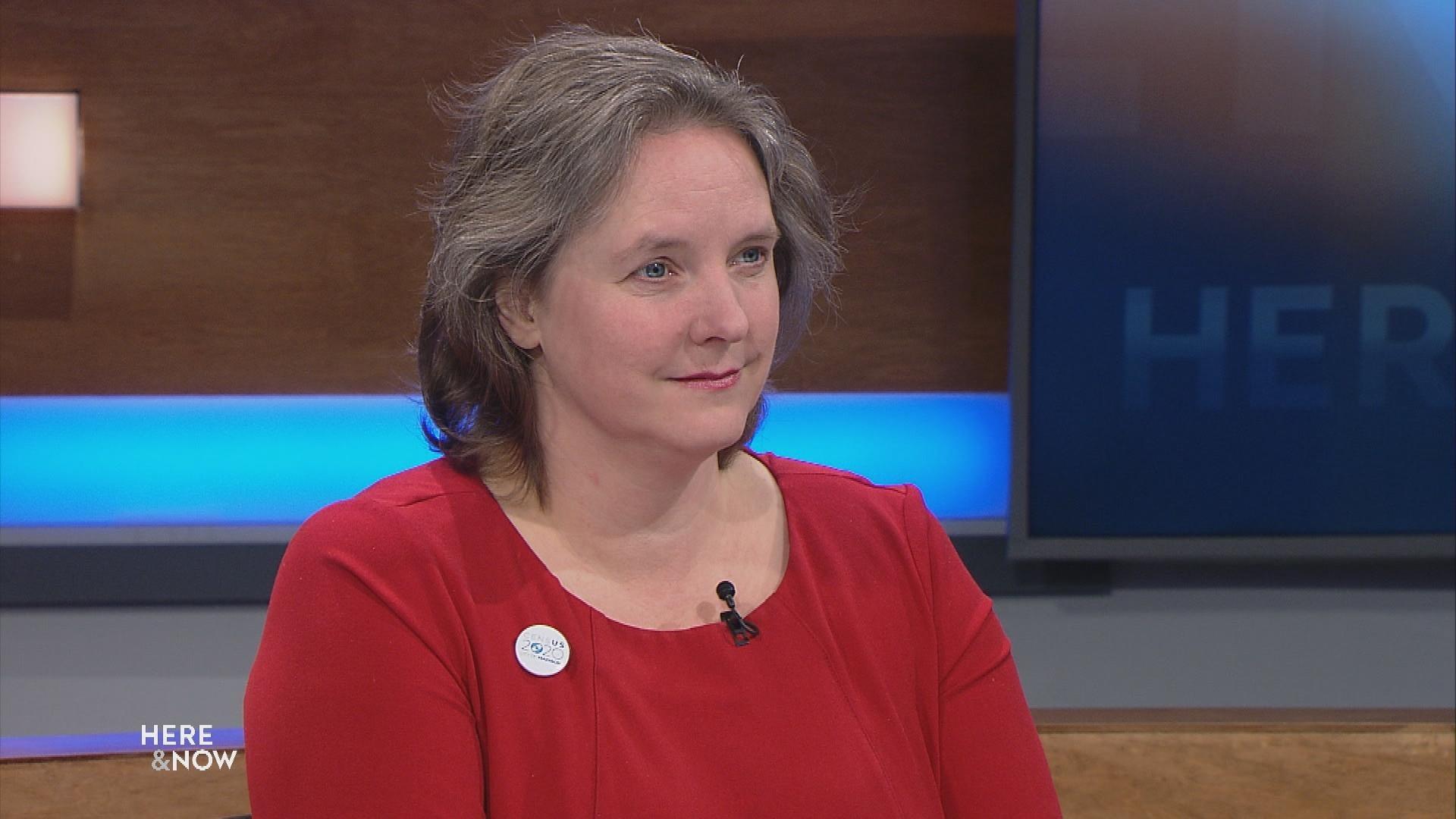 Census 2020: How Do Communities Get Accurate Counts?
By mid-March, households across the U.S. and here in Wisconsin will start getting 2020 Census bureau information in the mail. Madison Mayor Satya Rhodes Conway discusses Census 2020 application and efforts to get people more involved.
February 21, 2020 • South Central Region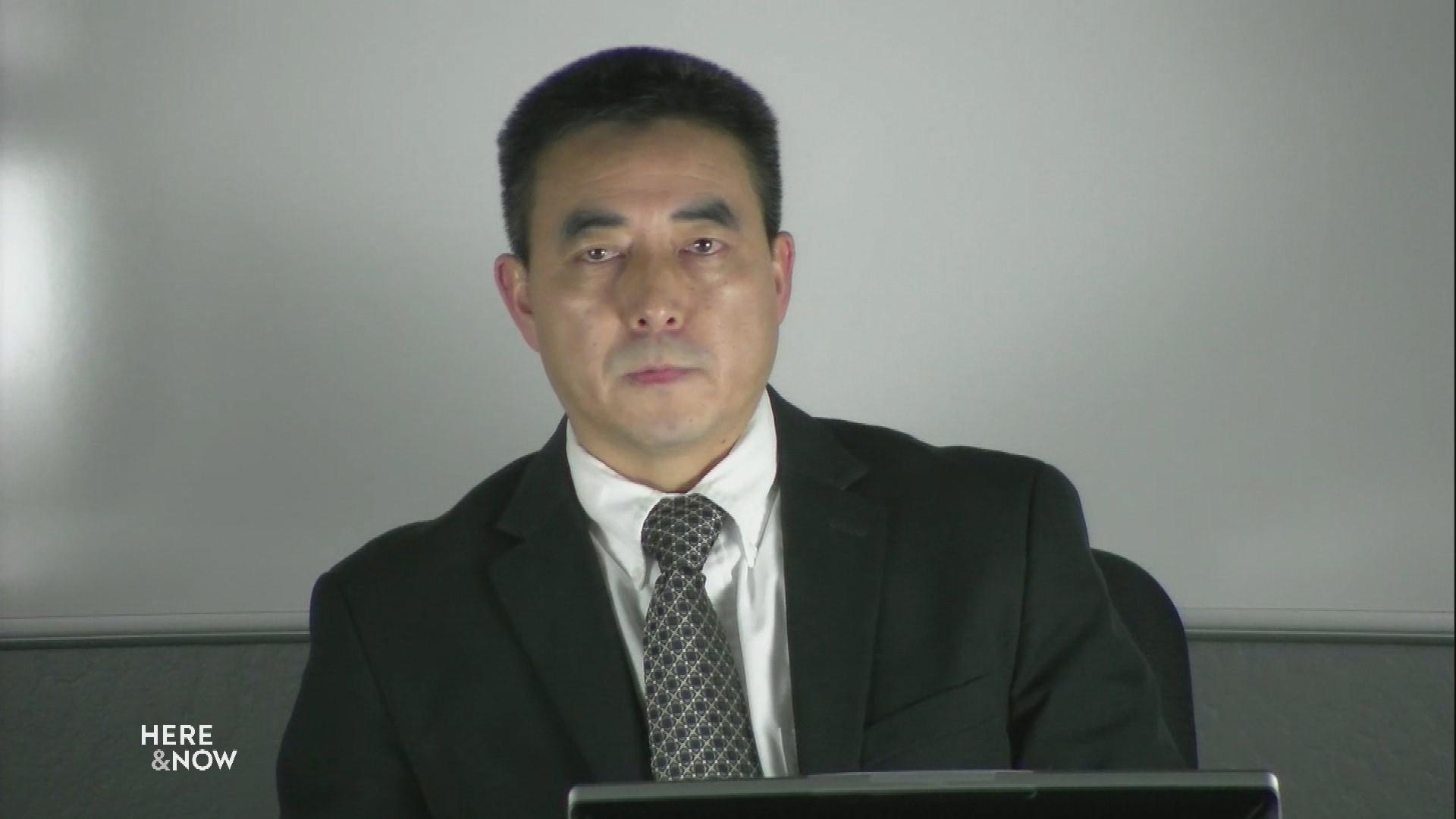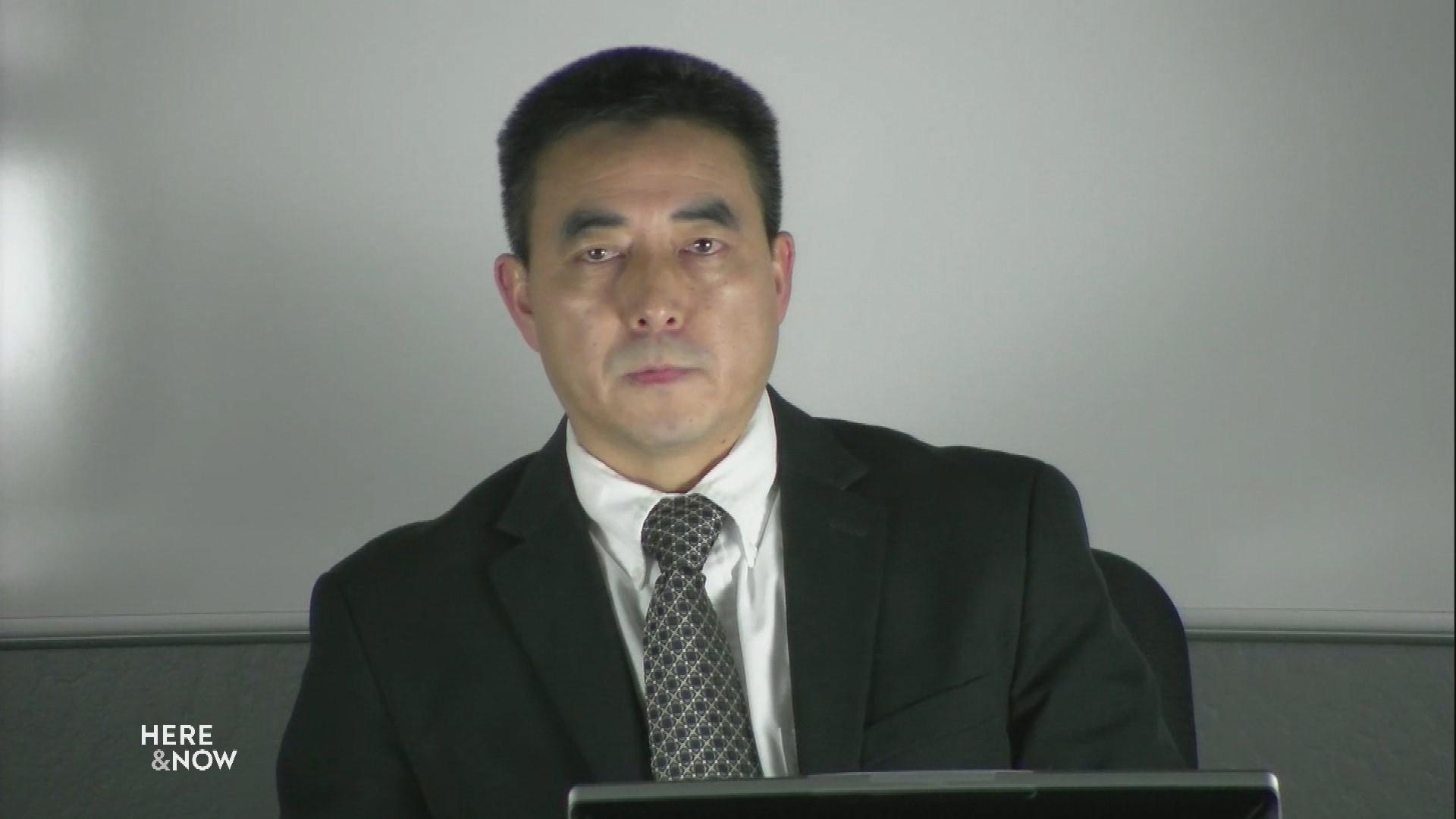 New Policy Threatens to Deport Members of Hmong Community
A policy shift in Washington leaves thousands of Hmong and Lao U.S. residents, who are not citizens and have deportation orders, worried they could be sent back to Laos. Fox Valley Hmong leader Long Vue discusses growing fears of deportation among Wisconsin Hmong residents.
February 15, 2020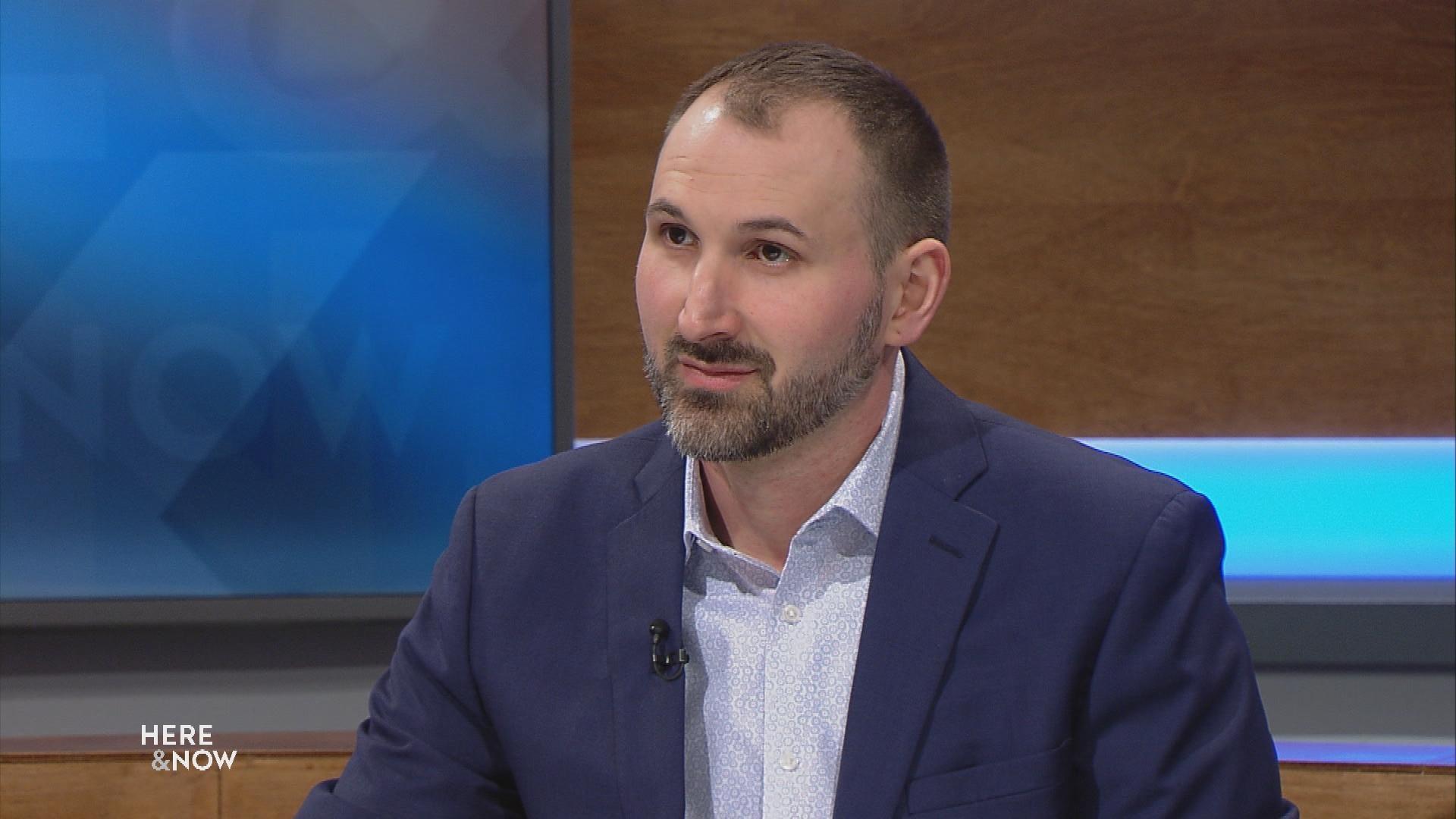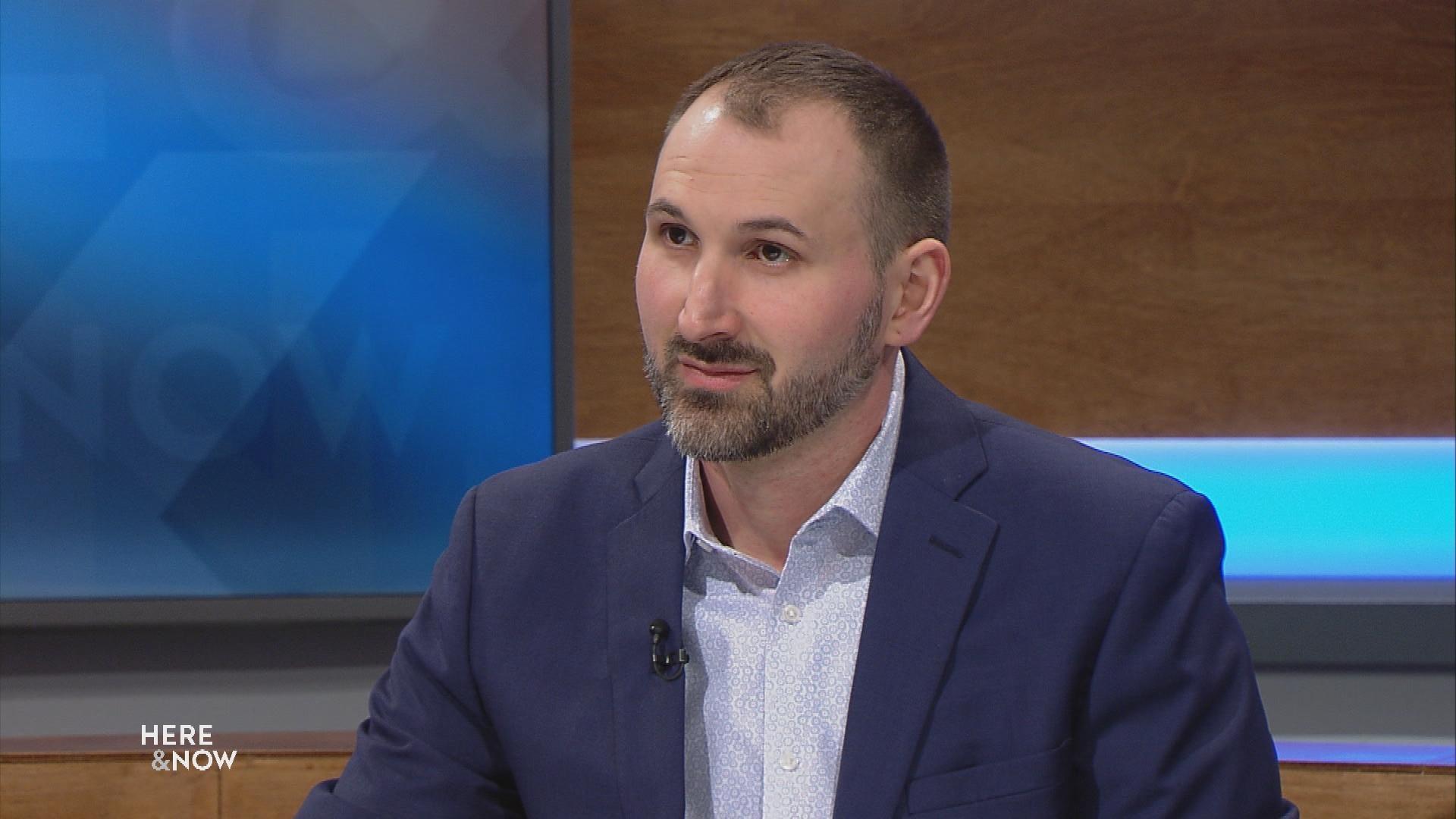 Federal Law Creates More Barriers for Immigrants
Researcher and writer for Kids Forward William Parke Sutherland. Sutherland will discuss a federal rule expansion that has a big impact on Wisconsin immigrants. Sutherland said it's important to note that "the vast majority of immigrants are safe from this rule."
February 15, 2020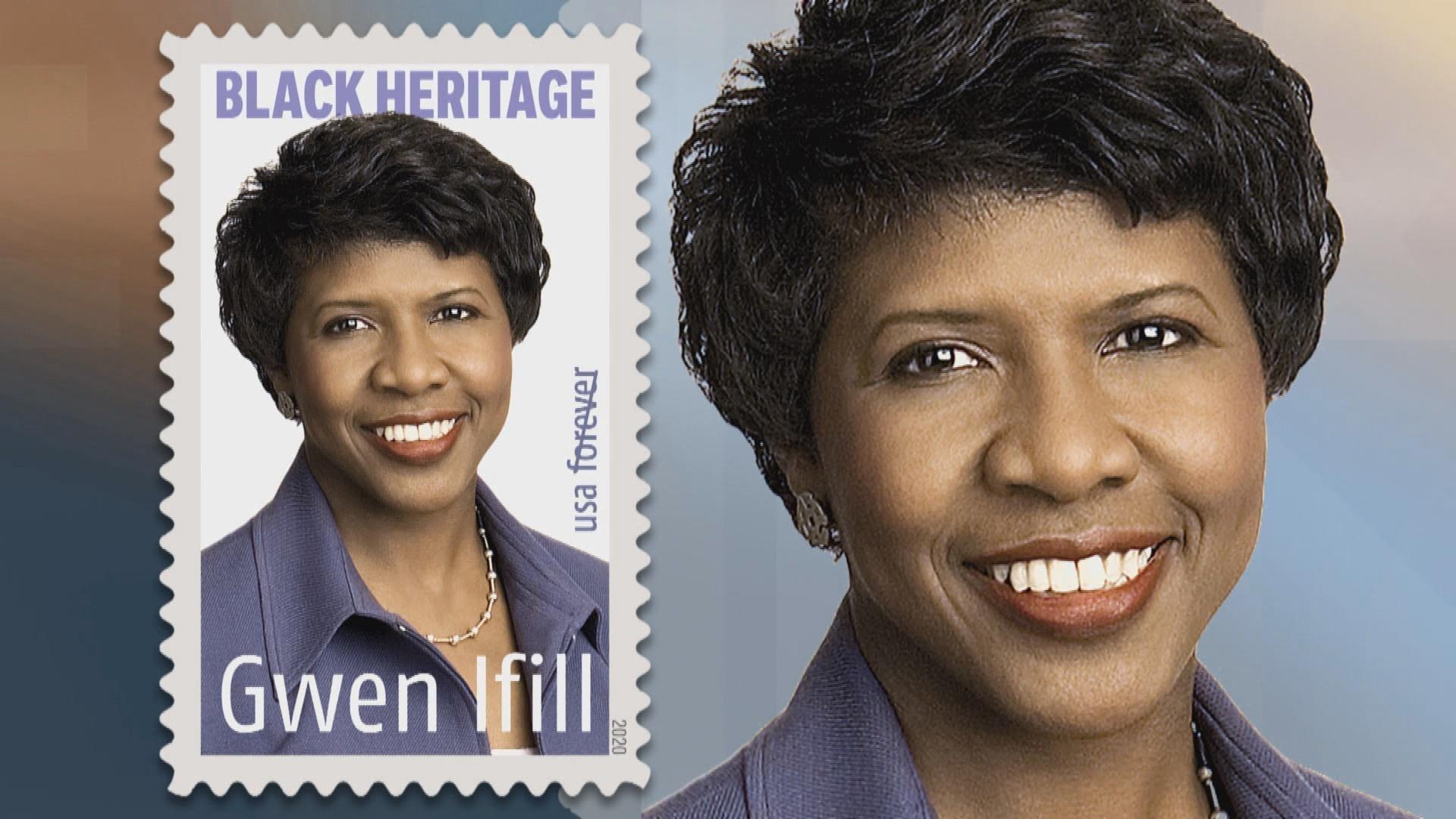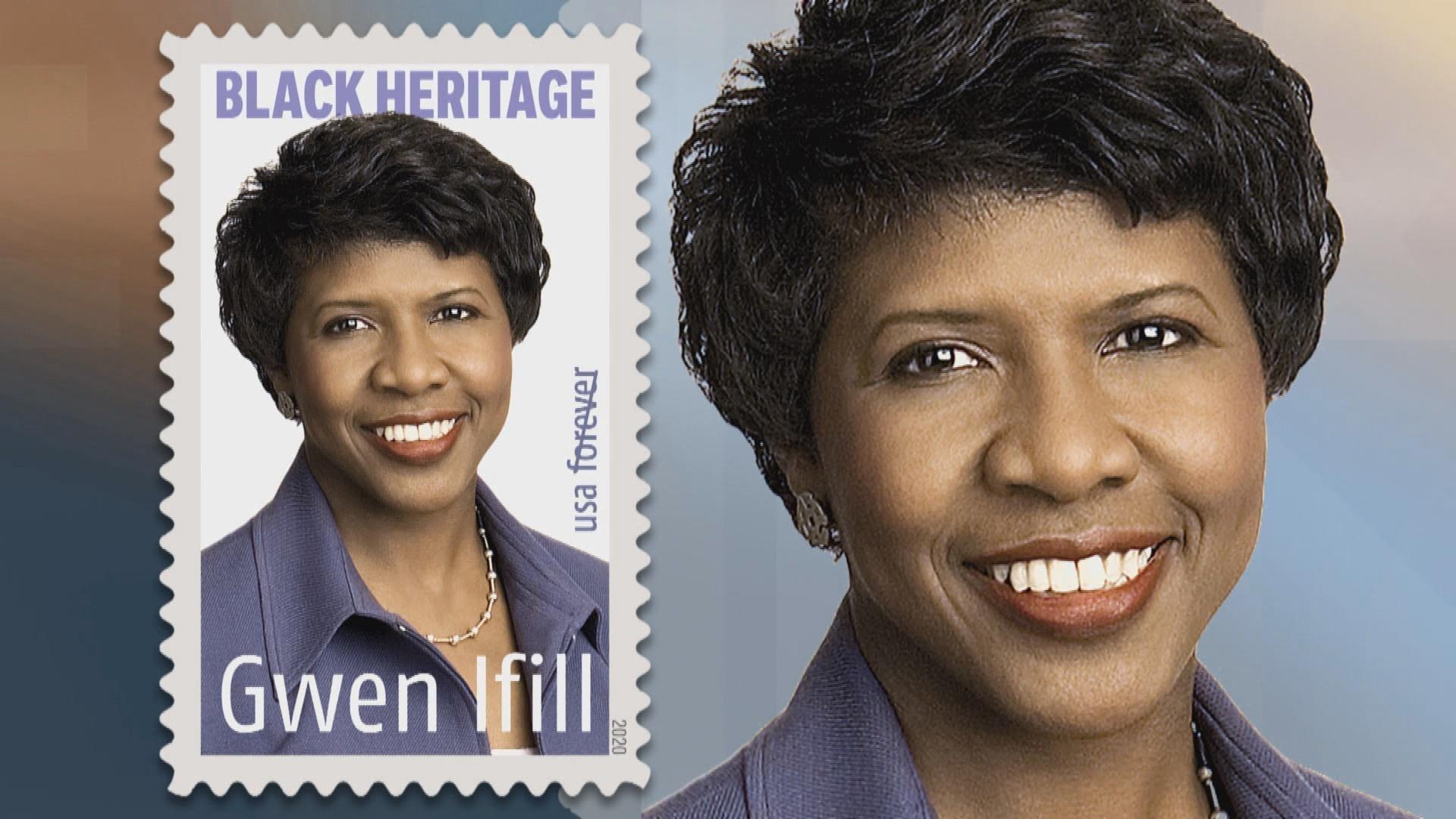 Late Journalist Gwen Ifill on New USPS Forever Stamp
Gwen Ifill is now featured as the newest addition to the USPS Black Heritage Stamp Series. Ifill is well-known for her role as a moderator for the PBS program Washington Week. Ifill is a trailblazer and inspired many of the journalists to come after her.
January 31, 2020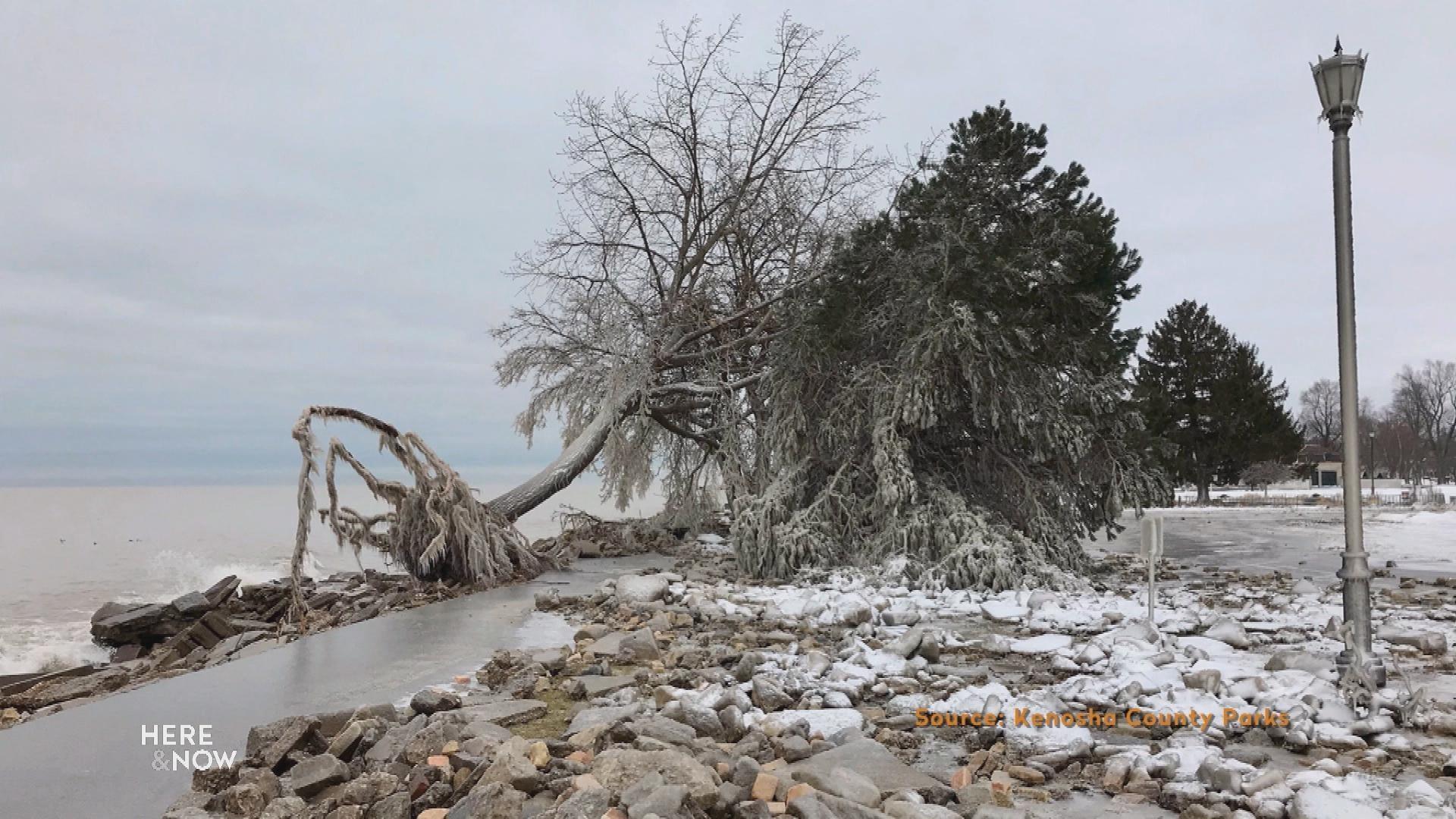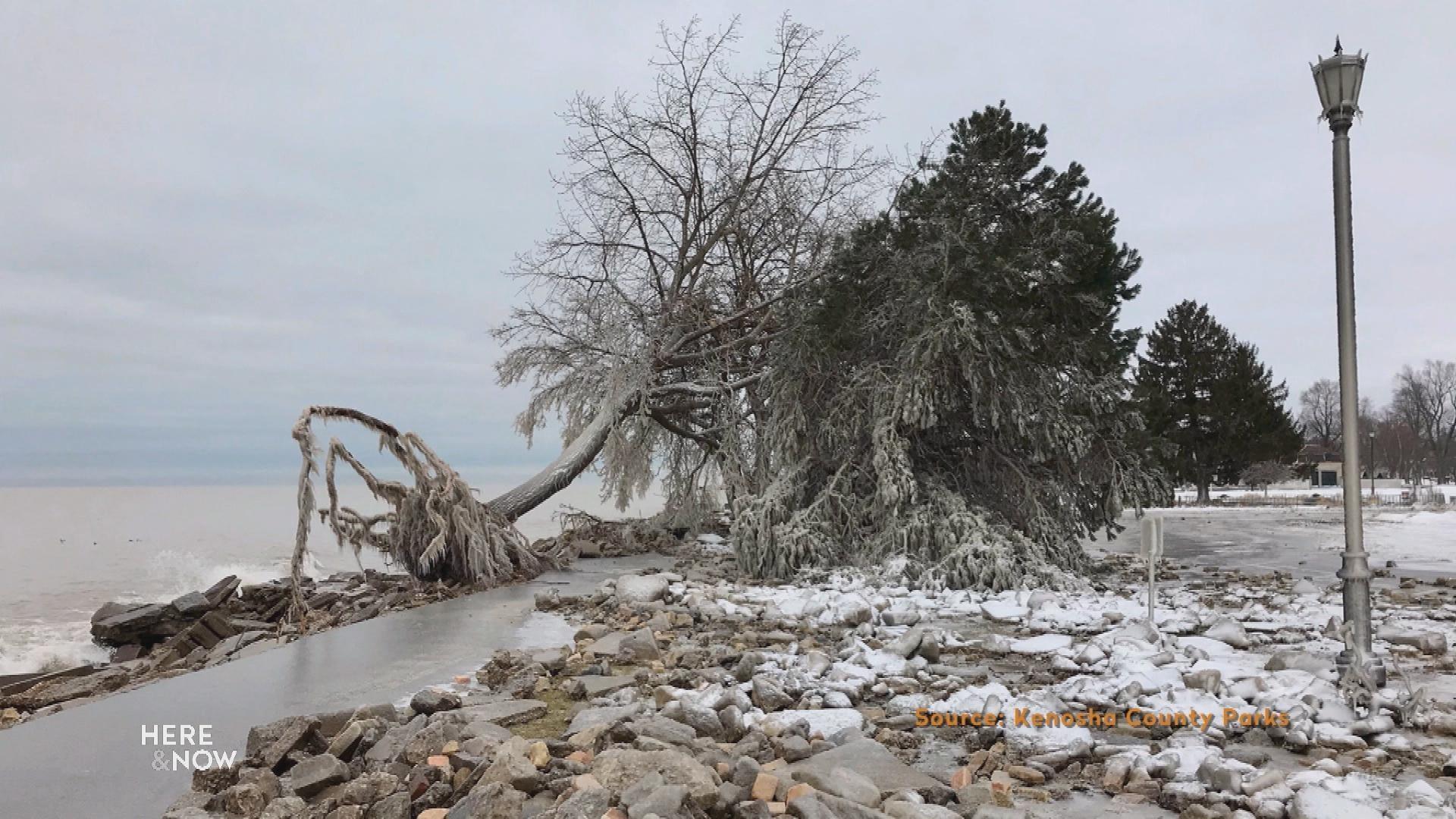 Shoreline Damage in Racine Co. Washes Up Need for Aid
David Maack is the Racine County Emergency Management Coordinator. Maack reviews the need for FEMA assistance in the aftermath of shoreline damage caused by severe storms earlier this month.
January 31, 2020 • Southeast Region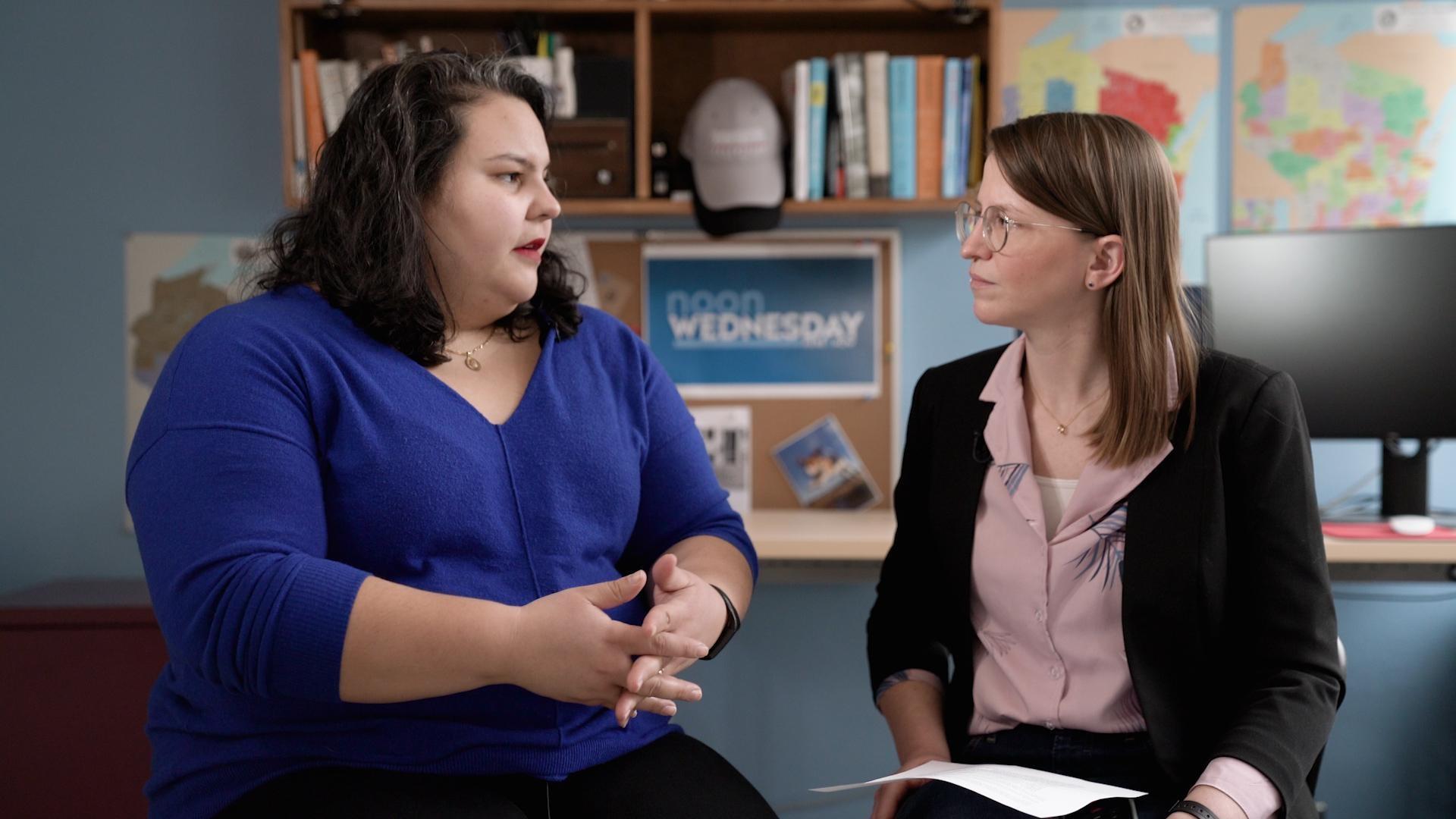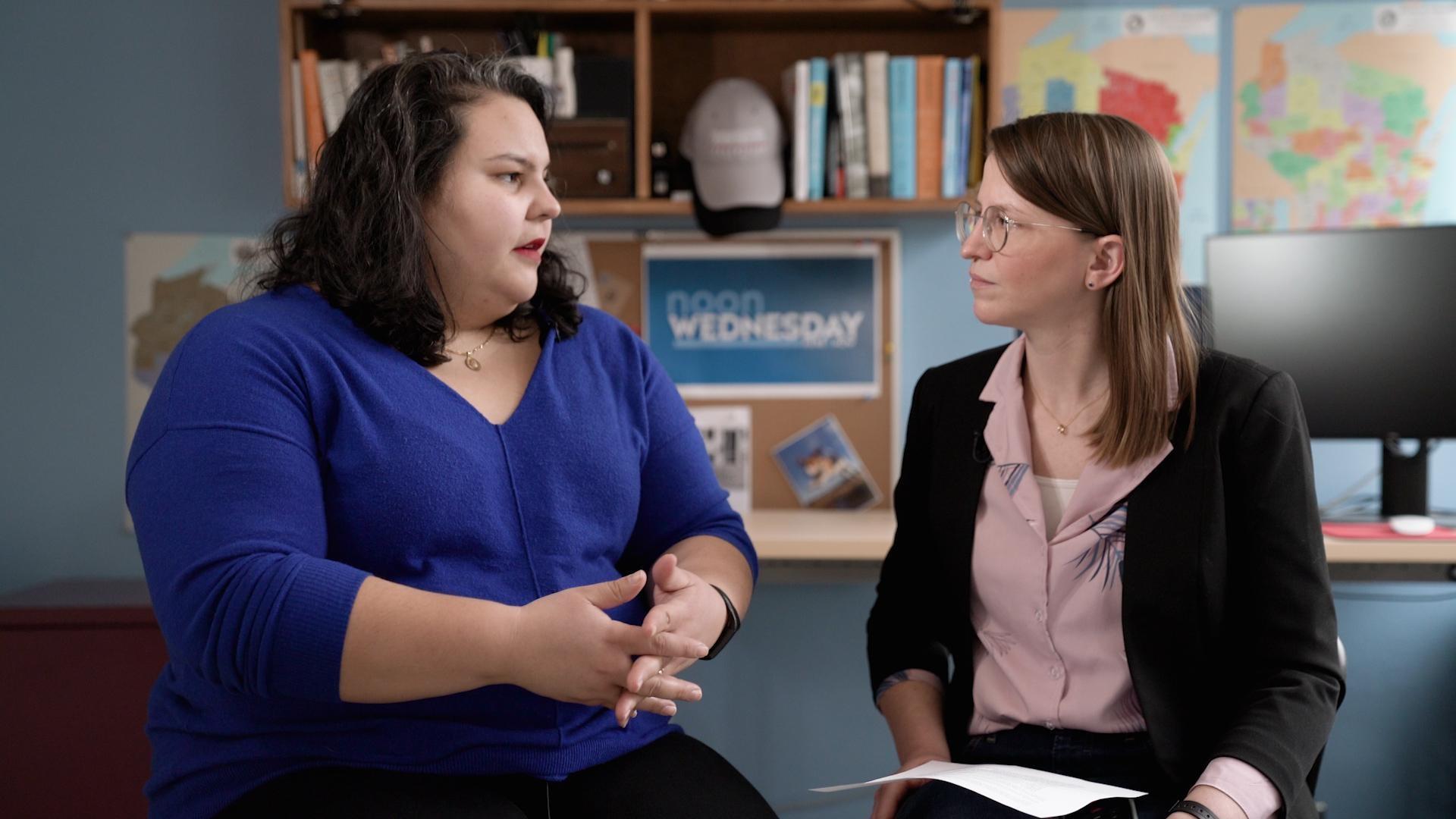 Noon Wednesday: Public Charge Rule Creating Confusion
Immigrants using public benefits are under greater scrutiny due to the expansion of the federal public charge law. However, advocates say confusion over who it actually impacts is more of problem for local immigrant communities deciding not to health and food benefits. Caroline Gomez-Tom from Milwaukee's Sixteenth Street Community Health Centers joins us to talk about the real-world impact.
January 29, 2020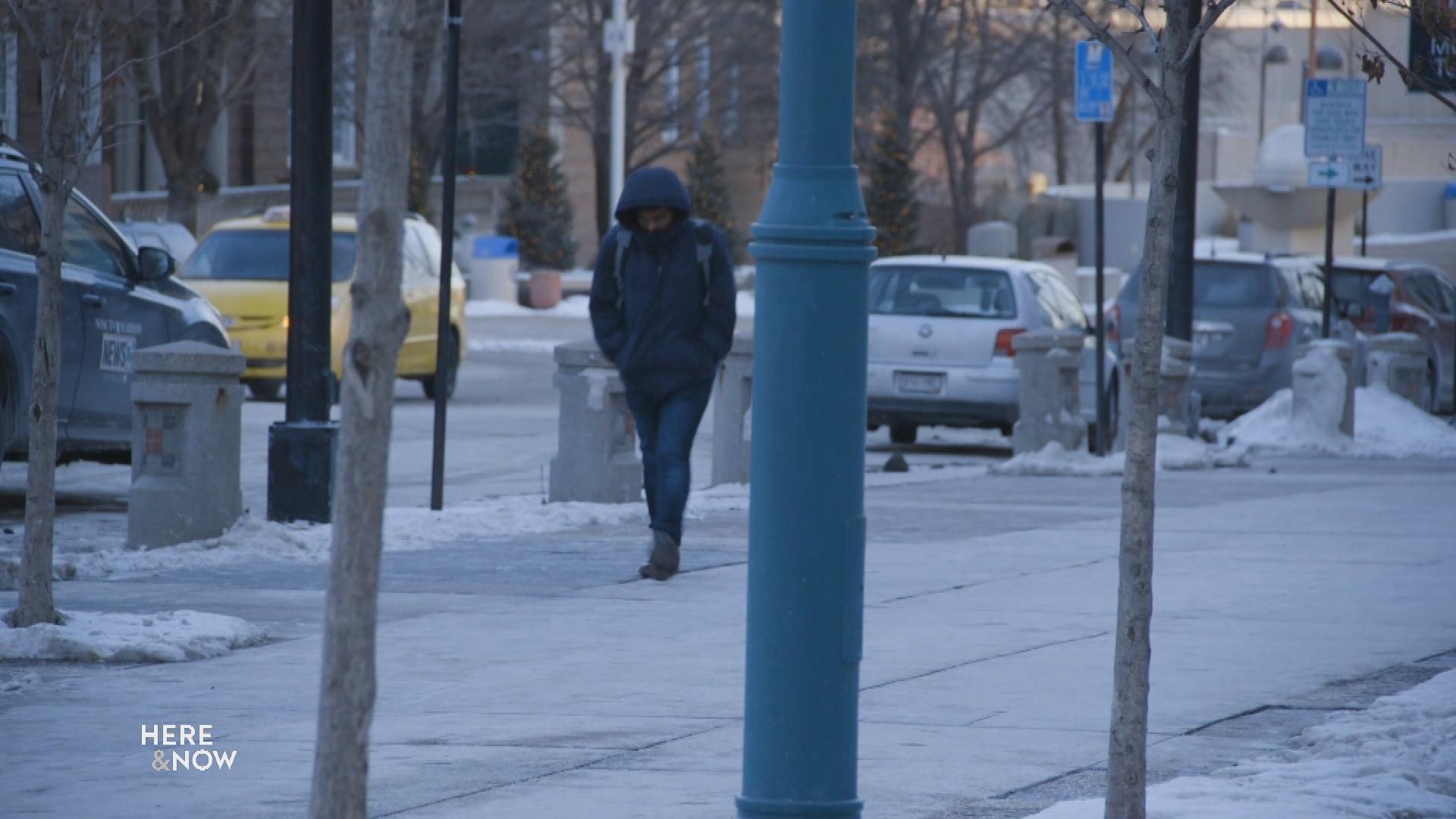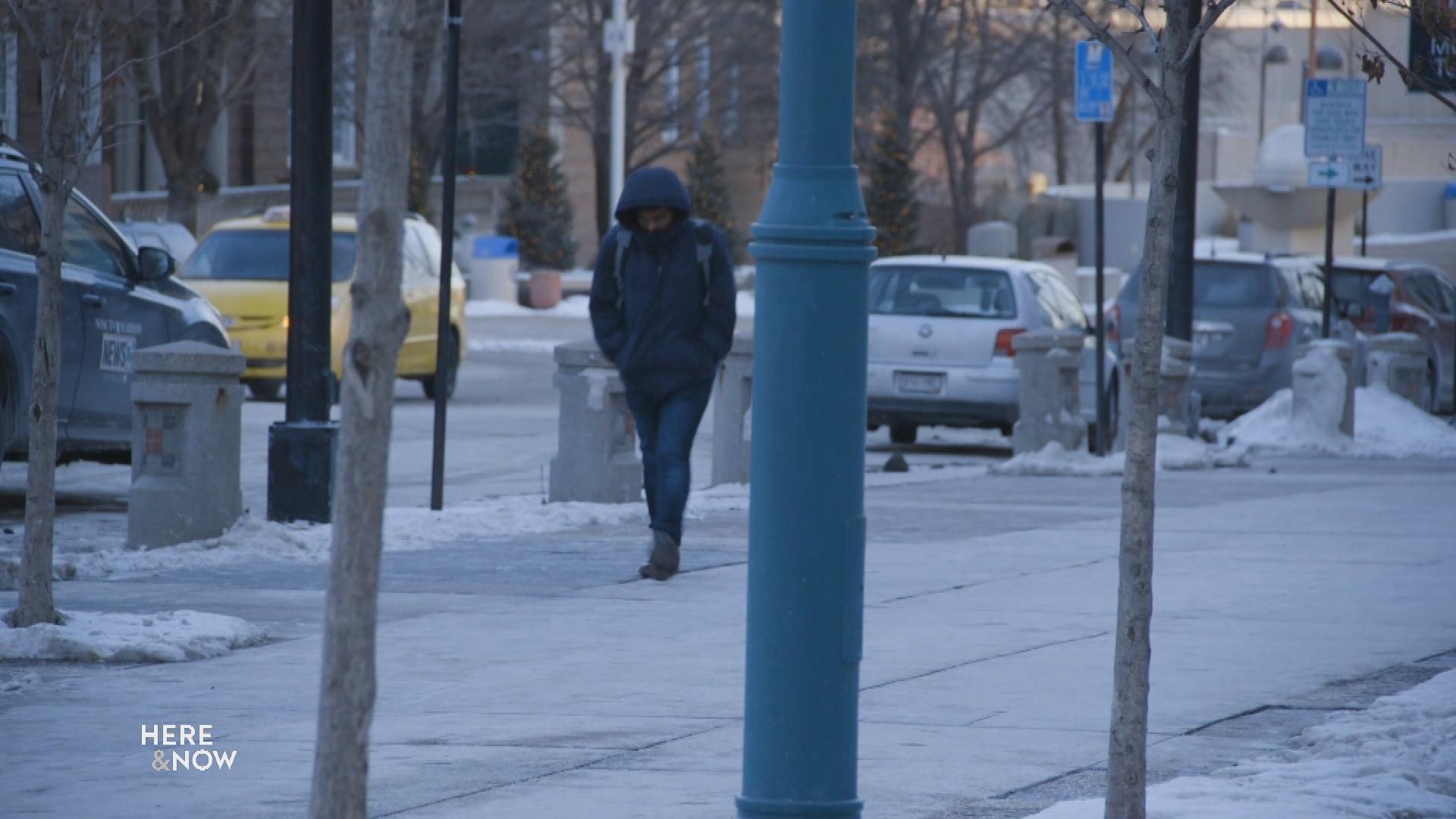 Homelessness Bill Passed the Senate with Bipartisan Support
Homelessness legislation in the state Senate is set to provide a total of $1 million to homeless shelters in Wisconsin. Despite bipartisan support, lawmakers on the Senate floor debated for two hours before passing the bill. Here & Now reporter Marisa Wojcik breaks down both sides of the aisle and where they stand now. Plus an update on Impeachment affairs at the Nation's capital.
January 24, 2020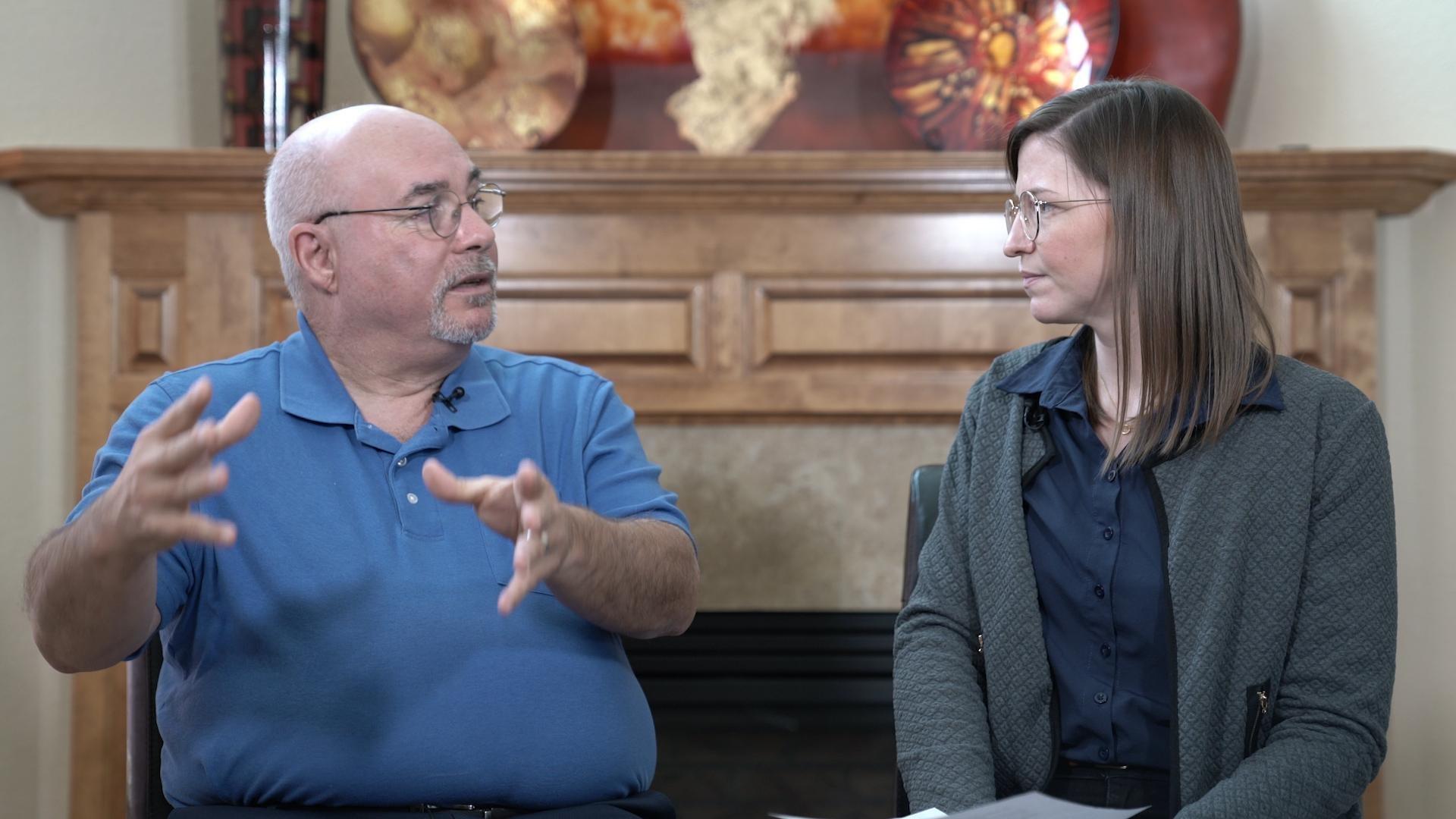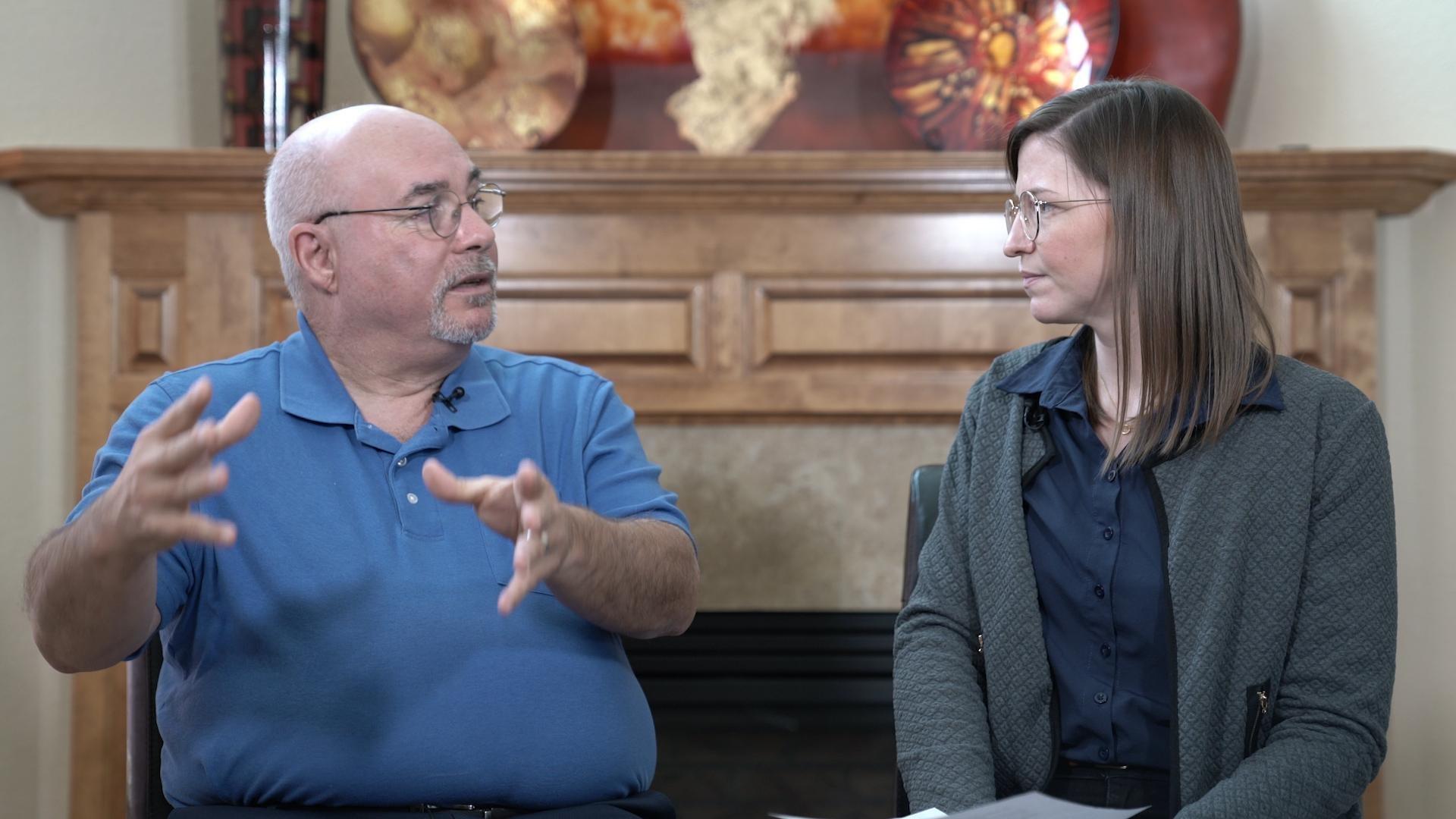 Noon Wednesday: Homeless Funding Stuck in Senate
The Wisconsin Senate passed one of eight proposals to increase funding towards homeless services and prevention. Joe Volk, executive director of the Wisconsin Coalition Against Homelessness, joins us to talk about what the rest of the package of proposals aims to do, where it came from and why it's caught up in the Senate.
January 22, 2020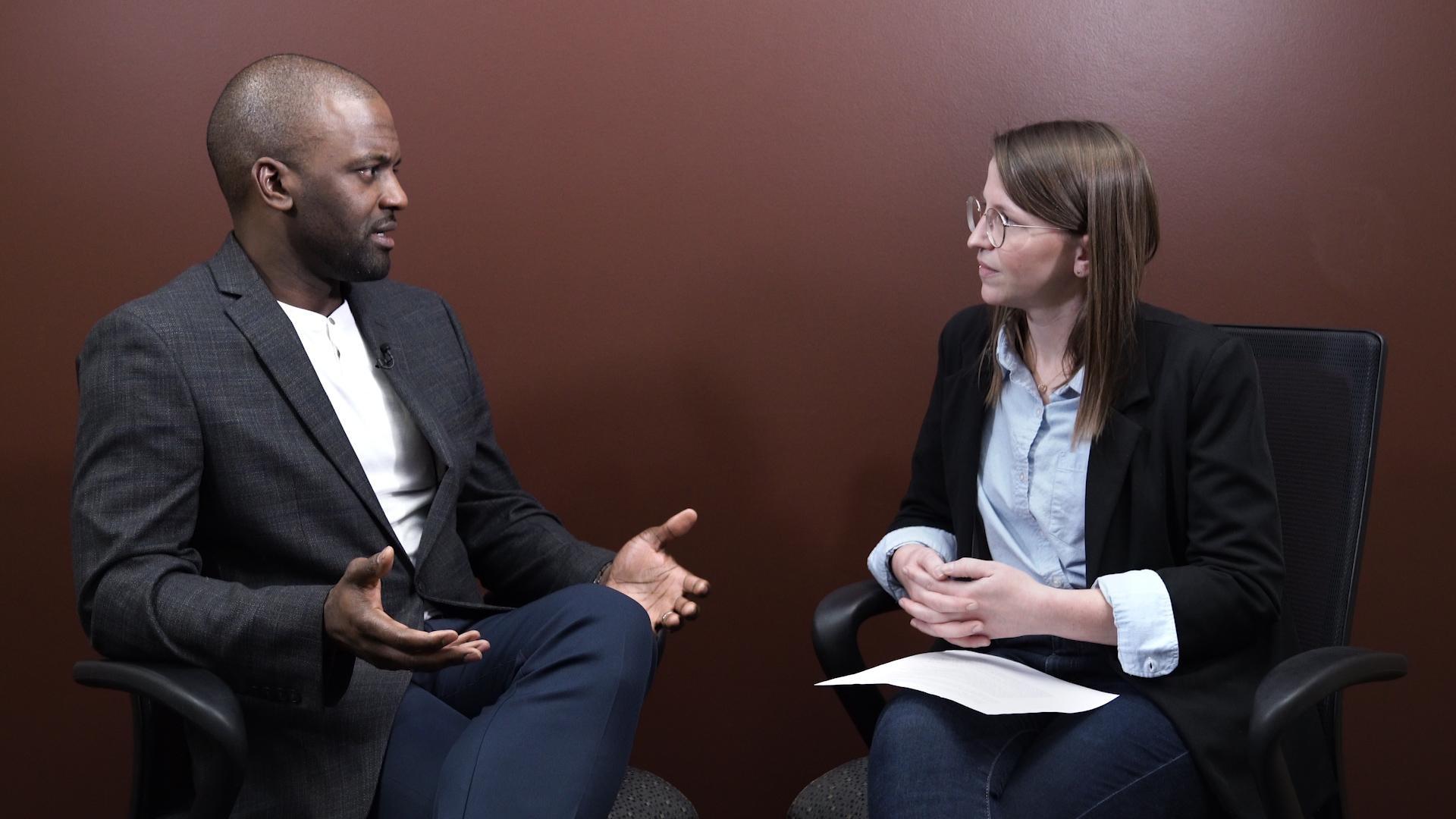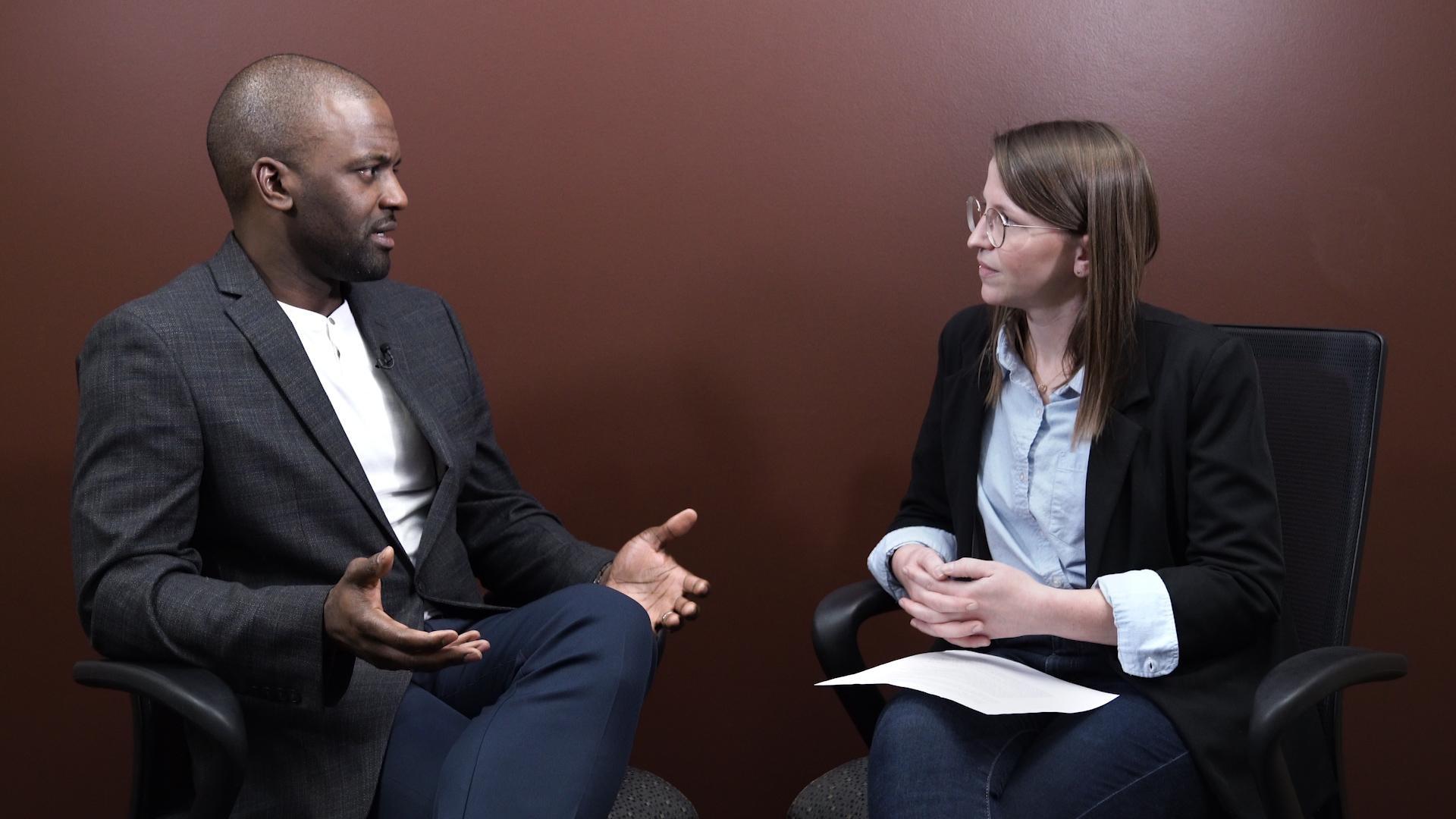 Noon Wednesday: Success and Shortcomings in Green Bay Equity
The non-white population in Green Bay is projected to double or triple by 2040. Mohammed Bey, director of diversity and inclusion at Northeast Wisconsin Technical College, discusses what diversity and equity looks like in the greater Green Bay area and how the event will examine the community's "successes and shortcomings."
January 15, 2020 • Northeast Region
Lack of Search And Rescue Resources Leave State Vulnerable
Despite the gaps in coverage, volunteers across Wisconsin remain the backbone of search and rescue operations. Although search and rescue volunteers are trained as professionals, many counties don't have enough resources to pay them as such.
January 3, 2020 • Northern Region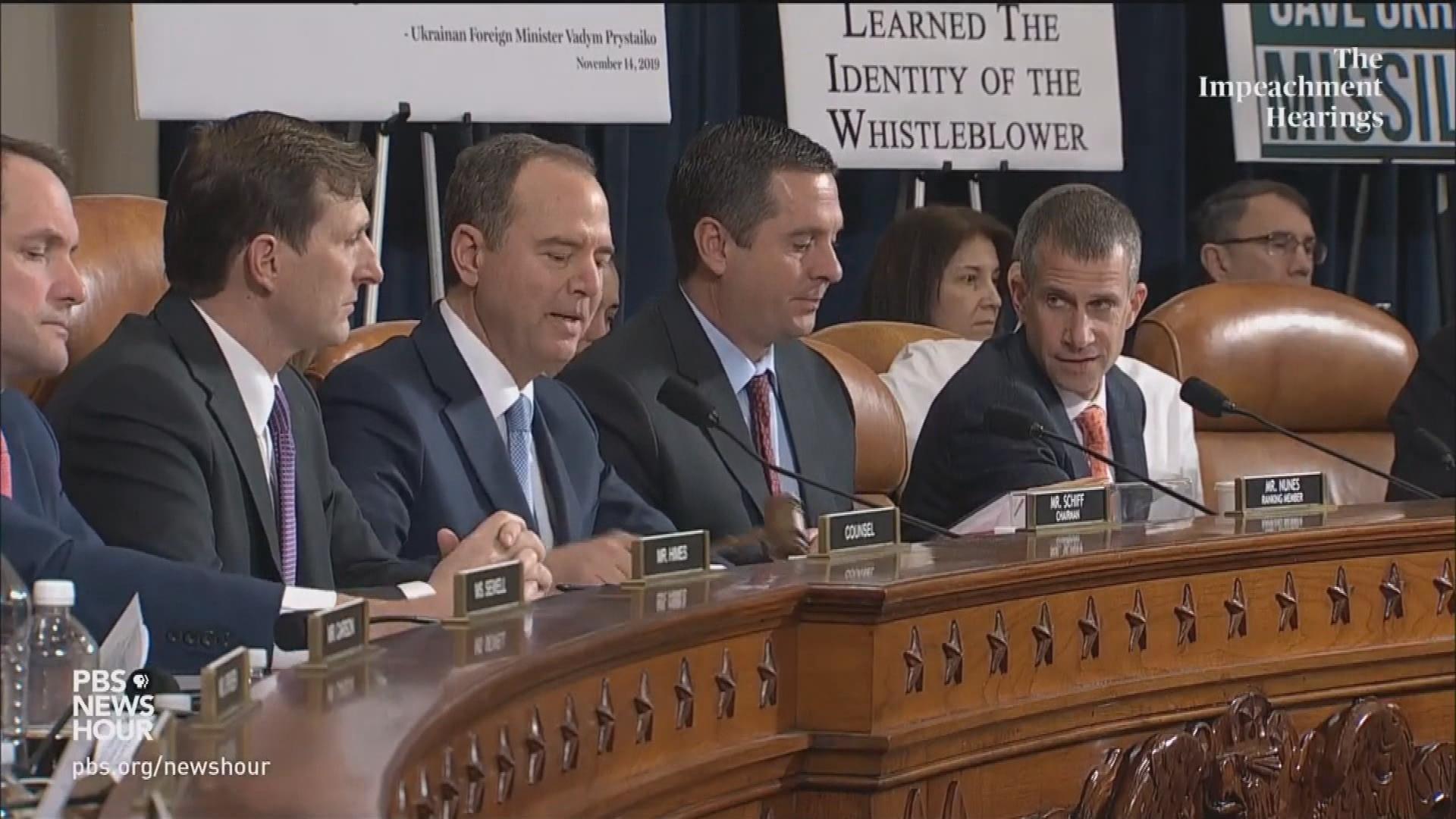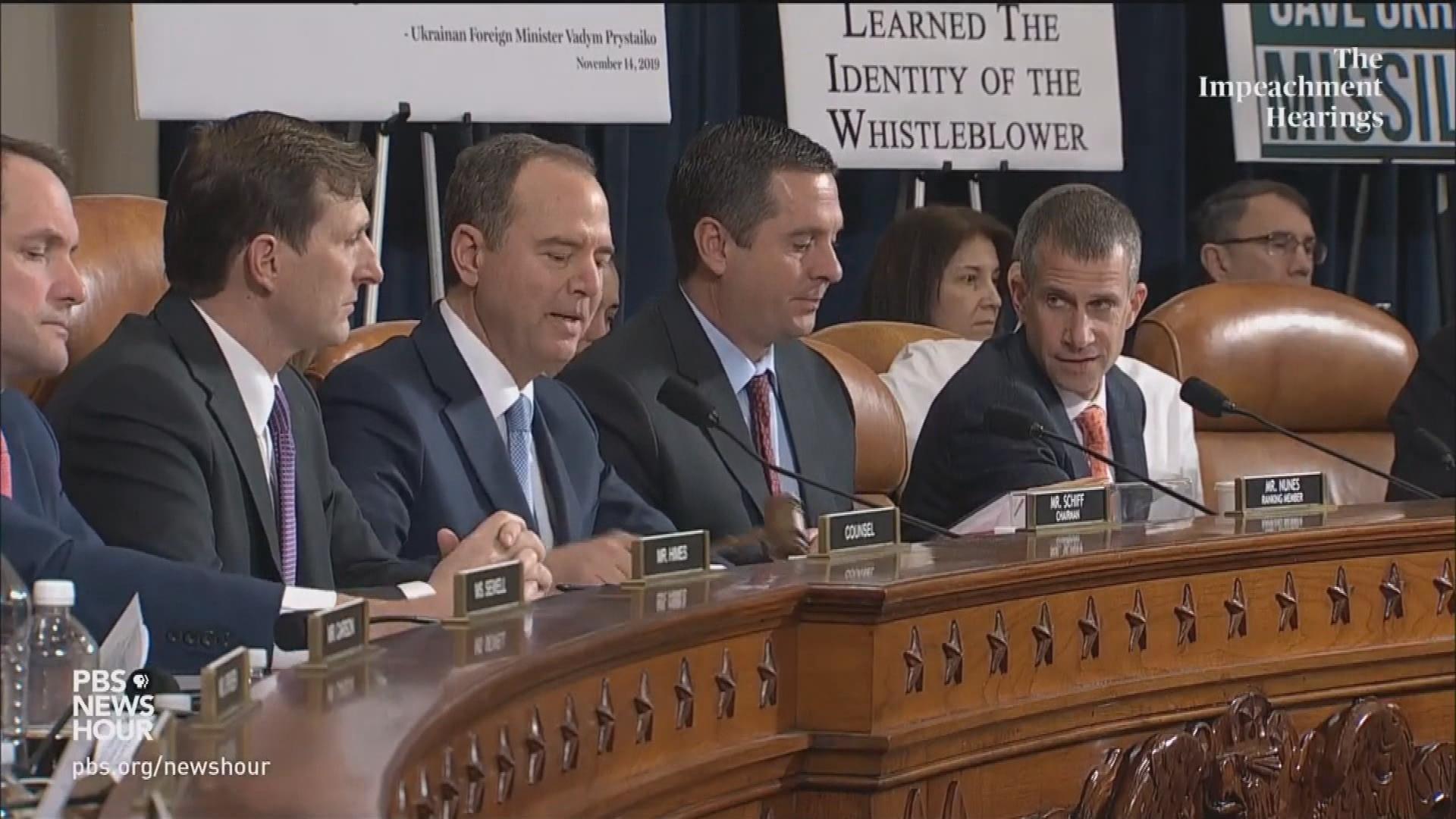 Here & Now for November 15, 2019
On tonight's show we examine: the state's diversity efforts with State Rep. Sheila Stubbs; Impeachment Hearings with U.S. Rep. Gwen Moore; freedom of the press questions regarding Lafayette County Board with Wisconsin Freedom of Information Council President Bill Lueders; Developments with the DACA program with Voces De La Frontera's Alejandra Gonzalez; an update on former designee Brad Pfaff.
January 3, 2020 • Northern Region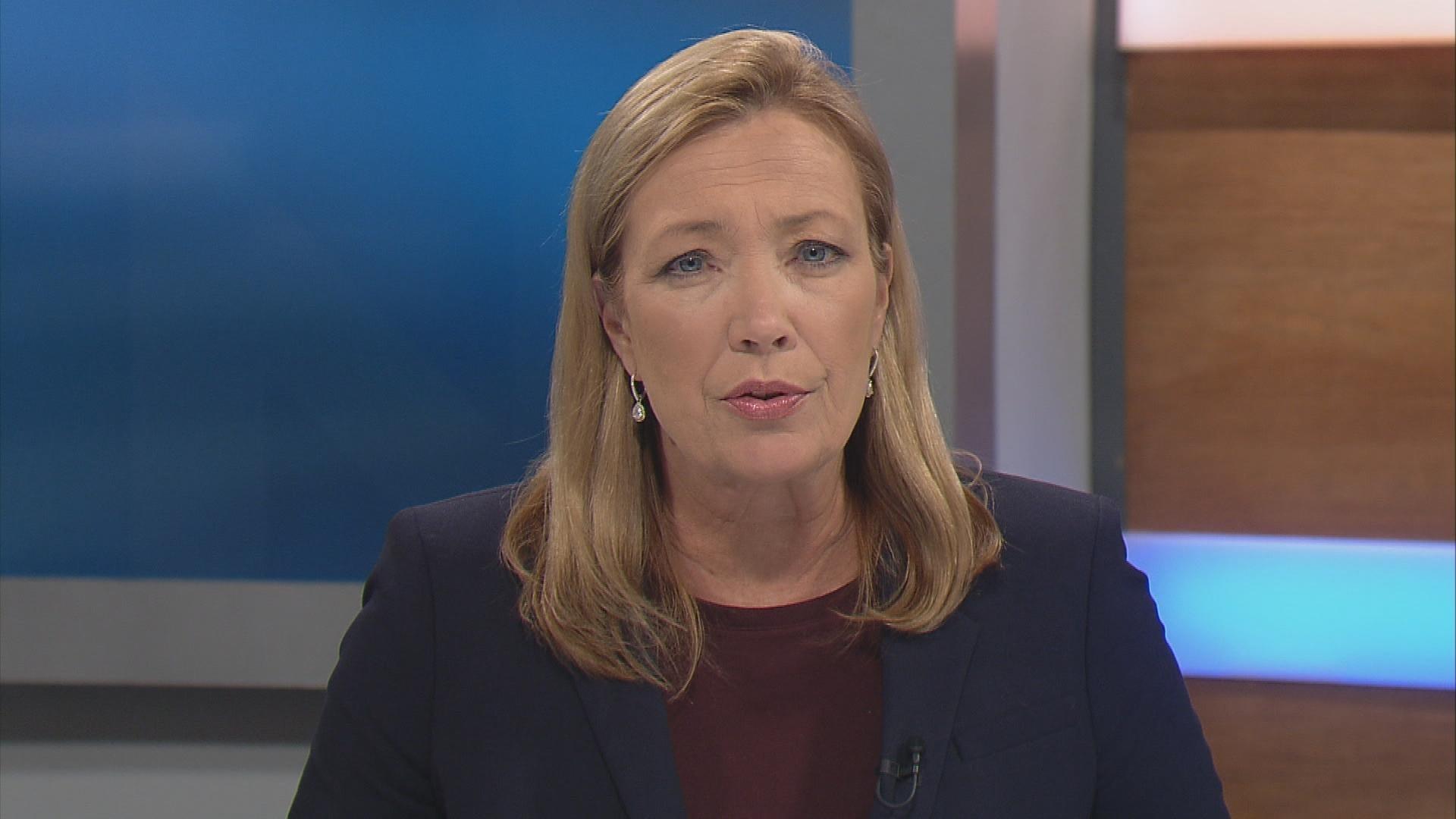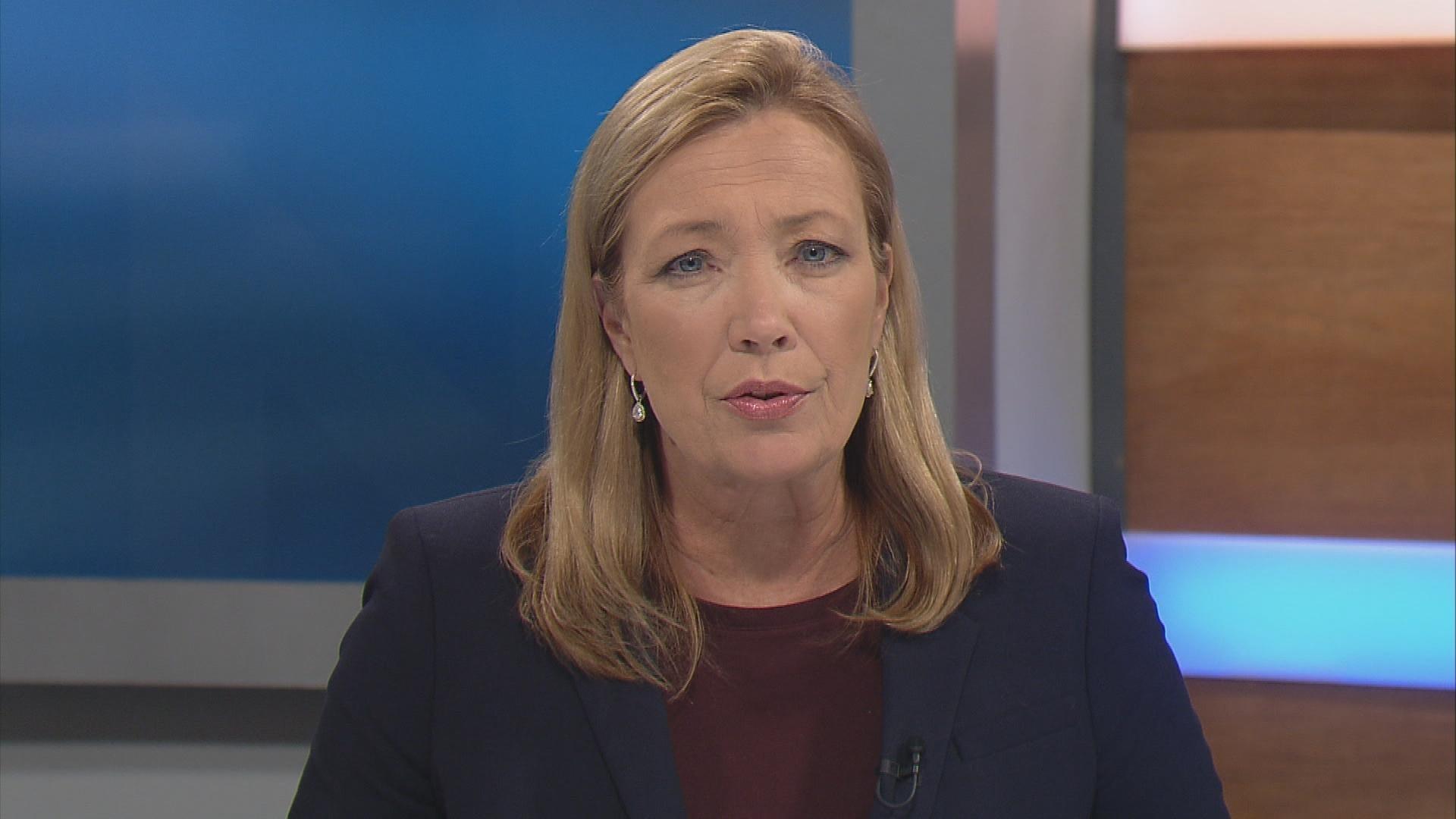 Gov. Tony Evers Calls for Action in Wake of Gun Violence
Governor Tony Evers said the state should provide more funding for mental health resources for students in light of the numerous gun incidents in Wisconsin this week. Evers' call to action comes on the heels of two incidents where an officer shot and injured an armed student in Waukesha and Oshkosh.
December 6, 2019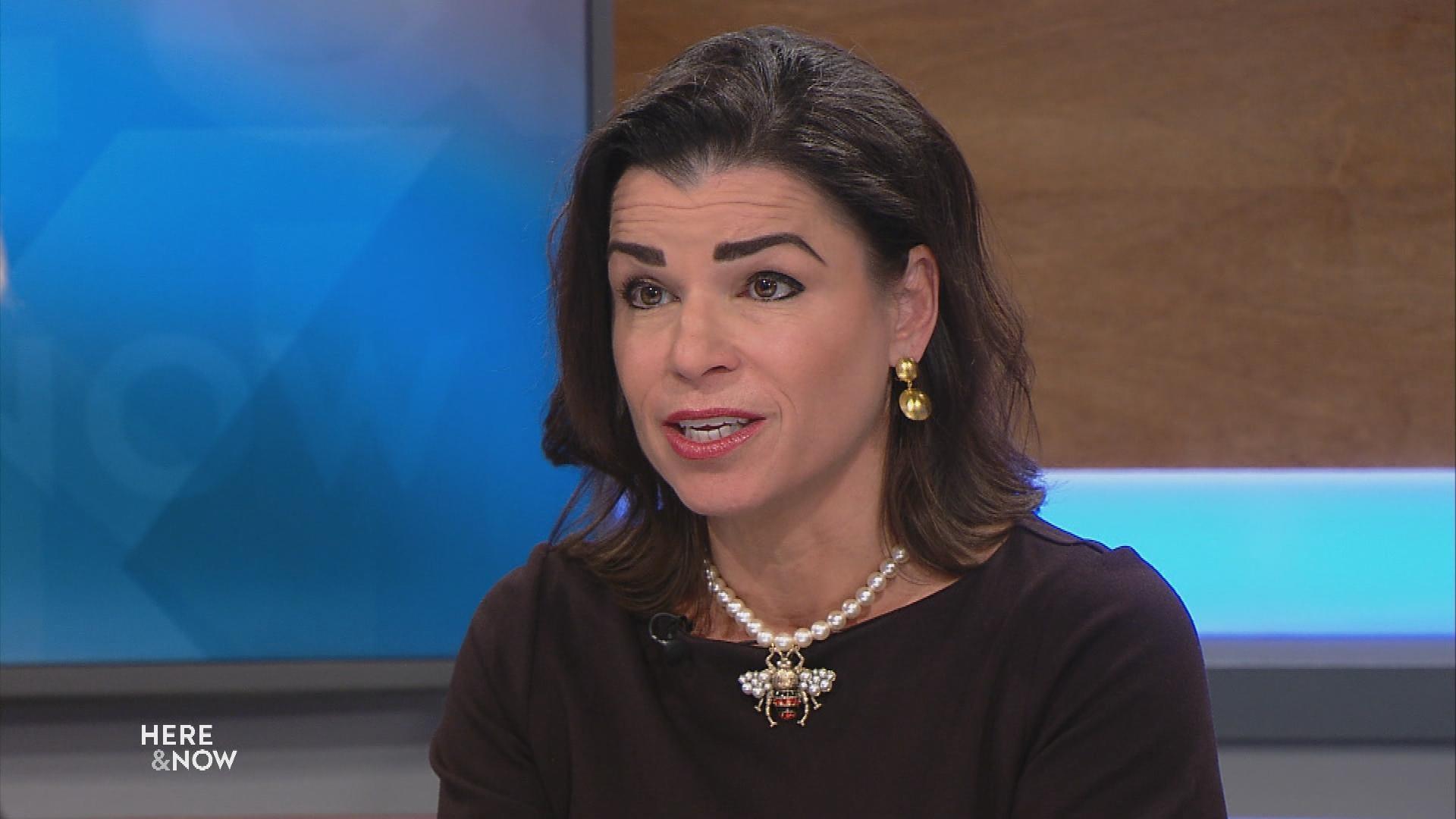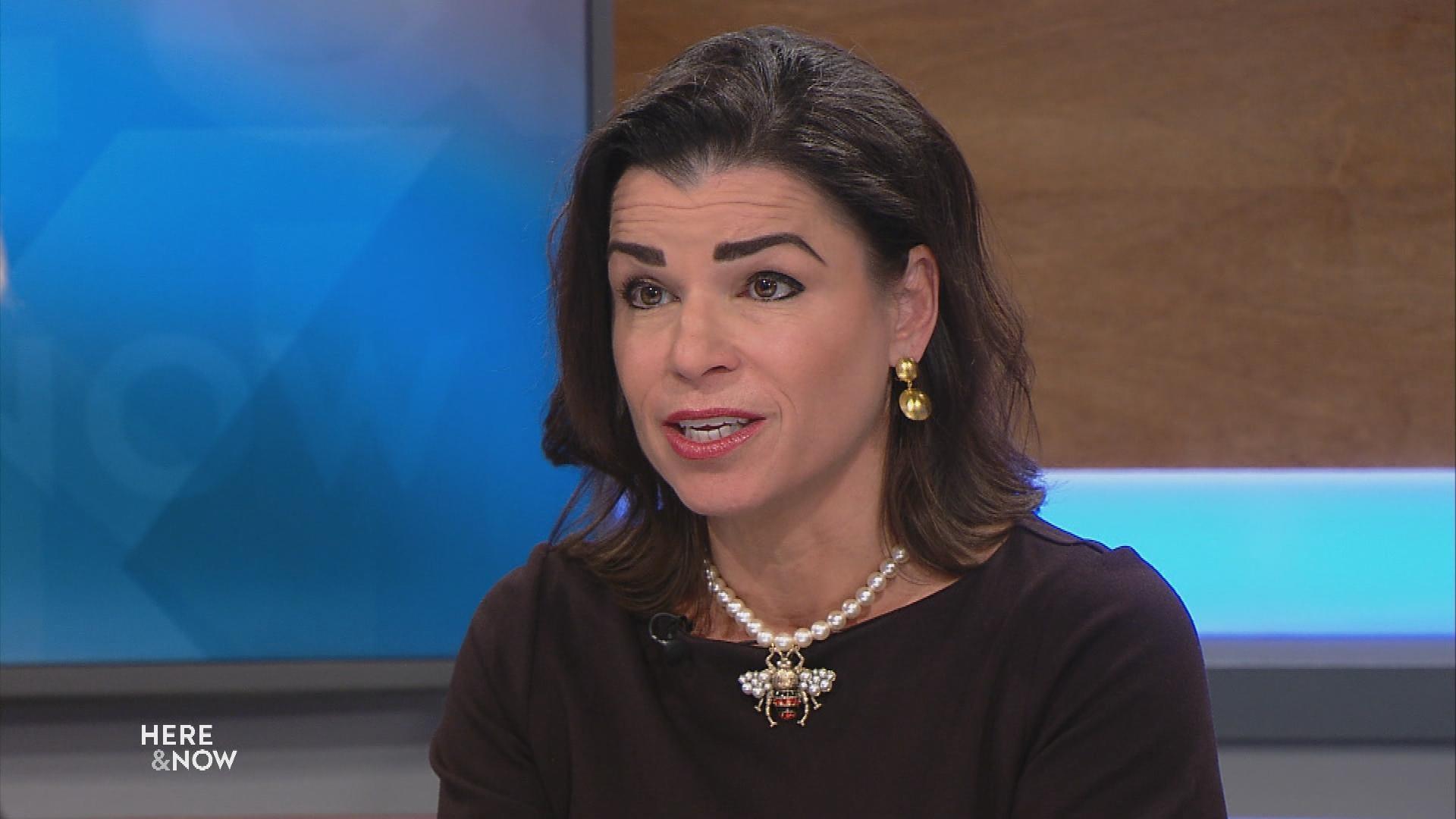 Sex Trafficking Awareness organization Opens New Safe House
Co-Founder of Selah Freedom Elizabeth Melendez Fisher Good discusses the opening of her organization's new safe house in Wisconsin. Selah Freedom is an organization devoted to helping victims of sex trafficking resume a normal, healthy life. The new safe house will allow young women a fresh start through a "holistic approach to restoration."
December 6, 2019 • Southeast Region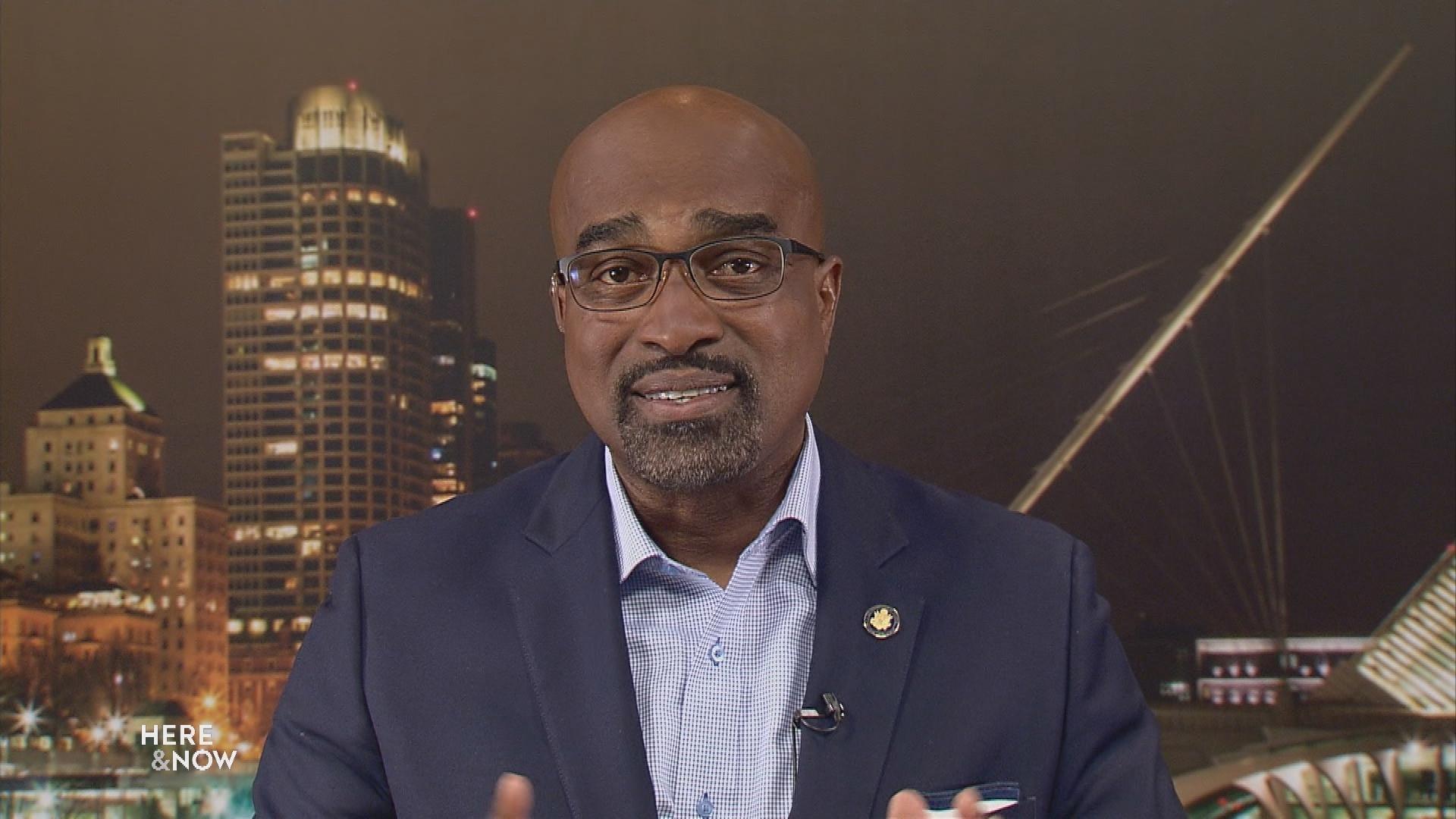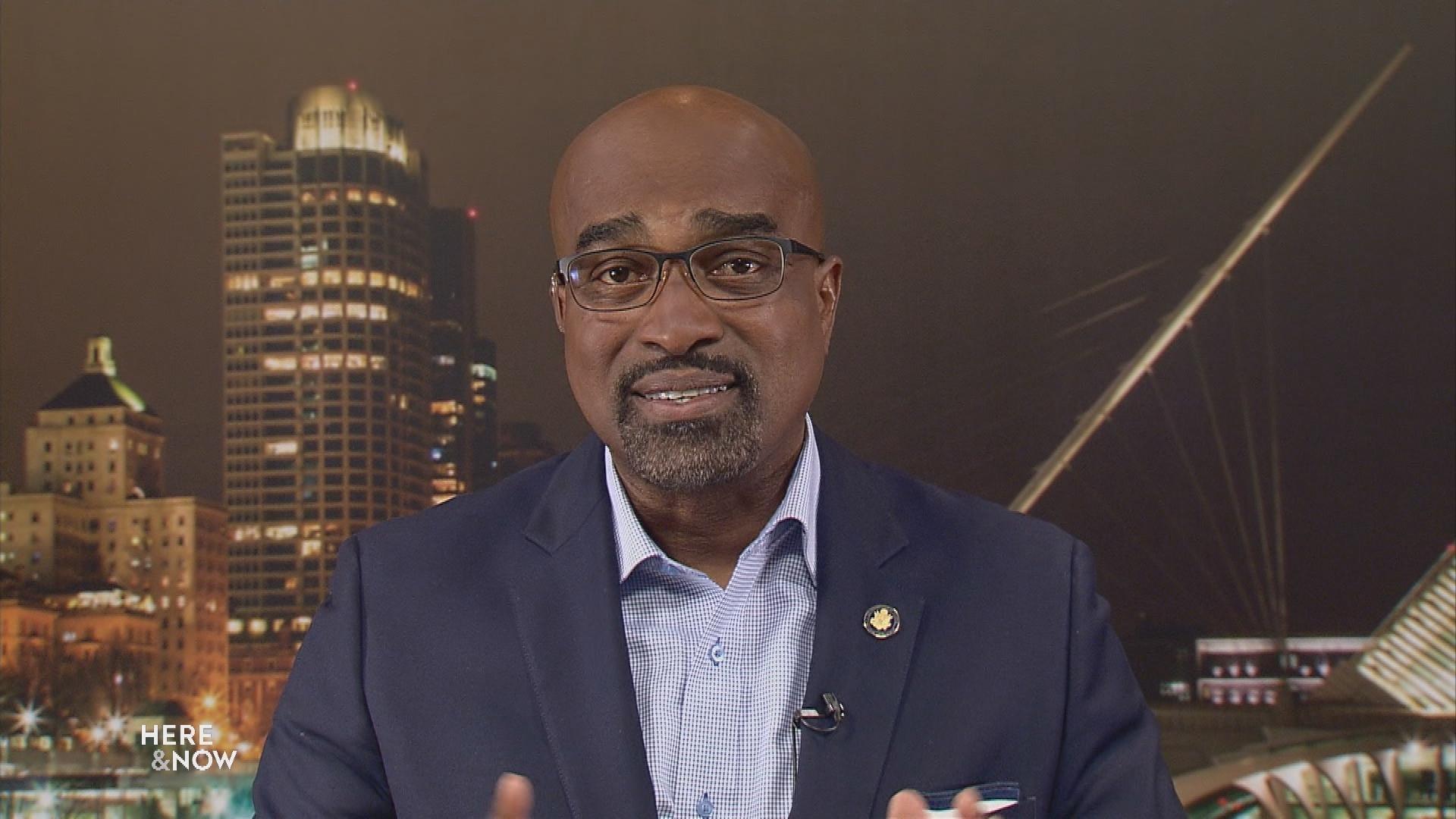 African American Alliance Fosters Upward Mobility
According to studies, there are significant disparities between black and white people in the way of income, unemployment and homeownership in Wisconsin. The African American Leadership Alliance In Milwaukee (AALAM) actively seeks solutions, including developing and supporting African American leaders. Former State Assemblymember Antonio Riley talks about the newly formed alliance.
December 4, 2019 • South Central Region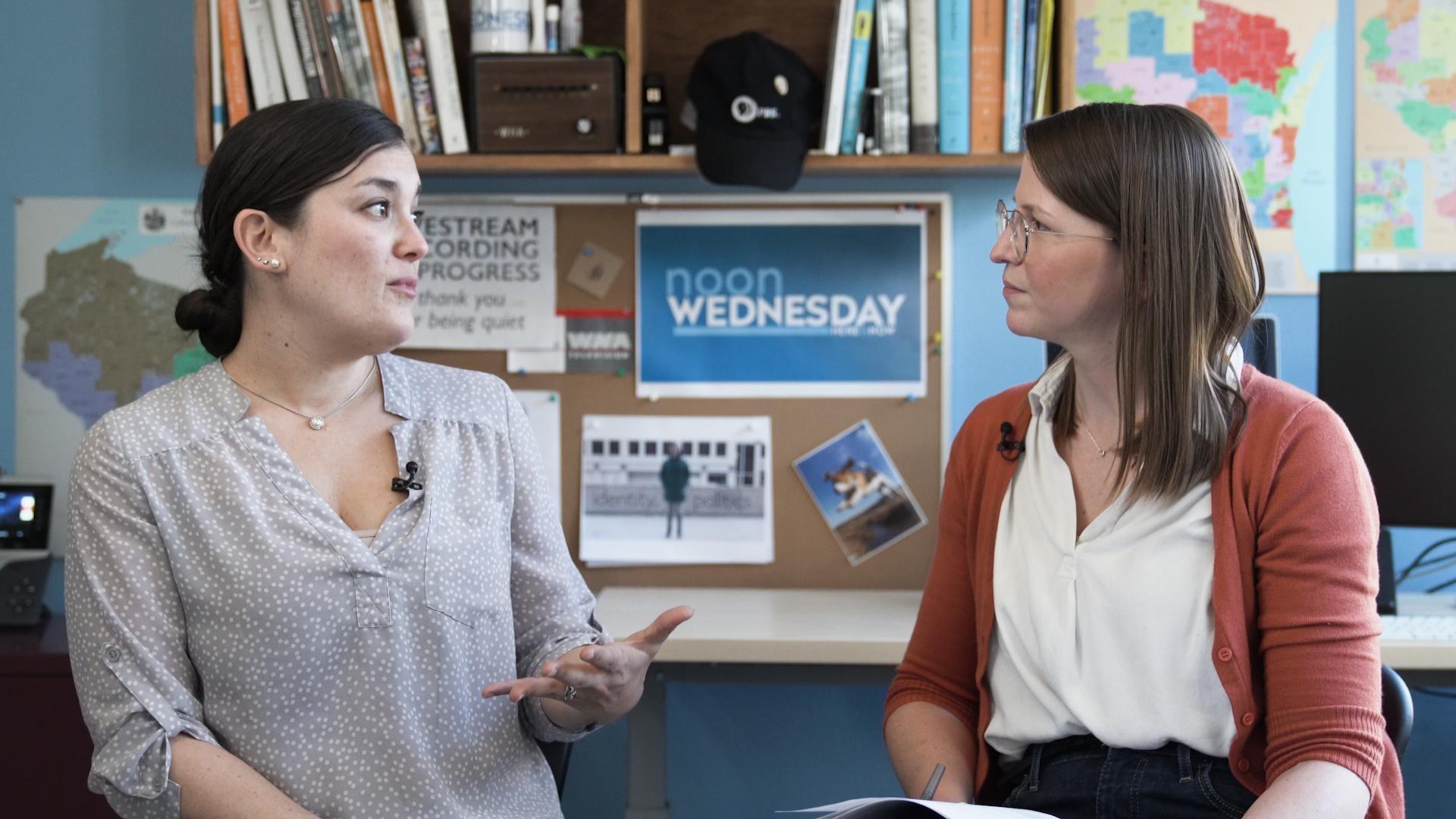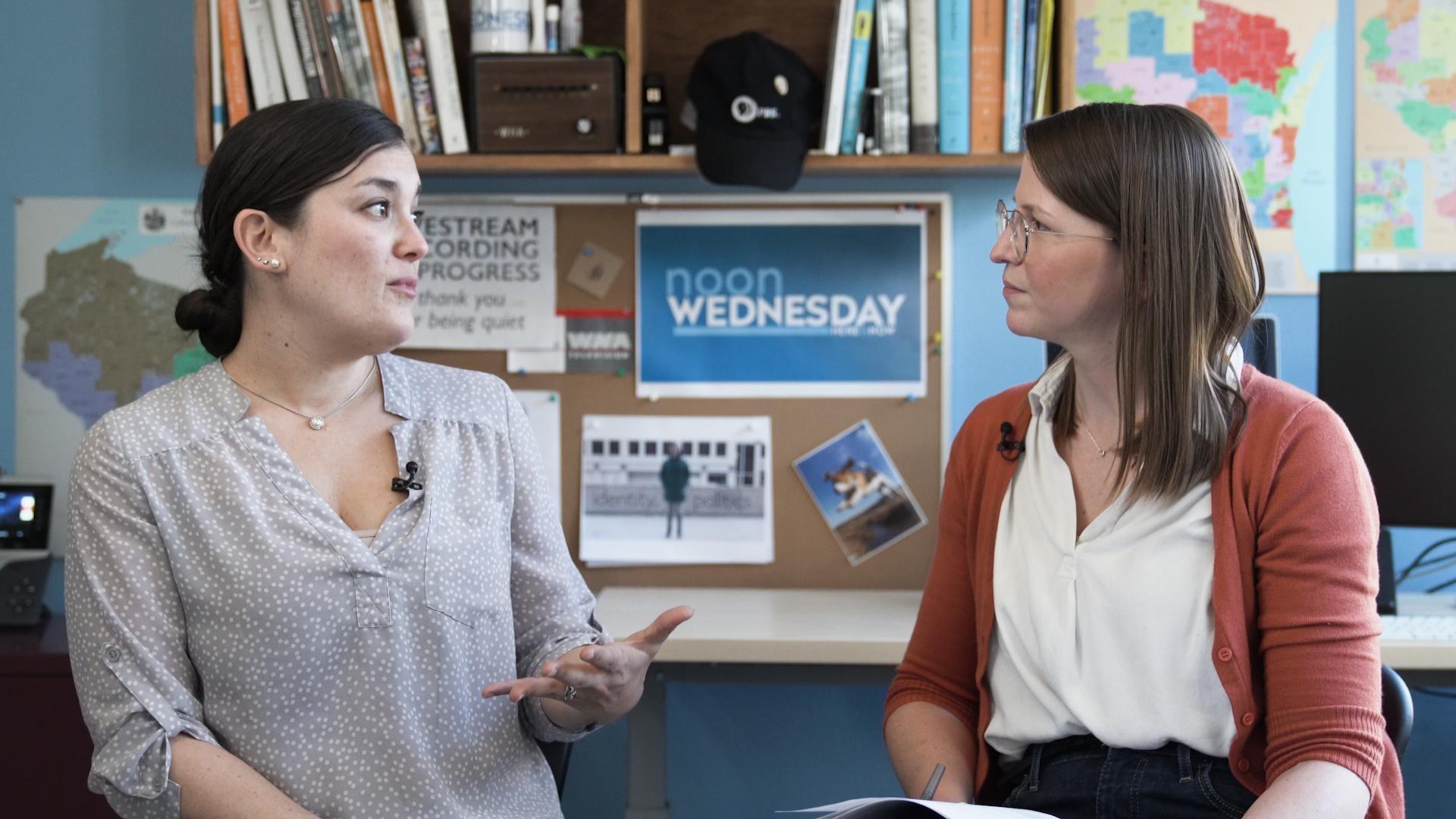 Noon Wednesday: Wisconsin Project Aims To Raise Middle Class
Bridgit Van Bellegham talks about DreamUp Wisconsin setting a goal of raising the net income of 10,000 households by 10 percent by the end of 2022. The project has solicited requests for proposals aimed at achieving that goal, which could be funded up to $1 million, and include ideas centered around childcare, health, transportation, legal services, transportation, student loan debt and more.
December 4, 2019 • South Central Region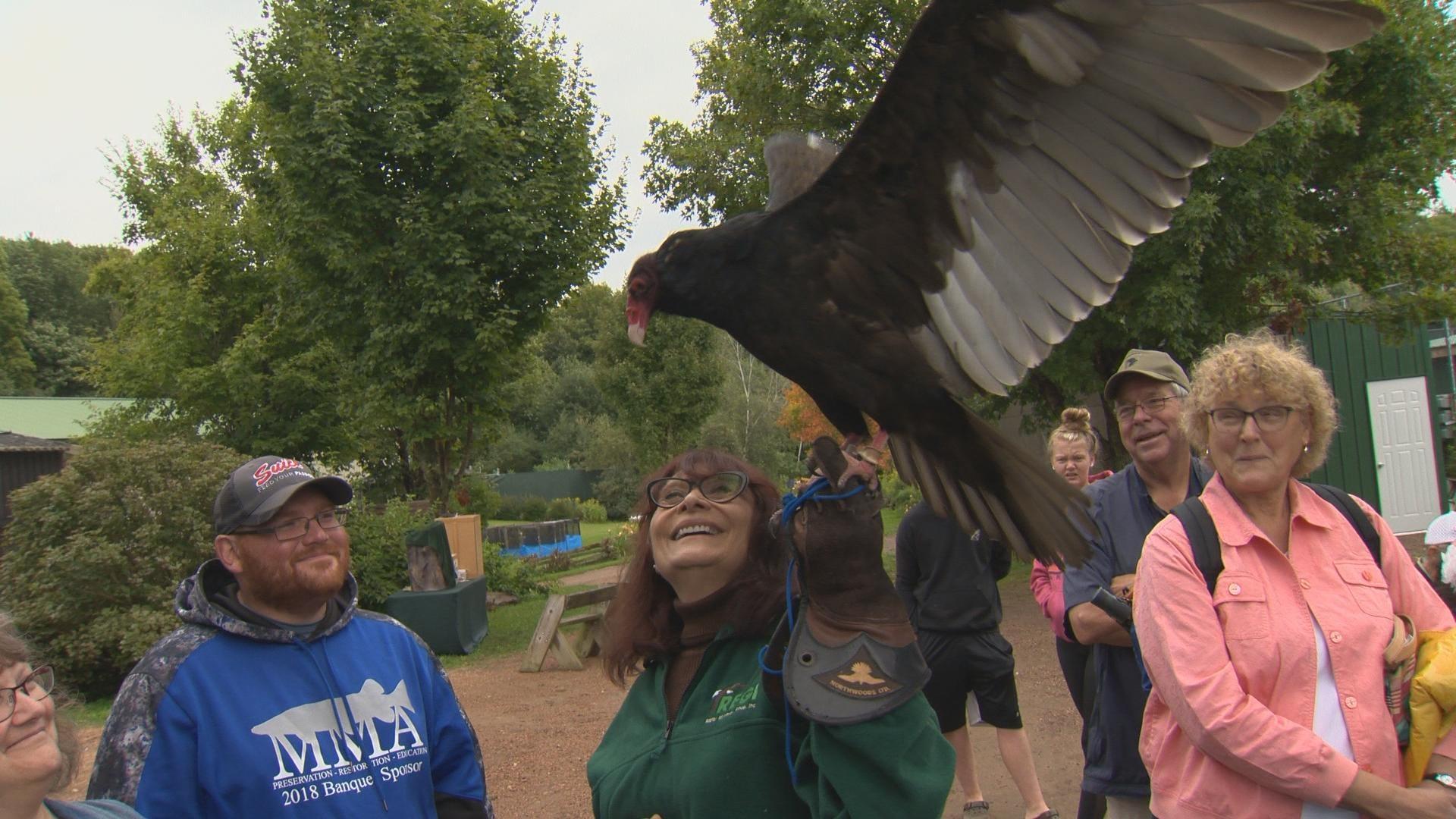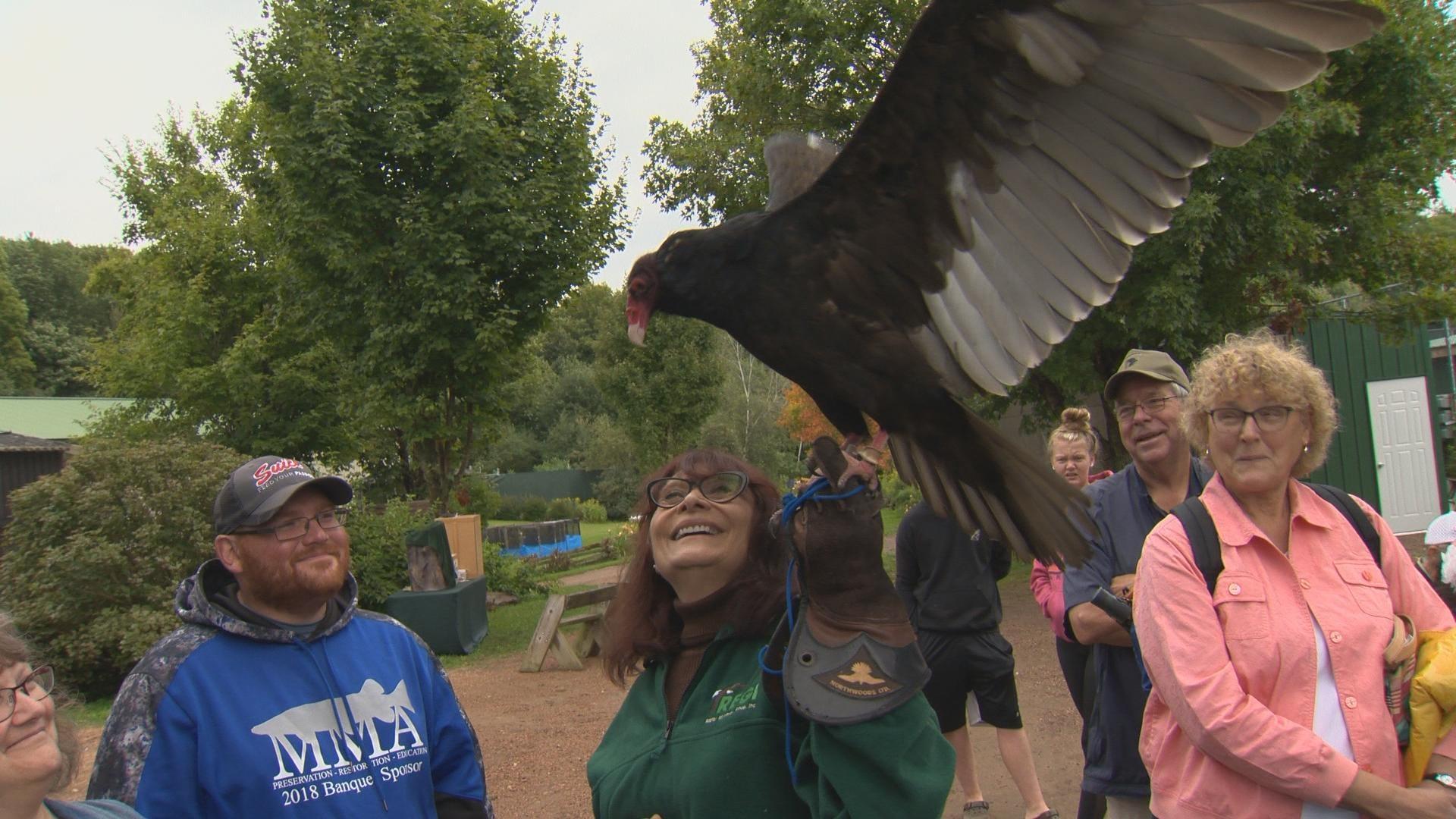 Injured birds can heal without the fear of predators under the care of Marge Gibson, the founder and director of the Raptor Education Group, Inc. in Antigo.
December 4, 2019 • South Central Region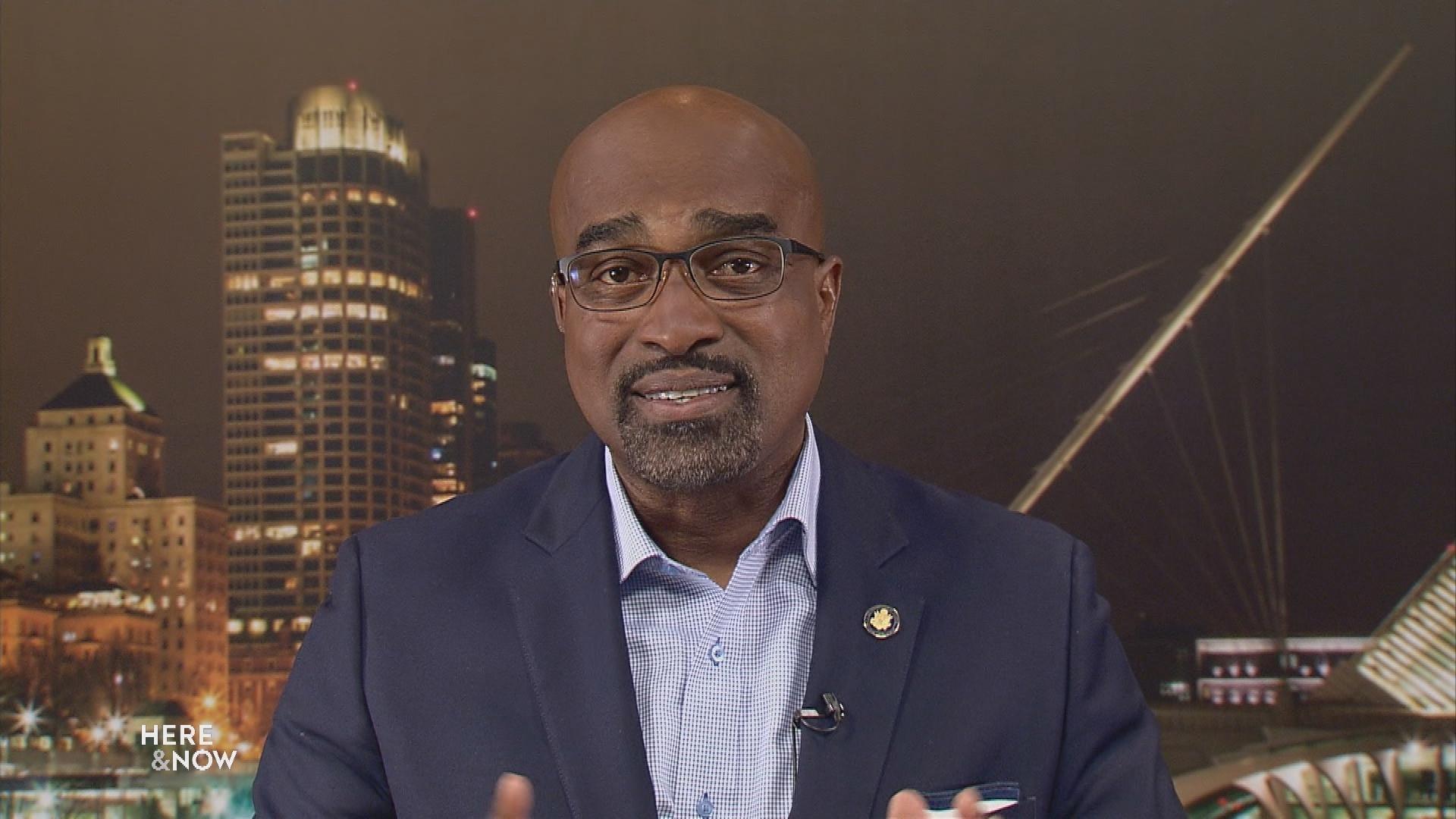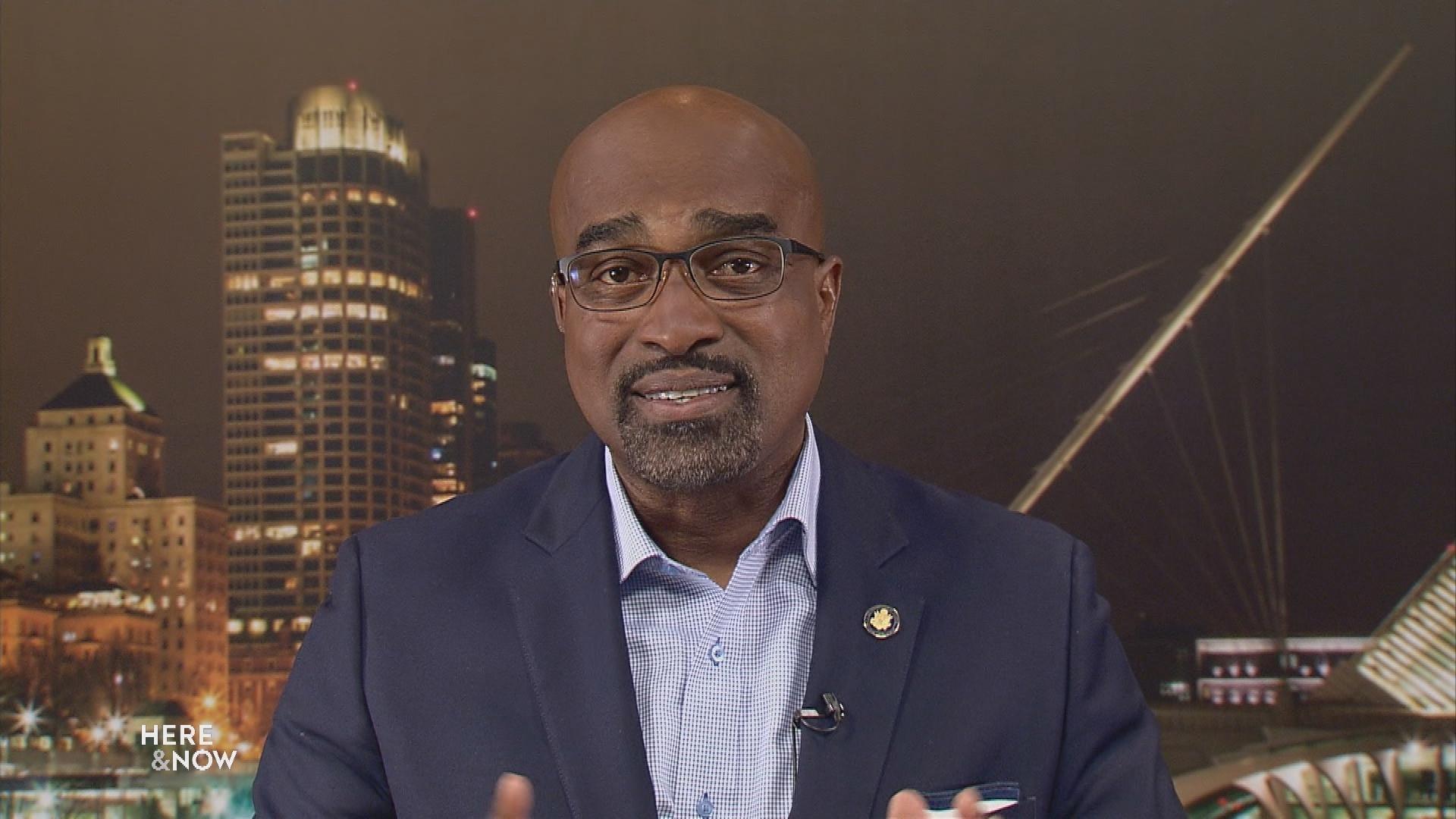 African American Alliance Fosters Upward Mobility
According to studies, there are significant disparities between black and white people in the way of income, unemployment and homeownership in Wisconsin. The African American Leadership Alliance In Milwaukee (AALAM) actively seeks solutions, including developing and supporting African American leaders. Former State Assemblymember Antonio Riley talks about the newly formed alliance.
November 29, 2019 • Southeast Region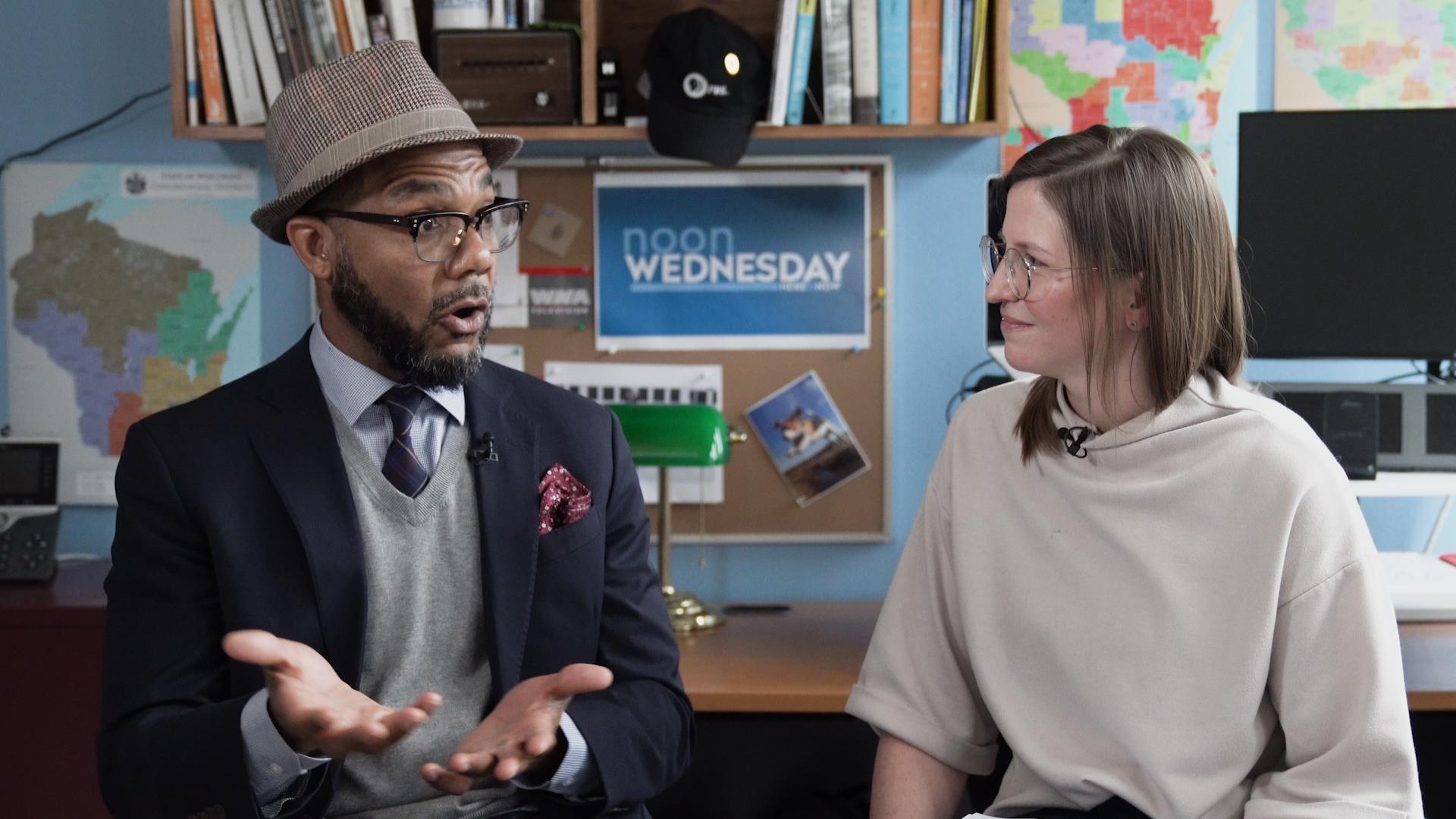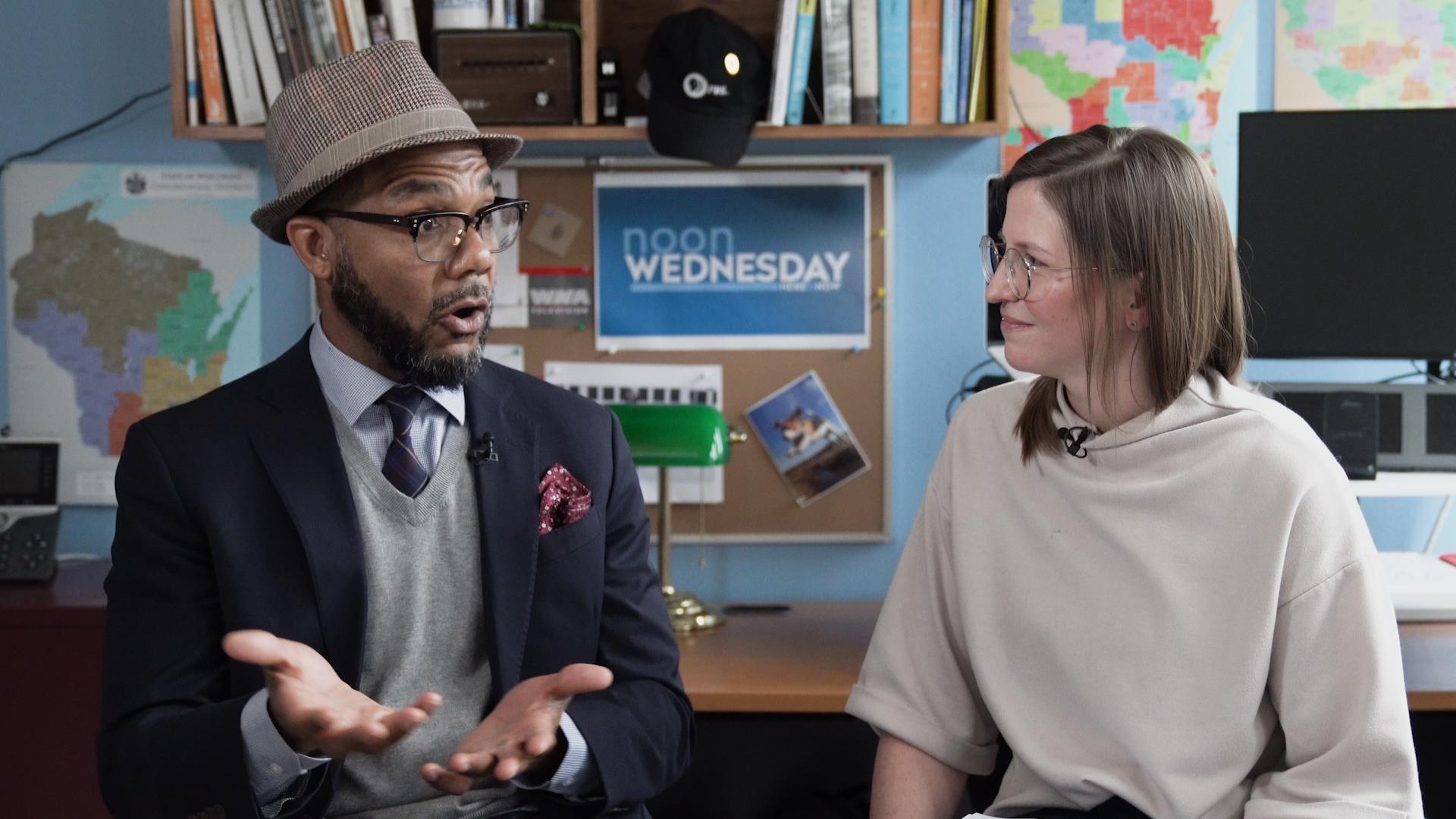 Noon Wednesday: WI Cities Rank Worst For African Americans
Milwaukee and Racine have been ranked the first and second worst places for African Americans to live in the country, according to a recent report from 24/7 Wall St. However, this isn't the first time these two cities have made similar lists. UW-Madison Associate Professor of Sociology John Eason joins us to help give context to these rankings.
November 20, 2019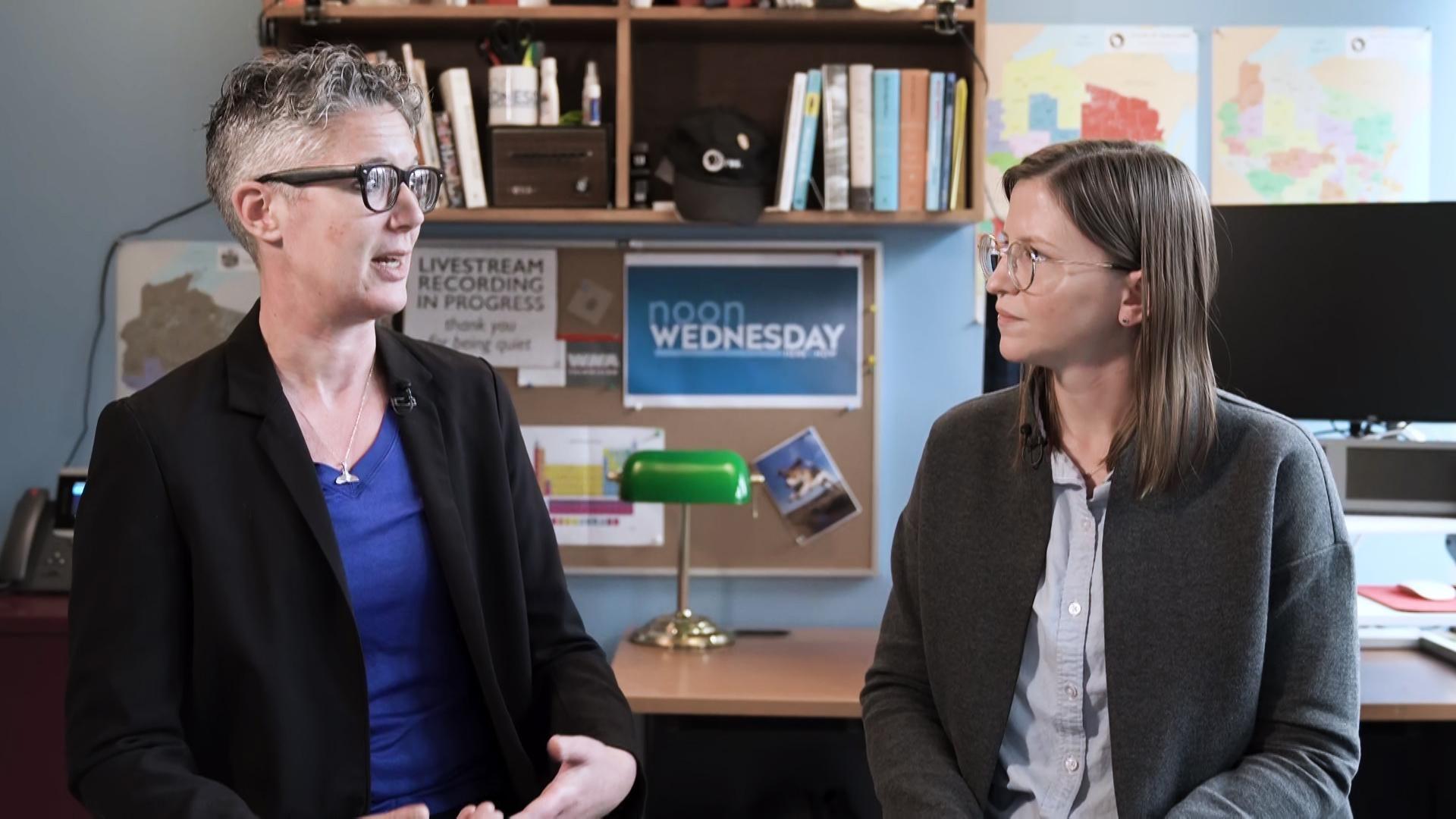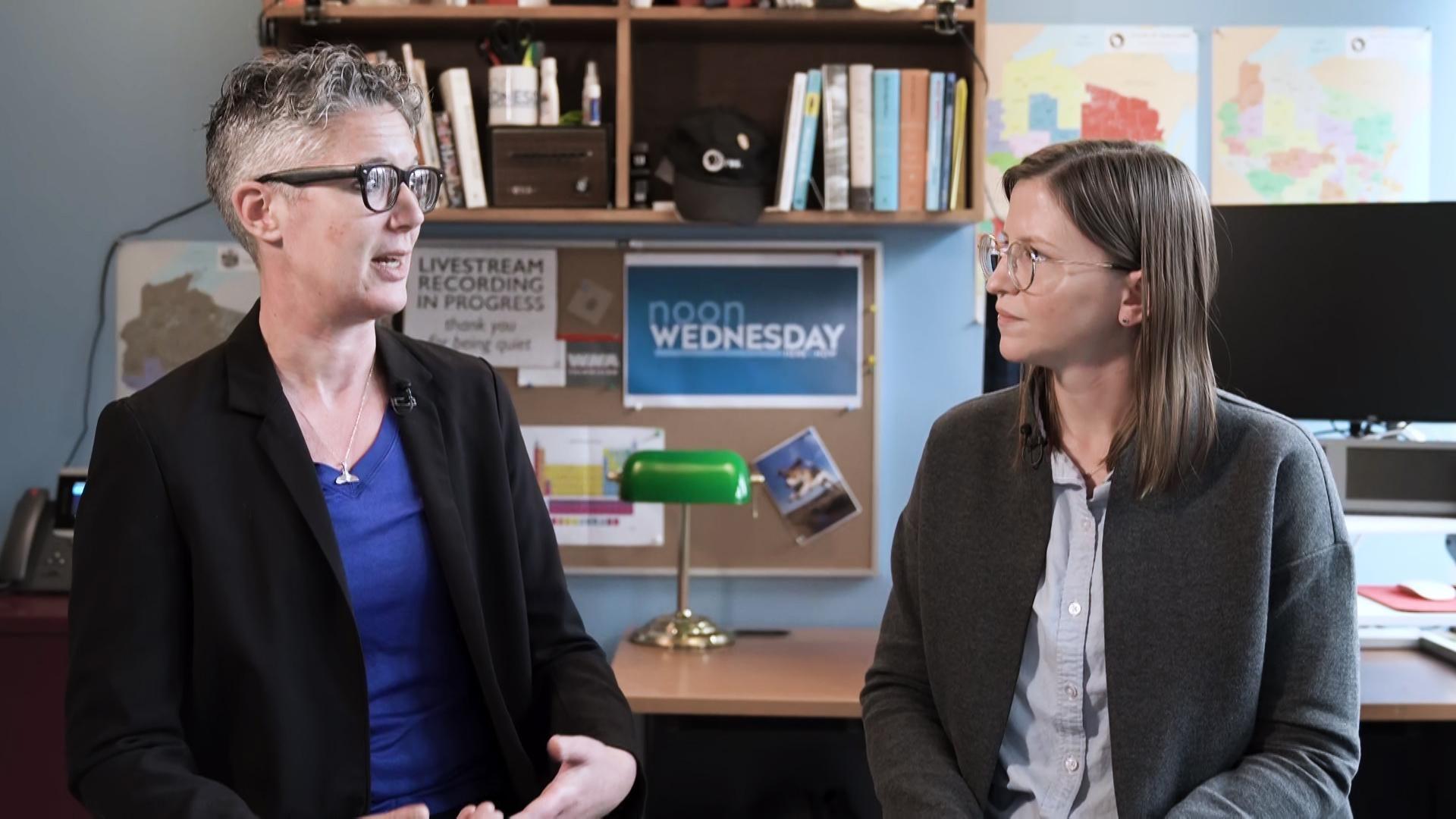 Noon Wednesday: Are Domestic Violence Victims Locked Out?
87 percent of domestic violence victims' unmet needs in Wisconsin are for housing resources. Abby Swetz, policy and systems analyst at End Domestic Abuse Wisconsin, joins us to talk about the intersection of domestic violence and homelessness.
November 6, 2019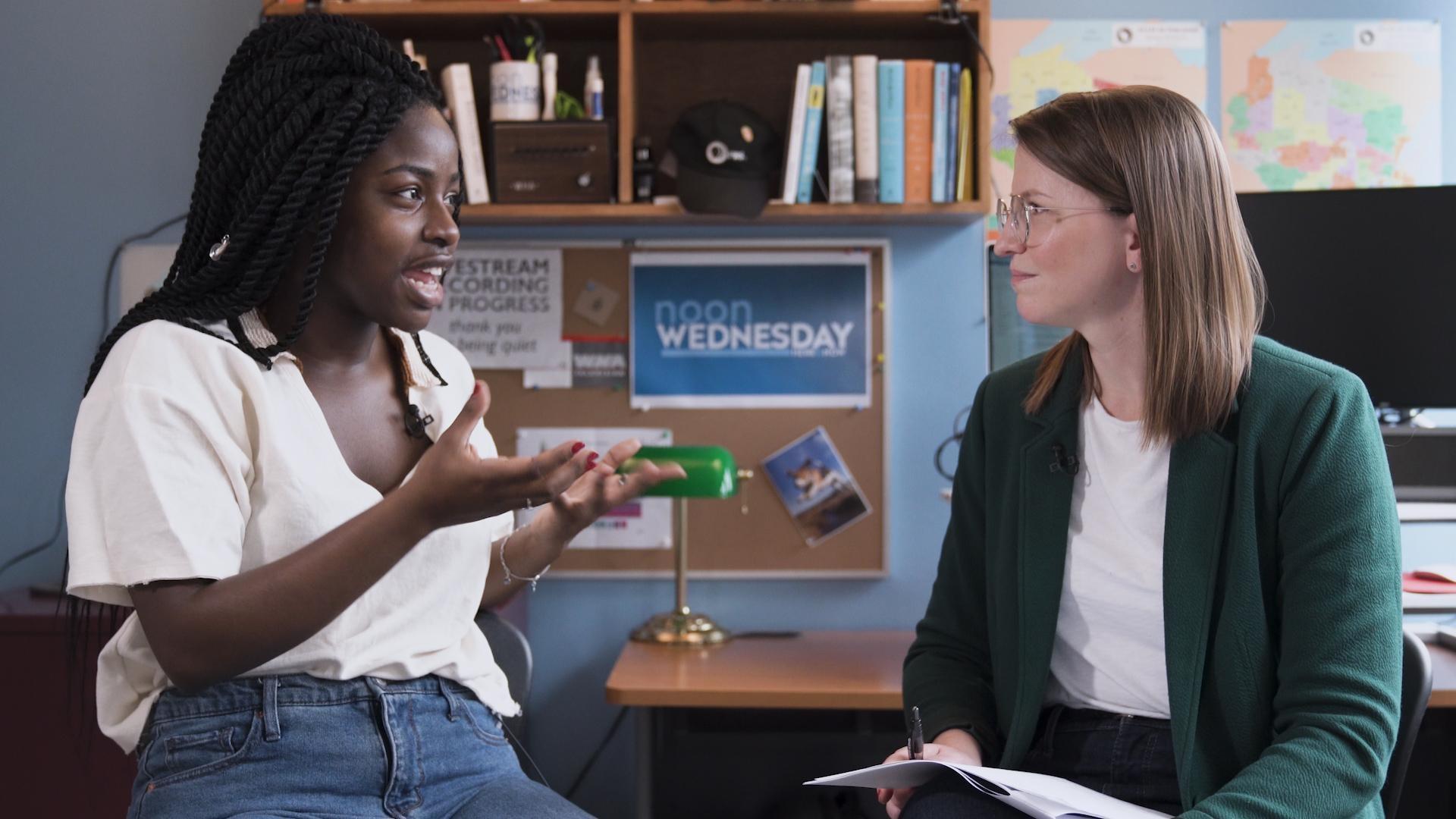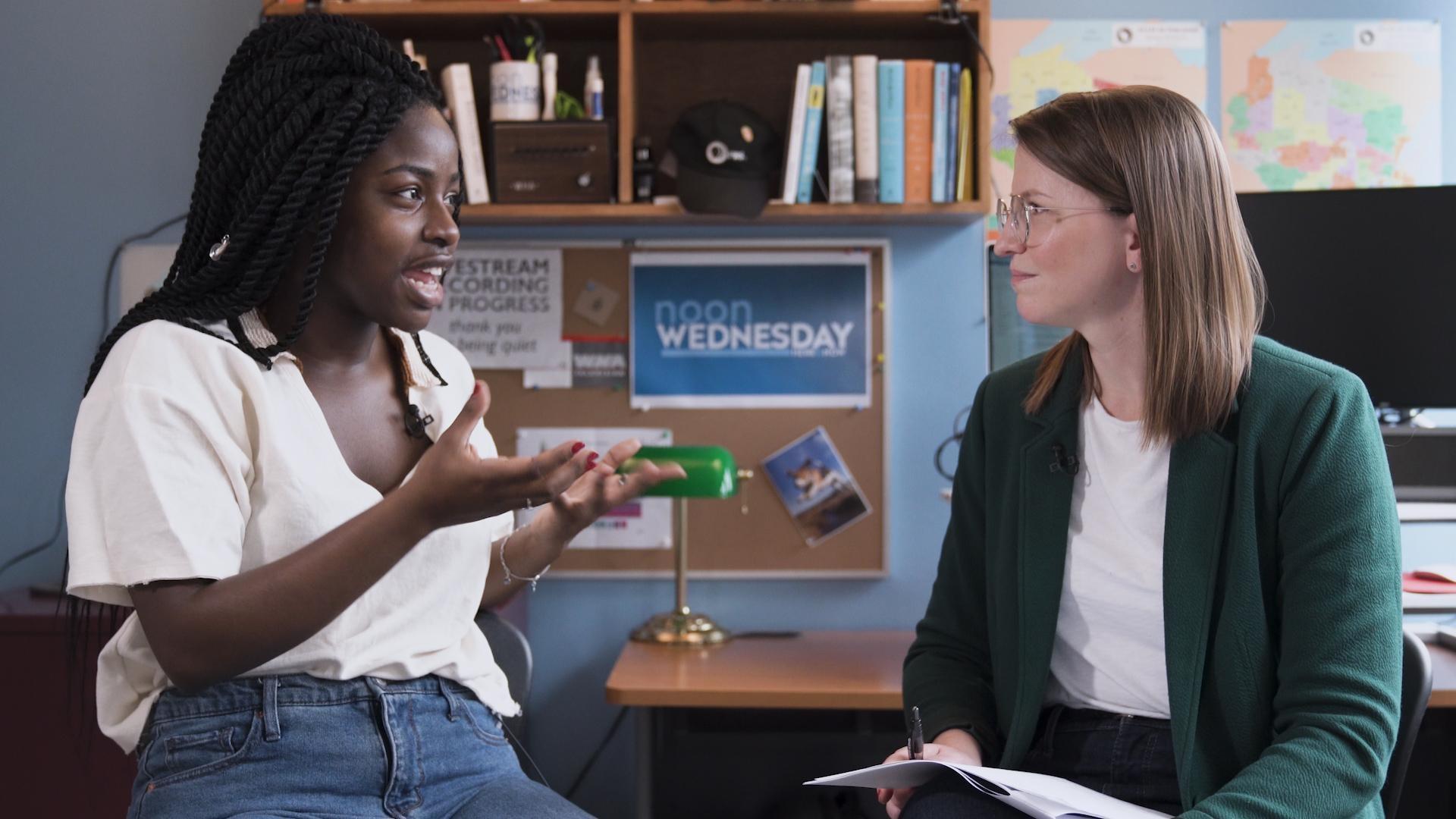 Noon Wednesday: Controversial Video Sparks Change
Last month, a UW-Madison homecoming video sparked national outcry over the lack of diversity and representation of the student body. Since then, the Student Inclusion Coalition has formed, and they've presented a list of demands to the university. Today we speak with Kingsley-Reigne Pissang of the Student Inclusion Coalition about how they hope to help the campus move forward.
October 30, 2019 • South Central Region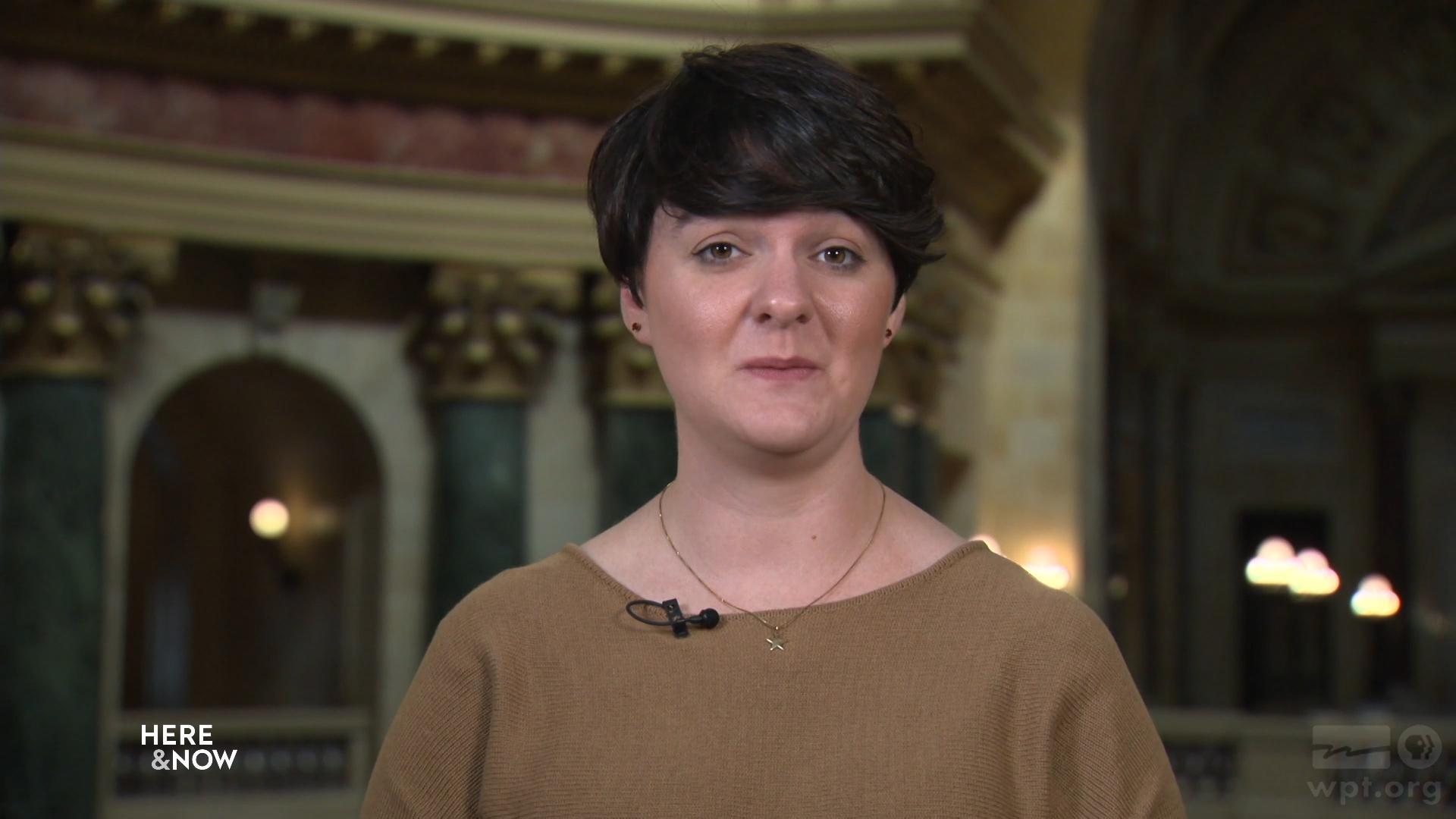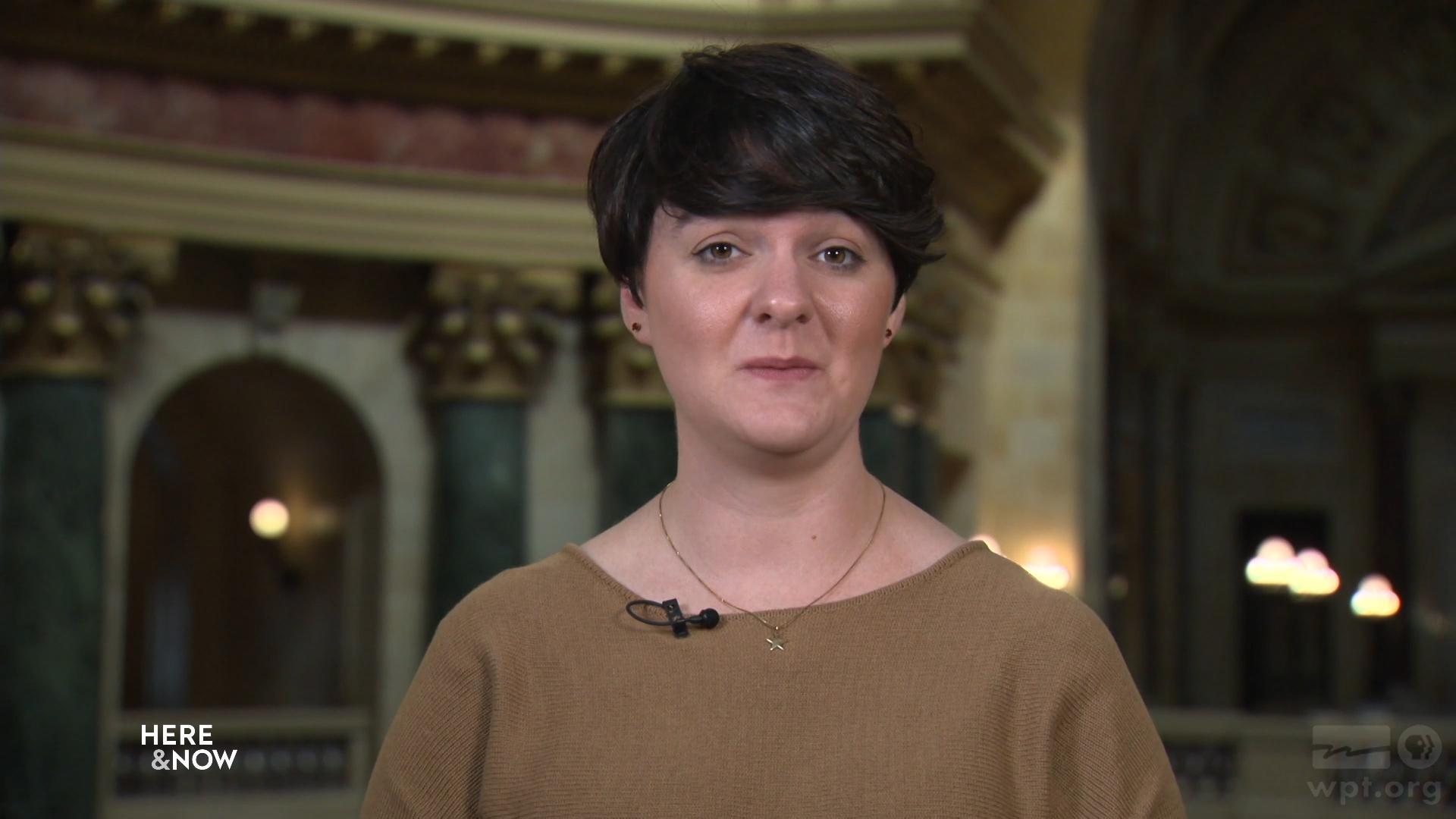 What's Next for Gun Control Special Session
With Gov. Tony Evers calling for a special session on gun control and Republican legislative leaders pushing back on any change, WPR's Laurel White shares insight into the political debate on the issue.
October 25, 2019 • South Central Region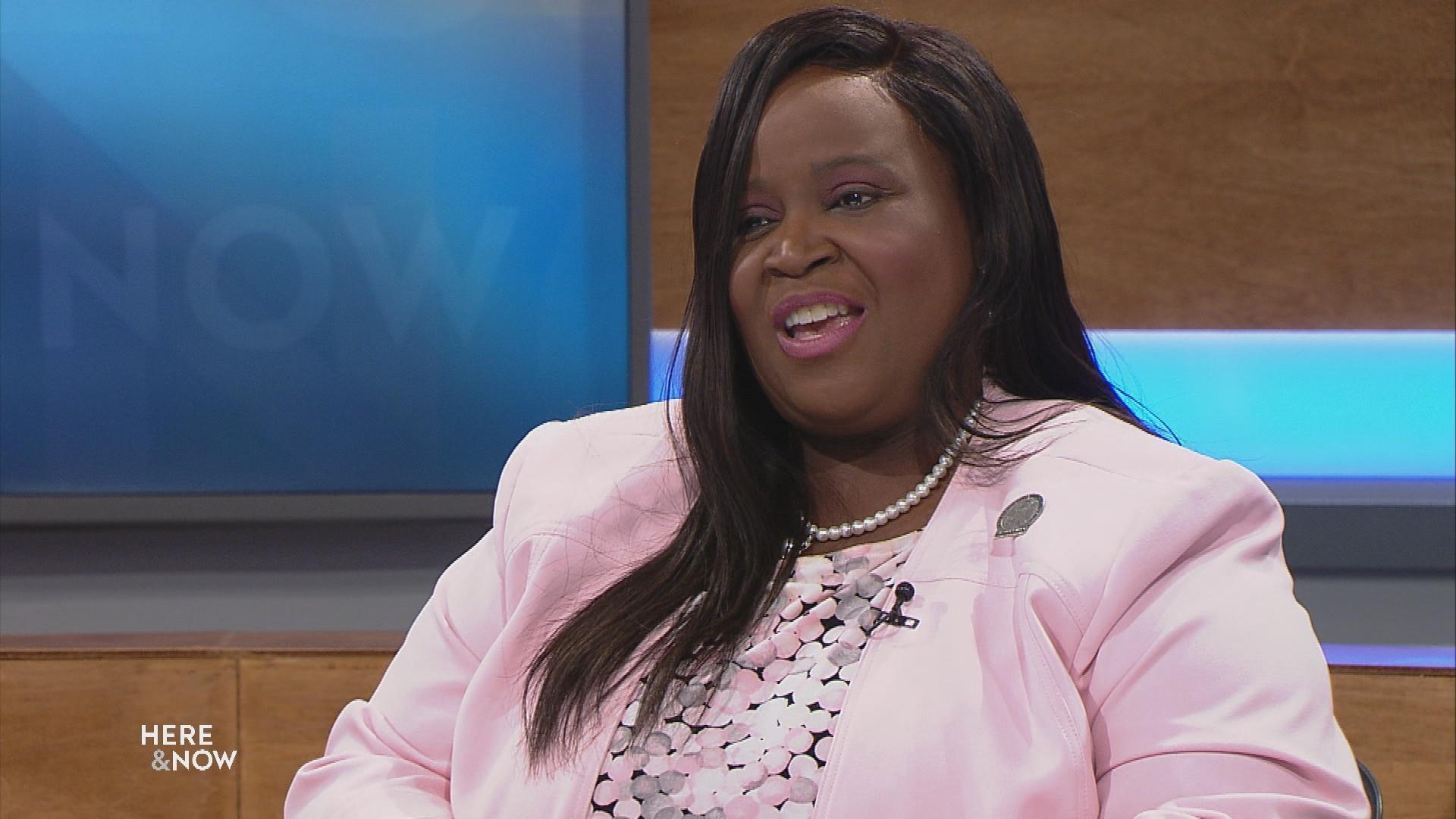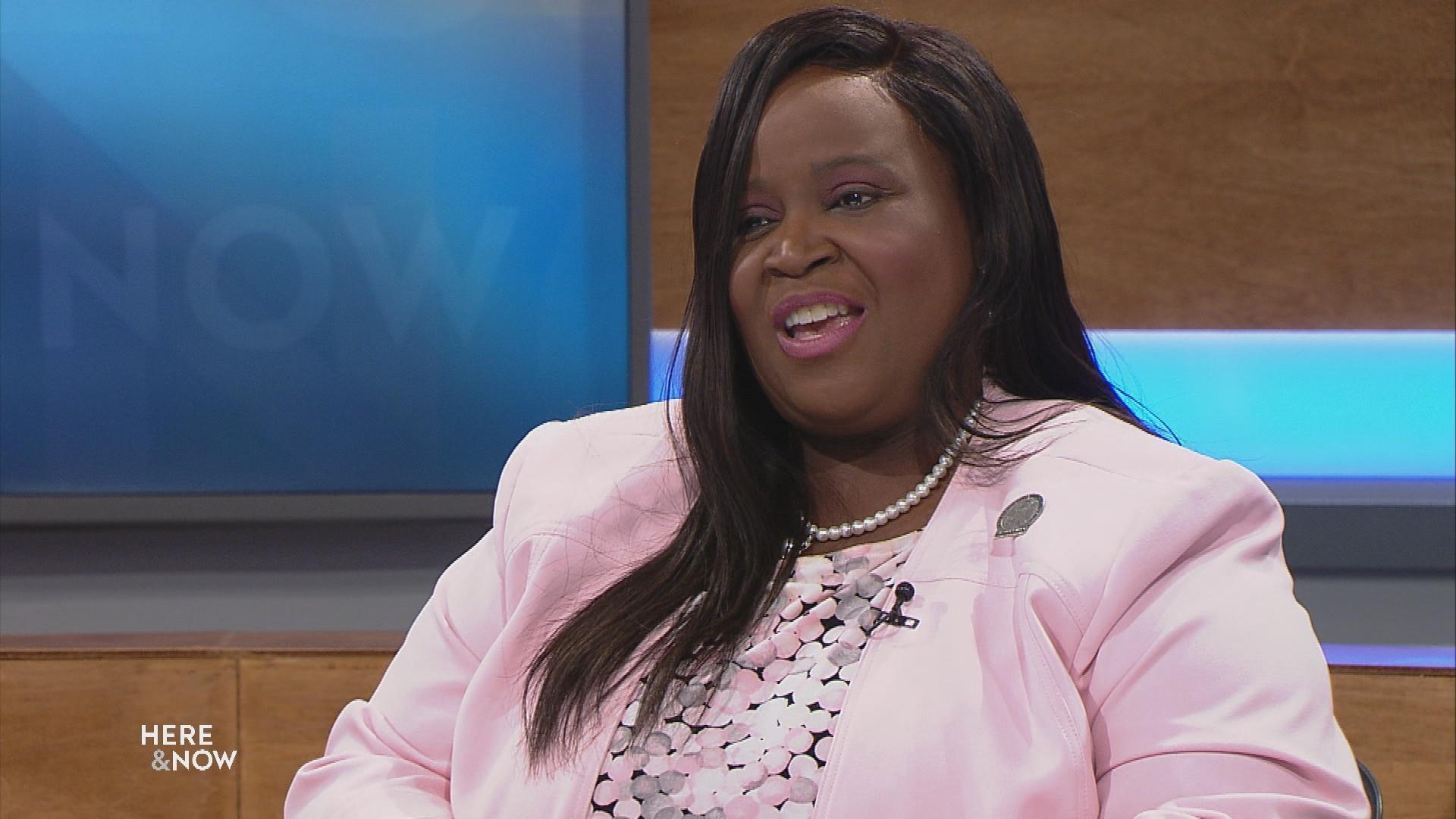 Rep. Stubbs on the State's Diversity and Inclusion Efforts
State Representative Sheila Stubbs speaks about diversity and inclusion efforts underway at the Capitol including her new bill involving the same. This week, Gov. Evers signed an executive order calling for changes in how the state assesses issues of equity. Stubbs discussed the order and other policies can better serve different communities.
October 15, 2019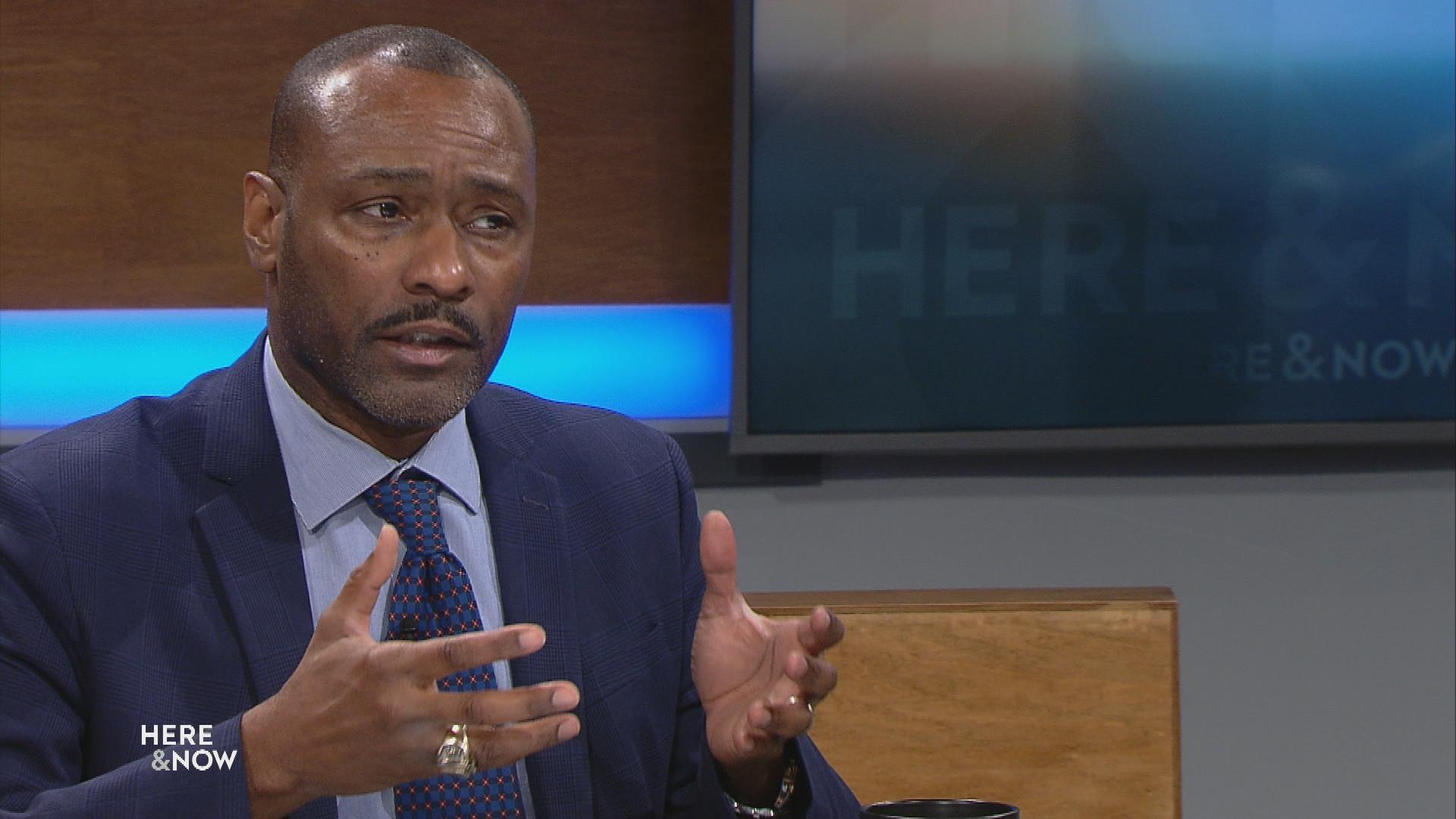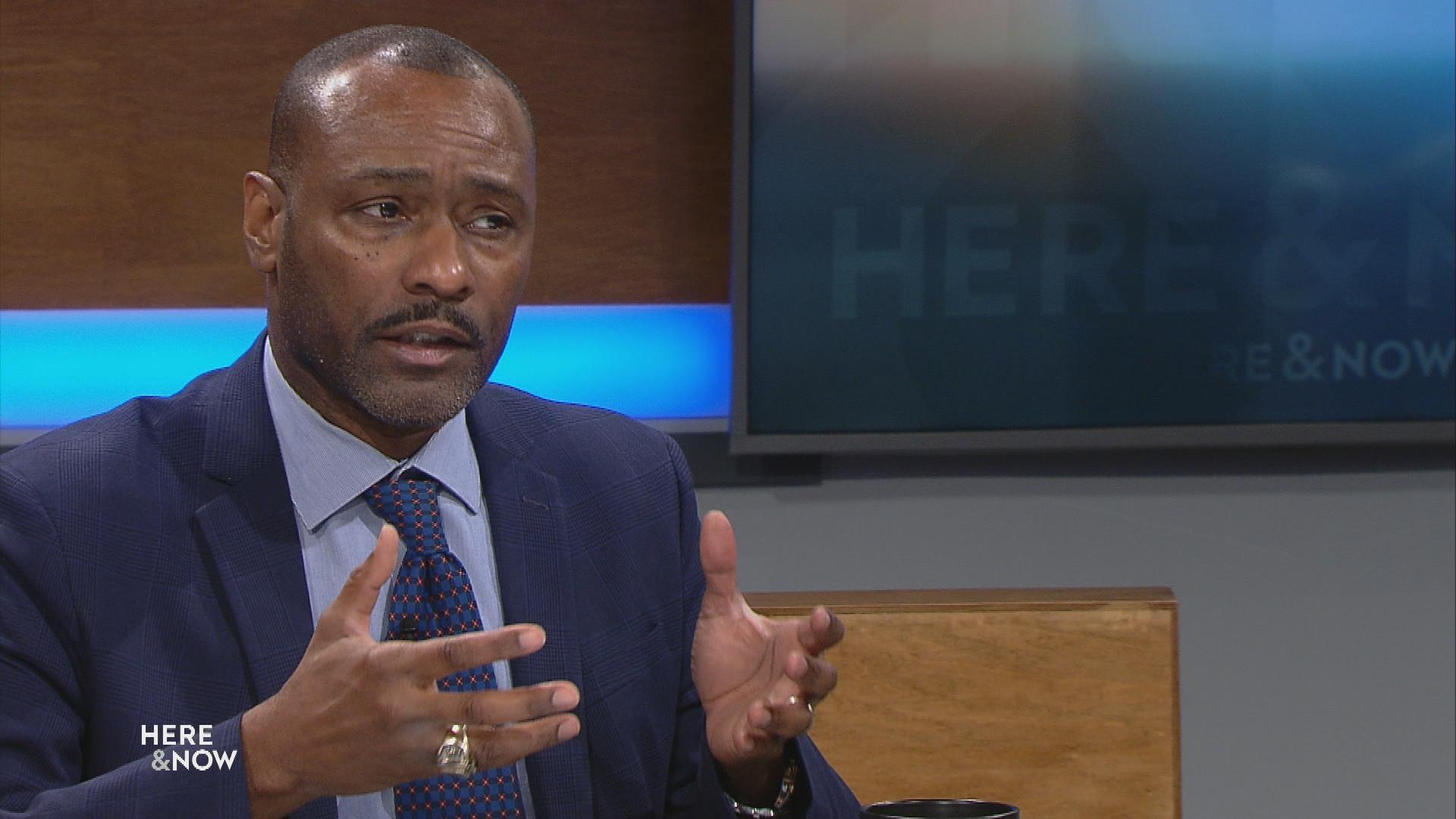 Gov. Evers' Pardon Advisory Board Explained
Pardon Advisory Board member and former Madison Police Chief Noble Wray discusses the work of the Gov. Evers' pardon board. Former Gov. Walker previously disbanded the board and refused to issue any pardons. This week Gov. Evers' signed the first four pardons since 2010. The board is responsible for reviewing for making recommendations to the Governor on who to grant pardons to.
October 11, 2019 • South Central Region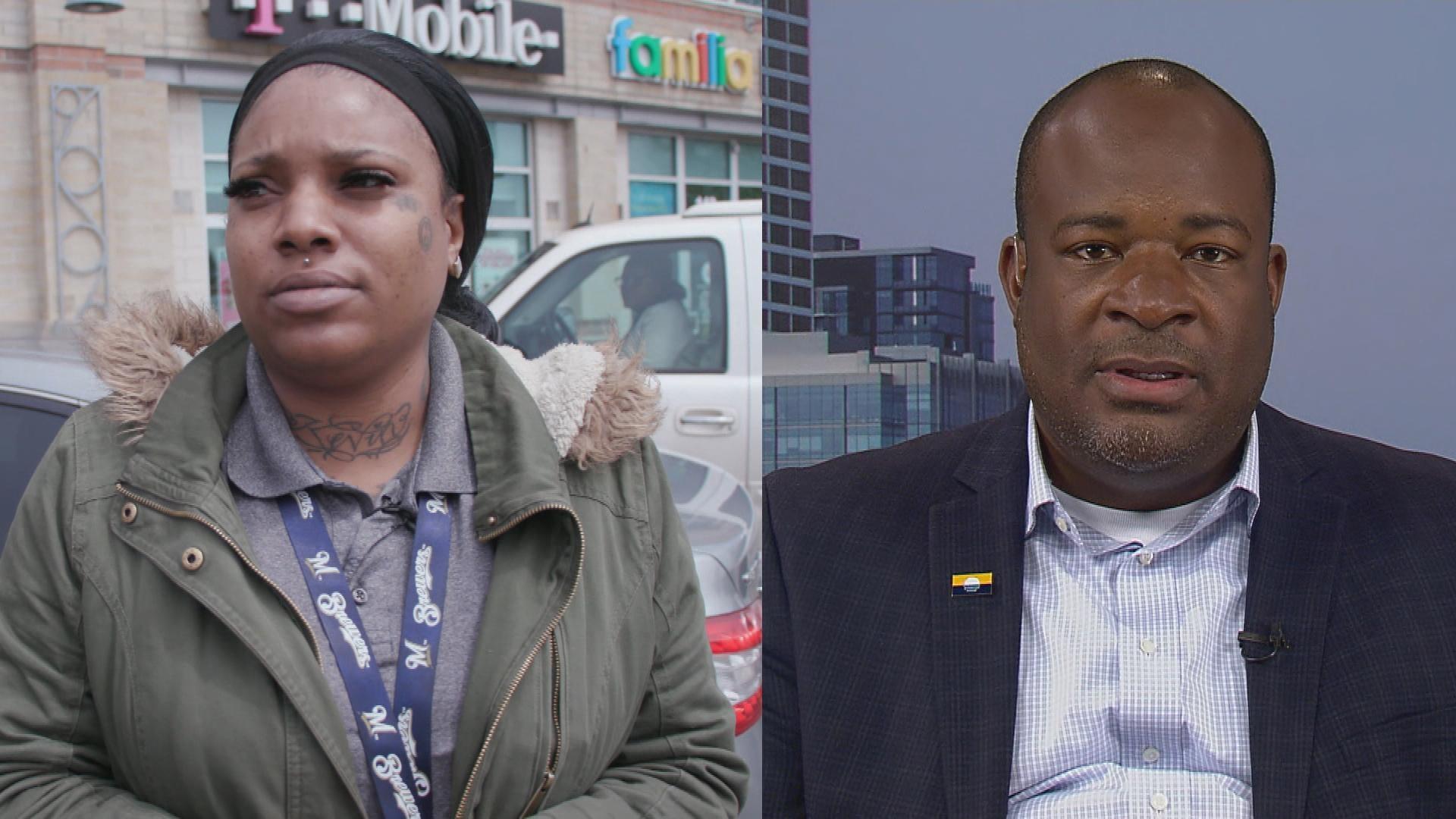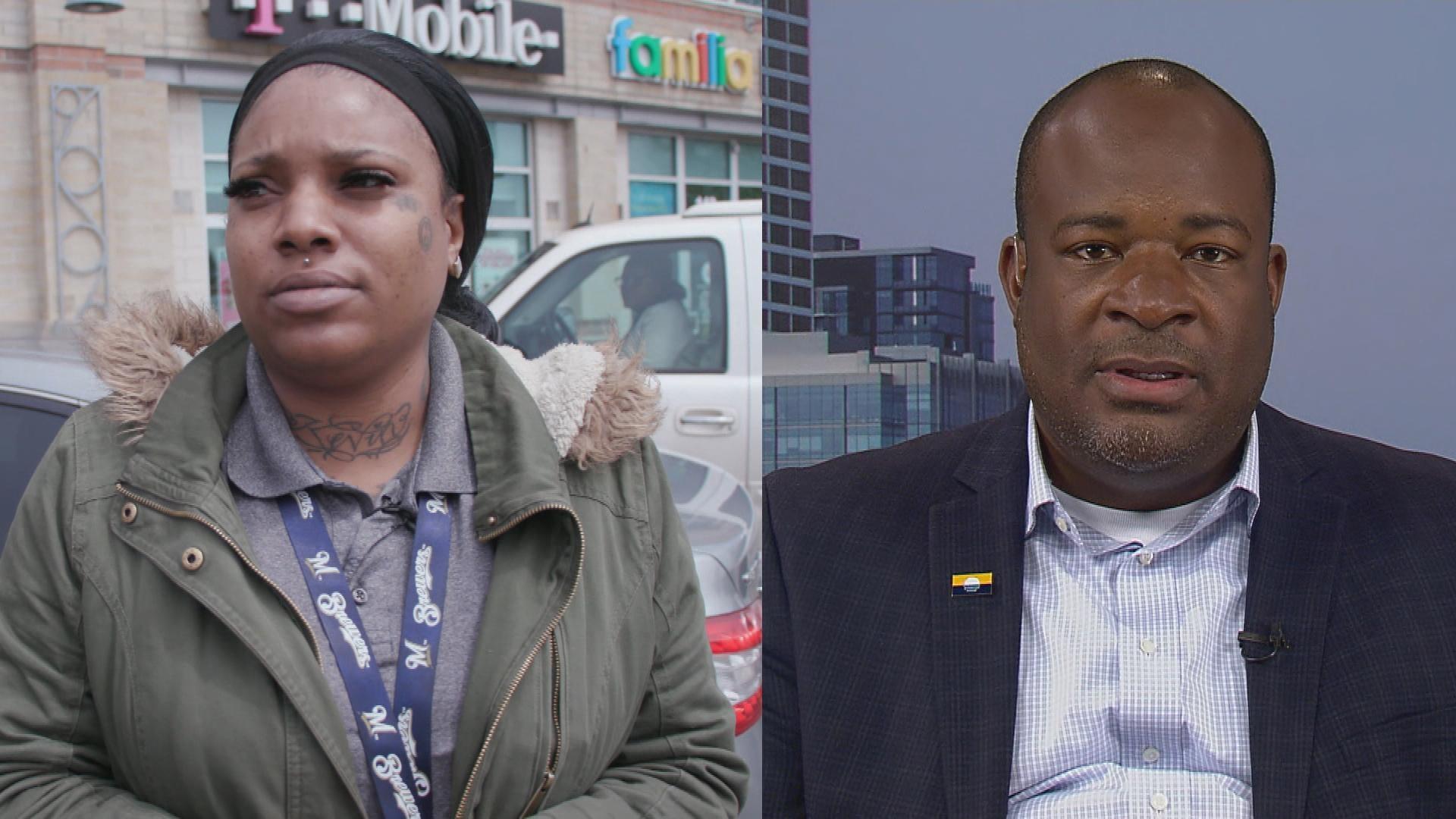 Milwaukee Communities Cope with Gun Violence
The story of Milwaukee's Mosbey family focuses on the reality of gun violence after teenager Tyrese Mosbey was shot in the head while at a bus stop after school. His family is coming to terms with his present and future recovery. Milwaukee Office of Violence Prevention Director Reggie Moore also weighs in on the issue of gun violence and its impact on the broader community.
October 11, 2019 • Southeast Region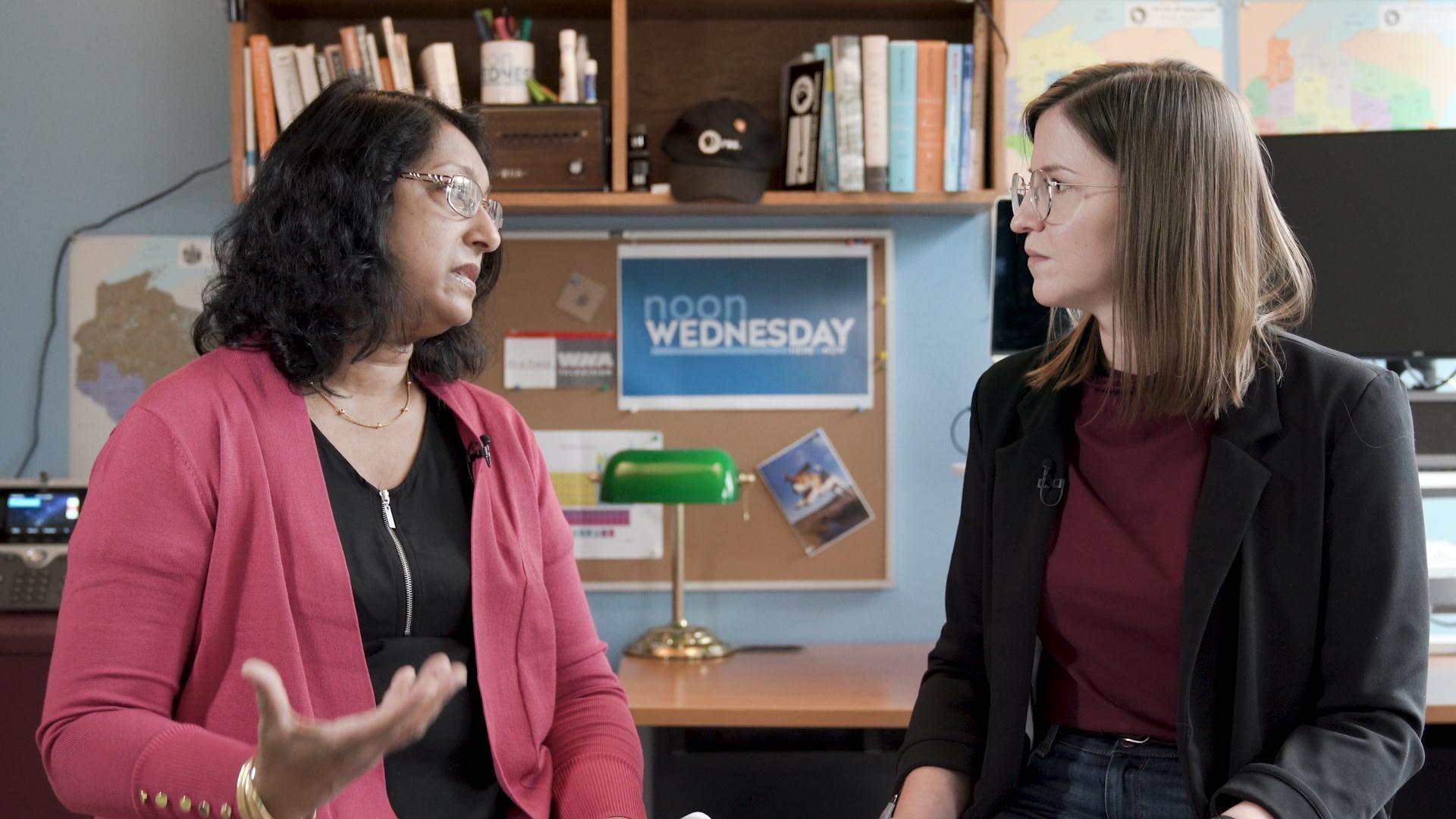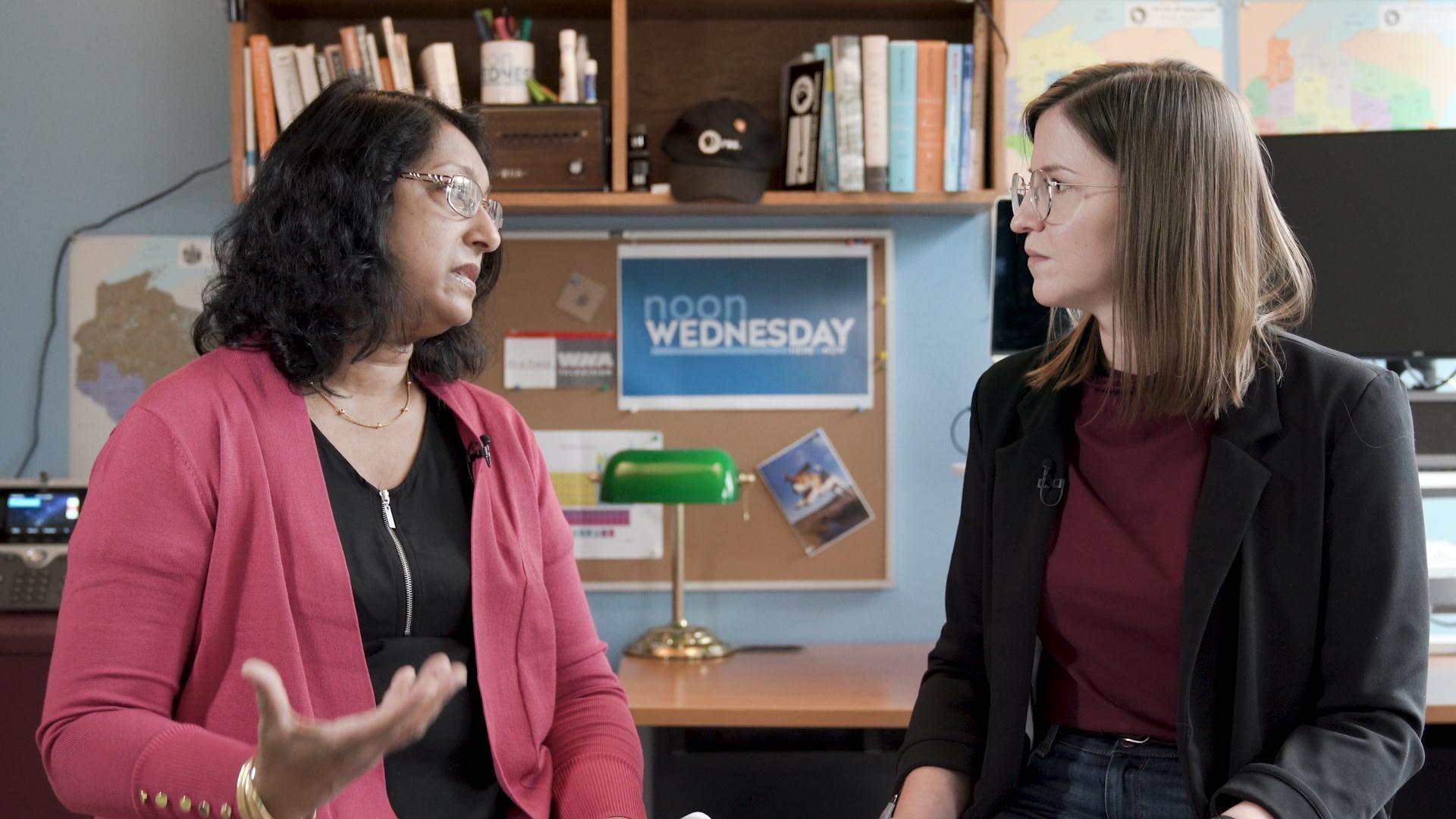 Noon Wednesday: Is a Healthy Climate a Human Right?
The head of Wisconsin's Department of Natural Resources is calling climate change "one of the defining issues of our time" and urging a return to researching it. As farmers struggle to protect their crops, communities find themselves under water and livelihoods impacted, our guest Sumudu Atapattu says we should be looking at climate change as a human rights issue.
October 2, 2019 • South Central Region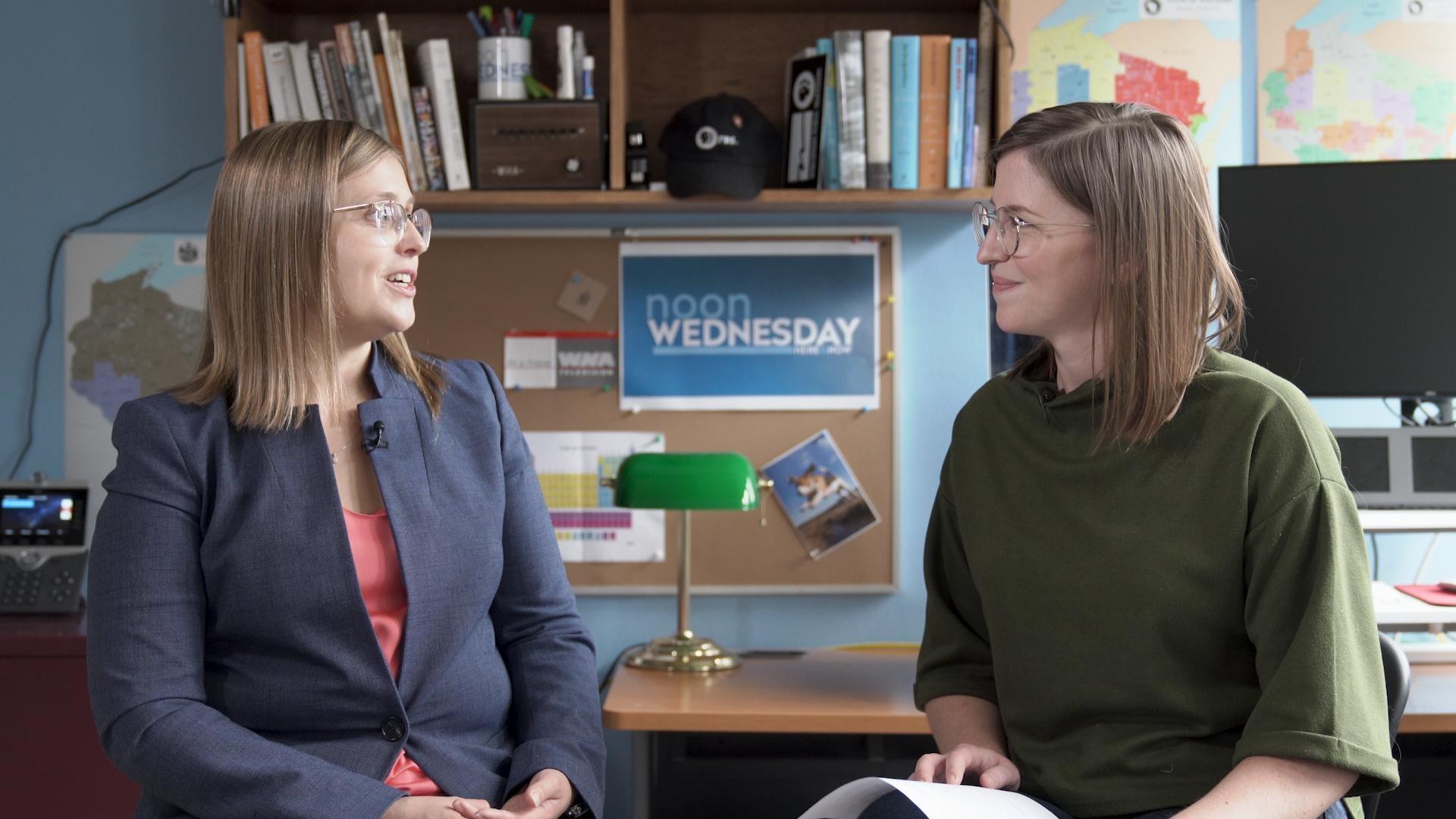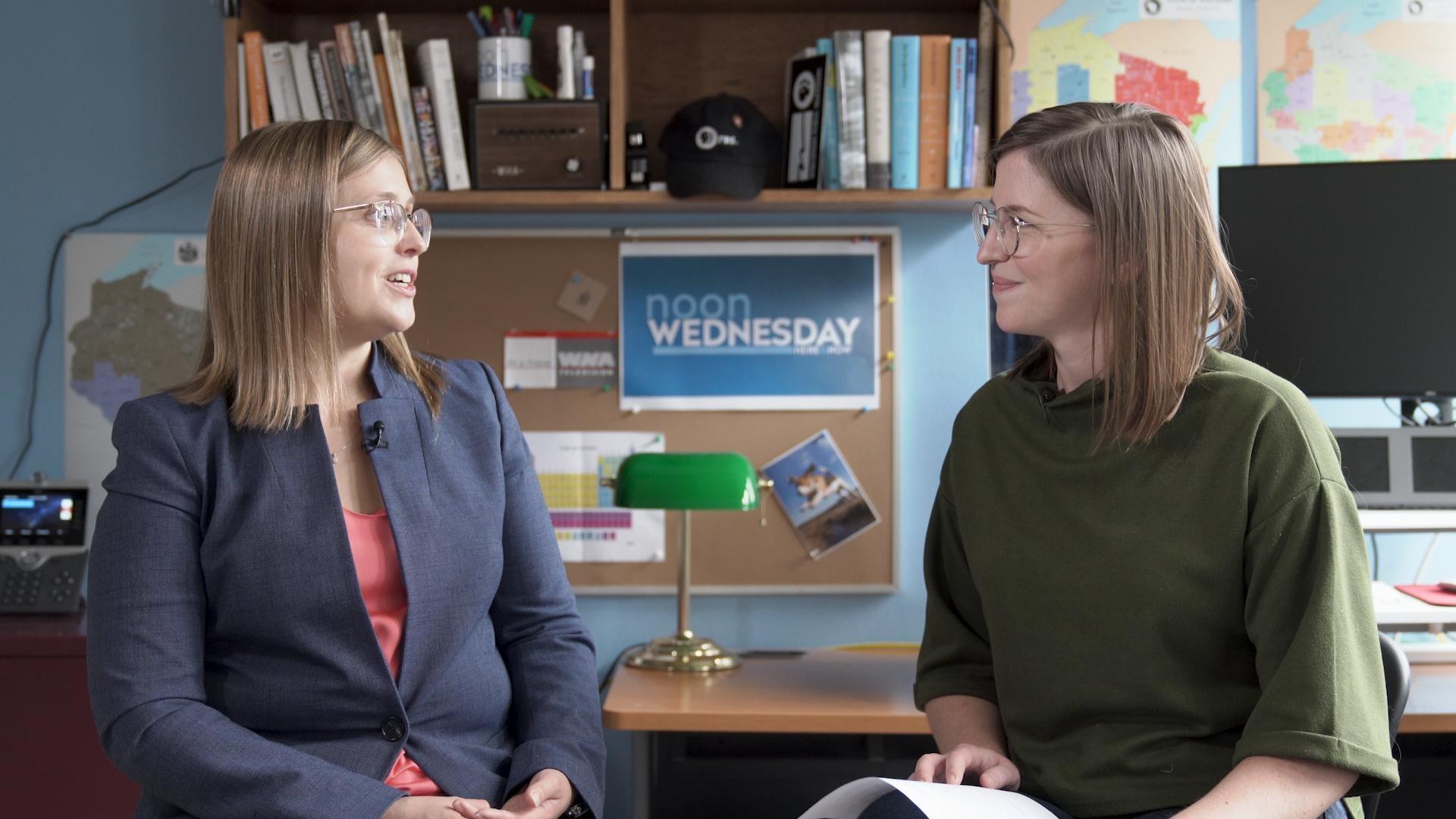 Noon Wednesday: Setting The Record Straight
Heightened debate over immigration policy can translate to the humanity of migrants themselves getting lost in the narrative. Our guest, Nissa Rhee, is working to break the traditional news cycle around reporting on refugees, asylum seekers and immigration by challenging how these stories are gathered.
September 25, 2019 • South Central Region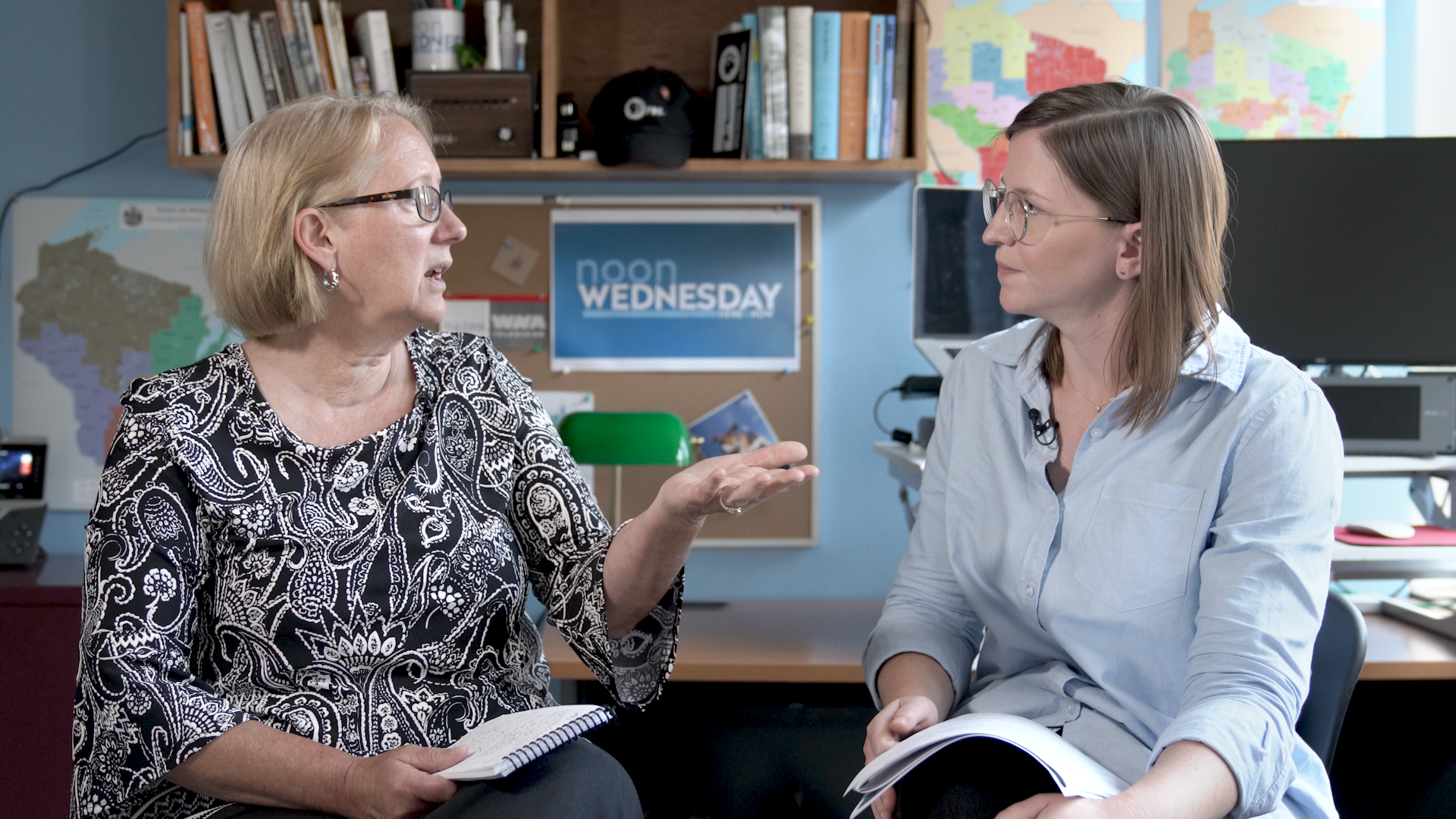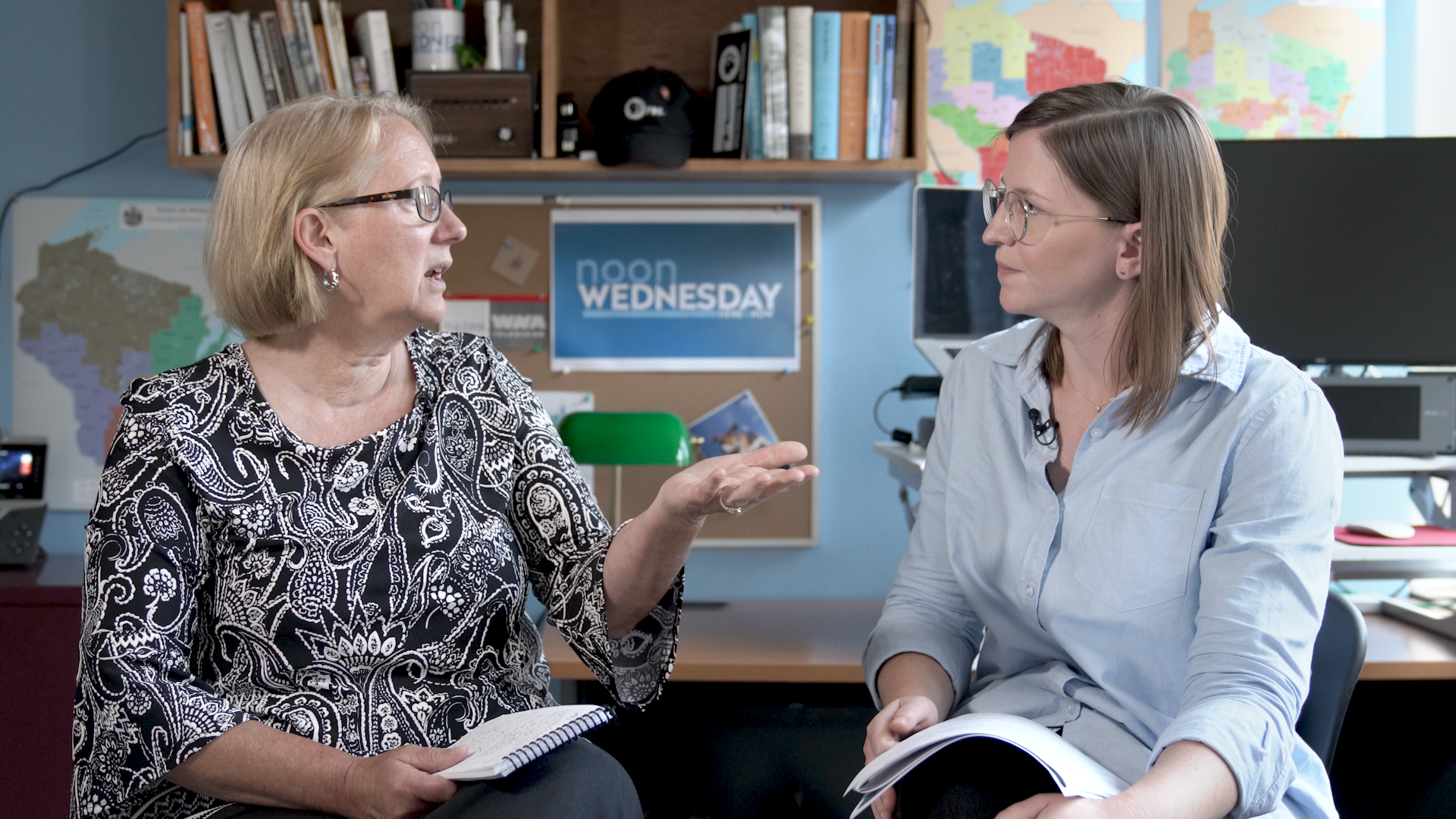 Noon Wednesday: Should Wisconsin Inmates Pay-To-Stay?
There's a price to pay when someone is sent to jail in Wisconsin, literally. We spoke with Dee Hall from the Wisconsin Center for Investigative Journalism about their recent analysis increasing practice of charging inmates for their stay in jail. Are these fees necessary to pay to for the facilities that house inmates? Or, do they violate the rights of the incarcerated?
September 18, 2019 • South Central Region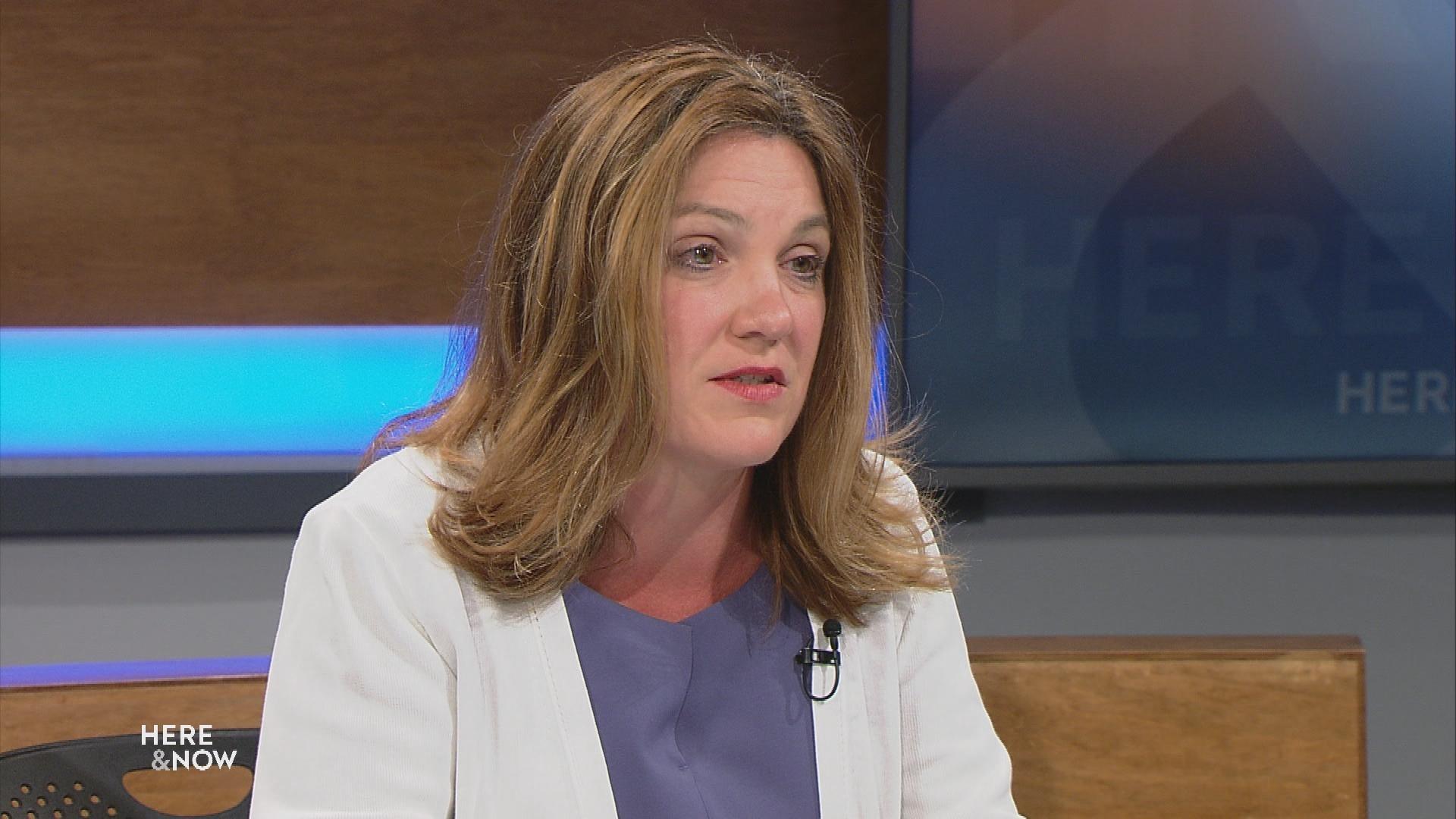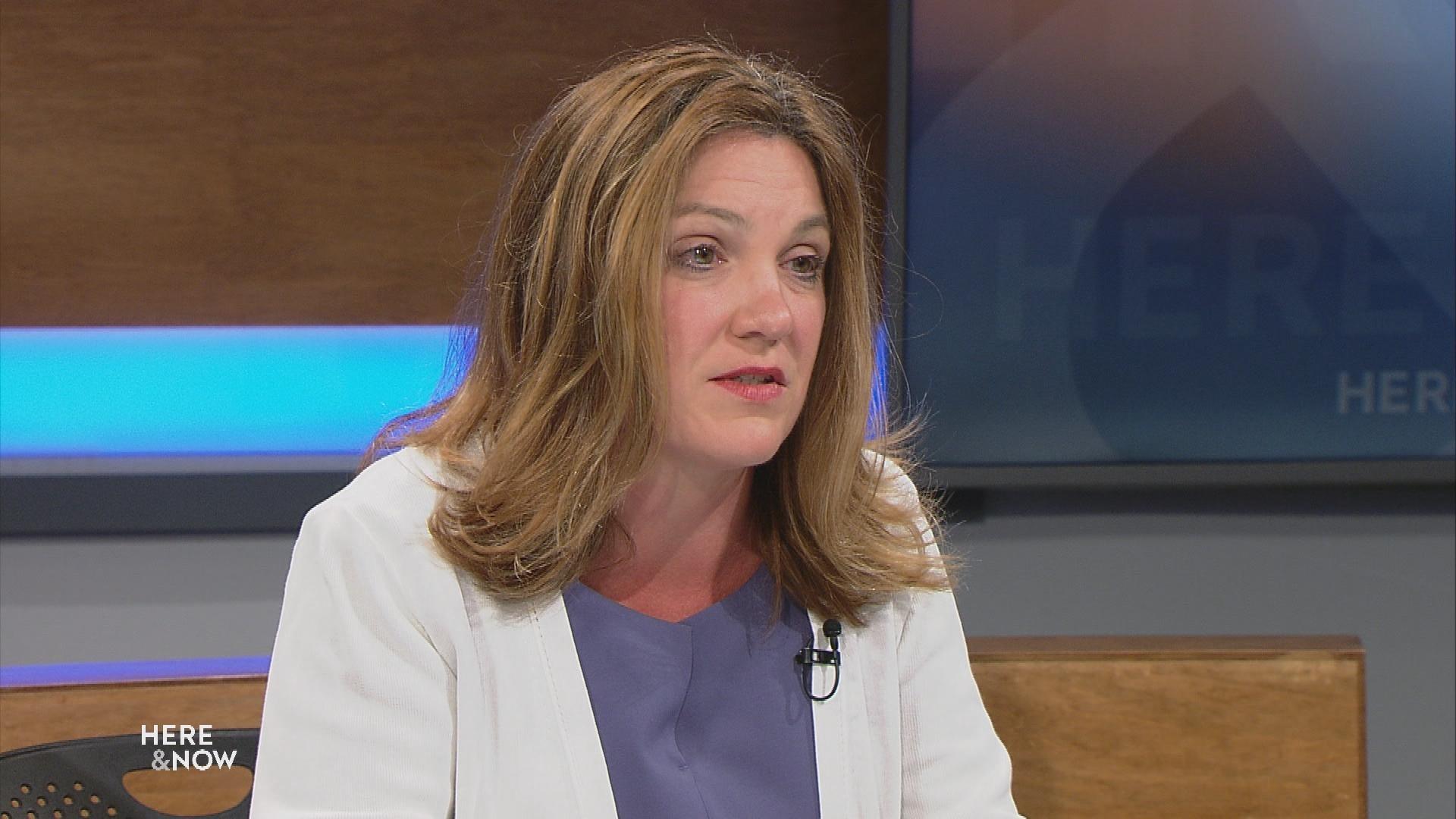 Health Sec. Designee Palm on Strategies For Medicaid
Health Sec. Designee Andrea Palm discusses future Medicaid strategy for Wisconsin. The secretary says Medicaid expansion could bring the state federal money. She also breaks down immunization rates around the state as students head back to school for the year.
September 6, 2019 • South Central Region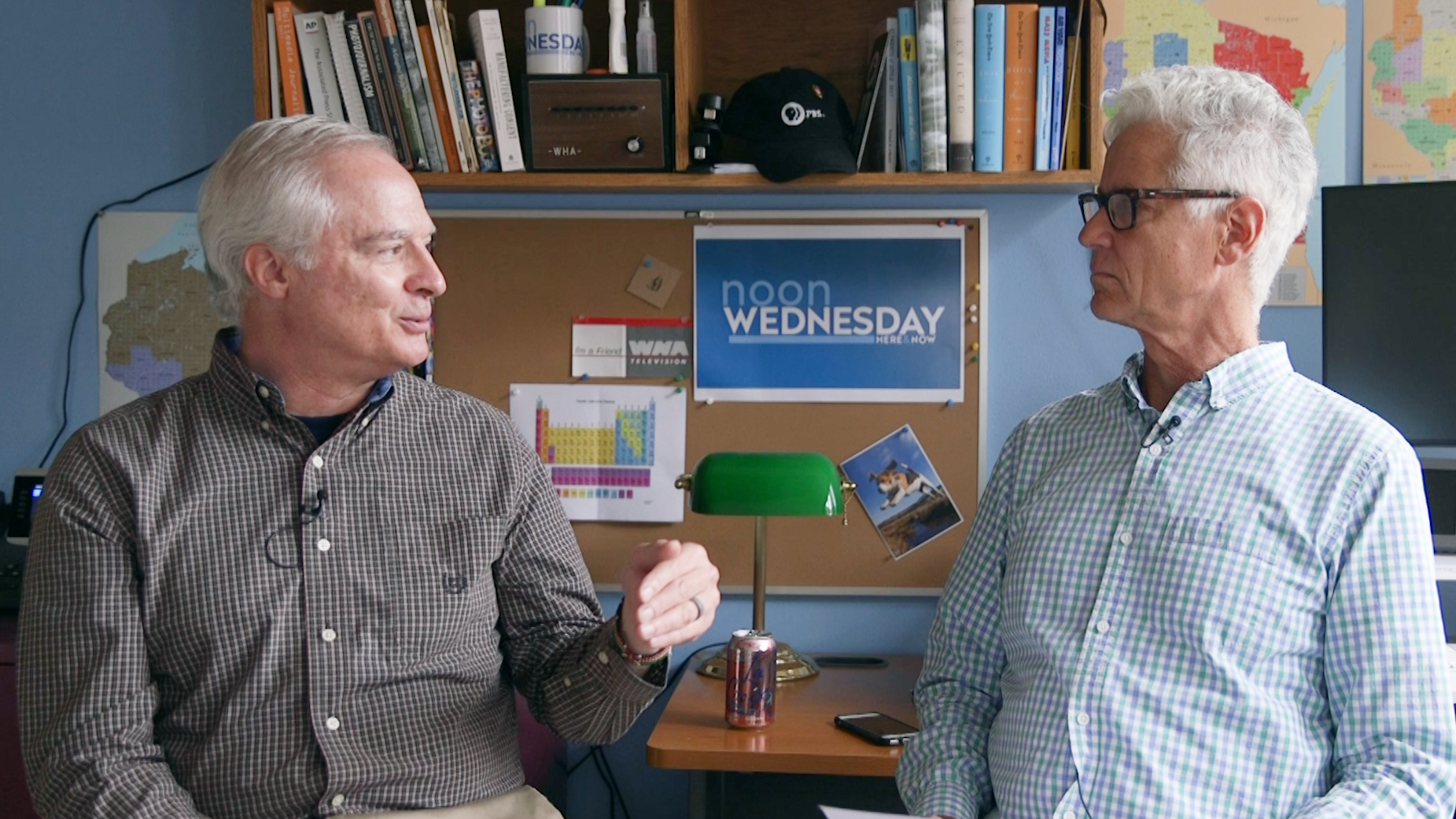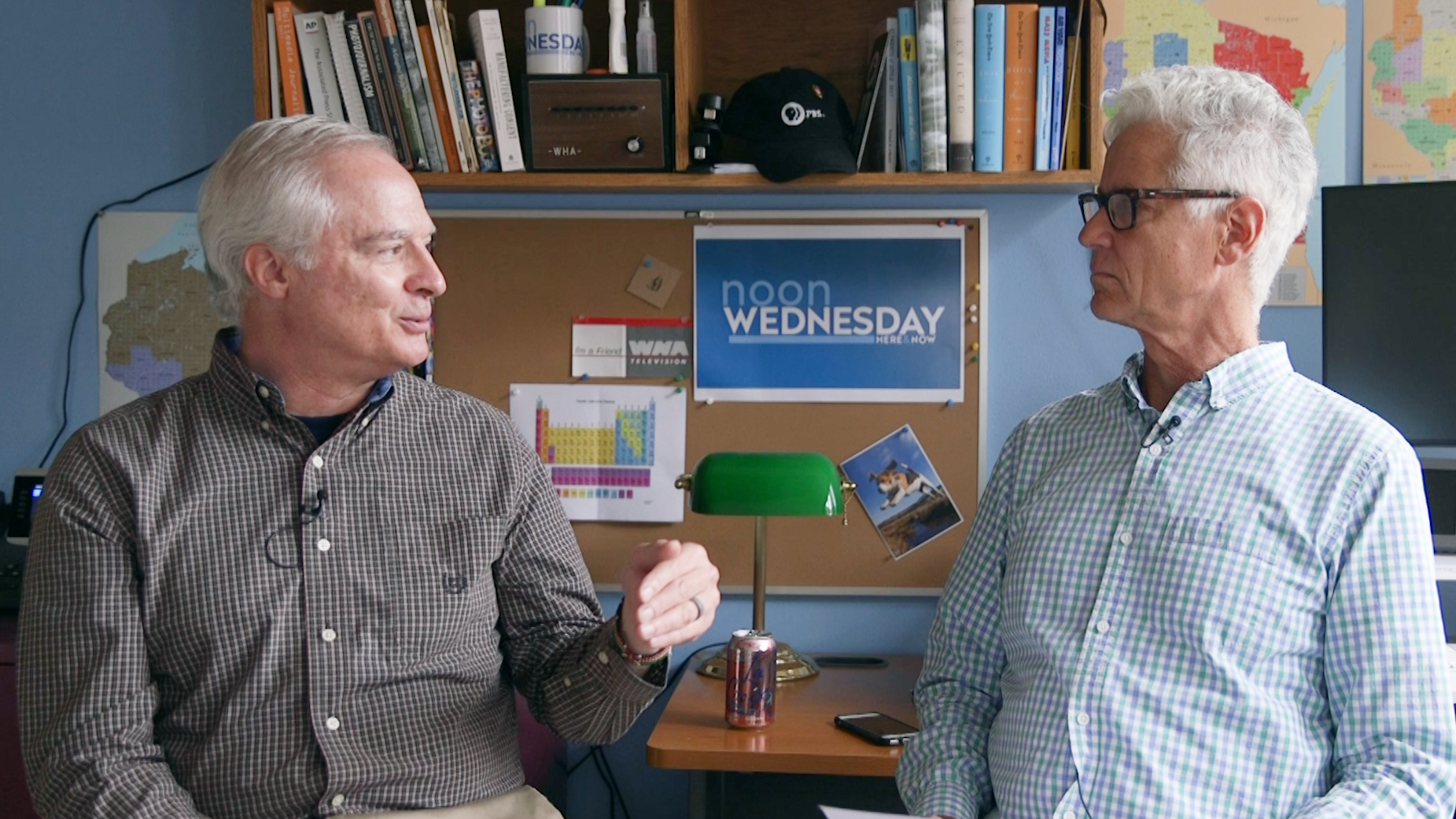 Noon Wednesday: Is Wisconsin At Risk Of An Outbreak?
Rates of unvaccinated children are on the rise in Wisconsin as more parents seek personal waivers for their children. We're speak with pediatric professor and infectious disease specialist Dr. James Conway about the risks this may pose and our chances of an outbreak.
September 4, 2019 • South Central Region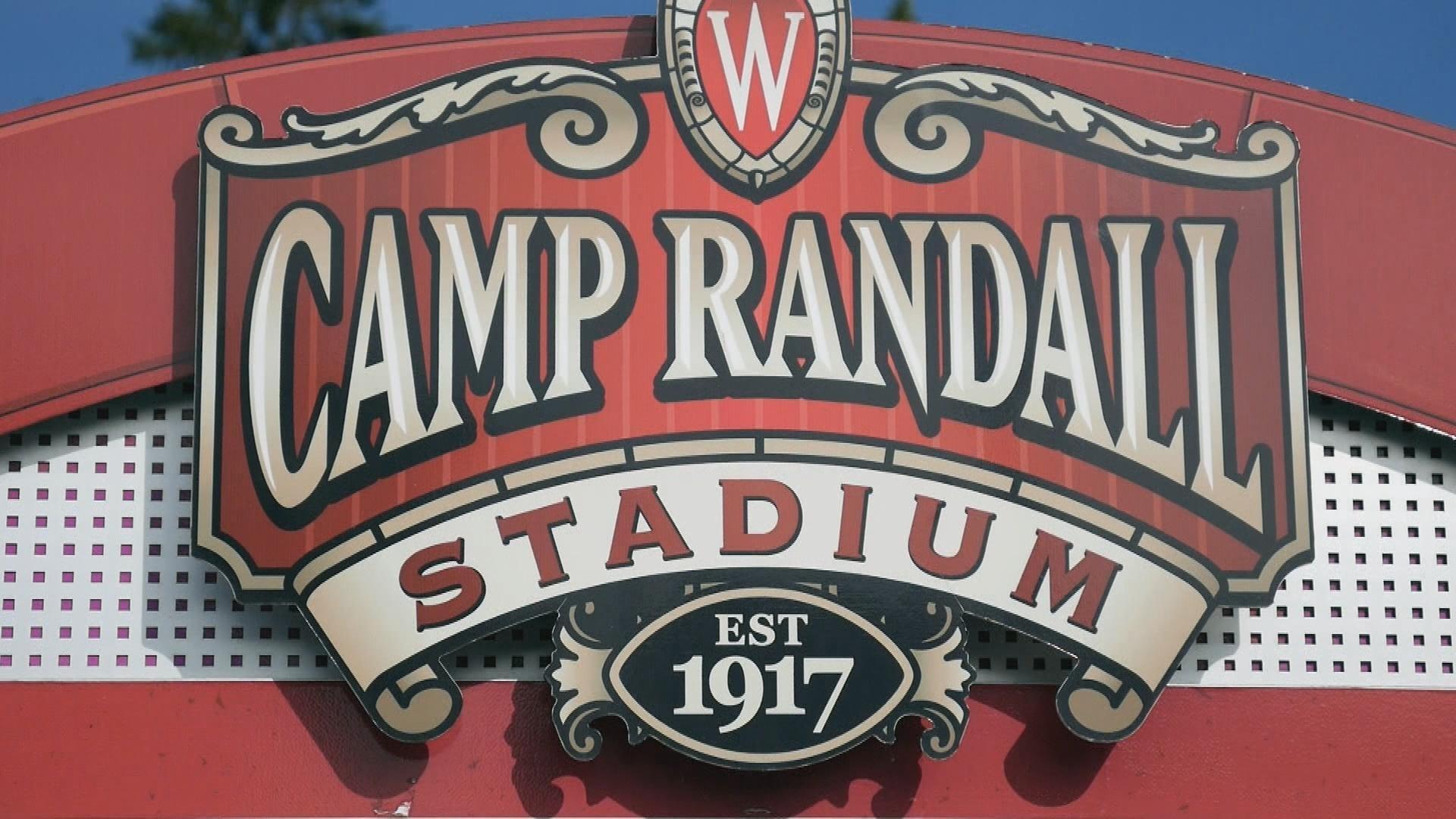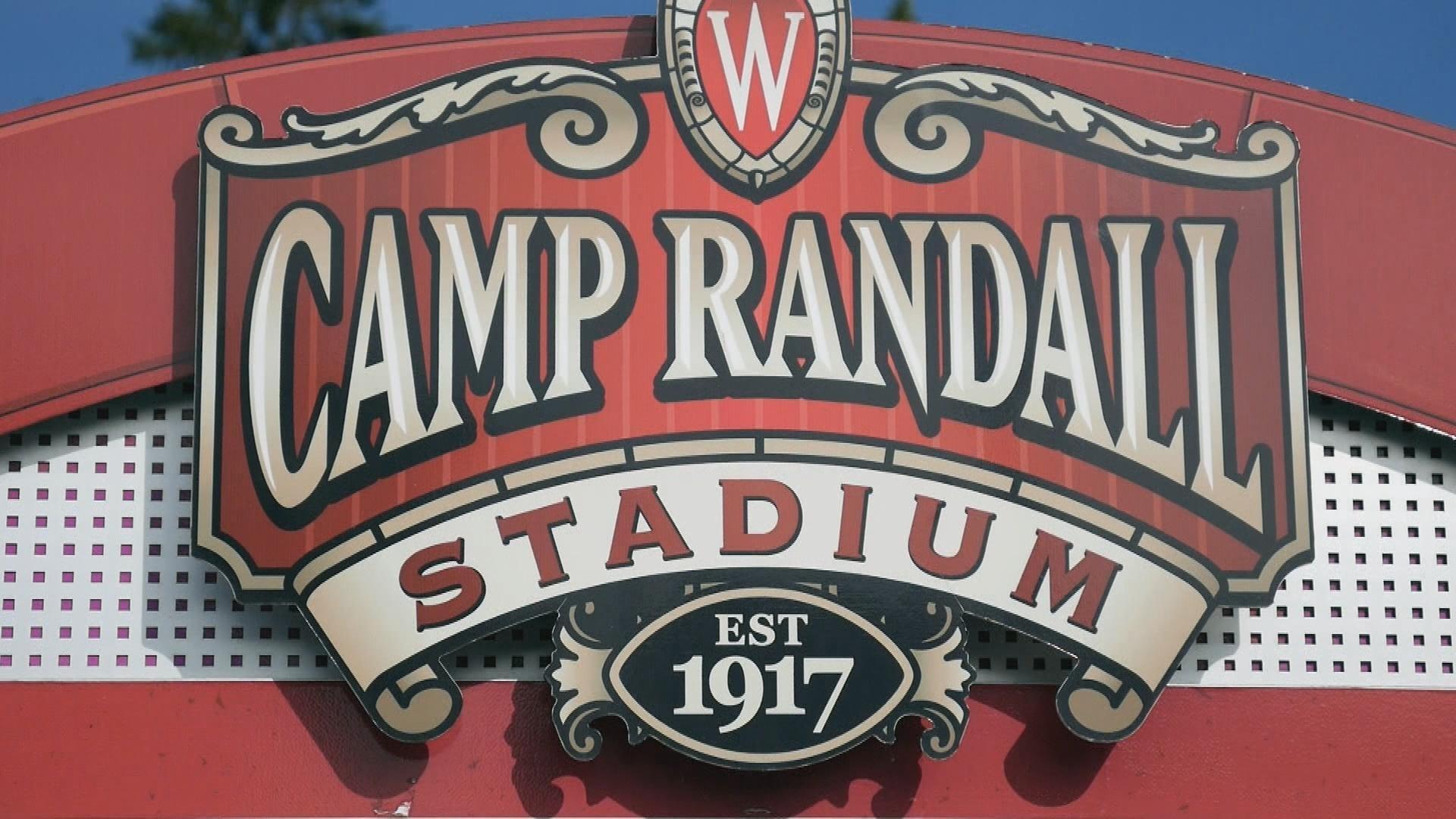 Controversial Statue Removed from Camp Randall
UW-Madison's Camp Randall gets a renovation with the removal of the Nail's Tales statue.
August 23, 2019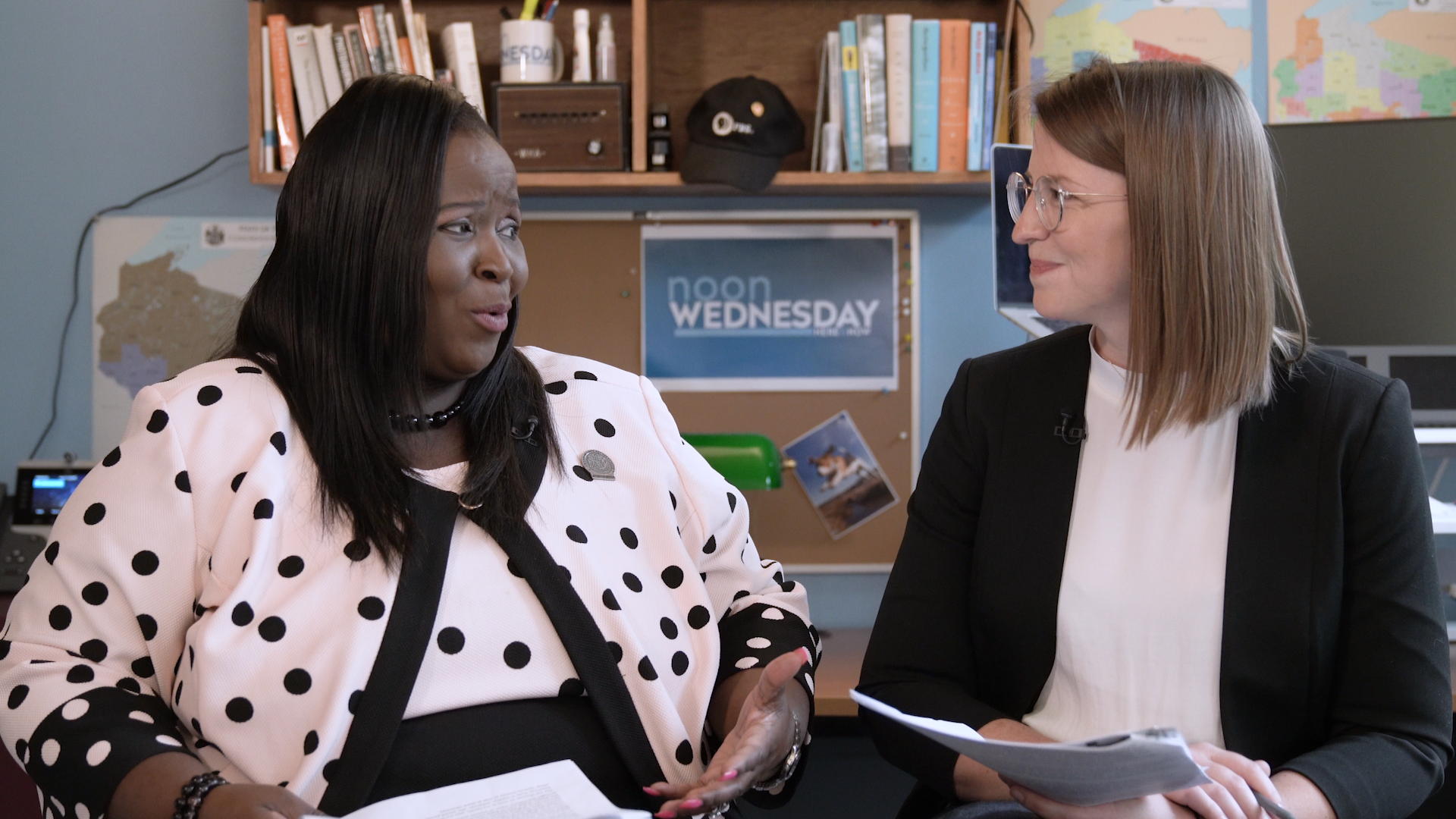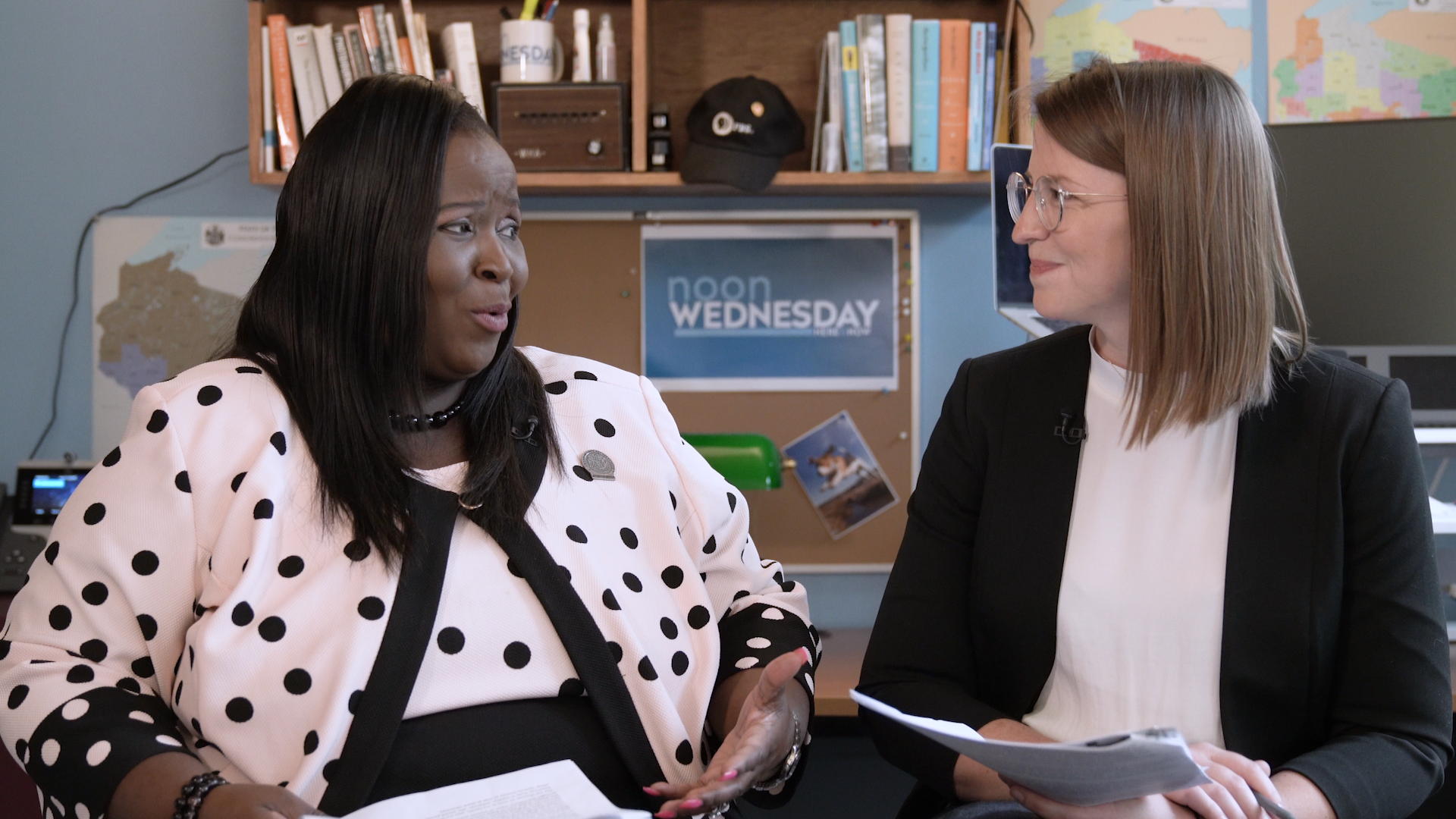 Noon Wednesday: The Untold Story of Women's Suffrage
The 19th Amendment and women's right to vote, but not all women. Wisconsin Rep. Shelia Stubbs joins us to today to talk about the lesser-known history of the women's suffrage movement that excluded women of color and why this part of the story shouldn't be forgotten.
August 14, 2019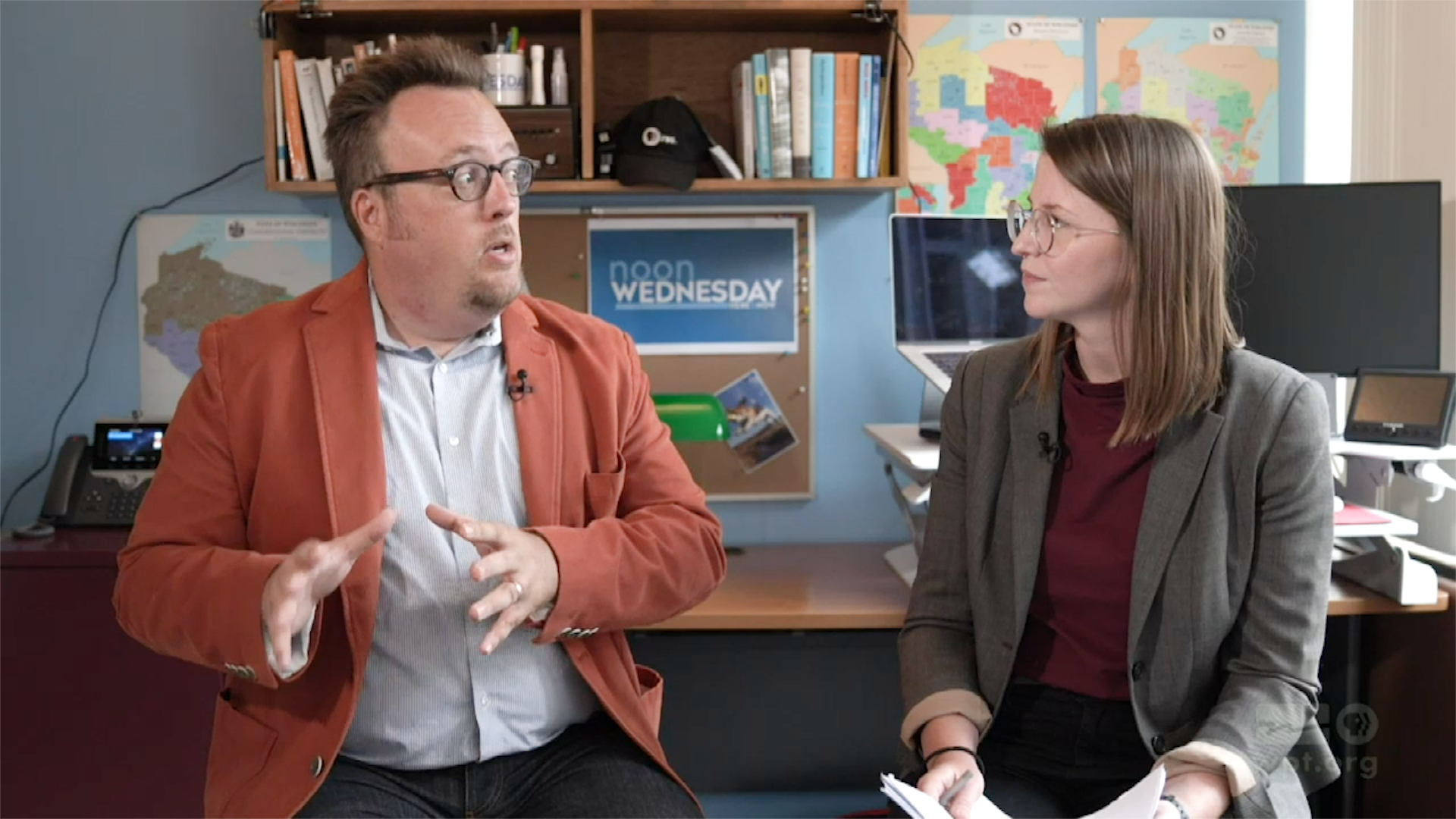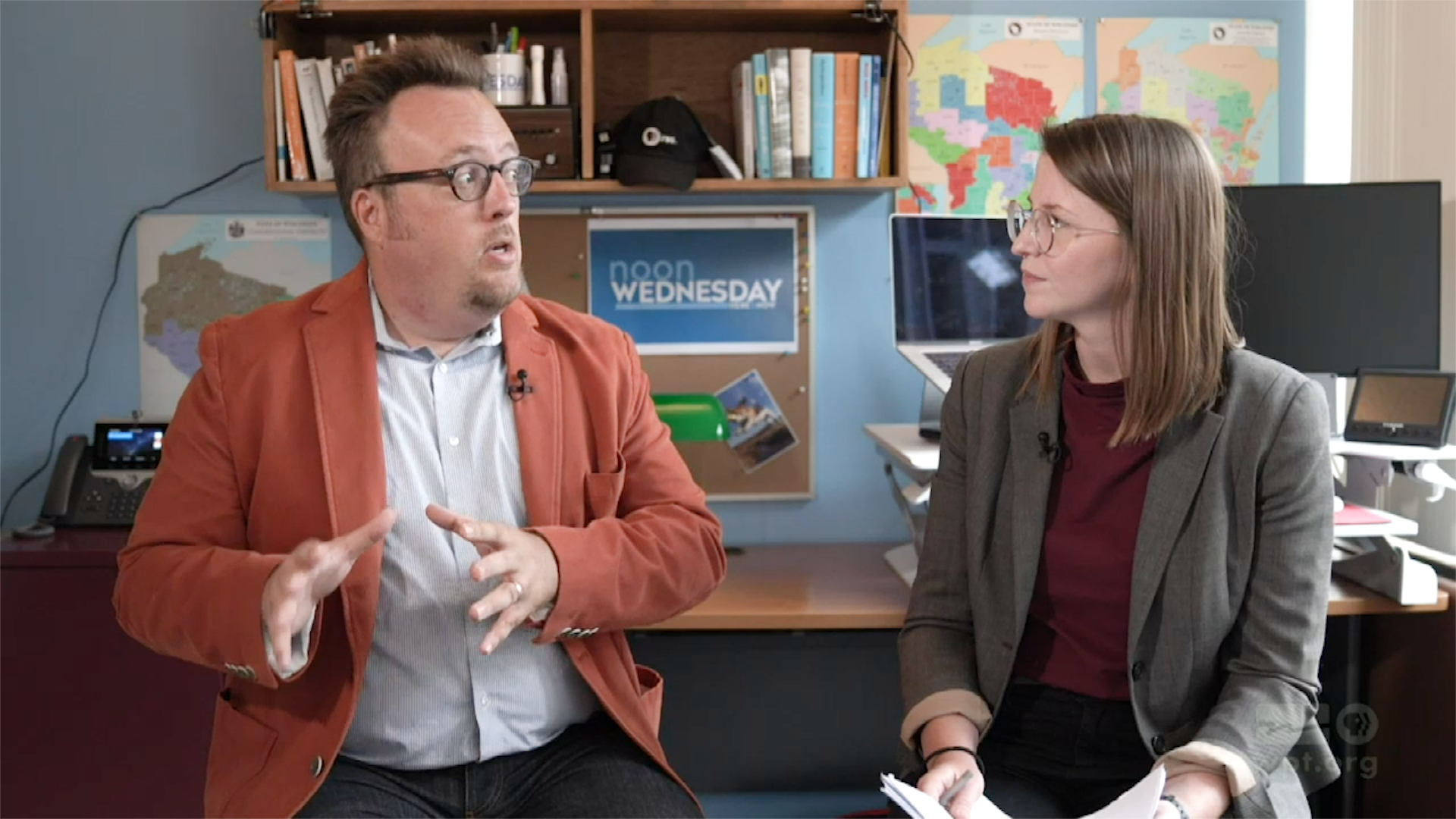 Noon Wednesday: Can't We Just Talk About It?
The rise of polarized and contentious politics is fracturing civic discourse, according to a group of researchers including our guest, UW-Madison professor of journalism Mike Wagner. The team of researchers are working to bridge that gap with the establishment of the Center for Communication and Civic Renewal by researching the intersection of media, technology and Wisconsin politics.
July 24, 2019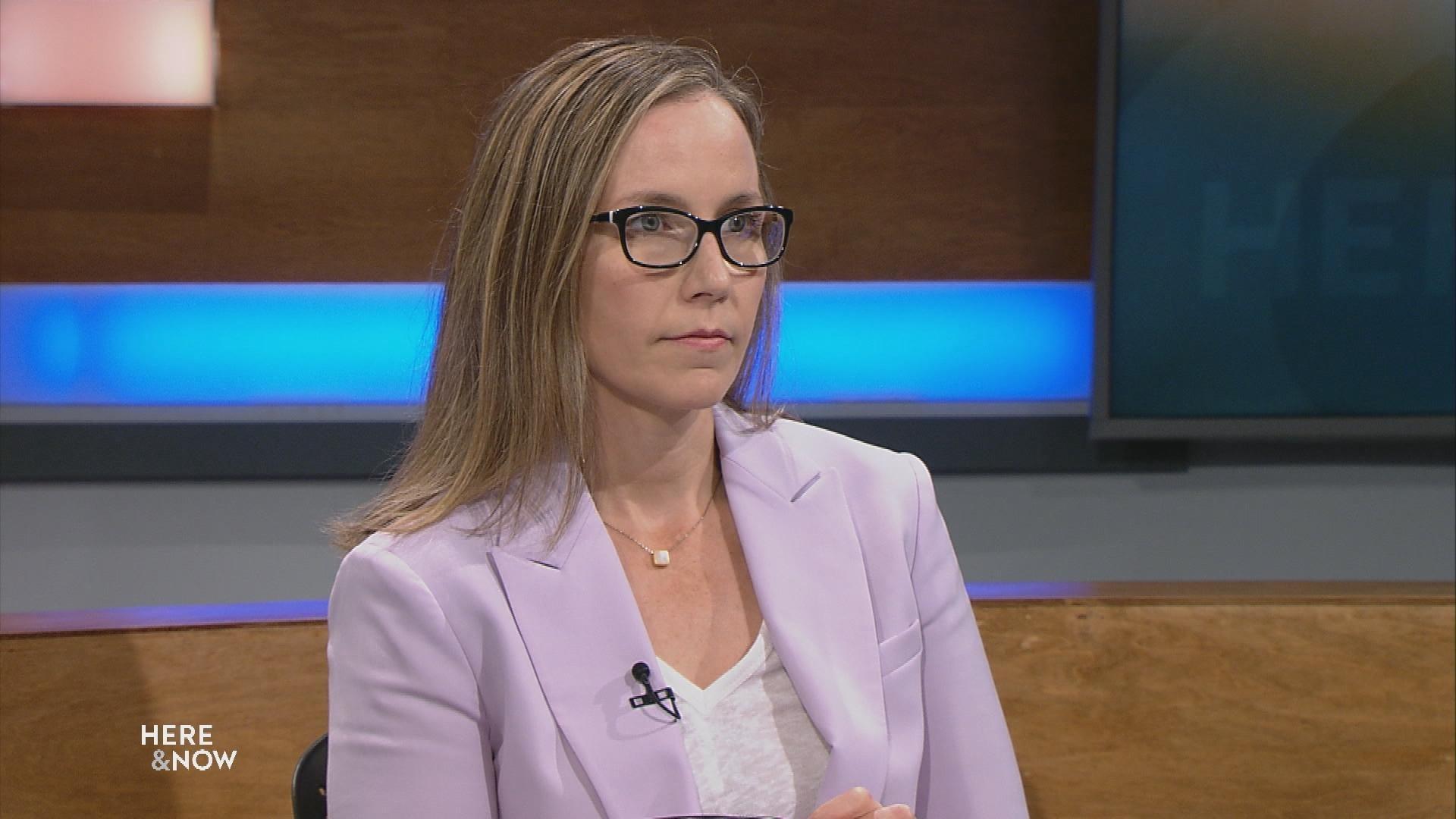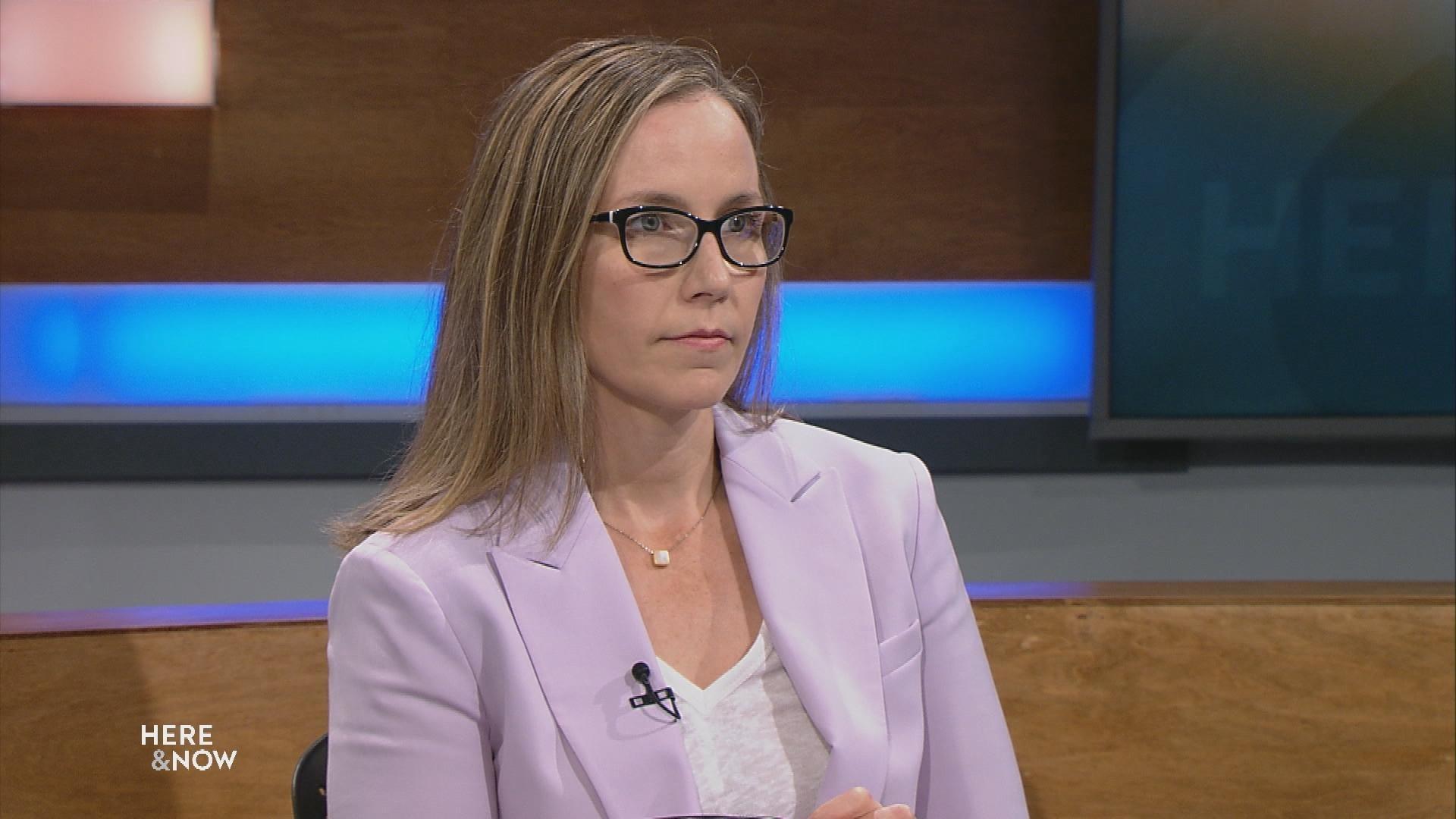 Barbato Discusses Conditions and Aid at Southern Border
A photo of a father and daughter who died trying to cross the Rio Grande caught national attention the same week that the House and Senate passed measures sending humanitarian aid to the southern border. Director of the UW Immigrant Justice Clinic Erin Barbato shares first-hand the conditions immigrants face at the southern border.
June 28, 2019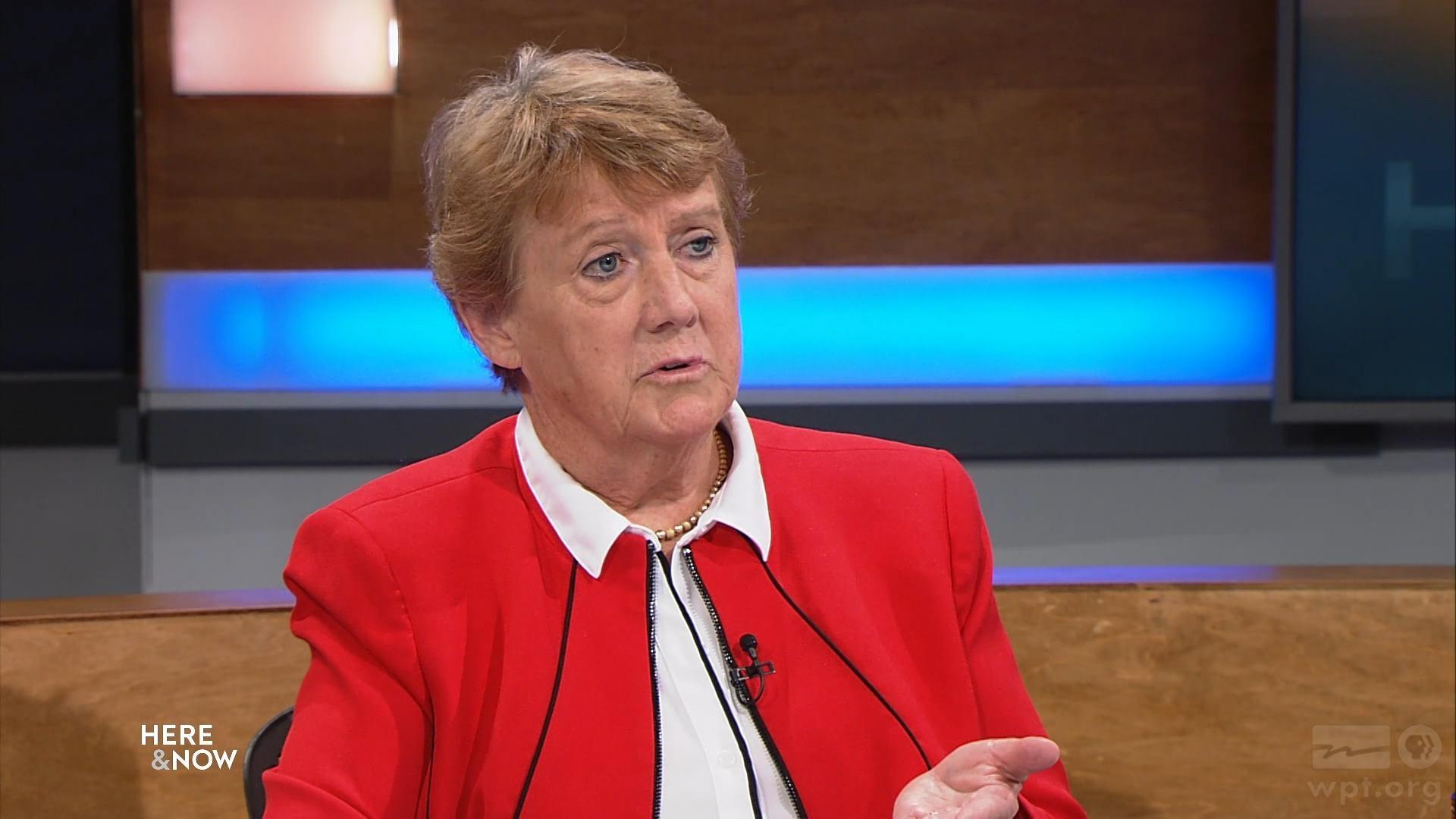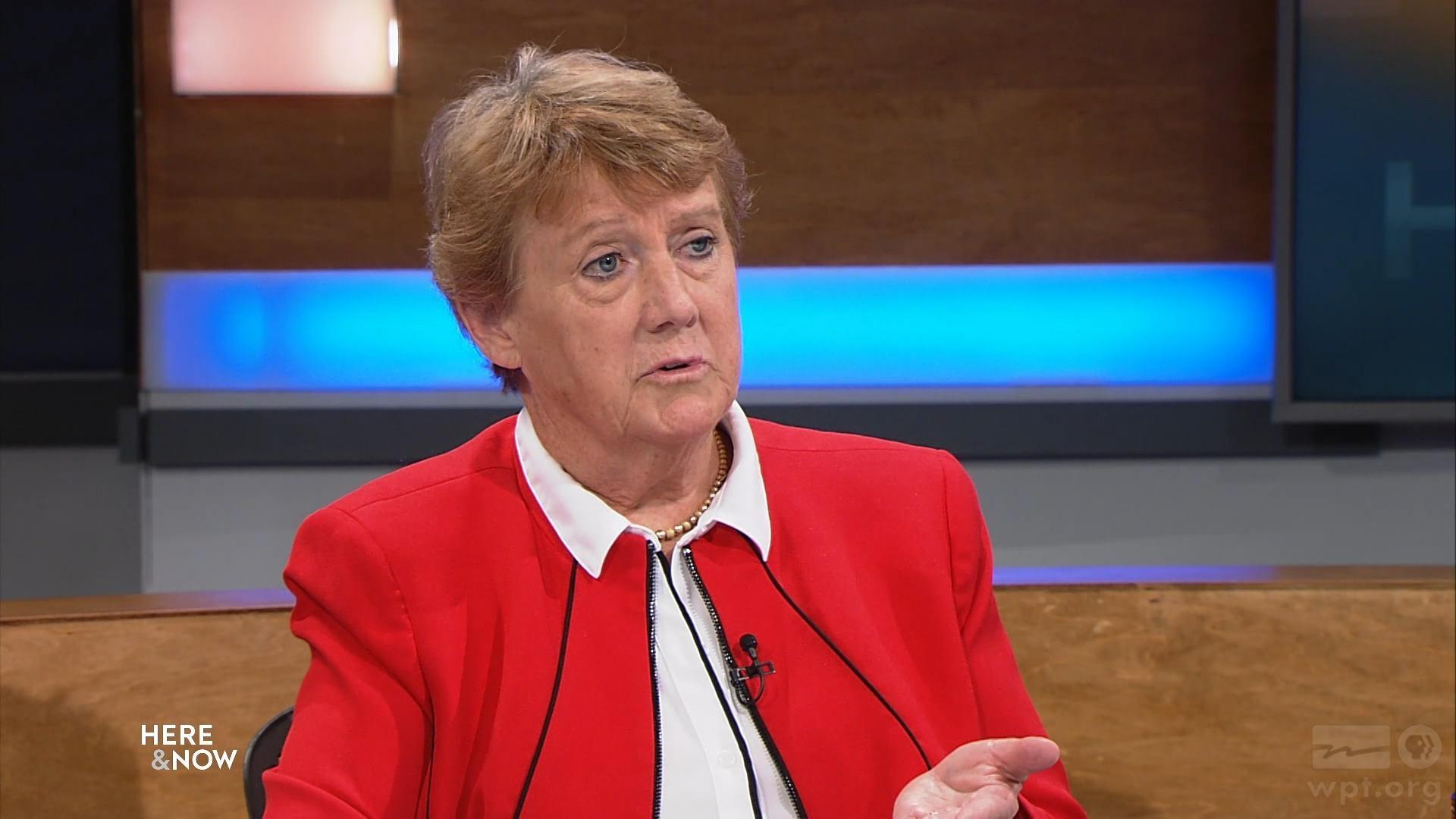 How Can Wisconsin Support Minority Teachers
There is a bi-partisan effort to add money to a fund that helps forgive loan debt for minority teachers. Connie Hutchison helps administer the program as executive secretary of the Higher Education Aids Board. She says that changes to the program will likely attract more people.
June 21, 2019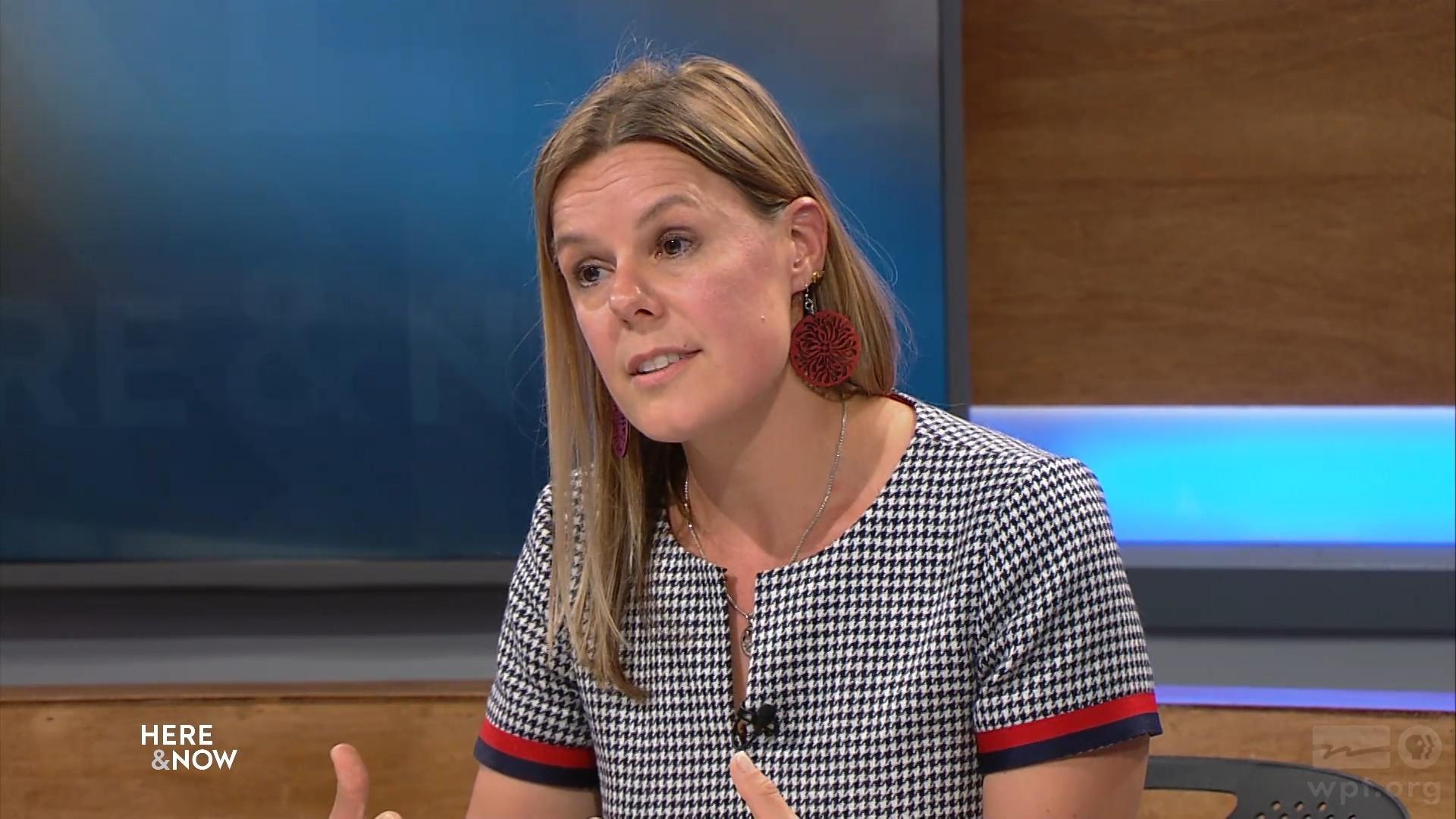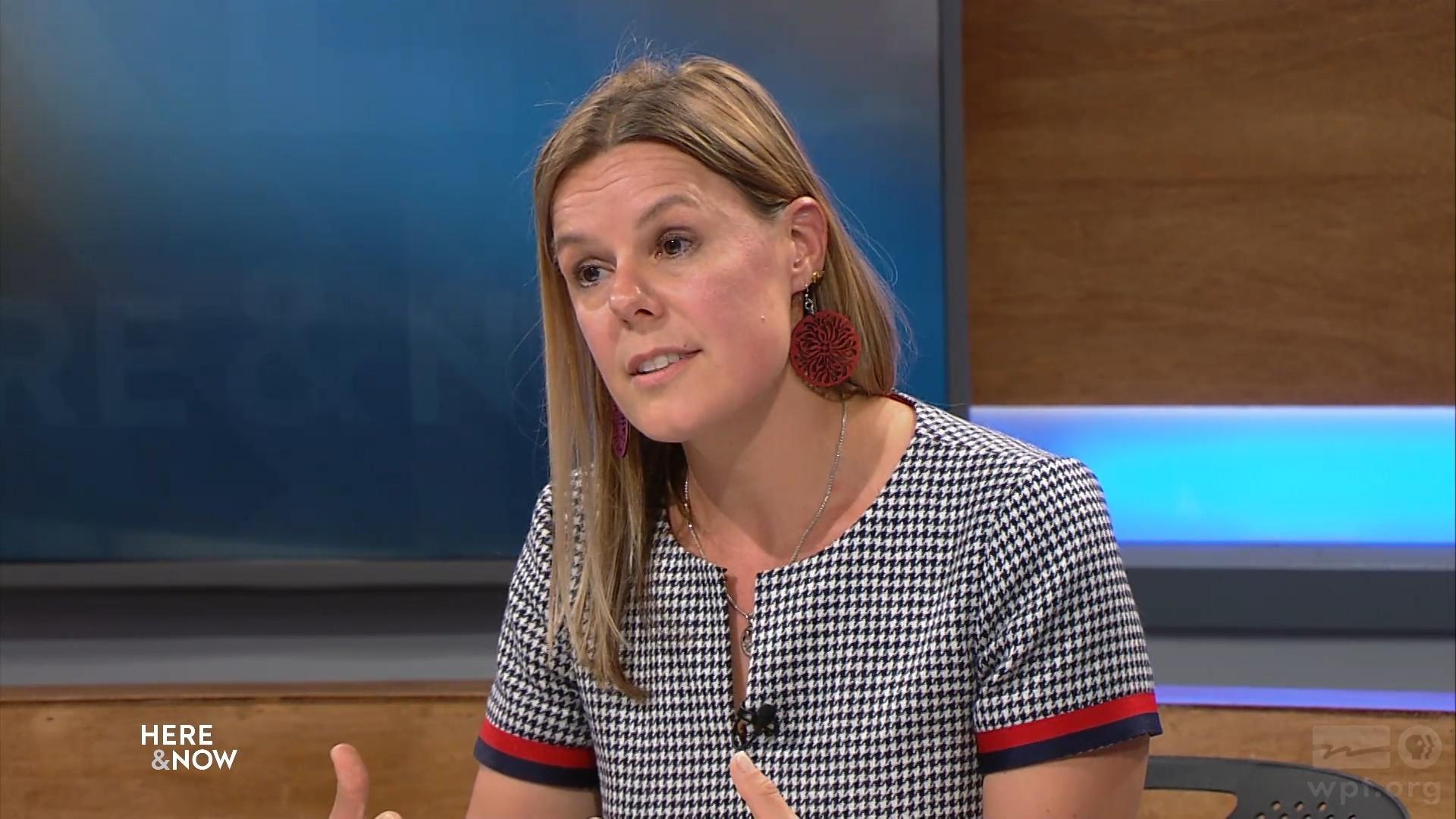 Children's Health Metrics Show Racial Disparities
Wisconsin fares well among other states in child wellness overall, but when the data is broken down by race, stark disparities emerge. Erica Nelson of Kids Forward discusses what the state can do to bridge the racial divide.
June 21, 2019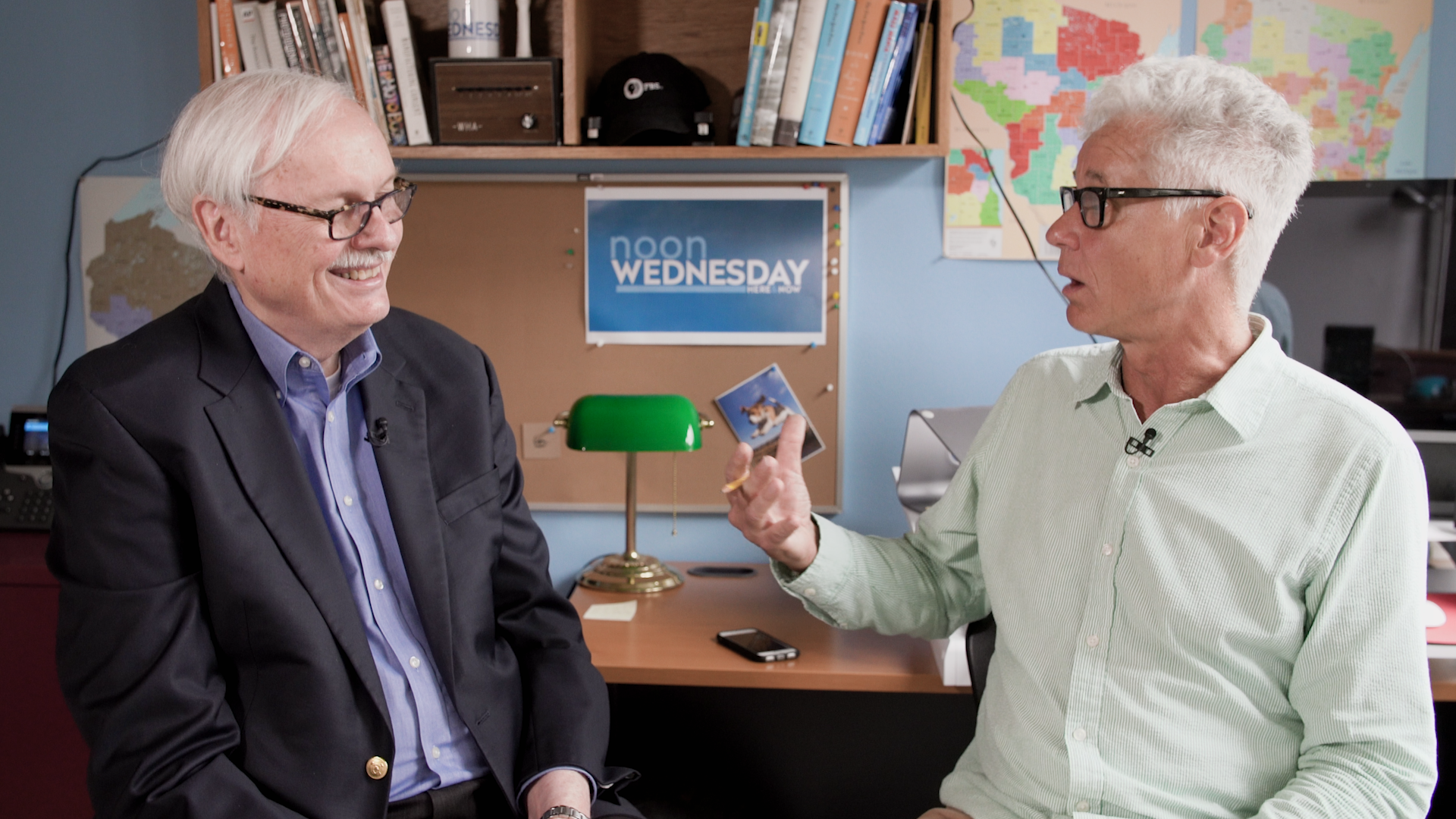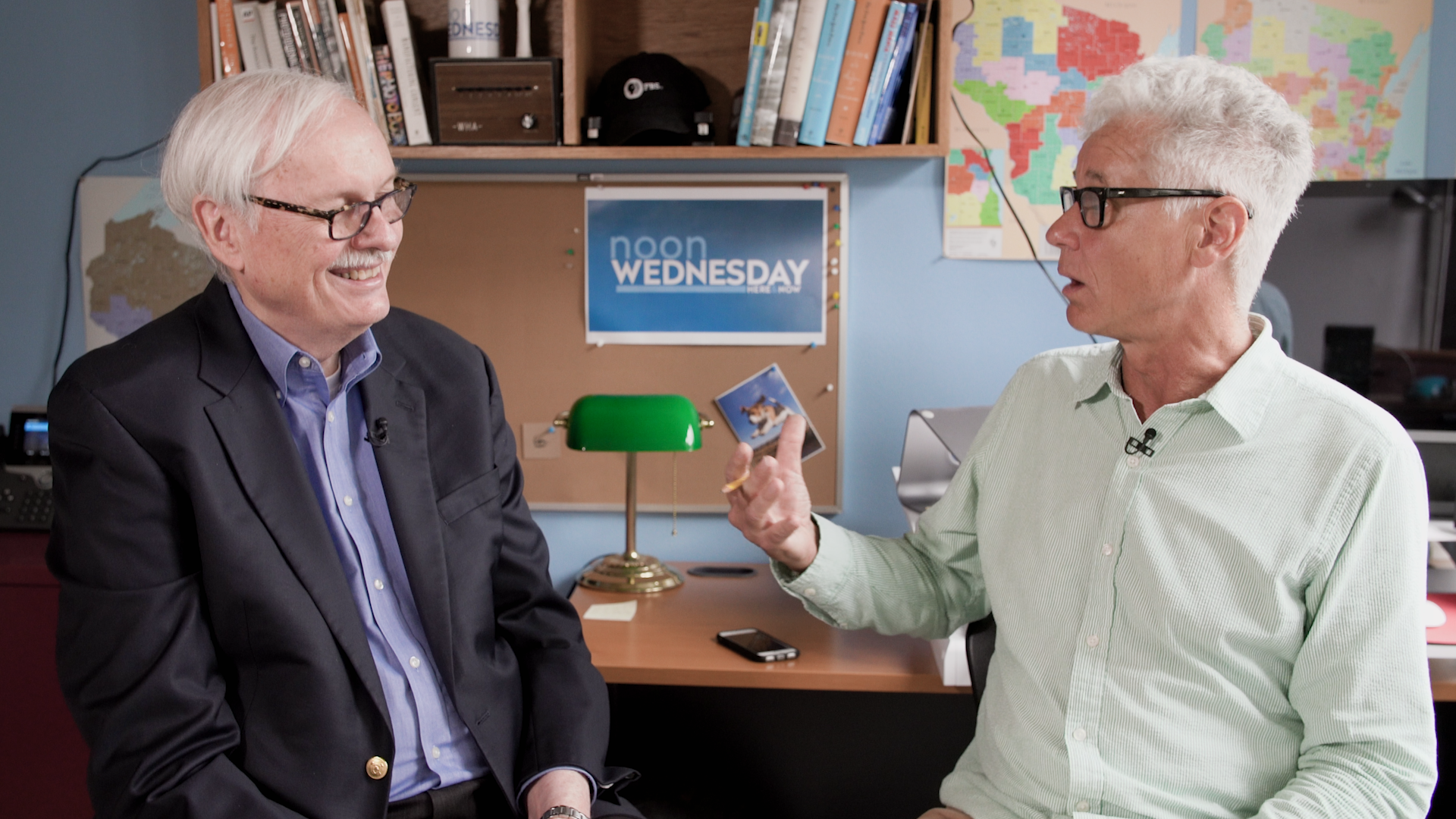 Noon Wednesday: We've Been Here All Along
Dick Wagner chronicles the history of gay Wisconsinites prior to the 1969 Stonewall riots. His new book, "We've Been Here All Along: Wisconsin's Early Gay History," shows how people lived their lives despite severe societal homophobia. "You shouldn't assume that we have no past," Wagner says, "and our past helps define who we are today."
June 19, 2019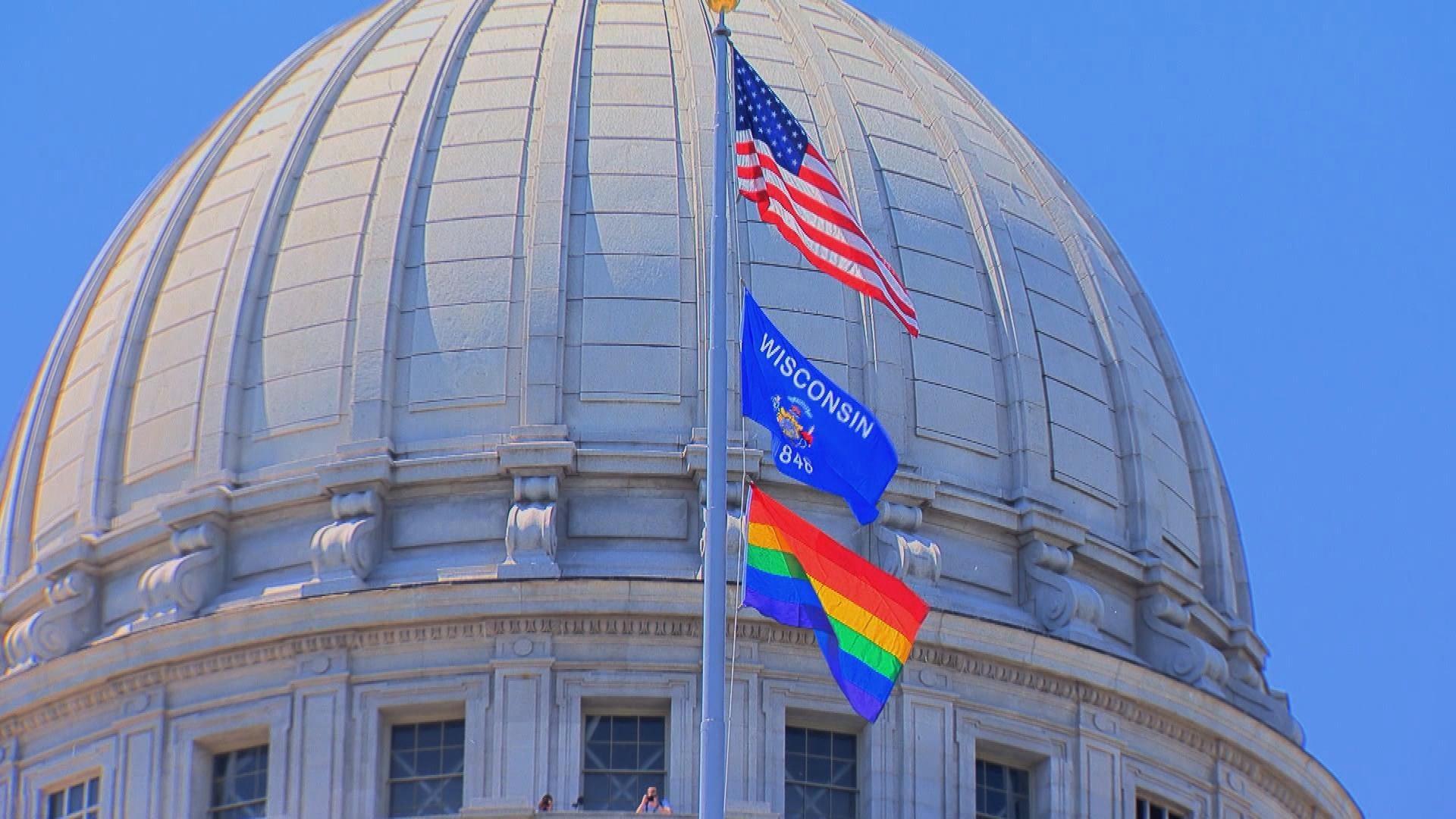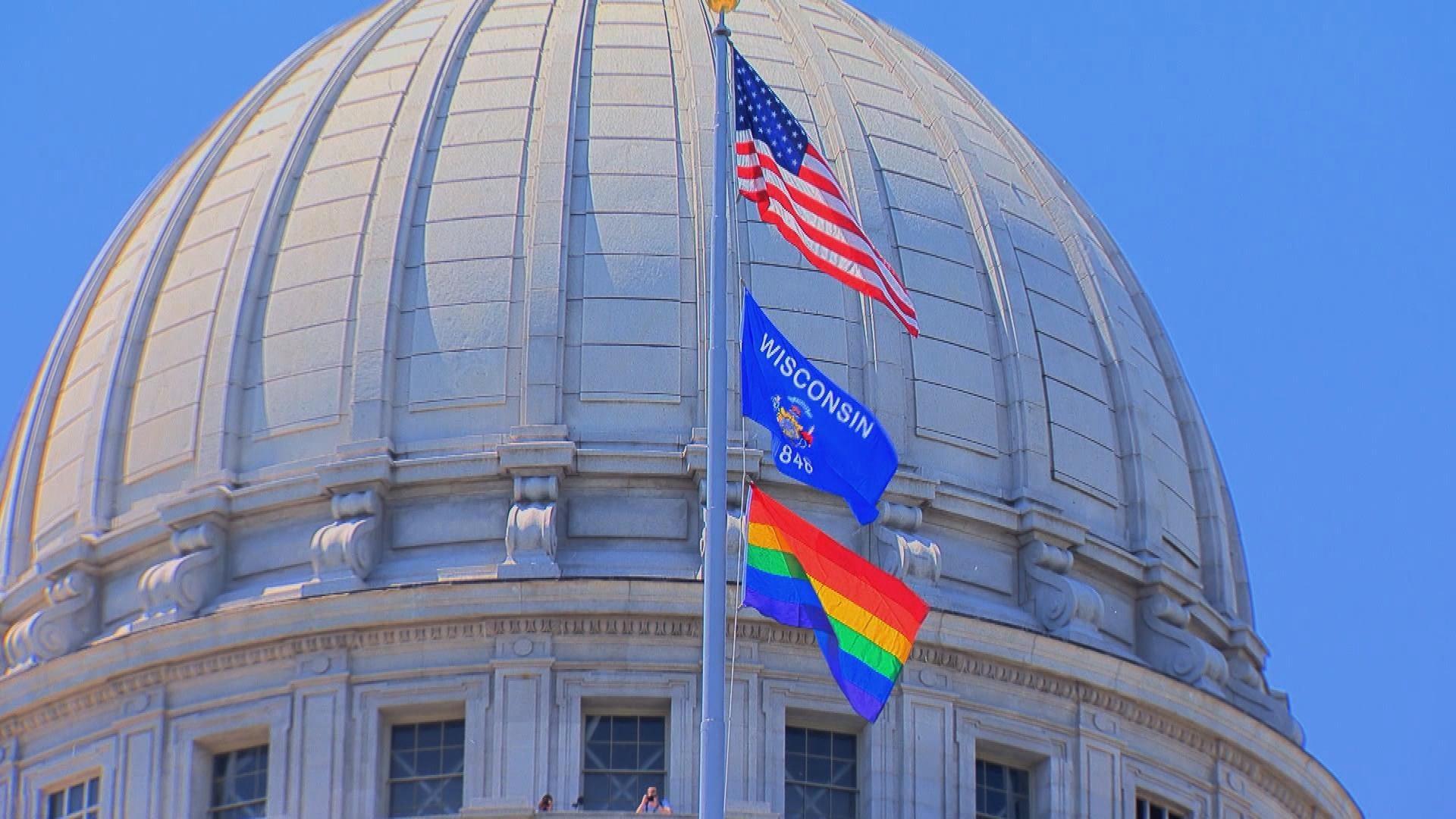 Legislators Celebrate Pride Month
June marks the celebration of LGBTQ+ pride month and a bipartisan group of legislators are rolling out an "equality agenda" of bills.
June 7, 2019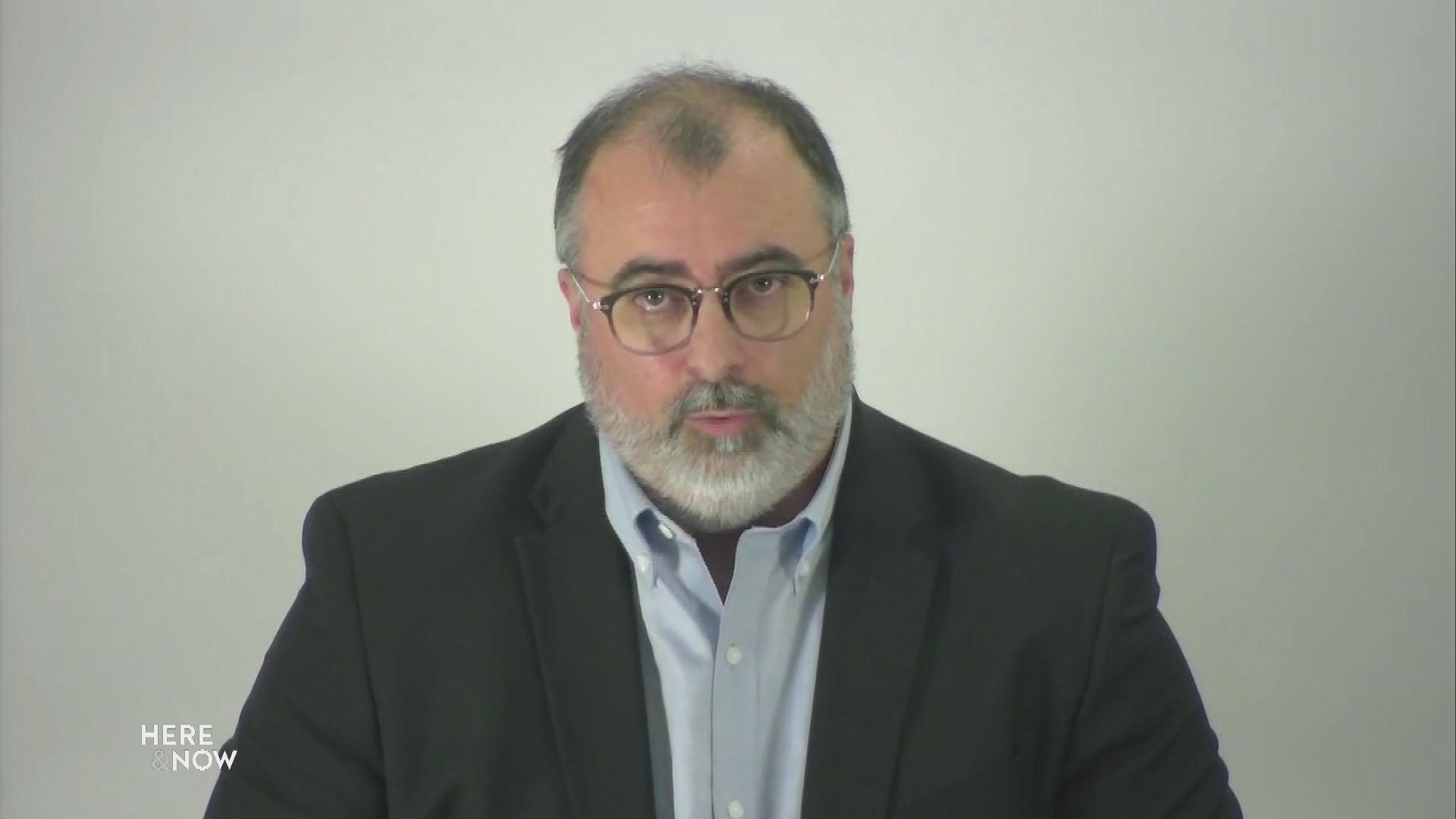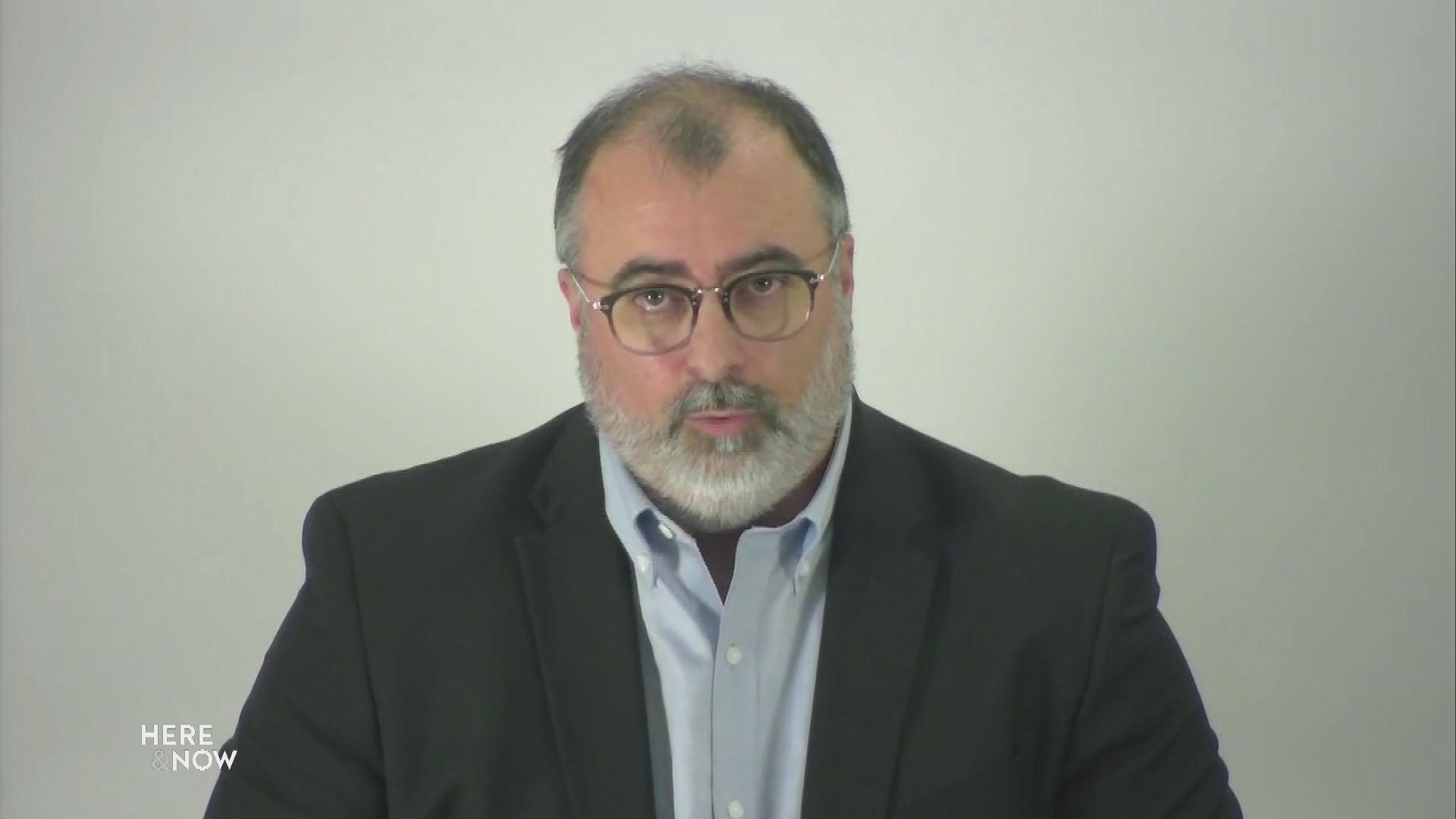 New Ways to Help Those with History of Trauma
The push to fund more trauma-informed programming in the state continues in Wisconsin. Here & Now shares children's stories from the new documentary "Not Enough Apologies," and CEO of the Fox Valley Boys and Girls Club Greg Lempke-Rochon discusses his efforts to bring trauma-informed programming to his community.
May 17, 2019 • Northeast Region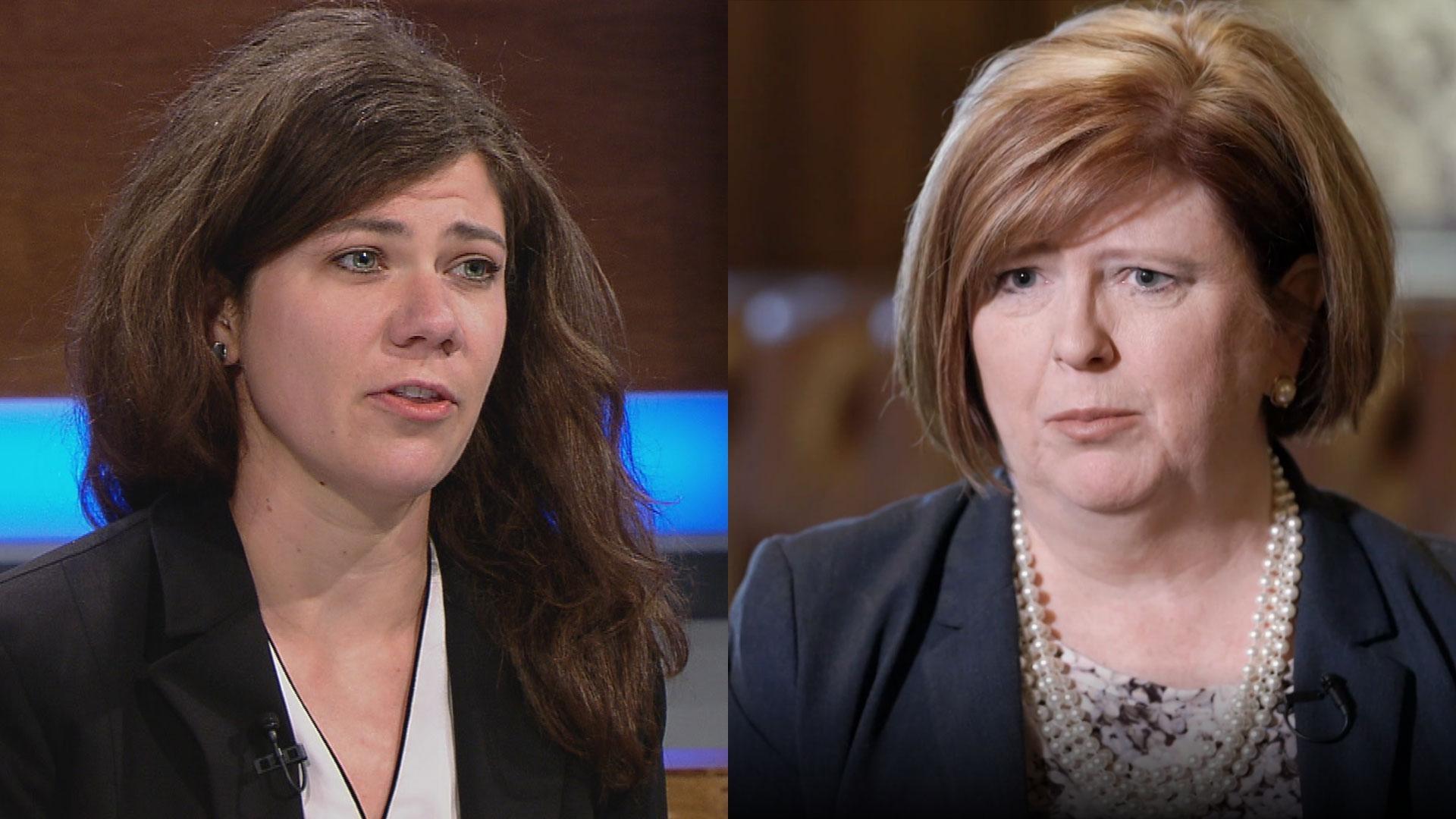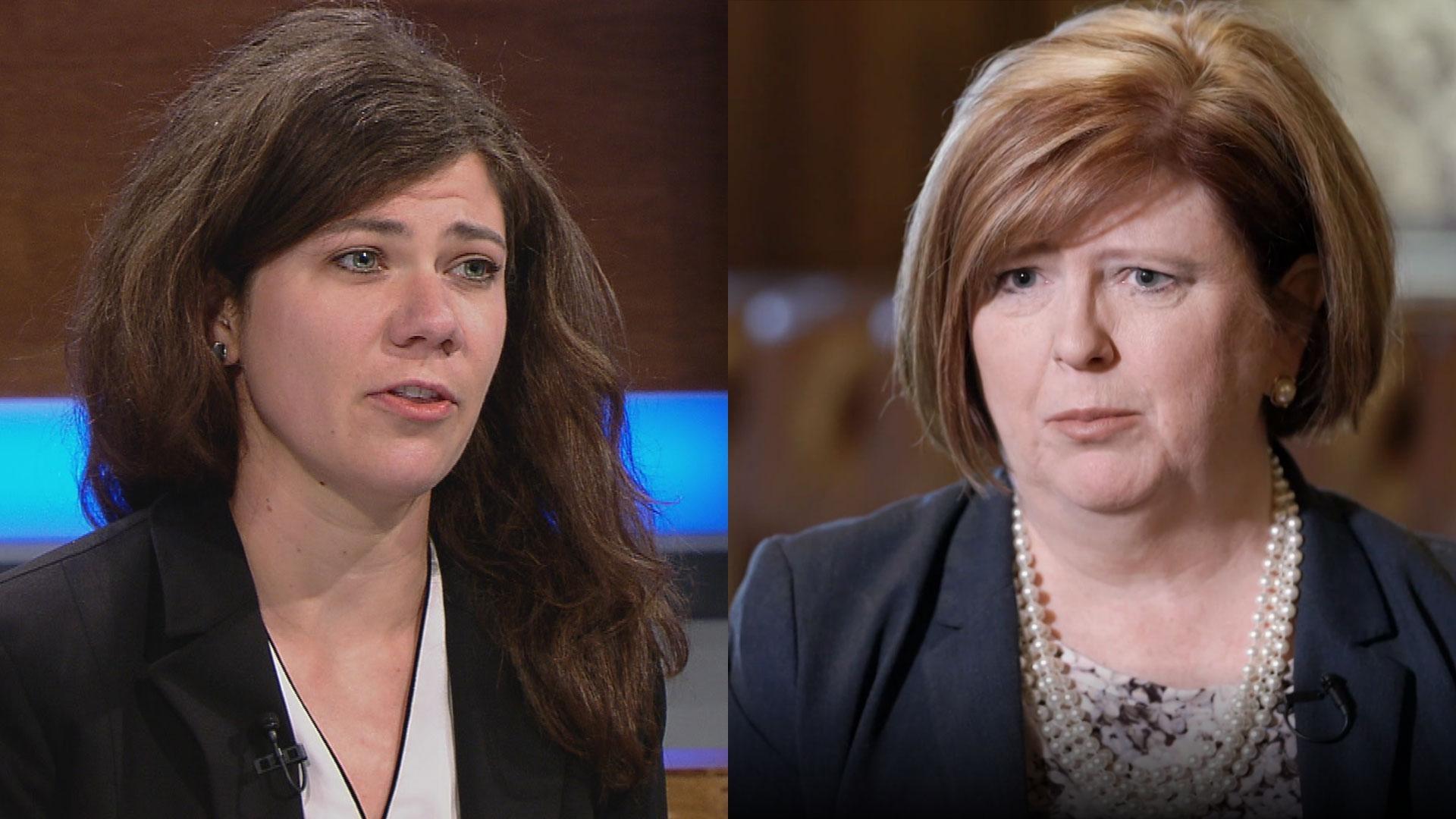 Republican lawmakers have introduced a slate of abortion-related bills including a 'born alive' bill that creates criminal penalties for doctors who do not care for fetuses still alive after an abortion. Weighing in on the new legislation are Rep. Barbara Dittrich, R-Oconomowoc, and Mel Barnes, the Legal and Policy Director at Planned Parenthood Wisconsin.
May 10, 2019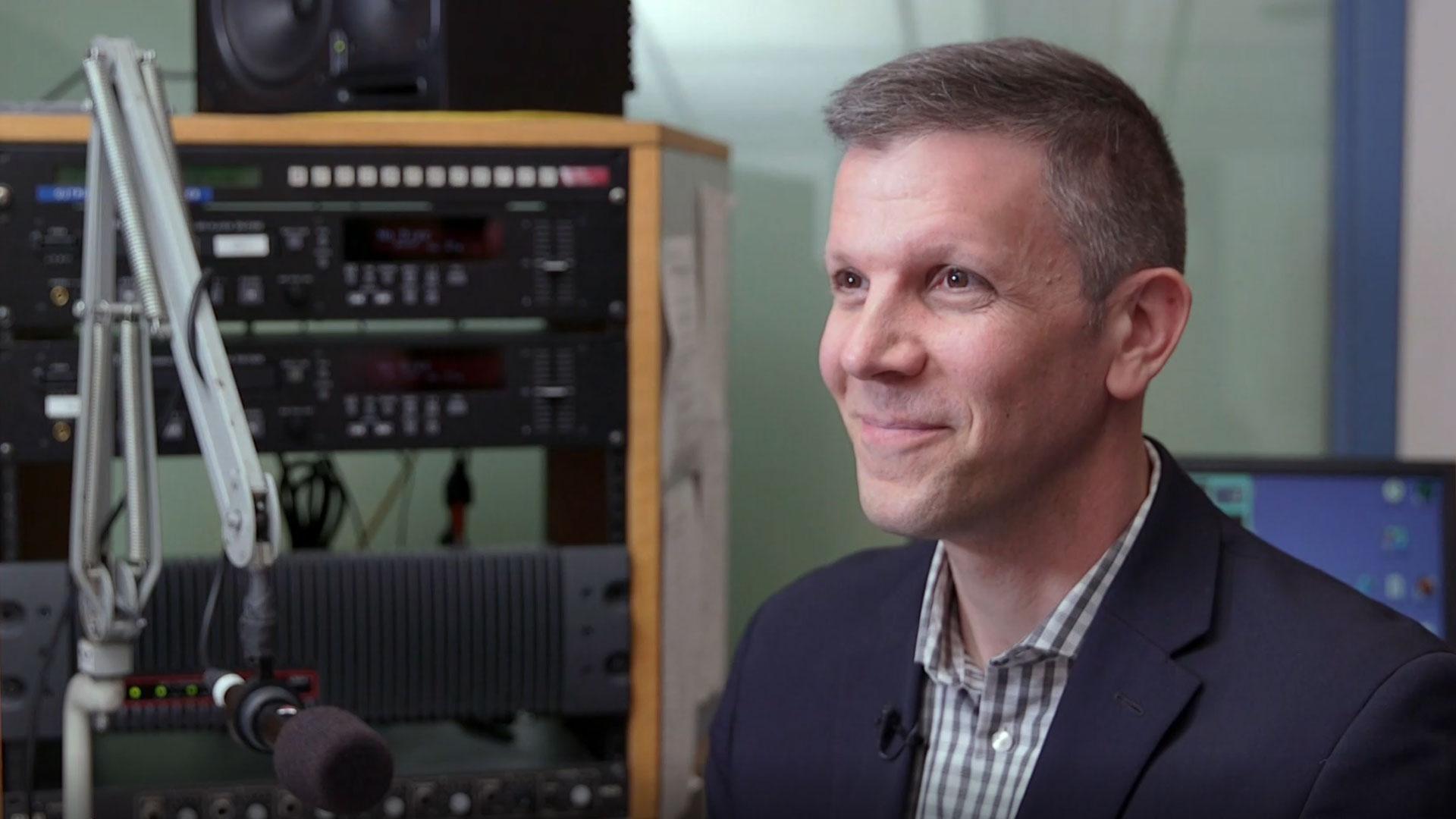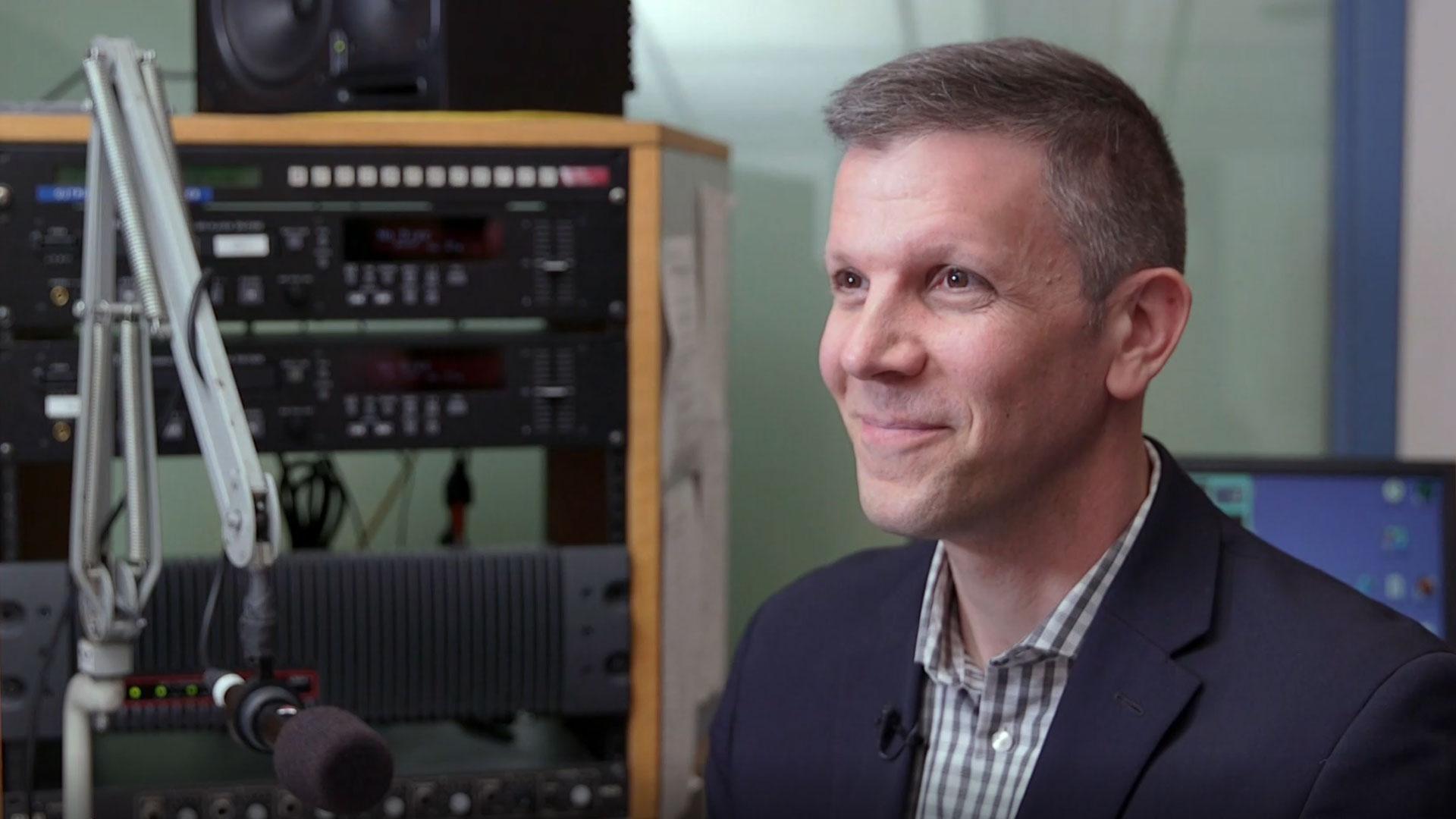 WPR's Shawn Johnson discusses a new WPR series on alcohol in Wisconsin, delving into the state's three-tier system for manufacturing, distributing and selling alcohol.
May 10, 2019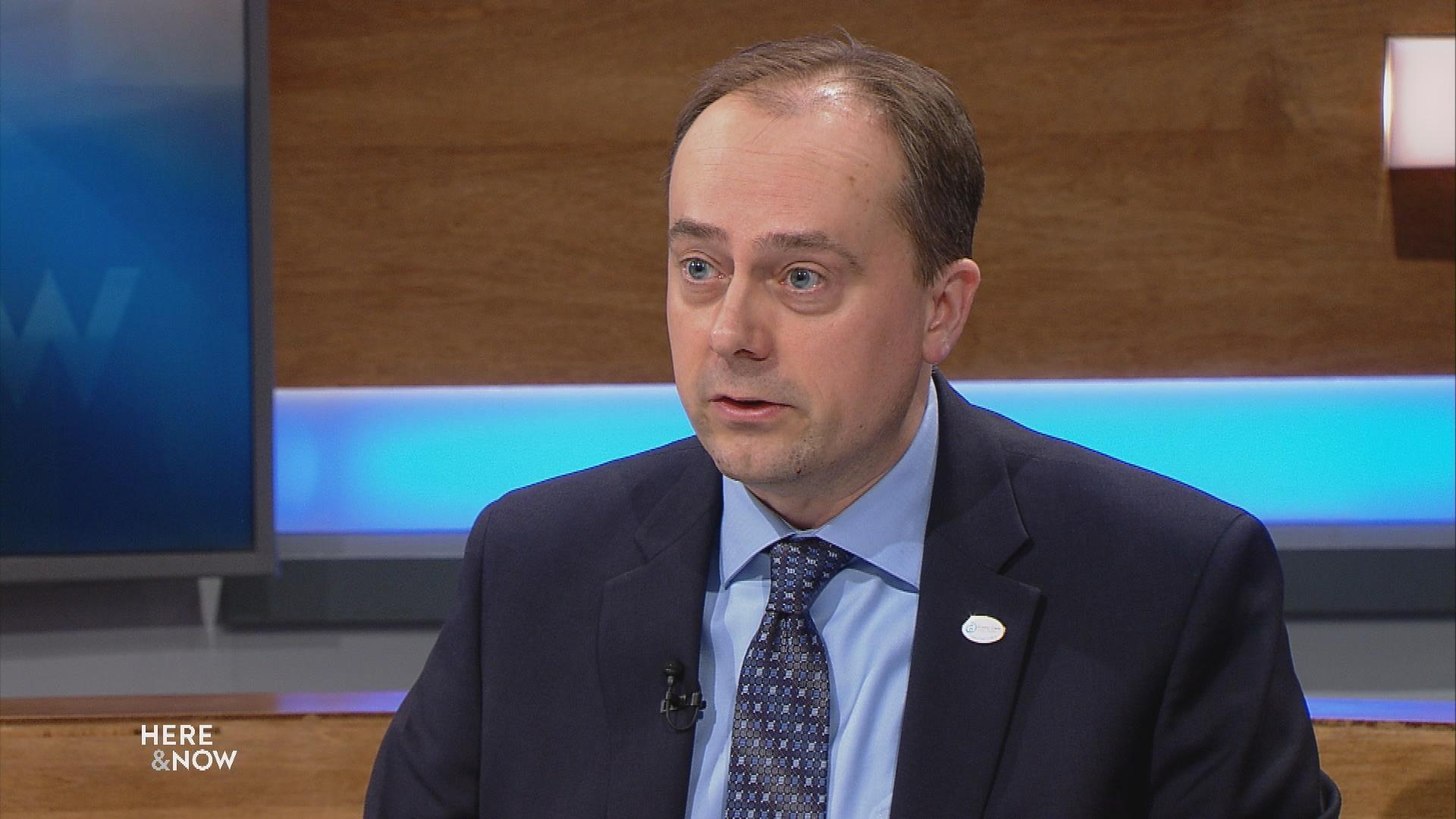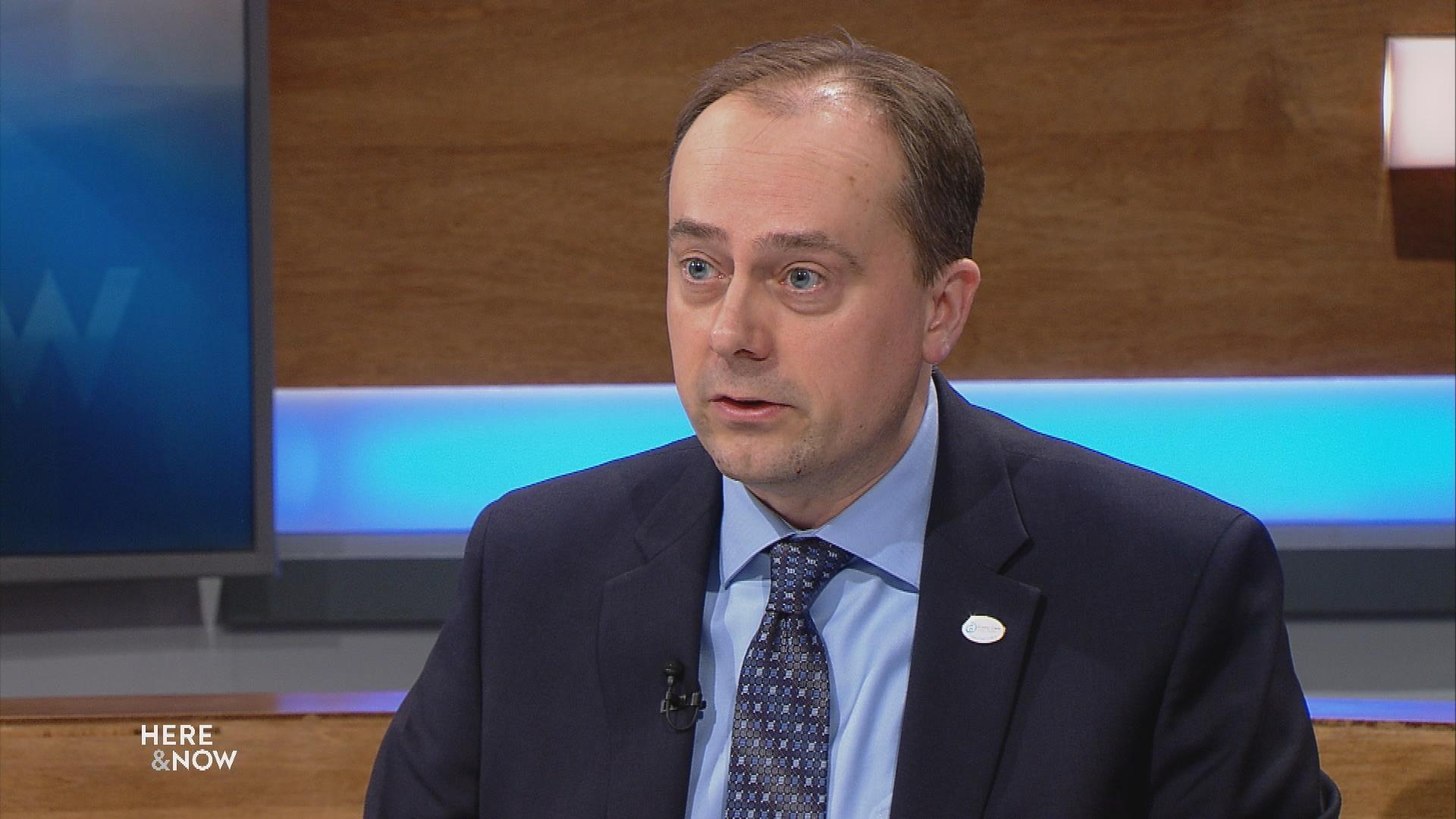 Child Welfare Crisis La Crosse County
Explaining the state's child welfare crisis is Dir. of La Crosse Co. Division of Health Serv. Jason Witt. He says the state's meth and drug problem contribute to more children needing to be on welfare. "It really has been a flood, and this really is a crisis," Witt says. Also a preview of a WPT documentary on trauma informed care among children: "Not Enough Apologies."
May 10, 2019 • West Central Region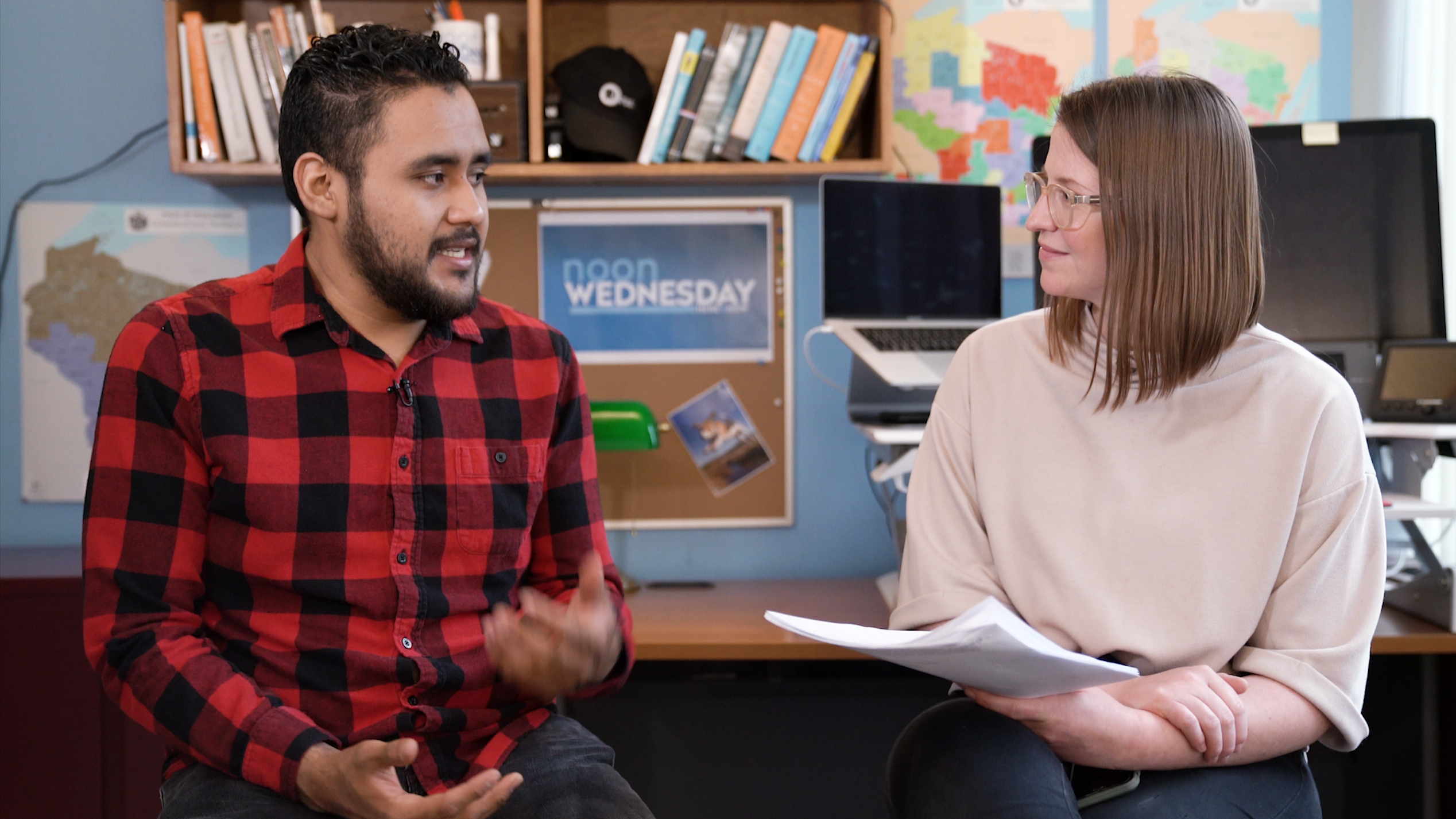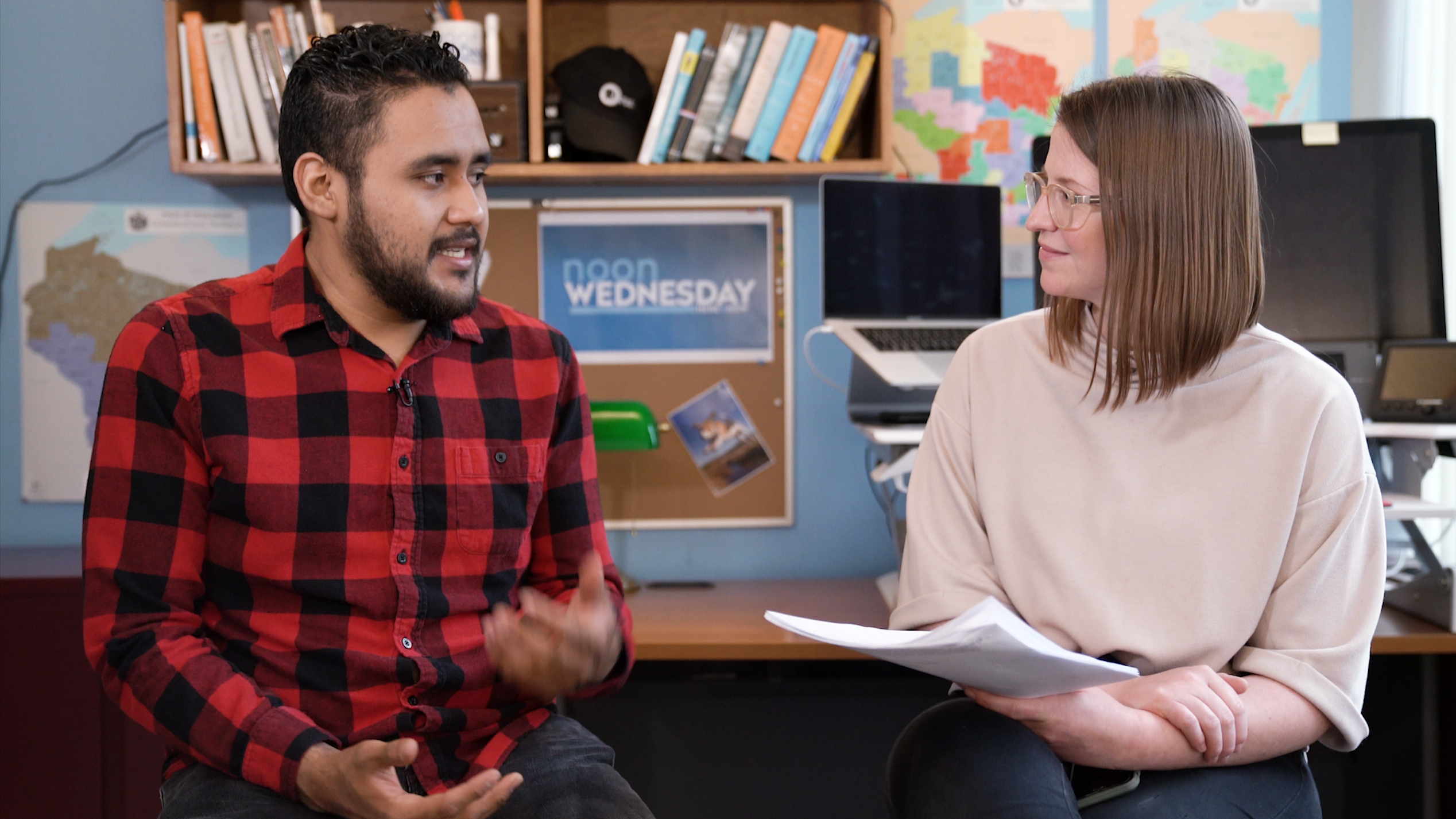 Noon Wednesday: Undocumented Immigrants and College
Julio Gumeta came to Wisconsin when he was seven years old. Now, 17 years later, he wants to attend UW-Milwaukee but cannot afford the out-state-tuition rates that undocumented immigrants are required to pay. He says he would like to give back to his community in Wisconsin, but finds that difficult without proper education.
May 8, 2019 • Southeast Region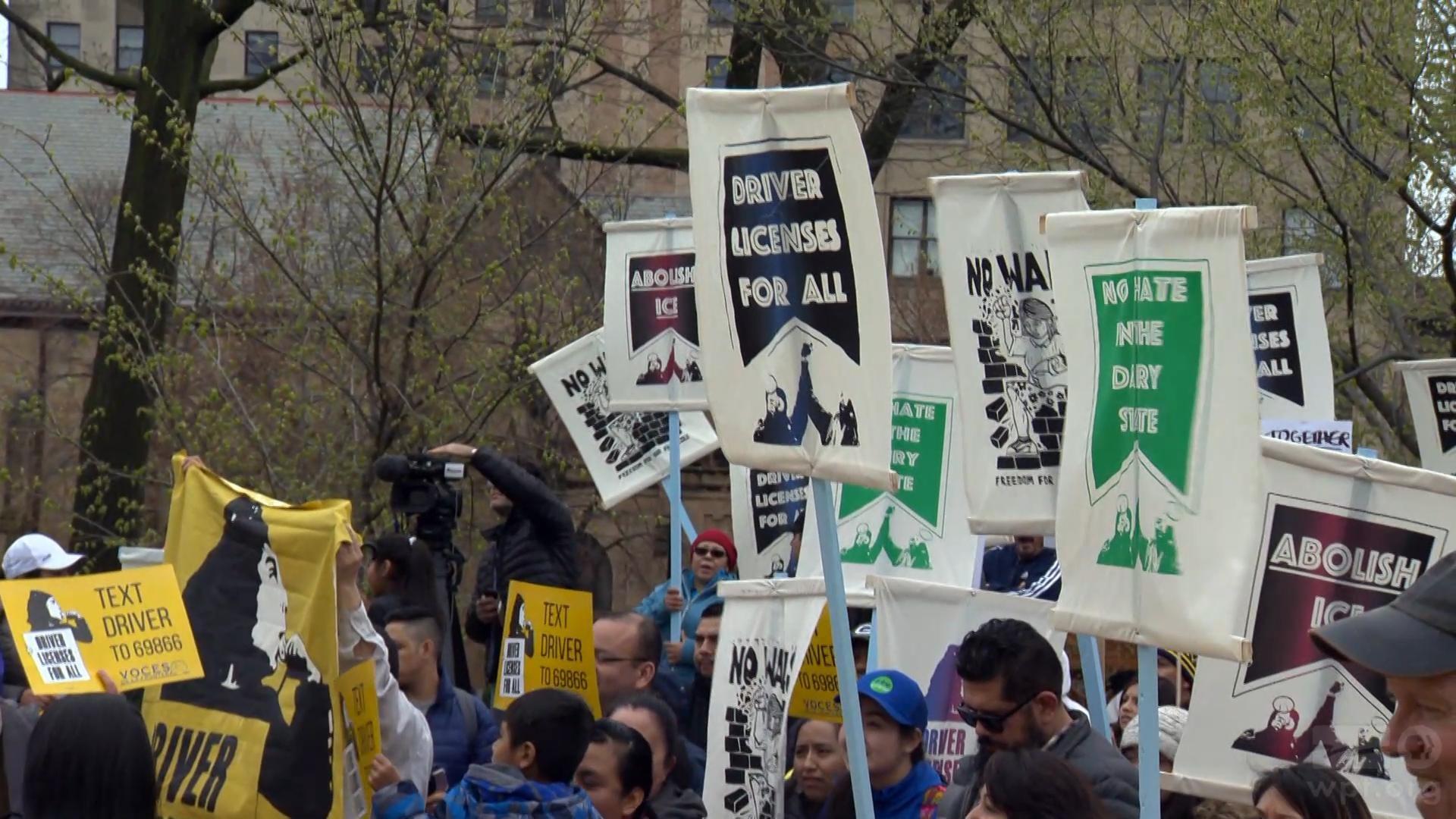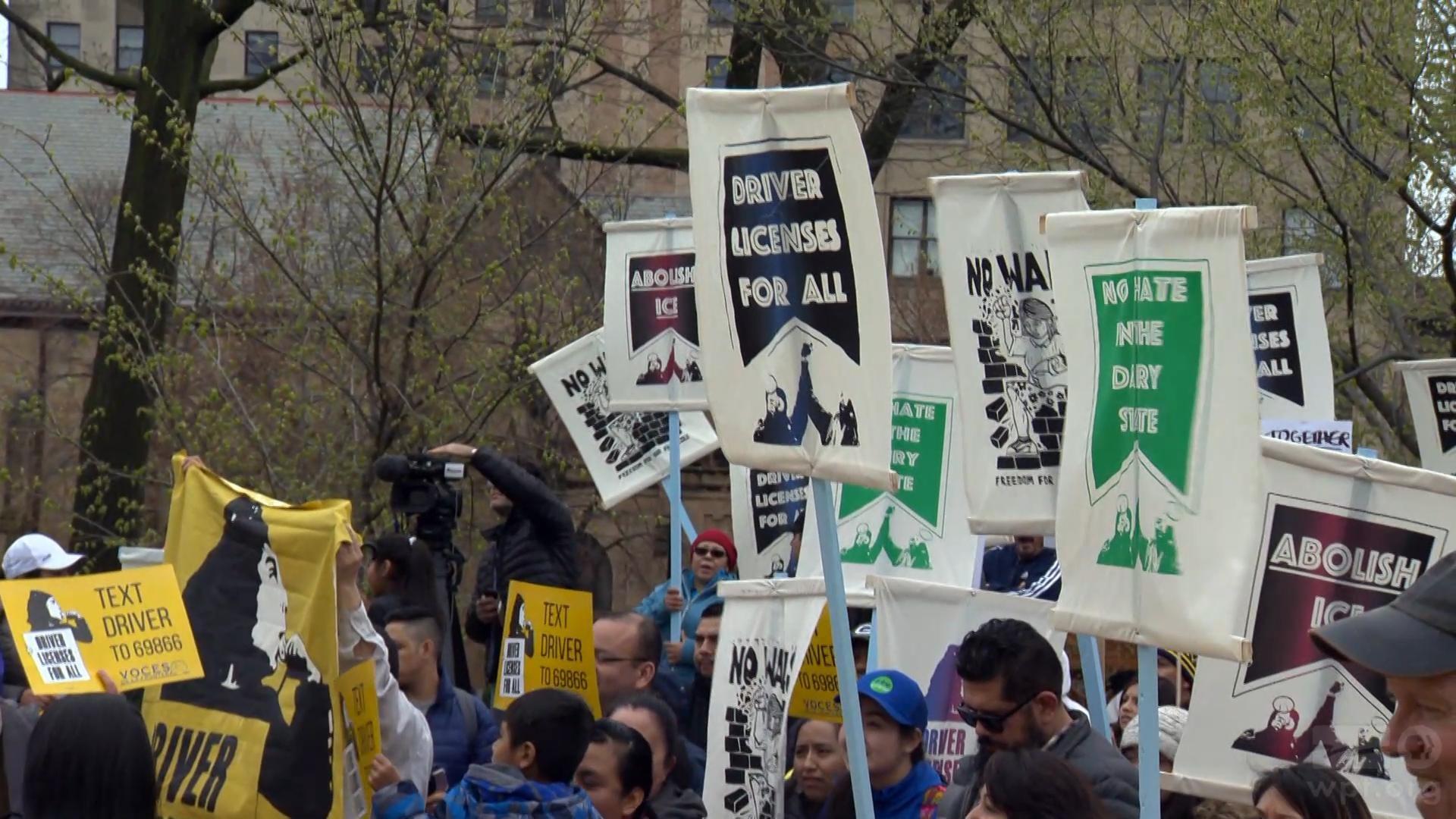 Immigrant Rights Supporters Push for Licenses
Thousands of protesters gathered around the Capitol for a May Day push to allow undocumented immigrants to be eligible for driver licenses.
May 3, 2019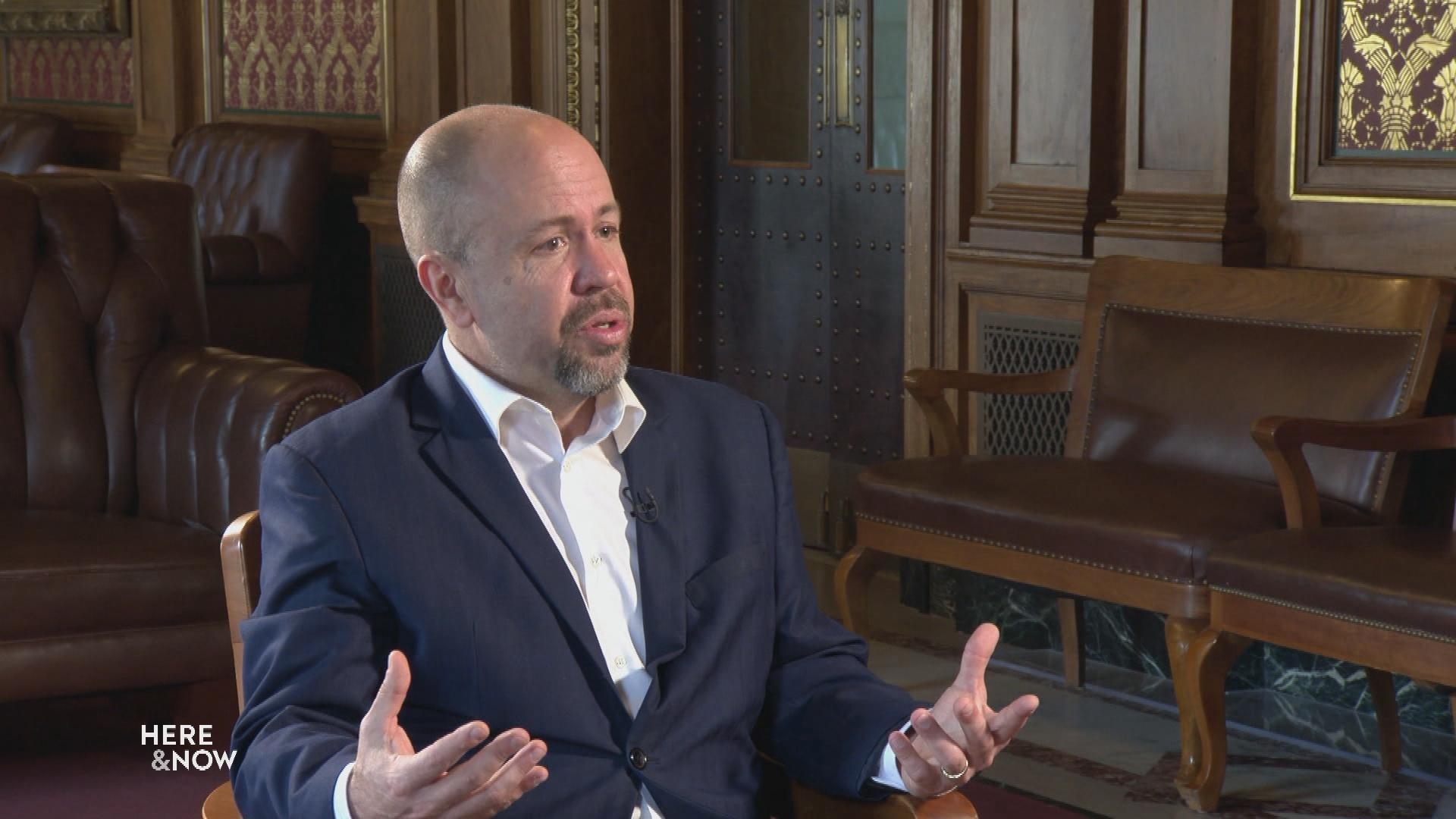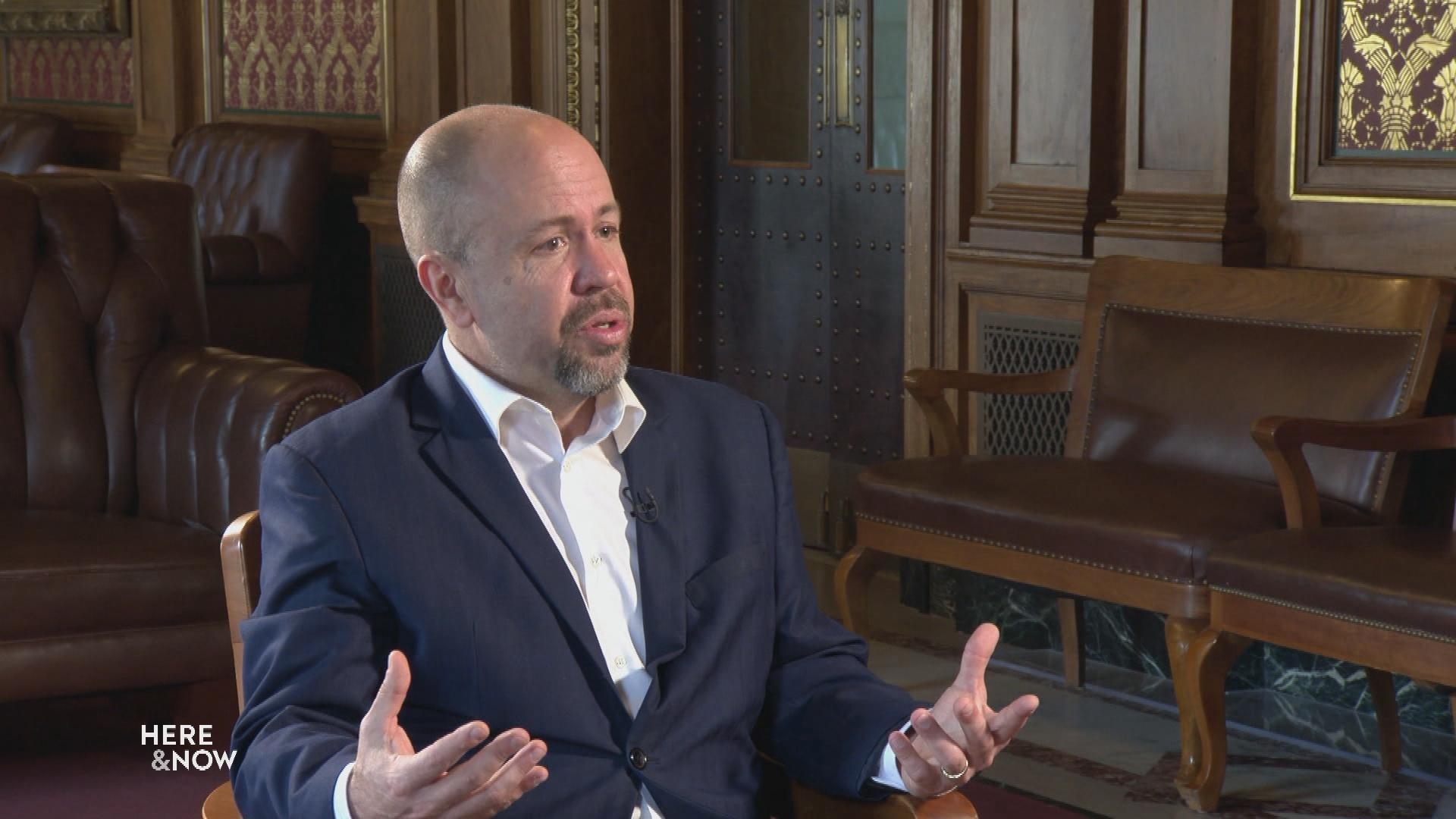 Homelessness Funding Works through Legislature
The legislature is proposing $3.75 million to help prevent homelessness in the state. Here & Now shares the story of Jivonte Davis who experienced homelessness in Madison, and Assembly Majority Leader Jim Steineke, R-Kaukauna, breaks down the legislative proposal.
April 26, 2019 • South Central Region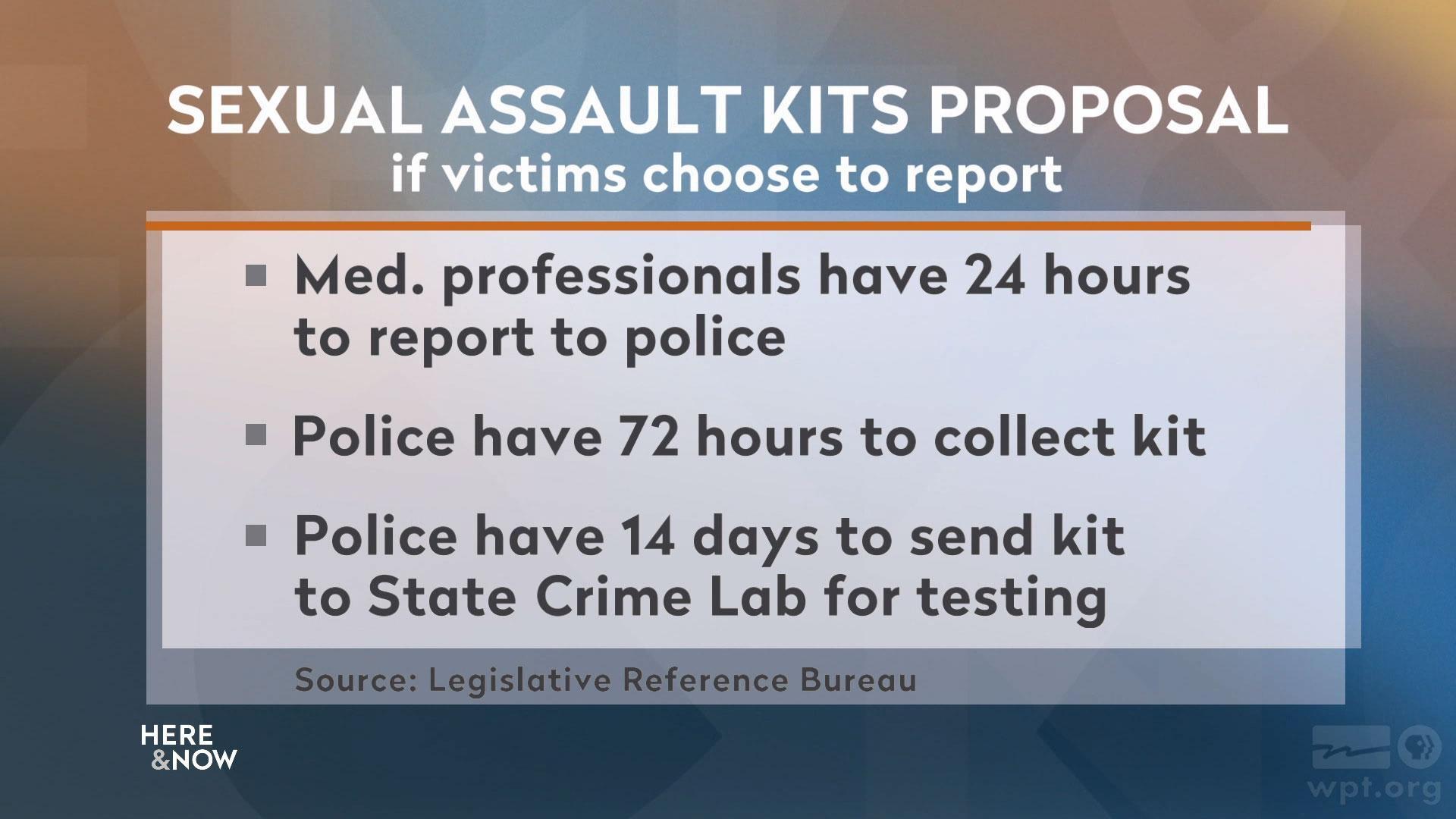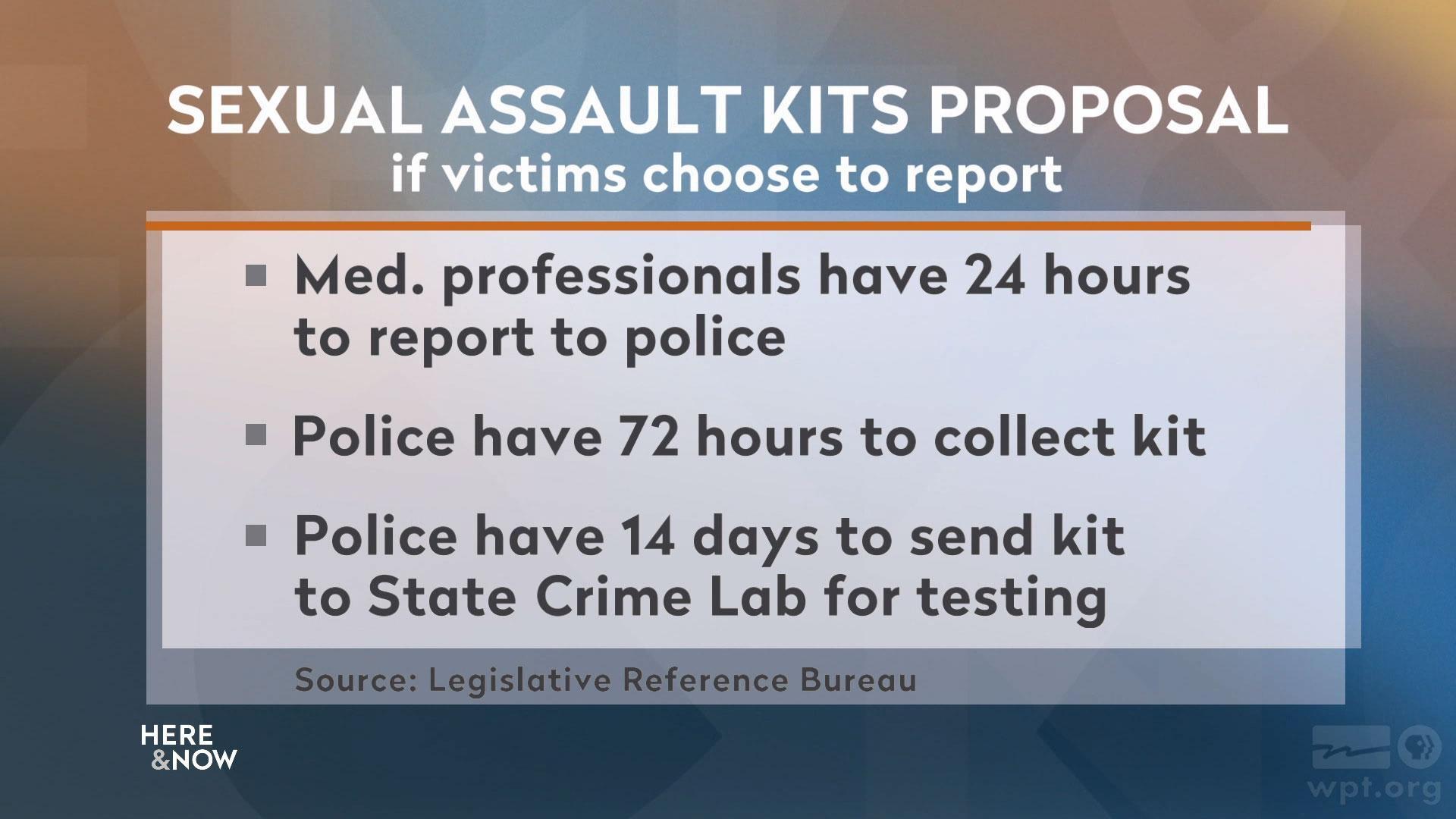 Details on Sexual Assault Evidence Kit Bill
An update on the details of new legislation codifying how the state deals with the collection of sexual assault evidence kits.
April 26, 2019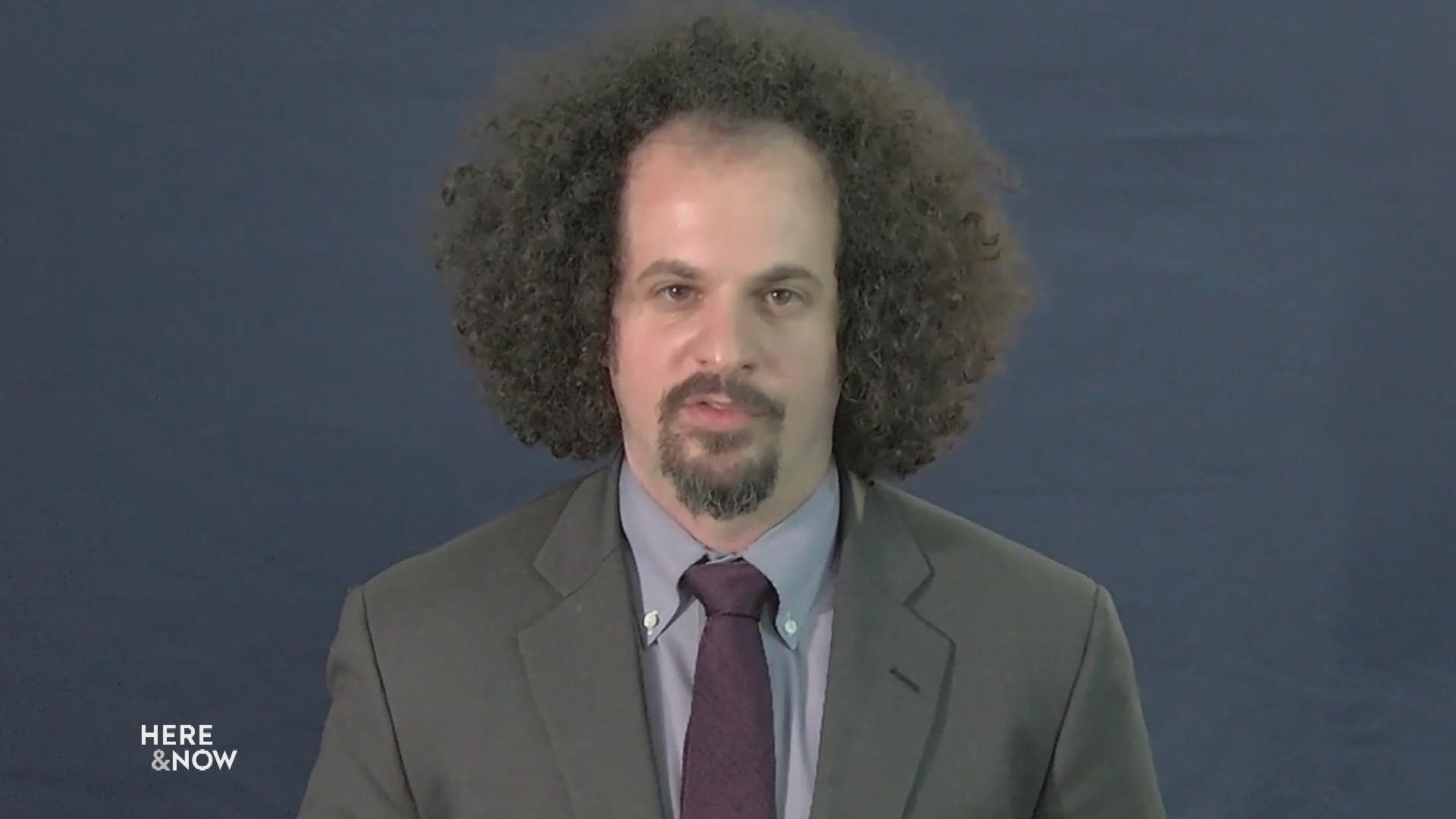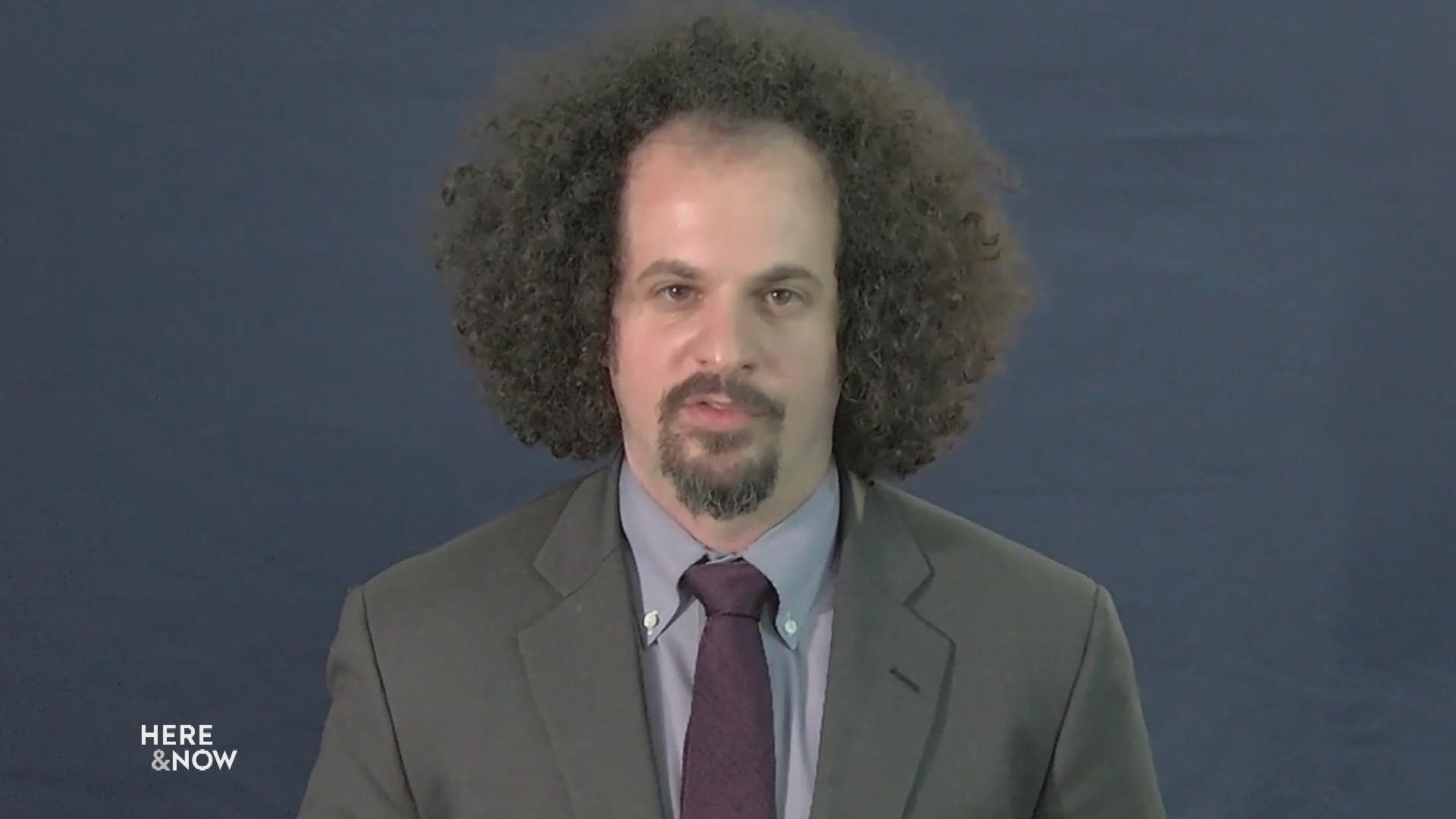 State Rep Grows Hair to Push for Legislation
Rep. Jonathan Brostoff, D-Milwaukee, has traditionally had close-cropped hair, but is now growing it out to raise awareness for legislation addressing a shortage in skilled sign language interpreters. He says he is doing so to "let them know I'm with them, that I'm and ally." He adds that he wants to make sure people in sensitive situations like hospitals "are getting appropriate care."
April 26, 2019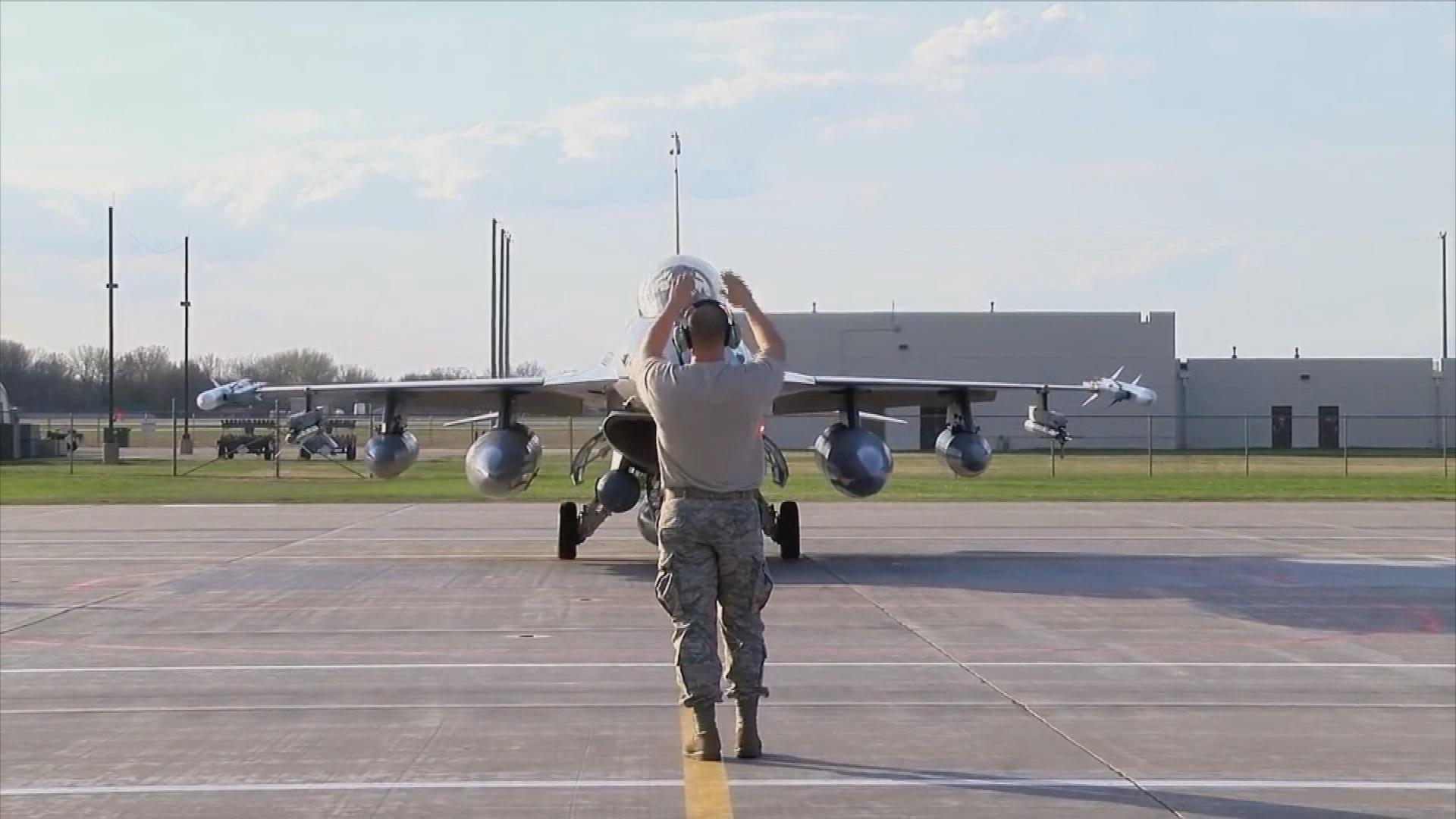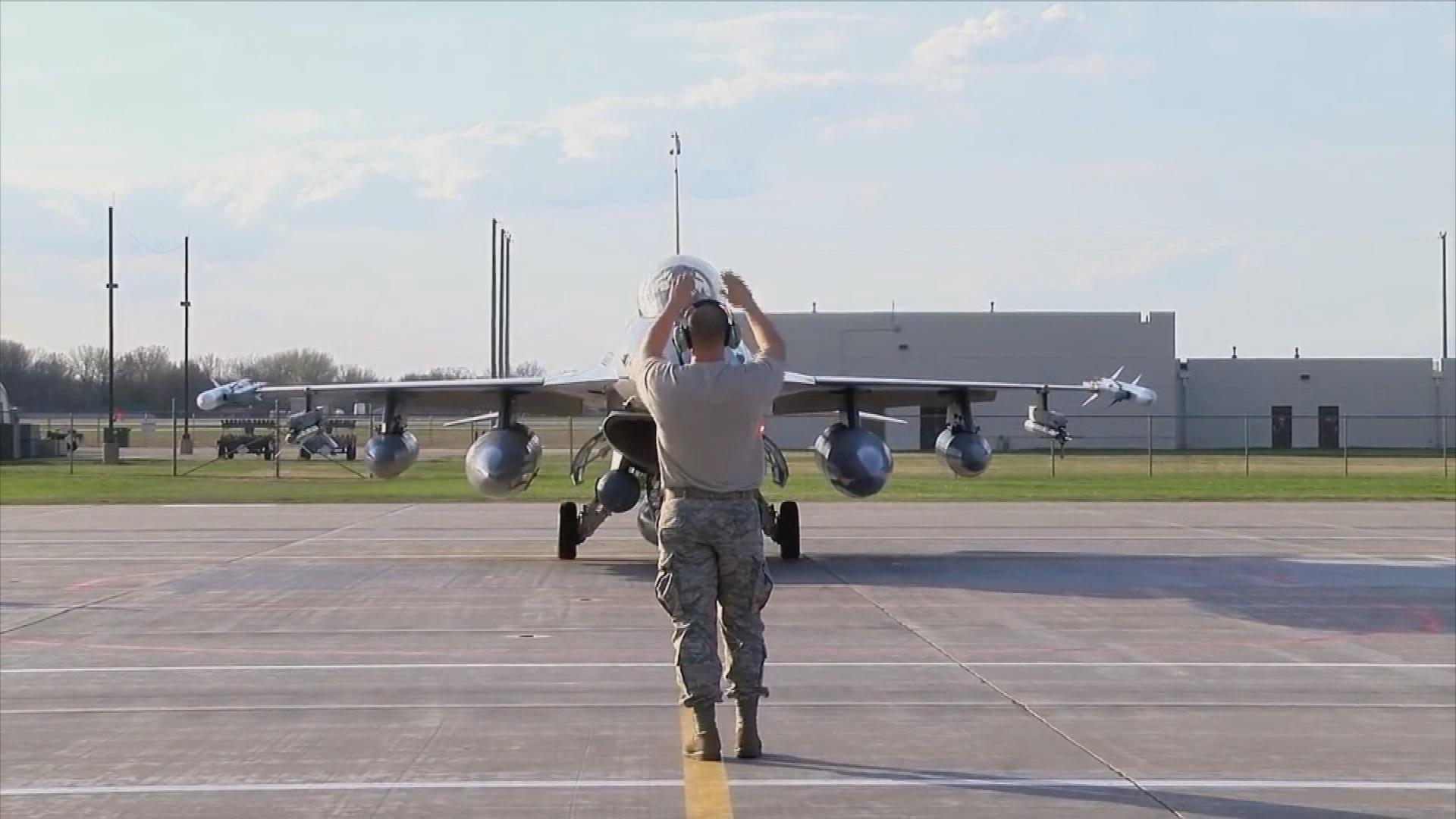 Feds to Investigate Sexual Assault in Wis. Nat. Guard
Federal authorities will investigate allegations of sexual assault in the Wisconsin National Guard.
April 26, 2019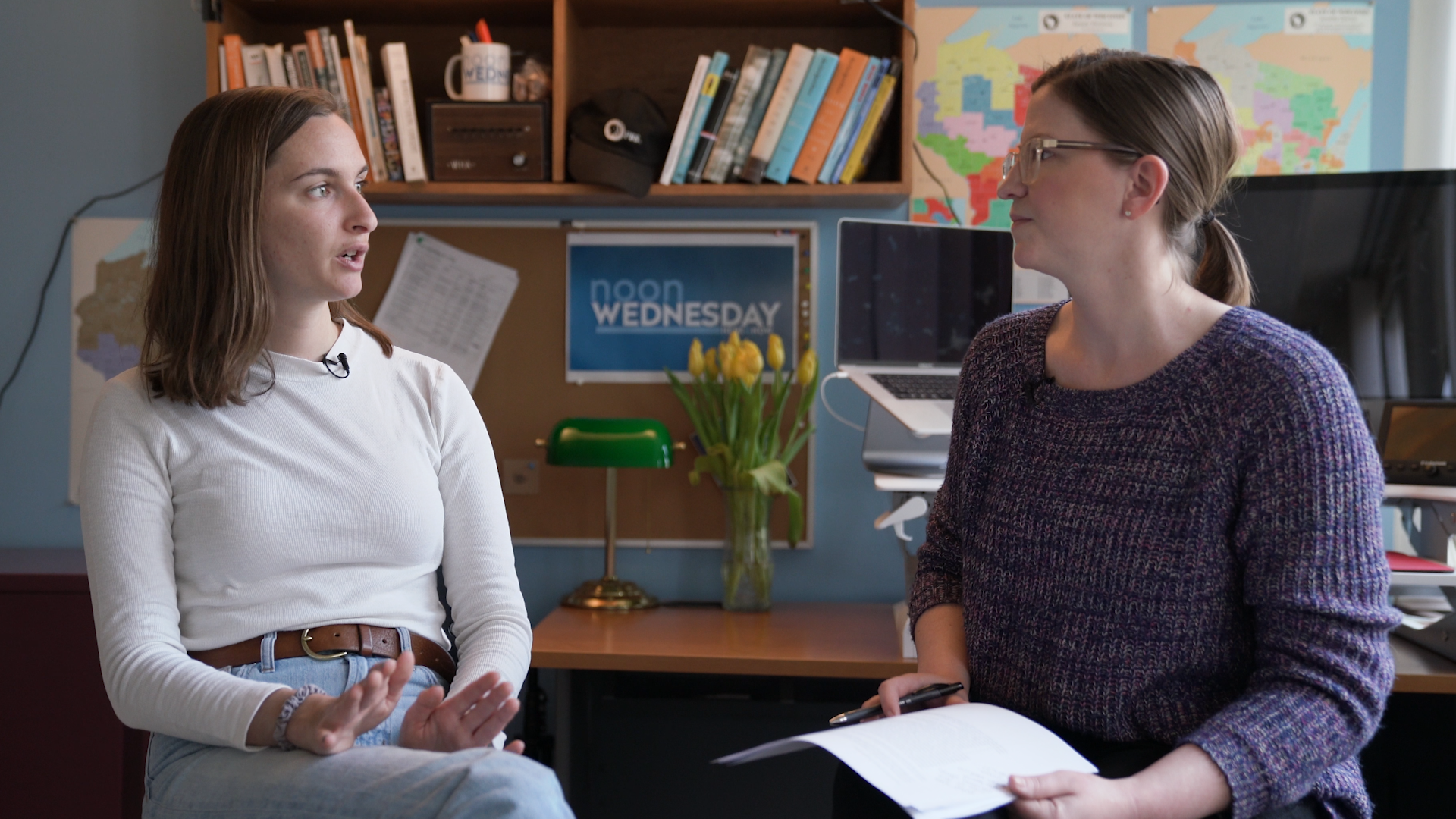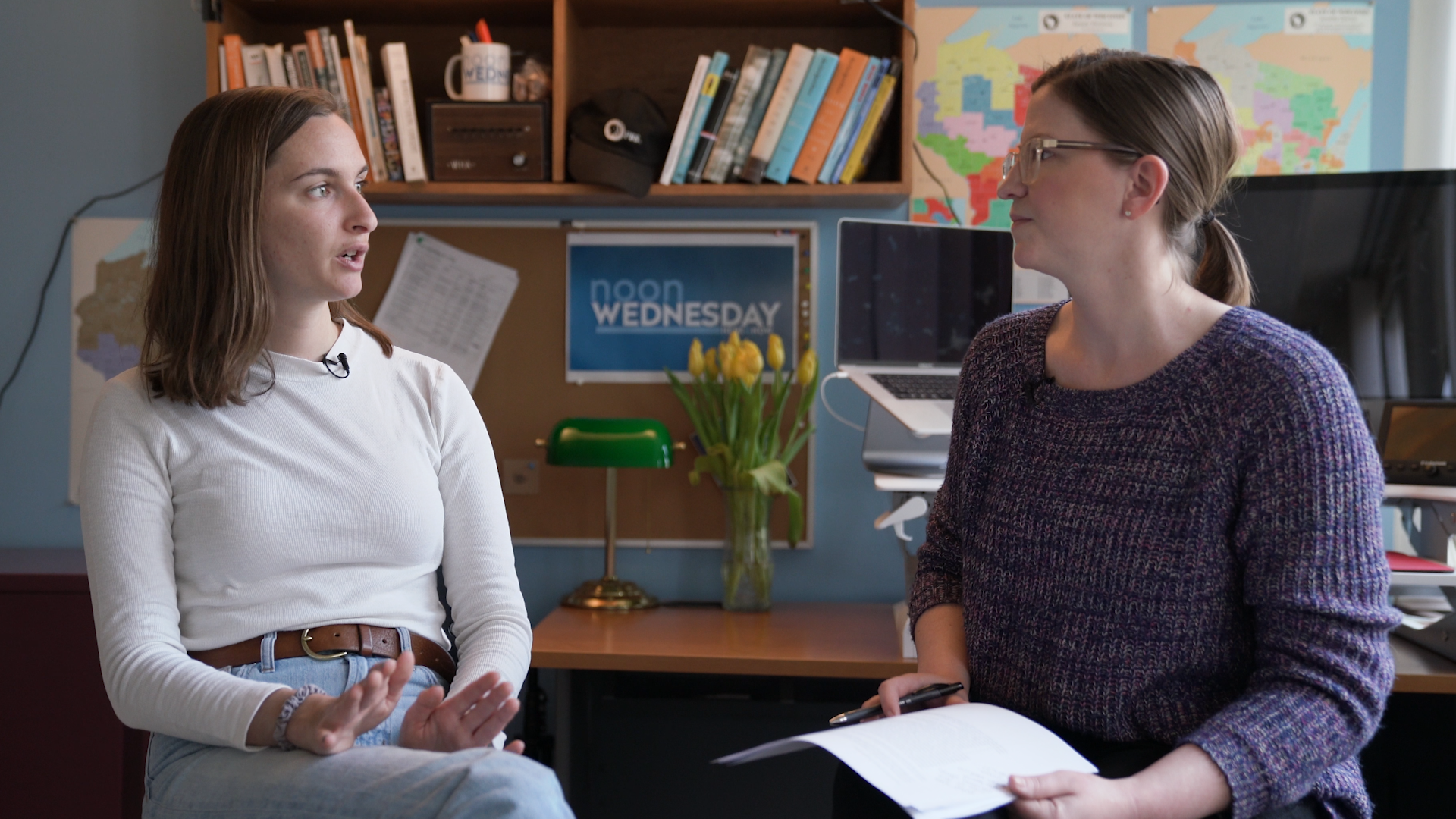 Noon Wednesday: Cannabis in Wisconsin?
Wisconsin is not following the national trend to legalize any form of marijuana, even though 33 states have passed laws for legal medicinal use and 10 states have laws for legal recreational use. Suzie Kazar, a student journalist with the Wisconsin Center for Investigative Journalist, talks about how Wisconsin compares with the rest of the country on the question of legalization.
April 24, 2019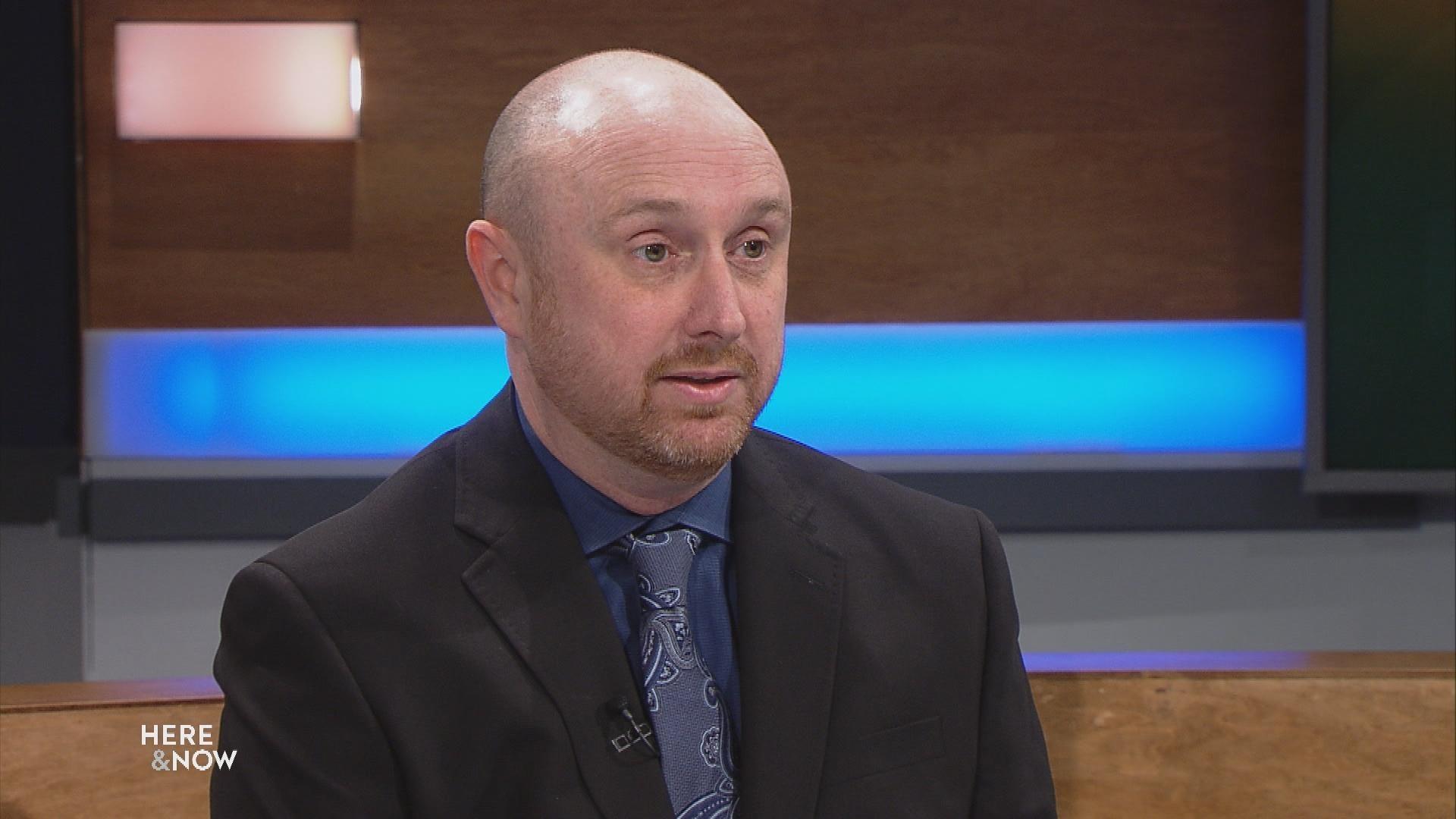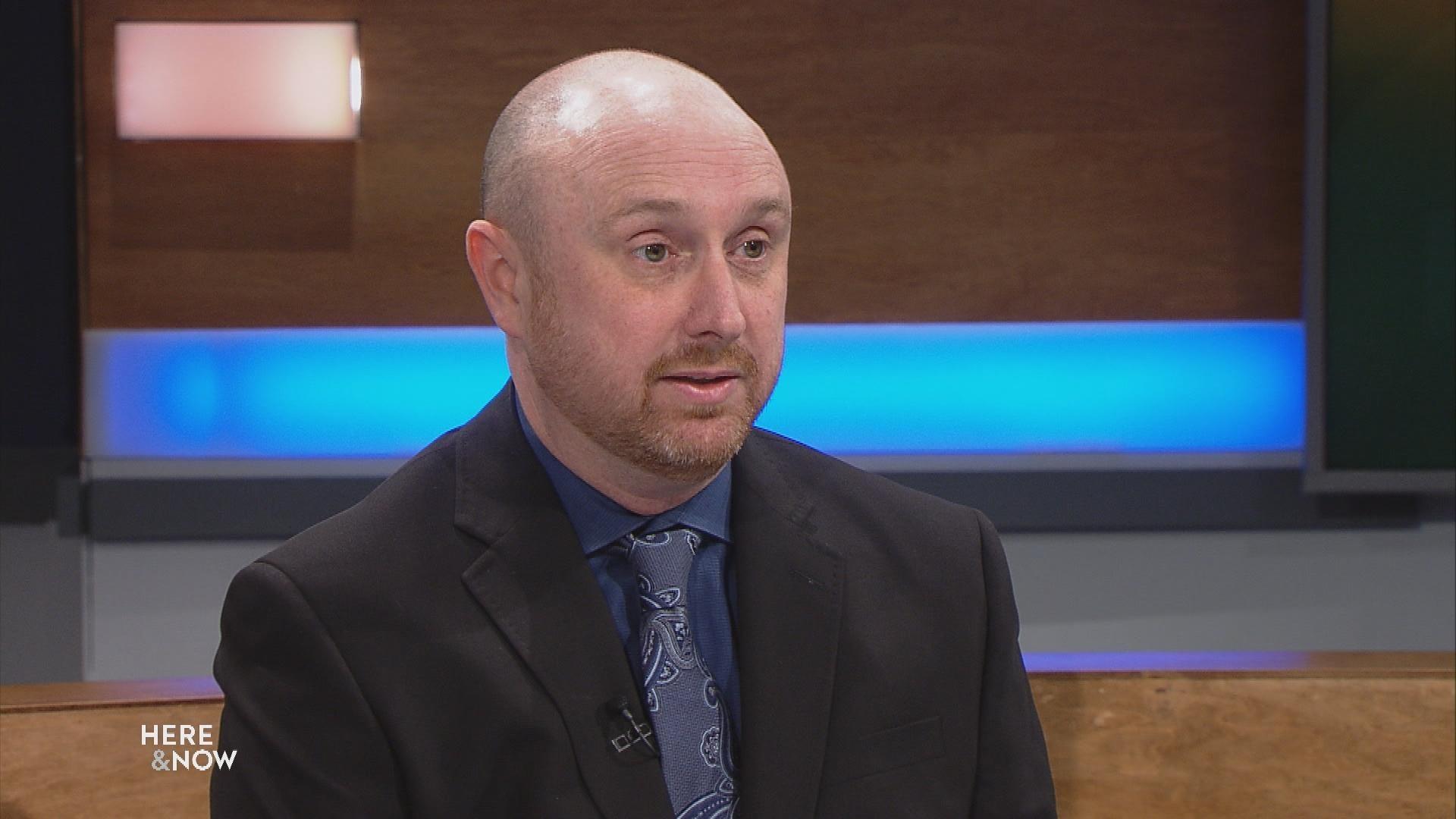 New Law Would Standardize Sexual Assault Evidence Collection
State legislators propose a new bill to standardize existing practices for collecting sexual assault evidence kits, which has received bipartisan support. Breaking down what this means for survivors and first responders is Ian Henderson of the Wisconsin Coalition Against Sexual Assault. He says the lack of uniformity has created uncertainty in what information sexual assault survivors are given.
April 19, 2019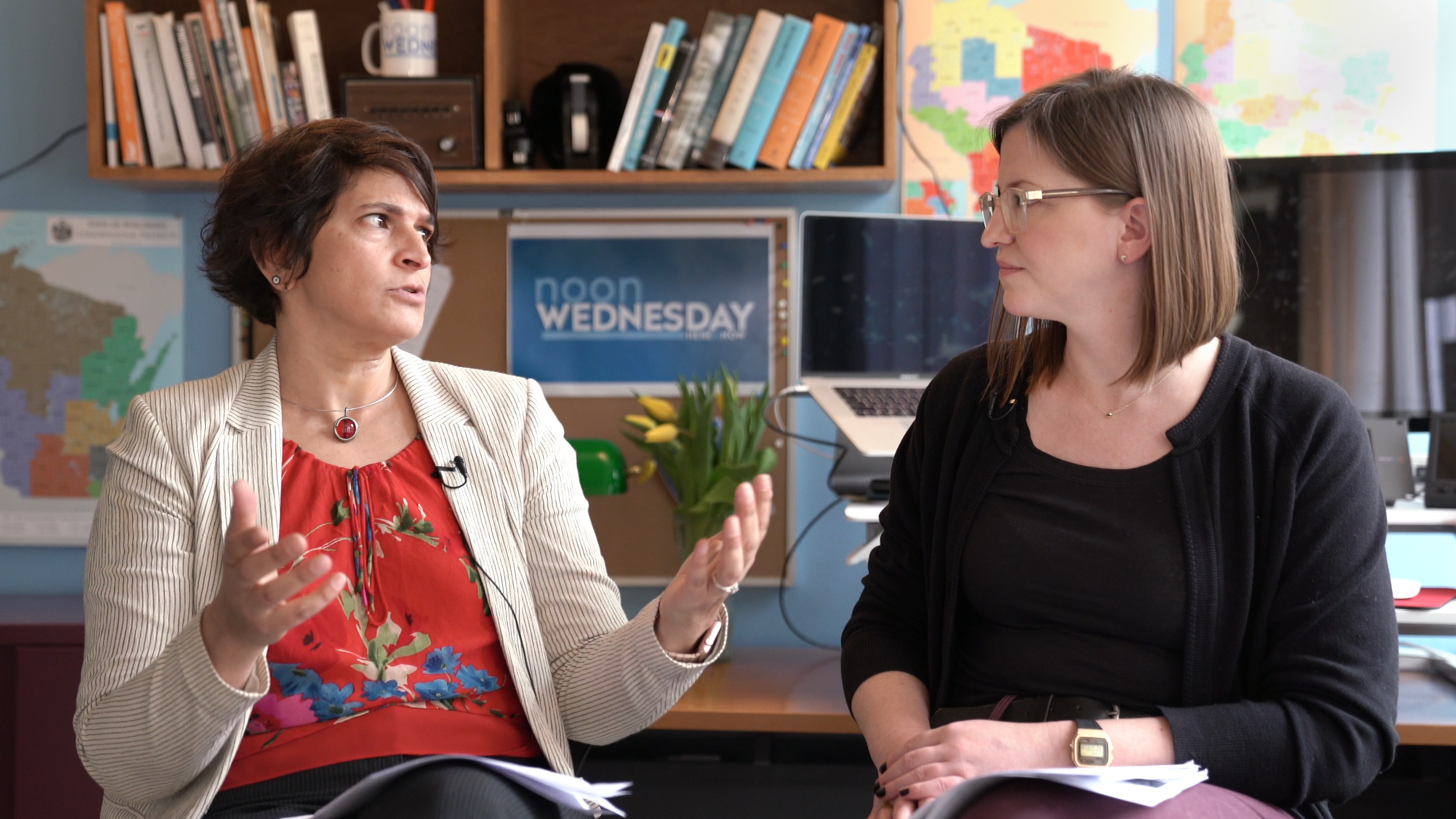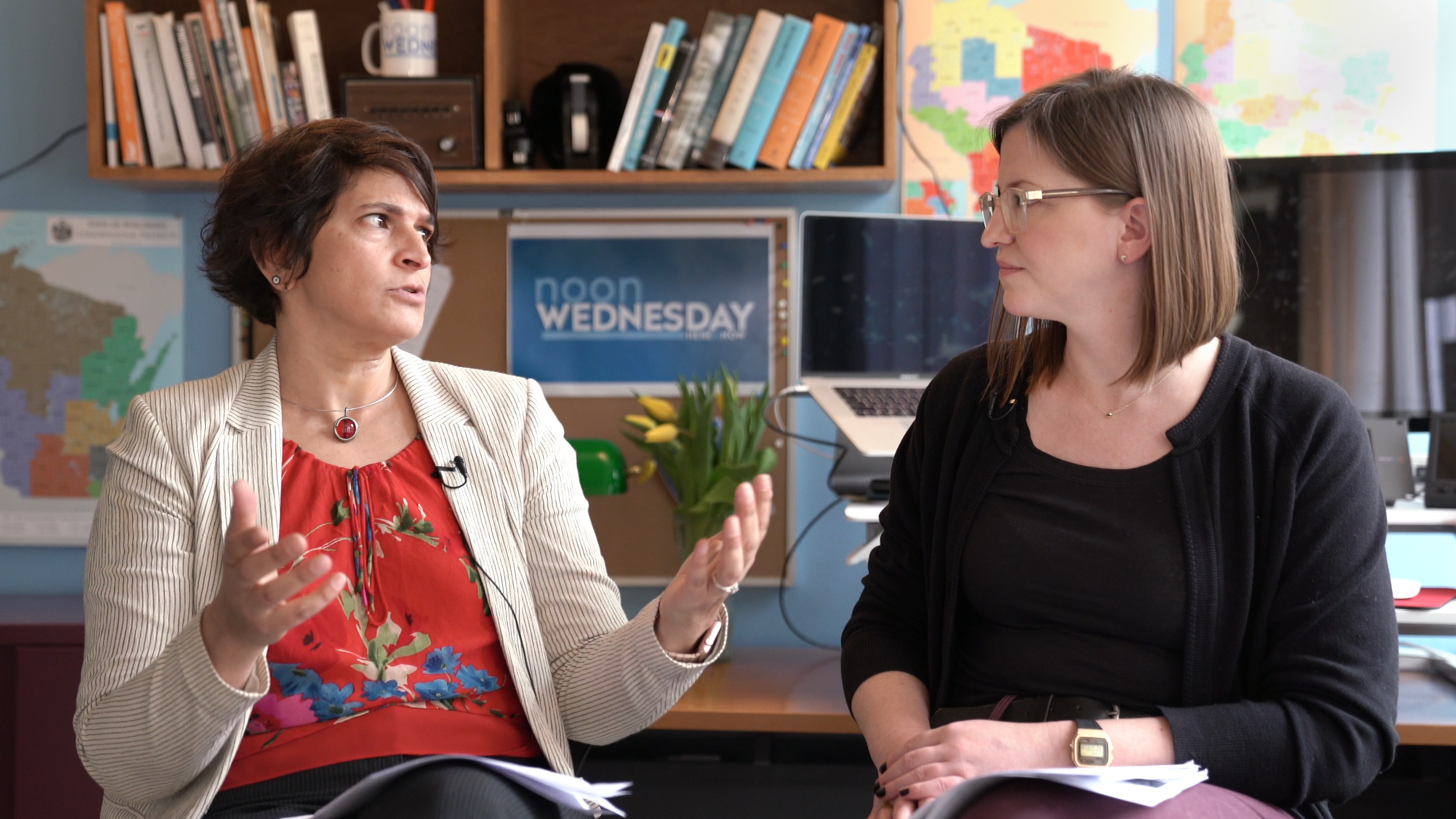 Noon Wednesday: Where Does Misinformation About Islamic Law Lie
Asifa Quraishi-Landes is professor of U.S. constitutional law and of Islamic law. Despite these two systems being very different from one another, many think that Islamic law has to do with the government. As a Muslim American and expert in these two fields, Quraishi-Landes talks about where misinformation about Islamic law lies, as well as what Islamic law is - and is not.
April 17, 2019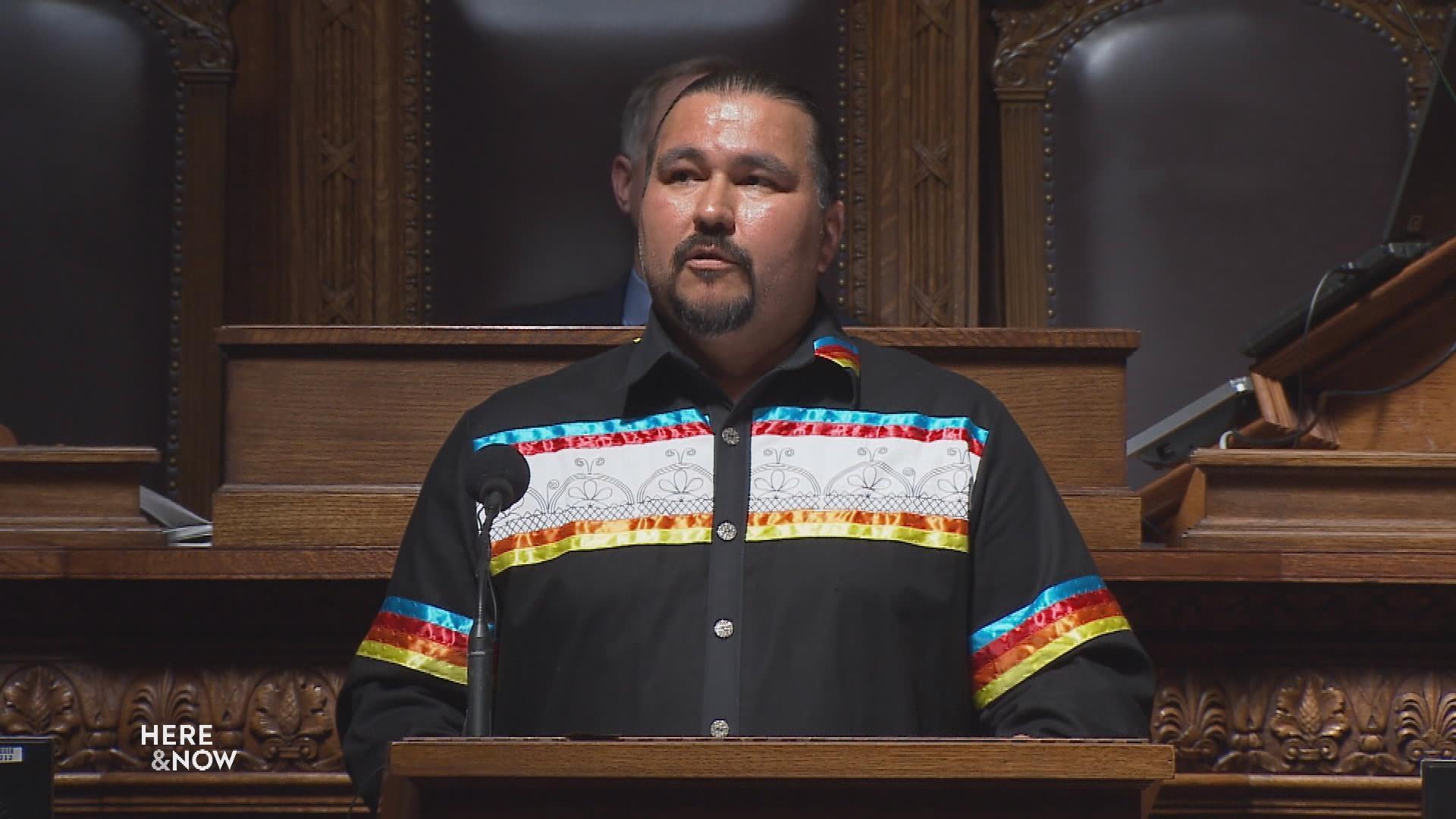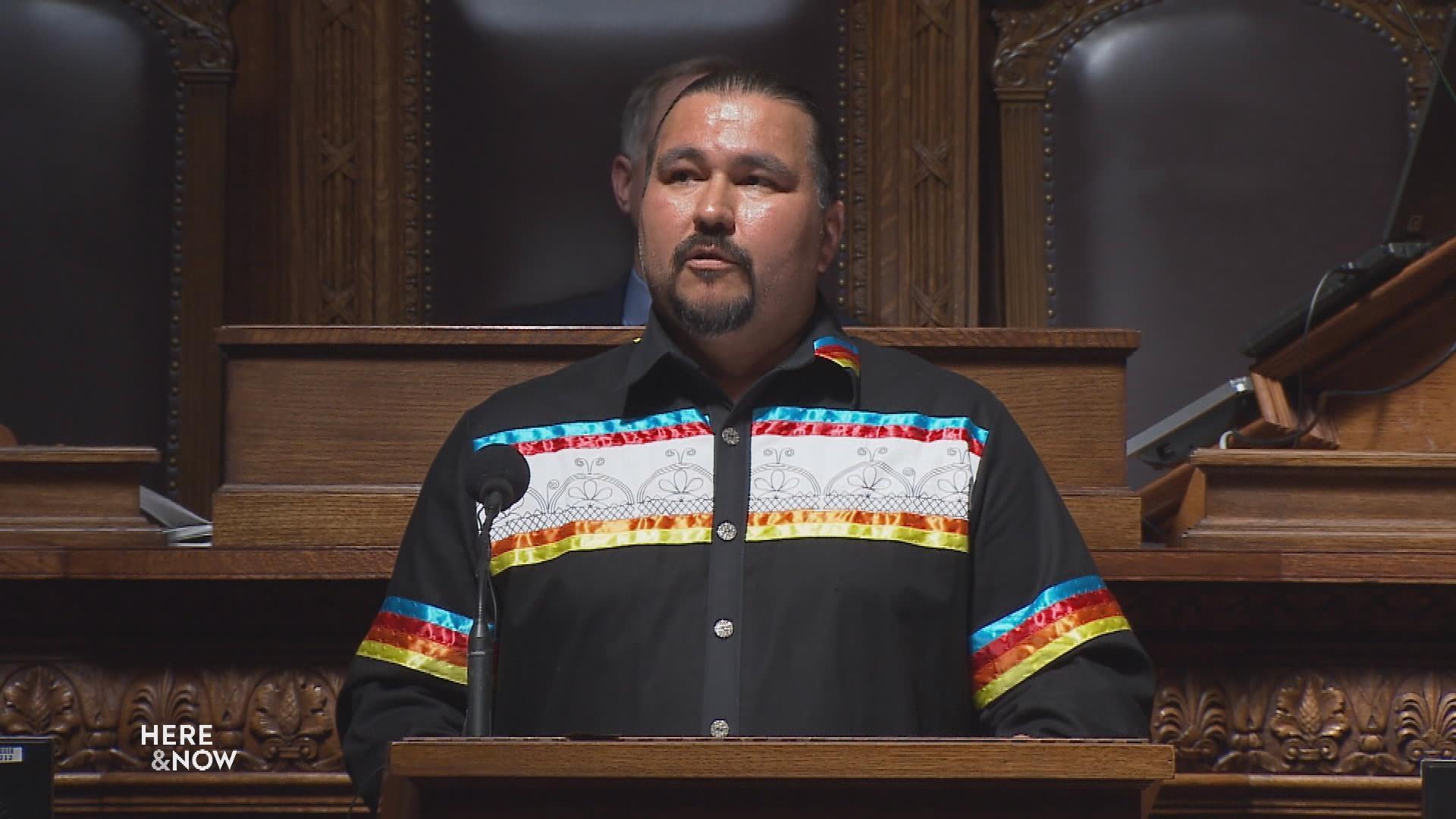 Oneida Nation Chairman Tehassi Hill delivered the 2019 State of the Tribes address Tuesday. He covered a lot of ground: American Indian mascots, global warming, and chronic wasting disease are just a few of the issues he brought to the joint session of the state legislature.
April 12, 2019
Mike Leckrone's storied 50-year career at the helm of the UW-Madison bands will come to an end in May. Here's a look back at his tenure, and a preview to his final concerts this weekend.
April 12, 2019 • South Central Region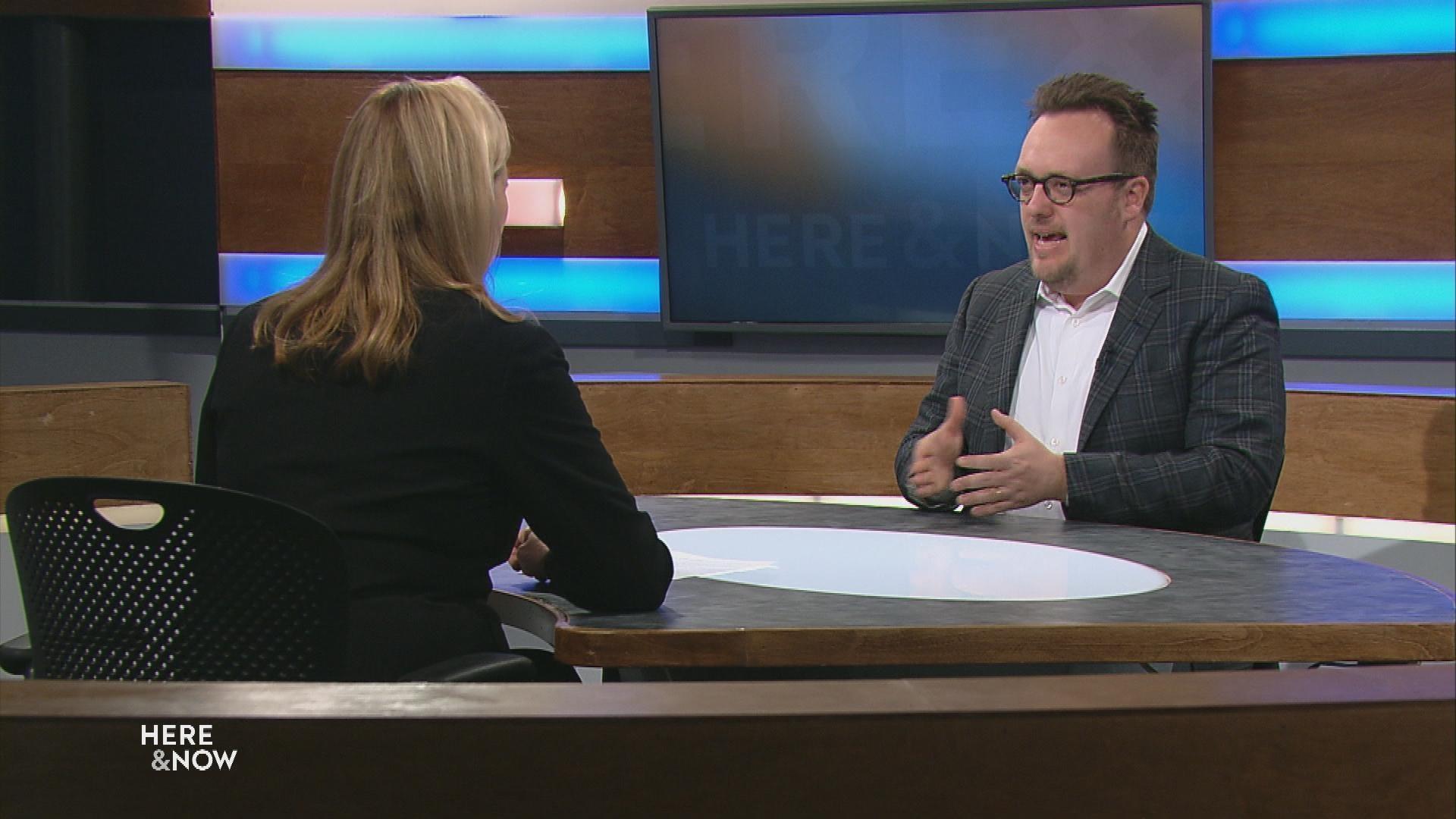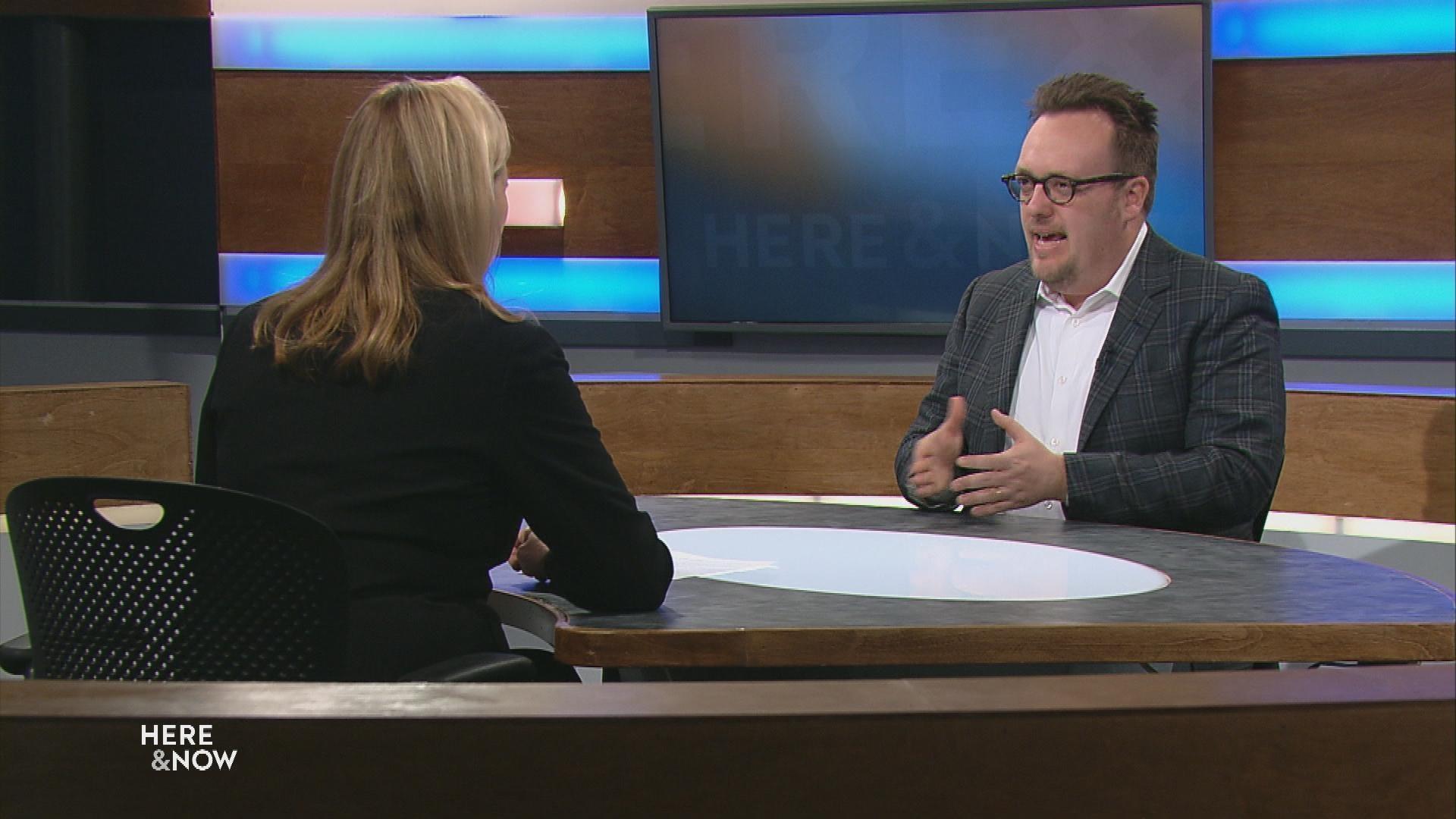 How Balanced is Wisconsin's Media Diet?
UW-Madison journalism professor Michael Wagner discusses a new article he co-authored that looks at Wisconsin's media diet and partisan leanings. He says that as the country becomes more polarized, fewer people are inclined to split their ticket in the voting booth.
April 5, 2019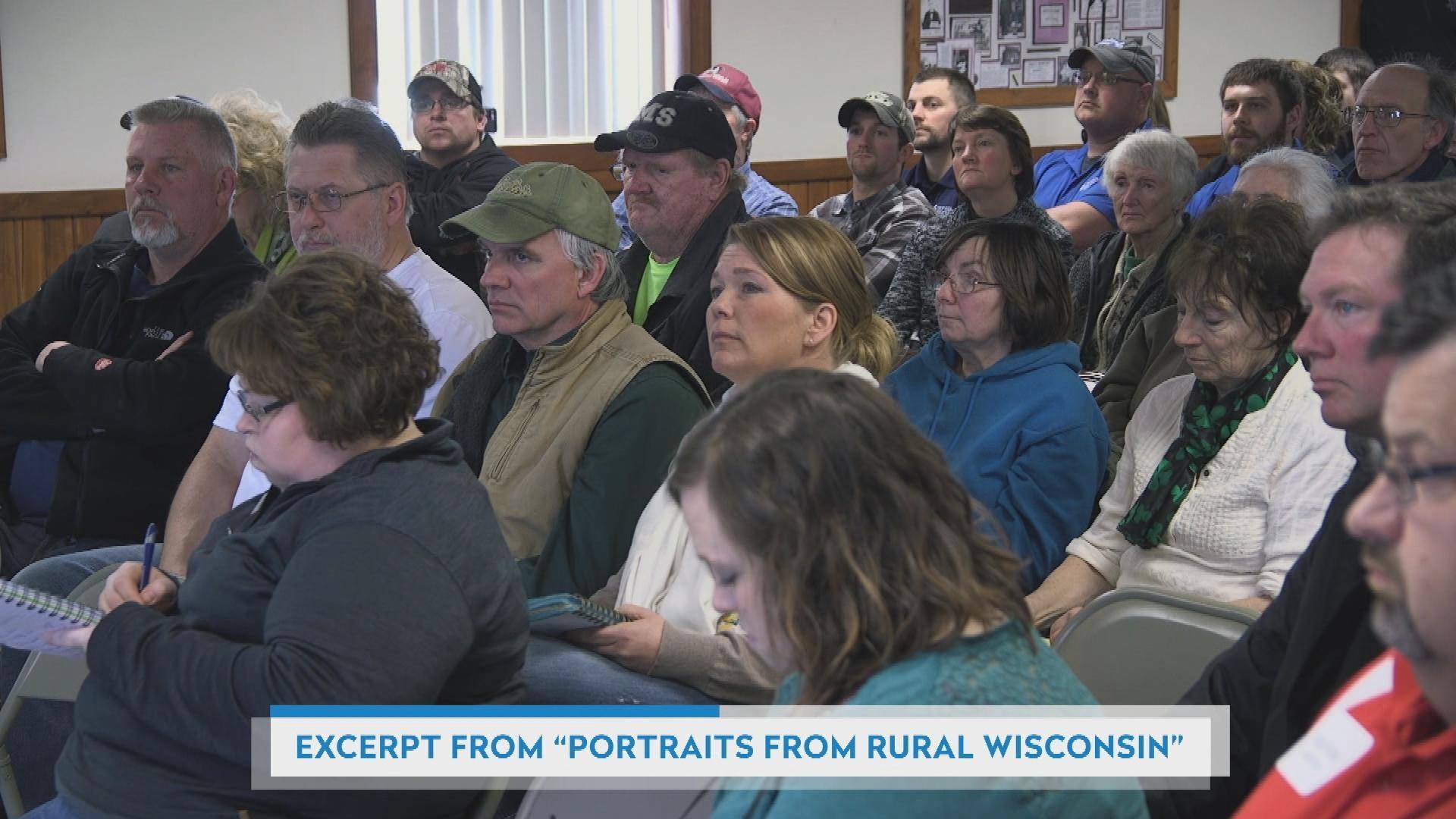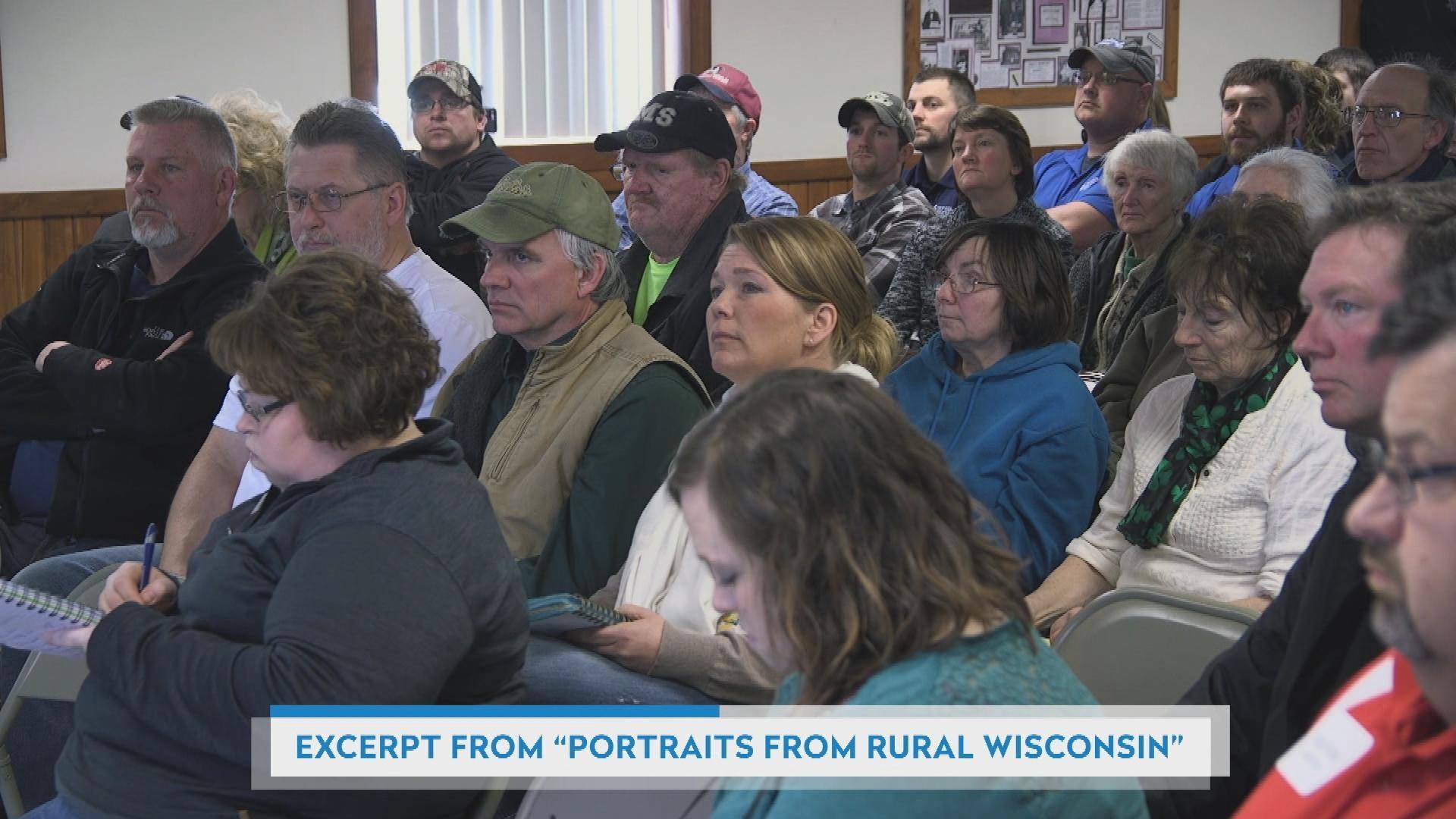 WPT Shows Portraits of Life in Rural Wisconsin
WPT producer Andy Soth provides an excerpt from his upcoming documentary "Portraits from Rural Wisconsin."
April 5, 2019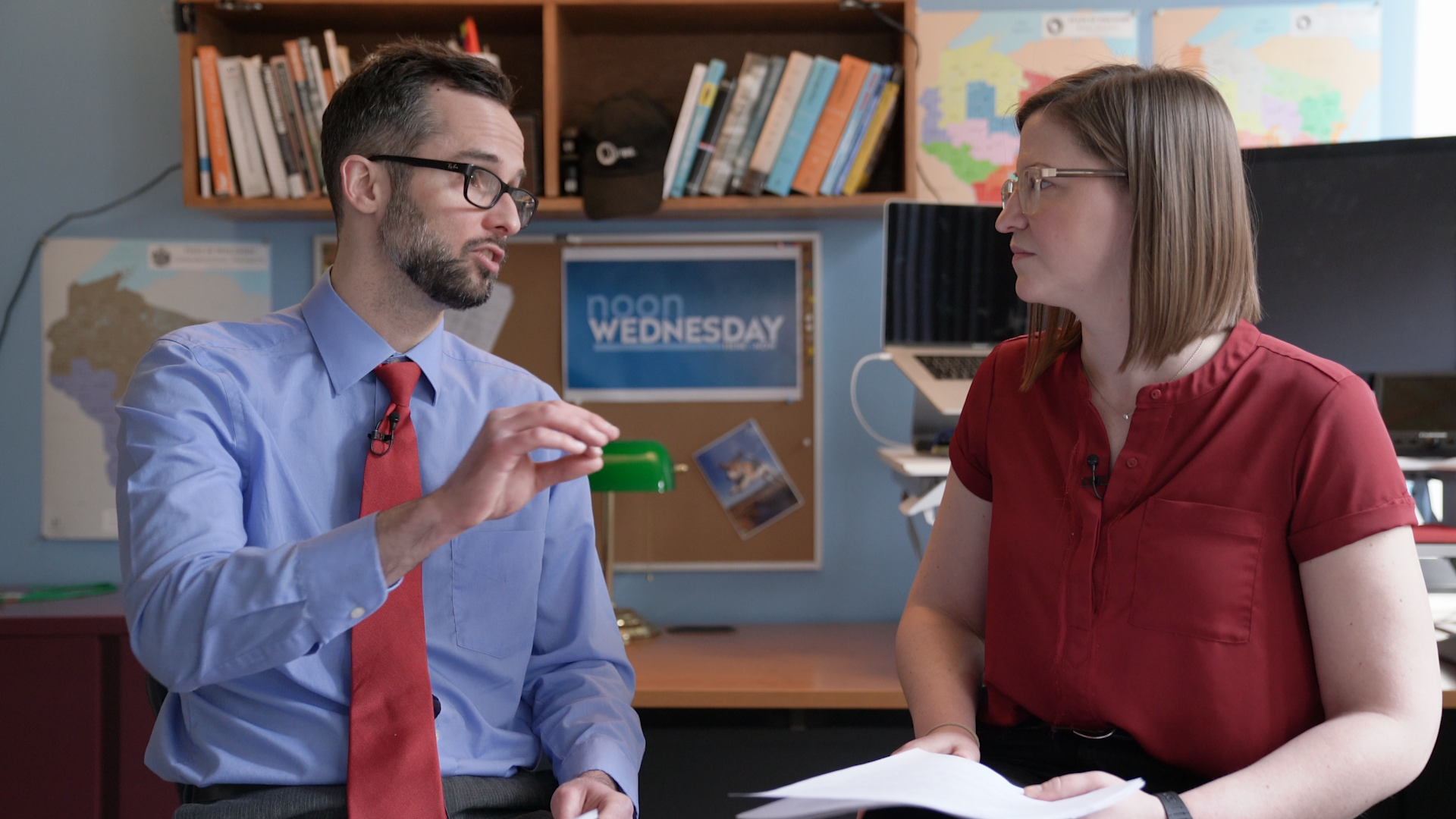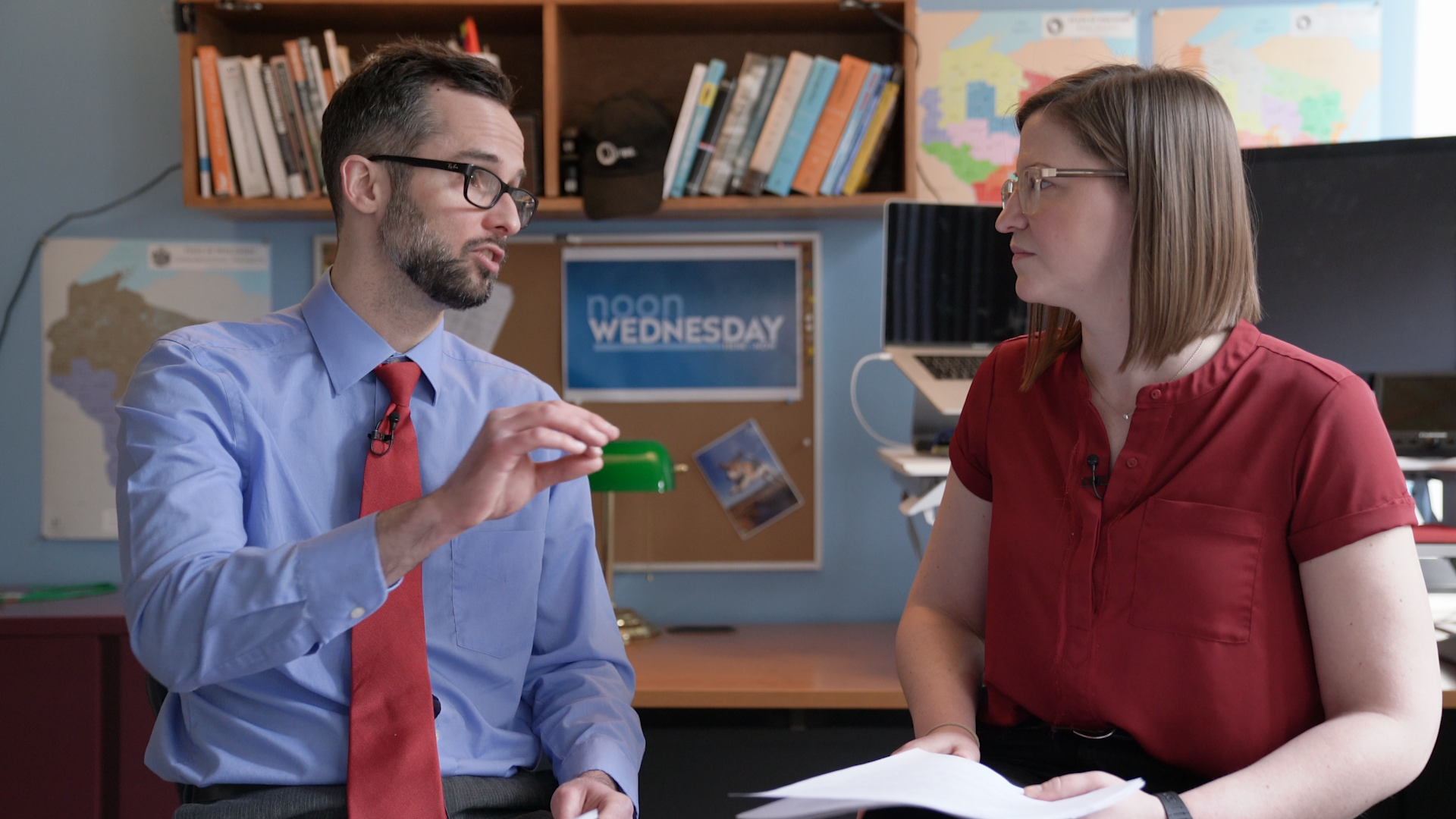 Noon Wednesday: Mark Sommerhauser Gives Context to Lame Duck Laws
With four lame duck lawsuits pending and two of them having been ruled on in the last week, keeping tabs on what's going on can be difficult. Mark Sommerhauser from the Wisconsin State Journal joins us to talk about the lame duck lawsuits and provide some context around what's happening with this ongoing litigation.
March 27, 2019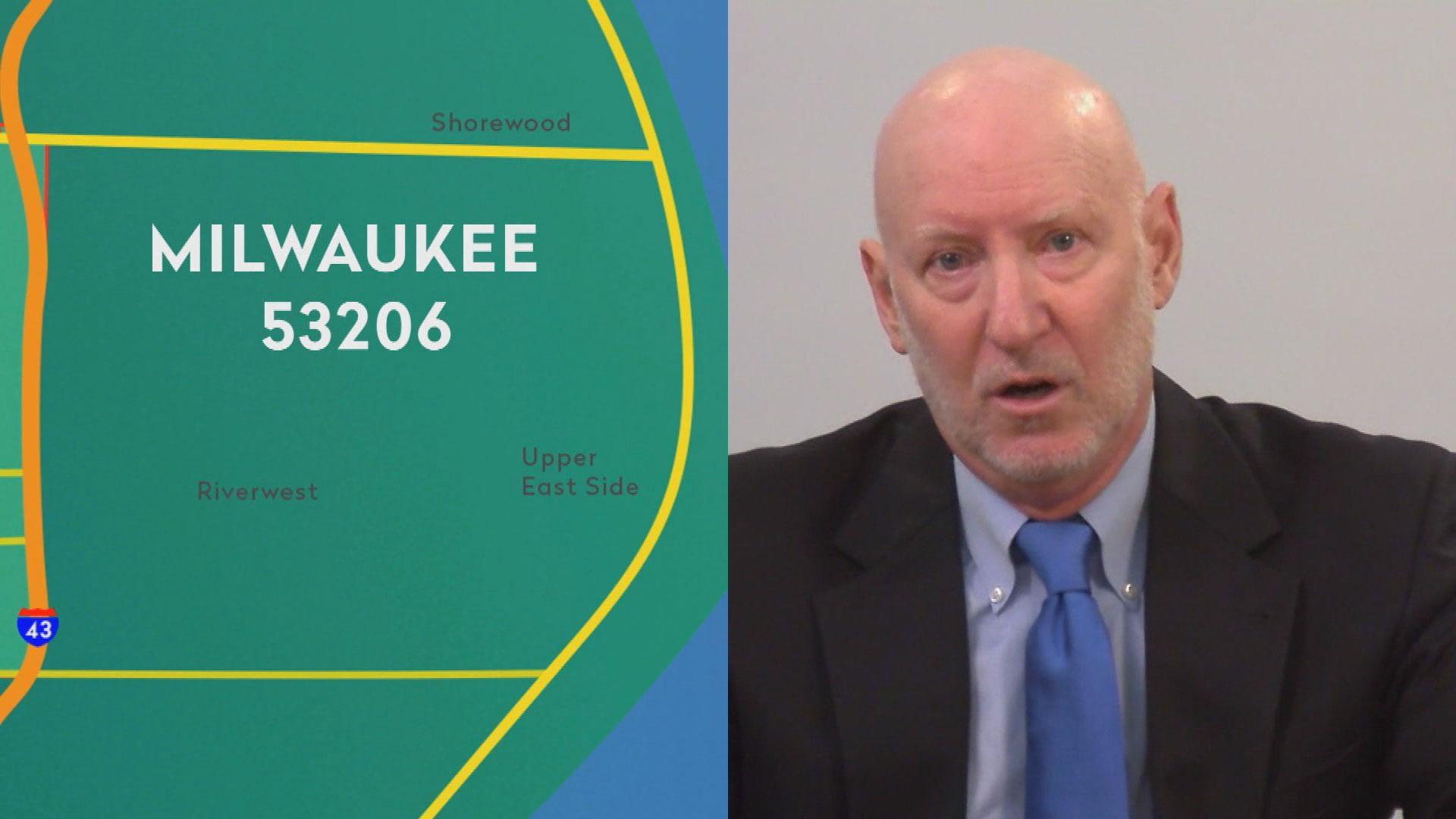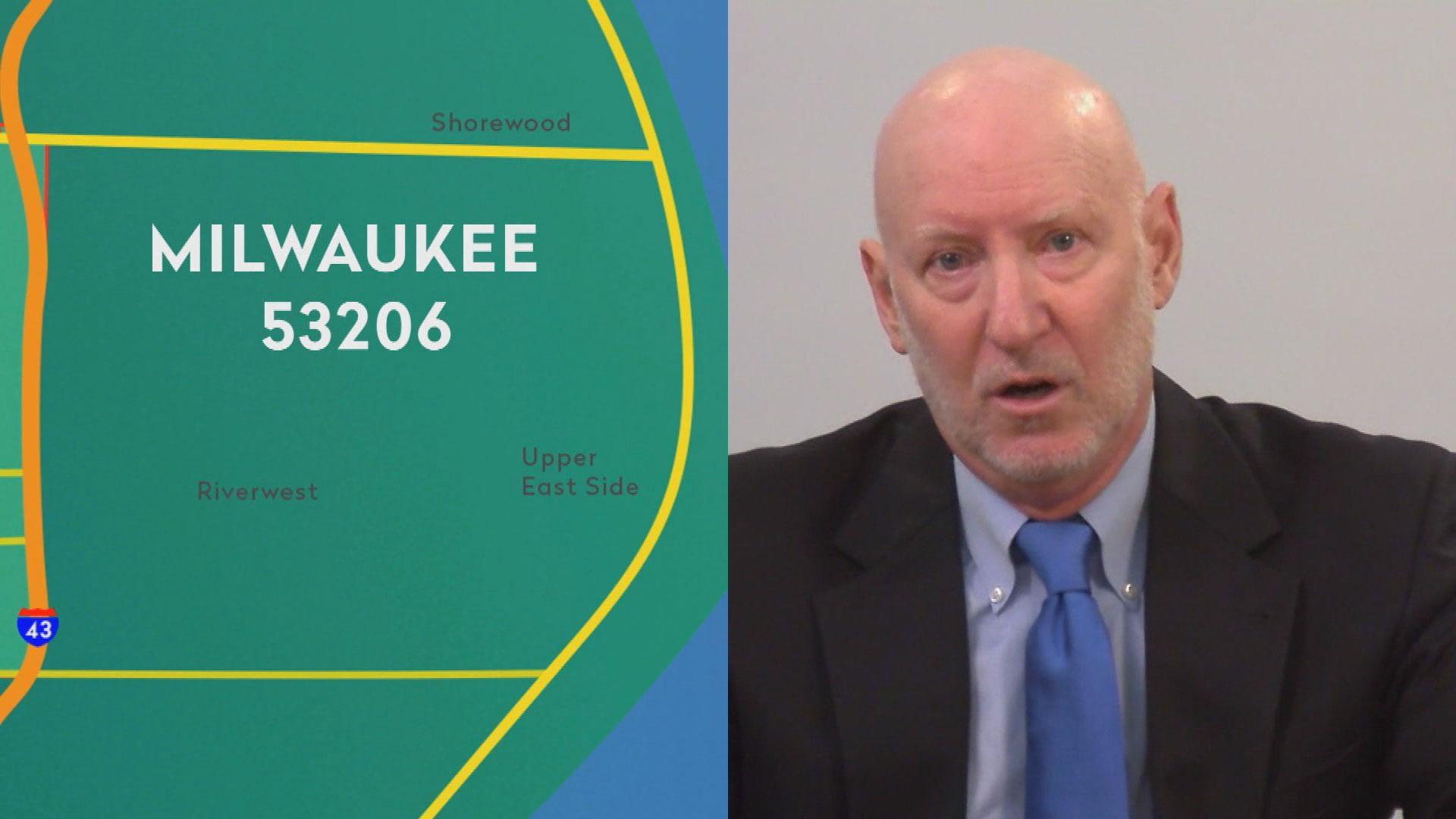 New Analysis Shows Challenges Milwaukee Faces
Marc Levine of UW-Milwaukee's Center for Economic Development, discusses his new analysis on one of Milwaukee's most impoverished ZIP codes: 53206. He says the area feels the effects of multiple disadvantages piled on top of one another, and that while the job market is improving, many are working at poverty-level employment.
March 15, 2019 • Southeast Region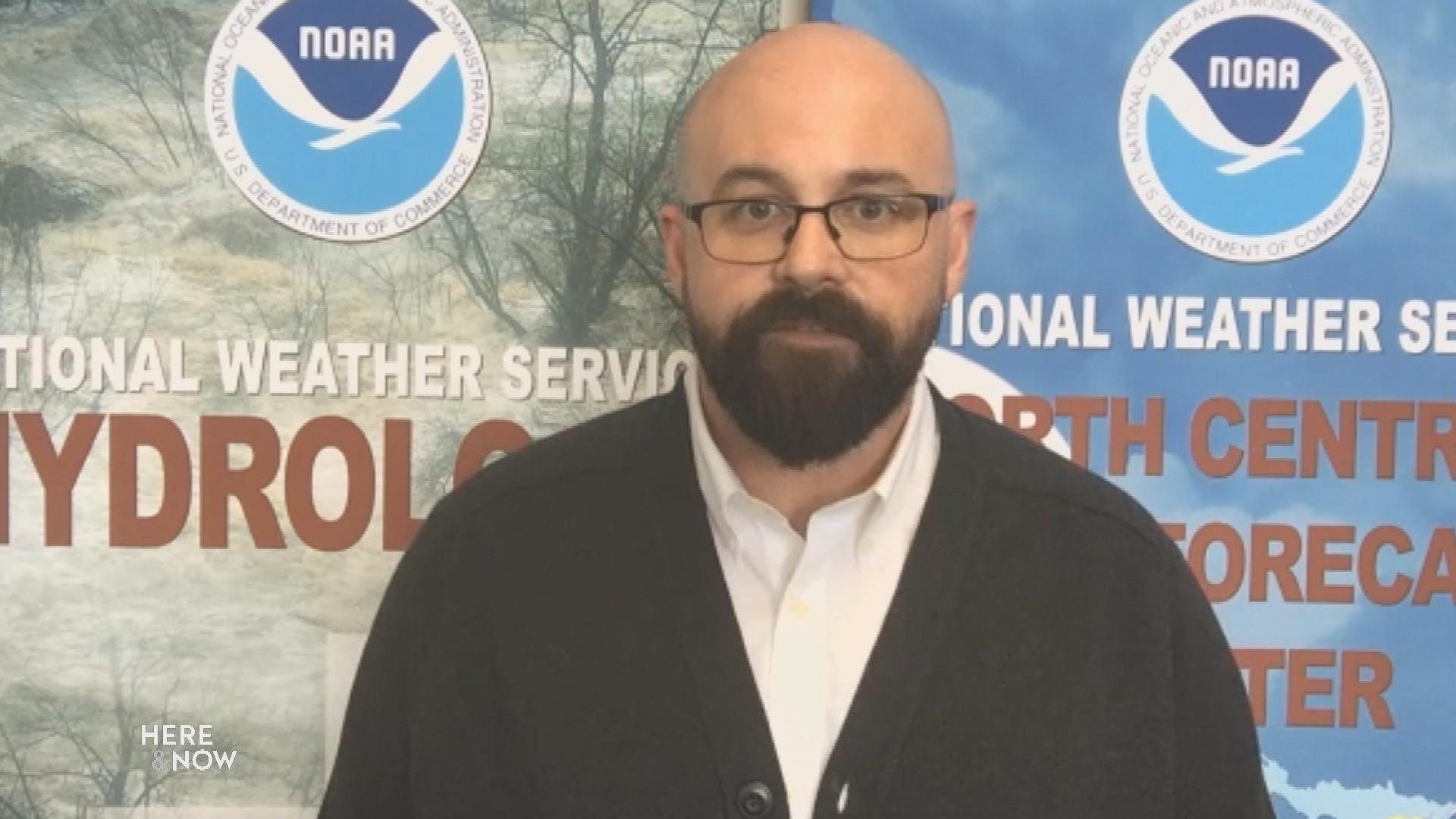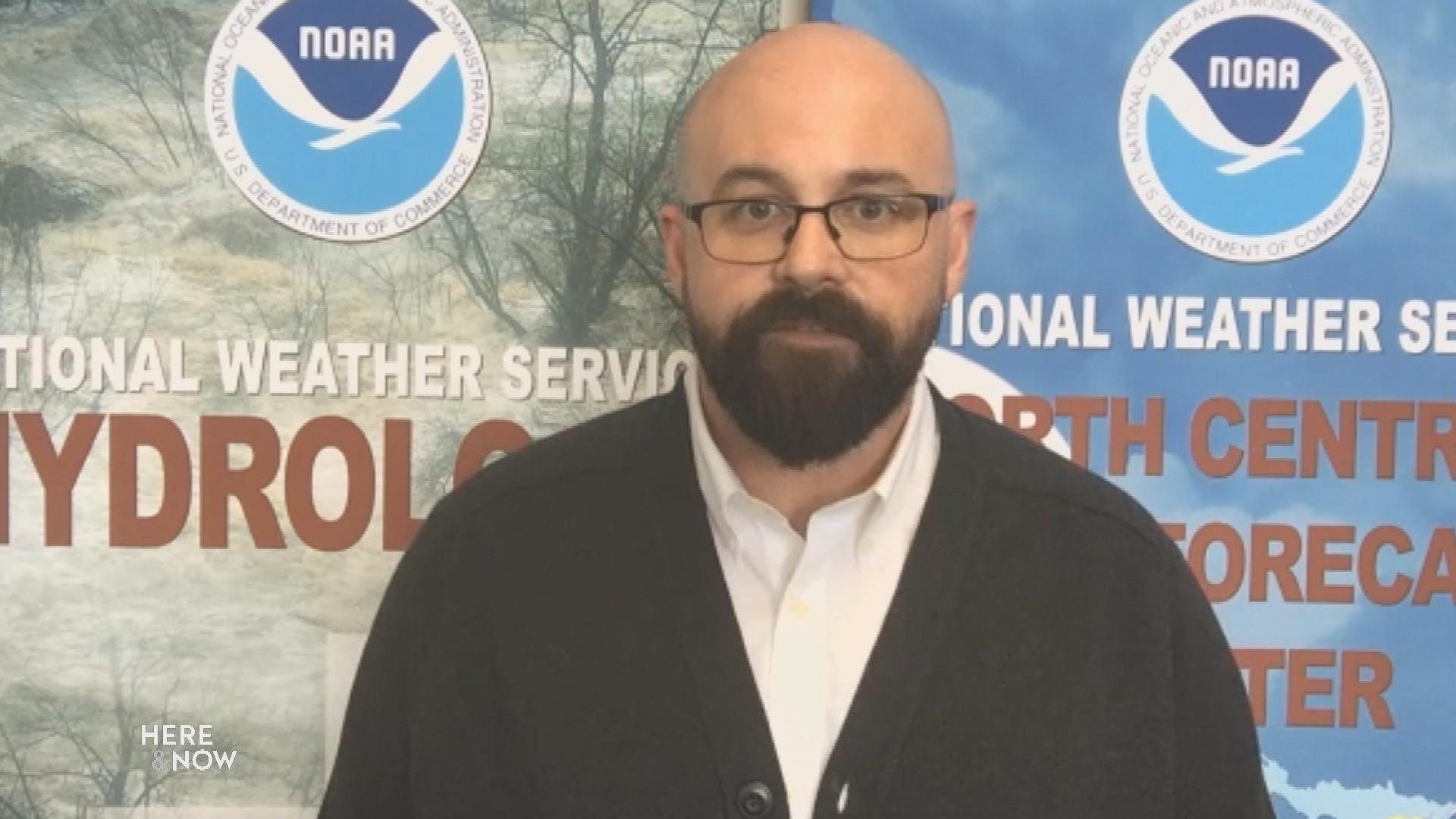 After historic levels of snow this winter, many are concerned about where the water will go when the snow melts. Andrew Mangham of the National Weather Service says that Wisconsin could face what he calls "moderate flooding" this spring due to a combination of the snow on the ground and early spring rains. He says this may impact access to county roads for some.
March 15, 2019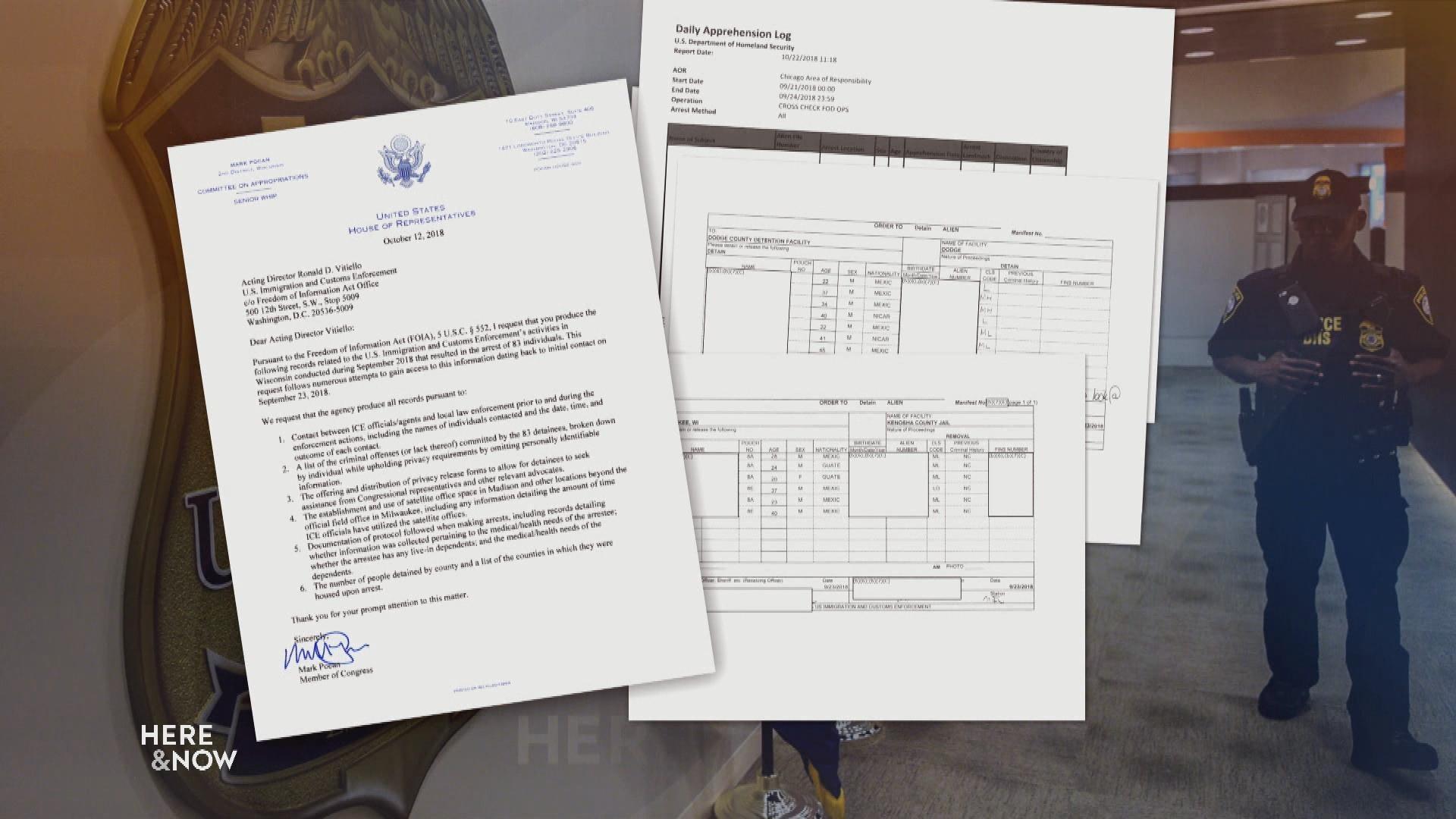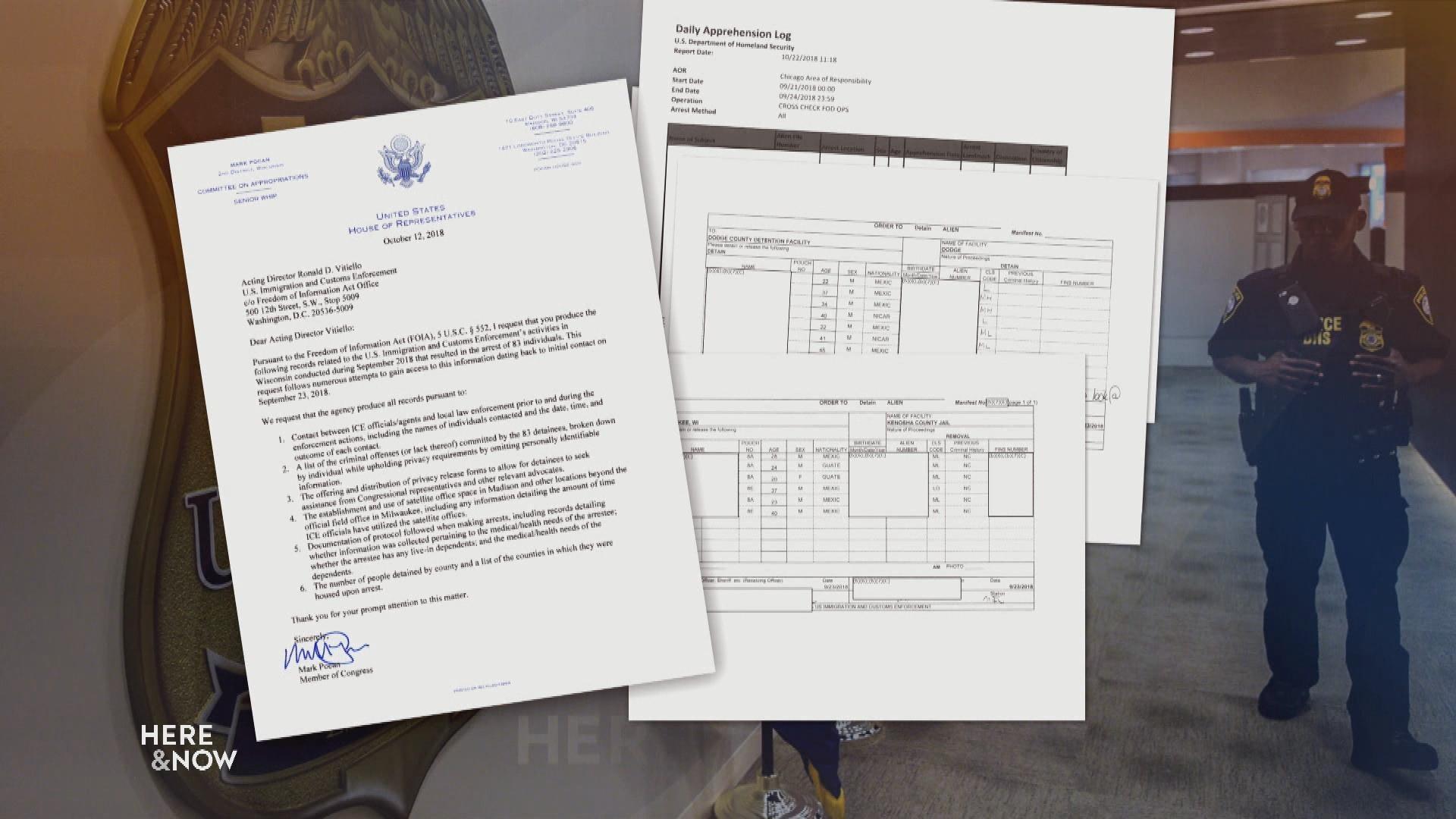 ICE Releases Documents on Wisconsin Arrests
After the numerous ICE arrests in Wisconsin last September, U.S. Rep. Mark Pocan, D-Town of Vermont, filed a Freedom of Information Act request to get more information on those who were arrested. He released those files from ICE this week.
March 15, 2019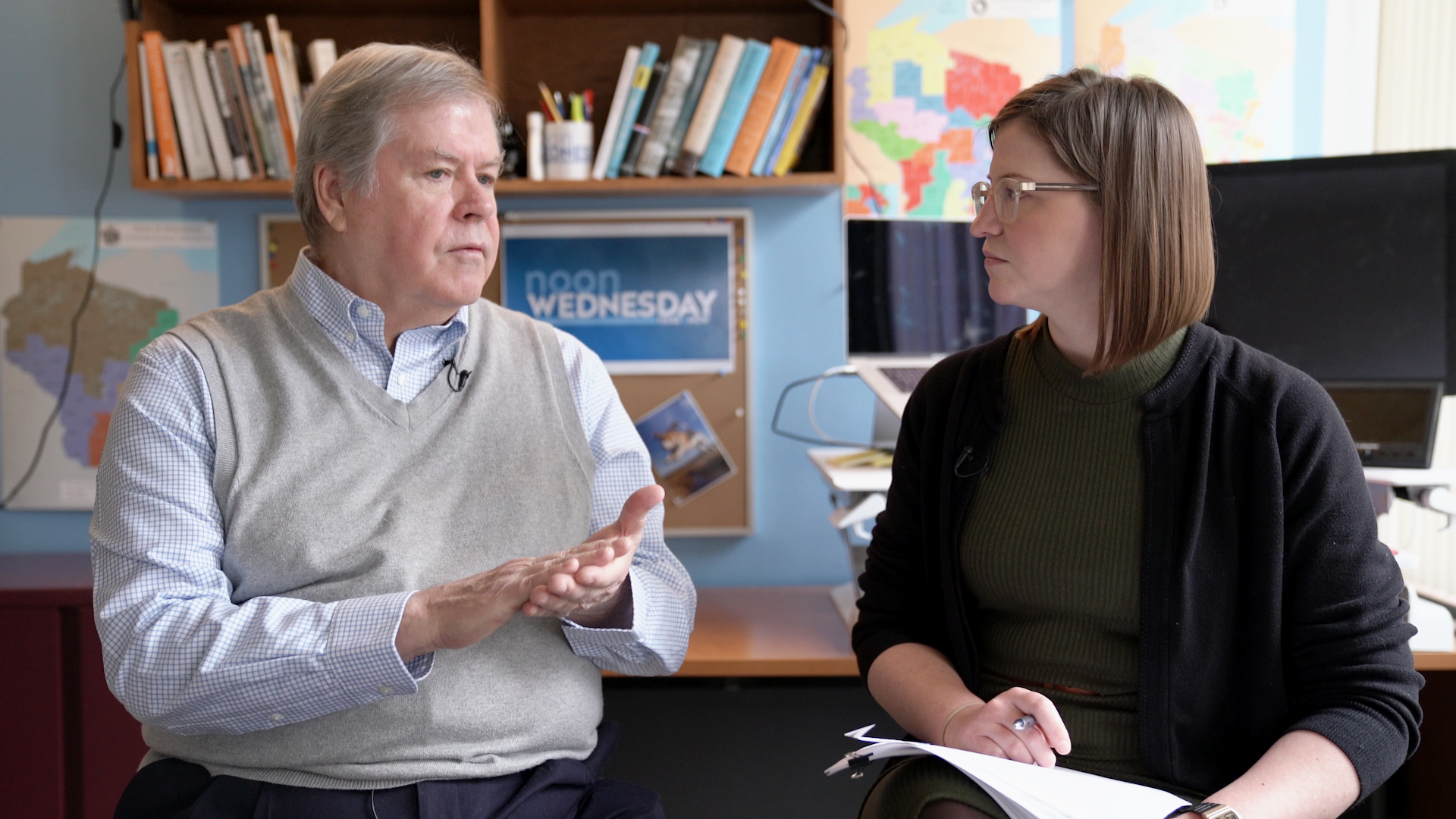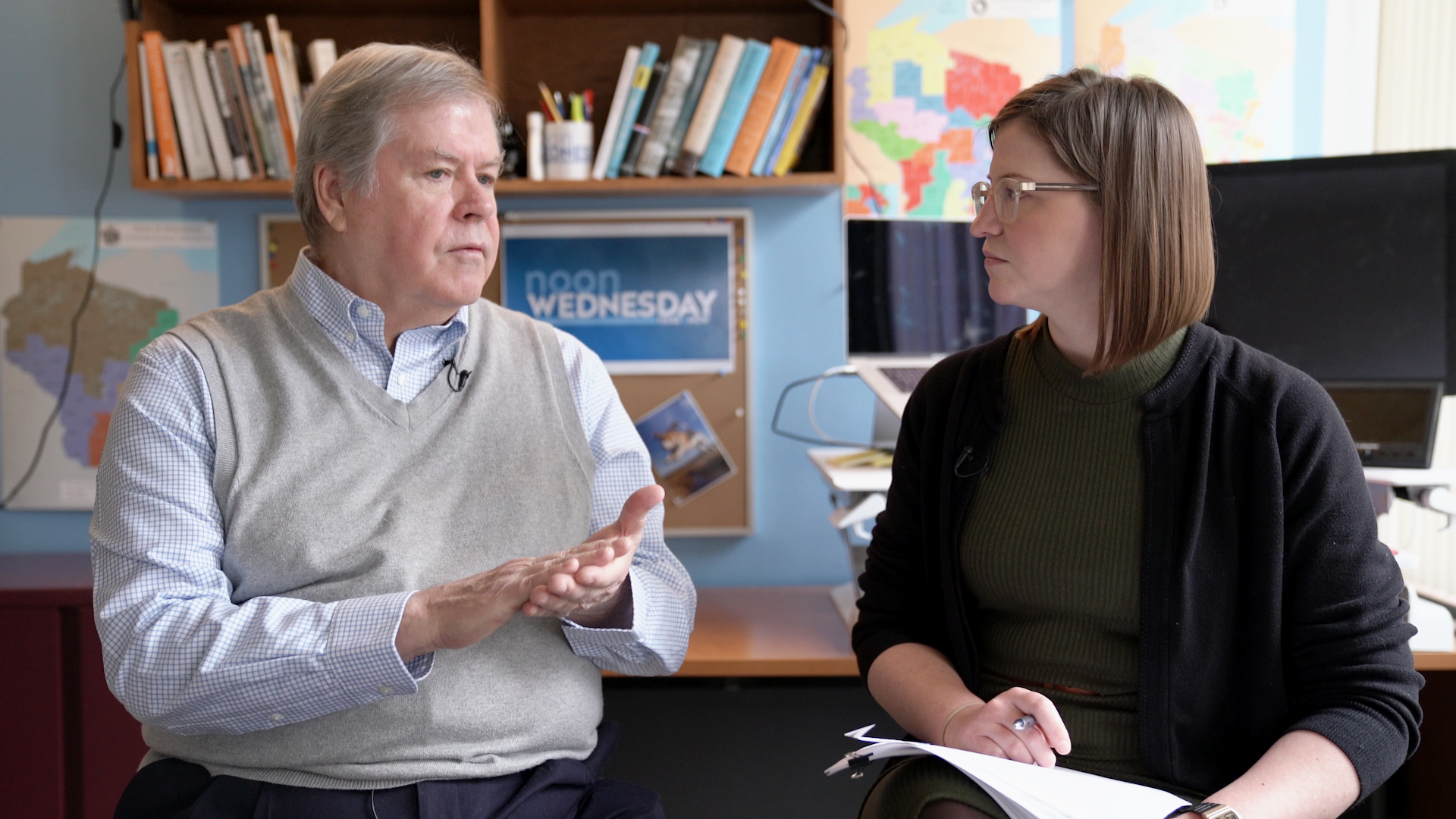 Noon Wednesday: George Quinn on the State's Shortfall of Physicians
Wisconsin is expected to be short at least 700 primary care providers by the year 2035. George Quinn, executive director of the Wisconsin Council on Medical Education and Workforce, joins us to talk about how the state is working to bridge the impending shortfall of physicians.
March 13, 2019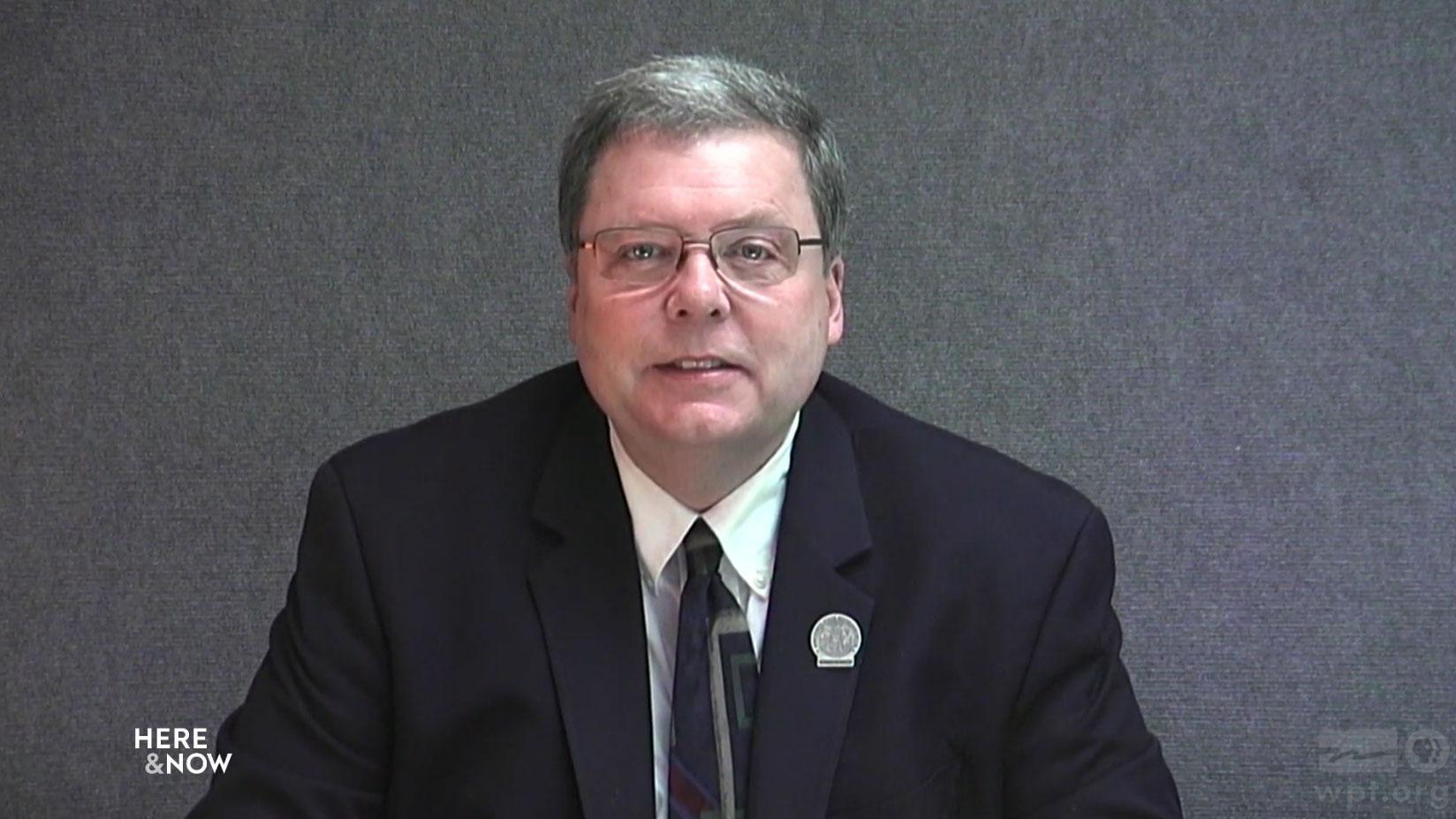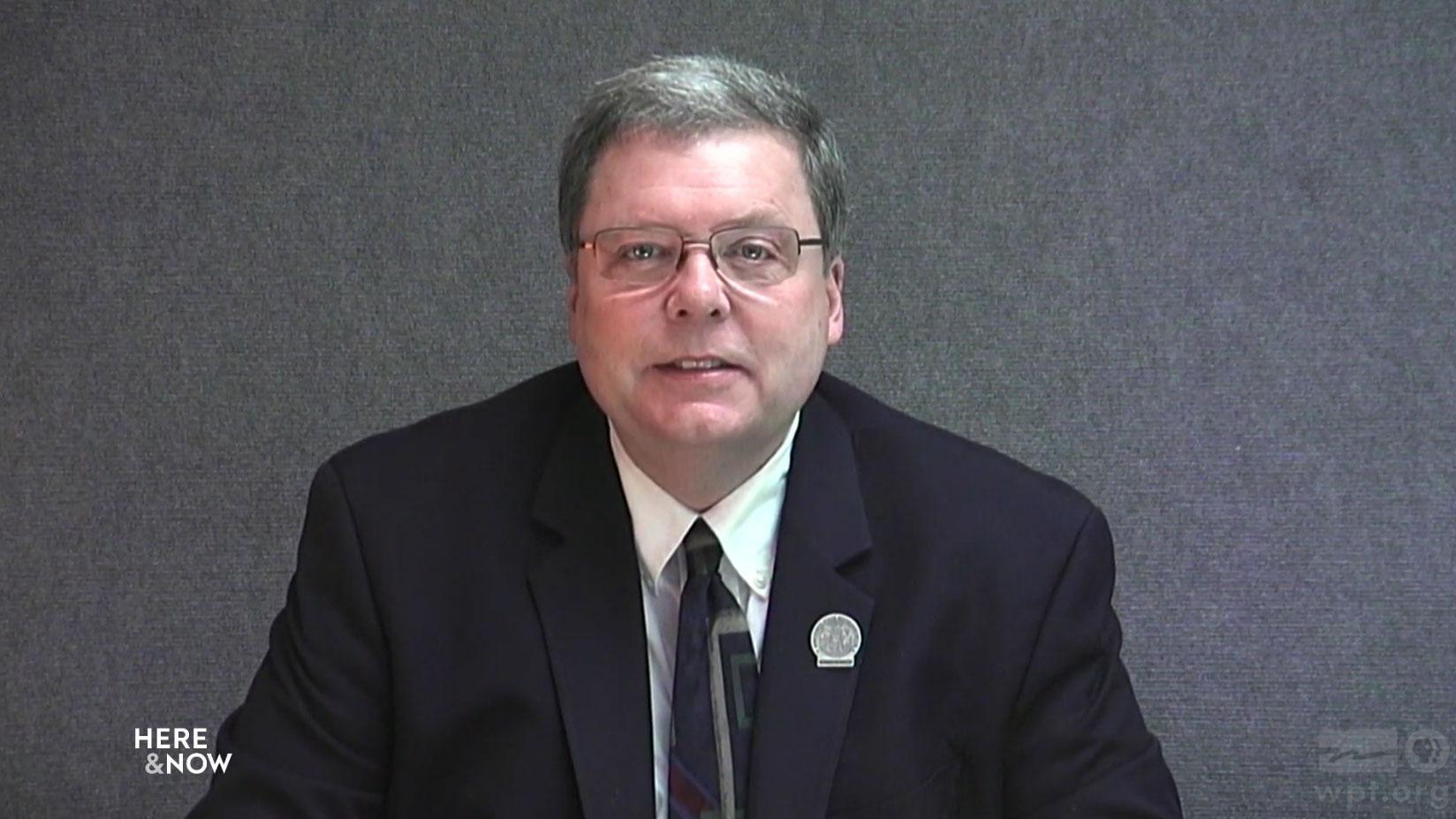 How to Address Homelessness in the State
Rep. Pat Snyder, R-Schofield, talks about a proposal to address homelessness in Wisconsin--one of the budget items that may receive bipartisan support. He says that including it in this budget is "a good start," but if it were passed in its own bill it would have longevity outside the biennial process. He adds that homelessness is a hidden problem that "people don't realize everyday," its impacts.
March 8, 2019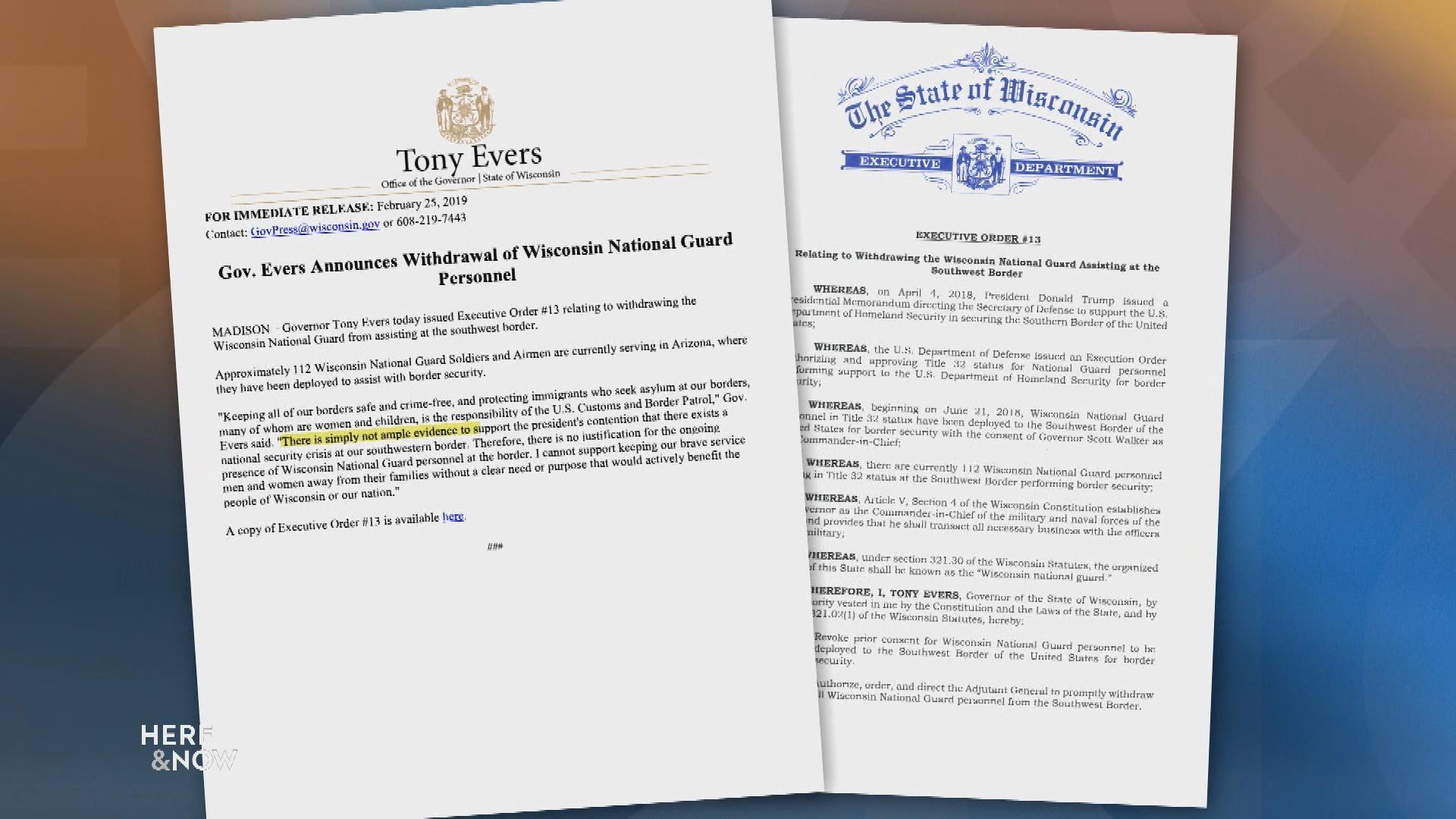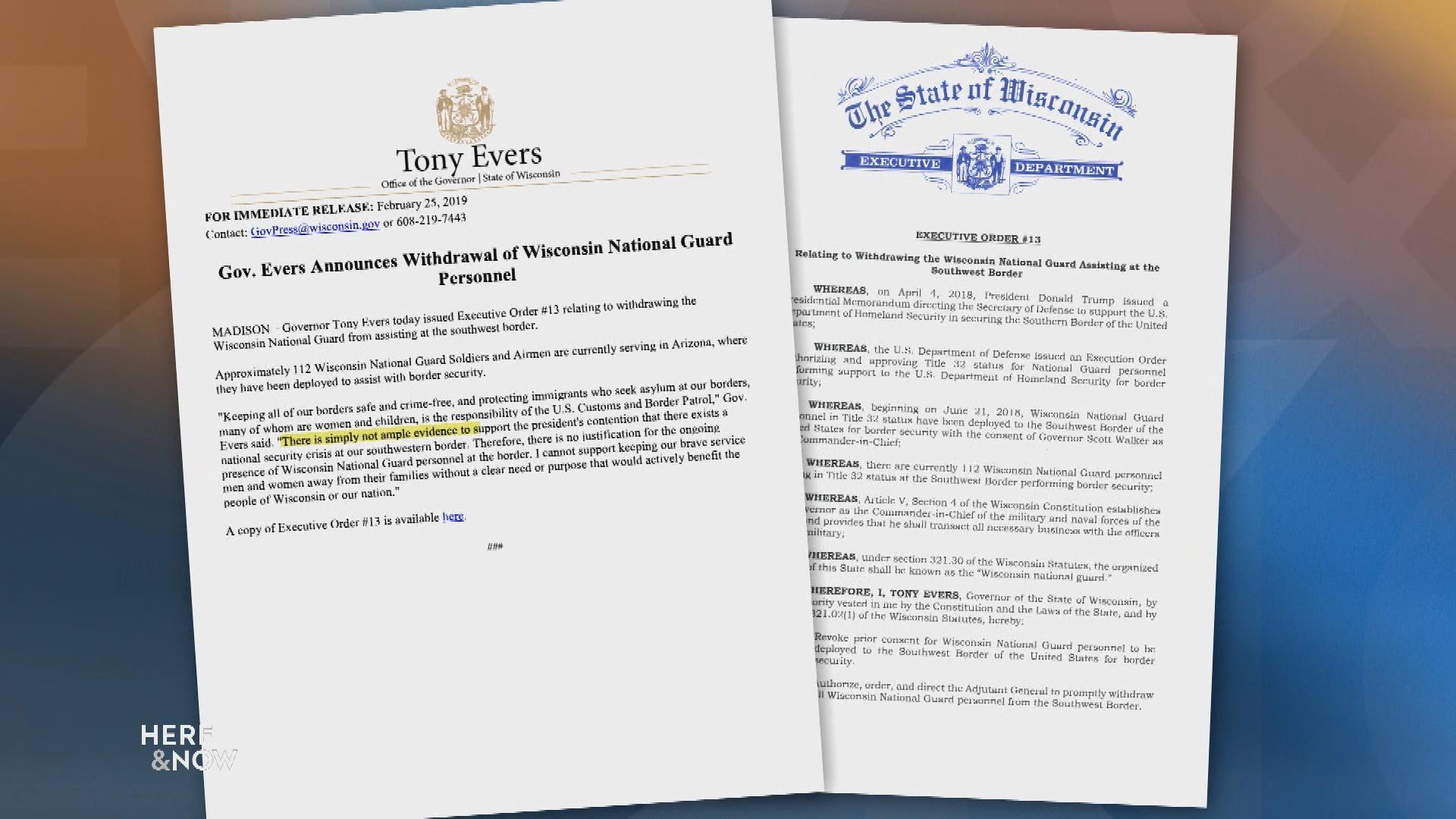 Gov. Tony Evers recalls national guard troops deployed to the southern border under former Gov. Scott Walker.
March 1, 2019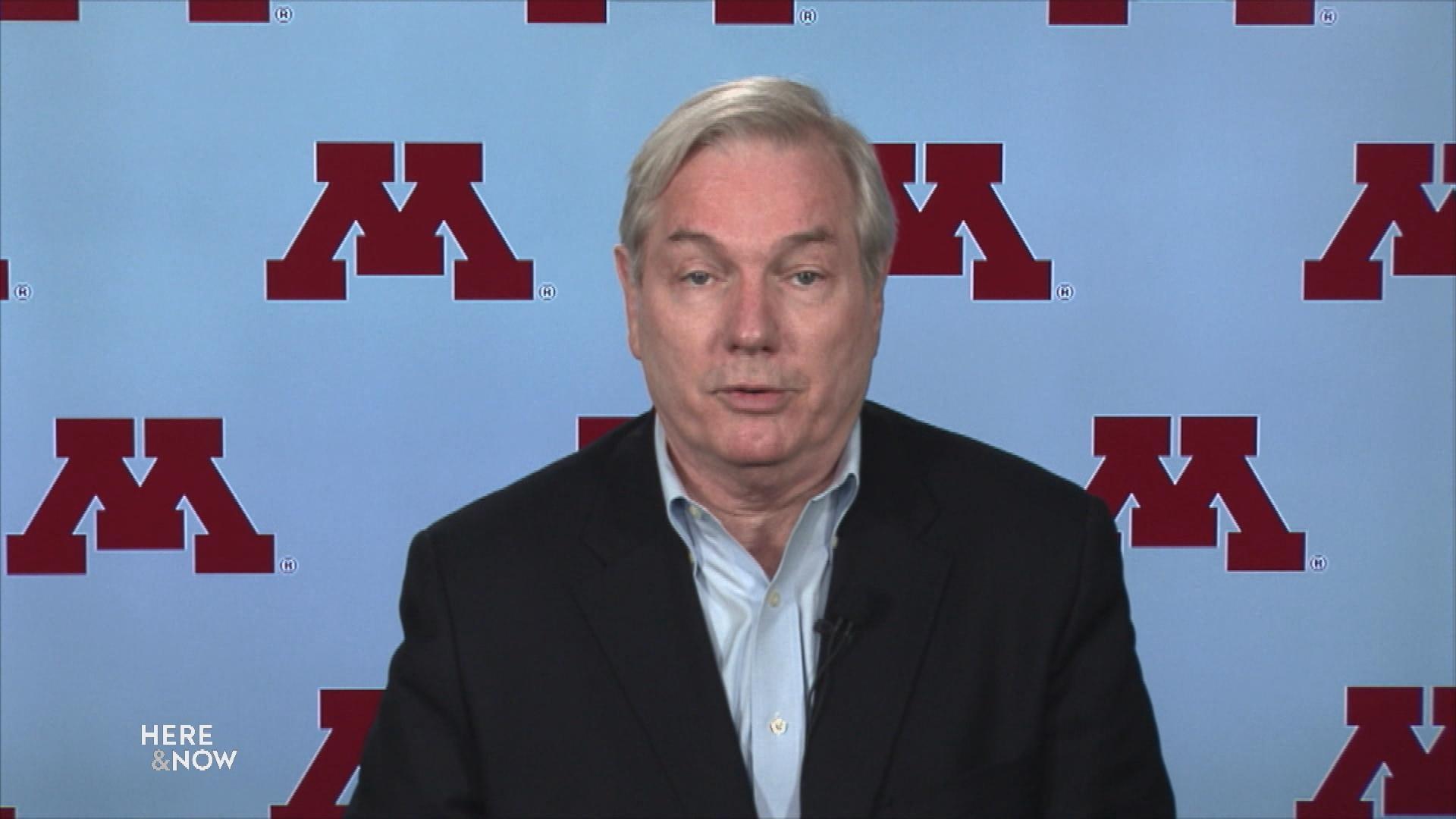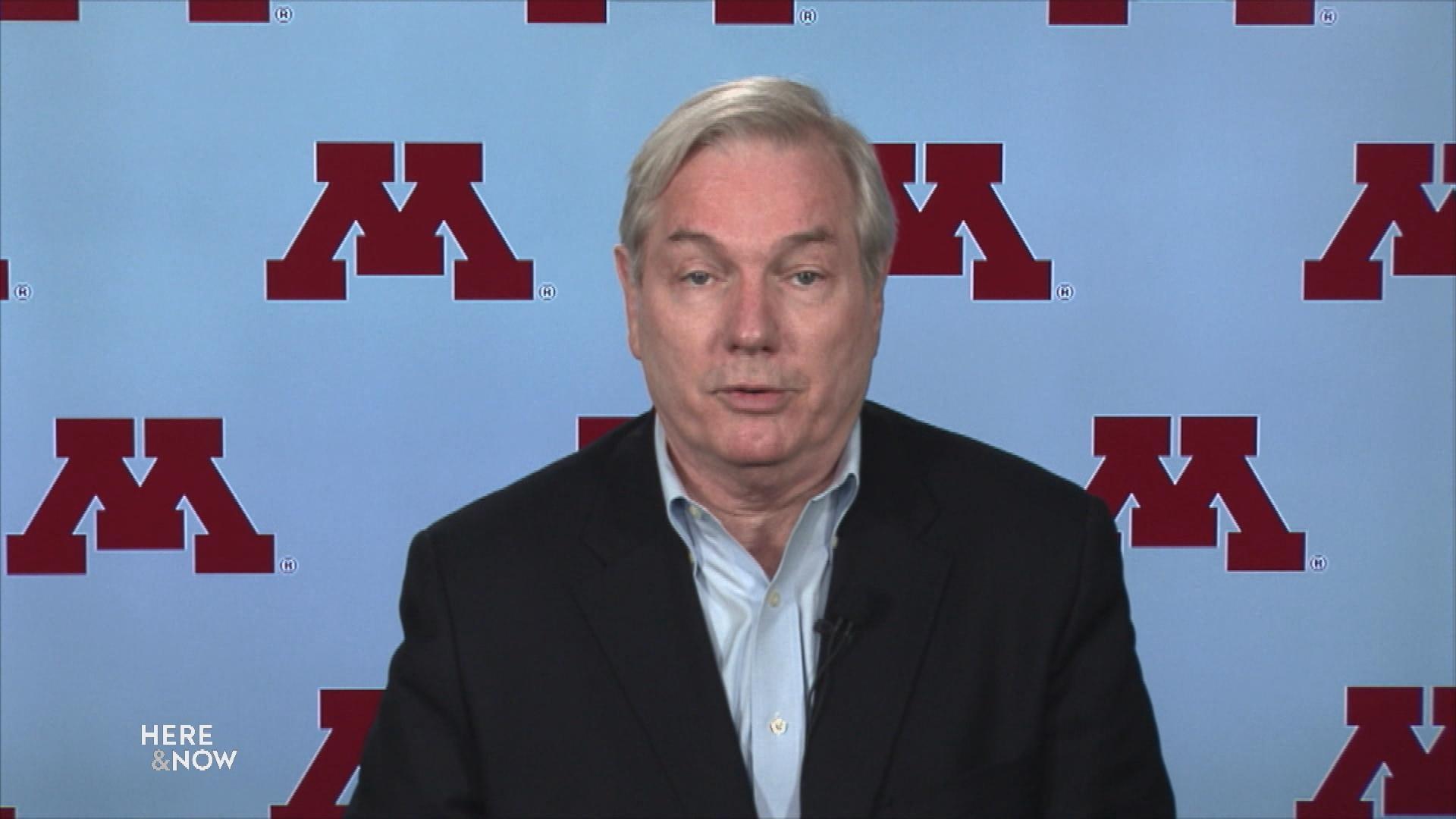 The issue of chronic wasting disease has been prevalent among the deer population in Wisconsin, but could the disease spread to humans? U. of Minn. Professor Michael Osterholm says it might, similar to mad cow disease in the UK. He says 30-35 percent of the deer population might be afflicted with CWD, spurred by what he says is lax security in preventing herds from moving across state lines.
February 22, 2019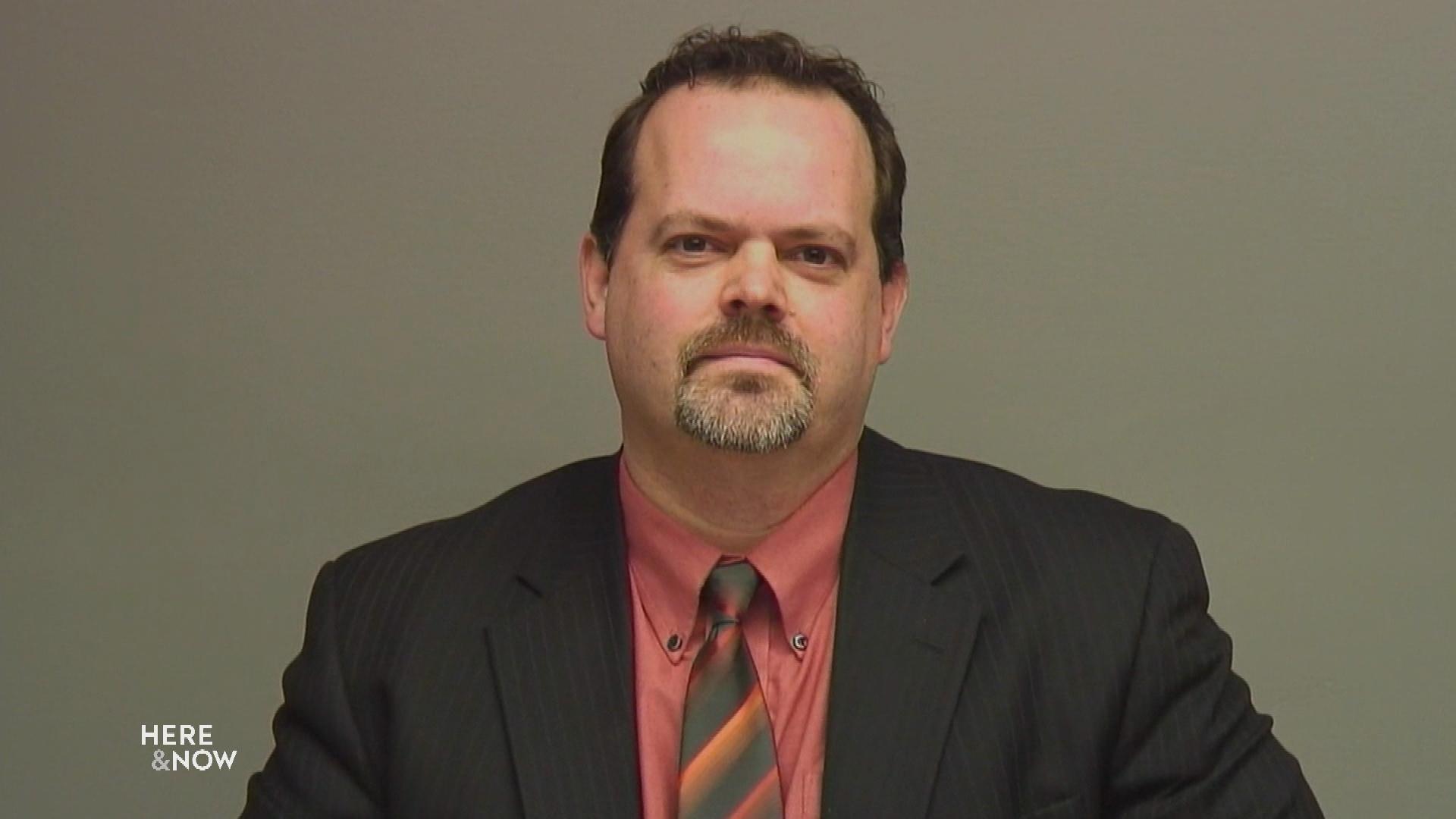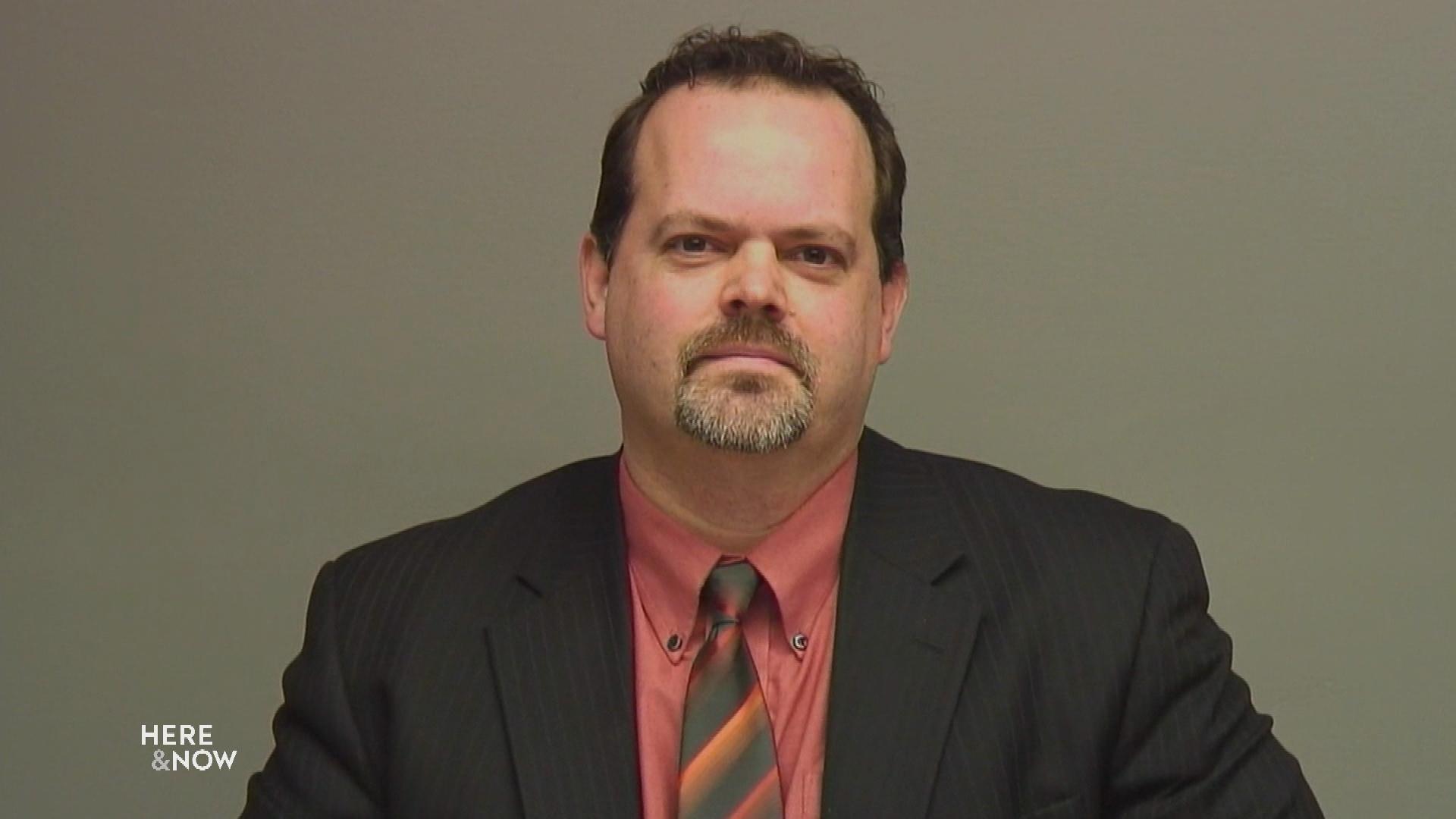 What Can Wisconsin Learn from Michigan?
Gov. Tony Evers rolled out a proposal to legalize medical marijuana in Wisconsin, similar to Michigan's status. David Harns works with the Michigan Department of Licensing and Regulatory Affairs and breaks down how Wisconsin's neighbor to the east licenses marijuana. He says his state receives input from industry stakeholders and that ultimately all shops regardless of size are licensed.
February 22, 2019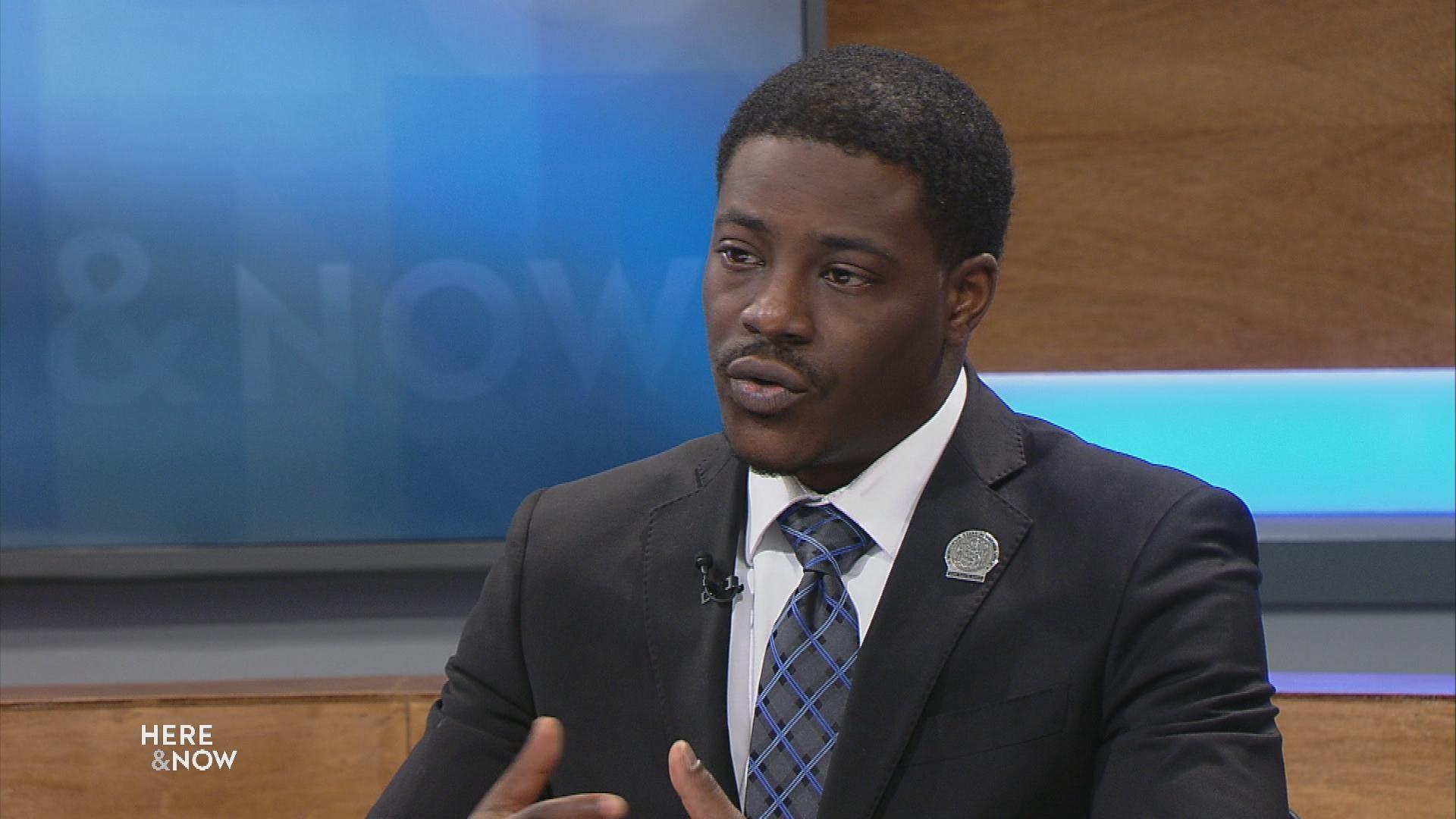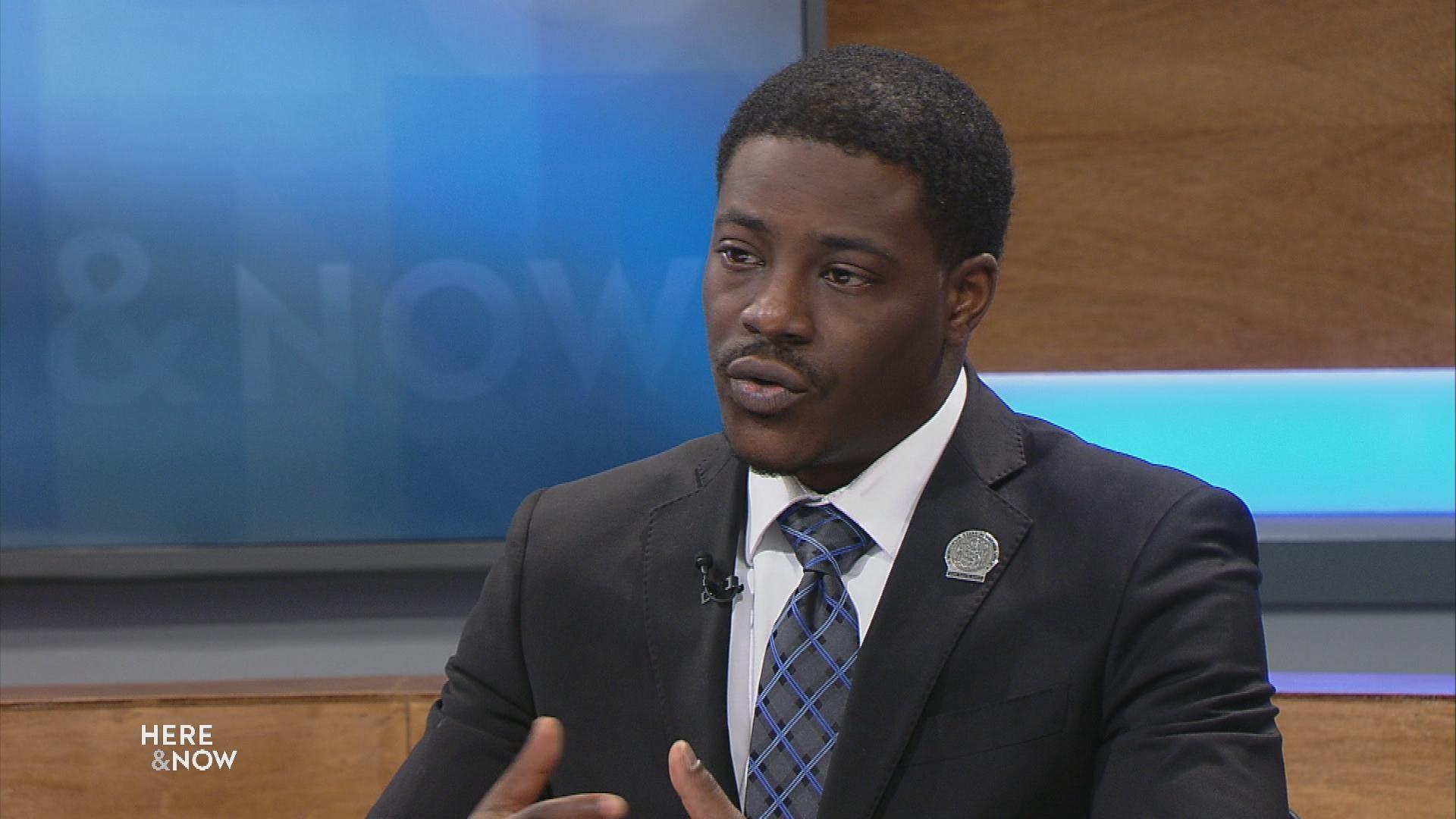 How Marijuana and Race Impact the Criminal Justice System
One of the points of Gov. Tony Evers's marijuana proposal is that those with criminal marijuana convictions would have their records expunged. Discussing the criminal justice side of the plan is Rep. David Crowley, D-Milwaukee. He breaks down how racial minorities feel the impact of the criminal justice system more than white drug users and how expungement helps those convicted move forward.
February 22, 2019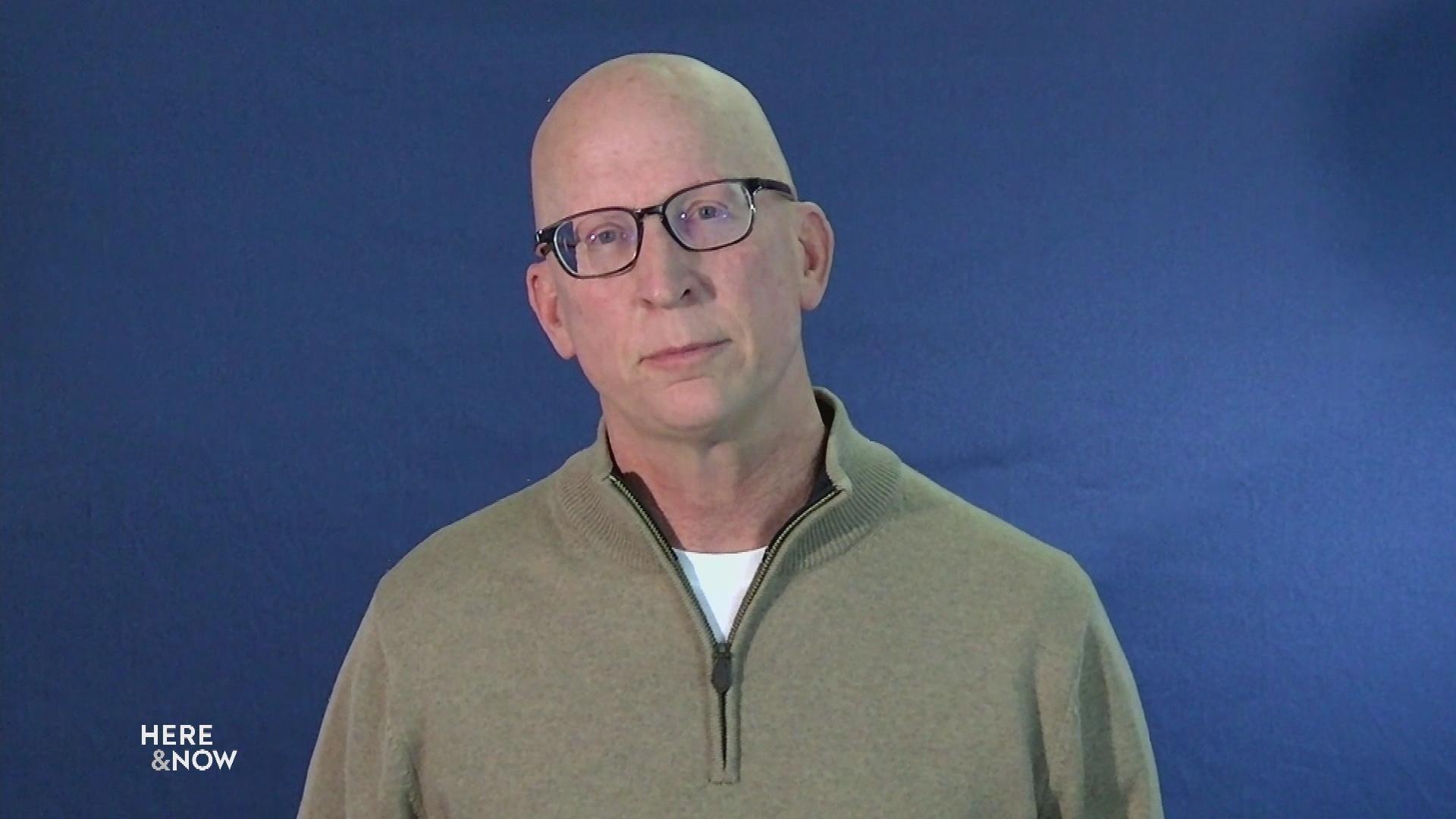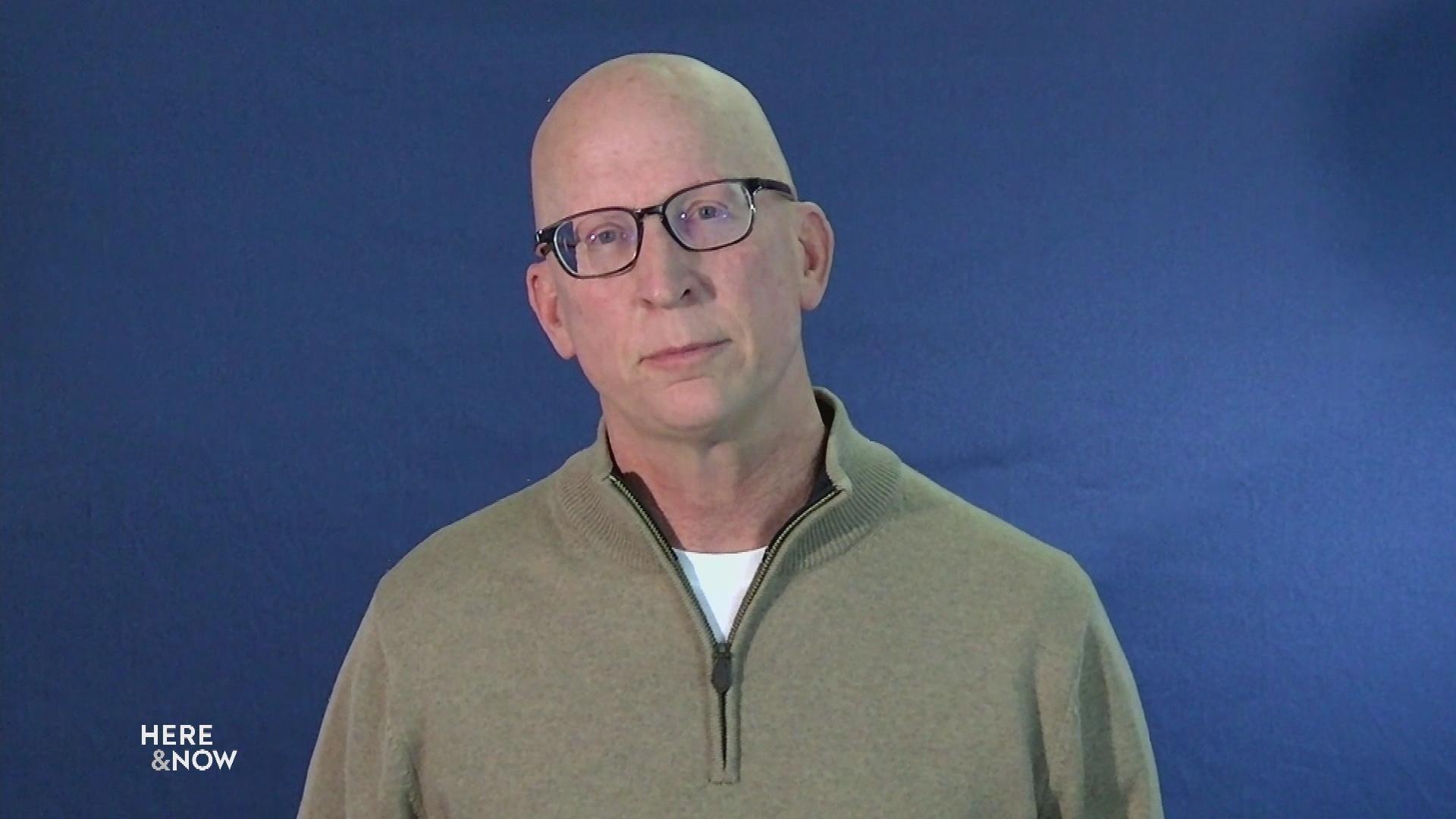 Stroebel: "Decriminalization is Legalization"
Republicans have voiced opposition to the governor's plan to decriminalize marijuana. Sen. Duey Stroebel, R-Cedarburg, says there are enough issues with substance abuse in Wisconsin now, and does not want to see marijuana decriminalized. He discusses his opposition to CBD oil, saying he did not want to mislead people to the benefits of the product without adequate tests.
February 22, 2019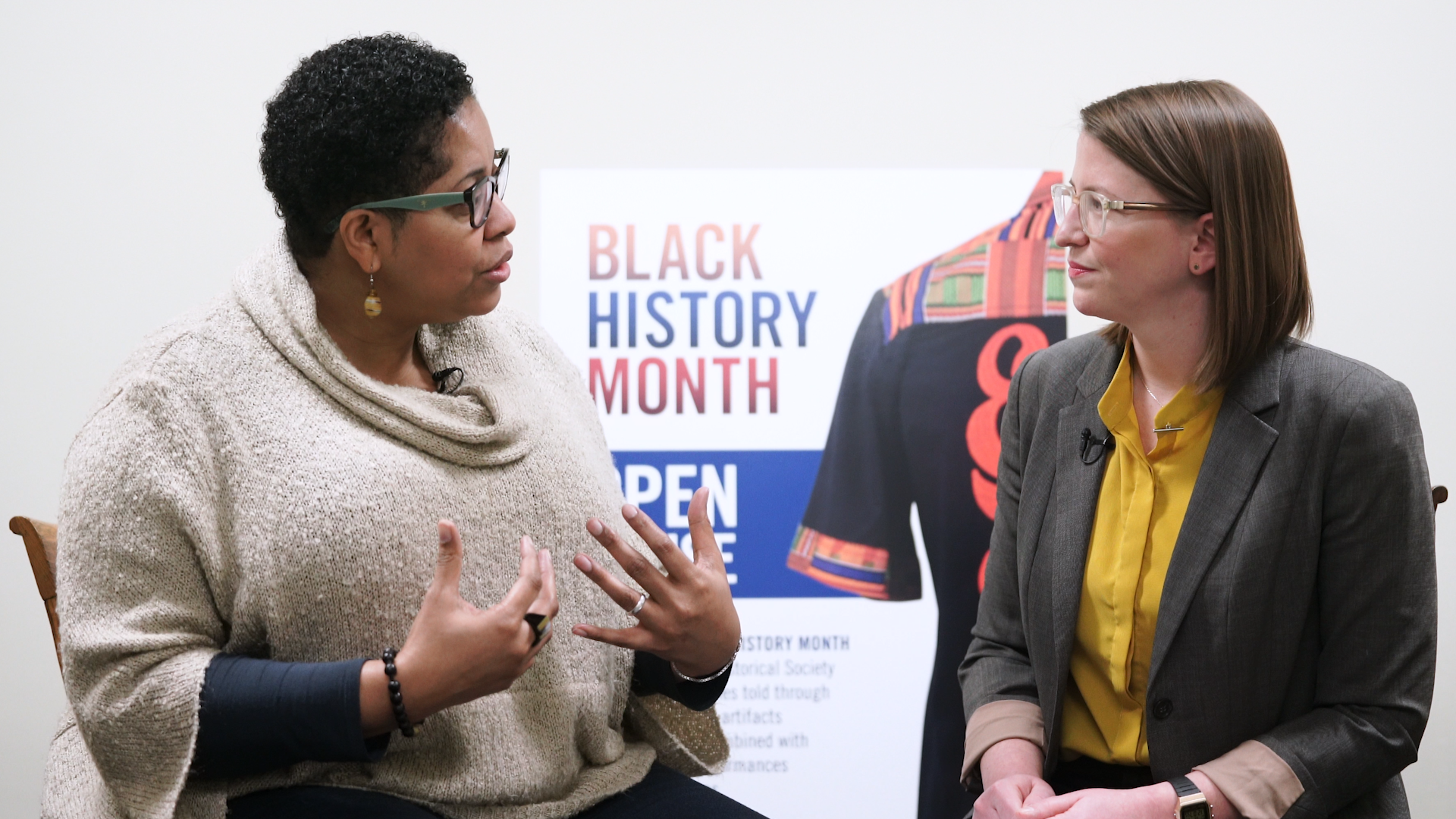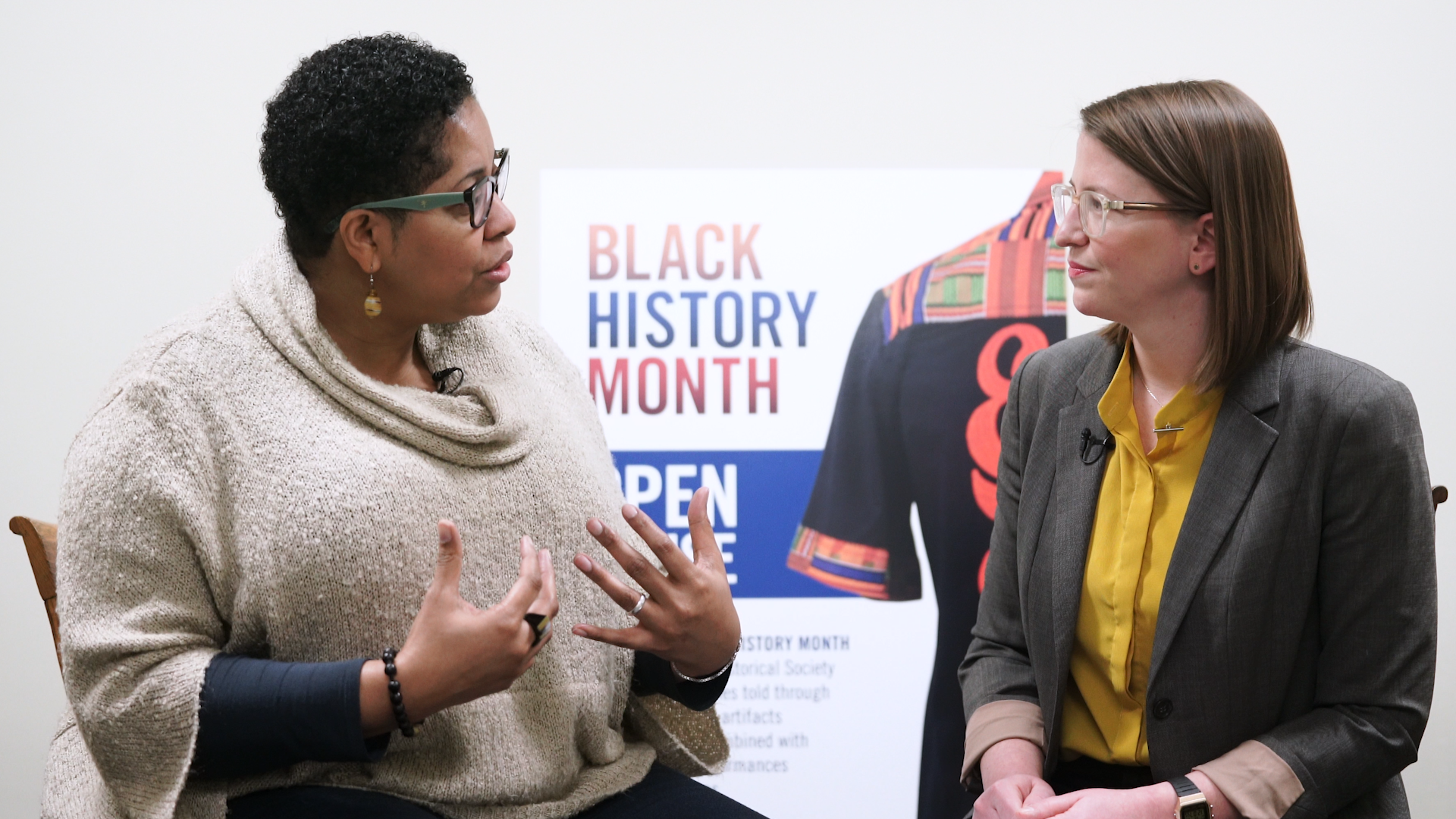 Noon Wednesday: Gathering Stories from Underrepresented Communities
The way a story is told can determine whose voice is heard and how it is memorialized. Oral histories have the power to elevate more voices. Tanika Apaloo, community engagement and diversity liaison at the Wisconsin Historical Society, talks about how her work gathering stories from underrepresented communities is changing our understanding of history.
February 20, 2019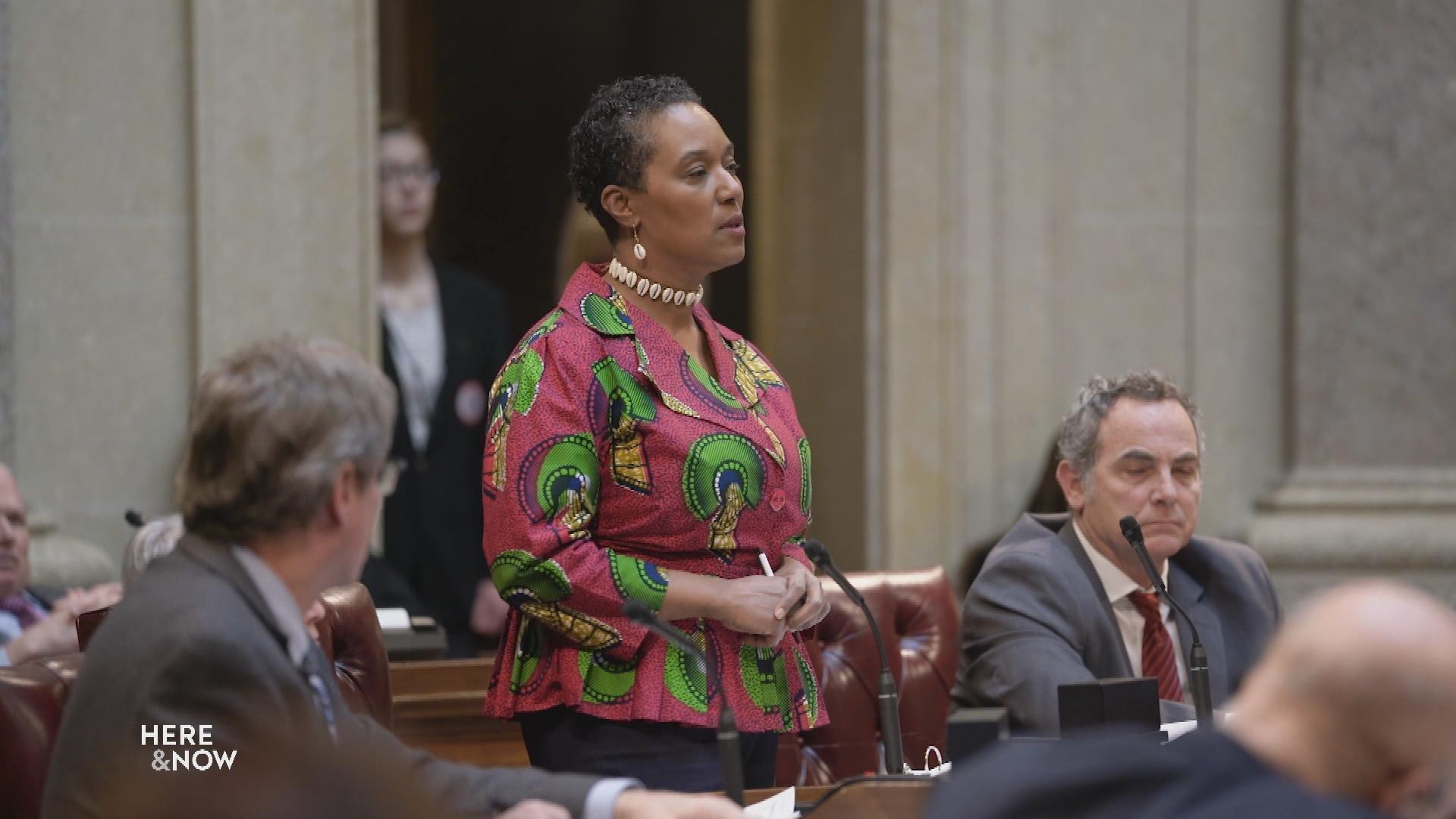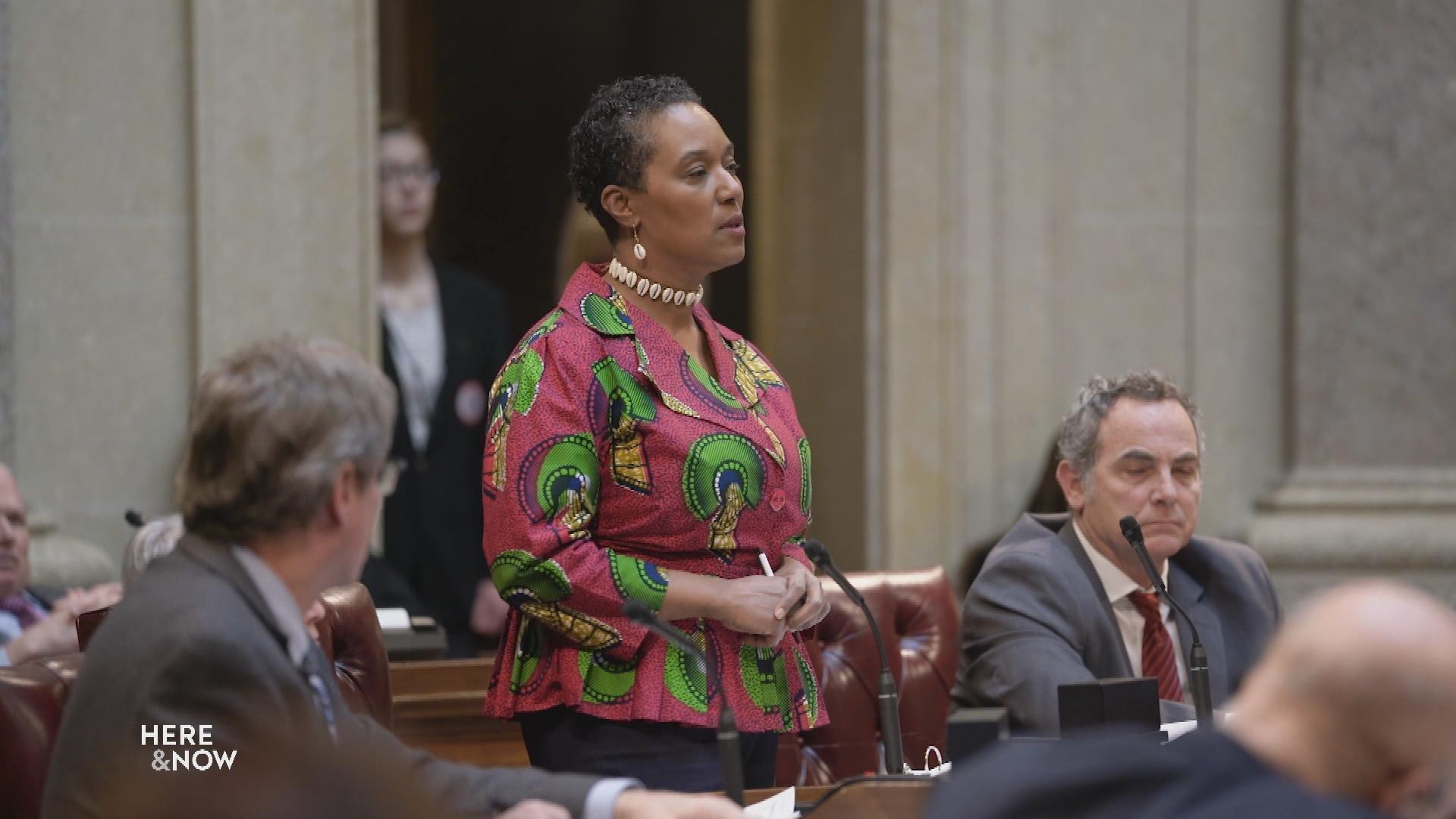 Kaepernick Divides Legislature on Black History
The state legislature was embroiled this week in a debate over whether to include Milwaukee-born Colin Kaepernick's name in a Black History Month resolution. Here & Now's Marisa Wojcik delves into how the debate developed.
February 15, 2019
Shutdown Impacts Release of Food Stamps
One of the side effects of last month's government shutdown was a change to when food stamp benefits were disbursed. David Lee of Feeding Wisconsin discusses how recipients may have to wait longer for their March benefits since February's were released early. Lee also says Gov. Tony Evers may be able to reverse work requirements that were imposed under former Gov. Scott Walker if the courts allow.
February 15, 2019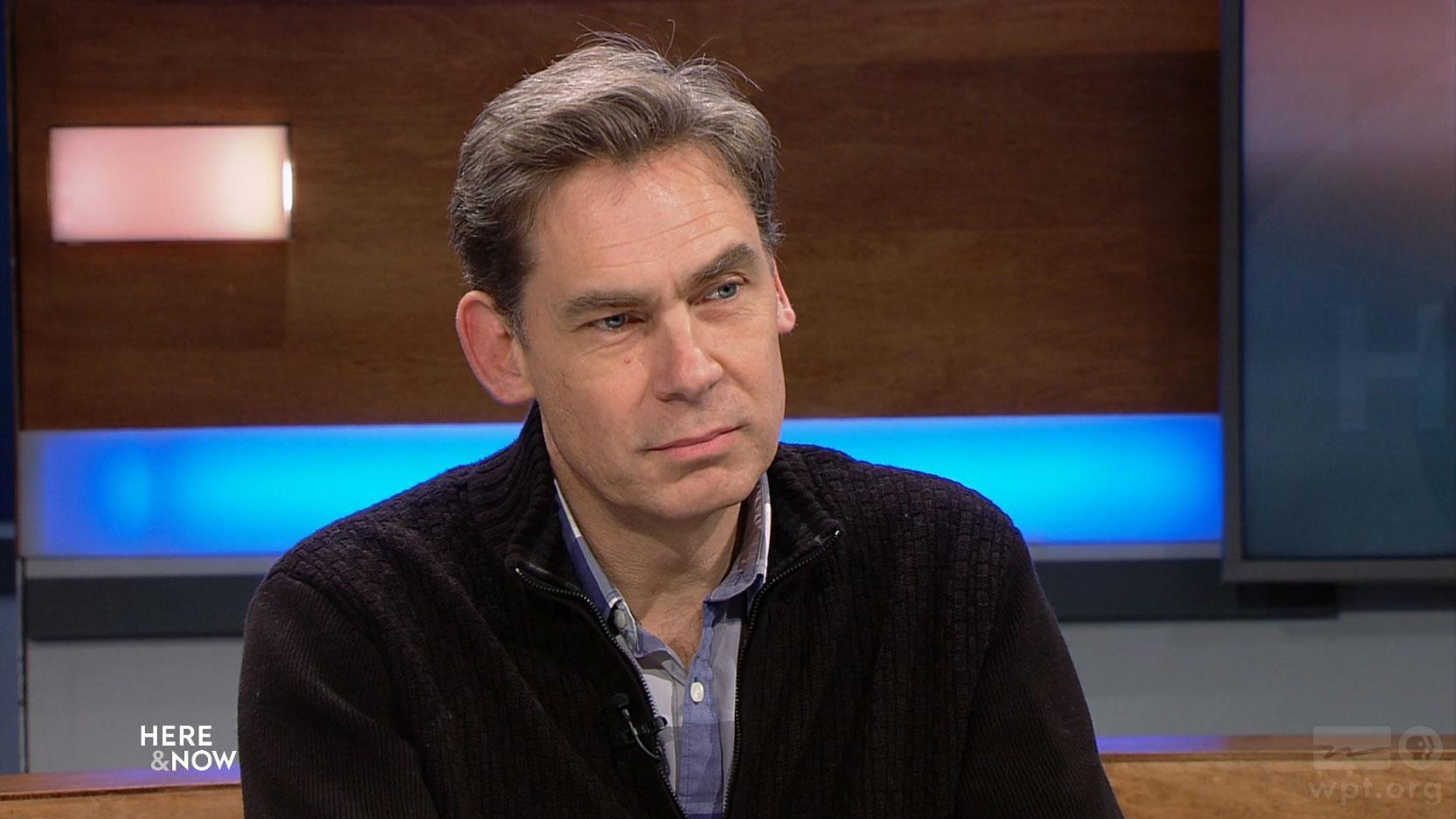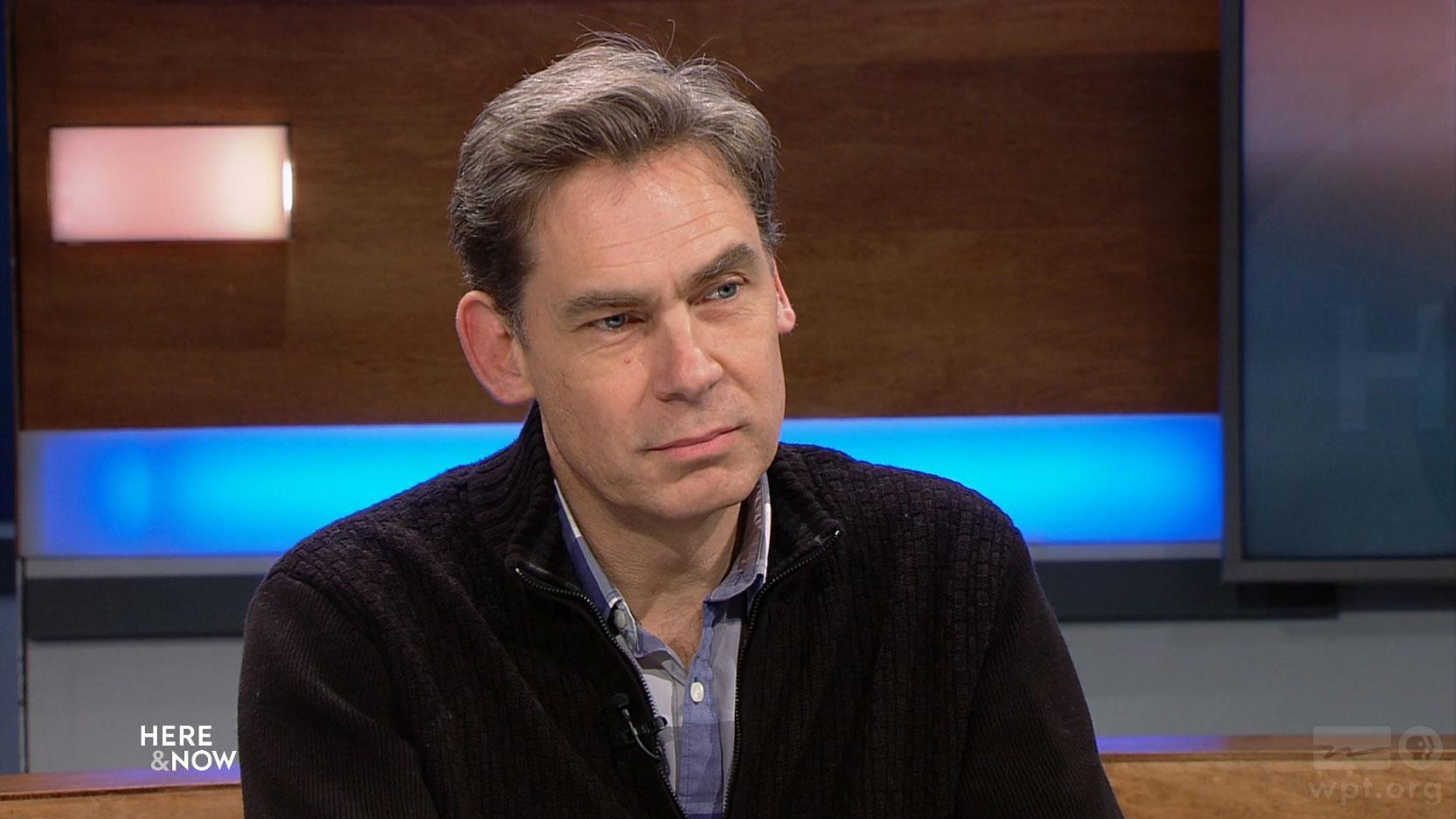 Do Inclusivity and Bias Trainings Work?
Inclusivity and bias training have been staples in the workplace, but to what degree are they effective? UW-Madison Psychology Professor Markus Brauer says training to help people recognize biases may not be effective at changing biases in the first place. He says that other exposure, such as having diverse representation in media, may help change those preconceived prejudices.
February 1, 2019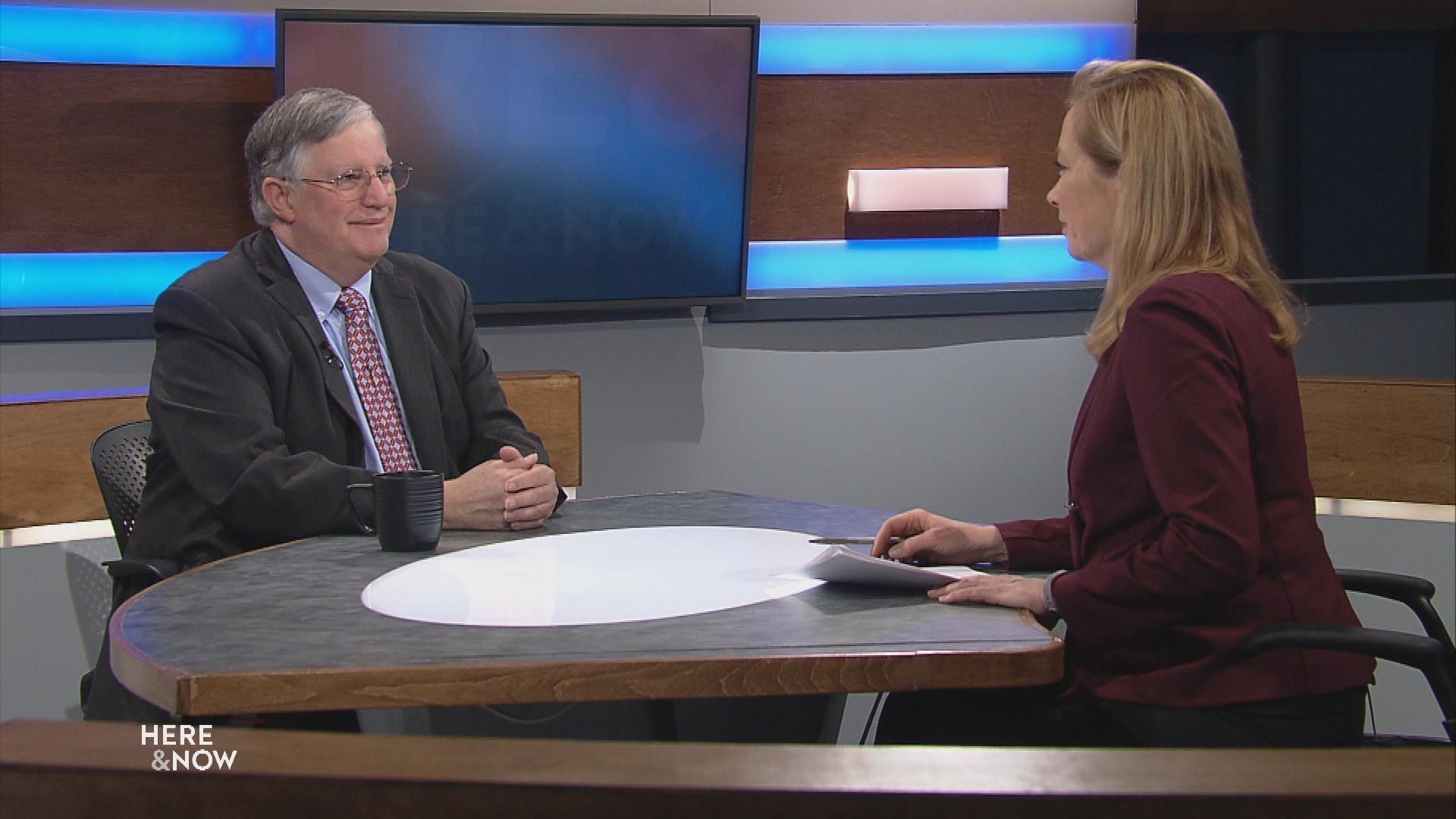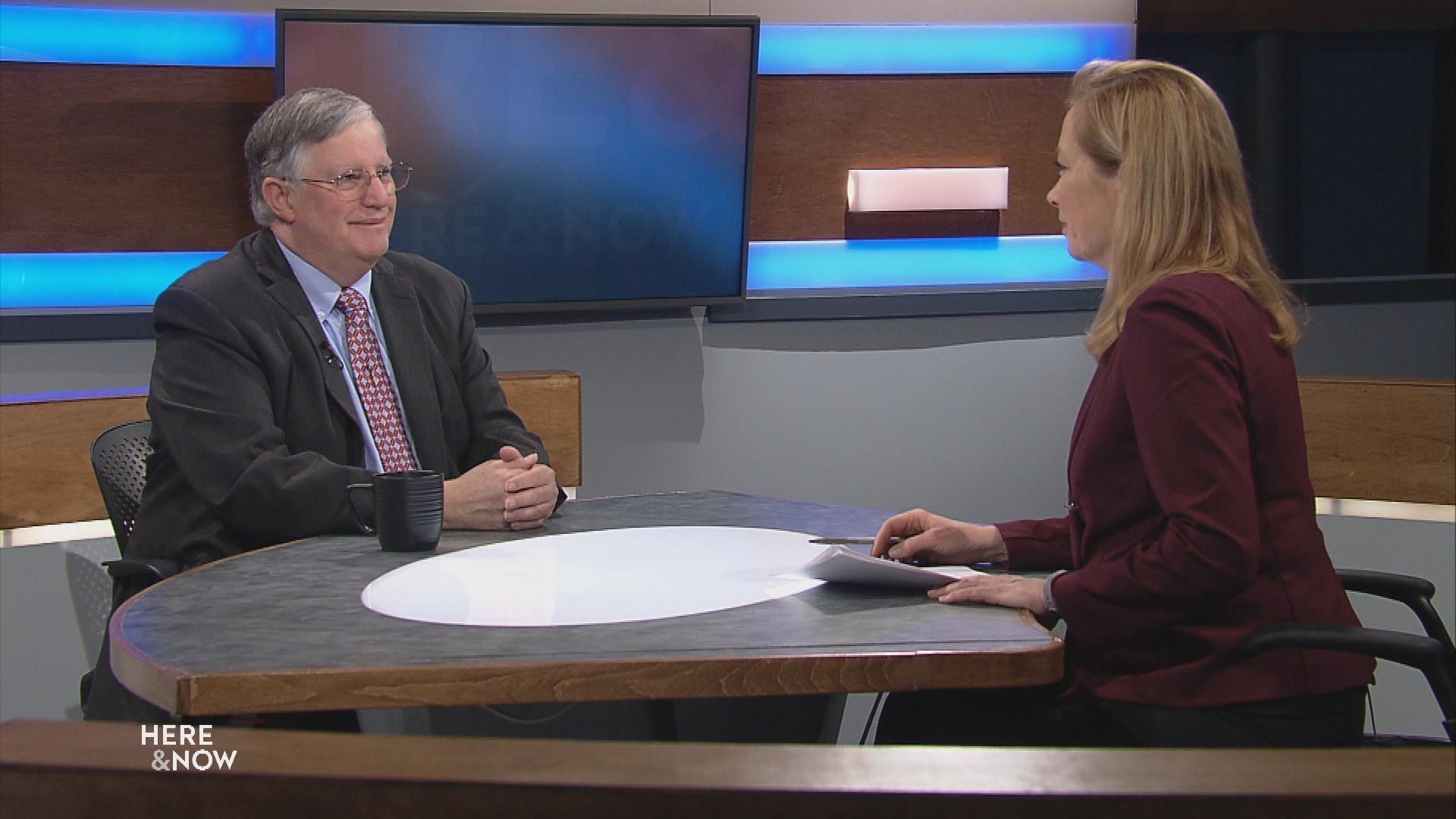 Where Do Wisconsinites Stand on the Border Wall?
Director of the Marquette Law School Poll Charles Franklin discusses the newest numbers, including Wisconsinites' sentiments on the border wall and federal government shutdown and favorability numbers for Gov. Tony Evers.
January 25, 2019
Wisconsin Politicians Discuss Border Wall Funding
Members of Wisconsin's congressional delegation make their cases for border wall funding.
January 25, 2019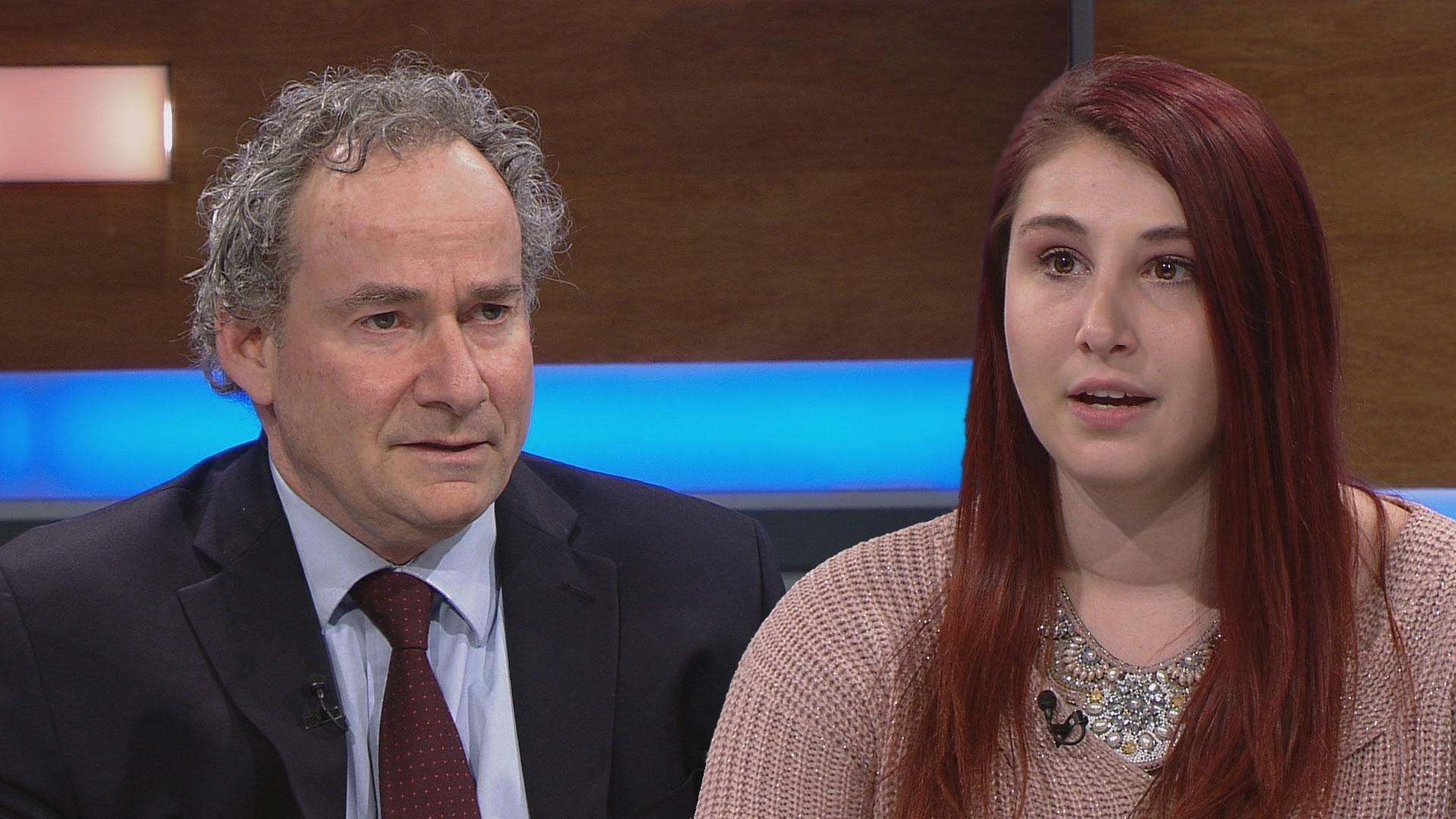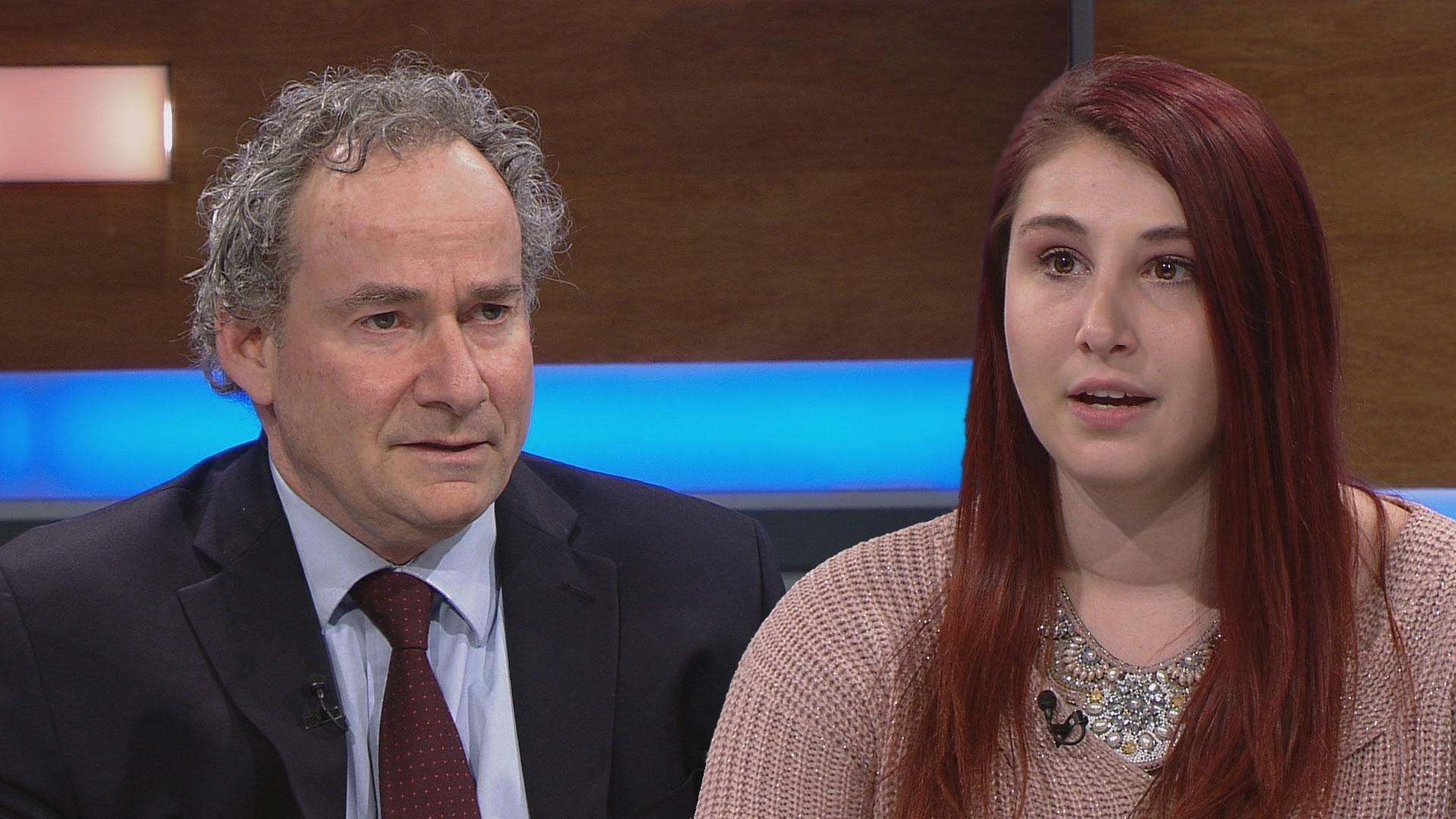 Balancing Victims' Rights in Wisconsin
A victims' rights proposal called Marsy's Law is currently working its way through the state legislature again. If passed a second time, the bill would go before the state as a constitutional referendum as early as this year. Sharing their views on the proposal are Marsy's Law advocate Ariel Ludlum, and Wisconsin Democracy Campaign Exec. Dir. Matt Rothschild who opposes the bill.
January 18, 2019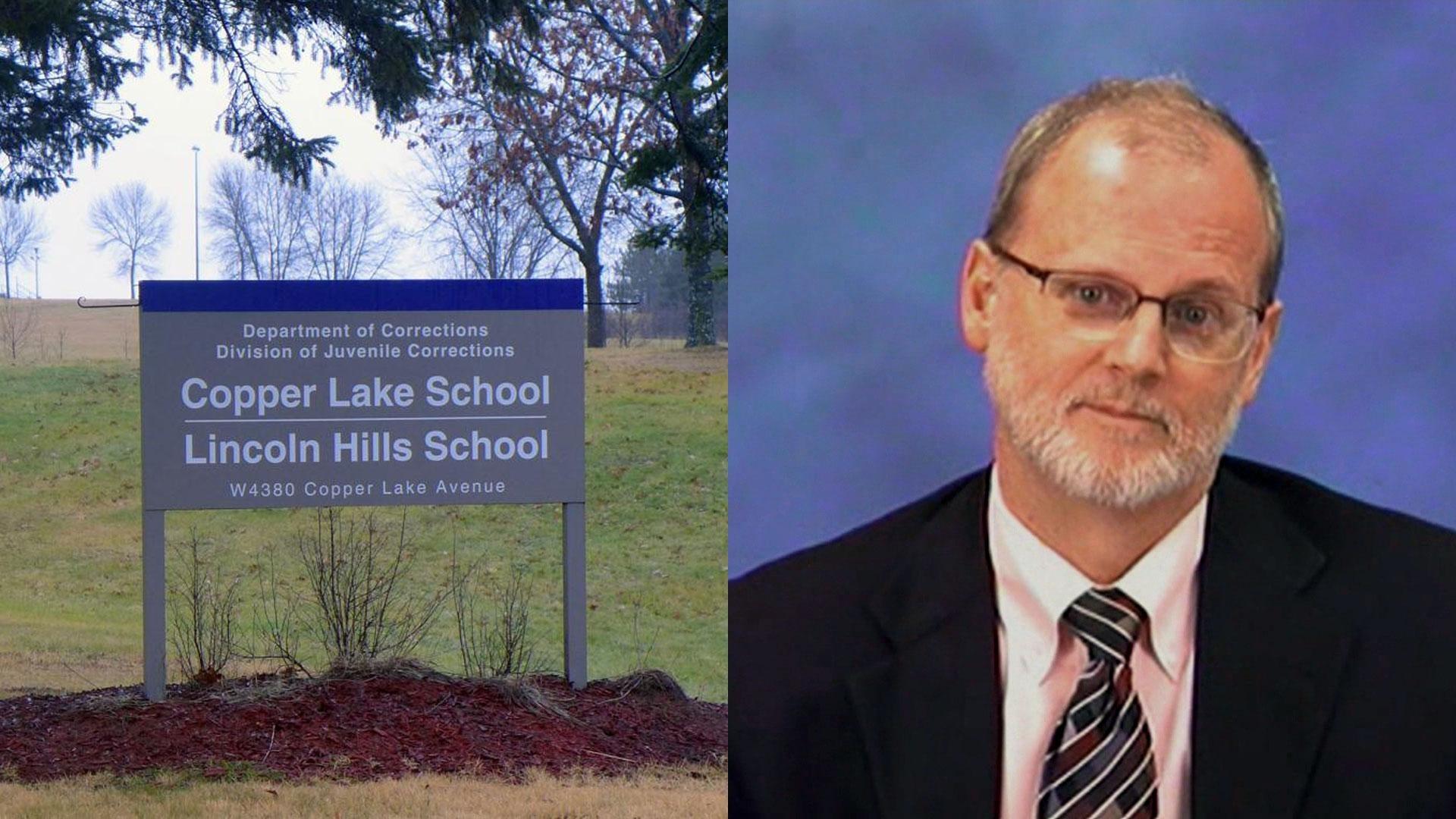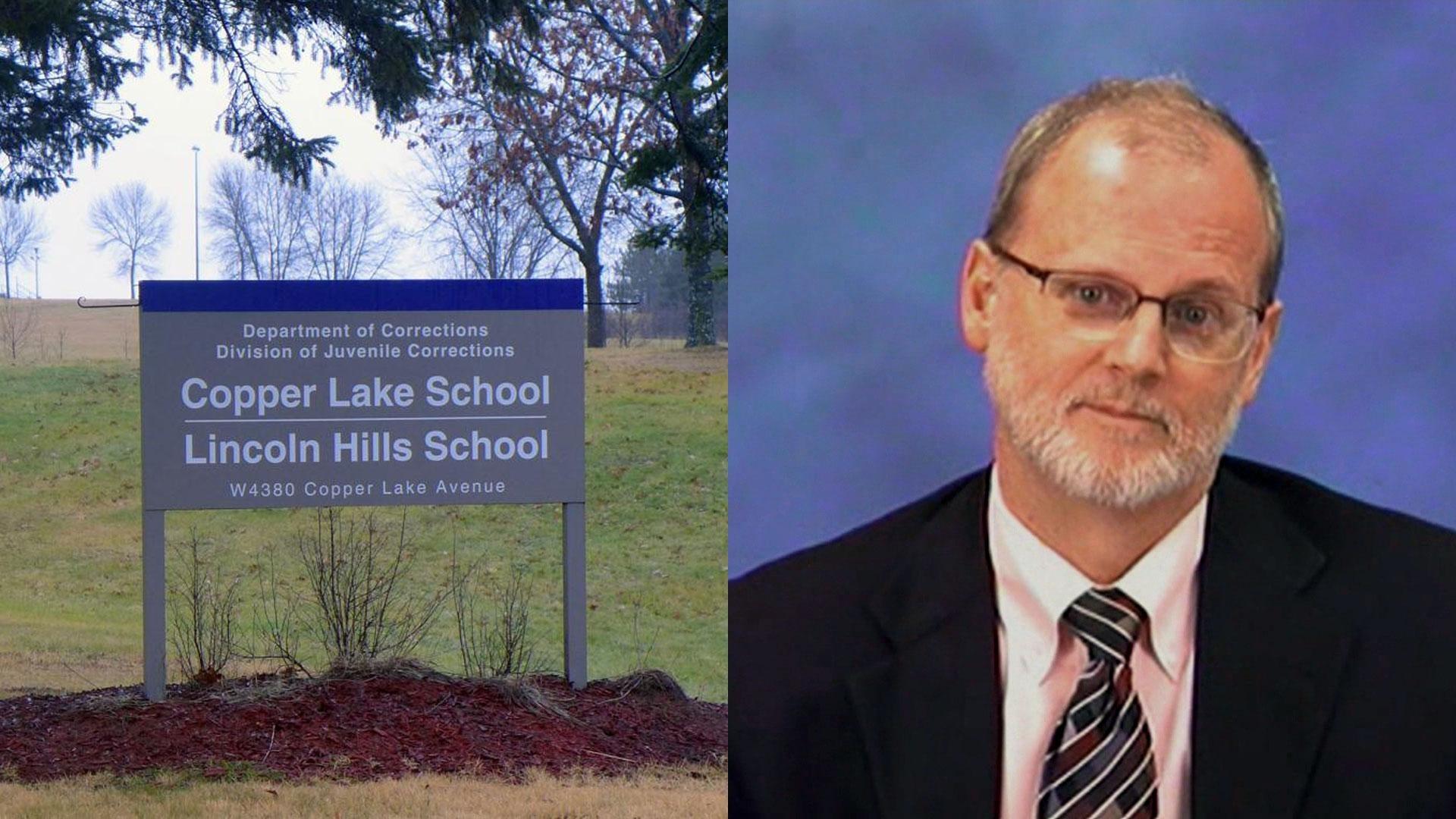 Embattled Youth Prison Faces New Criticism
The embattled Lincoln Hills/Copper Lake youth prisons face new criticism after a court-ordered monitor report shows the facility fails to meet the court's requirements for inmates' safety. Larry Dupuis, legal director of ACLU Wisconsin whose lawsuit brought on the monitor report, weighs in on the findings.
January 18, 2019 • Northern Region
More Stories