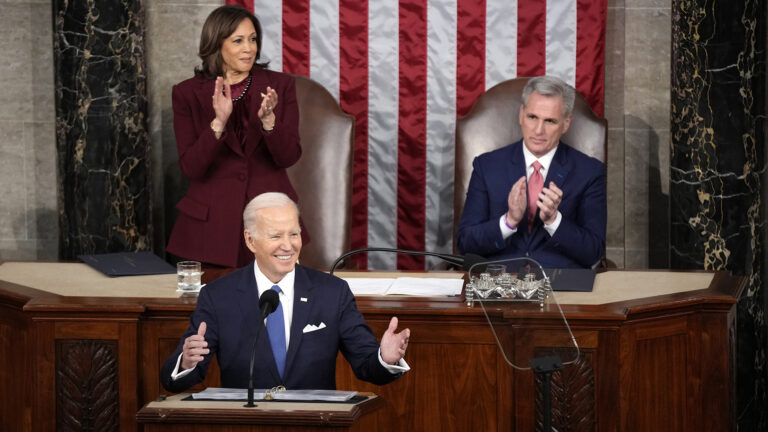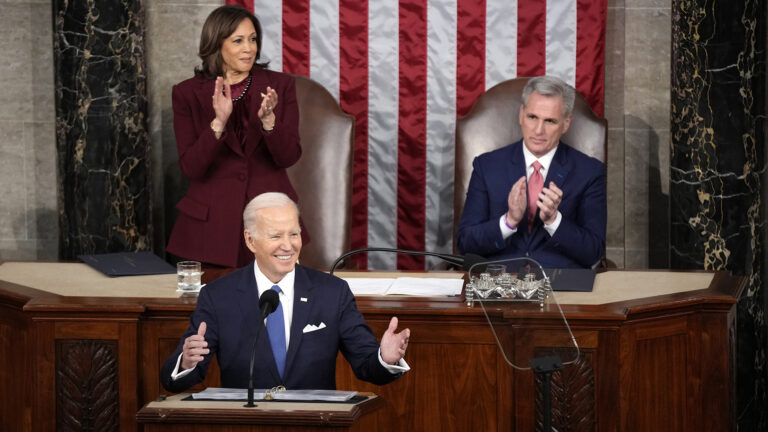 Biden heads to Wisconsin after 2023 State of the Union
President Joe Biden is visiting a training center run by the Laborers' International Union of North America near Madison to press the economic message and other themes in his State of the Union address.
February 8, 2023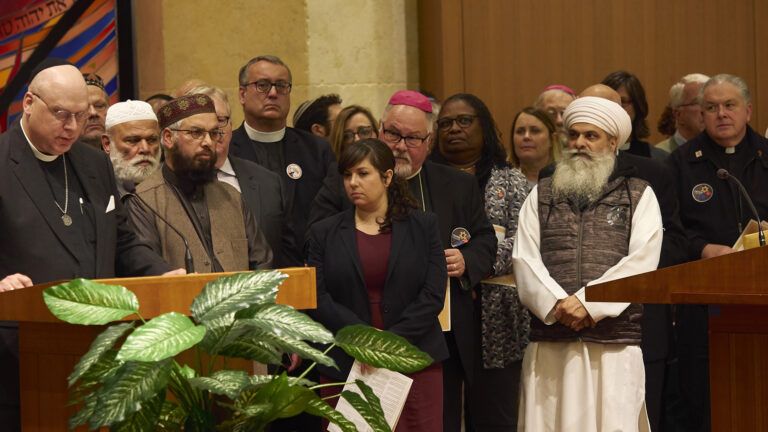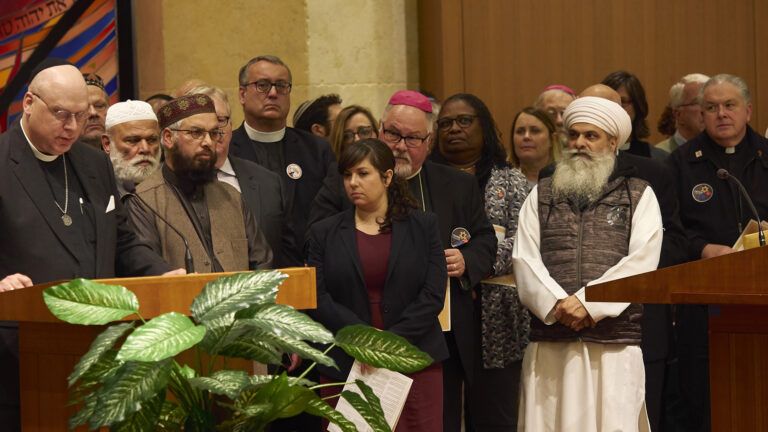 Shining a light on the growing problem of antisemitism in Wisconsin
Political conflict, the pandemic and the casual malice prevalent in social media are all factors contributing to the rise in statements and acts of bigotry and hatred toward Jewish communities — groups in Milwaukee and Madison are working to emphasize the extent of this trend around the state.
December 20, 2022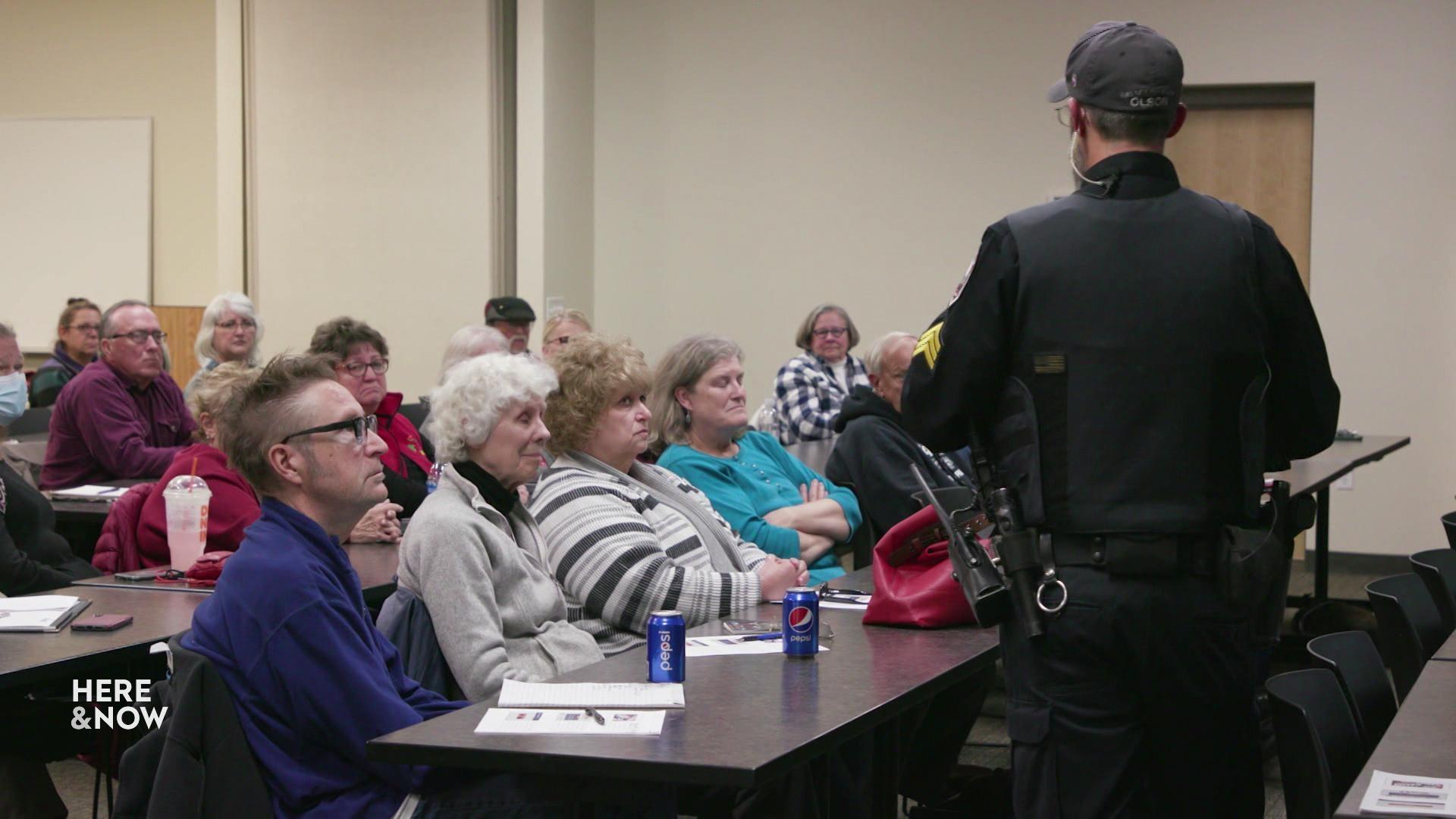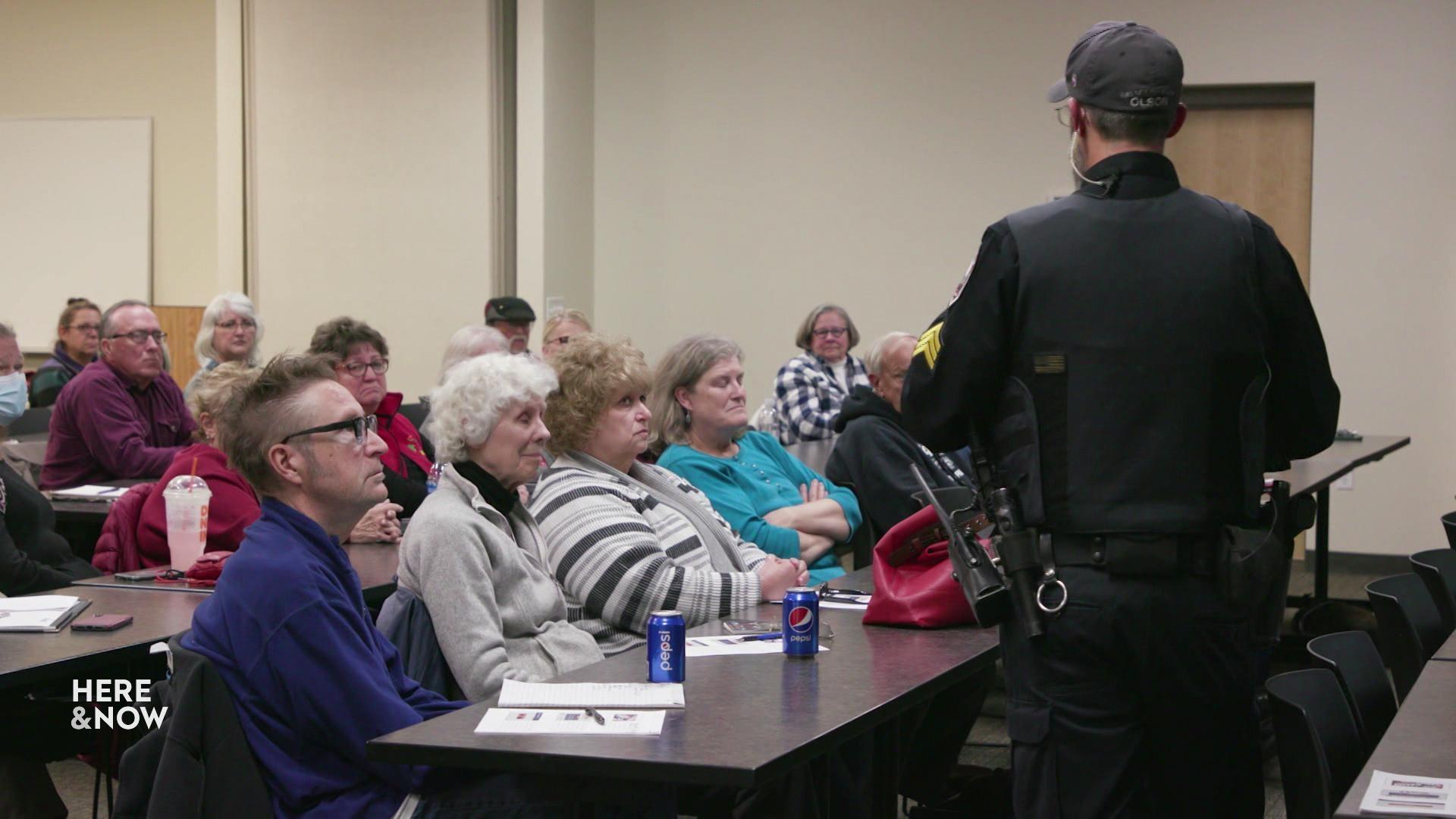 Poll workers get active shooter training before Election Day
A few weeks ahead of the 2022 midterms, city staff and election workers in Stoughton participated in active shooter training with law enforcement officers to prepare for potential violence on Nov. 8.
October 21, 2022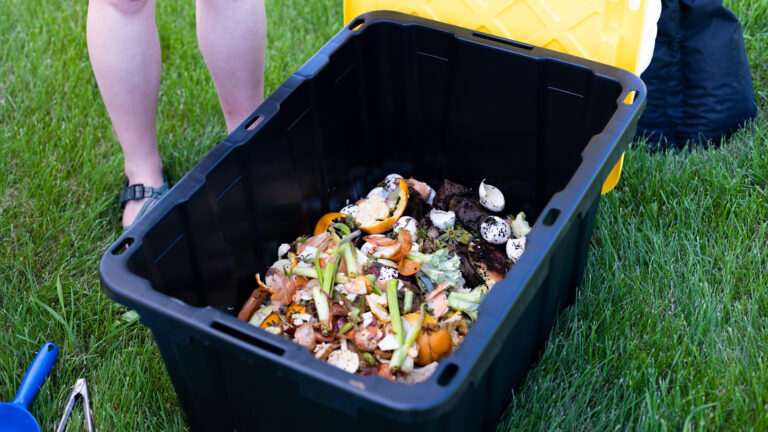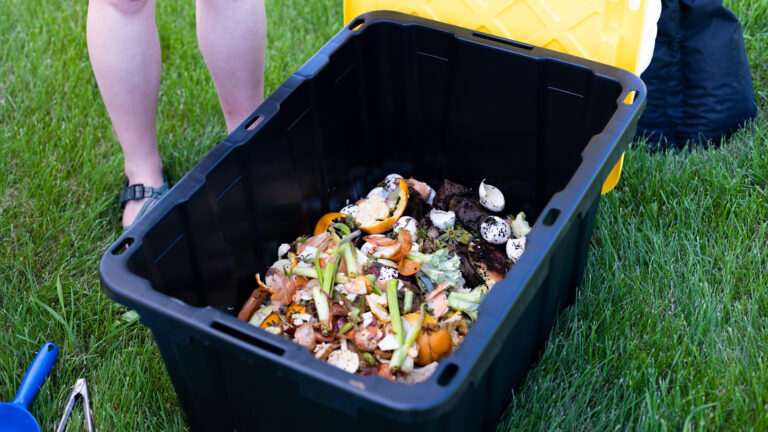 Large-scale food-scrap composting in Madison challenged by technology, logistics
The University of Wisconsin and the city of Madison have struggled to turn tons of cast-off food into soil — three local companies are trying to fill some of the gap.
October 17, 2022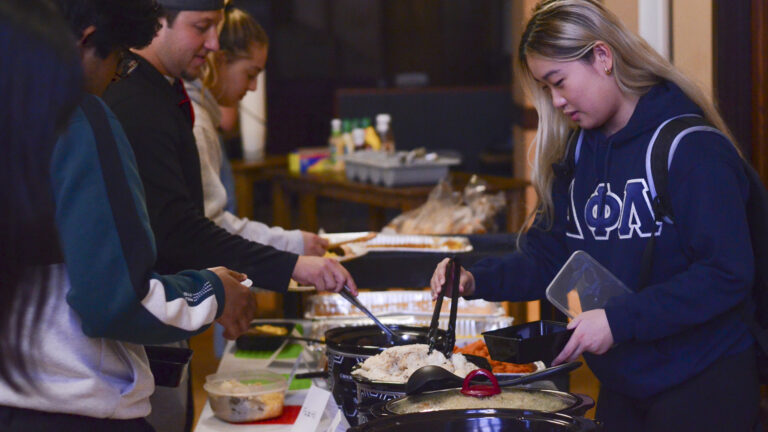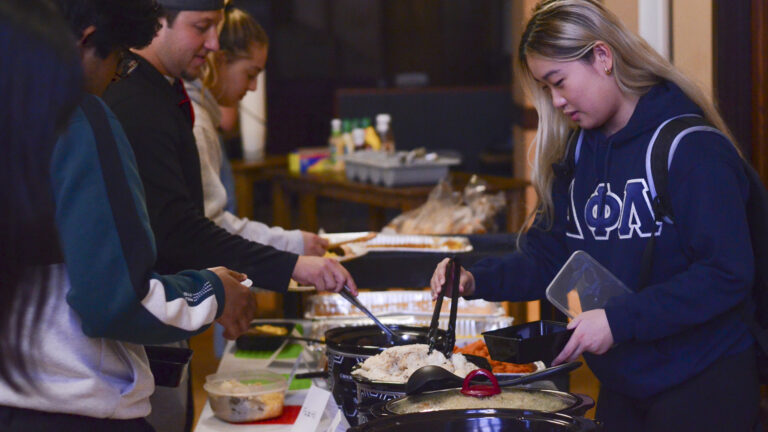 Food recovery programs in Madison seek to reduce waste and hunger
Charities in Wisconsin disagree on whether restaurant and grocery store food that was headed toward the landfill should be diverted and instead served to people in need.
October 10, 2022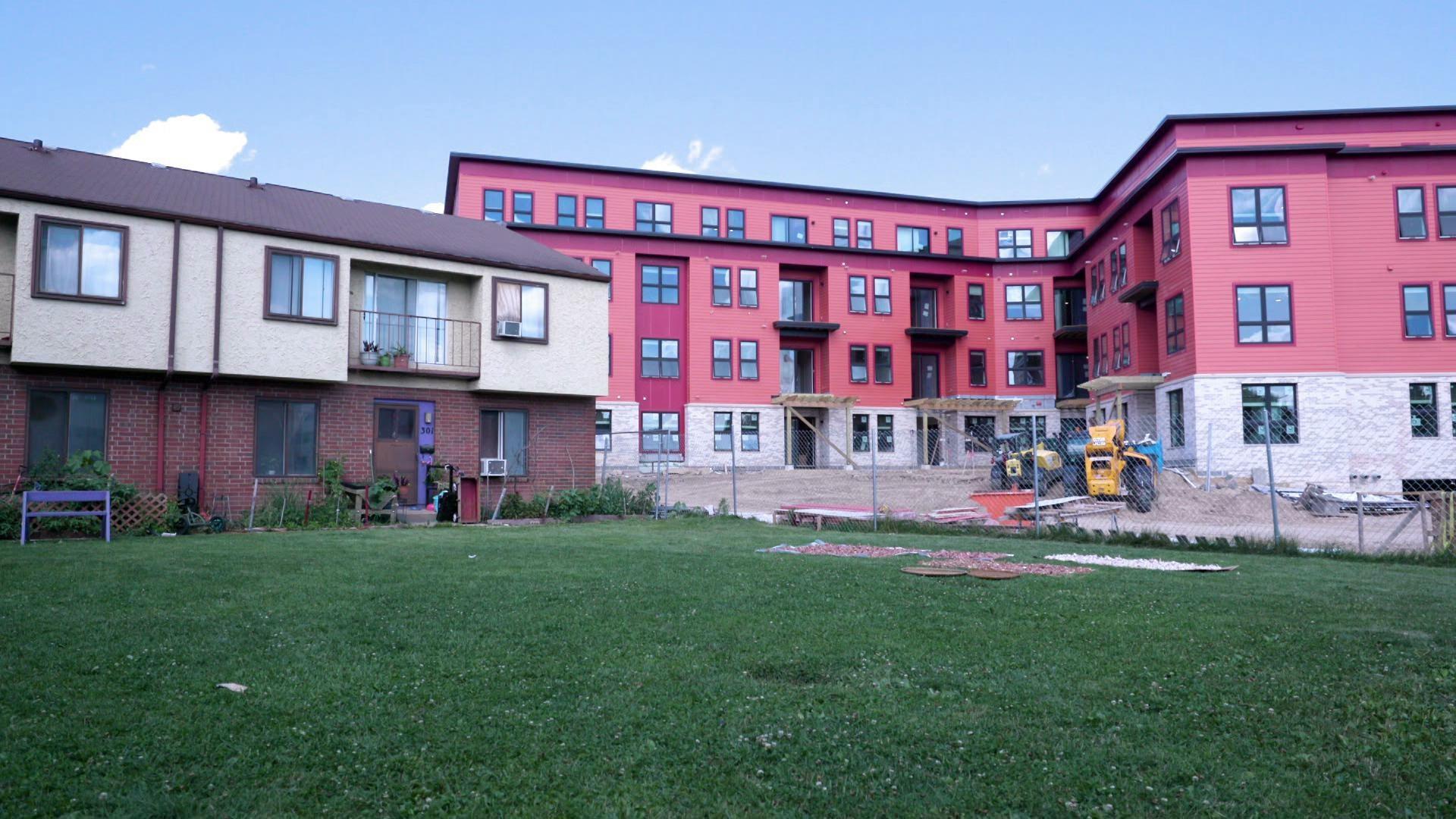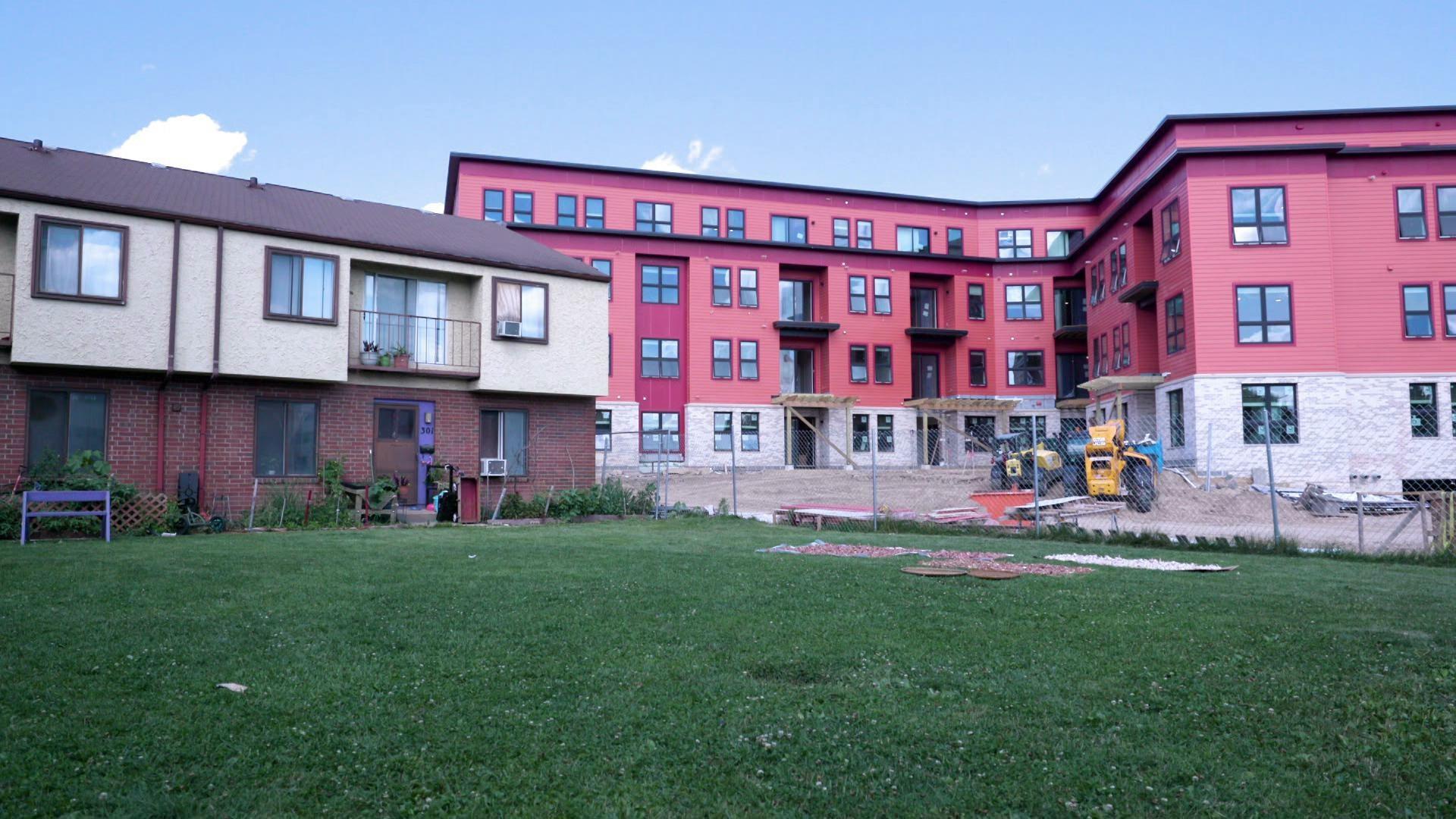 Redeveloping Madison's Bayview community with design justice
A long-time center of cultural diversity in Wisconsin's capital city, the Triangle neighborhood is home to a low-income housing development that seeks out the perspectives of people who live there.
September 22, 2022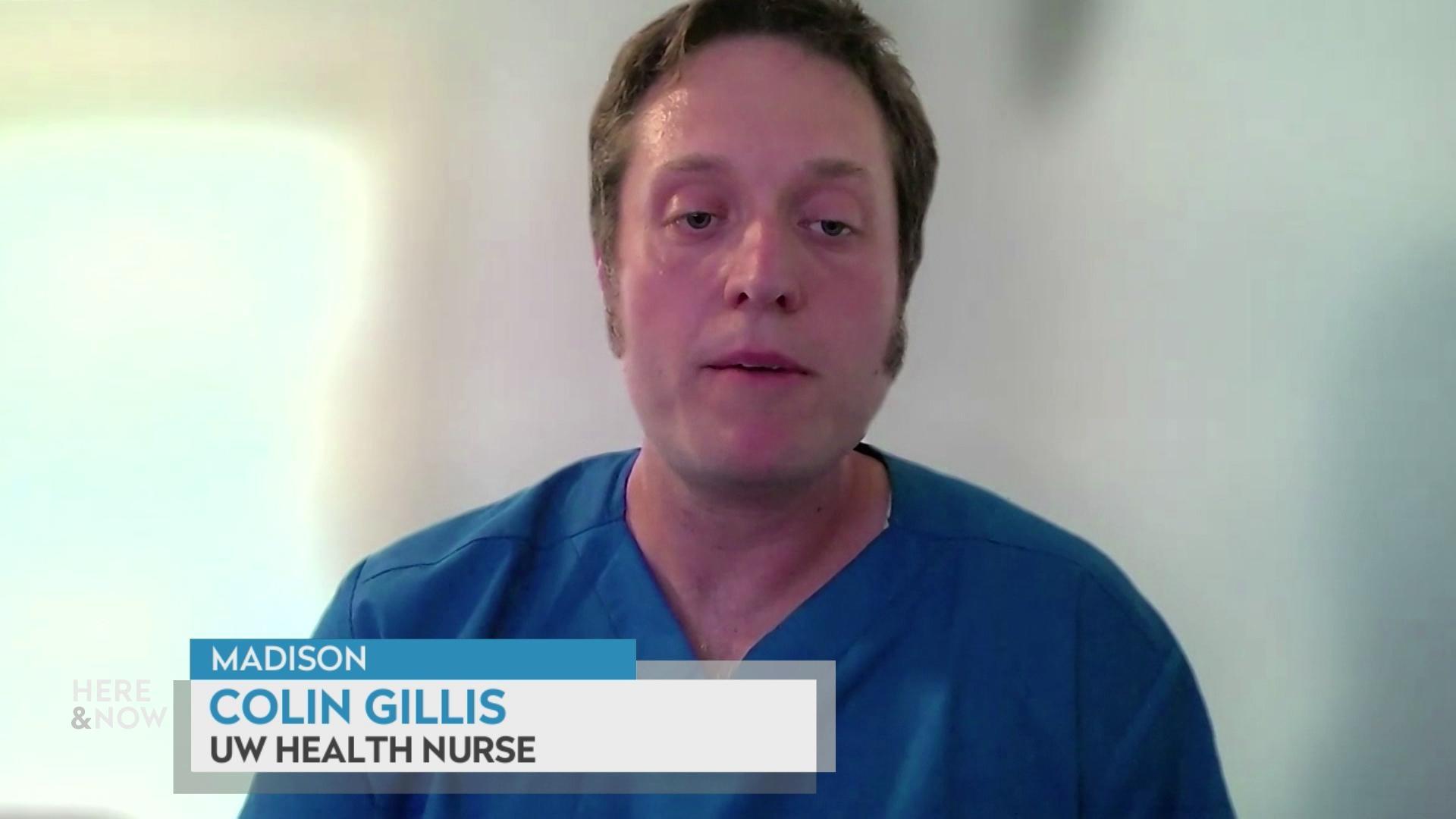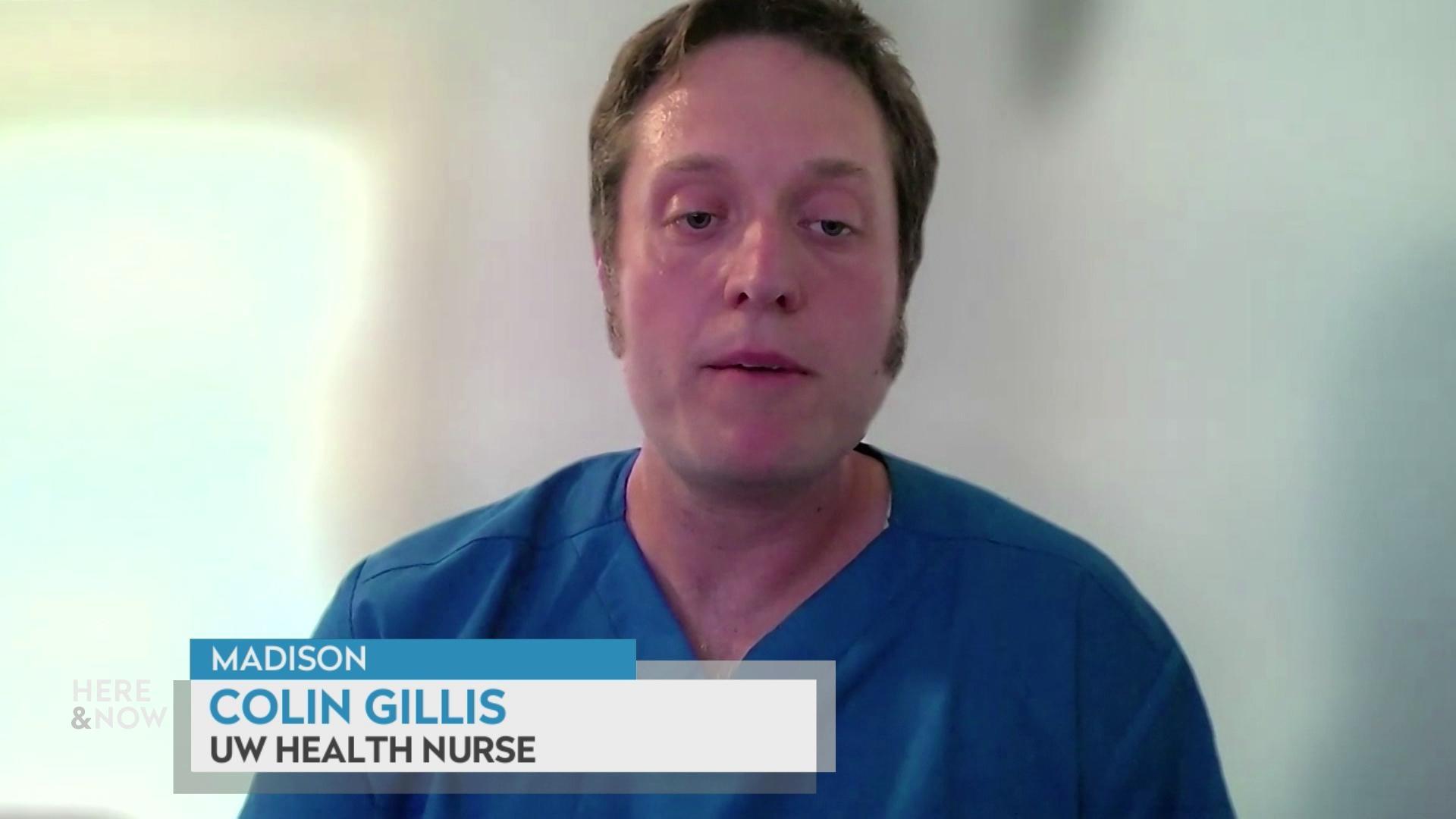 Colin Gillis on UW Health nurses issuing a strike notice
UW Health nurse Colin Gillis describes why hundreds of nurses are prepared to strike as the Madison health system refuses to recognize their union and the working conditions that led to this decision.
September 2, 2022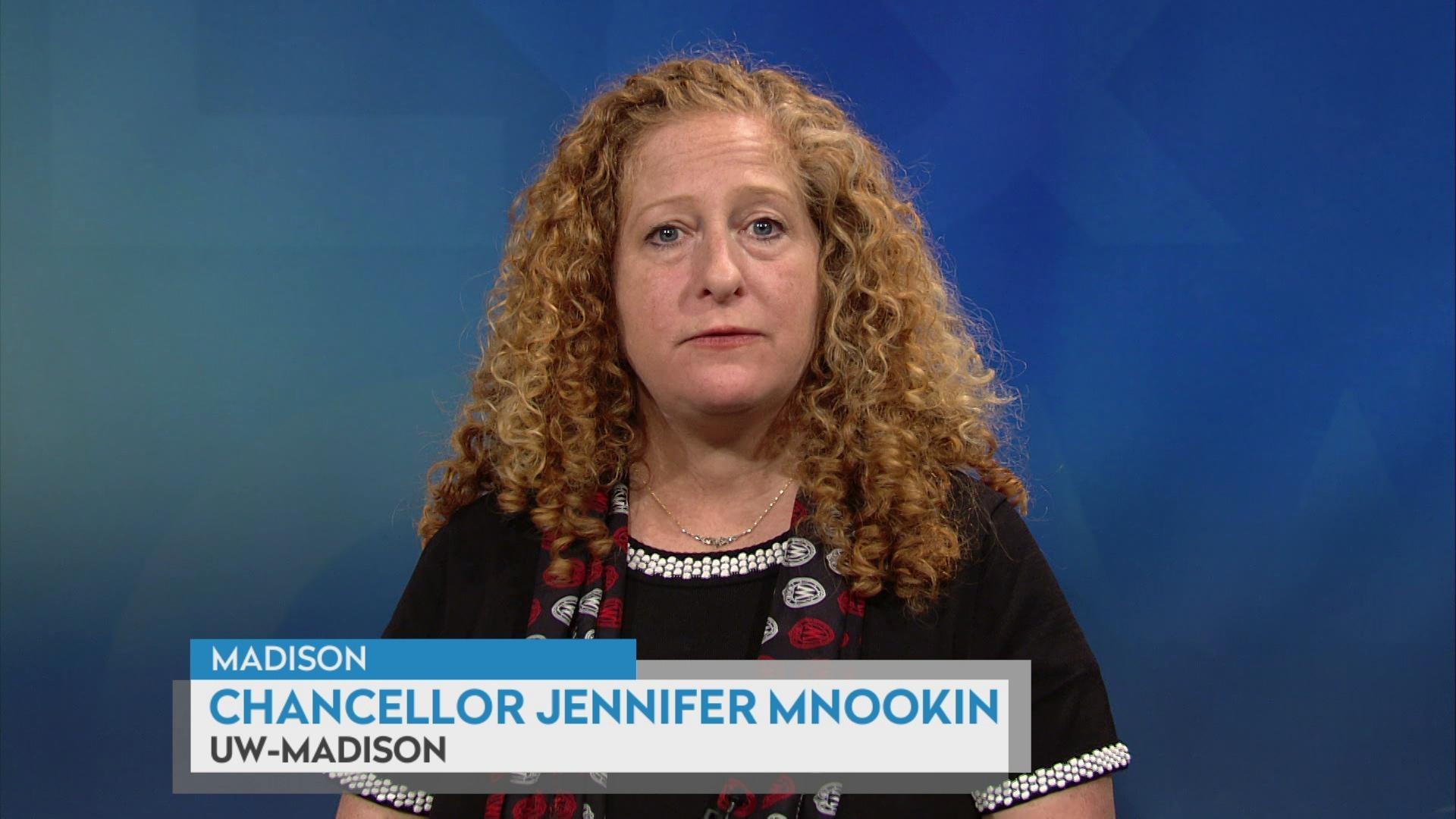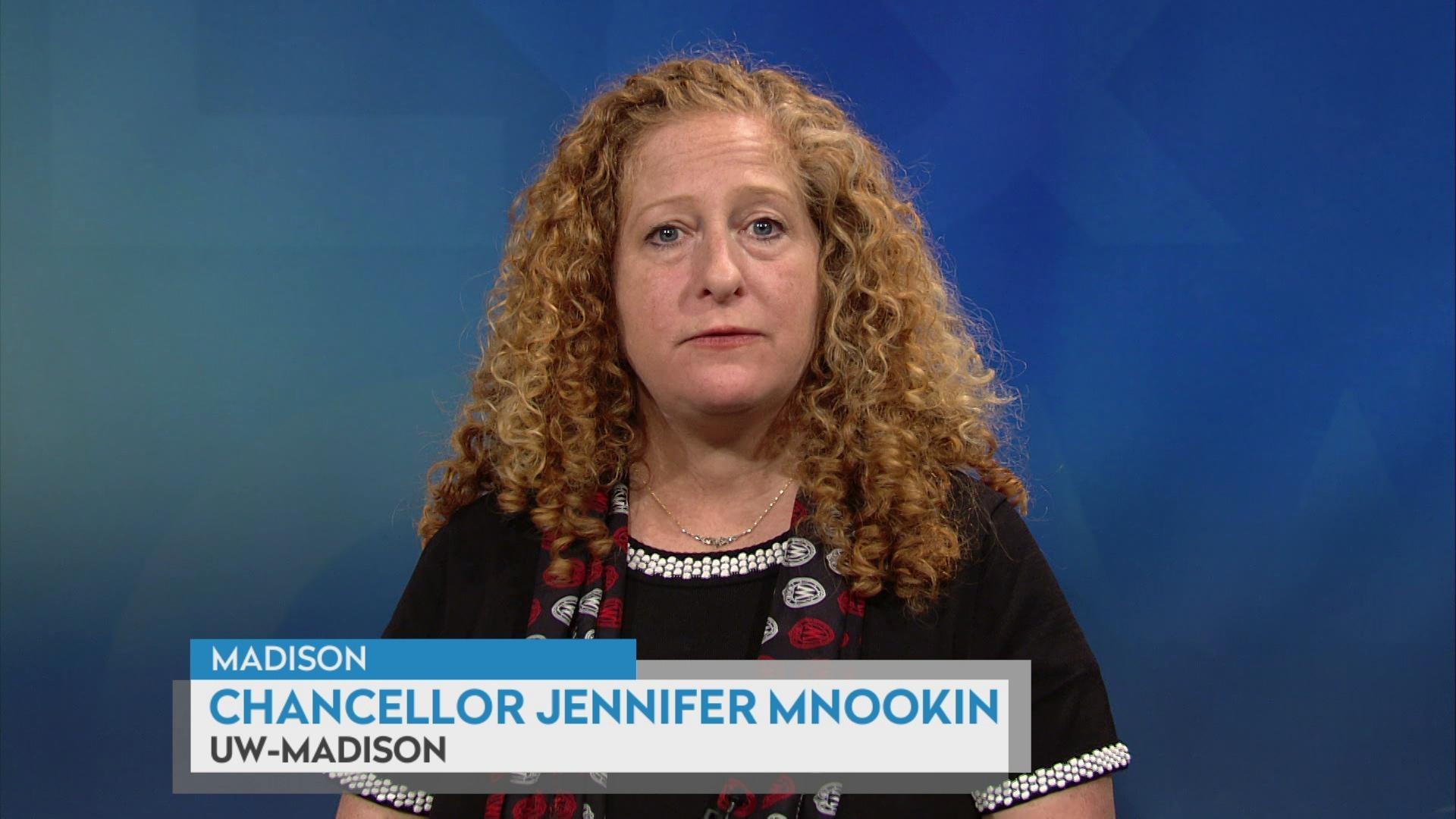 Chancellor Jennifer Mnookin on the future of UW-Madison
Dr. Jennifer Mnookin, the incoming chancellor of the University of Wisconsin-Madison, discusses her intentions to address challenges facing the institution, including the cost of attendance, student diversity and relationship with state government.
August 5, 2022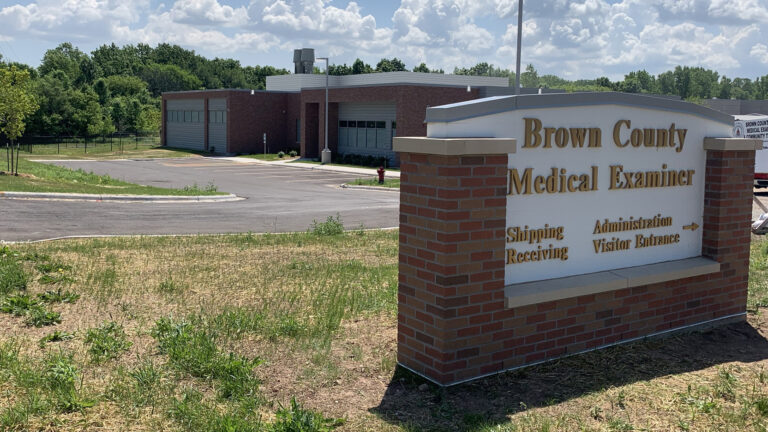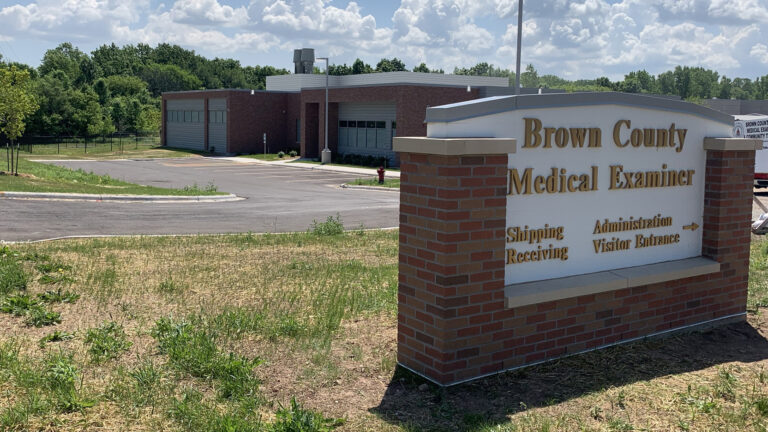 Brown County halts partnership with embattled Dane County Medical Examiner's Office
Officials in Brown County call the changes long-planned and unrelated to alleged bullying by Dane County Medical Examiner's Office supervisors.
July 26, 2022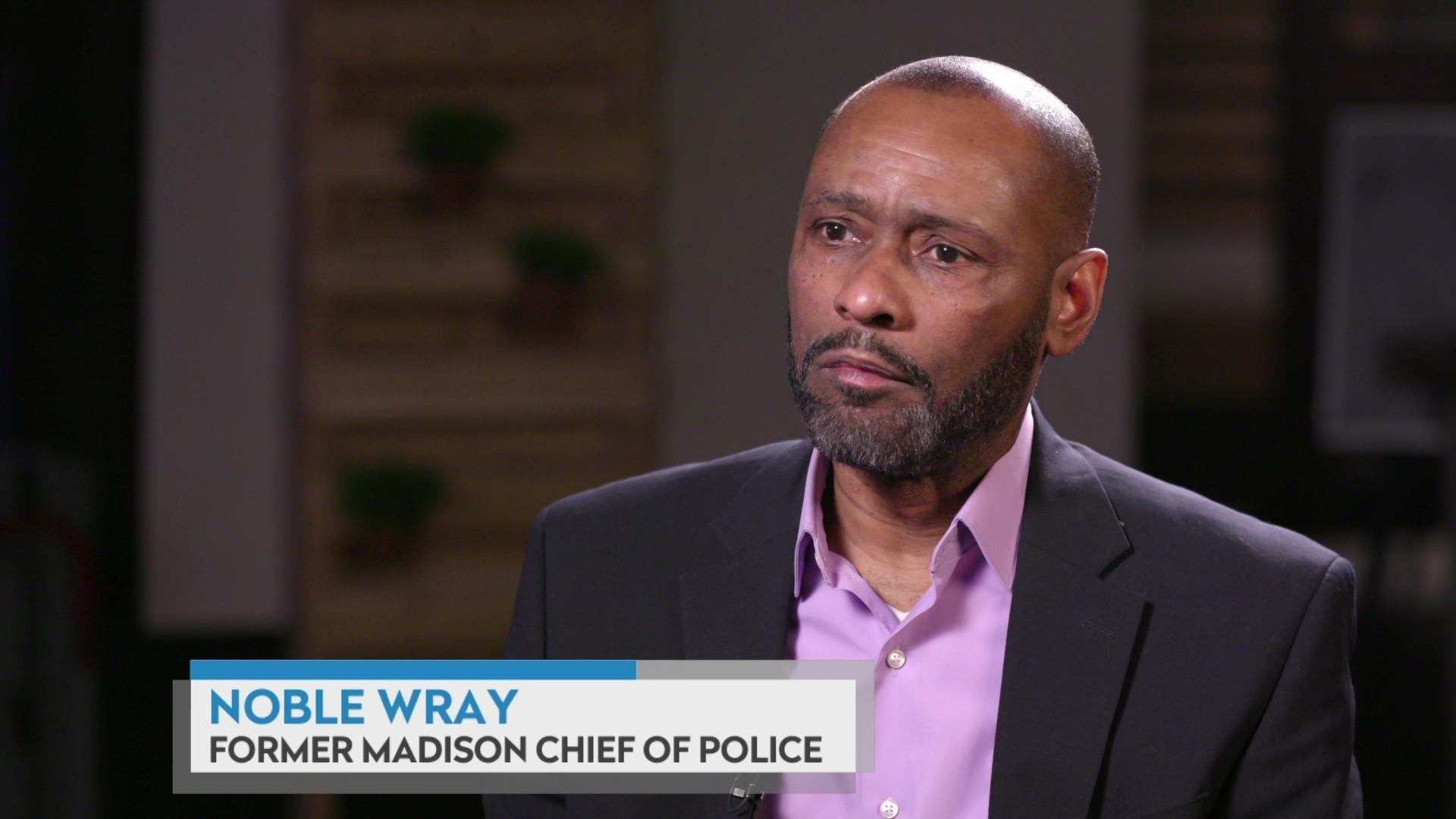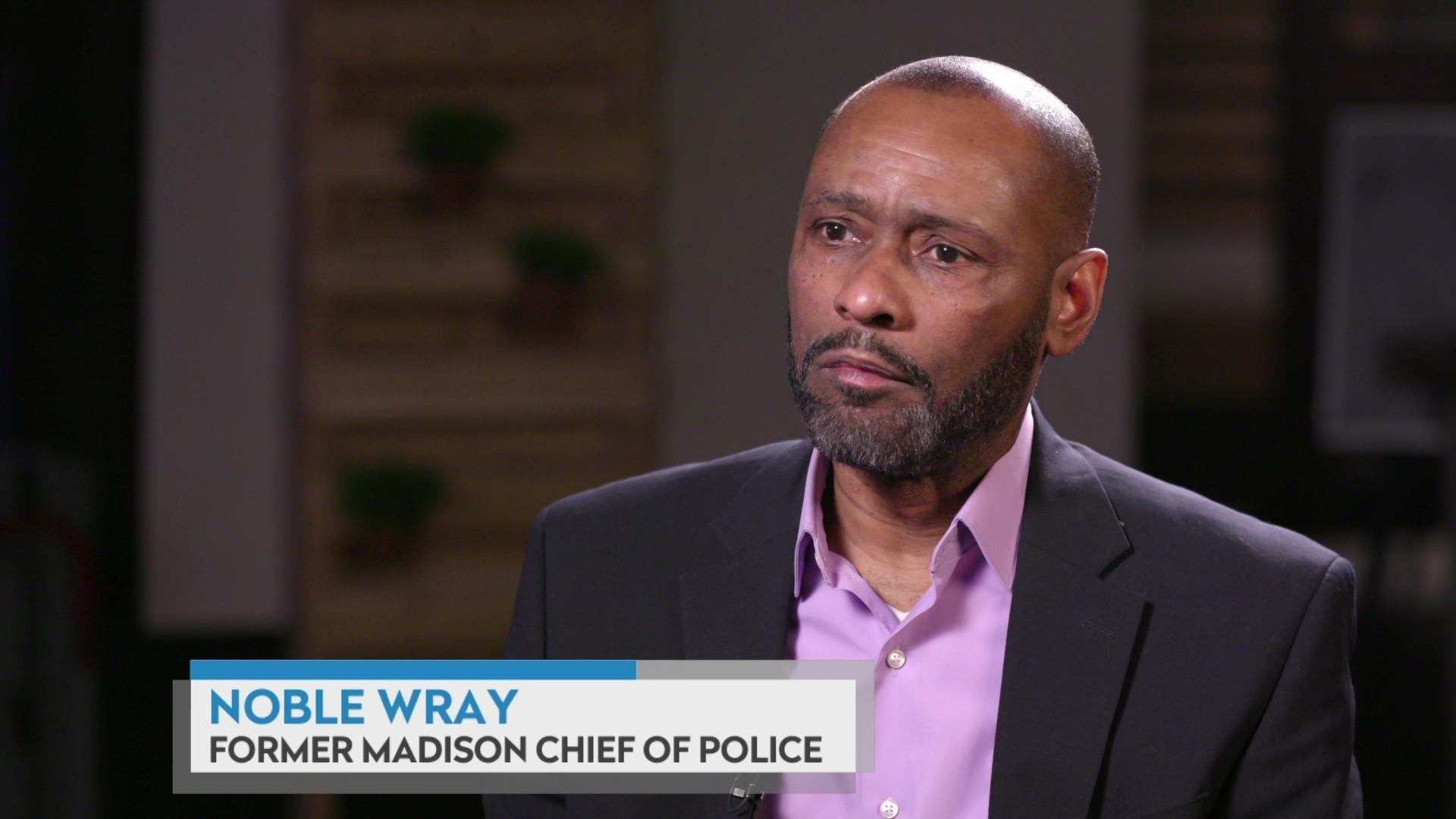 Shock, despair after the Highland Park shooting
Noble Wray, a national policing consultant and former police chief, discusses the Highland Park mass shooting, the suspect's travel to the Madison area and the availability of military-grade guns.
July 8, 2022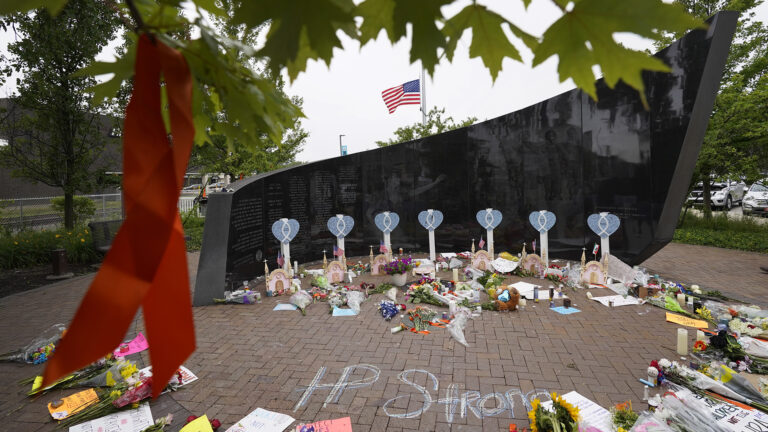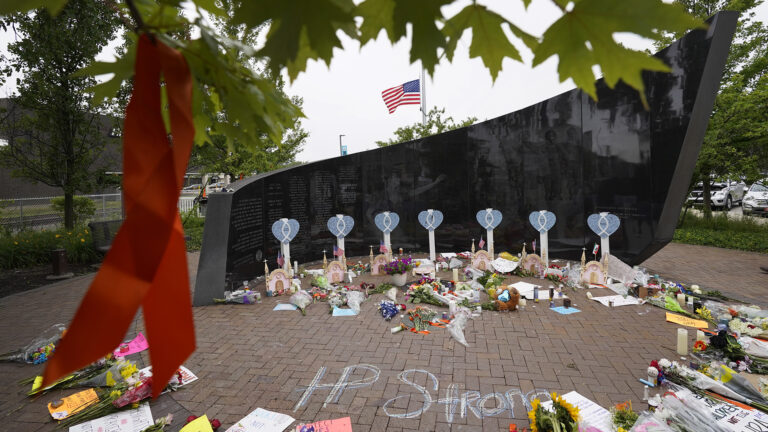 Highland Park suspect contemplated another mass shooting around Madison
According to police, the man charged in an Independence Day gun attack in a Chicago suburb fled to the Madison area but turned back to Illinois, where he was later arrested after deciding he was not prepared to pull off a shooting in Wisconsin.
July 7, 2022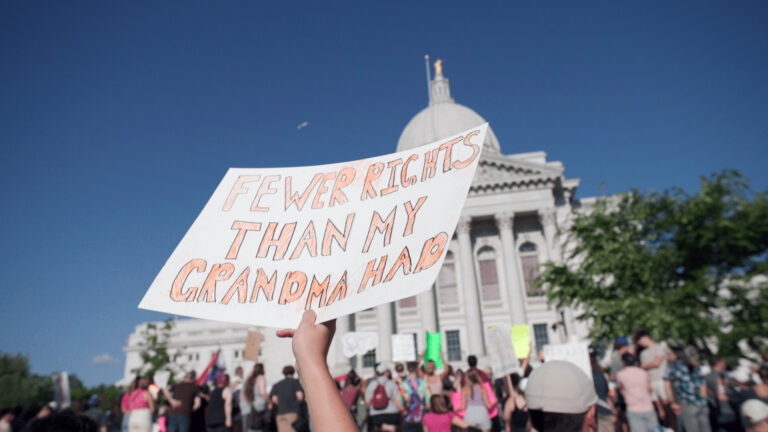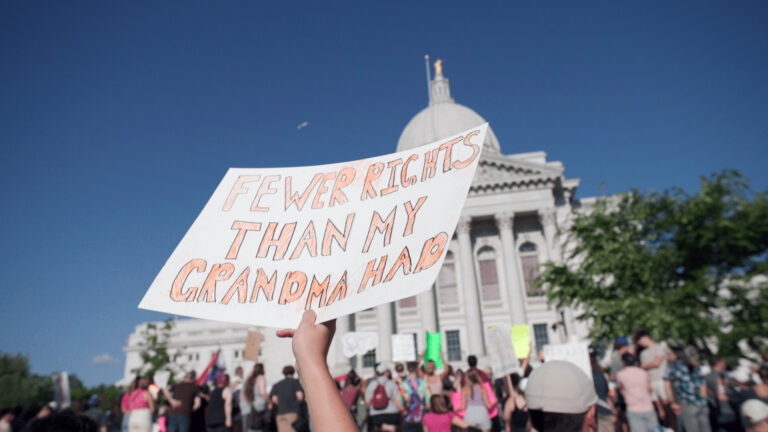 Protesters gather at Wisconsin Capitol after U.S. Supreme Court overturns Roe v. Wade
Following the Dobbs v. Jackson decision by the nation's high court, Wisconsin now bans abortion except when deemed necessary to save a mother's life under an 1849 law.
June 25, 2022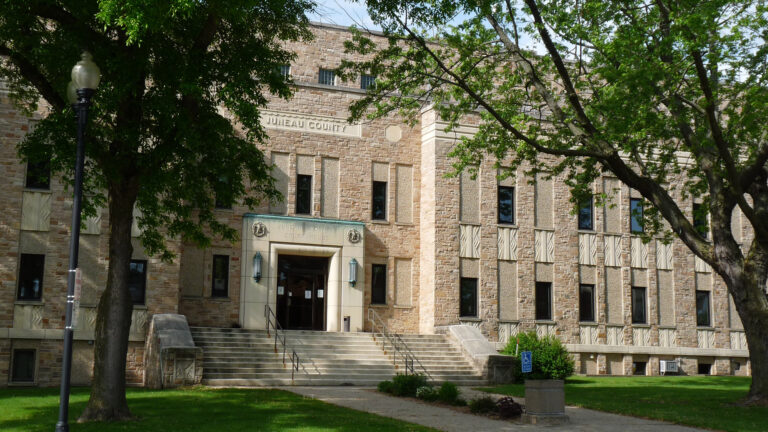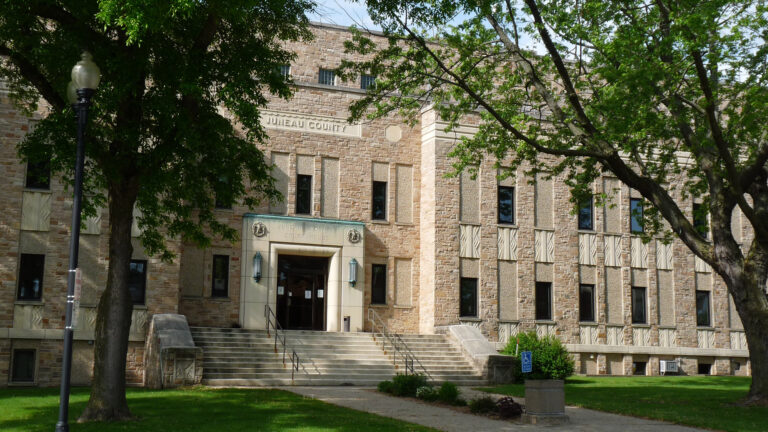 Wisconsin DOJ confirms retired Judge John Roemer killed in targeted attack
The suspect in a June 3 shooting in Juneau County has been identified as Douglas K. Uhde, whom Judge John Roemer sentenced to six years in prison in 2005.
June 5, 2022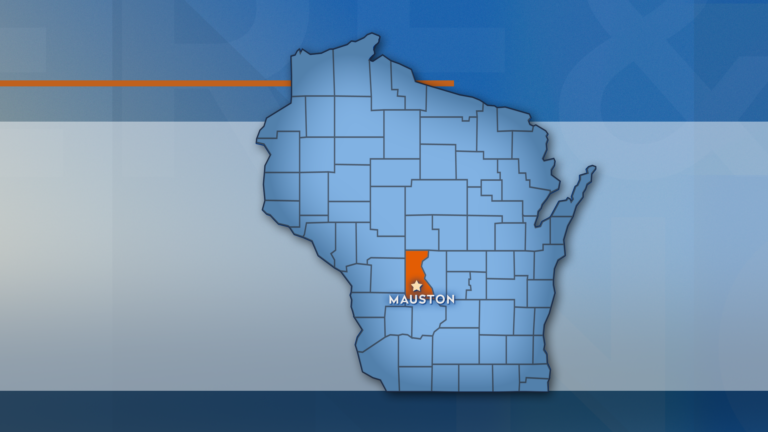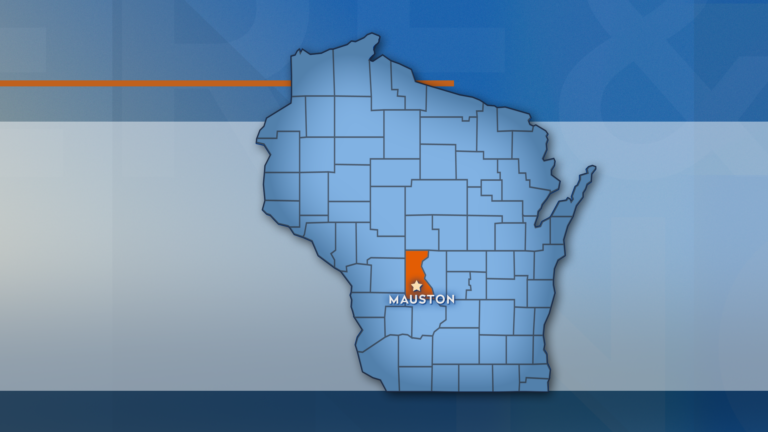 Wisconsin DOJ investigating targeted shooting related to judicial system
A Juneau County shooting that left one dead and another hospitalized was a targeted act that the state Attorney General noted was related to court cases.
June 3, 2022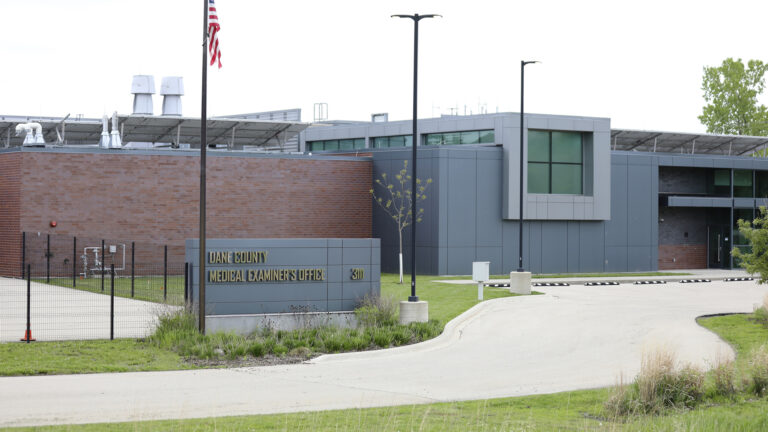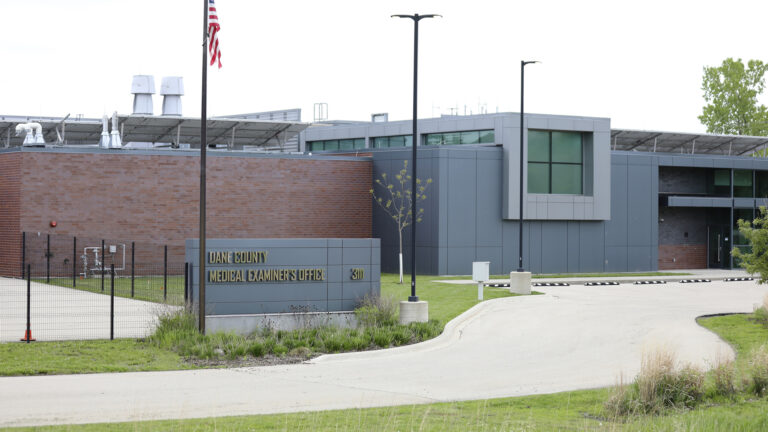 'Toxic work environment' in Dane County Medical Examiner's Office pushes employees to the brink
Staffers say the county refused action as yelling, insults and unrelenting demands damaged their mental health, while the alleged behavior causes other counties to cut ties.
May 26, 2022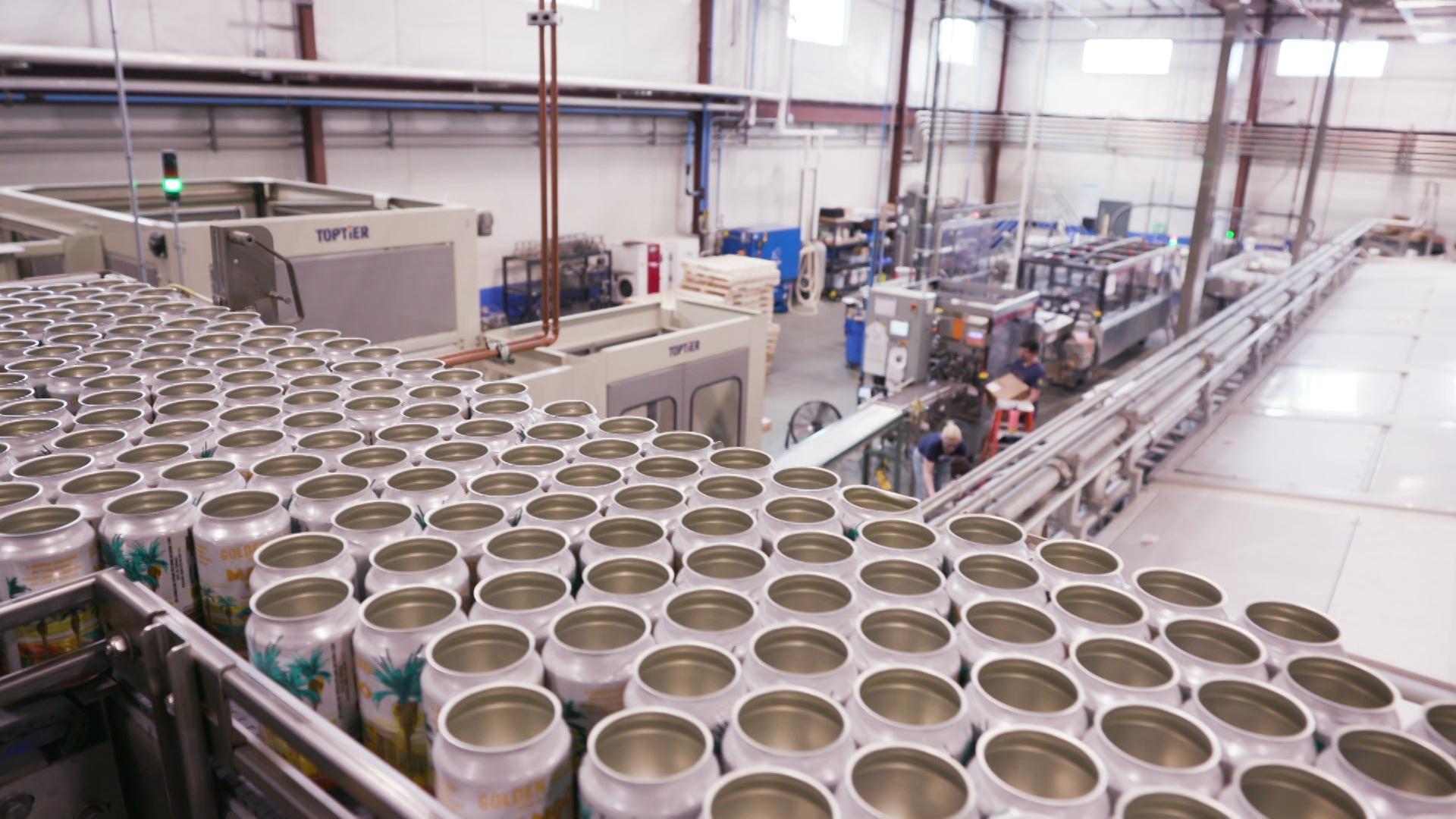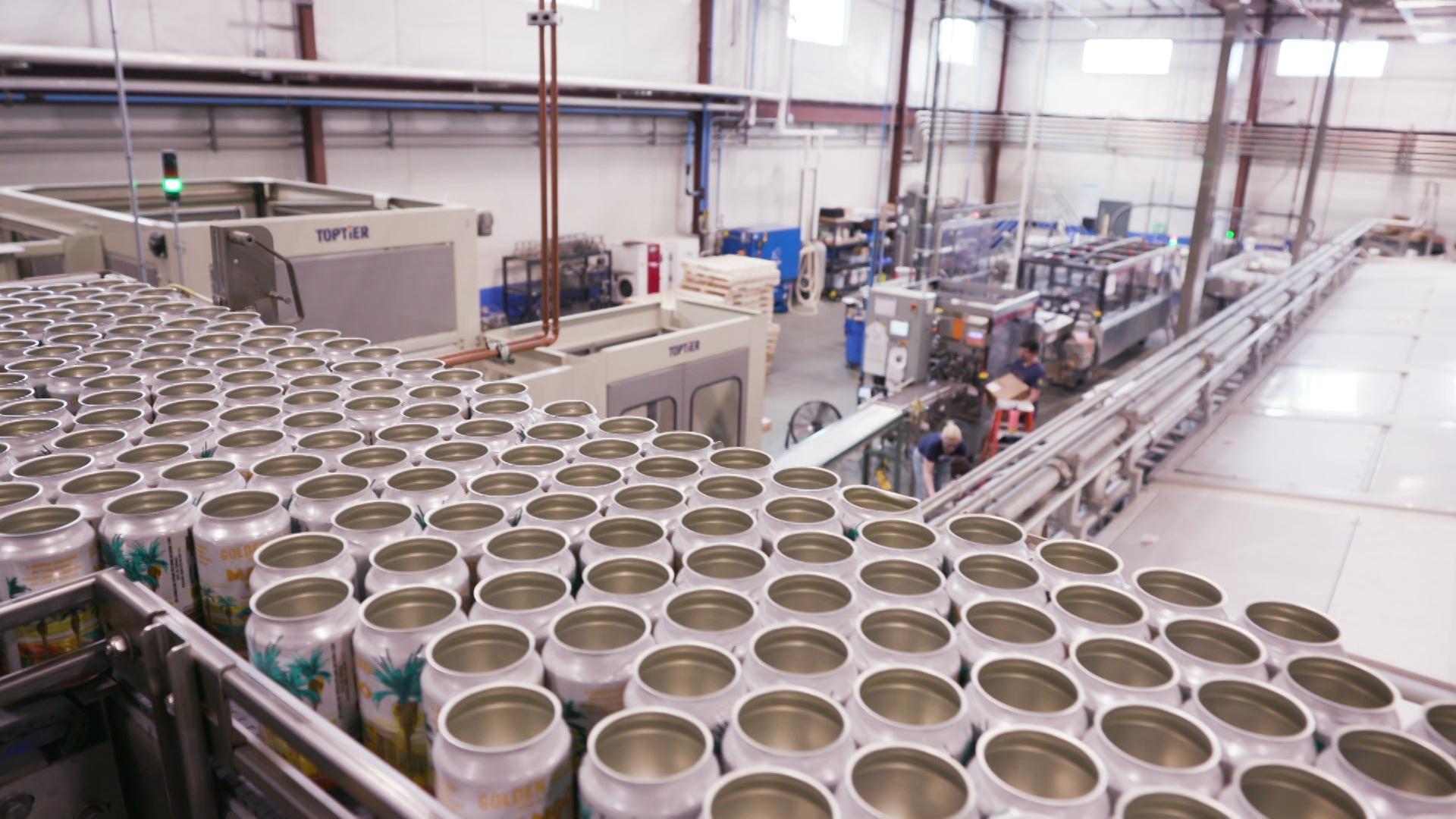 A growing Wisconsin brewery faces high demand, tight supply
The pandemic and international conflict have wreaked havoc with supply chains around the world – Octopi Brewing is adjusting to these increasingly uncertain business conditions, trying to keep raw materials flowing and machinery running as interest in its canned beverages grows.
May 25, 2022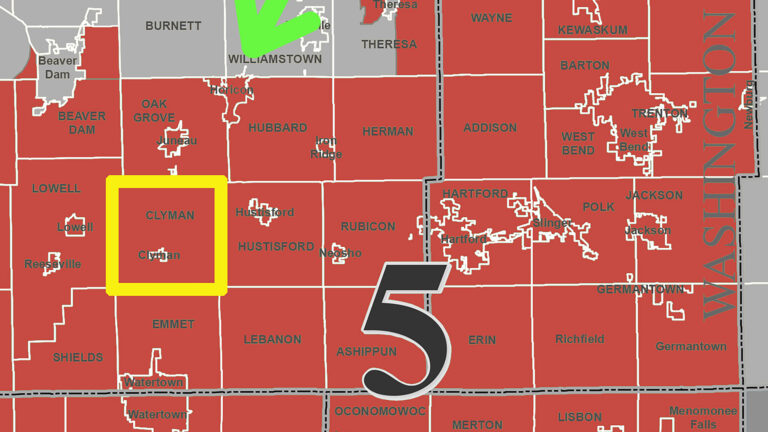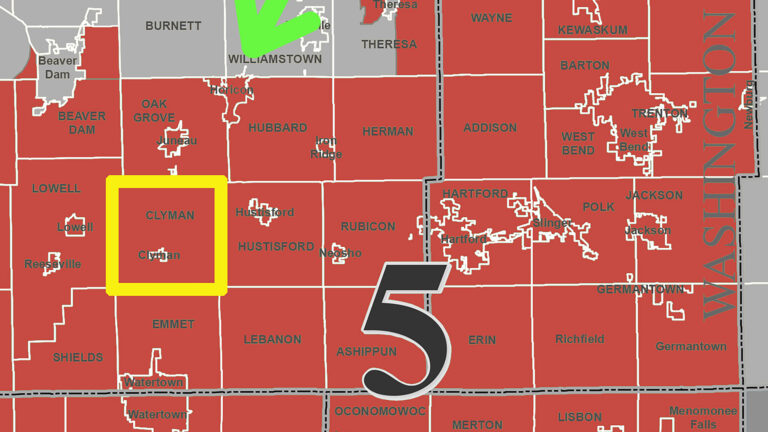 The Fitzgerald brothers once again both reside in the 5th Congressional District after a decade apart
Jeff Fitzgerald, a Republican lawmaker who held office in the Wisconsin Assembly from 2001 to 2013 and served as Speaker for one session, lives in Horicon — following court battles, the municipality was redistricted into the 5th Congressional District, represented by his brother Scott Fitzgerald, also a Republican.
May 24, 2022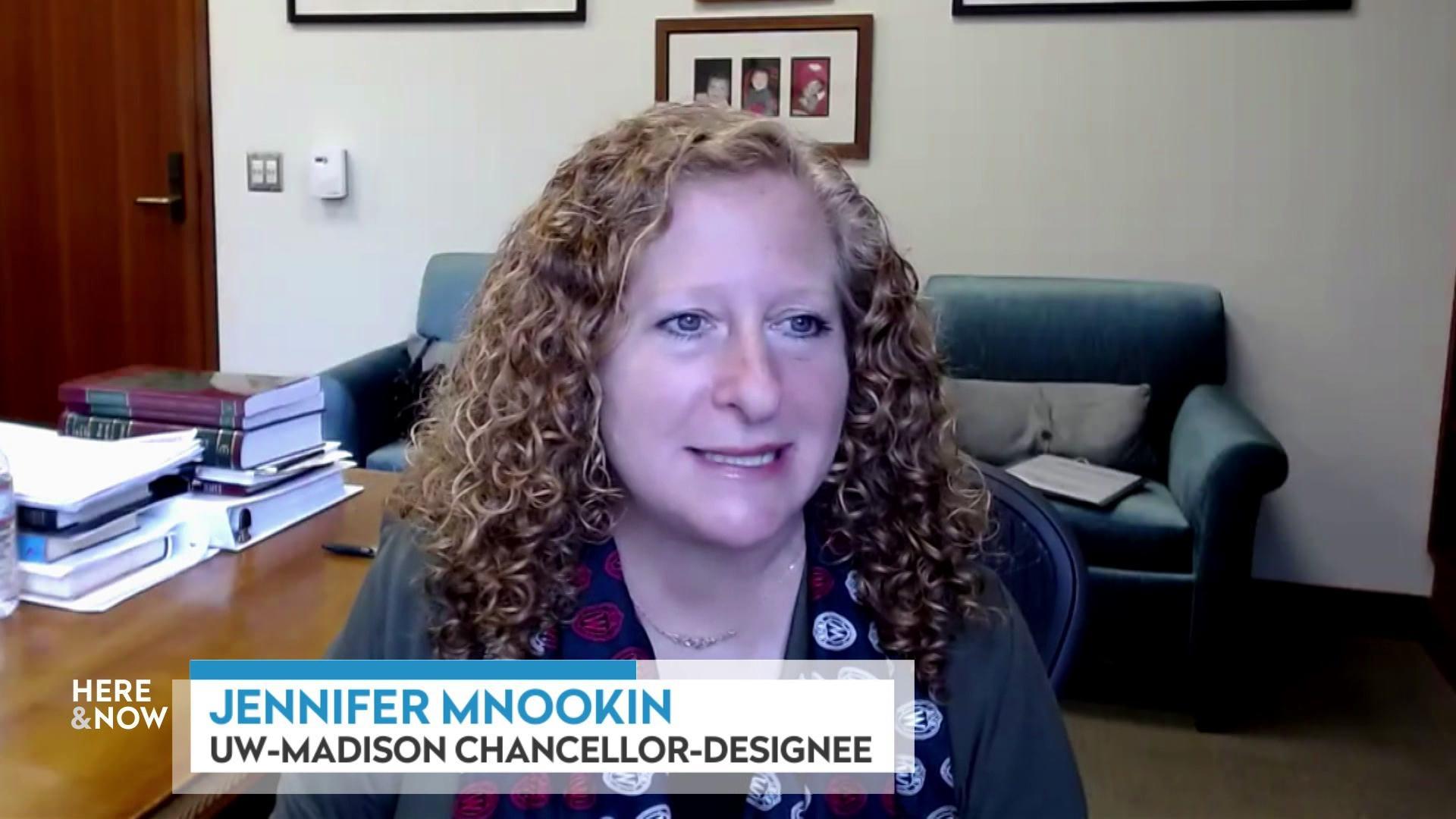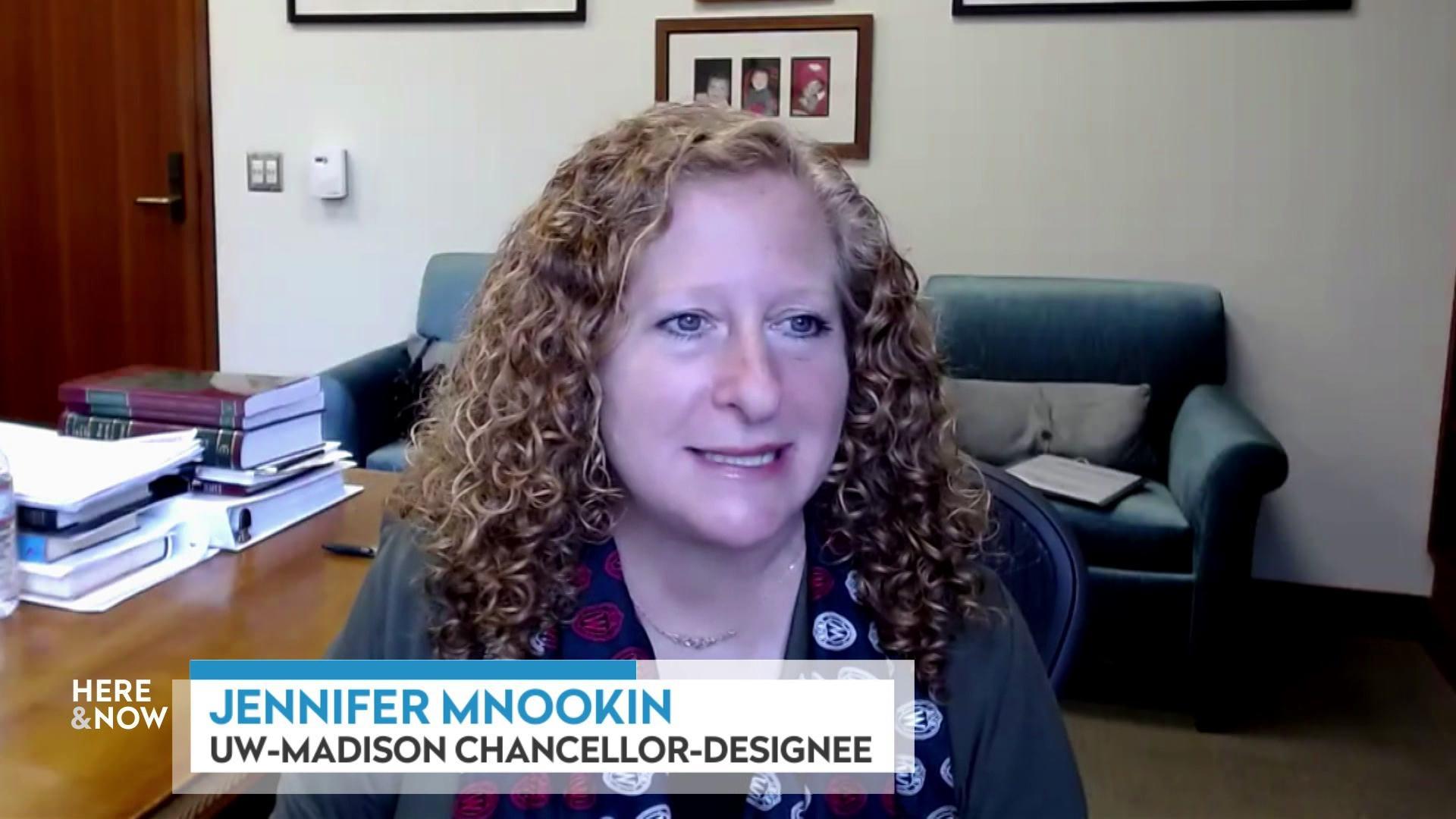 Nass denounces, Mnookin responds on critical race theory
State Sen. Steve Nass, R-Whitewater, who is vice-chair of the senate's universities committee, criticized the appointment of incoming UW-Madison Chancellor Jennifer Mnookin, who commented on her new position and critical race theory.
May 20, 2022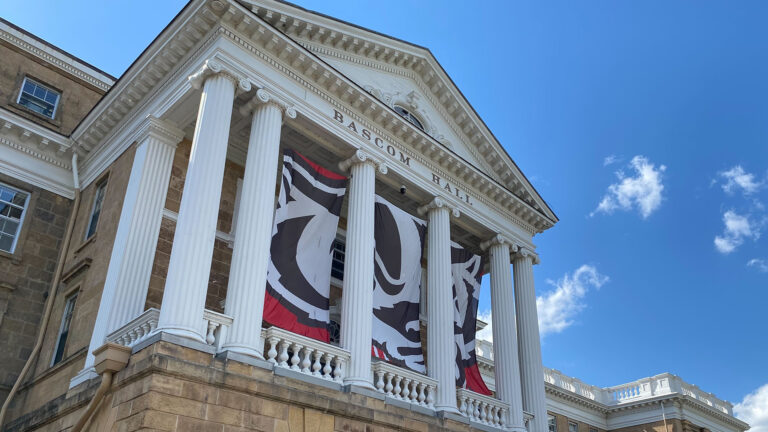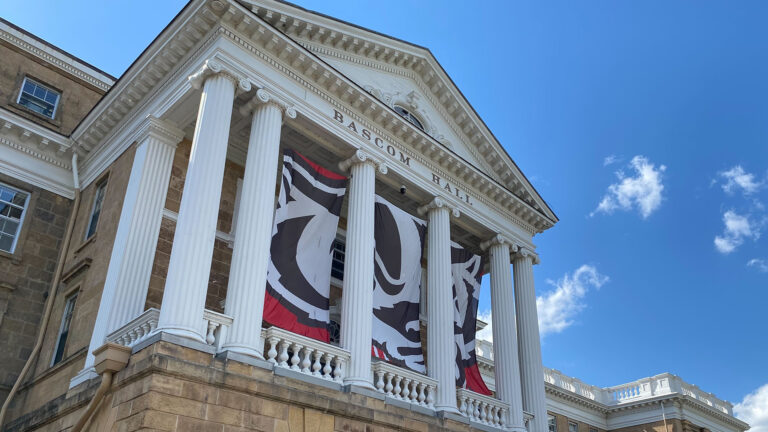 New UW-Madison chancellor Mnookin talks diplomacy, diversity and academic freedom
Jennifer L. Mnookin responded to criticisms from multiple Republican lawmakers following her appointment as chancellor of the state's flagship university, emphasizing her work as a "connector" who builds bridges.
May 17, 2022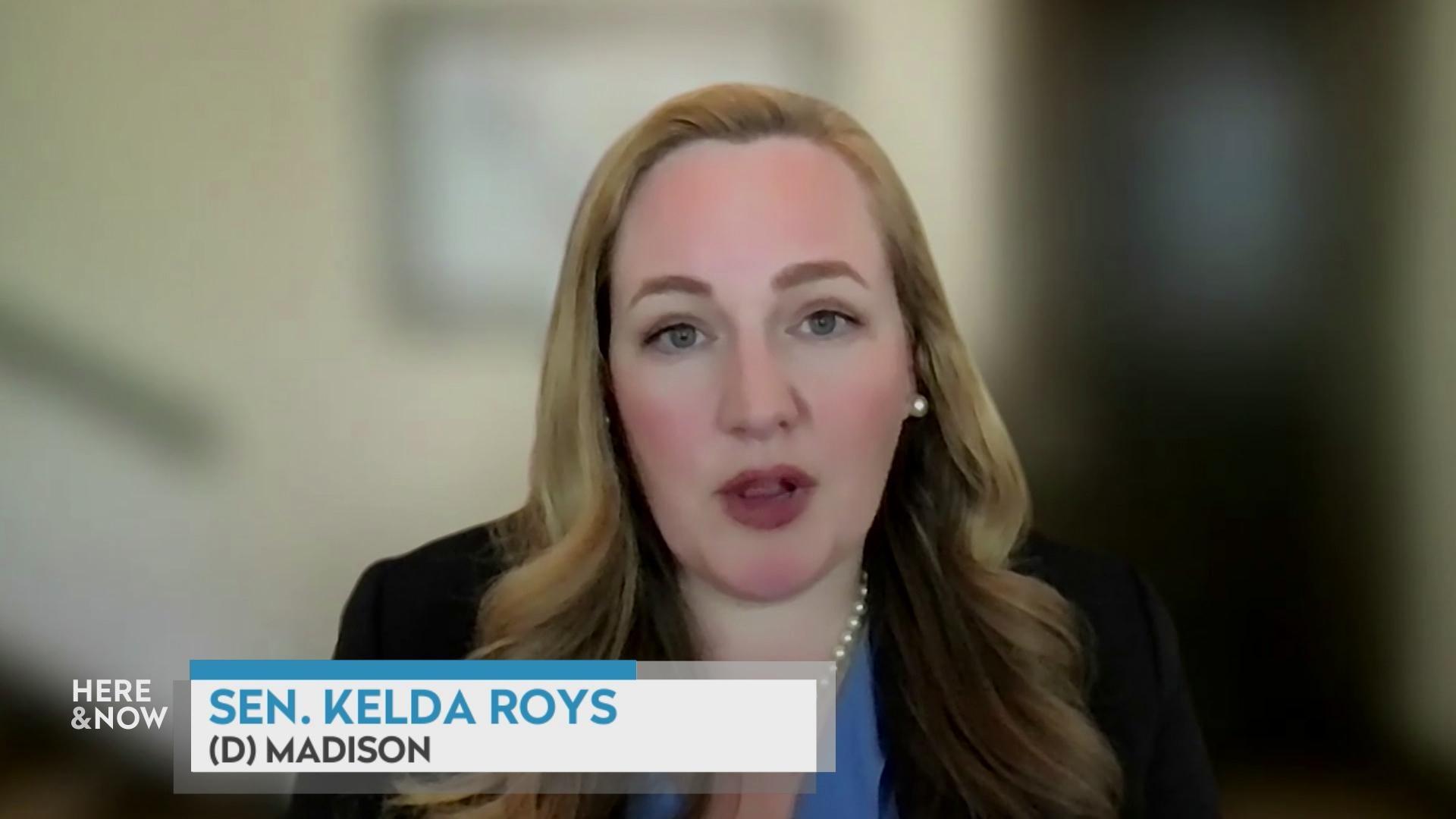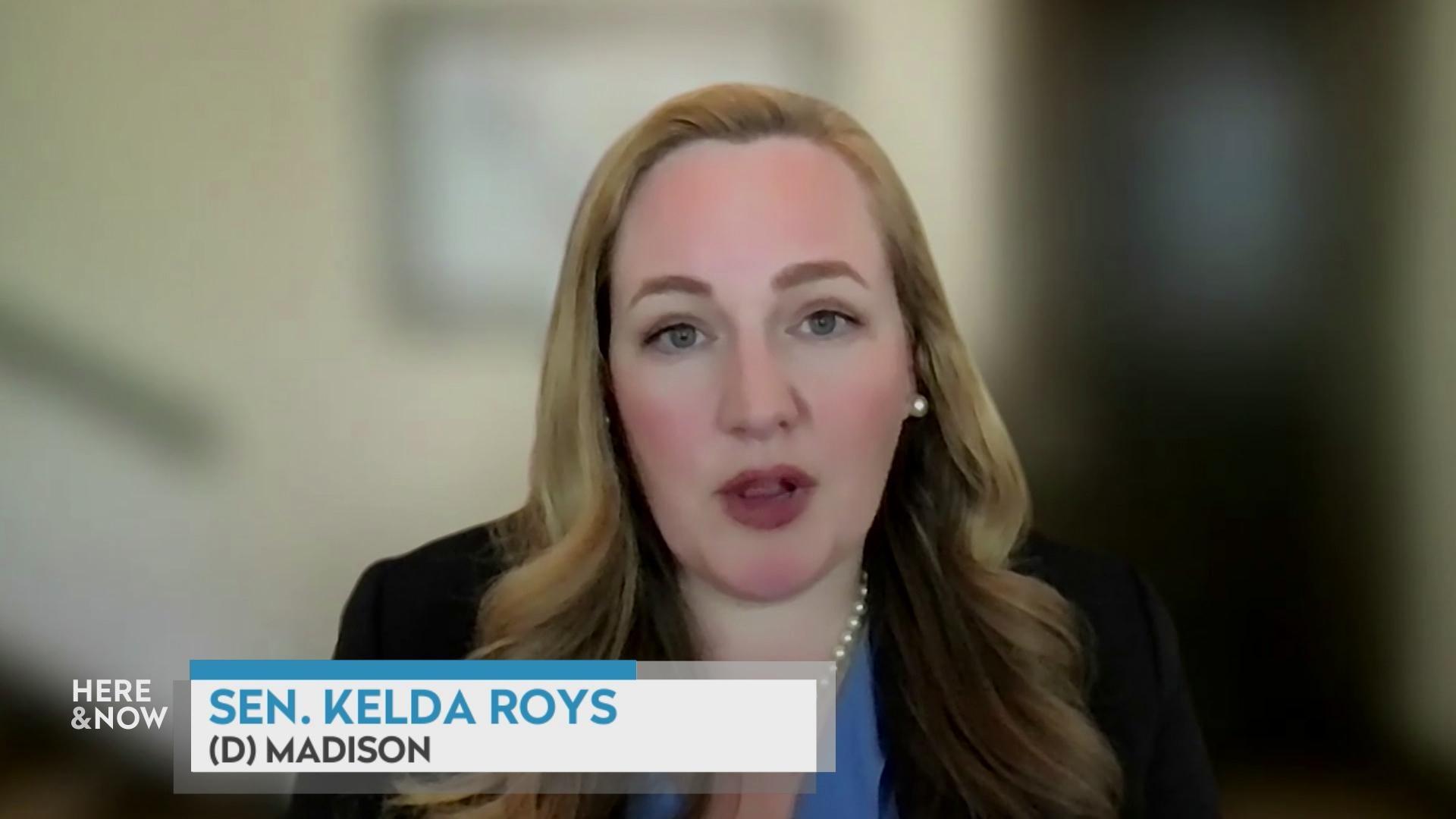 Democrats anticipate the end of Roe v. Wade
State Sen. Kelda Roys, D-Madison, discusses abortion law and what responses Wisconsin's Democratic lawmakers may be considering in anticipation of the U.S. Supreme Court overturning Roe v. Wade.
May 13, 2022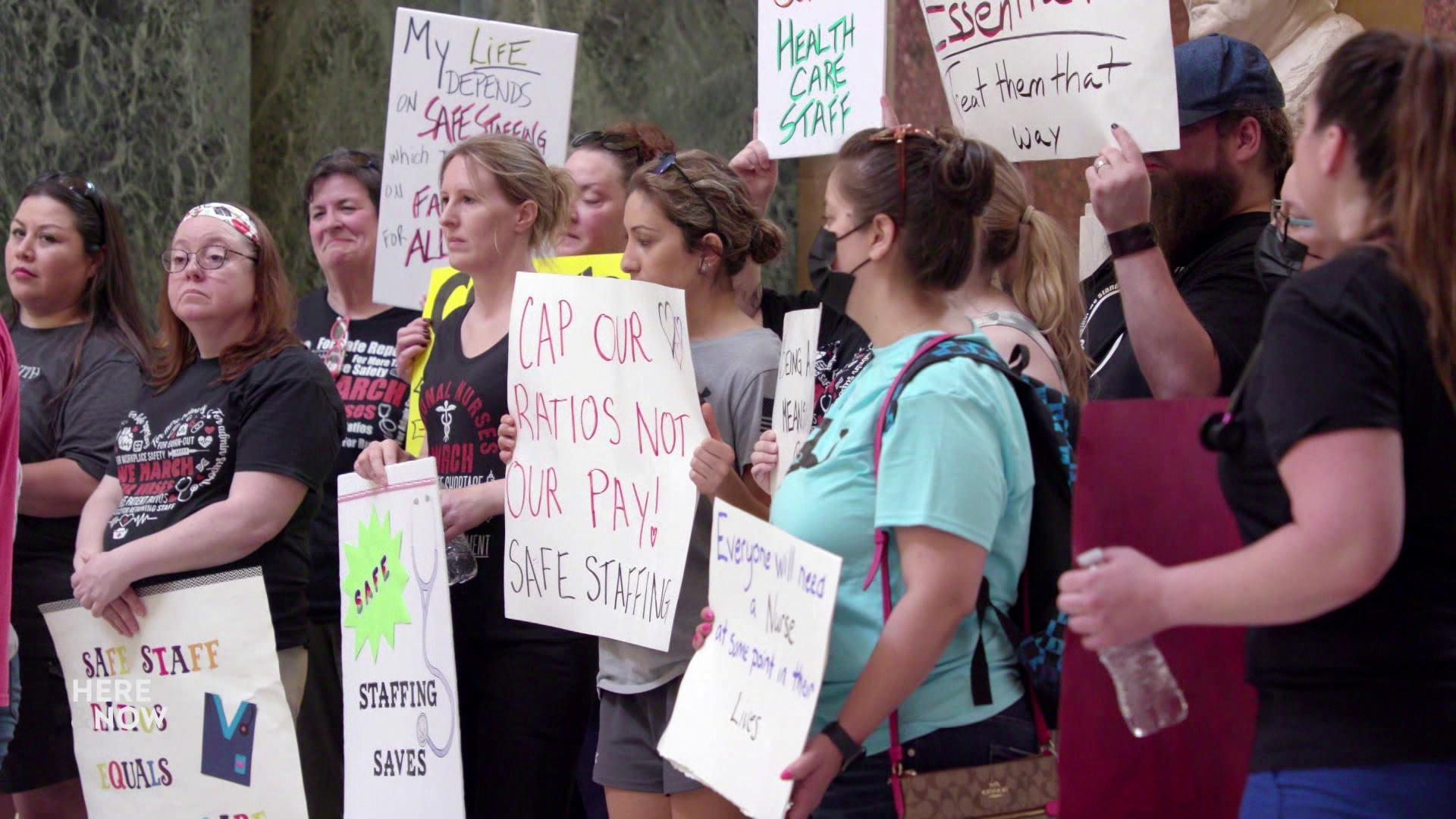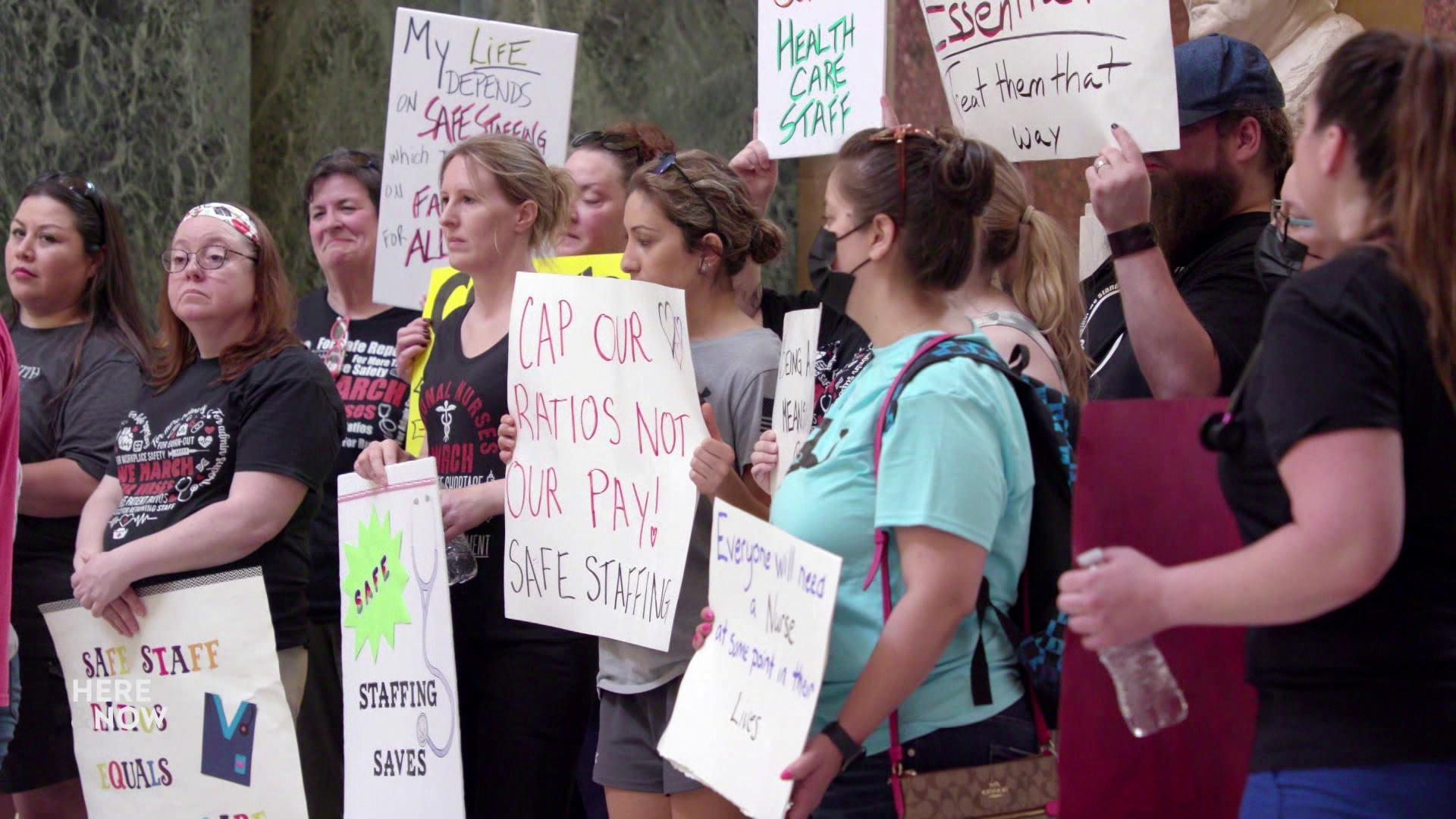 Nurses rally at Wisconsin Capitol
Nurses rallied at the Wisconsin State Capitol, calling for safer staffing levels, higher wages and more affordable education.
May 13, 2022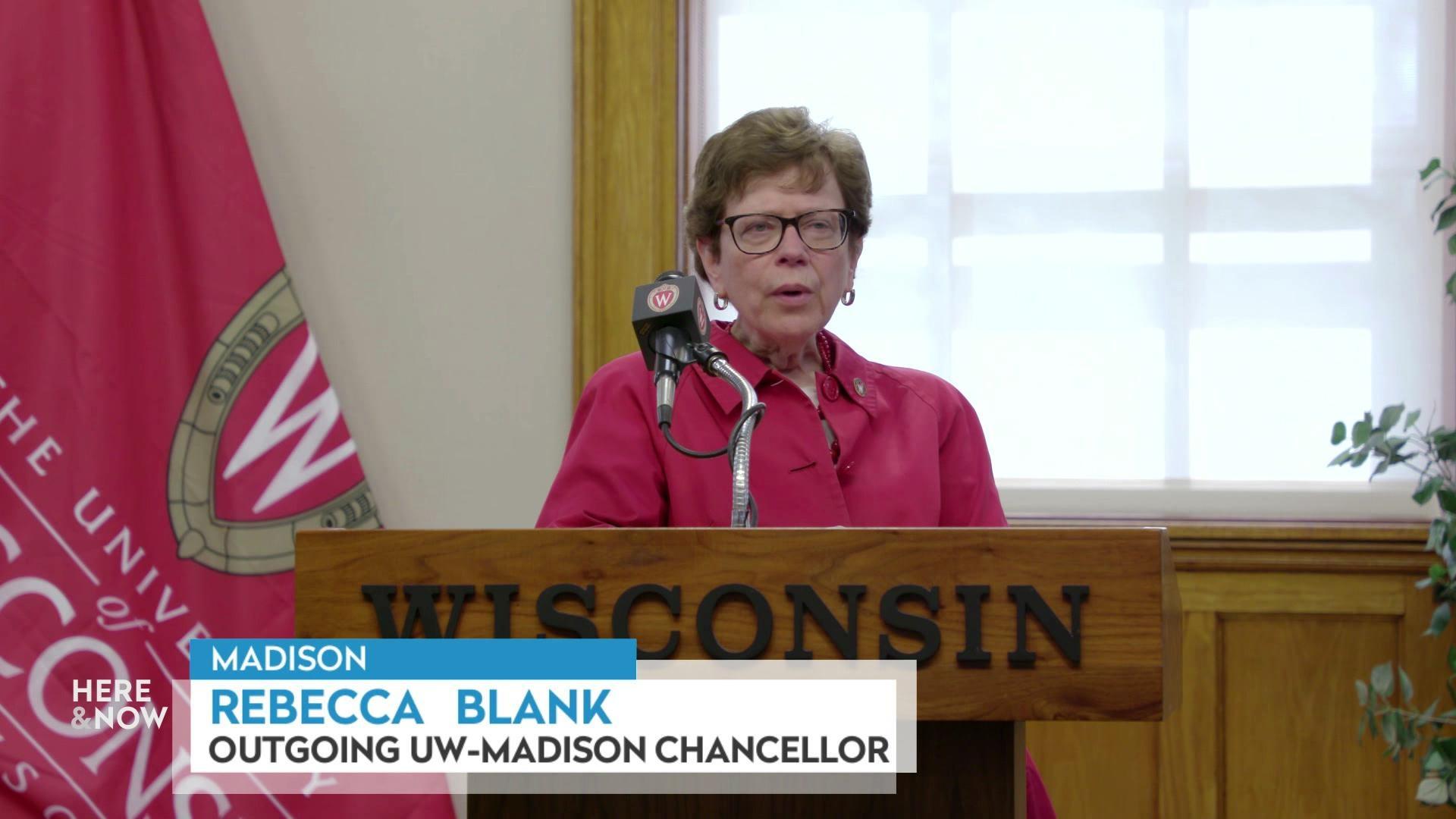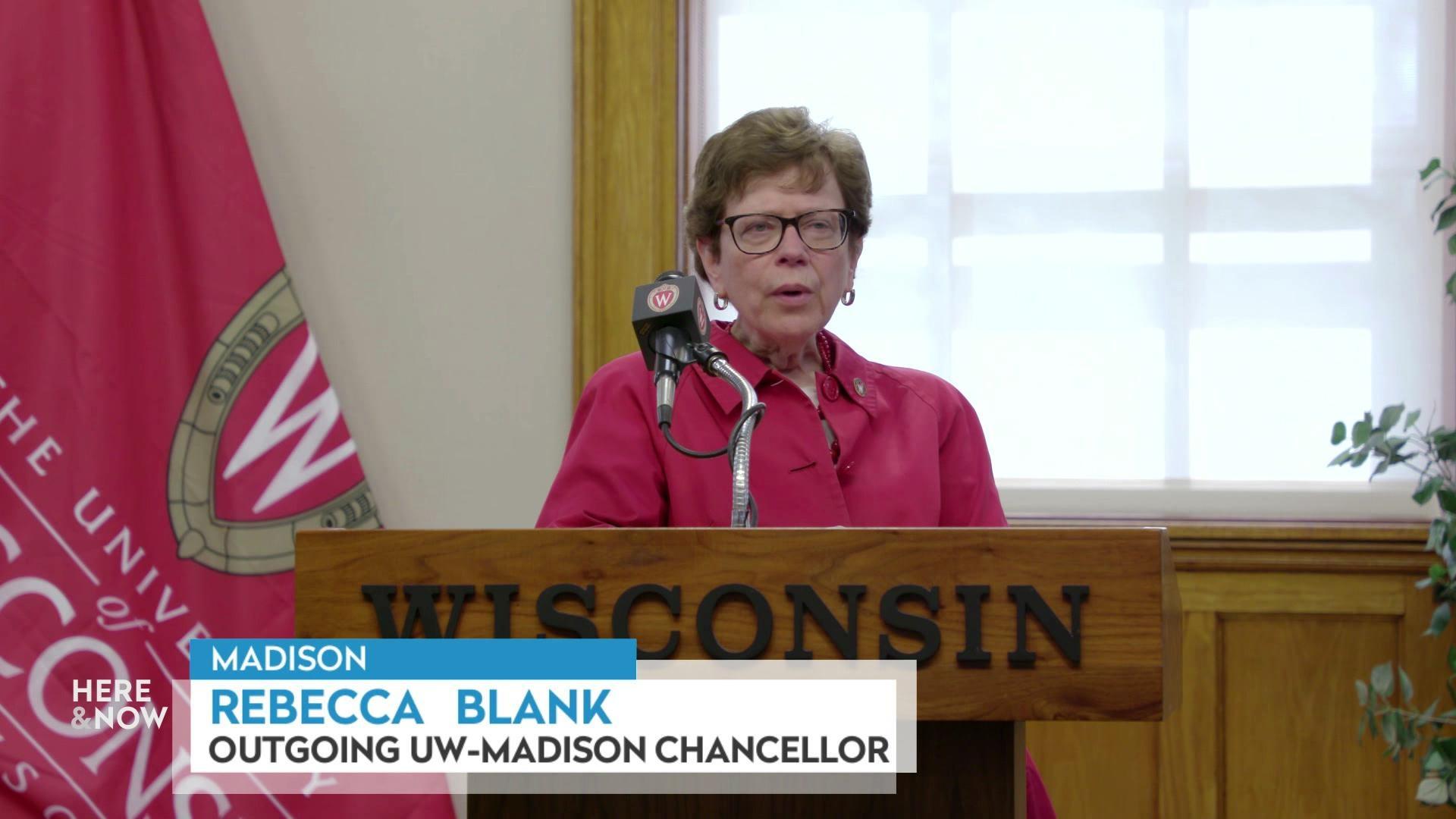 Chancellor Rebecca Blank bids farewell to UW-Madison
Outgoing UW-Madison Chancellor Rebecca Blank shares her final remarks for the university as she leaves the position.
May 13, 2022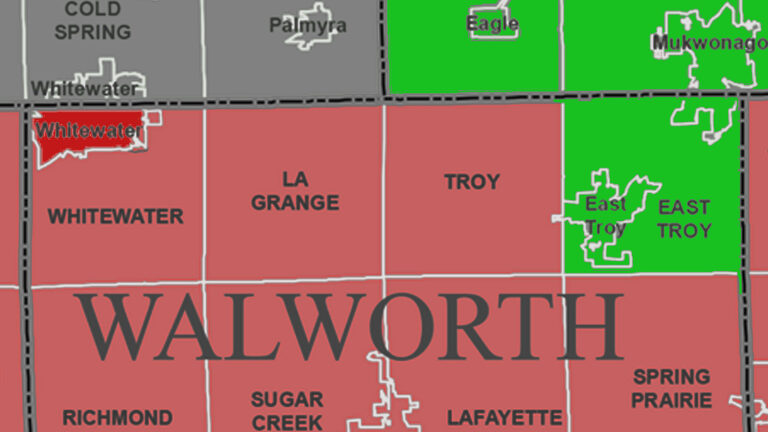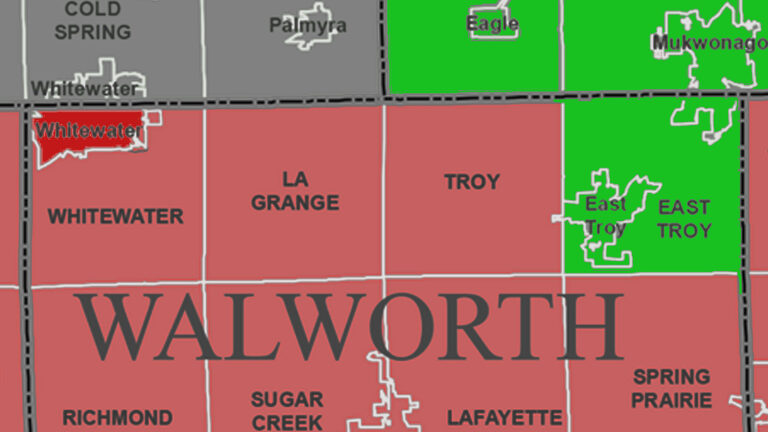 Democrats' sole redistricting victory: Paul Ryan's old congressional district in southeastern Wisconsin
The state Supreme Court chose the governor's congressional maps, which might make the 1st District competitive.
May 4, 2022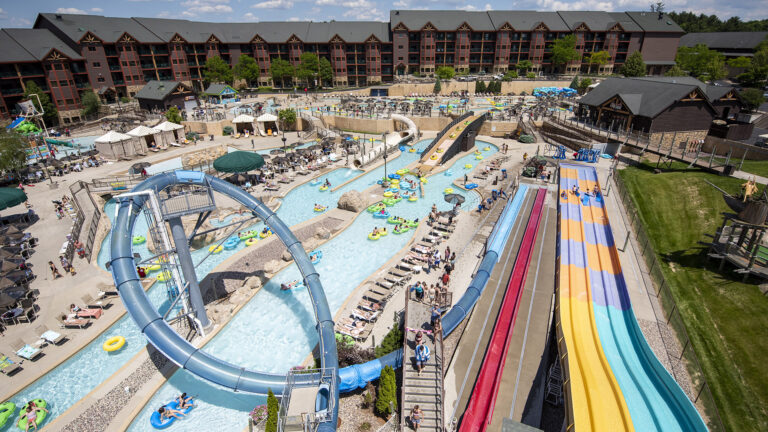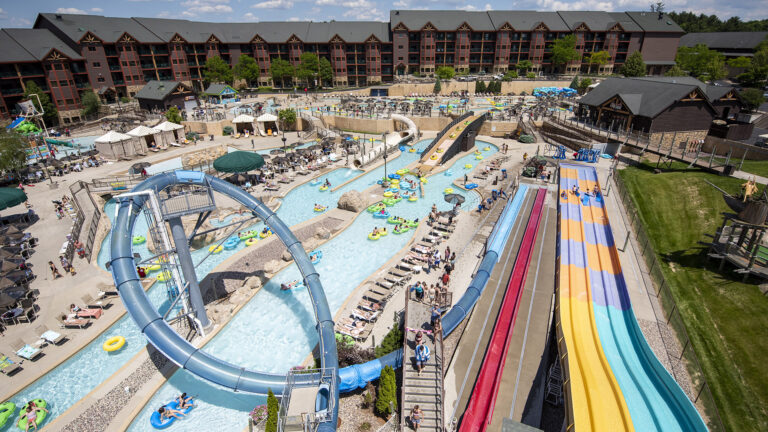 Wisconsin's tourism jobs see rebounding interest by international workers in 2022
Hospitality businesses around the state struggled through the pandemic, first with a drop in demand and subsequently with filling open positions, but hopes are high in the Wisconsin Dells area that the number of students getting J-1 work visas will address seasonal labor needs.
April 28, 2022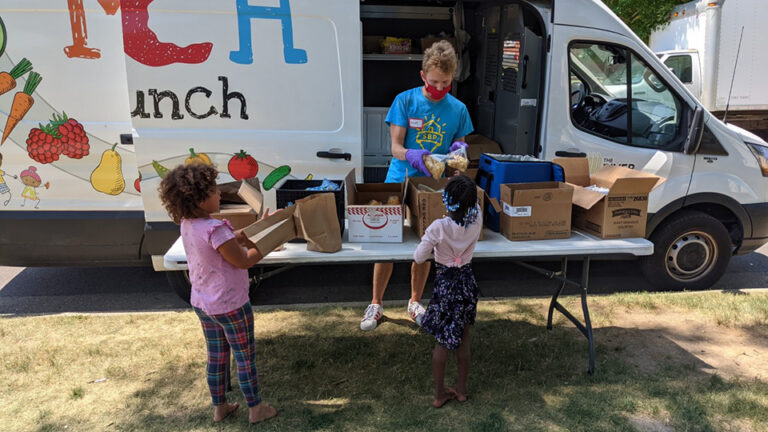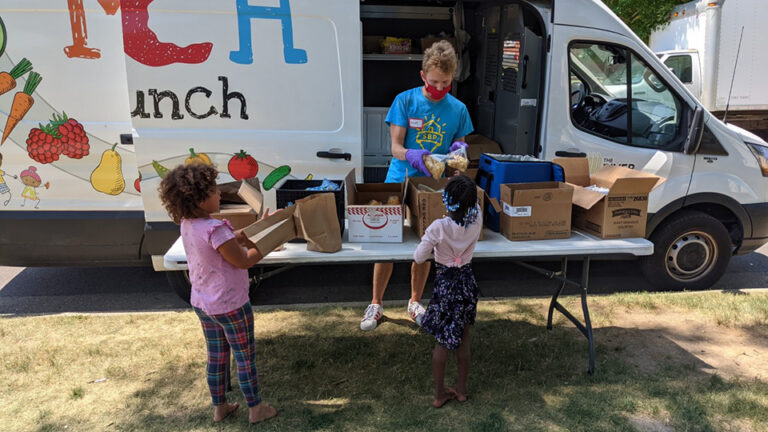 Inflation hits Wisconsin food pantries and the families they support
Even as economic indicators improve two years after the pandemic started, many lower income households continue to struggle with food insecurity as consumer prices rise.
April 26, 2022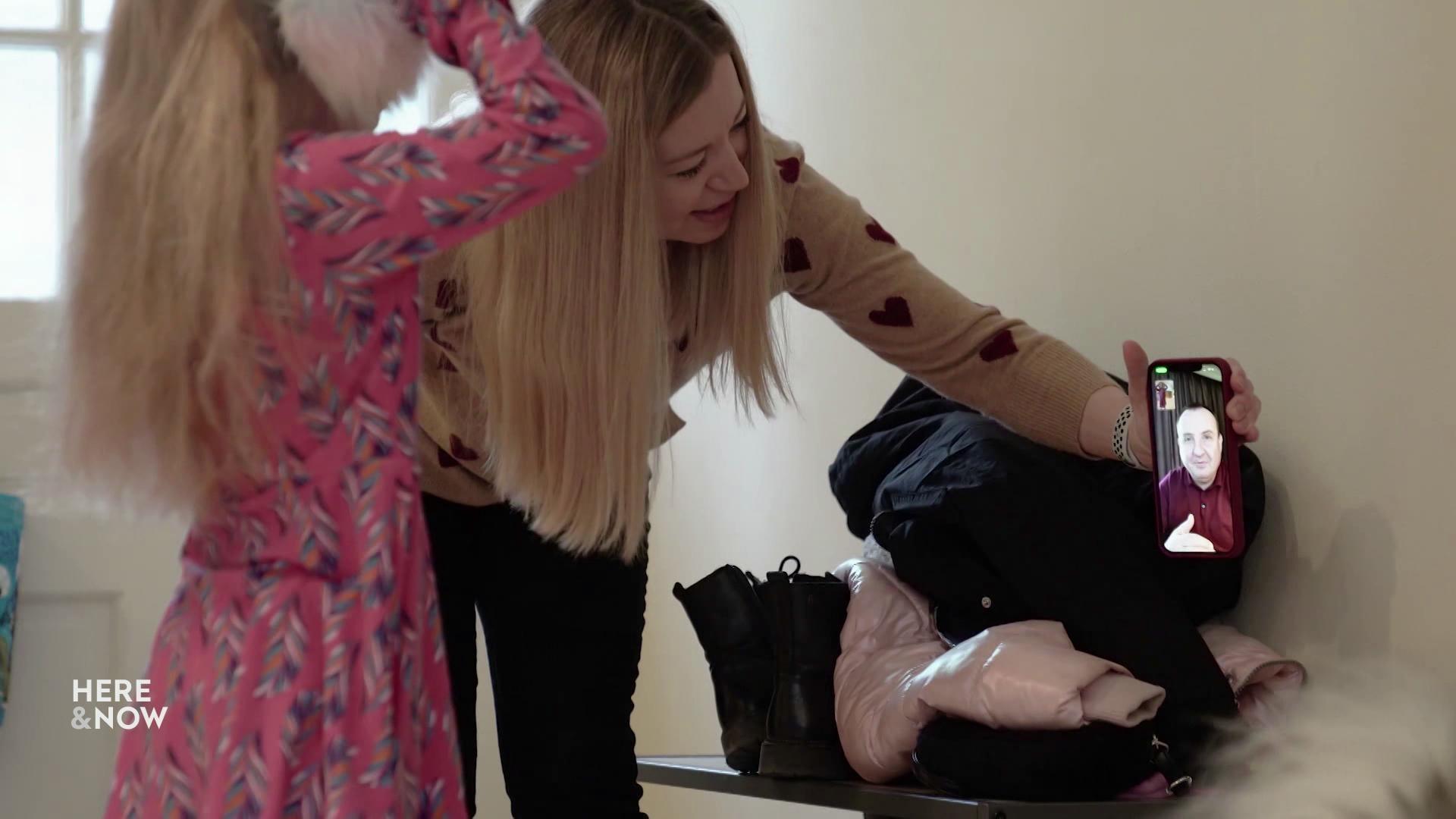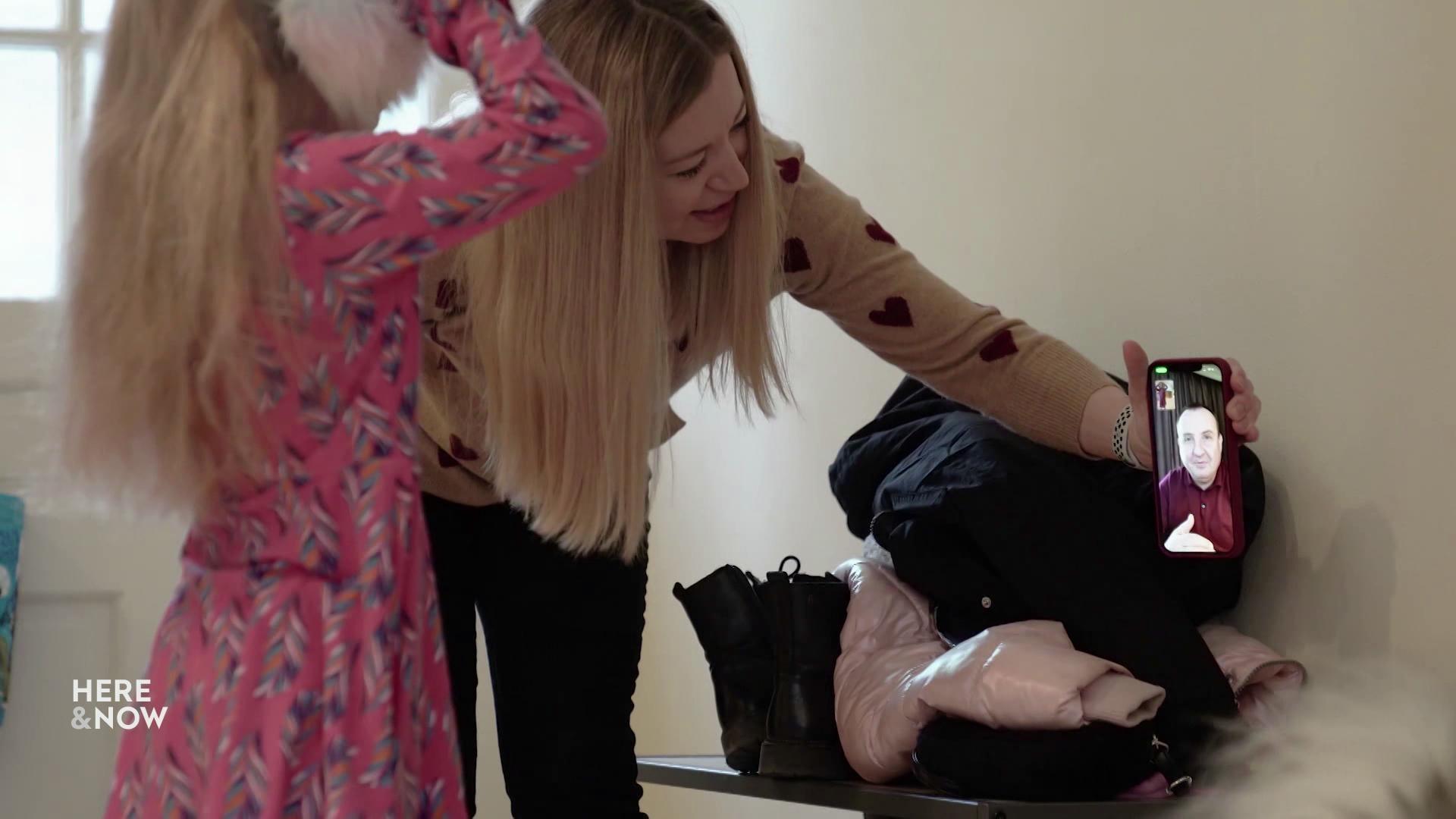 Ukrainian seeks shelter in Wisconsin
A Ukrainian mother is staying in Wisconsin with her daughter after fleeing from the war in Ukraine.
April 22, 2022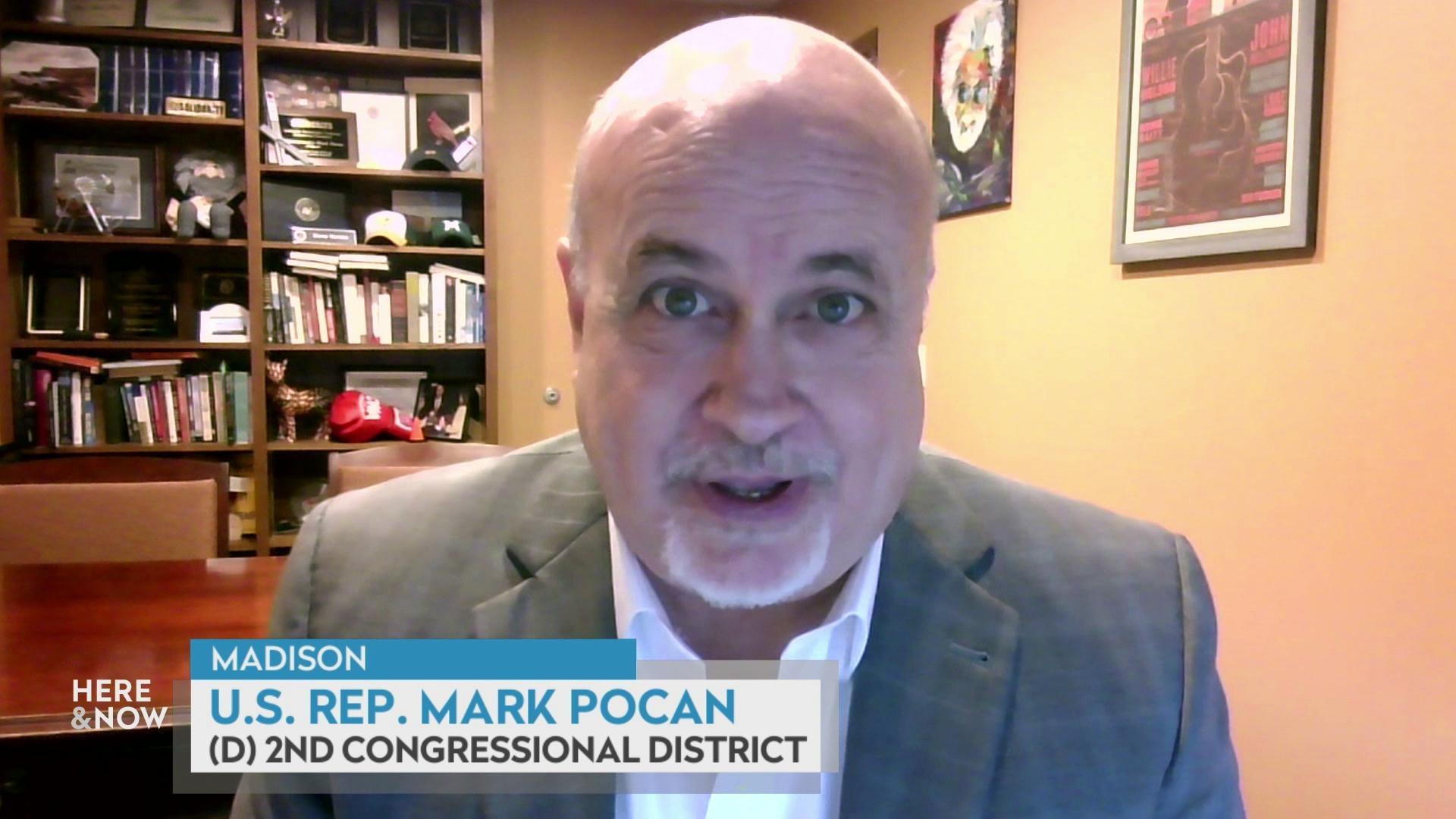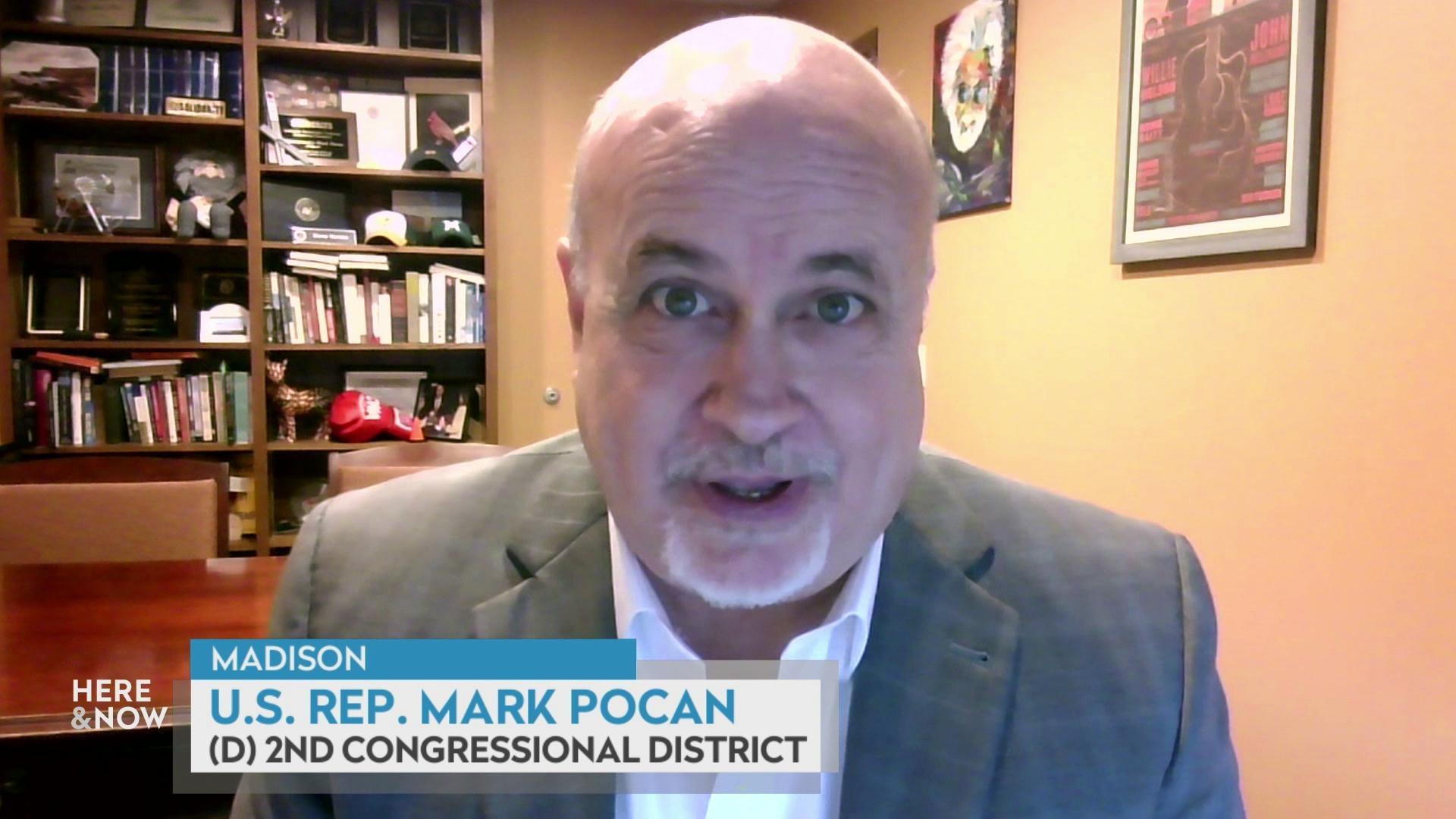 US Rep. Mark Pocan on lifting pandemic immigration policy
U.S. Rep Mark Pocan, D-Madison, discusses his support for ending Title 42, a policy that curtailed immigration during the COVID-19 pandemic.
April 22, 2022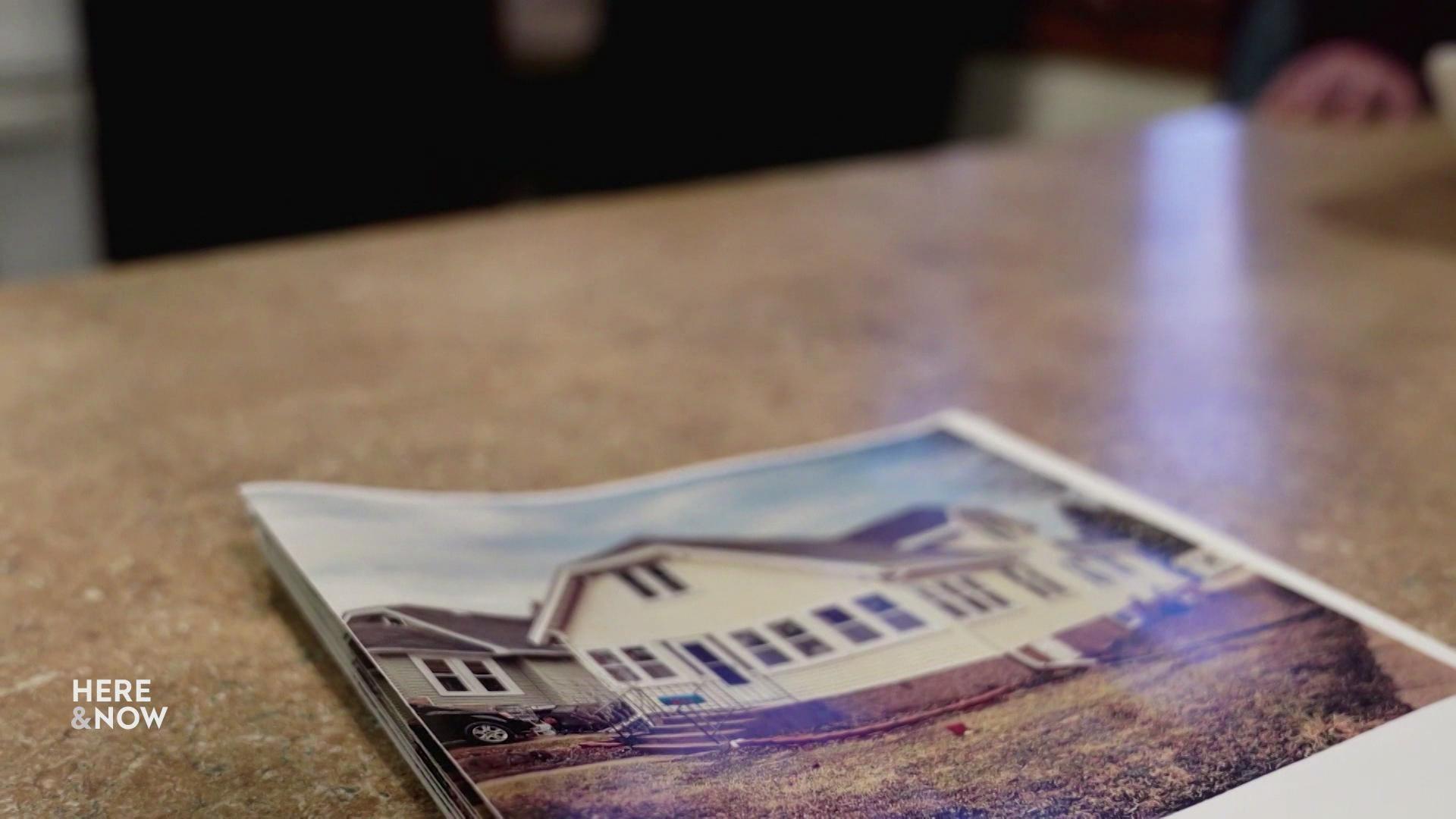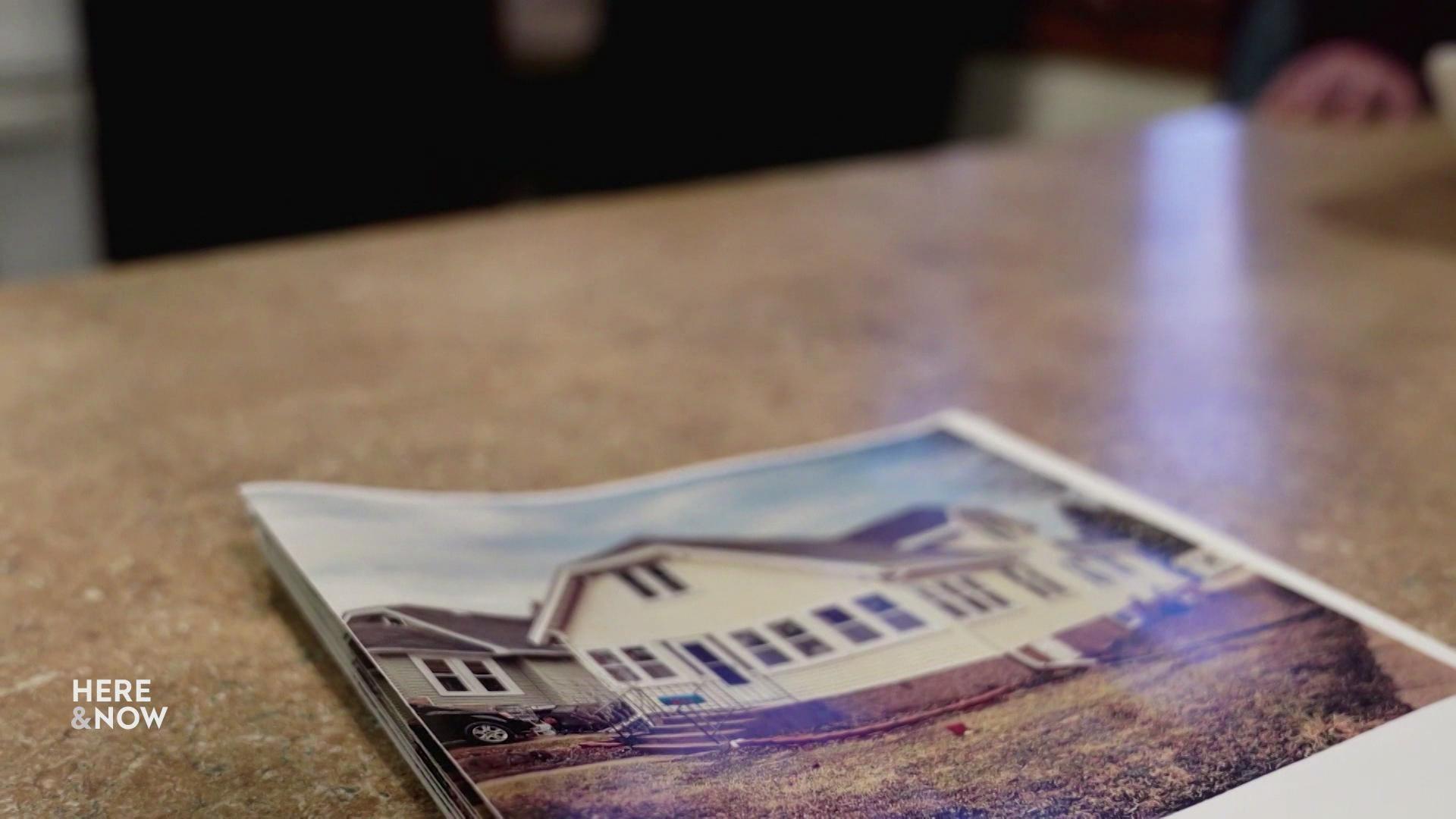 Wisconsin's roller coaster housing market for millennials
A Madison couple seeking to purchase their first home face the difficulties of a competitive and expensive housing market.
April 15, 2022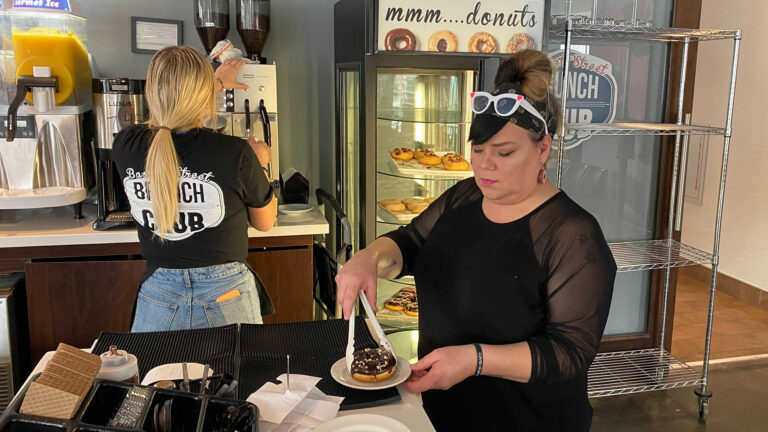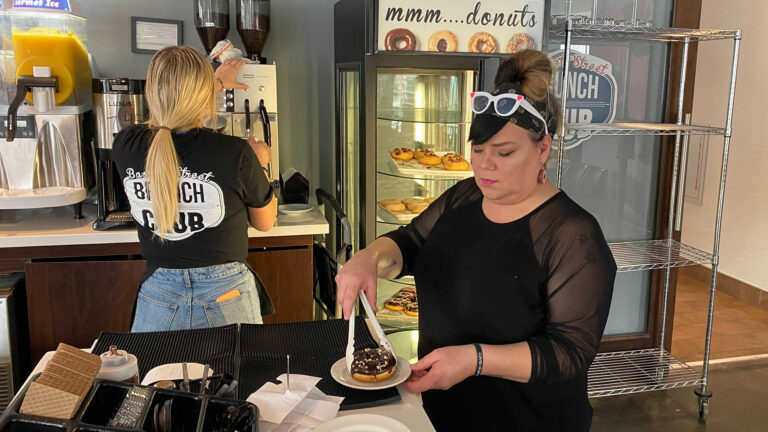 Despite staffing and supply woes, Madison restaurants find hope as covid recedes
After two years of weathering reduced demand and public health rules during a pandemic, restaurant owners and workers in a city that prides itself on its dining scene are optimistic about their prospects as another spring begins.
March 3, 2022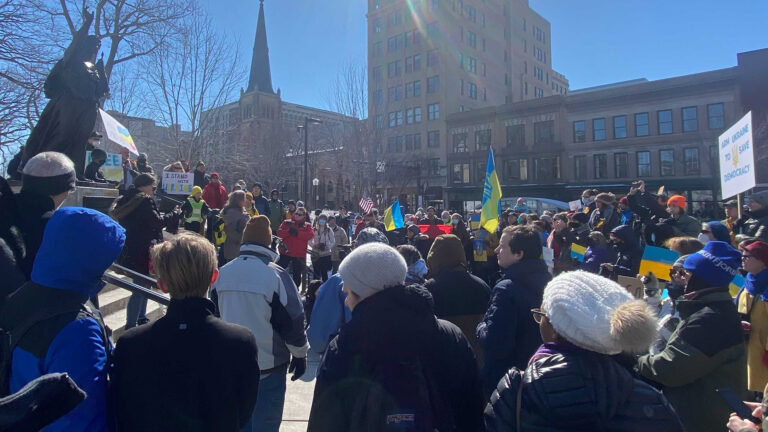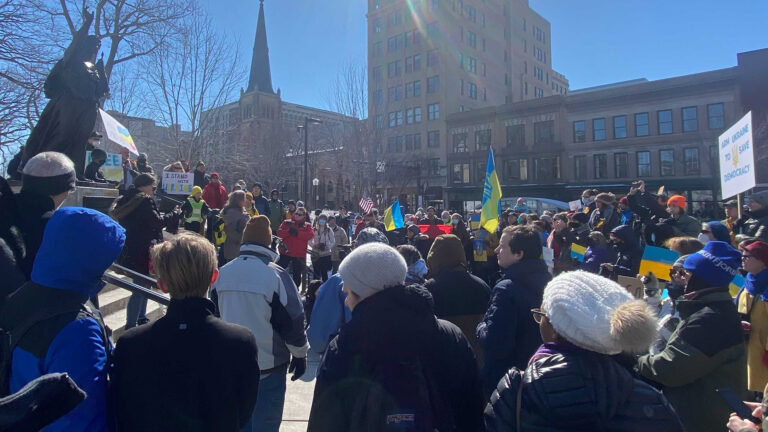 Wisconsin demonstrators express solidarity with Ukrainians, outrage at Russian invasion
Led by members of the Ukrainian diaspora, a rally at the Capitol in Madison was among several held across the state denouncing Russia's military aggression against the independent nation and showing support for those threatened by violence.
February 28, 2022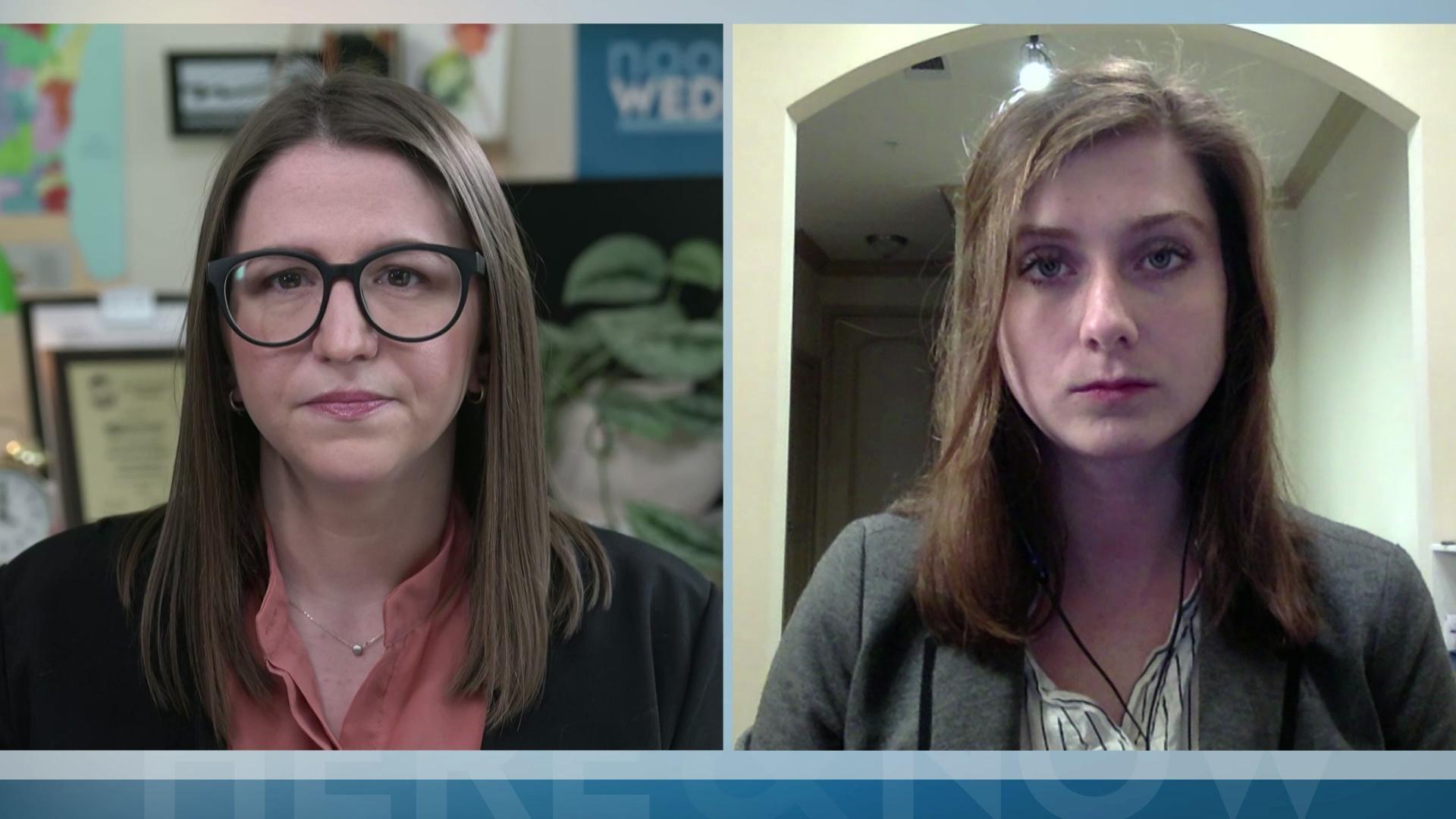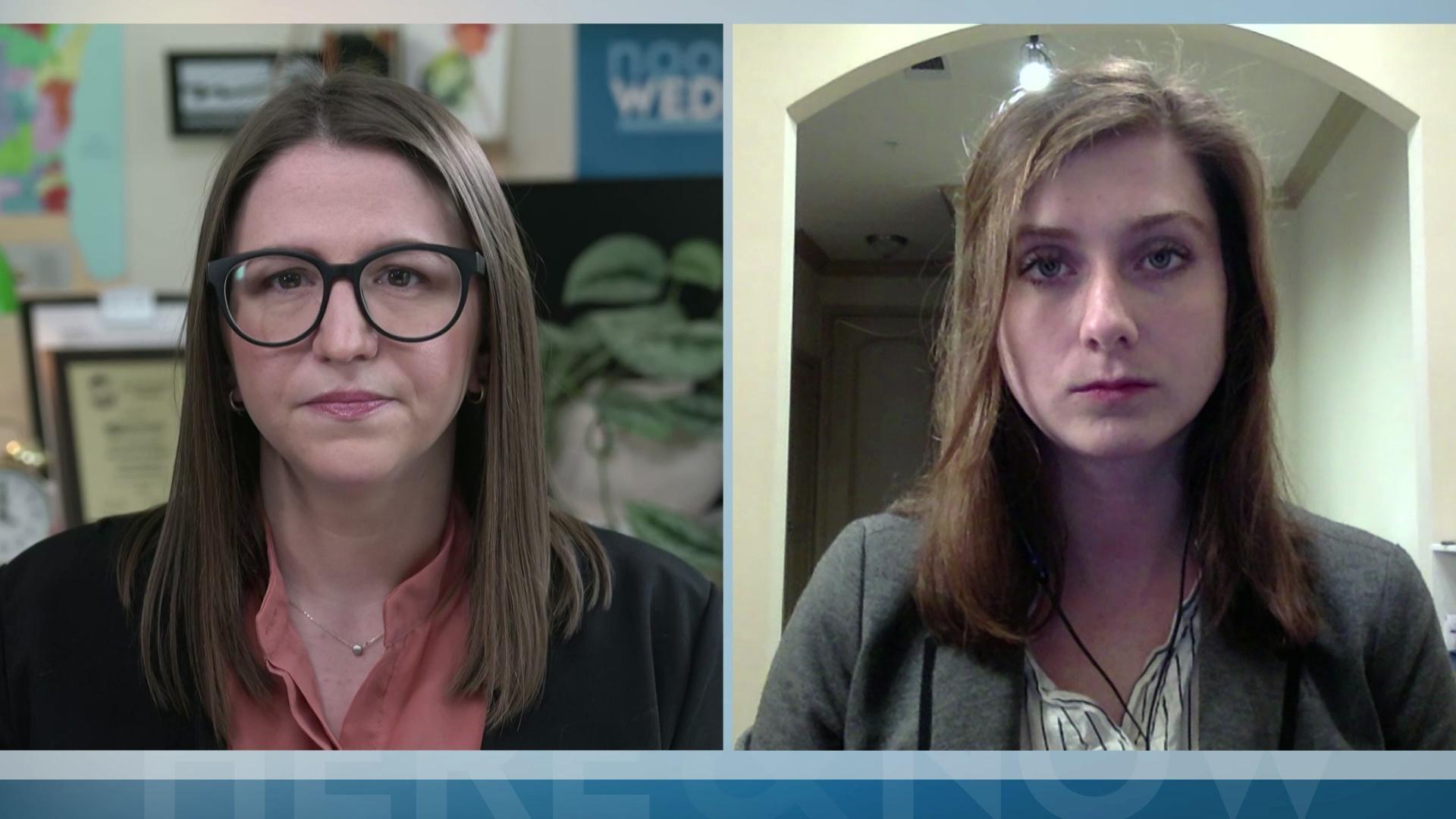 Noon Wednesday: Another murky police shooting in Madison
Questions about how police use force have been renewed after an officer shot a Black man in Madison during a "multi-jurisdictional arrest effort" in February 2022, with the Dane County Sheriff's Office offering few details about the "officer-involved shooting" where "shots were fired." Wisconsin State Journal reporter Emily Hamer discusses what she has learned about the incident.
February 9, 2022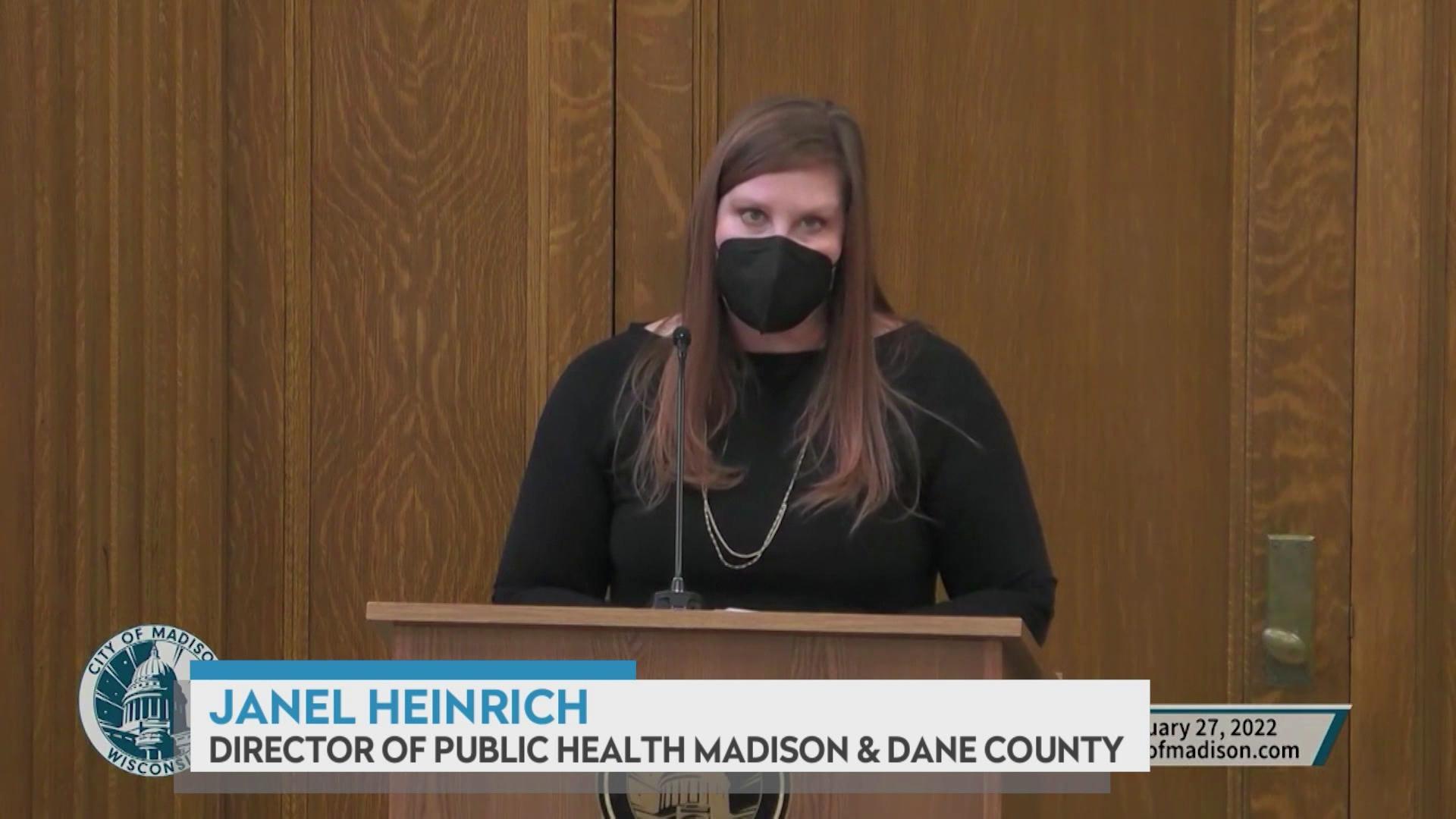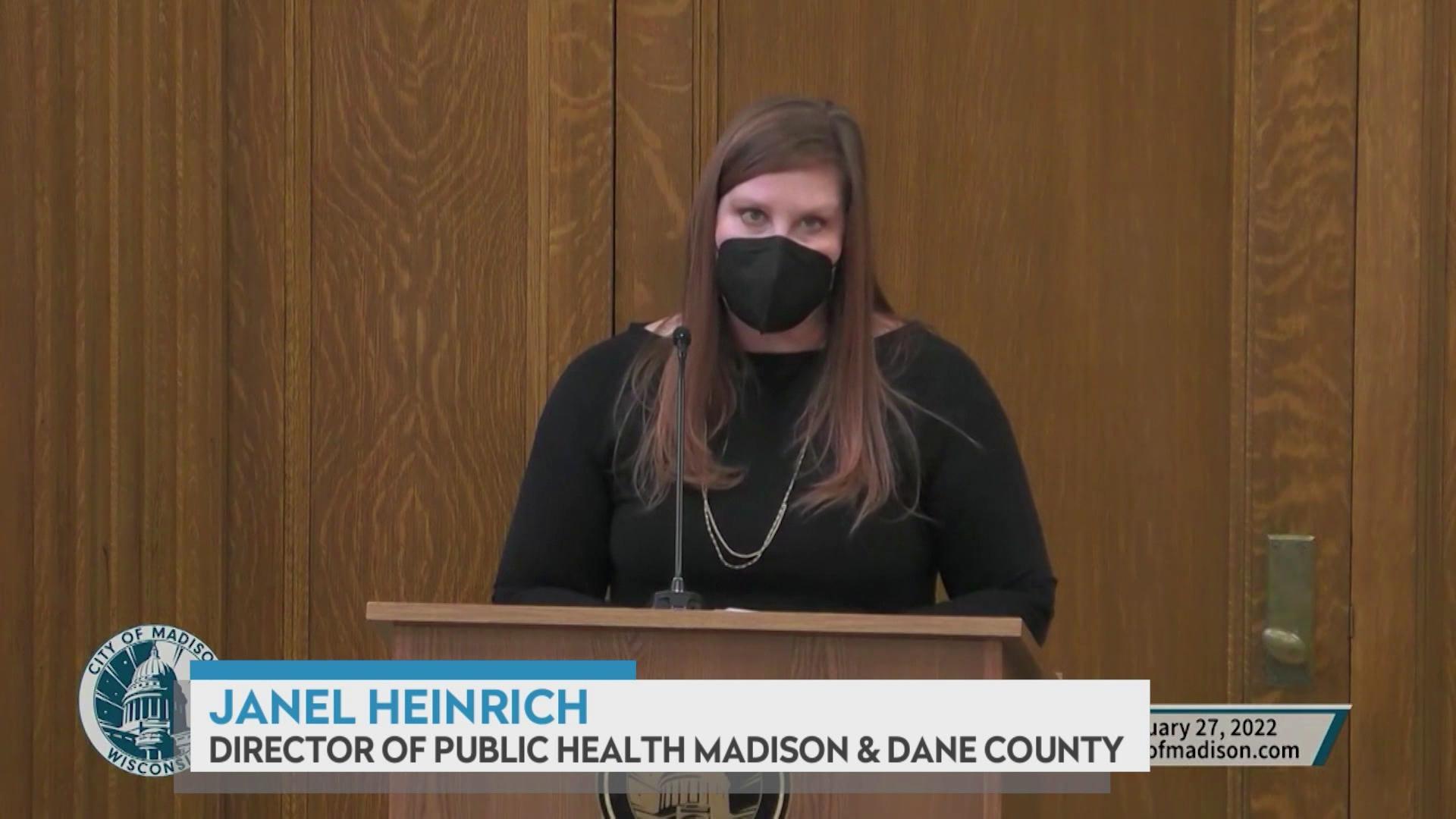 Public Health Madison Dane County extends mask mandate
Public Health Madison Dane County has extended its mask mandate through March 1 as COVID-19 levels remain high at the local level and around the state.
January 28, 2022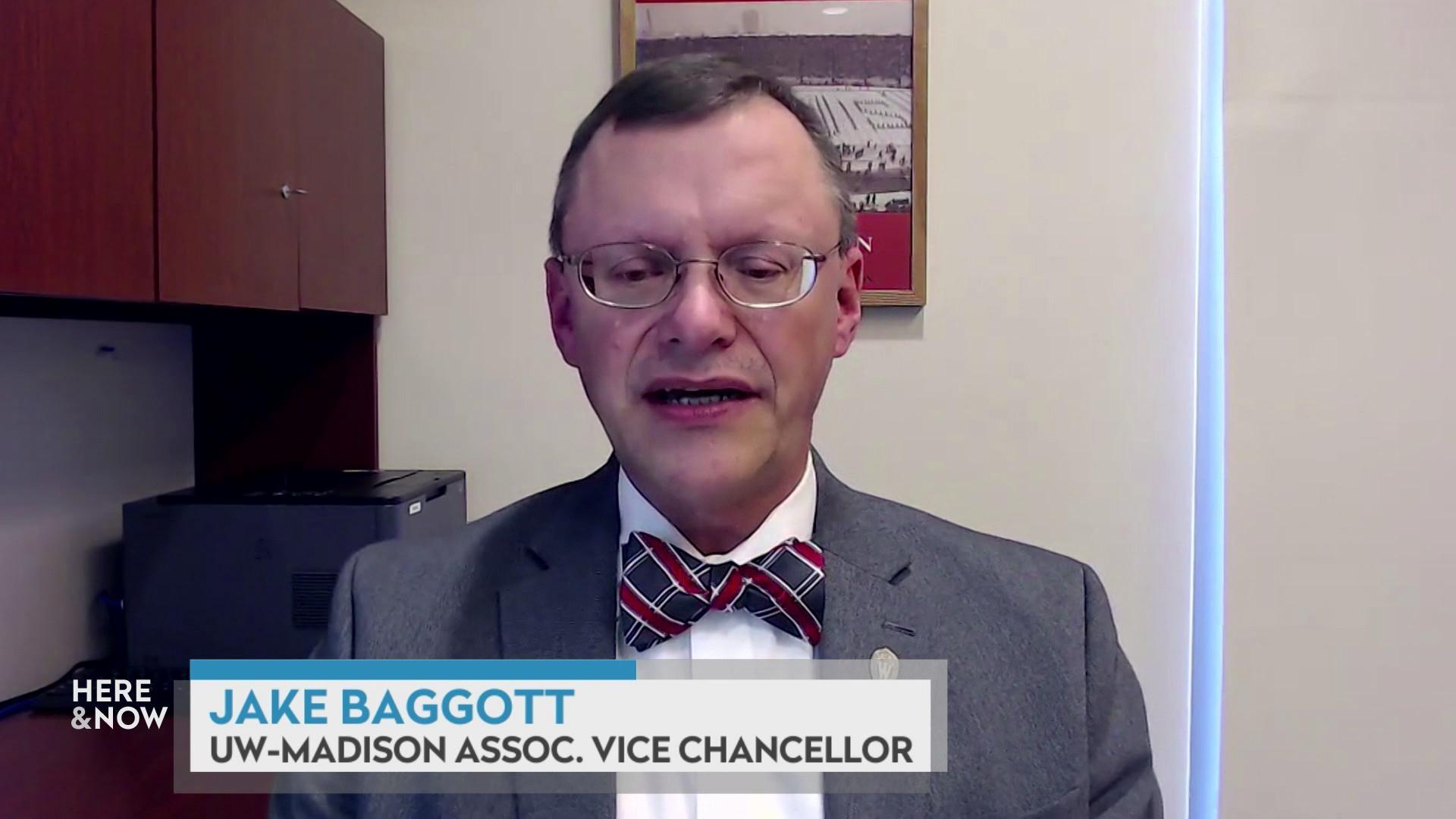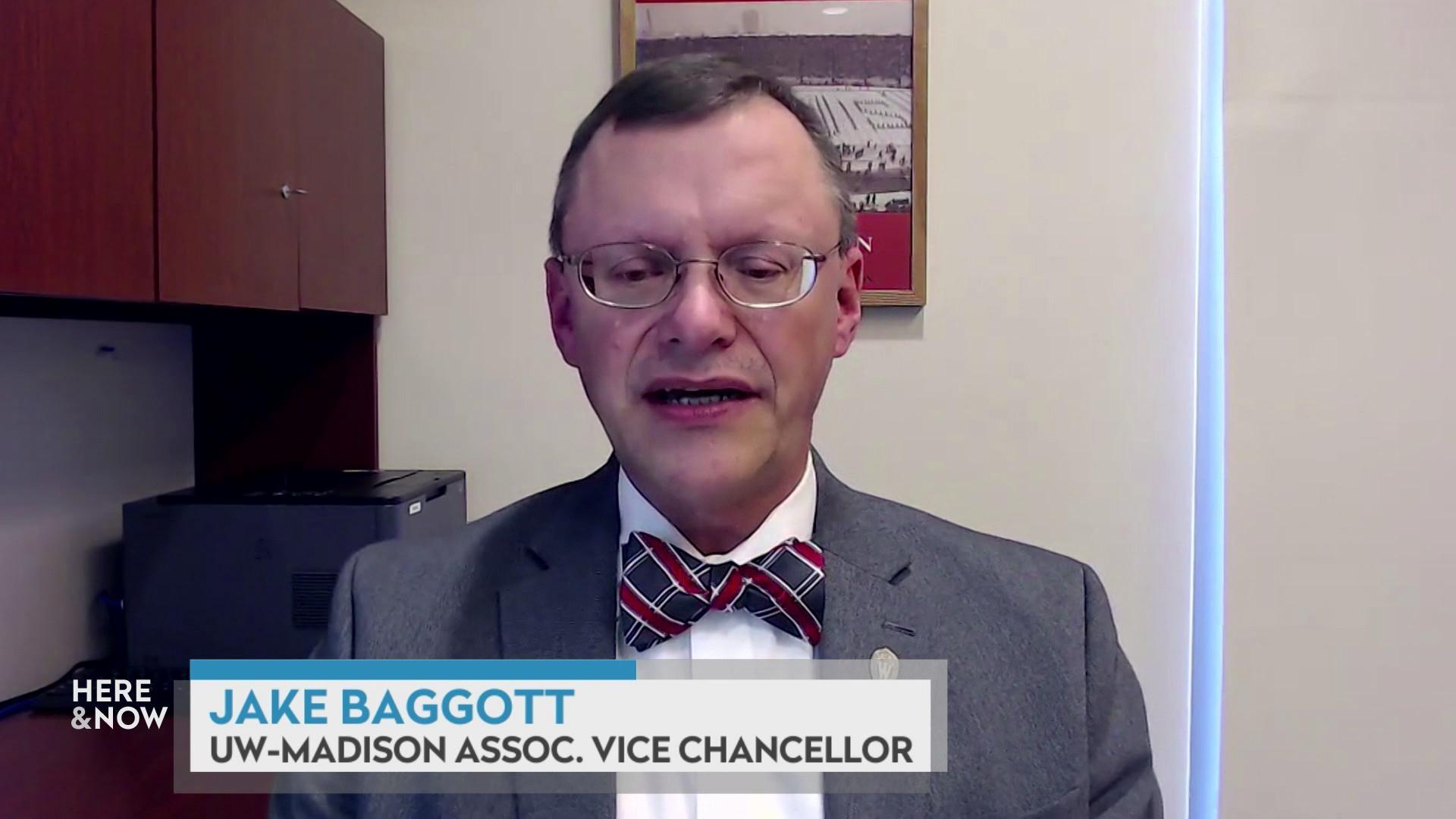 UW prepares for a new semester amid omicron
Jake Baggott, executive director of University Health Services at UW-Madison, describes campus preparations for students starting the spring 2022 semester as COVID-19's omicron surge continues.
January 21, 2022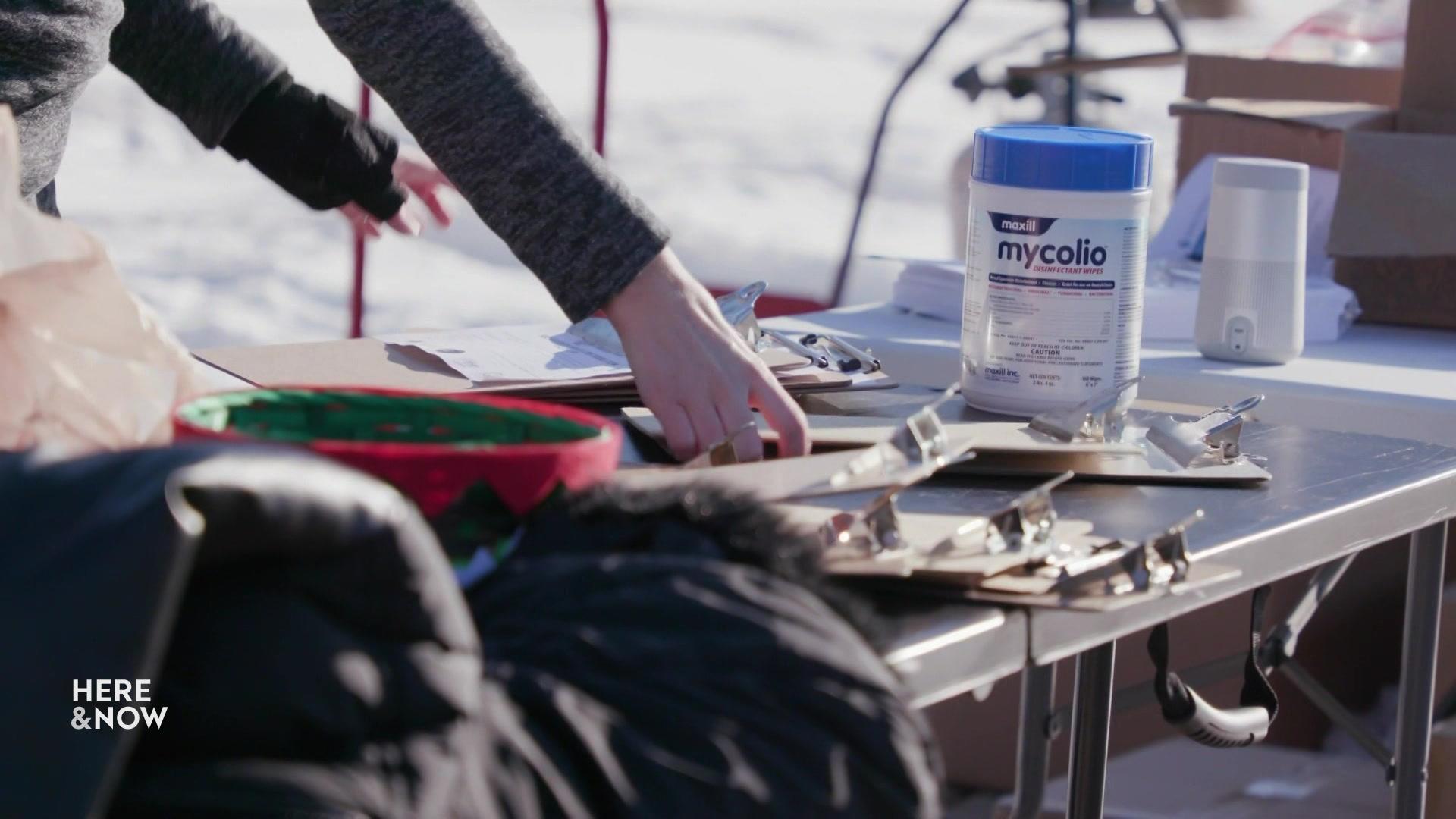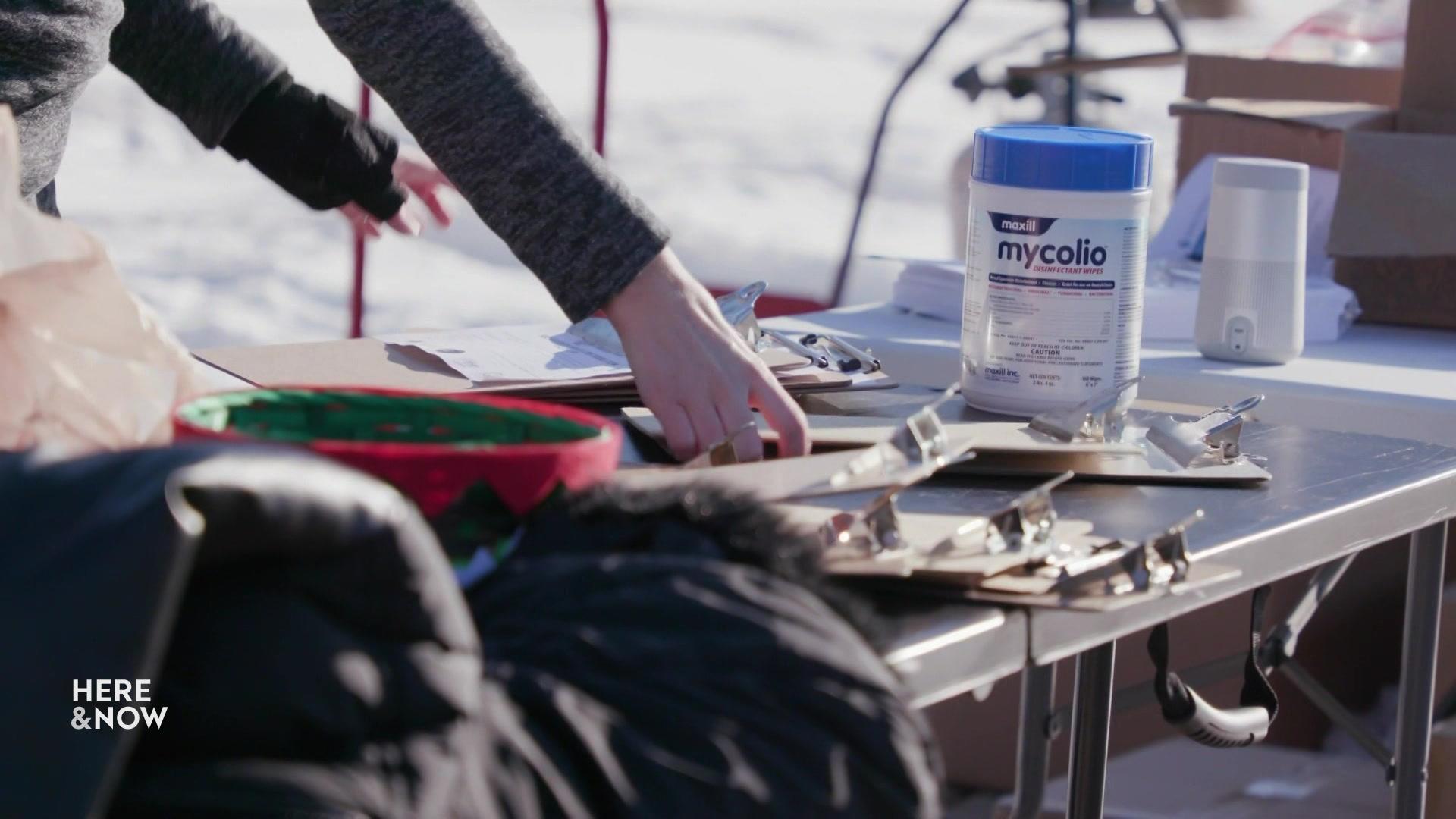 Boys & Girls Club of Dane County distributes masks
As the omicron variant causes unprecedented COVID-19 infections, the Boys & Girls Club of Dane County distributed N95 and KN95 masks to community members at the Allied Family Center in Fitchburg.
January 14, 2022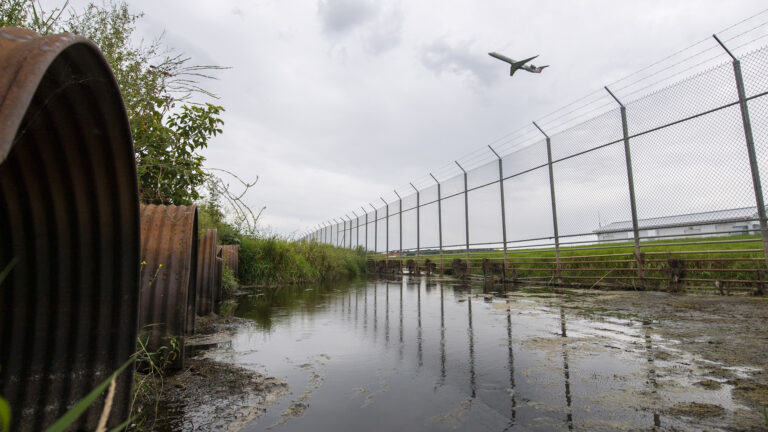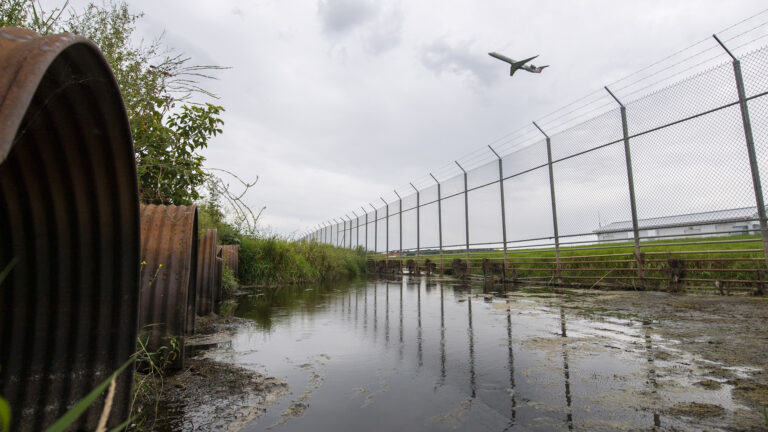 Major promise, big questions flow from a PFAS cleanup study in Madison
A Canadian company has launched a bioremediation effort around the Dane County airport and National Guard air base that deploys soil microbes to consume the vexing chemicals — within weeks, early results showed positive outcomes, but the science behind this work remains unclear.
January 13, 2022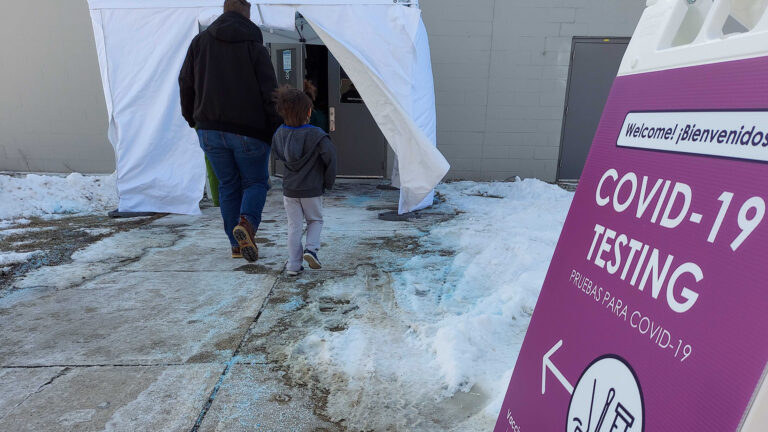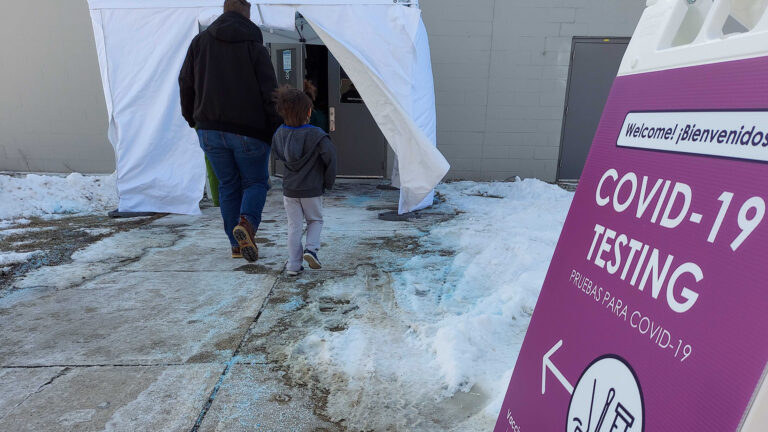 Milwaukee, Madison health officials roll out response to omicron wave
In a pair of news conferences, the health departments for Wisconsin's two largest counties by population shared how they're deploying increased testing availability, higher-quality masks and vaccination clinics to fight the surging omicron variant of COVID-19.
January 11, 2022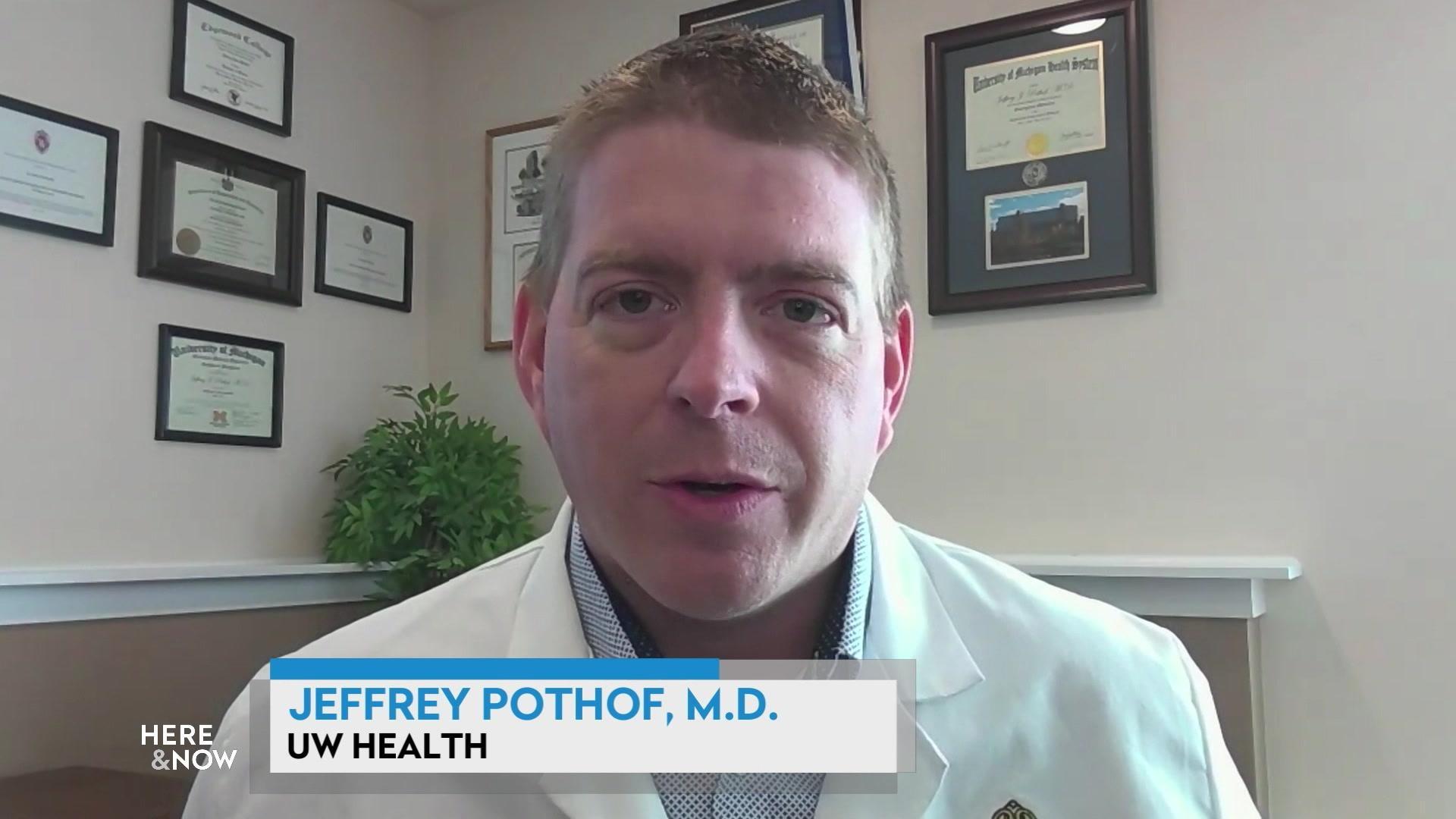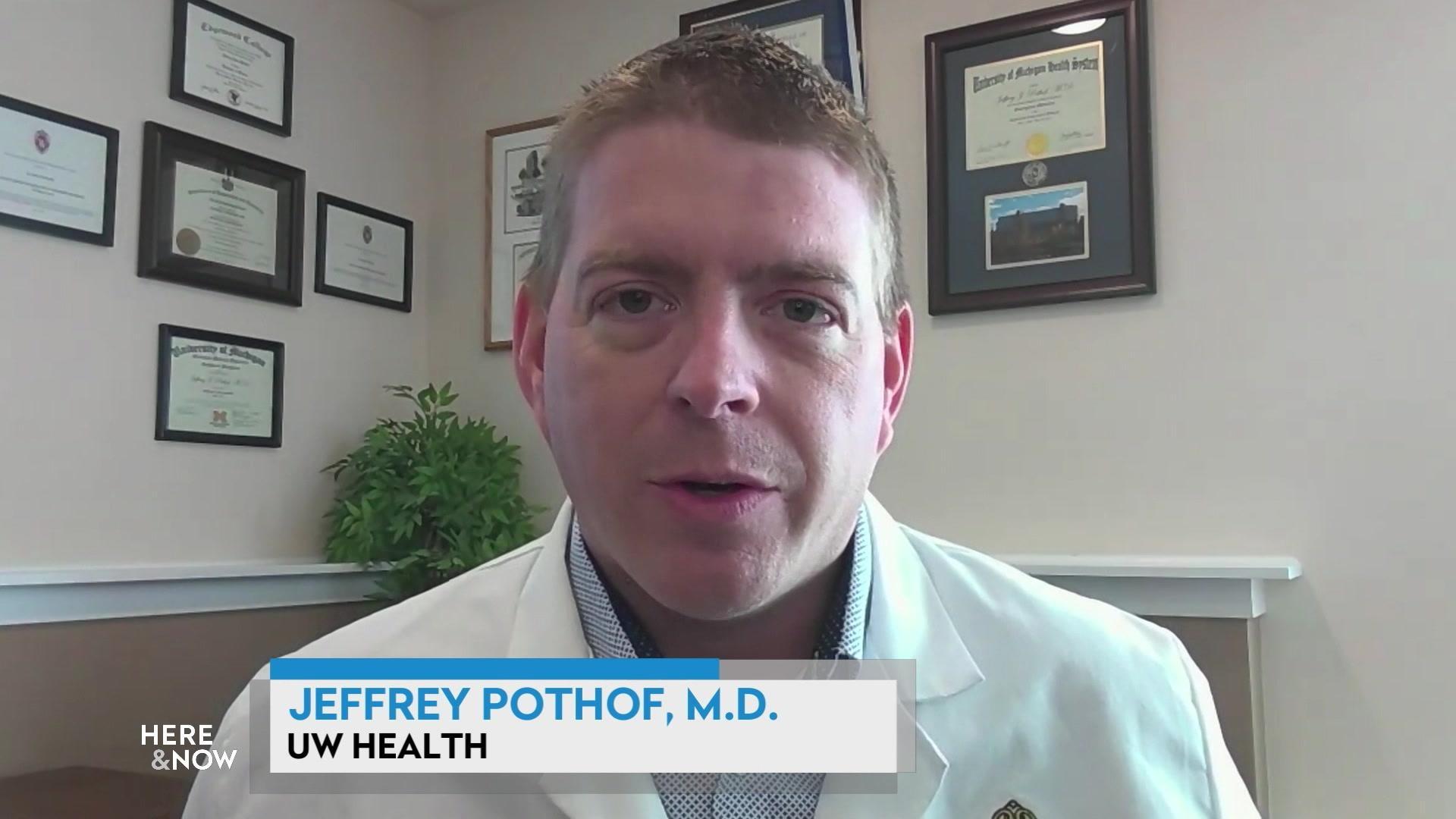 Wisconsin hospitals reach capacity in the New Year
Dr. Jeffrey Pothof, chief quality and safety officer for UW Health, discusses the status of the COVID-19 pandemic in Wisconsin as cases and hospitalizations rise dramatically in the first week of 2022.
January 7, 2022
Some schools remain closed after break as covid cases rise
Multiple large school districts in Wisconsin, including the Madison and Milwaukee districts, temporarily moved back to virtual instruction after winter break due to record spread of COVID-19 and staffing shortages.
January 7, 2022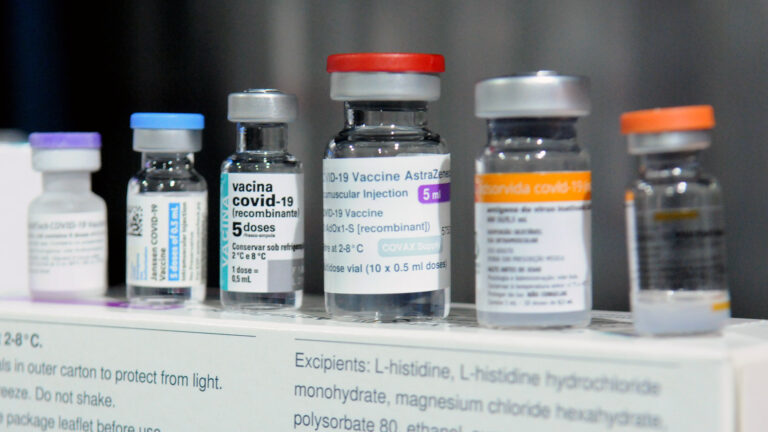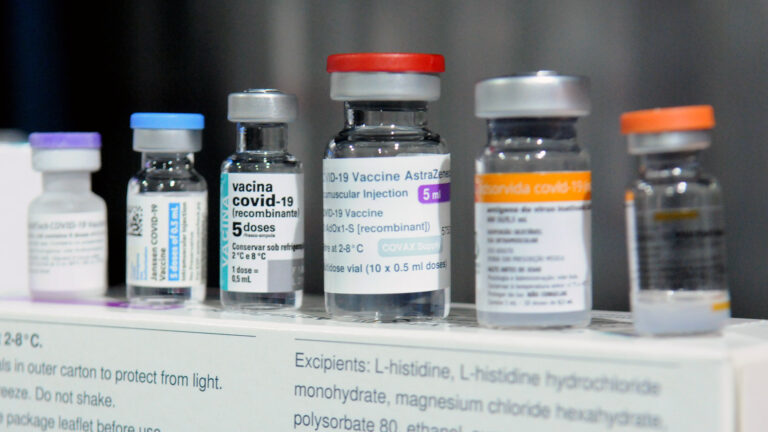 International covid vaccine recipients in Wisconsin get guidance on boosters
After months of confusion and frustration for people who received COVID-19 vaccines that aren't approved for use in the U.S., including thousands of students at UW-Madison, federal guidelines outline what booster doses they should seek and when.
December 14, 2021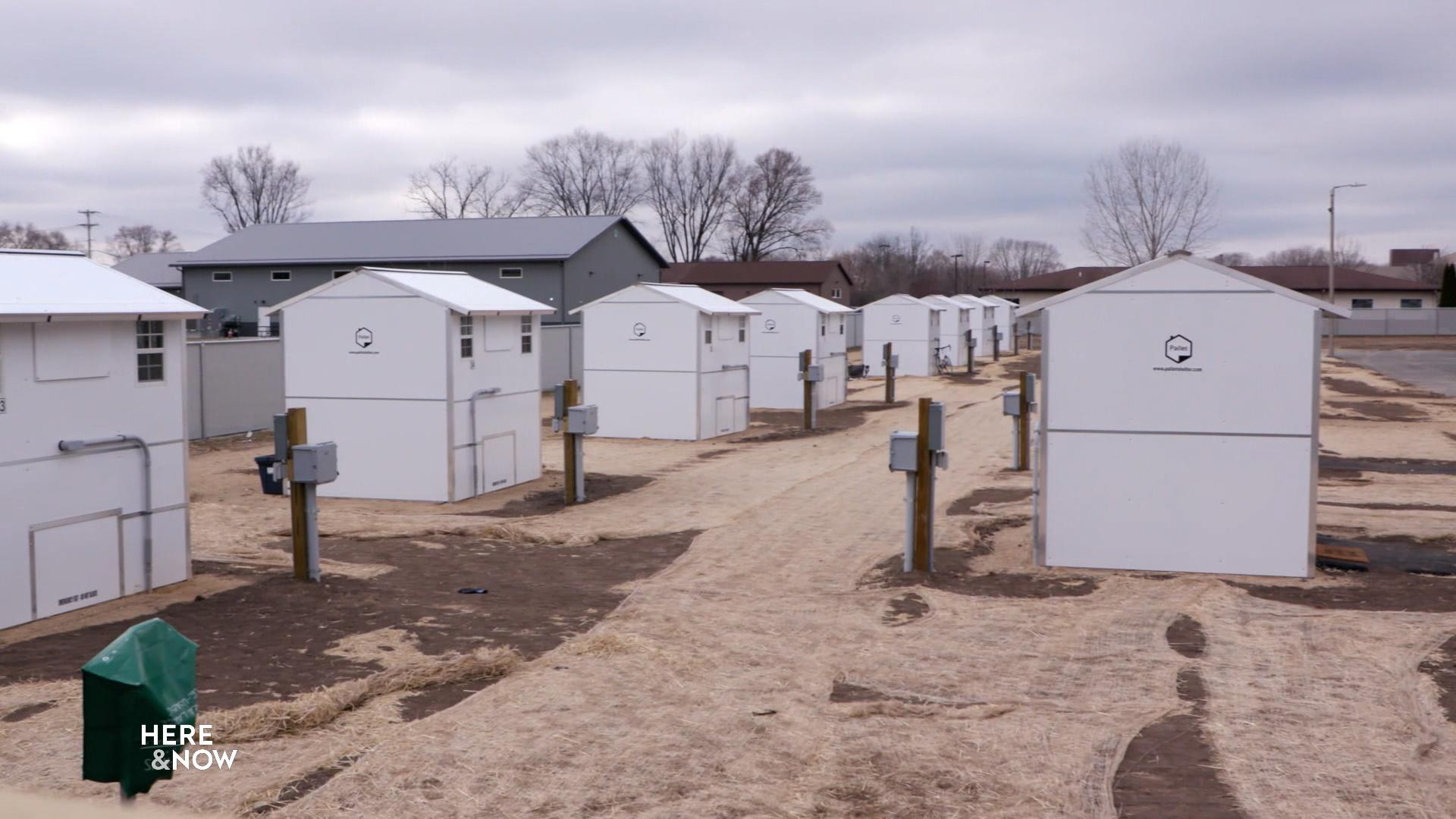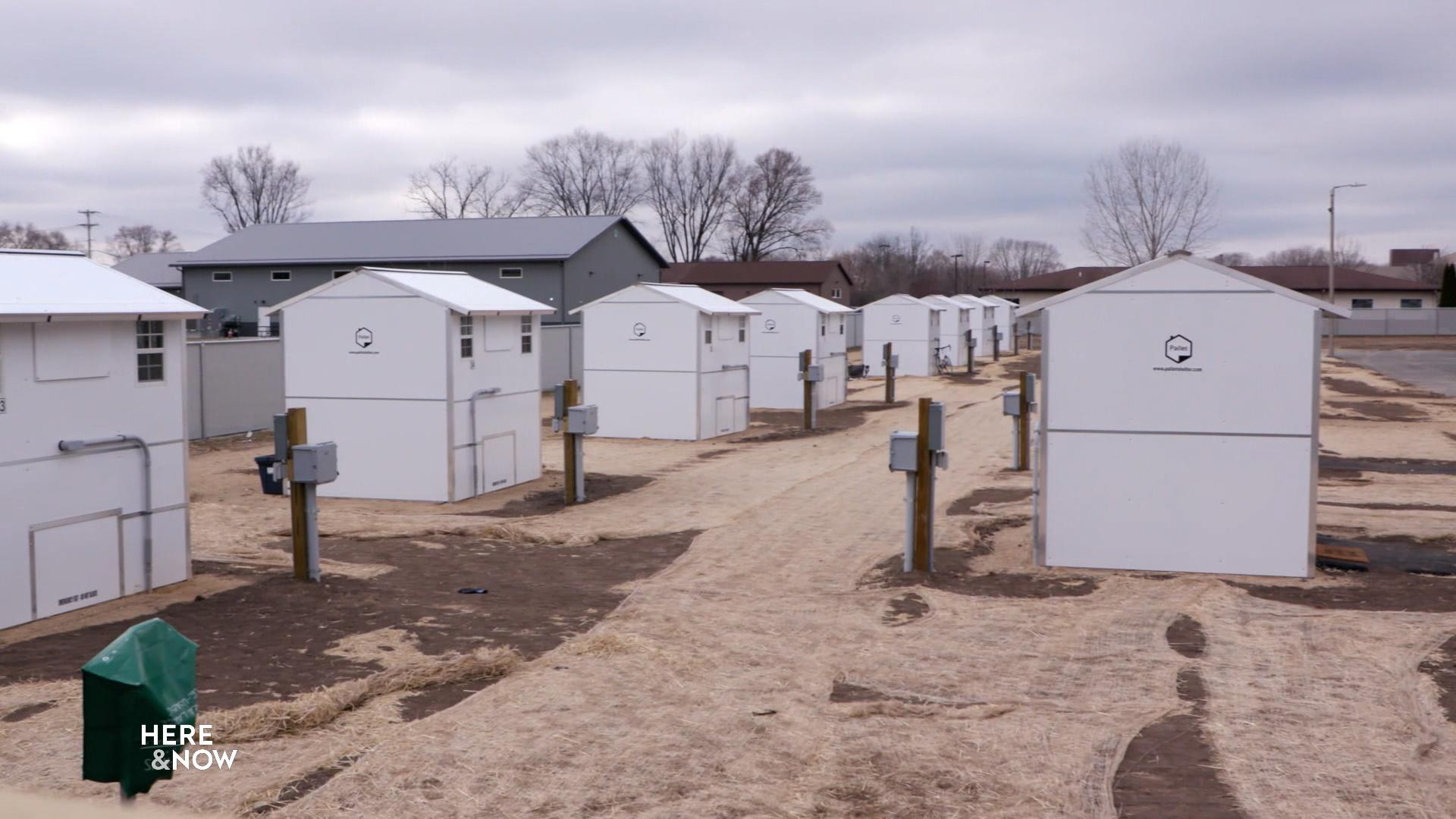 Madison shifts homelessness strategy with the season
Unhoused people in Madison living in a park on the city's east side are being moved to a new private shelter and into hotel rooms as colder winter weather arrives.
December 10, 2021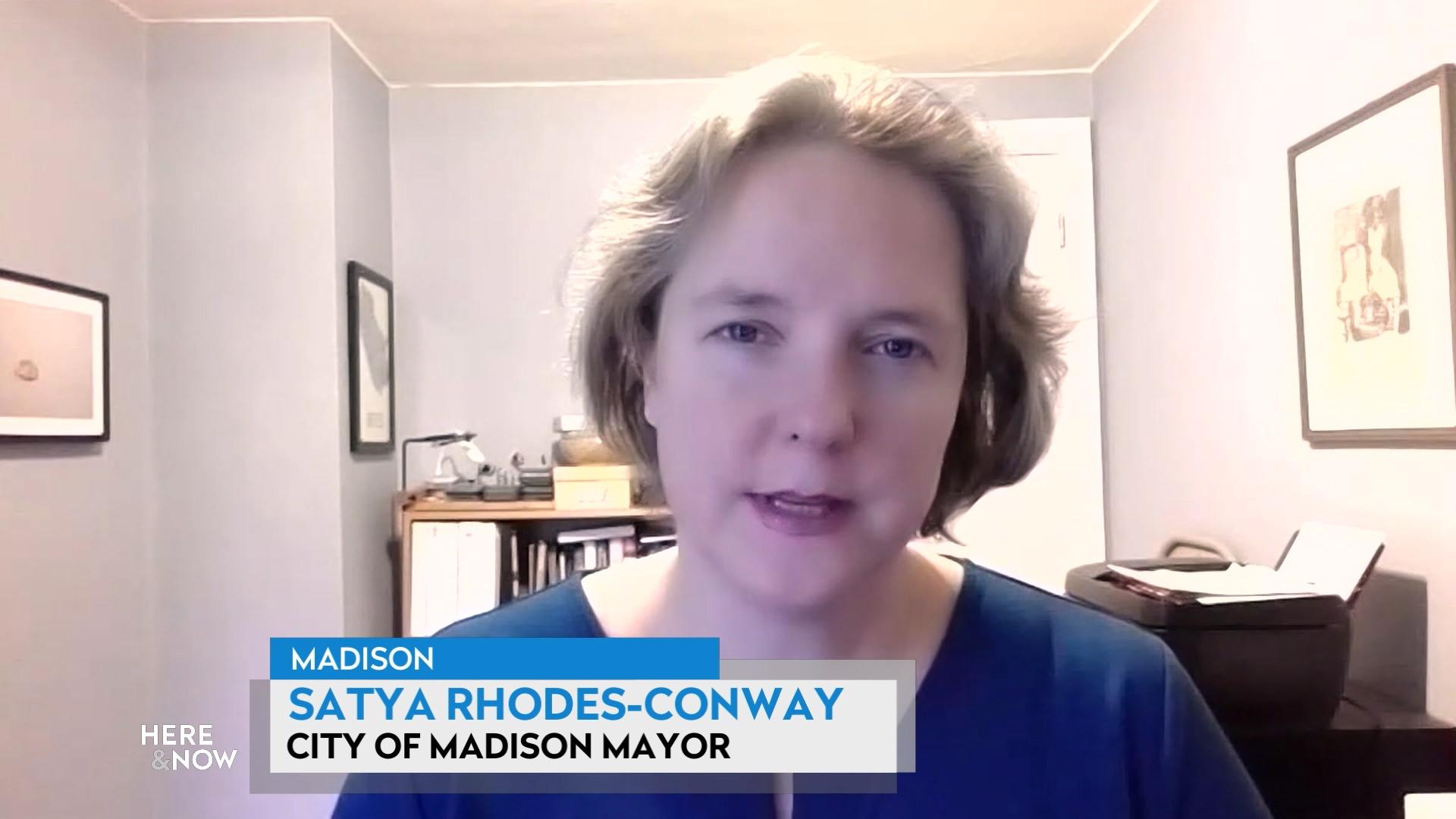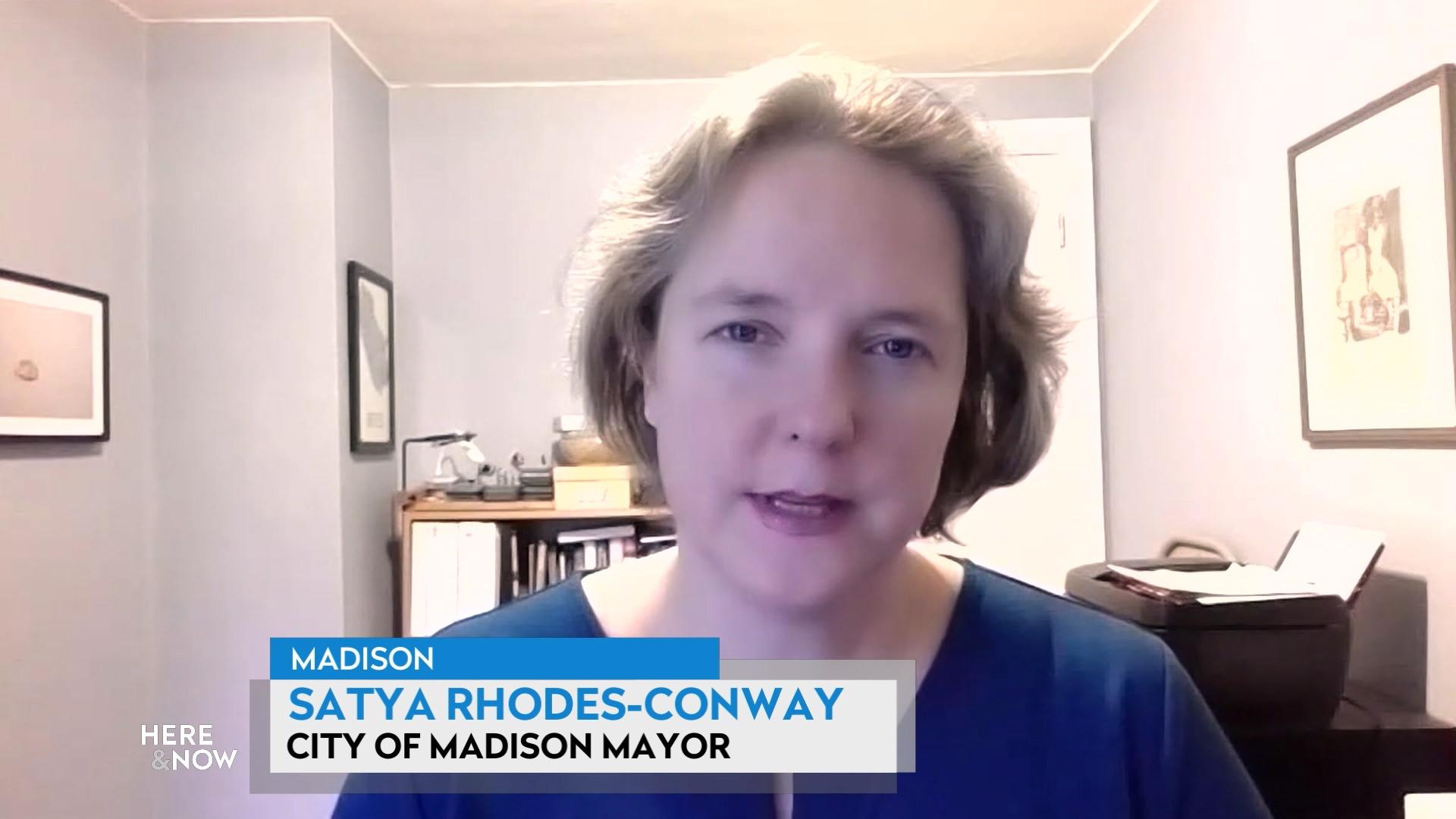 Madison mayor on election probe subpoena threat
Madison Mayor Satya Rhodes-Conway is being targeted by former Wisconsin Supreme Court Justice Michael Gableman in a 2020 election probe subpoena. Rhodes-Conway responds to this threat of jailing.
December 10, 2021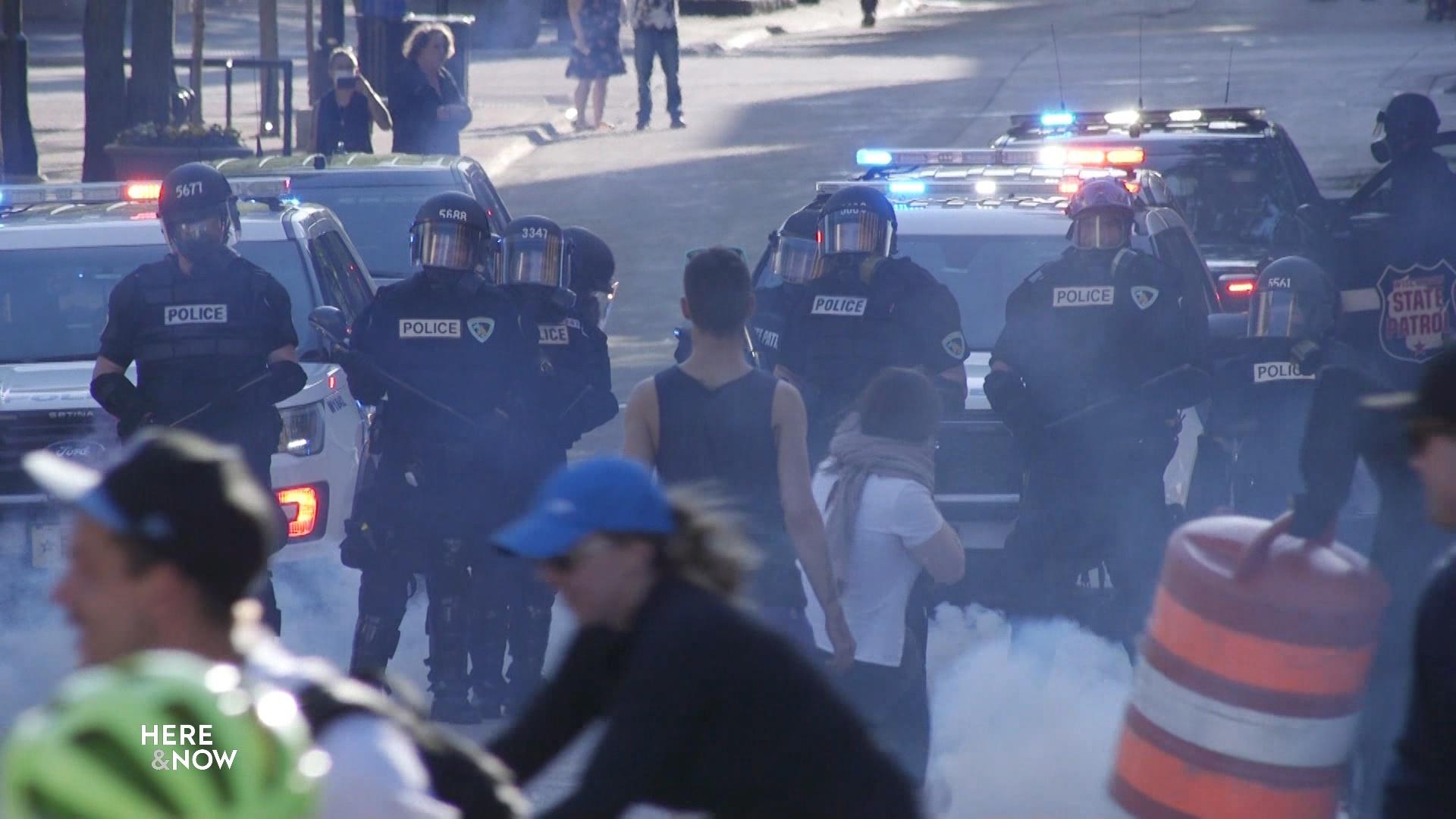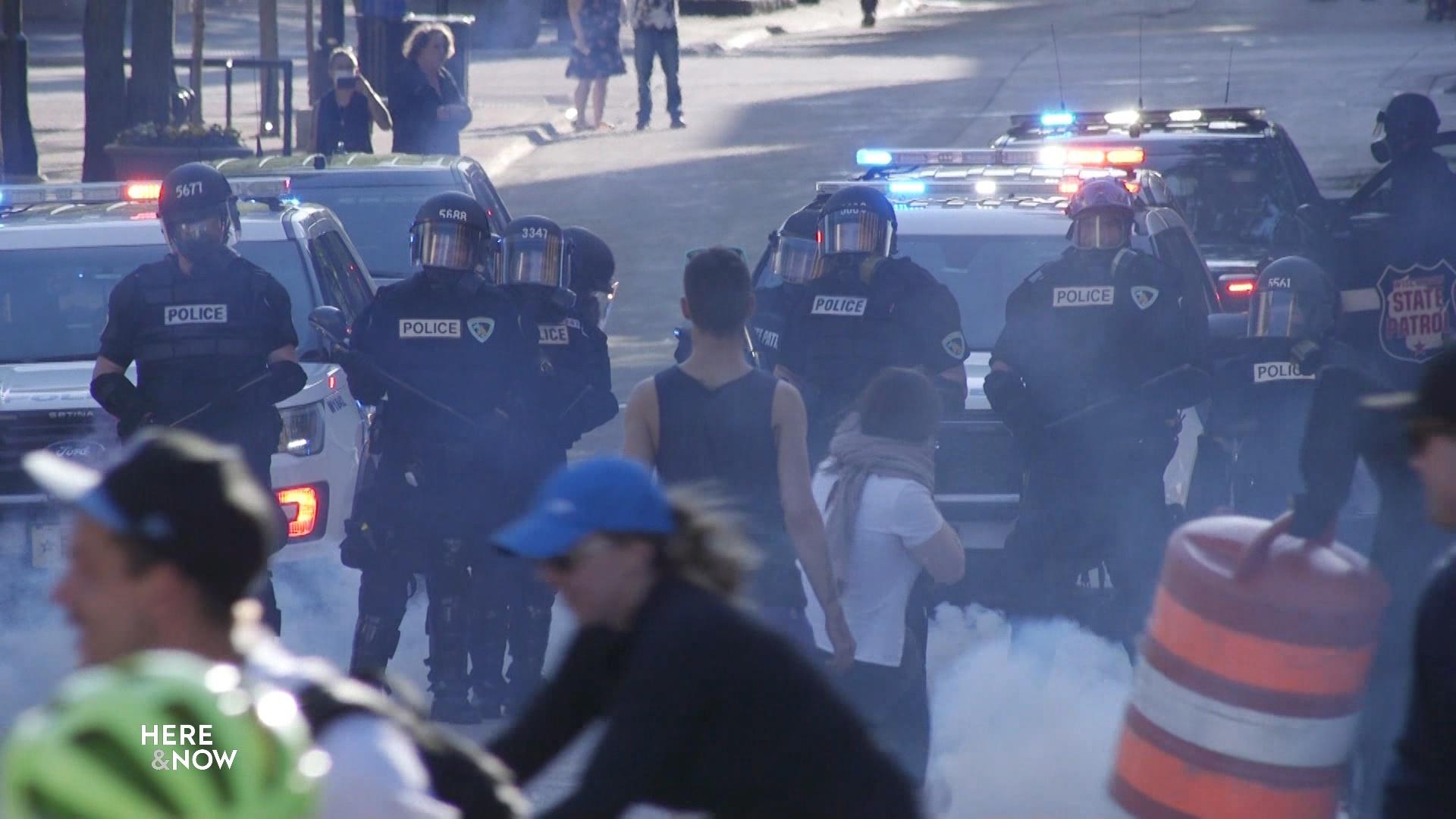 A report on Madison police use of force during protests
The Madison Police Department commissioned the Quattrone Center at the University of Pennsylvania Carey Law School to investigate the use of force by its officers during 2020 protests — the ensuing stakeholder report offers dozens of recommendations.
November 19, 2021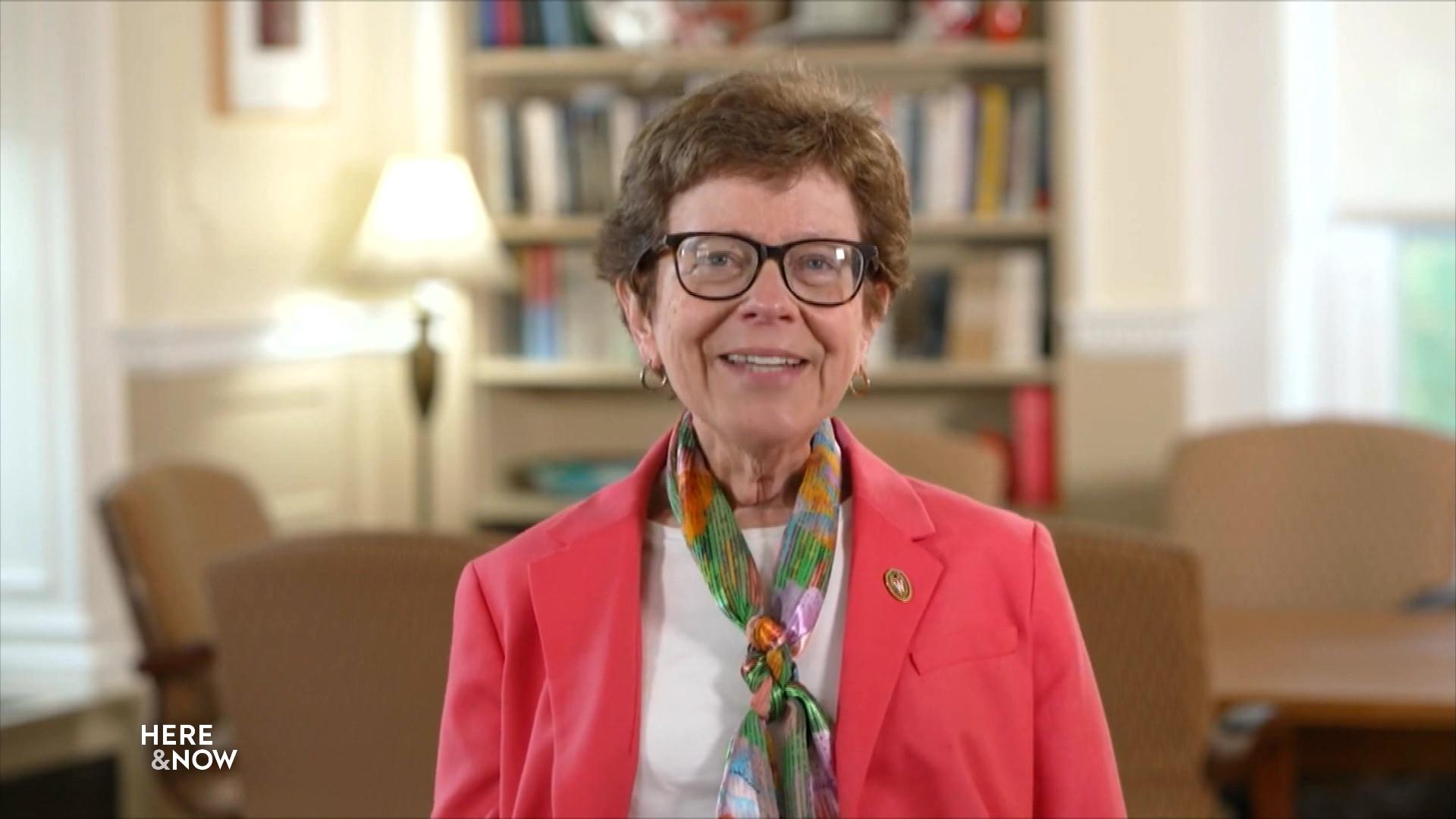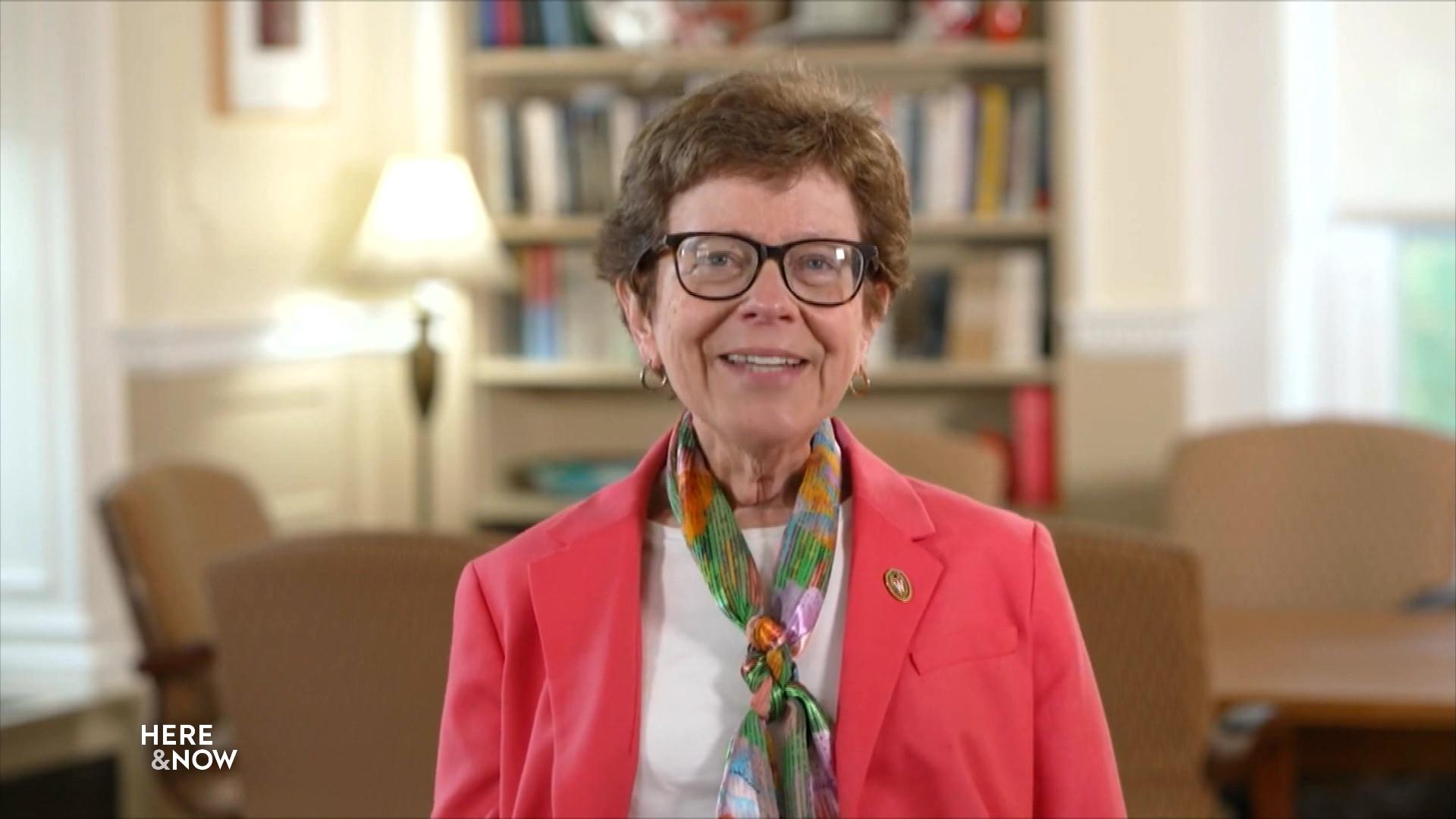 UW-Madison Chancellor to Be Northwestern President
UW-Madison Chancellor Rebecca Blank announced her resignation from the university at the end of the 2021-22 academic year. Blank has accepted a position as the president of Northwestern University. PBS Wisconsin is a part of UW-Madison.
October 15, 2021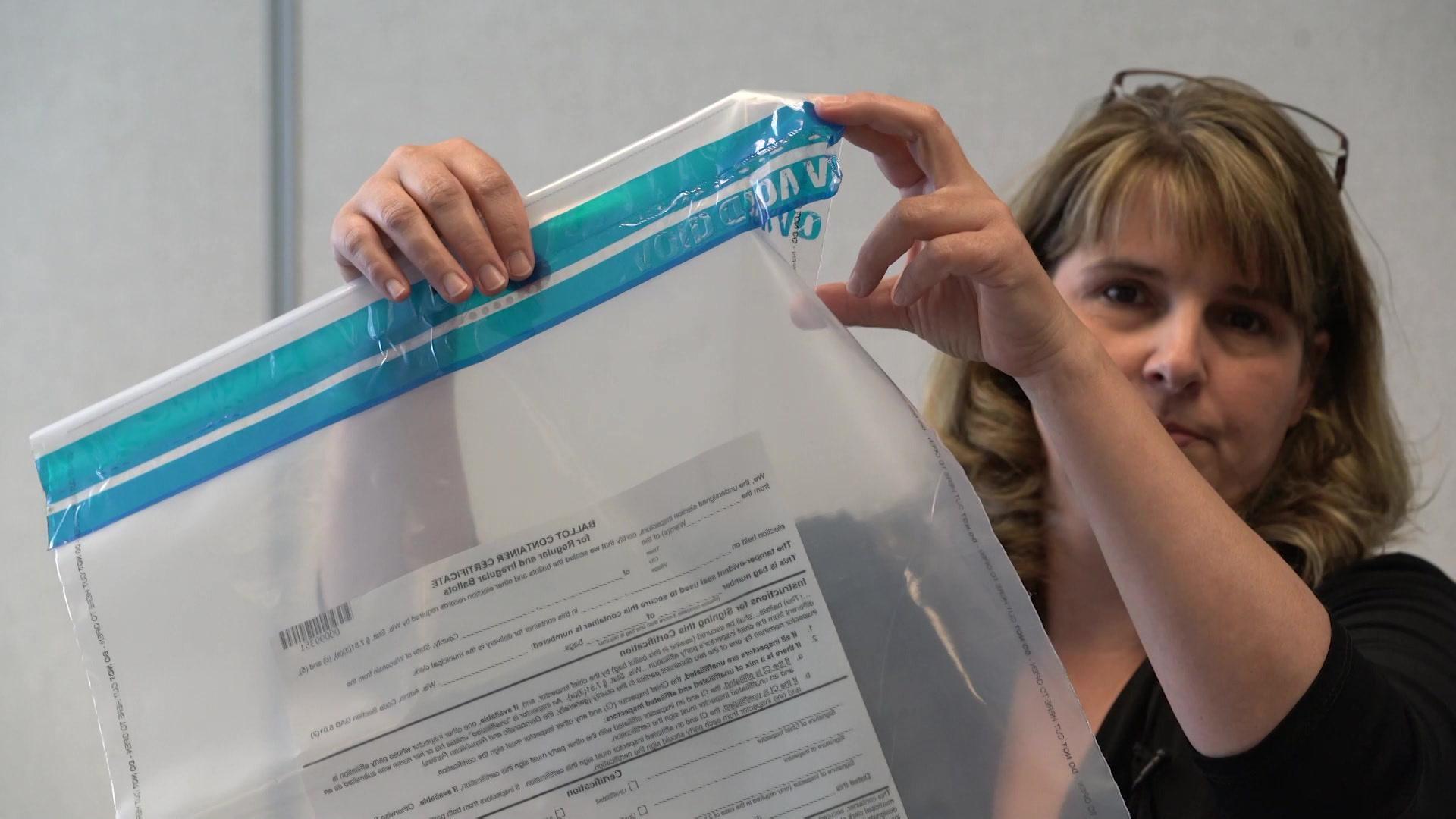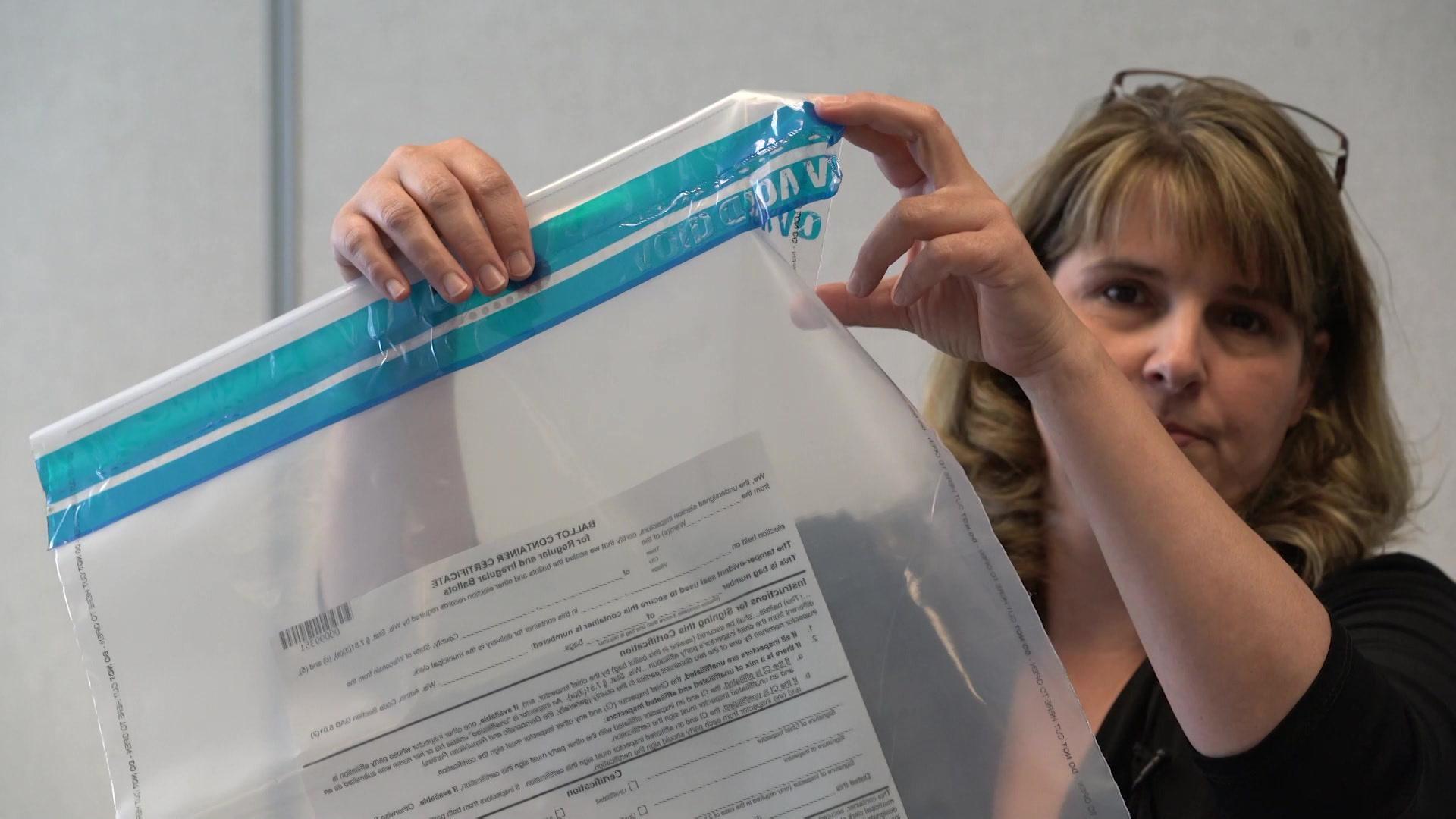 Rock County Clerk Urges Gableman to Give Her a Call
The former Wisconsin Supreme Court Justice appointed to review how the state's 2020 presidential vote was conducted has stated multiple times that he doesn't understand what happens after a ballot is cast — Lisa Tollefson says she's happy to help explain the process.
October 14, 2021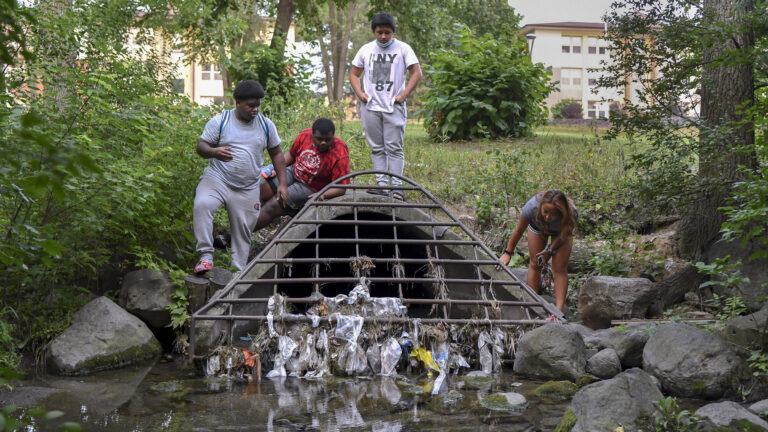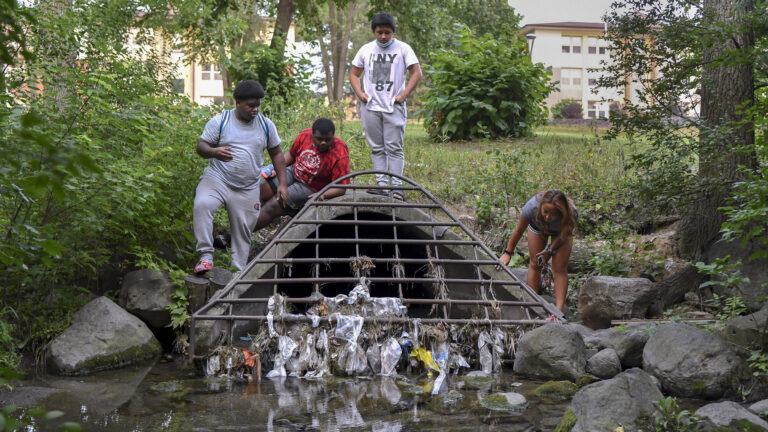 'Something Has to Be Done': Life Along Madison's Starkweather Creek, One of Wisconsin's Most Polluted Waterways
Among the contaminants of concern in a creek draining the east side of Madison is PFAS, a hazardous chemicals that's being flagged in locations across Wisconsin.
October 7, 2021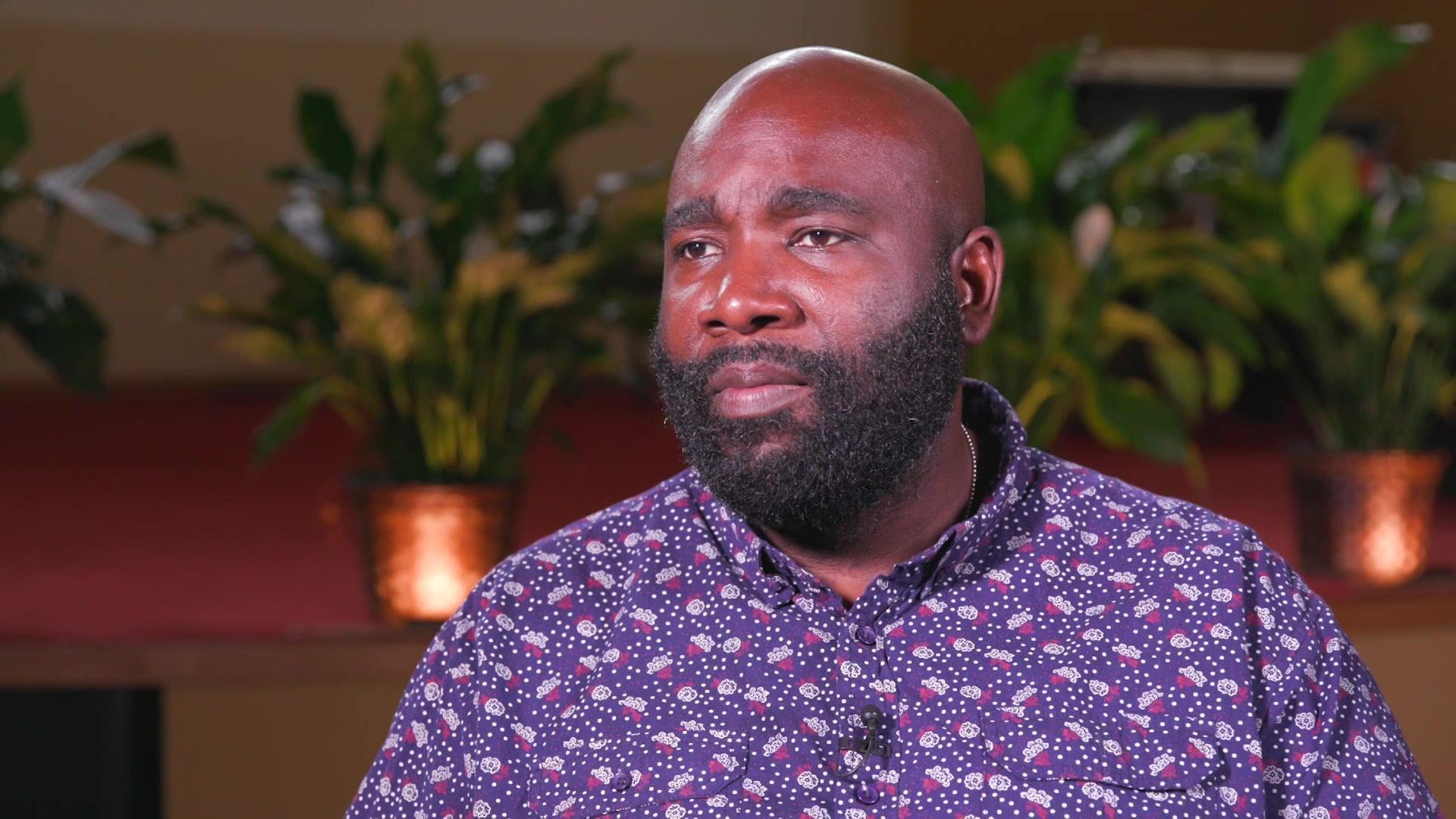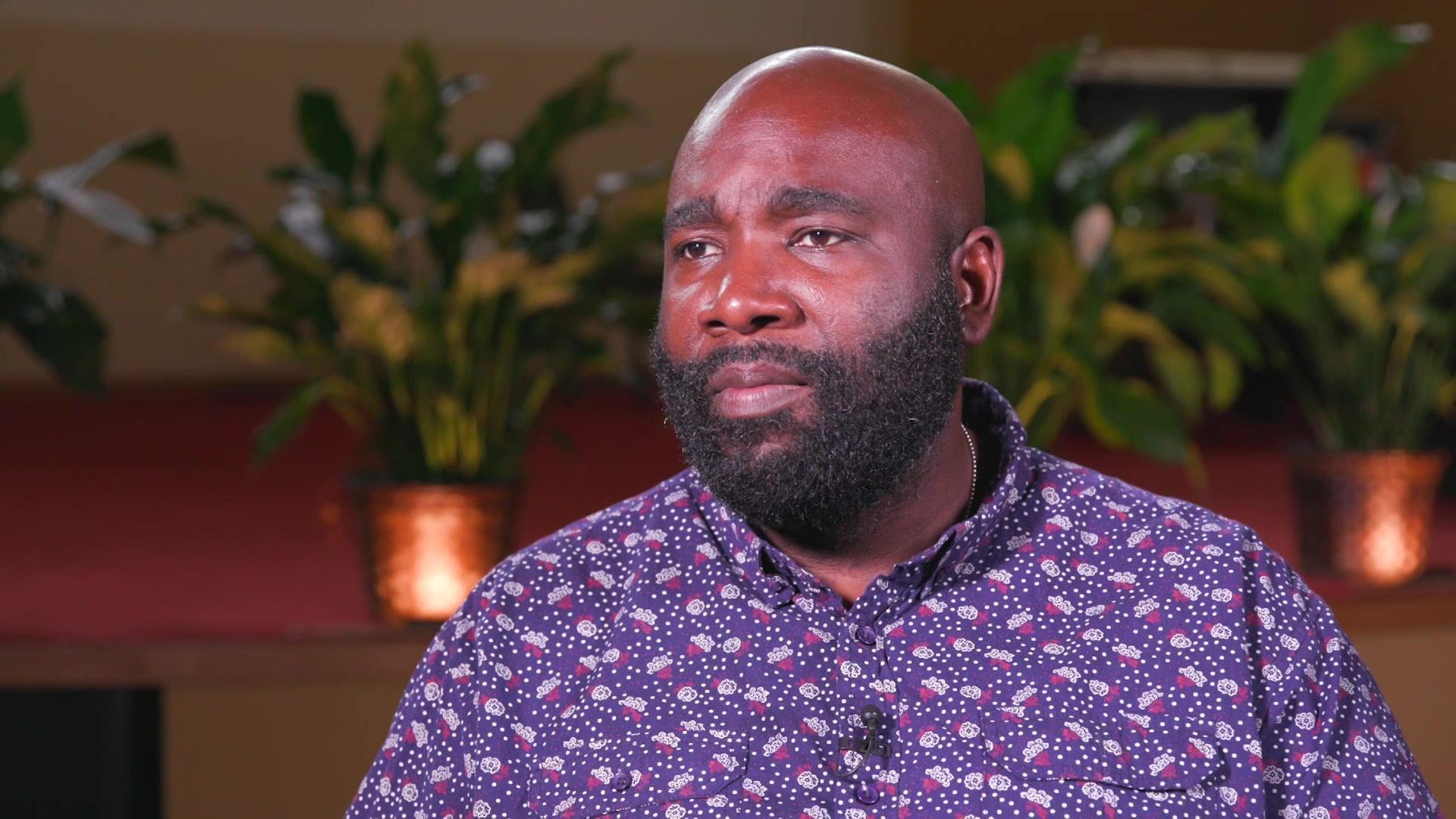 A Two-Decade Journey from Incarceration to Leader in the Community: How and Why Anthony Cooper Was Pardoned
Special projects reporter Murv Seymour shares the story of a Madison man who was convicted of drug-related offenses in 1999 and after serving time in prison would go on to become a community leader focused on reducing violence sought and received a pardon from Gov. Tony Evers, who has granted more than 250 in an effort to promote second chances and reduce prison populations
October 4, 2021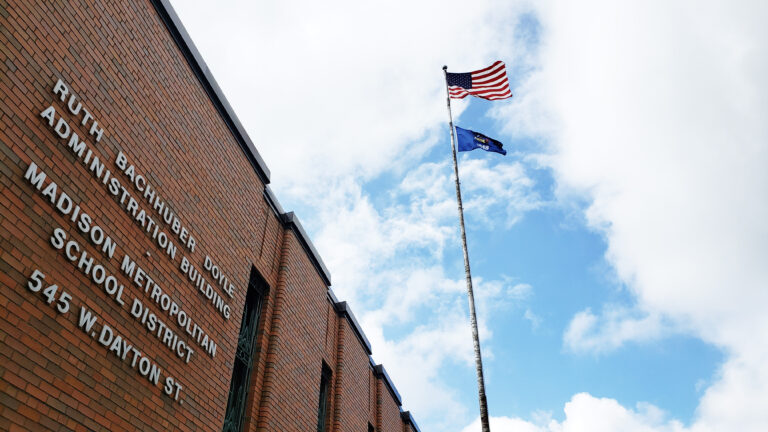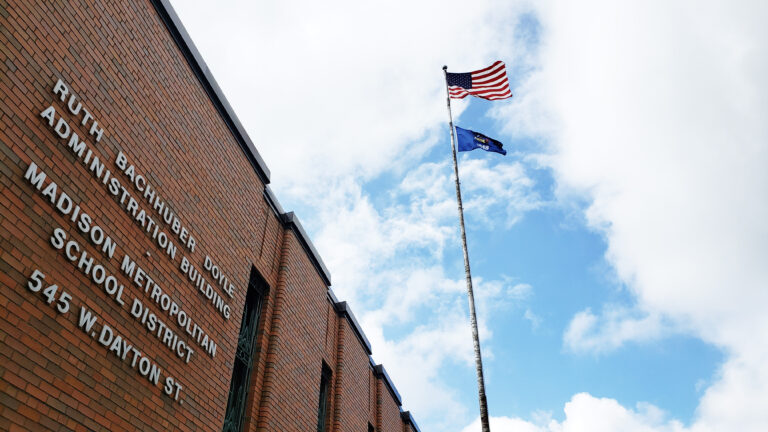 'This Feeling of Impending Doom': A Teacher's View of Covid in a Madison School
With students getting sick and heading home for quarantine right after in-person instruction started in the Madison school district, the potential for a growing outbreak is hanging over a new school year.
September 22, 2021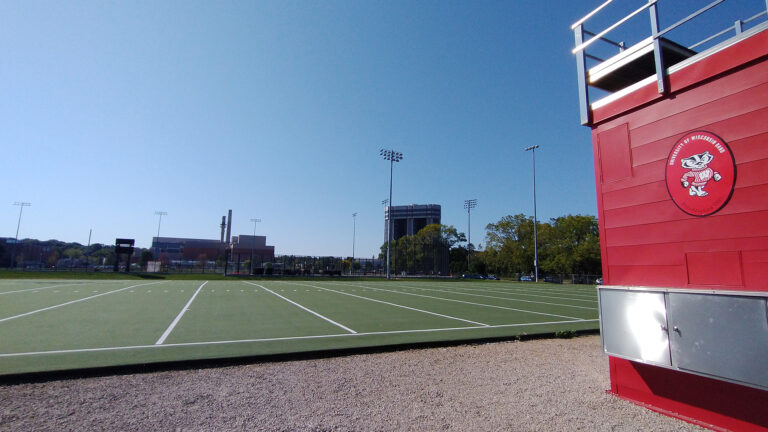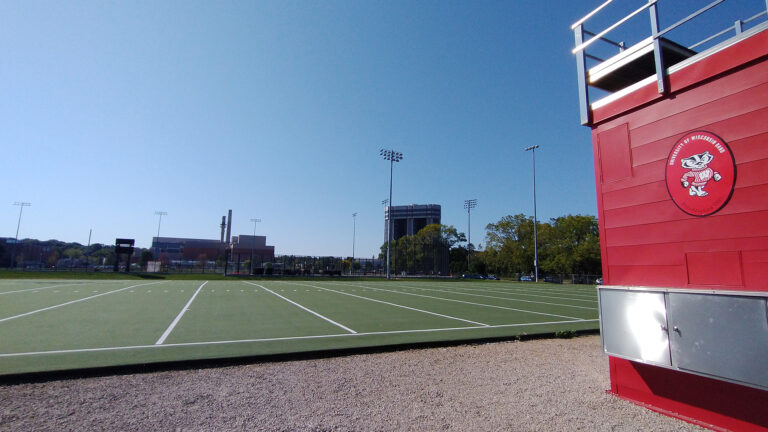 COVID-19 Hits the UW Marching Band as 2021 Badgers Football Season Begins
Practices for the iconic UW-Madison musical troupe were halted for two days after several members tested positive for the coronavirus following its first two performances at Camp Randall.
September 16, 2021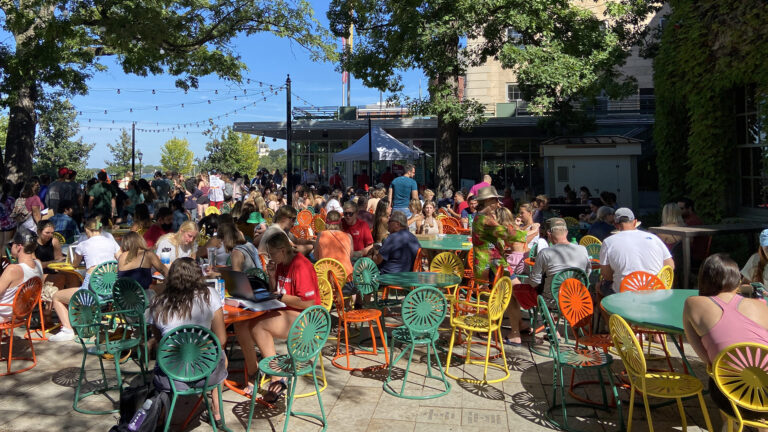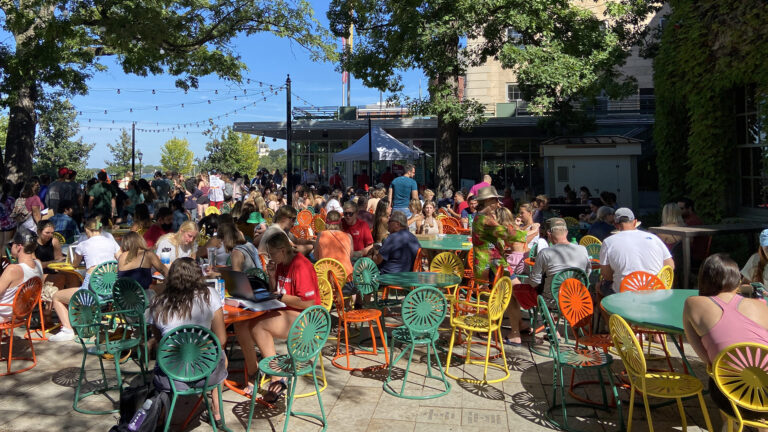 UW-Madison Students Gauge the Scope of Campus COVID-19 Planning
Here & Now extra: Required coronavirus testing for unvaccinated individuals and indoor masking are central to the university's pandemic safety plans for the fall 2021 semester, with maintaining in-person instruction an institutional priority.
September 7, 2021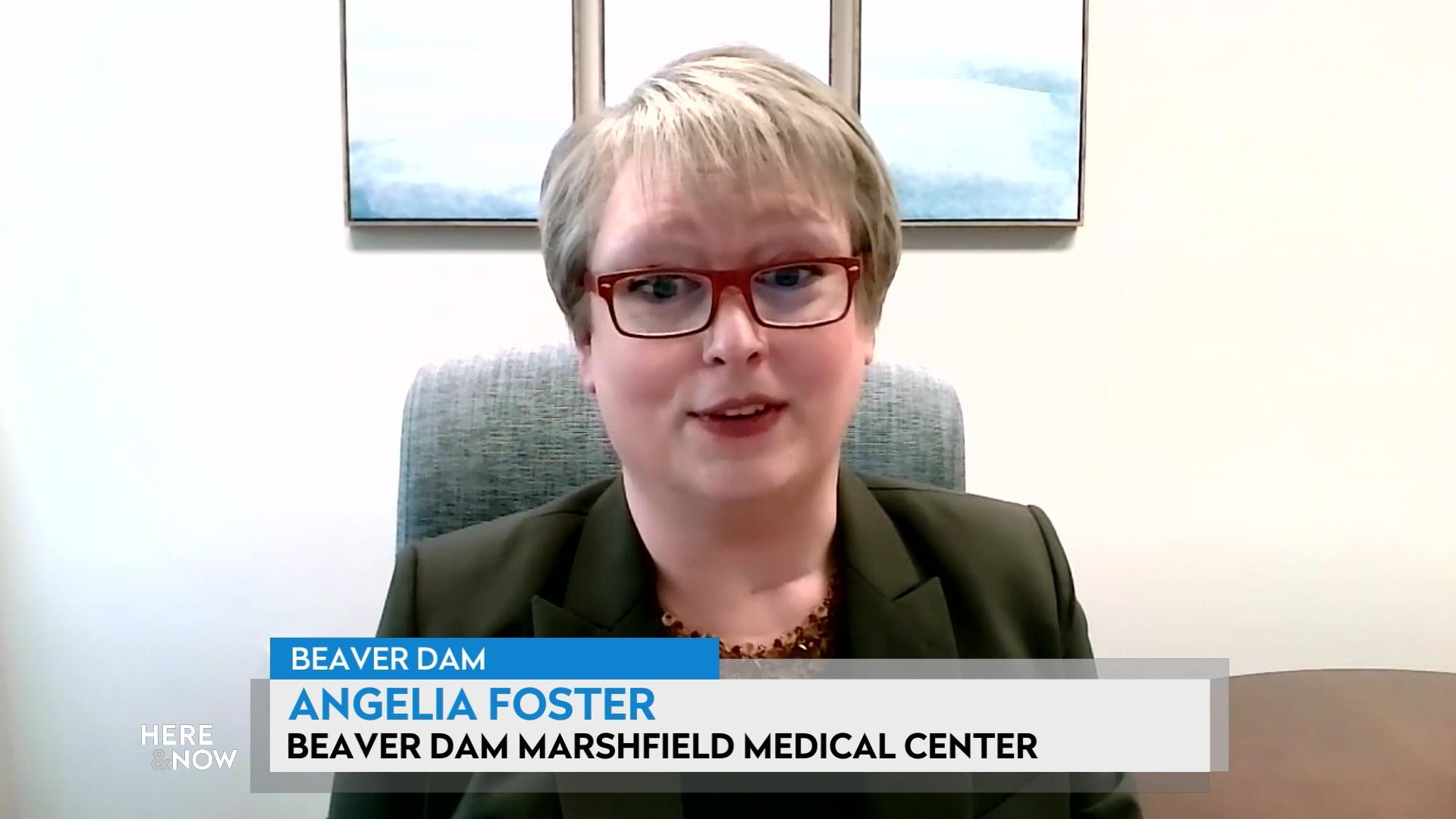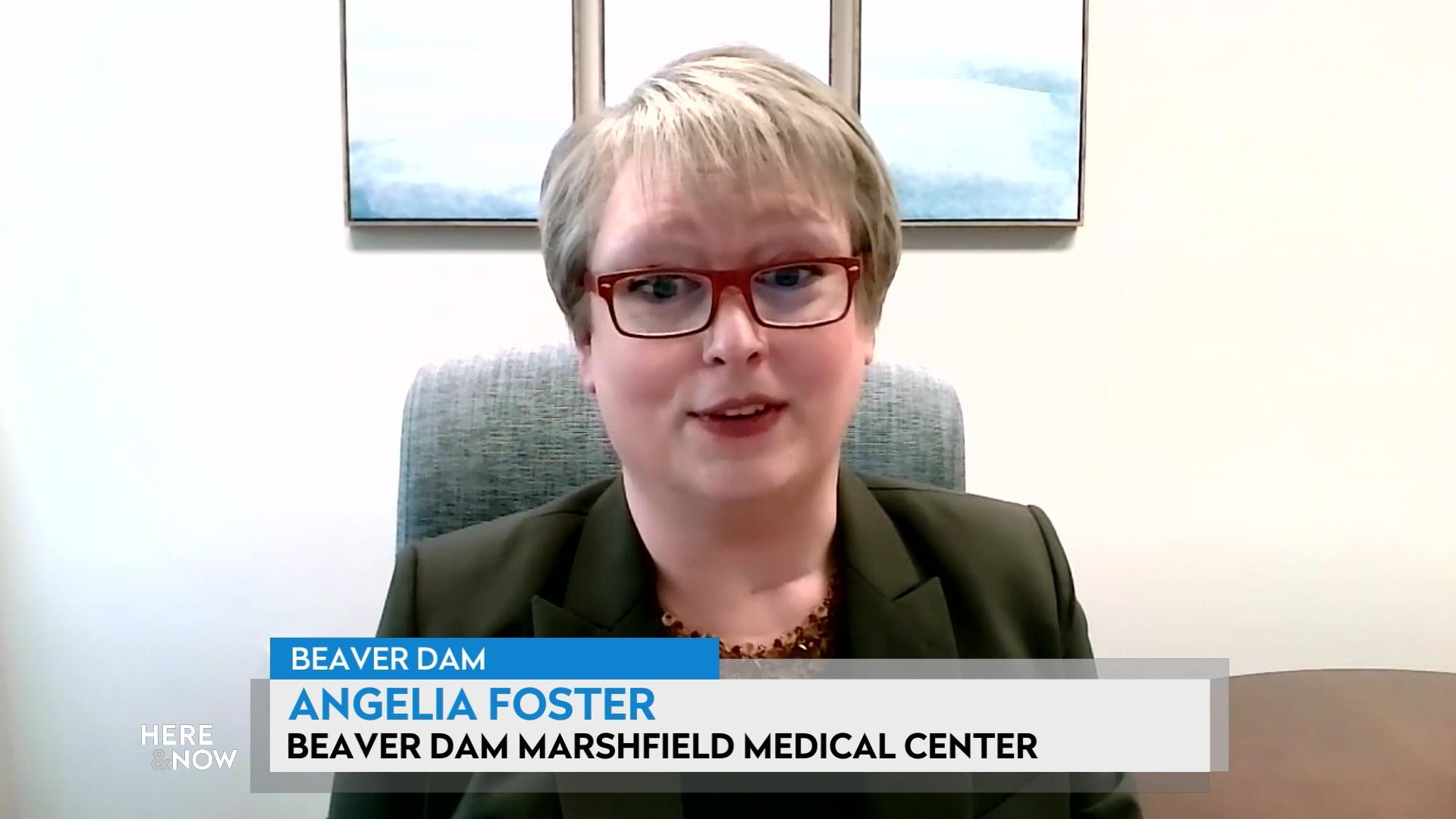 Hospitals Take on the Delta Wave of COVID-19
Angelia Foster, the chief administrative officer for Marshfield Medical Center Beaver Dam describes how a wave of cases by the Delta variant of COVID-19 are stressing the hospital.
September 3, 2021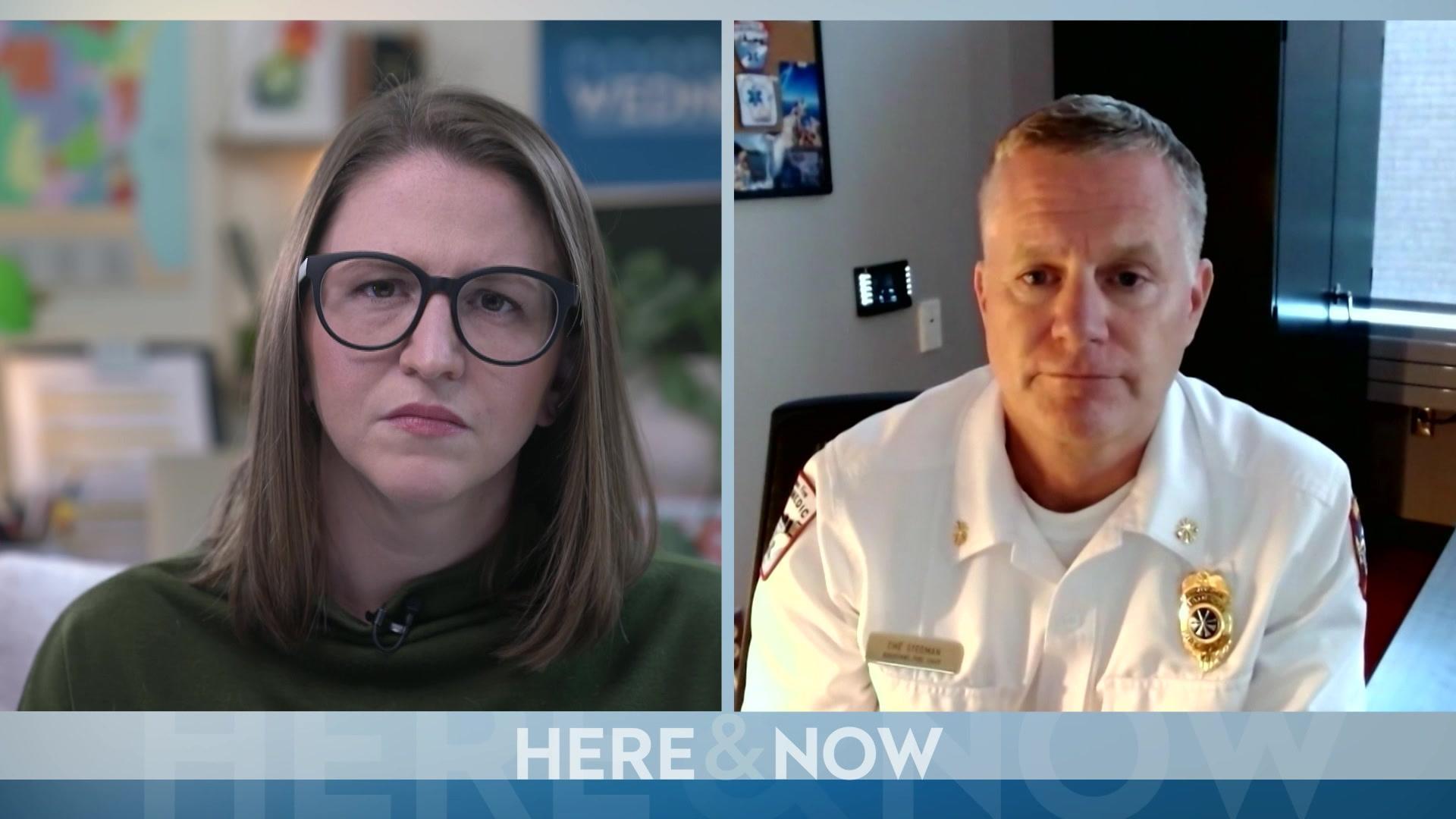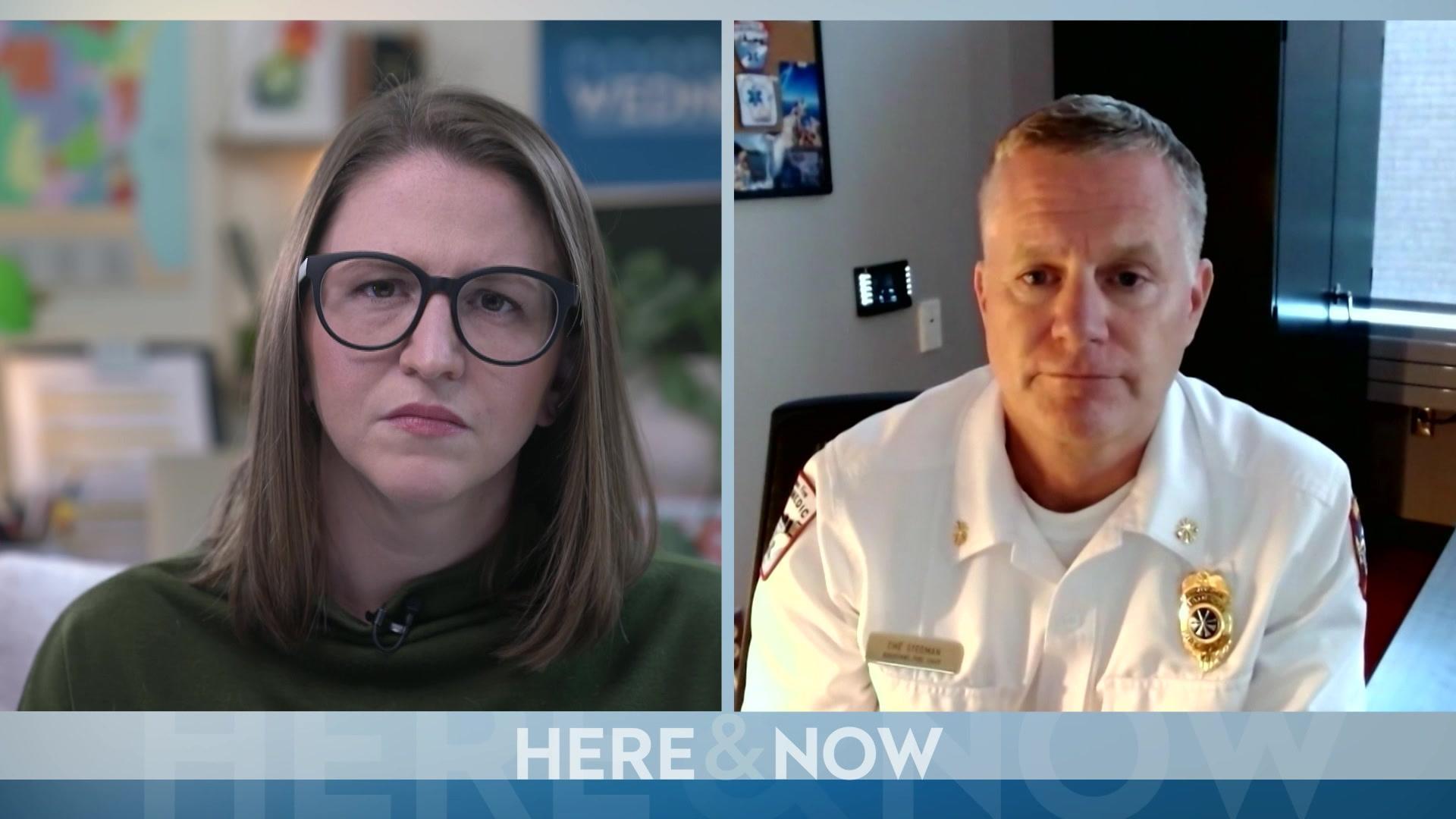 Noon Wednesday: Unarmed First Responders in Madison
Emergency responses to mental health crisis calls are primarily answered by police. As one-quarter of people killed in police shootings have a mental illness, cities are looking to change their approach by deploying unarmed first responders instead of law enforcement officers. Ché Stedman, assistant chief of medical affairs at the Madison Fire Department, explains how its new program works.
September 1, 2021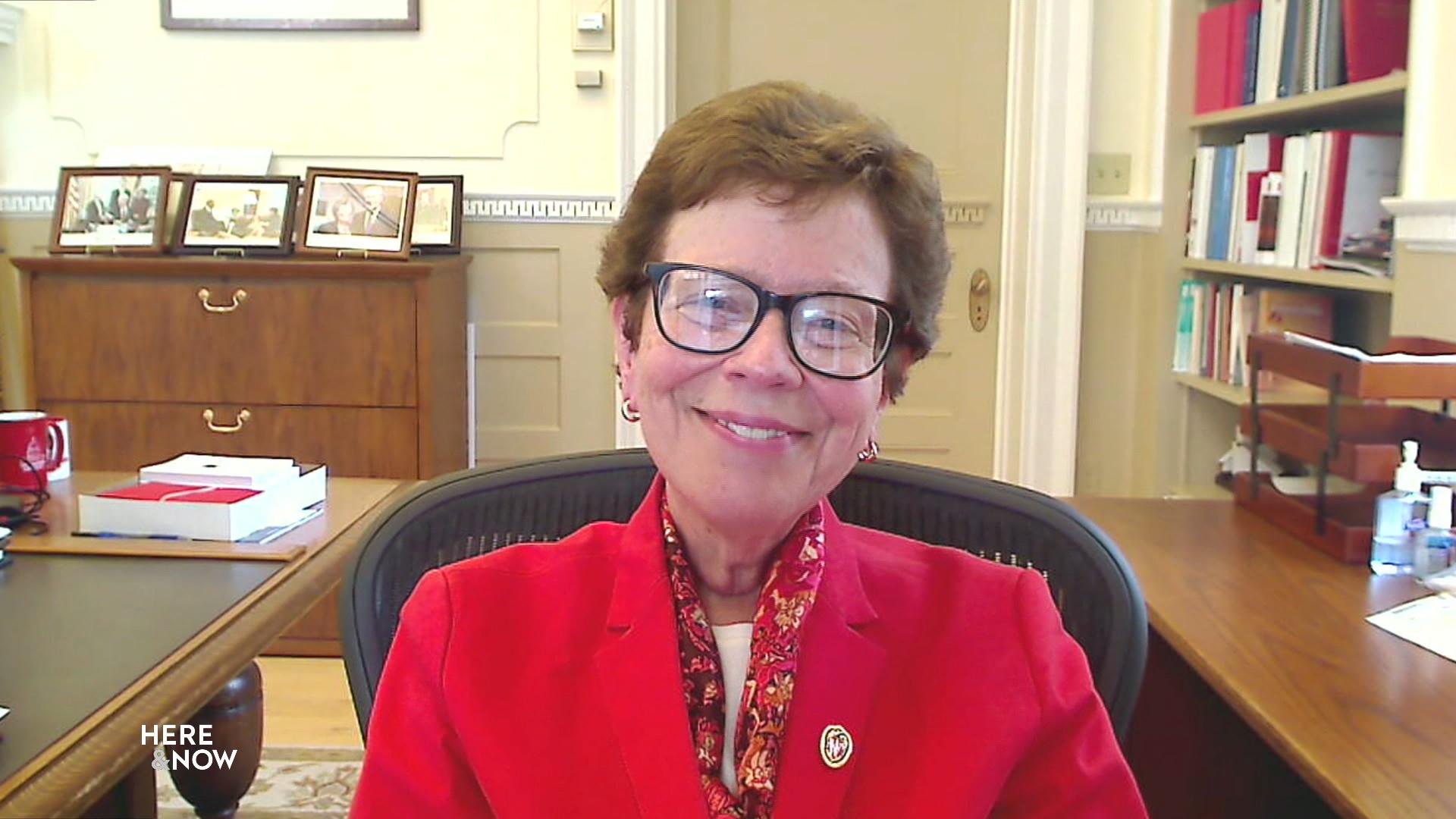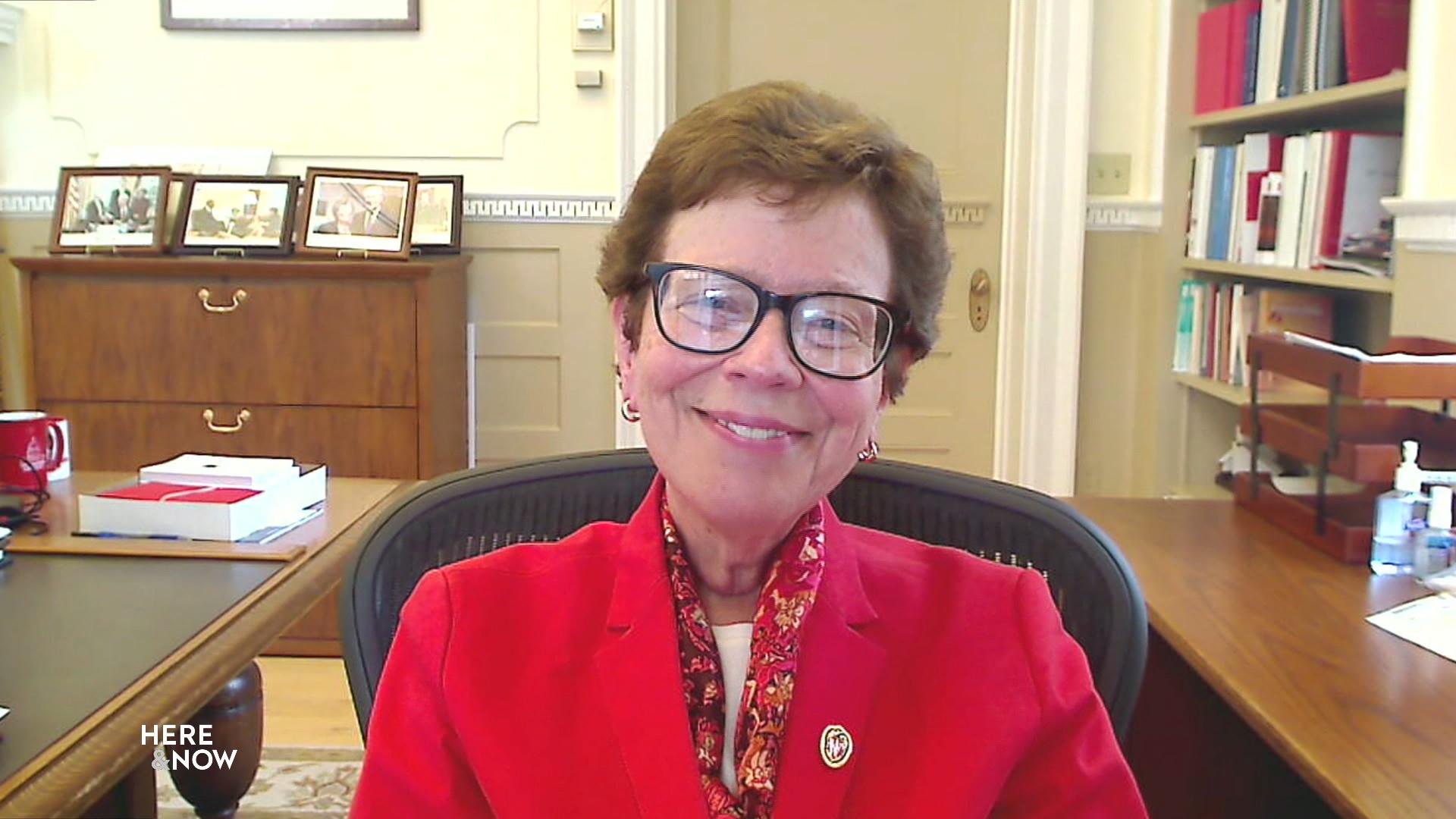 UW-Madison's Strategy on Delta Variant of COVID-19 for Fall
UW-Madison Chancellor Rebecca Blank details the university's plan to combat a likely increase in COVID-19 cases on campus due to the highly contagious Delta variant with in-person classes starting in September. PBS Wisconsin is a part of UW-Madison.
August 26, 2021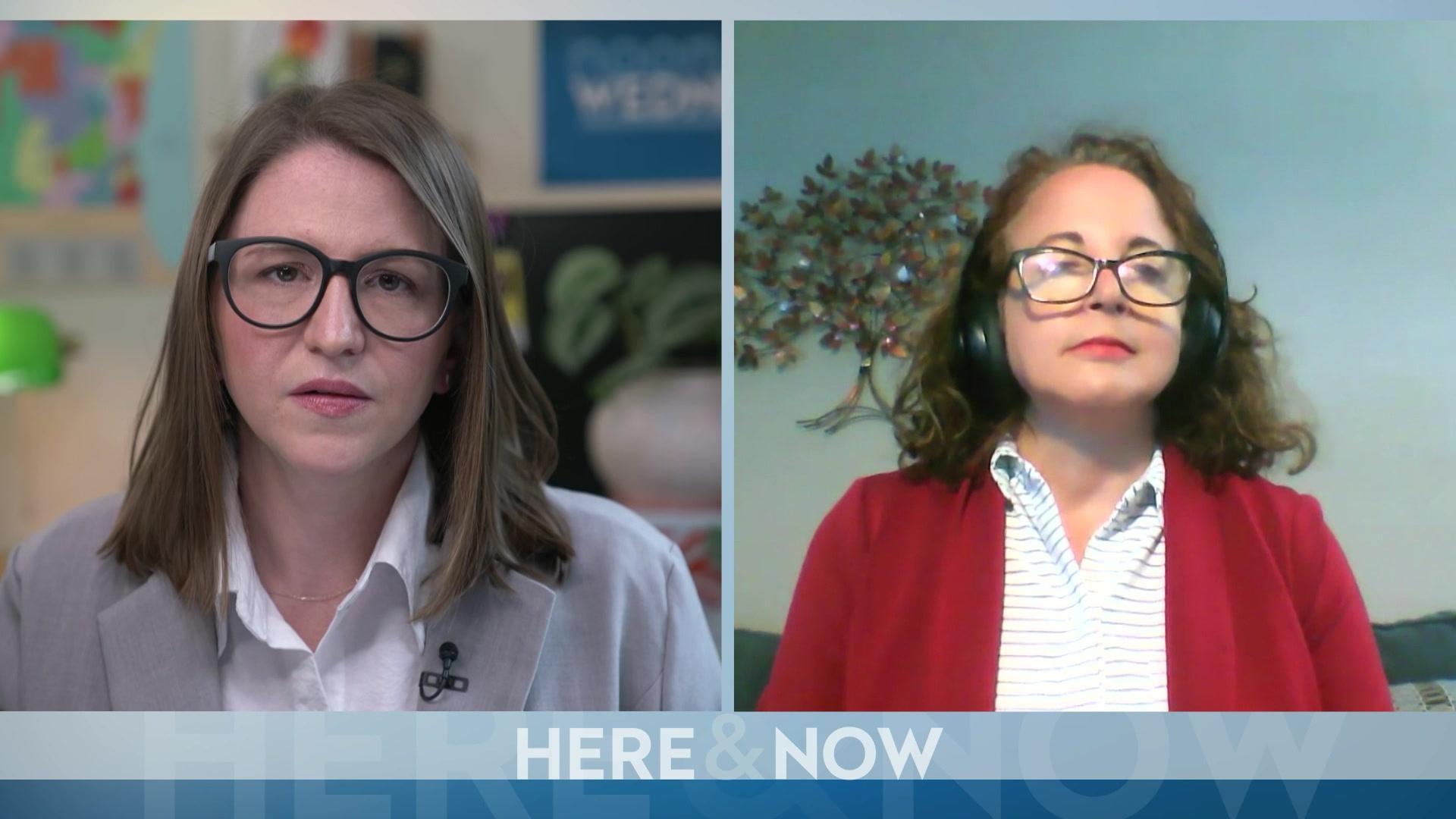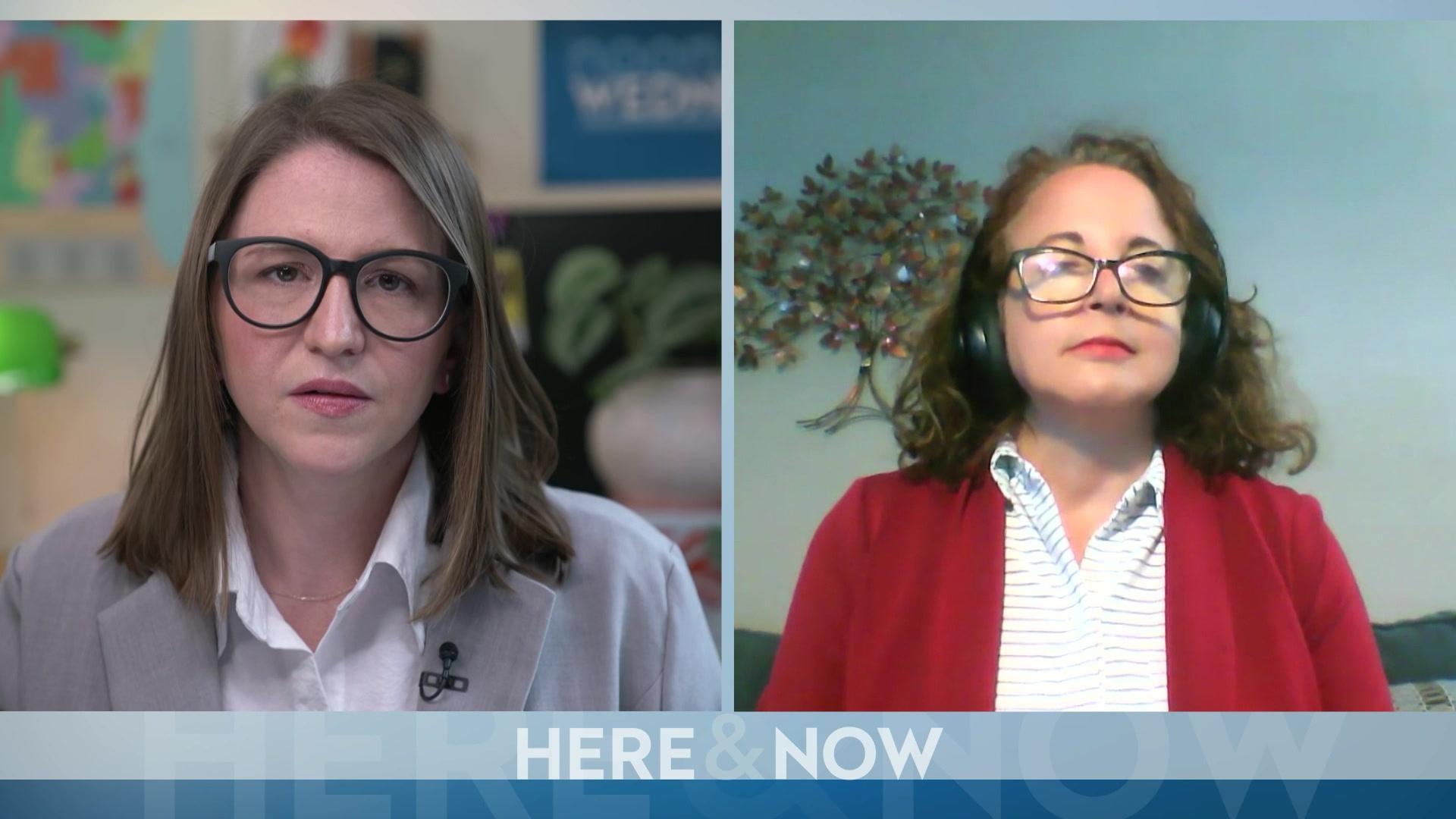 Noon Wednesday: Wisconsin Prepares for Afghan Refugees
As Afghans who worked with the U.S. flee their home under Taliban rule, the military is preparing to temporarily house some at Fort McCoy. Dawn Berney, executive director of resettlement nonprofit Jewish Social Services of Madison, explains how local agencies are preparing for a potential influx of refugees.
August 18, 2021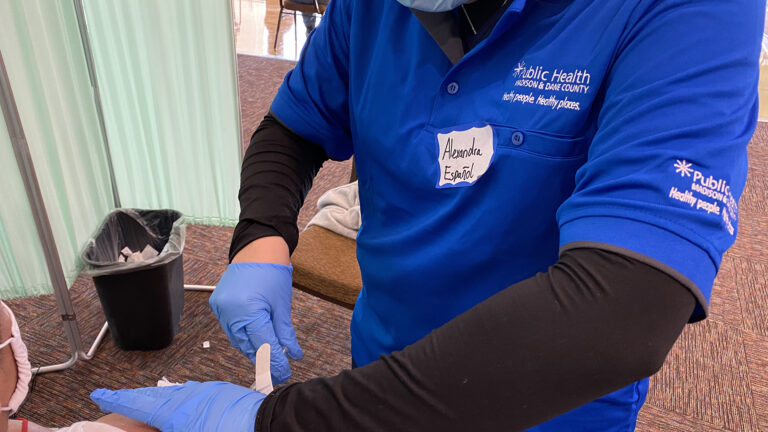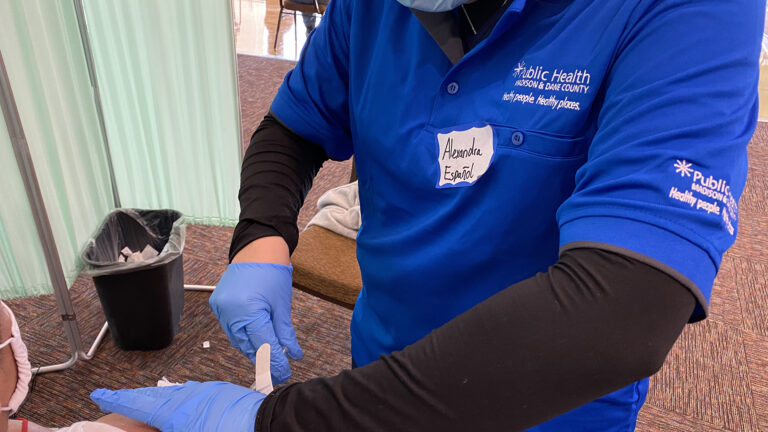 What's Next for Wisconsin's Most Vaccinated Locales as Delta Variant Spreads
Health officials in Dane and Door counties are trying to push local vaccinations even higher as employers are left to set their own vaccine and mask rules in the face of another highly contagious coronavirus wave.
August 9, 2021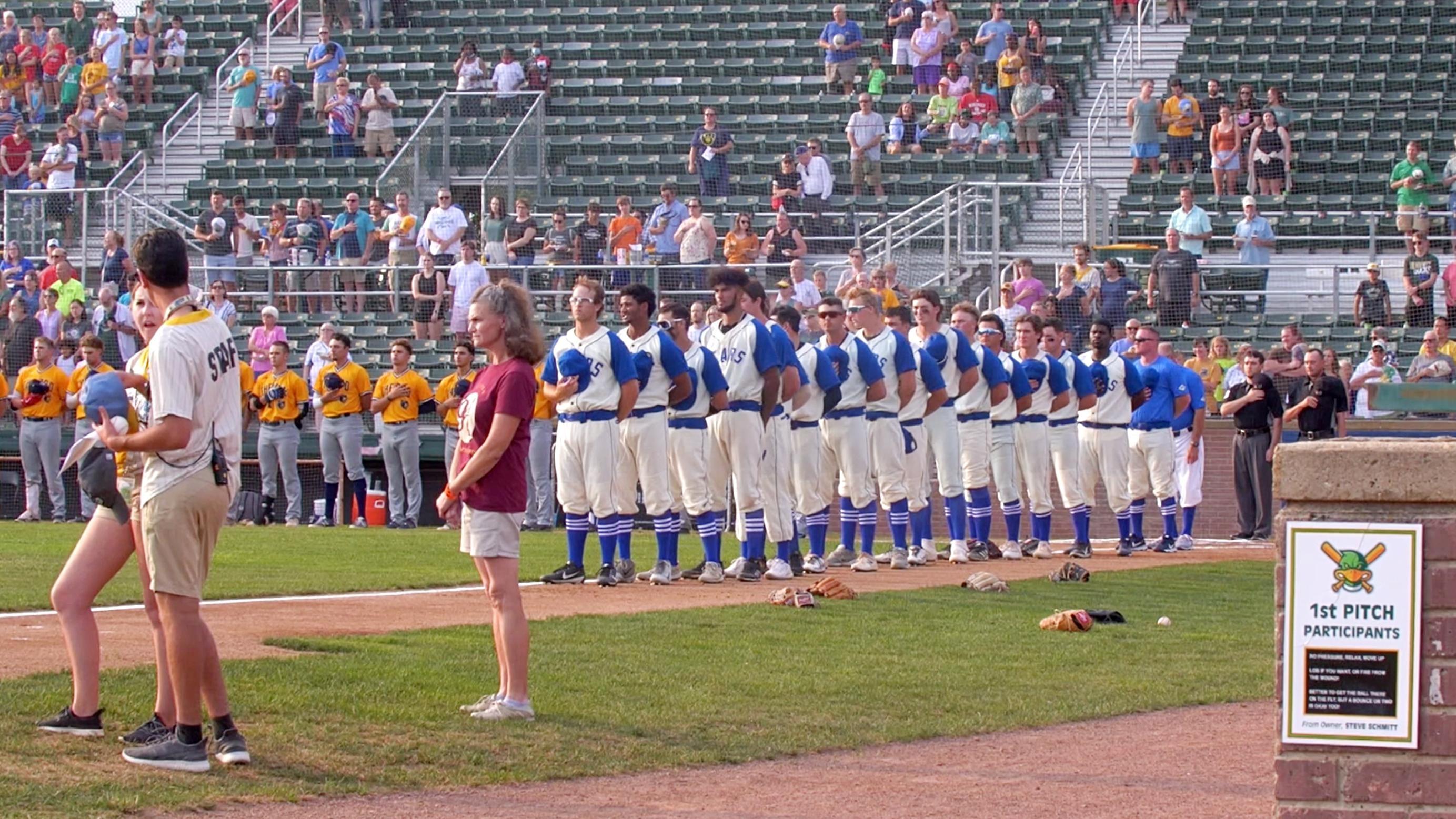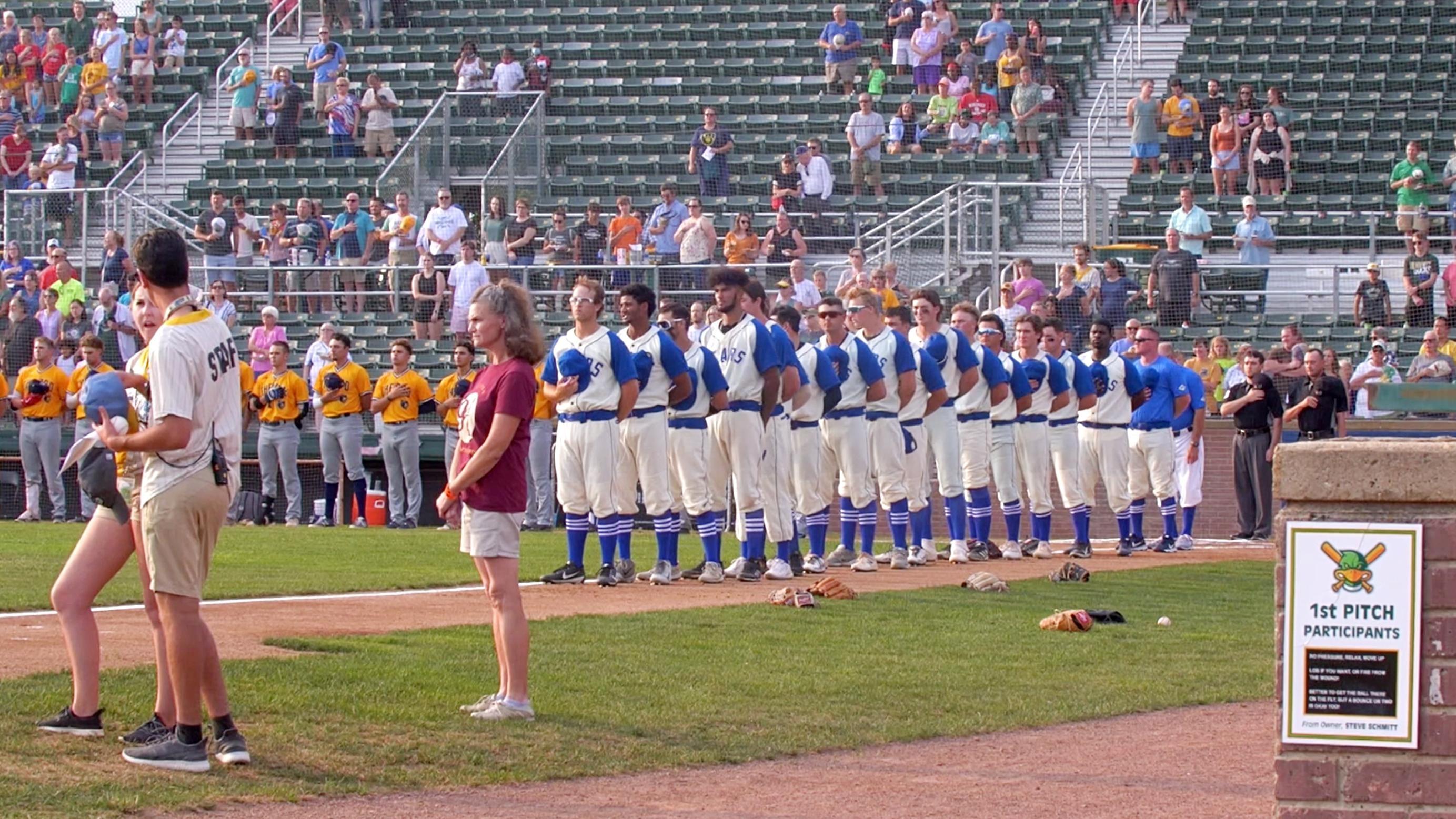 A Wisconsin Tribute to Negro Leagues Baseball
Special projects reporter Murv Seymour goes to the ballpark to explore a tribute to the Negro Leagues and their deep ties to Wisconsin as the Madison Mallards collegiate team took the field in unique uniforms evoking a special era of baseball.
August 6, 2021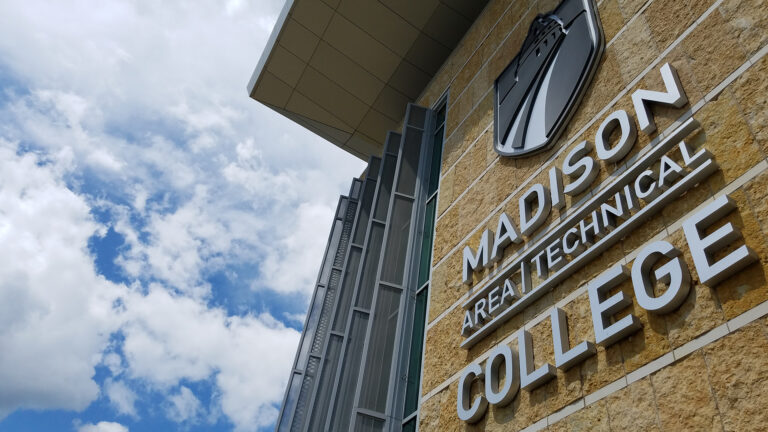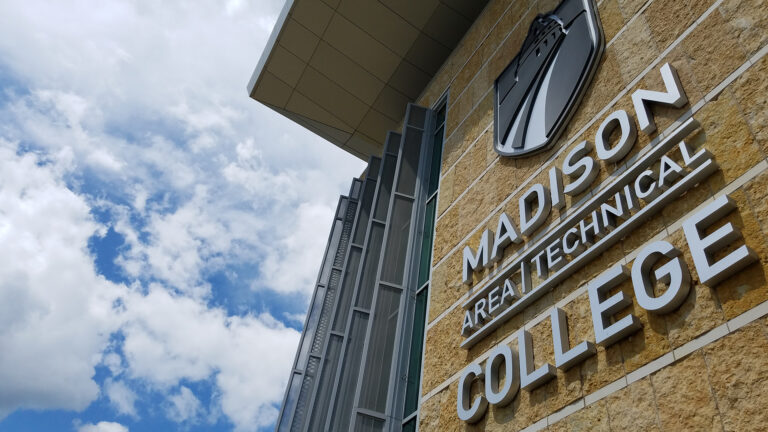 Technical Colleges in Madison, Milwaukee Deploy Aid to Erase Debt, Boost Enrollment
About $10 million in federal assistance is being deployed to help upwards of 13,000 students at two Wisconsin technical colleges cover unpaid tuition, fees and fines to be able to reenroll in classes.
August 2, 2021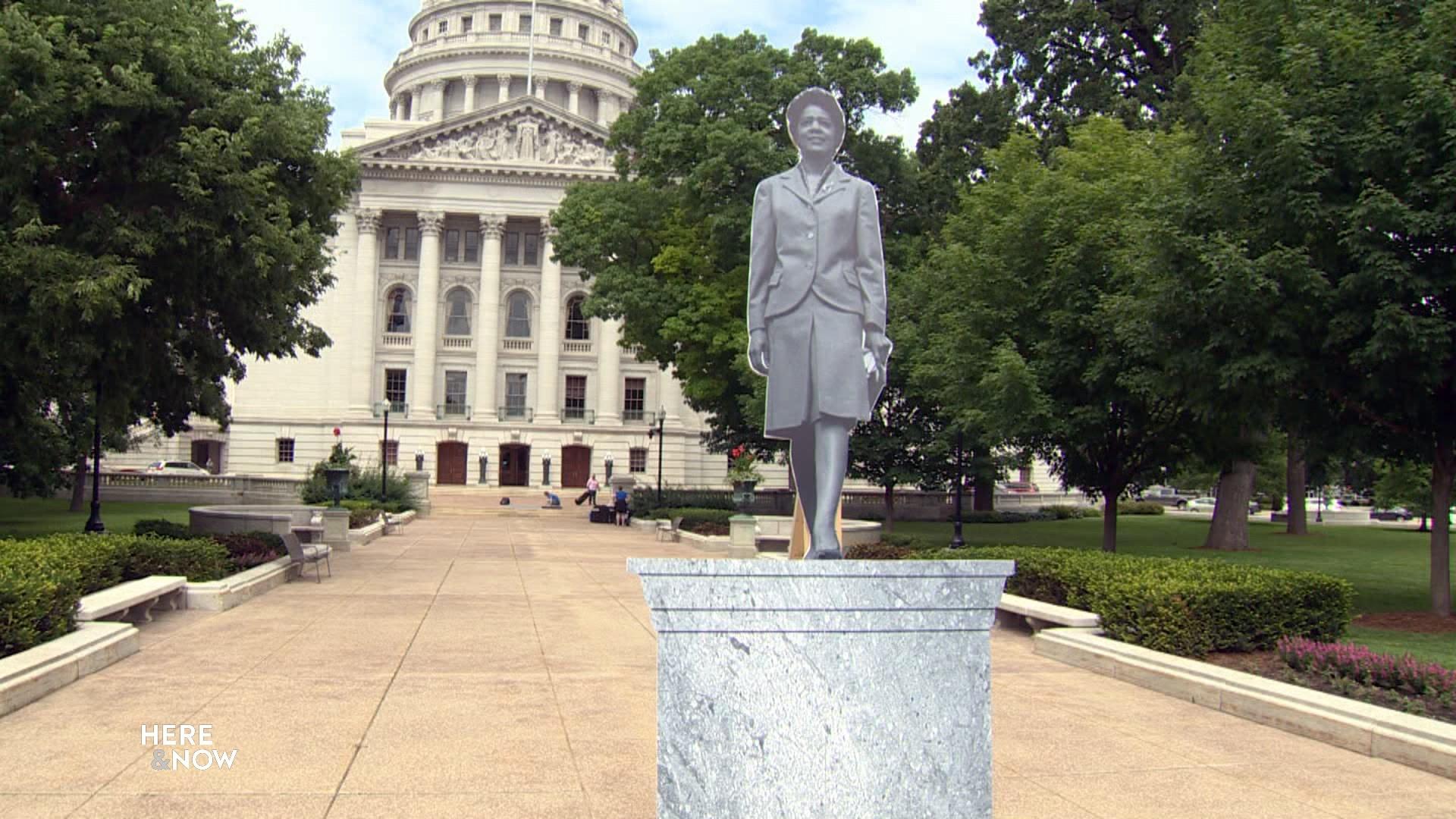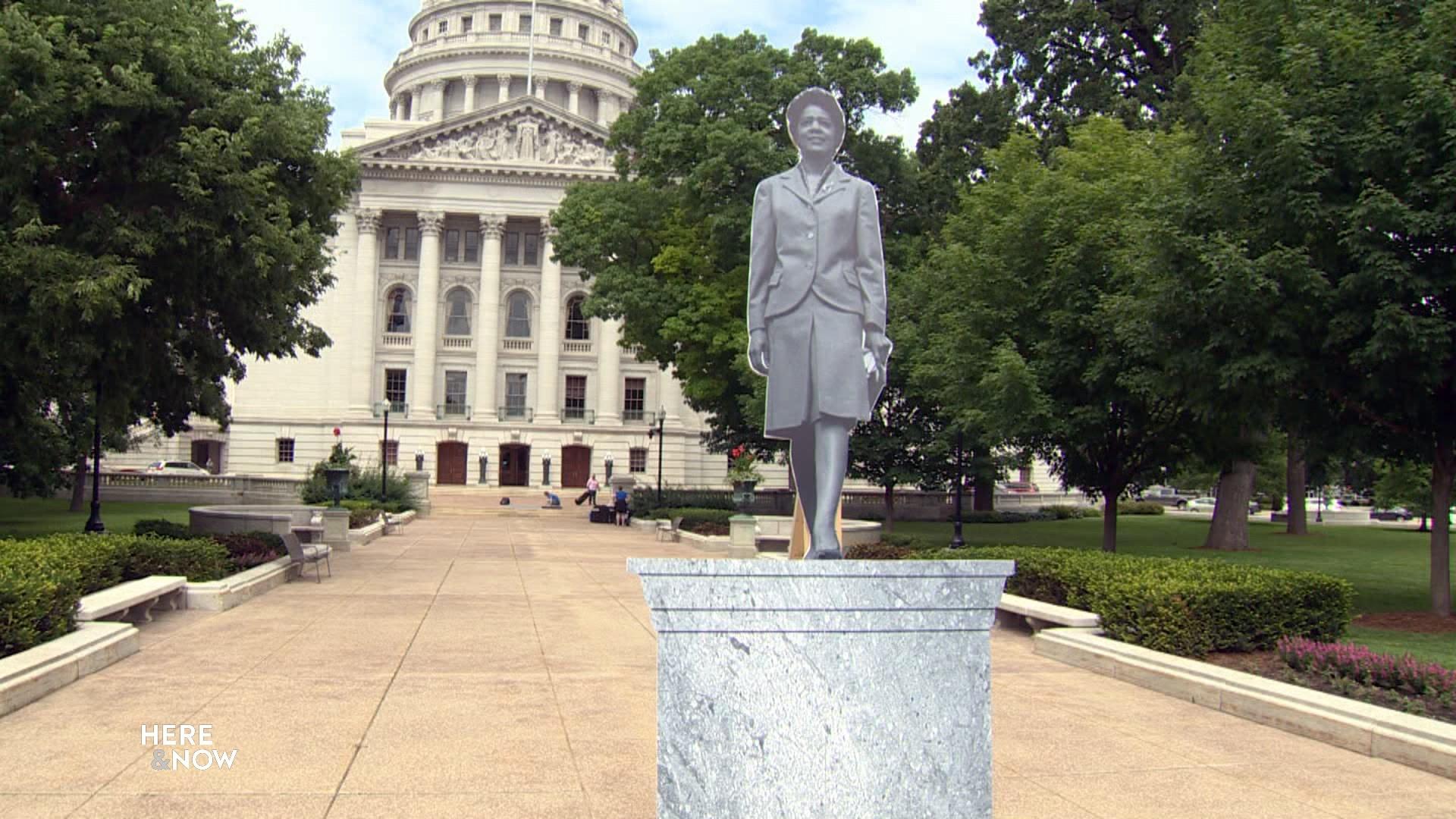 Previewing a Statue of Vel Phillips
A cardboard cutout of Wisconsin's Black political trailblazer Vel Phillips was placed on the south corner of the Capitol Square in Madison, offering a preview at a new statue that's in the works.
July 16, 2021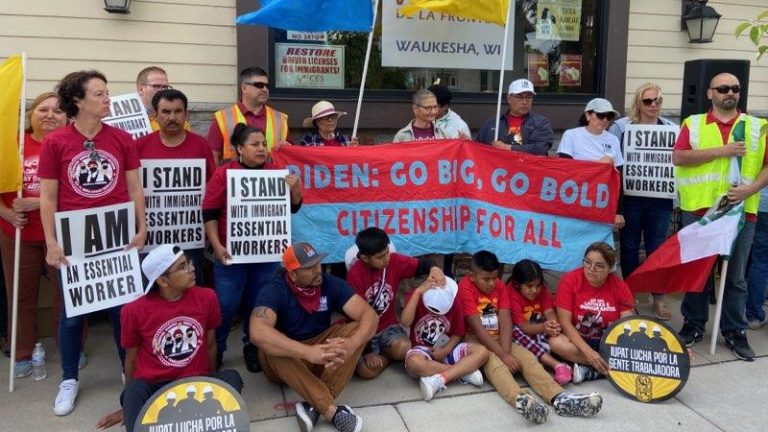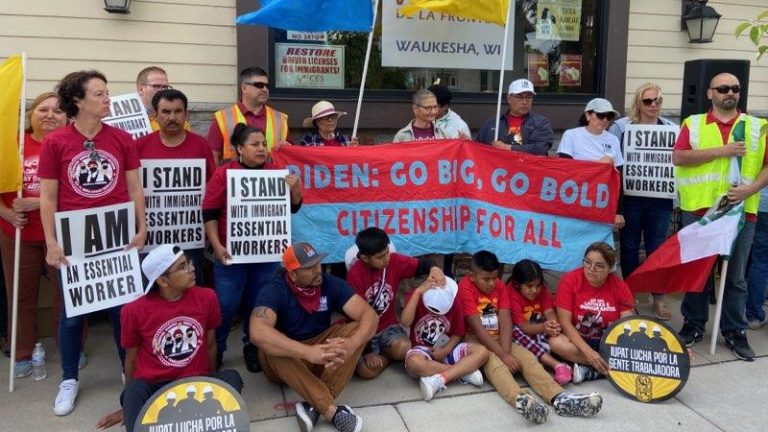 March from Milwaukee to Madison Draws Attention to Immigrant Rights
Voces de la Frontera is leading a walk across Wisconsin for access to driver licenses and citizenship for migrant workers.
June 22, 2021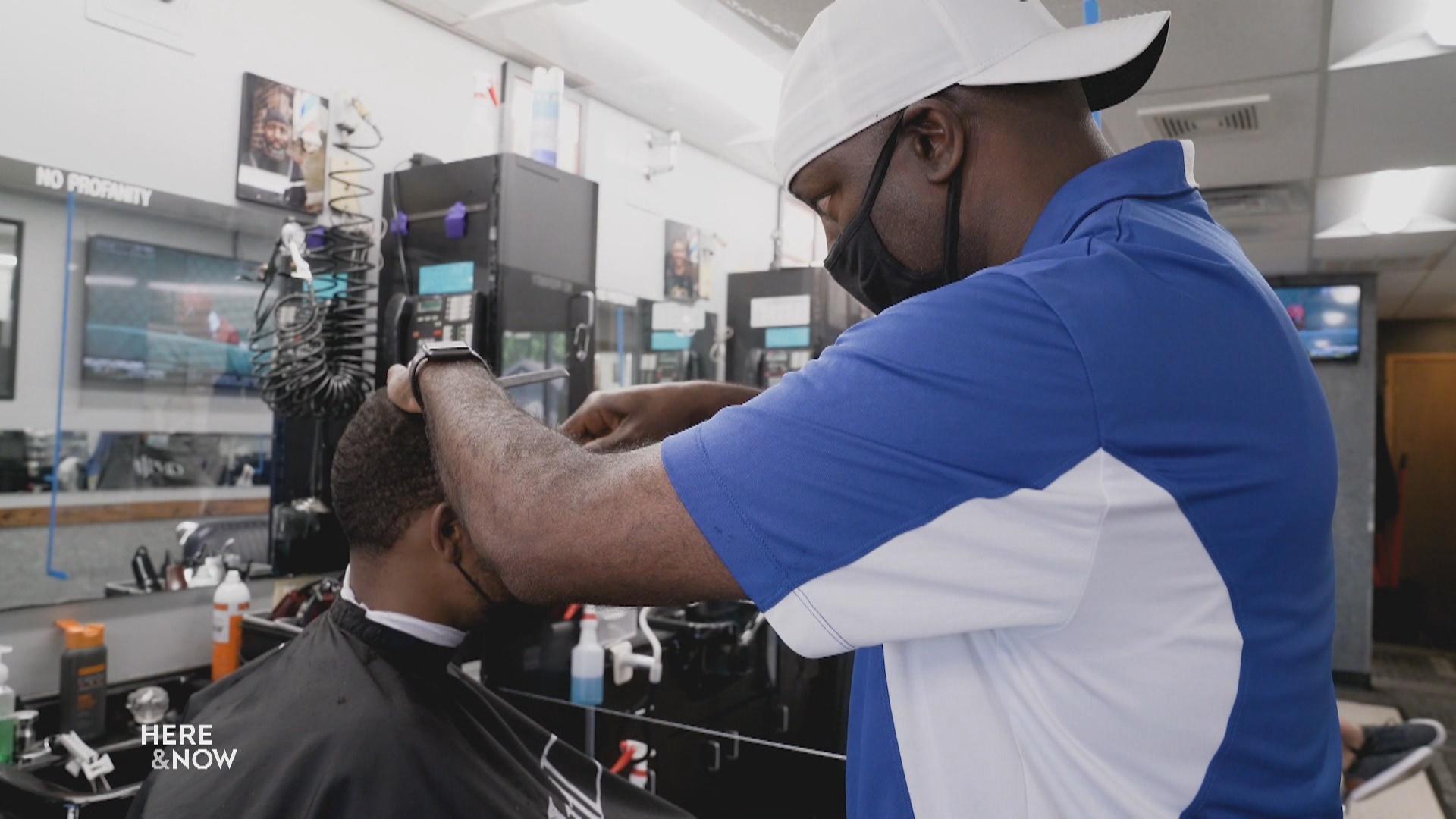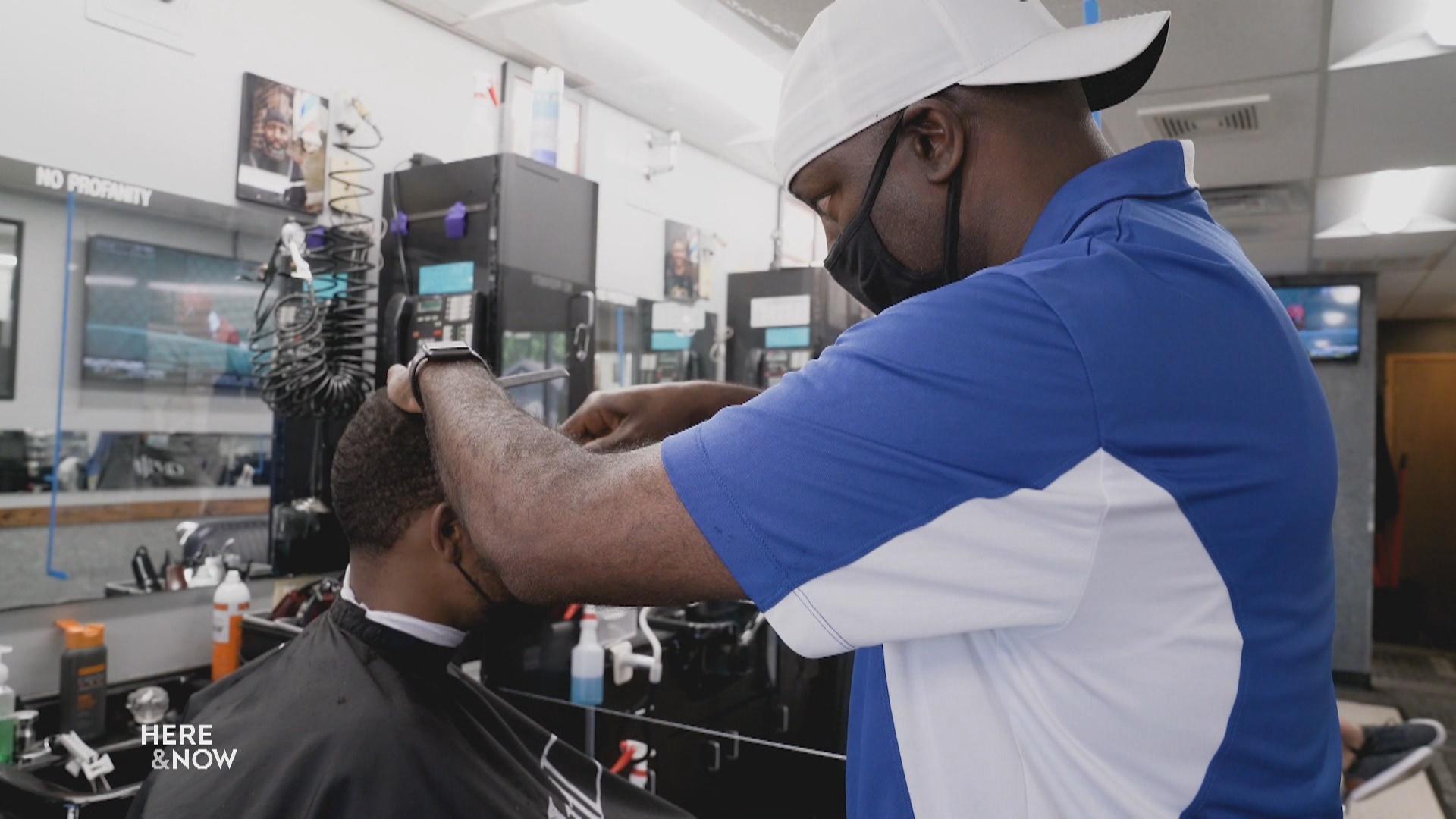 An Unconventional Form of Preventive Healthcare
PBS Wisconsin reporter Marisa Wojcik investigates a new and unconventional way of thinking about where to go for preventive healthcare — a barbershop.
June 18, 2021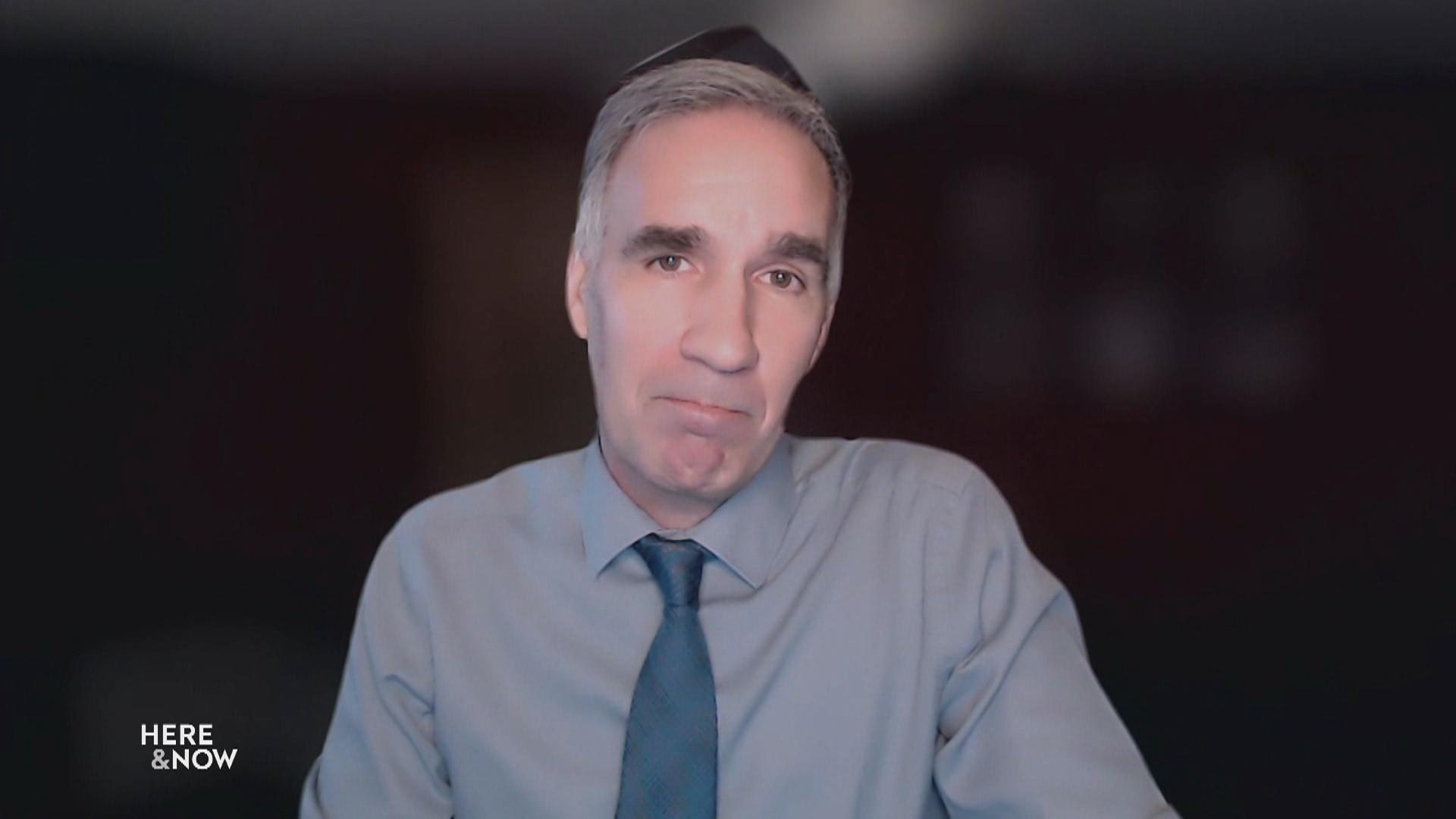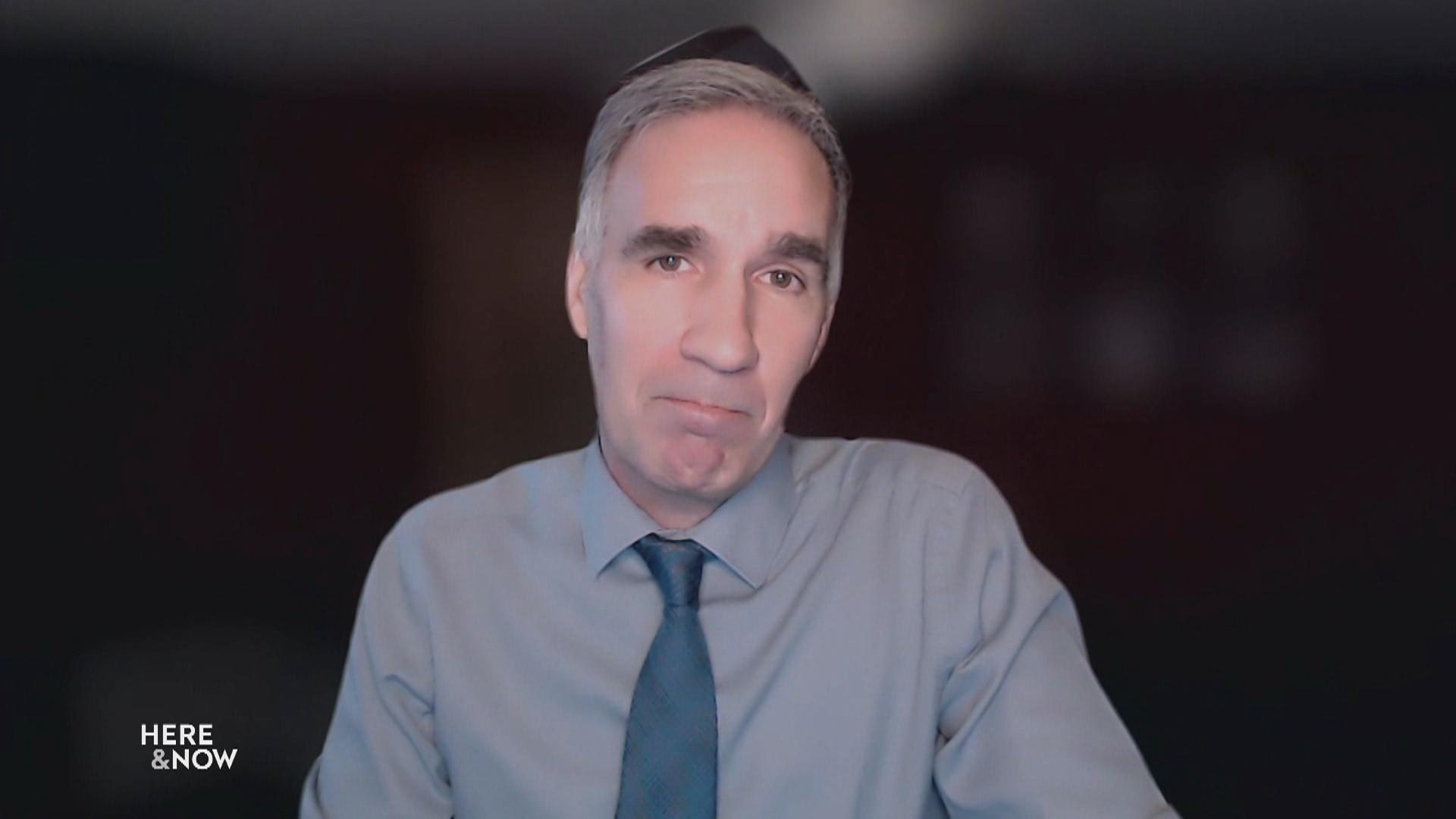 Southern Wisconsin's Deepening Drought
UW-Madison agronomy and environmental studies professor Chris Kucharik details how limited rain and hot weather are contributing to drought conditions across southern Wisconsin.
June 11, 2021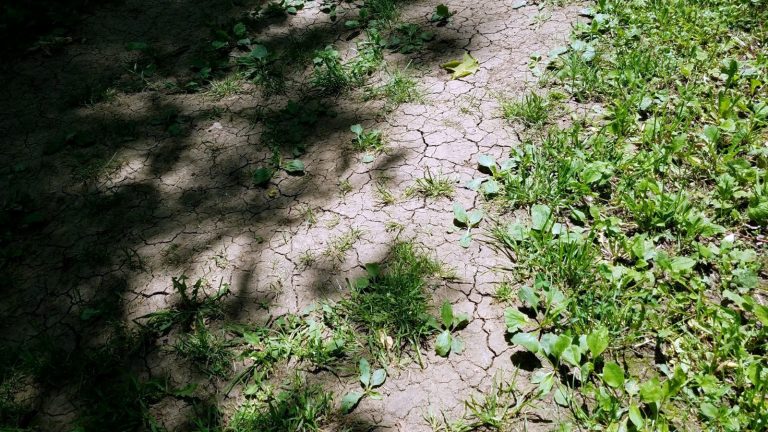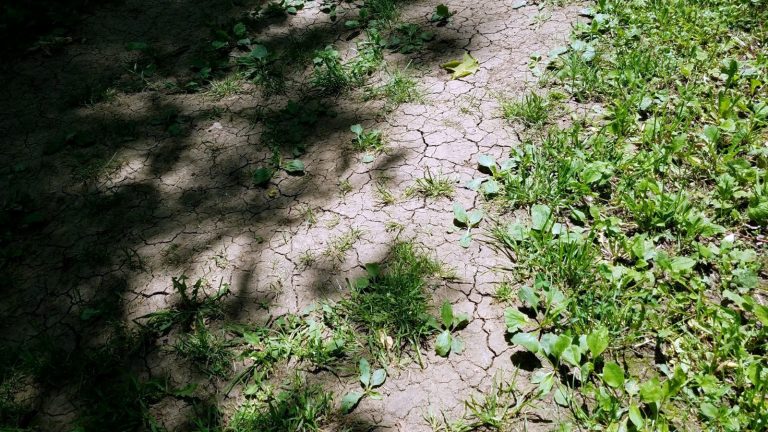 A Wet Decade Shifts To Drought In Southern Wisconsin
Following the state's wettest decade on record, lower-than-normal precipitation in the spring of 2021 is leading drought conditions to emerge in agricultural areas reliant on steady rains.
June 7, 2021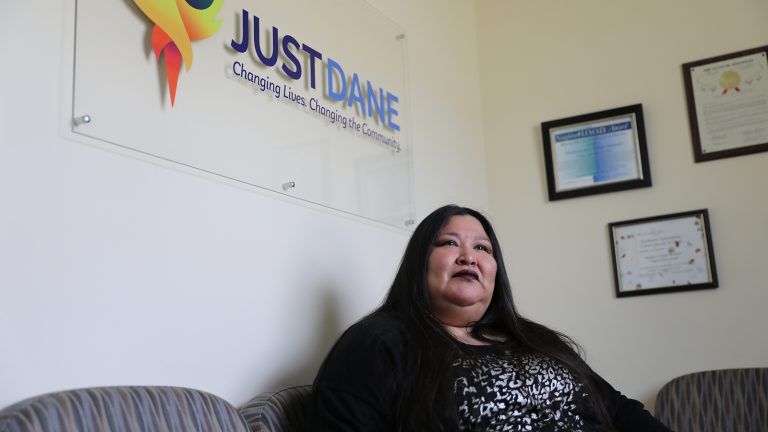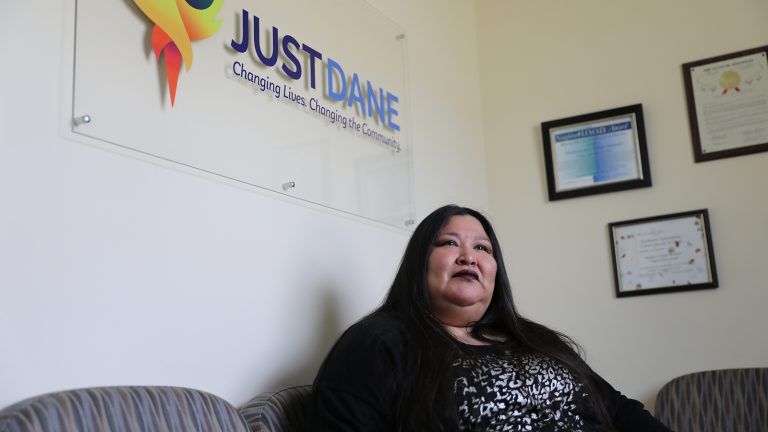 Convictions Bar Wisconsinites From Many Jobs, Making Re-entry 'A Real Struggle'
People of color in Wisconsin have higher incarceration rates than whites, which means many jobs and opportunities remain out of reach for them.
June 3, 2021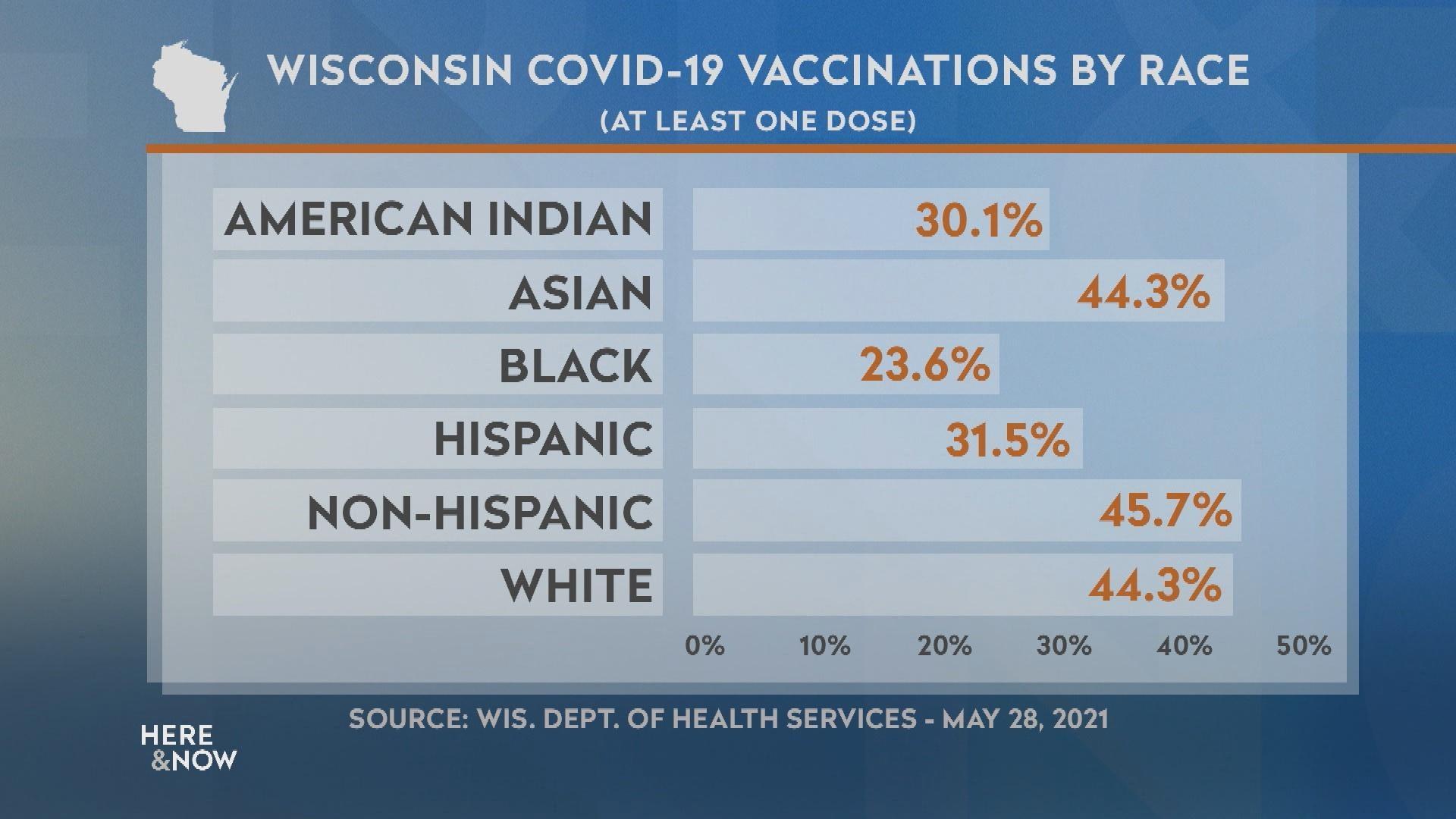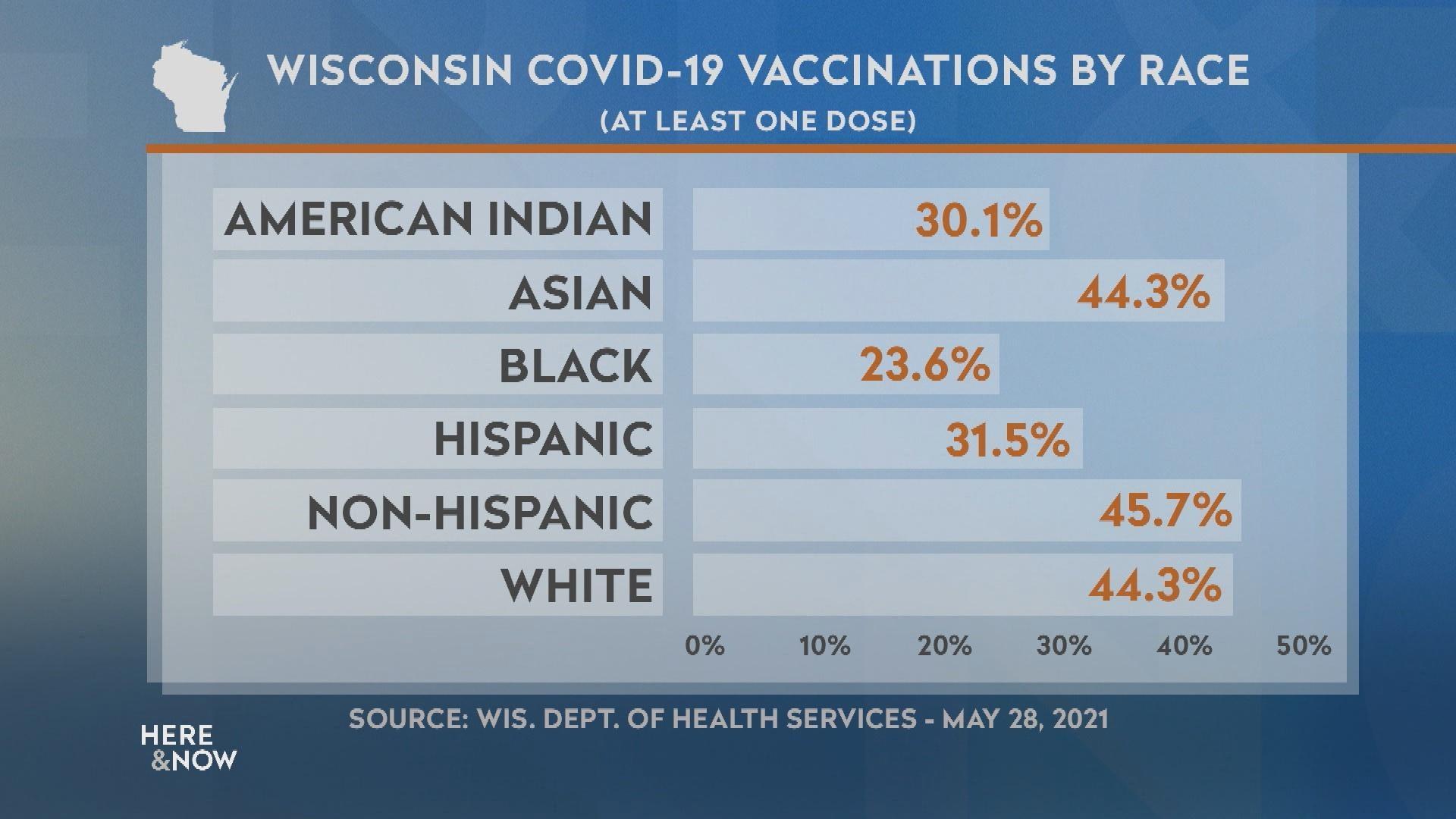 COVID-19 Vaccination Inequalities in Wisconsin
PBS Wisconsin special projects reporter Murv Seymour explores COVID-19 vaccination disparities in Wisconsin, with a closer look at efforts by the Urban League of Madison to bring vaccine opportunities deeper into communities of color.
May 28, 2021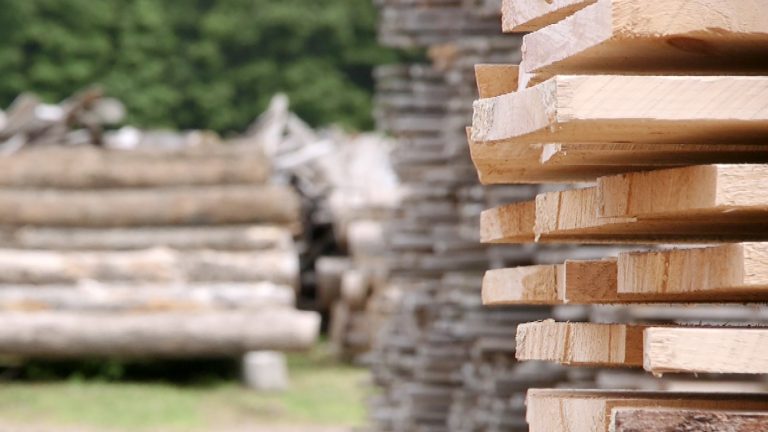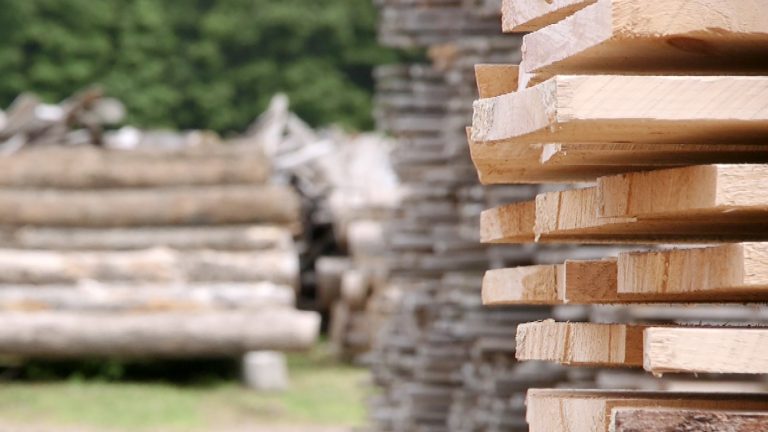 What's Pushing Record Lumber Prices and Who in Wisconsin Is Benefiting?
The coronavirus pandemic has fueled a home construction boom around the nation, but loggers and builders want to know where the profits are flowing as demand for wood products spikes.
May 6, 2021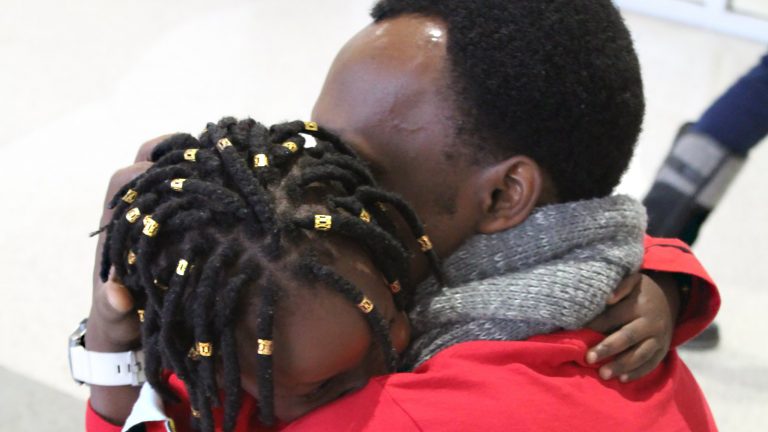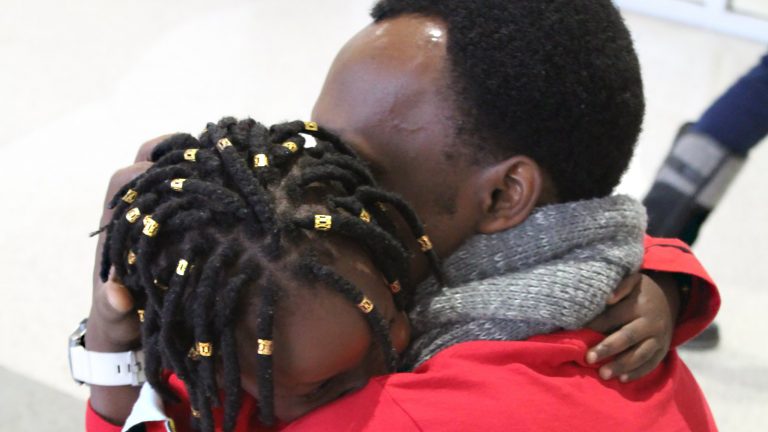 Refugee Agencies in Wisconsin Anxious for Action to Expand Resettlement
With their clients and families stuck in limbo, advocates for refugees are calling on Biden to follow through on promises to raise the federal cap on new arrivals.
April 27, 2021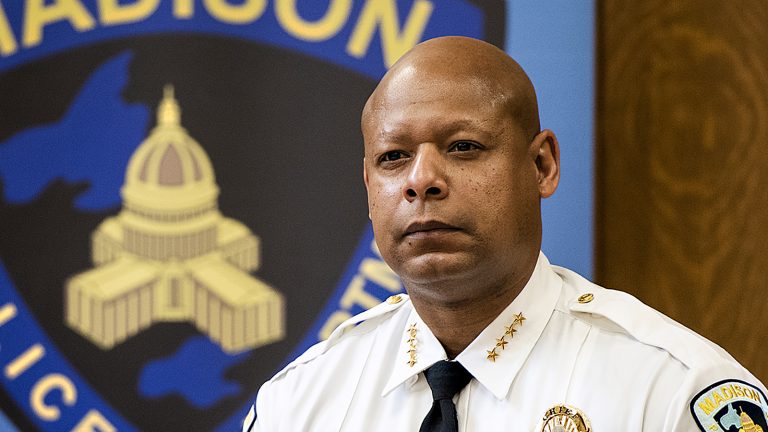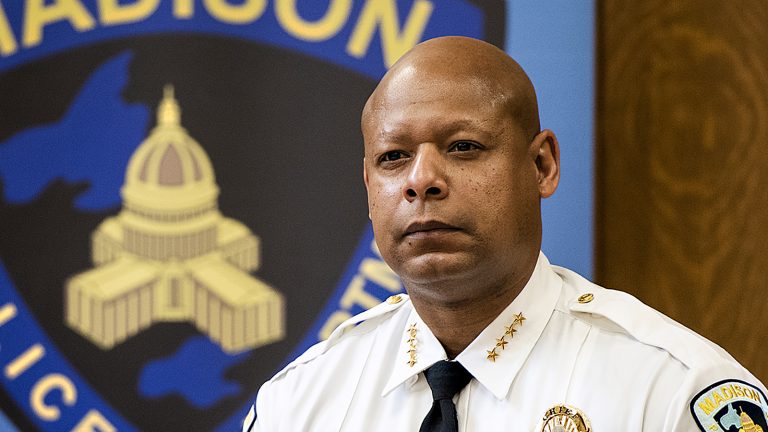 Anticipating the Chauvin Verdict, Madison Officials and Local Leaders Urge Restraint
In the hope of avoiding clashes that echo 2020 unrest, the city's new police chief prepares for potential demonstrations as the trial over the killing of George Floyd concludes.
April 19, 2021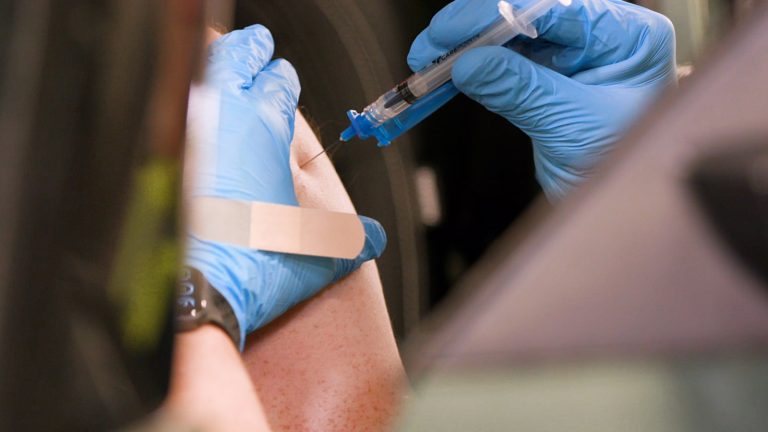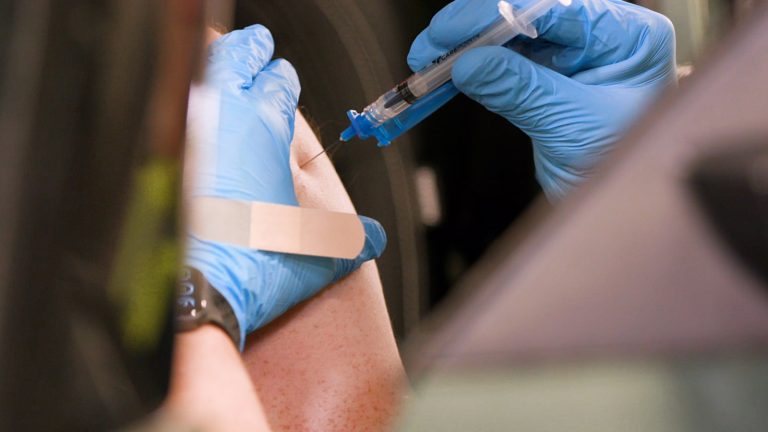 What to Do When A Coronavirus Vaccinator Doesn't Offer a Second Dose
After having an appointment for a second shot canceled, a Madison resident had to go on the hunt to complete her vaccination — the Wisconsin Department of Health Services notes this type of lapse is happening but shouldn't be, and encourages people to sign up via the state's registry.
April 8, 2021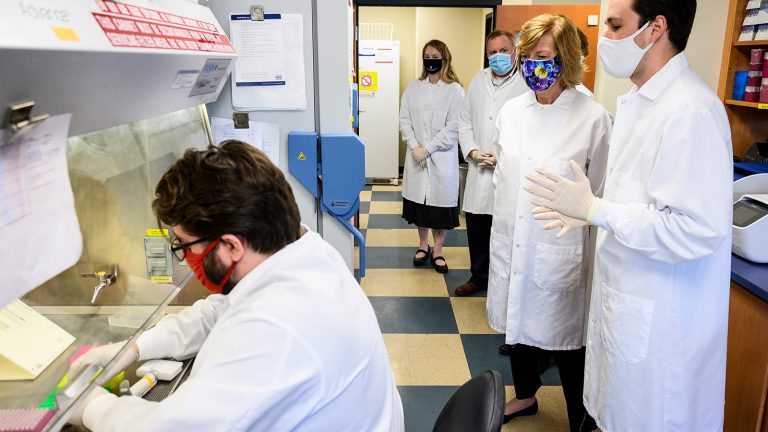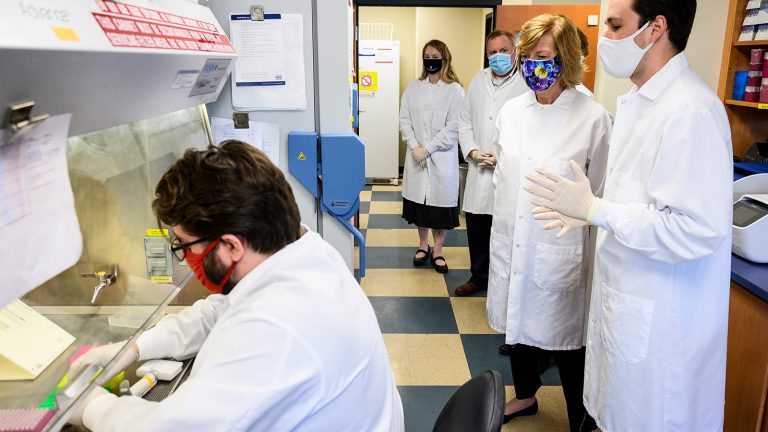 Research on Coronavirus Variants at UW Lab Buoyed by CDC Funding
Sen. Tammy Baldwin touts federal funding for genomic research at UW-Madison, where scientists are studying how COVID-19 cases are distributed around Wisconsin.
April 6, 2021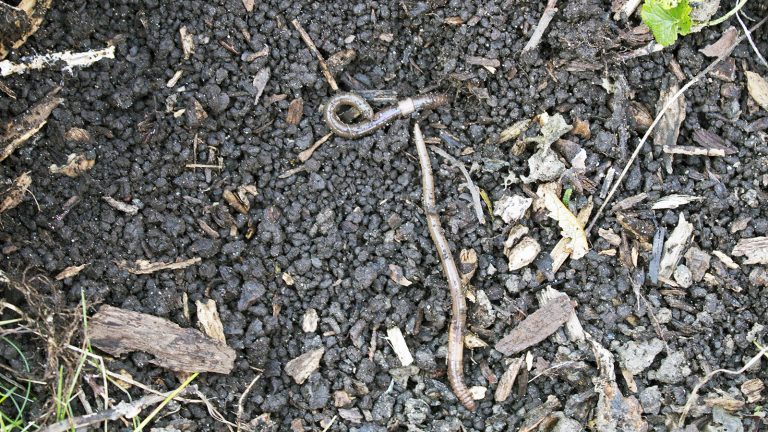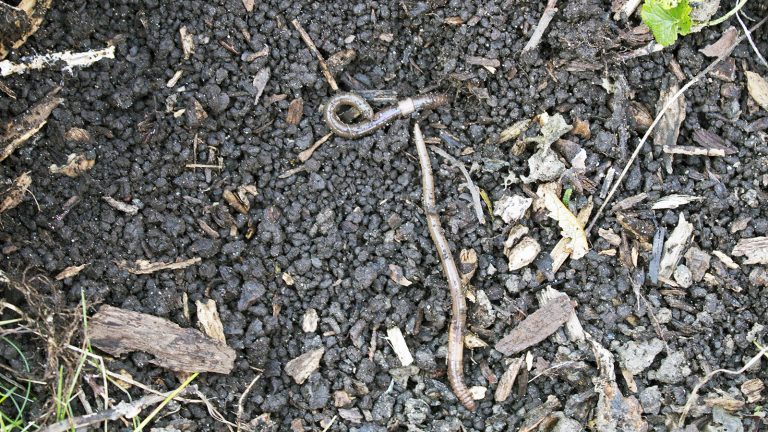 Jumping Worms Are Eating — And Altering — Wisconsin's Forest and Garden Soils
Scientists are studying how a subsurface invasive species is changing local ecosystems and are reaching out to gardeners to share methods for stopping their spread.
April 1, 2021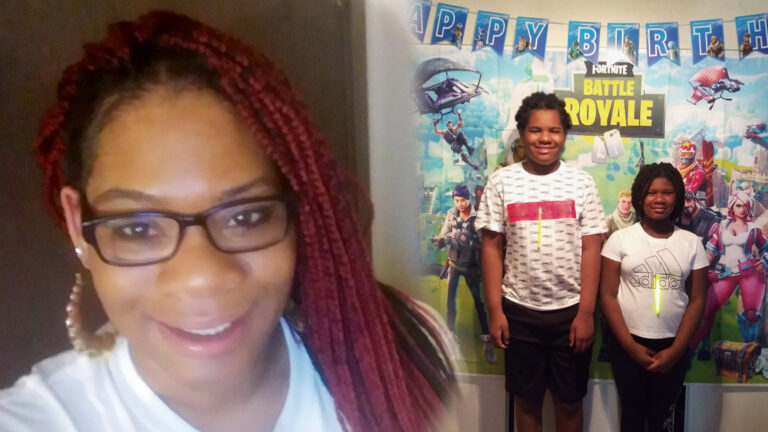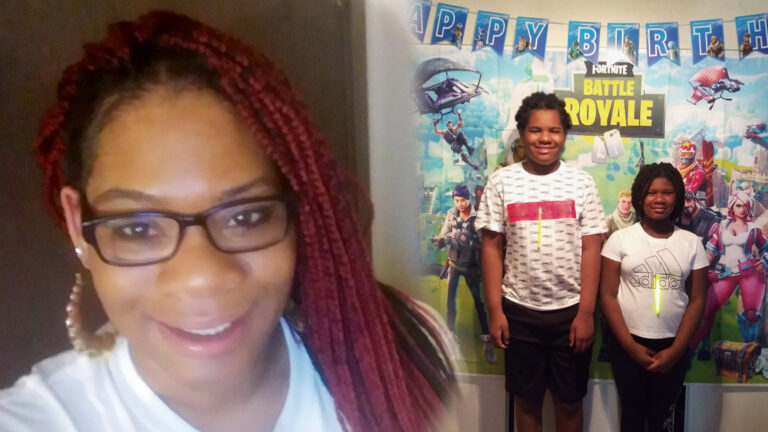 What An Expanded Child Tax Credit Means For Two Madison Mothers
Here & Now Extra: One element of the American Rescue Plan will provide additional financial support to families in an effort to reduce poverty rates among children.
March 17, 2021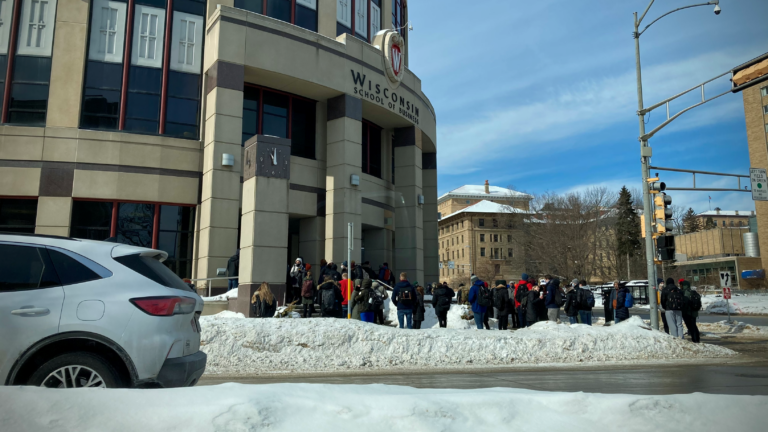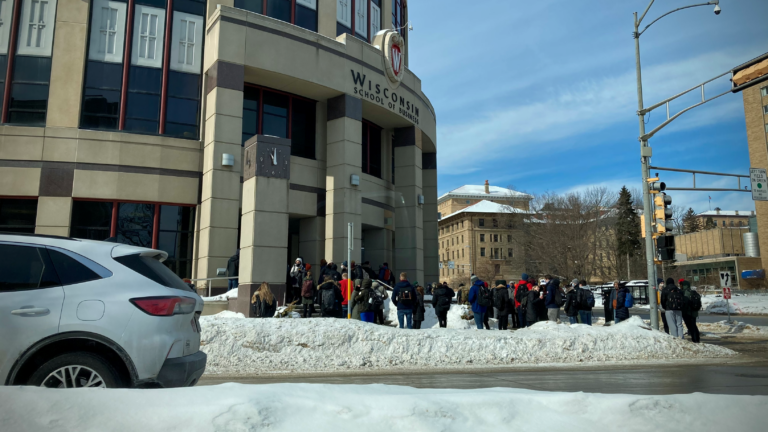 Dane County Plans COVID-19 Vaccination Clinic for Teachers
Vaccine Rollout Expands for New Recipient Groups as UW-Madison Sees Spike in Coronavirus Cases
February 19, 2021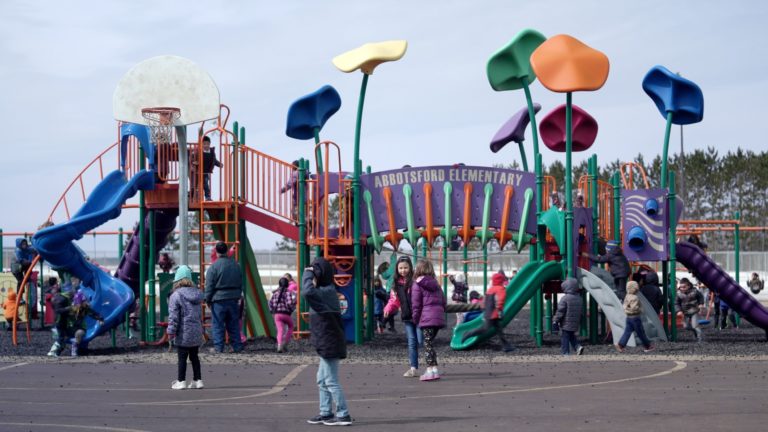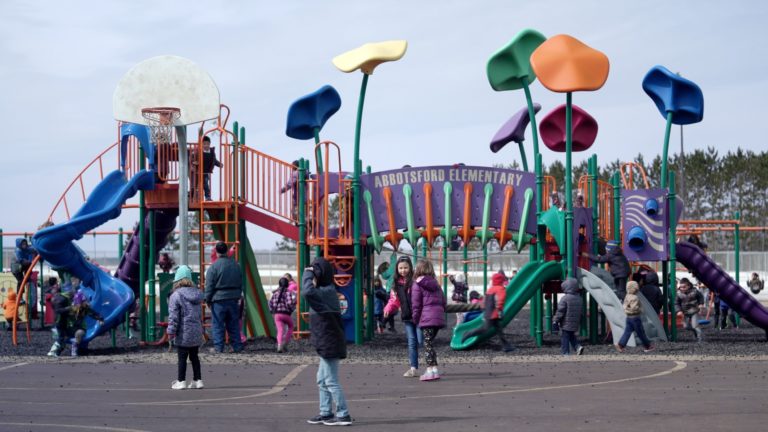 Madison Schools to Open in March
The district will start with kindergarteners, before phasing in first- and second-graders a week later.
February 10, 2021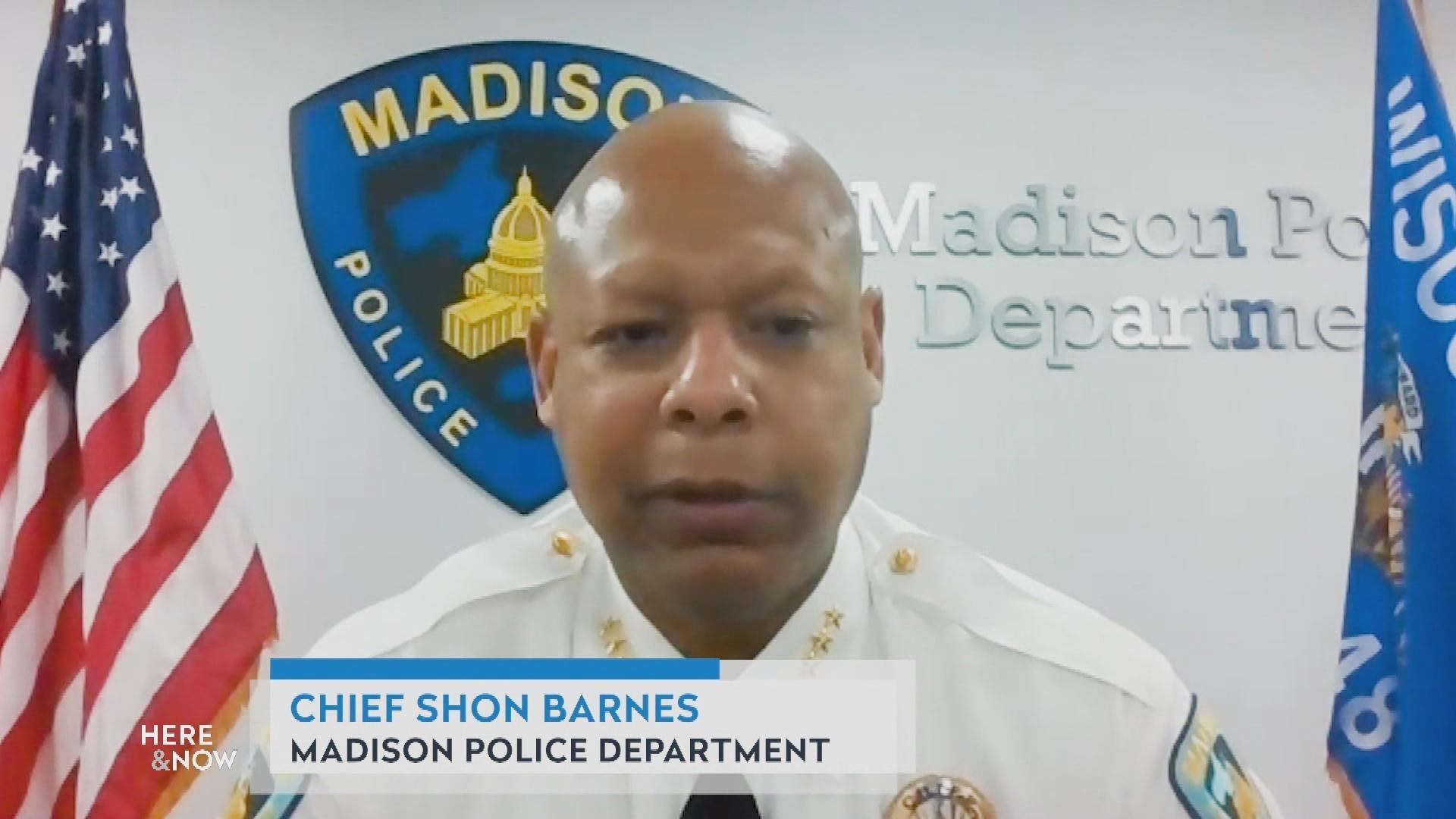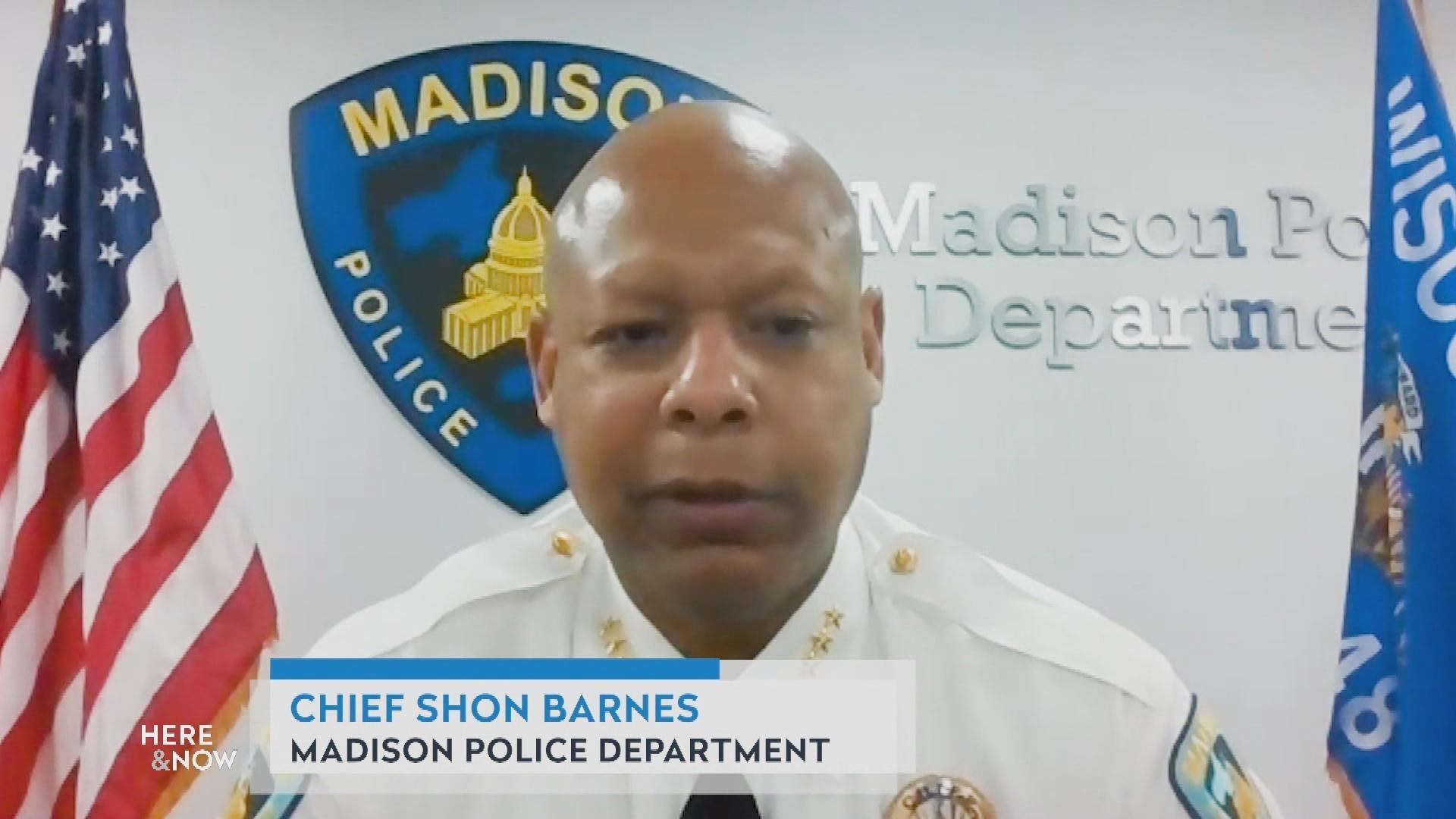 Shon Barnes Takes Over as Madison's Police Chief
On Monday, Shon Barnes was sworn in as Madison's new Chief of Police, following the immediate departure of Mike Koval last year. Barnes shares his confidence about the new position as Madison and the U.S. are fighting the coronavirus and historically challenging issues of race relations.
February 5, 2021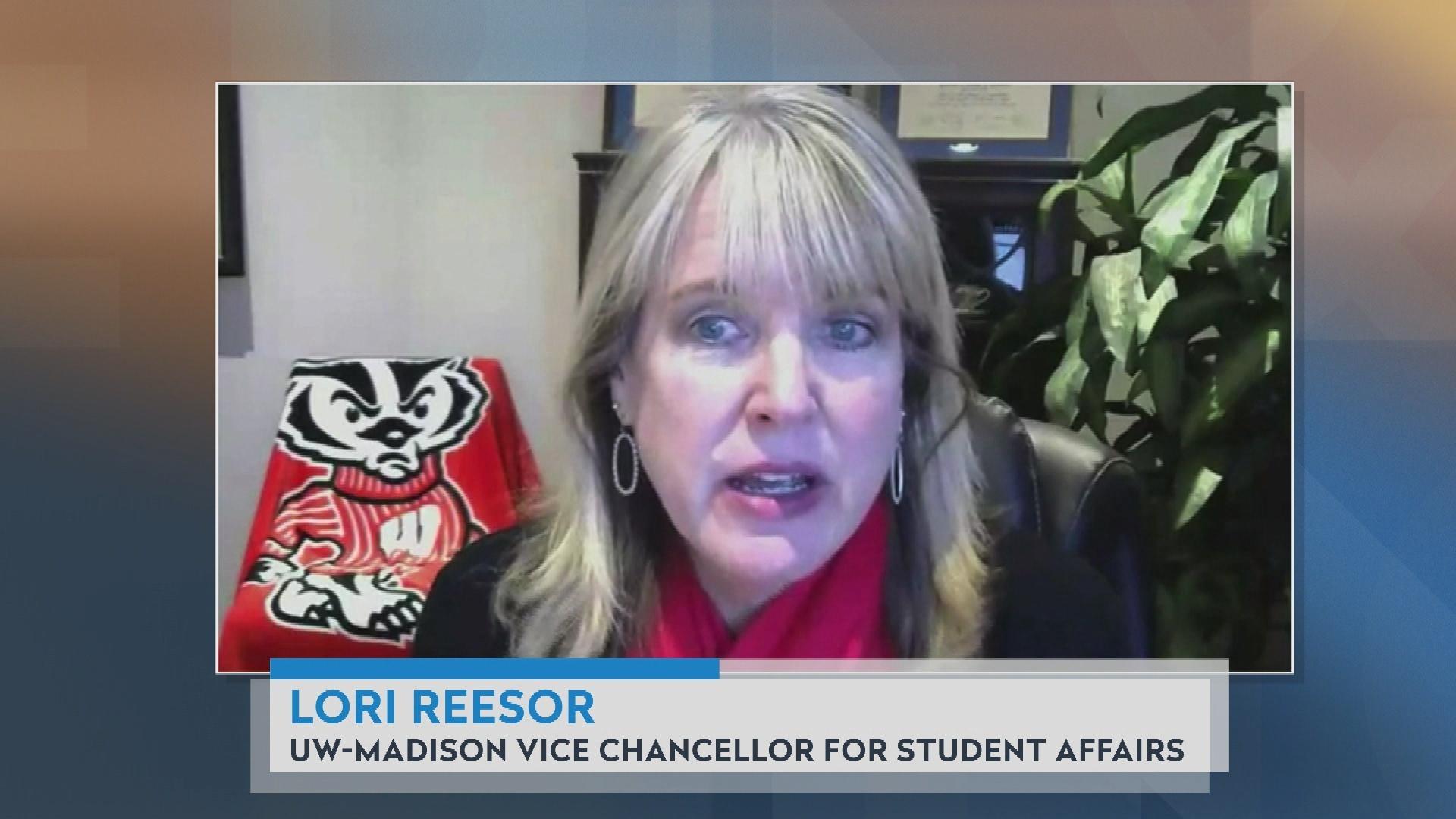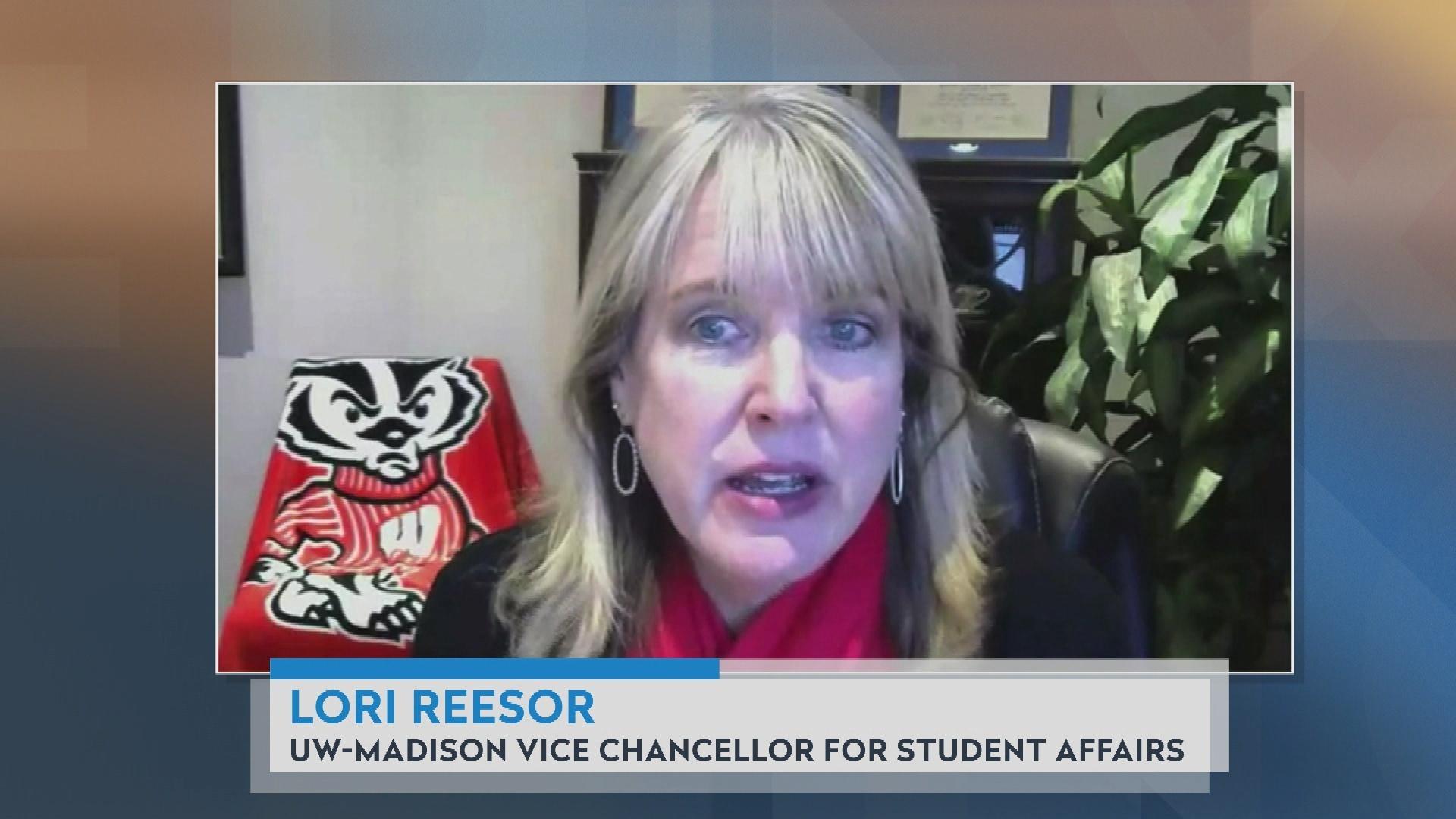 UW-Madison Ups the COVID Testing for Students and Faculty
As students begin returning to campus for the spring semester UW-Madison implements new COVID testing protocols for faculty and students to lessen the degree of COVID that was experienced on campus during the fall semester.
January 22, 2021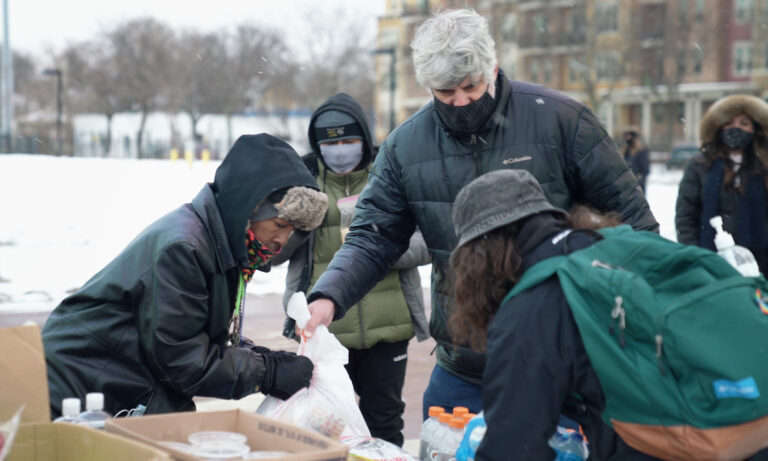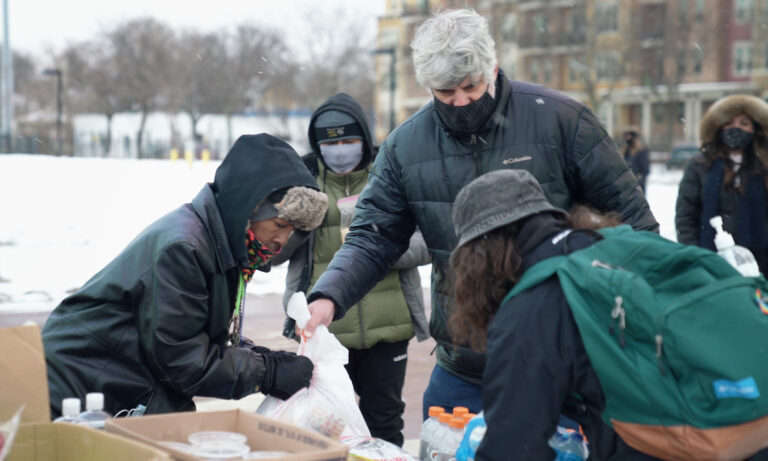 Another Day of Anticipated Protest Remains Quiet
The event Monday at McPike Park on Madison's near-east side, dubbed "Justice for Jacob Blake" and "antifascist mutual aid action," was originally planned for Sunday on the square of the state Capitol but was changed over safety concerns.
January 18, 2021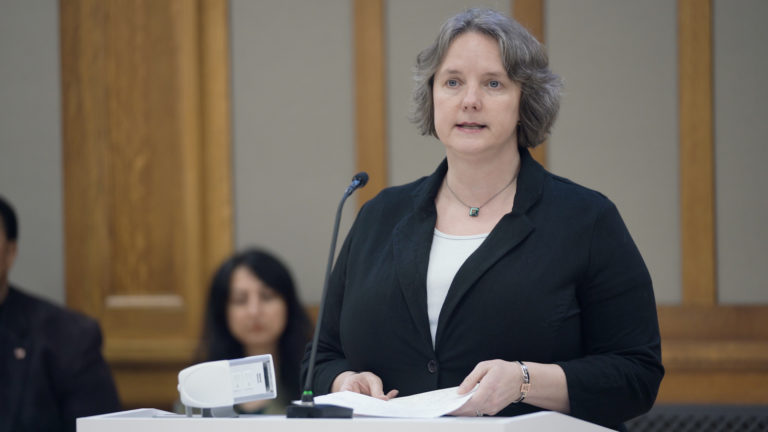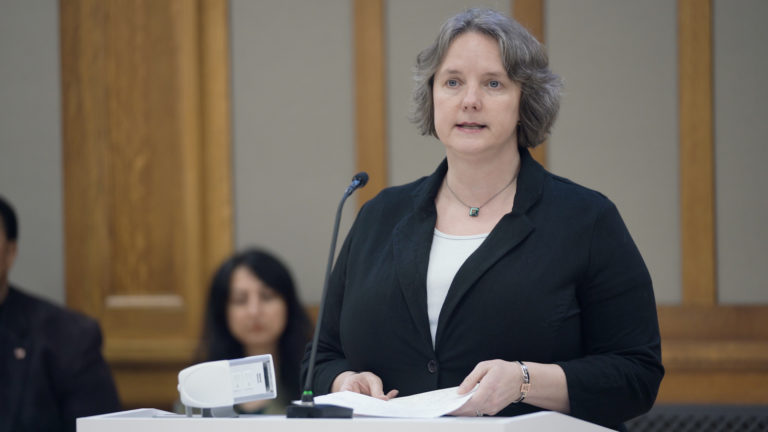 Local Officials Push Back on GOP COVID Proposal
"It undermines the ability of public health officers to keep us safe, and it politicizes health care," says Dane County Exec. Joe Parisi.
December 2, 2020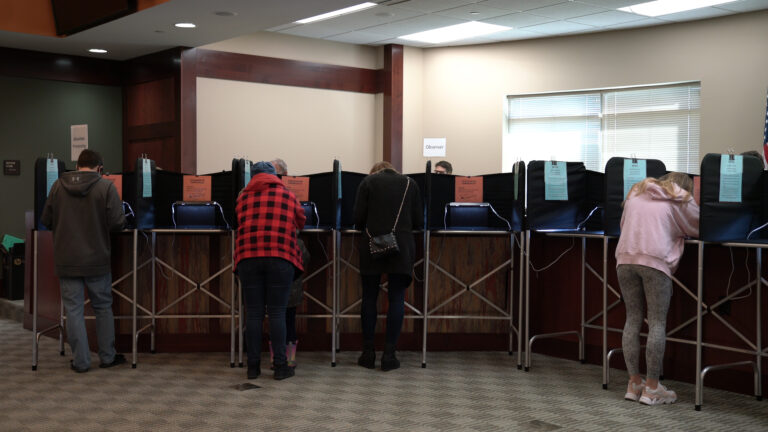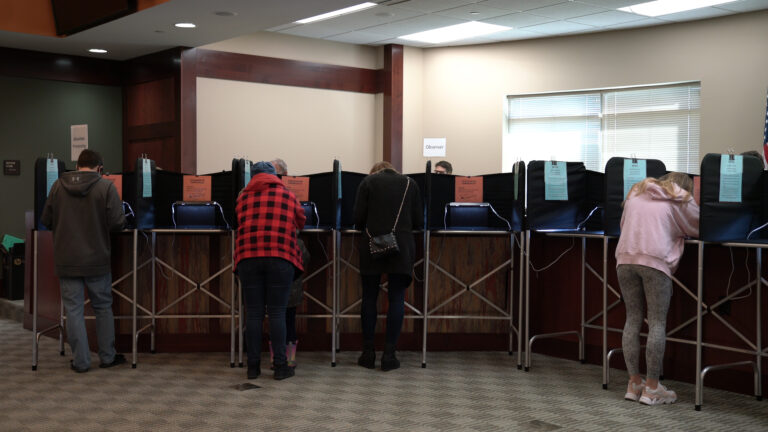 Dane County Clerk Outlines Election Recount Plan
Dane County Clerk Scott McDonell detailed plans to begin recounting 345,000 ballots Friday at the Monona Terrace Convention Center.
November 19, 2020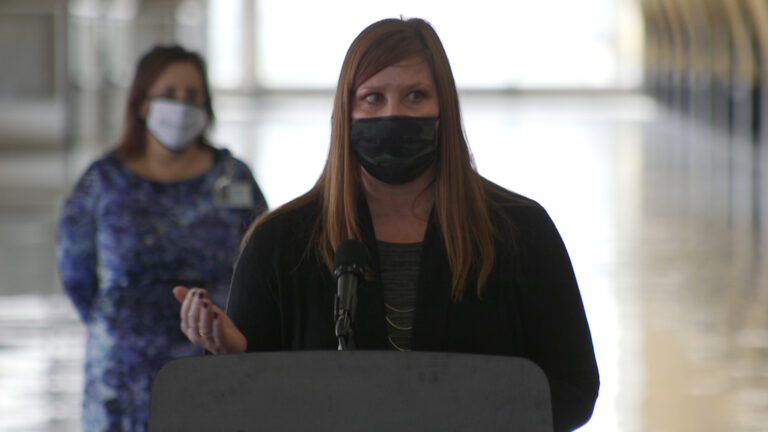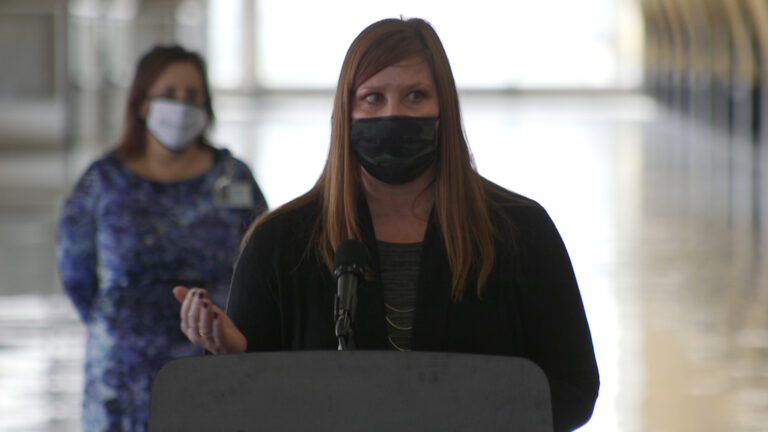 Dane County Shifts to Contact Tracing 'Crisis Model' Amid Another Record-Setting Day
The state has seen two consecutive days of more than 4,000 new COVID-19 cases, as new deaths hit an all-time high.
October 21, 2020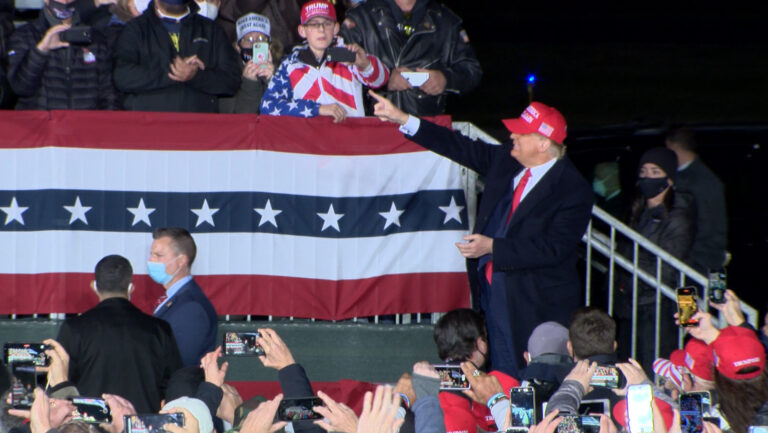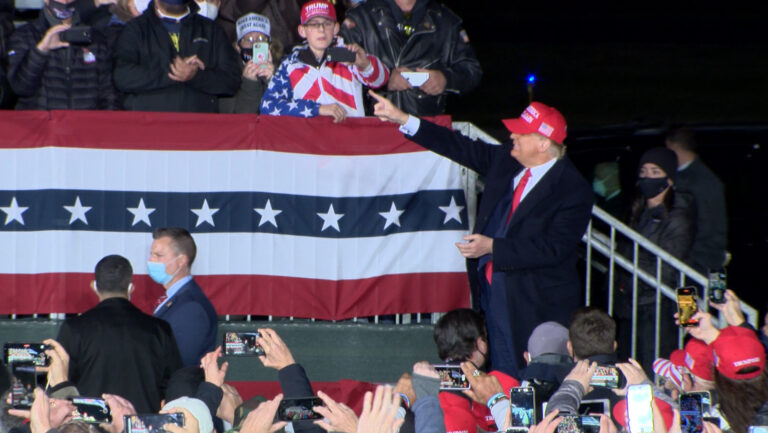 Trump Highlights Law Enforcement at Janesville Rally
President Donald Trump spoke to a crowd of thousands during a campaign stop in Janesville Saturday, two weeks after an Oct. 3 rally in the same city that was cancelled when the president tested positive for COVID-19. "Seventeen days from now, we're going to win the state of Wisconsin," he ...
October 17, 2020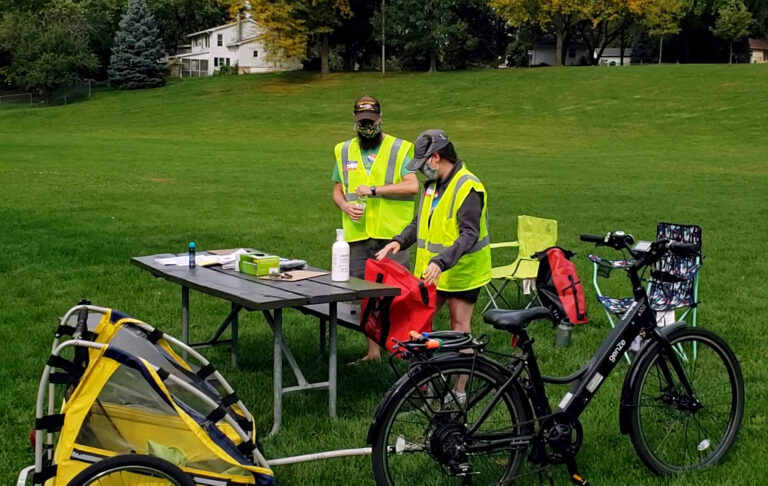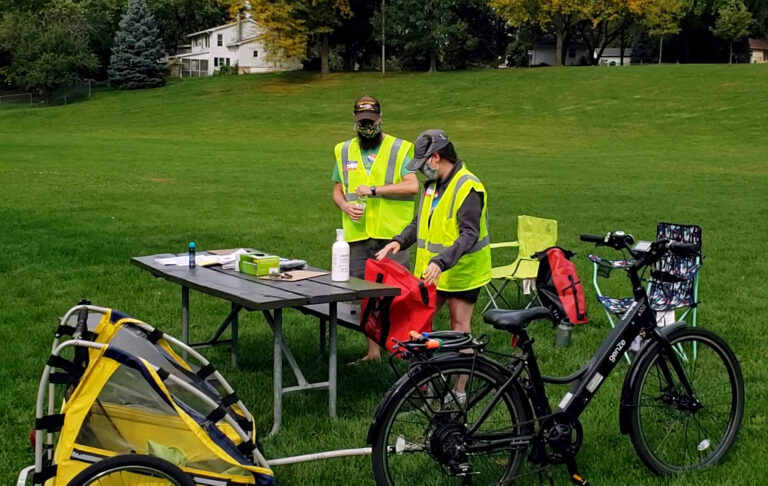 Voting Event Collected Nearly 11,000 Absentee Ballots
The Saturday event called "Democracy in the Park" was put on by the City of Madison and will repeat this coming Saturday, Oct. 3.
September 28, 2020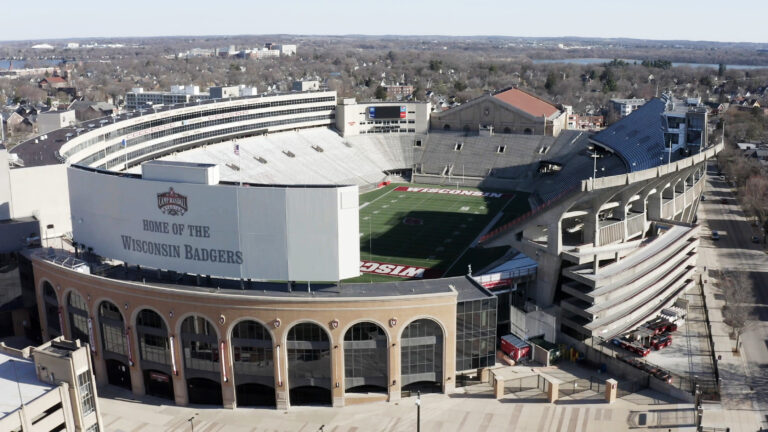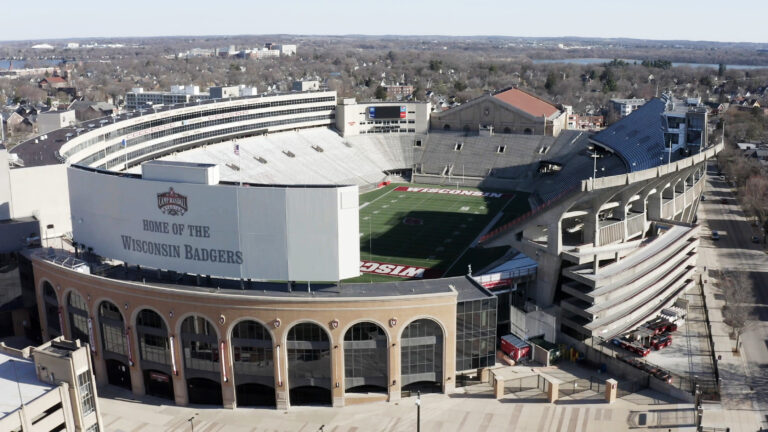 Big Ten Announces Football Season Return
Plans to move forward with the football season will require daily antigen testing of student-athletes, coaches, trainers and anyone else present during practices or games.
September 16, 2020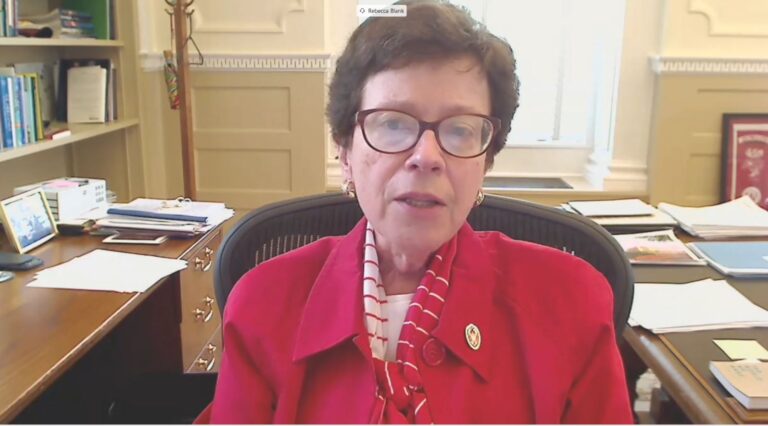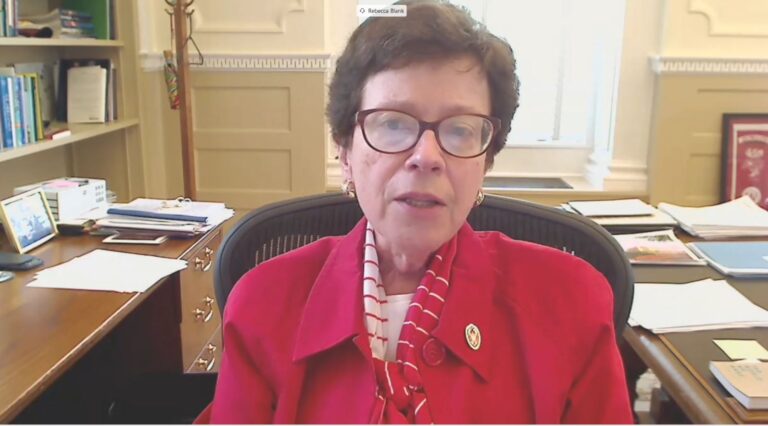 UW-Madison Chancellor Rebecca Blank Looks for Campus COVID Numbers to Drop as Soon as End of this Week
Still Believes the Decision to Open Was Right
September 14, 2020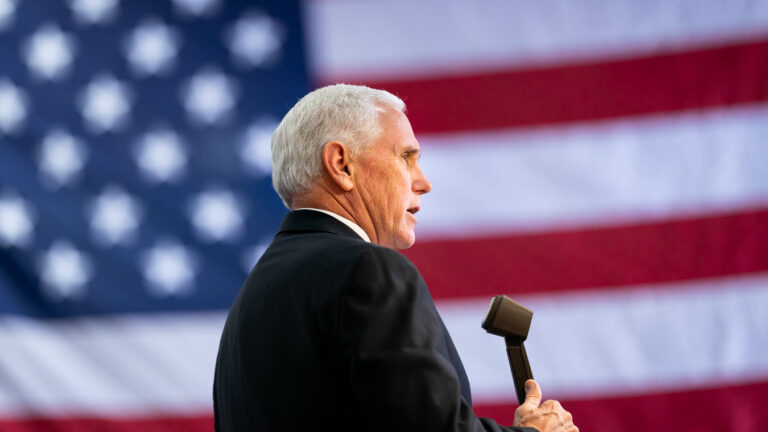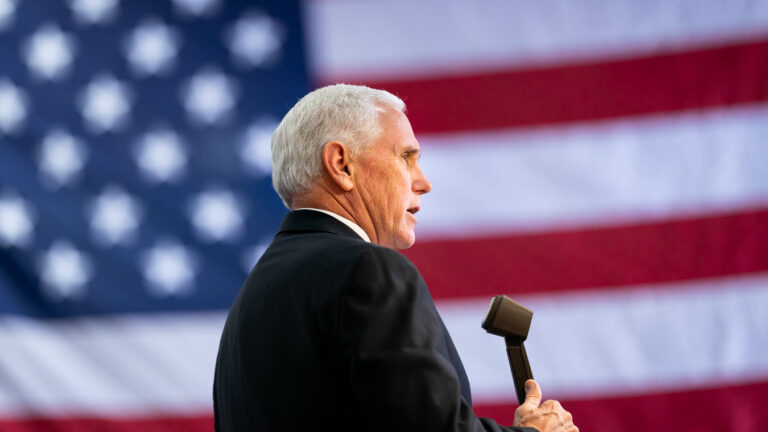 Pence Touts Law and Order During Janesville Stop
The vice president held his campaign rally exactly a week after his last stop in Wisconsin, visiting La Crosse on Labor Day.
September 14, 2020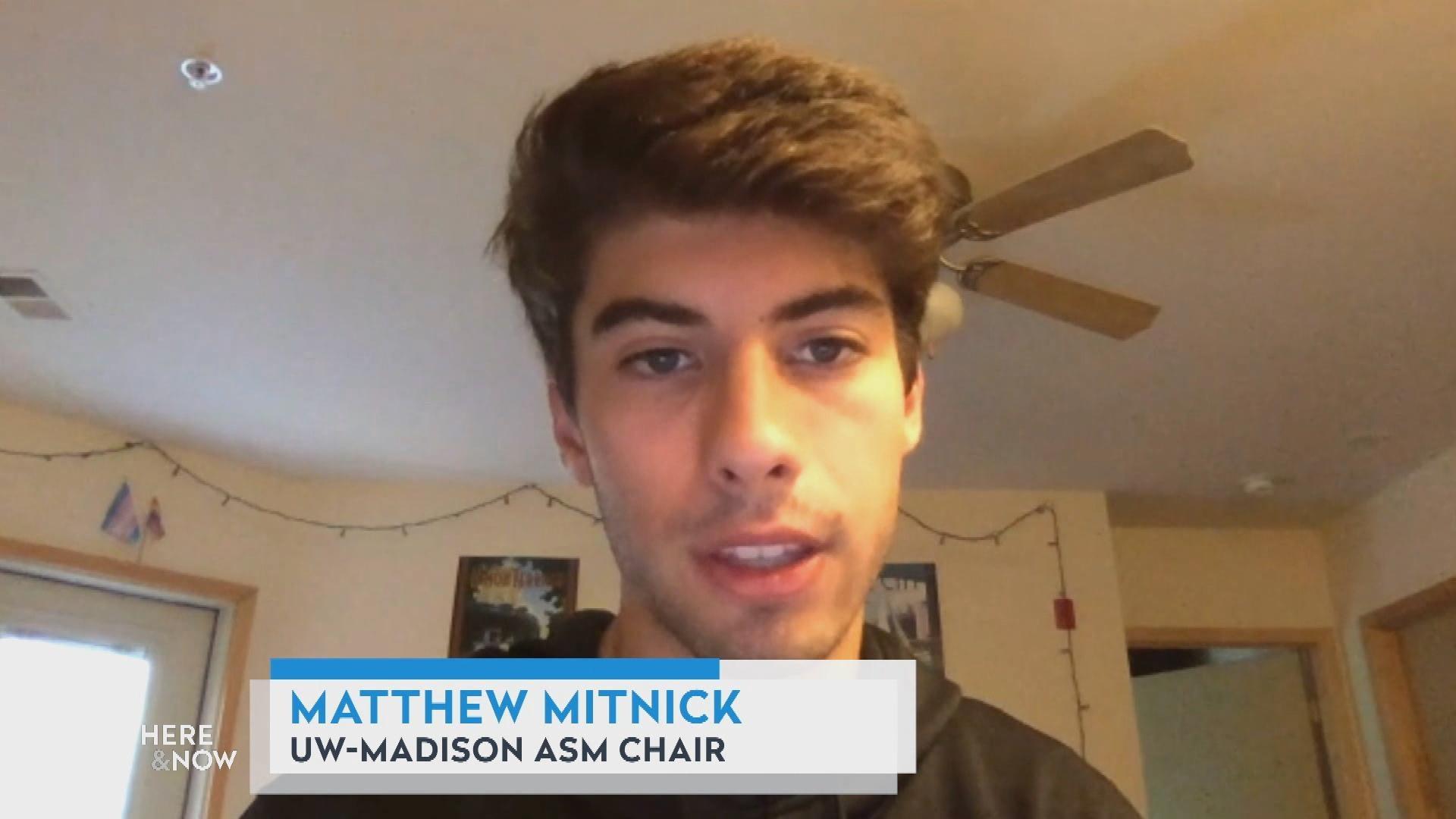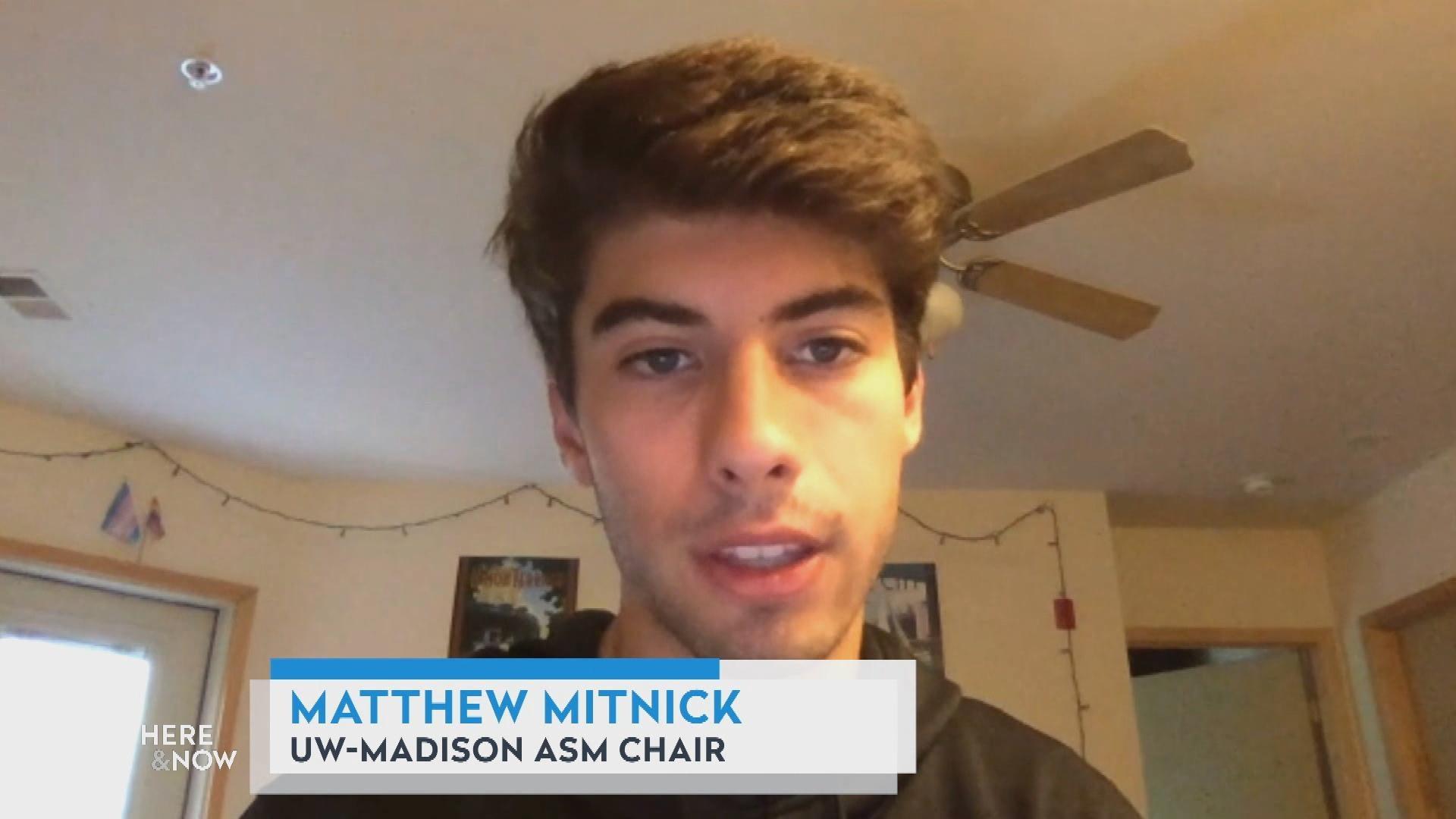 UW Madison Goes Virtual After One Week
Here & Now reporter Will Kenneally asks UW Madison students how they are dealing with the drastic changes ordered by university administration amid a large spike in student COVID-19 cases.
September 11, 2020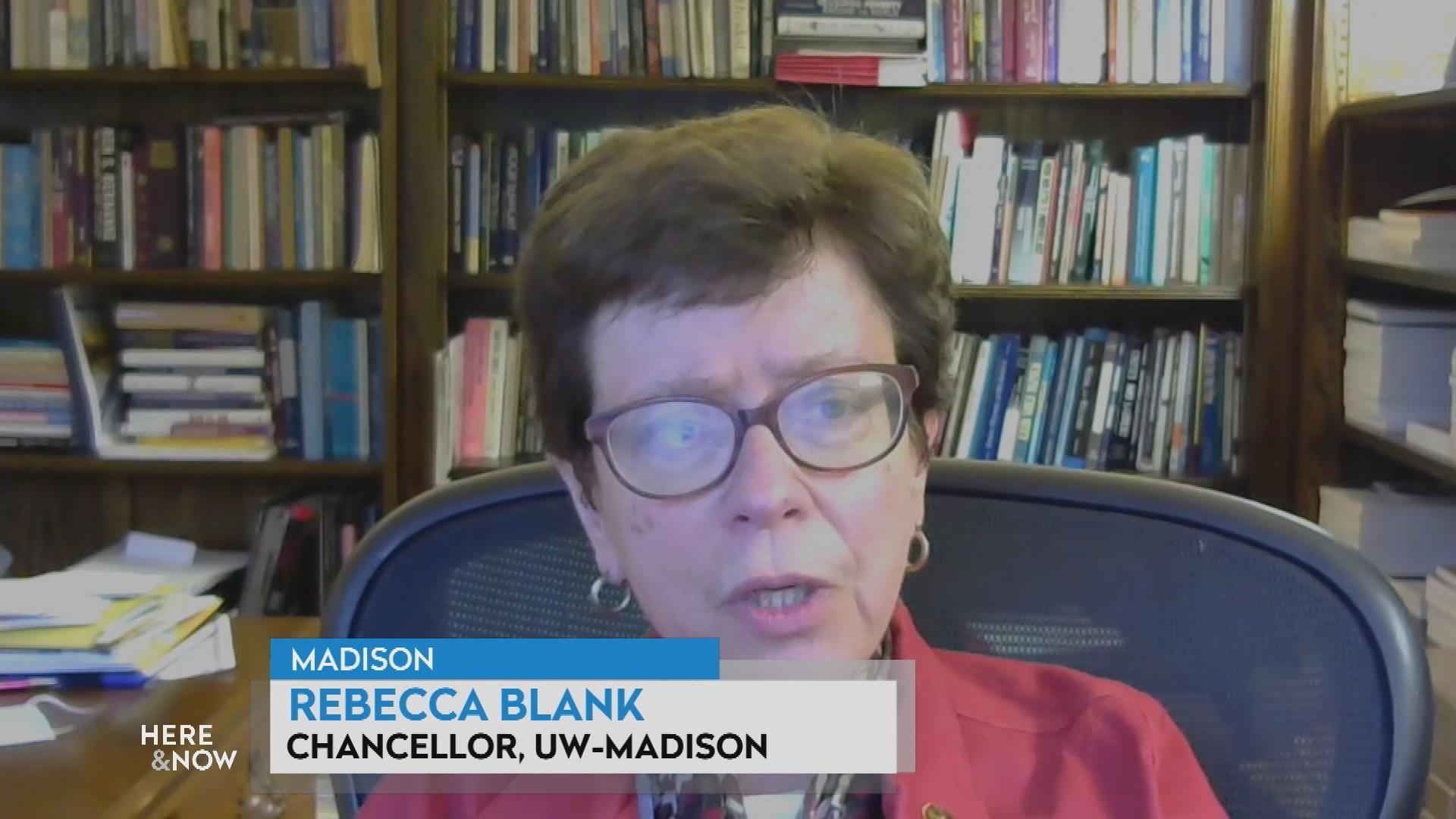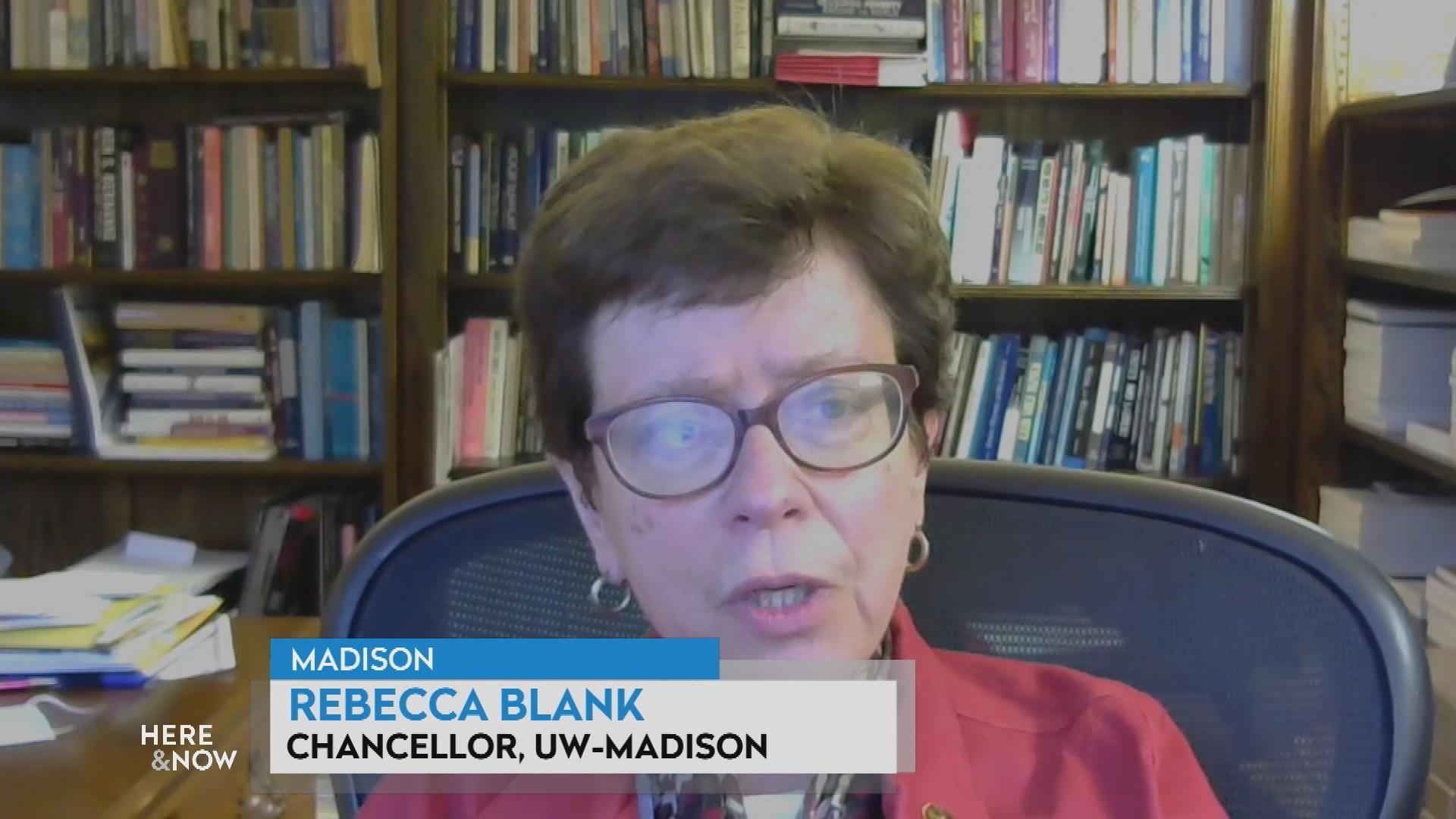 UW Madison Transitions to Virtual and Two-Week Quarantine
With students back on campus, coronavirus cases are spiking. UW-Madison Chancellor Rebecca Blank talks about moving classes online, quarantining selected dorms for two weeks and the future of university life for students.
September 11, 2020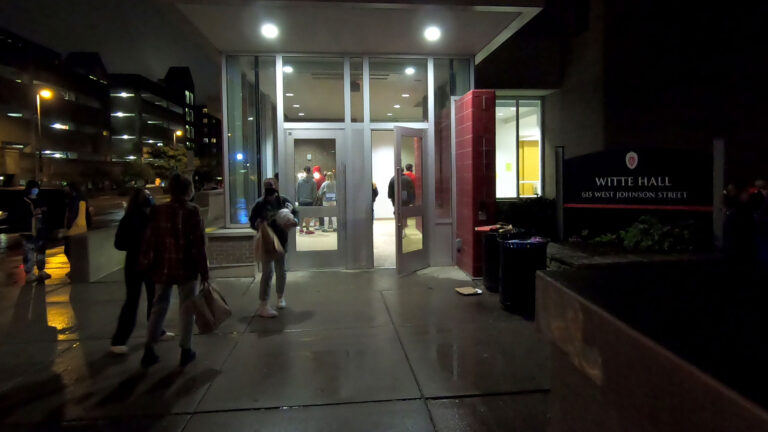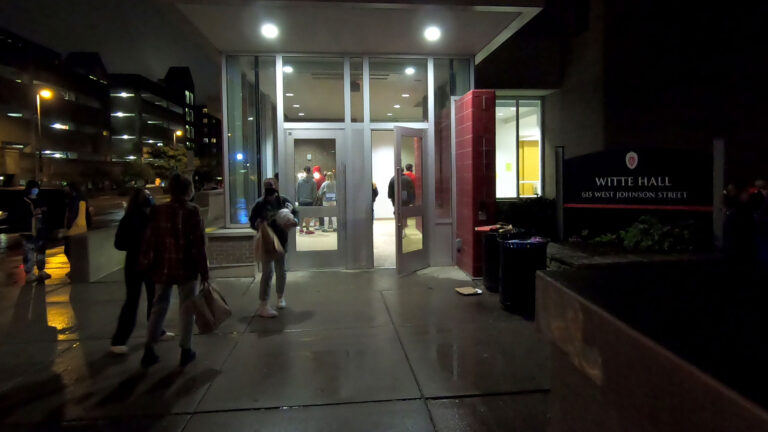 UW-Madison Goes Virtual, Quarantines Two Dorms
The decision comes amid high testing rates among university students. UW System Interim President Tommy Thompson says the other 12 UW campuses are continuing to operate as expected.
September 9, 2020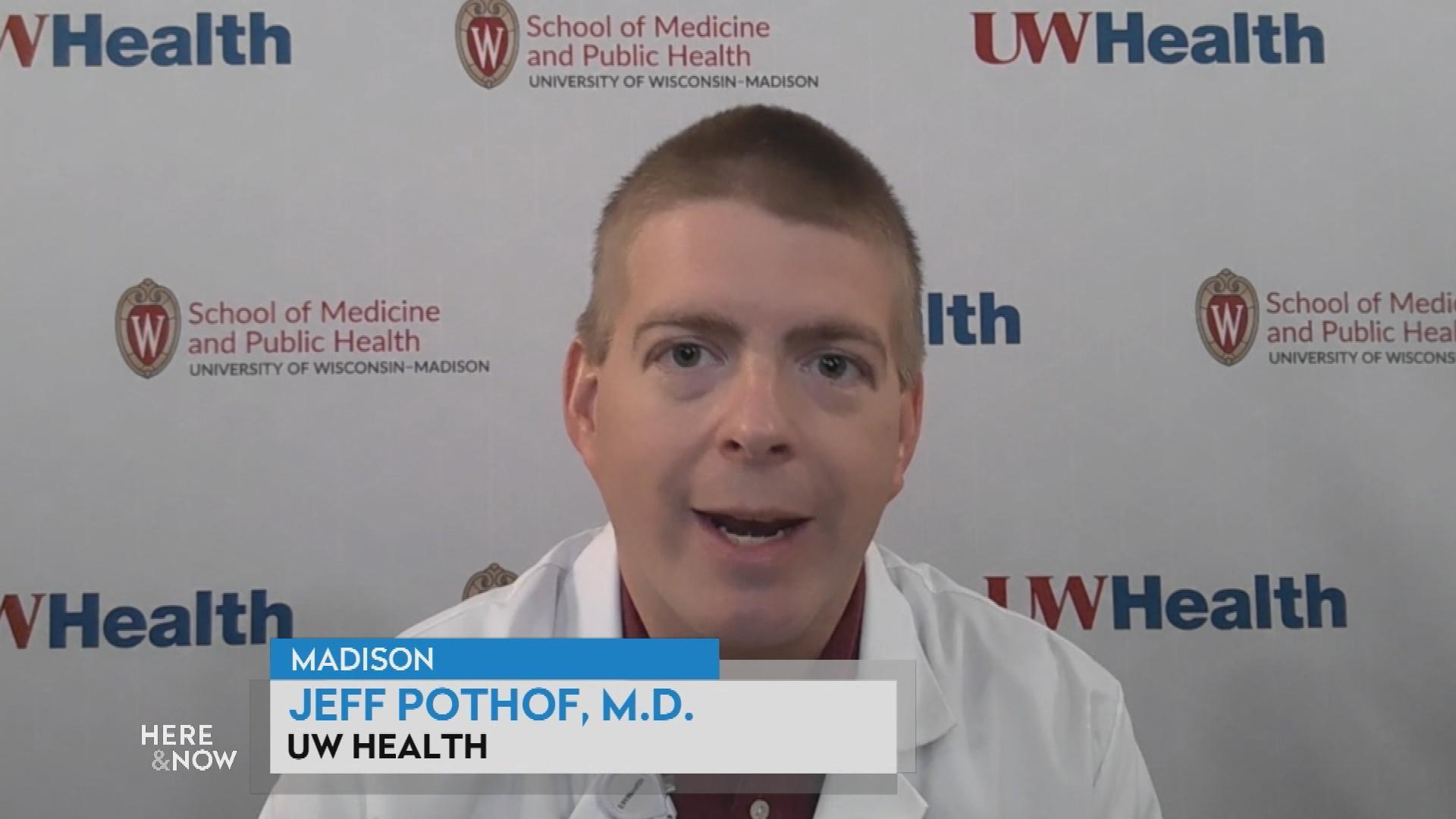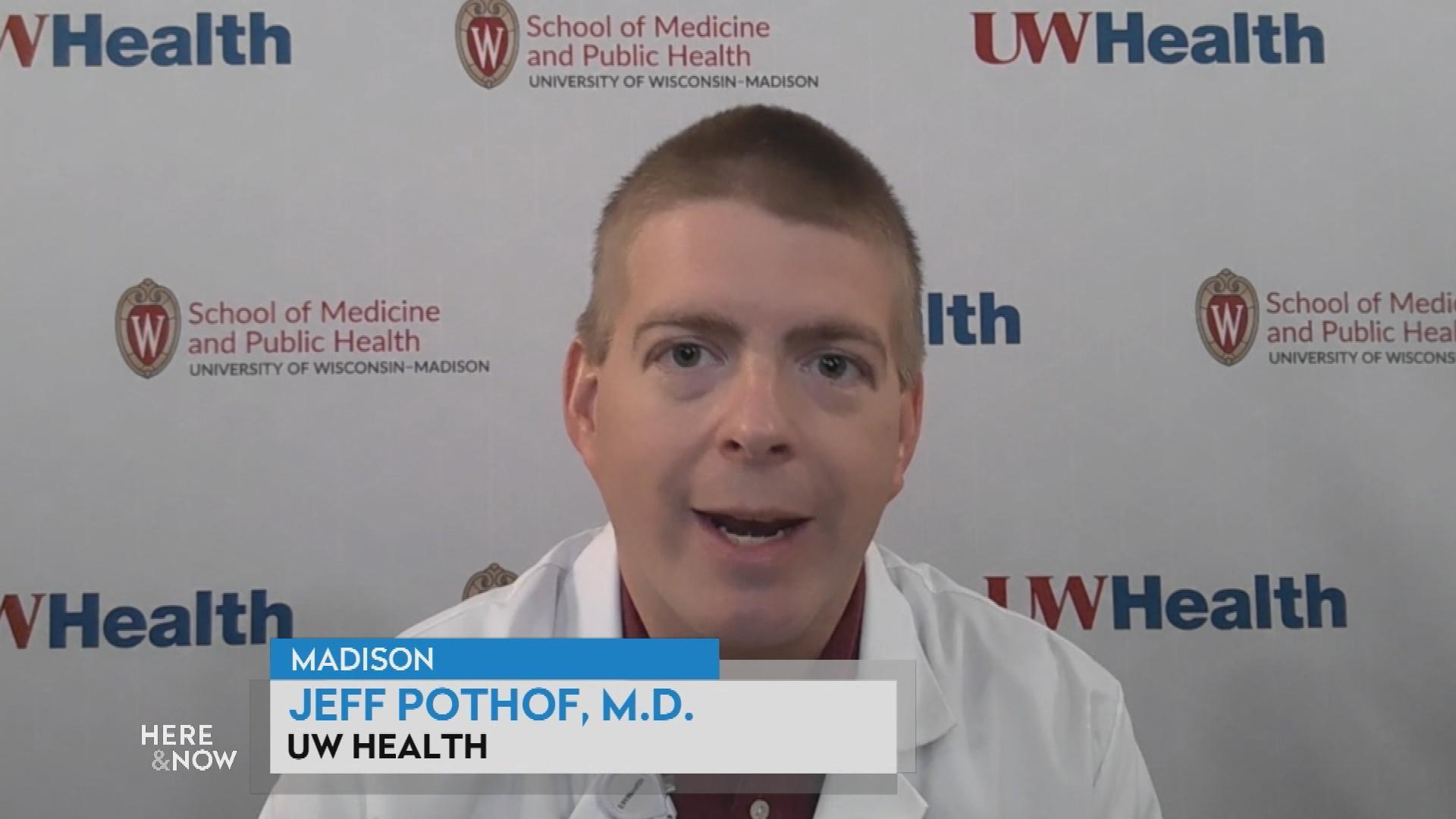 UW Health's Dr. Jeff Pothof Discusses COVID-19 Vaccine
This is an interview with UW Health's Chief Quality Officer, Dr. Jeff Pothof. Dr. Pothof was the first among an expected 1,600 volunteers to take an experimental COVID-19 vaccine at a study run jointly by UW Health and the UW School of Medicine. He joins the program from Madison.
September 4, 2020
UW Madison Adjusts to "Smart Restart" Plan
The UW Madison starts school in a week where hundreds of students are reported positive for COVID-19 and fraternities are placed in quarantine.
September 4, 2020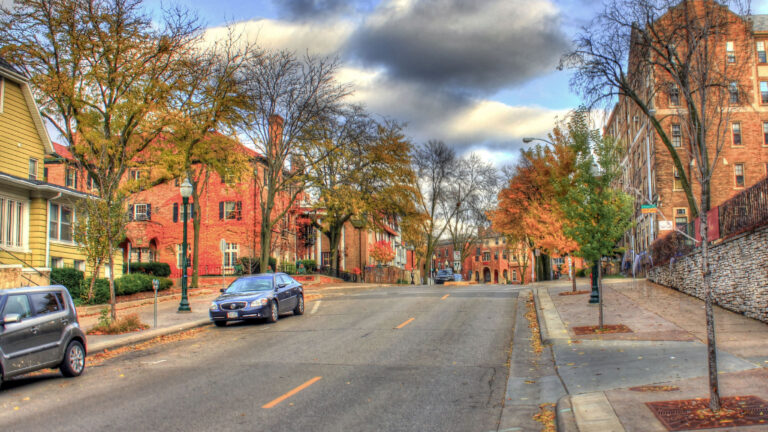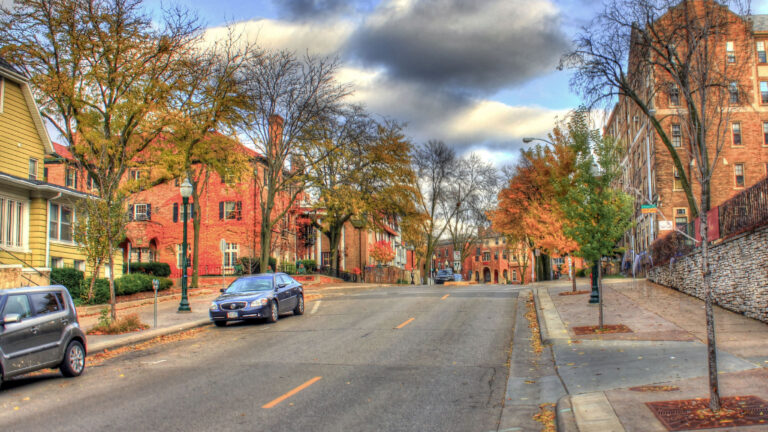 UW-Madison, Dane County Quarantine Hundreds in Fraternities and Sororities
Public Health Madison and Dane County and UW-Madison on Friday directed 420 members of nine campus fraternities and sororities who live in off-campus chapter houses to quarantine for 14 days because of positive COVID-19 cases among their members. Public health officials reported that as of Wednesday, Sept. 2, 38 of ...
September 4, 2020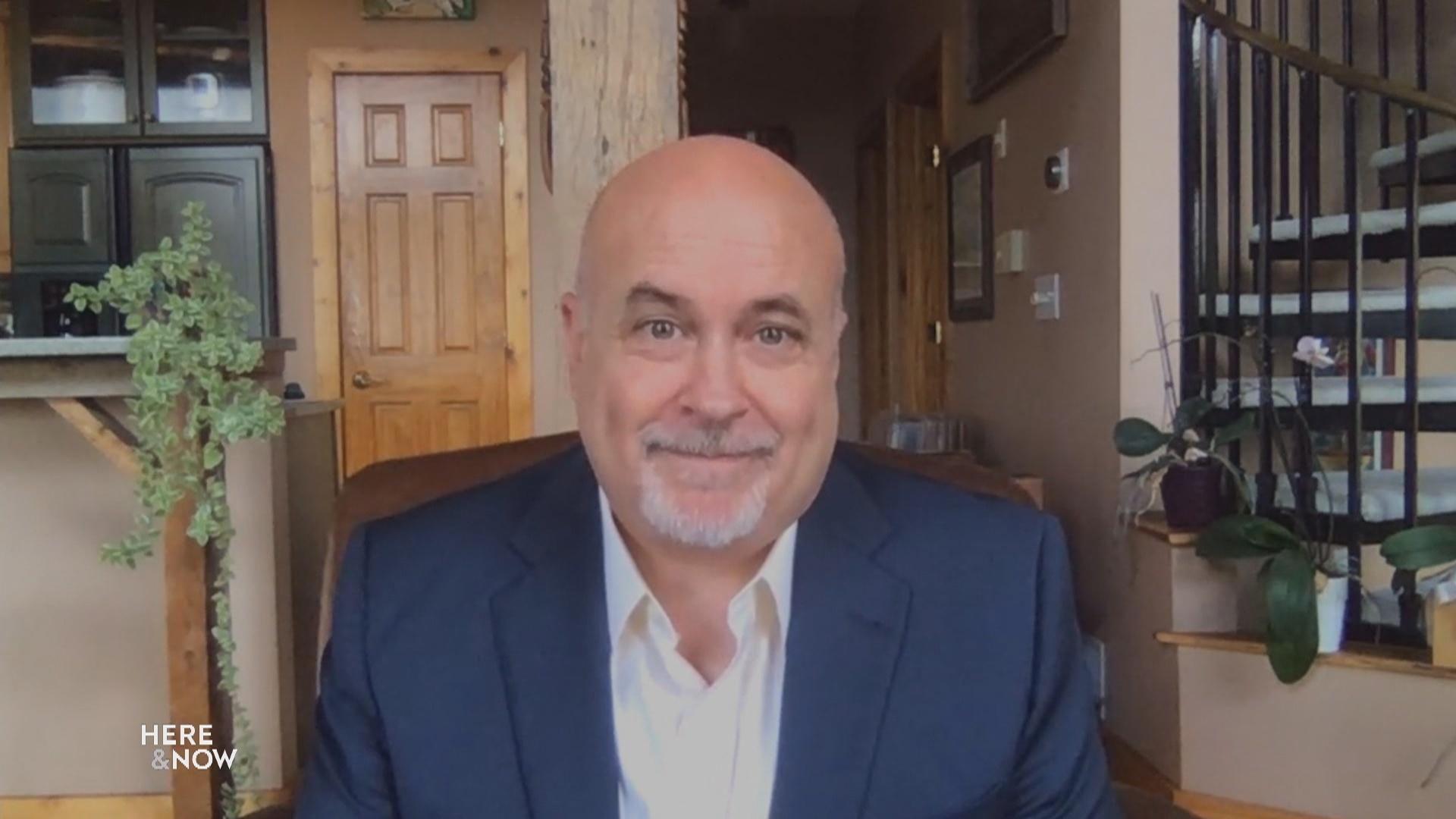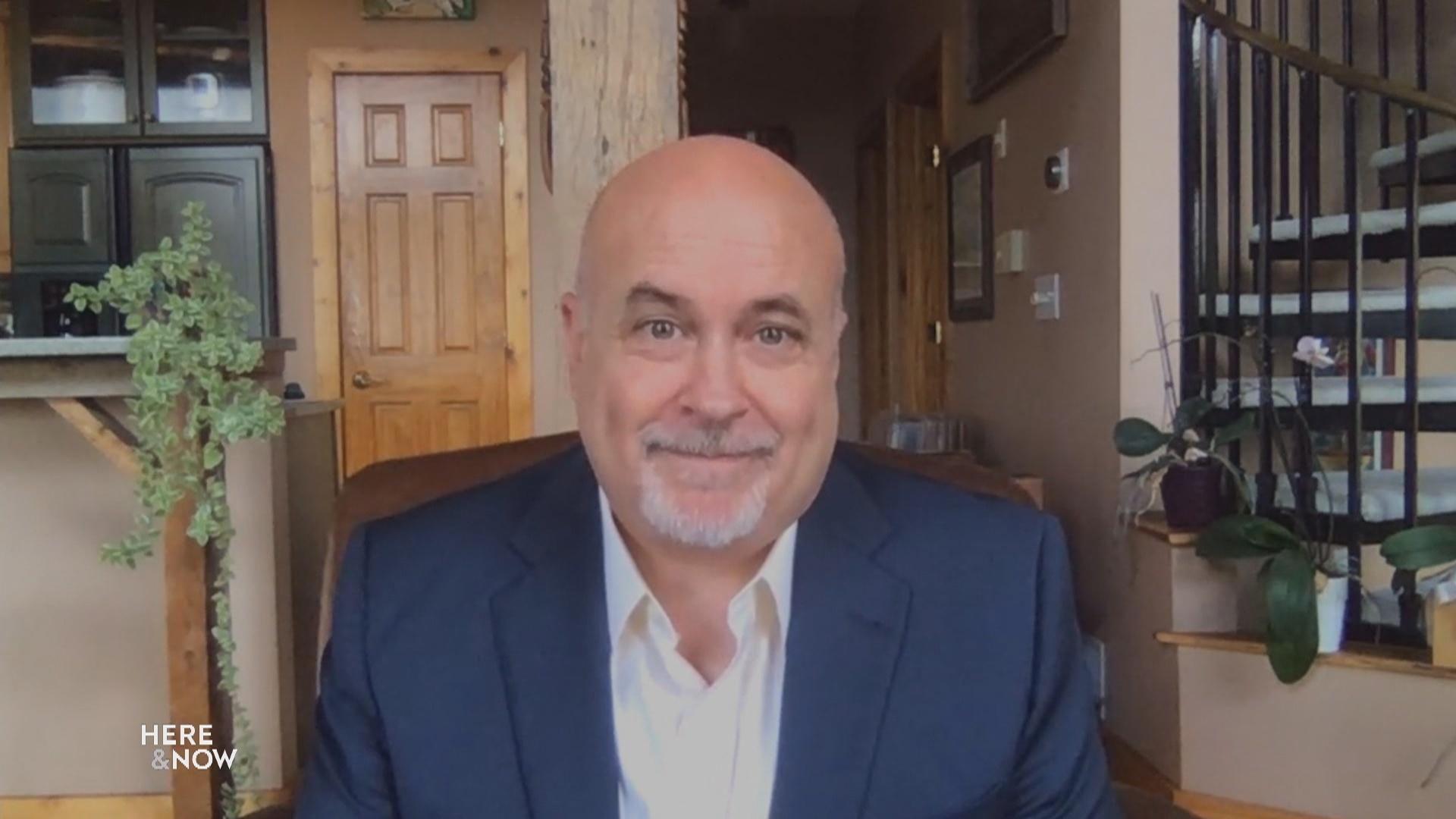 U.S. Rep. Mark Pocan (D) on Next Coronavirus Relief Bill
Democrat U.S. Rep. Mark Pocan talks about what to expect in a federal coronavirus aid package. He says the goals of the aid package should be unemployment assistance, helping small businesses, funding state and local government, shoring up testing and contract tracing and protecting front line workers. He also weighs in on the state's recent mask mandate.
July 31, 2020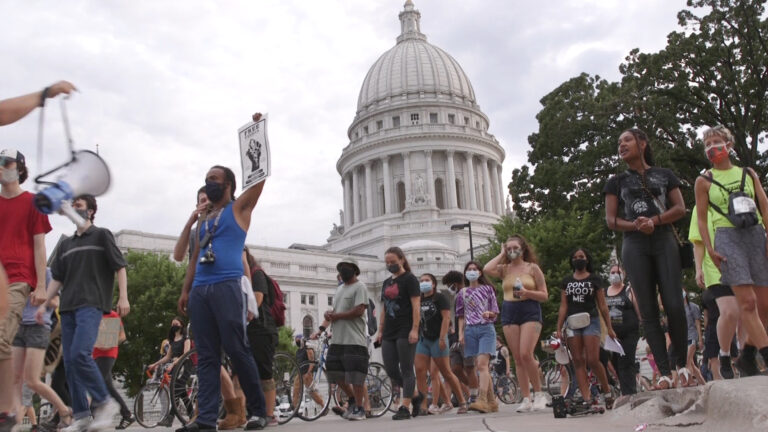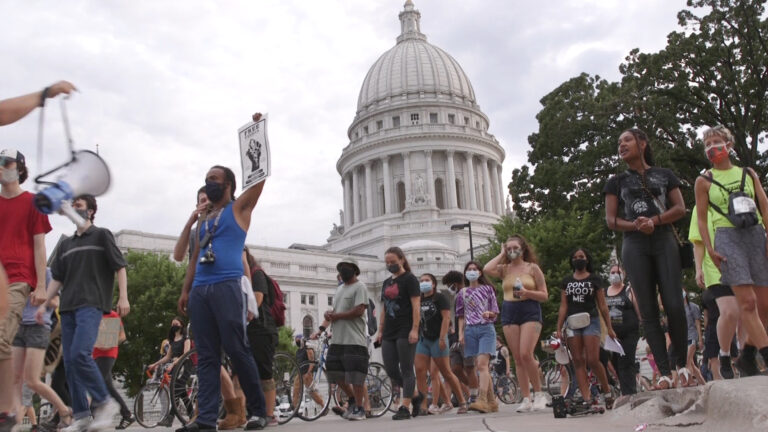 Wisconsinites Join National Strike
The group called for racial and economic justice.
July 21, 2020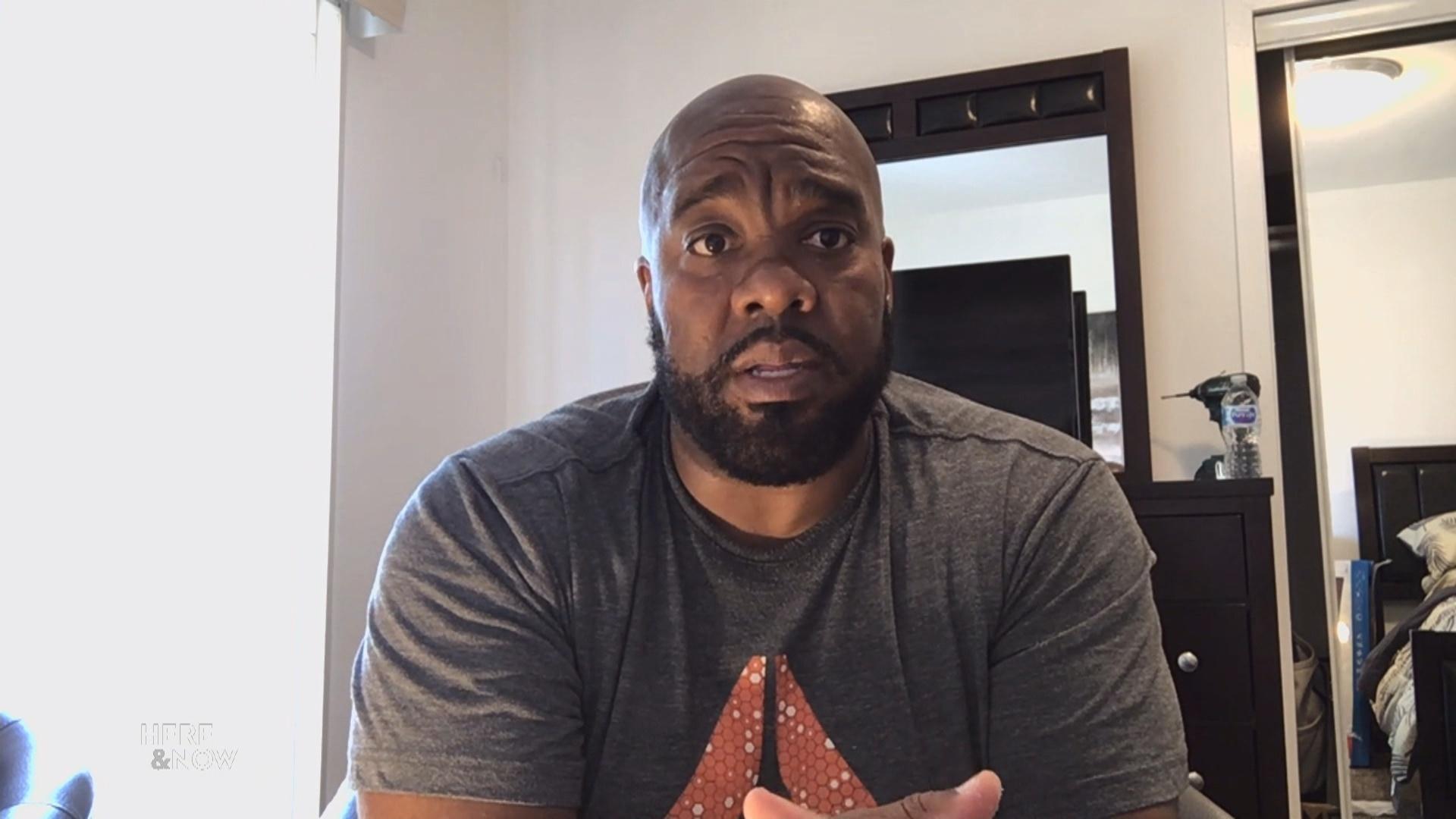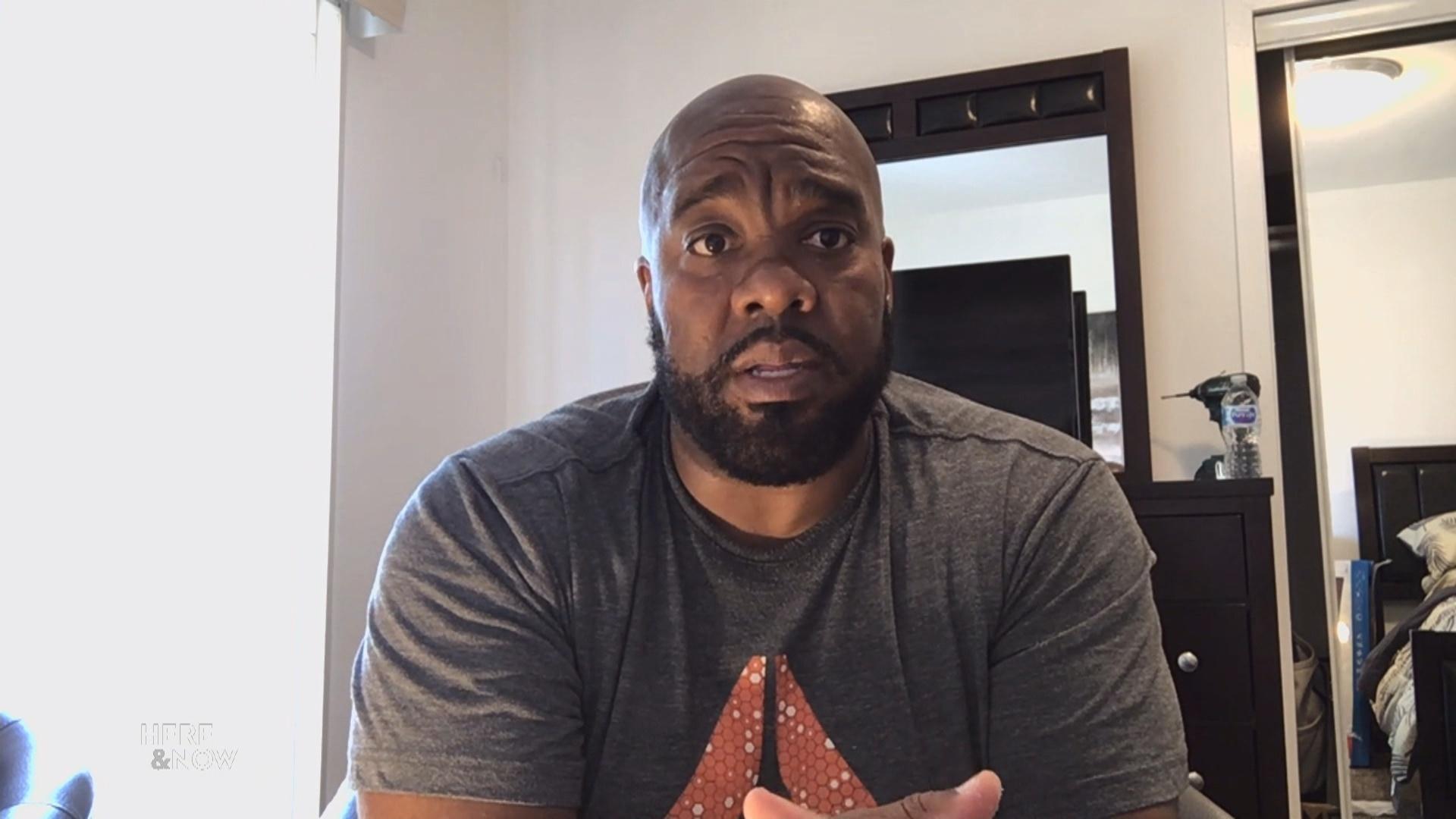 Boys & Girls Club of Dane Co. Distribute 15,000+ Free Masks
150 teens receiving resources as they work distributing masks as part of effort by Boys and Girls Club to support the unemployed, children and families and provide PPE during the pandemic as Dane County's mask mandate goes into effect. Michael Johnson, CEO of Boys and Girls Club of Dane County, advocating for representation of people of color at the Capitol in the form of a Vel Phillips statue.
July 17, 2020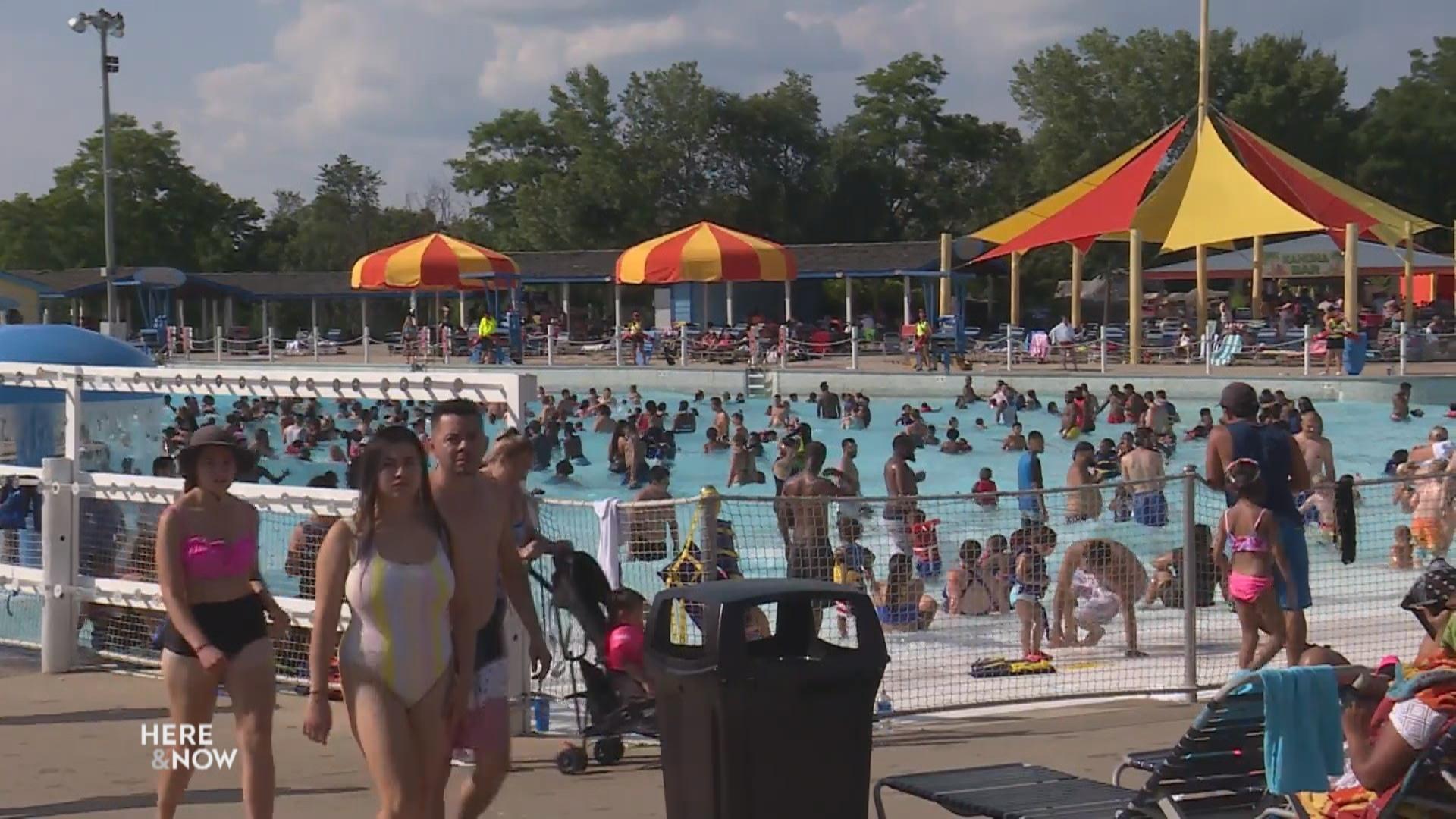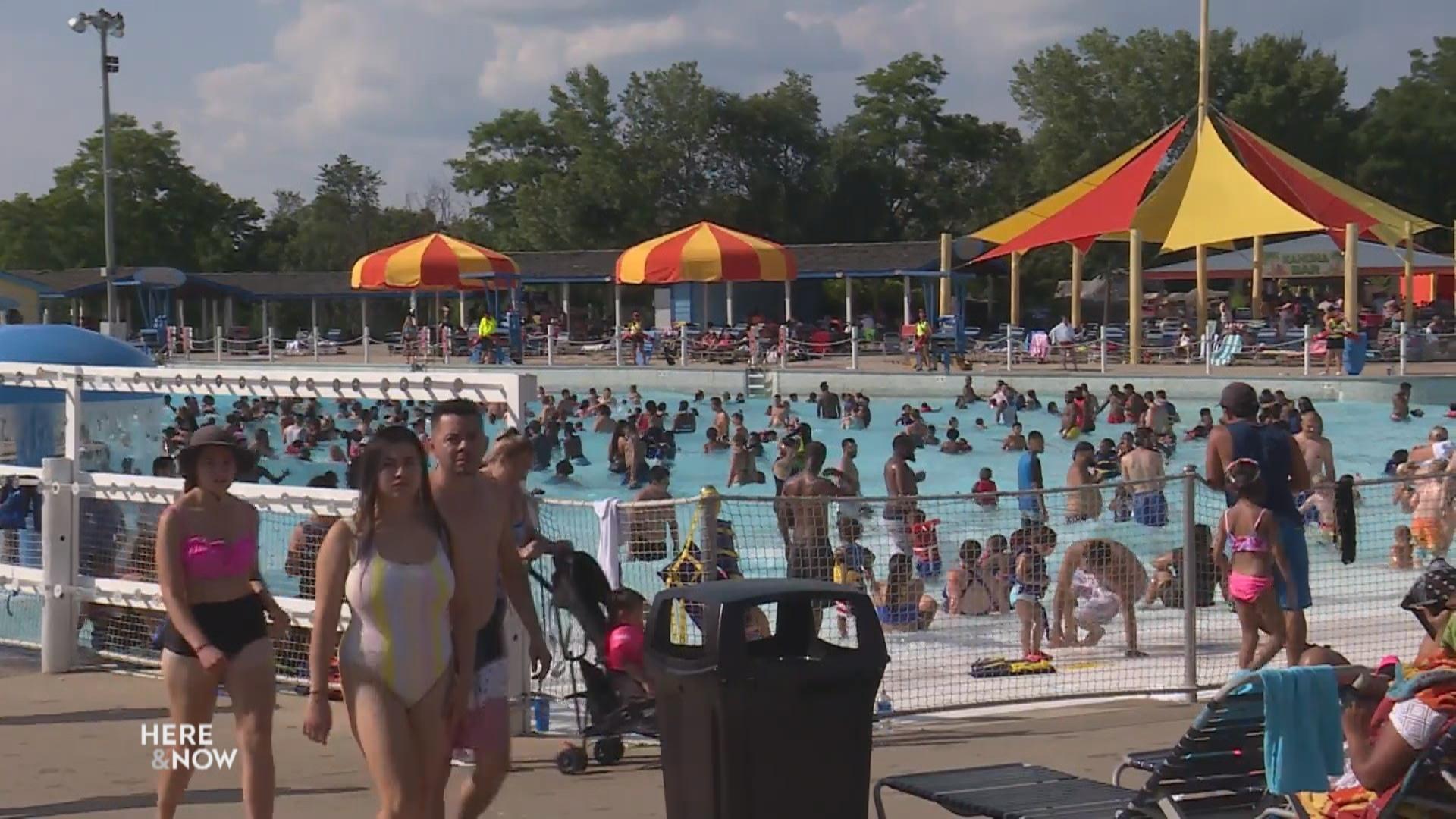 Despite Pandemic Wisconsin Dells Busy Over July 4th Weekend
An estimated 100,000 people ventured into the Wisconsin Dells during the Fourth of July weekend, even with Coronavirus concerns. There were crowds at Noah's Ark Water Park, despite keeping attendance to 35% capacity. Guests were "asked" to wear masks inside the park, but were "not required" to wear them.
July 10, 2020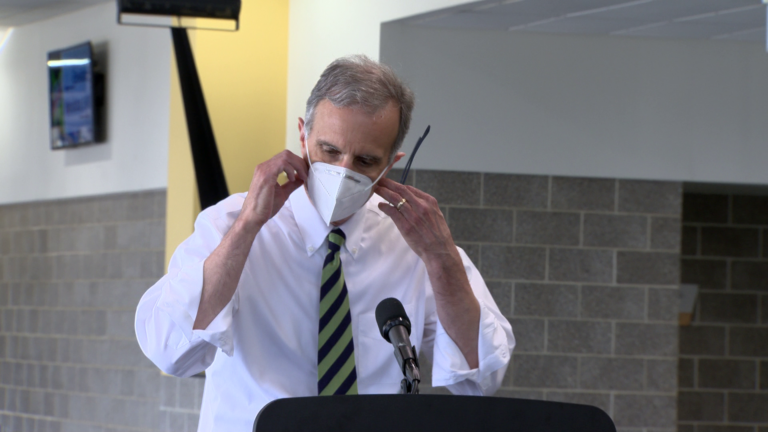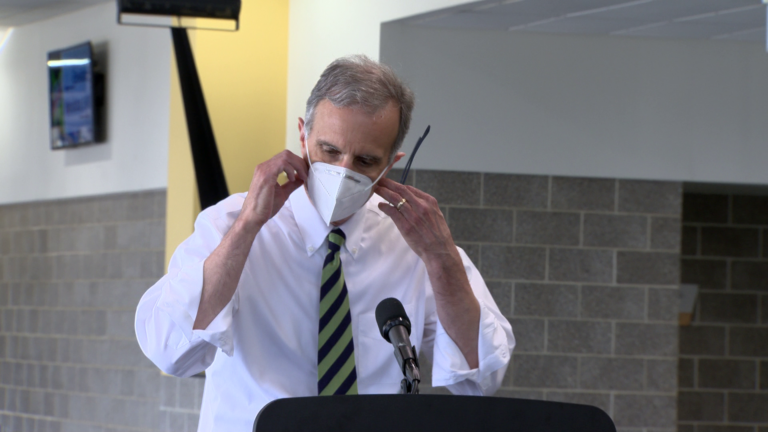 Dane County to Implement Face Mask Requirement, Milwaukee Takes Similar Steps
The Dane County order will go into effect July 13, requiring anyone five years and older to wear masks in indoor spaces outside of their homes.
July 7, 2020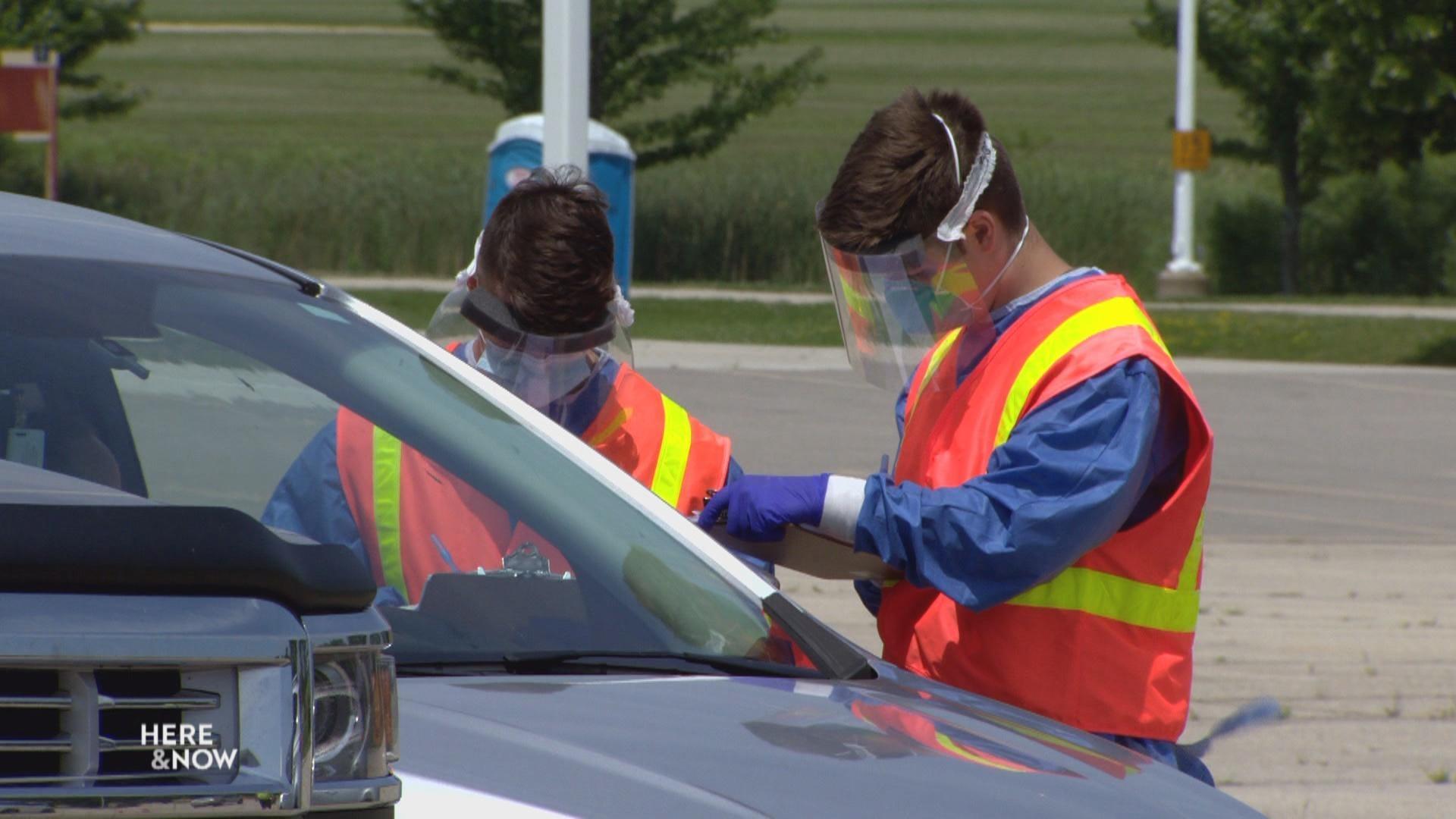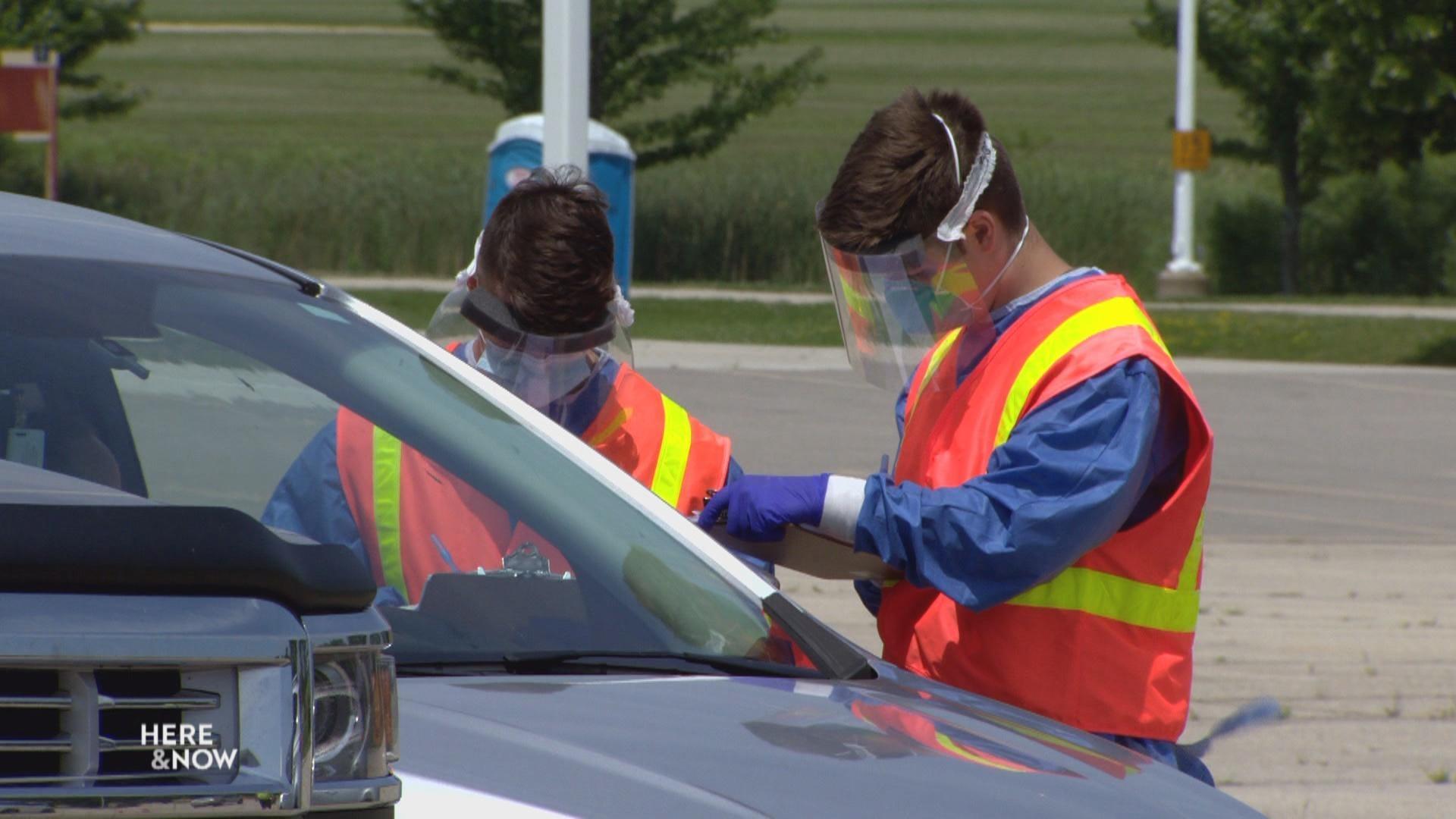 Racine Co. Rule is On-Off-On, Dane Co. Tightens Restrictions
A civil suit filed by a Racine business owner alleging 'Safer Racine" order would lead to business closings and significant loss of revenue resulted in ruling by Racine Co. judge to end order earlier this week. At 3pm July 3, Wisconsin Court of Appeals ruled in favor of Racine. Ordinance remains in effect while city's appeal is argued in court. Madison and Dane Co. enacted stricter COVID-19 rules.
July 3, 2020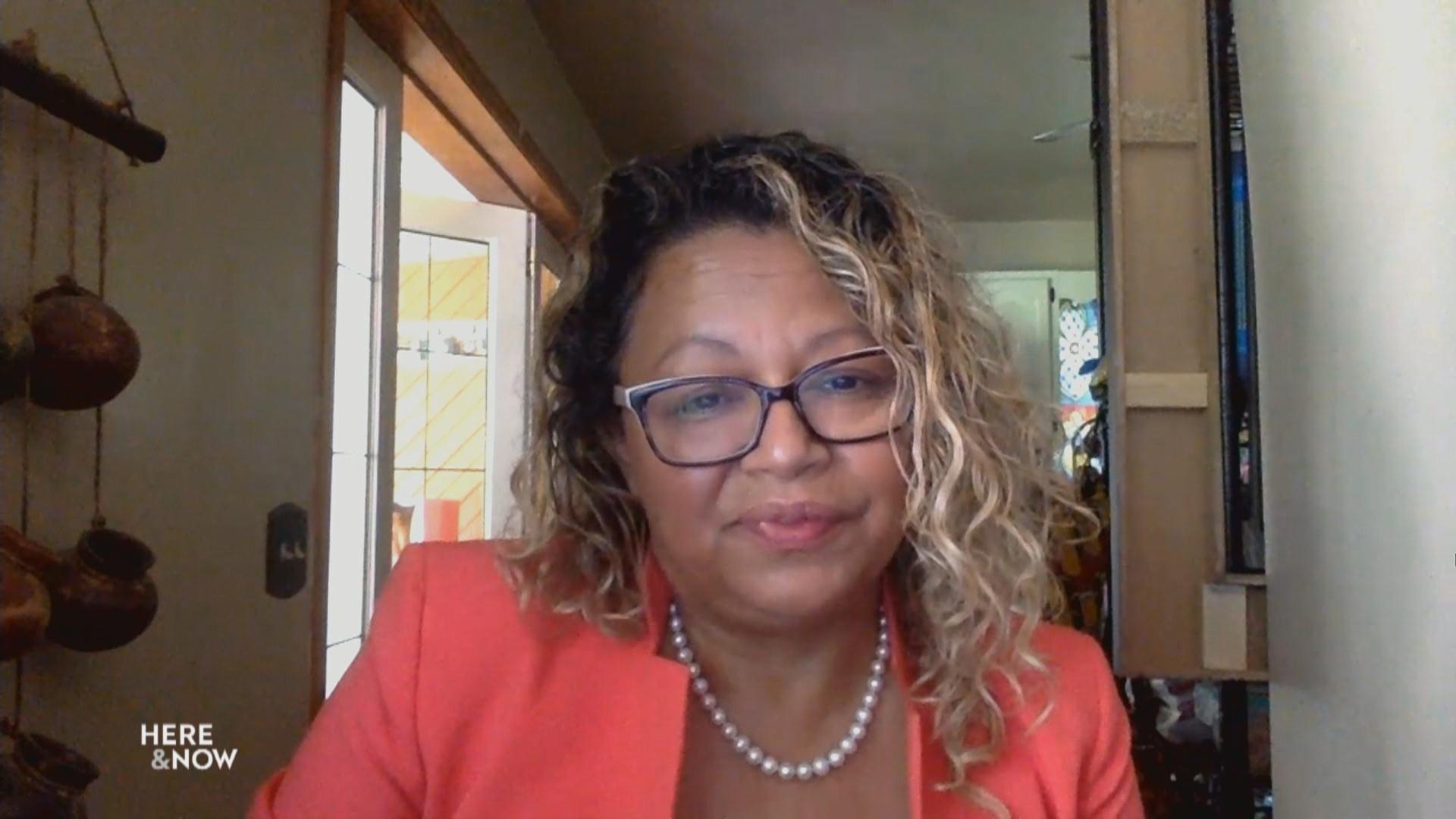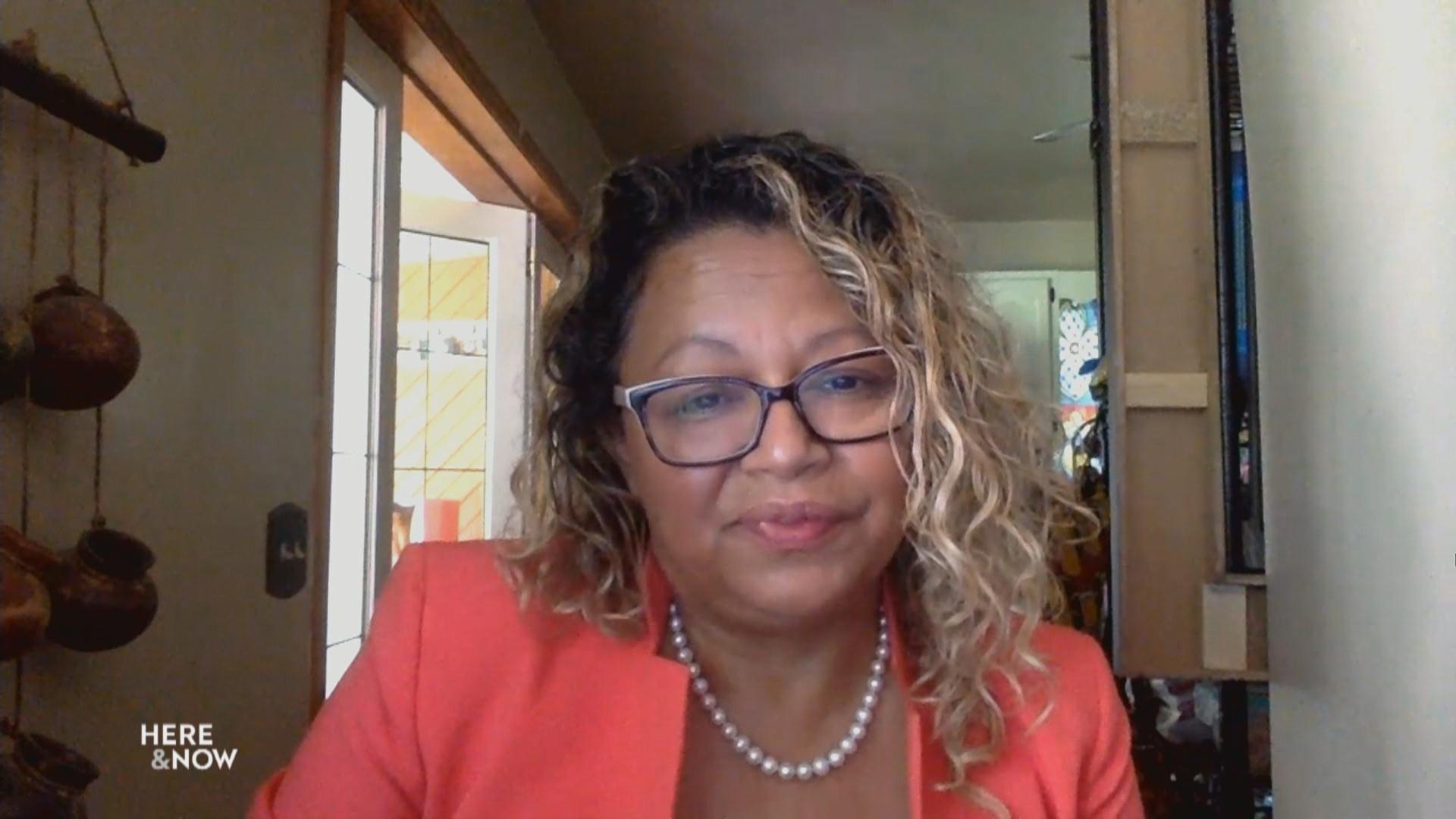 No Police Officers in Madison High Schools Starting in Fall
The Madison School Board voted this week to remove police officers – also known as SROs (School Resource Officers) - from the city's four main high schools. School Board President Gloria Reyes, a former police officer herself, discusses the board's vote and what the district plans to do ahead of the fall semester.
July 3, 2020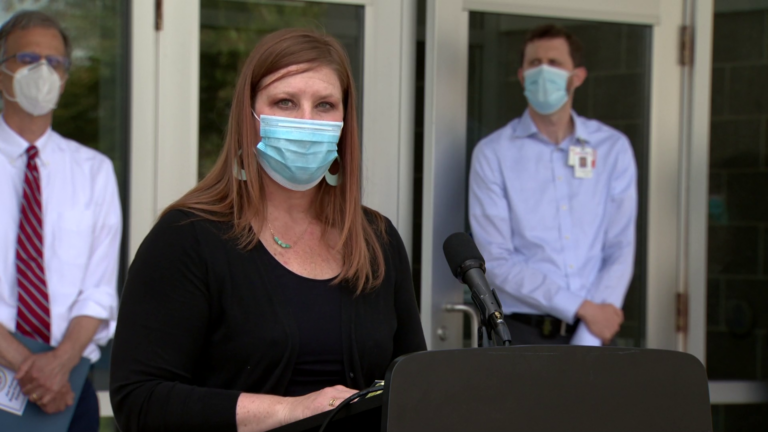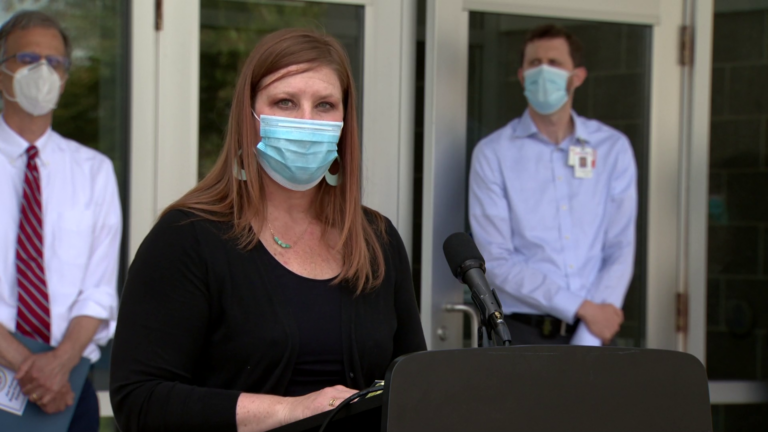 Dane County Adds Restrictions to Bars and Restaurants
The move comes after a recent spike in COVID-19 cases among residents in their 20s, which contact tracers linked to bar attendance.
July 1, 2020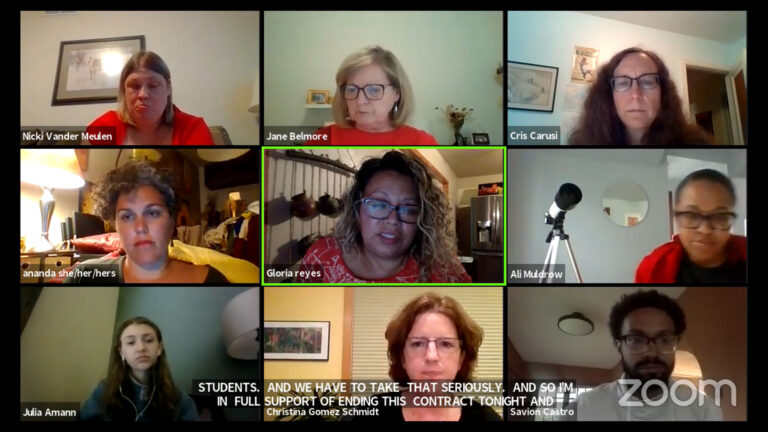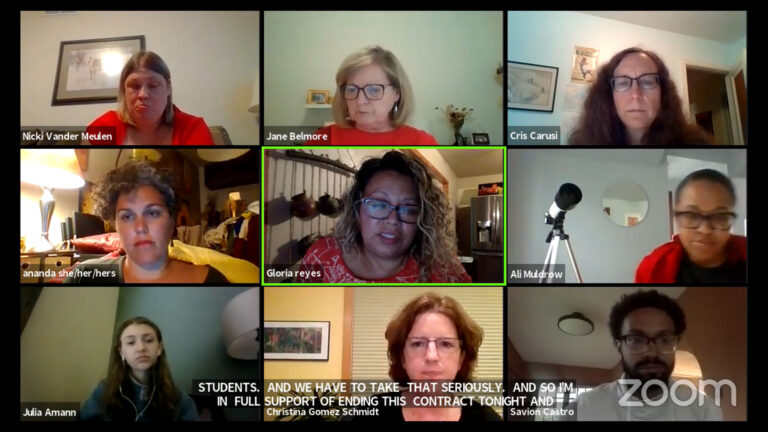 Madison School District Removes Police from Schools
The board's vote Monday ends the contract with Madison police immediately. The Madison city council is expected to pass a similar measure during a meeting next month.
June 29, 2020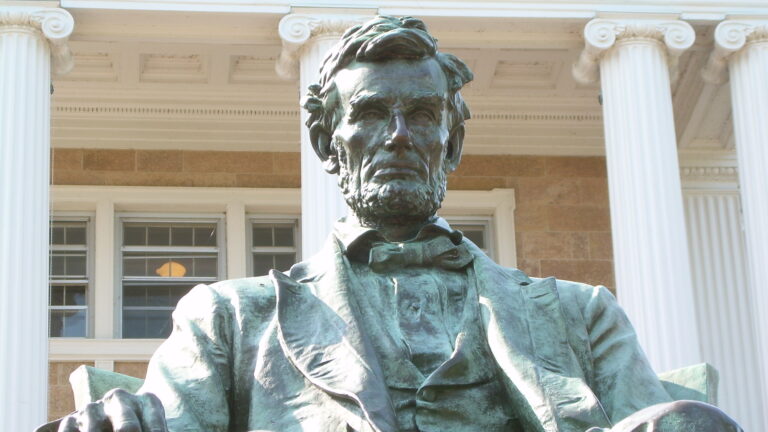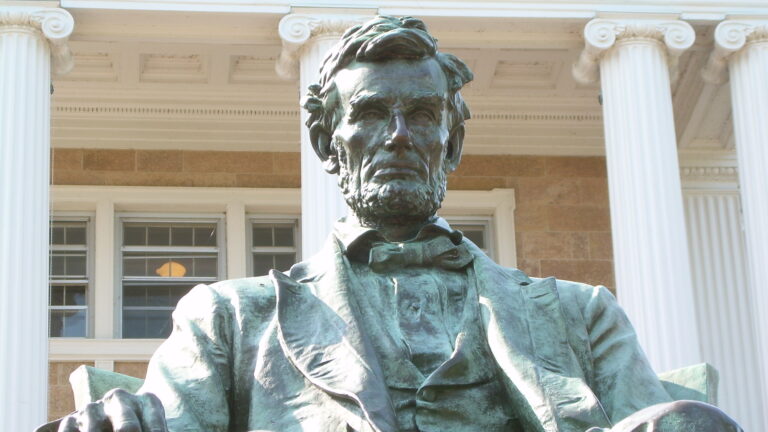 Students Push to Remove UW-Madison's Lincoln Statue
Students say the 16th president's past, which includes racism toward Black Americans and ordering the execution of 38 Dakota men, warrants the removal of his statue on UW-Madison's Bascom Hill.
June 29, 2020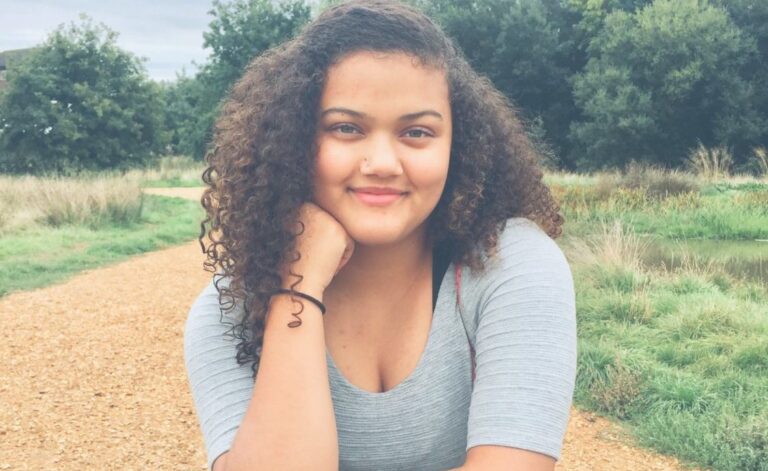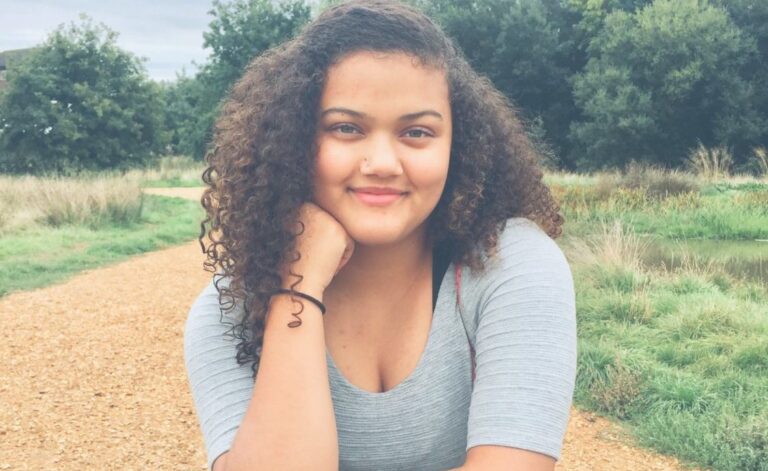 FBI Joins Investigation Into Possible Madison Hate Crime
Althea Bernstein was attacked when lighter fluid was thrown and ignited on her face last week. The FBI and Madison police are investigating the incident as a possible hate crime.
June 29, 2020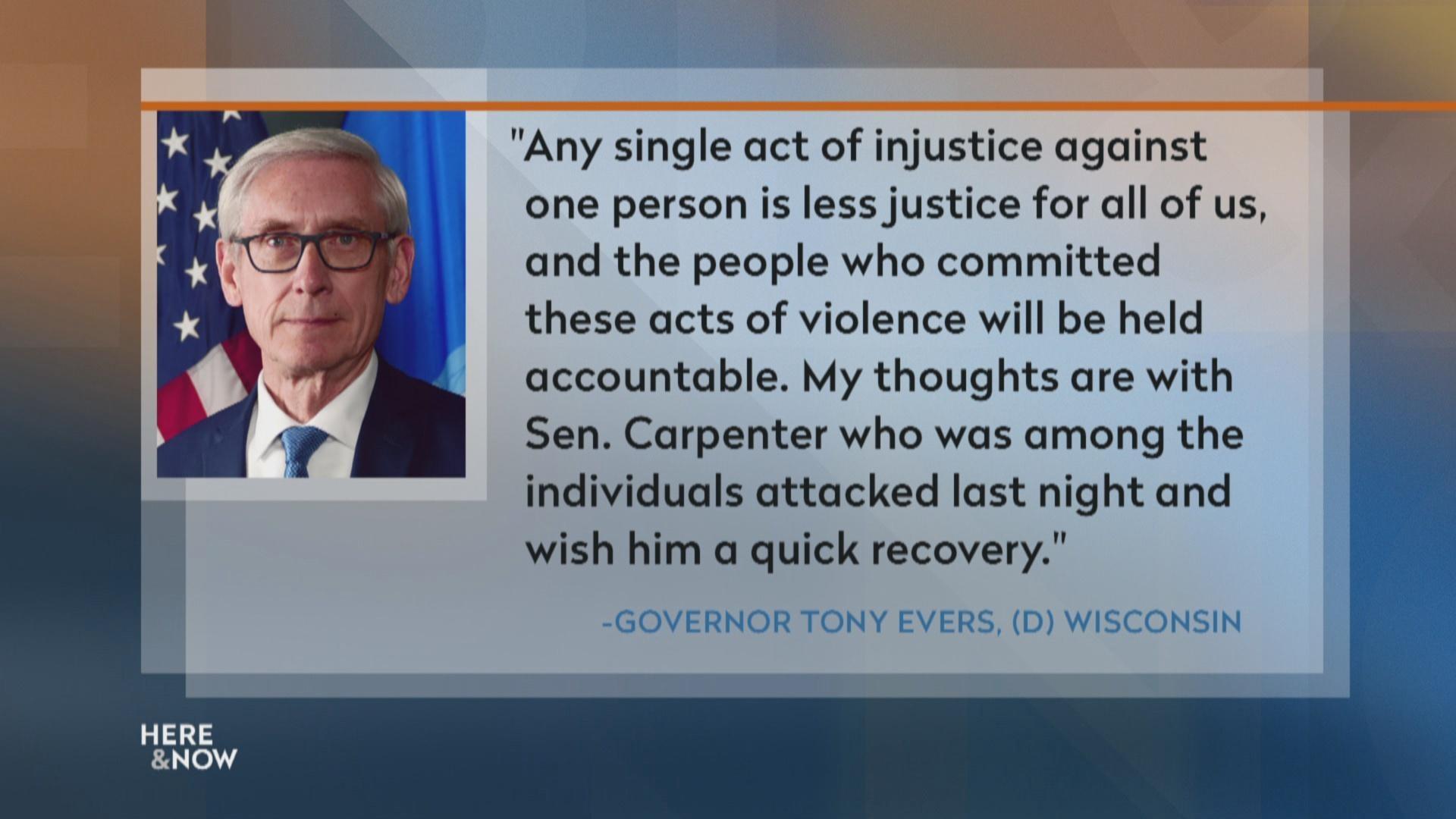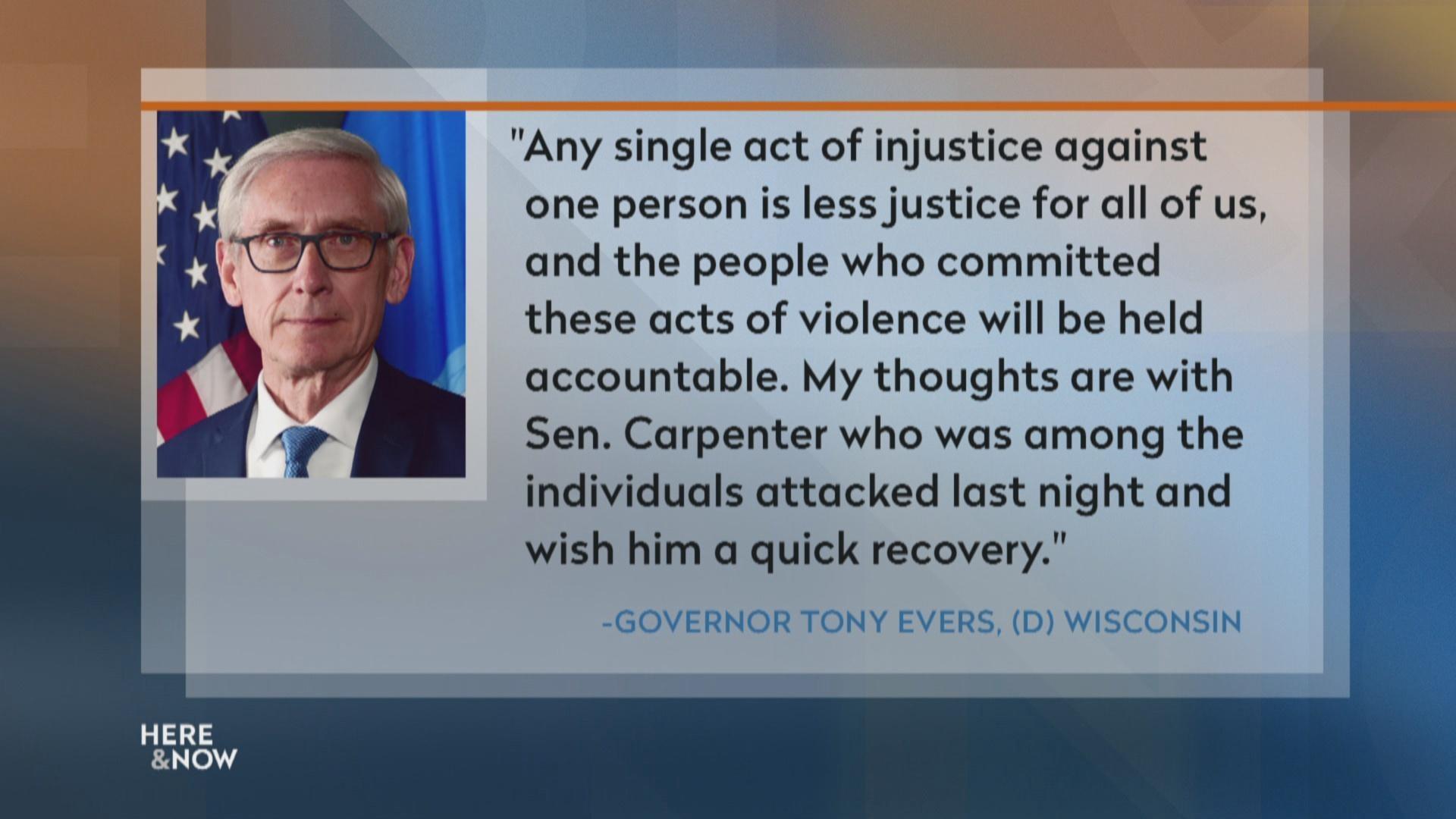 Gov. Evers Again Deploys National Guard to Protect Property
In the wake of this week's violence, Gov. Evers once again deployed the Wisconsin National Guard to protect state property and to support law enforcement. He said, "The Wisconsin National Guard will serve in a limited authorization meant to make sure people can exercise their First Amendment rights while ensuring the safety of members of the public and state buildings and infrastructure."
June 26, 2020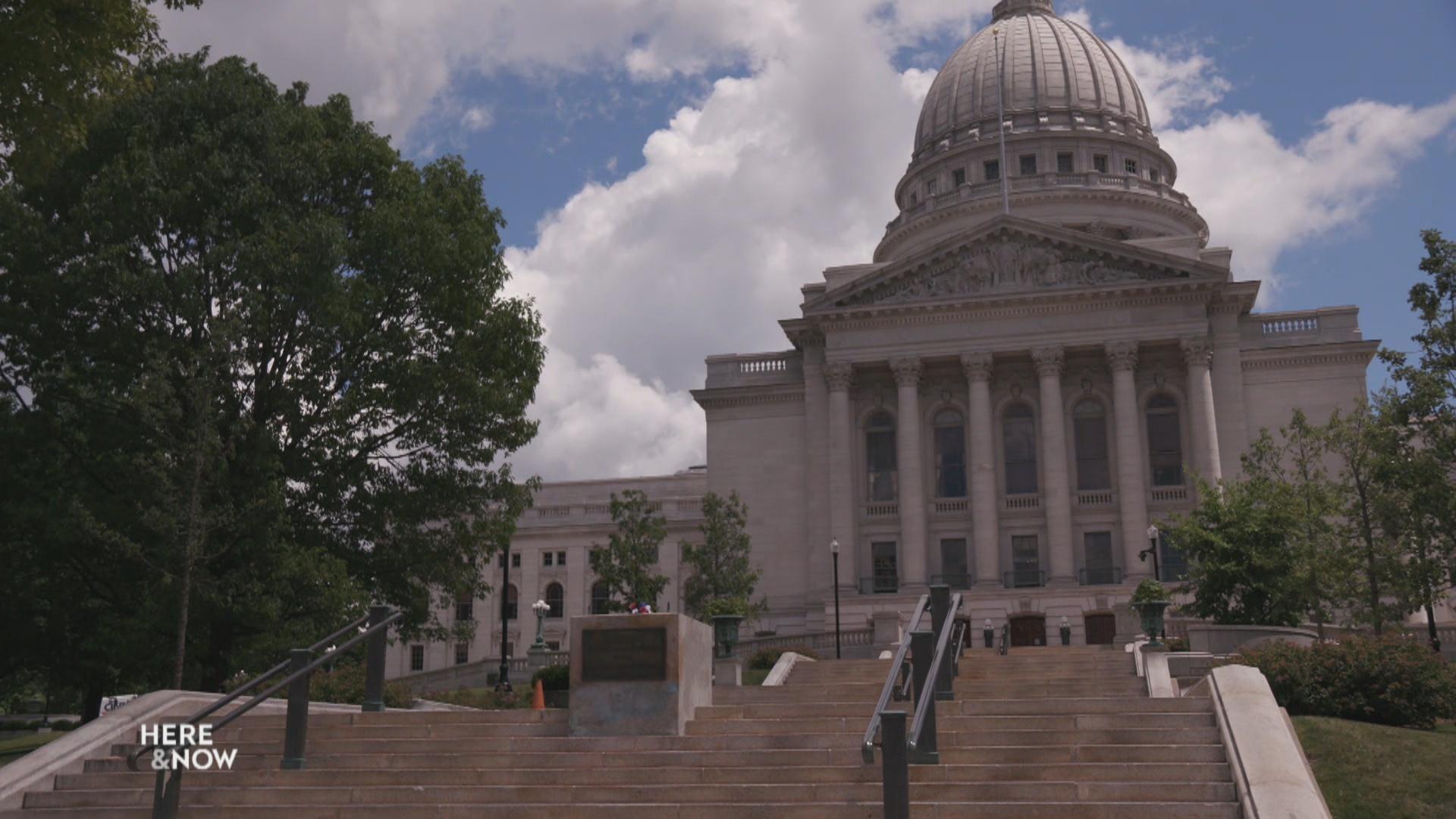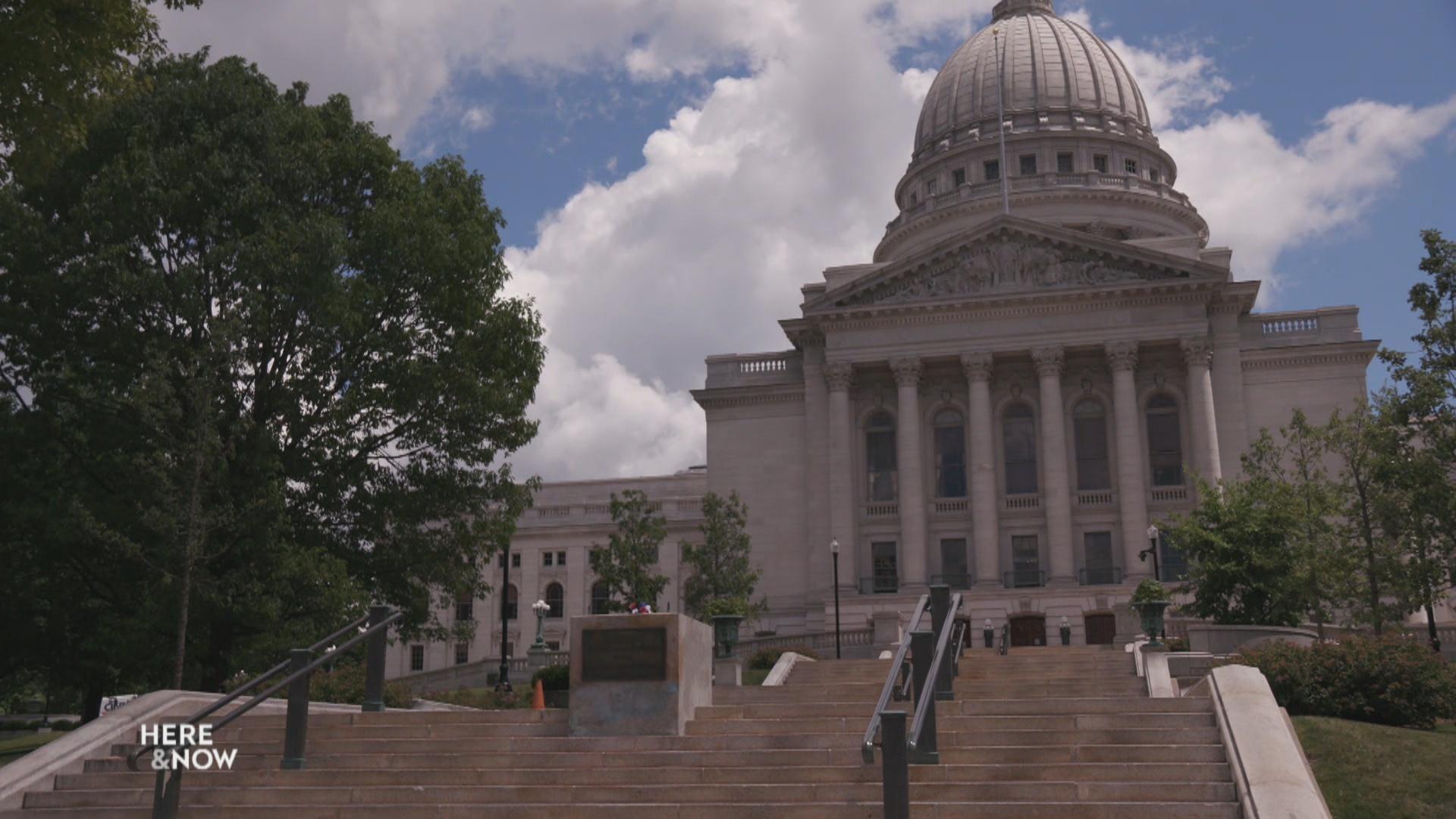 Closer Look at Tuesday Night's Turmoil in Madison
The arrest of Devonere Johnson, a Black activist in Madison sparked a protest that turned violent. State and city-county buildings were targeted, statues toppled and a democratic state senator attacked. Republican leadership called for the Madison Mayor and Governor Evers to take more forceful action against violent protestors. Evers authorized the National Guard to support law enforcement.
June 26, 2020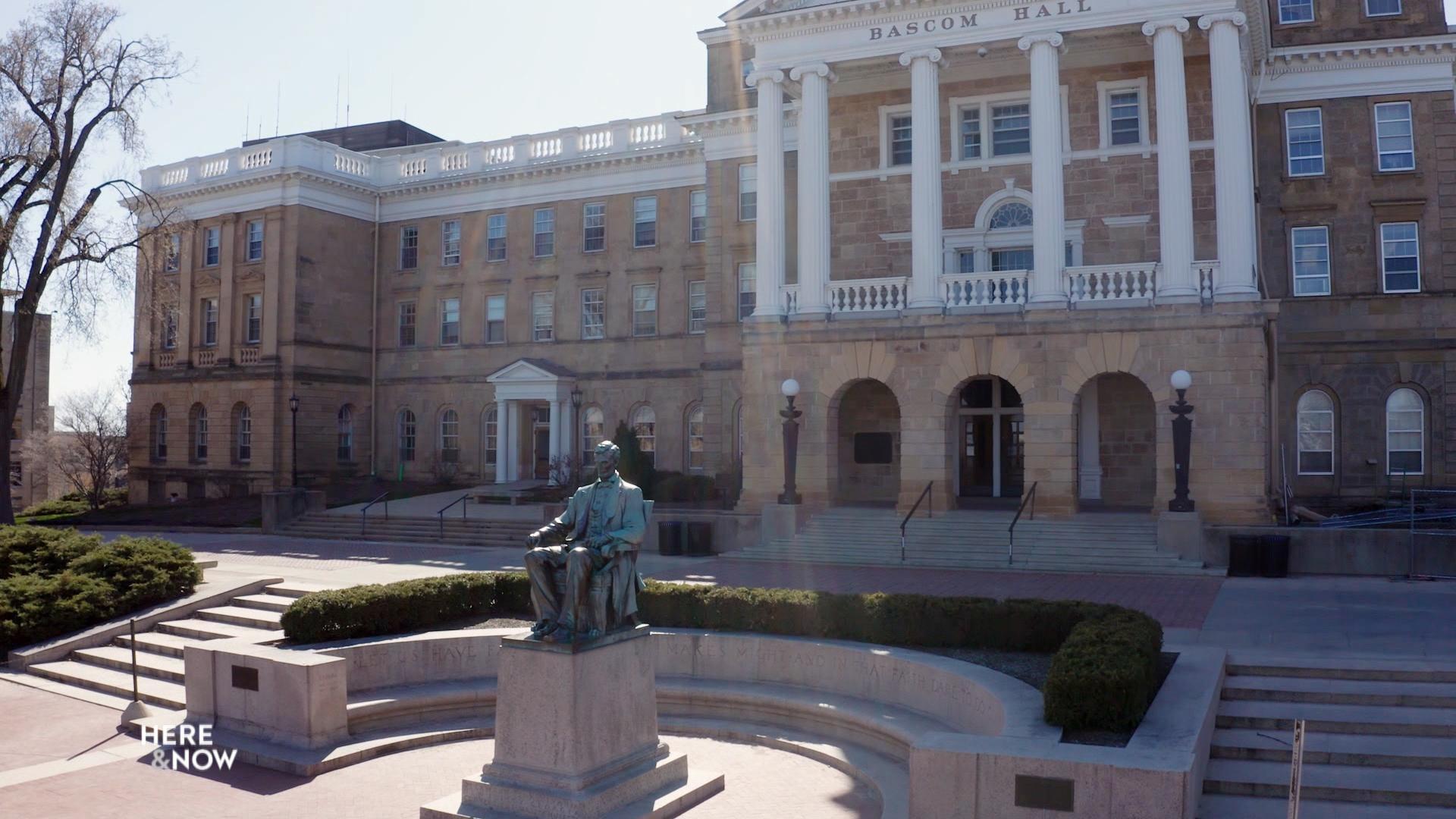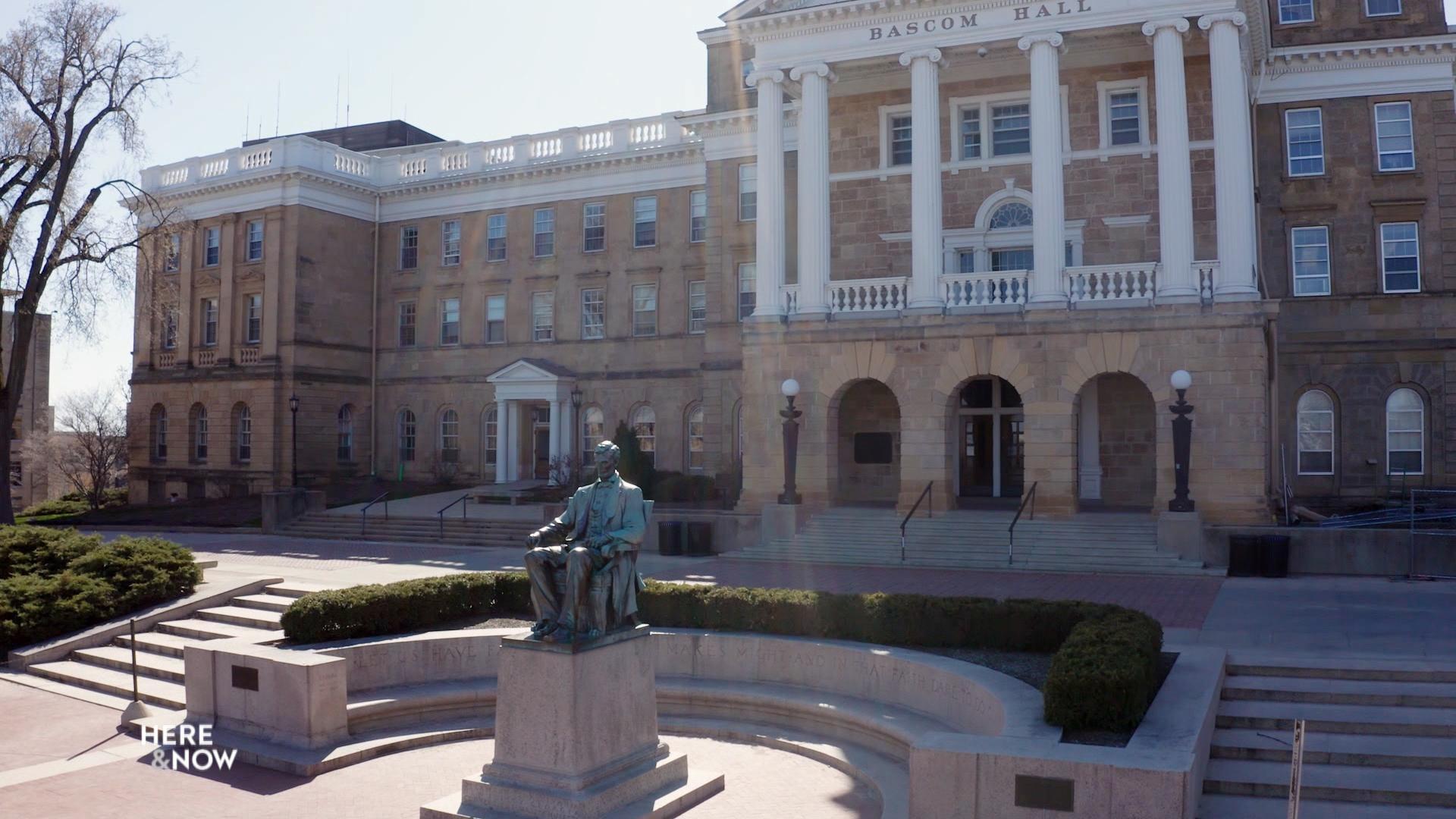 UW-Madison to Resume In-Person Classes in Fall
Chancellor Rebecca Blank proposes a hybrid model that strikes balance of providing safety for faculty, staff and students while allowing for some in-person discussions, small class experience, and maintaining experiences of a college campus. The in-person classes will switch to virtual classes after Thanksgiving, for the final nine days of instruction plus exams.
June 19, 2020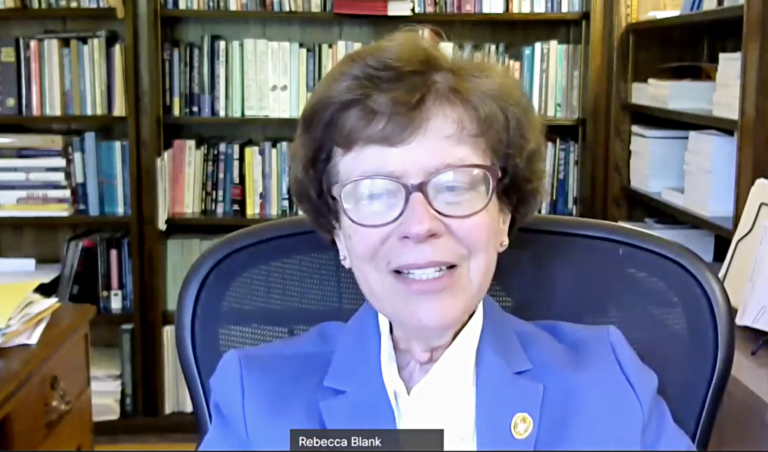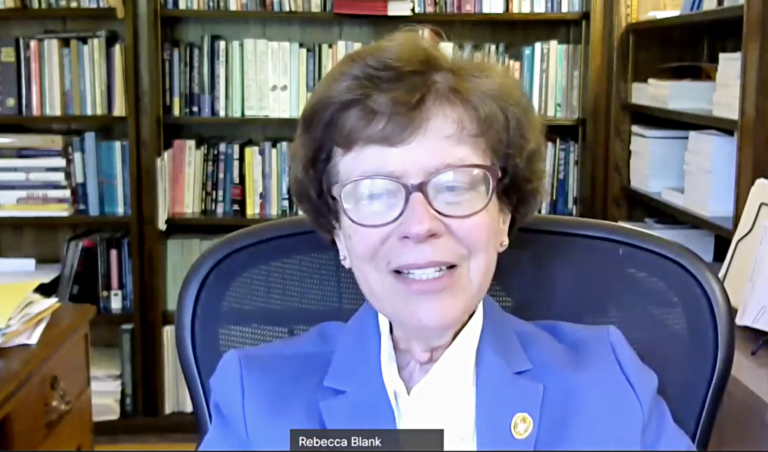 UW-Madison Releases Plan to Reopen Campus in Fall
The University of Wisconsin-Madison announced plans Wednesday to reopen campus to students and staff for the Fall 2020 semester. Under the plan called "Smart Restart," officials say instruction taking place under a hybrid model of in-person and virtual sessions, increased guidelines around gatherings, and multiple forms of testing for COVID-19 ...
June 17, 2020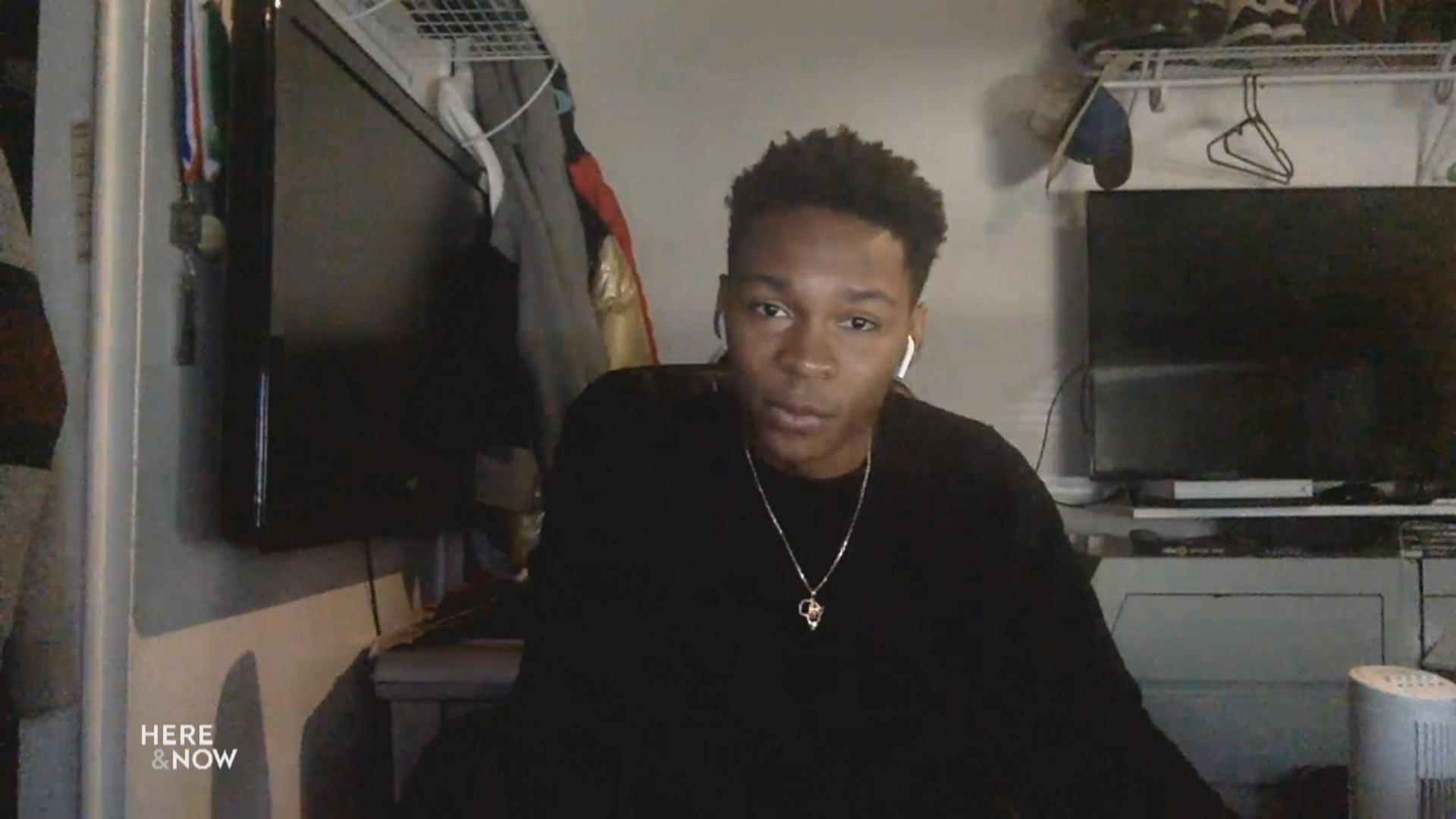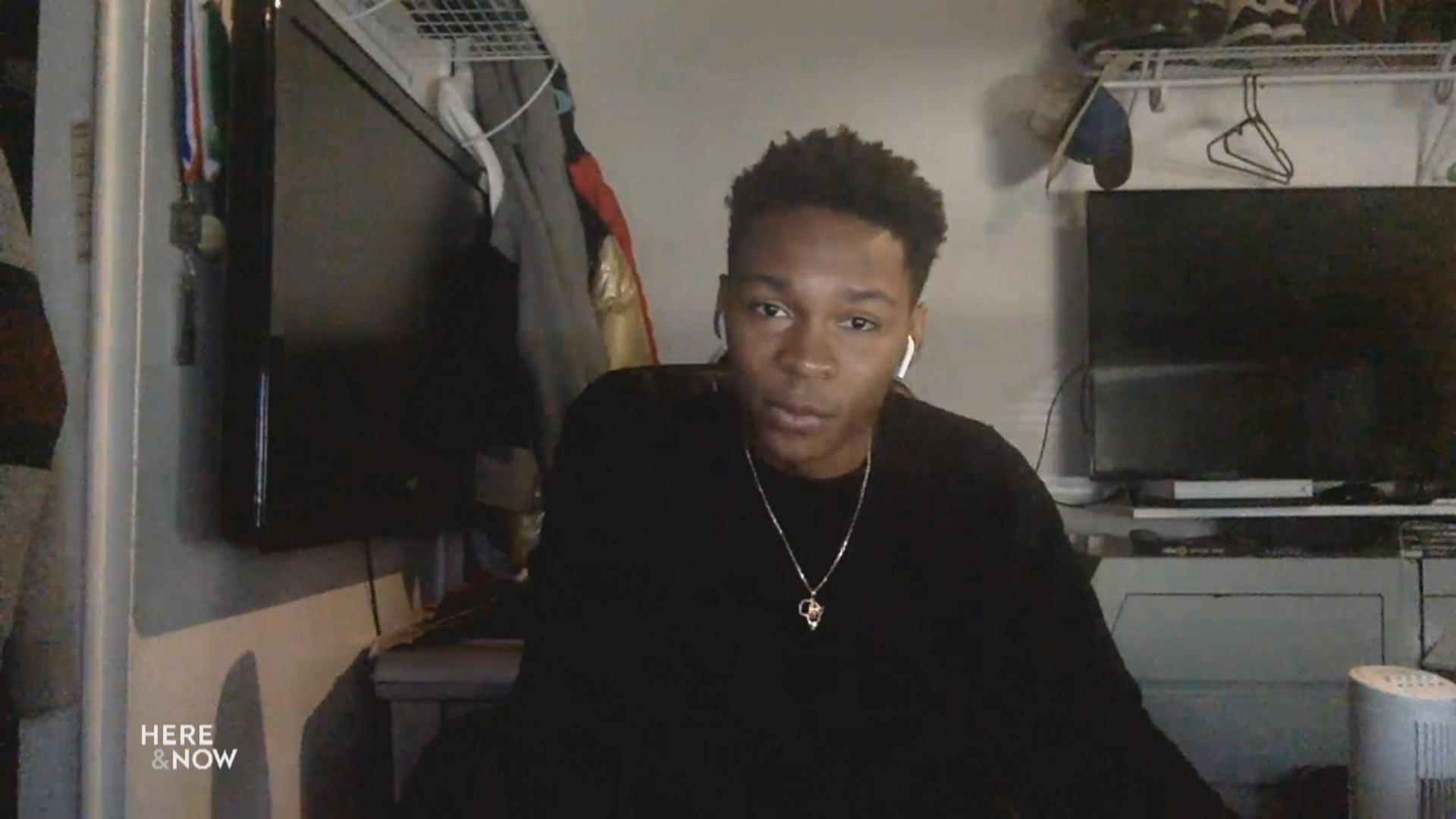 Youth Demonstrate for Racial Equality
A few months ago, Noah Anderson was leading a city-wide black student movement after his father Marlon was fired from Madison West High School for repeating a student's use of a racial slur during an altercation. He now reflects on the current movement, and what role the youth voice has in creating change.
June 12, 2020
Boarded-Up Storefronts Provide Canvas for Change
Artists take to boarded-up storefronts on Madison's State Street to spread messages.
June 10, 2020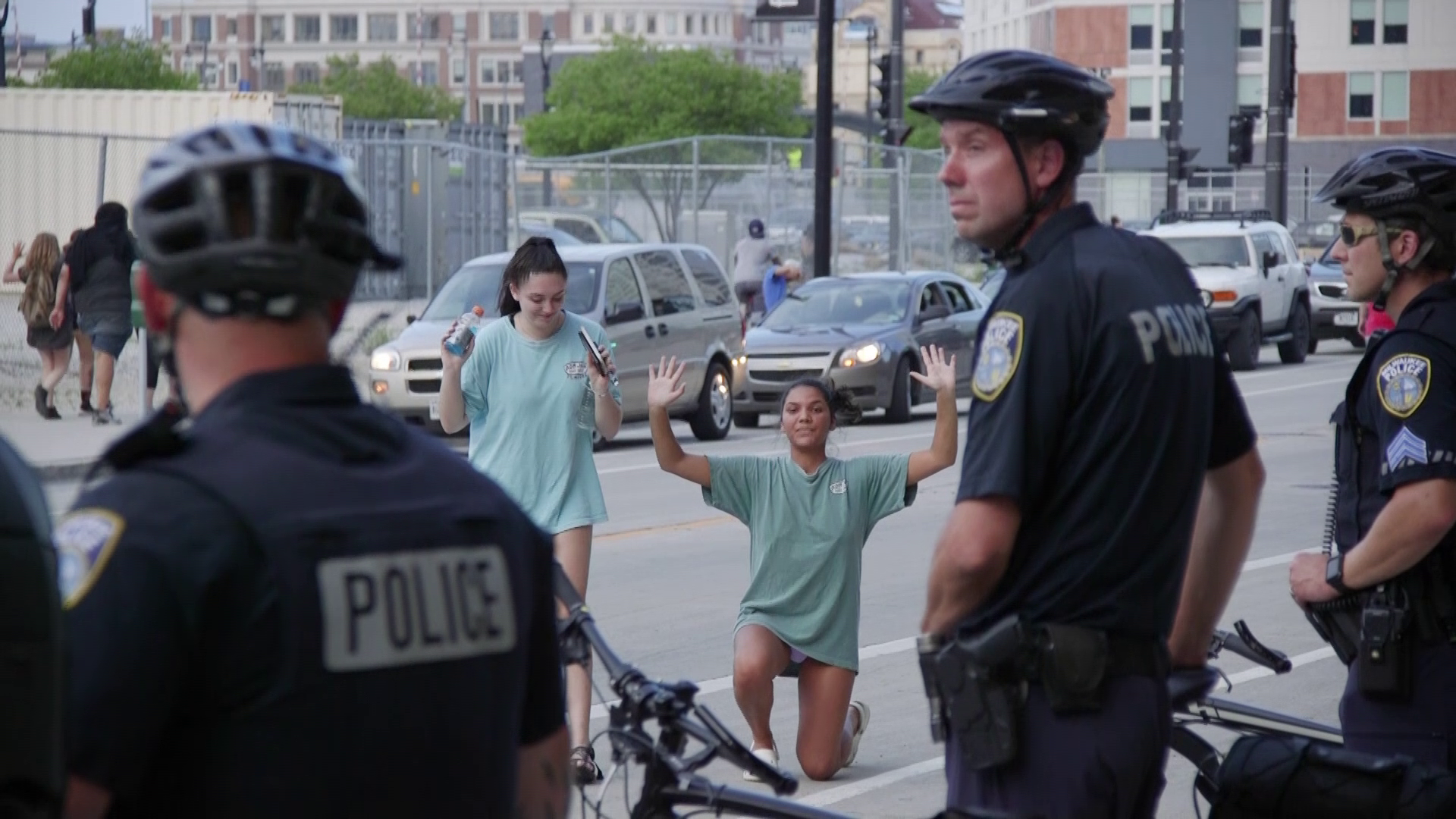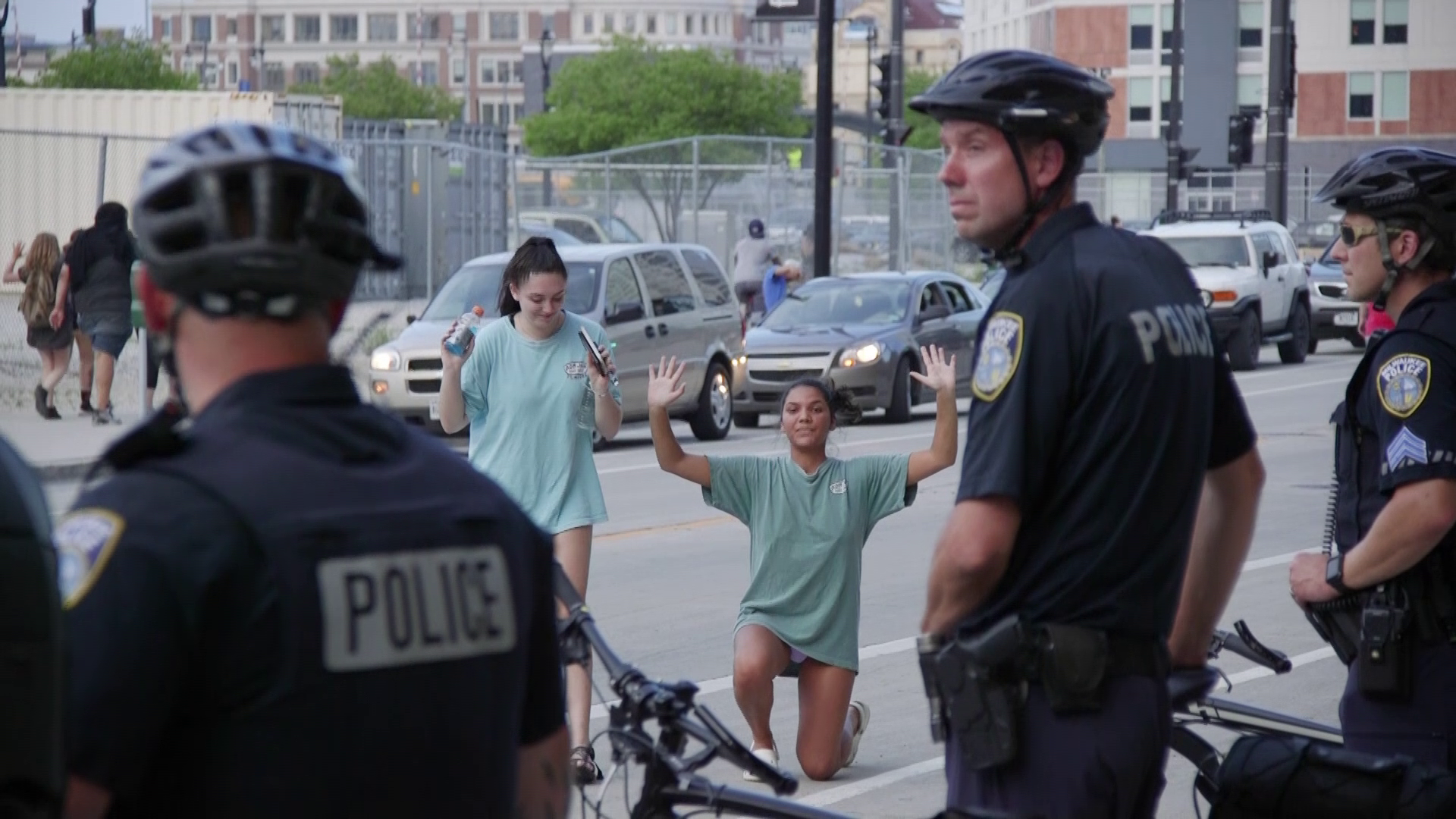 Wisconsin Responds to George Floyd
The death of George Floyd in Minneapolis sparked protests around Wisconsin, advocating change in police practices. Here & Now's Will Kenneally shows how Wisconsinites expressed their frustration with another black man dying in police custody.
June 5, 2020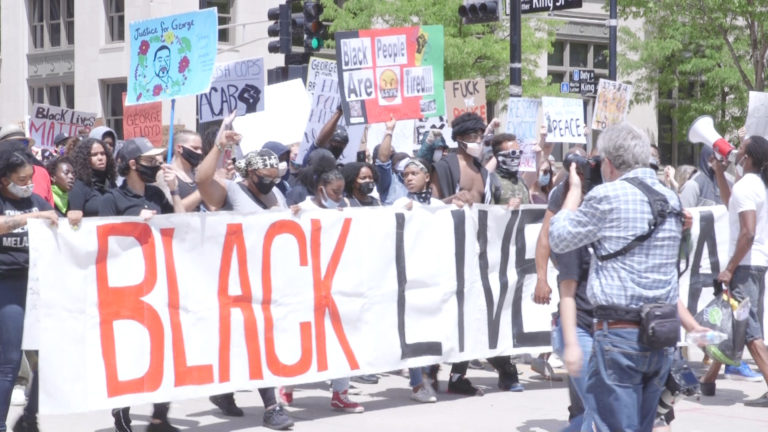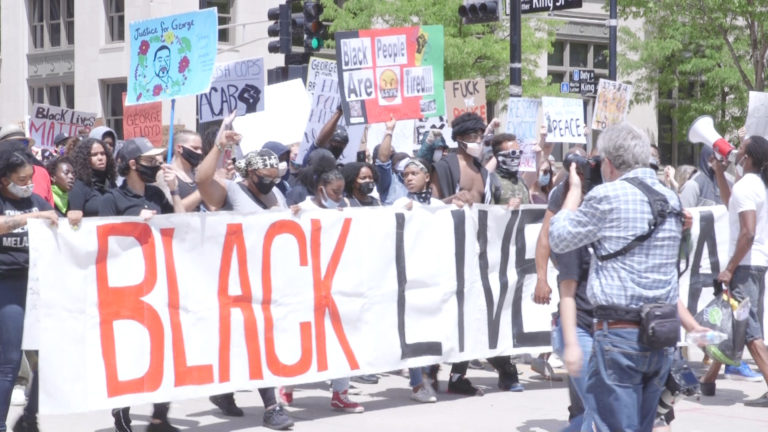 Protesters Say They Are Ready for Long Haul
Organizers of the Madison protests in the wake of George Floyd's death say they are prepared to keep going for the foreseeable future. "People are going to rebel until they are not going to rebel," said M. Adams, a co-executive director of the Madison-based Freedom Inc. "It's simple, you stop ...
June 1, 2020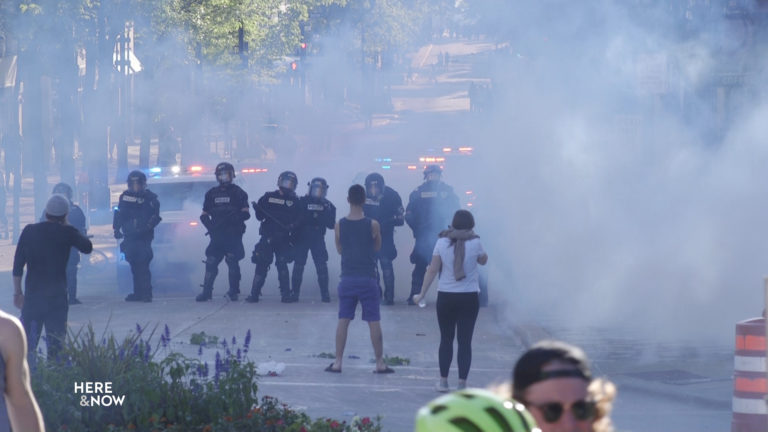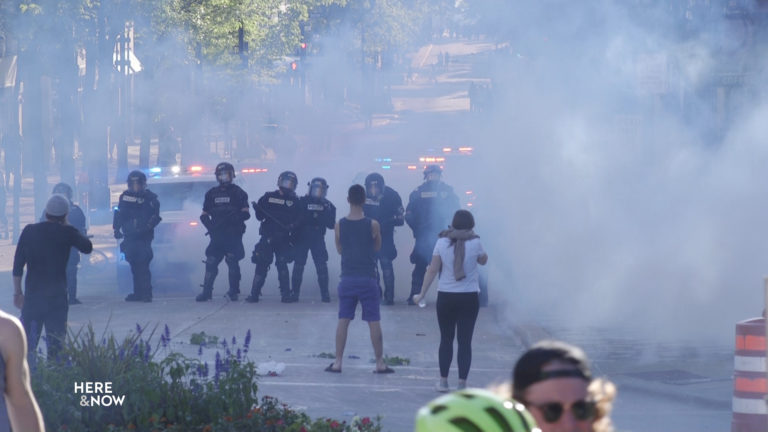 Protesters Clash with Police Over Community Policing Concerns
Protests erupt in Wisconsin in the wake of George Floyd's death in Minneapolis, causing clashes with police.
June 1, 2020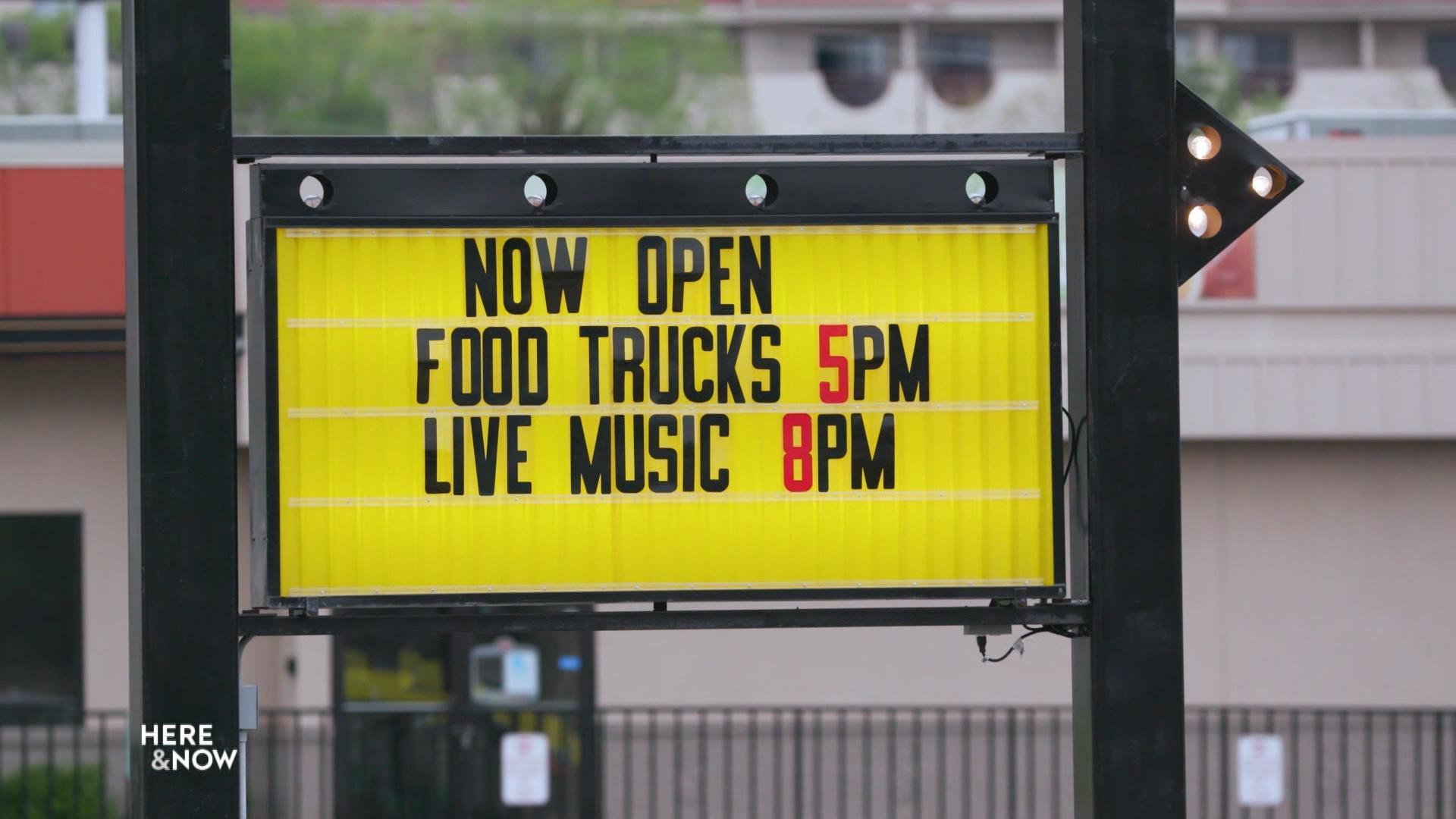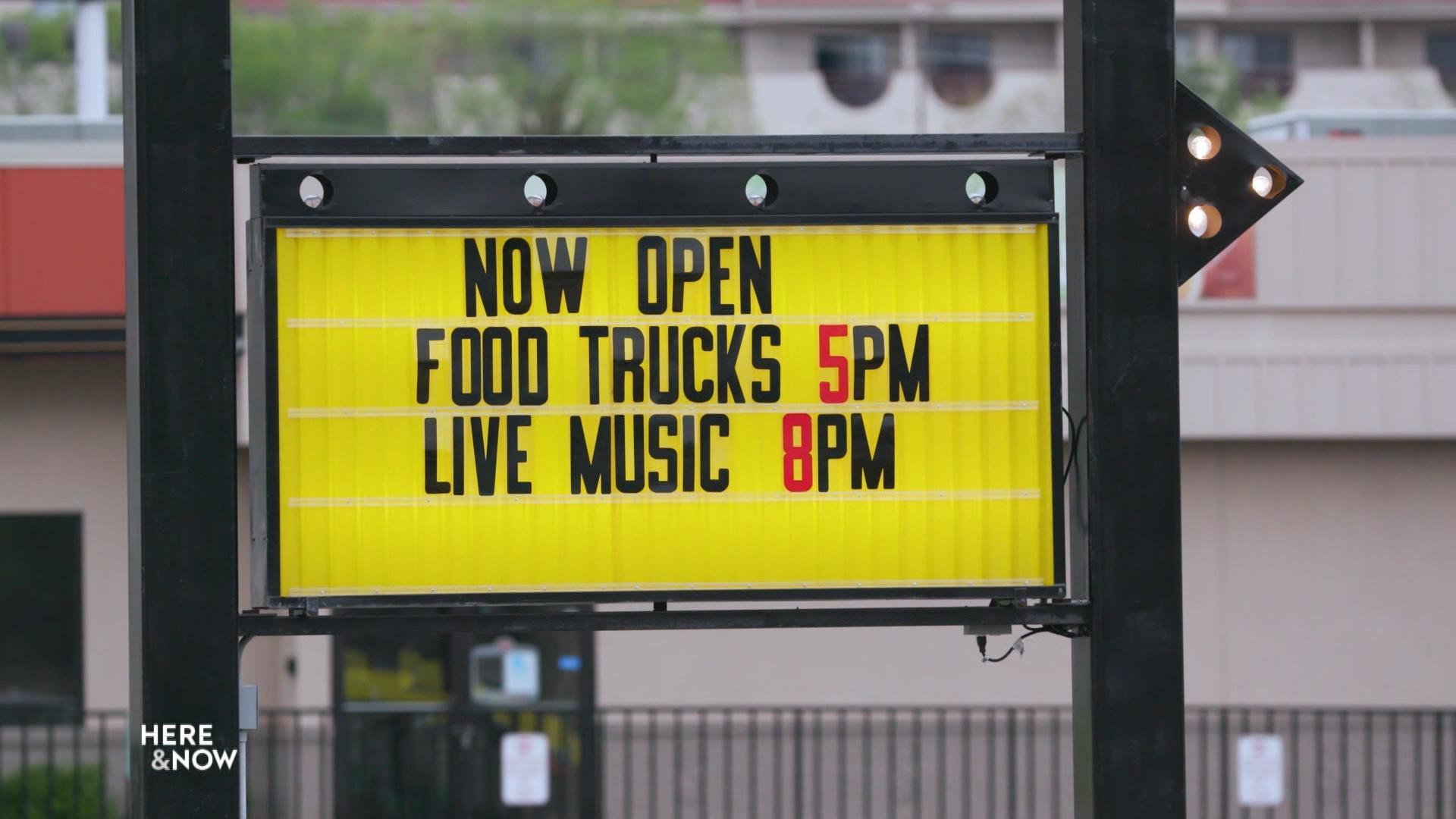 Wisconsin Dells Opens for Memorial Day
Businesses in the Wisconsin Dells would normally be gearing up for a busy tourism season, but now face a slow reopening due to the COVID-19 pandemic. Buffalo Phil's General Manager James Schmitz talks about what it was like to weather the early days of the pandemic and how the restaurant is moving forward to ensure customer confidence.
May 29, 2020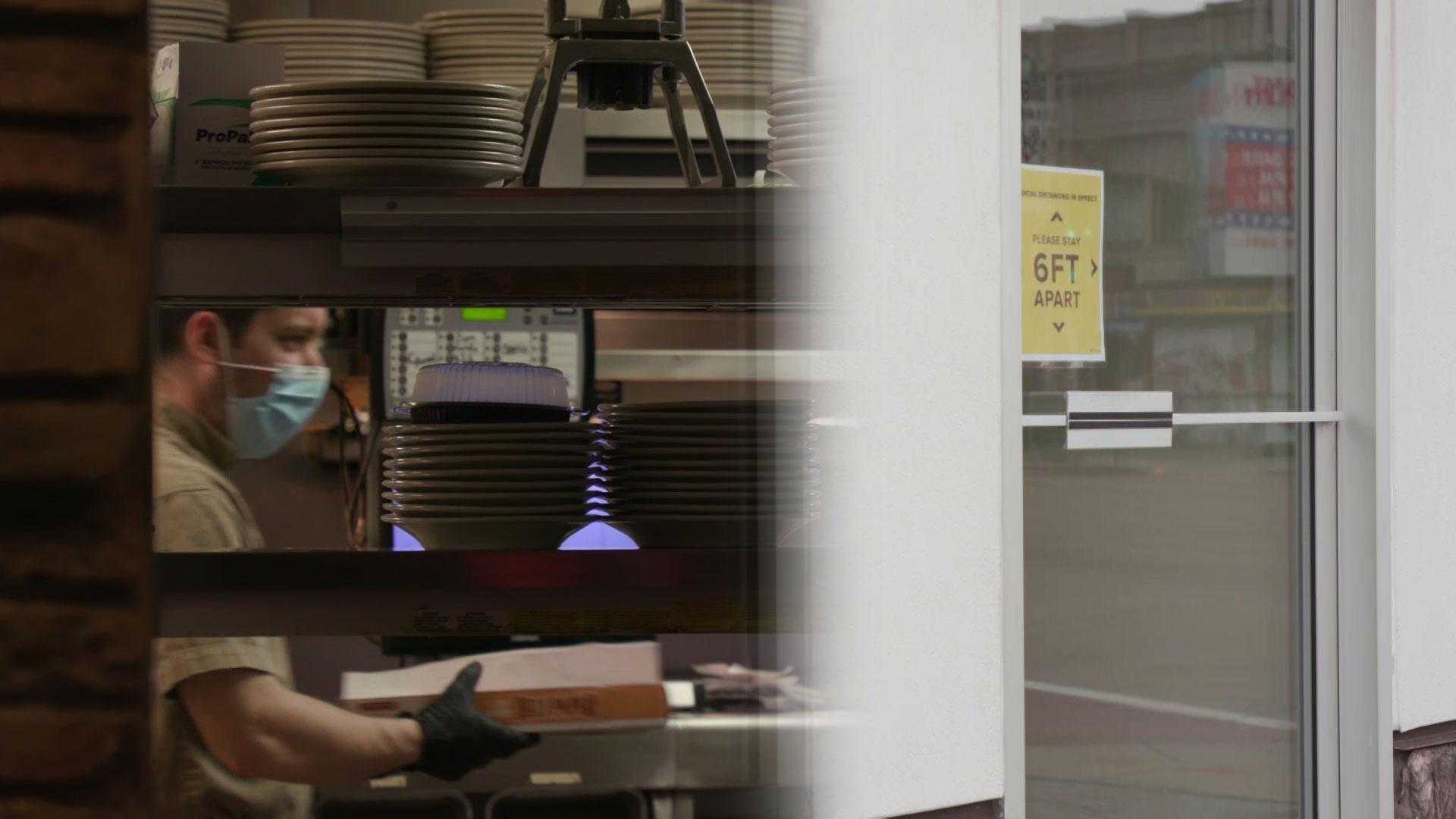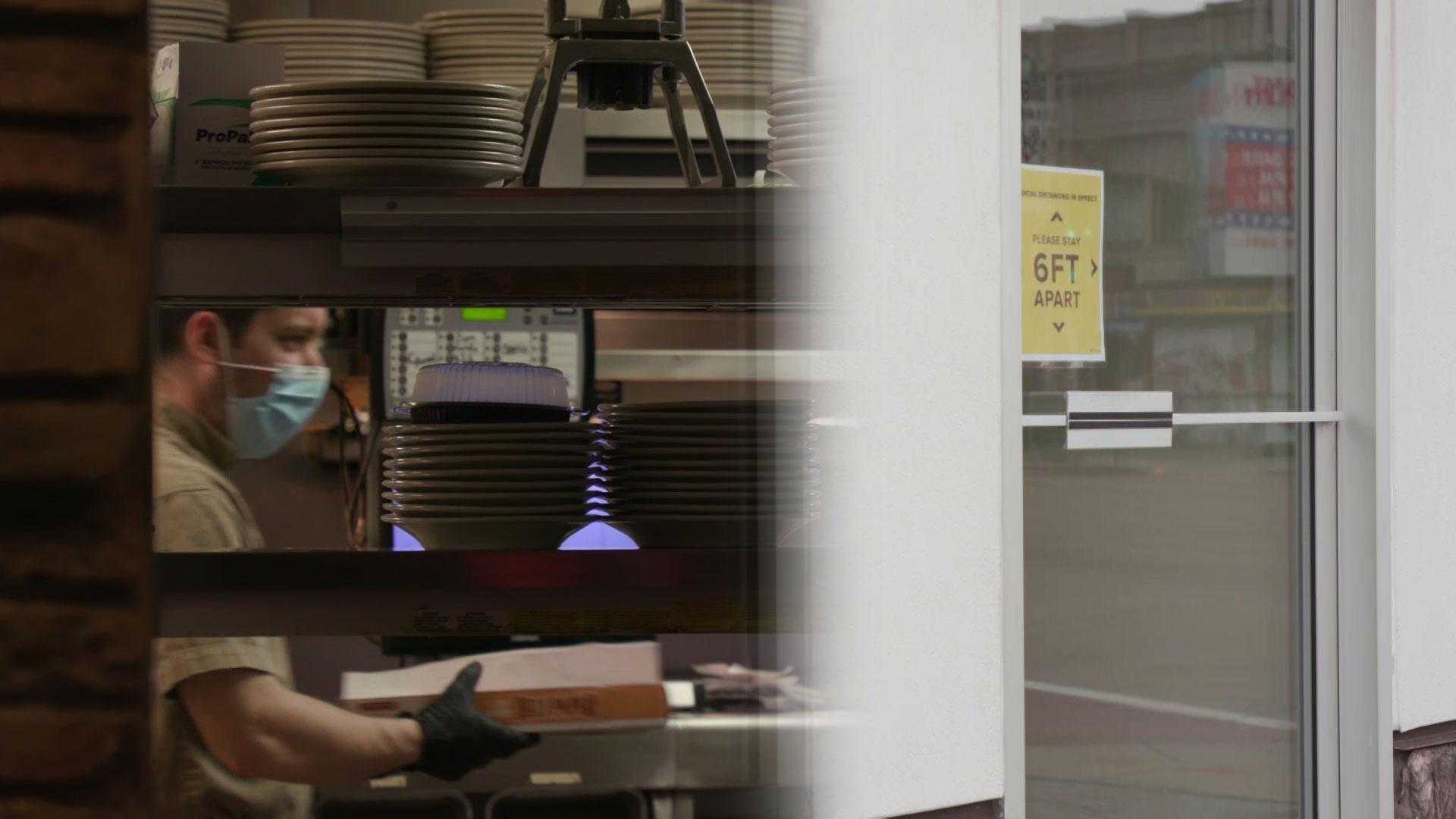 Wisconsin Dells Opens for Memorial Day
Businesses in the Wisconsin Dells would normally be gearing up for a busy tourism season, but now face a slow reopening due to the COVID-19 pandemic. Buffalo Phil's General Manager James Schmitz talks about what it was like to weather the early days of the pandemic and how the restaurant is moving forward to ensure customer confidence. (Videography by Lina Soblytė)
May 27, 2020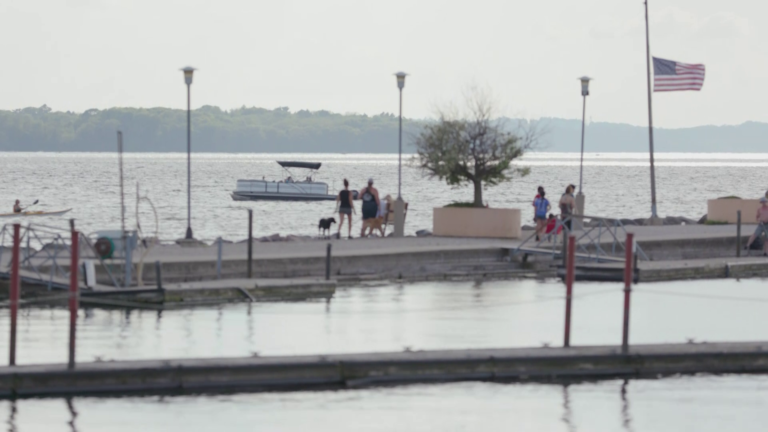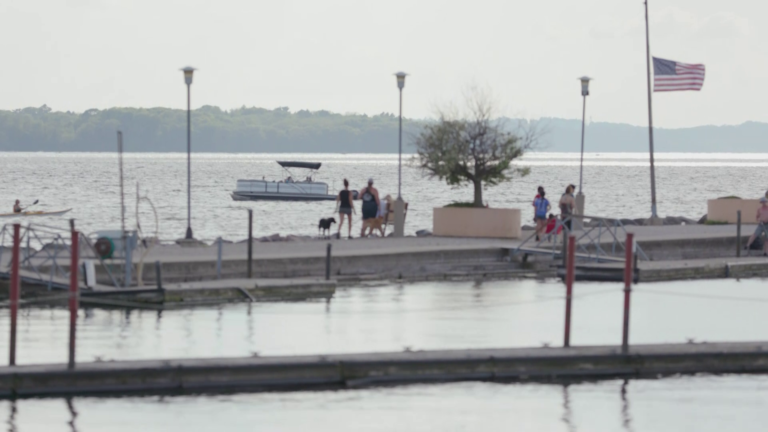 Wisconsinites Celebrate Memorial Day Amid COVID-19 Pandemic
Health officials urge social distancing as parts of the state are largely open, while business owners work to provide a clean experience and build customers' confidence.
May 26, 2020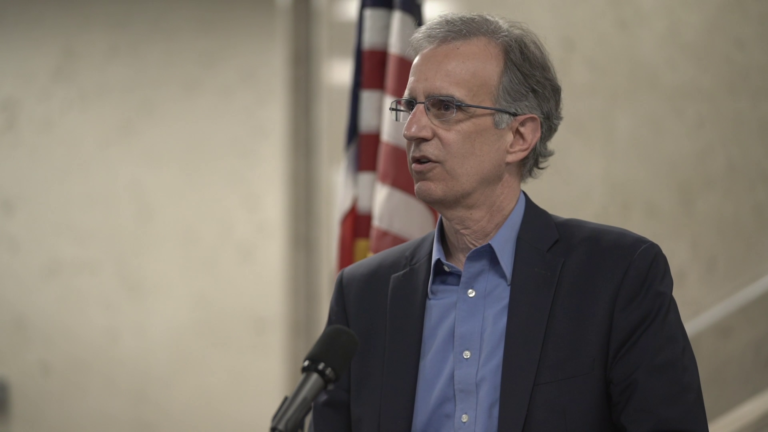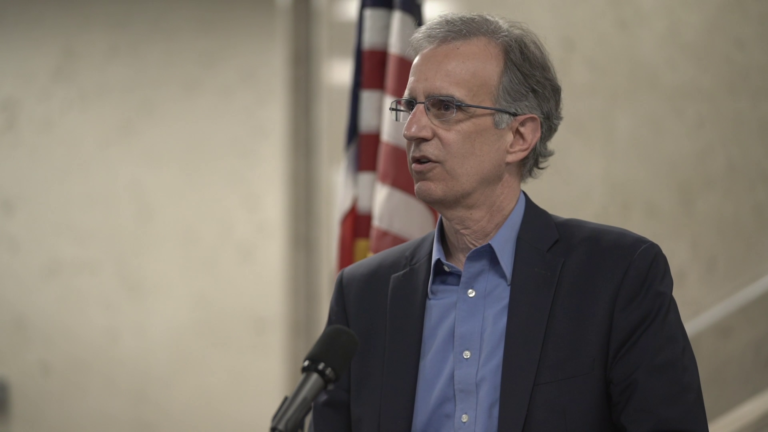 Dane County Loosens Restrictions as Counties Face Legal Challenge
Dane County announced Friday it would move to a "Phase 1" of reopening, allowing businesses to operate at 25% capacity and gatherings of up to 50 people outdoors.
May 22, 2020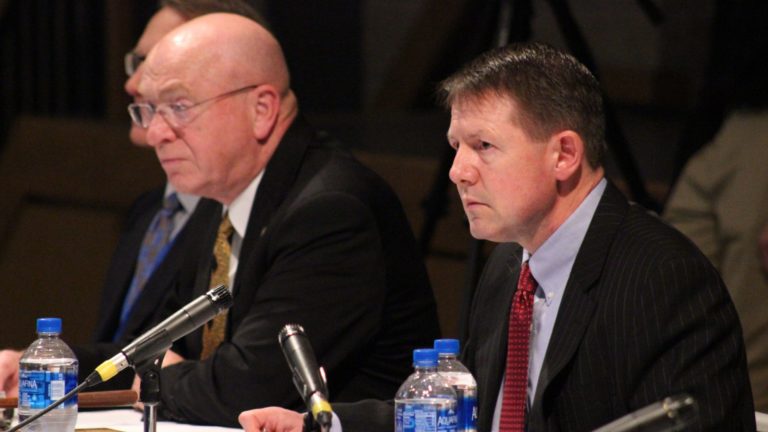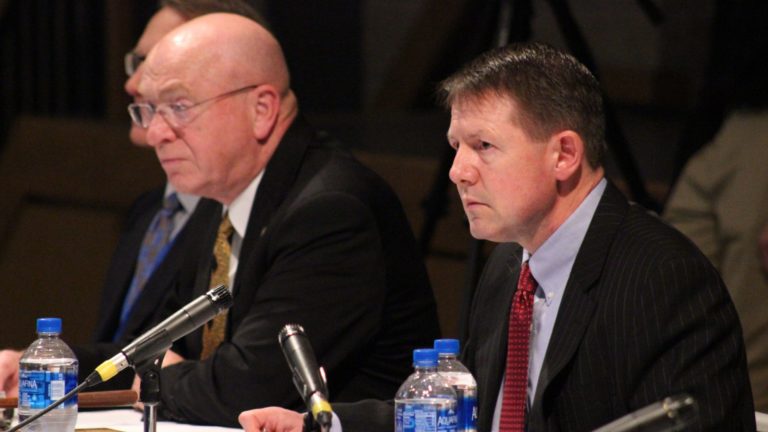 UW Leaders Work to Weather COVID-19 Pandemic
Among the sectors affected by the economic turmoil of the COVID-19 pandemic is the state's university system, prompting UW System President Ray Cross to release a scaling-down plan late last week. "The University of Wisconsin System must refine the missions of its comprehensive universities to provide greater institutional distinctiveness and ...
May 11, 2020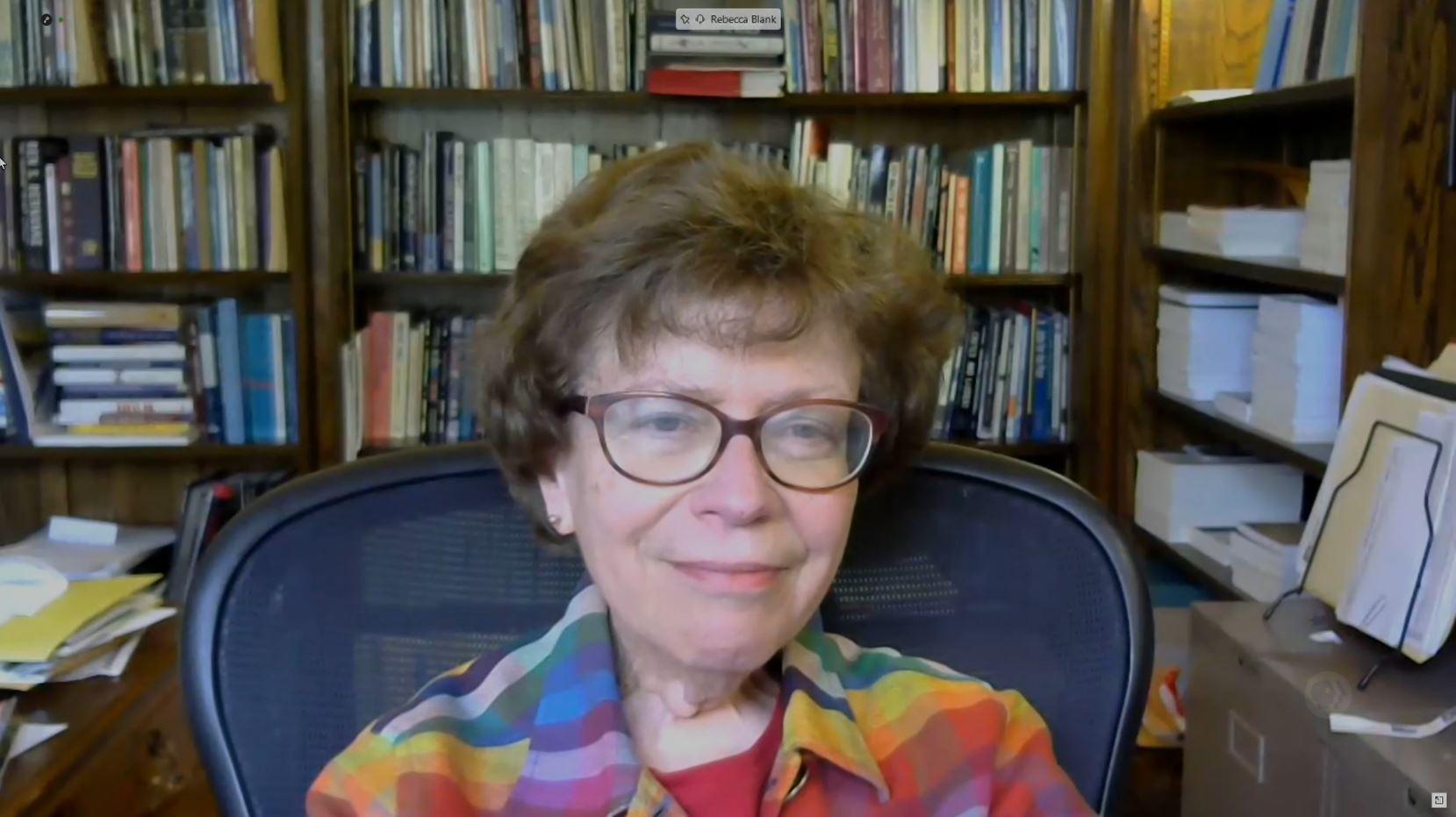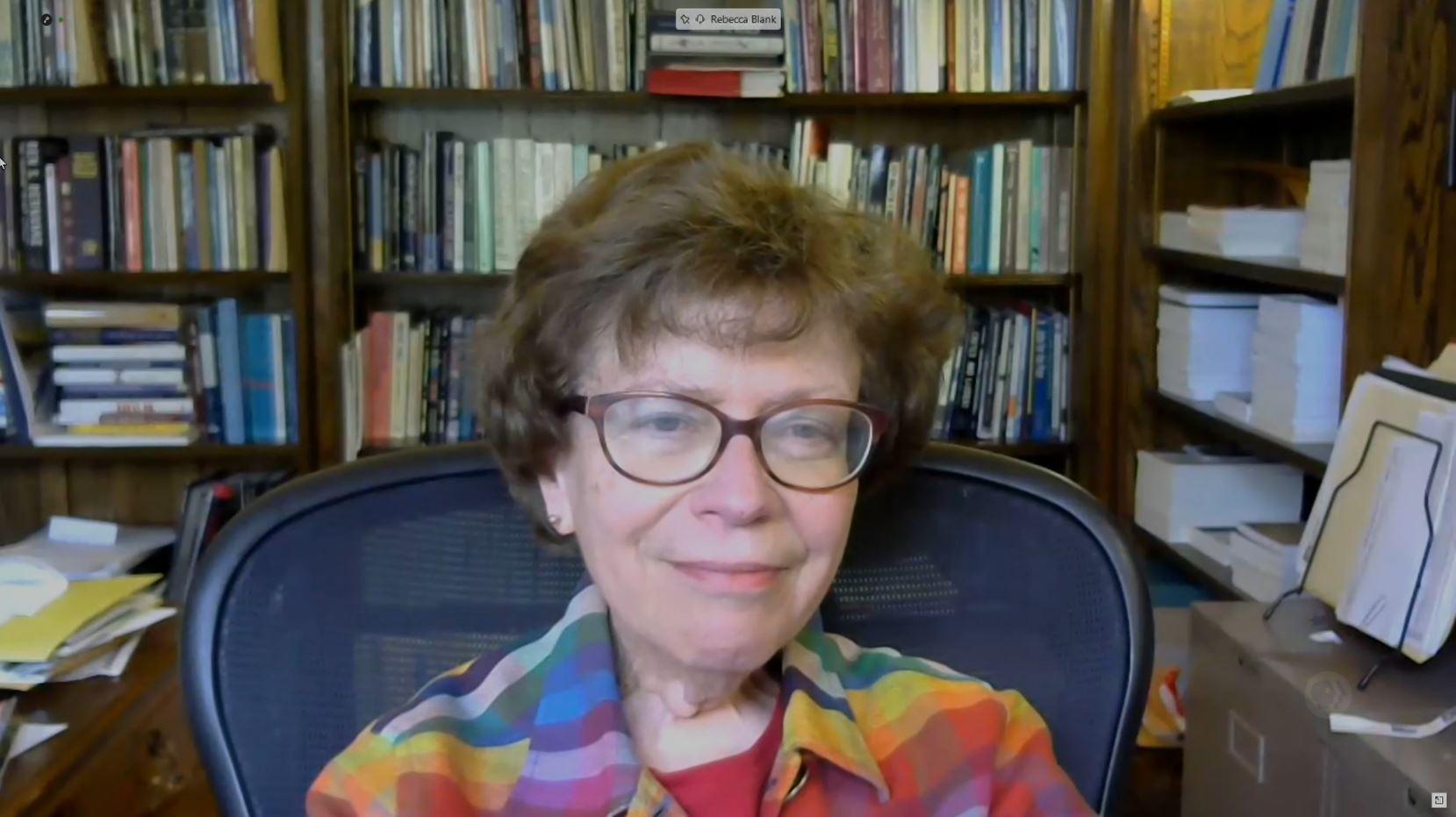 UW-Madison Chancellor Blank Addresses Impact of COVID-19
Rebecca Blank, University of Wisconsin-Madison Chancellor, discusses the impact COVID-19 is having on campus, furloughs, budget cuts, online classes, freshman enrollment, and what the situation might be like in the fall when classes resume.
May 8, 2020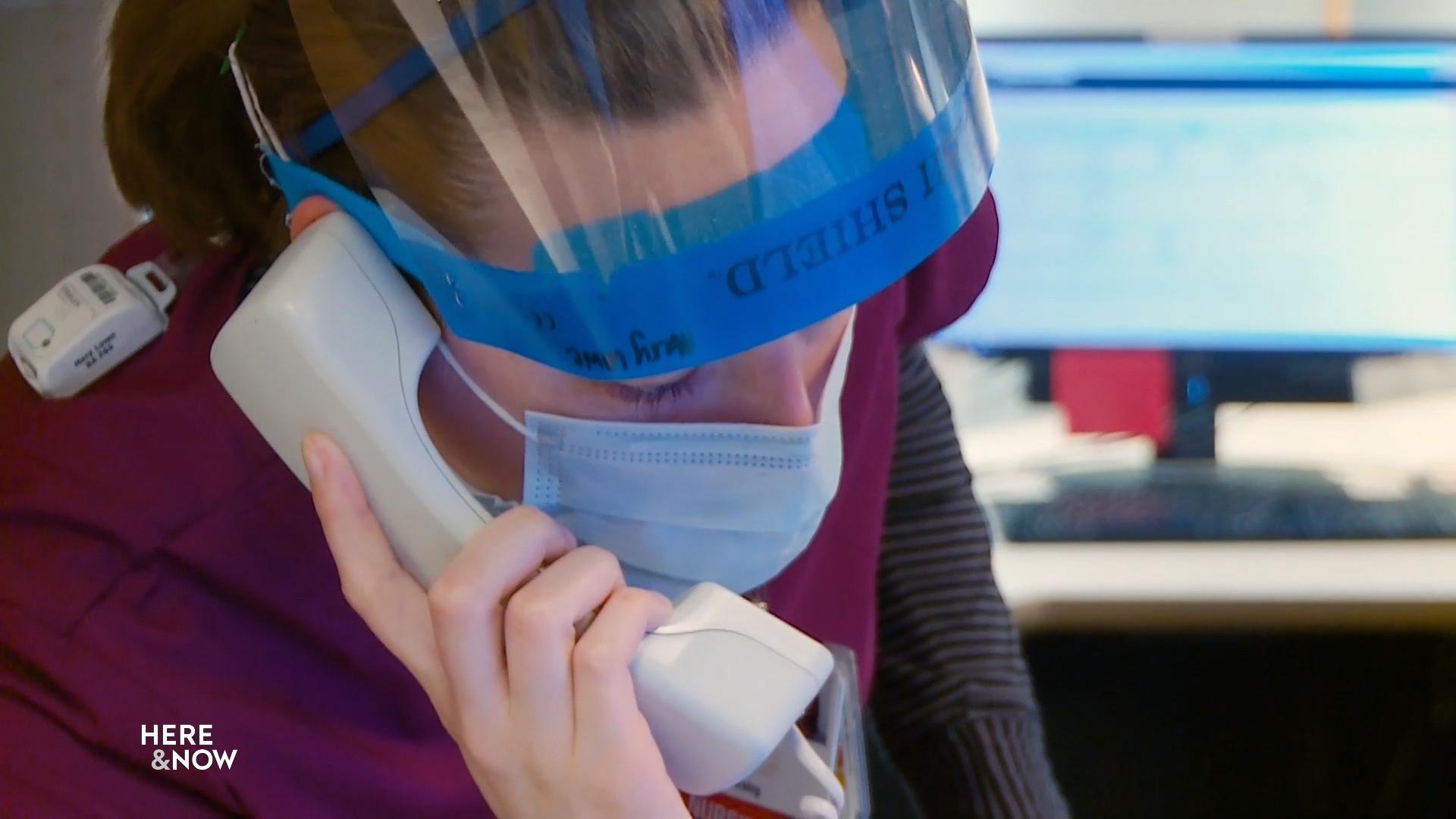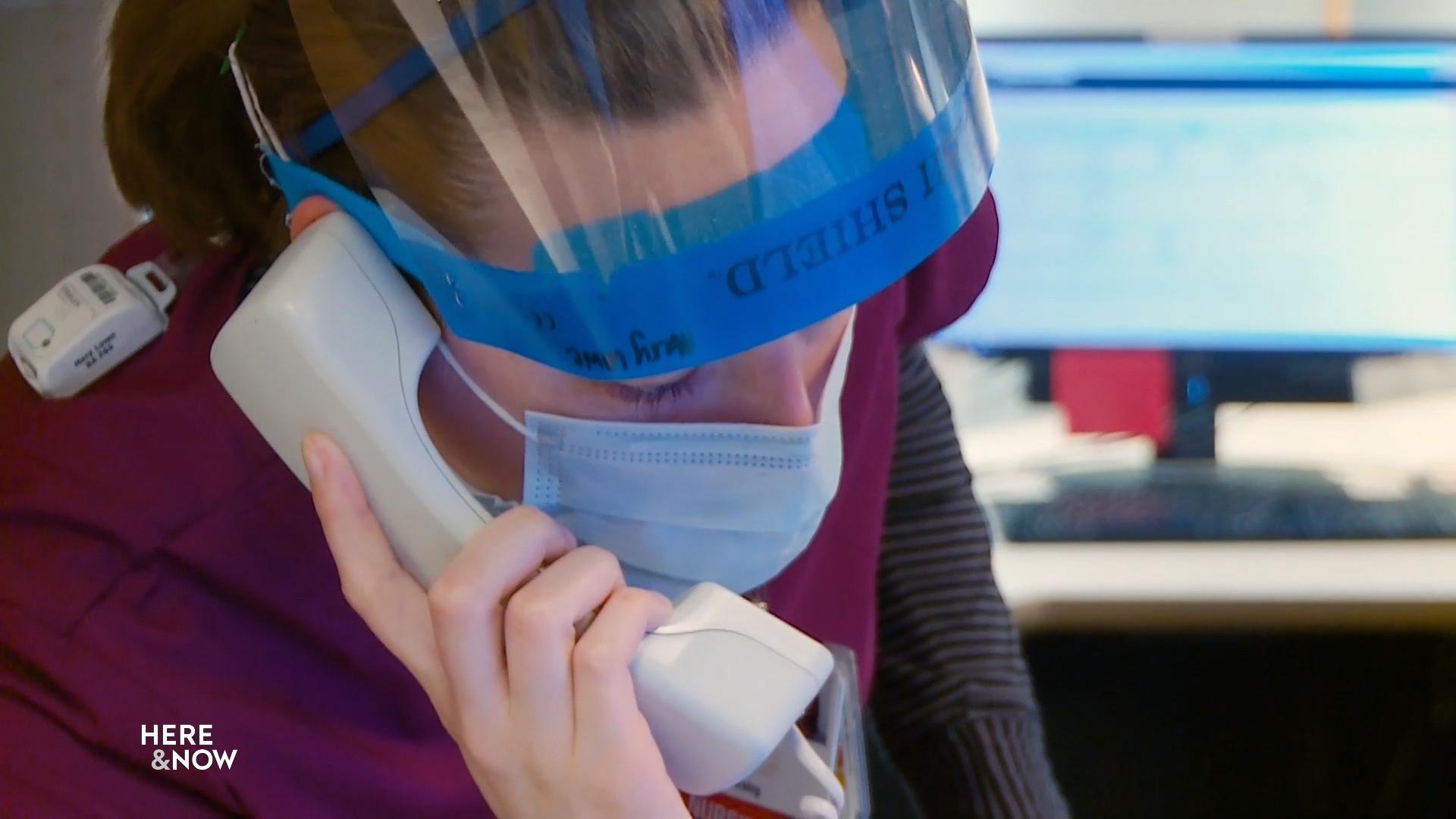 UW's Frontline Braces for the State to Reopen
A report on how workers on the front lines are continuing to save lives as the state prepares to reopen the economy. Healthcare workers in UW's Hospital's COVID-19 unit say the long hours and hard work are beginning to add up.
May 1, 2020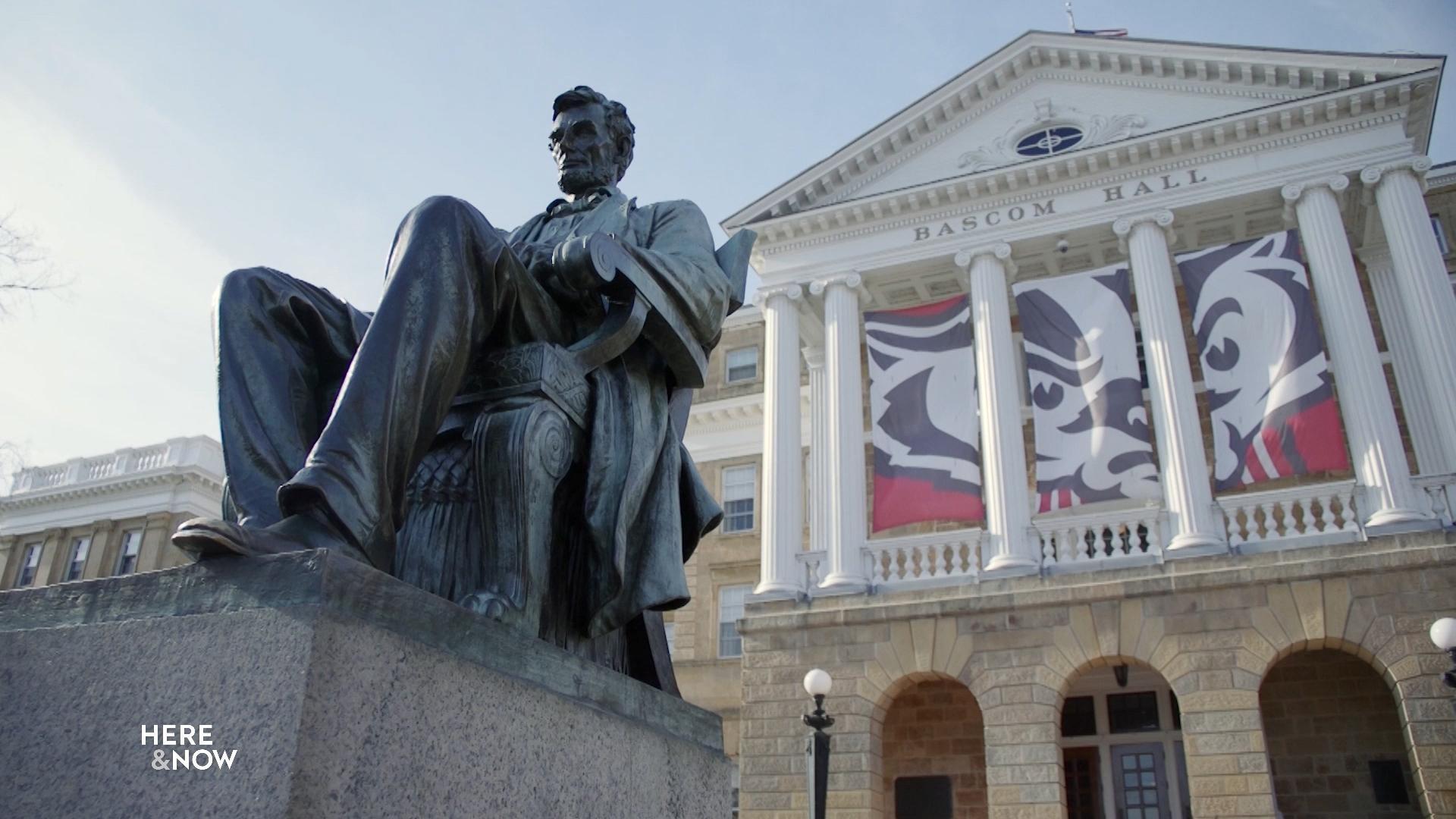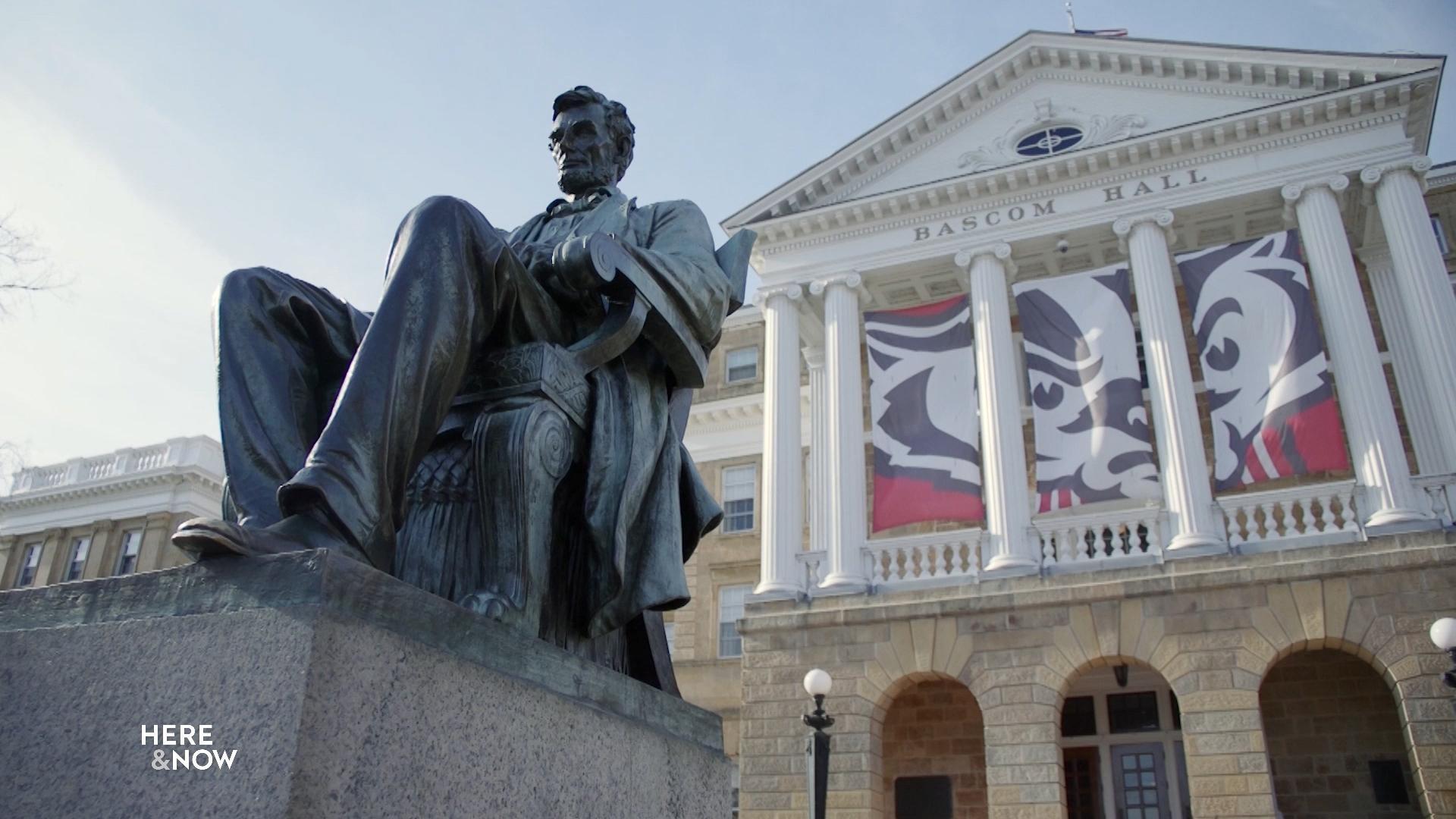 UW-Madison orders Furloughs to Cut Costs
Eleven UW System schools including LaCrosse, Oshkosh and Milwaukee announced furlough plans last week. The University of Wisconsin-Madison ordered furloughs for nearly 16,000 employees this week in the wake of the COVID-19 pandemic.
May 1, 2020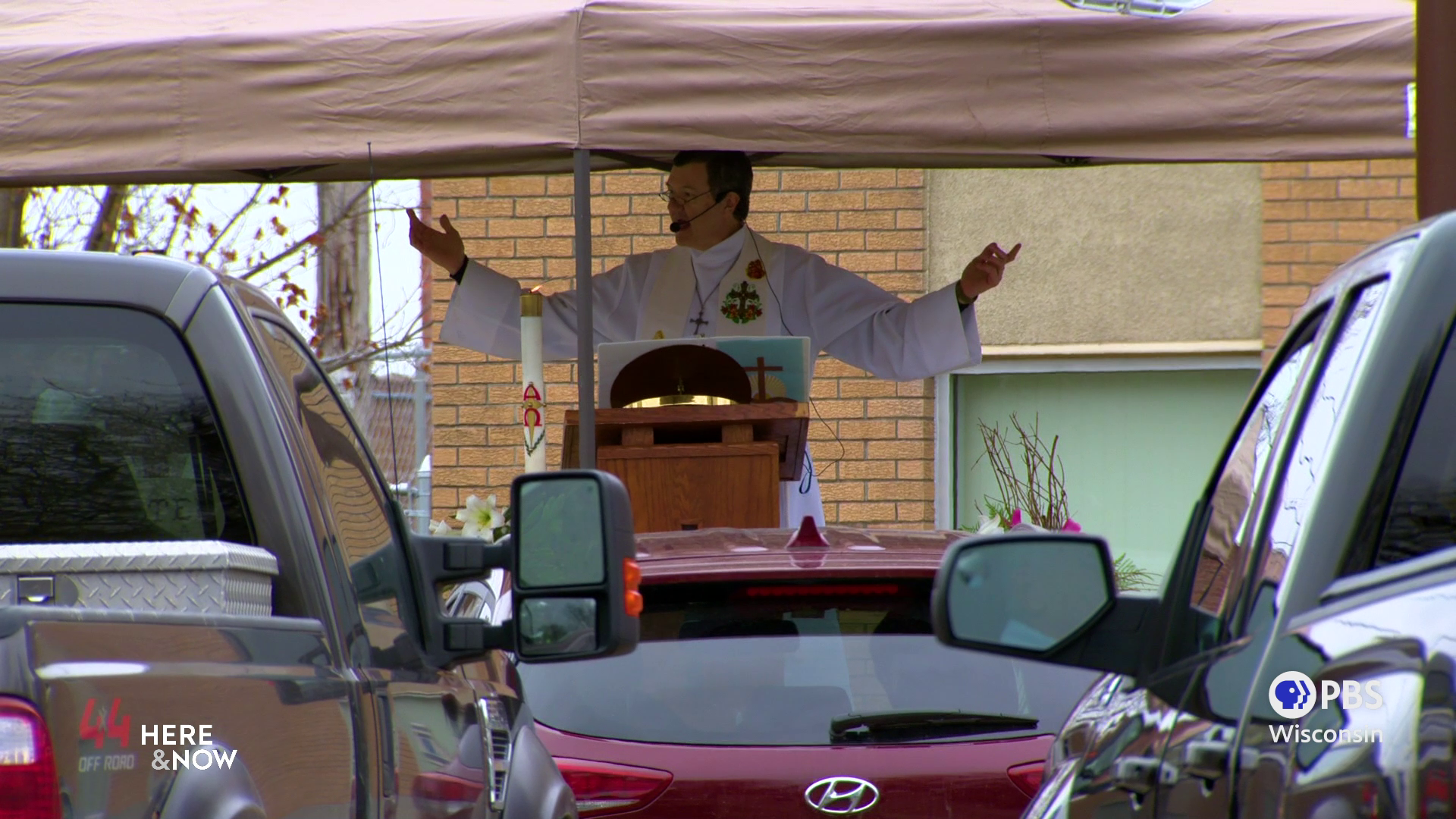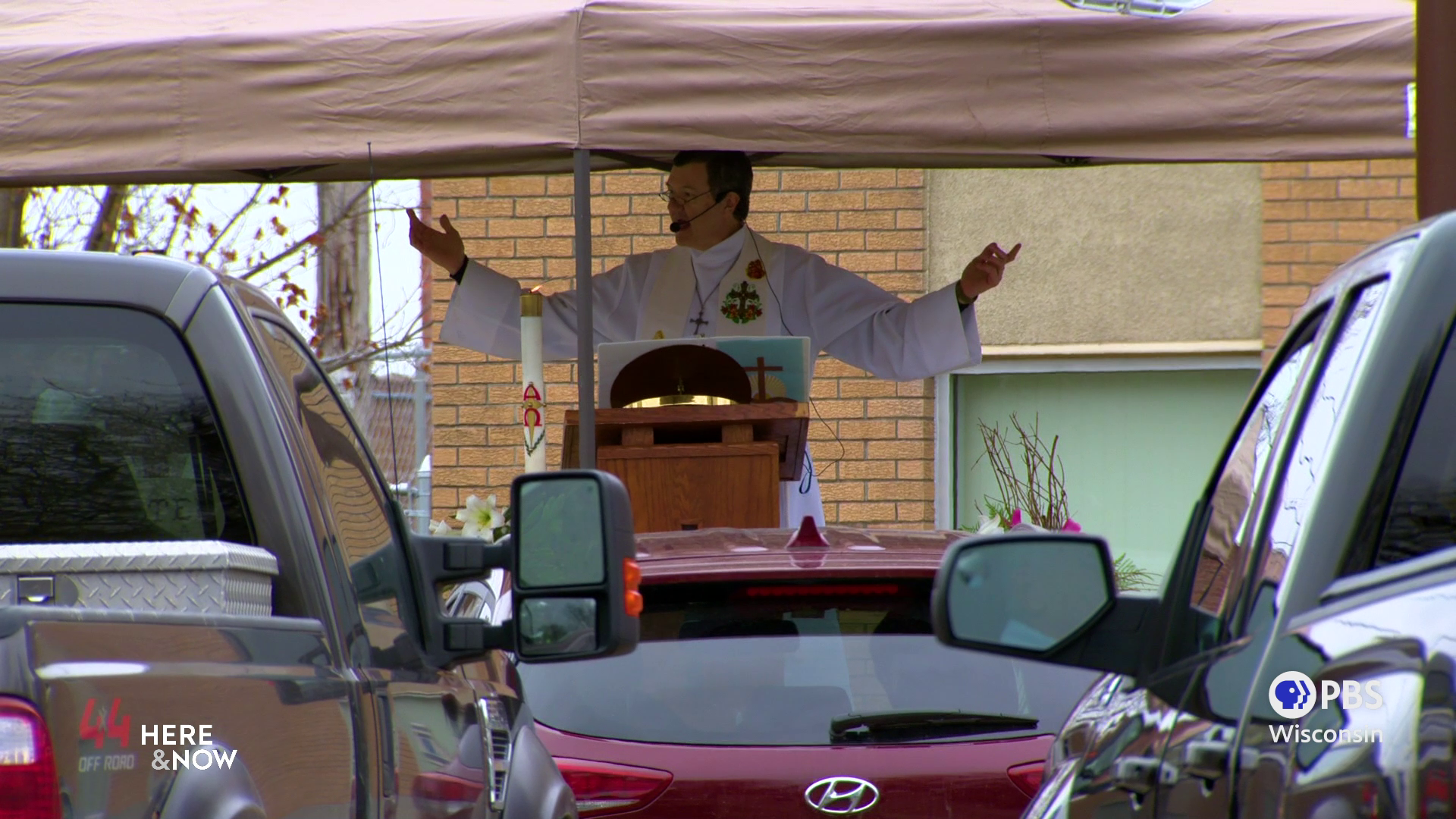 Congregations Find New Ways to Celebrate Faith
The outbreak of COVID-19 has made gathering together hard for many religious congregations, at a time when many need religion the most. Here & Now's Zac Schultz reports on how religious communities across the state are creating innovative ways to remain connected.
May 1, 2020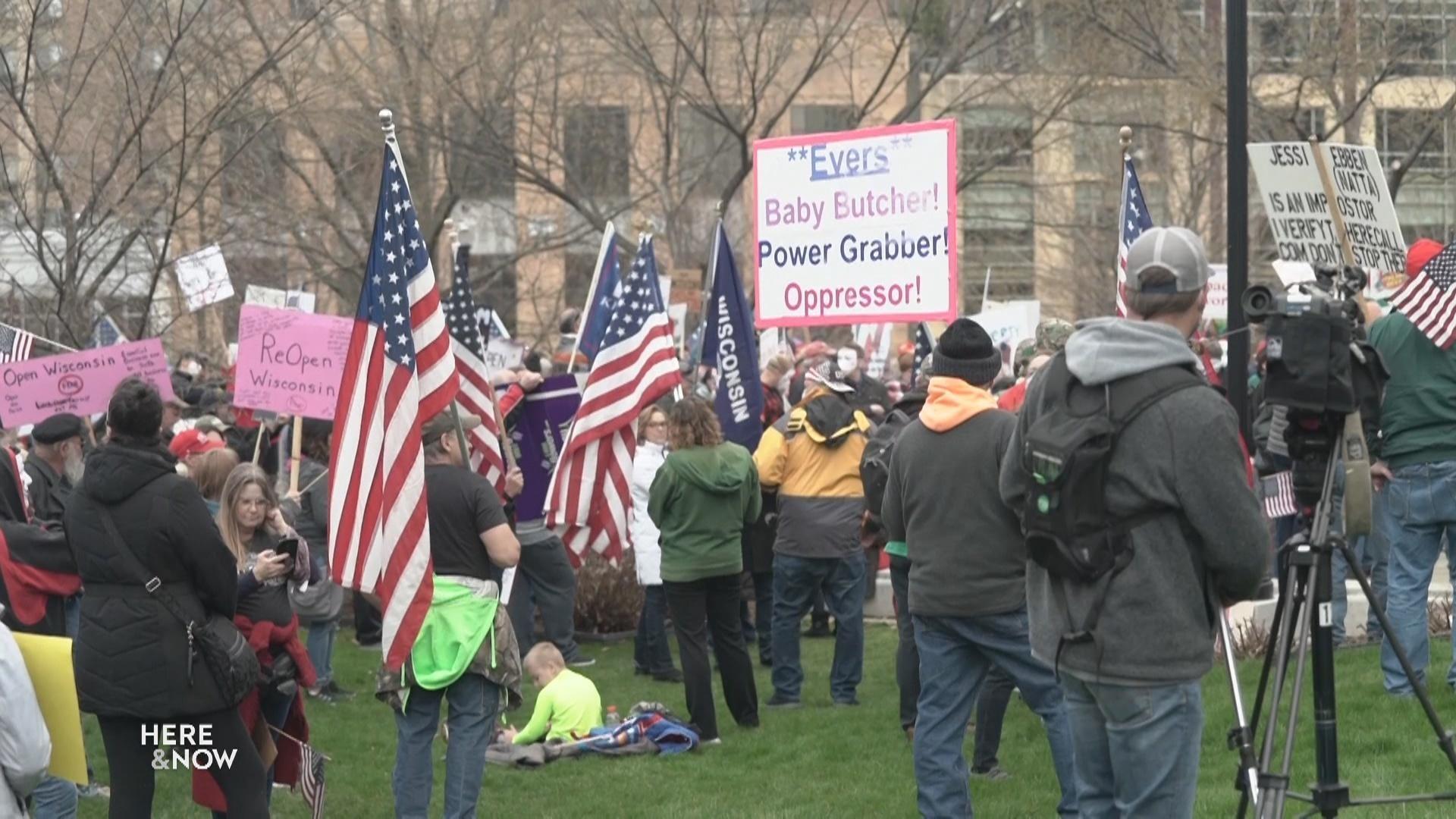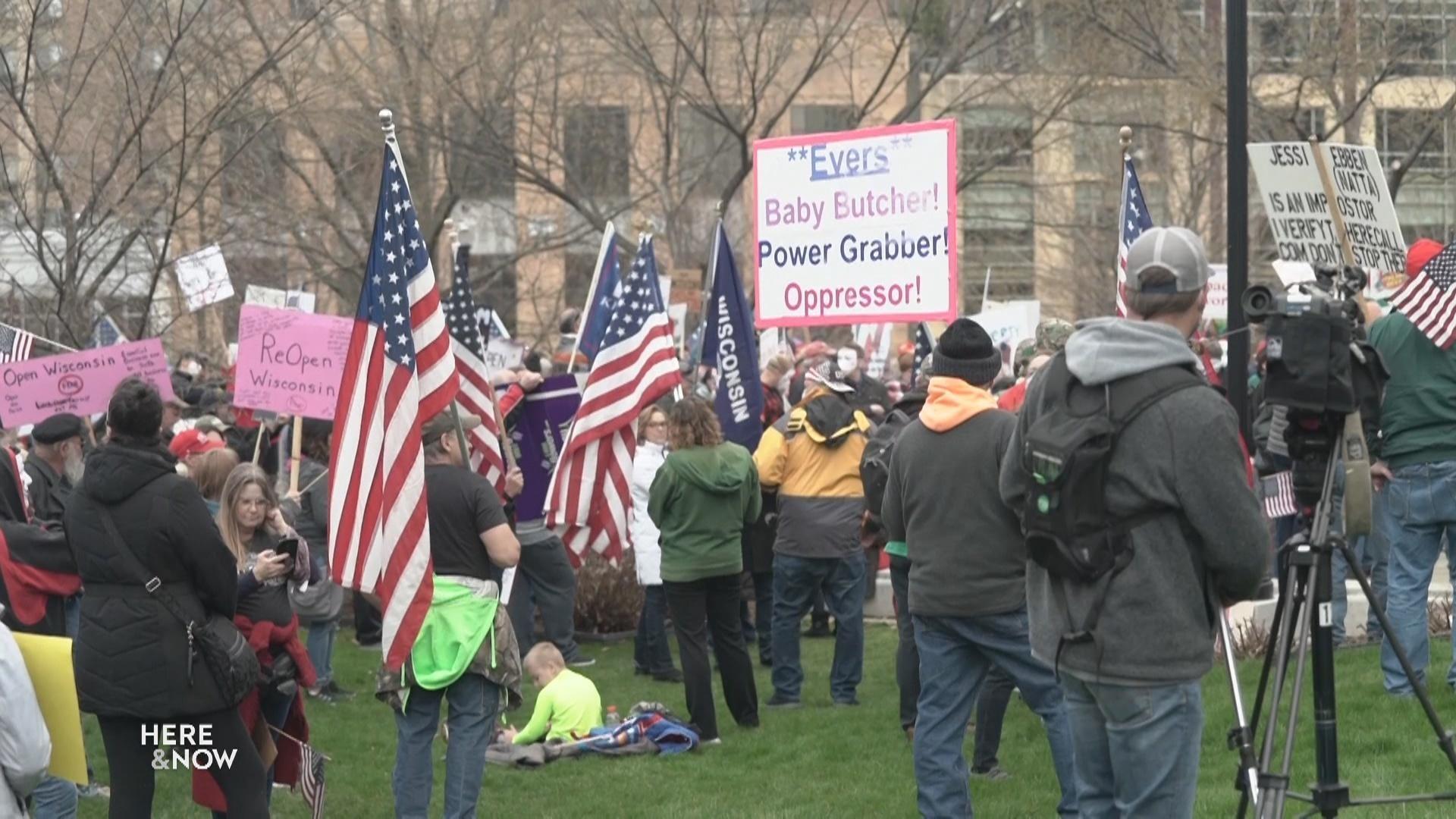 1,500 Rally at the State Capitol to Reopen Wisconsin
Protesters gathered at the state capitol demanding Wisconsin be reopened despite the governor's extended stay-at-home order. They are calling for Gov. Evers to open the state to allow economic activity to continue. As protesters rally at the capitol, Republican state legislators fight a similar battle in the state's Supreme Court to limit Evers' Safer at Home order.
April 24, 2020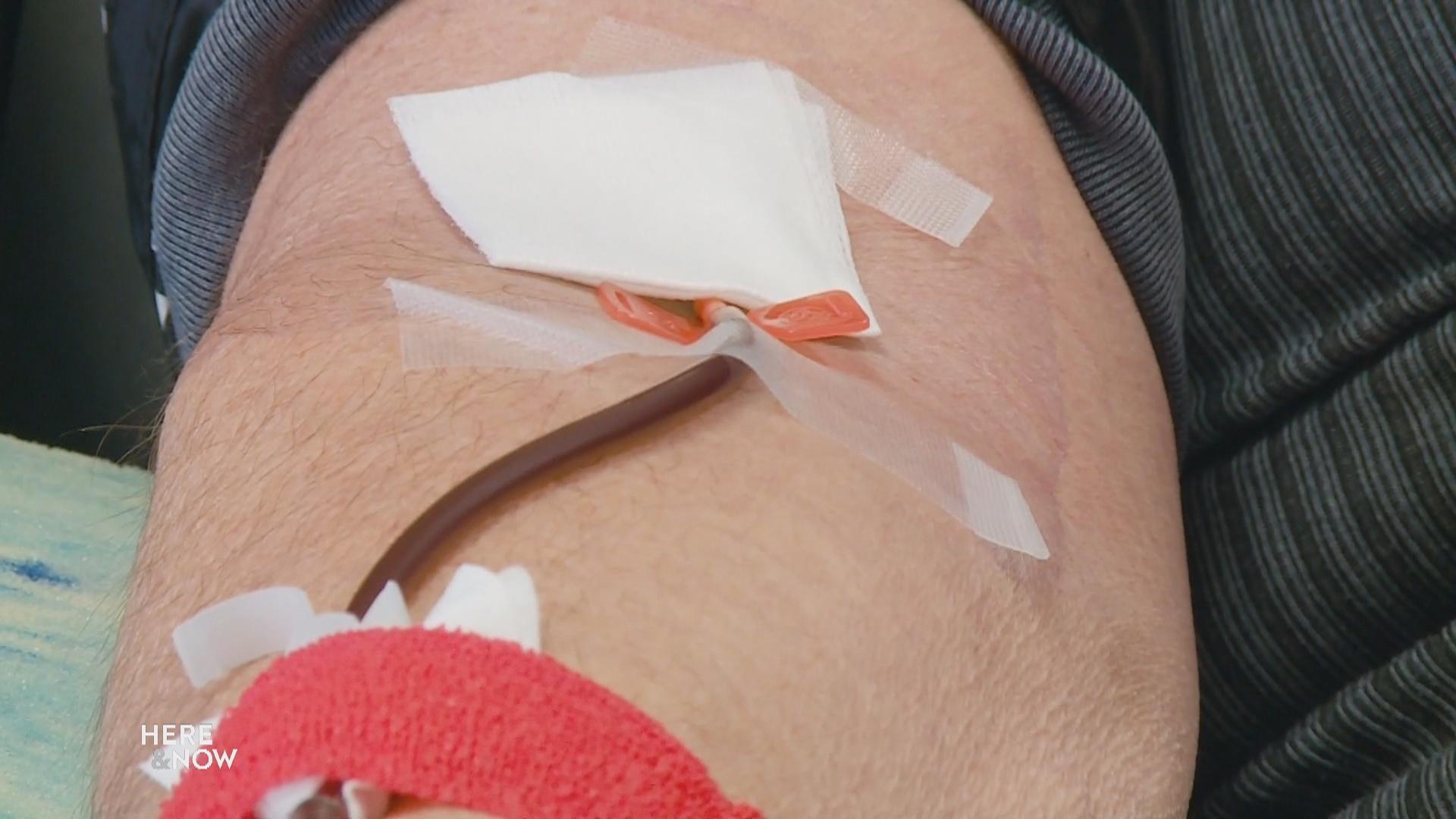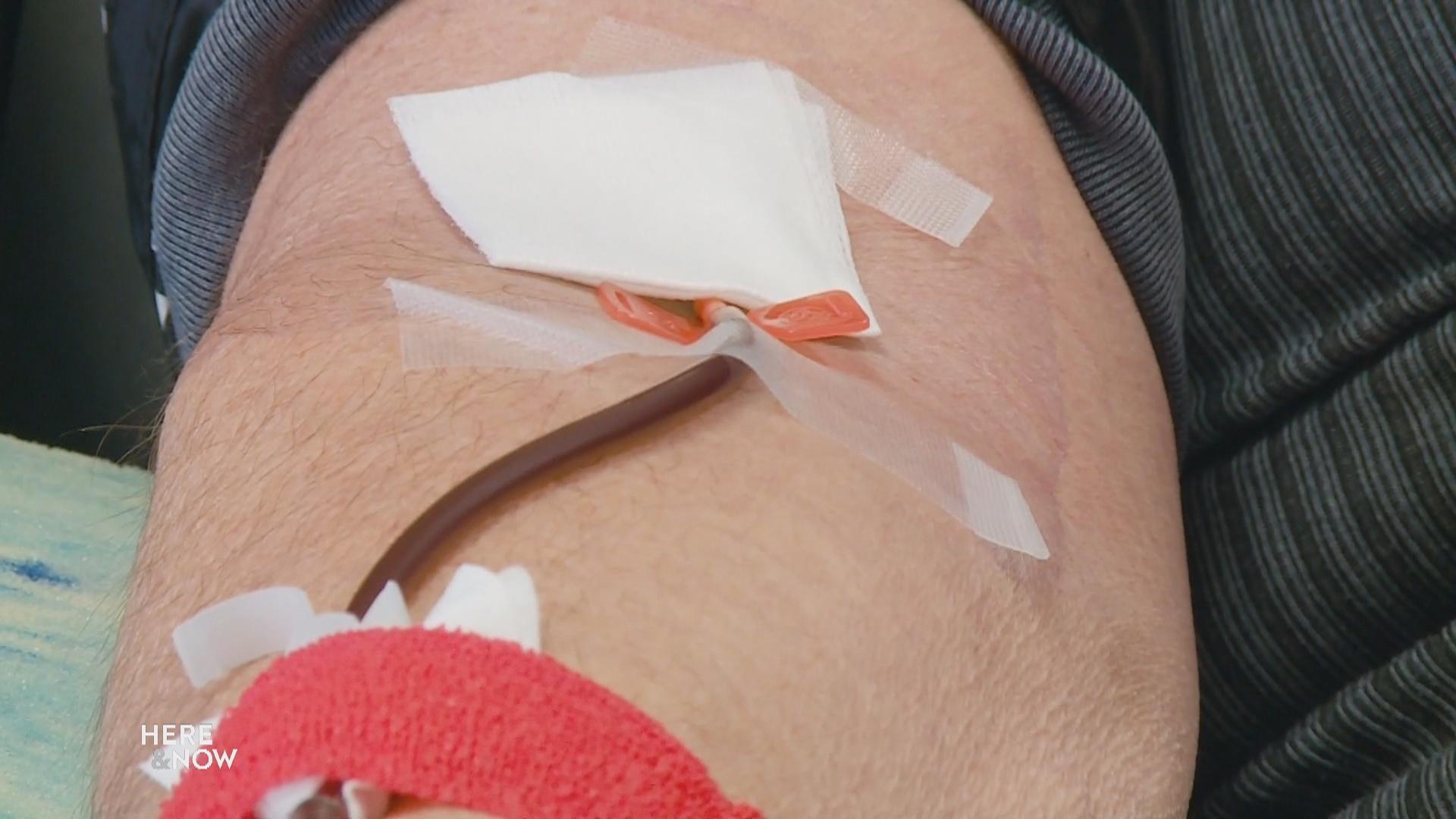 Recovered COVID-19 Patients Donate Plasma
Here & Now's Marisa Wojcik reports on how UW Hospital is using donor plasma to treat other seriously ill patients. Gary Dalgaard of Sun Prairie survived COVID-19 and is one of the first to offer his plasma in hopes of saving lives.
April 17, 2020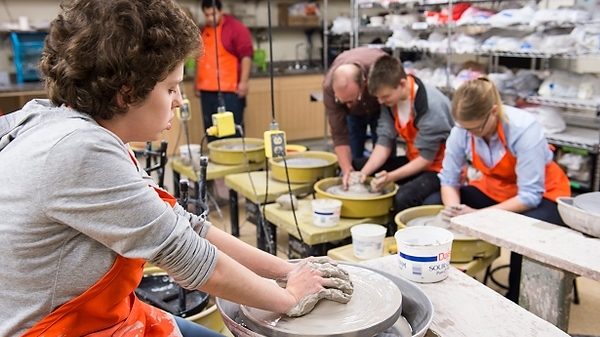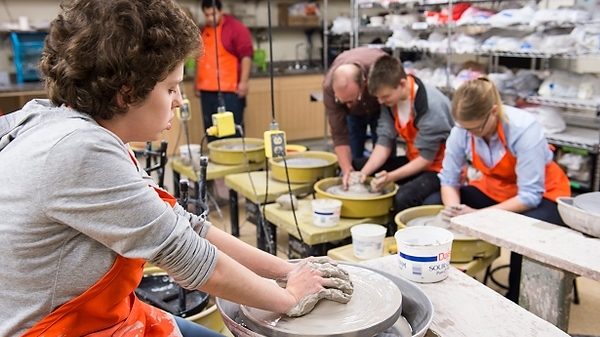 Nonprofit Sector to Be Challenged and Changed by COVID-19
Non-profit organizations face new challenges as the COVID-19 outbreak affects their daily operations and bottom line.
April 14, 2020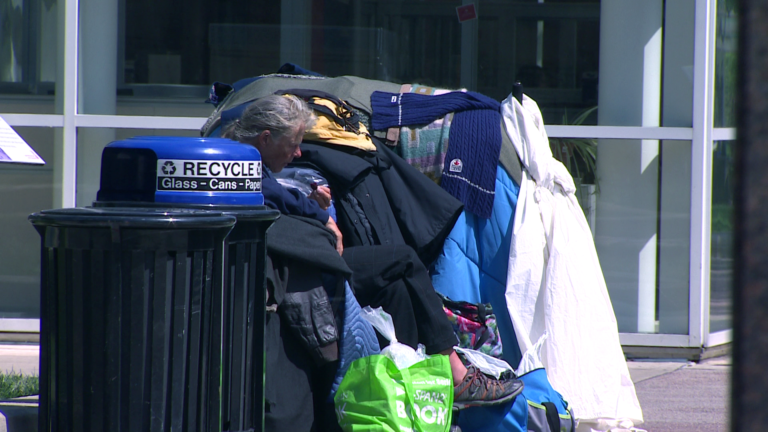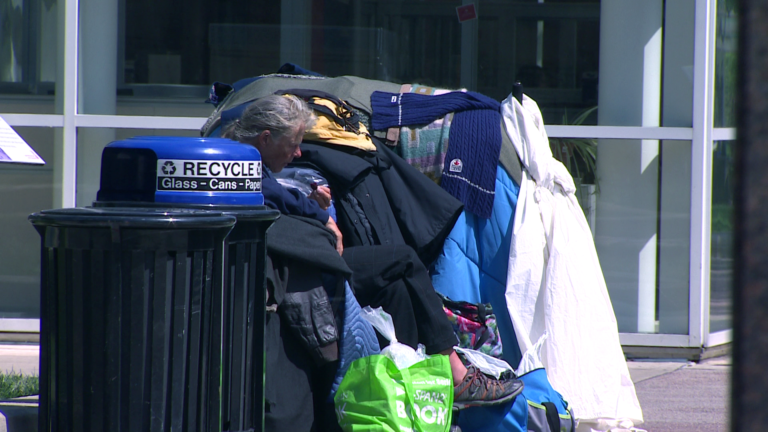 Wisconsin Bands Together to Address Homelessness and COVID-19
Advocacy groups in Wisconsin work to help the homeless amid the COVID-19 pandemic.
April 11, 2020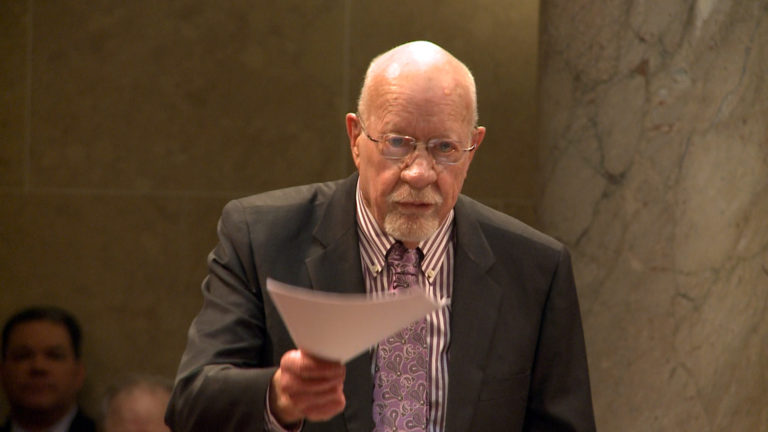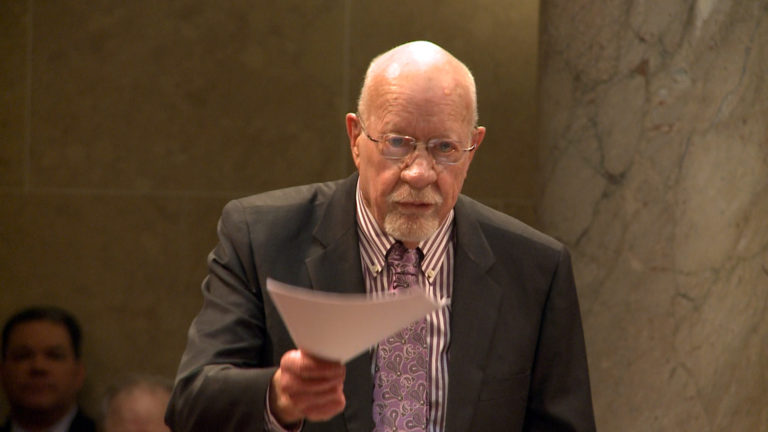 America's Longest-Serving Legislator, Fred Risser, Retires
Wisconsin's, and the nation's, longest-serving legislator Sen. Fred Risser, D-Madison, announced Thursday he will retire after serving 64 years in the state legislature.  The 92-year-old was first elected to the Assembly in 1956, and won a Senate seat in 1962. According to a release from his office, Risser served under ...
March 26, 2020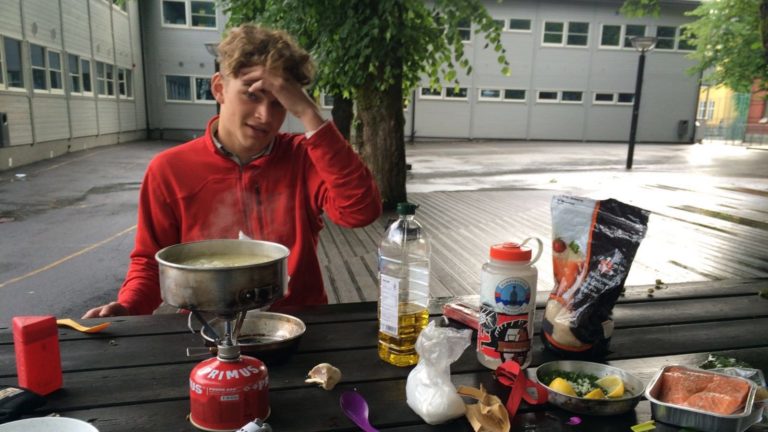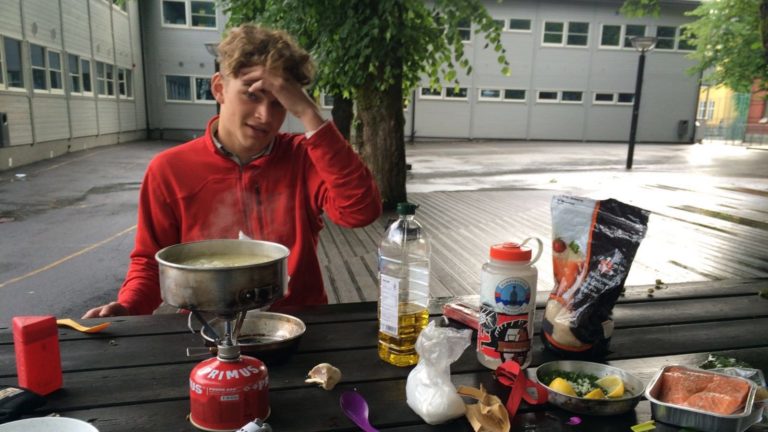 Wisconsinites Stuck in Peru During Coronavirus Lockdown
With Peru on a coronavirus lockdown, Wisconsinites struggle to return home.
March 24, 2020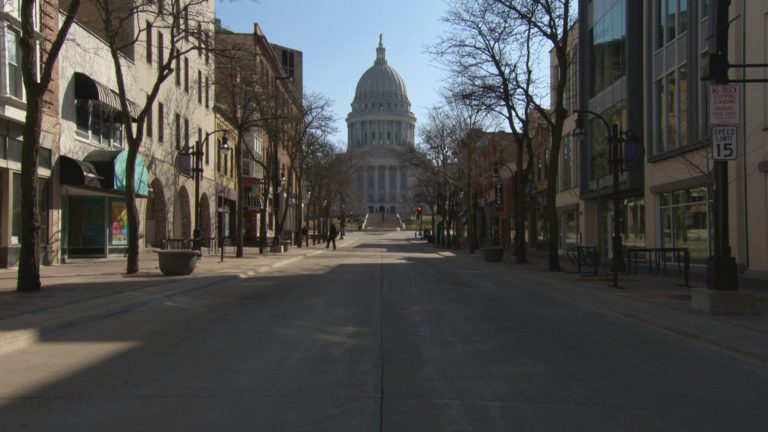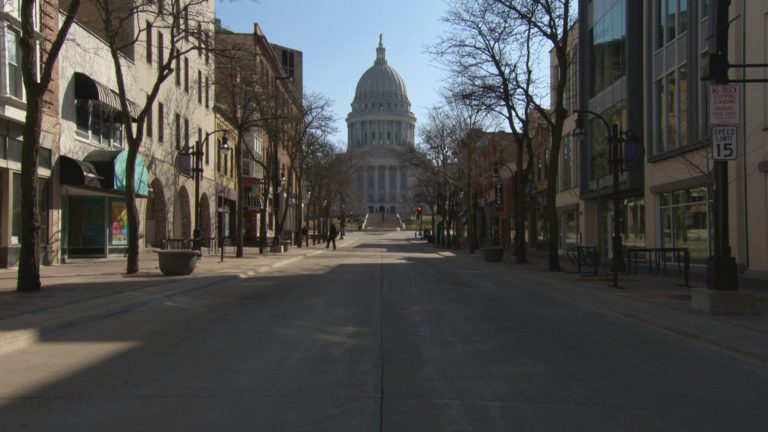 Workers Feel Pressure from Coronavirus
It's something you'd never expect to find in a city, the sound of silence. A surreal scene that played out across Wisconsin this week: bars, museums, performance venues, all closed. Savannah Bierma works part-time for the Pabst Theater Group in Milwaukee. They have cancelled all events through May 15. That ...
March 20, 2020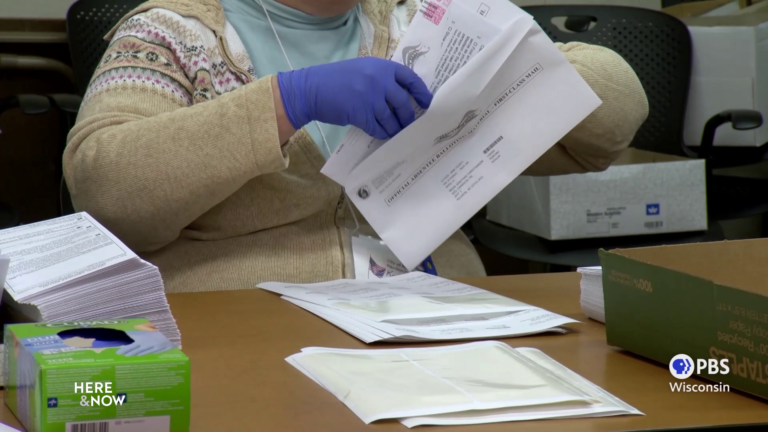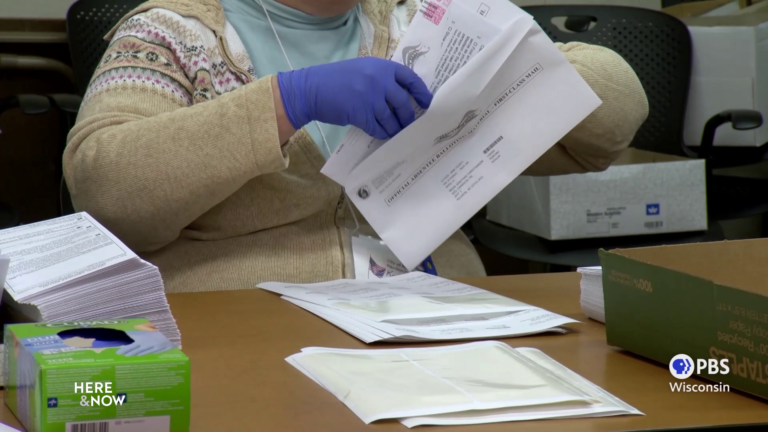 Absentee Requests Rise Amid Coronavirus Concerns
The covid-19 emergency has Republican and Democratic leaders asking for election rules to be changed. Here & Now's Zac Schultz reports on how the clerks are doing their best to make it all work.
March 19, 2020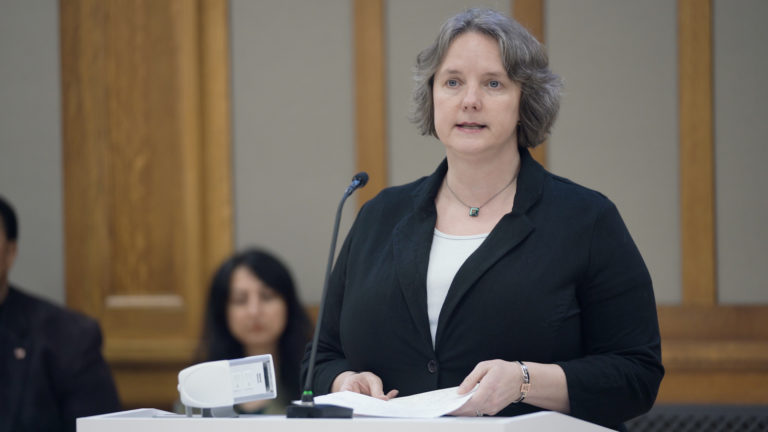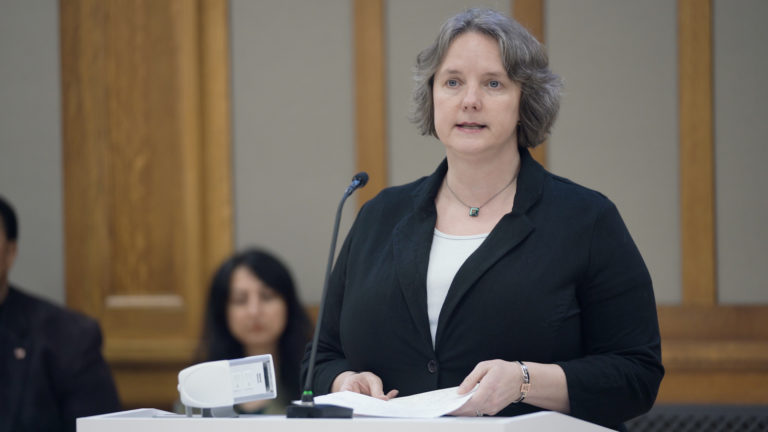 New Dane County Restrictions, Fond du Lac Numbers, Voting in Milwaukee
With new state numbers, Wisconsin has 33 confirmed cases of novel coronavirus. In response, Dane County announces new restrictions on public gatherings.
March 15, 2020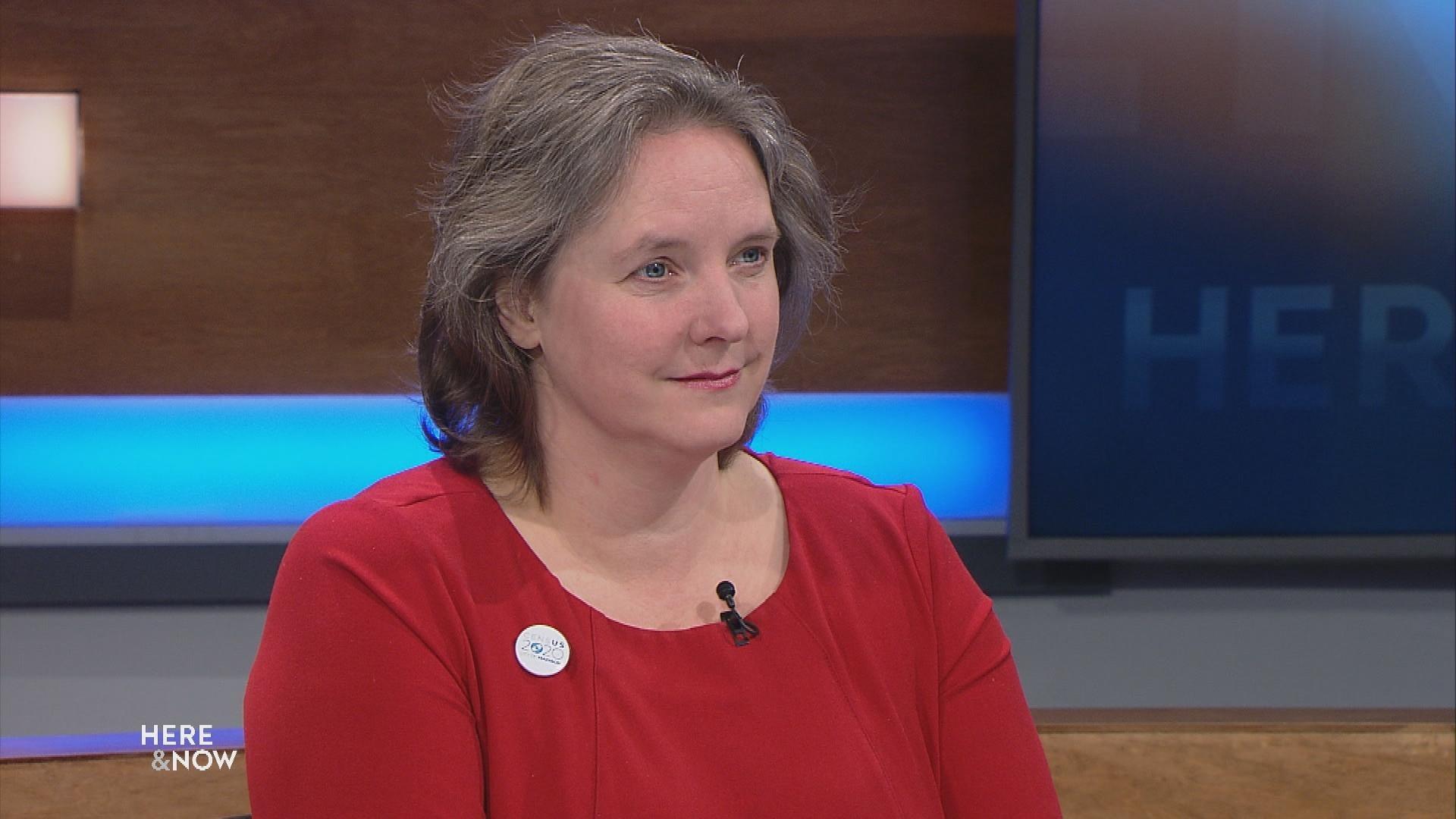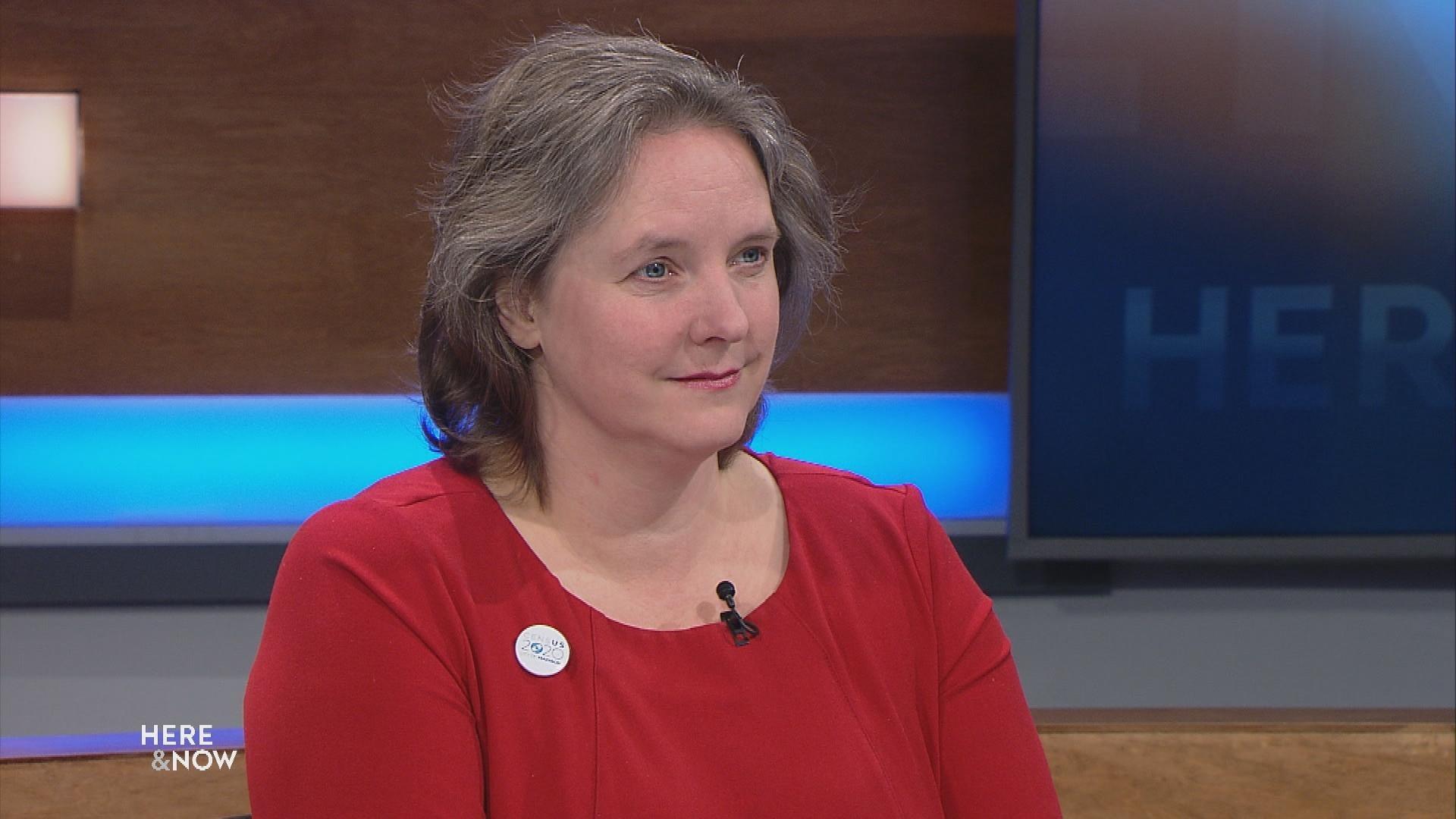 Census 2020: How Do Communities Get Accurate Counts?
By mid-March, households across the U.S. and here in Wisconsin will start getting 2020 Census bureau information in the mail. Madison Mayor Satya Rhodes Conway discusses Census 2020 application and efforts to get people more involved.
February 21, 2020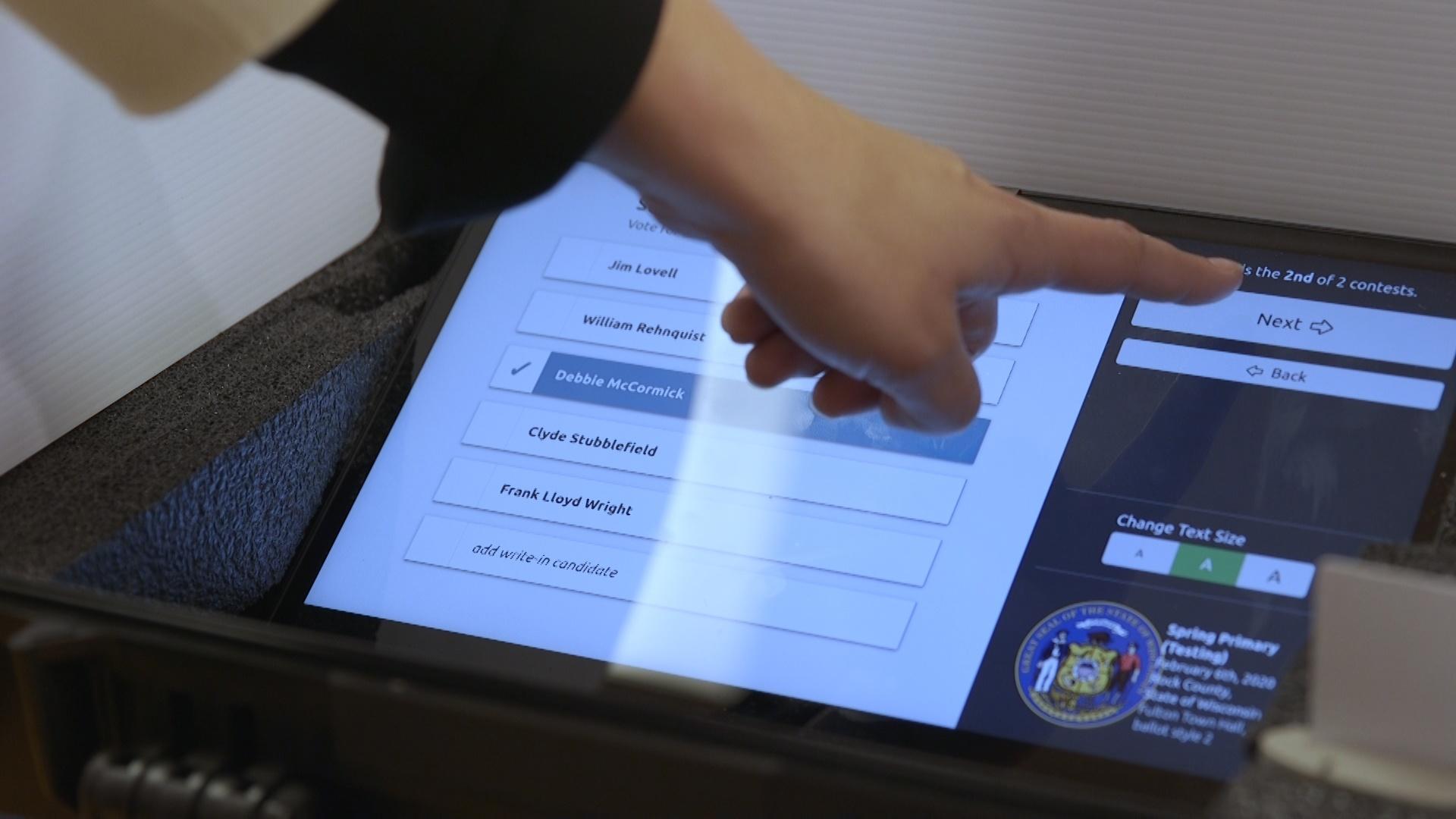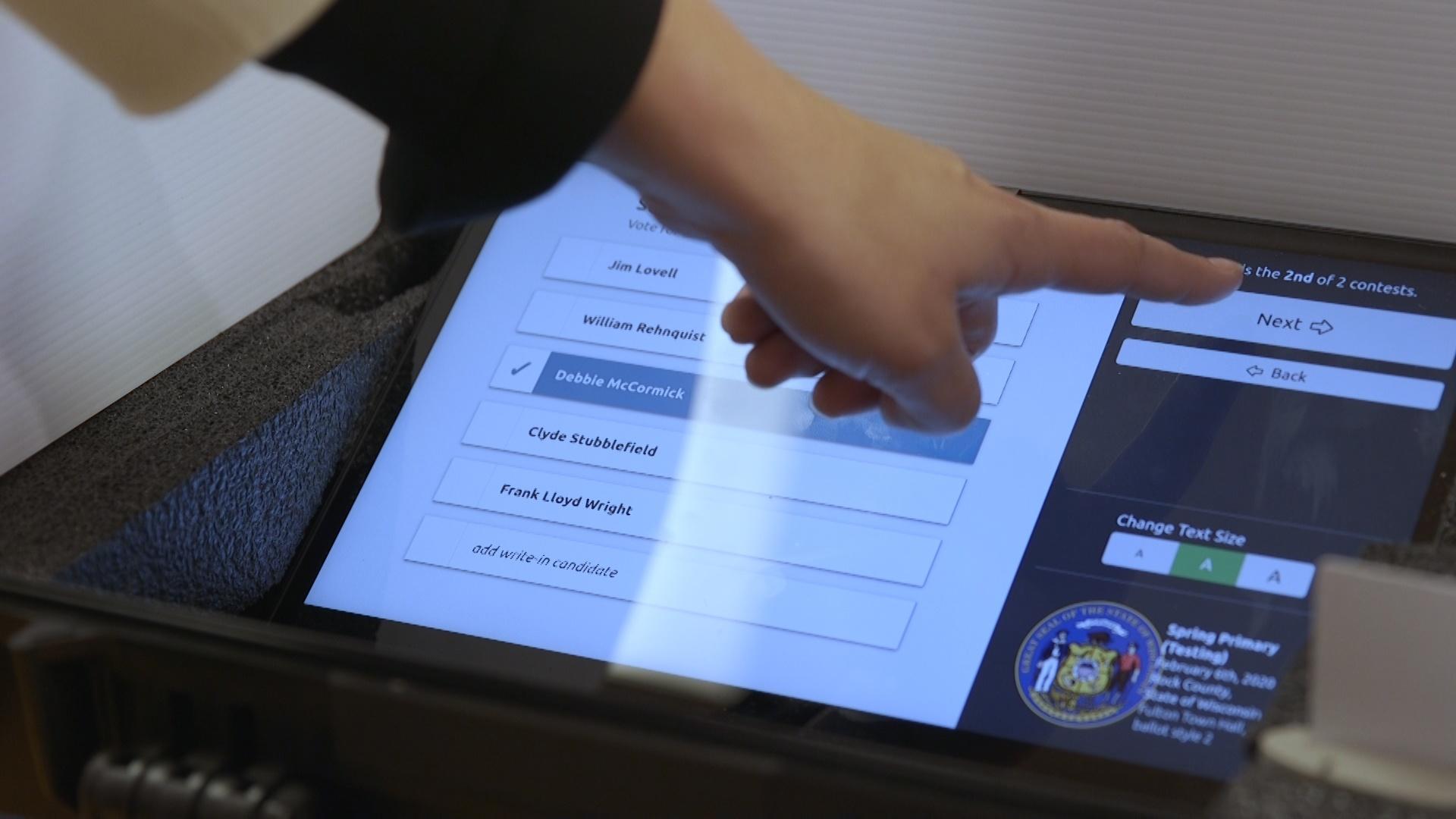 Microsoft Tests New Voting Software in Wisconsin
Fulton, a town in Rock County, tested new software this week to help ensure the accuracy of votes that get counted. When voters fill out a ballot, they receive an encrypted code that shows how they voted. Voters can later check a list to see that their unique code was counted and that the vote did not change. Officials say they will return to regular voting practices for the rest of 2020.
February 21, 2020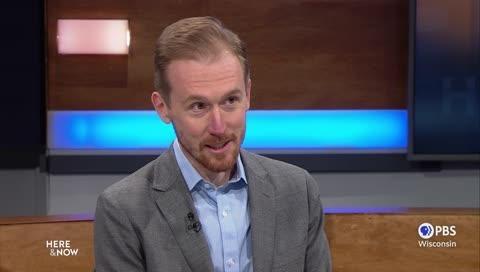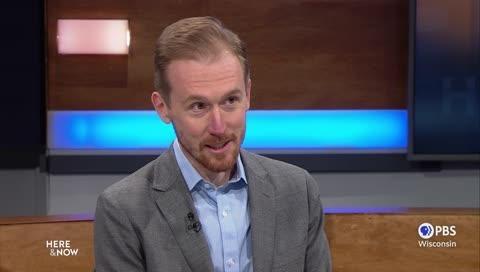 UW Researchers Work to Understand Novel Coronavirus
Scientists at the university have been working to get ahead of the virus and recently received a sample from Wisconsin's first confirmed case last week. Tom Friedrich, a researcher with the UW School of Vet Science, talks about his lab's approach to virus studies as related to the Coronavirus outbreak.
February 15, 2020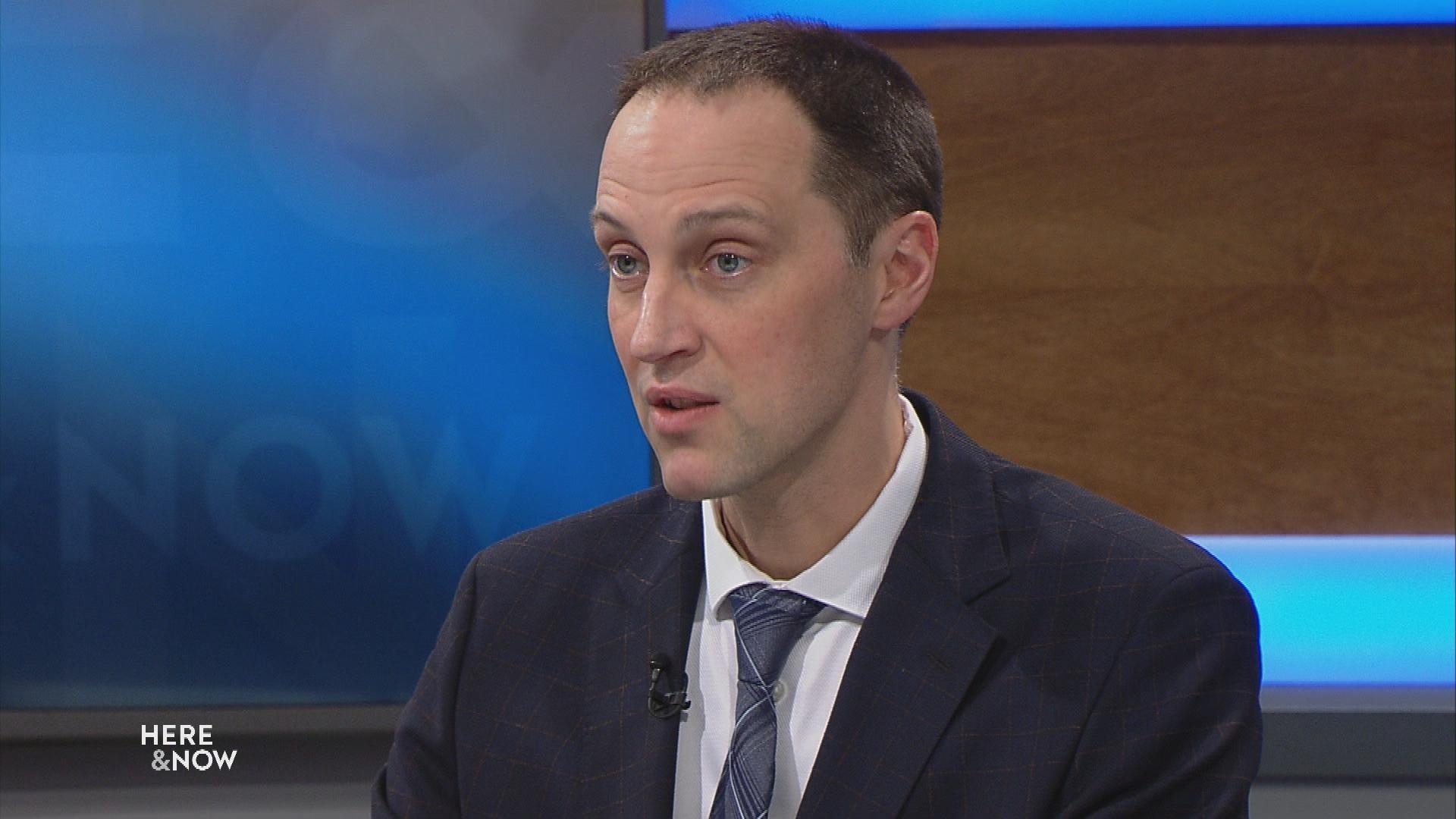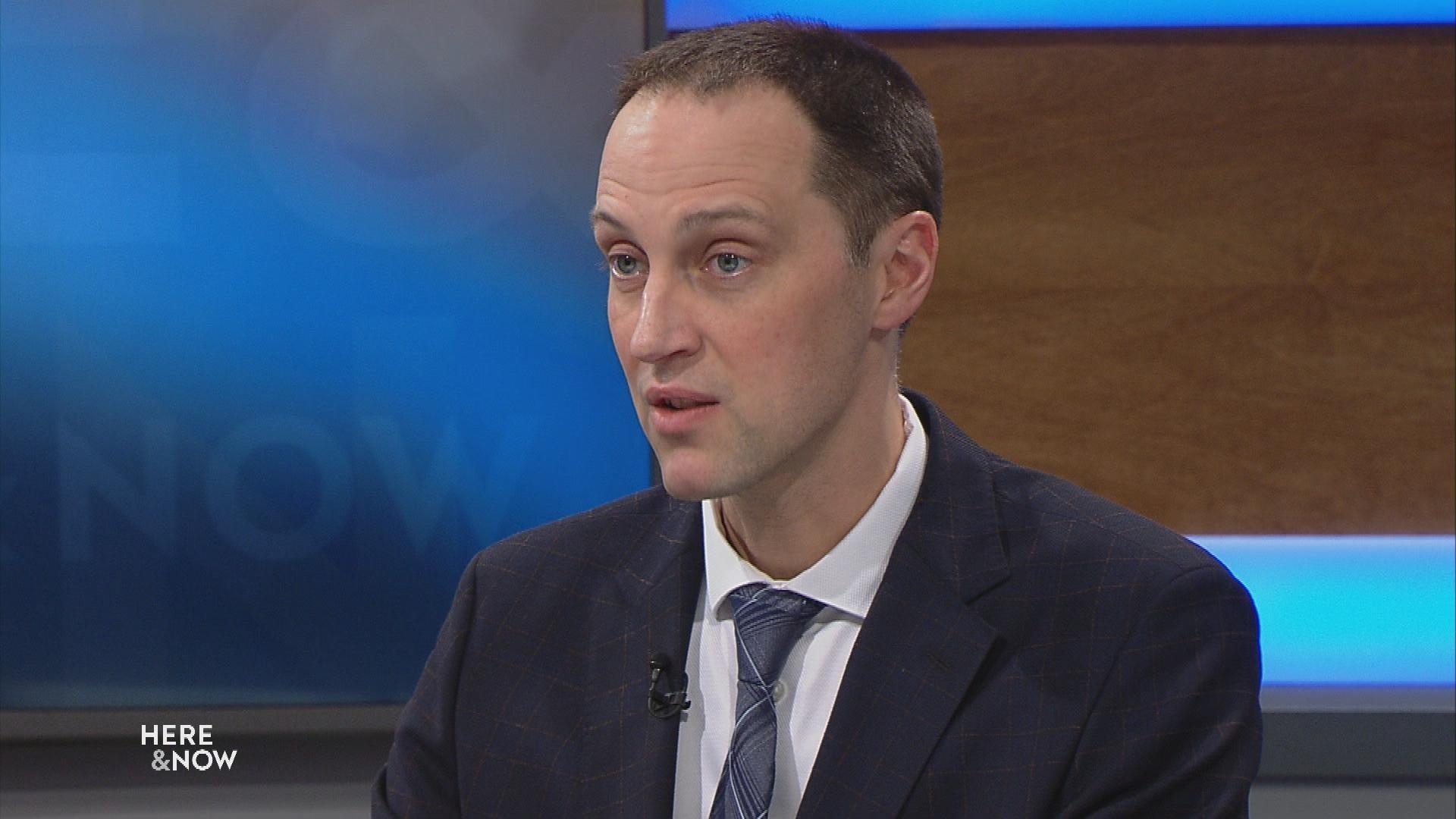 DHS Monitors 14 people for Coronavirus in Wisconsin
Wisconsin Epidemiologist Ryan Westergaard discusses the first case of the novel coronavirus in Dane County. Westergaard also talks about new pending investigations and if the virus could potentially spread in the region.
February 10, 2020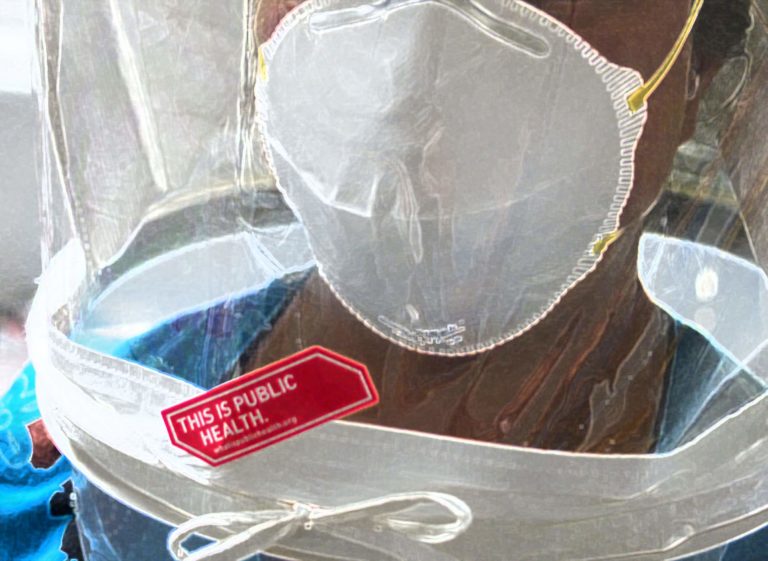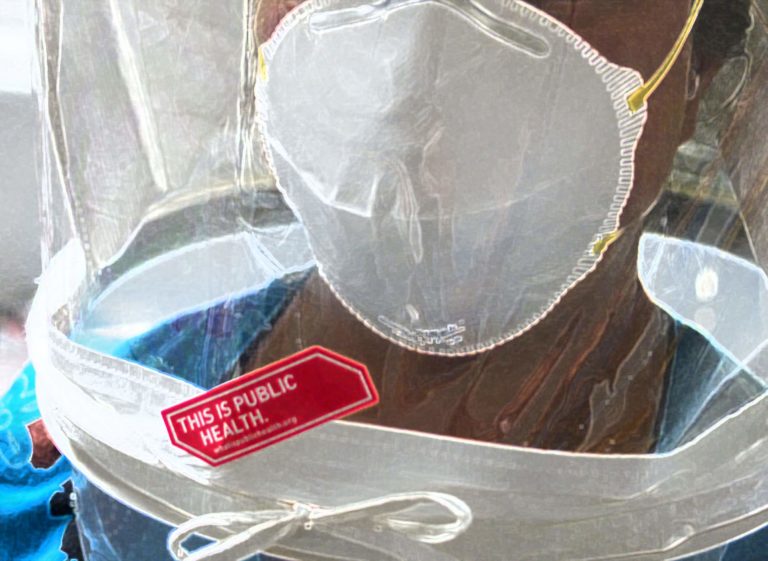 WisContext: The Novel Coronavirus and How Isolation and Quarantine Authority Works in Wisconsin
In the arsenal of weapons available to public health officials for combating outbreaks of infectious disease, quarantines are among their most serious options. As a result, quarantines are usually reserved for the most serious — or potentially serious — public health threats.
February 5, 2020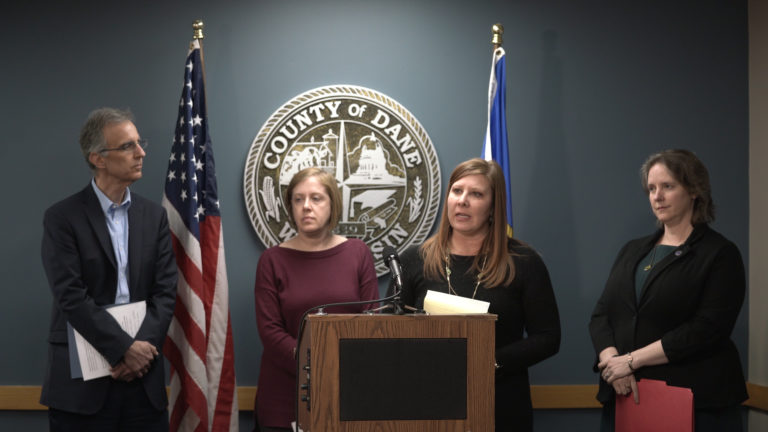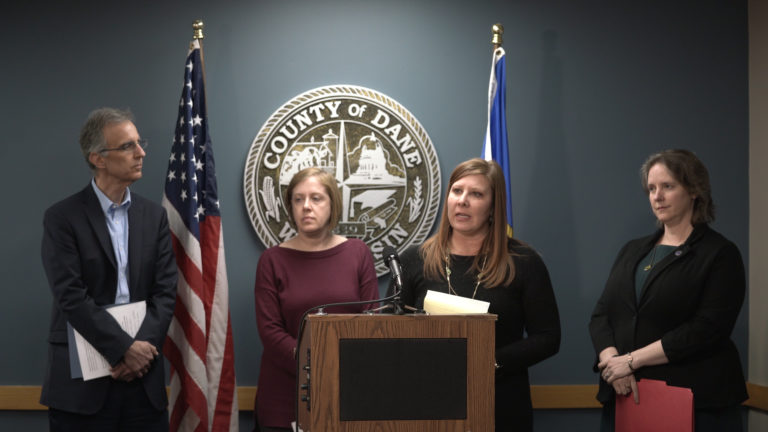 Health Officials Confirm First Case of Novel Coronavirus in Wisconsin
The first Wisconsin case of novel coronavirus was confirmed by health officials Wednesday, while two cases remain pending.  Local officials confirmed that the infected person was a resident of Dane County but that risk of contracting the virus remained low for the general population.  "The overall risk is low," Dane ...
February 5, 2020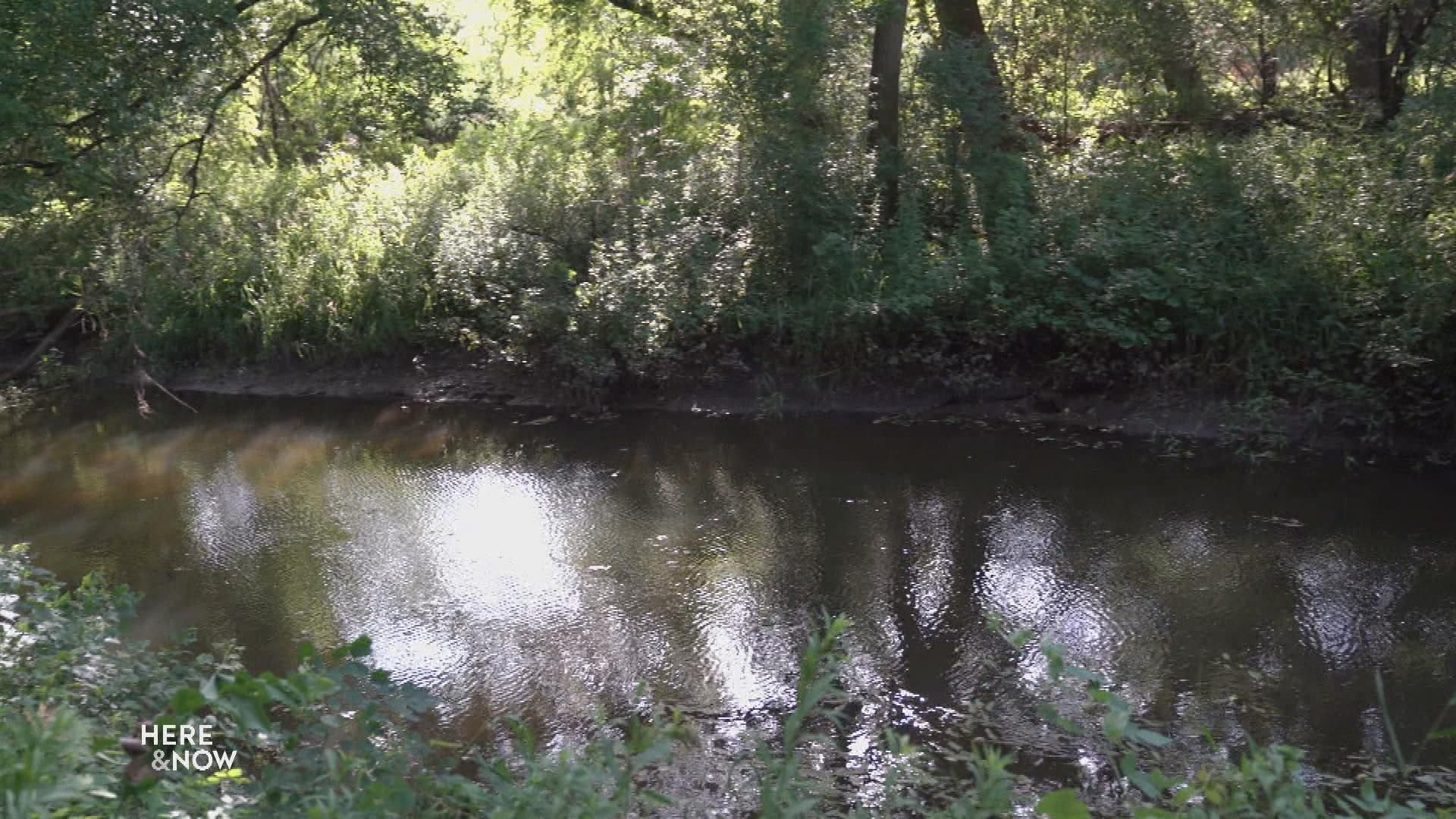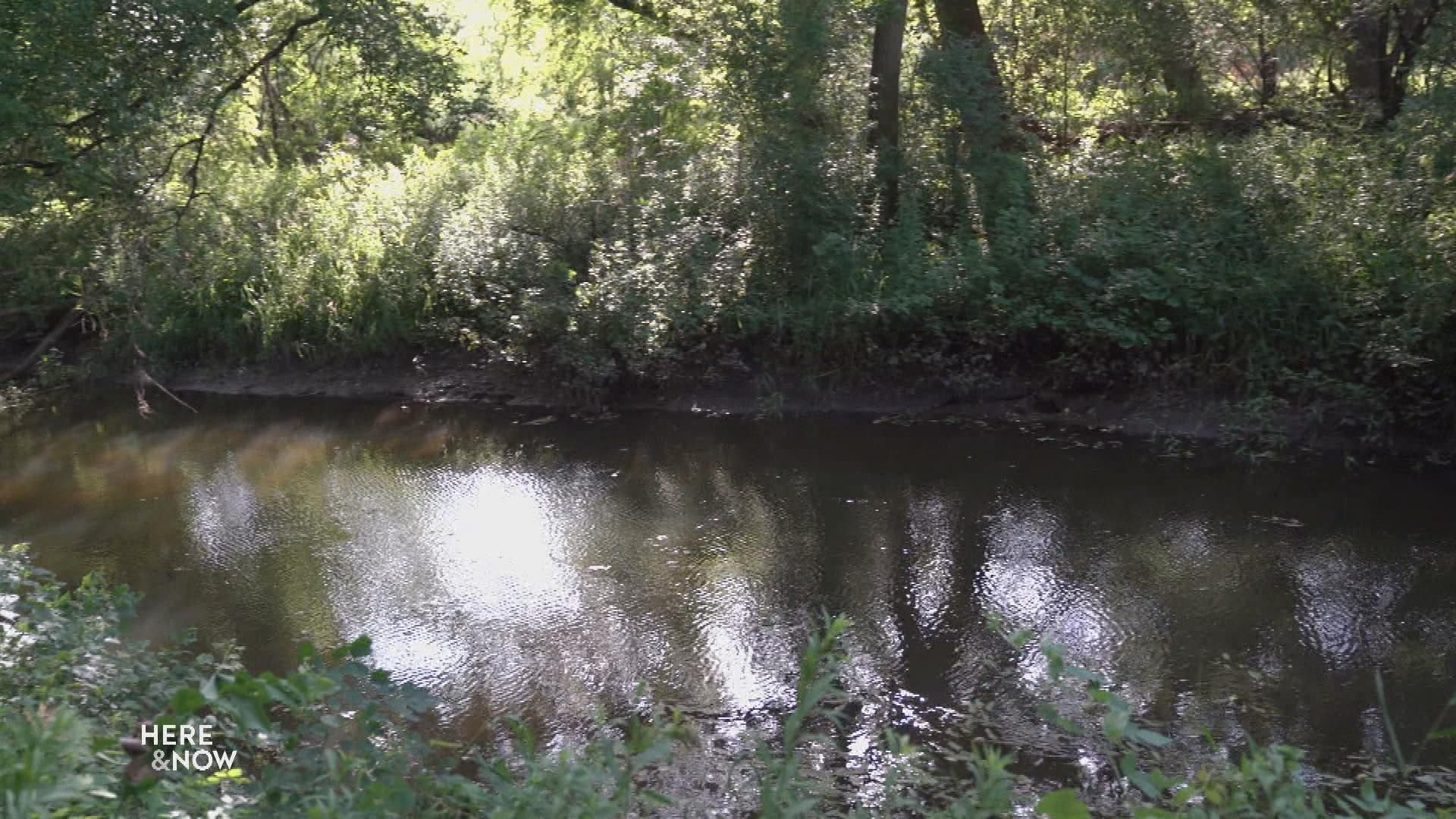 New Fish Advisory Warns of PFAS Contamination
The Departments of Natural Resources and Health Services are issuing an advisory for fish consumption in Madison's Starkweather Creek and Lake Monona. The agencies recommend limiting carp, bass, pike, walleye and perch to no more than one meal per month and Bluegill to no more than once per week.
January 17, 2020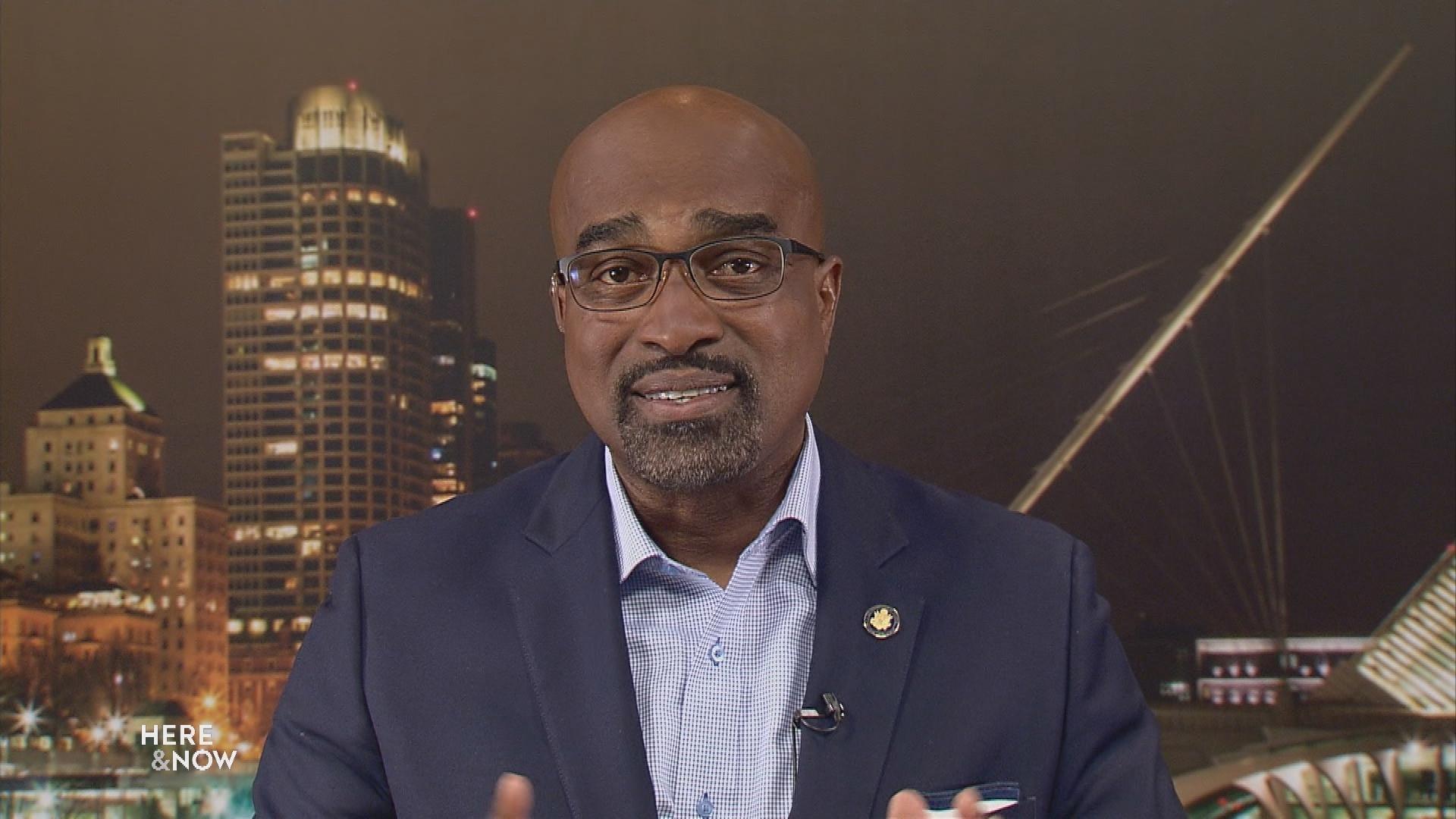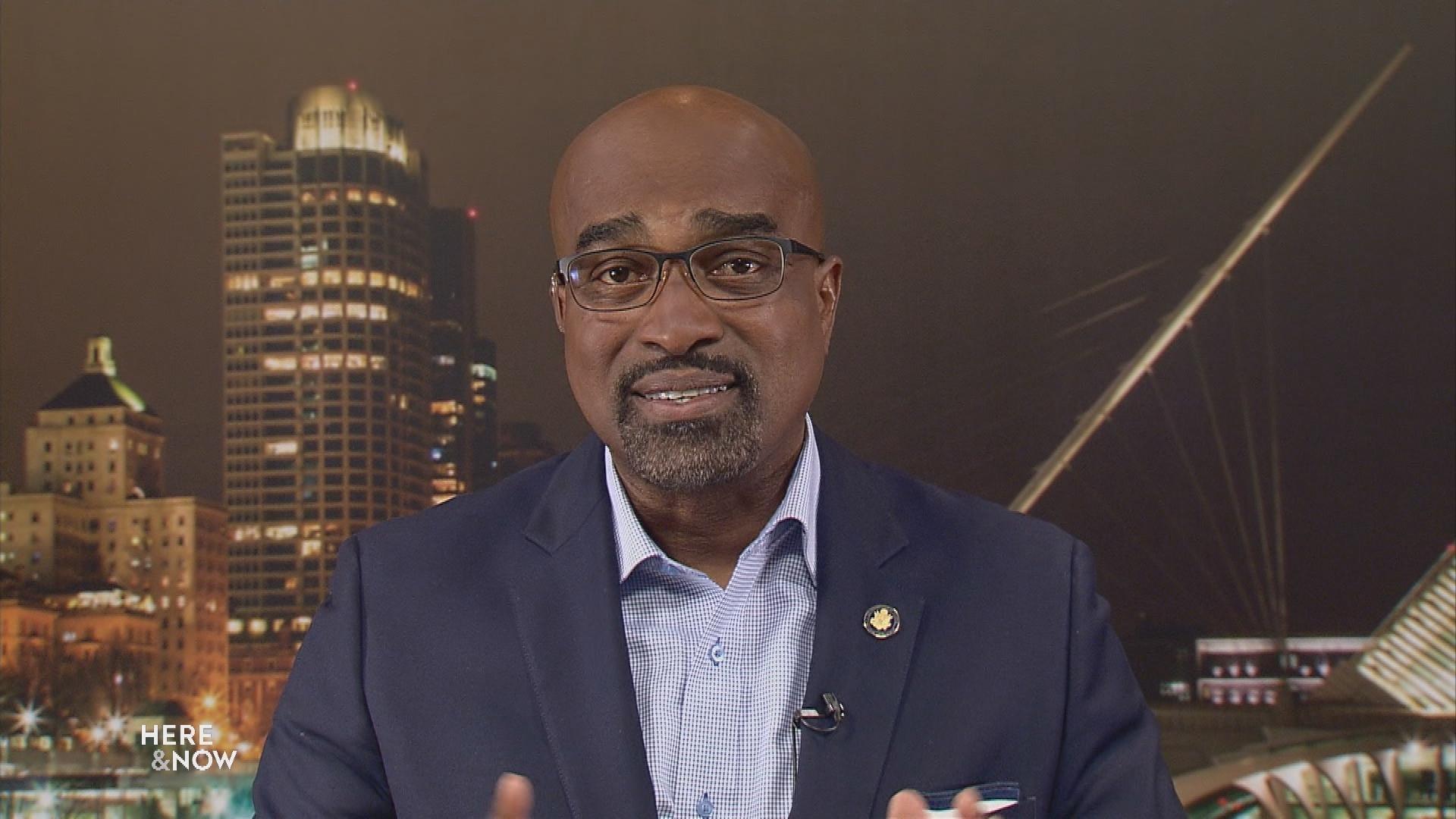 African American Alliance Fosters Upward Mobility
According to studies, there are significant disparities between black and white people in the way of income, unemployment and homeownership in Wisconsin. The African American Leadership Alliance In Milwaukee (AALAM) actively seeks solutions, including developing and supporting African American leaders. Former State Assemblymember Antonio Riley talks about the newly formed alliance.
December 4, 2019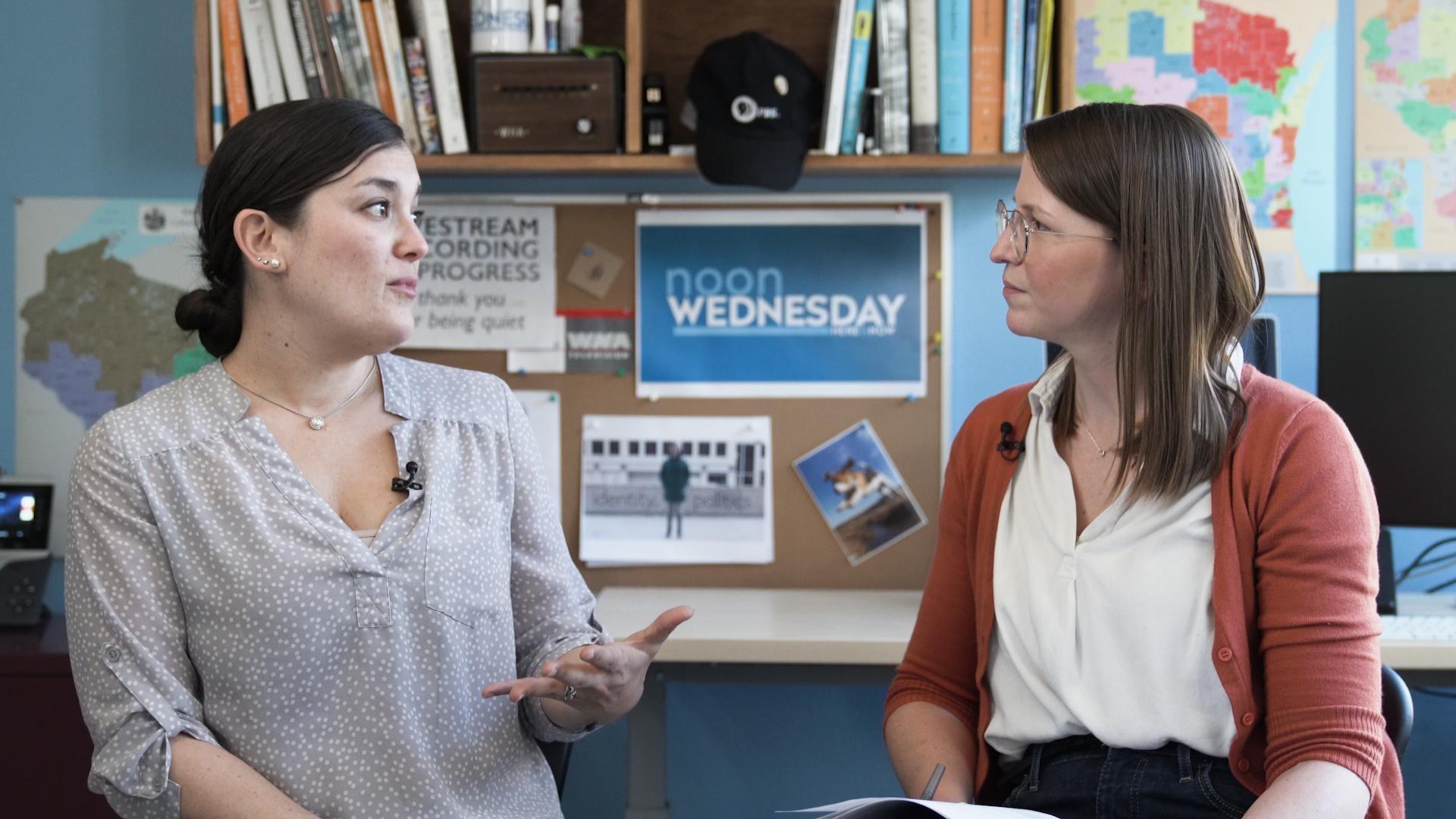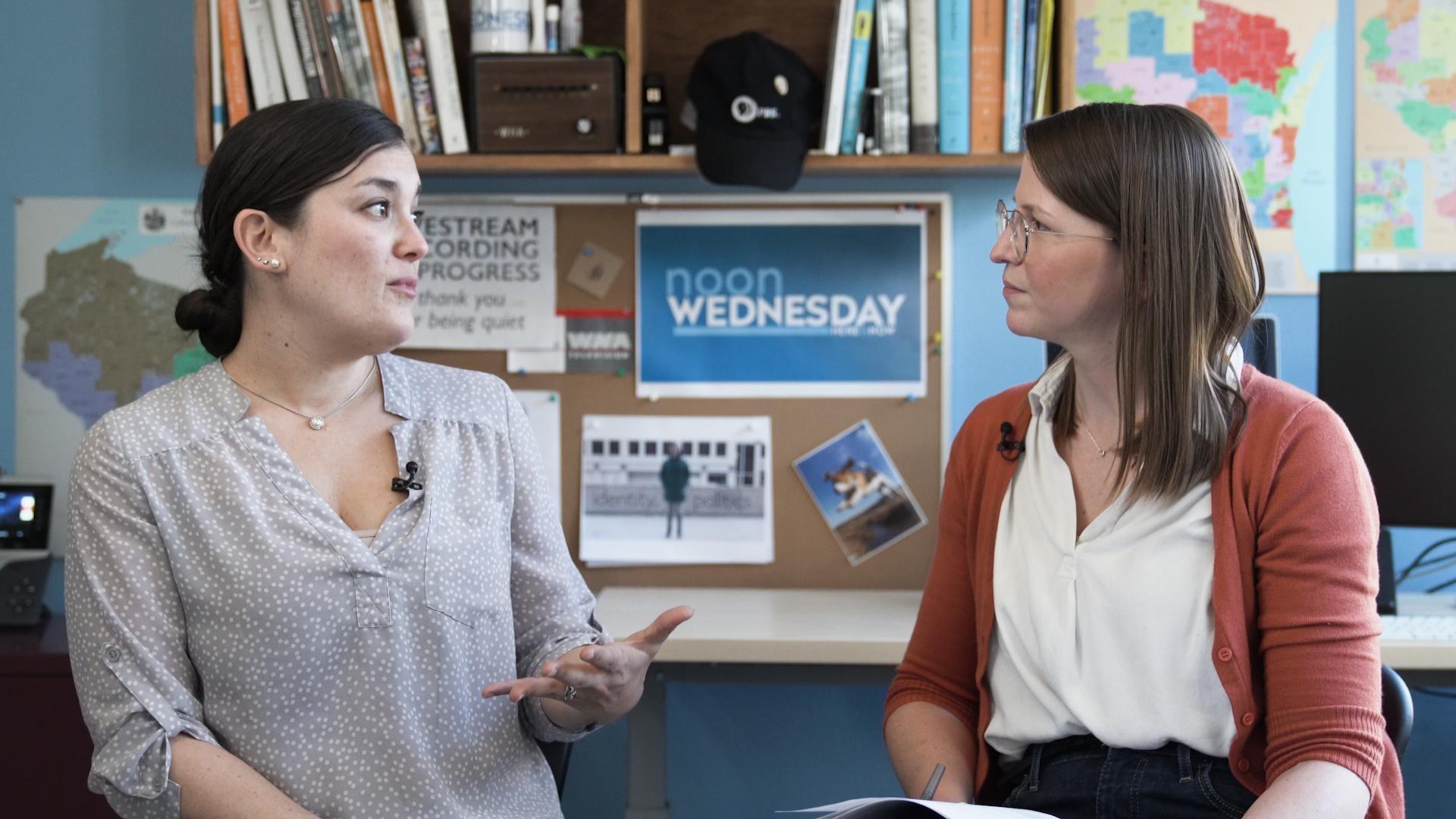 Noon Wednesday: Wisconsin Project Aims To Raise Middle Class
Bridgit Van Bellegham talks about DreamUp Wisconsin setting a goal of raising the net income of 10,000 households by 10 percent by the end of 2022. The project has solicited requests for proposals aimed at achieving that goal, which could be funded up to $1 million, and include ideas centered around childcare, health, transportation, legal services, transportation, student loan debt and more.
December 4, 2019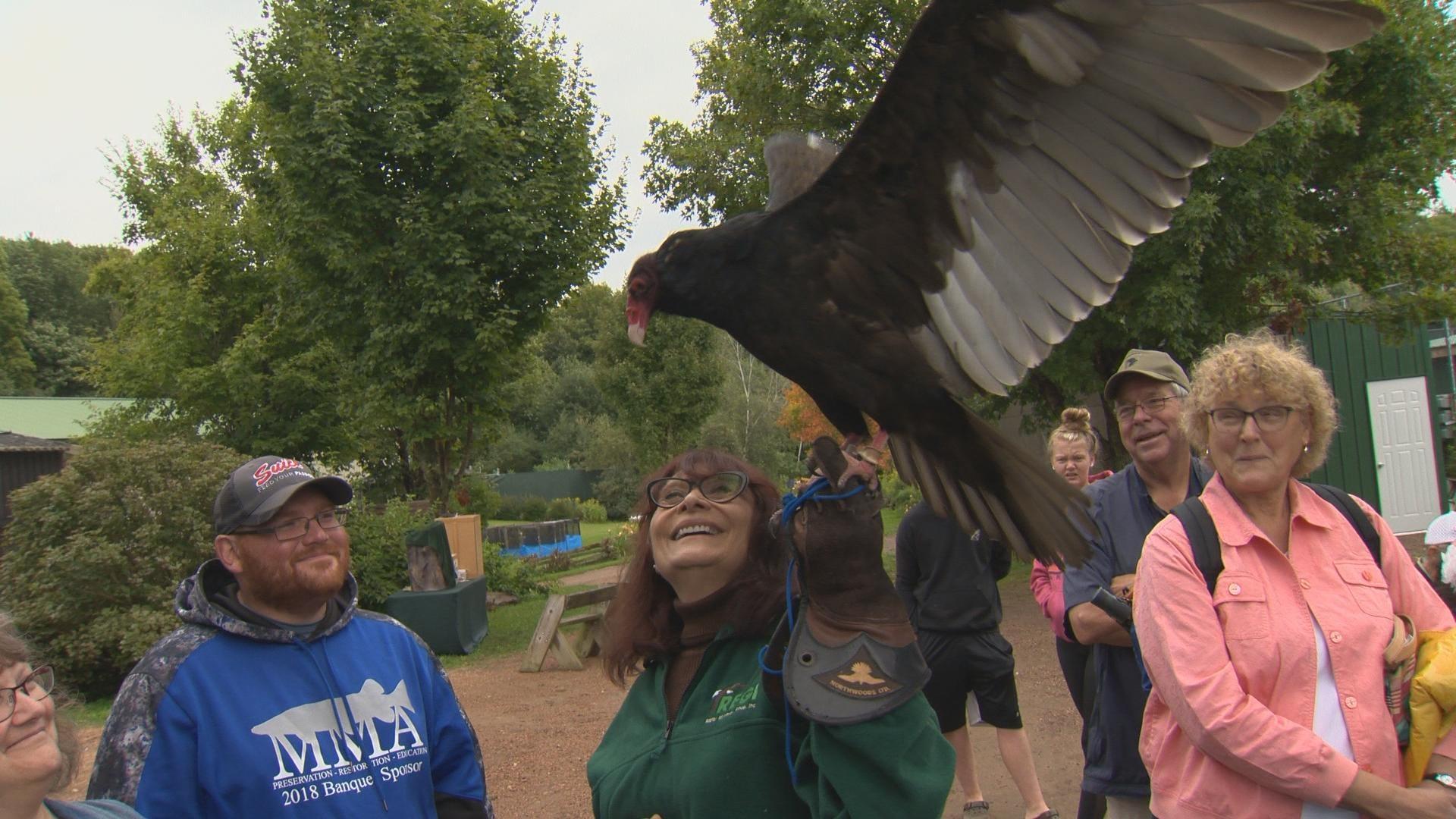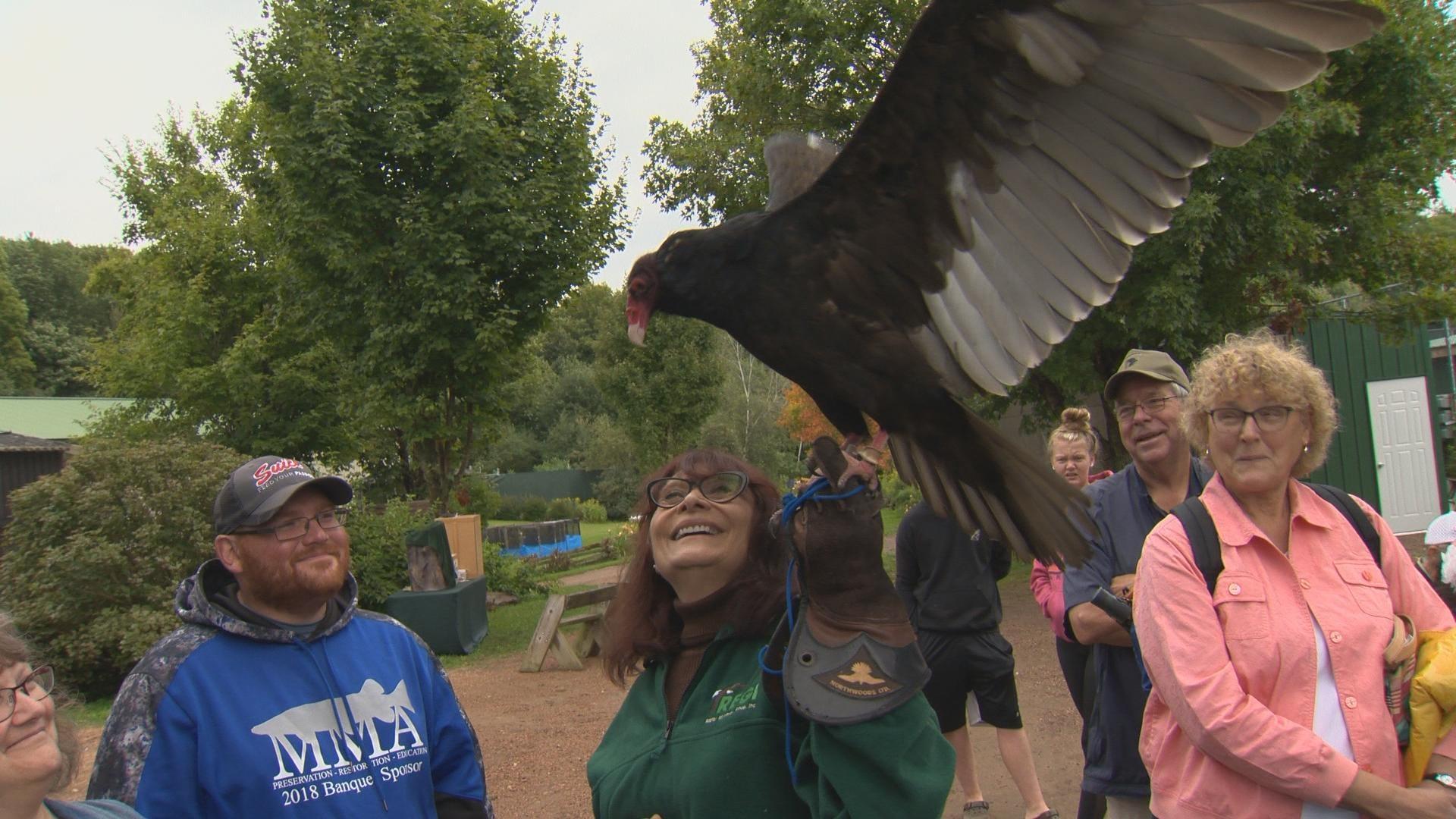 Injured birds can heal without the fear of predators under the care of Marge Gibson, the founder and director of the Raptor Education Group, Inc. in Antigo.
December 4, 2019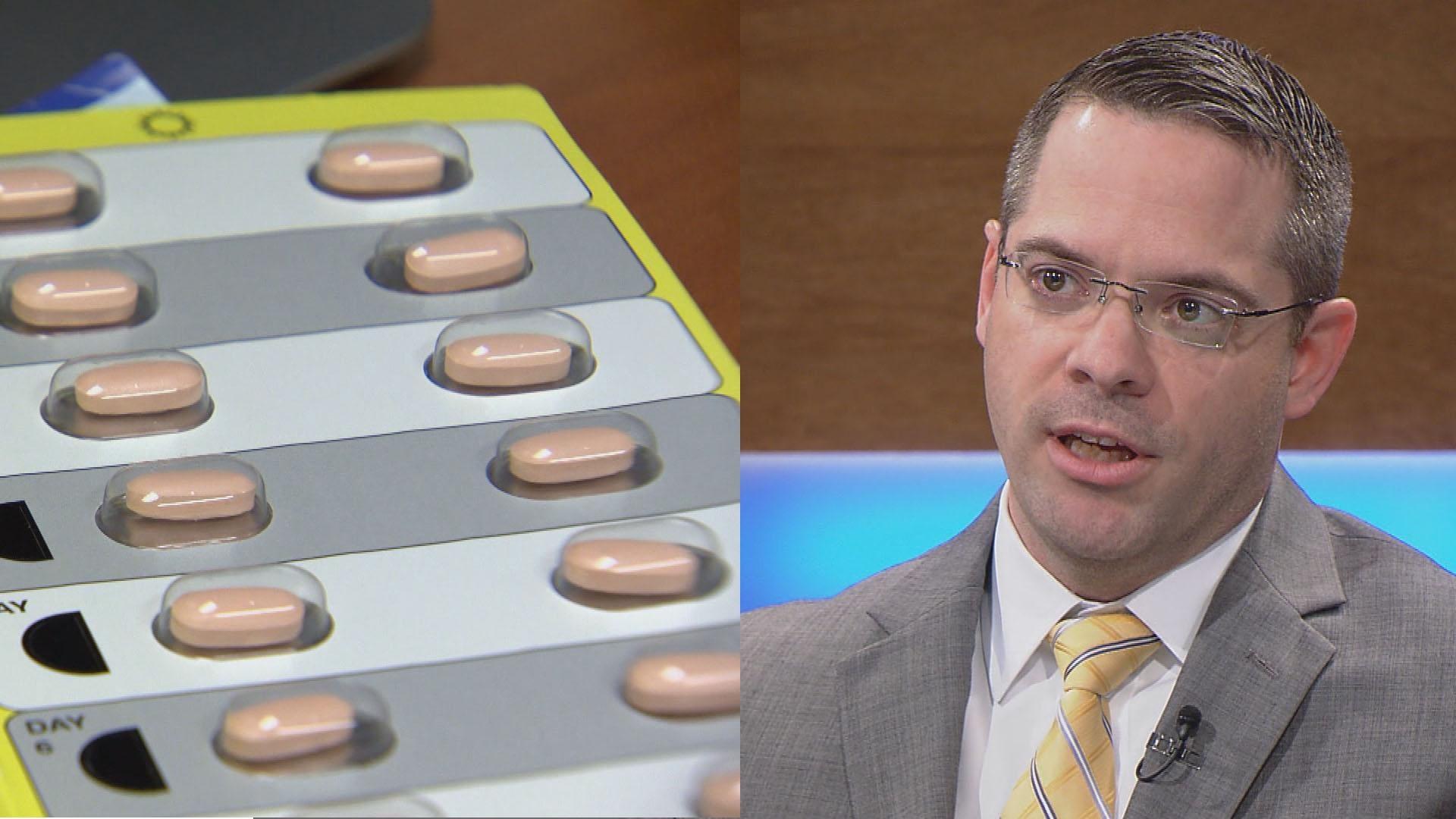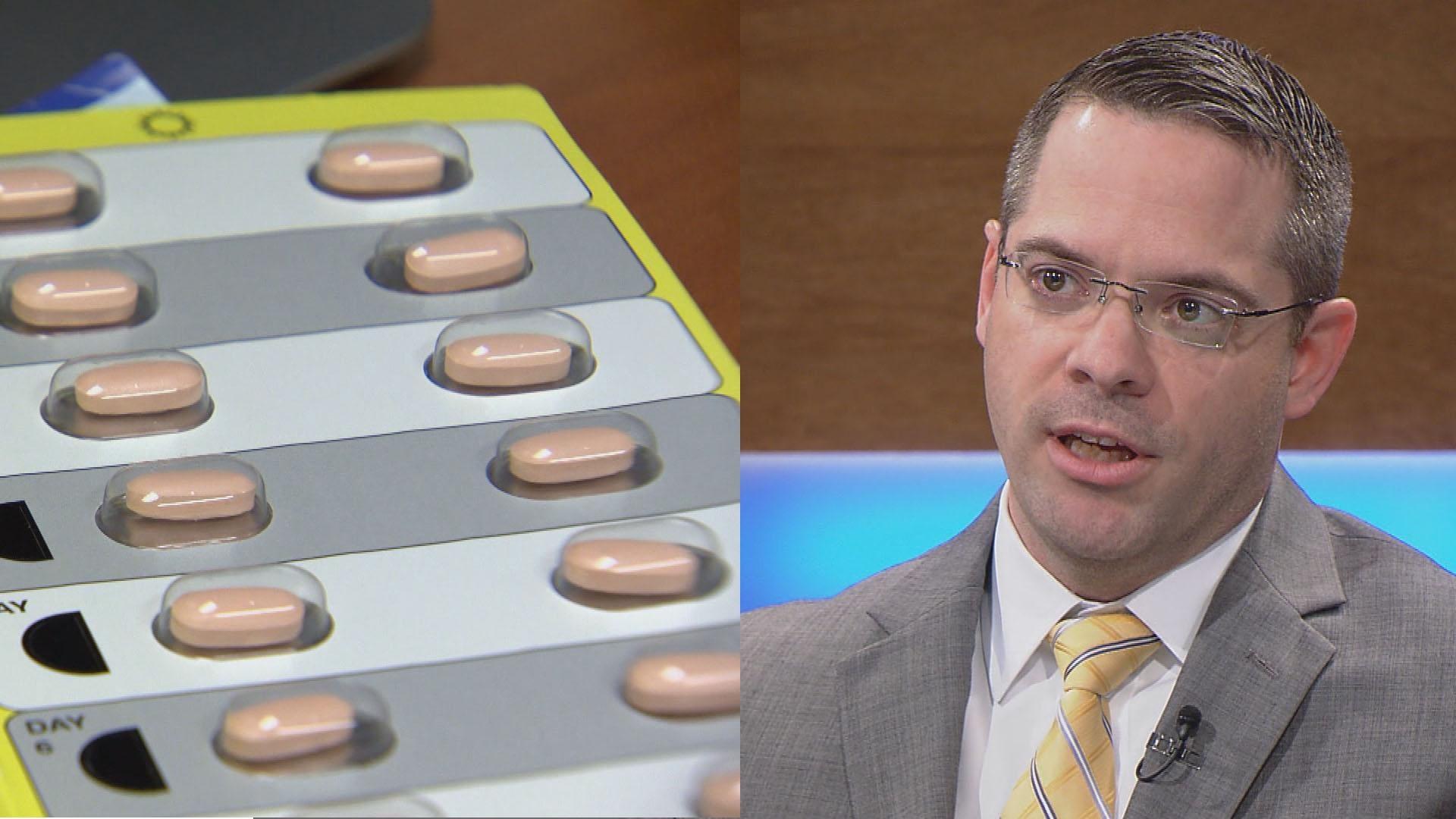 Breakthrough Drug Gives Hope to Cystic Fibrosis Patients
UW Health Pulmonary Care physician and Director of the UW Adult Cystic Fibrosis Program Andrew Braun talks about a promising new drug therapy for cystic fibrosis patients. Over 30,000 people nationwide are living with the disease. One patient from Eau Claire said that the new drug therapy has given her her life back.
December 4, 2019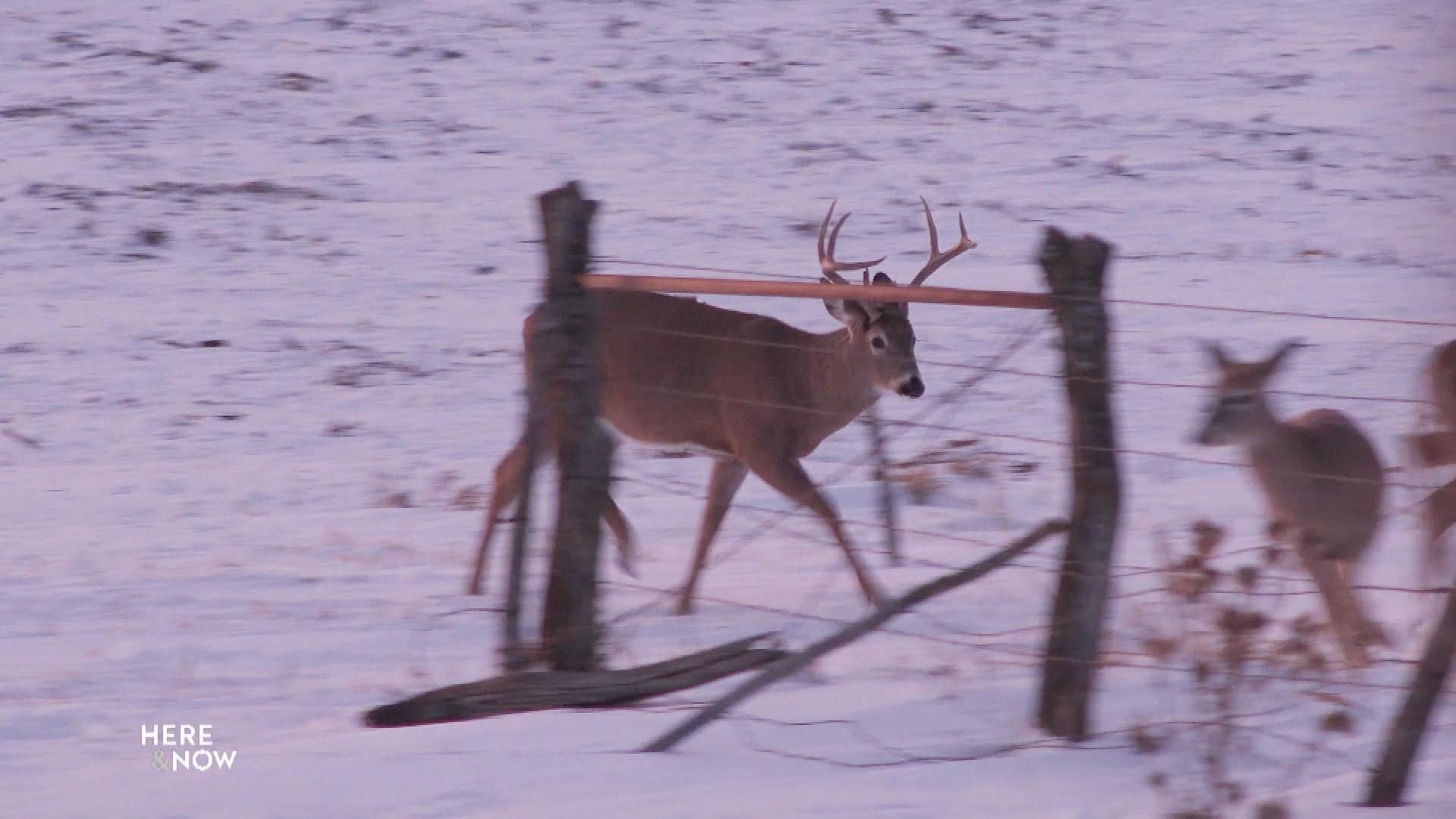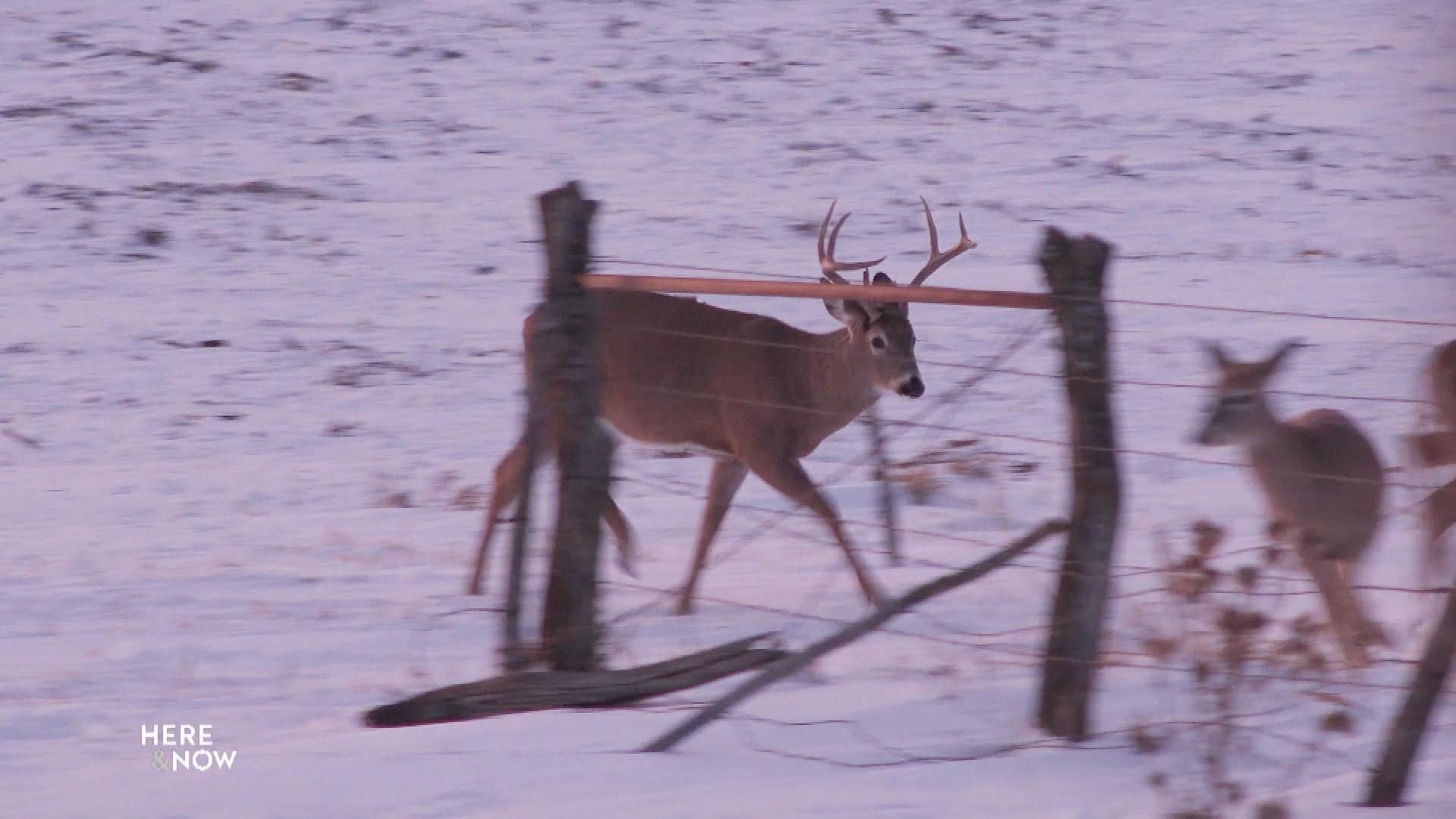 Wisconsin Hunters on Chronic Wasting Disease
A look at Marquette poll numbers on the spread of Chronic Wasting Disease in the state. Four hunters explain differing reasons why some get their deer tested for CWD and the overwhelming reason why most do not. The poll shows that of the people who have heard of CWD, 64% feel it represents a threat to the future of deer hunting in Wisconsin.
November 22, 2019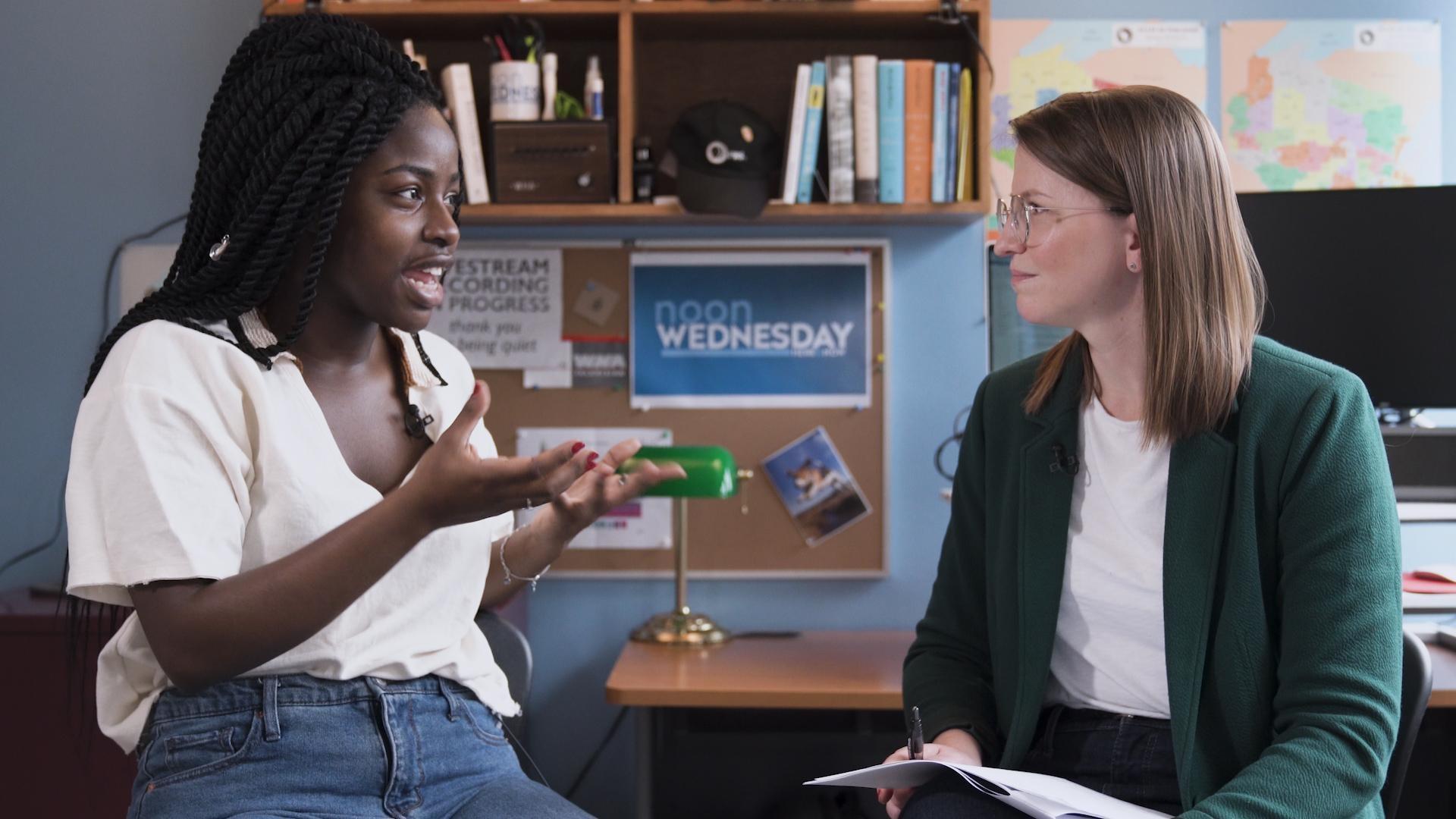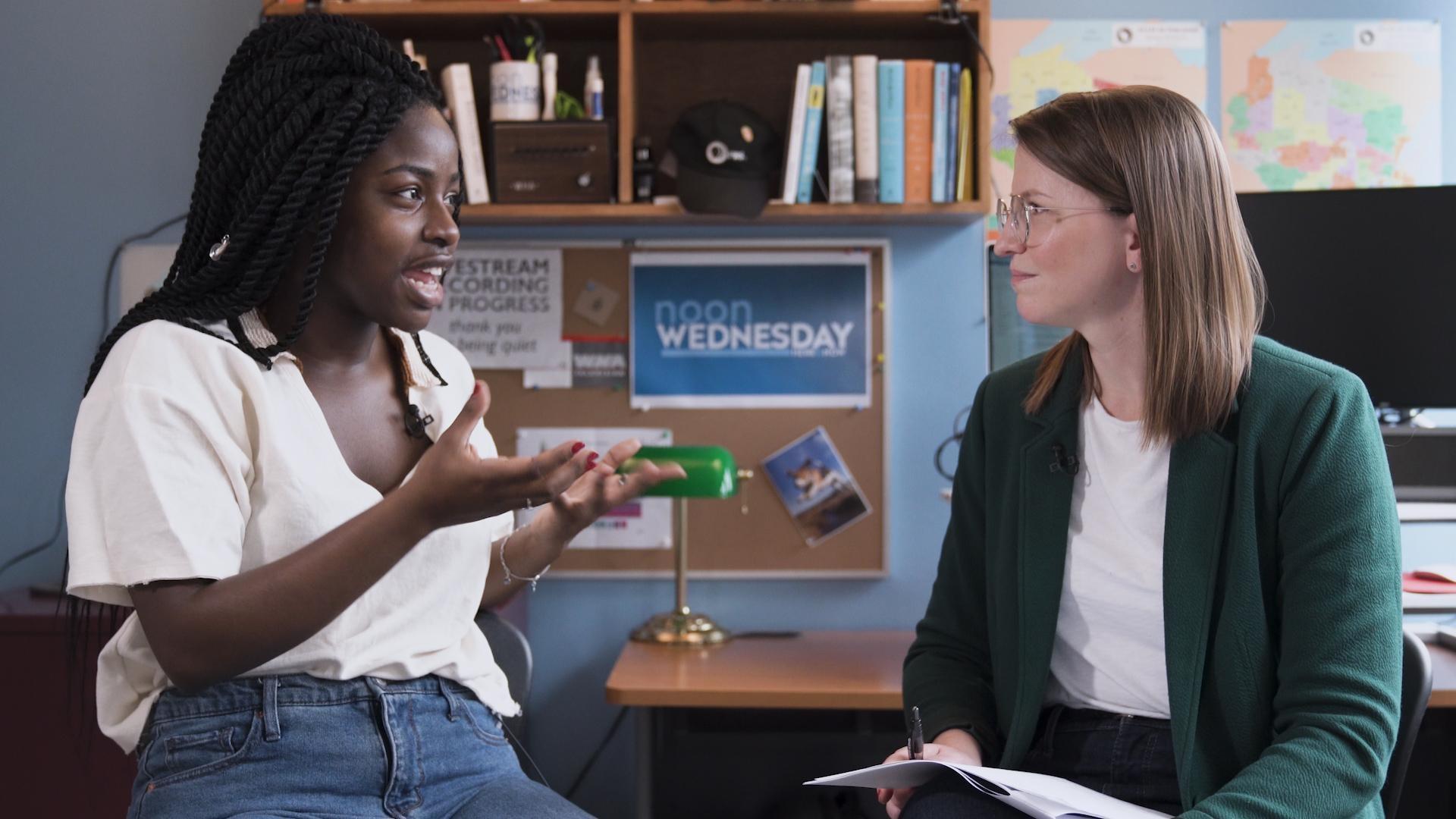 Noon Wednesday: Controversial Video Sparks Change
Last month, a UW-Madison homecoming video sparked national outcry over the lack of diversity and representation of the student body. Since then, the Student Inclusion Coalition has formed, and they've presented a list of demands to the university. Today we speak with Kingsley-Reigne Pissang of the Student Inclusion Coalition about how they hope to help the campus move forward.
October 30, 2019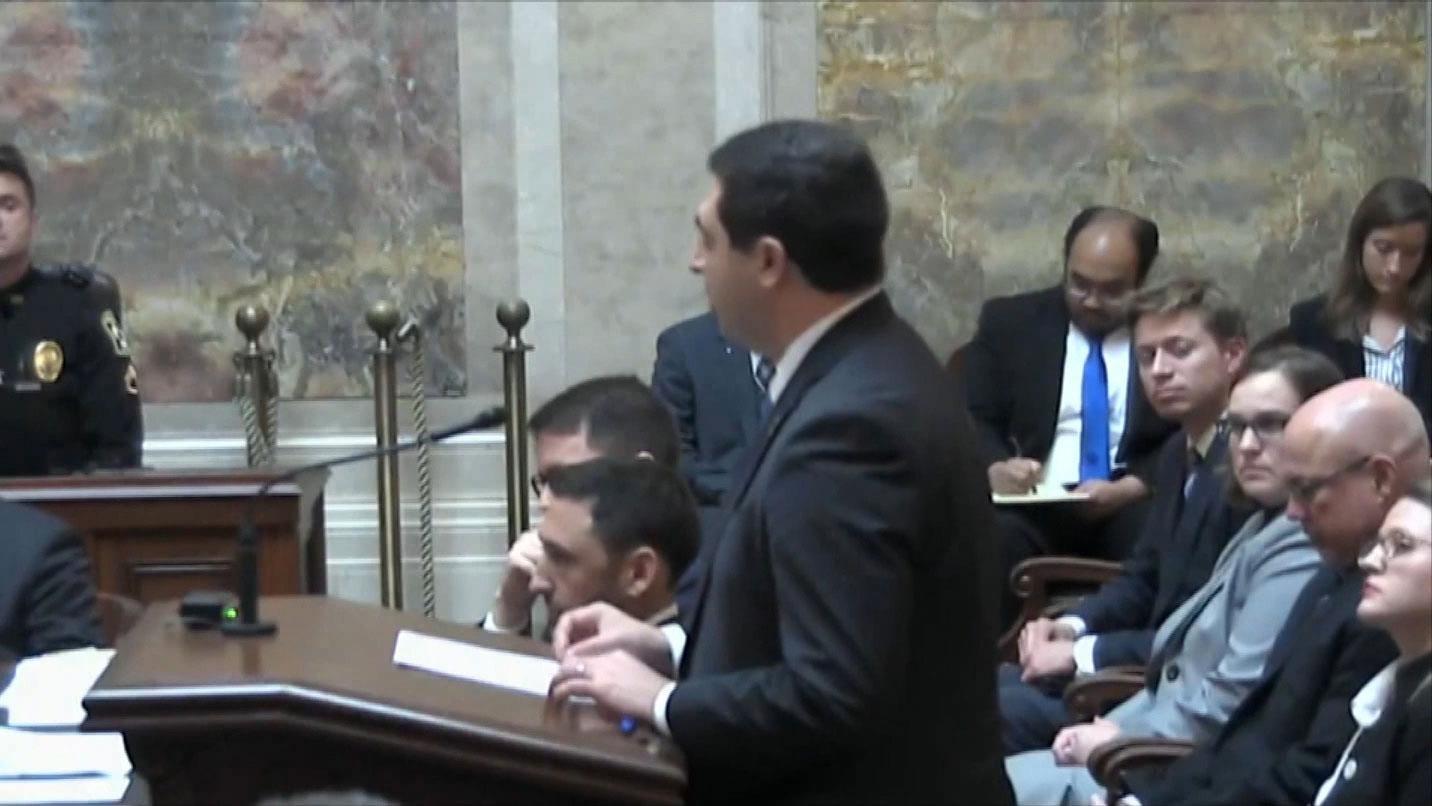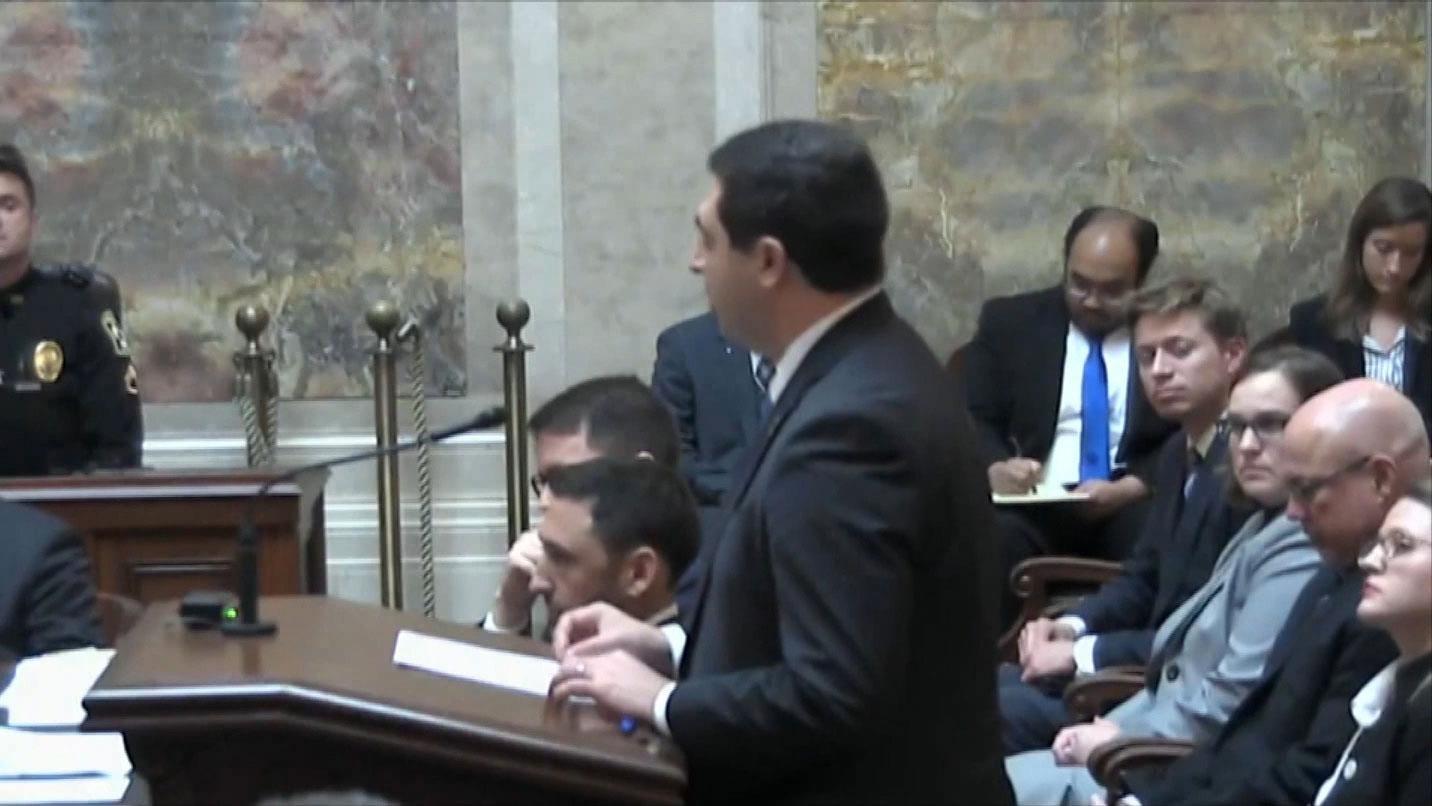 Supreme Court Hears More Lame Duck Challenges
The Wisconsin Supreme Court hears another challenge to last year's lame duck session and Ray Cross announces his retirement as UW System president.
October 25, 2019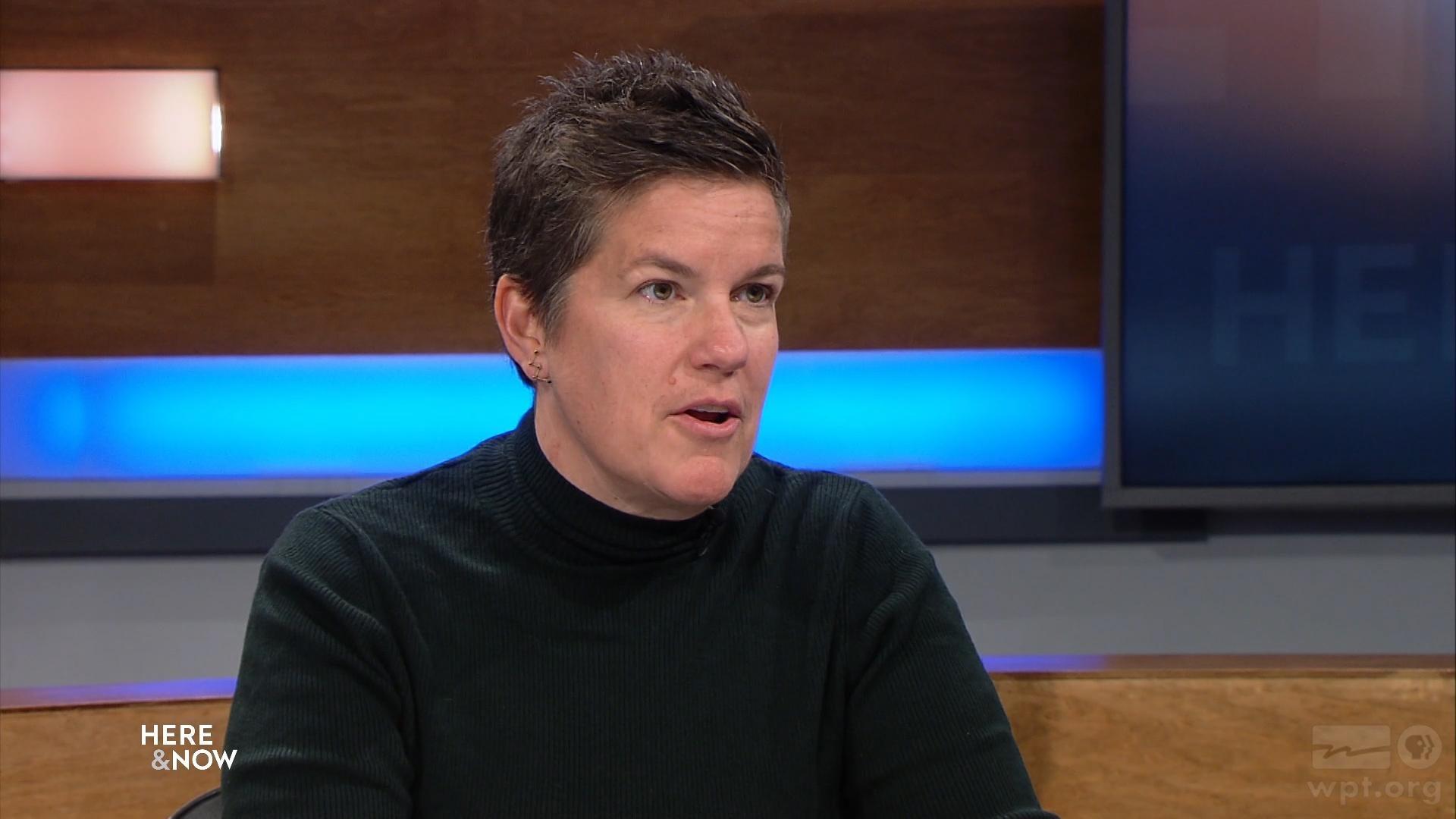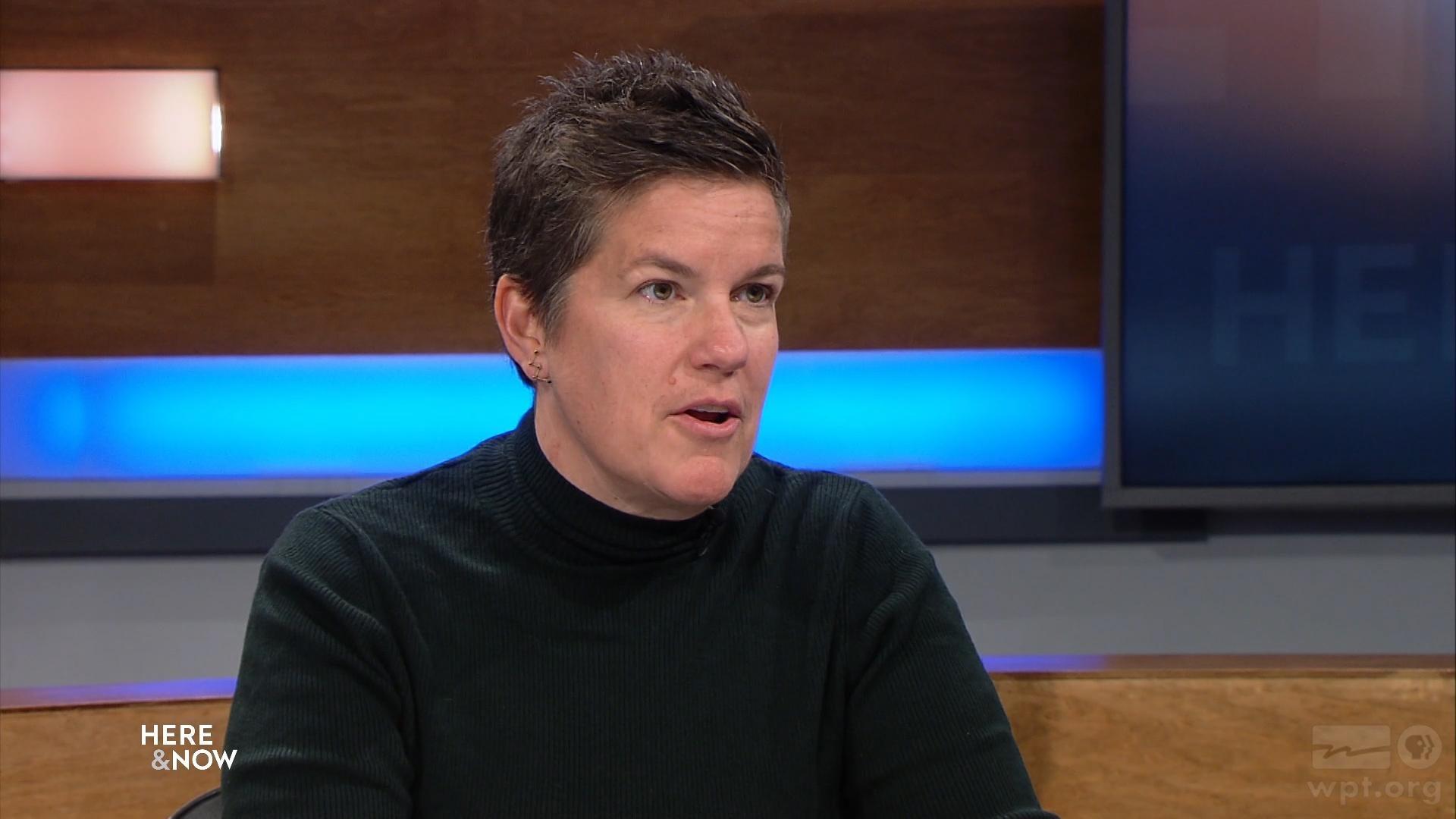 New WEDC CEO Talks Foxconn, Agency Priorities
With new leadership at the head of the Wisconsin Economic Development Corporation, the agency's new CEO Missy Hughes discusses the future of projects like Foxconn and other top priorities.
October 25, 2019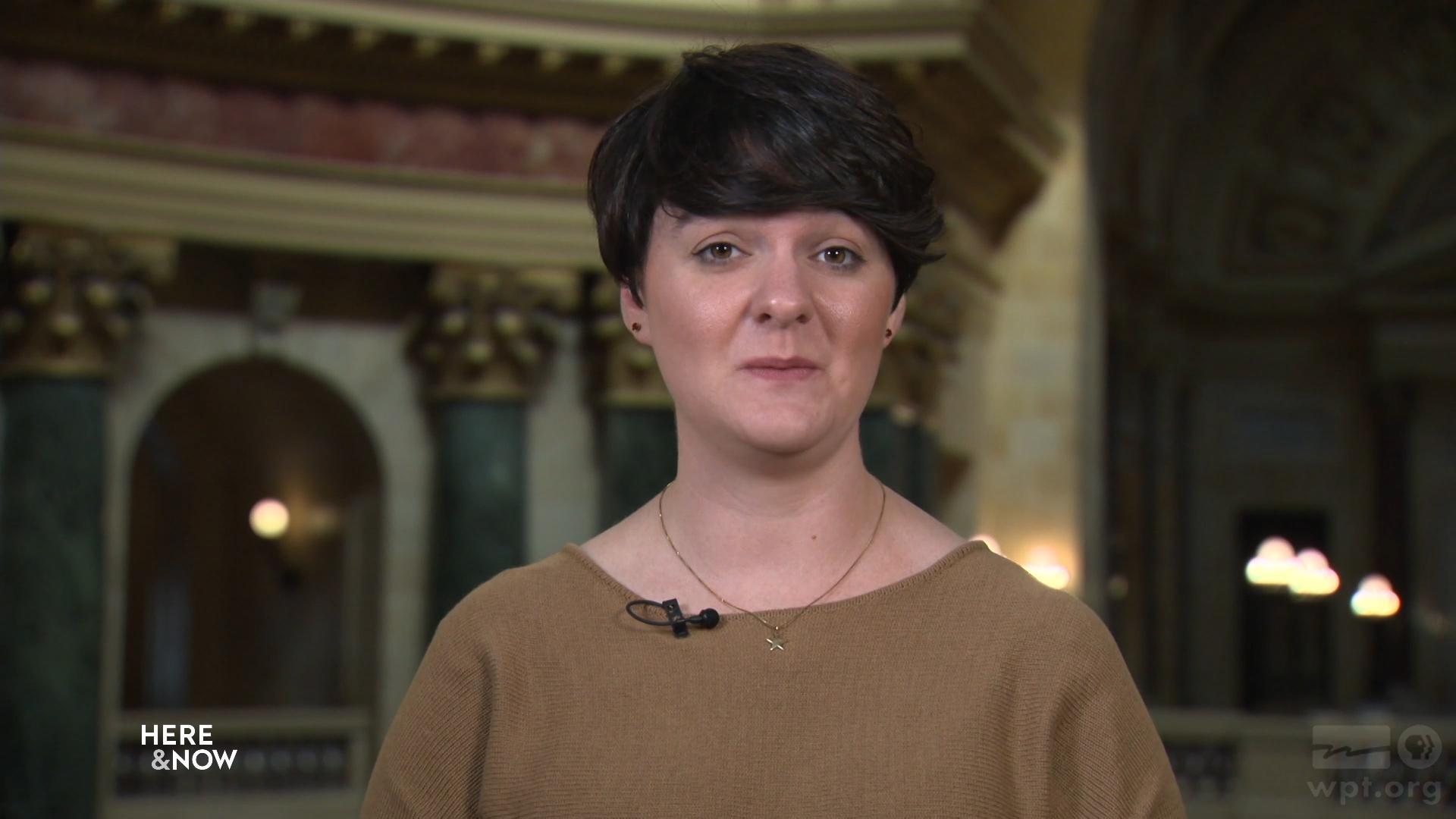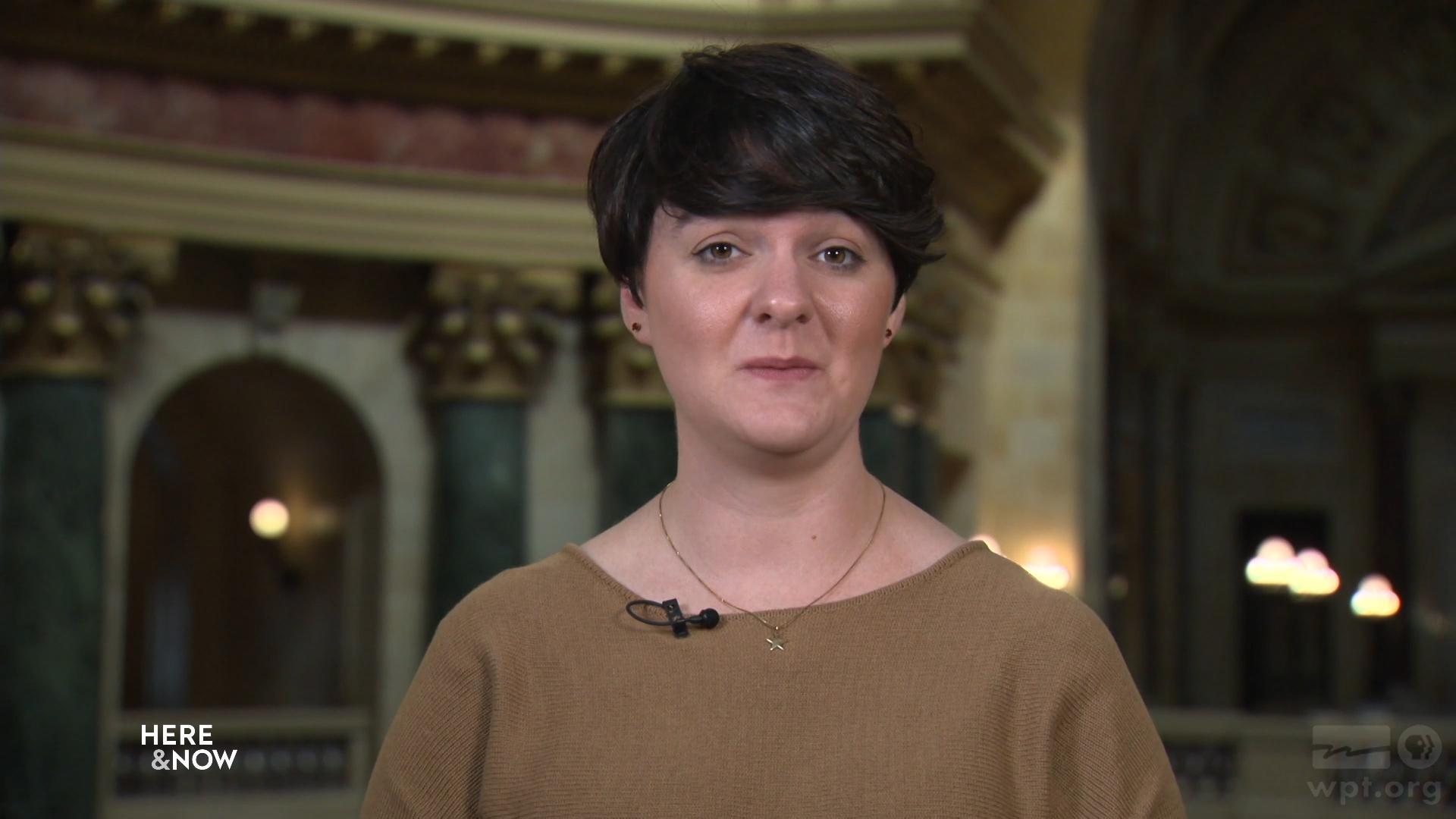 What's Next for Gun Control Special Session
With Gov. Tony Evers calling for a special session on gun control and Republican legislative leaders pushing back on any change, WPR's Laurel White shares insight into the political debate on the issue.
October 25, 2019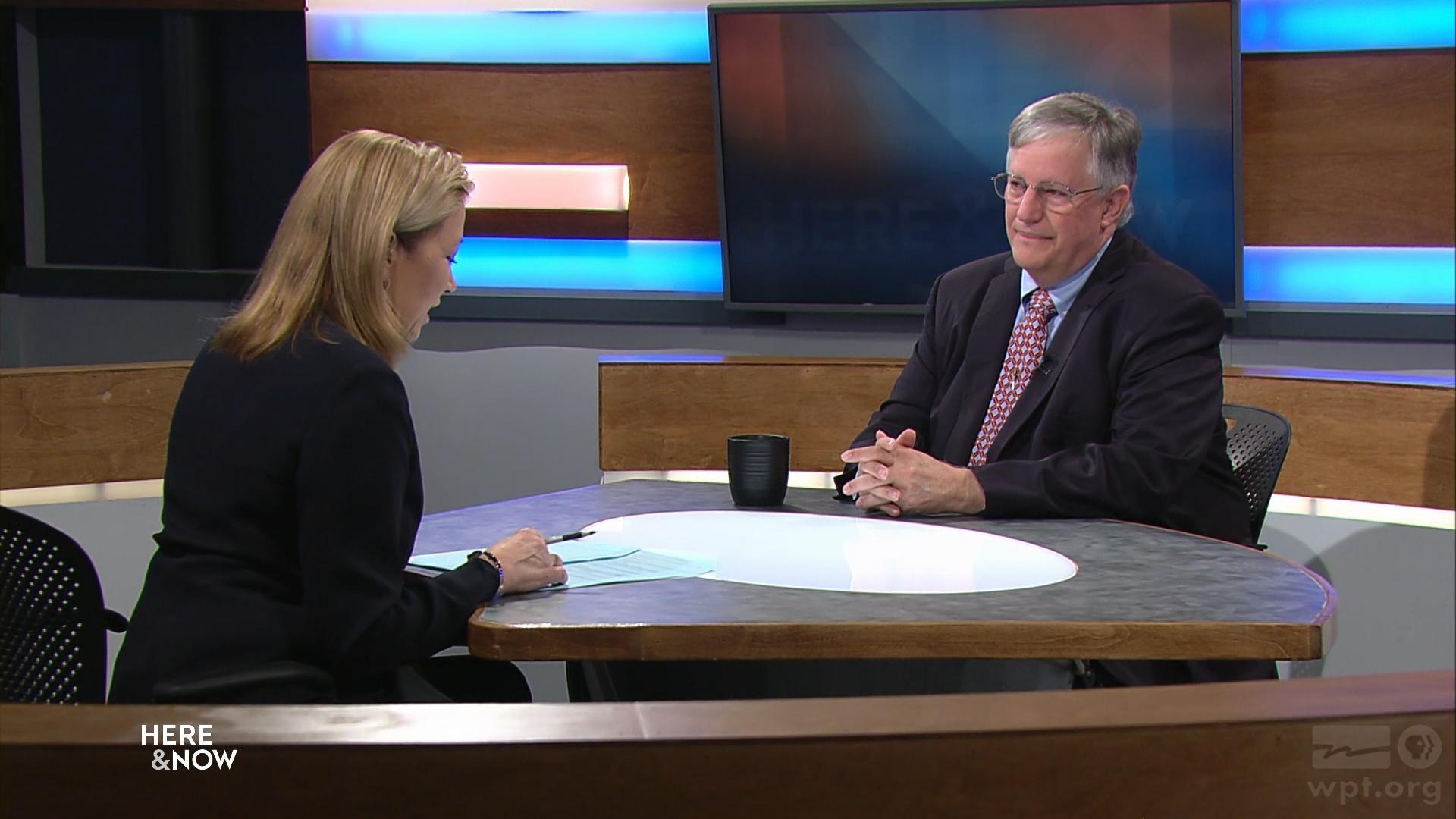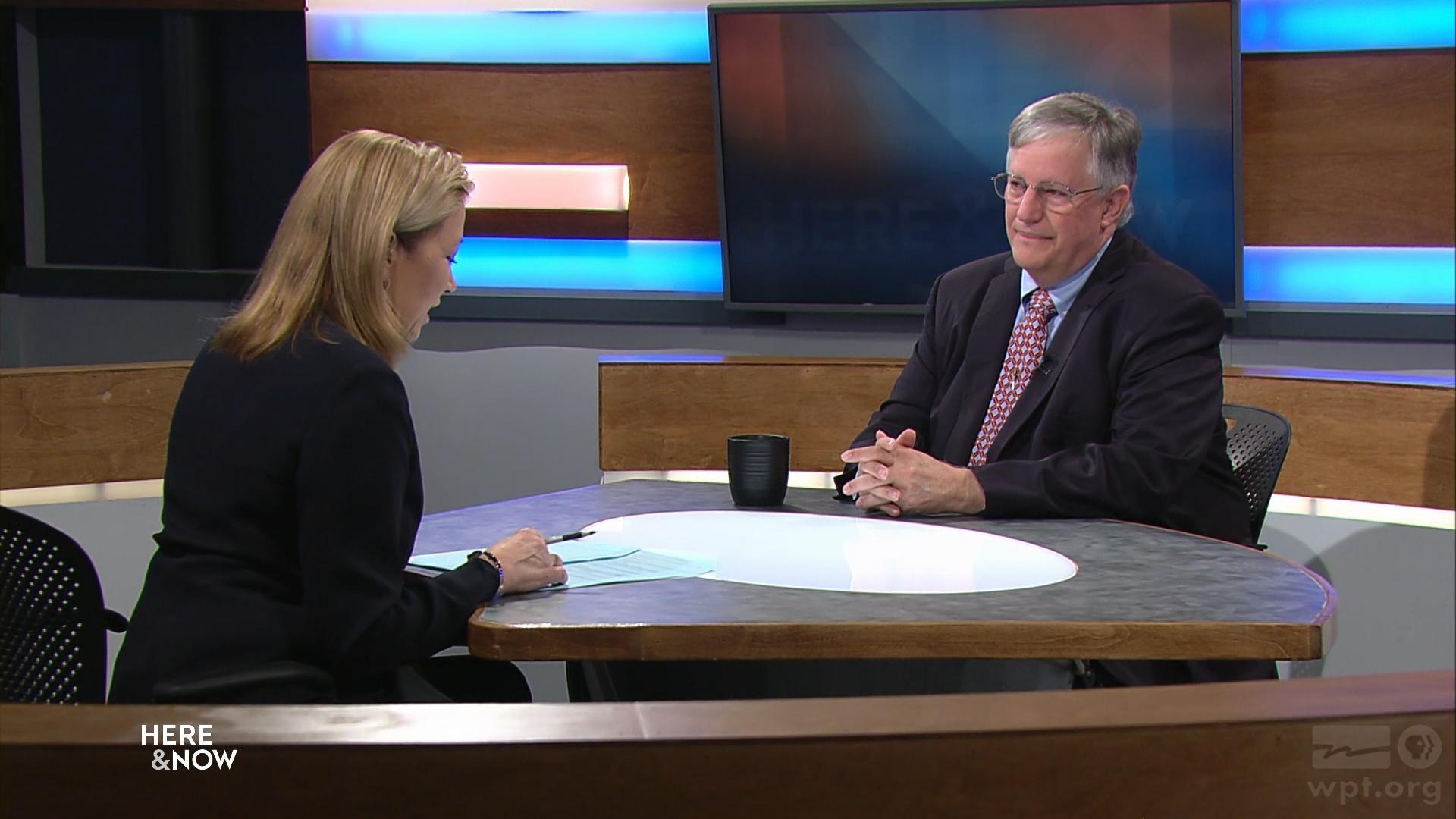 Impeachment, Dem. Pres. Candidates in Newest Poll
With impeachment hearings, U.S. foreign policy, presidential horse-race numbers and the governor's approval all permeating the national discourse, Marquette Law School Poll Director Charles Franklin checks in on Wisconsinites' views with his latest poll.
October 25, 2019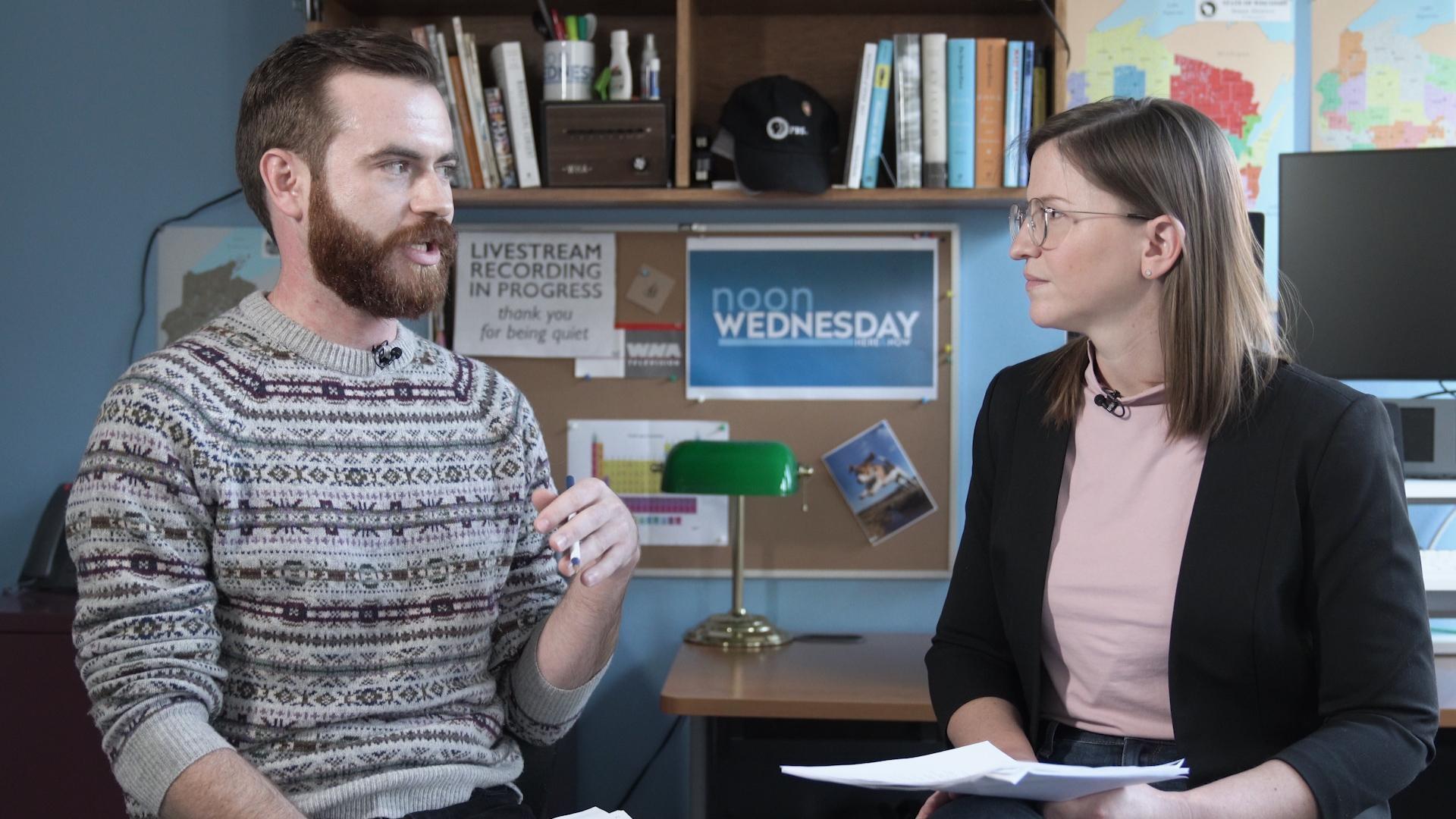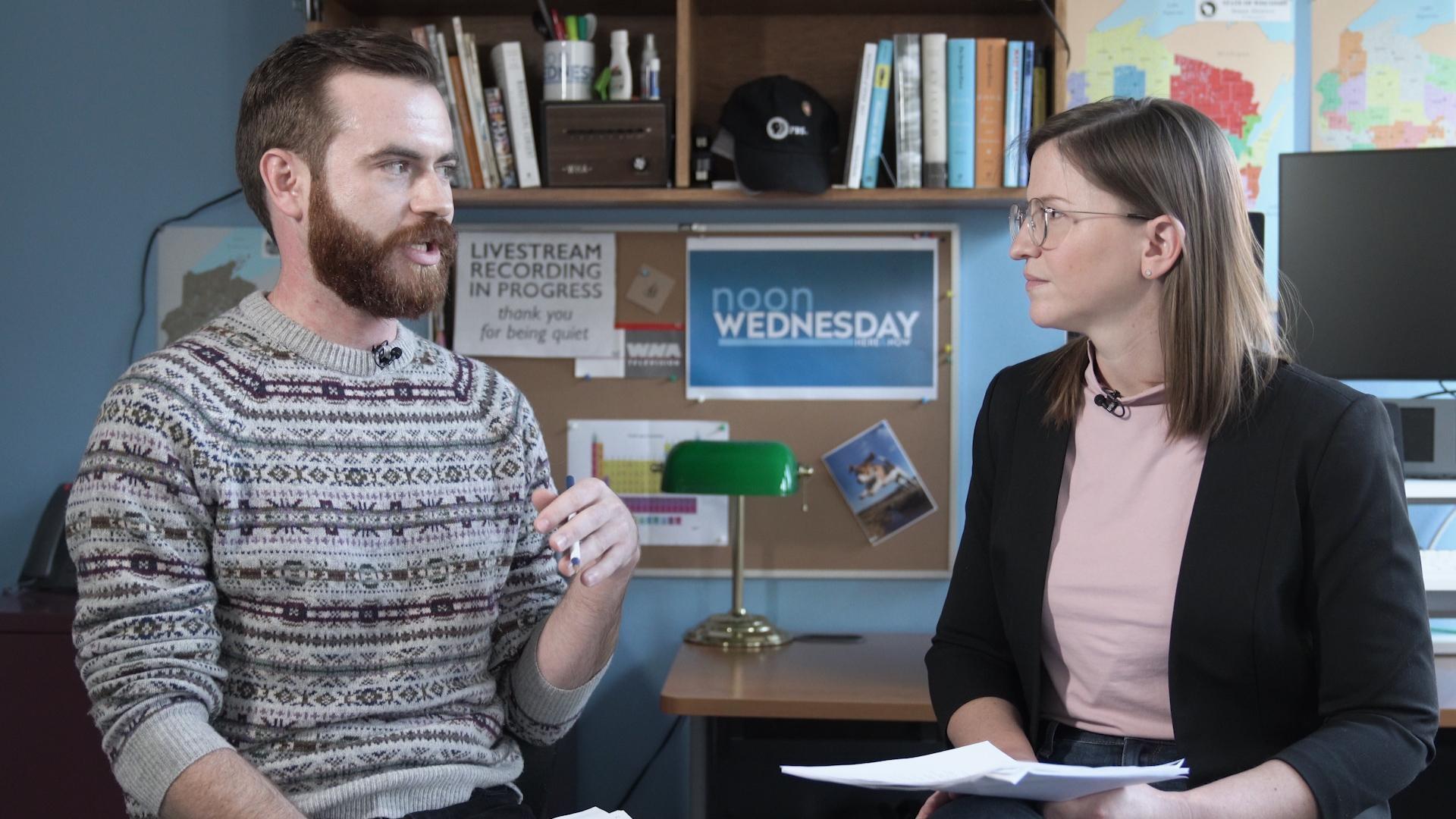 Noon Wednesday: Wisconsin's Right-To-Farm
Wisconsin has a law on its books making it difficult to bring nuisance lawsuits against farmers. But as farms expand in size, the conflicts amongst neighbors grow as well. We're talking to Will Cushman from WisContext about Wisconsin's "right-to-farm" laws and debates over how to regulate these growing farms.
October 23, 2019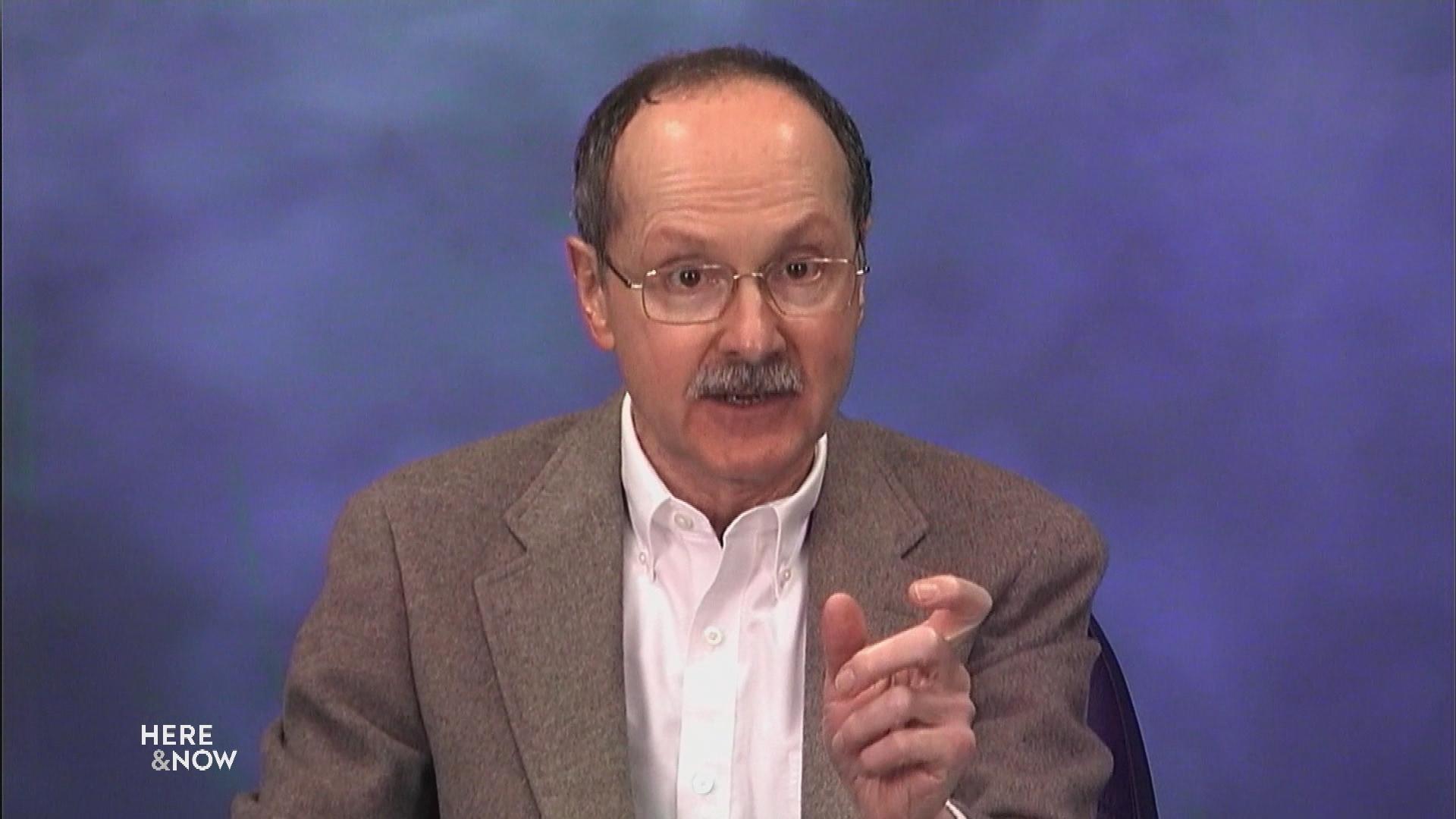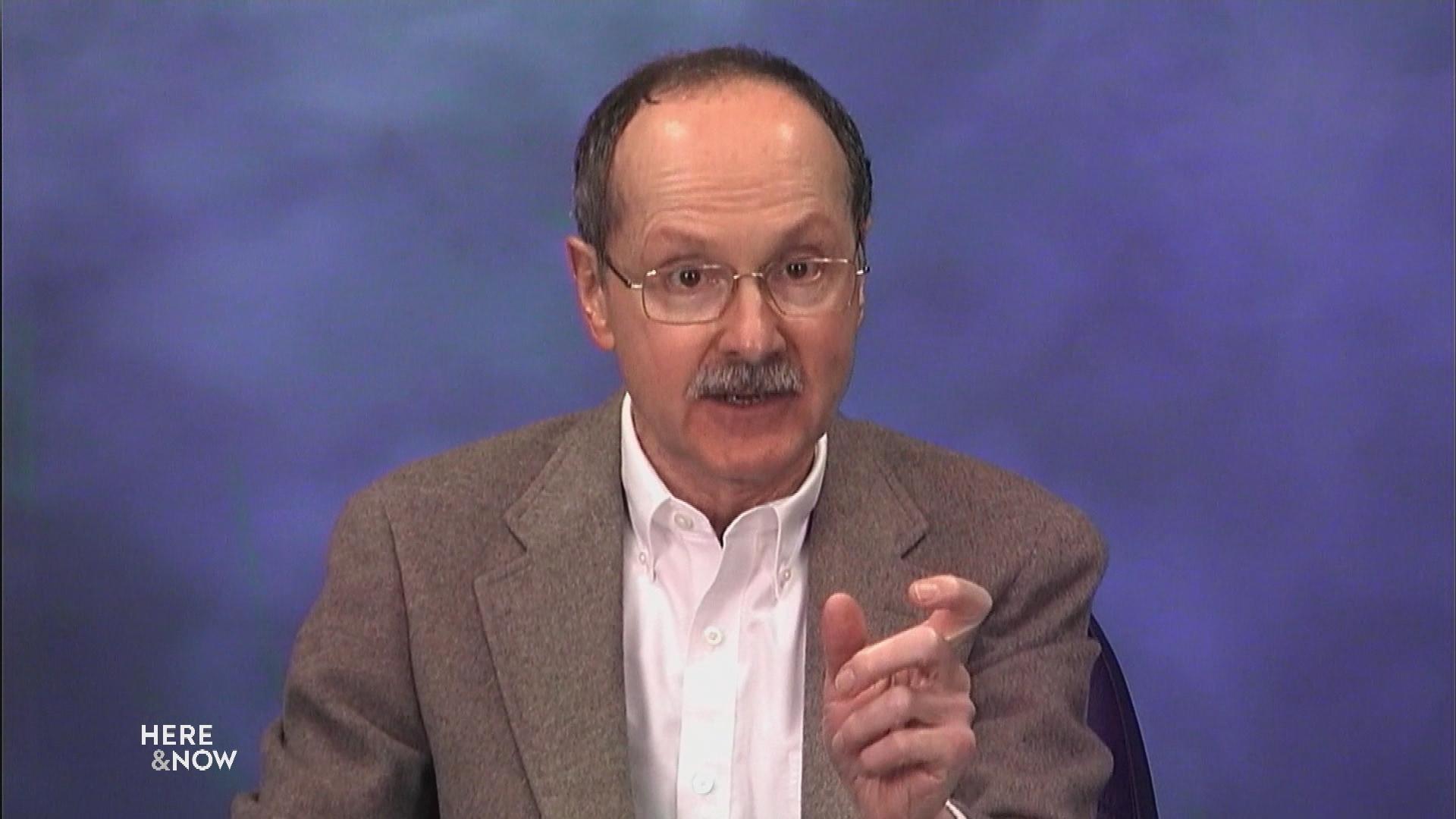 UWM Professor Emeritus on National and State Politics
UW-Milwaukee Professor Emeritus Mordecai Lee discusses this week's Democratic presidential candidate debate and some state politics, including the 5th congressional race. In both state and national elections, Lee says he sees many politicians employing a strategy that always keeps their base in mind, "that's how you win elections," he said.
October 18, 2019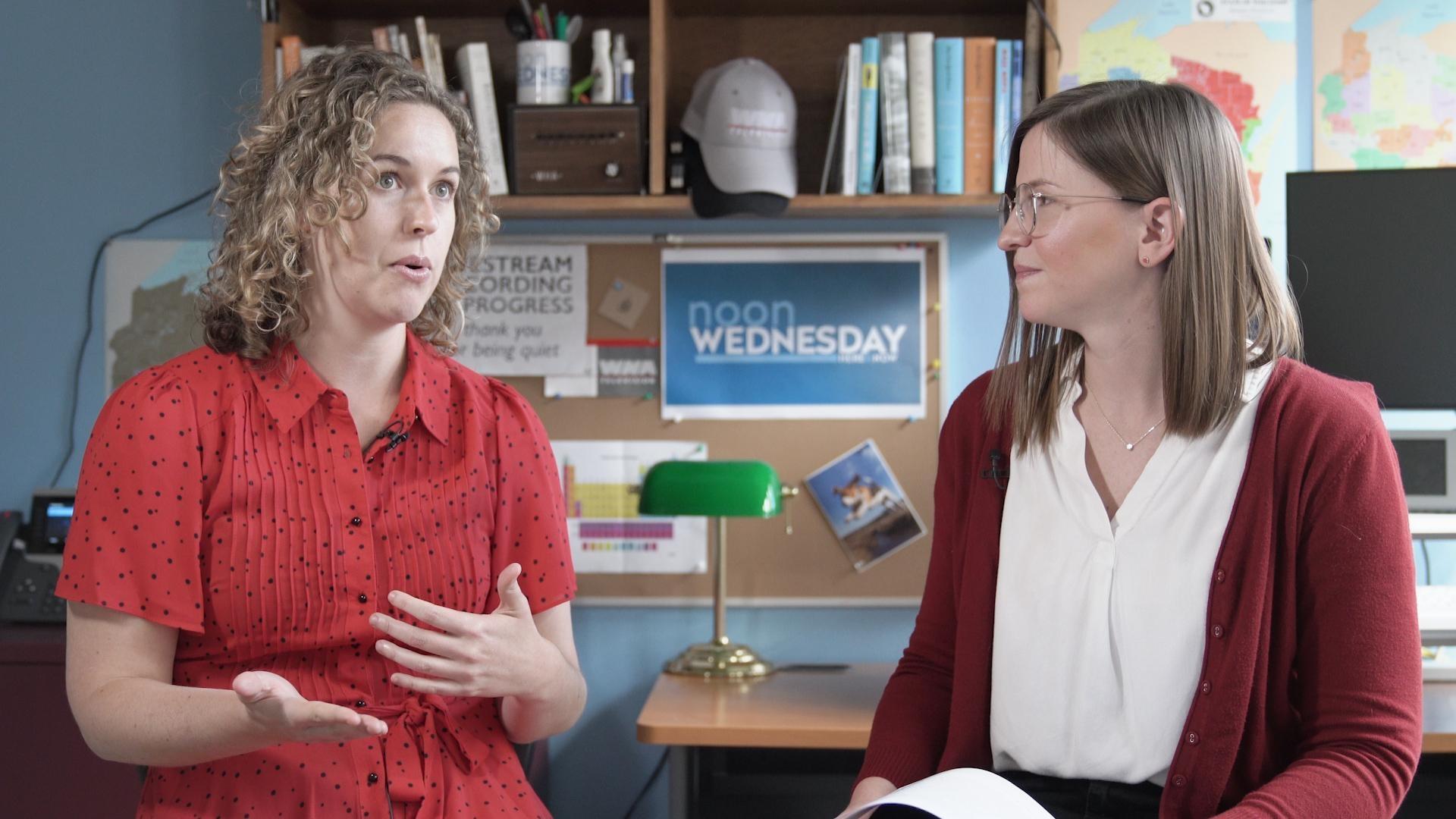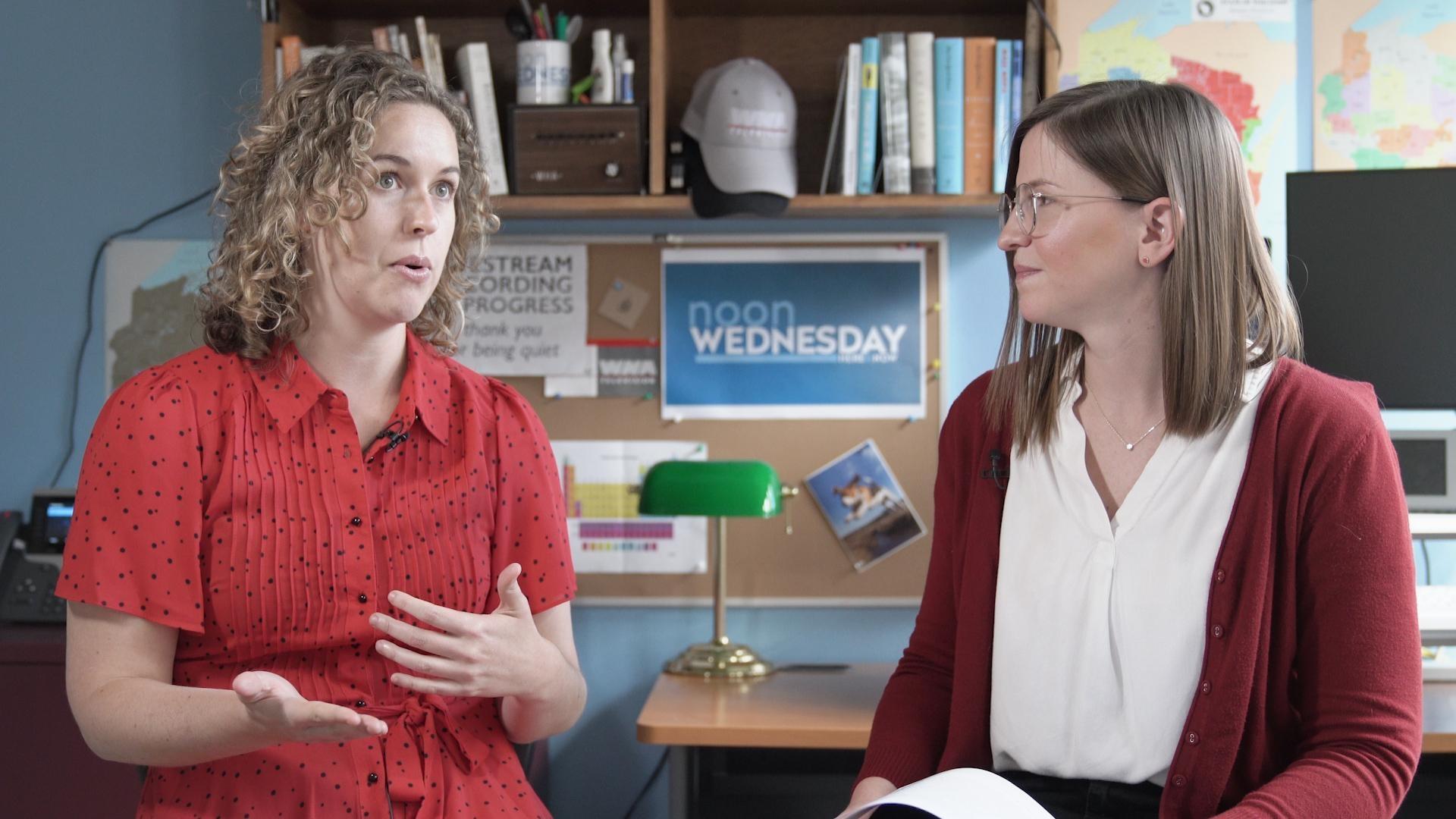 Noon Wednesday: How We Got Off-Track
Building a high-speed rail line between Madison and Milwaukee was a proposal that reached the end of its line but the topic still divides people. Special projects reporter Bridgit Bowden is talking to us about "Derailed," a new podcast from Wisconsin Public Radio that goes full-steam into the history of the line and what it says about our state.
October 16, 2019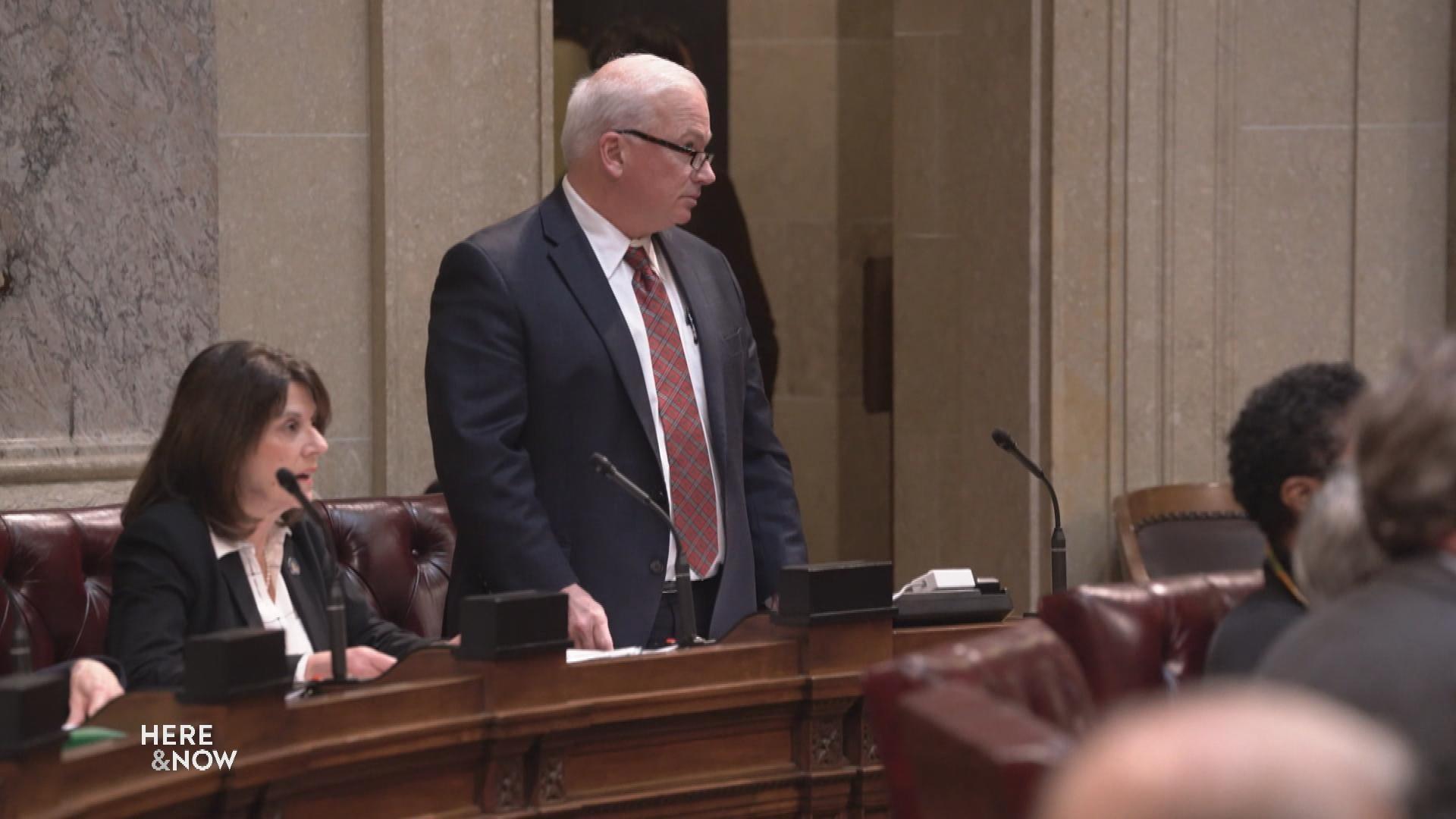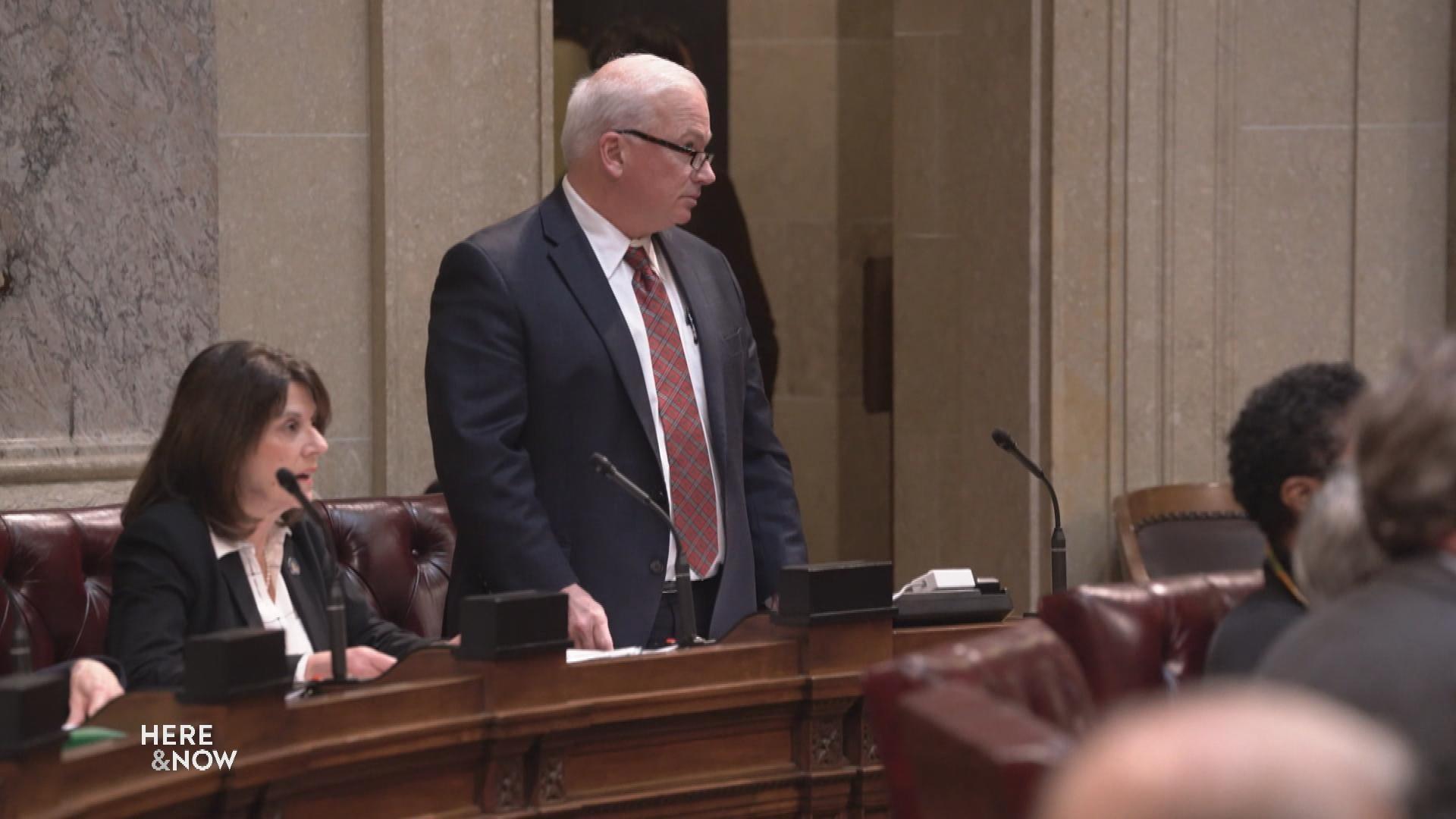 Secretary Designee Update, PFAS and F35 Jets in East Madison
The state Senate confirmed the first of Gov. Evers' cabinet members this week. A report from the DNR found high-levels of unsafe chemicals known as PFAS in Madison's Starkweather Creek near the Truax national guard air-base. The Truax Field is also facing controversy due to a resolution passed by the state Senate in support of bringing new F-35 fighter jets to Madison.
October 11, 2019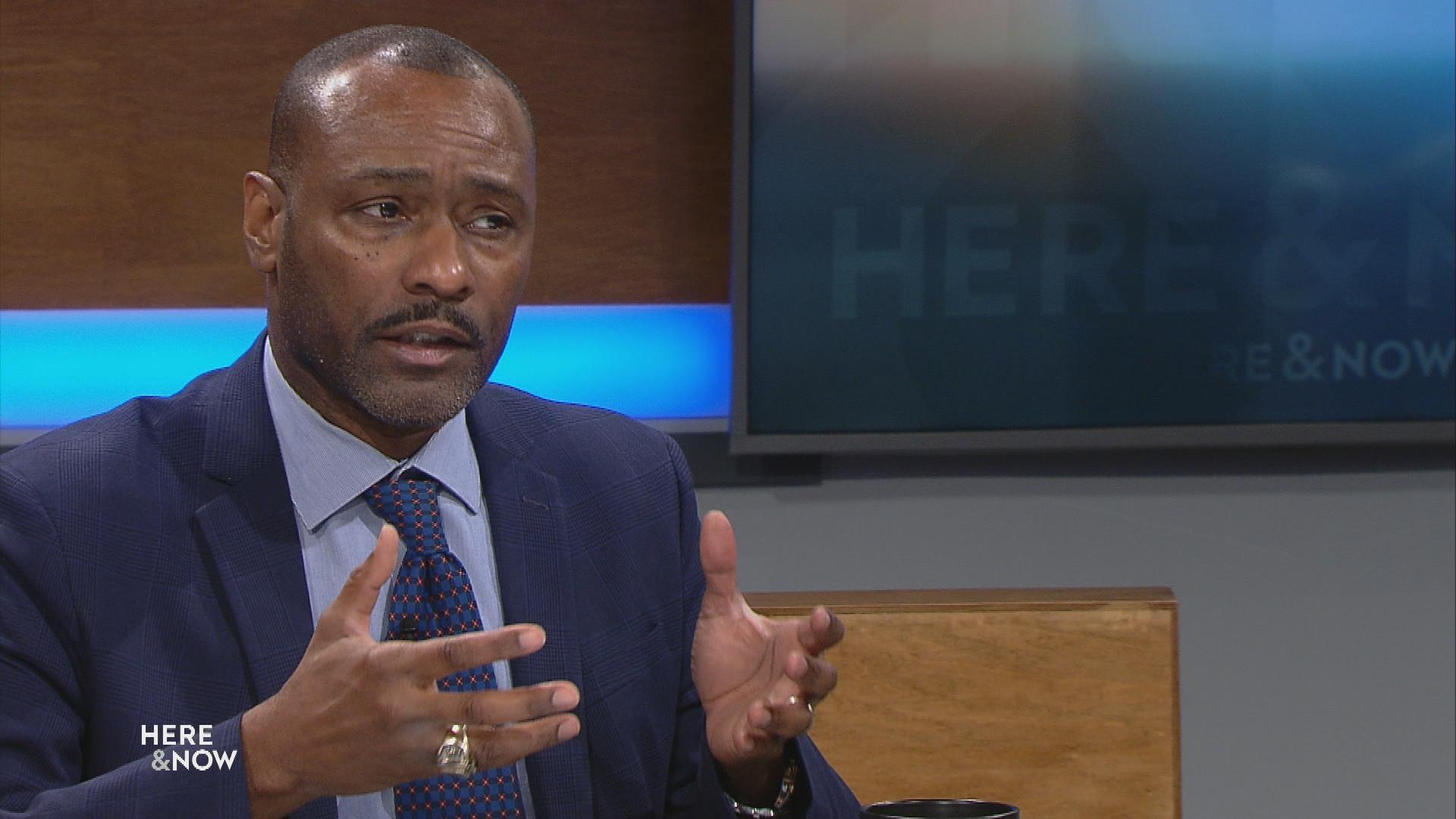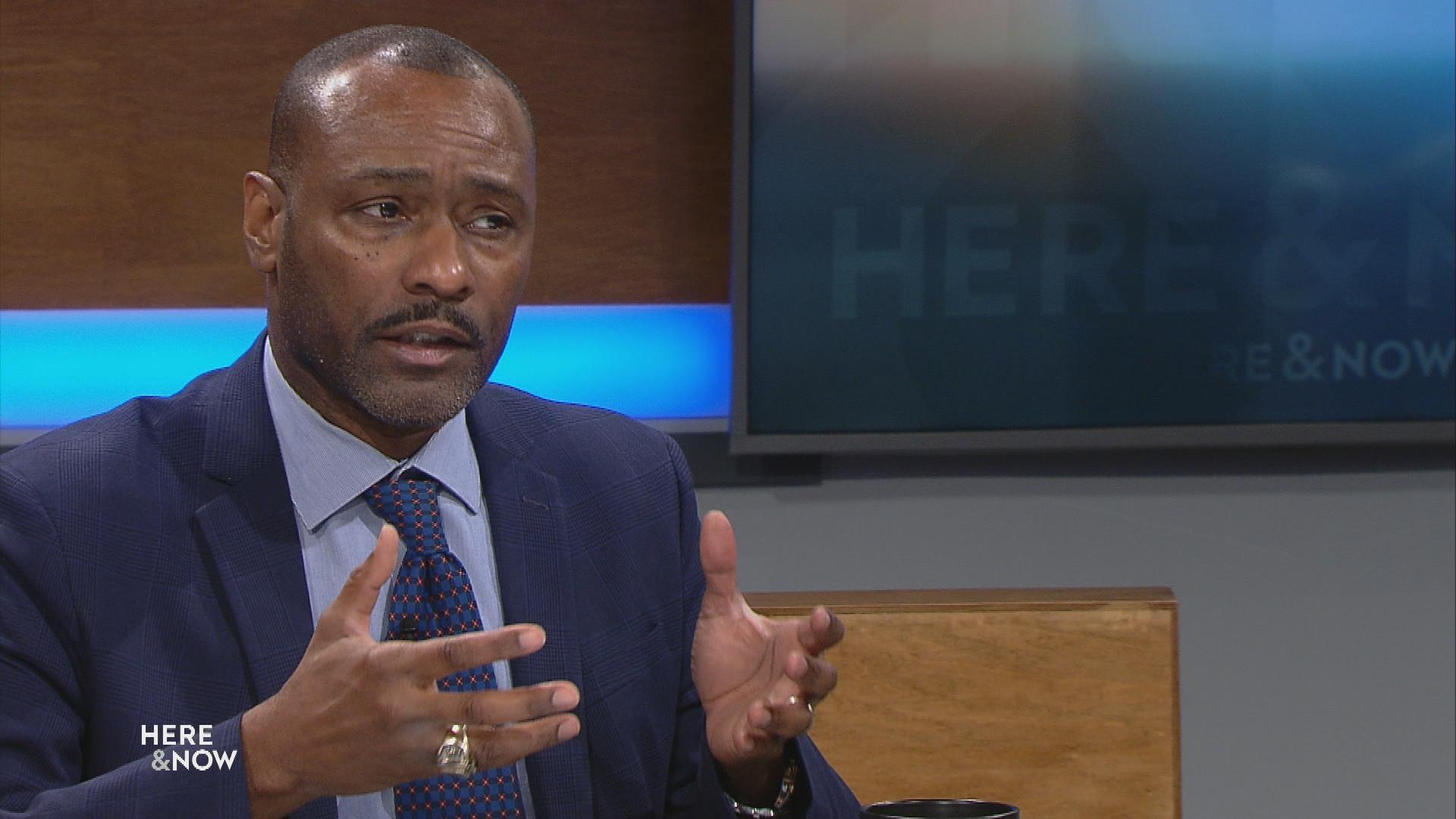 Gov. Evers' Pardon Advisory Board Explained
Pardon Advisory Board member and former Madison Police Chief Noble Wray discusses the work of the Gov. Evers' pardon board. Former Gov. Walker previously disbanded the board and refused to issue any pardons. This week Gov. Evers' signed the first four pardons since 2010. The board is responsible for reviewing for making recommendations to the Governor on who to grant pardons to.
October 11, 2019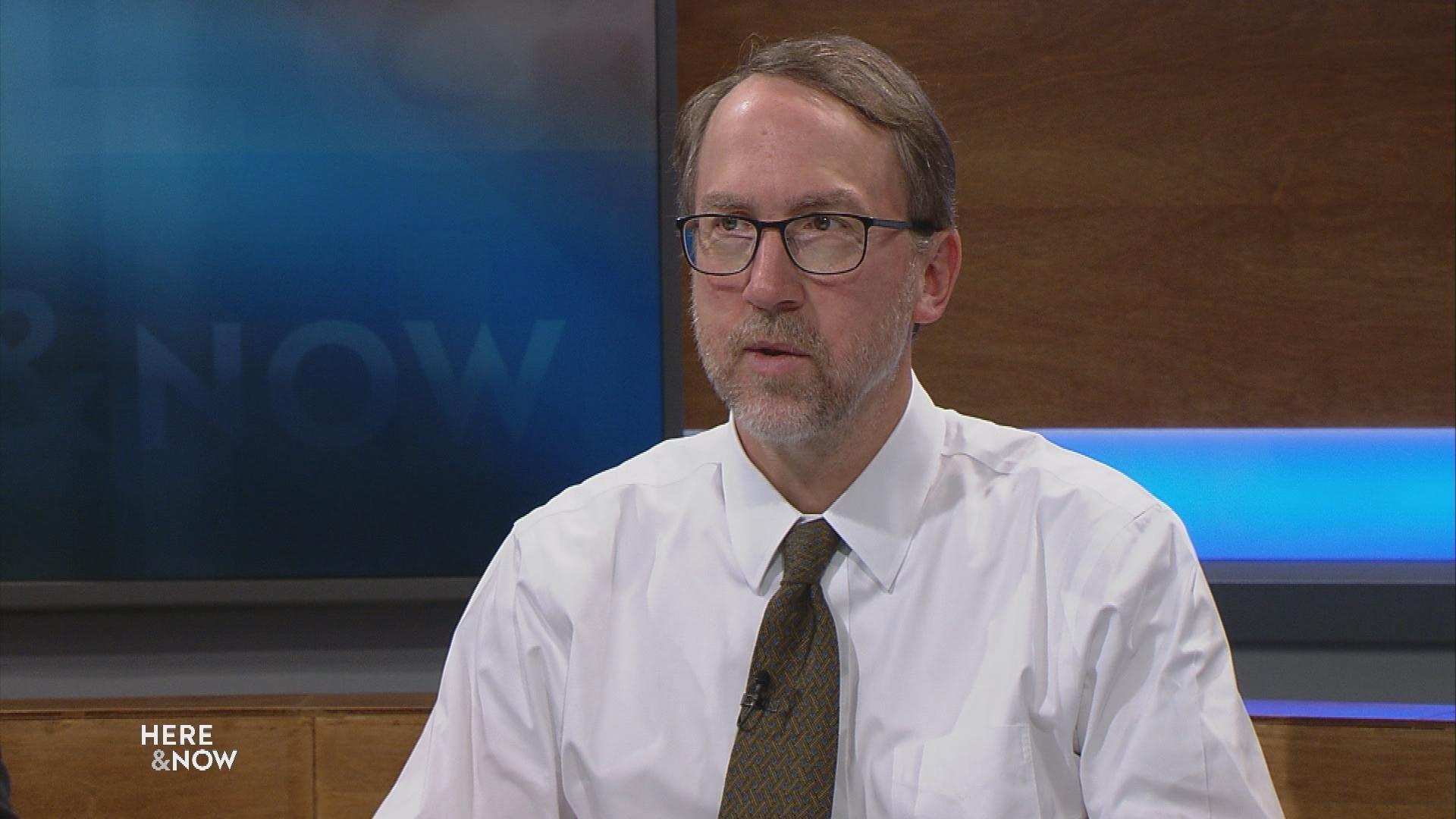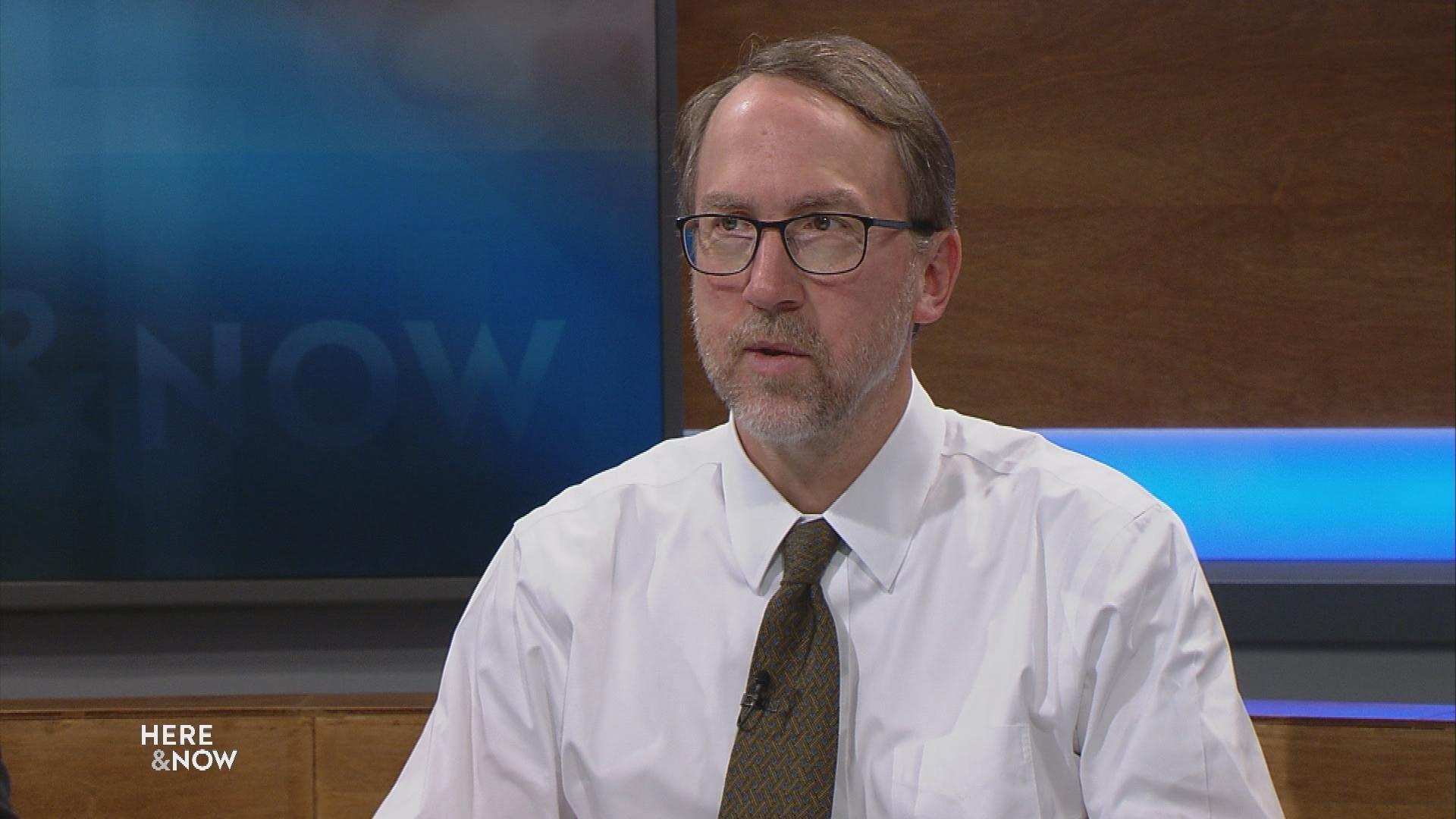 UW Political Scientist on US role in Turkish Conflict
UW-Madison Political Scientist, Professor Andrew Kydd, explains U.S. foreign policy and the Kurdish-Turkish border crisis. Many are waiting to see how President Trump decides to intervene considering that the Kurds are U.S. allies. Kydd warns that abandoning the Kurds during this crisis may undermine America's credibility with other international allies.
October 11, 2019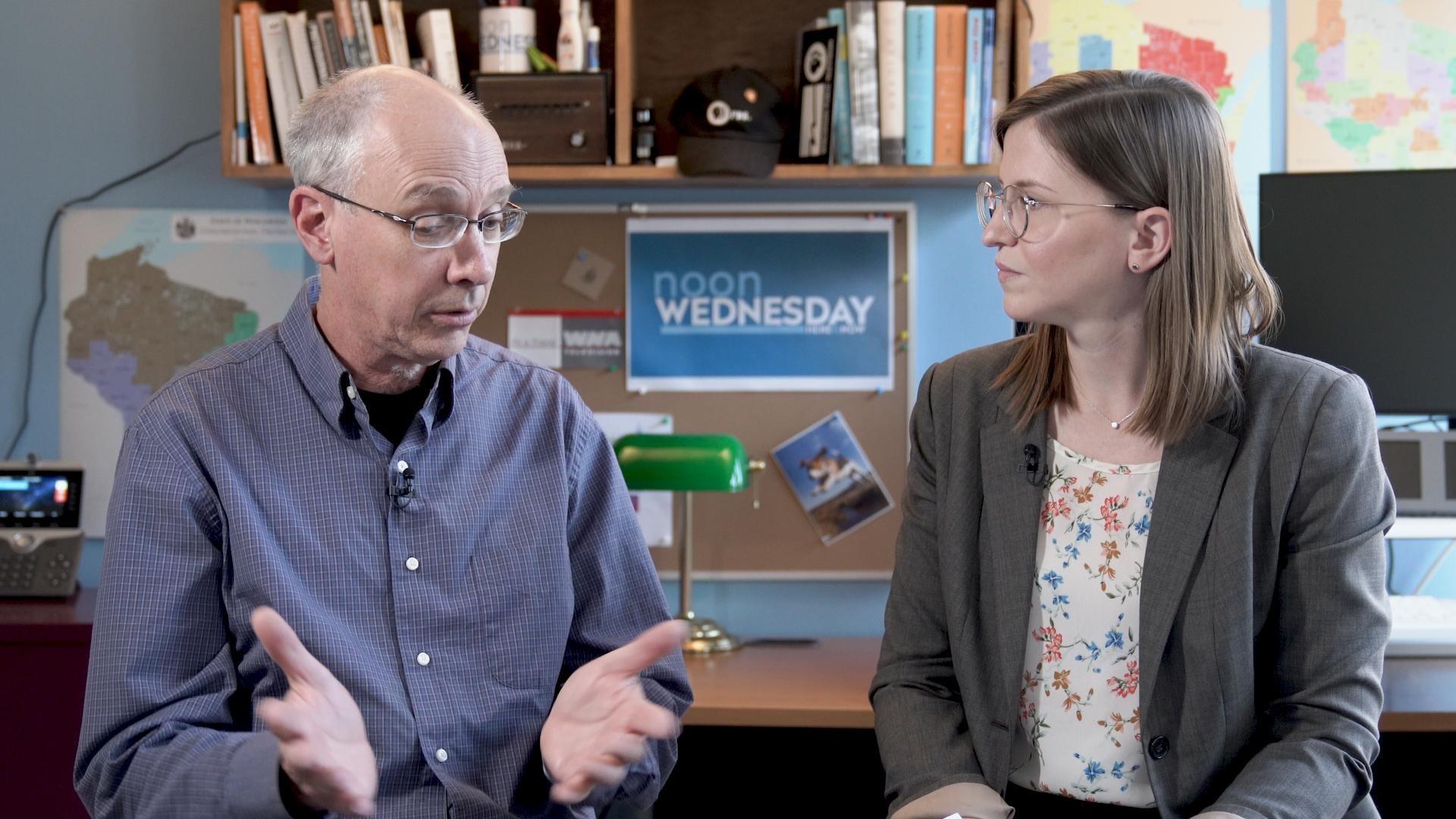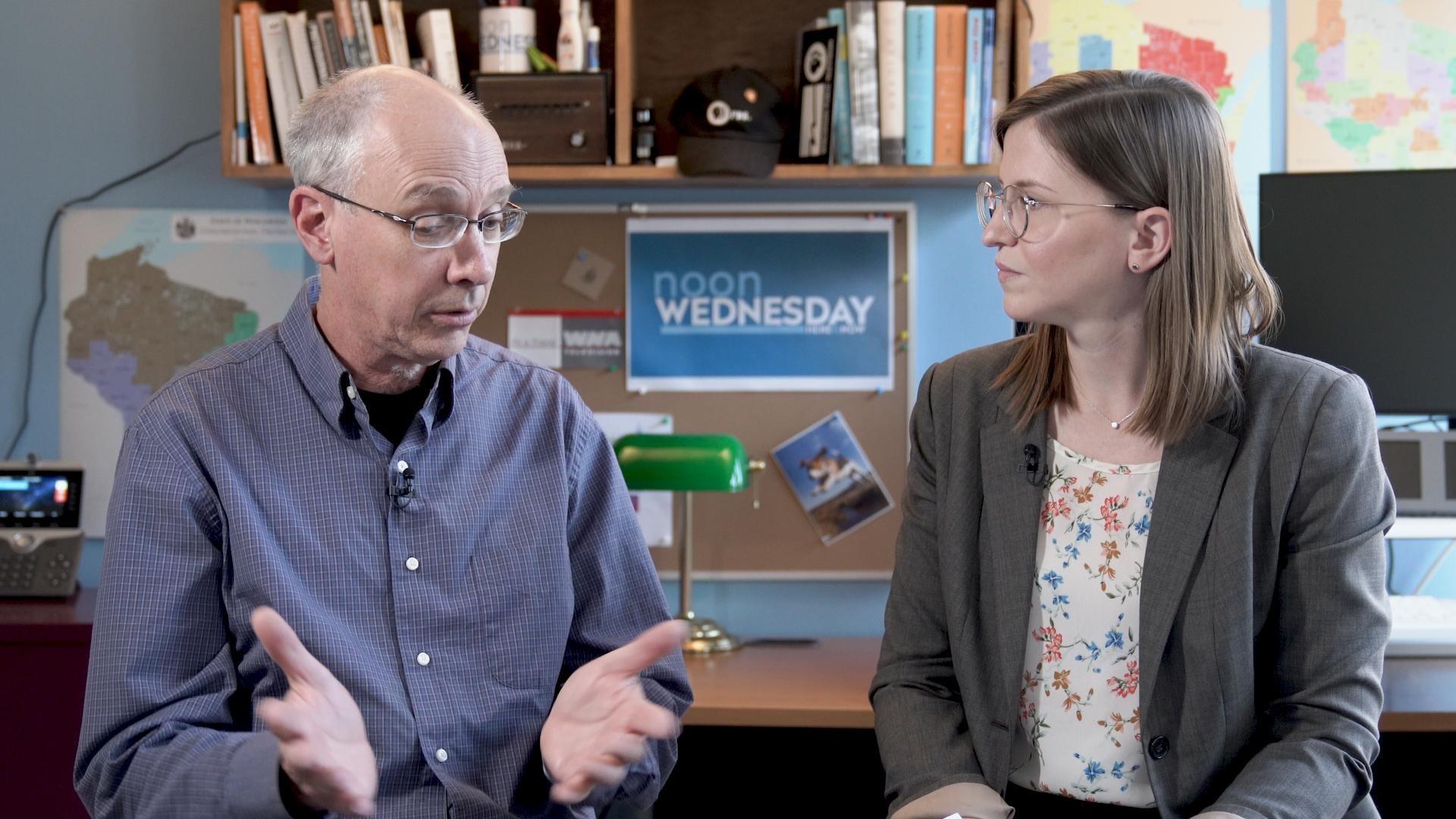 Noon Wednesday: Where's the Disconnect?
A lack of internet connection still impacts more than 17% of households across Wisconsin, creating digital inequities that impact students and communities as a whole. Bill Herman, a broadband consultant for the Wisconsin Department of Public Instruction joins us to discuss these gaps and where schools are finding solutions.
October 9, 2019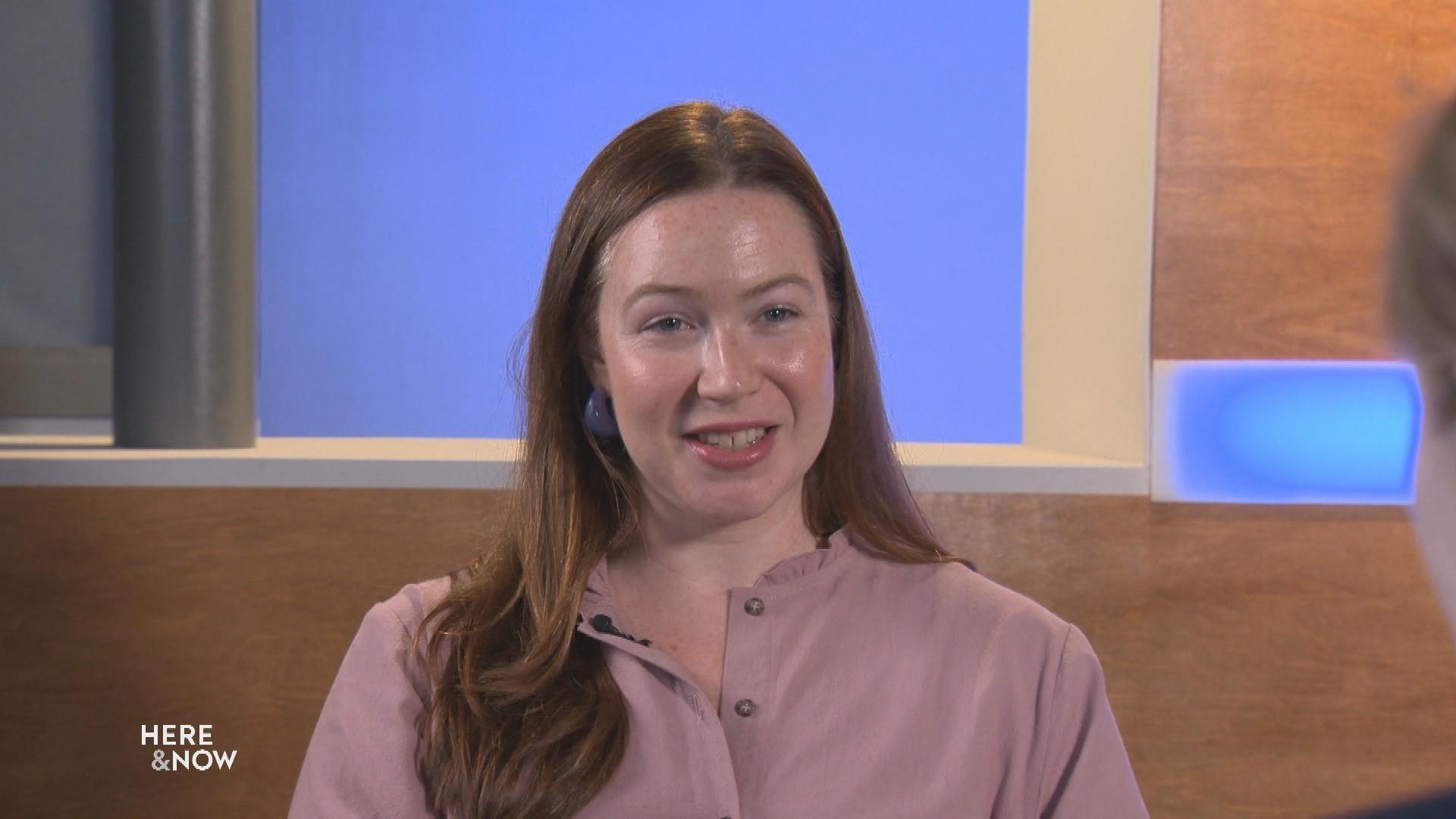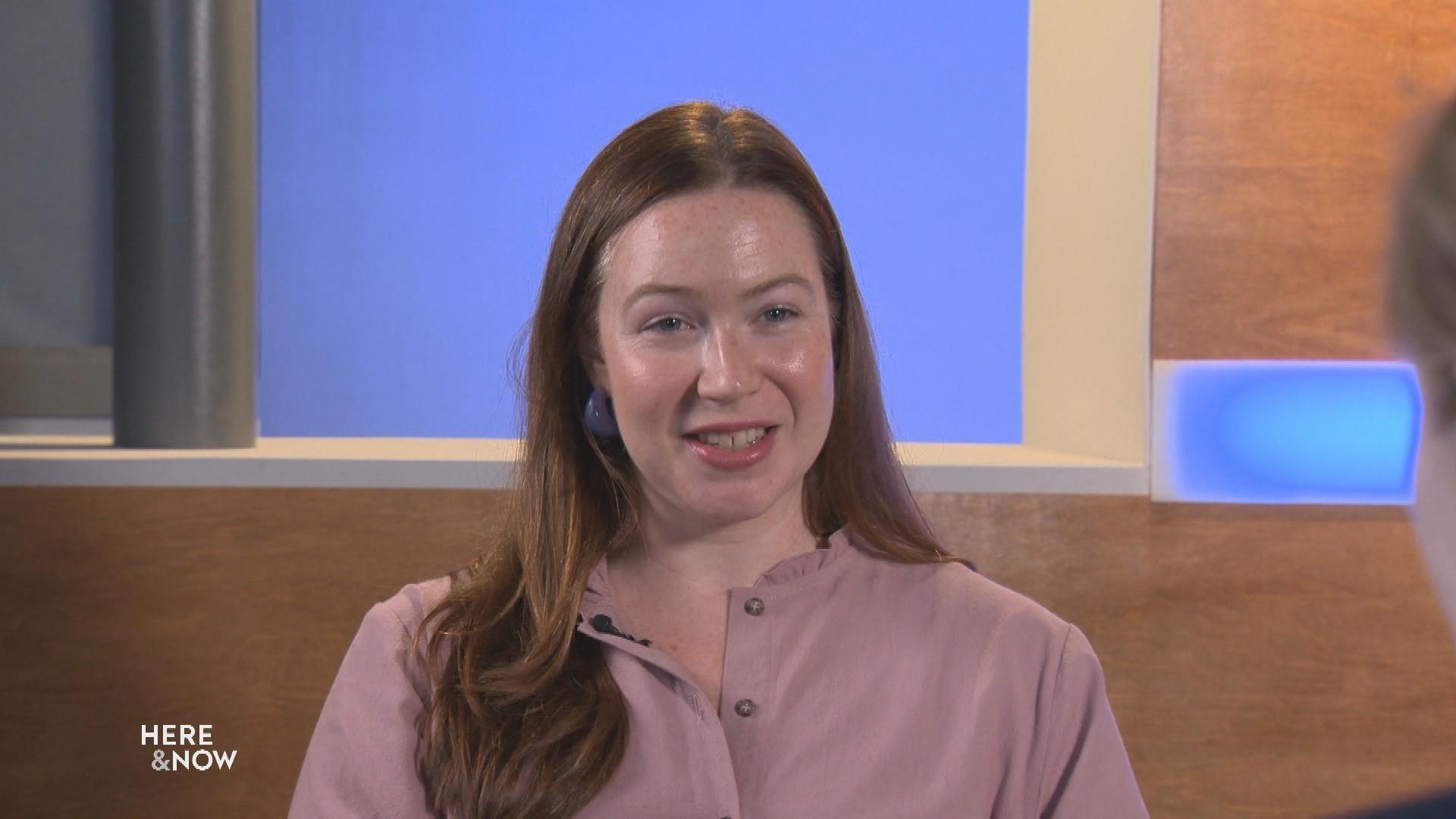 The Role of Electability and Identity in 2020 Election
FiveThirtyEight Senior Political writer Clare Malone examines the intersection of identity and electability in the upcoming Presidential election. Malone describes 'electability' (in the context of this election) as a shorthand for the ability to win over Obama-Trump voters that surprised the nation in 2016. Understanding those voters will be necessary for "electorally key states like Wisconsin,
October 4, 2019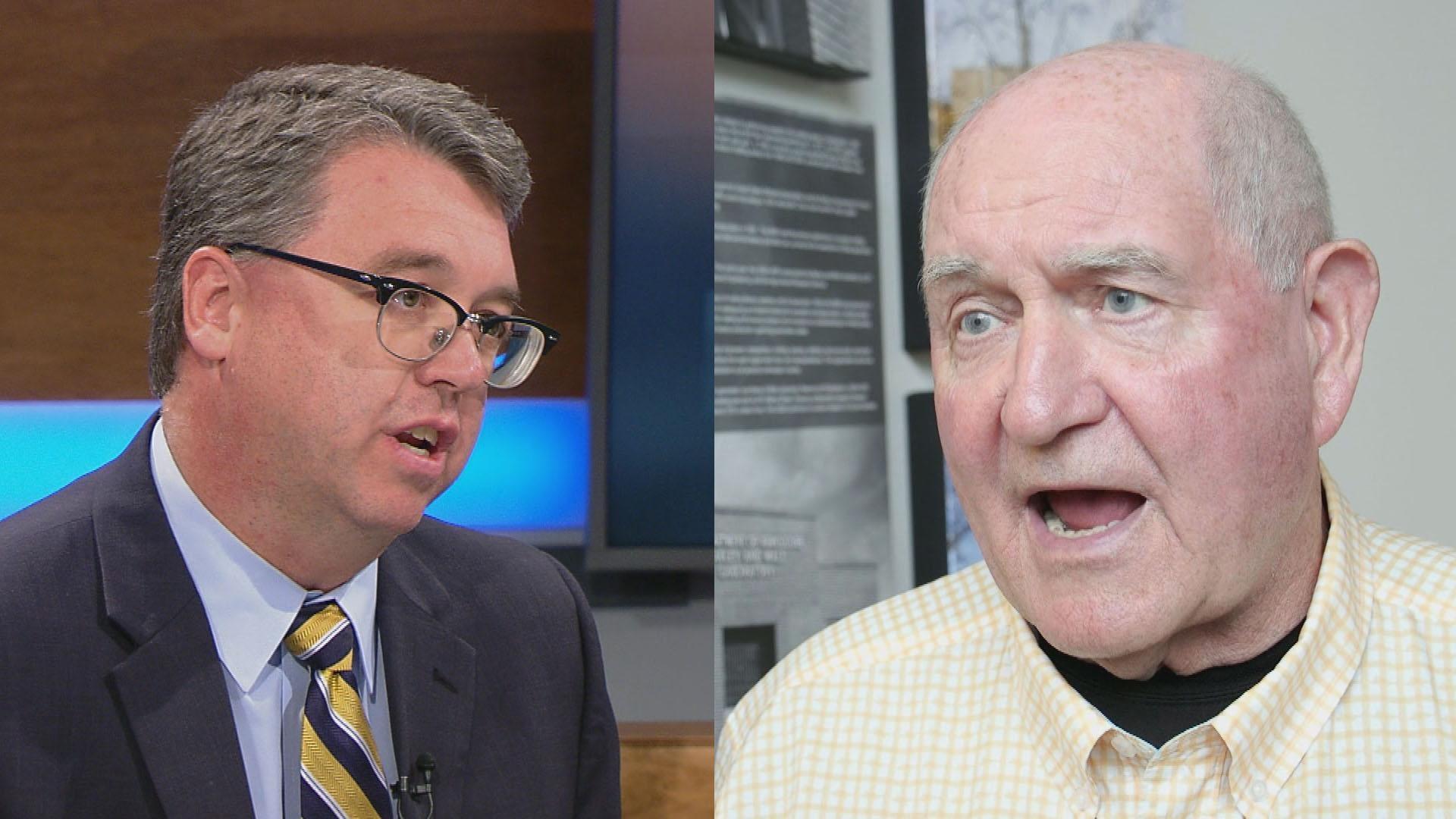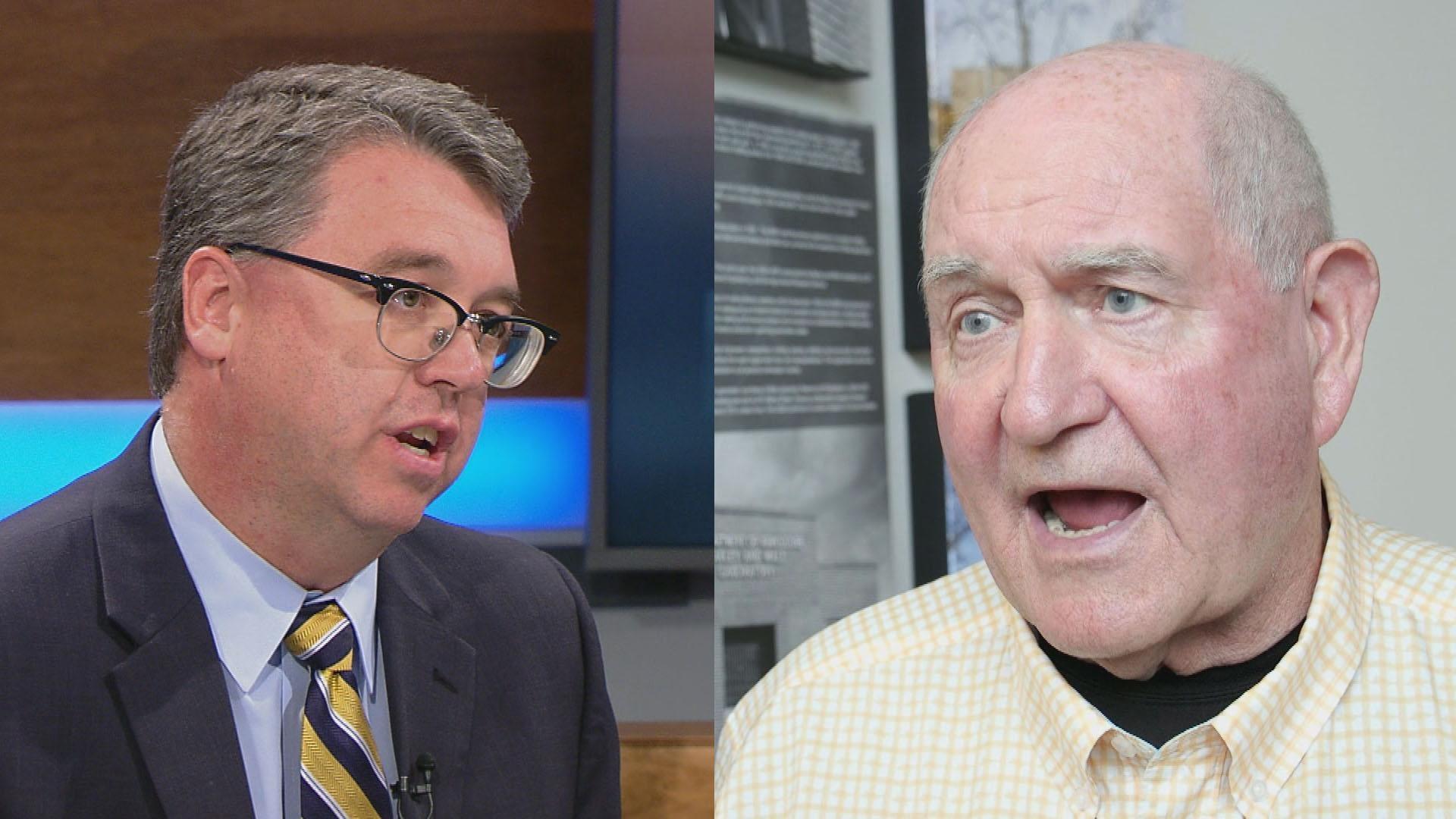 U.S. and State Department of Agriculture Secretaries Sonny Perdue and Brad Pfaff both give their perspectives on the state of small dairy farmers and the industry as a whole. With extreme weather, low prices and uncertainty in foreign trade, Pfaff explains that Wisconsin farmers have been hit with a "triple whammy" of unfortunate events.
October 4, 2019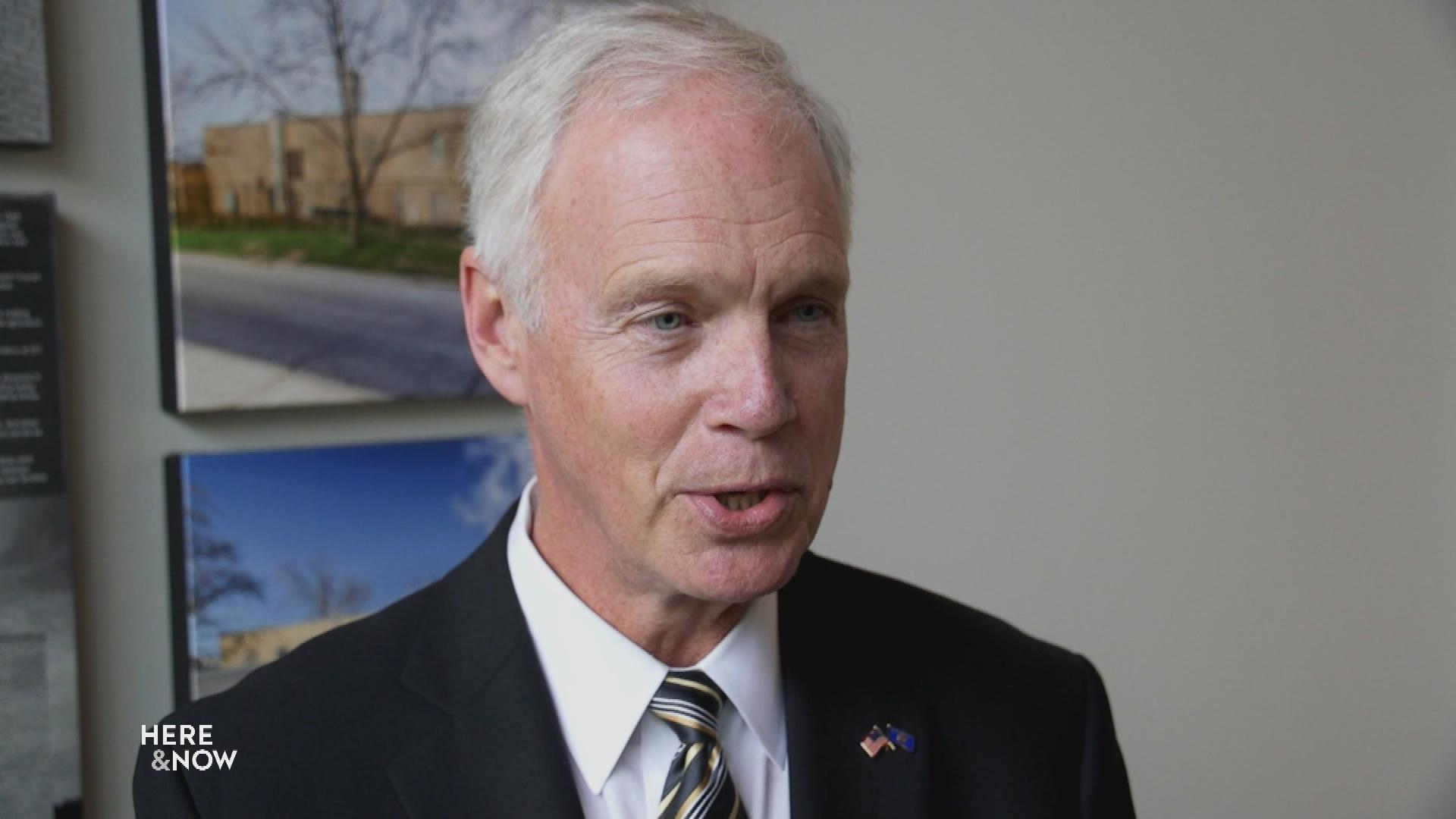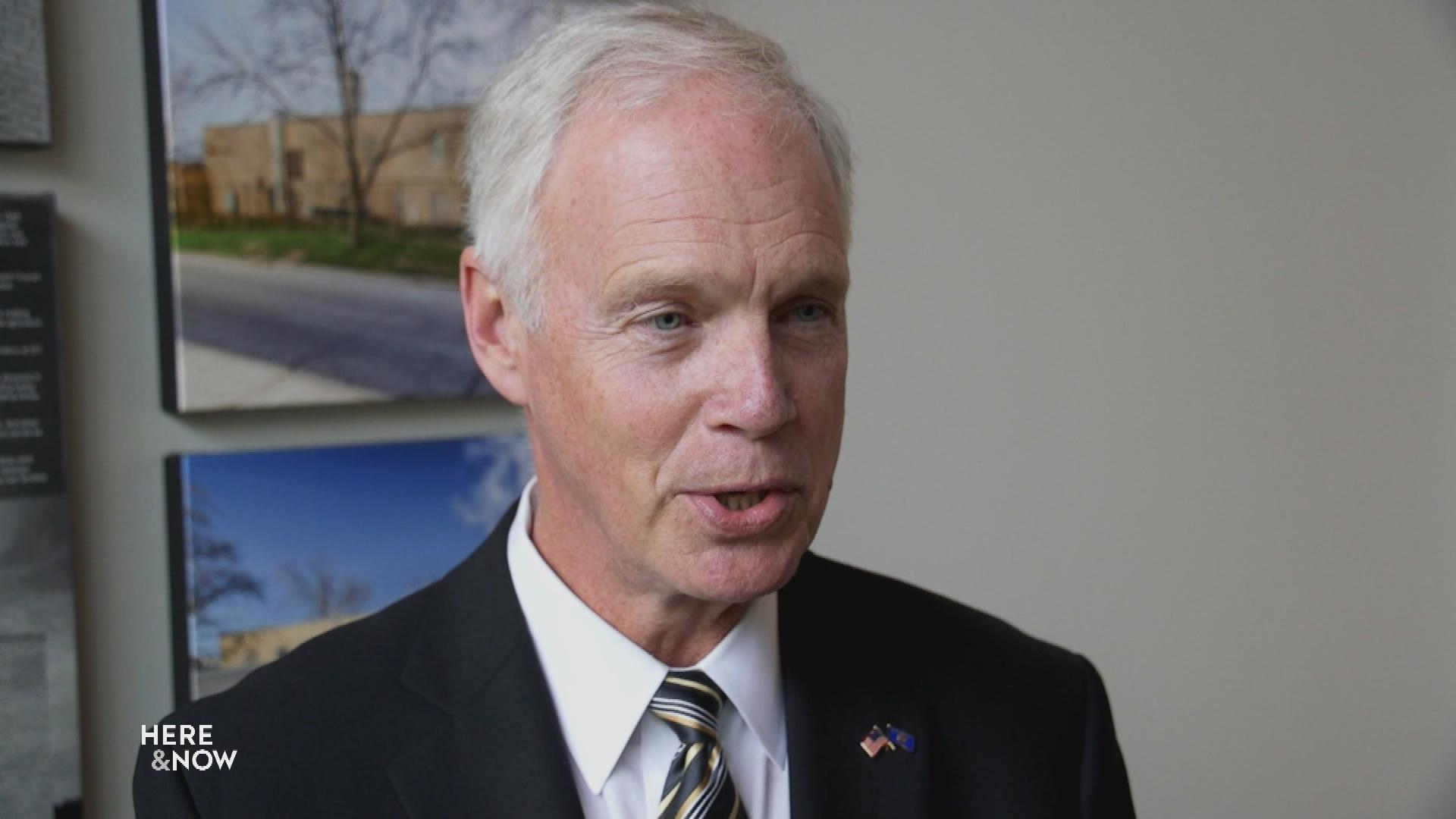 U.S. Senator Ron Johnson Doubles Down
Wisconsin U.S. Senator Ron Johnson weighs in on recent activities in Washington. Johnson says he's once again looking at Hillary Clinton's emails and remarks about whether people should trust what the President tweeted about a potential civil war.
October 4, 2019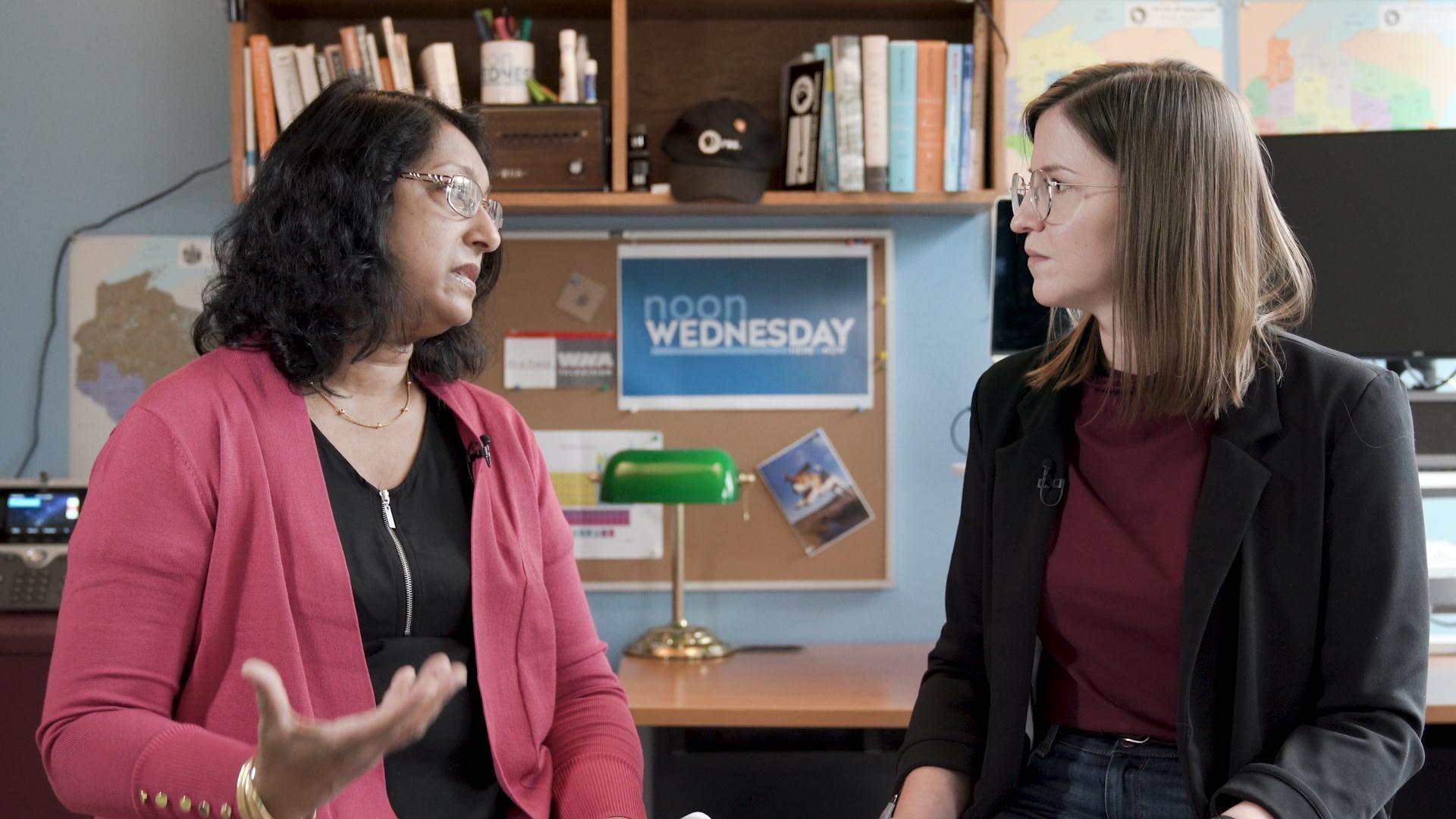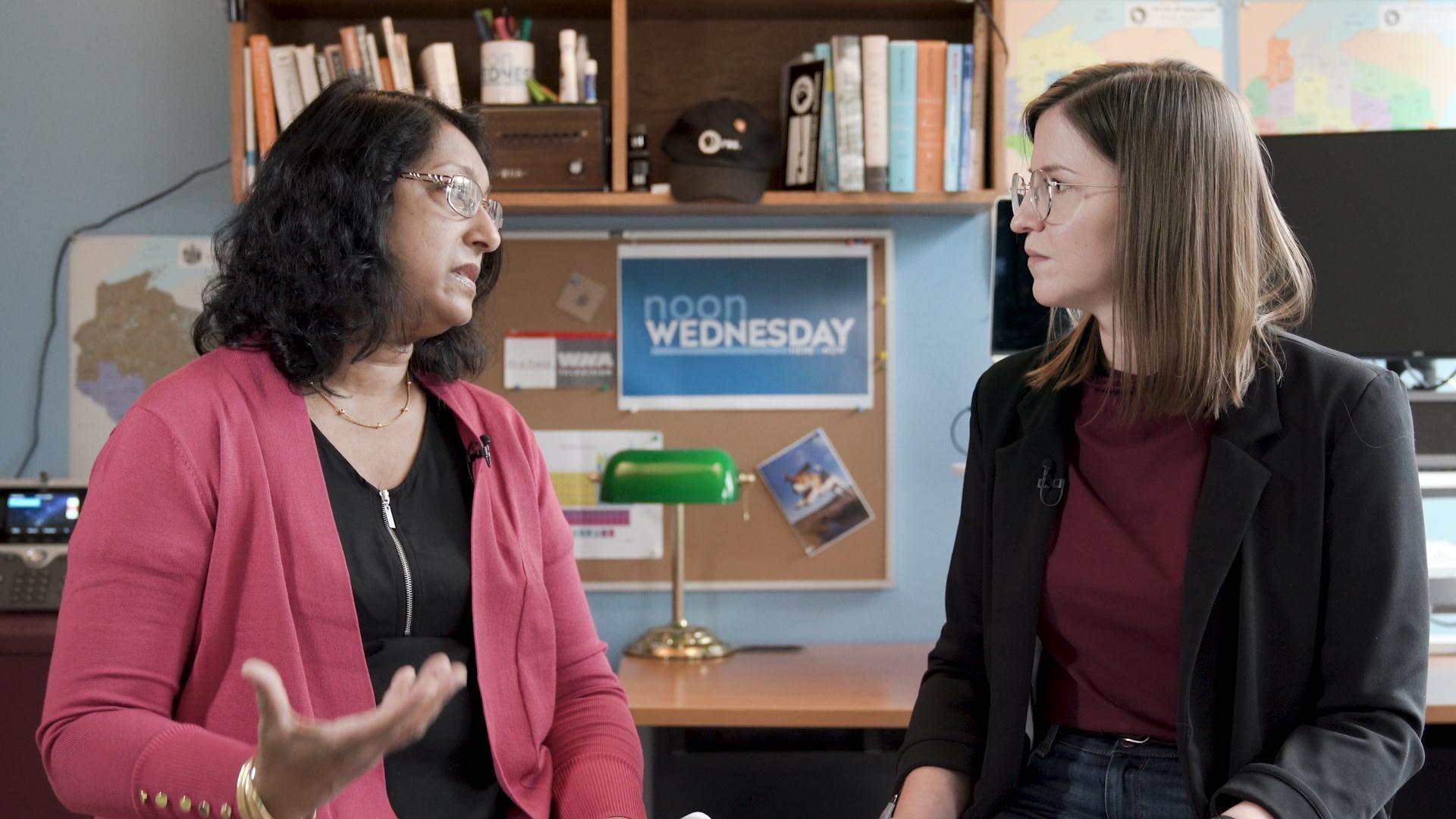 Noon Wednesday: Is a Healthy Climate a Human Right?
The head of Wisconsin's Department of Natural Resources is calling climate change "one of the defining issues of our time" and urging a return to researching it. As farmers struggle to protect their crops, communities find themselves under water and livelihoods impacted, our guest Sumudu Atapattu says we should be looking at climate change as a human rights issue.
October 2, 2019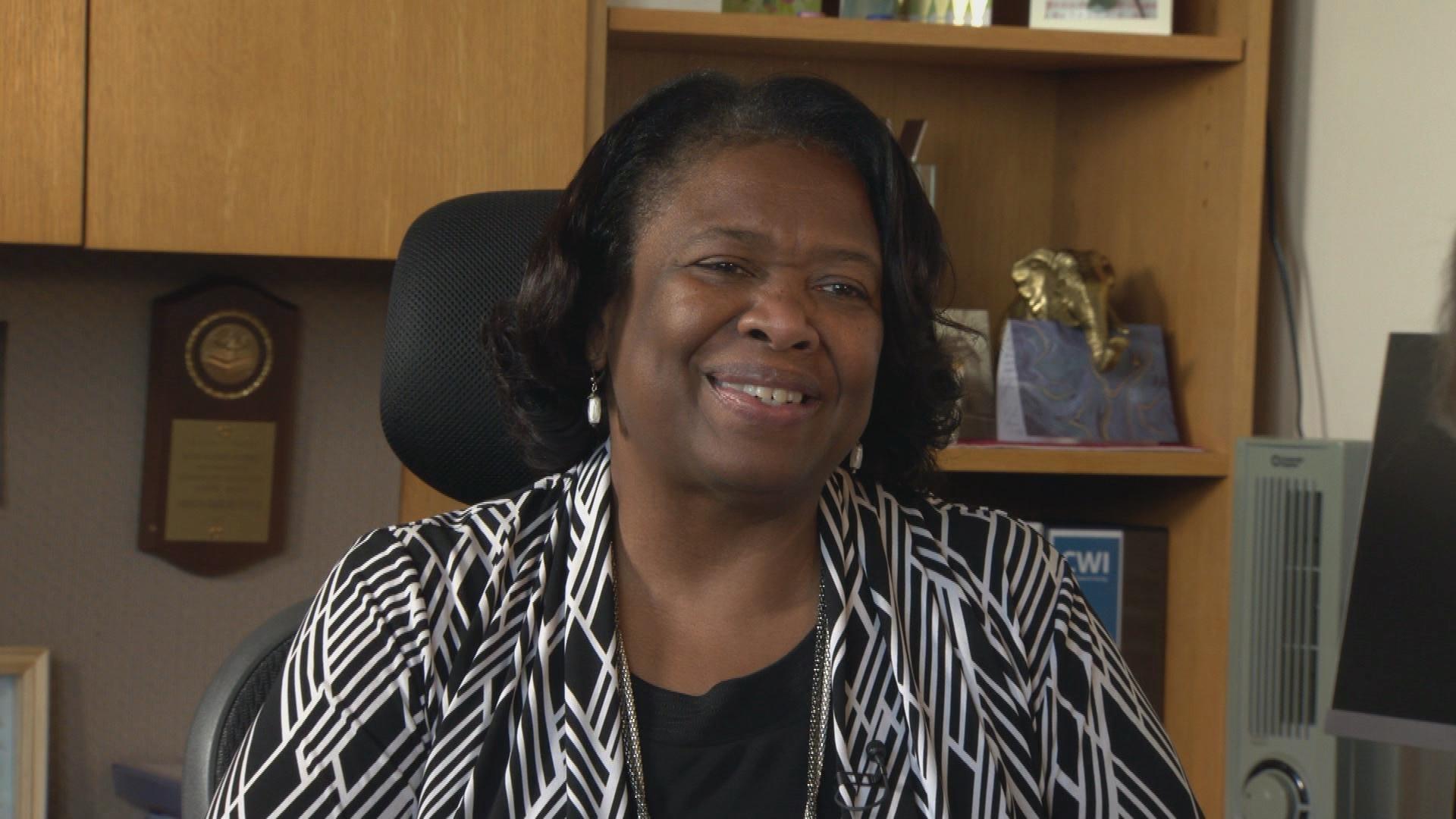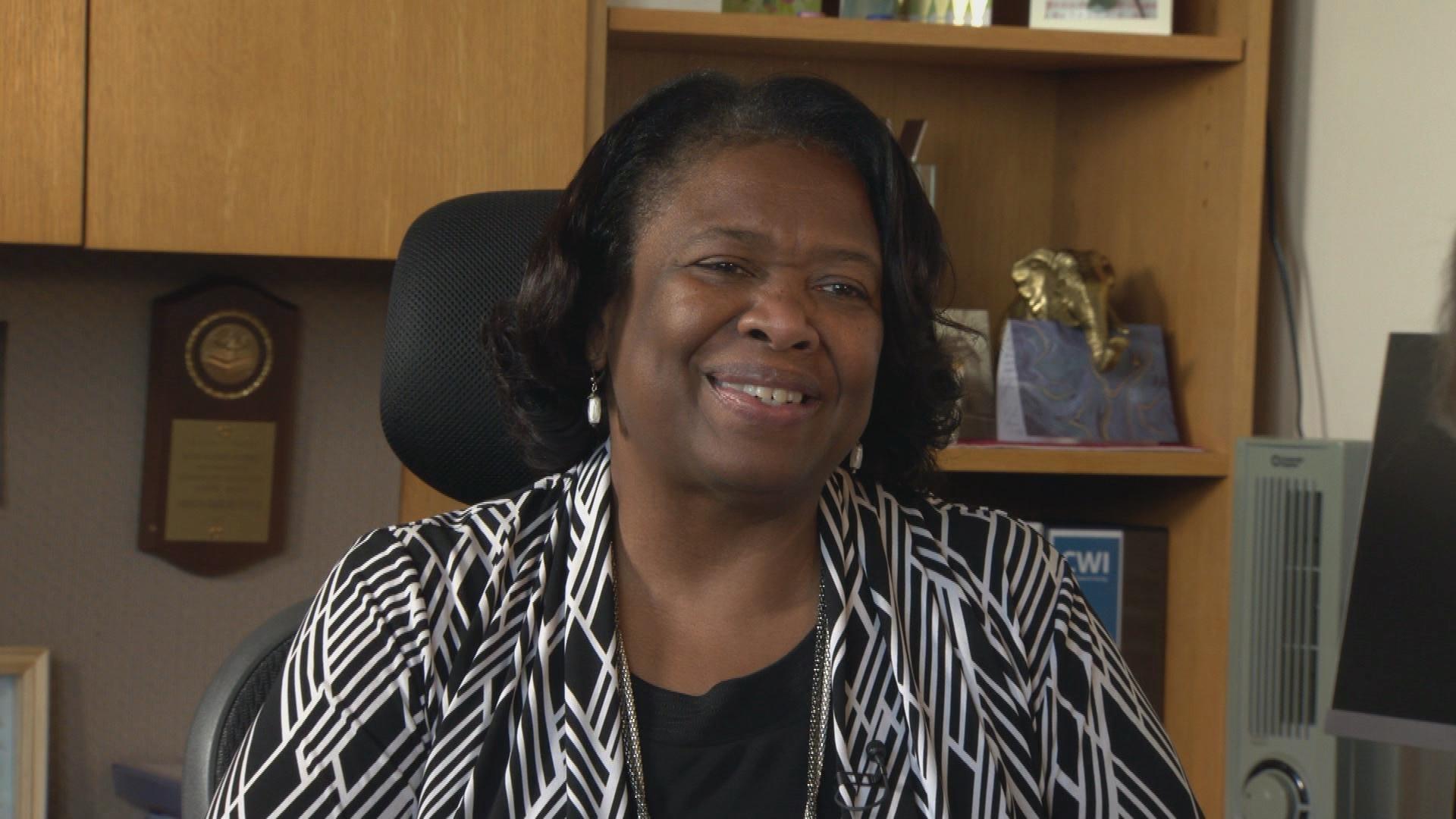 State Superintendent on Decline in State Test Scores
State Superintendent Carolyn Stanford Taylor elaborates on the State of Education in Wisconsin. The superintendent speaks to the decline in statewide achievement scores and other factors that impact students across the state.
September 27, 2019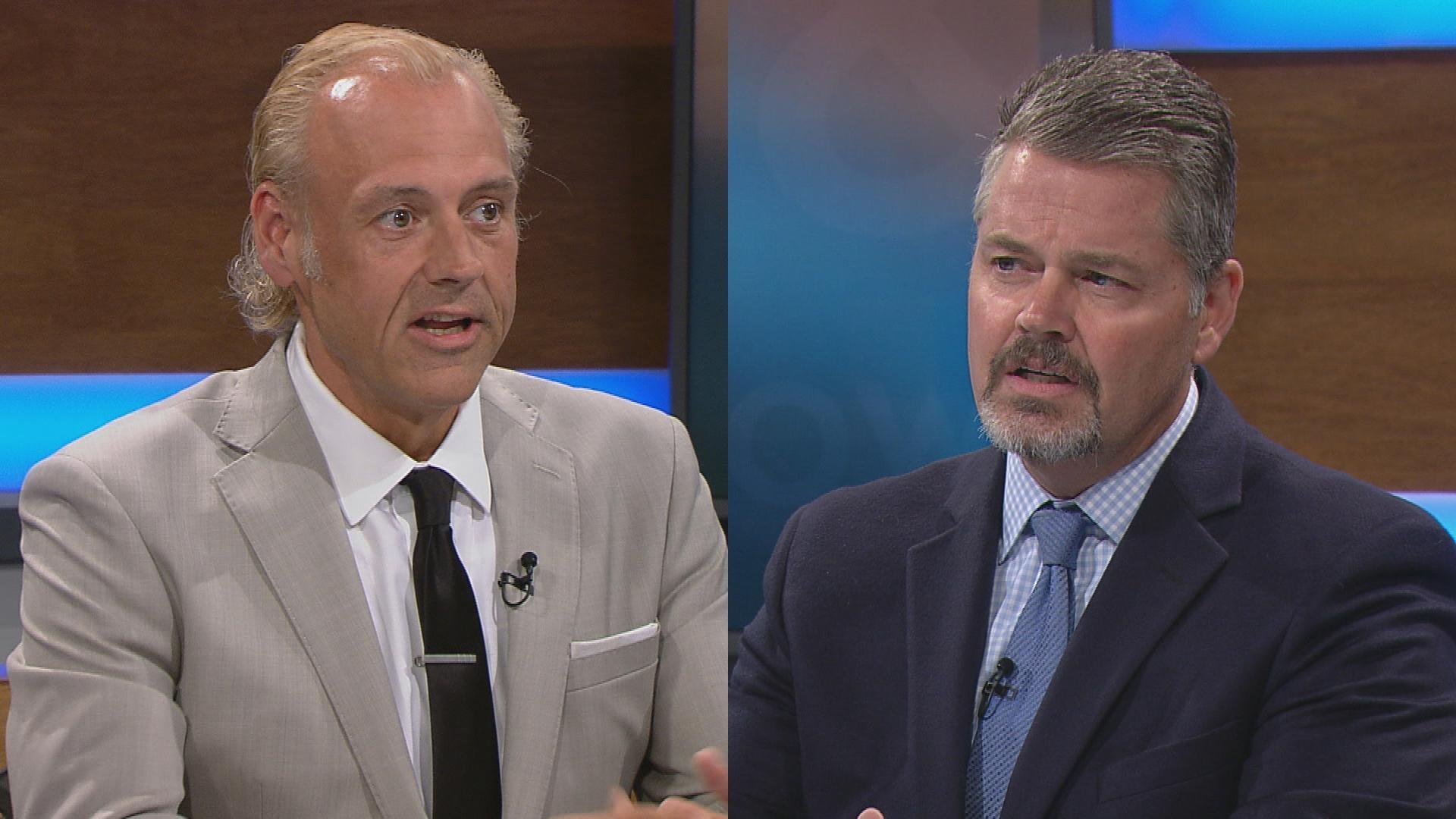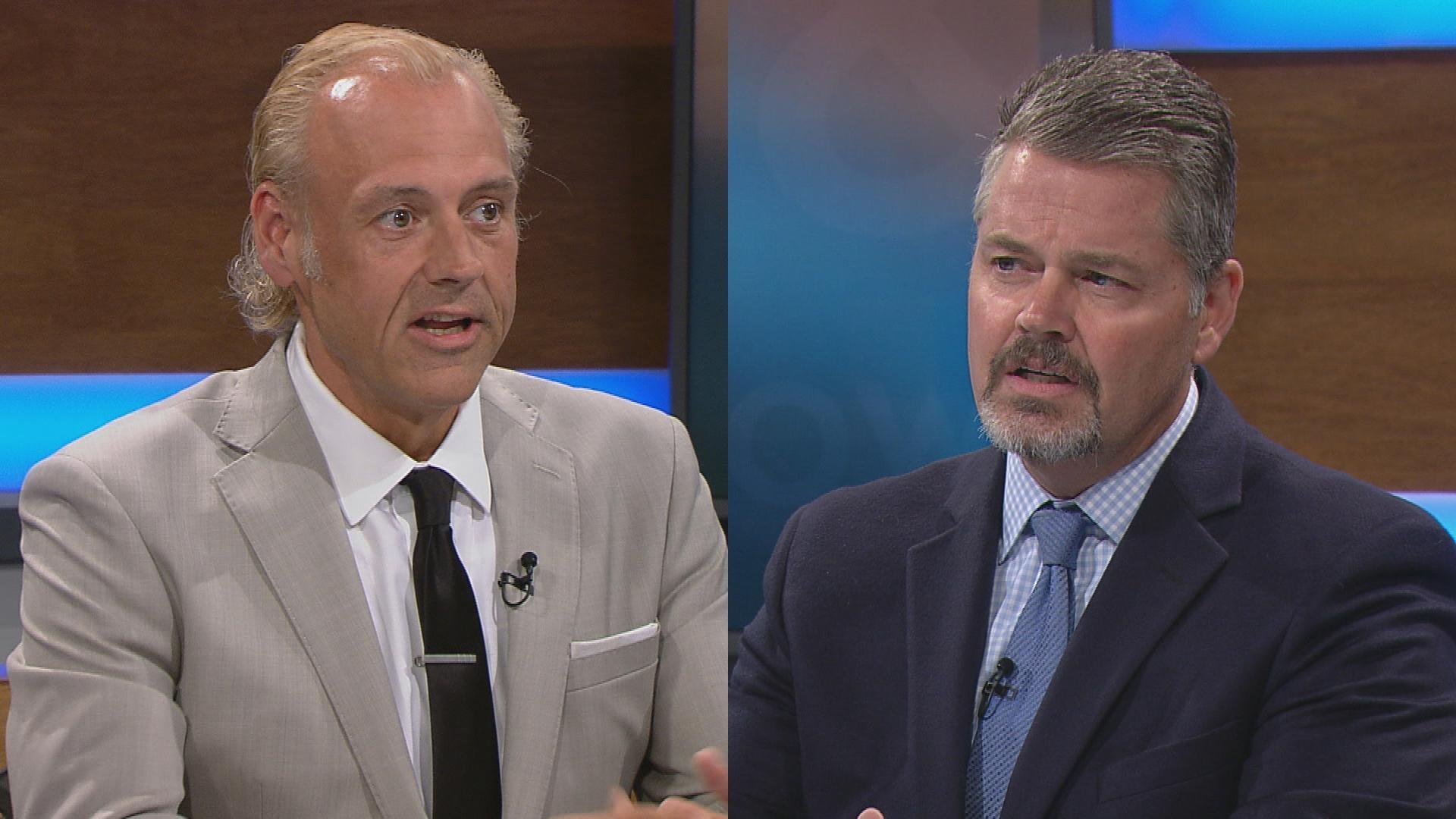 Political Panelists Touch on Washington politics
Political panelists, Republican Political Strategist Bill McCoshen and Democratic Political Strategist Scot Ross, respond to the current whirlwind in Washington politics surrounding the recent whistle blower complaint. The two also touch on Wisconsin election news involving an upcoming special election for the 7th Congressional District.
September 27, 2019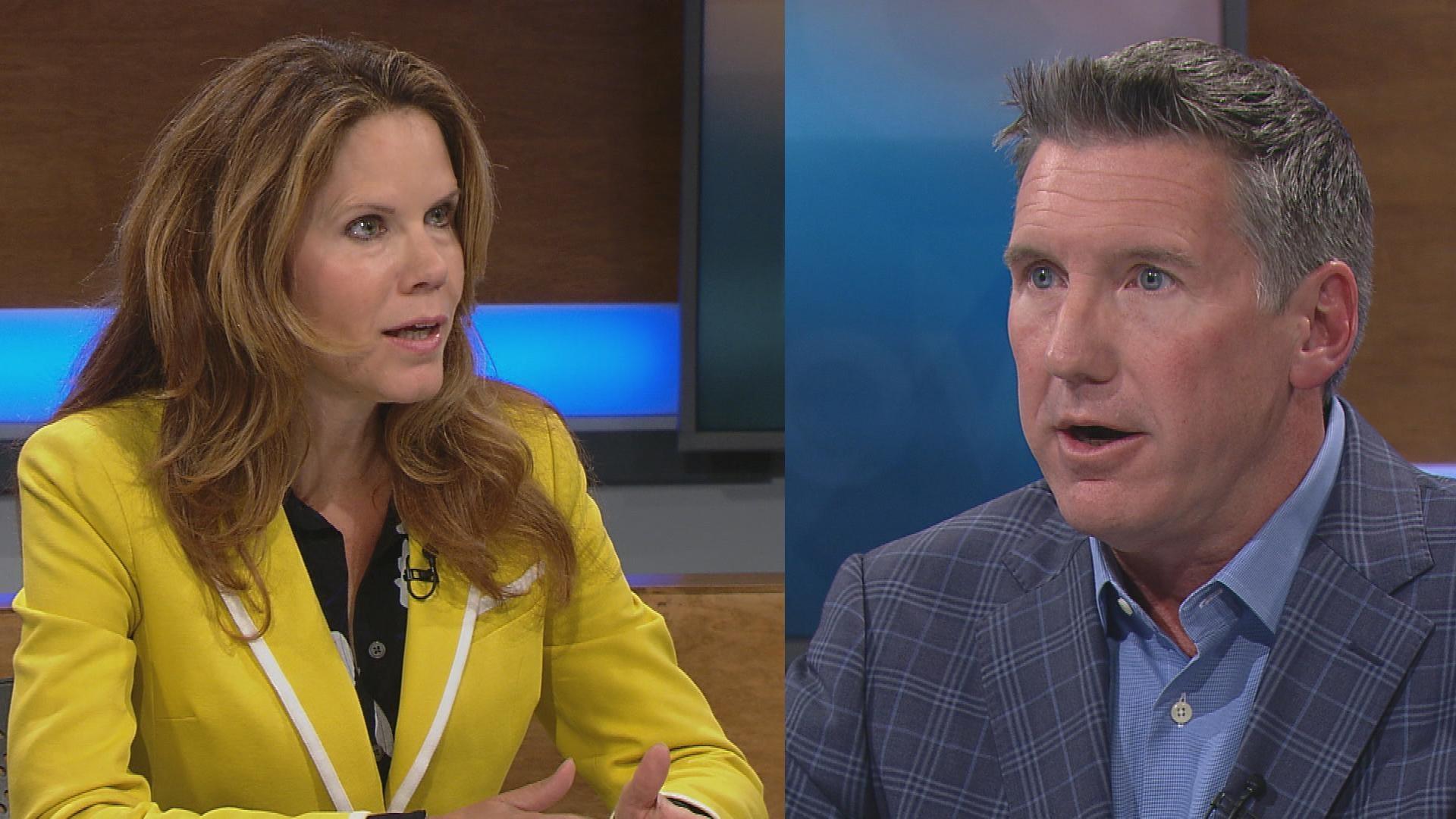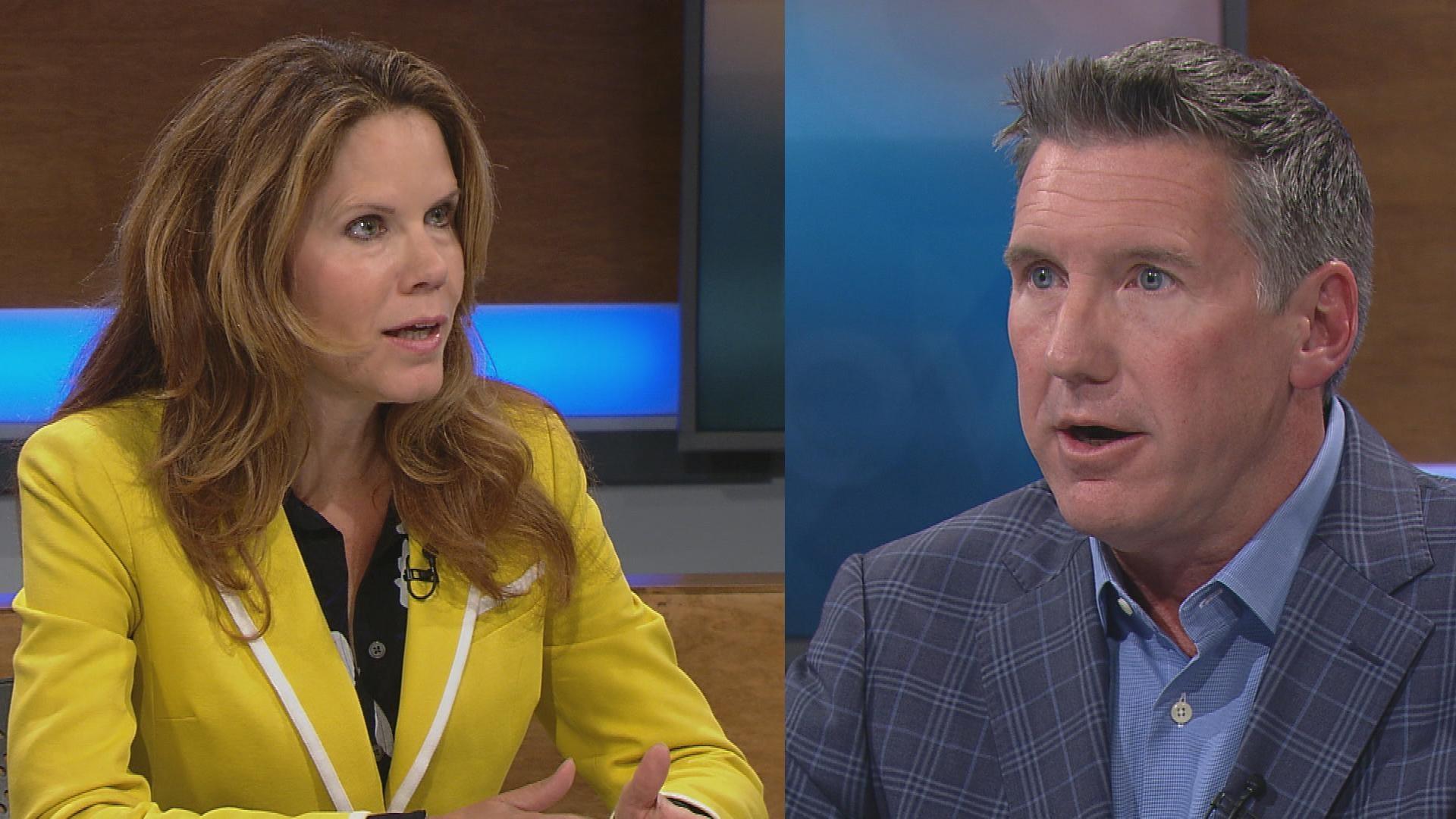 Controversy In The Air: Military F-35 May Land in Madison
In tonight's closer look, the U.S. Air Force is deciding whether to choose Madison's Truax Field as a location for its F-35 fighter jets. Truax is home to the Air National Guard's 115th Fighter Wing and its current complement of F-16 aircraft.
September 27, 2019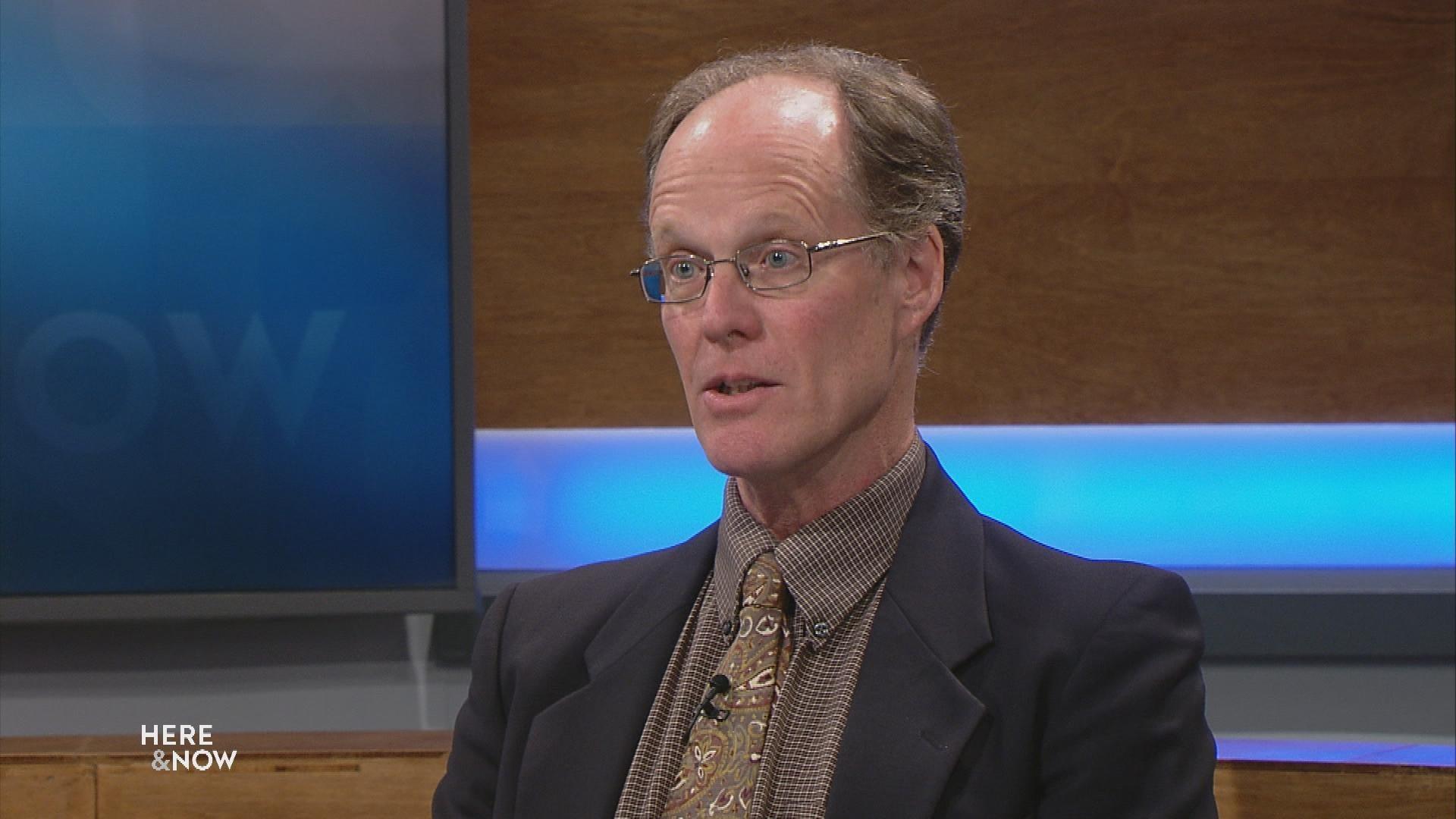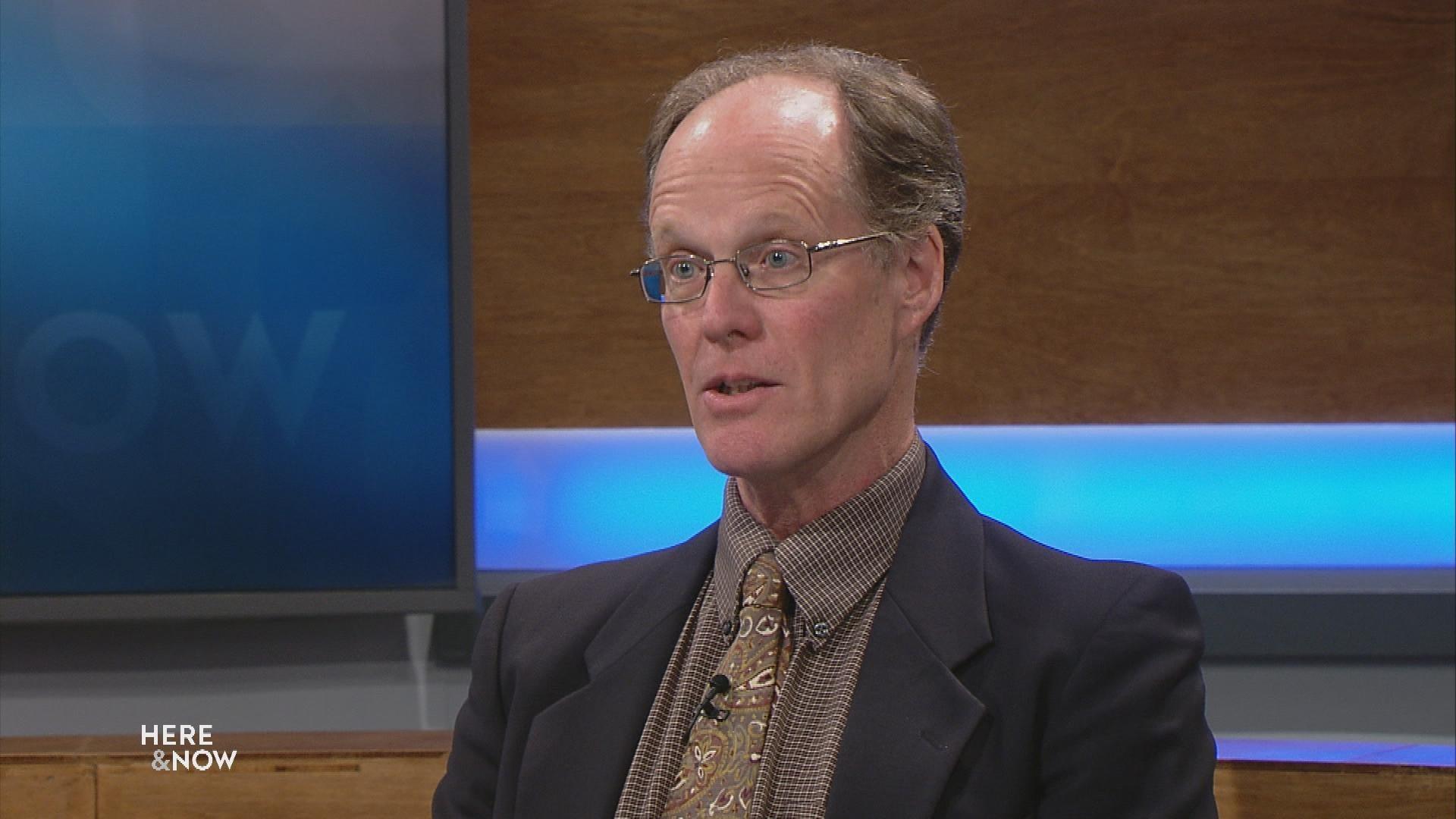 UW Political Scientist on the Process of Impeachment
In light of the recent whistle blower complaint and House Speaker Pelosi's decision to launch a formal impeachment inquiry, UW-Madison Political Scientist, Professor David Canon breaks down how exactly the impeachment process works. Canon explains that impeachment proceedings can occur when "there is a violation of public trust."
September 27, 2019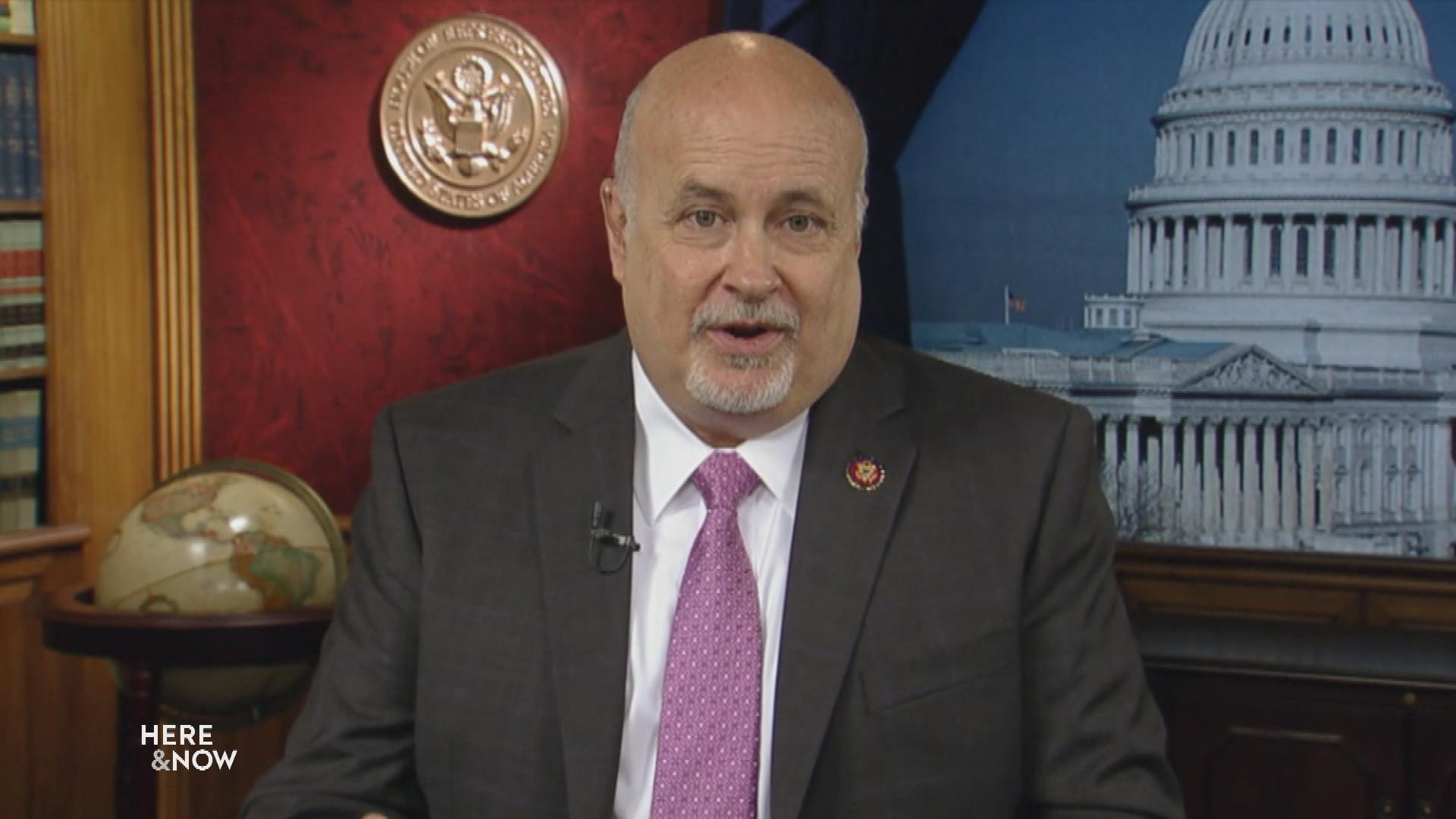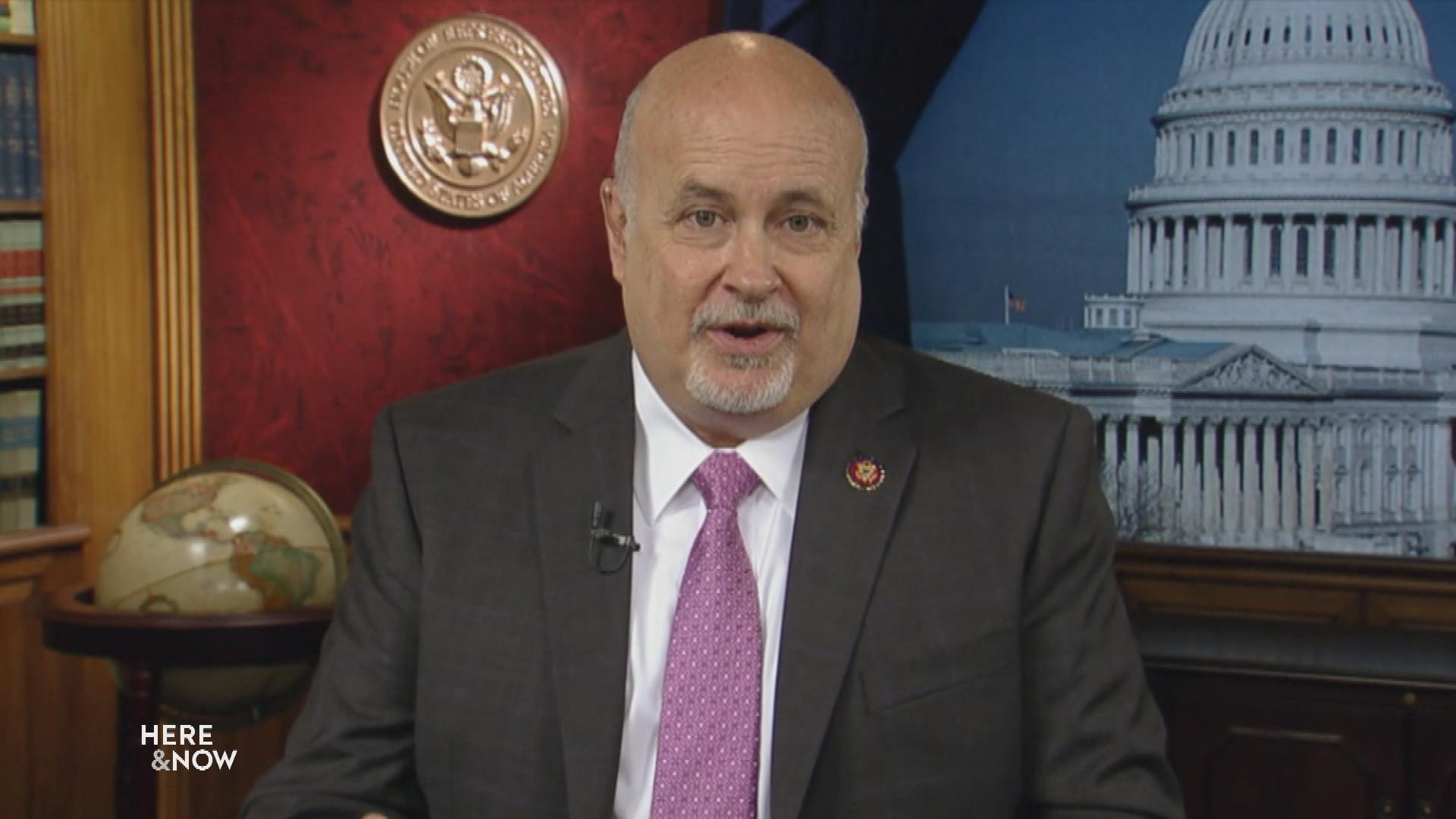 U.S. Rep. Pocan on Impeachment Inquiry into President Trump
U.S. Rep. Mark Pocan (D) responds to recent developments involving a whistle blower complaint that led House Speaker Nancy Pelosi (D) to call for an Impeachment inquiry into President Trump.
September 27, 2019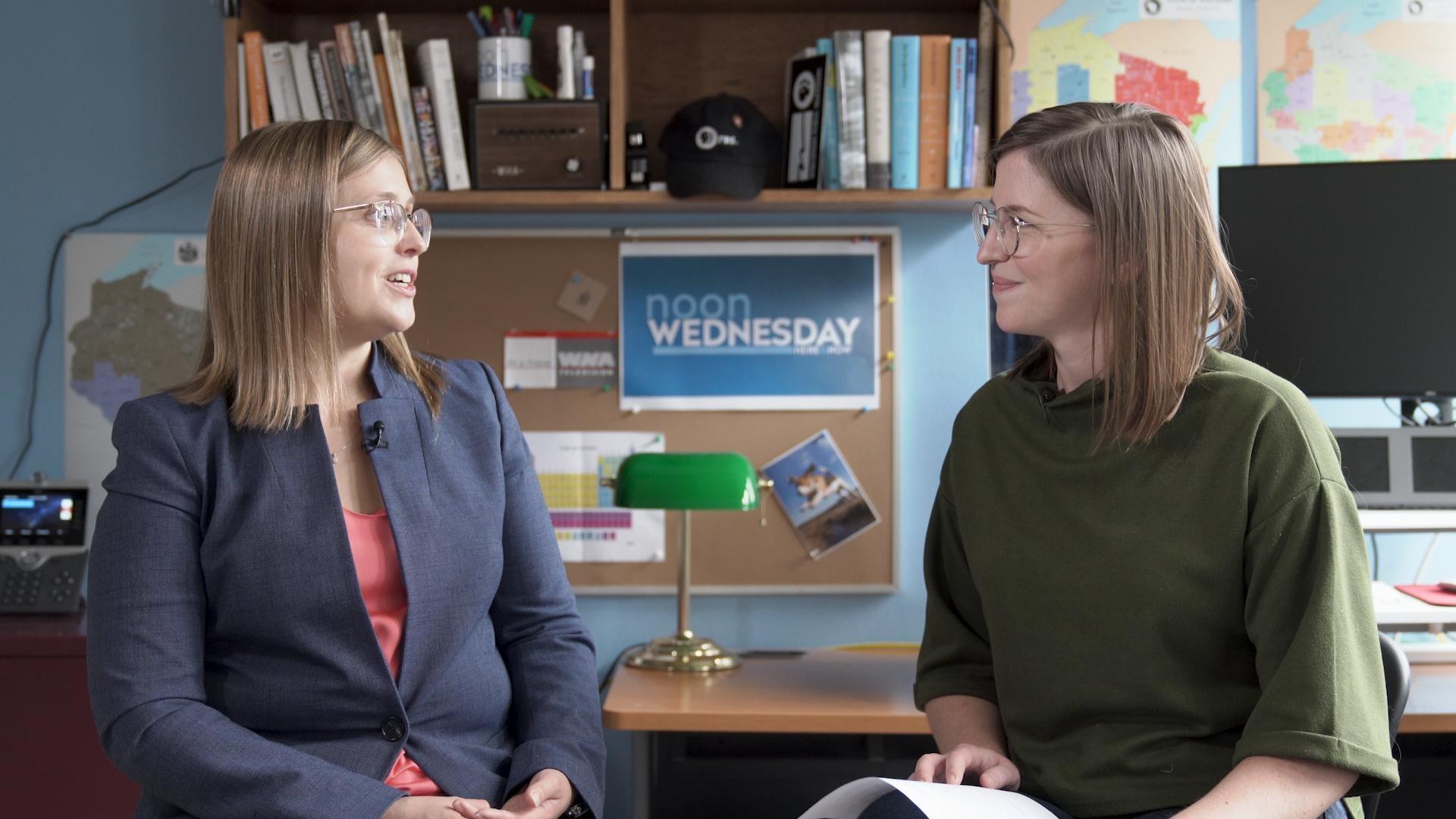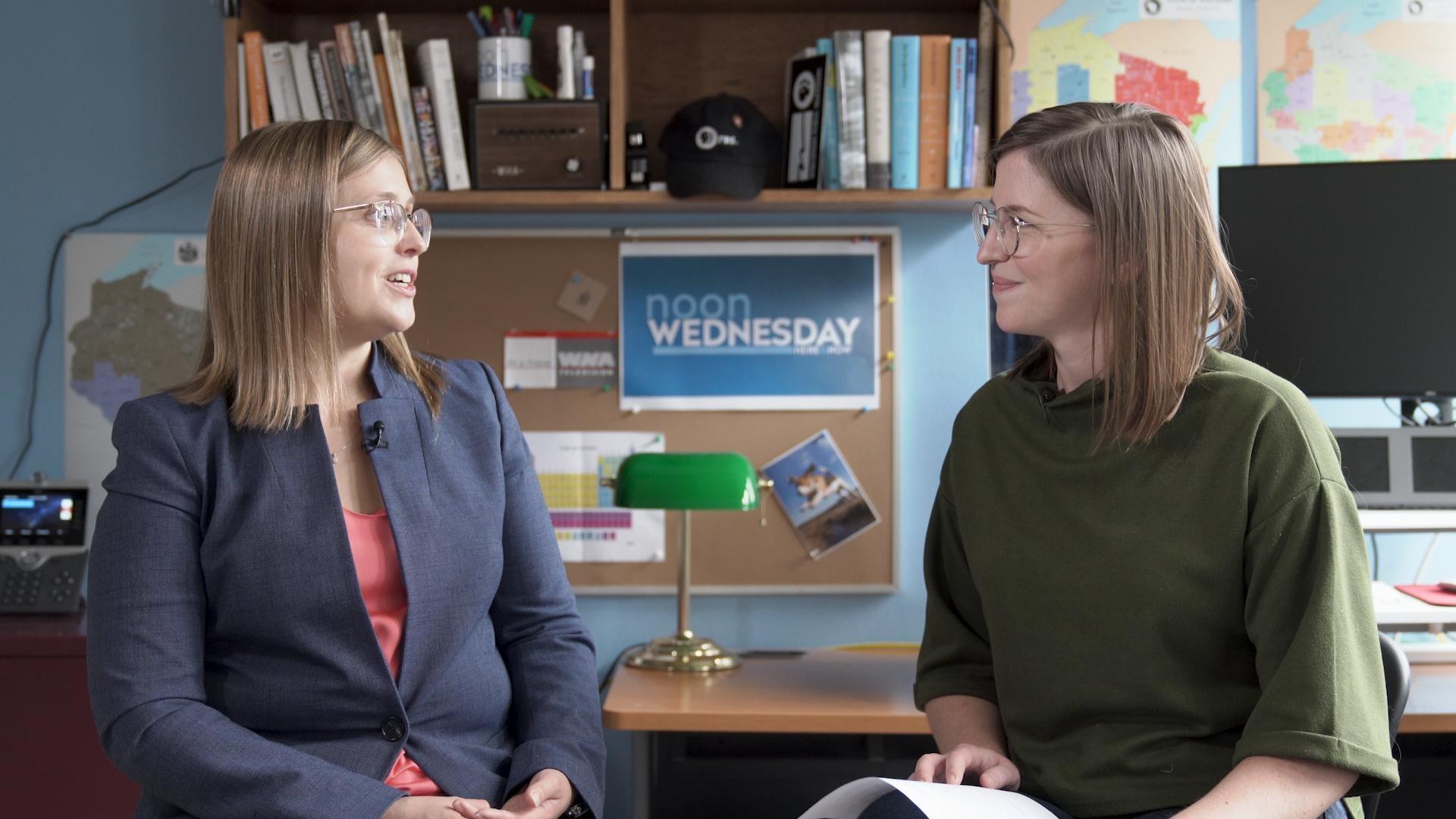 Noon Wednesday: Setting The Record Straight
Heightened debate over immigration policy can translate to the humanity of migrants themselves getting lost in the narrative. Our guest, Nissa Rhee, is working to break the traditional news cycle around reporting on refugees, asylum seekers and immigration by challenging how these stories are gathered.
September 25, 2019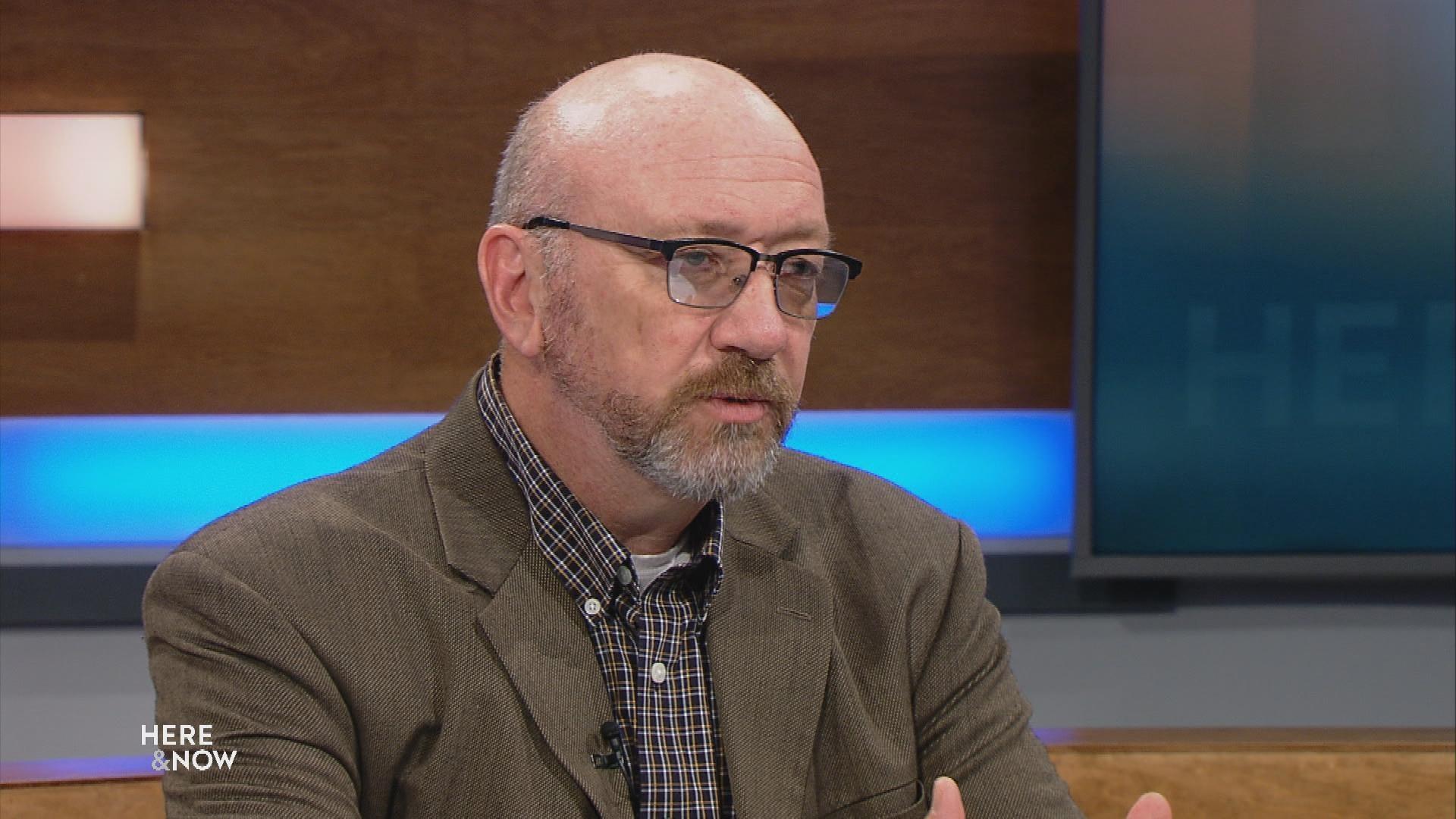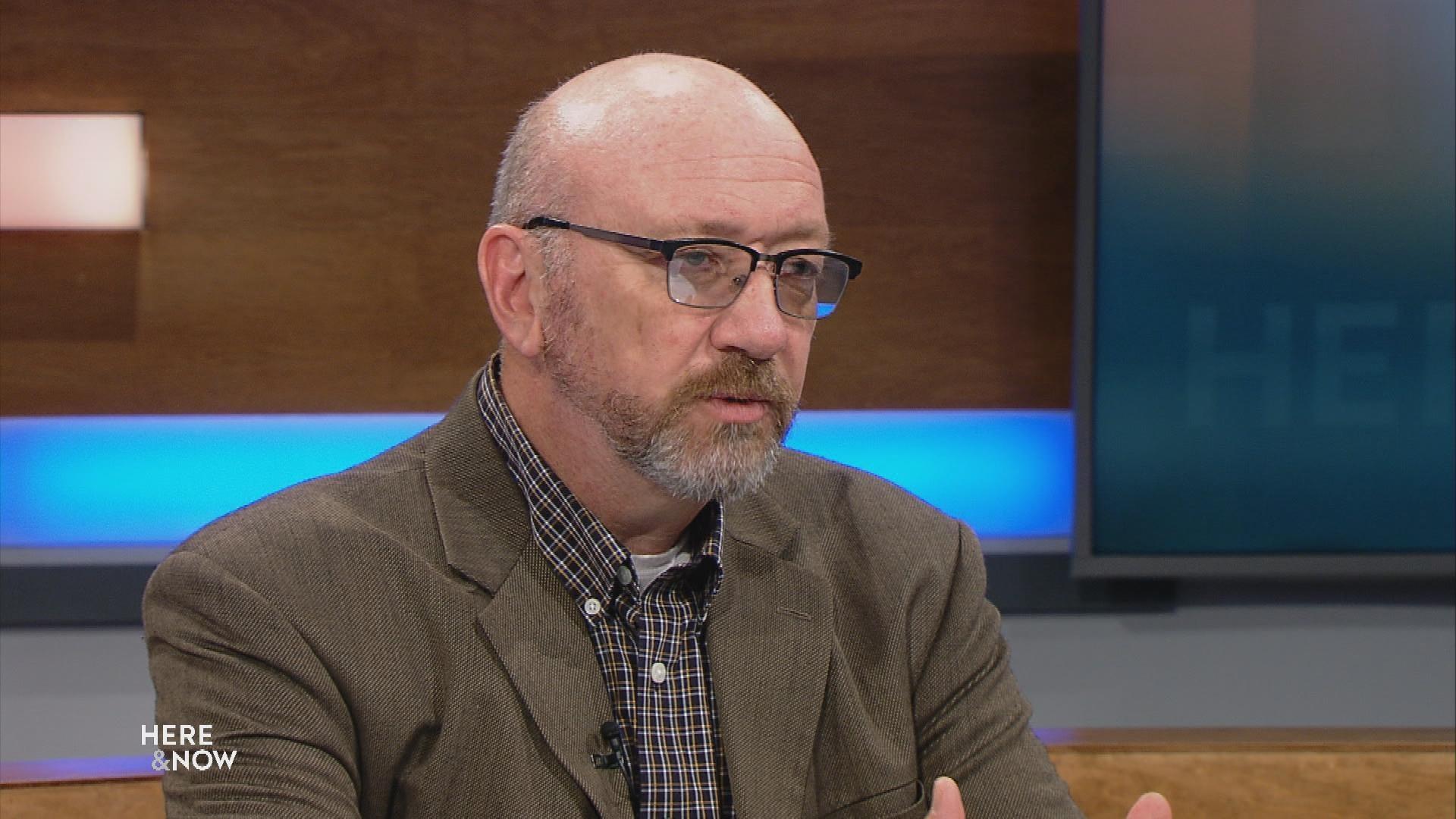 Wisconsinites Owe Billions in Unpaid Medical Bills
ABC for Health Executive Director Bobby Peterson talks about the complexities of medical debt in Wisconsin. Currently there are $1.2 billion in unpaid medical bills, according to figures released by the Wisconsin Hospital Association.
September 20, 2019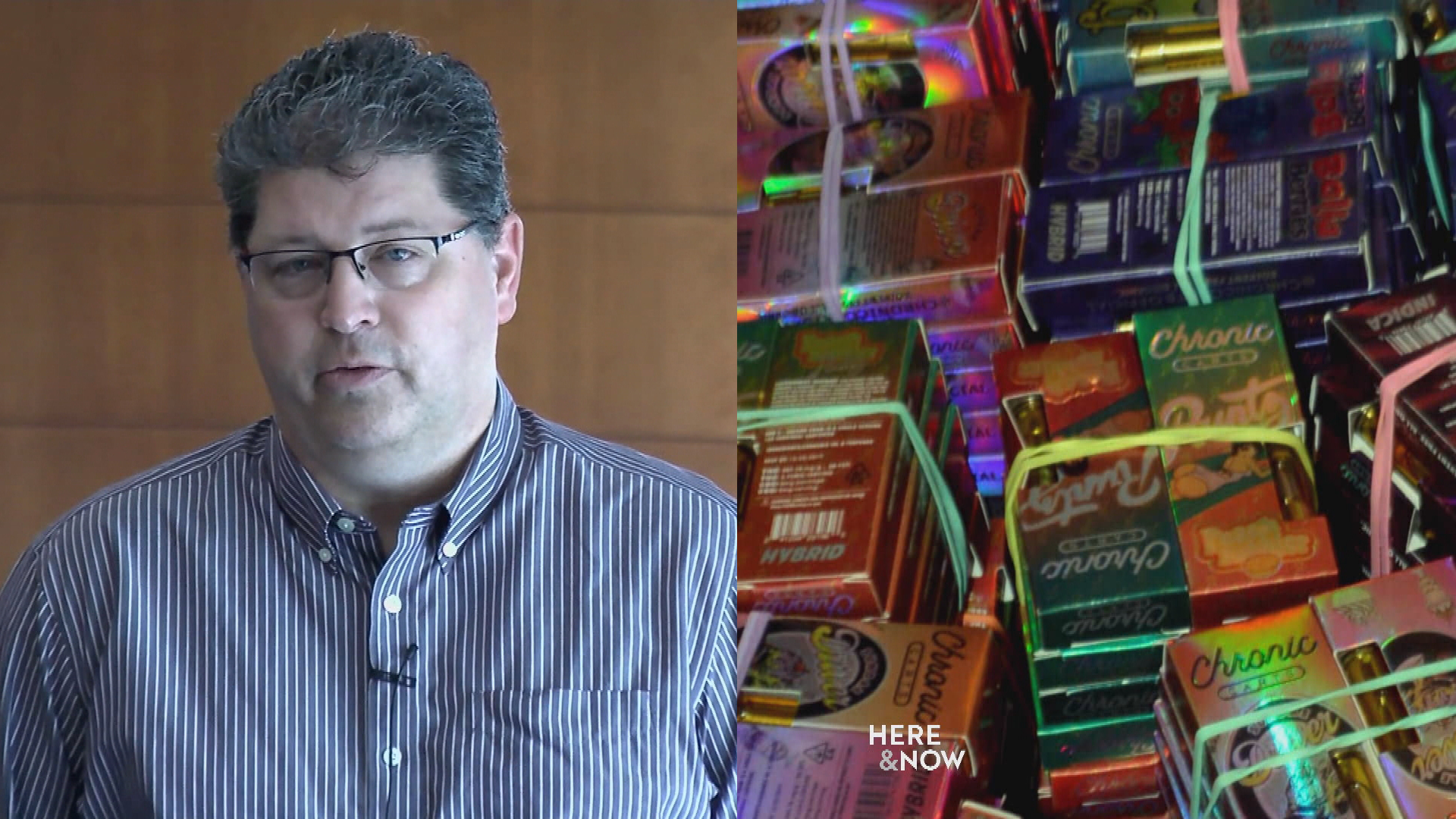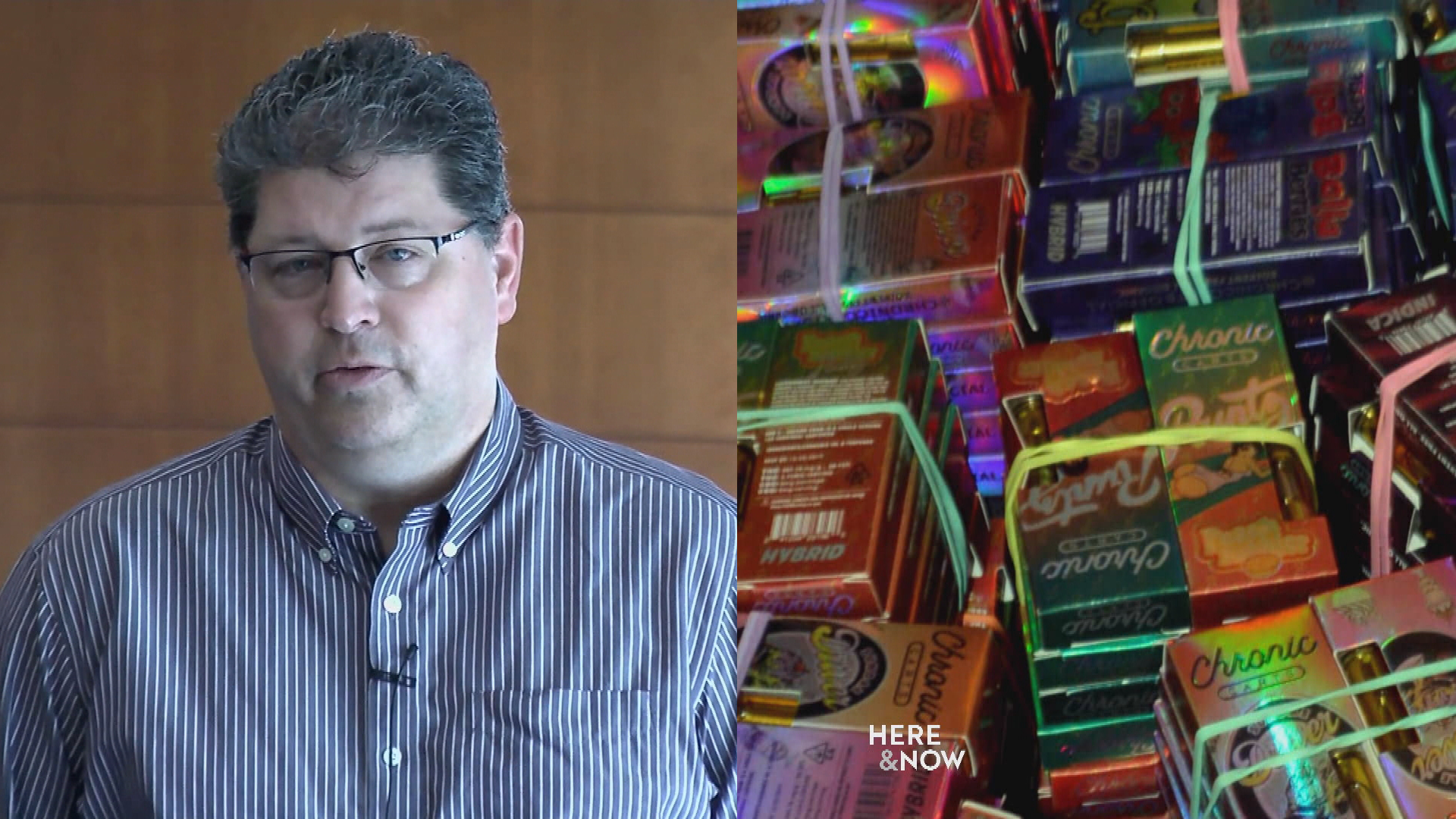 Wisconsin Doctors at the Forefront of Vaping Investigation
Dr. Michael Meyer, the head of the pediatric intensive care unit at the Children's Hospital of Wisconsin, describes the impact of vaping. Wisconsin has seen 48 lung disease cases in 21 counties, according to the Department of Health Services. The Children's Hospital of Wisconsin were among the first to connect the deadly lung disease to vaping.
September 20, 2019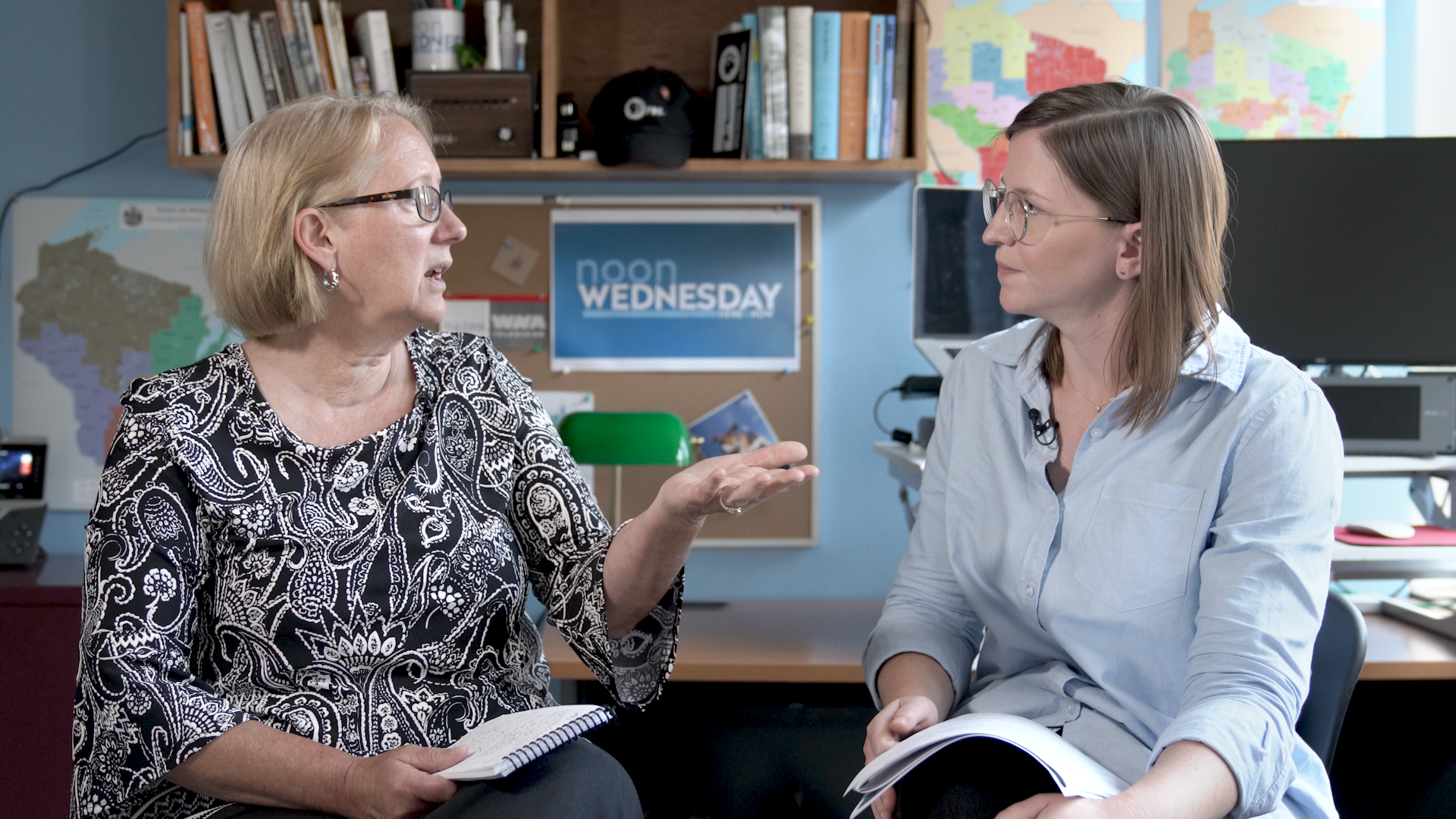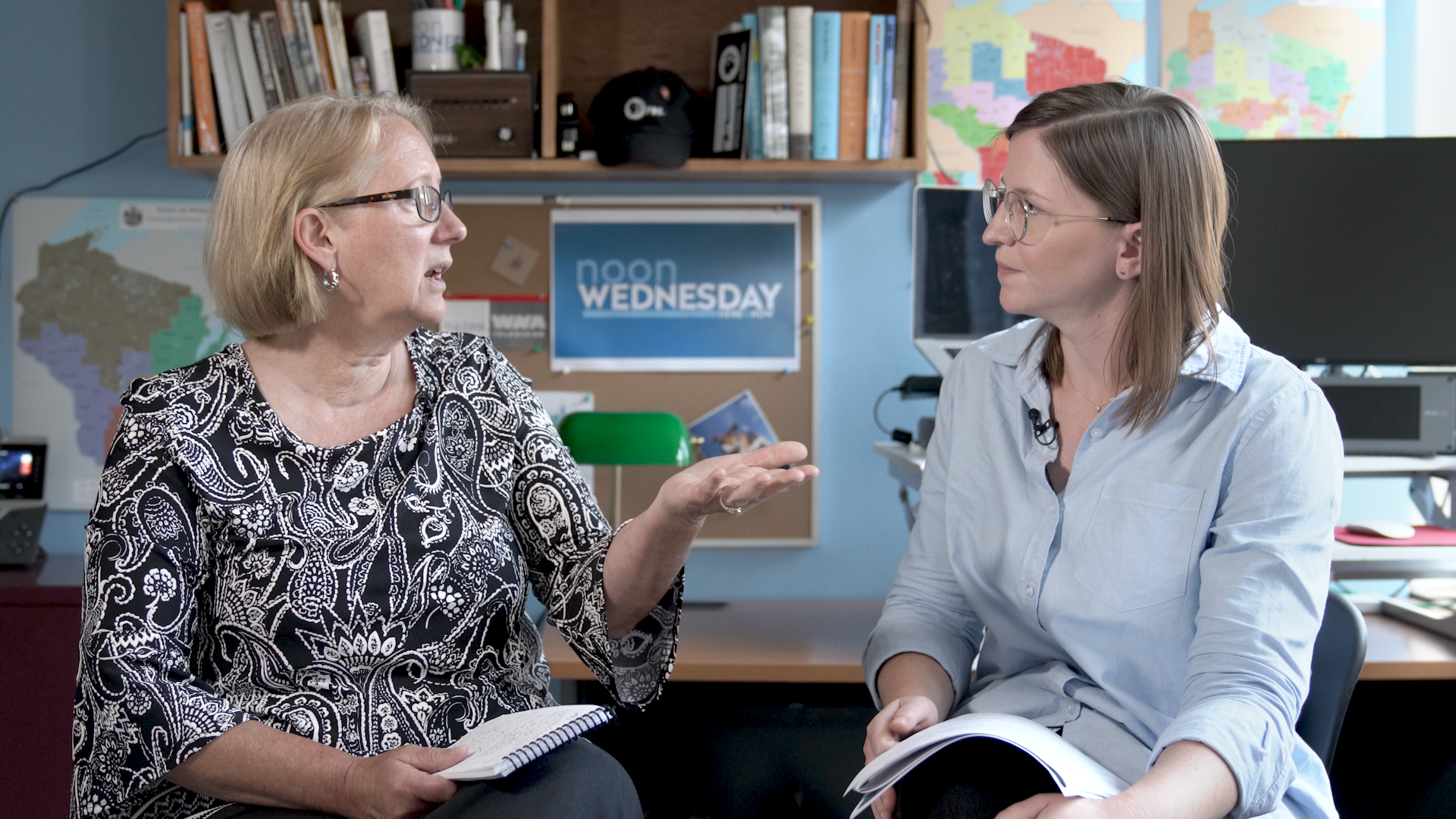 Noon Wednesday: Should Wisconsin Inmates Pay-To-Stay?
There's a price to pay when someone is sent to jail in Wisconsin, literally. We spoke with Dee Hall from the Wisconsin Center for Investigative Journalism about their recent analysis increasing practice of charging inmates for their stay in jail. Are these fees necessary to pay to for the facilities that house inmates? Or, do they violate the rights of the incarcerated?
September 18, 2019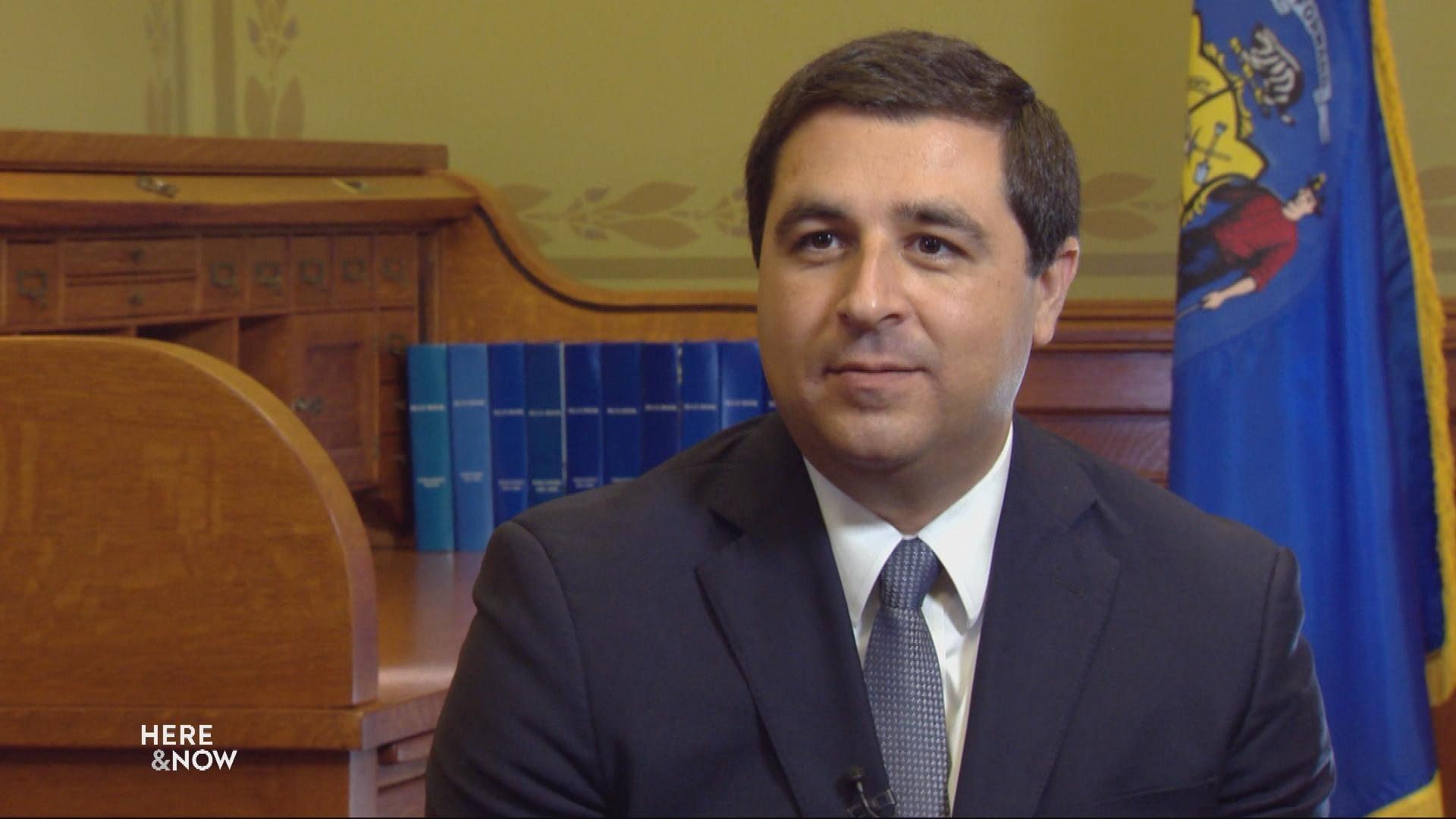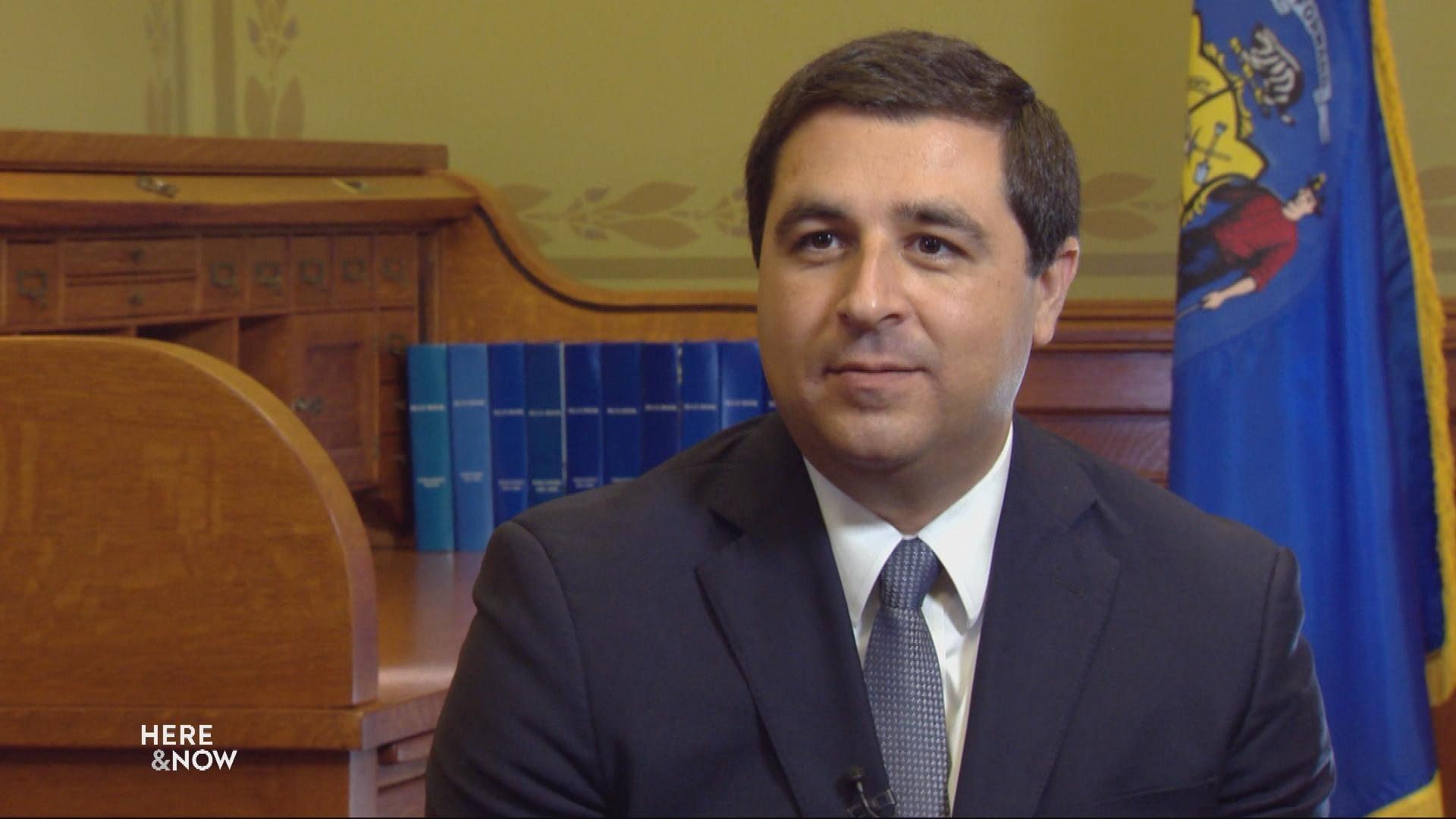 Kaul Weighs In on Lame Duck Laws
The lame duck laws passed last year continue to create friction between Attorney General Josh Kaul and the state legislature over the sharing of information regarding lawsuits the state might be interested in joining. Kaul discusses his concerns, talking about how the need for legislators to sign nondisclosure agreements impacts Wisconsin's status on legal cases.
September 13, 2019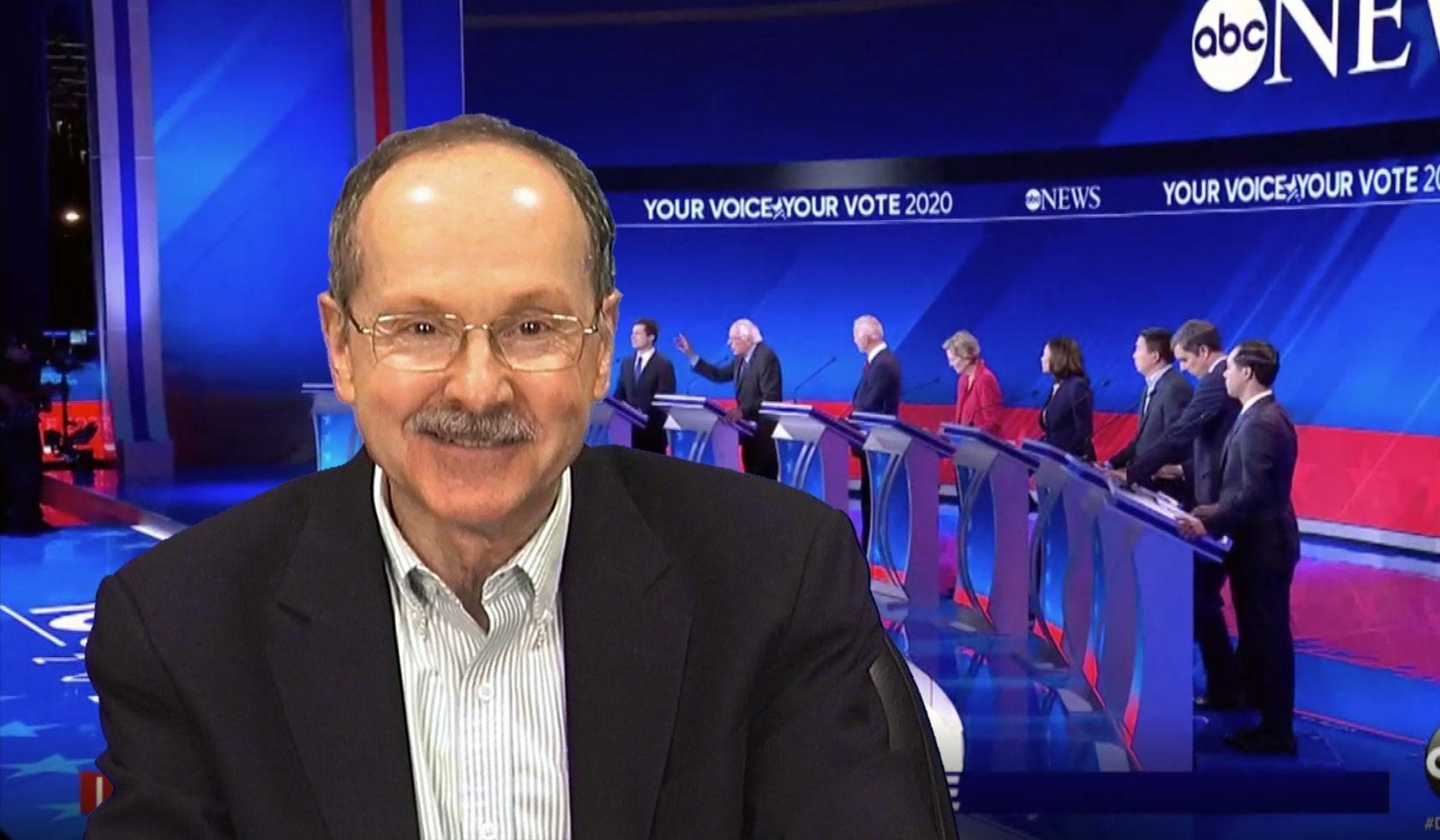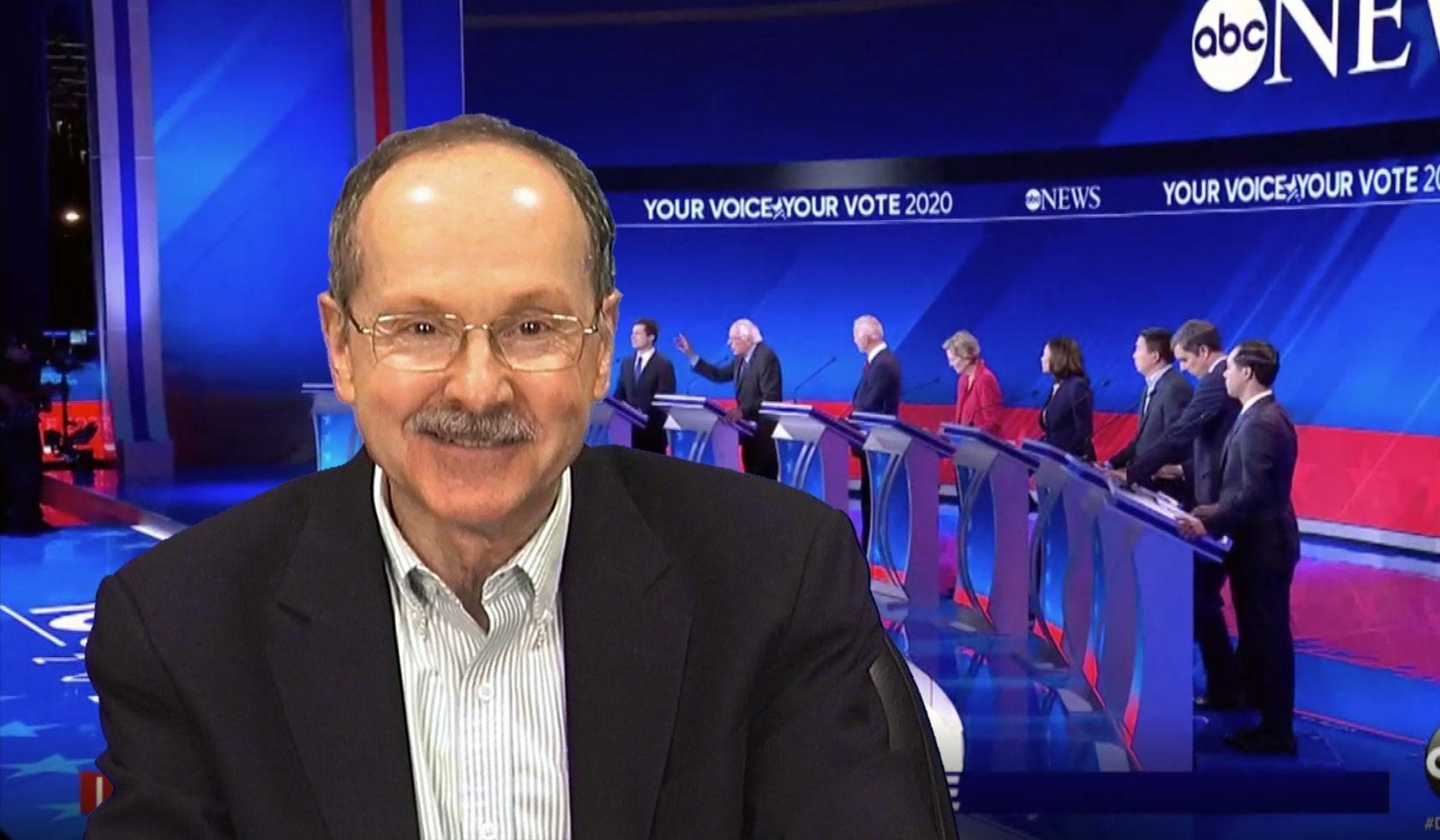 Wisconsin at the 'Center of the Political Universe'
Wisconsin is sure to be in the spotlight for national campaigns in 2020, and in the wake of the fourth Democratic presidential debate, UW-Milwaukee professor emeritus Mordecai Lee breaks down the candidates' performances and predicts what may be in store for the state. "It feels like we're in New Hampshire," Lee says. "I never thought Wisconsin would be at the center of the political universe."
September 13, 2019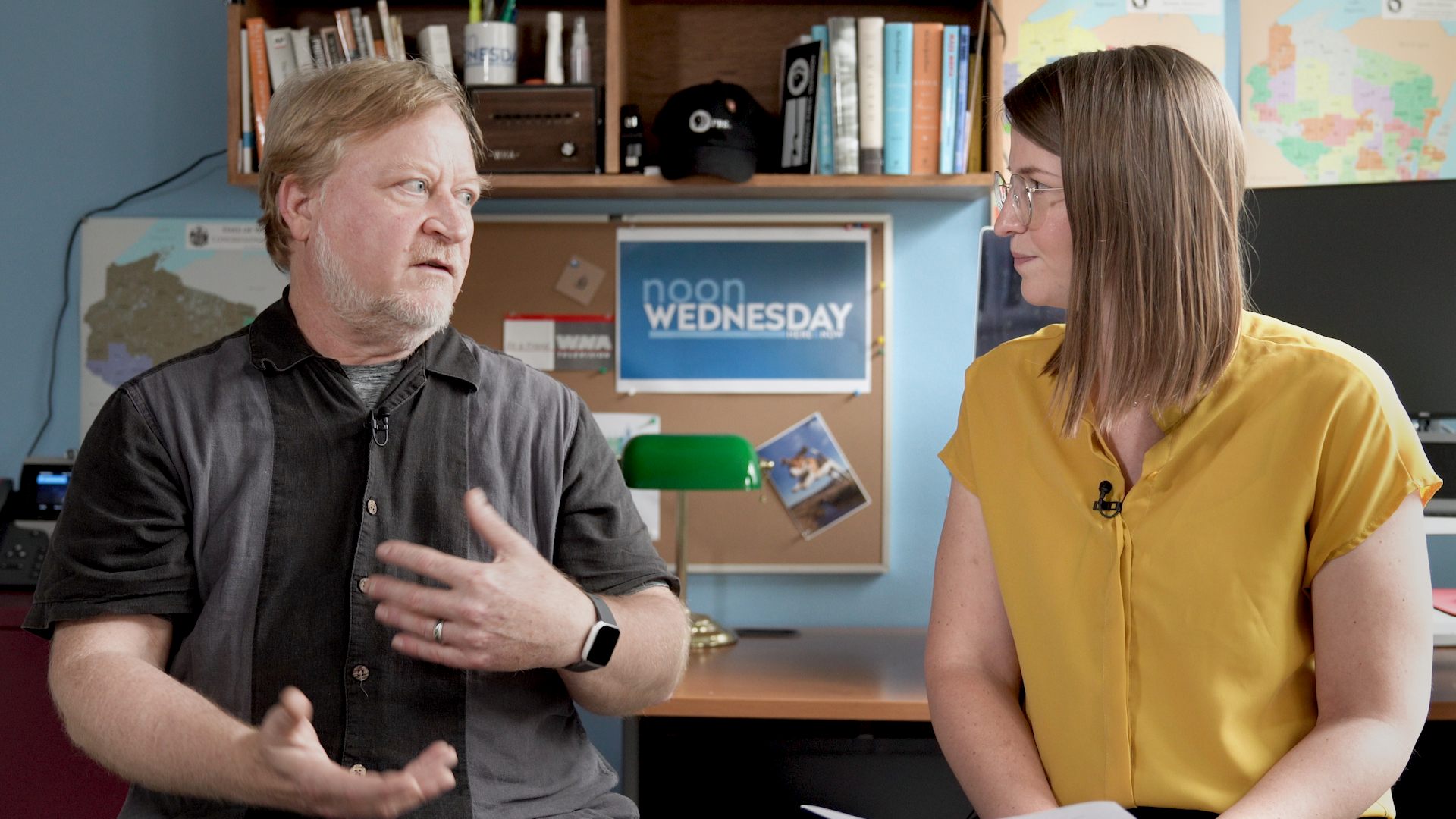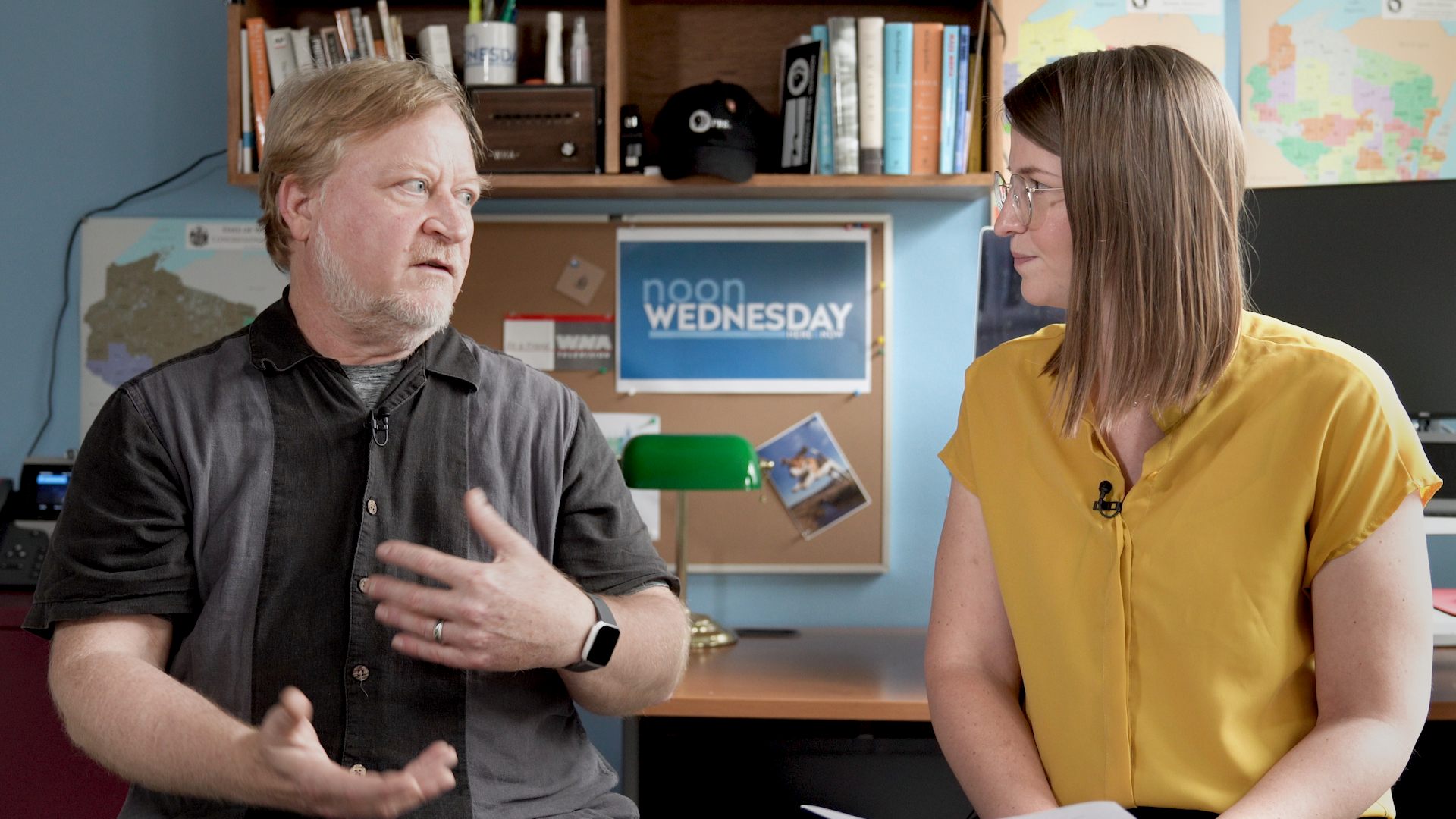 Noon Wednesday: Keeping Public Records Public
Open records requests allow citizens to see what politicians are doing and saying out of the public eye. Bill Lueders, president of the Freedom of Information Council, joins us to talk about how this tool of transparency can turn murky.
September 11, 2019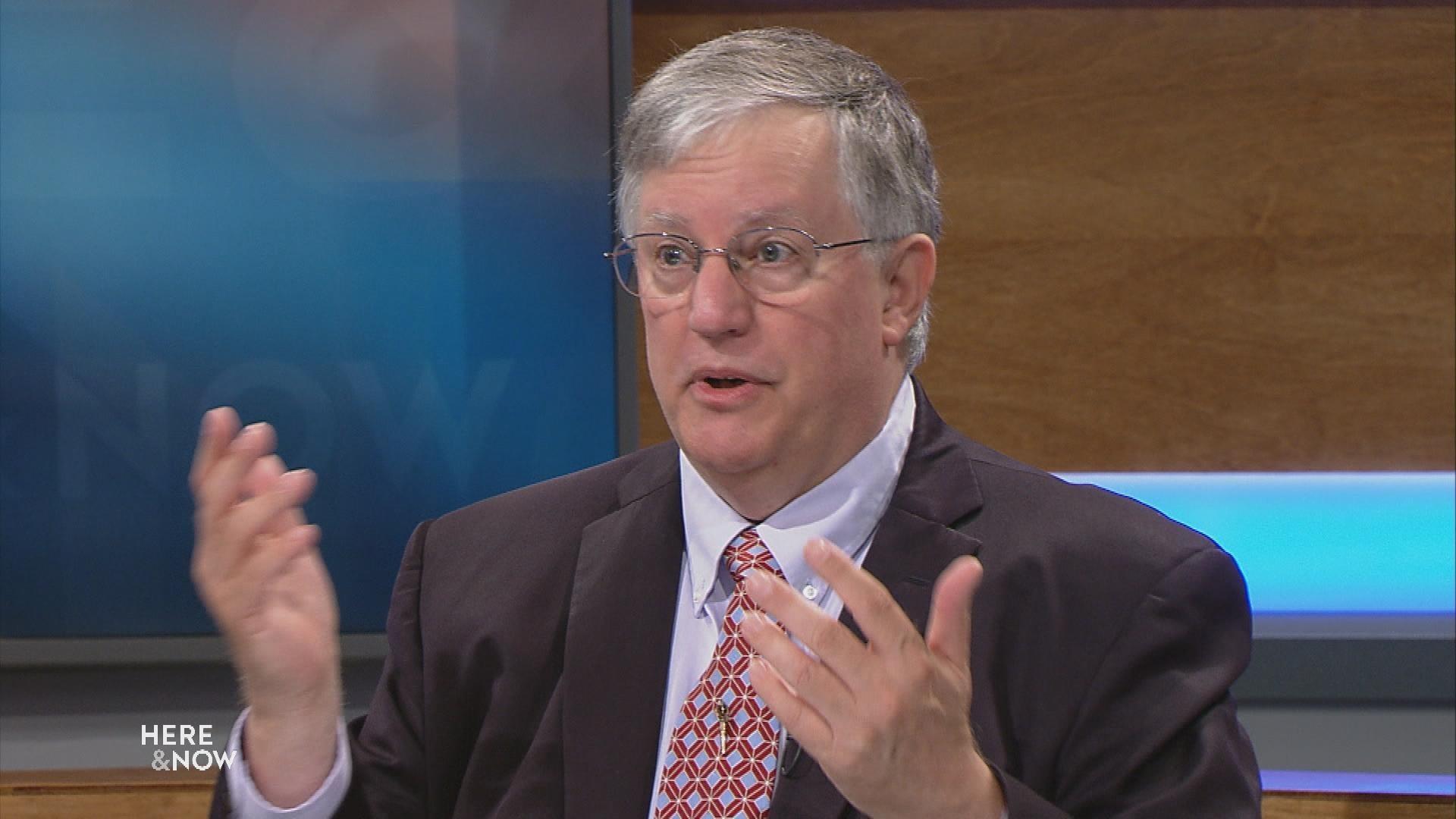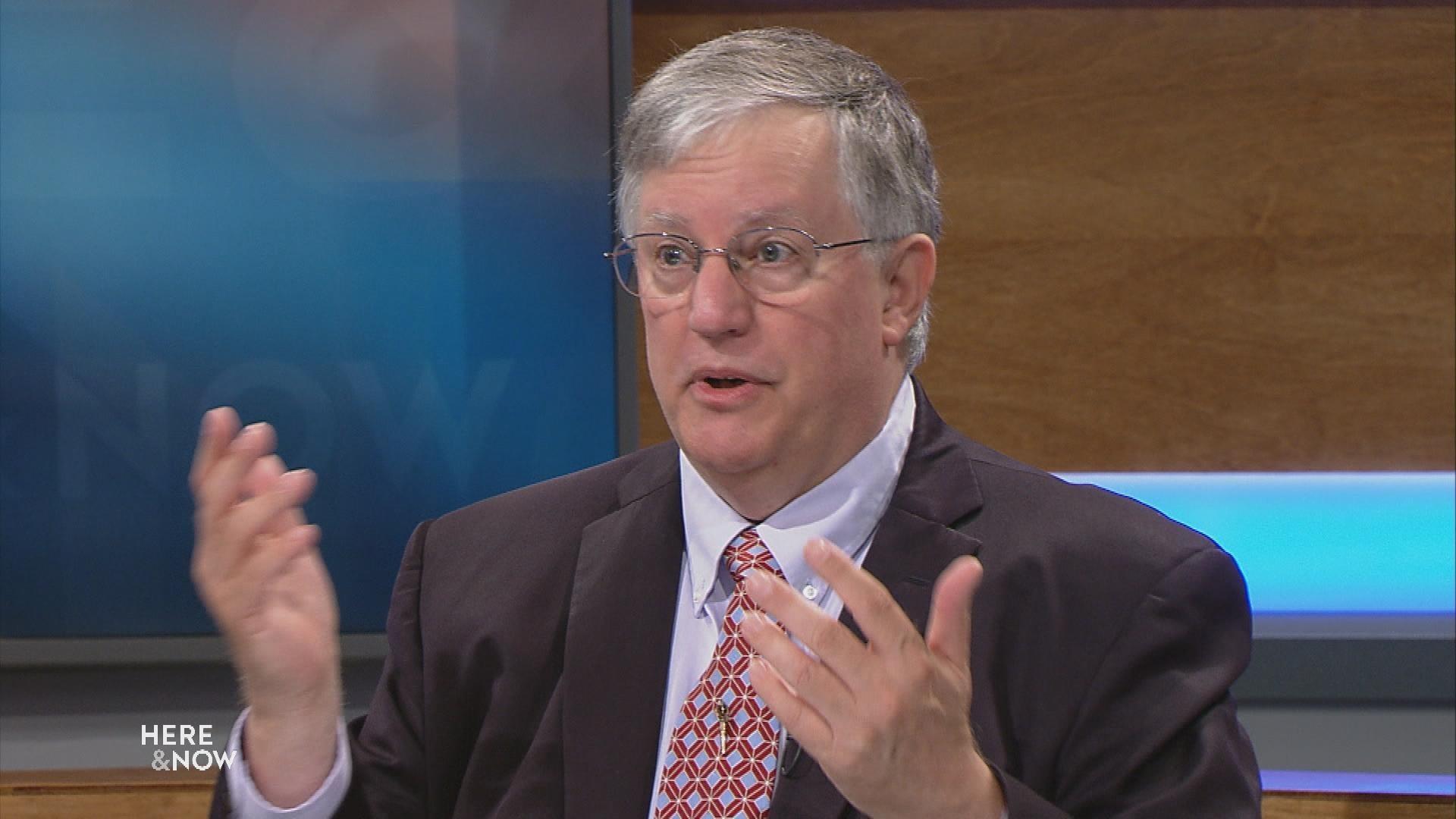 Latest Marquette Law School Poll Show Trump Trailing Behind
Marquette Law School Poll Director Charles Franklin shares new statewide survey results. The results show President Trump lagging slightly behind Democratic front runners in 2020 match-ups. Respondents favored Vice President Joe Biden 51 percent compared to Trump's 42 percent. Sen. Bernie Sanders is also ahead at 48 percent to 44 percent.
September 6, 2019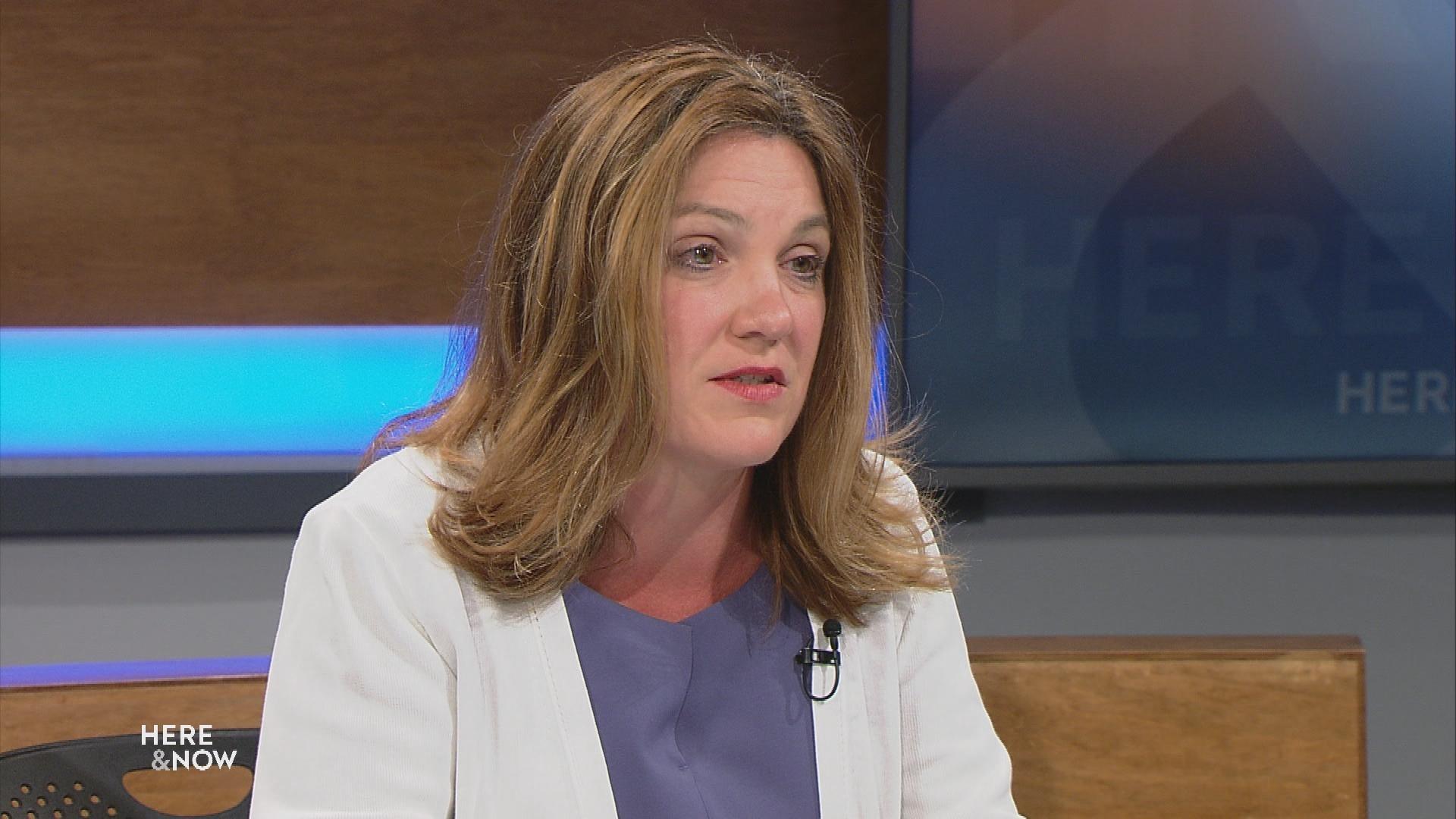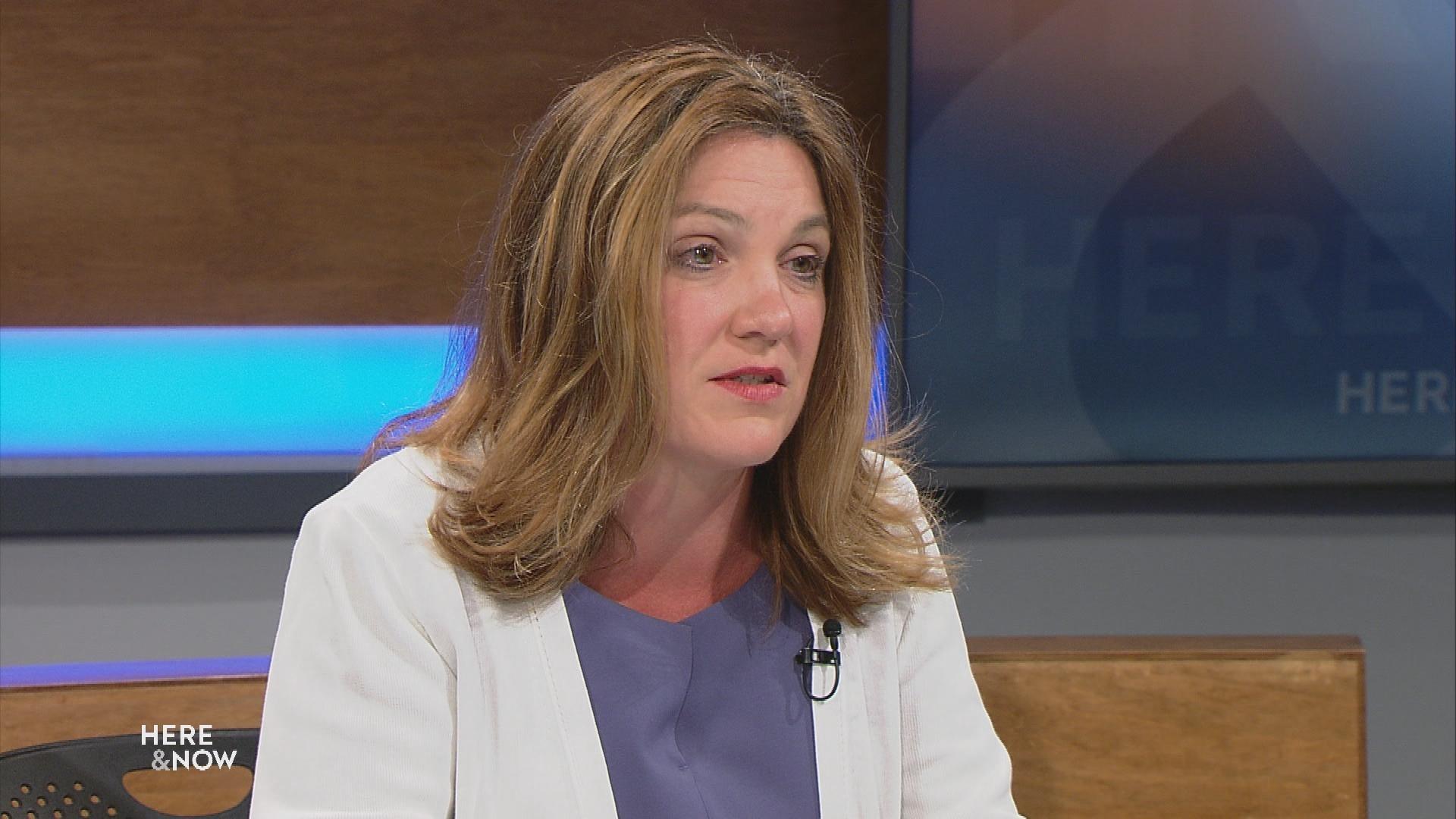 Health Sec. Designee Palm on Strategies For Medicaid
Health Sec. Designee Andrea Palm discusses future Medicaid strategy for Wisconsin. The secretary says Medicaid expansion could bring the state federal money. She also breaks down immunization rates around the state as students head back to school for the year.
September 6, 2019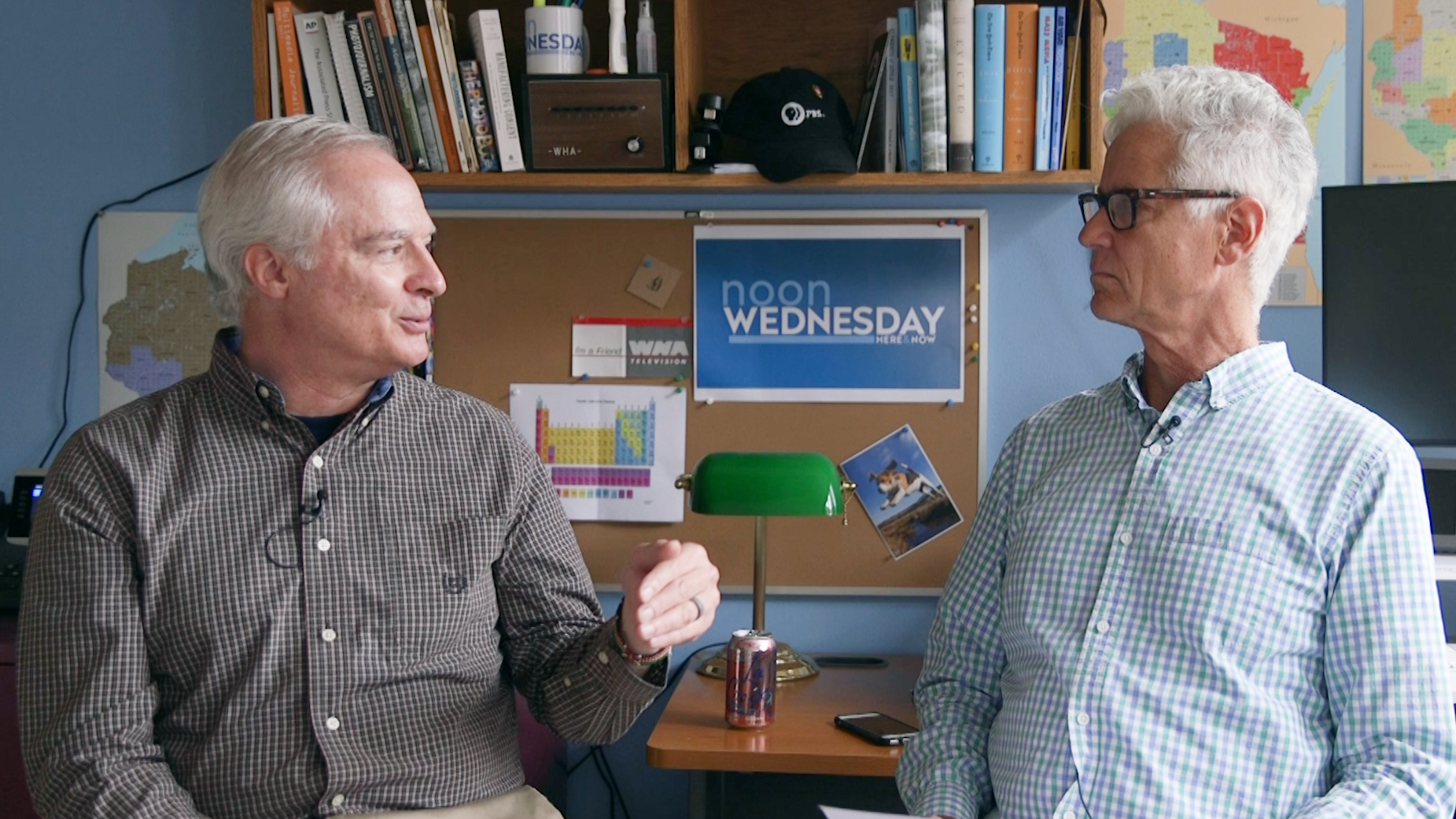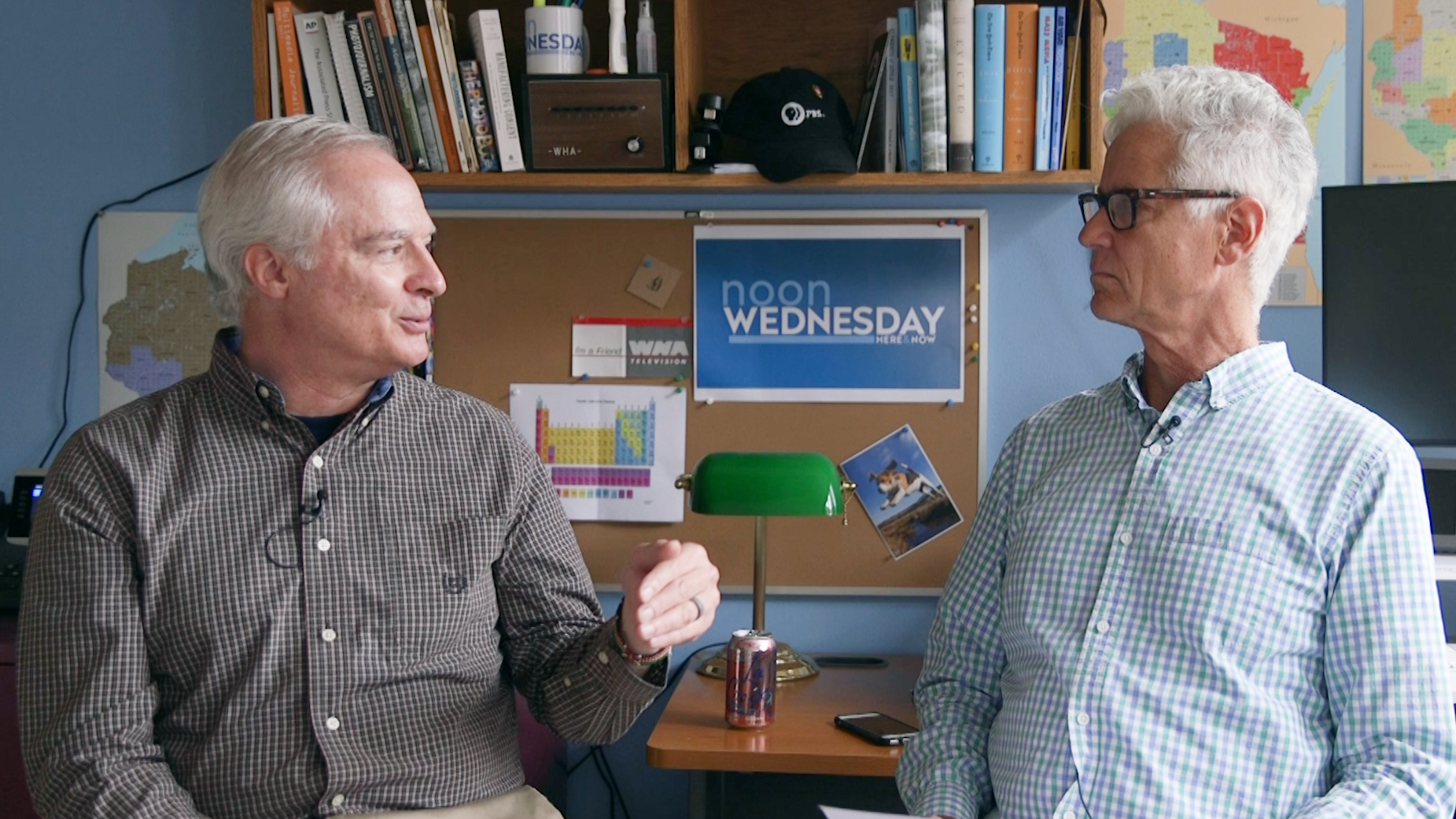 Noon Wednesday: Is Wisconsin At Risk Of An Outbreak?
Rates of unvaccinated children are on the rise in Wisconsin as more parents seek personal waivers for their children. We're speak with pediatric professor and infectious disease specialist Dr. James Conway about the risks this may pose and our chances of an outbreak.
September 4, 2019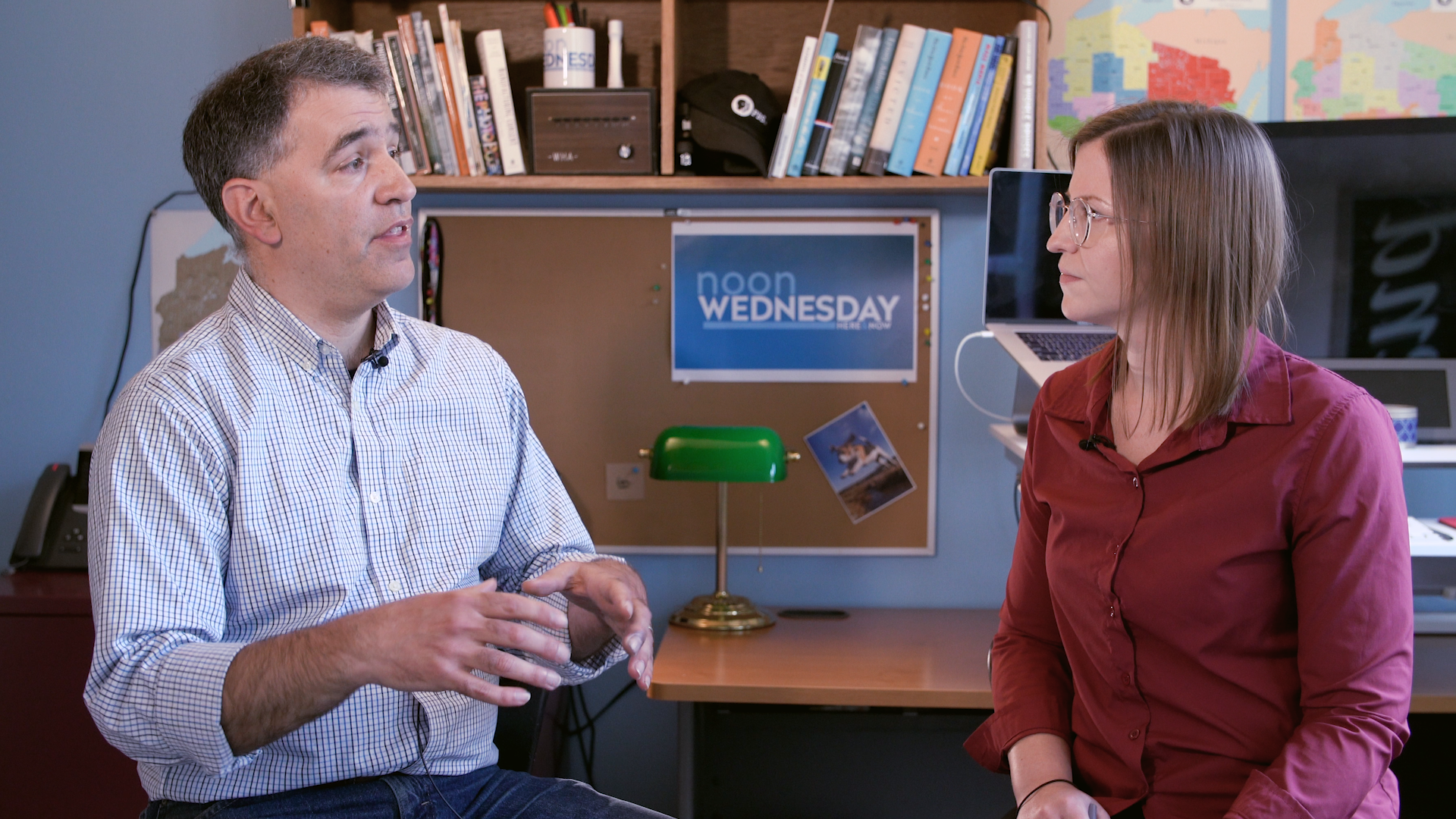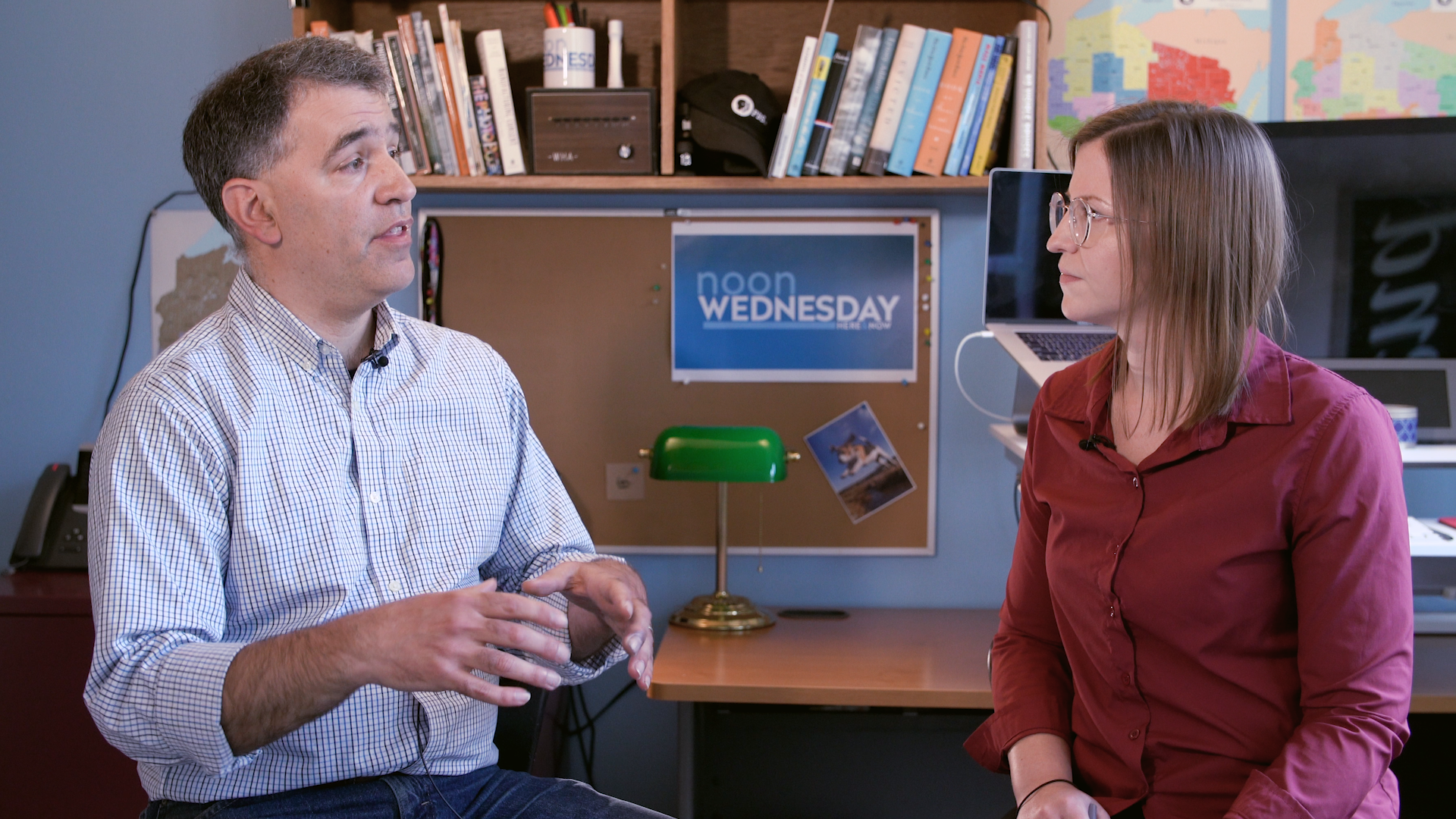 Noon Wednesday: Emerging Water Contaminant Raising Alarms
The City of Madison put a target on it's water quality manager, Joe Grande, voluntarily tested for chemicals in public water wells that aren't even regulated. Grande discusses what is known and still unknown about PFAS chemicals in water, air and food, as well as where the science still needs to catch up.
June 5, 2019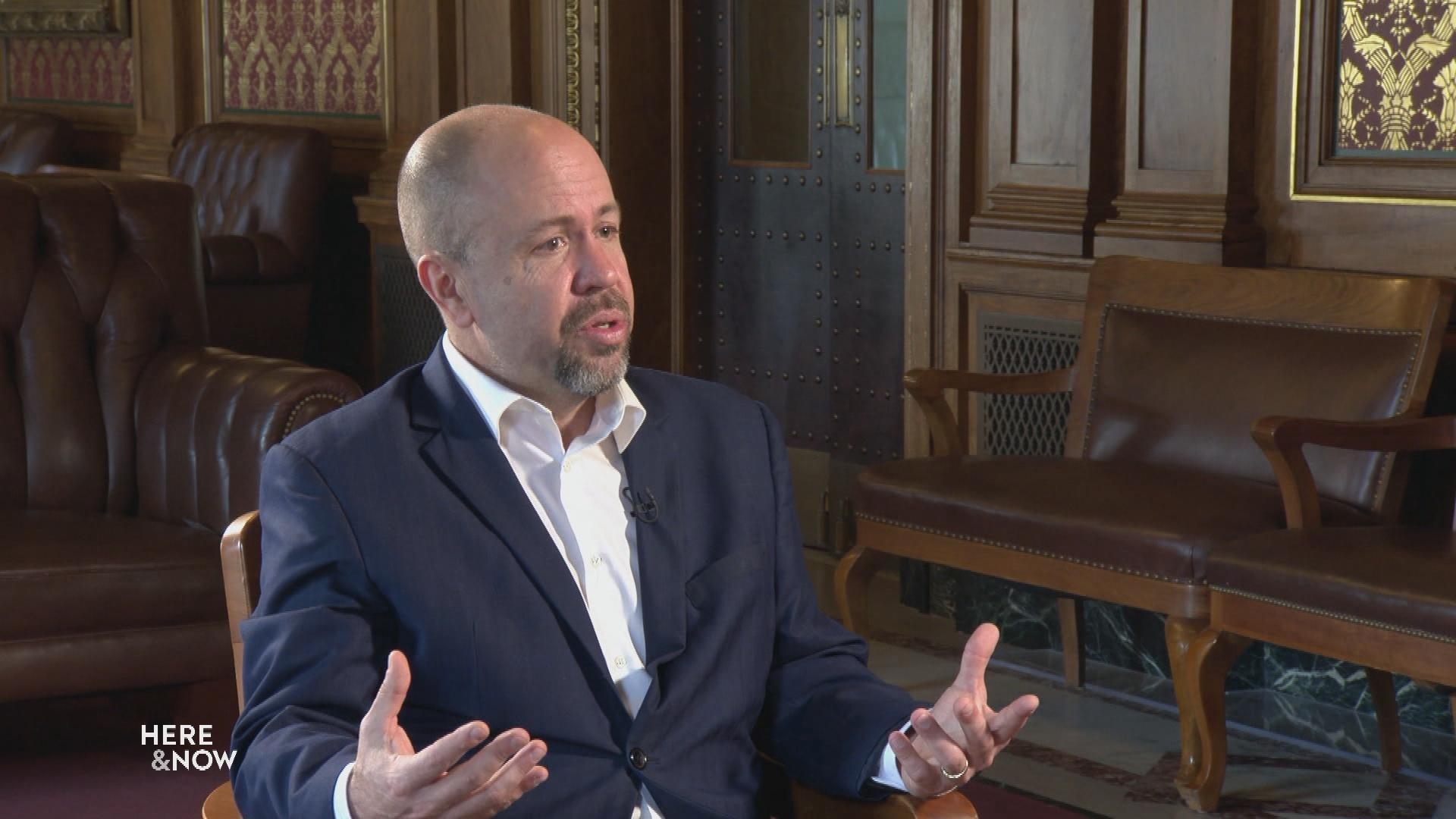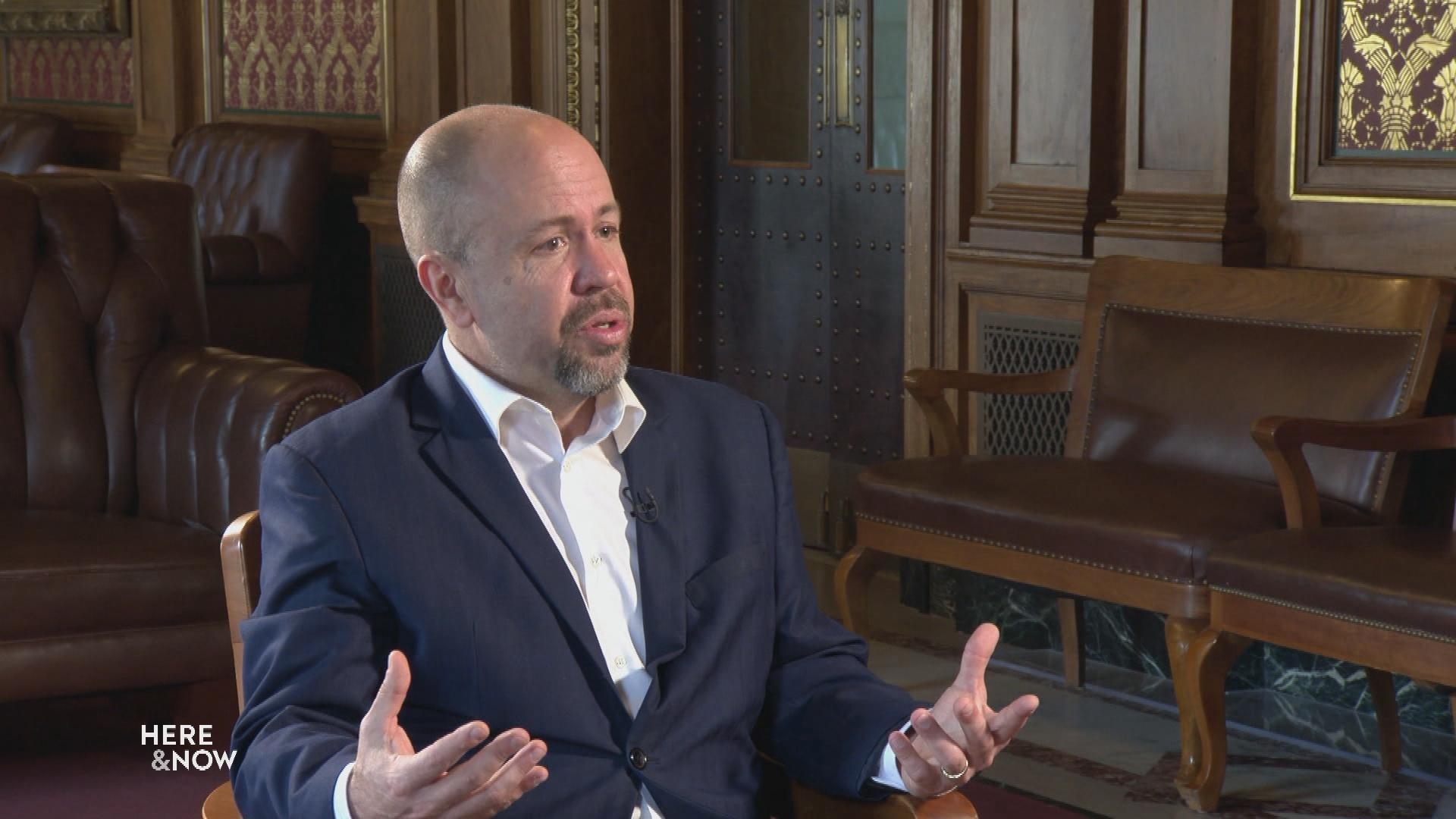 Homelessness Funding Works through Legislature
The legislature is proposing $3.75 million to help prevent homelessness in the state. Here & Now shares the story of Jivonte Davis who experienced homelessness in Madison, and Assembly Majority Leader Jim Steineke, R-Kaukauna, breaks down the legislative proposal.
April 26, 2019
Mike Leckrone's storied 50-year career at the helm of the UW-Madison bands will come to an end in May. Here's a look back at his tenure, and a preview to his final concerts this weekend.
April 12, 2019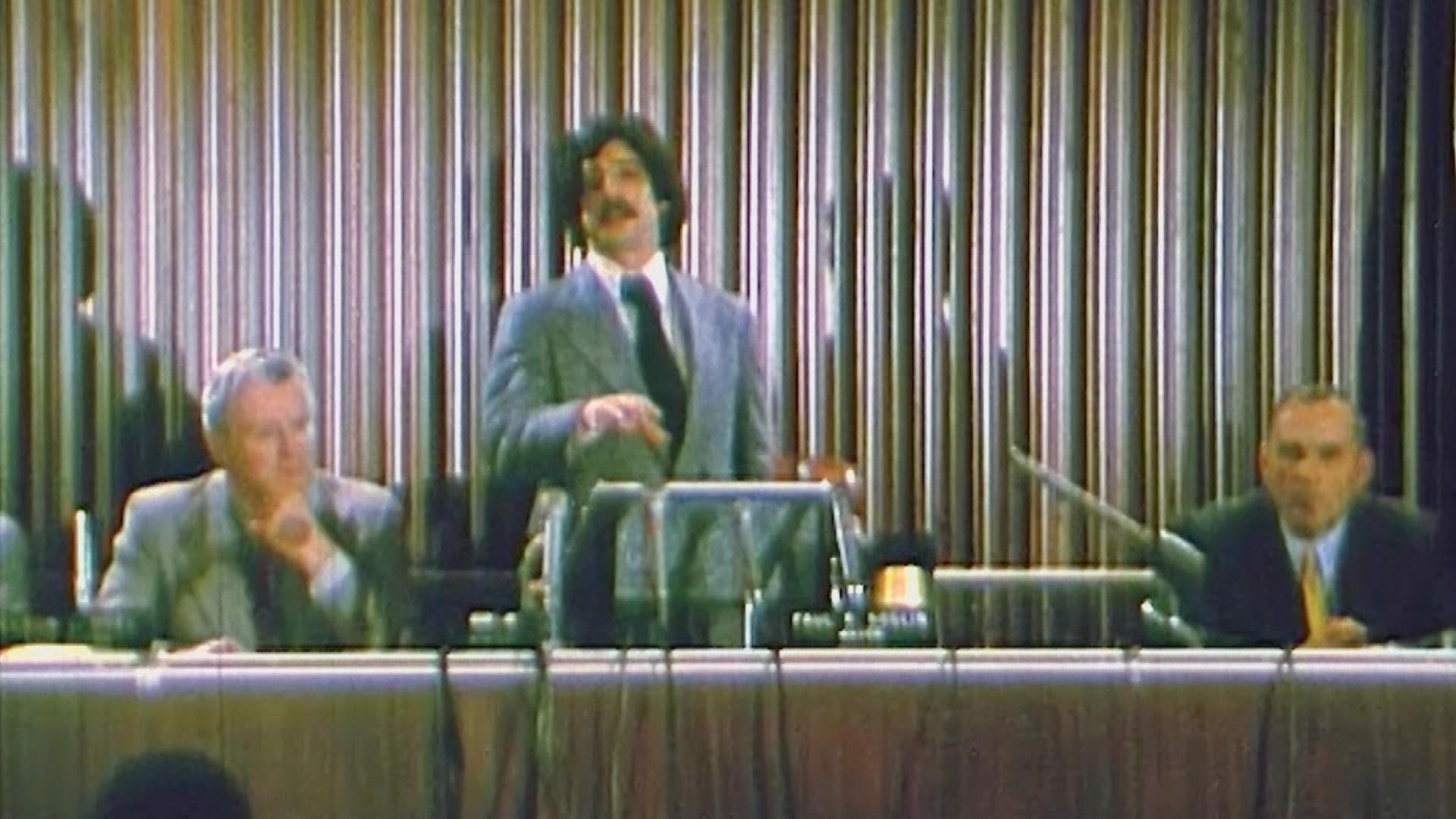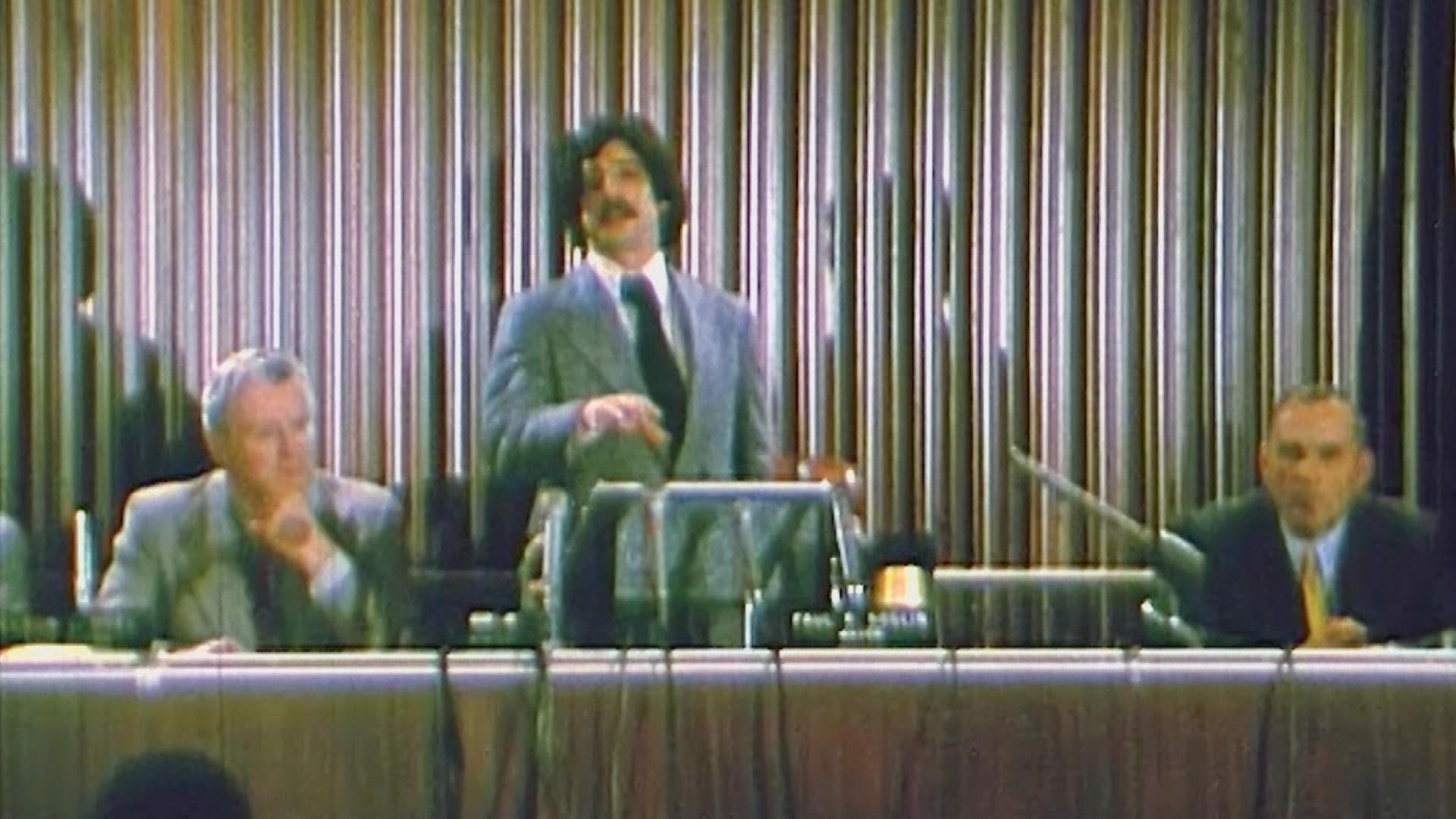 Madison's 'Mayor for Life' Loses Reelection
On Tuesday, former Democratic gubernatorial candidate Paul Soglin lost his reelection bid for Madison's mayor. Here & Now looks back at his more than 20 years of service in the office.
April 5, 2019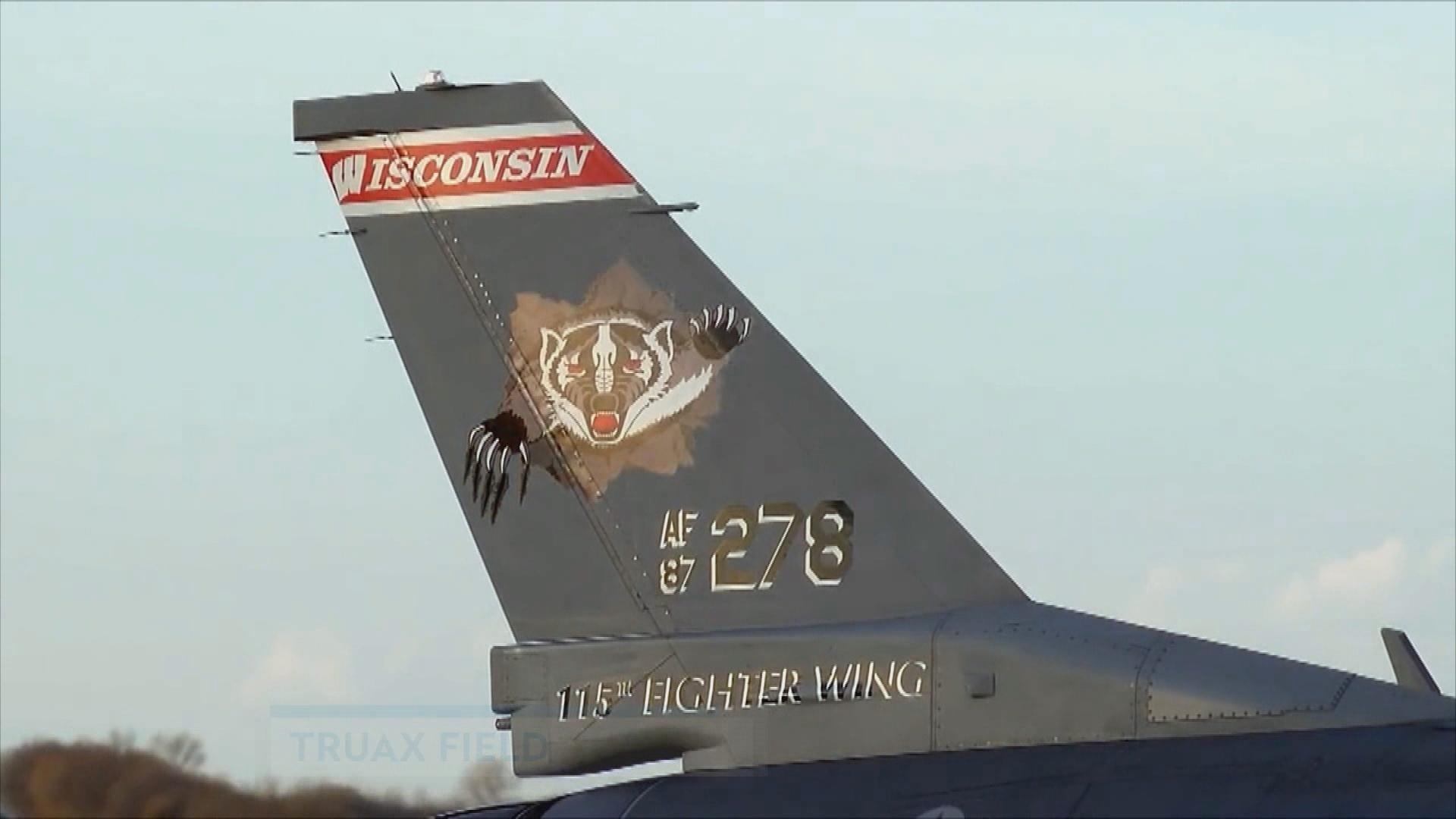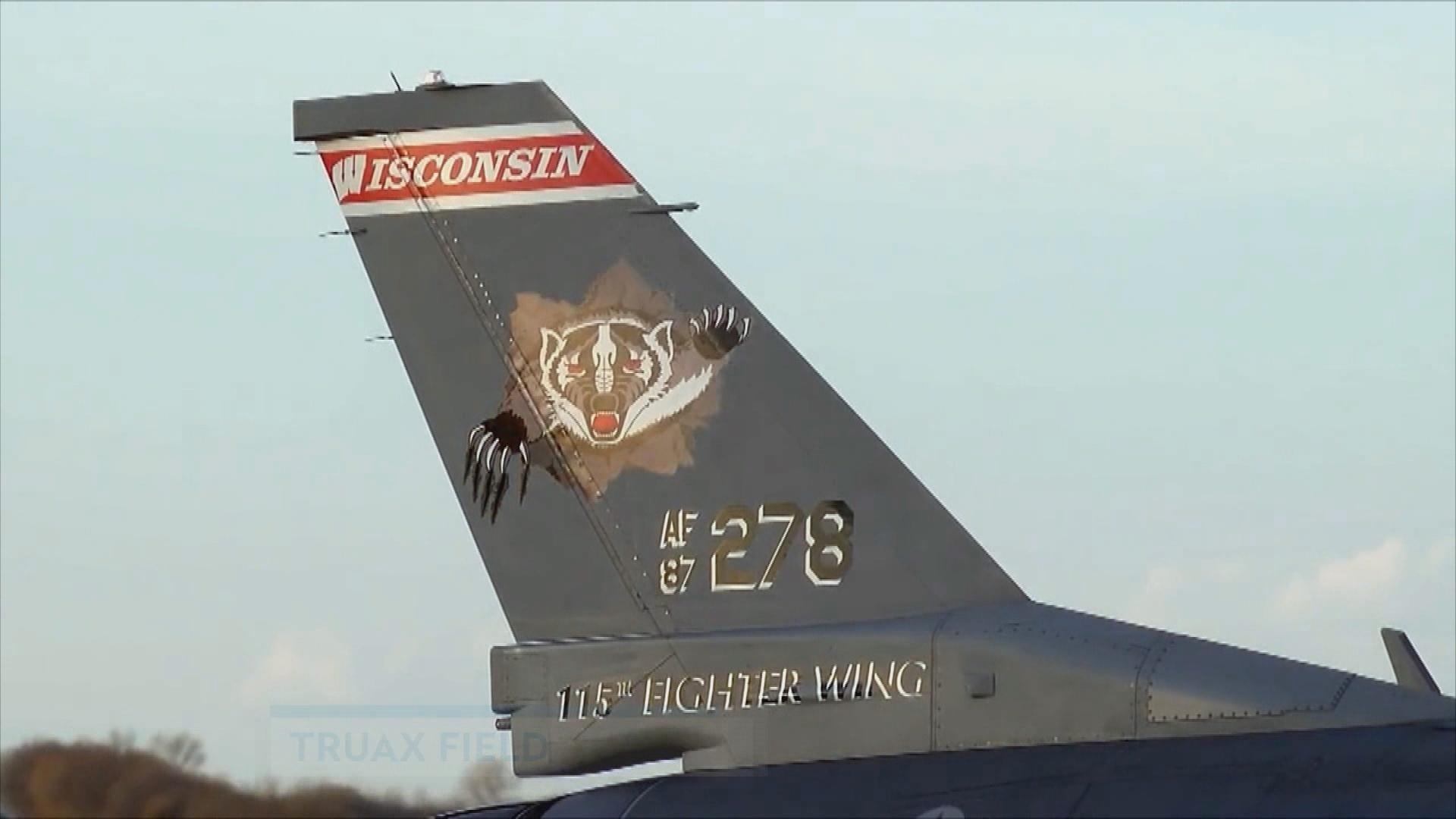 Trump's Budget May Affect McCoy, Truax
President Donald Trump's budget includes a list of military construction projects, with some implications for Wisconsin.
March 22, 2019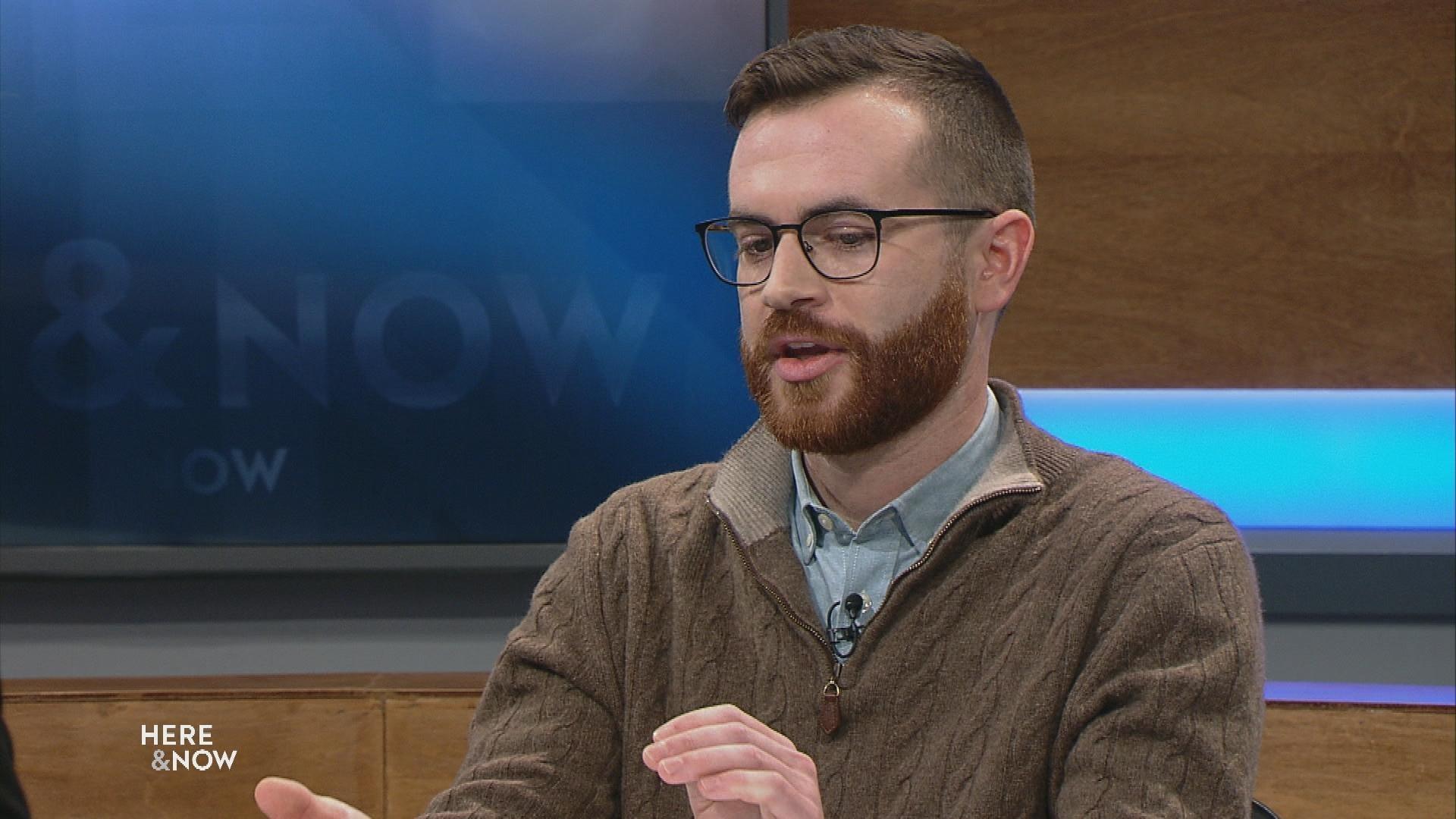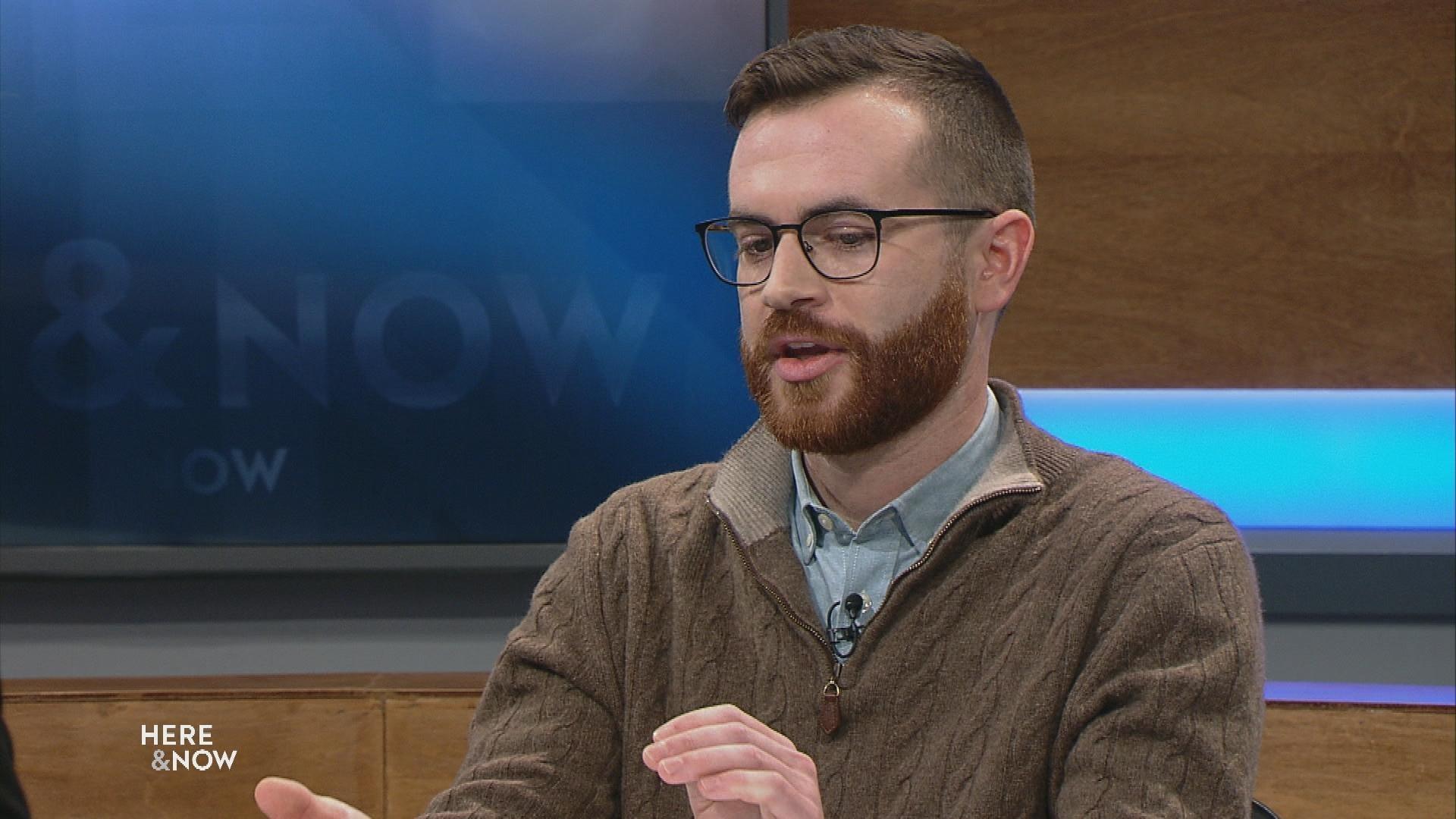 UW Set to Resume Controversial Flu Research
UW-Madison is at the center of controversial biomedical research in their study of avian flu that involves making the virus more dangerous for humans. WisContext reporter Will Cushman has been following the research and discusses what it would mean for the university to have the research resume.
March 15, 2019
More Stories