COVID-19 Hits the UW Marching Band as 2021 Badgers Football Season Begins
Practices for the iconic UW-Madison musical troupe were halted for two days after several members tested positive for the coronavirus following its first two performances at Camp Randall.
September 16, 2021 • South Central Region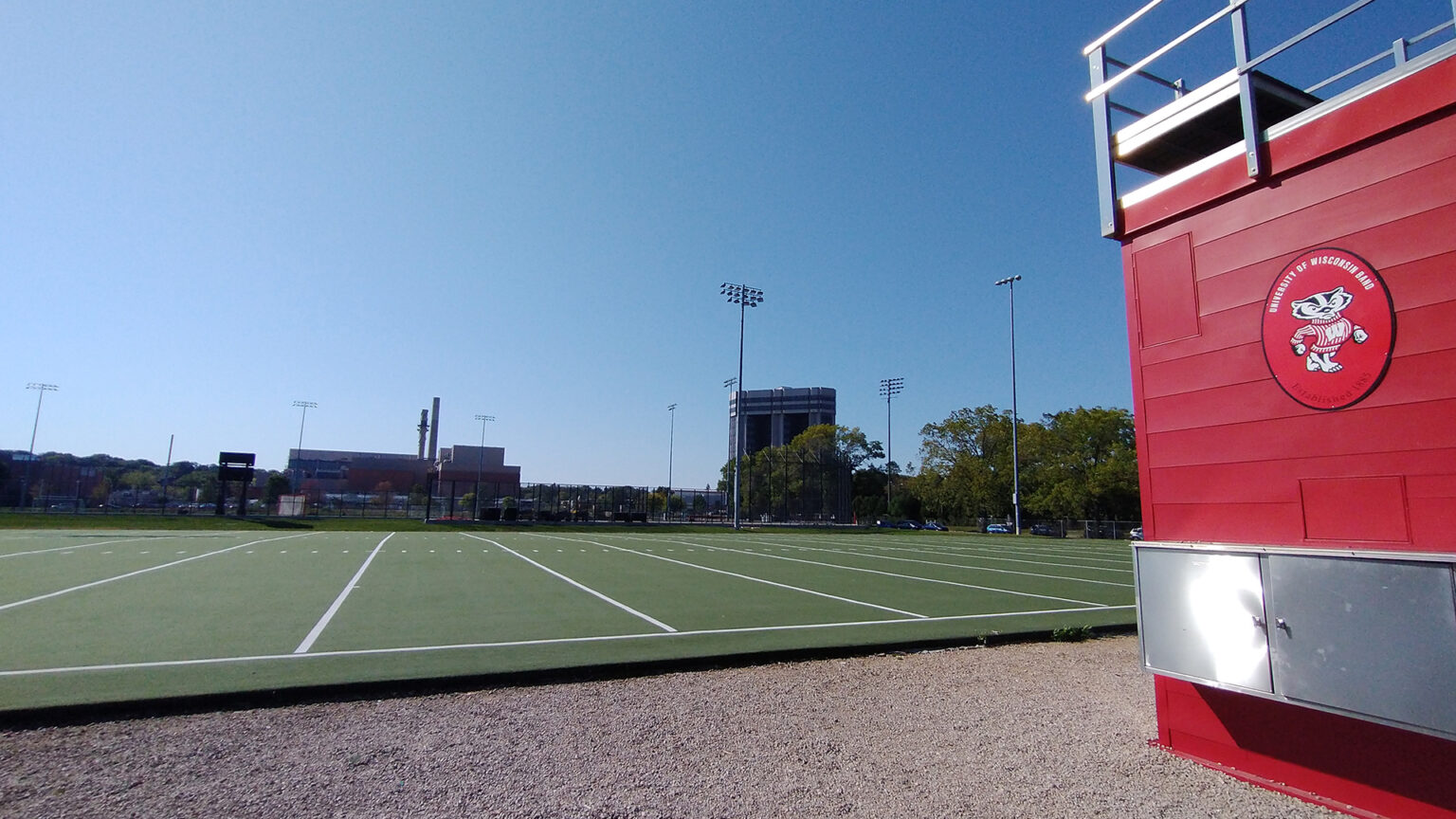 ---
Multiple members of the University of Wisconsin Marching Band are confirmed to have contracted COVID-19, following two consecutive weekends of Badgers football games at Camp Randall stadium in Madison, where it delivers pre-game, half-time and "Fifth Quarter" performances on the field in front of stands packed with fans.
The specific number of marching band members testing positive for the disease has not been disclosed by UW-Madison.
"Several members of the UW-Madison marching band recently tested positive for COVID-19," stated Meredith McGlone, director of media relations and strategic communications at University Communications, confirming a PBS Wisconsin inquiry about the outbreak.
In response, the band's leadership canceled rehearsal for two days and reminded students with symptoms to remain home and avoid in-person activities, and also noted the availability of free on-campus testing.
According to McGlone, many members of the band live together with others from their instrument section in off-campus housing, the same people who they typically rehearse with at practices.
"This means there are multiple opportunities for exposure among students within the same section (but fewer opportunities for exposure across sections)," she added via email.
The Badgers football team does not have a game the weekend of Sept. 18, which may be a good thing for the musicians. The UW Marching Band is not managed by the UW Athletic Department ⁠— it is a program of the Mead Witter School of Music — and no changes have been made to its performance schedule, including a Sept. 25 football game at Soldier Field in Chicago and another on Oct. 2 at Camp Randall. The band was scheduled to resume practice on Sept. 16.
According to McGlone, band members typically don't come into close contact with UW student-athletes or staff with the UW Athletics Department, which has not changed its COVID-19 surveillance and response strategies as a result of the cases among band members. For fans attending games at Camp Randall, the same COVID-19 protocols regarding masking remain active.
Ajay Sethi, an epidemiologist at the UW-Madison School of Medicine and Public Health, said for outbreaks like those among members of the UW Marching Band, it may be difficult to tell whether its members became infected through band activities or in another setting.
The UW-Madison campus had a 91.5% vaccination rate as of Sept. 13, with only a slight difference in rates between students and employees, according to its COVID-19 Response dashboard. Still, the campus is seeing a rise in cases due to the highly contagious Delta variant, which spreads readily among those who are unvaccinated and can cause breakthrough infections among people who are vaccinated.
"The strong campus vaccination rate," said McGlone, "means that most campus cases will be mild."
UW-Madison's upward trajectory started at the same time as classes did in the fall 2021 semester, growing from 23 positive tests among students and employees on Sept. 8 to 54 positive cases on Sept. 14. Meanwhile, UW-Milwaukee reports weekly numbers, with a total of 110 positive tests among its students since Aug. 30. Other UW System schools across the state have also reported rises in confirmed cases, according to campus COVID-19 dashboards. Every UW System campus has instituted indoor mask recommendations or requirements.

Sethi said some of that uptick in COVID-19 cases is partially due to an increase in testing.
Overall, Sethi said, college campuses are in much better shape in the fall of 2021 compared to the previous year because of the introduction of vaccines and high vaccination rates. He added that continuing to take precautions — taking care to not bring the virus into an apartment or dorm setting for students — is still key in preventing its spread.
UW-Madison is seeking to keep track of the potential for the UW Marching Band members who have tested positive for COVID-19 to spread it to other students
"The university has a robust contact tracing system in place and is working through that to identify any students who are close contacts of individuals who have tested positive and may need to quarantine (if not fully vaccinated) or test in 3-5 days (if fully vaccinated)," stated McGlone.
The UW-Madison spokesperson explained contact tracers from University Health Services reach out to close contacts of students with confirmed cases via phone or email. Unvaccinated students exposed to a person with a known case are generally instructed to quarantine for 10 days. Vaccinated students are instructed to monitor their symptoms and get tested within three to five days of exposure.
If these instances occur off-campus, McGlone noted the university has communicated with landlords about establishing plans for students to quarantine.
Among other spaces, the university has made separate apartments available for dorm residents who need to quarantine, in a housing area on the northwest edge of campus usually and also home to graduate students and post-doctoral researchers.
UW-Madison students can schedule an appointment to get tested at one of four sites on campus at no charge, though testing is not offered on weekends.
Kristian Knutsen, Will Cushman and Frederica Freyberg contributed reporting to this story.
Editor's note: PBS Wisconsin is a service of UW-Madison and the Wisconsin Educational Communications Board.
---
Recent Here & Now
//php dynamic_sidebar( 'news-sidebar-2' ); ?>