Wisconsin Lawmakers Visit Fort McCoy, Focus on the Vetting of Afghan Refugees
Over the course of two weeks, Republican and Democratic lawmakers from Wisconsin stopped by a U.S. Army base near La Crosse to check out how thousands of new immigrants from Afghanistan are being housed before resettlement around the country.
September 13, 2021 • West Central Region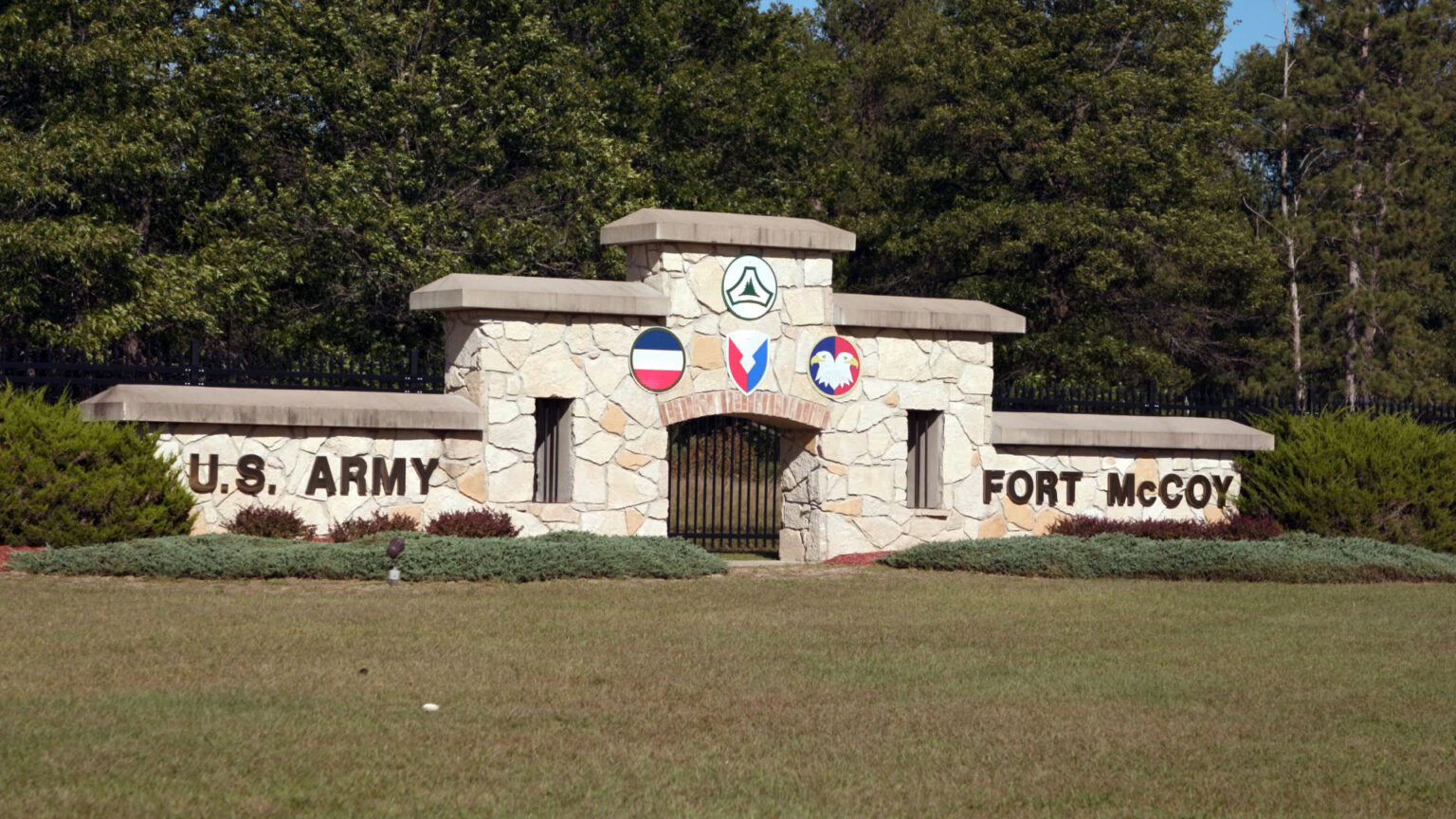 ---
The vetting process for the thousands of Afghan refugees at Fort McCoy emerged as the political focus of a pair of visits by state lawmakers. A little more than a week after Republicans from Wisconsin's congressional delegation toured the U.S. Army base to observe its hosting of Afghan refugees, their Democratic colleagues visited and touted the vetting process for these immigrants.
Fort McCoy in western Wisconsin is one of eight military installations across the United States hosting tens of thousands of Afghans fleeing their former home after the Taliban takeover. Republican lawmakers have raised questions about the vetting refugees received following the quick movement of the refugees to the U.S.
"Any insinuation by my Republican colleagues that these refugees are unvetted are false," Democratic U.S. Sen. Tammy Baldwin said from Fort McCoy. "We should not be distracted by those bad faith claims and instead need to focus our energy on ensuring personnel at Fort McCoy have everything they need to do their jobs."
"It just doesn't sound like there's a whole lot of people that were pre-vetted," said Republican U.S. Sen. Ron Johnson during his visit.
Johnson was joined on Aug. 25 by several Republican state and federal lawmakers, including Sen. Howard Marklein, R-Spring Green, who shared concerns about the vetting process for refugees coming to Wisconsin.
"We have to be perfect when it comes to the vetting process. If we're not perfect, we run the risk of another terrorist attack here in this country," Marklein said.
U.S. Rep. Ron Kind, D-La Crosse, said however, the vetting process is robust during his visit with other Democrats on Sept. 8.
"It was being done in Afghanistan and the various places en route here, also biometric screening," he said. "So it's multilayered. It's very comprehensive."
The current number of refugees at the base is classified according to Kind, but was as many as 8,780 as of Sept. 3. The base can receive as many as 13,000 refugees.
U.S. Rep. Mark Pocan, D-Town of Vermont, said some of the refugees are expected to be resettled very rapidly.
Amid the pandemic, Pocan noted that every refugee except one volunteered to be vaccinated against COVID-19. Reporting later in the week found there were fewer than two-dozen COVID-19 cases, as well as a single measles case, and that they were in isolation along with those who had been exposed.
U.S. Sen. Tammy Baldwin, D-Madison [center], and U.S. Reps. Ron Kind, D-La Crosse [left], and Mark Pocan, D-Town of Vermont [right], speak about Afghan refugees temporarily housed at Wisconsin's Fort McCoy during a Sep. 7, 2021 news conference. (Credit: PBS Wisconsin)
Wisconsin Republican lawmakers, let by U.S. Sen. Ron Johnson in front, finish an Aug. 25, 2021 tour of Fort McCoy, where thousands of Afghan refugees are housed. (Credit: PBS Wisconsin)
"They are being tested for covid and taking proper protocols, they will have the option if they so choose to receive a COVID vaccine," said Sen. Patrick Testin, R-Stevens Point, while visiting the base with Johnson.
"One person refused a COVID shot — I wish we had anything like that in our country right now," Pocan said.
"Anecdotally, to people who are interacting with these refugees every day, gratitude has been expressed over and over and over again," Baldwin said. "That's something we can take to heart."
---
Recent Here & Now
//php dynamic_sidebar( 'news-sidebar-2' ); ?>