Churches Would Be Exempt From Pandemic Restrictions under New Republican Bill
Legislation would set a statewide policy for places of worship in Wisconsin and preempt local public health orders.
March 3, 2021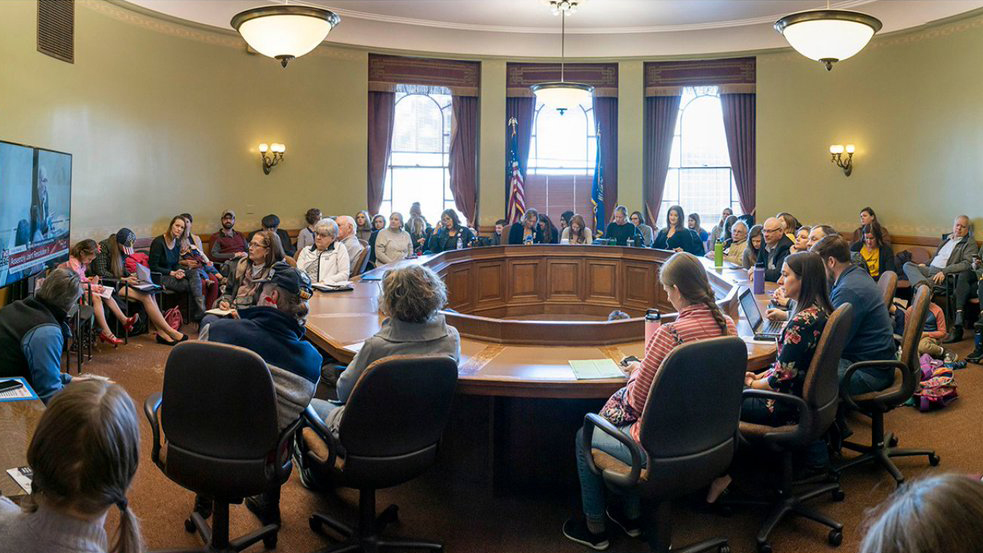 ---
A Wisconsin Assembly committee held a hearing Wednesday on several new items of legislation, with one that would prevent the shutdown of places of worship and another to prohibit employers from mandating vaccines for their employees.
The bills, introduced by Rep. Jeremy Thiesfeldt, R-Fond du Lac, and Sen. Andre Jaque, R-De Pere, are a response to pandemic-related policies that they say stifle civil rights.
"The interruption of our First Amendment constitutional protections has persisted for far too long," Thiesfeldt said during testimony.
Churches had to find creative ways to hold services during the COVID-19 pandemic, with some subject to attendance restrictions through local public health orders.
In Dane County, the Catholic Diocese of Madison threatened legal action in June 2020 and got the county to change course on its pandemic policy — allowing churches to function like businesses with a percentage cap on attendance, as opposed to other mass gatherings that had a number limit on participants.
Thiesfeldt said churches are still unsure about their ability to open, a year into the pandemic.
"It has now been almost a full year of us facing the virus in many churches and places of worship have been held in limbo, not knowing when or if they can open their doors," he said.
Places of worship are largely subject to local public health orders, not any statewide mandate, but Thiesfeldt's bill would implement a state-level policy to allow churches to remain open during a pandemic.
"Many churches have support groups that people desperately need in times like these," he said. "This bill, AB 24, ensures that local health officials cannot close down churches or places of worship to control COVID-19."
The hearing drew criticism from some Democrats, who noted that many of those providing testimony did so without wearing masks.
We are nearly a year into this pandemic, and this is what we are seeing in the state capitol today: no masks, no social distancing, and no safety precautions for the staff who have no choice but to be in the building. This is reckless and dangerous. pic.twitter.com/Q7ic76xP2y

— Senator Melissa Agard (@senator_melissa) March 3, 2021
"We have a Republican controlled legislature that has yet to pass meaningful COVID-19 legislation to help the people of our state. Rather, they introduce bills that will do nothing to keep the people of Wisconsin safe and healthy and cram people into rooms to testify on them," Sen. Melissa Agard, D-Madison, tweeted.
---
Recent Here & Now
//php dynamic_sidebar( 'news-sidebar-2' ); ?>