Calls for 'Forensic' Audits of 2020 Vote Splits Wisconsin Republicans
Pushing back against the pace and scope of an investigation launched by Assembly Speaker Robin Vos, state Rep. Janel Brandtjen is pursuing her own effort to scrutinize how the presidential election between Biden and Trump was conducted in the state.
Here & Now
August 10, 2021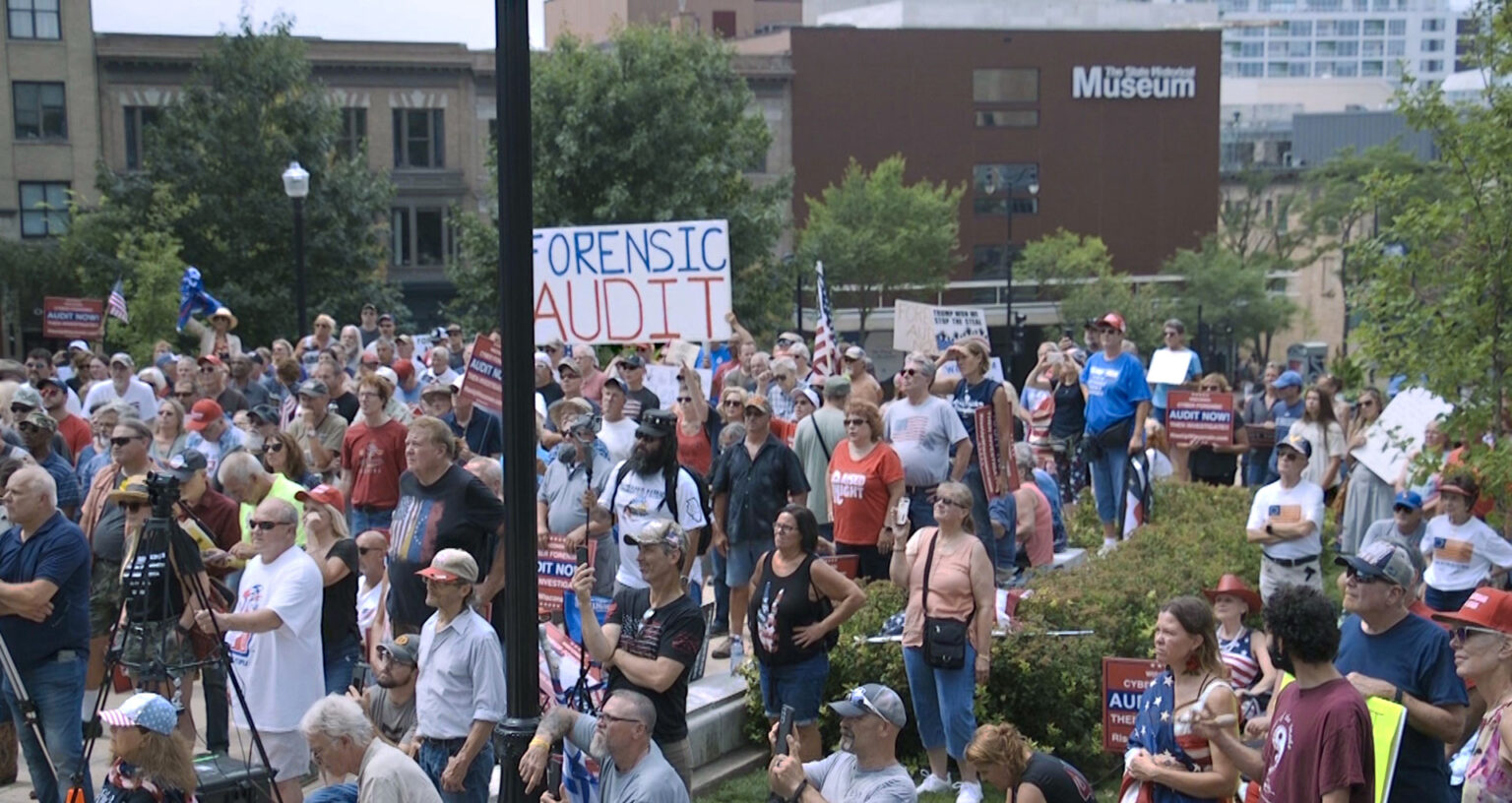 ---
More than nine months after the 2020 presidential race, that election is still being scrutinized by an increasingly-vocal group of Wisconsin conservatives. However, the debate over how to investigate the 2020 election has caused a split in the Republican Party.
On one side: Assembly Speaker Robin Vos, R-Rochester, who tapped former Supreme Court Justice Michael Gableman to investigate claims of irregularities in the last election cycle.
On the other side is state Rep. Janel Brandtjen, R-Menomonee Falls, chair of the Assembly elections committee. She is championing a wing of the Republican Party that says Vos is not going far enough.
After visiting Arizona to take a look at its controversial Republican review of the 2020 elections, Brandtjen is pushing for what she's calling a forensic audit of the 2020 elections in Wisconsin in 2021.
While there is no widely understood definition of "forensic," supporters say it means to bring a higher, scientific bar of scrutiny to the investigation.
These investigations have received high scrutiny from Democrats like Gov. Tony Evers, who called them "clown shows" during a news conference on Aug. 10.
Brandtjen is not apprehensive about starting her own competing investigation alongside the Vos investigation.
"Listen, more eyes is better, right?," she said.
Vos however, questions the need for Brandtjen to start her own investigation.
"I feel like my colleague, Representative Brandtjen, is misinformed about what we're doing in Wisconsin, because we are already doing a forensic audit."
It's important to note there is little-to-no evidence of widespread voter fraud in Wisconsin. Former President Donald Trump's challenges to the election were rejected multiple times by state and federal courts, including by a Trump-appointed federal judge in Milwaukee. Out of more than 3 million votes cast in the state last November, only 27 possible cases of voter fraud were identified.
Vos's investigation is currently in the early stages. Brandtjen however, has already issued subpoenas to Brown and Milwaukee counties — this despite the rebuke from her party's leader over that move.
"The clock's getting tight here," said Brandtjen. "And I want to make sure that I've exhausted everything that I can as chair to make sure that we can rebuild confidence and trust in the state of Wisconsin's elections."
The subpoenas would grant her access to the ballots and tabulating machines in each county, along with other election materials. Brandtjen said these amount to the building blocks of the election and can help affirm the election's accuracy.
This is basically trying to — from your records, do you have everything that we could recreate the election and and get to those final numbers?," she said.
Though Brandtjen questions the validity of the 2020 election — an election which has no evidence of widespread fraud — she said part of her investigation is to make a case for future changes to the election process.
"Is there oversight issues or more legislation that's necessary to bring more confidence to the process?," Brandtjen said.
In fact, the state Legislature already passed a slate of election bills in June that would make changes to the elections process — like adding more requirements for absentee voters to request ballots. Gov. Tony Evers vetoed those bills.
"As long as I'm governor of this great state, anti-democracy efforts like this will never see the light of day," he declared.
"We've watched Republican governors and legislators around our country work quickly to add more hurdles to voting, to discredit the good work of our election officials and try and cast doubt on the election just because they didn't win," added Evers. "Now it's time for those that have stirred the pot to say there's nothing there."
Any Republican efforts to change how Wisconsin conducts its elections will almost certainly face a veto from Evers, but Brandtjen says it's still worth pushing for.
"Those are the type of things that we should discuss and talk about," she said. "And is that a concern for our voters going forward?
Both the Vos and Brandtjen investigations could extend well into 2022, and could set the stage for more Republican in-fighting.
Vos initially aimed to finish his investigation by the fall of 2021, but authorized Gableman to take longer with the investigation and hire more staff as needed.
A third investigation, done by the nonpartisan Legislative Audit Bureau, is expected in the fall of 2021.
---
Recent Here & Now
//php dynamic_sidebar( 'news-sidebar-2' ); ?>