Noon Wednesday is a live weekly webcast where Here & Now multimedia journalist Marisa Wojcik focuses on the "why" with newsmakers, experts and fellow journalists. These "tiny desk interviews" are broadcast live from Wojcik's office in Madison, but also feature on-location interviews with people across the state of Wisconsin.
Derailed
Derailed is a limited-run podcast from Wisconsin Public Radio about Wisconsin's high-speed rail line that never was. It's a look at how the project came together, how it fell apart, and what it says about how Wisconsin has changed.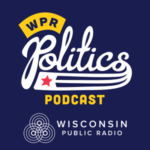 Politics Podcast
"WPR Politics" is a weekly podcast about the ins and outs of Wisconsin's political news with host John K. Wilson and WPR reporters Shawn Johnson and Laurel White.
PBS Wisconsin Documentaries