Why More Wisconsin Venues Require Covid Vaccinations to Withstand the Delta Wave
In response to artist requests, in the hope of bolstering safety and in the interest of keeping their doors open, larger performance spaces in Milwaukee, Madison and Eau Claire are requiring their audiences to offer proof of COVID-19 vaccination or a recent negative test in order to attend shows.
By Will Cushman
September 20, 2021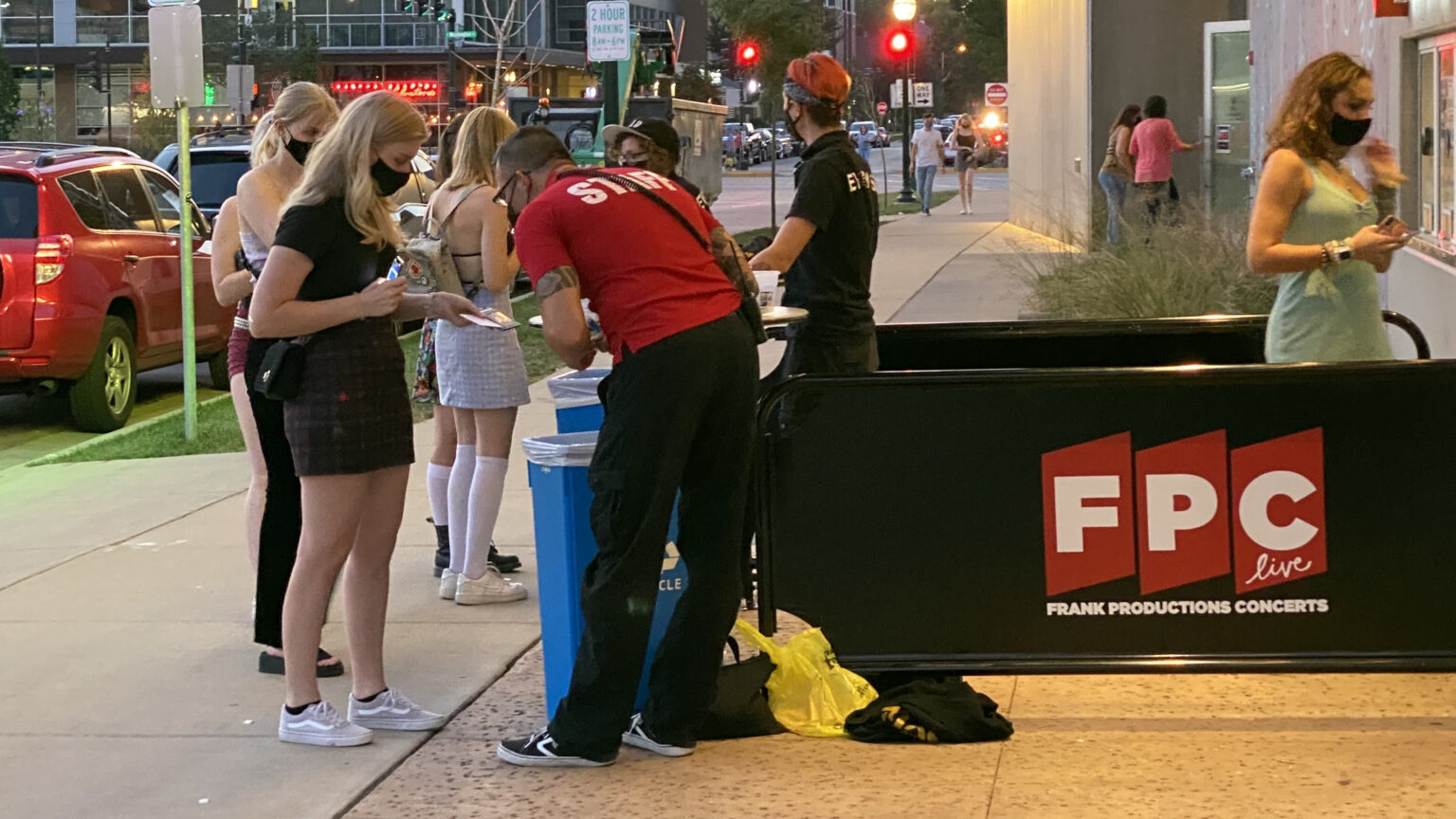 ---
Canceled shows. Shifting venues. Anxious artists and ticket holders grappling with second thoughts as hospitals reopen special wards to treat yet another wave of patients struggling to breathe.
Many months after the introduction of COVID-19 vaccines seemed to herald a triumphant — and safer — return to in-person revelry, the managers of some of Wisconsin's biggest live performance venues feel guarded about what the rest of 2021 holds in store for their industry.
Spread of the highly contagious Delta variant is fueling the uncertainty. In June, before the variant became dominant, the last of Wisconsin's local public health restrictions expired amid rising vaccination rates and falling covid case counts.
Three months later, vaccination progress has stalled while the number of patients hospitalized for covid has returned to crisis levels in communities around the state.
Concerts are back — with 'rigid' protocols
The return to live performances has shifted from thrilling to fraught.
"A few months ago, when we were reopening our venues, there was a ton of optimism and hope and a lot of celebration that we had made it through the pandemic," said Matt Gerding, president of venue operations for FPC-Live, a concert promoter based in Madison with exclusive booking rights for several large venues in the city, including Majestic Theatre, The Orpheum and The Sylvee.
Gerding said since June, it's become clear that the pandemic would continue to disrupt the live music scene for the foreseeable future.
"It's not the free-for-all fun concert world that we were hoping to be back at by this point," he said.
Instead, Gerding described "rigid" protocols both in the front of house and backstage aimed at reducing the risk of spreading covid. Concertgoers must provide proof of full vaccination against covid or a negative test within the past 72 hours to gain entry to a show
Since late August, audiences must also be masked for indoor shows, after Public Health Madison & Dane County first instituted and then renewed a local mask mandate to curb the Delta wave of covid cases.
On top of the audience rules, Gerding said venue staff have worked to accommodate additional safety protocols requested by the touring acts they host. Artists have arrived with varying safety expectations, he said, and the goal is to ensure they're comfortable performing.
Sometimes this effort has meant shifting venues when possible. A Phoebe Bridgers show originally scheduled for Sept. 14 at The Sylvee was moved up by two days so it could be held at Breese Stevens Field, an outdoor venue just a block away that FPC-Live also books. The move came after Bridgers said she would only perform outdoors in addition to requiring that her audiences be vaccinated or test negative.
Vaccine requirements becoming an industry norm
Large venue operators around Wisconsin have likewise found themselves at the forefront of a burgeoning business trend toward covid vaccine requirements.
The Pabst Theater Group in Milwaukee and organizers of the city's Summerfest became the first live performance operators in Wisconsin to announce a vaccination requirement on August 10 in response to the Delta variant's spread.
A number of other large venue operators around the state soon followed suit, including FPC-Live and Dane County's Alliant Energy Center Coliseum on Aug. 16, Madison's Overture Center for the Arts on Aug. 19, the Pablo Center at The Confluence in Eau Claire on Aug. 26 and Milwaukee's Marcus Performing Arts Center on Sept. 1. Green Bay's Resch Center and Meyer Theatre, both managed by PMI Entertainment Group, have opted not to require proof of vaccination.
COVID-19 vaccine requirements have triggered political opposition among Republicans in Wisconsin and across the United States. In June, the Republican-led state Assembly passed a bill that would bar businesses or government entities from requiring proof of covid vaccination. However, the Republican-controlled state Senate had not voted on an accompanying bill in that chamber by mid-September.
Venue operators in Wisconsin that have moved to require proof of vaccination or a negative test said this decision was necessary to ensure they could safely reopen.
"We have no greater paramount responsibility than the safety of our guests, artists and staff," said Jason Anderson, executive director of the Pablo Center, explaining what he called a "challenging choice" to require proof of vaccination or a negative test at the Eau Claire venue.
Anderson said about 1.5% of ticket holders for the Pablo Center's 2021-2022 season sought refunds between when the venue announced its vaccination requirement in late August and mid-September. Additionally, about 1% of the center's members canceled their paid memberships, he said.
"We also saw six figures in sales of new tickets after that announcement, and we saw a 10% increase in membership sales," Anderson added. "That is not to brag, and I take very seriously every guest who still wants the freedom of choice. This, for us, isn't about freedom of choice. It's about how we have to operate to ensure we can operate day after day at full capacity and ensure that the artists and guests are safe."
The brand new performance space in Eau Claire, including 1,200-seat and 400-seat theaters, opened just 18 months before the pandemic ground in-person events to a halt in March 2020.
"We were actually closed as long as we were open," Anderson said, noting that the Pablo Center hosted its first show in 18 months — a concert by the rock band O.A.R. — on September 12.
In addition to providing proof of vaccination or a negative test within the last 72 hours, ticket holders are required to wear masks, despite there being no local mask mandate in Eau Claire.
Safety protocols borne out of necessity
The Pablo Center's mask requirement is in line with recommendations from the Centers for Disease Control and Prevention and Wisconsin Department of Health Services for universal masking in indoor public spaces, regardless of vaccination status. The Delta variant is responsible for a significant number of breakthrough infections in fully vaccinated people who may subsequently be contagious even if they don't have symptoms.
Jason Anderson said the mask requirement ensures the Pablo Center can safely seat guests at full capacity. Because it is a relatively small venue located in a small market for touring Broadway productions and A-list acts, he said it's a financial necessity to book shows at full capacity.
"The reality is to break even for our venue at only 1,200 tickets and only one night … we have to be above 68% capacity for any show," said Anderson.
Other performance spaces requiring masks along with proof of vaccination during fall 2020, whether there's a local mask order in place or not, include Madison's Overture Center for the Arts and the Marcus Performing Arts Center in Milwaukee.
Kendra Whitlock Ingram is president and CEO at Marcus. Like in Eau Claire, she said the organization's requirements for its 2021-2022 season were borne out of necessity as a way to stay in business even in the face of the Delta variant.
"The thought for us was we couldn't have another moment where we would be shut down the way we were during the last 18 months," Whitlock Ingram said. "We're trying to do everything we can within our control to keep live performance going and to keep people as safe as possible."
Whitlock Ingram expressed "cautious optimism" about the 2021-2022 season. She said the viability of the live-performance industry depends on high covid vaccination rates.
"It is desperately important for our industry and live entertainment for people to get vaccinated," said Whitlock Ingram, adding she's particularly anxious to see covid vaccines be approved for use in children. Two shows in the Marcus Center's fall lineup were already canceled for covid-related reasons, Whitlock Ingram said, including one that producers decided had become too complicated due to children being part of the ensemble.
At Pabst Theater Group's venues in Milwaukee, which include Pabst Theater, Riverside Theater and Turner Hall Ballroom, audiences are also required to provide proof of vaccination or a negative test, but mask-wearing among patrons is encouraged rather than mandated (though it's mandatory for staff).
Gary Witt, the company's executive director, said the difference in policies — required proof of vaccination or negative test but encouraged mask-wearing — comes down to feasibility of enforcement.
"We request that everyone wear a mask, but we've moved ourselves from where we were in 2020, where we are not the mask police," Witt said. "That's really a recipe for disaster. It's kind of impossible."
On the other hand, Witt said he believes the live performance industry has an important role to play — bordering on a civic duty — in normalizing vaccination requirements in the private sector and helping to boost languishing vaccination rates.
"That is a way across the country that we can make a difference," Witt said, adding that it's also a way the industry can assert some control over a situation that's felt anything but controllable since early 2020.
"We're feeling way more in control now than we were capable of feeling last year," he said. Witt also feels the industry is indebted to the public after receiving a critical lifeline after the first year of the pandemic in the form of billions of dollars in federal relief. Another way of returning the favor, he added, is to ensure safer performances through vaccine requirements.
Waiting on a return to 'normalcy'
Federal aid has helped to not only keep venue operators afloat, but is helping to fund upgrades to air filtration systems that help remove airborne pathogens like the coronavirus that causes covid from their theaters and stages. The Pablo Center and Marcus Center have each installed new air filtration systems, while FPC-Live is looking into the feasibility of adding new set-ups to its older venues.
Many large venues in Wisconsin also used the first 18 months of the pandemic to institute changes to their operations that will likely become permanent because they're covid friendly but also convenient and cost-saving, such as touchless ticket scanning and entry.
While federal grants helped the Pablo Center keep its 20 full-time employees on the payroll throughout the 18-month performance hiatus, Jason Anderson described the period as "an incredibly unpredictable roller coaster" for the fledgling facility and an experience he hopes to avoid repeating.
Despite the challenges posed by the Delta variant, Anderson and other venue operators expressed a guarded optimism for the future of live performance.
"It's clear from the demand for tickets that we have a product the consumer wants," Anderson said. "The consumer wants to escape the druthers that pandemic life has had and return to some sense of normalcy."
Matt Gerding said he's anxious to see the day that most of FPC-Live's covid safety protocols can be safely lifted once and for all so everyone can once again focus on the joys of live music.
"Our anticipation is that the rest of 2021 is going to continue to be complicated, but hopefully 2022 will be the year that we'll be able to really turn back on at full steam," Gerding said.
---
Recent Here & Now
//php dynamic_sidebar( 'news-sidebar-2' ); ?>