What's Next for Wisconsin's Most Vaccinated Locales as Delta Variant Spreads
Health officials in Dane and Door counties are trying to push local vaccinations even higher as employers are left to set their own vaccine and mask rules in the face of another highly contagious coronavirus wave.
August 9, 2021 • South Central Region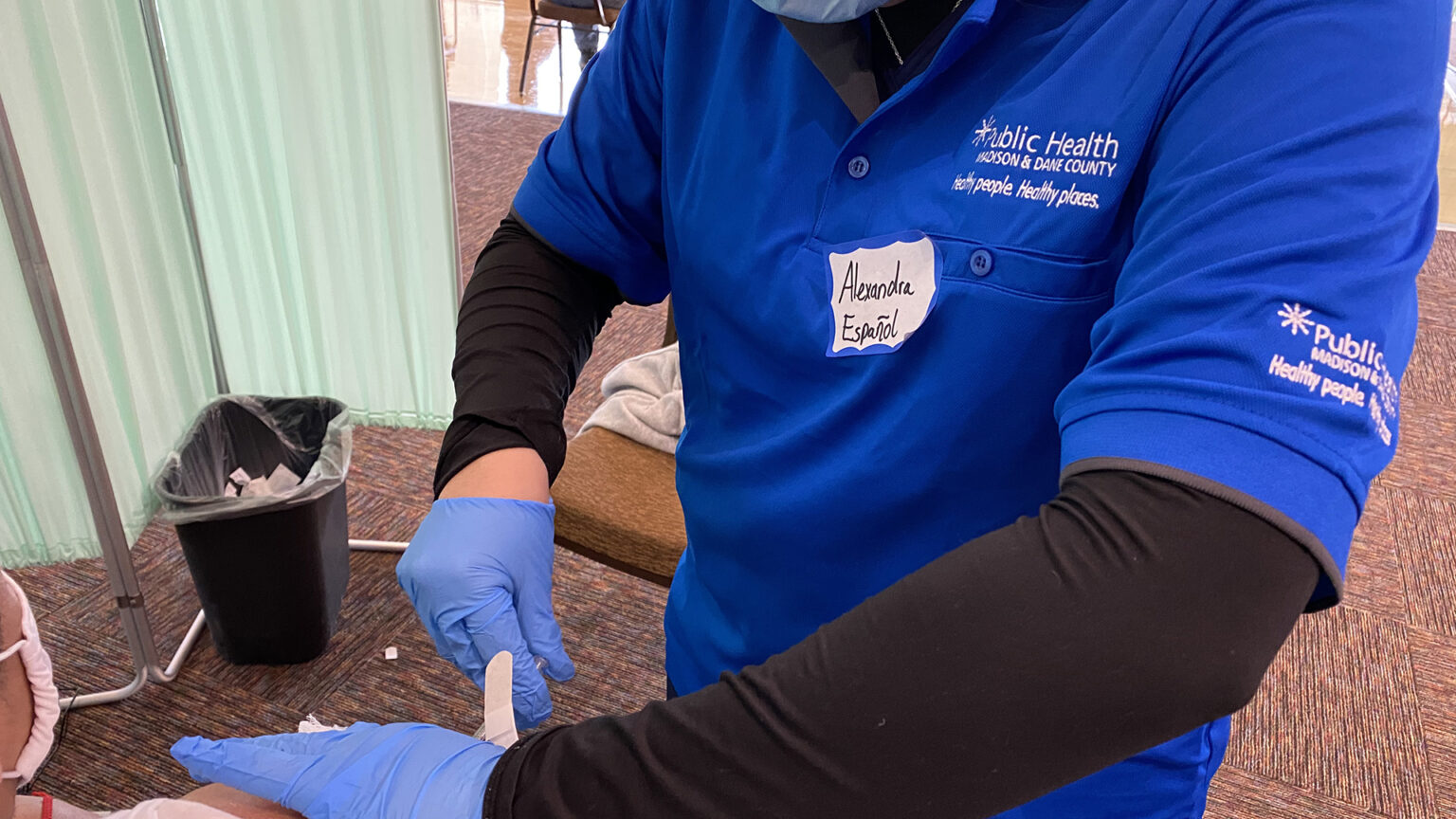 ---
At the heart of appeals by public health officials for people to get vaccinated for COVID-19 is the prospect of returning to some semblance of life before the pandemic. Wisconsinites have responded with varying degrees of enthusiasm.
Roughly half of the state's residents had started the vaccination process by early August 2021, reported the Wisconsin Department of Health Services. The percentage of people getting vaccinated varies widely by location, though. Vaccination rates remained below 50% of all residents in more than two dozen counties, including some of the state's largest by population, with a handful reporting levels under 40%. On the other hand, a different handful of counties have achieved vaccination rates that meet or exceed a goal of vaccinating at least 70% of adults.
But as the highly contagious Delta variant spreads in the United States with alarming speed, including among fully vaccinated people, a sense of returning normalcy feels tenuous even in Wisconsin's most highly vaccinated communities. The situation is spurring more urgent pleas for more people to finally get a shot as well as a growing number of employers to mandate them.
Topping the list of Wisconsin's most vaccinated places are Dane County and Door County — two parts of the state with very different communities that nevertheless have large majorities of residents who leaped at the opportunity to get vaccinated.
In Dane County, more than 82% of adults had received at least one dose of vaccine by Aug. 8. More than 70% of the county's entire population had started the process by the same date, even as all children younger than 12 remain ineligible.
Vaccinations rates vary geographically within Dane County as well, with some of the highest rates in Madison's western suburbs of Middleton and Verona, while its lowest rate is in rural areas east of Sun Prairie. The vaccination rates around the University of Wisconsin-Madison campus are also particularly low, though its residents are dominated by a transient student population who may have been recorded as vaccinated at their home address.
"I'm pretty over the moon," said Tess Ellens, the COVID-19 vaccine deputy for Public Health Madison & Dane County, about the locally high vaccination rate.
At the same time, Ellens acknowledged the county's persistently lower vaccination rate among Black residents. More than three months after all adults became eligible for the vaccines, less than 40% of Dane County's Black residents were partially vaccinated by Aug. 8, compared to about 60% of Asian and Hispanic residents, nearly two-thirds of white residents and more than 90% of Native American residents.
"That's still a huge gap," Ellens said.
To narrow this gap, Ellens said the department is continuing to "try and reach people where they're at." This includes cosponsoring mobile vaccination clinics with community organizations like the African American Health Network of Dane County, as well as working with Black churches and other groups to share accurate information about the vaccines and where to get them.
"We recognize the importance of having trusted messengers," Ellens said.
As these efforts continue, the Delta variant is making inroads within Dane County. New cases and COVID-related hospitalizations are on the rise across Wisconsin, and on July 30, the Centers for Disease Control and Prevention added Dane County to a growing list of places where community transmission has once again risen so much that practices like universal masking in indoor public spaces are deemed important.
The CDC recommendation that all people, vaccinated or not, wear face masks in areas with higher levels of community transmission comes as evidence mounts that the Delta variant causes a significant number of mostly mild breakthrough infections in fully vaccinated people, and that those people are able to pass the coronavirus on to others.
Importantly, fully vaccinated people who become infected with the Delta variant remain well-protected against severe symptoms, hospitalization or death, leaving unvaccinated people at much higher risk of serious disease.
For unvaccinated people, "that additional layer of protection we would otherwise have is not there, and that results in them getting more sick than they would otherwise," said Dr. Nasia Safdar, chief of infection control at UW Health. Safdar described the threat posed by the delta variant and how to protect against it during the Aug. 4 episode of Here & Now Noon Wednesday.
Safdar described how breakthrough infections among fully vaccinated people are to be expected, while the overarching benefit of the vaccines is in their ability to reduce hospitalizations and deaths. Of primary concern at this stage in the pandemic is the fact that fully vaccinated people with mild or asymptomatic infections can spread the coronavirus to others who may be more vulnerable to severe symptoms, she said.
While the number of breakthrough infections in Dane County has grown considerably in July, new cases among unvaccinated people have grown much more quickly, according to data published by the city-county health department.
The increasing transmission prompted local leaders to urge universal masking in Dane County before it even technically passed the masking threshold established under the CDC's new recommendations.
In Door County, where more than two-thirds of residents — including nearly 78% of adults — were partially vaccinated as of Aug. 8, the county health officer said local community transmission was on an upward trajectory similar to many parts of Wisconsin.
"Door County is experiencing a surge in COVID-19 cases," said Sue Powers, manager of the county health department, in an Aug. 6 press release. "To be proactive, we are now recommending that everyone, regardless of vaccination status, wear a mask in indoor public spaces per the CDC guidance."
Within Door County, vaccination rates vary widely as well, with the highest levels in its northern reaches around Sister Bay and Ellison Bay, and lower levels in nearby Ephraim and out on Washington Island, as well as in its southern reaches near Kewaunee County. (The low vaccination rate of about 33% in Ephraim compared to nearby locales is likely an artifact of the population within its ZIP code being only about 250, according to Powers.)
Since December 2020, the county health department has worked closely with Door County Medical Center, the primary healthcare provider in the area, to make sure COVID-19 vaccines are easily available and to emphasize that a high vaccination rate is critical for the tourism-dependent region to bounce back from a difficult year for its leisure and hospitality industries. Strong interest in the COVID-19 vaccines among the county's comparatively large population of retirees also contributed to its high rate, according to Powers. More than 90% of county residents 65 and older had started the vaccination process by Aug. 8.
Powers said the local health department is keeping track of breakthrough infections, which she described as a "very, very low percentage" of the county's overall cases in 2021.
Still, Powers said the Delta variant and increasing local transmission are prompting jitters among some local business operators, especially on the heels of a widely-publicized outbreak centered in a similar vacation destination in Provincetown, Massachusetts. The July outbreak there led to a large number of breakthrough infections and helped spur the CDC to update its masking guidance for fully vaccinated people.
"Businesses are asking, 'Should we be masking again?' And my answer right now is 'Masking is a good idea,'" Powers said.
Powers added that she did not expect the county to require masking in public places. Door County has never issued local ordinances requiring face masks or limiting capacity during the pandemic.
"Nothing legally enforceable," Powers said. "That's been a sticking point."
Back in Dane County, local officials were among the most decisive in the state in setting local face-mask requirements and orders limiting the size of public gatherings and capacity at restaurants and retail establishments.
But even as new cases rise once again, officials in the state's second largest metro area have so far declined to pass new orders and are instead focusing on encouraging mask use and driving the local vaccination rate as high as possible. That renewed push is likely to include incentives, according to Ellens, though she declined to say what the incentives might be.
Meanwhile, more private businesses around the Madison area are announcing vaccine requirements for employees, while others are returning to mandatory universal masking among employees and customers.
Epic Systems, the largest private employer in Dane County and one of the largest in the state, announced July 30 that all U.S.-based employees would be required to be vaccinated. The company also announced new masking requirements at its Verona headquarters as thousands of fully vaccinated employees remain in the process of returning to their offices.
Several healthcare organizations in Dane County have announced they too will require employees to be vaccinated. Food Fight Restaurant Group, which operates nearly 20 restaurants in the Madison area, announced that all employees and customers would be required to wear masks indoors once again starting Aug. 9. The announcement came after an unspecified number of fully vaccinated employees tested positive for the coronavirus.
Zach Brandon is president of the Greater Madison Chamber of Commerce. The organization has at times butted heads with the local health department over COVID-19 restrictions, but also supports its members setting vaccination or mask requirements for employees and customers.
Brandon noted that every member of the Madison Chamber's staff is vaccinated and that the organization returned to requiring masks at its offices on Aug. 2.
"We know that vaccines are the path to normal," Brandon said. "When businesses are saying they want to mandate vaccinations or they want to mandate masks, we know all of that is in the pursuit of the better, and we support that."
The primary business and tourism advocacy organization in Door County is similarly supportive of local businesses setting their own vaccine or mask requirements, according to Jon Jarosh, interim CEO of Destination Door County.
"We're encouraging our business community here to do what is right for them and their business," he said, adding the organization did a lot of outreach in the spring to encourage vaccination among hospitality workers.
One organization in Door County that has been pivotal to its successful vaccination drive but so far has not required vaccinations for employees is Door County Medical Center. Based in Sturgeon Bay, the healthcare network worked in tandem with the health department to encourage vaccinations and to make them easily accessible for residents and visitors alike.
President and CEO Brian Stephens said that, like most places, interest in the vaccines plummeted in Door County in May, but it's picked up somewhat as the Delta-driven spike in cases is motivating some previously complacent people to get a shot.
"Our real priority is to continue to push the vaccination rate up," Stephens said. "I know we're doing well, but we still want to try to reach out to folks who are still hesitant."
That work has shifted from mass vaccination clinics the medical center and health department hosted in the spring to one-on-one conversations between doctors and their patients who come into the clinic for other reasons, Stephens said.
"Any time somebody comes in for a primary care visit and we find that they're unvaccinated, we counsel them, talk to them about it, try to encourage them and answer any questions that they have," he said. "That's been pretty effective."
Convincing unvaccinated patients to get a shot is feeling increasingly urgent, Stephens said, as the Delta variant spreads even as local clinics continue to deal with a staffing shortage brought on by the pandemic.
"We're struggling with recruiting nurses and other physicians just like everybody else," he said. "We're running pretty tight right now, and if we were to start to see another uptick in Covid patients needing inpatient treatment or outpatient therapy or whatever the case may be, we would just struggle with capacity."
The staffing shortage is so acute that Stephens said even a surge less intense than when cases peaked in fall 2020 could be disastrous.
"It would be a lot more difficult to handle it in the situation that we're in right now," he said.
---
Recent Here & Now
//php dynamic_sidebar( 'news-sidebar-2' ); ?>