What's next for Derrick Van Orden in Congress after winning Wisconsin's 3rd
Here & Now extra: The winning Republican candidate for a U.S. House seat in western and central swaths of the state is getting ready to serve in the majority while Democratic candidate Brad Pfaff thinks his party can learn from the close margin in this 2022 race.
November 17, 2022 • West Central Region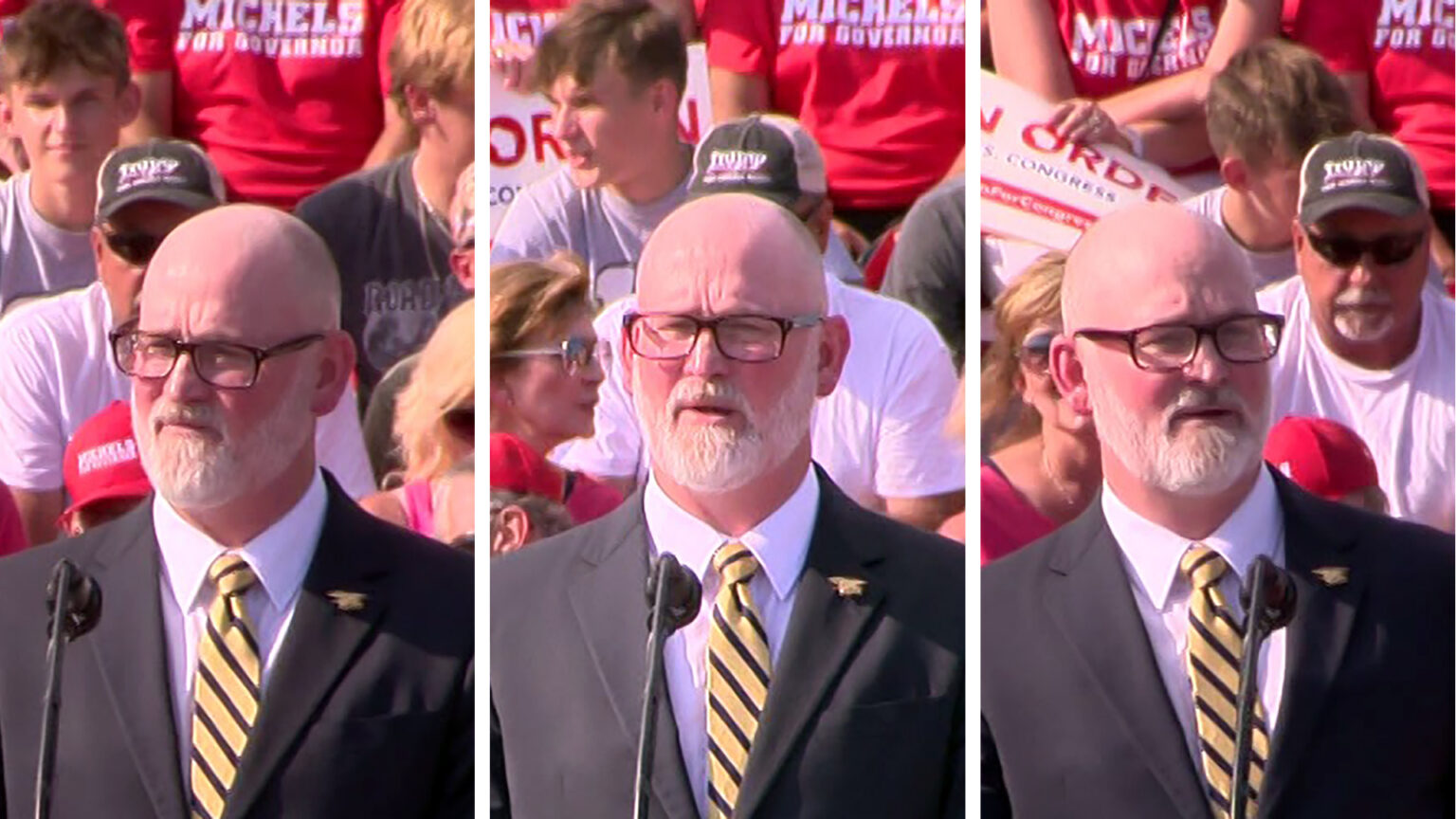 ---
The 2022 race for Wisconsin's 3rd Congressional District finished much closer than political observers expected, with returning Republican candidate Derrick Van Orden defeating the Democratic nominee Brad Pfaff by a margin of four points.
Van Orden's victory on Nov. 8 flipped the 3rd District to Republicans, which had been held by retiring Democrat Ron Kind since 1997. In the 2023 session, Republicans will represent six of Wisconsin's eight congressional districts, despite the party's candidates for statewide positions generally garnering about 50% of the vote in 2022. At the same time, political scientists say the 3rd District — which includes much of western Wisconsin and parts of central Wisconsin — has been growing more Republican for years, despite the 2010s round of redistricting packing more Democratic voters into it.
Despite fundraising and spending differences in Van Orden's favor, the Republican said his message was able to win over voters in the end — not the money.
"My team and I put over 180,000 miles on our vehicles getting out to meet voters where they are and connect with them personally," Van Orden stated in an email to PBS Wisconsin. "Our message of getting to work for them, rather than for personal political gain, resonated with the people of the 3rd."
This was the first time Van Orden responded to a query from PBS Wisconsin, after not responding to requests for comment before the election. Van Orden's campaign was mired in controversy since he declared in 2021, from his presence outside the U.S. Capitol on Jan. 6, to a situation that June when a 17-year-old library worker said she felt "threatened" by Van Orden after he became angry over an LGBTQ+ book display.
Now that the campaign is over, Van Orden is moving away from the divisive language he used up to its final days.
"I fully understand that 48% of the voters in this district did not support me and I plan on representing them as equally as the 52% that did," he stated in an email. "What got us over the finish line was our commitment to the people of this district."
'Disconnect in the Democratic Party'
As results flowed in after polls closed on Election Day, it became clear that Pfaff had outperformed expectations by noticeable margins. The four points that Van Orden finished with was the margin for most of that night.
Over the course of their campaigns, Van Orden — a candidate endorsed by Donald Trump — outraised and outspent Pfaff by a significant amount. Outside spending tilted in Van Orden's favor as well, particularly after the national Democratic Party canceled over $1.5 million in ad buys on Pfaff's behalf over the final weeks of the campaign.
"I think Democrats, both within the party and within these key political action committees, clearly miscalculated. They did not expect this race to be as close as it was," said Anthony Chergosky, a political science professor at UW-La Crosse who closely observed the race, in a Nov. 11 interview with Here & Now. "My expectation is that when a race is close, you're going to get the PACs heavily involved — that did not happen."
Those choices have been noticed by Pfaff's supporters in the district.
"Local Democrats here in western Wisconsin are furious at the Democratic Party for leaving Brad Pfaff to fend for himself, for not giving [him] the support," Chergosky said. "Western Wisconsin Democrats think that their candidate was left out to dry."
For his part, Pfaff said he was "grateful" and "extremely humbled" by the level of support his candidacy received, but also felt disappointed with the level of support from the national party.
"I knew we were resonating [with voters] but we just didn't have enough," Pfaff said. "I just wish I would have had a few more resources, but quite frankly [if] I would have had a few more days on this campaign trail, I would have won."
Wisconsin's Democratic candidates are characterized by winning with large margins in Madison and Milwaukee, and an accelerating drop in support in rural areas. In the 2020 election, Kind's margin of victory was just 10,000 votes over Van Orden in his first run for the 3rd District. That victory was about ten times fewer votes than Kind's winning margin in 2012.
"Derrick Van Orden really speaks to the cultural politics of rural Wisconsin," Chergosky said. "He speaks to the Trump style appeal that bought a lot of rural areas."
But Pfaff said his campaign gives Democrats a roadmap on how to be successful in future elections.
"Focus on bread and butter issues … but also civility, decency and respect for one another," Pfaff said. "There should also be a sense of place and pride. Even though we may not always agree with one another politically, we don't have to be so disagreeable."
Pfaff said it was too early to make a decision about running for the seat again in 2024, though he will be on the ballot for reelection as the state Senator for District 32.
"I've had a lot of people speak to me about this congressional race," he said. "But I will take a look at it when the time is right, for now I want to wish Derrick Van Orden well."
Making plans for Congress
In the first week after the election, Van Orden has been attending new member orientation in Washington, D.C., setting his sights on what committees he wants to join and what his priorities will be as a U.S. Representative. Republicans will control the House of Representatives by a narrow margin after the 2022 midterms, setting up a divided government in Washington D.C. for the 118th session of Congress.
"It has been 26 years since Wisconsin has had a representative on the Agriculture Committee, and that is the only committee I have advocated to be on," Van Orden stated in an email to PBS Wisconsin. "Wisconsin farmers feed the world and need to be respected for doing so by having a voice in the Agriculture Committee."
Van Orden also indicated that he will not buy, sell or trade individual stocks as a member of Congress, will not accept money from big pharmaceutical corporations "unless they are subject to the same liabilities as other businesses," and will introduce a constitutional amendment for congressional term limits.
"This race wasn't about me, it was about the people I am now elected to represent and the challenges they are dealing with," he said. "I will never apologize for protecting American citizens."
Van Orden represents a departure from Ron Kind and his predecessor Steve Gunderson, a Republican that served the 3rd District for 16 years from 1981 to 1997, both of whom were known as moderates. Insead, Van Orden has made his name in politics by making brash statements in line with the far-right side of the Republican base.
For Chergosky, how Van Orden chooses to represent the district is up in the air.
"It's interesting to consider the possibility of Derrick Van Orden trying to reach out to Democrats, trying to reach out to independents to perhaps expand his appeal," Chergosky said. "On the other hand, Derrick Van Orden also really focused on the Republican base. So Van Orden's political strategy as he becomes a member of Congress is going to be fascinating to watch."
---
Recent Here & Now
//php dynamic_sidebar( 'news-sidebar-2' ); ?>