Inflation hits Wisconsin food pantries and the families they support
Even as economic indicators improve two years after the pandemic started, many lower income households continue to struggle with food insecurity as consumer prices rise.
By Gaby Vinick
April 26, 2022 • South Central Region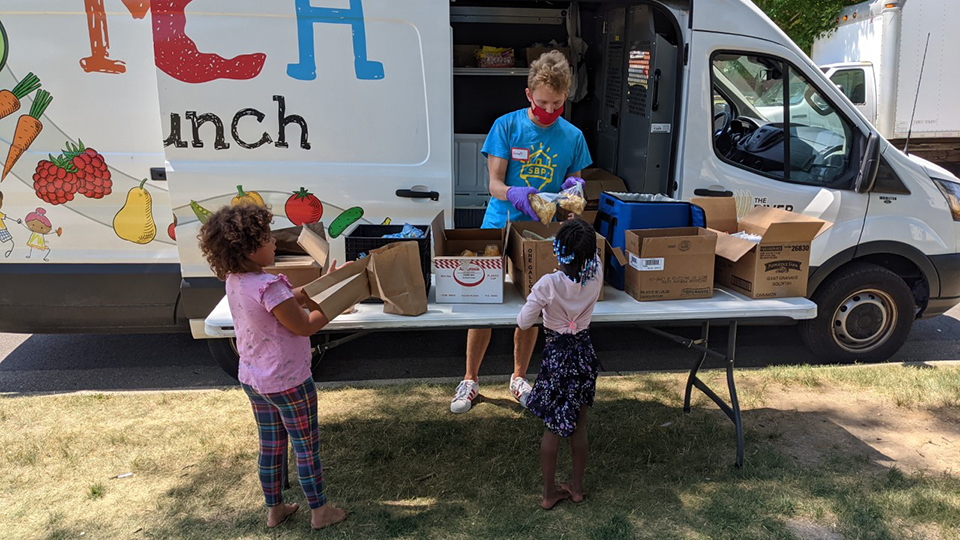 ---
From the outside, it's somewhat hidden. The beige tone of the building's wall washes it out beside the more noticeable bakery next door. But through a back door, it's hard to miss dozens of volunteers delivering colorful produce outside to individuals and families at The River Food Pantry on the north side of Madison.
The volunteers, both young and old, unload boxes, ask people what foods they want to pick up, and load bags with oranges, strawberries, peppers, onions, potatoes, bread and other items. There's no need to pay a fee, but identification is required.
Erica Jones is determined to wait in line. Her piercing brown eyes dart past dozens of cars ahead of her as she patiently inches up the street in her gray jeep. The windows are down, even though it's a cloudy morning.
"I can't even think about what I'm going to eat tomorrow because I'm already stressed about what I'm going to eat today," she said.
Jones, 33, is among many people in Wisconsin experiencing food insecurity. Even as people seek to move on from the pandemic, its lingering effects on supply chains, and other global economic dislocations like the war in Ukraine are spurring record inflation, with concerns growing about the potential for a recession. As a result, food pantries are bracing for higher prices and more demand for their services.
Wisconsin food pantries had already adapted after the pandemic struck in 2020. A report issued in July 2021 found the state saw a 62% jump in pounds of food distributed by the state's six regional Feeding America food banks in 2020 compared to the previous year.
After weathering that spike in demand, they're clenching their teeth in anticipation of a new financial storm.
"As supply chain challenges are disrupting grocers, there's not the excess food that there once was from grocers, retail and manufacturers," explained Stephanie Jung Dorfman, executive director of Feeding Wisconsin.
The River Food Pantry receives food donations through a variety of sources, including the Emergency Food Assistance Program, Second Harvest Foodbank of Southern Wisconsin, individual donations, food recovery, food drives and purchased products. Anybody can use the service once a week for groceries, four times per week for to-go meals, and on a monthly basis, place an order online through its ePantry.
"Luckily, we've been able to maintain the same good variety and quality of food that we offer, but it just means that I've got to spend some more time checking more and more vendors — who has what, at what price," said Helen Osborn-Senatus, its director of operations.
In January 2022, The River Food Pantry supported 140 new households. That number dropped to 125 in February before climbing back up again to 140 in March.
Overall, the pantry saw just over 2,400 people visit for groceries in January. In February, that number climbed slightly to 2,430 but spiked to 3,200 in March, marking an increase of nearly one-third. More people are also requesting deliveries through its "River Delivers" program.
"We're working to make our operations as efficient as possible and any little changes we can, just so people don't have to be in line as long, as we try to make their time and the gas they're using waiting as little as possible," Osborn-Senatus said.
For many people, just getting to the food pantry can be a challenge. Drivers are seeing prices skyrocket at the gas pump amid Russia's war with Ukraine — the Consumer Price Index for March 2022 showed inflation for gas was nearly 50% higher than the year before.
"I believe that people who are using the pantry are feeling the indirect results of the increase in gas prices," said Mark Thompson, president of the Sun Prairie Emergency Food Pantry.
The Second Harvest Food Bank, which helps supply food pantries, is stretching its resources amid rising food prices. In the spring of 2021, it paid $90 for a case of butter. As late as the end of March, it cost $140. That $50 can add up over time, and among different types of food.
At the height of the pandemic, Second Harvest served about 60% more people than it had previously. Two years later, it's still serving about 20% more than before the pandemic.
"Every rise in gas prices has a significant impact on our bottom line because we are driving so many miles," said Kris Tazelaar, director of marketing and communication at Second Harvest. "We're focused on making sure that the needs of those who we are here to support, and we trust that the funds will be there when we meet those needs."
Feeling the pinch
In some respects, the economy is steaming ahead. The U.S. added 431,000 jobs in March and the unemployment rate dropped to 3.6%. At the same time, higher wages are not keeping up with soaring prices.
"What's going on now is really just outrageous. I've never seen anything like this," said Michelle Jones. She has sciatica — a nerve pain in her leg — and cannot stand up for too long. Jones can only work some hours at a time because of her health condition.
Like her mother, Erica Jones can't shake the fear that she won't have enough food to put out for her two daughters, ages 13 and 14.
"You have to miss a meal just so your kids have enough to not go to bed hungry," she said.
It's hard to focus. But it's a sacrifice she believes any parent is willing to make.
"You pretend and put on the best face you can make and just try," Jones added.
"There's trade-offs," explained Stephanie Jung Dorfman of Feeding Wisconsin. "Oftentimes food is a flexible spending item that most folks will do without if they have to just so they can keep up any work or pay for childcare, get to work and things like that."
The Coronavirus Aid, Relief, and Economic Security Act (CARES) Act and American Rescue Plan softened the economic blow of the pandemic for many households. But Jung Dorfman warns funding from these federal programs are likely to discontinue come the end of summer.
About 40% of food pantry visitors in Wisconsin had never used their services prior to the pandemic, noted Jung Dorfman.
"It just takes one situation for someone to fall on hard times," she said.
"There's no help for low-income people," Michelle Jones said, shaking her head. "​​You can't wake up and plan a meal. You have to think at nighttime what we're going to eat."
Timothy Smeeding, a professor of economics and public affairs at the University of Wisconsin-Madison, cautioned that while the economy is faring better than at the height of the pandemic, it could get worse.
"But it's not like the opening weeks of covid when middle-class people were lined up in their cars all over the country to get food because they couldn't get a response from the SNAP administrators and they were on their way to the food banks," he said.
SNAP is the means-tested Supplemental Nutrition Assistance Program, formerly structured as and still sometimes called food stamps. This public program now works via an EBT, or electronic benefits transfer card. Similar to a gift card, it grants users the freedom to budget for food on their own terms.
Andrew Stevens, a professor of agricultural and applied economics at UW-Madison, said that in a period of rapid inflation, assistance programs can be slow to adapt.
"Everyone who buys food is getting squeezed," he said.
Hunger and food insecurity are broadly tied to systemic inequalities in income and wealth, explained Stevens. While pantries help with immediate needs, they do not address long-term factors that perpetuate poverty.
Erica Jones, who is Black, shared her experiences of facing racism even as she seeks access to basic needs.
"You feel like you're not heard. You feel like a nobody," she said, referencing her experiences with SNAP. "They feel that, 'Oh, you're Black. You don't want to work, you just want to collect money.'"
Hunger, inequities and stigma
The Jones are only one of many families struggling to make ends meet. When Izzy Hassey Nevarez, community engagement specialist at Centro Hispano of Dane County, began volunteering at the Sun Prairie Emergency Food Pantry in mid-November, he didn't know what to expect. But his experience jolted him into action.
Only one Hispanic family rolled through the drive-thru to pick up food at one of its Monday night suppers ⁠— few members of this community have used the pantry's services, even though they make up a growing population in the area.
"I was like, 'What is going on here?' The supper is pretty well-known all through Sun Prairie. I was surprised there weren't people with different backgrounds using it," he said.
Nevarez realized it wasn't for lack of awareness. Many undocumented people at Centro Hispano were afraid their identities would be exposed, with passports and opportunities to seek residency and citizenship stripped away.
"The community itself has a lot of worries. It kind of seems like, if we do this, will we be punished?" he said.
Nevarez assured members of Madison's Hispanic immigrant community that they could receive support from the pantry.
"They're expected to live a life without identification," he said. "It's just another thing that they have to worry about." That, on top of the extra burdens people of color shouldered throughout the pandemic.
Data provided by Feeding Wisconsin shows that as of 2018, around 12% of Madison area residents were food insecure, or about one in eight people. A Feeding Wisconsin survey also found that between June and December of 2020, Black households with children reported the highest rates of not eating enough food in the past week because they couldn't afford it, at 40.7%. Lower rates were reported by Hispanic and white households with children, at 27.4% and 7.5%, respectively.
"My concern is more, 'Who's not using the pantry than who's using it,'" said Mark Thompson of Sun Prairie pantry.
"We're not solving world hunger, but we do think we're providing people maybe a little better chance at making it to the end of the month," he added. "We call it providing hope one meal at a time."
Another barrier for people experiencing food insecurity is stigma attached to going to a food pantry.
"That's one of the reasons that the SNAP program is so effective," said Andrew Stevens, as it allows people to "shop at the grocery store like anybody else." Many people who have never used a food pantry may not know where or how to get help.
Helen Osborn-Senatus of The River Food Pantry said their 22-person staff tries to offer as much choice as possible for people and their dietary needs.
"Please don't think that coming here means anything negative about you. If you need food, please come and get it," she said.
For families like the Jones, support from The River Food Pantry "means everything," said Erica. It's quite literally become a lifeline.
"Thank God the food pantry is here, because this helps until I get paid again," she noted. Her rent has jumped and she cannot borrow money "because everybody's hurting right now."
Editor's note: This article is corrected to note that identification is required to use the services of The River Food Pantry. 
---
Recent Here & Now
//php dynamic_sidebar( 'news-sidebar-2' ); ?>