Wisconsin Issues Drinking Water Advisory After Well Testing on French Island Identifies PFAS Contamination
The state is providing drinking water to thousands of residents living near the La Crosse airport after the widespread presence of PFAS chemicals is found in private well testing around the area.
By Zac Schultz
March 26, 2021 • West Central Region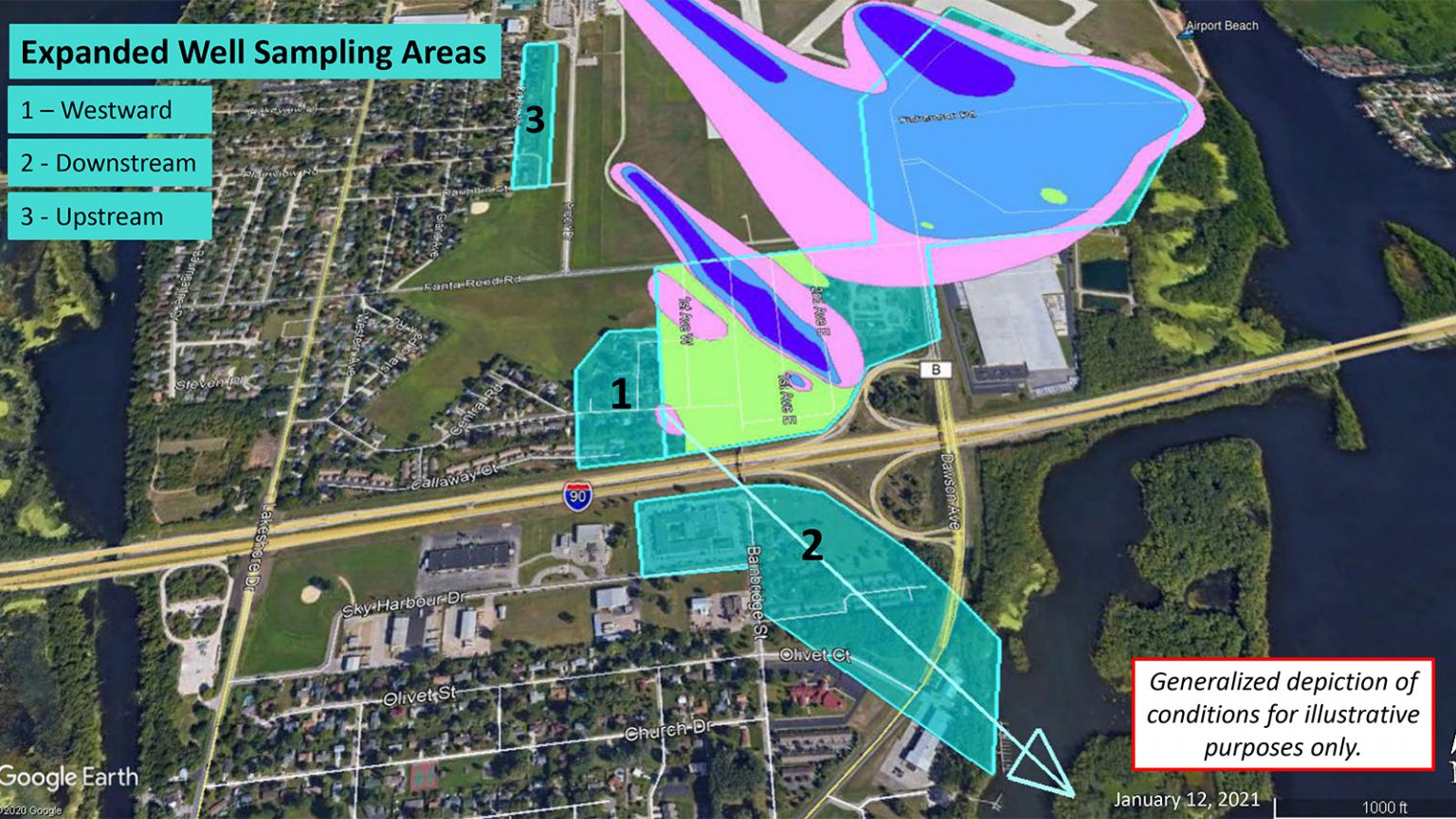 ---
Multiple state agencies are working to distribute bottled water to 4,300 residents of an island in the Mississippi River near the city of La Crosse. The Department of Natural Resources and Department of Health Services issued a drinking water advisory Thursday after confirming nearly every well tested on French Island has been found to be contaminated by PFAS, a suite of "forever chemicals" manufactured for a variety of purposes that have been linked to cancer and other health problems.
PFAS contamination has become an increasingly prominent environmental issue in Wisconsin over the past several years, with these substances identified in multiple locations around the state, including in the Marinette and Peshtigo area.
The La Crosse Regional Airport is located next to the town of Campbell on the northern part of French Island — PFAS are commonly found in firefighting foams used at airports.
"Testing, training and emergency response use of that foam has resulted in soil and groundwater contamination," said Darsi Foss, the DNR's Environmental Management Division administrator at a press conference Thursday. "Sampling of the city's municipal wells on the island for PFAS has also been detected. Two of those wells are presently not in use. Further, the city is conducting a site investigation of several PFAS areas on the airport property, such as crash sites and areas where PFAS foam was tested or trained with."
The city of La Crosse is providing water to 54 residents near the airport, but Mayor Tim Kabat has refused to pay for bottled water for residents living in Campbell south of the airport. Some of those homeowners decided to pay for their own wells to be tested. Foss said they shared their results to the DNR.
In all, 185 private wells have been sampled on French Island.
"PFAS has been detected in all but one sample," said Darsi. "Preliminary information suggests that PFAS concentrations exceed the DHS recommended groundwater standard in 61 of these private wells."
One well in which PFAS were not detected is particularly deep, at 250 feet.
The municipal governments of Campbell and La Crosse are providing ongoing updates about the testing process.
As part of the drinking water advisory, the DNR will pay for Culligan to deliver drinking water to all 4,300 residents in Campbell. The agency estimates it will cost more than $200,000 to provide clean water, depending on how many people sign up and how long the advisory lasts. The  state could recoup some of these costs down the road after determining liability for the contamination.
Christine Haag is director of the DNR's Remediation and Redevelopment Program.
"The city of La Crosse is the party that is responsible for the contamination that is coming from the airport, that's migrating from the airport, from those the sites… (of) airplane crashes or where foam was used in training or testing," said Haag. "So they are legally responsible for defining the degree and the extent of that contamination, taking whatever interim actions are needed to halt the contamination, and then implementing an action that restores the environment to the extent practicable. They also may need to be involved in the long term if there is necessary — a long term drinking water solution for the residents that are impacted."
La Crosse has filed a lawsuit against the companies that make firefighting foams.
Foss says the DNR will continue testing wells on French Island to determine the full scope of contamination.
"We'll look at where else we're missing data and [on] what parts of the island, based on our understanding of groundwater flow [and] hydrology, and then decide on where those additional samples will be taken to see if we kind of have an inkling of how widespread a problem is," said Foss. It's sometimes an art and a science on how to find where this groundwater contamination is and where it's moving."
The state health department indicates it's safe for French Island residents to use private wells for washing and bathing, because studies have shown PFAS does not easily enter the body through skin contact.
---
Recent Here & Now
//php dynamic_sidebar( 'news-sidebar-2' ); ?>