Protesters gather at Wisconsin Capitol after U.S. Supreme Court overturns Roe v. Wade
Following the Dobbs v. Jackson decision by the nation's high court, Wisconsin now bans abortion except when deemed necessary to save a mother's life under an 1849 law.
June 25, 2022 • South Central Region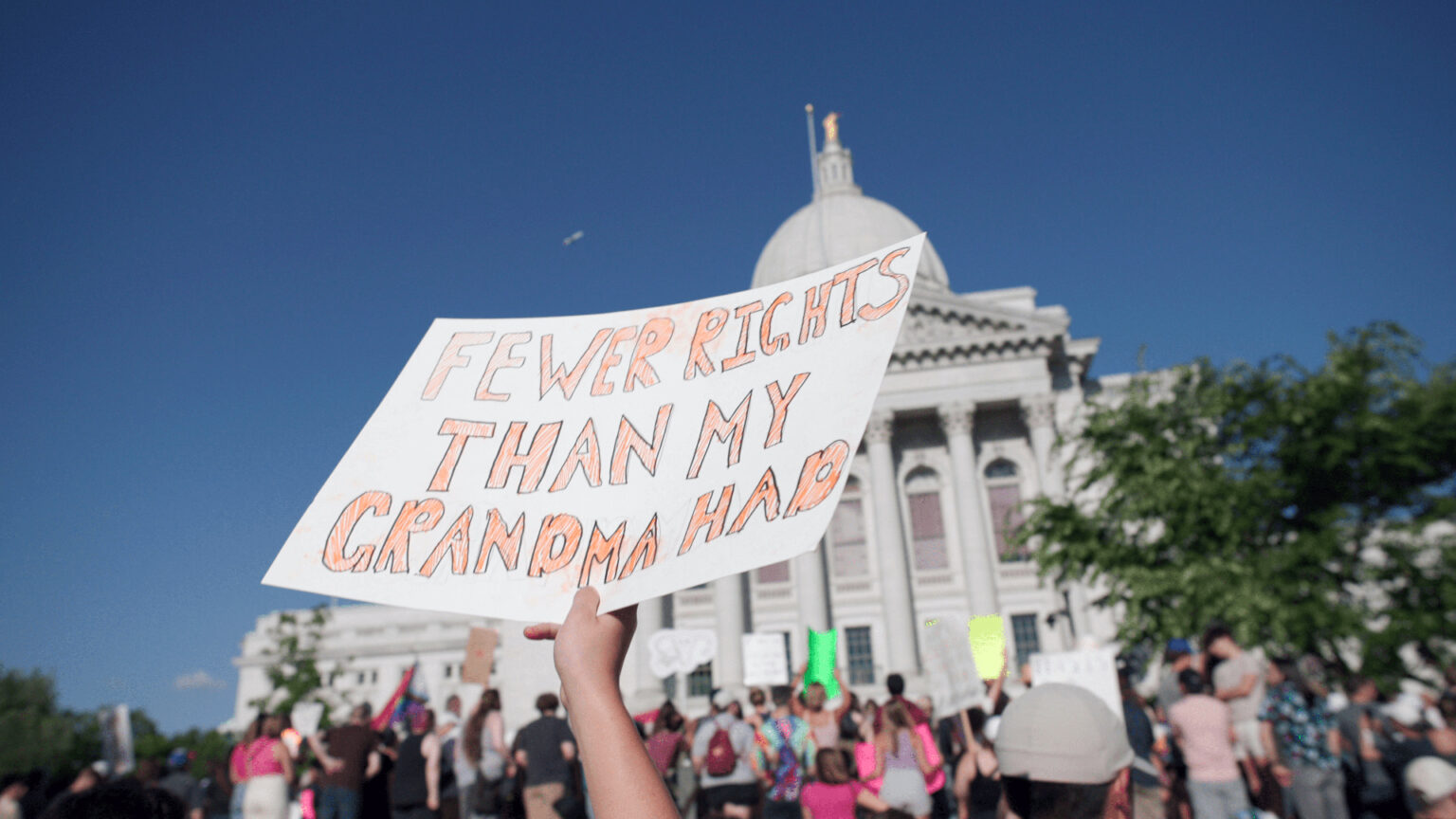 ---
Crowds estimated at more than one thousand gathered at the Wisconsin State Capitol in Madison on June 24 for more than four hours to protest the U.S. Supreme Court decision in Dobbs v. Jackson, which reverses Roe v. Wade and makes nearly all abortions illegal in Wisconsin.
An 1849 law criminalizing abortion is now in effect for the state, which only provides an exception for medically necessary abortions to save the mother's life. That law had been unenforceable since 1973 under the Supreme Court's Roe decision.
"I think it's ridiculous that it's 2022 and I still have to fight for my reproductive rights," Alyssa Bhoopat, a protester at the march said. "I mean, when have men ever had any of their rights in general questioned?"
Under the 1849 ban, doctors who perform abortions can be found guilty of a class H felony, punishable by up to six years in prison, a fine of up to $10,000, or both. The law does not make exceptions for cases of rape, incest or the mother's physical or mental health.
The ruling came more than a month after a leak of a draft opinion indicating the court would make this decision.
Republican-appointed Justices Clarence Thomas, Neil Gorsuch, Brett Kavanaugh and Amy Coney Barrett joined the majority decision written by Justice Samuel Alito. The three Democratic-appointed justices — Stephen Breyer, Sonia Sotomayor and Elena Kagan — offered a dissenting opinion. Meanwhile, the Republican-appointed Chief Justice John Roberts sided with the other five conservatives on overturning the Mississippi law but offered a concurring opinion indicating he did not support a complete reversal of Roe v. Wade.
"Roe was ruled for a certain reason. And yet here we are 50 years later and it's being overturned," Bhoopat said. "For what, an opinion of a conservative majority?"
The decision to overturn Roe puts the court at odds with the majority of Americans. A June 2022 Marquette Law School Poll found 58% of Wisconsin voters support abortion in most or all cases.
"This issue is rooted and how Black women have been targeted, how reproductive justice and reproductive rights is an essential Black and queer issue," said Crystal Ellis, community power-building manager at Freedom, Inc. "In order to fight against this, in order to organize, we have to understand that we have to prioritize the most marginalized communities."
Nearly three quarters of all women who choose to get an abortion are poor or low income. Black people make up just 13% of the U.S. population, but Black women receive about a third of the country's reported abortions, according to the Guttmacher Institute.
A 2017 study by the Guttmacher Institute, which supports abortion rights, found that abortions were conducted as frequently in the most restrictive nations as they did in the least restrictive. However, in nations with the fewest restrictions, only 1% of abortions were the "least safe" kind from 2010 to 2014. That number jumps to 31% in the most restrictive nations, according to the report.
"Being a Black woman, this will affect everyone and anyone who looks like me," Ananda Deacon, a field organizer with Freedom Action Now said. "This has already affected people in my family who have died trying to give themselves abortions."
Despite the 1849 law taking immediate effect after the Dobbs v. Jackson decision, Wisconsin Attorney General Josh Kaul, a Democrat, said he won't devote any state Department of Justice resources to abortion-related law enforcement. Additionally, both Dane County District Attorney Ismael R. Ozanne and Milwaukee County District Attorney John T. Chisholm signed a statement declaring they will not pursue abortion prosecutions.
Wisconsin Governor Tony Evers, a Democrat, called the decision "absolutely disastrous and unconscionable" in a statement.
"I don't think that the Supreme Court represents the country at this moment in time," said Anna Thatcher, a protester at the march. "I think that this is big enough that, yeah, we need to get out here and we need to be heard. We need to show how many of us support the right to have access to abortion as you need it."
Meanwhile, Republican legislators lauded the decision.
"Safeguarding the lives of unborn children shouldn't be controversial," Assembly Speaker Robin Vos said in a statement. "Today's decision reaffirms their lives are precious and worthy of protection."
State Senate Majority Leader Devin LeMahieu called the ruling a "massive victory for the sanctity of life in our nation."
U.S. Senator Ron Johnson applauded the decision as a victory for those "who have fought for decades to protect the unborn."
"For almost fifty years the decision of nine unelected Justices have prevented a democratically derived consensus on the profound moral issue of abortion to be formed," Johnson said in a statement. "This decision will now allow that democratic process to unfold in each state to determine at what point does society have the responsibility to protect life."
In Madison, protesters stood and marched along the Capitol Square for hours after the decision was issued.
"I'm here solely to support the women in my life," Michael Moriarty, a protester who drove up from Beloit said. "Obviously, being a man, this doesn't affect me as much as it affects them. They're the ones who have to carry the child to term if they're being forced to."
---
Recent Here & Now
//php dynamic_sidebar( 'news-sidebar-2' ); ?>