Meet the candidates running in the 2023 Wisconsin Supreme Court primary
Jennifer Dorow, Daniel Kelly, Everett Mitchell and Janet Protasiewicz are facing each other in the Feb. 21 primary to run in the 2023 spring general election for state Supreme Court justice.
By Zac Schultz
January 4, 2023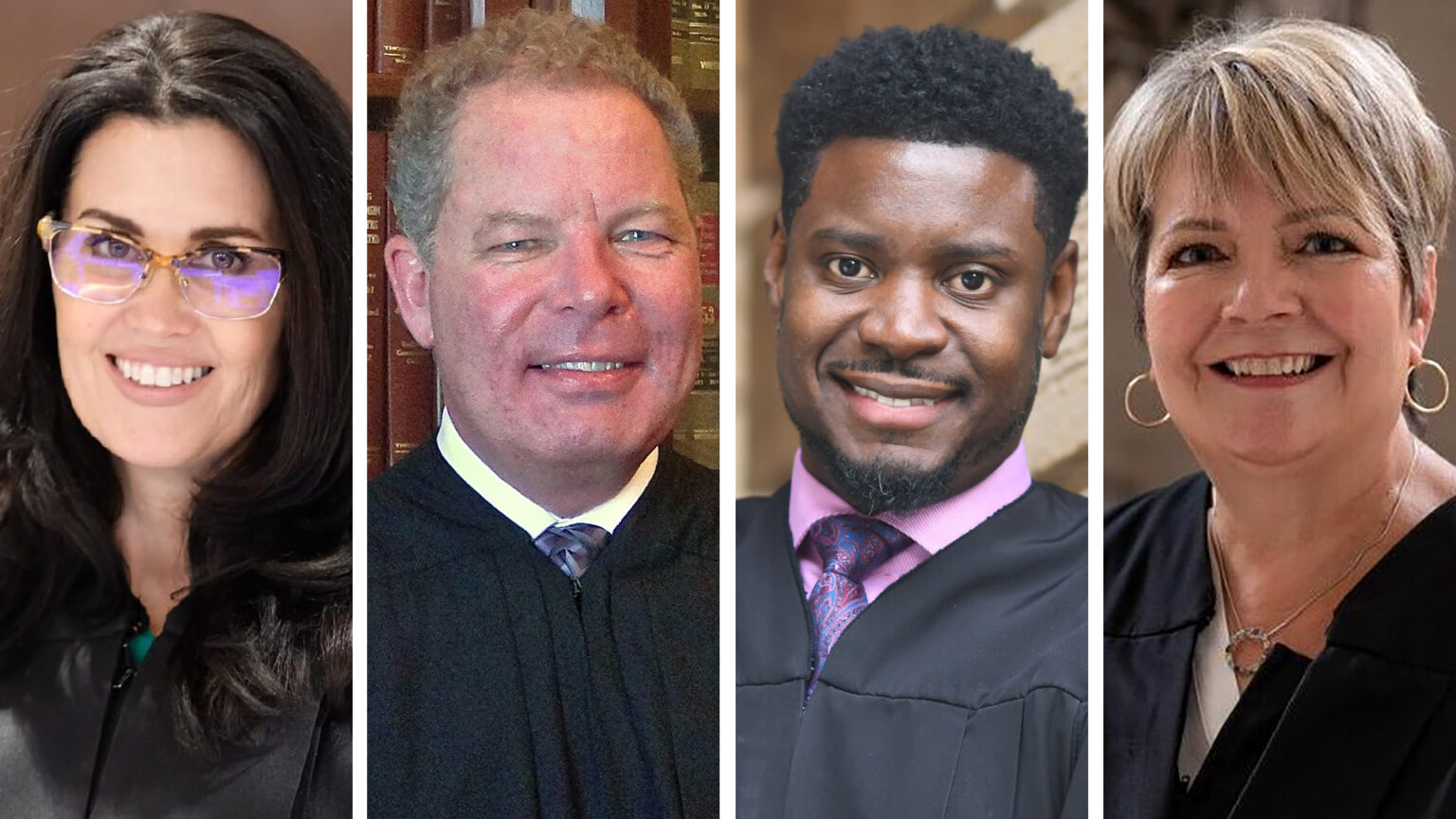 ---
The 2023 Wisconsin Supreme Court election is shaping up to be the most expensive in state history, and could end up being one of the most consequential as well.
The winner of the seat will succeed Justice Patience Roggensack, who is retiring after serving two full 10-year terms on the state's high court. The winner will also determine the ideological makeup of the court for at least the next two years and set the balance of power between conservative and liberal justices.
Since 2020, Roggensack has been one of three conservative justices who nearly always votes in a block with Chief Justice Annette Ziegler and Justice Rebecca Bradley. A fourth conservative, Justice Brian Hagedorn, occasionally votes with the three liberal justices on the court. They are Justice Ann Walsh Bradley, Justice Rebecca Dallet, and Justice Jill Karofsky.
The court has issued numerous 4-3 decisions in recent years over highly charged political cases. If a conservative candidate wins in 2023, the court will keep its 4-3 conservative tilt, with Hagedorn being the deciding vote. If a liberal candidate wins, it would be the first time since 2008 that liberals would hold a majority.
That balance of power has political implications far beyond the bench, as the court could issue rulings on abortion, redistricting and other major issues.
There are four candidates running in the Feb. 21 spring primary election — two conservatives, Jennifer Dorow and Daniel Kelly, and two liberals, Everett Mitchell and Janet Protasiewicz, respectively. All are current or former judges.
Technically, the race is non-partisan, although in reality the Democratic and Republican parties use their campaign machinery to turn out votes for their preferred candidate. However, because this race is open and non-partisan, there is a chance that two conservatives or two liberals could make it through to the spring general election on April 4.
Unlike state Supreme Court elections in 2020 and 2016, there is no presidential primary election on the same date, so statewide turnout in 2023 will be determined by interest in this race.
The first conservative to announce their candidacy was former state Supreme Court Justice Daniel Kelly. Appointed to the court in 2016 by then-Gov. Scott Walker, Kelly lost his bid to keep the seat in the April 2020 election to then-Judge Jill Karofsky by a margin of 10.5% . That election was dramatically impacted by the beginning of the COVID-19 pandemic, with far less polling locations in place across the state, leading to long lines on Election Day.
Kelly became just the second state Supreme Court incumbent in Wisconsin's history to lose re-election. He is also the first former member of the court to run again years down the road. As a former justice, Kelly is the only candidate with an actual track record to show how he would rule from the bench. Kelly consistently joined the most conservative members of the court on rulings, and also joined conservative colleagues in criticizing Hagedorn on cases where that justice voted with the liberal members.
Kelly's campaign website highlights his vote with the majority to strike down Gov. Tony Evers' "Safer at Home" orders during the pandemic. Since losing in 2020, Kelly has worked at the Institute for Reforming Government, a conservative think tank based in Delafield that also employs other former officials from the Walker era of state government.
Kelly is endorsed by current Justice Rebecca Bradley, and numerous sheriffs from around the state.
The second conservative to announce their candidacy was Waukesha County Judge Jennifer Dorow. Dorow became well-known nationally for presiding over the trial of Darrell Brooks, who was convicted on 76 charges after driving a vehicle through a Waukesha Christmas parade and killing six people in November 2021. The case drew attention in part because Brooks represented himself.
Dorow has been accused by Kelly of using the Brooks case as a springboard for the race. On her campaign website, Dorow states she is fully qualified for the office.
"First and foremost, I am a judicial conservative who will not legislate from the bench. I am not constrained by political ideologies and academic thinking – I have proven my commitment to our state and federal constitutions and the laws established by our government. As a justice on the Wisconsin Supreme Court, I will not legislate from the bench," reads the statement
Dorow's endorsements include Eric Toney, the Fond du Lac District Attorney who was the Republican nominee for state attorney general in 2022.
Milwaukee County Judge Janet Protasiewicz was the first liberal to announce their candidacy in the race.
On her campaign website, Protasiewicz describes herself in terms of her judicial record:, "Community leader, a veteran prosecutor, and a lifelong advocate for victims of crime. In nearly a decade as circuit court judge, she has earned the respect of the community, developing a reputation for being fair and impartial."
Protasiewicz's campaign language goes on to make a more political case,
"Our system works because the law is predictable. You can read the constitution, the statutes, and case law, and know what to expect, but as we can see on an almost-daily basis, our most closely-held constitutional rights are under attack by radical right-wing extremists," it reads.
She is endorsed by current Justice Rebecca Dallet, other judges from around the state and various Democratic state legislators.
Dane County Judge Everett Mitchell was the second liberal to announce their candidacy in the race.
Mitchell's campaign website describes his social justice efforts and work with juvenile offenders.
"The Honorable Reverend Everett Mitchell was elected to the Dane County Circuit Court and presides over the Juvenile Division in Branch Four. As a juvenile court judge he hears cases involving family reunification, juvenile delinquency, and other civil and criminal proceedings. He also oversees Dane County's High Risk Drug Court Program," reads the biographical language.
"During his tenure on the bench, Judge Mitchell has worked with colleagues to change courtroom policies to reflect trauma-informed practices, such as removing restraints and handcuffs on youth during hearings. He joined several judges in petitioning the Wisconsin Supreme Court to support changing the presumption to ensure that children in Wisconsin can attend their court hearings without restraints and handcuffs."
Mitchell's endorsements include former Democratic Gov. Jim Doyle, former state Supreme Court Justice Louis Butler, other judges from around the state and various Democratic lawmakers.
The 2023 spring primary election is on Tuesday, Feb. 21 and the spring general election is on Tuesday, April 4. More information about these candidates is available via Wisconsin Vote.
---
Recent Here & Now
//php dynamic_sidebar( 'news-sidebar-2' ); ?>