Kewaunee Native Approaching Six Months of Isolation in China
Coach James Malechek Continues Quarantine with the Chinese Olympic Swimming Team
By Andy Moore
July 9, 2020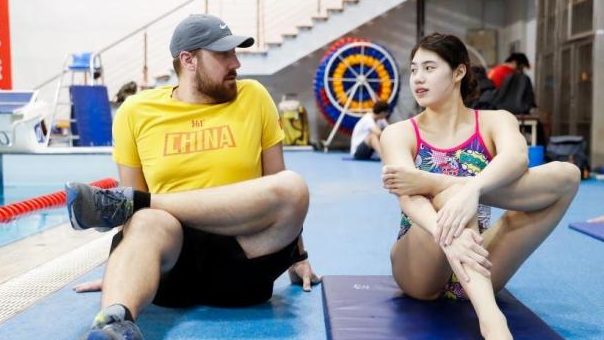 ---
James Malechek's last opportunity to freely walk the streets of his adopted home of Beijing was Jan. 26. The next day, the Chinese government closed the gate to the dorm where he and members of the Chinese Olympic Swim Team live. The gates have since only opened for bus rides to the pool for daily workouts. Malechek, a University of Wisconsin-Parkside graduate, grew up on a beef cattle farm near Kewaunee. He's been the Strength and Performance Coach for the Chinese team for over a year, about half of which has been in lock down.
PBS Wisconsin last checked in with Malechek the first week in March. At that time he said there was no end in sight for his quarantine. That almost changed for him last month. Almost.
"We were within a week of getting released because Beijing had 60 straight days of no new cases," Malechek said in an email. "Then the Fengtai Market had an outbreak, so we are now being told we are being locked down indefinitely."
The outbreak caused city officials to declare a "war-time emergency," as roughly 50 of the first 500 people tested in the area showed positive for COVID-19.
Today the training camp gates remain closed. The team's dorm is located among the 11 Beijing neighborhoods in the vicinity of the market that are on complete lockdown. Malechek said the isolation is starting to take a toll.
"Day to day, everyone is starting to slow down a bit," said Malechek. "Mentally this situation is very tiring at this point. Everyone is struggling because there is no true outlet away from work and training, so mentally people are in worse moods."
The tedium of training at the Olympic level adds to the athletes' mental challenge. The 2020 Tokyo Summer Olympic Games are postponed to July of 2021. However, training for the Chinese teams, as well as Olympic development teams around the world, must continue.
Beyond the locked-down neighborhoods, Malechek said the city of Beijing is taking the recent outbreak seriously.
"The situation in Beijing seems to be fairly locked-down as well. Most restaurants and places of gathering have temporarily closed down for the time being. At least this is what the information given to us is saying."
Malechek said he knows Americans coaching other Chinese squads who have quit under the pressure of the pandemic, only to realize they cannot leave the country because of travel restrictions into the U.S.
"For myself, I was hoping to take vacation soon but as it currently stands if I leave the country I will have my visa cancelled and be unable to return," he said. "The most frustrating part for me is the chaos of the United States. I want to come home and see my family, but because nothing is under control state-side I am being directly impacted here."
---
Recent Here & Now
//php dynamic_sidebar( 'news-sidebar-2' ); ?>