From Sturgeon Bay to sanctioned: The shipbuilding story of the 'Lady M' superyacht
A 213-foot luxury vessel constructed by Palmer Johnson Yachts and completed at shipyards in Door County in 2013 was seized by the Italian government in response to Russia's invasion of Ukraine — its industrial legacy can still summon strong feelings in Wisconsin.
March 15, 2022 • Northeast Region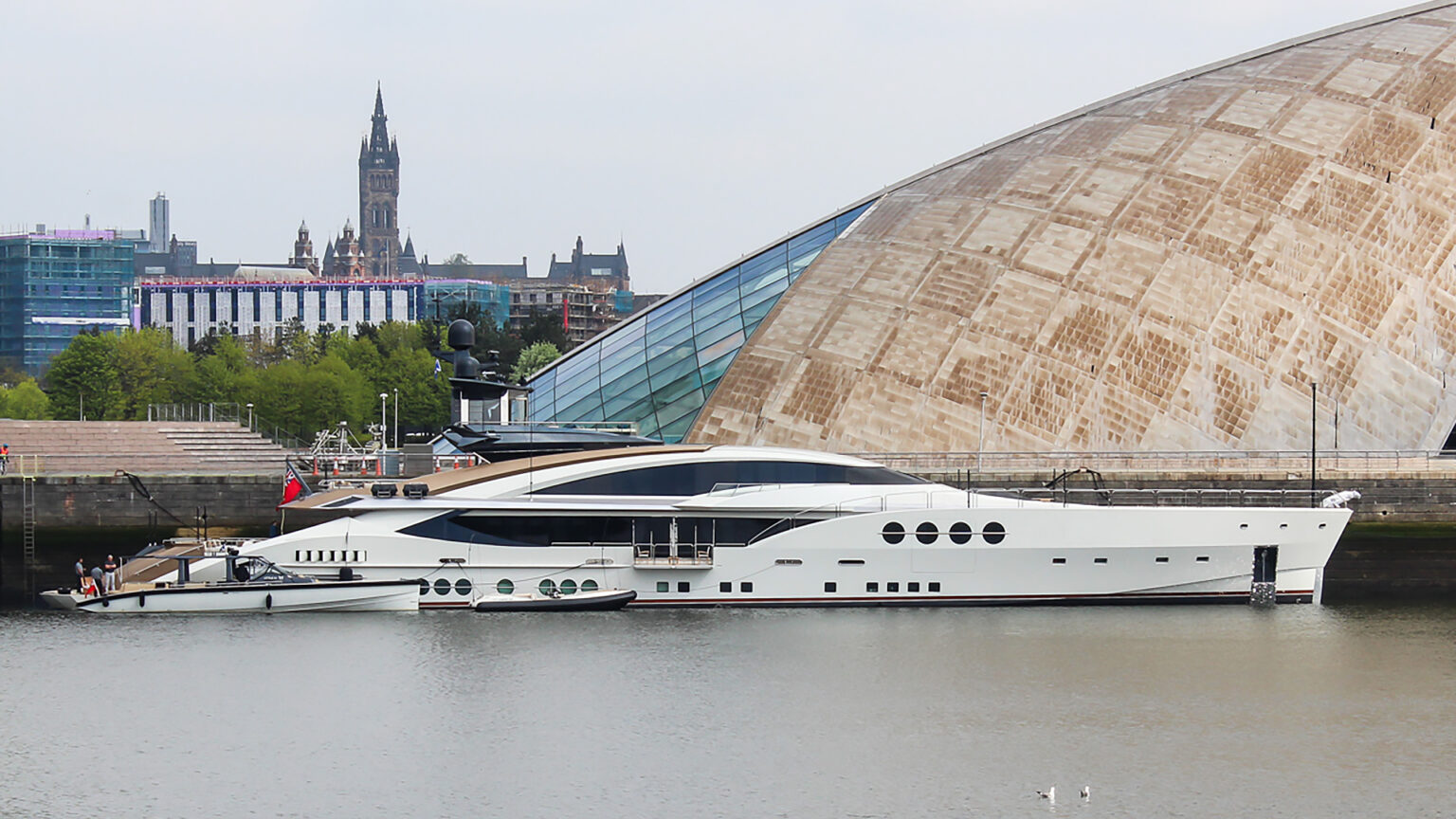 ---
When government authorities in Italy seized a superyacht owned by one of Russia's wealthiest men, they were also taking into their possession a legacy of Wisconsin's storied shipbuilding industry.
Confiscated on March 5 in response to Russia's invasion of Ukraine, the 213-foot luxury yacht named Lady M was built in Door County. Outfitted with six cabins and boasting a pool and helipad, the Lady M was christened in 2013, making it one the final vessels launched from what were then the Palmer Johnson Yachts shipbuilding facilities in Sturgeon Bay.
The longtime Sturgeon Bay shipbuilder constructed the Lady M for Alexey Mordashov, a Russian oligarch who accrued billions of dollars of wealth through a series of business ventures in the 1990s following the collapse of the Soviet Union.
Mordashov is the chairman and primary shareholder of Severstal, Russia's largest steel and mining company. He is among a class of ultra-wealthy Russians whose close ties to Vladimir Putin have put their business interests and personal wealth within the sights of the United States and other nations in response to the brutal attacks on Ukraine.
Sanctions authorized by the U.S., the European Union, Japan and other governments have targeted an array of Russian financial assets and banking services in an effort to hobble the Russian economy and place pressure on Putin to reconsider his ambitions for subjugating Ukraine. The eastern European nation declared independence from the Soviet Union in 1991, and in recent years has sought closer economic and political ties to the EU and NATO.
Sanctions aimed at Mordashov and other Russian oligarchs are meant to squeeze these powerful domestic allies of Putin, according to Andrew Kydd, a professor of political science at the University of Wisconsin-Madison.
"The idea is that if you seize the assets of these oligarchs, then they will feel the pain of the war and lean on Putin to stop the war," he explained.
As far as asset seizures go, though, Kydd said yachts like Lady M are largely symbolic targets of sanctions.
"I think they're actually probably the least important [targets] in the sense that they cost maybe hundreds of millions of dollars, but these guys have assets in the neighborhood of billions of dollars," Kydd said. "You can grab them, but they're not that crucial."
Indeed, even with a price tag of around $60 million, Lady M represents only about one-quarter of one percent of Mordashov's estimated net worth of $21.2 billion.
On the other hand, Kydd said superyachts offer a flashy, attention-grabbing target for EU authorities seeking to showcase their punitive response to Putin's aggression.
"In wildlife conservation they talk about 'charismatic megafauna,' which is like the panda bear, or the elk, or some big animal that makes people interested, whereas if you try to get people interested in saving some little vole … they're not excited about it," Kydd said. "So these yachts are the charismatic megafauna of the sanctions world. They symbolize a whole lot and get people interested."
If Russian-owned superyachts embody extreme wealth and the extravagant fruit of corruption that fuels Putin's power, the Lady M symbolizes something more familiar and personal in Sturgeon Bay.
"I have vivid recollections of that boat when it was being built and when it was launched," said Sam Perlman, deputy director of the Door County Maritime Museum. Like others in the community, he was not surprised to learn that a Wisconsin-built vessel was among the yachts caught up in the conflict.
"When you are among the wealthiest people in the world and you want the finest craftsmanship in the world, you're going to buy the nicest boat you can buy," Perlman said, adding that Palmer Johnson's reputation long attracted wealthy buyers like Mordashov.
Founded as Sturgeon Bay Boat Works at the end of World War I, the company was renamed Palmer Johnson Yachts in 1956. It was one of a number of shipbuilders that had set up shop along Wisconsin's Lake Michigan shoreline since the mid-19th century, from Milwaukee north to Manitowoc, around the Door Peninsula and across Green Bay to Marinette.
Perlman said Lady M is far from the first vessel built in Sturgeon Bay that has wound up playing a role in global politics and conflict. Hundreds of ships were built and assembled in Door County for the U.S. military leading up to and during World War II.
"A vessel that was built in Sturgeon Bay participated in every theater of war around the globe during the Second World War," Perlman said. "In fact, the very first Allied vessel that was sunk on the morning of D-Day was Patrol Craft-1261, built in Sturgeon Bay." (USS PC-1261 was a type of vessel known as a submarine chaser, but it was artillery fire from shore that caused the ship to sink off Utah Beach.)
Palmer Johnson Yachts spun off a company named Palmer Johnson Distributors in 1977, which was later renamed Palmer Johnson Power Systems and is now based in Sun Prairie. Meanwhile, the yacht business, which had moved its headquarters to Monaco, shuttered its Sturgeon Bay shipyard in 2015.
While Perlman said the closure dealt a blow to the local economy, the Italian shipbuilder Fincantieri Bay bought the old Palmer Johnson facilities shortly thereafter. The shipbuilder Marinette Marine is a subsidiary of Fincantieri Bay, and the Sturgeon Bay facilities now produce ship components under a massive contract Marinette Marine holds with the U.S. Navy.
The Navy contract means shipbuilding is booming once again on the shores of Green Bay, though Perlman acknowledged that the departure of Palmer Johnson continues to stir negative emotions in Sturgeon Bay.
"There was certainly some sadness and resentment that the company was being wound down and taken overseas," Perlman said. "Those were local jobs that went away."
Italian shipbuilder Fincantieri Bay bought Palmer Johnson's former facilities in Sturgeon Bay, where vessel components are manufactured as part of a contract between the U.S. Navy and Marinette Marine, a subsidiary of Fincantieri. (Credit: Marisa Wojcik / PBS Wisconsin)
Faded signage remains visible at Palmer Johnson's former shipbuilding facilities in Sturgeon Bay, now owned by Fincantieri Bay. Palmer Johnson closed its Door County operations in 2015. (Credit: Marisa Wojcik / PBS Wisconsin)
Palmer Johnson's closure underscored major shifts in Wisconsin's shipbuilding history in the early 21st century as the industry became more consolidated under large corporations with global footprints. Amid these changes, the Door County Economic Development Corporation has highlighted strategies it prioritizes as necessary to keep the local industry viable, including infrastructure improvements. Neither that group nor the Wisconsin Economic Development Corporation responded to requests for comment. Meanwhile, Wisconsin Manufacturers & Commerce, which lobbies on behalf of manufacturers in the state, declined to comment.
Perlman noted the loss of the spectacle that would accompany the launch of newly completed superyachts like Lady M, each of which took years to construct.
"When you knew that [Palmer Johnson] was going to be launching a yacht, it was something that was certainly going to catch your eye as you traveled across the Sturgeon Bay bridge," he said. "It was something you looked at with great pride knowing that a vessel of that high caliber was built right here in Door County."
Mordashov may also have viewed his Door County-made vessel with great pride before it caught the eyes of authorities while docked in Imperia, Italy, located on the Mediterranean Sea just a short sail east of Monaco. Ultimately, though, the seizure of Lady M and other superyachts is unlikely to affect the course of Putin's war on Ukraine, according to Kydd.
"They're very visible, very prime targets, so it's maybe emotionally satisfying to see them be seized," Kydd said. Yet the conflict's stakes have simply become too high for Putin to care about oligarchs' complaints about their seized status symbols, he added.
On their own, said Kydd, "these sort of personal sanctions against the oligarchs are probably not going to succeed."
---
Recent Here & Now
//php dynamic_sidebar( 'news-sidebar-2' ); ?>