Evers Administration Ends Push for Statewide Approach
Gov. Tony Evers said during a media briefing Monday that it was not worth going through the rulemaking process since Republicans made their position clear that they did not want a statewide approach to combat the virus.
May 18, 2020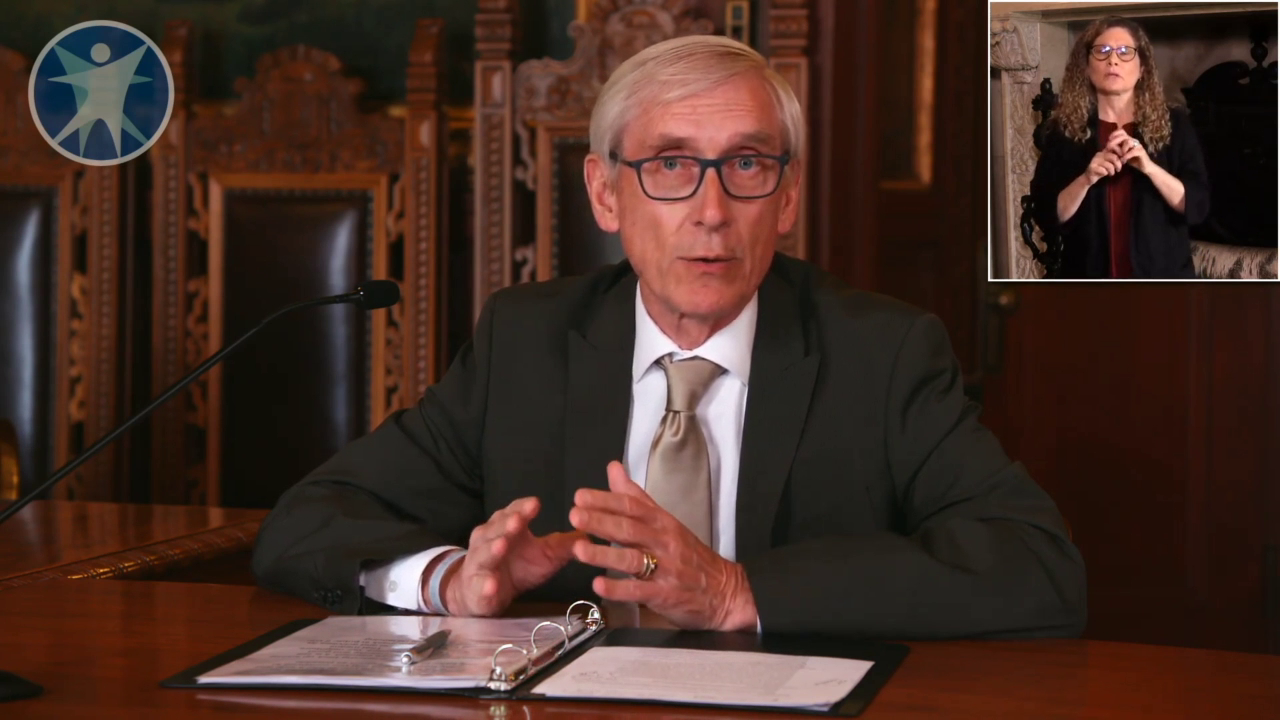 ---
The Evers administration withdrew its new "Safer at Home" proposal from legislative approval, spelling an end to a statewide approach to combat the COVID-19 pandemic.
"Well, yeah, I'm disappointed," Gov. Tony Evers said, "they made it clear the Republicans are not interested in a statewide approach."
"It just doesn't make any sense to spend a lot of time doing something that we know isn't going to be successful," he added.
The Evers administration needed to propose a scope statement after the state Supreme Court ruled that a stay-at-home order needed to go through the administrative rulemaking process, which allows for legislative oversight.
The scope statement released by the administration contained many of the same provisions of the "Safer at Home" mandate that was originally issued as an emergency order by Department of Health Services Secretary-designee Andrea Palm.
"This is an important development for the citizens of Wisconsin desiring a path forward that recognizes both a need to utilize lawful approaches in protecting the public health and rebuilding our seriously damaged economy," said Sen. Steve Nass, R-Whitewater, who co-chairs the legislative committee that has oversight over administrative rules.
"I have great faith in the people of Wisconsin making the decisions necessary to fight and defeat Covid-19 without excessive government coercion," Nass added.
Without a push from Evers on a statewide approach, the state's effort to combat the epidemic will largely be regional or county-by-county. The state could revisit a unified approach through legislation, but Republicans had advocated a regional approach as an alternative to Evers' "Safer at Home."
"The only real viable option I see at this point is for the Legislature to meet and pass legislation that either addresses what the guidelines are going forward in case of a surge, or specify what authority DHS or local health officials have," said Ryan Nilsestuen, the governor's chief legal counsel.
Currently 10 Wisconsin counties have stay-at-home orders issued locally. More had local orders in place last week, but some rescinded their orders over concerns that they could be challenged in court.
Health officials urged residents to use their best judgement and continue to social distance regardless of the status of local orders.
Evers also announced Monday a $75 million grant program using federal CARES Act funds that would allow small business owners to apply for COVID-19 relief as early as June.
The grants would allocate $2,500 to businesses of 20 or fewer employees that have not already received support through the Wisconsin Economic Development Corporation. The grant program also includes funds for ethnically diverse Wisconsin micro-businesses of five or fewer employees.
"[The grant program] We're All In will provide both the 'starter fluid' to restart our state's economic engine and a road map to recovery," said WEDC Secretary and CEO Missy Hughes.
The grant program includes a public information campaign to propagate best practices for businesses that will also be created under the program. Hughes said those best practices will continue to be suggestions as the state does not have an enforceable order.
"The We're All In plan is asking businesses to commit to keeping their employees and their customers and their community safe, there is not a requirement [like] with the 'Badger Bounce Back' plan." Hughes said. "We will continue to watch gating criteria and businesses should keep their eyes on that in order to make the best choices."
This comes as Wisconsinites and institutions, such as schools, make plans for operating in the long term under the pandemic. Epidemiologist Dr. Ryan Westergaard said certain counties with significant community spread–Brown, Dane, Milwaukee and Racine counties–should consider continuing their local social distancing orders.
"In the absence of really robust information about where the disease is specifically and medical countermeasures like medications and vaccines, as long as we don't have those, it's a good idea for communities to be thinking about continuing these things," Westergaard said.
"The governments make their decisions about whether these are rules or whether they're recommendations to organizations, but I think the conditions on the ground with the data are that physical distancing right now in a number of Wisconsin communities is still a very valuable way of reducing transmission in the community," he added.
---
Recent Here & Now
//php dynamic_sidebar( 'news-sidebar-2' ); ?>