A Rural Wisconsin Educator Sees Life Speed Up and Simplify with Broadband
Struggling to juggle remote work needs and family entertainment demands with a DSL connection, an English teacher in Black River Falls found daily life transformed after subscribing to satellite internet service.
October 26, 2021 • West Central Region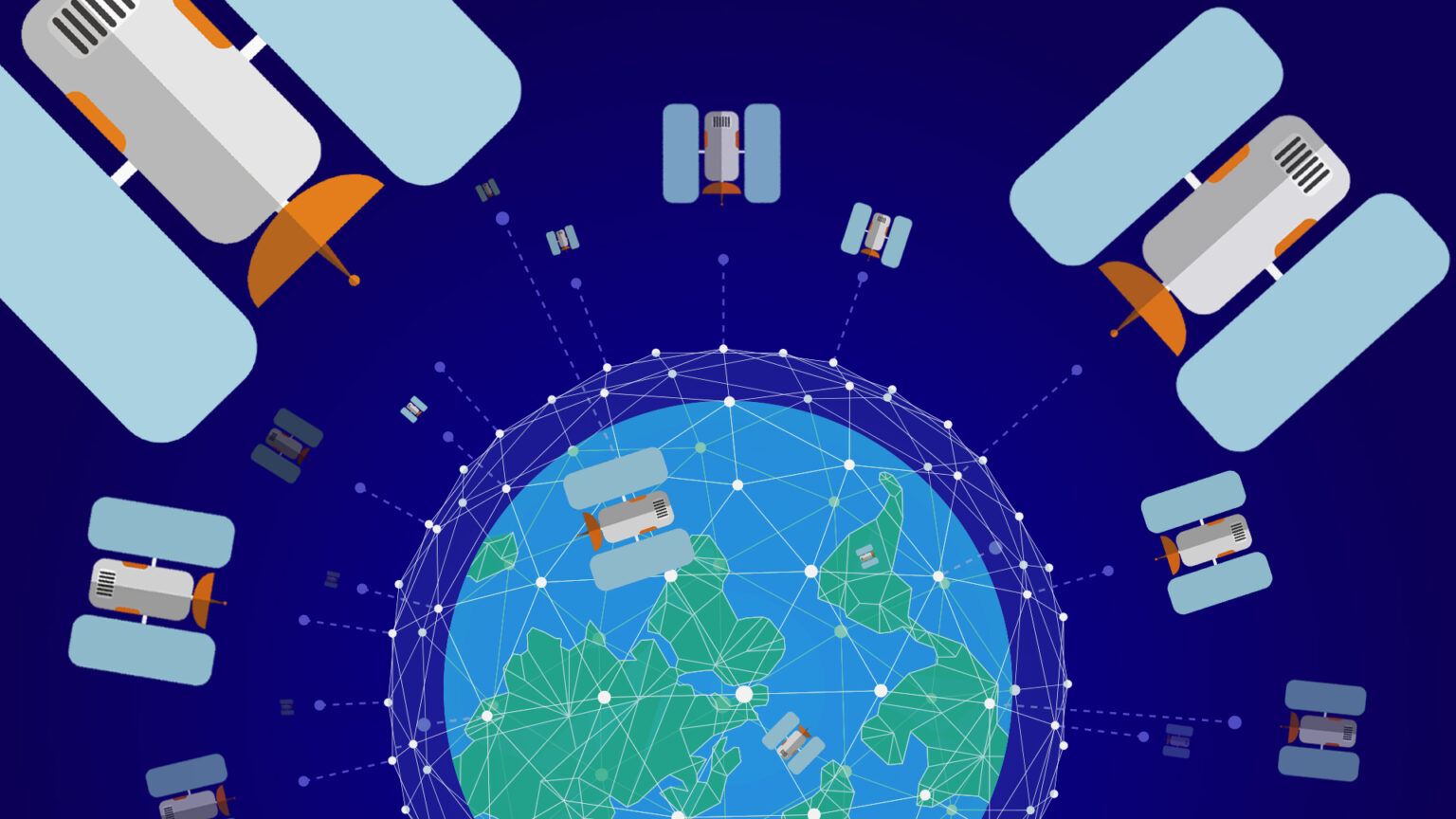 ---
Having high-speed internet access at home has changed every aspect of Julie Tiedens' life.
"I have not, for years, been able to have a weekend where I didn't come in for almost a full Saturday to work," said Tiedens while sitting in her classroom at Black River Falls High School, during a brief break between classes.
Like many residents in her west-central Wisconsin community — and around the state — she's grappled with slow online connection speeds that make living and working in a fast-paced, networked world difficult.
"My internet was DSL service," said Tiedens. "And at that point in time, my download speed was .75 megabits per second. My upload speed was .5 megabits per second, which when you're trying to teach video becomes an issue – doing anything becomes an issue."
Tiedens teaches English and is also a media advisor for Student Reporting Labs, a PBS NewsHour youth journalism program. Every aspect of her job, from reviewing videos to taking attendance, is done online.
Where she lives, roughly eight or nine miles from the school, the cell service is bad too – meaning that using data through a phone or hotspot doesn't help much either. Even phone calls don't come through.
"It just depended on the weather and how many leaves were on the trees," she said, half-joking. "It was just kind of crazy."
Tiedens would drive around to find a hill where she could get better service, then eventually just give up and drive to the school to use the Wi-Fi there.
Worse yet, a lack of broadband access negatively impacts students who have a lot of curricula on web-based platforms. Students will miss assignments because their internet access goes down. Or an entire class that has quarantined in the pandemic can't interact or engage because there is too long of lag.
Before the internet was as imperative as it is today, Tiedens didn't have to rearrange her life to ensure she could accomplish essential functions. She didn't have to tell her son to stop trying to watch something on YouTube so that she could upload a document for school. She didn't have to worry about her new refrigerator being on the network and using up precious bandwidth.
"It just changes the way that you live, and it makes everything so frustrating," Tiedens recalled. "I got so frustrated with life in general."
That frustration kept building when she thought government subsidies seemed to promise expansion. In a 2019 email to U.S. Rep. Ron Kind, D-La Crosse, Tiedens explained she couldn't understand why her son was in third grade when federal Connect America Fund II expansion grants were distributed to companies like her internet provider, CenturyLink, and though her son was now in eighth grade, the community had yet to see any sign of progress.
Rep. Kind's office reached out to CenturyLink, who responded with information from their planning department about Tiedens's address.
"Under the approved plan at that time this noted area was determined as High Cost and was NOT constructed due to reasons of being outside of the allowable price thresholds to support the build," read CenturyLink's response to Kind's office.
Two years later, there's still no improvement. Tiedens said she has seen CenturyLink install boxes while on daily walks but has not observed any cabling or power installed.
"They're all over the place, but they never actually hook them up," Tiedens said.
She couldn't understand why CenturyLink was doing this work with no outcome.
A CenturyLink spokesperson said the company used the available federal CAF funds to provide internet service where "economically feasible," and that included broadband access to more than 129,000 customers in Wisconsin.
"The remaining unserved locations in the state are difficult for any communications provider to serve due to the cost of building and maintaining the network infrastructure and the demand for robust, higher broadband speeds," added the spokesperson. "Federal programs, such as the FCC's Rural Digital Opportunities Fund, as well as Wisconsin's state broadband grant program will be necessary to reach the remaining high-cost locations in the state."
Tiedens became fixated on her internet problem and was determined to find a solution. In July, she found an option not in the ground, but in the sky. A new service named Starlink, owned by tech magnate Elon Musk, has launched satellites into low Earth orbit that provides high-speed broadband internet to certain geographical areas.
Starlink's marketing language on its website says even during its current beta phase, customers can expect speeds of 50-150 megabits per second. While other satellite services also offer internet, Starlink asserts that the closer proximity of its satellites to the Earth's surface makes for low latency, meaning video calls and online gaming become possible.
Despite her excitement that Starlink could be the answer, Tiedens and her family didn't get their hopes up.
"We were really worried – would we actually be able to watch a movie and use our phones at the same time?" she remembered thinking.
Starlink mailed a kit that included a dish with mounting tripod, a router, and cables. Tiedens and her husband installed the system in 10 minutes. It was the contemporary equivalent of seeing the world in technicolor for the first time, as Tiedens' son had never seen video stream in their home in HD before.
"He's like, 'Oh my god, mom. This is what everybody else is seeing all the time. It's beautiful,'" Tiedens recalled her son saying.
The family kept testing how much their new internet service could handle, and it surpassed their expectations. First one television streaming, then phones – even two TVs can stream different things simultaneously.
Starlink positions itself as an ideal option for people in rural areas who, like Tiedens, are told trying to get anything better is cost prohibitive.
"Starlink is ideally suited for areas of the globe where connectivity has typically been a challenge," reads the service's website. "Unbounded by traditional ground infrastructure, Starlink can deliver high-speed broadband internet to locations where access has been unreliable or completely unavailable."
The internet has become an essential function of the 21st century, particularly during the COVID-19 pandemic. For people who live in rural areas and could greatly benefit from a robust internet infrastructure, it's a matter of community survival. Without quality internet, people who live there move away, while others don't consider moving to the area.
A November 2020 report from Forward Analytics, a research group that's a part of the Wisconsin Counties Association, estimated at least 25% of students in rural areas of the state had no broadband at home. And for some of those that do, Tiedens said it's still too slow to engage in a virtual classroom.
Aside from education and entertainment, the report also highlighted that 75% of businesses across the United States rely on the internet as "crucial to productivity."
Gov. Tony Evers declared 2021 "the year of broadband access" during the annual State of the State Address on Jan. 12, saying, "this pandemic has underscored, and in some ways exacerbated, the digital divide that exists across our state."
A rare bipartisan issue, the Republican-controlled state Legislature budget committee approved $125 million in June to go toward broadband expansion.
On Oct. 15, the Public Service Commission of Wisconsin announced the awardees of $100 million of funds from the federal American Rescue Plan Act to boost internet infrastructure in the state. The 83 grant recipients span 40 counties and three tribal lands.
On the map of awardees, one marker in Jackson County is placed near the Black River Falls area and will service the town of Alma, which is where Tiedens lives. Even though she's grateful to have fast satellite internet, she plans to jump at the first opportunity to use fiber.
"I am 99.99% sure that my county, my township is being serviced by one of those for fiber, and I will switch over immediately because we still have those small issues," Tiedens said.
Those small issues include needing to cut down nearby trees to ensure the Starlink dish has a clear path to the sky, or losing the connection when there's too much cloud cover.
Just because Tiedens was able to get Starlink doesn't mean her neighbors do. Because the service is in its beta phase, access is extremely limited. Additionally, Tiedens continues to pay for both Starlink and CenturyLink for a DSL connection because the latter company has indicated once its service is cut off it cannot be reconnected.
"They don't really need us and want us," Tiedens speculated, citing the high costs.
Yet even though she still pays for a DSL connection, Tiedens remains afraid of having to go back to using it should something happen to her newfound high-speed satellite internet.
"This really makes my work life so much simpler. I feel like it helps my mental health," said Tiedens. "It has just slowed the pace of my life down, which probably makes no sense but I'm not trying to fit my life into this really tight little schedule around my internet usage."
---
Recent Here & Now
//php dynamic_sidebar( 'news-sidebar-2' ); ?>