What happens to a tenant's property after an eviction in Milwaukee?
State law and leases determine what landlords in Milwaukee County and around Wisconsin may do with items owned by renters being evicted, with provisions for pets, prescription drugs and medical equipment.
Wisconsin Watch
May 1, 2023 • Southeast Region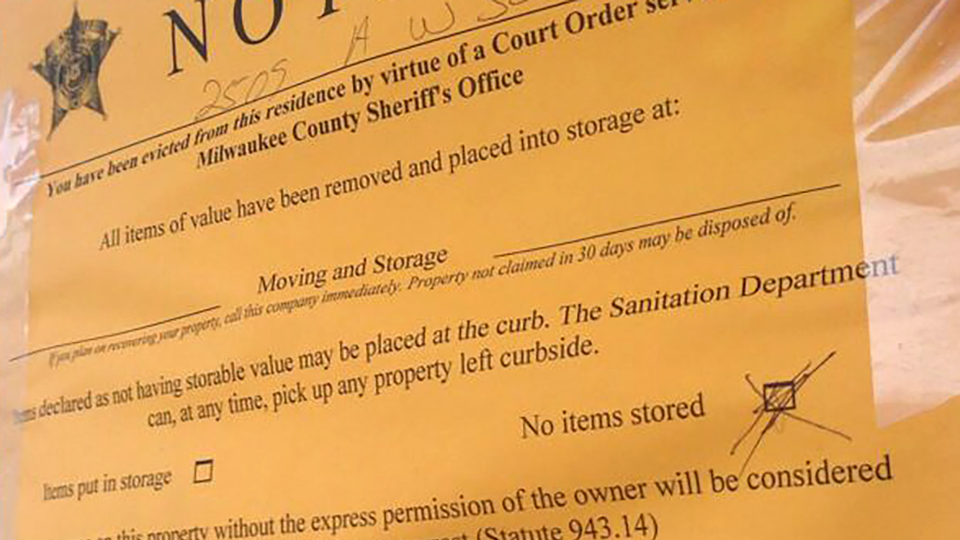 ---

This article was first published by Wisconsin Watch.
Wisconsinites who experience eviction sometimes lose more than a home.
Those who can't afford to move and store their belongings may lose them, too — adding to the financial and emotional toll of displacement.
In Milwaukee County, where landlords filed for more than 200 evictions in the first week of April alone — about half of those filed statewide — government and nonprofit officials have in recent years bolstered resources for eviction prevention. But little, if any, aid is available to help residents retain or reclaim their possessions following an eviction.
What happens to a tenant's stuff during and after an eviction? Here's what to know.
Eviction requires judge's signoff
First, remember that a landlord can't remove a tenant without a judge's order.
It is illegal for a landlord to file for an eviction before giving a tenant a notice, usually of five or 28 days.
When tenants face an eviction, housing advocates suggest they talk to their landlords, apply for rental assistance and find legal support. Milwaukee County residents can visit evictionfreemke.org to find resources, including free legal representation and information about their rights as a tenant.
Check language in lease
Milwaukee County is among jurisdictions that used to require any landlord to hire a moving company to assist a county sheriff's office with eviction. But a 2013 state law made such requirements dependent upon leasing language.
Under that state law, landlords may dispose of items however they want to — without hiring a mover — if a lease specifies that landlords won't store left-behind items. There is one exception: prescription medication and equipment. A landlord must hold those items for seven days and return them at a tenant's request.
If the lease doesn't explain how the landlord will handle left-behind property, Milwaukee County landlords must hire one of the two moving companies approved by the sheriff's office.
Executing an eviction
When the sheriff executes an eviction, a tenant who comes to the door gets about 15 minutes to gather their belongings and leave, said Tom Brittain, president of Eagle Movers, one of the bonded moving companies in Milwaukee County certified for eviction-related moves. Sometimes tenants aren't there when the sheriff arrives. In either case, the sheriff decides what goes with the moving company, according to Brittain.
The movers do not take items the sheriff declares as junk, such as dressers with missing drawers, stained beds or insect-infested furniture, Brittain said. Due to safety concerns, the company also leaves clothing that's on the floor or dirty. A landlord can ask the movers to place "junk" items on the curb for garbage collection.
State law requires the sheriff to mail a notice to the tenant's last known address within three days of the removal of possessions. The notice must tell tenants where they can retrieve their possessions.
Landlords and tenants must pay the moving company. In some counties, the moving company's monthly storage can cost more than the tenant's rent. Eagle Movers charges landlords $220 per hour for five movers and a truck, Brittain said. The company charges tenants $30 per month for every 100 cubic feet plus a $60 labor charge, Brittain said.
If items go unclaimed for two months, Brittain notifies the tenant by phone, email or letter that their belongings will be sold. About 60 to 70% of people reclaim their belongings, Brittain said.
"I've always looked at us as kind of a lifeboat for tenants," Brittain said.
Currently, there aren't any programs that assist people with funding to rent trailers or U-Haul vans to move their belongings. But Heiner Giese, an attorney who represents the Apartment Association of Southeastern Wisconsin, said there should be.
"They've given (millions) to pay for lawyers to help tenants, which is all well and good. They can get a delay or they can get the case dismissed," Giese said. "But jeez, you know, they should take some of that money, a very small amount of it and they could really do some good by having a fund available for tenants."
What happens to pets during an eviction?
Sometimes tenants manage to remove their belongings before the sheriff arrives but struggle to find a place for their pets.
Surrendering a pet to an animal shelter can be difficult due to a lack of capacity. Karen Sparapani, executive director of the Milwaukee Area Domestic Animal Control Commission, has seen cases in which a tenant will return to their former rental every day to feed the animal until the sheriff executes the eviction. In other cases, pets are left to starve, said Sparapani.
The sheriff calls Sparapani's office to pick up animals left behind during an eviction, typically dogs over 40 pounds and many cats, Sparapani said.
The agency will put pets up for adoption if they go unclaimed for more than eight days.
"We can work with somebody who has time to find a place, and we work with them on fees too," Sparapani said.
Pet owners who return must pay a boarding fee of $20 a day, plus a $25 impound fee for a licensed animal and $35 for unlicensed animals, Sparapani said. Any necessary vaccines or other treatment will add costs.
The nonprofit Wisconsin Watch collaborates with WPR, PBS Wisconsin, other news media and the University of Wisconsin-Madison School of Journalism and Mass Communication. All works created, published, posted or disseminated by Wisconsin Watch do not necessarily reflect the views or opinions of UW-Madison or any of its affiliates.
---
Recent Here & Now
//php dynamic_sidebar( 'news-sidebar-2' ); ?>