Wausau Hmong Community Stays Strong in the Face of COVID-19
Mang Xiong Helps Find Relief for Hmong Small Businesses
By Andy Moore
June 11, 2020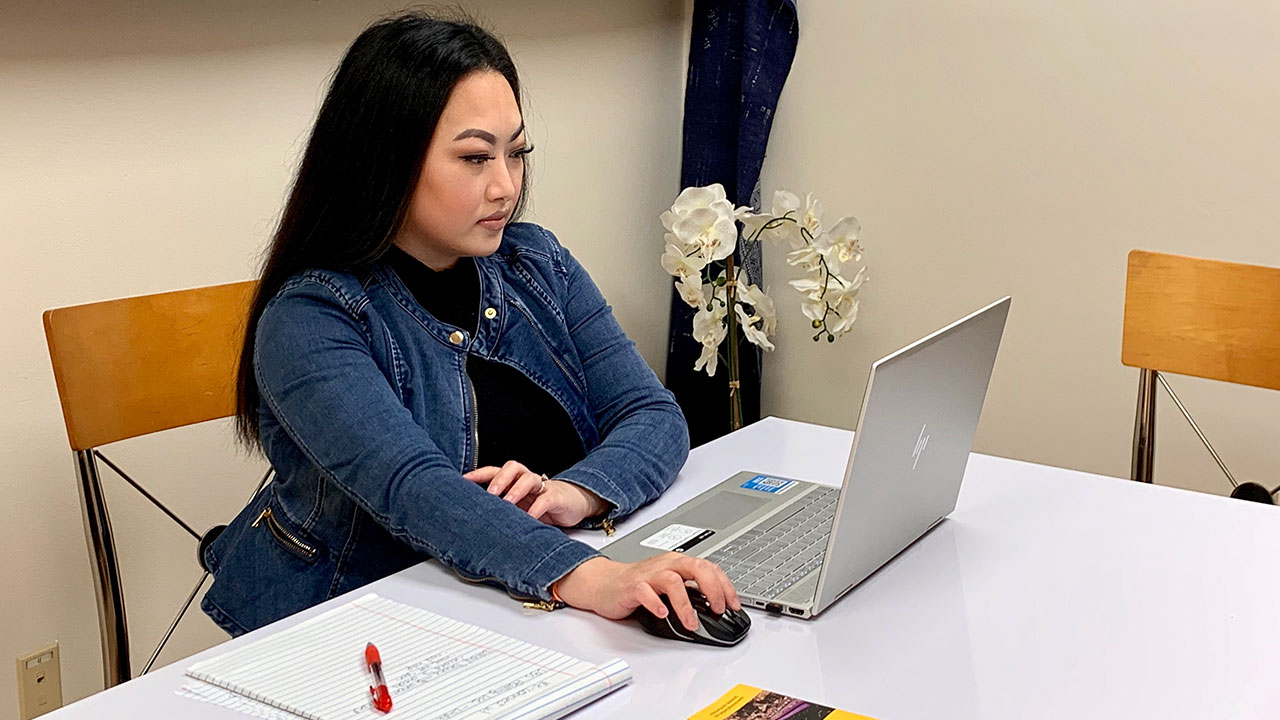 ---
Not long after Mang Xiong returned to work from a twelve-week maternity leave, the COVID-19 pandemic sent her right back home to work with a newborn baby in the next room. This wasn't necessarily new territory for her. The third oldest of 11 children, born to Hmong parents who settled in Milwaukee from Thailand in the 1980s, Mang Xiong grew up in a household that bustled with a balance of work and family.
Work and family are still concerns for her as she helps members of the Wausau Hmong community stay on top of COVID-19. She's not aware of any positive cases in the area, but she knows first-hand how the virus is taking a toll on the small businesses she helps in her role as the Regional Business Development Coordinator for the Hmong Wisconsin Chamber of Commerce. That's the part of her job that often has her working into the night.
"It can get really crazy," she said. "I'm on the phone all day long. You can get behind because you're on phone longer than you expected with one person, then you try to catch up."
She said communication barriers, as well as plain old confusion with bureaucracy, challenge Hmong small business owners who seek federal relief dollars.
"You have to be open to folks calling you back more than once," she said.
Mang Xiong's work also includes sharing COVID-19 resource information with Wausau's Hispanic population. Her partner in that effort, a project they describe as "bi-directional outreach," is Tony Gonzalez, a Marathon County Health Department interpreter and Community Outreach Consultant for the Wisconsin Institute for Public Policy and Service.
Mang Xiong spoke more about her work in a PBS Wisconsin phone interview.
PBS Wisconsin: What were some of your first concerns for Hmong people when it was clear the pandemic was going to be serious?
Mang Xiong: Culturally, we're a diverse community. I just wanted to make sure everyone was well informed. People who are high risk needed information.
PBS Wisconsin: Talk about the challenges Hmong businesses encounter in seeking  federal help that other businesses might not face.
Mang Xiong: With ethnic small businesses, many won't qualify for the Paycheck Protection Program because a lot of times they have family members who aren't on the payroll. Another example is some businesses are tech savvy. They'll say, "I'll upload those documents right away." But, then there's a lot of people working in small business who are people who don't own computers. A lot of people or businesses that I talk with start out by saying "I won't qualify for anything." But, then when you look into it and get them relief or information it's really meaningful."
PBS Wisconsin: Are there unique cultural ways that Hmong people see illness?
Mang Xiong: The majority of the community is very spiritual. Illness first happens to you spiritually, then physically. I grew up in Shamanism, a belief that the spirit is first then (the body). Depending on the severity of the situation, spiritual treatment comes first with a healer.
PBS Wisconsin: Describe the work you're doing with Tony Gonzalez and the Hispanic community in Wausau.
Mang Xiong: We want to make sure underserved communities are understanding facts about Coronavirus. Who to contact. Where to go. We want to be a connector for them. We want to make sure there's equity for resources that are available. Some people can read but not write. Some can write but not read. Those are common challenges. General access to resources is important for both groups.
But, more than that, access to resources that are a trusted source. Loyalty is also a common item. Hispanics do not have a cultural center like the Hmong so we have an opportunity to be inclusive with them.
PBS Wisconsin: What are your worries going forward?
Mang Xiong: The big one is that we don't have enough testing. I just think more testing will give us a better and more accurate idea of how many people are infected. We don't want the economy to be worse than it is. But, if we have another spike, we don't want everything to fail. I'm a fan of slowly opening. I'm more a fan of a quality, slow open than I am a rushed open. Making sure that if businesses are reopened, they must follow guidelines. At the same time, keeping an eye on essential workers who are in health care.
For more information on the Hmong Wisconsin Chamber of Commerce Emergency Business Loan Program (COVID-19): https://www.hmongchamber.org/emergency-loan-fund-covid-19
---
Recent Here & Now
//php dynamic_sidebar( 'news-sidebar-2' ); ?>