UW-Madison Students Gauge the Scope of Campus COVID-19 Planning
Here & Now extra: Required coronavirus testing for unvaccinated individuals and indoor masking are central to the university's pandemic safety plans for the fall 2021 semester, with maintaining in-person instruction an institutional priority.
Here & Now
September 7, 2021 • South Central Region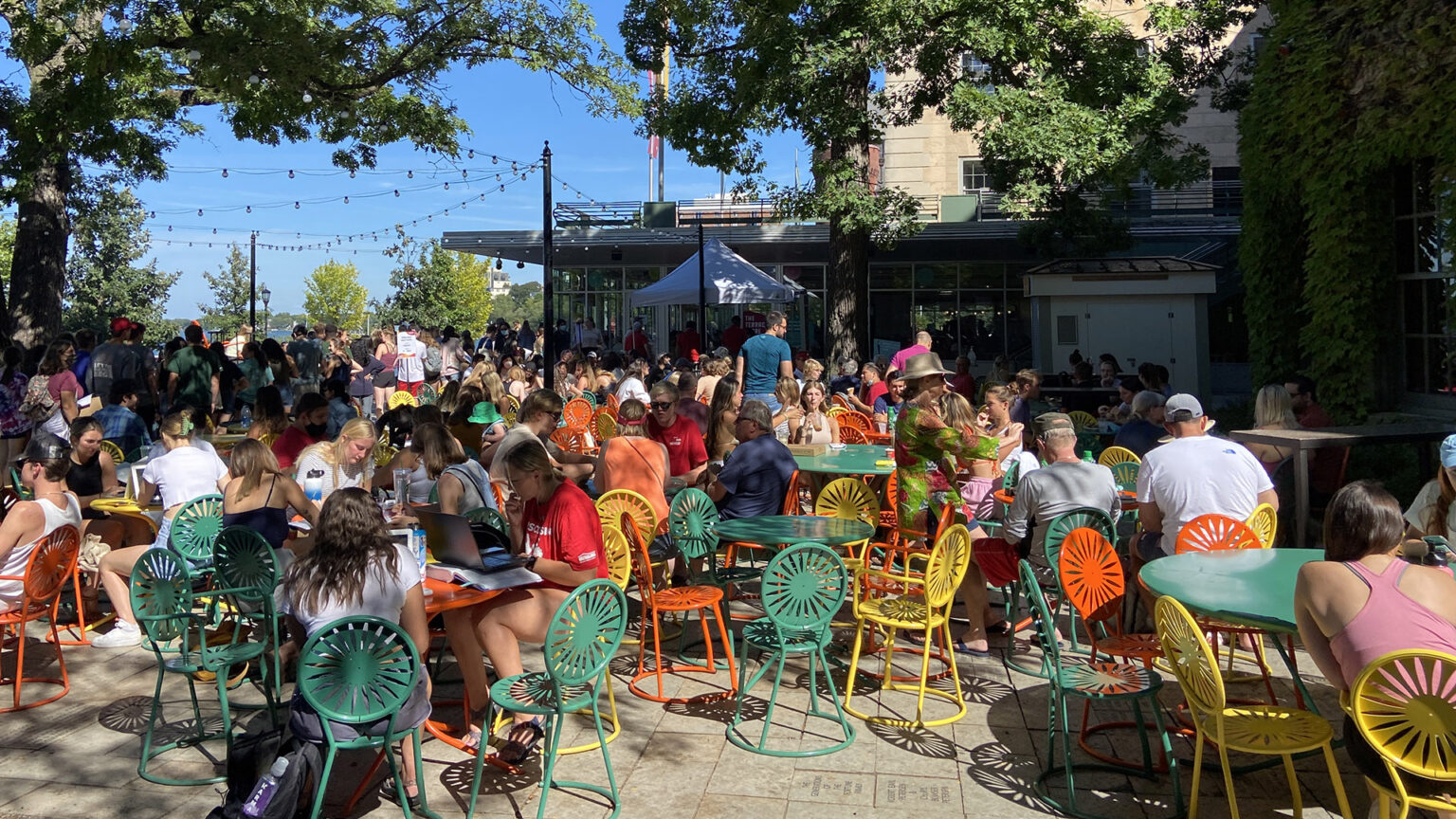 ---
Many thousands of students have returned to the University of Wisconsin-Madison campus to begin the 2021-22 school year, and once again, the pandemic looms large over how it will unfold. The university is aiming to maintain in-person instruction over the course of the fall semester, something many students have not experienced for over a year. Yet with the COVID-19 pandemic on the upswing once again due to the Delta variant, some students are concerned about returning to campus.
"I don't expect COVID to go away. I expect COVID to get worse, and that's not me being pessimistic. I think that's just being realistic," said Grant Wallace, 21, of St. Croix Falls.
UW-Madison has safety protocols in place on campus that aim to protect students and staff. All individuals in university buildings are required to wear masks indoors. Also, unvaccinated employees and students will be required to be tested weekly for COVID-19.
These protocols make Elisabeth Adams, 21, of Sussex feel safer about starting the semester and returning to campus.
"I don't really have any concerns that I can think of as far as I know," Adams said. "The university is doing a good job of keeping us in communication, telling us the vaccination rates and keeping the masking mandate indoors."
According to University Communications, UW-Madison reached its campus vaccination goal on Sept. 2, reporting that 88% of students and 92% of employees were fully vaccinated as of that date, with 90% of all UW-Madison students and staff fully vaccinated. Despite UW-Madison's vaccination rates being high, there are students who believe the university is not doing enough, though.
As of Sept. 7, nine of the 14 Big Ten schools have announced they will require COVID-19 vaccines for students, including the universities of Illinois, Indiana, Maryland, Michigan and Minnesota, along with Michigan State University, Northwestern University, Ohio State University and Rutgers University. However, UW-Madison had not announced any vaccine mandate.
"I do believe the COVID-19 vaccine should be required for students and staff," said Wallace. "Mandating the COVID-19 vaccine to those who are able is our best way to keep in-person classes and the best way to keep a healthy university."
Adams also support vaccine requirements at UW-Madison.
Although UW-Madison does not have a vaccine mandate in place, it is prepared to make changes to its safety protocol if necessary. Such a shift may include increasing or loosening restrictions based on its COVID-19 testing trends.
"We're going to watch these numbers very closely. If they go up, we'll talk about other measures. If they go down, we'll reconsider what we're doing," said UW-Madison Chancellor Rebecca Blank in an Aug. 27 interview with Here & Now. "We're following the data. We're following the science. We're doing what we did last year when we were really quite successful."
For the spring 2021 semester, UW-Madison implemented a program requiring all students on campus to get tested every four days for COVID-19. According to UW-Madison's COVID-19 Response dashboard, the 7-day positive case average for on-campus testing was 0.1% as of May 9, and over 36,000 individuals were vaccinated both on and off-campus during the spring semester.
As the fall semester begins,  in-person classes are a critical hope for students.
"I hope that we'll be able to stay in person and have all the experiences we want while still maintaining a low level of COVID cases," Adams said.
Wallace expressed similar feelings.
"I would be beyond thrilled if this upcoming semester I could have in-person classes. I don't care if I have to wear a mask, I don't care if I have to wear an N95 and a hazmat suit as long as I can be in an in-person class," said Wallace.
In the Here & Now interview, Blank said UW-Madison is trying very hard to preserve in-person classes.
"Our students really want to be back in-person for obvious reasons, after almost a year and a half many of them being online. Our faculty are eager to be back mainly with students. We are trying to do everything we can to preserve that college experience, which so many of our students just haven't had for more than a year," Blank said.
Fall 2021 instruction for UW-Madison begins Wed., Sept. 8 with in-person instruction in place for the majority of classes.
---
Recent Here & Now
//php dynamic_sidebar( 'news-sidebar-2' ); ?>