UW-Madison Chancellor Rebecca Blank Looks for Campus COVID Numbers to Drop as Soon as End of this Week
Still Believes the Decision to Open Was Right
By Andy Moore
September 14, 2020 • South Central Region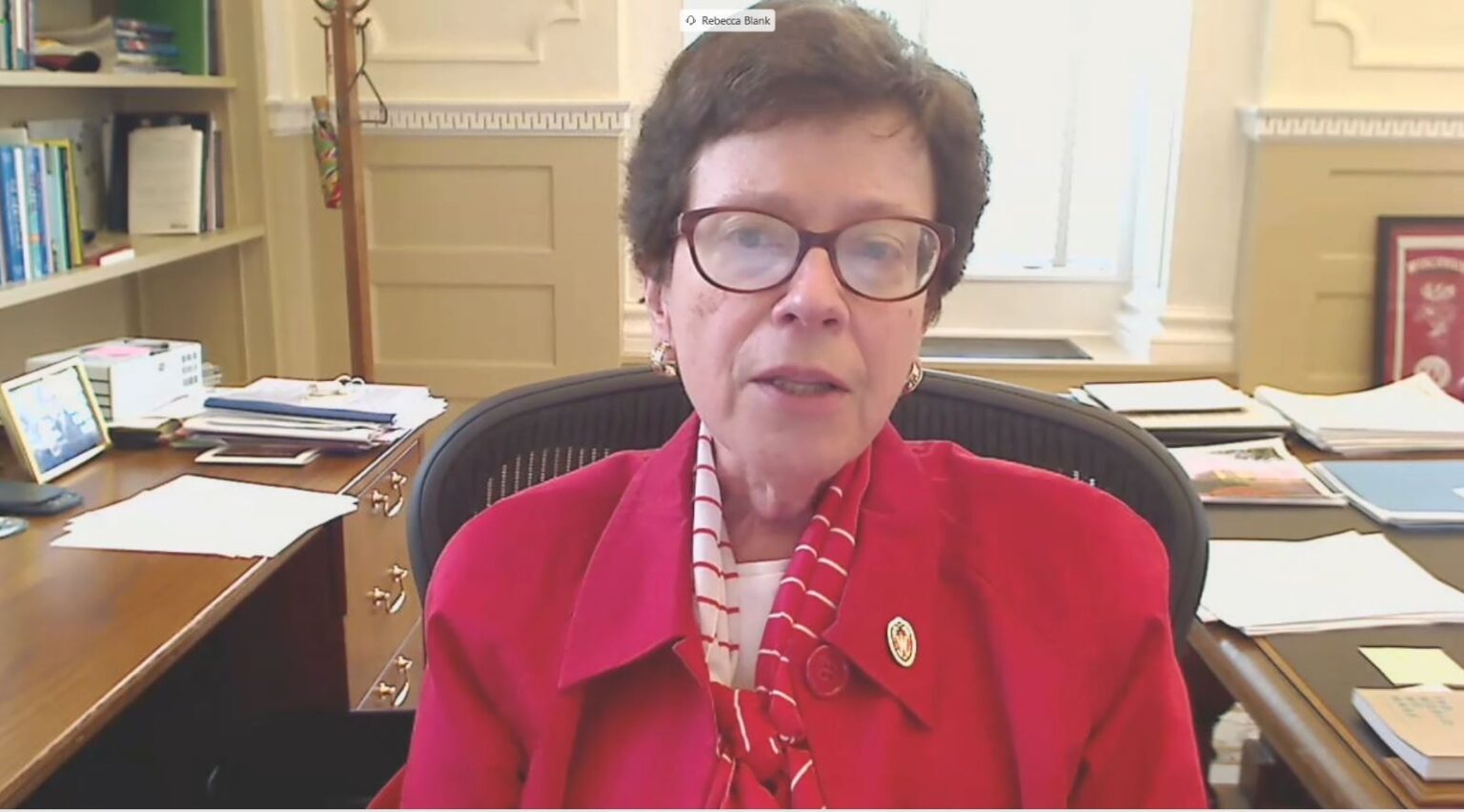 ---
The first full week of classes at UW Madison saw soaring COVID cases, quarantined dorms, frats, and sororities, tighter restrictions of social gatherings, an outdoor mask mandate, and a switch to all-virtual instruction for two weeks. UW-Madison Chancellor Rebecca Blank looks for those steps to produce a reduction in positive case numbers, and soon.
"I very much hope that by the end of this week and certainly by the end of next week that we will see progress and see those numbers coming down," Blank said at an afternoon press conference.
In spite of the spike in student cases, Blank said safety protocols in the classroom have worked. So far there's been no evidence of in-classroom transmission. However she said the contagion rates in social gatherings on and off campus have caused numbers that, "have been higher and have increased more rapidly than we anticipated at this point in the semester." Blank said the numbers have accelerated at a higher rate than peer schools.
Blank continues to face the stubborn question, "why did the University bring students back to Madison at all?" Her answer has been consistent since she first articulated her position on the Sept. 11 Here & Now. That's when she said most students who signed leases and campus housing contracts were going to be back in Madison no matter how classes were run.
Today, in response to the suggestion that the University send students home, she said, "This is their home."
UW-Madison, working with local health agencies as well as UW Health and the School of Medicine, has collected 30,000 tests of students and staff since the return of students began late last month. Testing, Blank said, will remain an important tool in the management of the virus. For example, students who chose to return home during the coming two-week virtual class session / dorm quarantine, will be required to test upon their return to campus. Blank added that enhanced rapid testing and contact tracing are also part of renewed efforts to gain control of the virus.
Sanctions will continue to be imposed on students who are not following campus safety guidelines. So far 300 students have been investigated for potential conduct violations. Eight are under investigation for suspension.
Students normally have until Sept. 11 to get a full tuition refund and until Sept. 25 for a 50% refund. This afternoon, after the press conference, a UW-Madison spokesperson sent out an email indicating the University is considering extending the date for which students can receive a full tuition refund.
Meanwhile, UW-La Crosse Sunday announced a, "shelter in place" restriction on all residence halls through Sunday, Sept. 27 at 5 p.m. The university said the action was needed, "given the high number of positive test results among resident students in a variety of residence halls, and due to isolation spaces approaching the point of being filled," according to an urgent message sent Sept. 13 from Chancellor Joe Gow.
Over the seven days since Sept. 8, UW-La Crosse reports 275 positive tests.
"The University may not have enough isolation space available and residents remaining in the halls must weigh their own risks. Residence life will continue to honor requests for housing contract cancellations," according to the message.
---
Recent Here & Now
//php dynamic_sidebar( 'news-sidebar-2' ); ?>