Pence Touts Law and Order During Janesville Stop
The vice president held his campaign rally exactly a week after his last stop in Wisconsin, visiting La Crosse on Labor Day.
September 14, 2020 • South Central Region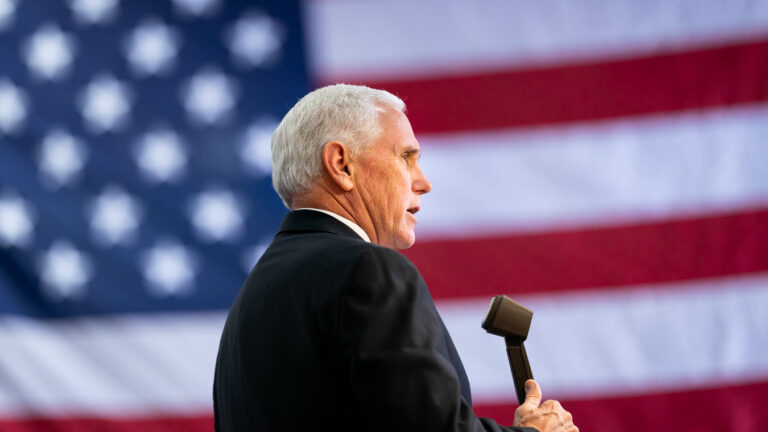 ---
Vice President Mike Pence held a campaign event in Janesville Monday, a week since his last stop in Wisconsin which took him to La Crosse on Labor day.
Law and order was a centerpoint of the vice president's speech, which comes after the recent civil unrest in Kenosha and Rochester, New York, and after two Los Angeles County sheriff's deputies were shot over the weekend.
"We're going to stand with the men and women who serve on the thin blue line of law enforcement, whether it's in Los Angeles or Rochester or Kenosha, we are going to back the blue," Pence said.
He also touted the administration's Operation Legend, which sent more than 1,000 federal law enforcement officers to cities to help prevent violent crime. Milwaukee was included on the list of cities to receive federal officers, and could see as many as two dozen deployed to the city in the next year.
"I'm proud to report they've made over 2,000 arrests of violent protesters all across the country," Pence said. "We are going to have law and order in every city, in every state in this country, for every American of every race and creed and color, so help us God."
Pence criticized Democratic presidential candidate Joe Biden for talking up peaceful protesters while criticizing law enforcement.
"We stand at a crossroads, in every sense," he said. "We've got to decide--right here, right now--that we are going to fight to leave our children and grandchildren a country grounded in our highest ideals."
This comes amid increasingly stagnant polling for Pence and President Donald Trump. The last two Marquette University Law School polls taken in early August and early September showed Biden with a mid single-digit lead over the incumbent.
Pence stressed the importance of Wisconsin, as well as the need to deliver a Republican congress to the president for his second term.
"We're going to make Wisconsin and America stronger and more prosperous than ever before, we're going to make it safer, more secure than ever before," he said.
"And with President Donald Trump in the White House for four more years and Congressman Bryan Steil in a new Republican majority in the Congress of the United States, and with God's help, we will make America great again, again," he added.
Recent Here & Now
---