Pence Stops in Waukesha 3 Weeks Before Election Day
October 13, 2020 • Southeast Region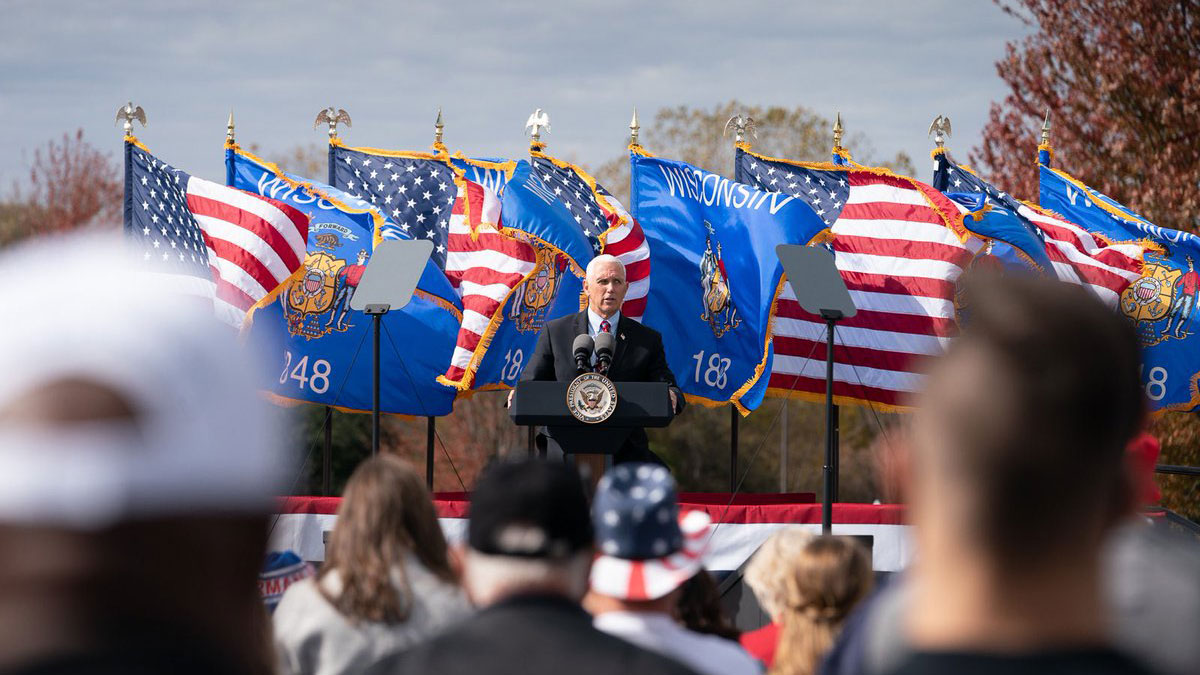 ---
Vice President Mike Pence spoke to a crowd of supporters during a campaign stop at Weldall Manufacturing in Waukesha Tuesday.
Pence weighed in on the political news of the day—the nomination of Amy Coney Barrett to the Supreme Court—among his familiar campaign stalwarts of the economy and law and order.
Democrats largely object to Barrett's nomination, crying foul over the departure from how the Senate handled former President Barack Obama's Supreme Court nominee during his last year in office and her conservative credentials that would shift the court further right.
Pence framed the nomination in a religious context during his speech in Waukesha, saying "the top Democrat on the Judiciary Committee actually said that Judge Barrett's Catholic faith was of concern."
The vice president said having Barrett on the high court would prevent Democrats' attacks on religious liberty.
"The right to live and work and worship according to the dictates of our faith, lives loudly in the Constitution of the United States of America. These attacks on religious faith must stop and they must stop now," he said.
Pence spoke in the Milwaukee suburbs, a key area for Republicans who see the path to winning the White House running through Wisconsin. In the latest Marquette Law School poll, Democratic candidate Joe Biden has a 46%-41% lead over the president, which is just outside the margin of error.
Pence touted the economic work of the Trump administration as reasons for Wisconsinites to give the president four more years.
"During those first three years, wages rose across the board, the fastest pace in 10 years, but they rose most rapidly for hard working, blue collar Americans," he said. "The forgotten men and women of America were forgotten no more."
This was also Pence's first stop in the state since protests arose in Wauwatosa in the wake of the Milwaukee County district attorney's decision to not charge a police officer in the shooting death of Alvin Cole.
"The president and I will always support the right of Americans to peaceful protest. It's enshrined in the Constitution," the vice president said. "But rioting and looting is not peaceful protests…and those who do these things will be prosecuted to the fullest extent of the law."
Pence's visit comes with just three weeks until Election Day, and the same day Ivanka Trump visited the Fox Valley for two campaign stops. The president himself will return to the state, holding a rally Saturday in Janesville.
---
Recent Here & Now
//php dynamic_sidebar( 'news-sidebar-2' ); ?>