Pandemic Aid Comes With No Tax Cuts Requirement, Prompting Talk of Lawsuit from Republicans
Speaker Robin Vos says Governor Tony Evers cannot accept federal COVID money with "strings attached" unless Legislature has spending oversight.
By Zac Schultz
March 25, 2021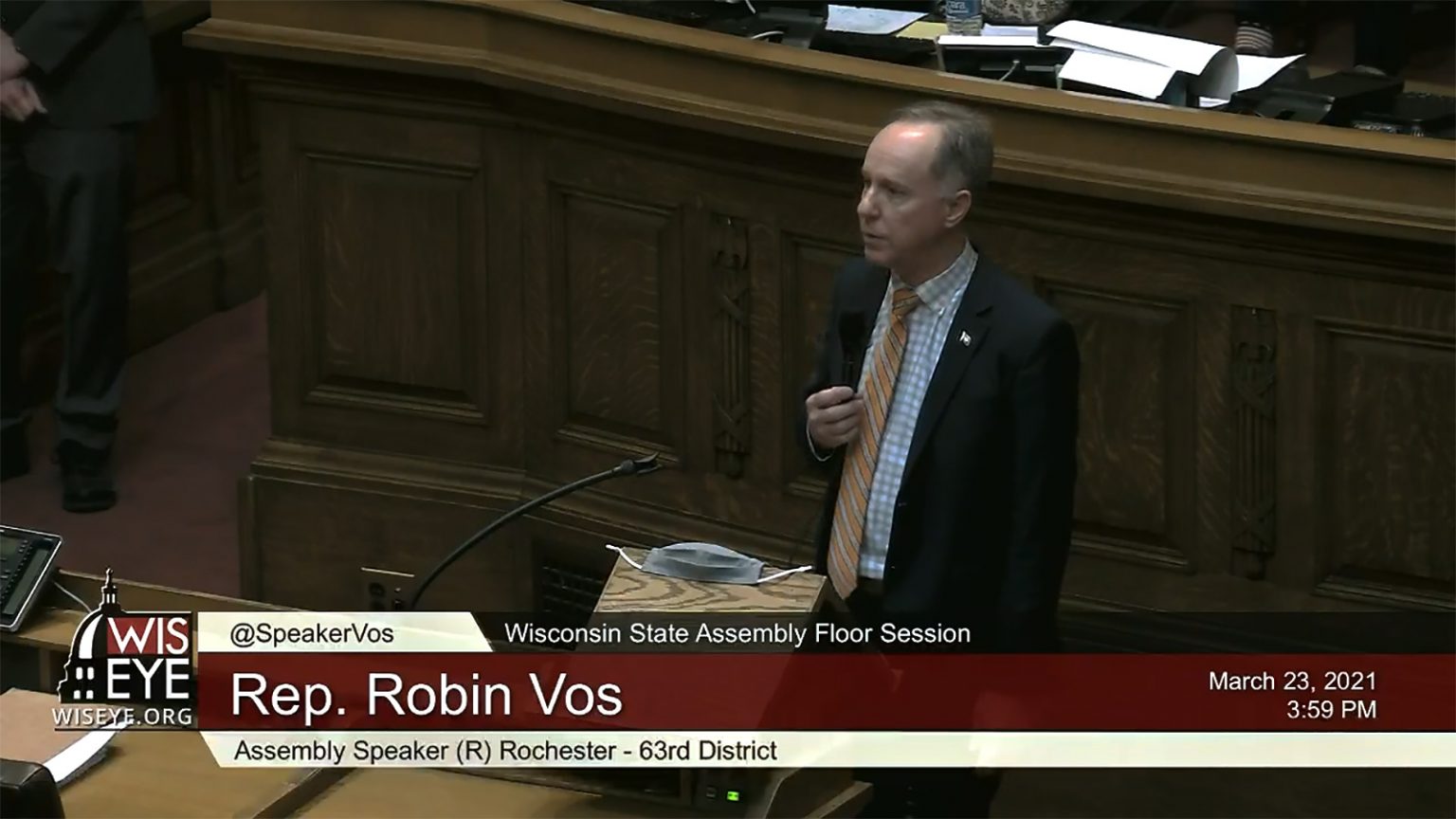 ---
Republican majorities in the Wisconsin Legislature have twice passed bills that would give the Joint Finance Committee veto power over how Gov. Tony Evers spends federal pandemic relief money. Evers vetoed the first proposal in February when it was part of a larger package of proposals, and is expected to do the same after lawmakers passed this bill as a standalone item on Tuesday.
During the floor debate, Assembly Speaker Robin Vos, R-Rochester, said it was unconstitutional for Evers to spend money without first being approved by the legislature.
"The Wisconsin Constitution provides, 'No money shall be paid out of the treasury except in pursuance of an appropriation by law.' Very straightforward," Vos said. "If, for some reason, the governor chooses to veto this bill, we will have no choice but to go to court, because the constitution is crystal clear."
Evers was quick to point out past governors have not needed legislative approval to spend federal disaster relief funds. Vos and other Republicans even acknowledged that precedent in a letter they sent Evers last year when he was making decisions on how to spend the first wave of federal covid funds.
In a letter dated April 3, 2020, Republican lawmakers wrote, "As you know, you and your administration have the sole ability to allocate the federal stimulus money, so we would like to outline what we believe are the main priorities of Wisconsinites statewide."
Vos said this time is different, because of a provision slipped into the American Rescue Plan Act.
"He does not have the right to put us on the hook with the federal government unilaterally," Vos said "You probably read about this goofy provision that was put in by the Congress, which says we don't have the right to cut taxes with our own resources if we choose to accept the federal dollars."
Wisconsin's nonpartisan Legislative Fiscal Bureau issued a memo that included this explanation of that provision. It reads: "Monies may not be used for the following: a. to either directly or indirectly offset a reduction in net tax revenues resulting from a change in law, regulation, or administrative interpretation during the covered period that reduces any tax (by providing for a reduction in a rate, a rebate, a deduction, a credit, or otherwise) or delays the imposition of any tax or tax increase. The covered period begins on March 3, 2021, and ends on the last day of the fiscal year in which all funds have been either expended, or returned to or recovered by, the Department of Treasury."
Republican lawmakers around the country have expressed dismay at the provision, and have threatened to sue the federal government. Vos said the provision requires the state Legislature to approve accepting the money.
"That might have some salience if the Legislature and the governor, through statute, both agreed to accept the federal dollars. But how is it constitutionally possible that a governor has the right to take money that has strings attached which binds the other parts of state government? It's wrong," said Vos.
Democrats like state Senate Minority Leader Gordon Hintz, D-Oskhosh, don't trust Republicans to work with Evers to spend the money.
"Time after time, since the lame duck session, the priority has been to undermine this governor, and why would we expect that to be any different in this case?" said Hintz.
Republicans have a long history in Wisconsin of turning down federal funds for programs that don't match their ideology. In 2011, former Gov. Scott Walker returned money to build a high speed rail project, as well as funding to expand rural broadband. Republicans have not expanded Medicaid in order to receive federal matching funds, and most recently Republicans have said they won't remove the state's one-week waiting period for collecting unemployment that would be covered by pandemic aid funding.
Hintz said Congress sent the money to governors and local communities to bypass that issue.
"The reality is, lawmakers in Washington realized that there were legislatures like Wisconsin and they gave money directly to communities and directly to providers. Thanks goodness, with the input of Sen. [Tammy] Baldwin [D-Wisconsin] and others, definitely tried to do that so we wouldn't have this problem, because they knew there too many states that wouldn't take advantage, that would penalize their constituents to subscribe to ideology or to try to make the governor look bad."
Vos said the issue of oversight should be non-partisan.
"What's amazing to me, is that we have gotten to the point where something that should be perfunctory has become somehow a partisan issue," he said.
But in the same speech, Vos showed where the partisan politics come in when he talked about how the state has until 2024 to spend all the money.
"Don't forget, this money has four years to be spent. Four years. That means when Gov. Evers is replaced in January of 2023, whoever that Republican governor is can choose to give all the money to causes that they care about. You wouldn't even know where it was going until the money was already spent. I can just imagine the howls … talking about unaccountability and lack of transparency and how could he do this with taxpayer money?"
Democrats just as easily envision a scenario where Republicans on the Joint Finance Committee deny Evers spending requests in the run up to the 2022 gubernatorial election, waiting to see if a Republican governor would get to spend it.
"I don't know that you have the credibility you think you do on this issue" Hintz said.
In that speech Vos used the pronoun "he" to reference the next Republican governor. Former Lt. Gov. Rebecca Kleefisch, a Republican,is widely expected to run for governor in 2022. A spokesperson for Vos says his use of "he" was just a generic reference, and did not indicate his feelings on a potential Kleefisch candidacy.
---
Recent Here & Now
//php dynamic_sidebar( 'news-sidebar-2' ); ?>