Republicans Want Control of Federal COVID Funds, Reject Unemployment Dollars
If Gov. Tony Evers again vetoes a bill establishing legislative oversight of pandemic relief, Speaker Robin Vos threatens to challenge this action in court.
By Zac Schultz
March 24, 2021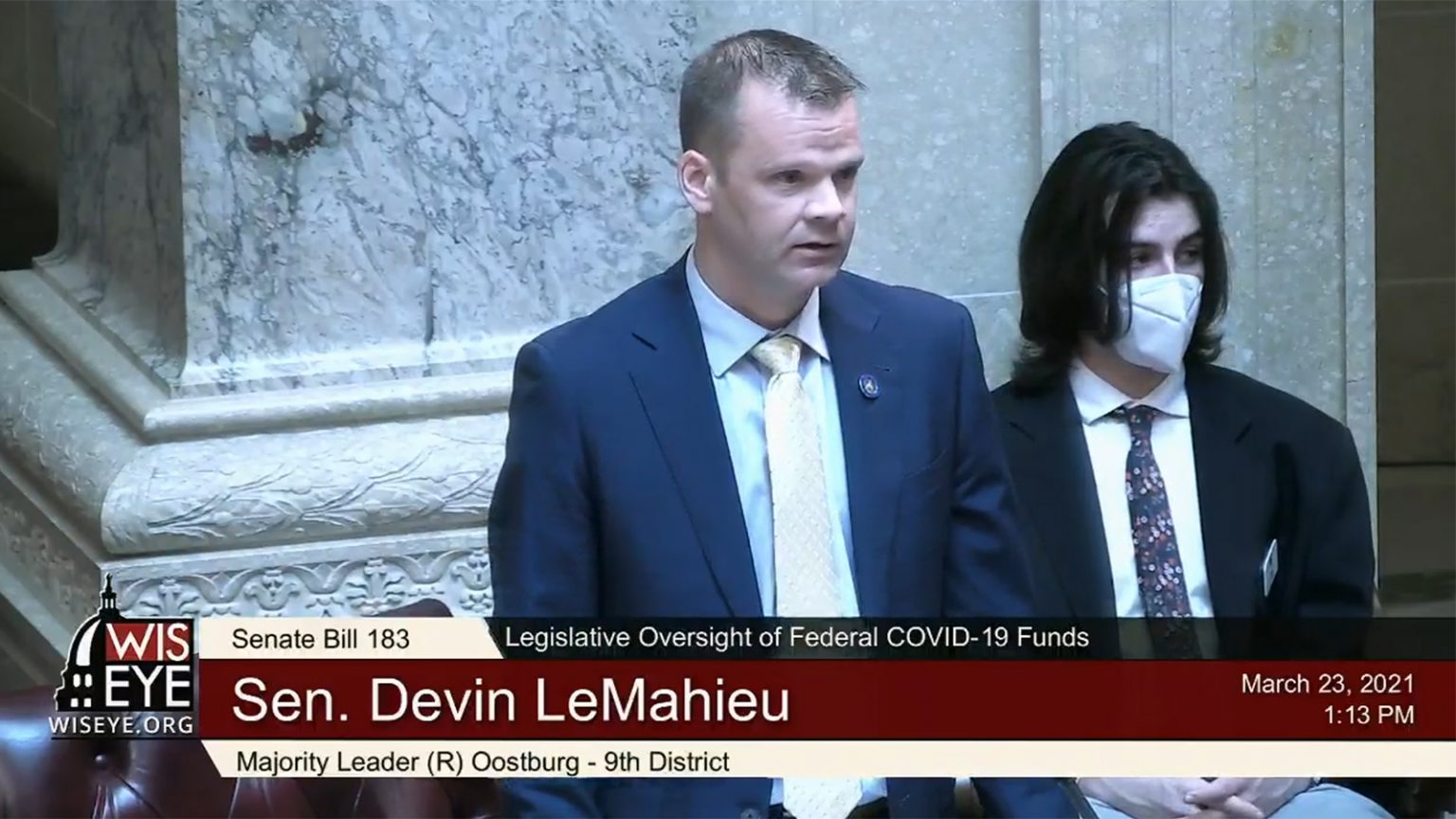 ---
Republican majorities in the Wisconsin Senate and Assembly passed a series of bills Tuesday responding to the COVID-19 pandemic, but most are certain to be vetoed by Gov. Tony Evers.
One bill would give the Republican-controlled Joint Finance Committee the power to limit how Evers, a Democrat, spends pandemic relief funds provided by the federal government. SB 183 would require the governor to submit spending plans for the estimated $3.2 billion the state will receive from the American Rescue Plan Act of 2021. Another $2.5 billion from that federal relief plan will go directly to cities and counties around Wisconsin. Under the bill, the governor would have to wait 14 days to see if any Republicans on the committee raised an objection before spending the money.
Senate Majority Leader Devin LeMahieu, R-Oostburg, said the federal dollars are similar in size to the amount of new spending in the state's last biennial budget, warranting oversight from Republicans.
"Just from this one bill there's more money coming into the state of Wisconsin than our increases in our entire last two-year budget," said LeMahieu. "And this money is coming with essentially no legislative oversight. Absolutely no input from the people's representatives."
Sen. Jon Erpenbach, D-West Point, said there's no reason emergency spending should need to wait two weeks before getting out the door to people in need.
"The last thing we need to do is slow down money to Wisconsinites, to Wisconsin businesses, to programs that help people, and that's what this is going to do. You might think you're reining in Tony Evers — the 'Almighty Tony Evers' — but you're not. You're hurting Wisconsin," said Erpenbach.
Evers already vetoed this oversight proposal once this year. The Legislature's Republican majority passed a COVID-response bill in January that contained a number of measures the governor had said were non-starters. Many of its measures were back on the floor Tuesday in the Assembly.
Republicans passed one bill that would prevent local or state health officials from closing places of worship during a pandemic, another to prevent the state or local health officials from mandating residents be vaccinated for the coronavirus, and a third to order the governor to submit a plan to return all state workers to their offices. All passed on party-line votes.
Assembly Speaker Robin Vos, R-Rochester, said on the floor the Wisconsin Constitution gives the Legislature oversight on spending. Vos said if Evers vetoed the oversight proposal again, Republicans would go to court.
"If, for some reason, the governor chooses to veto this bill, we will have no choice but to go to court, because the constitution is crystal clear," said Vos.
Democrats were quick to point out that in April 2020 Republicans sent a letter to the governor in which they stated Evers had complete discretion over federal pandemic-relief funds. The letter stated: "You and your administration have the sole ability to allocate the federal stimulus money, so we would like to outline what we believe are the main priorities of Wisconsinites statewide."
Meanwhile, Republicans are not interested in claiming other federal pandemic response funds.
Vos has already said he would not consider expanding Medicaid in Wisconsin in order to take advantage of expanded payments, including in the American Rescue Plan signed into law by President Joe Biden.
Republican lawmakers also say they do not plan on suspending a one-week unemployment insurance waiting period for those newly out of work, despite the fact the federal government would pick up 100% of the cost. Wisconsin suspended the waiting period in its 2020 pandemic response package and again early in 2021 in order to allow people to immediately collect the higher unemployment benefits. That waiver expired March 13, and Republicans have been wavering on whether they would renew it again.
Democrats in the state Senate attempted to add the waiver to the federal funding oversight bill as an amendment, but Republicans rejected that move.
Vos has previously said higher benefits create a disincentive for the unemployed to find a new job. State Sen. Jeff Smith, D-Eau Claire, found that argument insulting.
"Helping those in need get the money they are owed used to be a bipartisan effort, and I hope we can make it a bipartisan effort once again," Smith said "It used to be that members on both sides of the aisle were able to work together on something like this, and now, Speaker Vos seems intent on using these families as pawns in this ugly, political, gotcha game."
---
Recent Here & Now
//php dynamic_sidebar( 'news-sidebar-2' ); ?>