Meet the candidates running in the 2023 Wisconsin Senate District 8 special election
Republican candidates Janel Brandtjen, Dan Knodl and Van Mobley are running in the primary to face Democratic candidate Jodi Habush Sinykin for a state Senate seat in the northern suburbs of Milwaukee.
February 7, 2023 • Southeast Region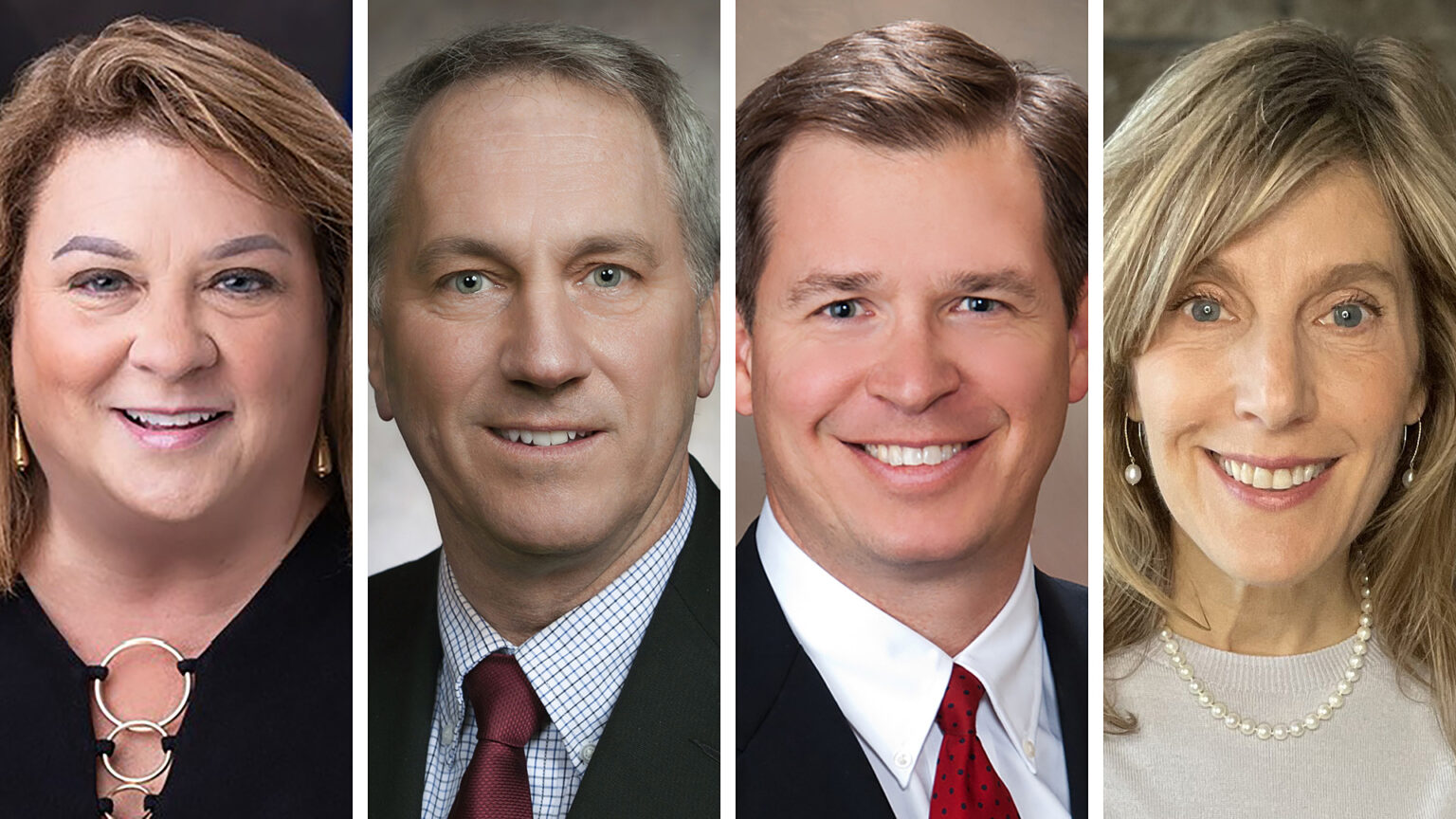 ---
Four candidates — three Republicans and one Democrat — are vying in a high-profile special election to represent Wisconsin's 8th State Senate District.
Alberta Darling, a Republican, had held the seat over the past three decades before announcing her retirement in November 2022. Darling was first elected to the state Assembly in a 1990 special election, and after serving one term in that chamber, was subsequently elected to the state Senate in 1992. She was a co-author of the bill to establish the first private school choice program in Wisconsin, which was also the first policy of its type in the nation.
"I look forward to staying active in the community and spending more time with my grandchildren, family, and friends," Darling said in a Nov. 23 press release. "It is time for someone else to take up the mantle, build on these successes, and continue moving Wisconsin forward."
A week later, Wisconsin Gov. Tony Evers set a special election for this open legislative seat to match the state's spring 2023 voting calendar. The primary and general election are set for Feb. 21 and April 4, respectively, and will coincide with an intense and nationally prominent four-candidate race for a seat on the Wisconsin Supreme Court.
Senate District 8 covers a broad swath of the northern Milwaukee suburbs and exurbs that includes parts of Milwaukee, Ozaukee, Washington and Waukesha counties. Up for a vote during presidential election years, it's been a safe Republican district over Darling's tenure, who typically won by 10 to 30-point margins when contested, except for a one-point difference in 2008 and a seven-point gap in a 2011 recall attempt. Darling won by a safe — but closer — eight points in 2020.
Three Republicans will face off in the special election primary: Assembly Rep. Dan Knodl, Assembly Rep. Janel Brandtjen and Thiensville Village President Van Mobley. The lone Democrat in the race — environmental attorney Jodi Habush Sinykin — will run unopposed in her primary.
Knodl was the first Republican to announce his candidacy following Darling's retirement. First elected to the Assembly in 2008, Knodl represents the 24th Assembly District and holds the chair of that chamber's oversight committee.
In previous sessions of the state Legislature, Knodl held the position of Assistant Majority Leader in 2011 and 2015, as well as Majority Caucus Chair in 2017 and 2019. Knodl's campaign website lists ​reducing taxes, increasing funding for public schools and creating a "pro-growth" economy in Wisconsin as his top priorities.
"I am running for the State Senate to ensure that the people of the 8th Senate District continue to have a proven common-sense voice in Madison," Knodl said in a Dec. 1, 2022 statement announcing his candidacy. "As State Senator, I will vote to support law enforcement, expand educational opportunities, roll back bureaucratic overreach, and pursue continued tax reform."
In the first several weeks of the 2023 legislative session, Knodl proposed a bill that would enact a flat 3.25% state income tax by 2026, and a bill that would eliminate the personal property tax. He has also co-sponsored the resolution that proposes a state constitutional amendment that would allow judges to consider more factors than just flight risk when setting bail for violent offenders.
First elected in 2014, Brandtjen represents the 22nd Assembly District and announced her candidacy about a week after Knodl. Brandtjen touts her record as a legislator on her campaign website, including efforts to cut taxes on residential heating and electric bills.
"After long hours of consulting with my family, friends and countless political allies, I have decided that the best place for me to continue to represent the people of Wisconsin would be in the 8th Senate District," Brandtjen said in a statement. "No one has fought harder for Life, Second Amendment rights, keeping your family safe and allowing every family to send their children to a great school."
Brandtjen attracted national attention after the 2020 election, when she repeatedly denied the results of the presidential vote as the chair of the Assembly's elections committee. She was also endorsed by former President Donald Trump in her 2022 campaign for the Assembly.
Shortly after winning that race, Brandtjen was ousted from the Assembly Republican caucus, with its chair noting a lack of trust in her.
Brandtjen was a co-author with Knodl on the flat tax bill, and co-authored the resolution for the constitutional amendment on setting bail. No longer a member of the chamber's elections committee, Brandtjen instead sits on the corrections and oversight committees.
The third Republican on the ballot is Mobley, who is in his fourth consecutive term as president of the village of Thiensville in southern Ozaukee County. Mobley is also a history and economics professor at Concordia University Wisconsin. On his campaign website, Mobley lists increasing public safety, conserving wildlife and creating a new law to replace Wisconsin's 1849 abortion ban as top priorities if he were elected.
In a Jan. 4, 2023 statement, Mobley said his goals in the state Senate would include reducing taxes, improving education and reducing crime.
"The people of the 8th Senate District want and deserve a Senator who is rooted in the community, not in Madison," he said in the release. "They want a Senator who leads – particularly when times are tough."
Mobley has called for eliminating the state income tax using the state's estimated $7.1 billion budget surplus, replacing that with an additional 3% sales tax to offset the loss in revenue.
The lone Democratic candidate in the special election is Whitefish Bay resident Jodi Habush Sinykin, an environmental lawyer who is unopposed in the primary.
Habush Sinykin lists repealing Wisconsin's 1849 abortion ban, lowering healthcare costs and funding community and law enforcement programs as top issues on her campaign website.
"I will be a Senator who listens and learns from the constituents in the 8th District," she said in a Dec. 7, 2022 statement. "Working to address the cost of healthcare, a woman's right to make her own health and reproductive decisions, maintaining safe communities, ensuring a good education for our children, and finding ways to ensure that area businesses and jobs can both survive and thrive in these difficult economic times."
Habush Sinykin had outraised all three of the other candidates through December, registering $40,000 in campaign funds. She will face the winner of the Republican primary. While a Democrat hasn't represented the 8th Senate District in three decades, voters in suburban Milwaukee have moved slightly toward Democratic candidates over the past few election cycles, and the party's supporters are seeking to maintain that trend. Meanwhile, if the seat remains in Republican hands, that party will hold a slim 22-11 supermajority in the state Senate established in the 2022 election.
The 2023 spring primary election is on Tuesday, Feb. 21 and the spring general election is on Tuesday, April 4. More information about these candidates is available via Wisconsin Vote.
---
Recent Here & Now
//php dynamic_sidebar( 'news-sidebar-2' ); ?>