Meet the candidates running in Madison's 2023 mayoral primary
Challengers Daniel Howell Jr., Scott Kerr, Gloria Reyes and incumbent Satya Rhodes-Conway are running in the Feb. 21 primary, with the top two vote-getters moving on to the 2023 spring election for Madison mayor.
February 14, 2023 • South Central Region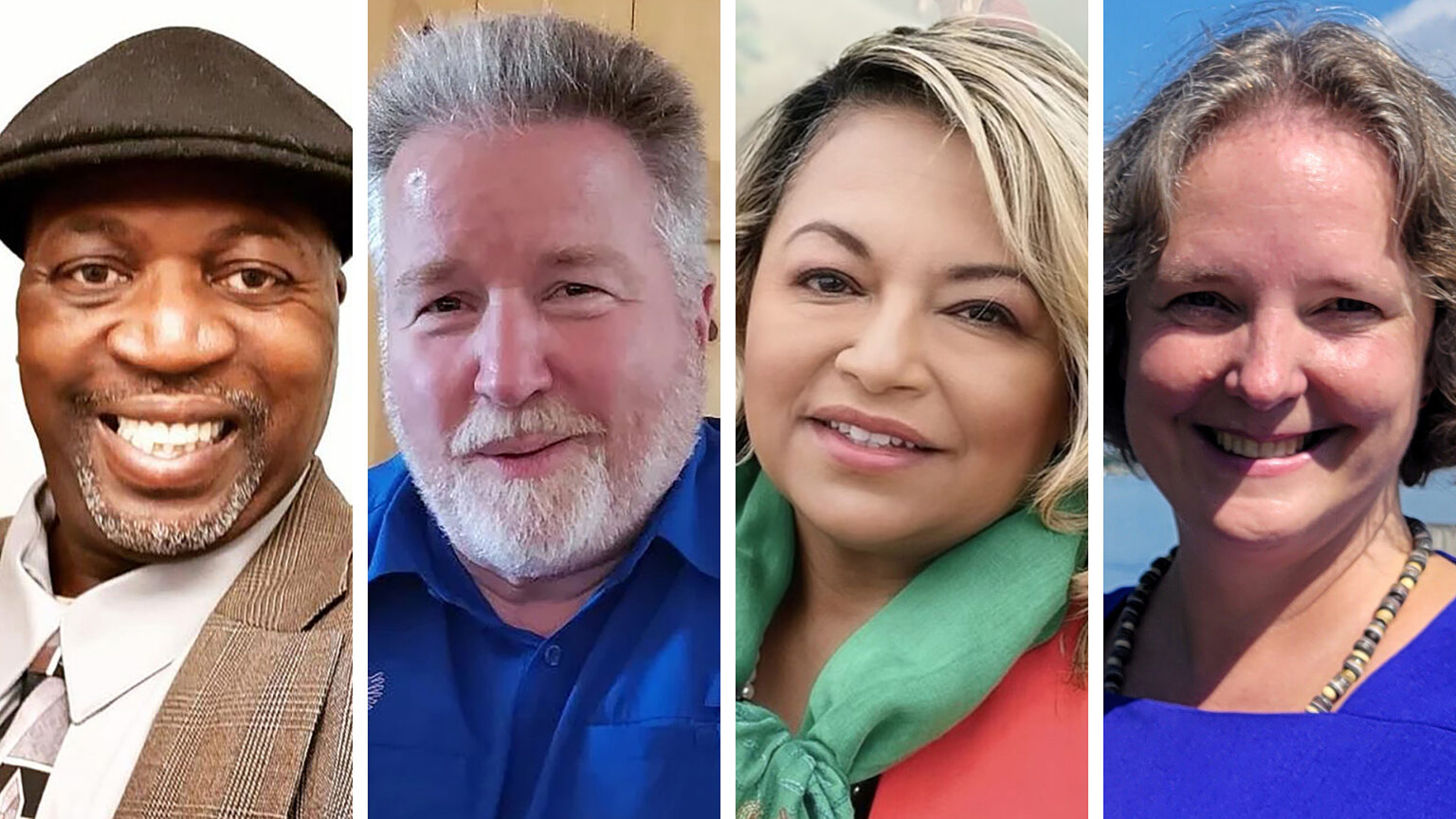 ---
Four candidates — three on the ballot and one write-in — are running for mayor of Wisconsin's second-largest city in a low-key yet consequential race.
One candidate on the ballot familiar to many voters is incumbent Mayor Satya Rhodes-Conway, who is seeking a second term after defeating long-time Mayor Paul Soglin by 24 points in 2019 after one of the most expensive mayoral races in Madison's history.
Two challengers also appear on the ballot. One is former Madison school board President Gloria Reyes, who also served under Soglin as a Madison deputy mayor over 2014-19. The other is Scott Kerr, a long-time employee with the city of Madison's traffic engineering division.
A third challenger — former Wisconsin Badgers football player Daniel Howell Jr. — is running as a write-in candidate.
Anchored by the state government and the University of Wisconsin's flagship campus, and buoyed by surging tech and other start-up businesses, Madison is at the center of the fastest growing region in the state, with high rates of population increase in both the city and surrounding Dane County suburbs.
This growth is particularly pronounced among younger adults, and the region is increasingly playing a decisive role in state politics with huge support for Democratic candidates in statewide elections. The race for Madison mayor is officially non-partisan, but the local politics at its heart remain intense.
Madison's second woman mayor and the first LGBTQ+ mayor, Rhodes-Conway announced her bid for re-election in late November 2022.
The incumbent's campaign website lists doubling Madison's affordable housing fund, electrifying the city's public transit and creating the Community Alternative Response Emergency Services — which handles behavioral health emergencies instead of police — as her top accomplishments in office.
"Cities are leading on COVID-19, climate, racial equity, housing, transportation, the economy and other issues that matter to working families," Rhodes-Conway states on her campaign website. "My administration has delivered on all these issues, and we'll continue to lead and innovate."
Rhodes-Conway lists building affordable housing, improving public safety and addressing a number of climate change issues like lowering city emissions to net-zero by 2030 as her top issues.
The highest profile challenger in the race is Gloria Reyes, who was born and raised in the city and served as an officer in the Madison Police Department for 13 years. After being named a deputy mayor, she most recently served as the Madison Board of Education president from 2018 through 2021.
"I care about this community. This community raised me," Reyes said at a campaign launch event in November. "You have watched me grow as a student in our public schools, Madison College, UW-Madison and as a professional and as a leader, making mistakes along the way, but also making good [decisions]."
While serving as president of the Madison school board in 2020, Reyes backed a proposal that ended a contract between the Madison Police Department and the school district for school resource officers, whose presence at city high schools became a controversial city issue. However, while on the 2023 campaign trail, Reyes has said she would explore options to bring police back into Madison schools.
Her campaign website lists increasing community engagement with the local government, fostering safe neighborhoods and revitalizing the local economy by prioritizing business development as her top issues.
The third candidate on the primary ballot is Scott Kerr, who is himself a lifelong resident of Madison. Kerr has worked for the city government for 42 years according to his campaign website, including 18 years for the parking division before moving to positions related to erosion control and traffic engineering.
Kerr has said he will raise and spend under $100 on his campaign to either demonstrate money isn't needed to succeed in politics, or to prove it does take money.
"Elections should not be dependent on funding. For far too long, people have talked about getting the money out of politics. It's time for action," Kerr states on his campaign website. "While other candidates are asking for financial donations, my campaign will not accept donations."
The top issues for Kerr include creating a more responsive government that considers public input on important decisions, improving public safety and reviewing the city budget to find areas where money can be saved.
The fourth hopeful in the mayoral primary does not appear on the ballot but is running as a write-in candidate. Howell is a former Wisconsin Badgers football tight end who played in the late 1980s, before accruing two decades of experience in social services in Virginia, Ohio, Washington state and Madison — including as a case manager for Porchlight Inc.. He completed a bachelor's degree in psychology in December.
Howell, who does not have a campaign website, told the Wisconsin State Journal his top priorities are controlling illegal drugs, supporting police officers and building better opportunities for minorities in Madison.
The Madison mayoral contest isn't the only race to lead one of Wisconsin's largest cities — there is also a four-candidate primary for mayor of Green Bay that may end up deciding who controls the deciding vote on the Green Bay Common Council, which consists of six Democrats, six Republicans and the mayor.
Elsewhere a three-candidate primary will decide which Republican will face off against a lone Democratic candidate in a special election for Wisconsin Senate District 8, which will determine if Republicans keep their 22-11 supermajority in that chamber. There is also a nationally prominent four-candidate race for a seat on the Wisconsin Supreme Court.
The 2023 spring primary election is on Tuesday, Feb. 21 and the spring general election is on Tuesday, April 4.
---
Recent Here & Now
//php dynamic_sidebar( 'news-sidebar-2' ); ?>