Madison Couple Stays Safe and Sing to Their Neighbors – from a Distance
In the age of musicians live streaming, a Madison couple go live every night on their front porch.
By Andy Moore | Here & Now
April 21, 2020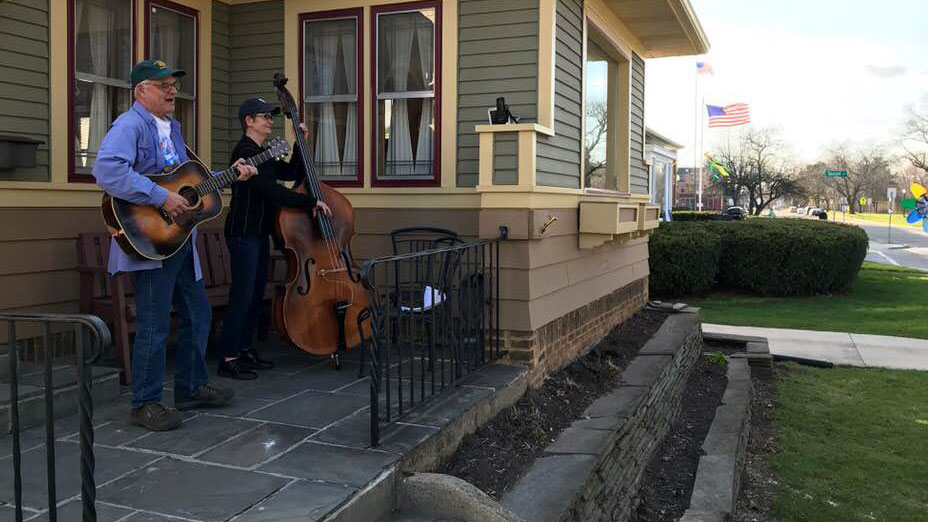 Madison bluegrass guitarist Bobby Batyko and his partner Lorie Docken have been making music together — the metaphorical and literal kind — since they met at a bluegrass jam in 1997. These days, well, at least every night since March 28, they've appeared on the front porch of their near-east side Madison home to perform a two-song show. The idea for the micro-concert was that of a neighbor who was aware of the couple's musical background.
"She thought it would get the kids out of the house for a structured 'event,'" says Batyko, whose big, booming voice sounds like it could be broadcasting from a clear channel country radio station out of Nashville. "And, it could also be an opportunity for neighbors to come out briefly, say hello and make sure everyone is doing okay."
Batyko, a retired U.S. Cellular field engineer, and Docken, who works for the University of Wisconsin System Administration, were committed to making it a safe experience from the start. That's why they marked the front yard with chalk likes to space people apart during the brief concerts. The lines were hardly needed. That's because most attendees within the small group spread out on the grass across the street, in a stretch of city park that runs along the west bank of the Yahara River.
On a recent night the sun shone brightly on the scene and, if even for a precious ten minutes, melted away the ice that is isolation. The first of two songs commenced — and always do — at exactly 5:57 p.m. The couple performs one selection on their own. The second tune is always a sing along. The 5:57 p.m. start time is an odd one, but one they stick to. Batyko said it happened accidentally.
"It was supposed to be 6 p.m., for the sing along, but we would come out and do a song before the sing along," said Batyko. "So our neighbor, Ashleigh, noted that it was 5:57." Batyko said the two-song part of the deal is intentional, "because we don't want people lingering too long these days."
Docken and Batyko have deep roots in the Southern Wisconsin bluegrass community and are organizers of Dane County's annual Sugar Maple Festival. That's why the first song of the night is often an original or a tune written by friends. One recent night's concert led off with a number called "County O," written by Bobby Steeno, a Wisconsin bluegrass expatriate now living in Florida.
Things got emotional in a hurry when the couple, Docken on string bass and Batyko on guitar, strummed the opening stanzas of the evening's sing along: Bob Dylan's "Blowin' in the Wind." The voices joining in were quiet, almost distant; soft singing coming from neighbors of all ages, including parents sitting and swaying in the grass, children between their knees.
The emotions during the 10-minute shows are shared by the performers. "What has amazed me," said Batyko, "is that we are neighbors but really just acquaintances. In the past, we would say hello and wave. But we never had much other interaction. The neighbors all know we play music but they never come see us play at one of our gigs. But the front porch sing along has brought out the 6 houses around our corner of the world and started to grow us into a community. I don't feel that we are 'just neighbors' anymore."
At the end of "Blowin' in the Wind," some quiet applause broke out. But mostly people stayed in place and, well, let it sink in, before getting to their feet and disappearing, door to door to door, back into their homes.
The couple says they'll keep it up every night until Safer at Home is lifted.
---
Recent Here & Now
//php dynamic_sidebar( 'news-sidebar-2' ); ?>