'Here & Now' Highlights: Tony Evers, Allison Madison
Here's what guests on the January 6, 2023 episode said about Wisconsin's 2023 budget process and the impacts of road salt use during winter.
By Aditi Debnath | Here & Now
January 9, 2023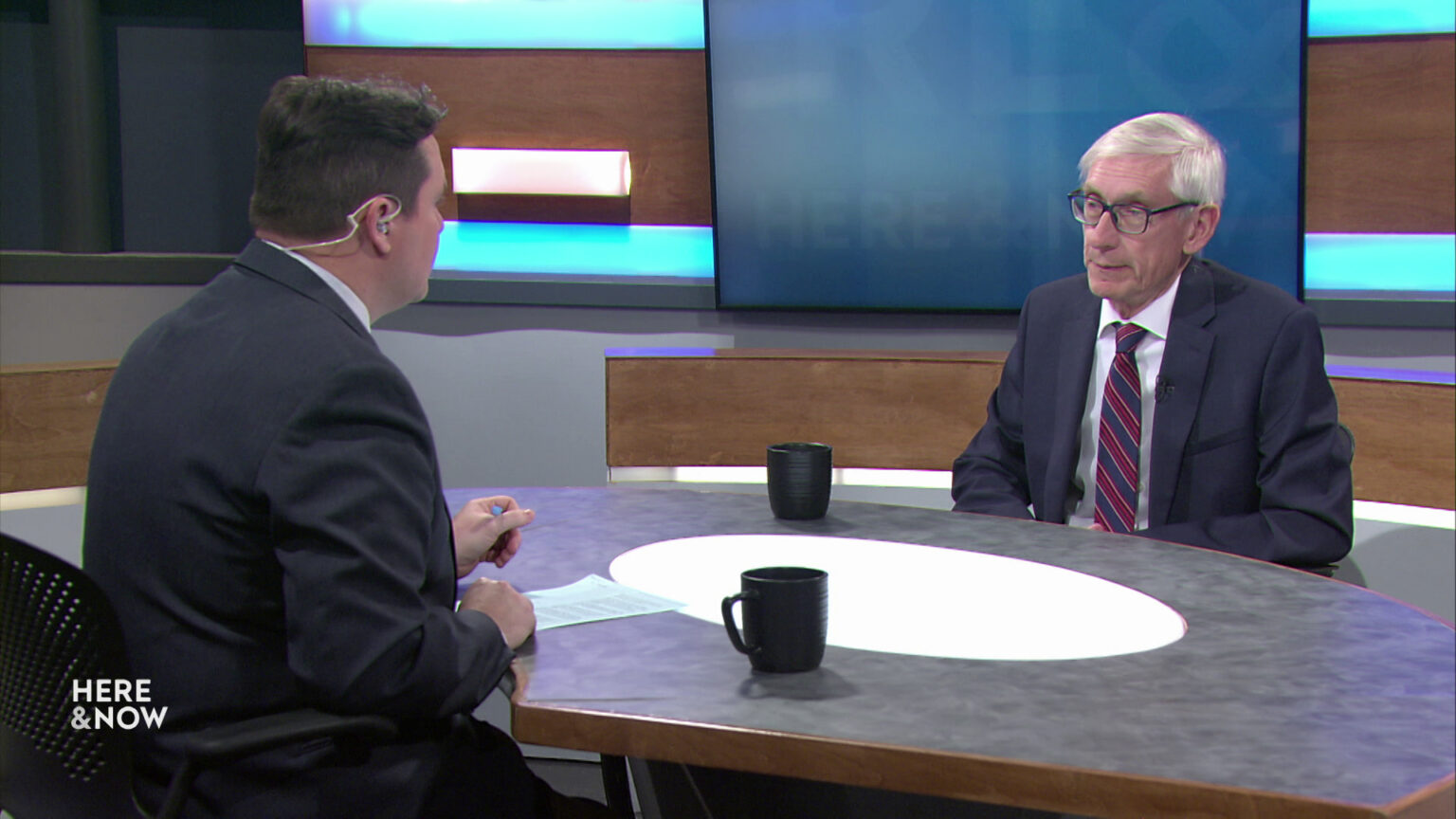 ---
The start of the 2023 political season in Wisconsin brought the inauguration of Gov. Tony Evers, who shared his plans for his second term as a new legislative session begins. As winter weather deposits snow and ice on the state's roadways, environmental organizer Allison Madison explained how using road salt is causing higher salinity levels in the state's freshwater sources.

Gov. Tony Evers
Governor
Wisconsin students have demonstrated knowledge gaps since the start of the COVID-19 pandemic, but Republican Assembly Speaker Robin Vos said increased funding for public education is not the solution. However, Democratic Gov. Tony Evers said public schools do need more resources.
Evers: "Money does play a role. We have school districts going to referenda every single election, and two things happened there. One is that most of them pass and that raises property taxes, so that's obviously a legislative issue. Second of all, there's 20-30% that don't pass every time, so what that does is creates a system of haves and have nots; that is a legislative issue. So, yes, I think it's important that we look at every option to have kids learn in a better way, but at the end of the day, one of those things is resources."
During his inaugural address, Evers characterized his victory in the 2022 election as a vote to save democracy. Emphasizing this point, the governor said he supports legislation to protect voting rights, including automatic voter registration.
Evers: "I would like to have automatic voter registration so that people are registered. That doesn't mean they have to vote. I think it would be good to give a lot of local clerks the ability to process some of those early voting things beforehand, so that they don't have to do it at four in the morning. But the system is strong. I think that the election in the way it was run, helped people understand how important democracy is and frankly, how it's always been strong. In Wisconsin, so much of the hard work, 90% or more happens locally and it happens by Republicans, Democrats, independents, the local clerks. Those are the folks that do all the hard work. That's not what happens in Madison, so we need to reaffirm our support for that and continue to move forward."
Allison Madison
Program manager, Wisconsin Salt Wise
The use of salt to melt ice and snow on Wisconsin roads is increasing the salinity of the state's freshwater lakes and rivers. Allison Madison, who manages a coalition of state agencies, municipal governments and environmental nonprofits, said that there are practices to reduce salt usage during the winter, including calibrating salt spreaders and switching to liquid brine.
Madison: "What we want to do is break apart that dichotomy of we're either safe or we have pure fresh water going forward, because a lot of the best practices that the Salt Wise Partnership encourages are practices that do not reduce the level of service on our roads. So things like calibrating your salt spreaders, so you understand how much salt is being put down, and you can really make precise applications based on road temperature and weather trends. Also using liquid brine — so you maybe have seen those lines on the highway before a storm, sometimes on municipal streets as well. Those work to put down a very, very thin layer of salt. I like to describe it like putting Pam spray, maybe cooking spray on your skillet before you cook. So if you can prevent that bond from forming between snow on the pavement, when the plow comes, the snow comes up so much more readily — they use a lot less salt afterwards. It's not a question of safety or protecting the environment, but it's really just adopting those best practices."

Watch new episodes of Here & Now at 7:30 p.m. on Fridays.
---
Recent Here & Now
//php dynamic_sidebar( 'news-sidebar-2' ); ?>