'Here & Now' Highlights: Mayor Cavalier Johnson, Alder Russell Stamper II, Howard Schweber
Here's what guests on the July 14, 2023 episode said about a 2% sales tax in the city of Milwaukee that comes with specific policy conditions and a surprising circuit court ruling in the Wisconsin abortion statutes lawsuit.
By Frederica Freyberg | Here & Now
July 17, 2023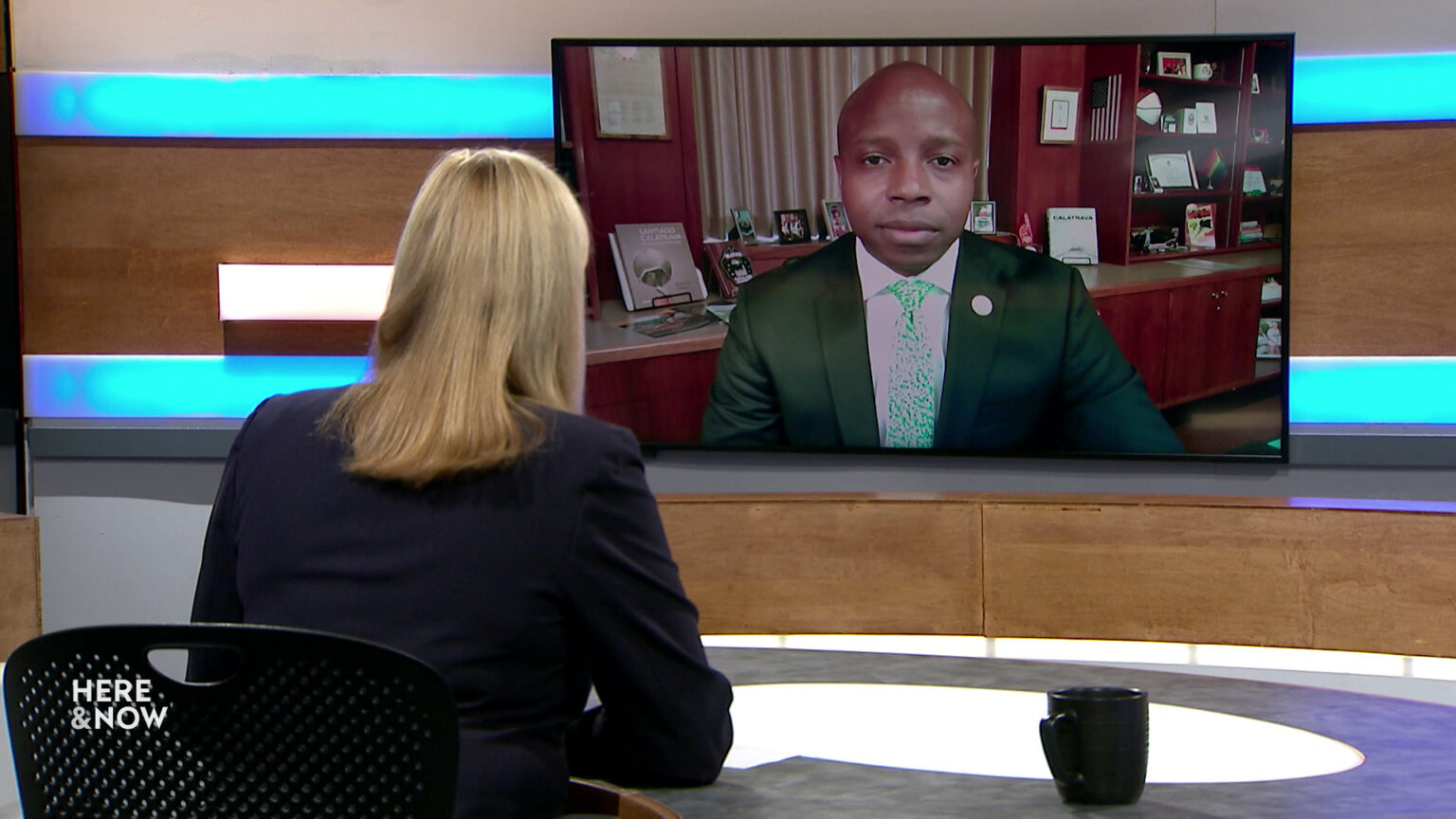 ---
The Milwaukee Common Council voted in favor of a 2% sales tax hike and the city's mayor signed this increase into law, but that outcome was not certain because of policy provisions made part of the deal by the Wisconsin Legislature – Mayor Cavalier Johnson and Alderperson Russell Stamper II discuss what this change means for the city's residents A Dane County Circuit Court judge ruled "there is no such thing as an 1849 abortion ban in Wisconsin" and allowed the state's lawsuit over a 173-year-old statute to proceed — Howard Schweber, a professor emeritus at UW-Madison, explains the legal reasoning behind this ruling.

Cavalier Johnson
Mayor, City of Milwaukee
Negotiations over increasing the amount of shared revenue to local governments in the 2023-25 state budget allowed the city of Milwaukee to raise its sales tax. Following the not-so-certain Common Council approval of a 2% increase, Johnson signed it into law, calling it a triumph. Without this revenue, he added, the city faced "unimaginable" service cuts due to unsustainable costs. As to policy provisions embedded in the city's new authority to impose the tax, Johnson said the Republican majority in the Legislature knew the only way to get those was to attach them to something the city direly needed. He called 40 years of stagnation in shared state revenue a tough nut to crack, but the added sales tax breathes new life into the city.
Johnson: "This is a problem. It was four decades in the making, and it eluded mayors and city councils and governors and legislatures in years past. But working together in a collaborative, bipartisan way, we're able to get this done and put the city on a stronger financial footing for now and for the foreseeable future. And I feel very gratified to have been able to deliver this for the citizens of Milwaukee, for our daily commuters, for our visitors."
Russell Stamper, II
Alderperson, Milwaukee Common Council
Ahead of his vote to ultimately approve the 2% sales tax, Stamper called it a "bad deal," over the policy provisions for Milwaukee, including returning police officers to schools, eliminating diversity, equity and inclusion programs, and requiring minimum police and fire staffing levels. While Stamper voted "yes" on the increase, he called it a "bad deal." Three council members voted "no," on the tax, saying it will be a financial hardship for low and fixed-income residents. The Common Council will work to find ways like offering stipends to help people mitigate the new costs, Stamper said.
Stamper: "There's no making a mistake about the city of Milwaukee does need money. We have a huge financial gap of approximately $183 million and projected to be upwards of $190 million in 2025. But what we were expecting or what we would have appreciated was a clean bill, a bill that just allows us to raise the sales tax to 2% and also receive our fair share of shared revenue. However, I don't know what happened to all of these negotiations. I don't know what those guys at the state level are thinking, but they provided or added all of these provisions that are going to hurt Milwaukee, particularly Black and brown communities."
Howard Schweber
Professor emeritus of political science, UW-Madison and University of Wisconsin Law School affiliated faculty
A Dane County Circuit Court judge ruled in July that language in an 1849 state statute that has been understood as an abortion ban doesn't actually use the term "abortion" and instead prohibits attacking a woman and killing her unborn child, which is termed "feticide." "There is no such thing as an '1849 Abortion Ban' in Wisconsin," Judge Diane Schlipper wrote in her decision allowing a lawsuit challenging the law to proceed. However, state Attorney General Josh Kaul's challenge to the 173-year old law on Wisconsin's books does not use this argument – perhaps because the language and legal doctrine is so old, Schweber said.
Schweber: "It was a sharp point and it took many people by surprise, partly because we are so unused to thinking in 19th century legal categories. This is one of the problems with appeals to history, whether it's a Supreme Court justice talking about originalism or someone talking about a 19th century law — you have to put yourself in the mind frame. And the understanding of that period — legal understandings in particular — were just very different back then. So Josh Kaul tried to couch this in purely modern terms, is sweeping, is too vague. Was the law effectively overruled by the enactment of a later law? I suspect, to be honest, that in his office it didn't it just didn't occur to anyone to go back to the common law principle underlying the 1849 law, to say, what was that principle about? If you want an analogy, it is a crime to quote someone in the nose. It is not a crime to punch yourself in the nose. And I know that sounds like a silly analogy, but in those kind of basic legal, categorical terms, that's the kind of distinction that we're drawing here."
Watch new episodes of Here & Now at 7:30 p.m. on Fridays.
---
Recent Here & Now
//php dynamic_sidebar( 'news-sidebar-2' ); ?>