'Here & Now' Highlights: Dr. Greg DeMuri, Michael Lazzeri, Jeff Mandell
Here's what guests on the March 10, 2023 episode said about vaccinating children for meningitis and chickenpox, rising child labor violations at state and national levels, and an ethics complaint filed against a former Wisconsin Supreme Court justice.
By Kristian Knutsen | Here & Now
March 13, 2023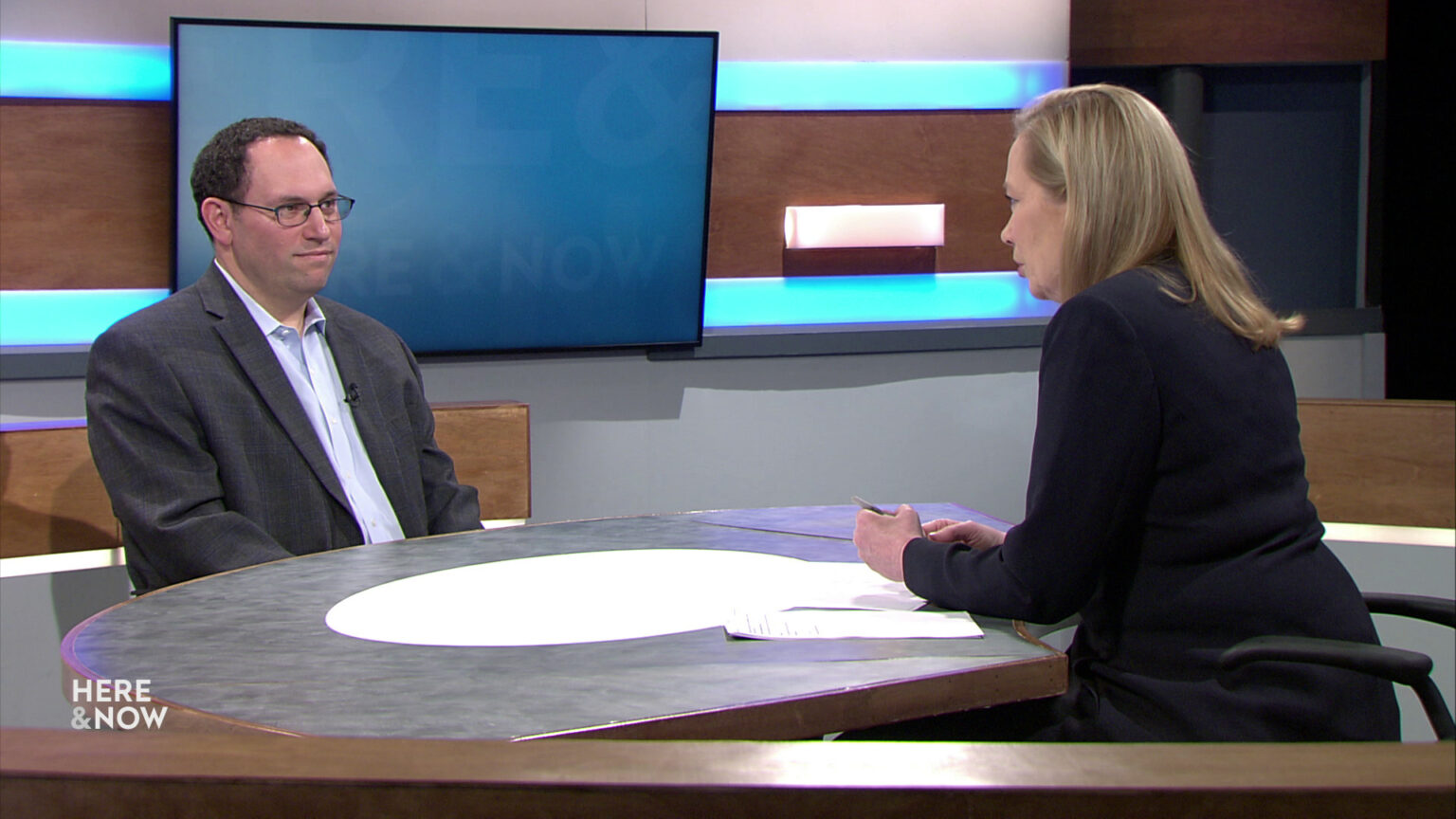 ---
The Wisconsin Legislature's rules committee rejected a proposal to expand vaccination requirements for meningitis and chickenpox among children in schools and daycare — pediatrician Greg DeMuri shares support for these mandates from public health officials and doctors. The number of child labor violations in Wisconsin and around the nation has been increasing, and U.S. Department of Labor official Michael Lazzeri explained how and why the federal agency seeks to enforce laws against dangerous and abusive working conditions for minors. Attorney Jeff Mandell discussed why the liberal legal group Law Forward filed a voluminous ethics complaint against Michael Gableman related to his professional conduct as a special counsel.

Greg DeMuri, M.D.
Infectious disease pediatrician, UW Health
The Republican majority on Wisconsin Legislature's Joint Committee for Administrative Rules voted 6-4 on March 9 to strike down a proposal by the state Department of Health Services to require meningitis vaccinations for students in 7th and 12 grades, as well as to require medical proof of chickenpox infection for students who haven't received a vaccination for that illness. Dr. Greg DeMuri, an infectious disease pediatrician based in Madison, described the risks of meningitis, also called meningococcal disease, and noted the effects of mandating vaccination for school children.
DeMuri: "It's been strongly recommended for quite some time now. Most families, fortunately, do go ahead and get it, although there's not quite as much awareness of this vaccine than some of the other vaccines. We also know that school requirements increase and improve our immunization rates in communities. Those states that have the most robust school requirements have the highest immunization rates. And here even in Wisconsin, we've seen when we implement this rule for schools, our immunization rates go up and the disease rates go down."
Over the first two years since the start of the COVID-19 pandemic, the rate of childhood vaccination dropped by several percentage points. DeMuri pointed to the risk of these falling immunization levels leading to future outbreaks of different diseases.
DeMuri: "We're very concerned. Again, this is a disturbing phenomenon. It's certainly something that I think paralleled covid and misinformation that was out about covid vaccines, and it's about covid disease itself. So, some of the kind of anti-science misinformation that's out there has now carried over to other vaccines, and that's quite concerning for the possibility of new outbreaks of infectious diseases that have been quieted for years."
Michael Lazzeri
Regional administrator, U.S. Department of Labor Wage and Hour Division
On Feb. 17, the U.S. Department of Labor announced that it was fining the Wisconsin-based company Packers Sanitation Services over $1.5 million for scores of child labor law violations at food processing facilities in multiple states centered around the Midwest. Michael Lazzeri, a regional administrator with the unit within the U.S. Department of Labor that's tasked with investigating illegal working conditions for kids, explains what makes minors particularly susceptible to exploitation by abusive employers.
Lazzeri: "Our focus is always to identify instances where employers are exploiting vulnerable workers, and kids are vulnerable under any circumstance. They're frightened to complain. They're afraid of letting their families and their communities down. And they honestly think they're going to be in trouble. That vulnerability translates to them being more prone to injuries in the workplace and in settings that are especially dangerous, like a manufacturing facility or a meat processing plant. Those vulnerabilities are even further amplified."
The number of child labor law violations around the United State's has surged over the past half-decade, and Wisconsin has one of the highest rates in the region. As child labor is becoming more noticeable, Lazzeri discussed the particular conditions kids are finding themselves in that government investigators are seeing more often.
Lazzeri: "Generally, I think it's important to make a distinction between child labor which we typically see, which is in, for example, in fast food where your issues with minors would be confined to hours worked, use of equipment. So, if they're working past 9 during the school night or during the week, or they're working too many hours — that's one type of violation. When you're talking about manufacturing and some of these other industries, now you're talking about the types of equipment that minors are using. And so for even 16- and 17-year olds, they're prohibited from using or cleaning things like a head splitter, bone saws — equipment that can cause serious injury, they can't use. They can't be doing construction, roofing, those kinds of things. So, I think it just depends on which type of child labor we're talking about — the type that we typically see or the type that we've been seeing recently, which is more severe and confined to very dangerous types of work."
Jeff Mandell
Co-founder, Law Forward
Attorneys with the liberal legal group Law Forward have filed an ethics complaint with the Wisconsin Supreme Court's Office of Lawyer Regulation alleging violations of professional conduct by Michael Gableman, the former state high court justice who was hired and later fired by Republican Assembly Speaker Robin Vos as a special counsel for reviewing the 2020 presidential vote in the state. The 108-page complaint covers a variety of issues, including expectations of competency for lawyers licensed to practice in the state. Mandell discussed why this idea is one focus of the complaint.
Mandell: "An attorney can be highly competent at one thing and not competent at some other area of the law. And the ethical rules require attorneys to be mindful and self-conscious of this, and to accept those representations that they are prepared to carry out. Mr. Gableman, after accepting his charge [as] a special counsel, publicly stated that he knew almost nothing about election law. So that in itself is a competence issue. Now, an attorney may take on something where they need to learn something new. We're all capable of learning new things. But Mr. Gableman then did not undertake the kinds of steps you would expect to learn something new. You don't get to charge the taxpayers or the state or your client for learning these new things, and you have to be prepared to do it. Mr. Gableman spent the first several weeks of his job trying to learn these things at a public computer terminal at the New Berlin Public Library — even as he told the public that his investigation was going to be highly secure and secretive and he needed to make sure that no one knew exactly what he was doing. He was doing this all at a public computer terminal, and he was not learning election law in the way you would expect a diligent attorney to do, but instead was consulting with conspiracy theorists and fringe actors to bring himself up to date on the latest crazy theories."
Noting threats made by Gableman to jail the mayors of multiple large cities in Wisconsin, and pointing to examples of other attorneys around the nation who have been sanctioned in the wake of 2020 election litigation, Mandell discussed the impetus for filing the complaint.
Mandell: "Well, you know, we have courts and we use our laws to resolve serious disputes, and that's an important thing. But when people break the basic rules and they bring cases that are frivolous and that they know are frivolous, when they're seeking to advance a purely political agenda that has no basis in law, we have to uphold the rules and make sure that they can't do it. Otherwise we will devolve into chaos."
Watch new episodes of Here & Now at 7:30 p.m. on Fridays.
---
Recent Here & Now
//php dynamic_sidebar( 'news-sidebar-2' ); ?>