Evers Provides Guidance for Businesses as State Makes Progress Toward Opening
The guidance to businesses will help ensure customer confidence once businesses reopen, as the Dept. of Health Services announces Friday the state has met half its goals to begin reopening.
May 8, 2020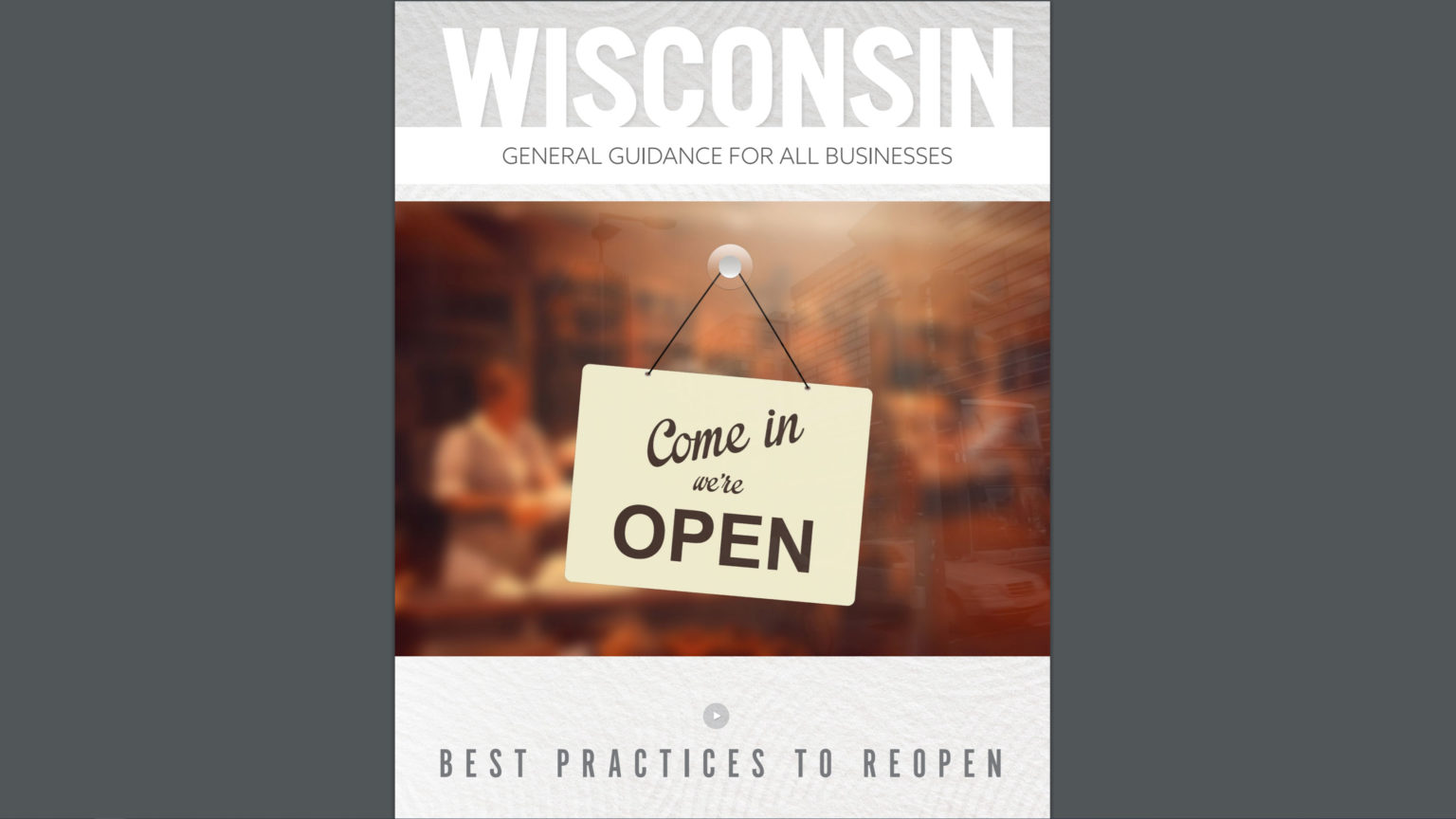 ---
The governor's administration released guidelines Friday they say will help businesses ensure confidence in patrons as the state begins to open up.
The guidelines contain industry-specific information and suggest best practices, including directing customer traffic flow with social distancing in mind and using contactless payment where possible.
"I am confident that businesses, as they open up, will use those guidelines to keep their workers and their customers safe," Gov. Tony Evers said during a Friday briefing. "The bottom line is people have to feel comfortable and confident in their health and their safety…and so it is important that we get this right."
Though his administration provided guidelines, the Department of Health Services says Wisconsin is not ready to move forward in the governor's reopening plan. According to the plan, the state must meet six gating criteria before beginning to reopen, which include a decline in new cases and reported symptoms, as well as the ability for hospitals to handle the potential caseload.
As of Friday, the state has experienced a decline in flu-like symptoms reported to emergency rooms and received a 'green light' from hospitals in terms of their capacity.
"The point of the gating criteria is to help us understand in totality if we're moving in the right direction," said DHS Secretary-designee Andrea Palm. "If we meet all six of them, obviously we want to move to phase one [of reopening] as soon as we can, but we need to track that data."
The reopening of the state may come sooner however. The state Supreme Court heard arguments Tuesday in a case challenging the governor's "Safer at Home" order. During arguments, justices in the court's conservative majority indicated that if they chose to strike down the order, they would do so immediately or with a six-day delay at most.
Evers said he thinks his lawyers placed him in "a good position and we can be successful." If the court rules against the administration, Evers would likely have to work with the Republican-controlled state Legislature to either pass laws or create administrative rules to enact a similar "Safer at Home" policy. Absent state action, local public health departments would take the lead on enacting policy to combat the COVID-19 pandemic.
"We'll see how the court rules…but part of the other side of this coin is the Legislature simply hasn't met in session," said Ryan Nilsestuen, the governor's chief legal counsel. "So part of the challenge is we need the other side to be able step up and put forward their own plan if we're going to be able to negotiate."
Republican legislators held news conferences around the state this week, asking the governor to allow businesses to resume operations in an effort to help the state's economy.
"Things that we have all grown to appreciate in Wisconsin–funding our schools being one of the most important–they're going to be under serious pressure for the next budget, said Rep. John Nygren, R-Marinette, who sits on the state's budget writing committee.
"I believe Governor Evers now should also relax more restrictions on small businesses that are unfairly hurt by his second stay-at-home order that extends to May 26," said Rep. Mike Rohrkaste, R-Neenah.
Evers said Friday that it was hard to put a specific timeline on when the state could reopen. The governor's original stay-at-home order lapsed in late April, but he said the state needed more time before reopening, leading to the current extended order.
"There's no reason to believe that the 26th [of May] isn't a reasonable date to end it, but we also know that the virus doesn't necessarily always agree with our analysis," he said.
As the state continues to fight the spread of the virus, Evers said the state would make testing broadly available–an effort which would help isolate those who could carry the virus. The state set up free community testing sites in northwestern Wisconsin, and Evers said similar sites would arrive in Madison and Milwaukee next week.
"We've made great progress in expanding our testing capacity these last few weeks and now we're taking the next step to help connect Wisconsinites through testing sites in their communities," he said. "Everyone in the state who needs a test should be tested."
Evers and health officials also said the state is soliciting donations of plasma from recovered patients, which can be used as an experimental treatment for those with severe COVID-19 symptoms. Health officials at Friday's briefing said patients generally can start donating 30 days after having the disease, and can consult with plasma donation centers on the best way to donate.
---
Recent Here & Now
//php dynamic_sidebar( 'news-sidebar-2' ); ?>