Evers Declares Public Health State of Emergency
Gov. Tony Evers declared a public health emergency in response to the spread of novel coronavirus.
By Will Kenneally, Zac Schultz | Here & Now
March 12, 2020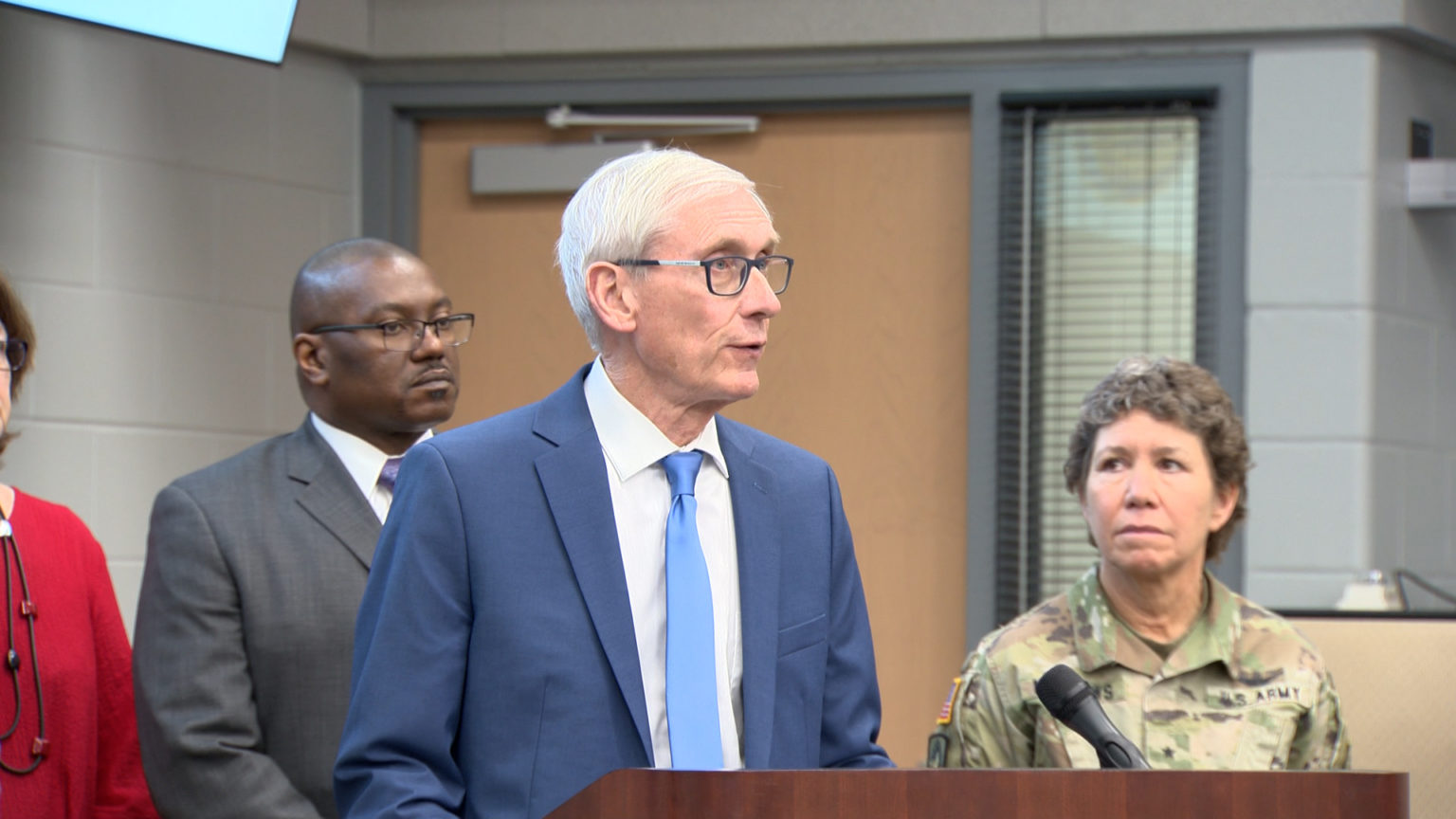 ---
Two more cases of novel coronavirus were confirmed in Dane County Thursday, bringing the state's total of active cases to seven. 
The two new cases both had direct contact with an earlier Dane County case, marking the first time that the virus has spread from human-to-human contact within state borders. 
"These cases should serve to remind all of us about the importance of social distancing and maintaining good hygiene to prevent the spread of the disease," said State Health Officer Jeanne Ayers.
The announcement comes the same day Gov. Tony Evers declared a public health state of emergency. The declaration allows the state to allocate resources to local health officials as well as provide support from the Wisconsin National Guard. 
Evers said he was not ready to ask public schools to close, because he said they can minimize risk to students while still providing essential services to the public beyond education.
"We have tens of thousands of folks in Wisconsin, including kids and older adults who rely on schools and non-profits in order to get their meals," Evers said. "Ensuring that those folks are taken care of is a top priority."
Andrea Palm, the Department of Health Services secretary-designee, asked Wisconsinites to avoid large groups of people and to stay home if they have symptoms.
"We understand that these significant steps are going to disrupt people's lives, but [we] are making these recommendations to protect the lives of the most vulnerable members of our families, our communities and our state," she said.
Earlier in the week, universities around the state announced that they would move to virtual classes once students returned from spring break. That came amid news Thursday that the NCAA would cancel the March Madness tournament. State high school basketball tournaments are scheduled to continue as-planned, but with limited attendance. 
At a news conference Wednesday, Dane County Executive Joe Parisi asked people to voluntarily avoid large groups. He said that could shift from voluntary to mandatory, at the discretion of the county director of public health.
"The director of Public Health has the power to enact statutory authority to prevent disease spread in the community," he said. "Should the spread of Covid 19 escalate the director of public health has the option to use this authority to order suspension of public events in the area."
A number of large crowd events have already been canceled, including tours of the Capitol and even campaign events.
"Most politicians spend all their time hugging and shaking hands, and those days are gone, at least for the immediate future," Evers said.
Federal Response
At the federal level, members of the Wisconsin congressional delegation said they are working to provide support for state efforts. U.S. Rep. Mike Gallagher, R-Green Bay, said he spoke with Evers to discuss that relationship moving forward. 
"A joint effort from all levels of government in partnership with our hospitals is the best path to prepare aggressively while avoiding panic," Gallagher wrote in a tweet. 
As the virus spreads and social distancing becomes a greater necessity, U.S. Rep. Gwen Moore, D-Milwaukee, said Congress should consider taking up paid sick leave legislation. 
Just ahead of the U.S. Capitol and Congressional offices being closed to the public, @Fredwistv asked @RepGwenMoore, D-Milwaukee, why she thinks the paid leave benefit is important. pic.twitter.com/OJruig6FoT

— PBS Wisconsin (@PBSWI) March 12, 2020
Election Concerns
In the wake of Evers's public health emergency declaration, members of the Wisconsin Elections Commission convened an unusual emergency meeting to discuss how the state should mitigate the impact that the coronavirus and the COVID-19 disease would have on the upcoming April 7 election. 
The commission passed two motions related to voting in nursing homes: opt for absentee voting instead of using in-person Special Voting Deputies, and to allow municipalities the ability to move polling places from nursing homes at the guidance of local health officials. 
"We've got a fluid and evolving situation here and we will do our best to stay on top of it and to provide guidance to the clerks," said Wisconsin Elections Commission Chair Dean Knudson.
For those with concerns, UW Health has a hotline (608-720-5300) residents can call for information about coronavirus and COVID-19. PBS Wisconsin has also partnered with WisContext to provide an aggregation of COVID-19 information here.
---
Recent Here & Now
//php dynamic_sidebar( 'news-sidebar-2' ); ?>