Wisconsin's COVID Condition: Diverging Geographies of Vaccinations and Variants
In St. Croix County, a jump in cases among teenagers and a plateauing of demand for the coronavirus vaccine illustrates how the second year of the pandemic is shifting in different places around the state.
By Will Cushman
April 30, 2021 • West Central Region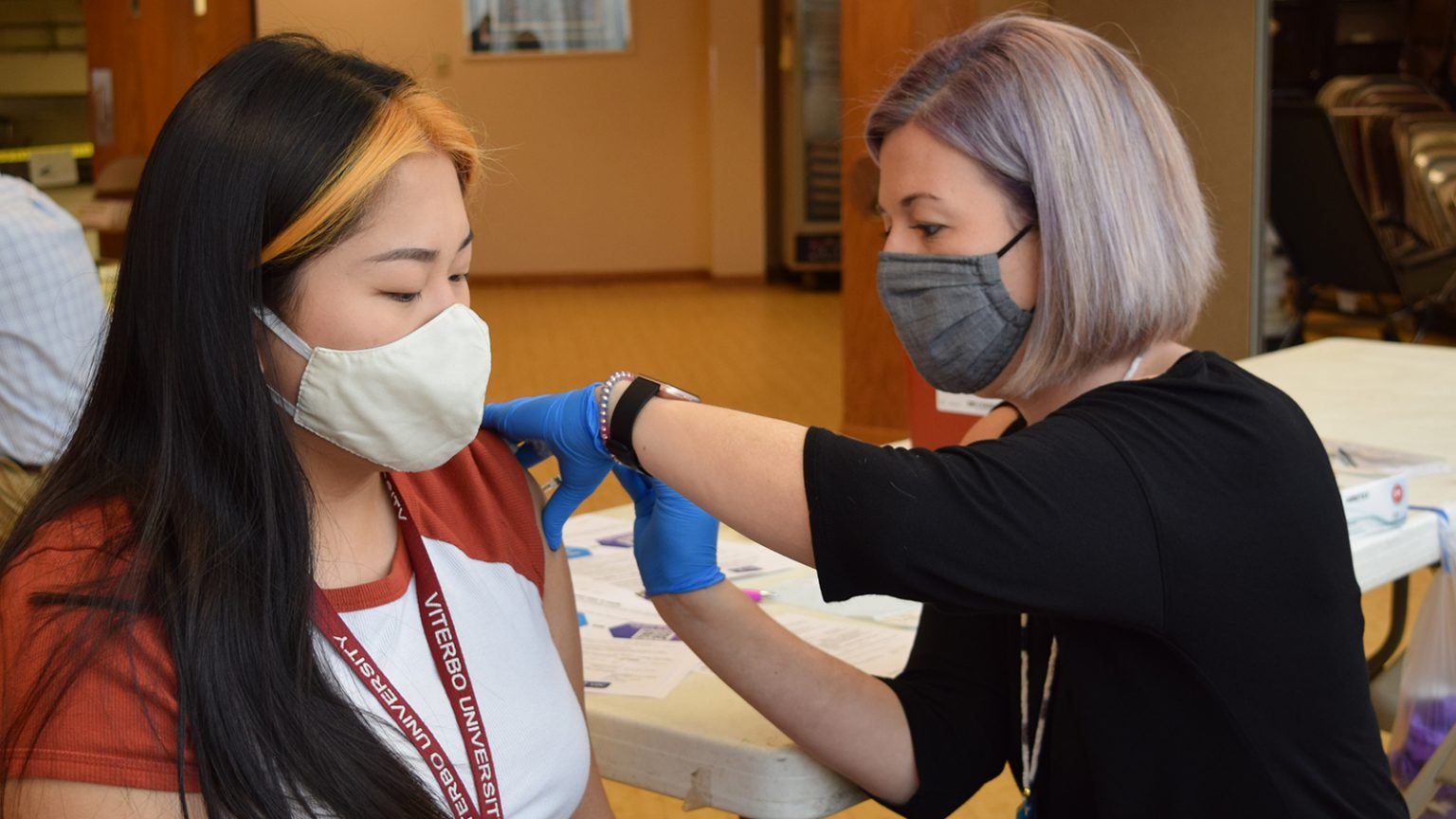 ---
One in three Wisconsinites are now fully vaccinated against COVID-19, but the pace of people getting shots is diverging across the state as demand begins to slacken.
At the same time, infections remain elevated compared to recent lows reached in March, with counties along the Minnesota border bearing the brunt of new cases. Still, Wisconsin has so far largely escaped the variant-driven surges seen in neighboring states.
Statewide, the 7-day average for new cases is hovering between 600 and 650, about twice its level a month earlier. Hospitalizations and deaths are creeping up as well, with the 7-day average for the latter at its highest point since early March.
More than a year since the COVID-19 pandemic hit Wisconsin, here's where things stand.
Diverging vaccination rates
More than four months after the first shots were given, about 2.5 million Wisconsinites have received at least one dose of a COVID-19 vaccine, according to state Department of Health Services data. Vaccination rates differ widely among different groups of people. More than 80% of residents 65 and older and about 60% of those ages 55 to 64. Nearly half of residents 35 to 54-year-old have received at least one dose. However, younger age groups continue to lag: only about a third of Wisconsinites 18-34 have received a first dose, along with about one in four 16- and 17-year-olds.
Racial and ethnic disparities in vaccination rates are also persisting in Wisconsin. White non-Hispanic residents continue to be getting the most shots, with more than 40% of having received at least one dose. Meanwhile, fewer than one in five Black residents, and about a quarter of Native American and Hispanic residents have received a first dose. The rate among Asian Americans is closest to white residents, at about 37%.
Meanwhile, geographic disparities in vaccination rates are becoming more pronounced.
As of April 30, Dane County leads the state with nearly 60% of its residents receiving at least one dose. Citing the county's high vaccination rates and stabilizing number of new cases in Wisconsin's second most populous county, Public Health Madison & Dane County has loosened restrictions on indoor and outdoor gatherings and increased capacity limits for bars and restaurants — the order takes effect May 5. A pair of rural counties with large proportions of retirees — Door and Bayfield — are close behind Dane in vaccinations.
At the opposite end of the spectrum, a trio of rural counties in west-central Wisconsin continue to lag well behind most parts of the state in vaccinations. Only about a quarter of residents in Clark, Taylor and Rusk counties have received a first dose of vaccine. Health officers in the counties have pointed to several potential reasons why these Wisconsinites are being vaccinated at rates seen elsewhere, including the presence of large Amish and Old Order Mennonite communities that typically decline vaccines.
Another factor increasingly being cited for diverging vaccination rates is politics. A nationwide analysis conducted in mid-April by the New York Times found that counties won by former president Donald Trump in the 2020 presidential election are more likely to have more adults who are hesitant to receive a COVID-19 vaccine and fewer adults already vaccinated. An analysis of Wisconsin counties by the Milwaukee Journal Sentinel found a similar dynamic taking shape.
However, presidential preference — and political views in general — don't account for all the differences in vaccine hesitancy and vaccination rates. Educational attainment and levels of income and wealth are factors as well, along with any number of other variables such as access to vaccination clinics.
Where new cases are highest
While vaccination rates continue to climb at uneven rates across Wisconsin, recent case counts are likewise diverging geographically. Counties bordering Minnesota along the St. Croix River have been reporting the highest number of new cases on a per capita basis in recent weeks.
The spread of more contagious coronavirus variants in Minnesota is one likely culprit for the higher case rates in the region. This dynamic is evident at the edge of the Twin Cities metro area in St. Croix County, where many residents commute to Minnesota for work. The county had long maintained one of the lowest per capita case rates in Wisconsin throughout 2020. Since late March, however, local cases rates have risen and remained stubbornly higher than most other parts of the state. Other counties along the Minnesota border, including Pierce, Polk and Burnett, are experiencing similarly high case rates, with new cases also rising farther from the border, including in Barron, Dunn, Sawyer and Washburn counties.
Kelli Engen, health officer for St. Croix County Public Health, said it's clear much of the region's rise in cases is tied to the spread of the B.1.1.7 coronavirus variant. First identified in Britain in late 2020, the more contagious variant has contributed to a spring spike in infections in Minnesota.
Given St. Croix County's close ties to the Twin Cities, Engen said it's no surprise the variant would take hold there too. She said even limited genome sequencing of local positive specimens has shown the B.1.1.7 variant is now prevalent. The state health department tracks several variants of concern in Wisconsin — its data show the highest rates of B.1.1.7 in the north central part of the state.
However, in a sign of the increasing impact of vaccinations, Engen said the majority of cases in the county are now among adolescents, many of whom are not yet authorized to be vaccinated.
"We've definitely seen a shift in who is getting COVID," Engen said. "Back in January, we were still seeing lots of cases of people 55 and older. Right now, our highest group that we are most concerned about are our 10 to 19-year-olds."
Additionally, Engen said while the test positivity rate in St. Croix County overall is high — the 7-day average stood at 27% at the end of April — it has plummeted among the county's oldest residents — a development she and her colleagues are taking as evidence of the efficacy of vaccines. Indeed, only 0.03% of Wisconsinites fully vaccinated for COVID-19 have so far subsequently tested positive for COVID-19 — or 605 out of about 1,800,000 — according to state data. As of the end of April, 85% of St. Croix County's residents 65 and older had received at least one dose of vaccine.
Overall though, St. Croix County and its neighbors to the north and south that are also experiencing higher case rates, are lagging Wisconsin as a whole in vaccinations. The rise in cases and lower vaccination rates are prompting health officials in the region to renew calls for residents to heed public health guidance and get vaccinated. This effort comes as health departments across the state begin to deal with slowing demand for vaccines.
"Last week was the first week where we had trouble filling the shot [appointments], or saw people not showing up for their scheduled appointment to receive a vaccine," Engen said.
Nationwide and worldwide
The rise in average daily COVID-19 cases, hospitalizations and deaths in Wisconsin over the past month remains well below surges in disease elsewhere. Michigan's recent spike, peaking in mid-April, nearly matched the severity of its fall 2020 outbreak, which occurred at roughly the same time as Wisconsin's worst surge. However, unlike along the St. Croix River, Wisconsin counties bordering Michigan's Upper Peninsula haven't seen higher rates: The spike in that state was much worse in its much more populous lower peninsula.
Nationwide, Centers for Disease Control and Prevention data indicate average new cases are falling again after plateauing for much of April. The falling case counts are occurring against a backdrop of rising vaccination rates, though divergences in vaccine coverage are emerging between different states.
Public health officials hope being able to once again offer shots from three manufacturers, including the single-dose vaccine produced by Johnson & Johnson, will help improve access. Federal regulators lifted a pause on administering the vaccine after concluding its benefits outweigh the risk of an extremely rare blood clotting side effect. The Johnson & Johnson vaccine is seen as a crucial tool for vaccinating difficult-to-reach communities because it doesn't require a follow-up booster shot as the Moderna and Pfizer vaccines do. It is also easier to store.
Health officials have warned Americans who received a first dose of the Pfizer or Moderna vaccines not to skip their second shot. Nearly 8% of those who got their initial shots have skipped their second doses so far, according to the CDC.
Other parts of the globe are not faring as well. India is experiencing its worst nationwide COVID-19 outbreak since the beginning of the pandemic. Cases have exploded in April just weeks after government officials there expressed confidence the nation had seen the worst. Hospitals in several major cities are overwhelmed and crematoriums are working around the clock. With less than 10% of its population of nearly 1.4 billion vaccinated, officials in India are blaming complacence and more contagious variants for the catastrophe.
Rising cases are prompting new restrictions elsewhere around the world as well, including in Japan, where the summer Olympic games are set to begin in just a few months. The Tokyo games were supposed to be held in summer 2020 before the pandemic prompted their postponement.
---
Recent Here & Now
//php dynamic_sidebar( 'news-sidebar-2' ); ?>