Wisconsin's COVID Condition: A New Vaccination Strategy, Border County Cases
The state health department is shifting its vaccine distribution system to an on-demand basis as enthusiasm for shots ebbs and new infections remain stubbornly high in some areas.
By Will Cushman
May 7, 2021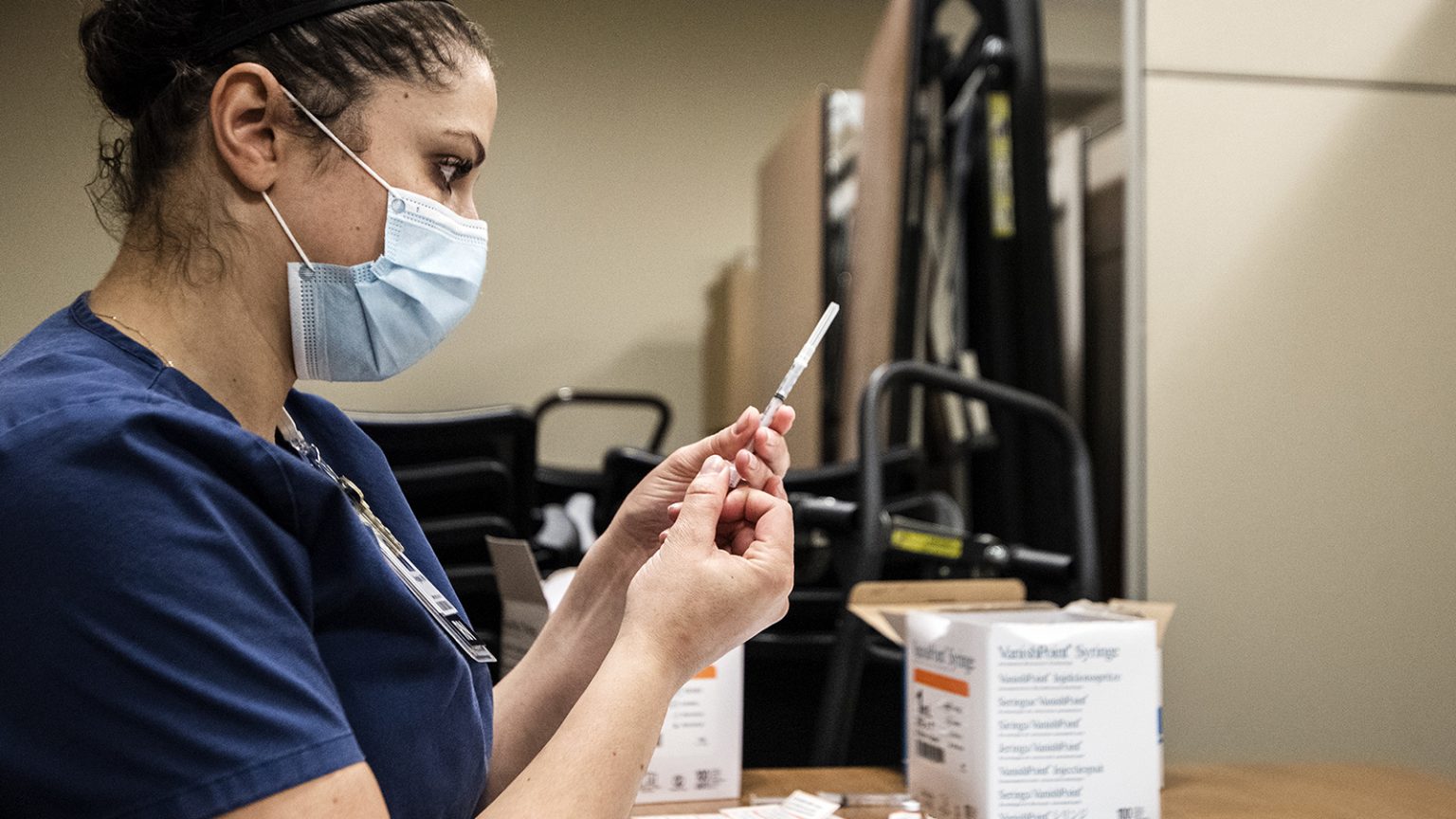 ---
One month after all adults in Wisconsin became eligible for a COVID-19 vaccine, demand for shots has fallen off as millions of eligible Wisconsinites remain unvaccinated.
At the same time, the average number of new daily COVID-19 cases in the state continues to be stuck higher than public health officials and medical providers hope to reach. An ongoing plateau in average daily hospitalizations and deaths for Wisconsin is also persisting.
Here's where the pandemic stands in Wisconsin in early May 2021.
Vaccination demand cools and supply stabilizes
With fewer than one in two Wisconsinites having received at least one dose of a COVID-19 vaccine, supplies of the three approved types have started outstripping demand. The problem is not so much an oversupply of doses but a recent drop off in demand, according to state health officials.
"I would call it a pretty precipitous drop in demand," said Julie Willems Van Dijk, deputy secretary for the Wisconsin Department of Health Services, during a May 4 press briefing. Willems Van Dijk noted falling demand for COVID-19 vaccinations is a nationwide phenomenon as health officials turn toward encouraging eligible residents who remain unvaccinated to get a shot. In Wisconsin, that's still more than 2 million people.
Vaccine hesitancy and access remain significant hurdles to overcome if the United States is to achieve President Joe Biden's goal of 70% of adults receiving at least one dose by the July 4 holiday. Nationwide, just 45% of Americans 16 and older have received at least one vaccine dose by May 7, according to the New York Times. That figure is even lower in Wisconsin, coming in at 44.1%, which is only about one point higher than a week earlier.
Regional differences in vaccination rates that emerged earlier in spring continue to persist. As of May 7, Dane County leads the state with more than three in five residents receiving at least one dose, while Clark and Taylor counties are still stuck with fewer than one in four residents receiving a dose.
Pronounced racial disparities in vaccinations also persist, with rates among Black Wisconsinites well behind other race and ethnic groups. Statewide, just one in five Black residents have received at least one dose. The gap is wide even in parts of the state with the overall highest vaccination rates. In Dane County, nearly three-quarters of Native Americans have received at least one dose, with the rate hovering around 56% for white residents, 48% for Asian Americans and 41% for Hispanic residents but just 26% for Black residents.
The drop off in demand is not unexpected as Americans have for months reported uneven enthusiasm for receiving a COVID-19 vaccine. While politics and education are playing a role in vaccine hesitancy, some unvaccinated individuals live in situations that make it difficult to easily access a dose, let alone the two doses required by the Pfizer and Moderna vaccines. Yet others are open to being vaccinated but are simply treating it as a lower priority and waiting for a convenient time to get a shot.
The situation, along with the circulation of more contagious coronavirus variants, has prompted epidemiologists to acknowledge the U.S. is unlikely to reach so-called "herd immunity," when enough people are protected against the virus to squelch its transmission.
More immediately in Wisconsin, the rapidly shifting situation is prompting health officials to retool the logistics of vaccine distribution as more doses go unused.
"We have turned the corner where we now have more supply of vaccine available to us than our vaccinators have ordered," said Willems Van Dijk. "It's becoming a very dynamic system."
She said some vaccinators are now canceling parts of their orders "because they [have] sufficient inventory, and they don't want to build up their inventory any further."
The buildup has resulted in a loss of 1-2,000 doses per week in recent weeks, Willems Van Dijk said, as opposed to weekly losses in the dozens or hundreds earlier in the year. Going forward, the distribution of COVID-19 vaccine doses will more closely resemble that of other vaccines, she said, with vaccinators given the ability to order doses on-demand and specify which manufacturer's vaccine they want to receive.
For those Wisconsinites who still haven't gotten vaccinated but want to, it's much easier to get a shot in early May than it was even a few weeks earlier. Willems Van Dijk said state-operated community vaccination clinics in Barron, Douglas, La Crosse, Marathon, Racine and Rock counties are now accepting walk-ins, as are federally-supported clinics in Eau Claire, Madison and Milwaukee.
Meanwhile, the two-dose Pfizer vaccine may soon be available to a group that has so far been ineligible for vaccination: younger adolescents. The U.S. Food and Drug Administration could approve Pfizer's application for emergency use of its vaccine among 12 to 15-year-olds as early as mid-May. That would likely temporarily bump up demand once again.
"We will be ready to distribute that and support our vaccinators in administering that vaccine," Willems Van Dijk said.
Vaccine approvals for even younger children likely remain months away.
The pandemic plateau
While demand for COVID-19 vaccines ebbs in Wisconsin, the state's share of unvaccinated residents remains large enough that the virus continues to easily spread. On May 4 the state surpassed 600,000 confirmed infections since the beginning of the pandemic.
The 7-day average for new confirmed cases of the disease has barely budged over the past two weeks and sits slightly above 600 new cases per day. While that average is lower than most of the nine months prior to March 2021, it remains much higher than health officials would like it to be as the disease has burdened hospitals and been a leading cause of death for Wisconsinites.
Counties near the Minnesota border in northwest Wisconsin continue to report higher new case rates on a per capita basis, which local officials have blamed on more contagious variants spreading across state lines. But rates are also beginning to climb elsewhere in the state.
A rise in new cases in Rock County along the Illinois border has led to a subsequent rise in hospitalizations there. Parts of central and northern Illinois have seen an uptick in new cases and hospitalizations in recent weeks, following the spring surge in Michigan and a spike in new cases in Minnesota. Local health officials in Rock County are once again urging residents to get vaccinated, wear masks and practice physical distancing.
In a May 5 press release, Rock County Health Officer Katrina Harwood warned that hospitals in that county, including in Beloit, Edgerton and Janesville, all reported a rise in inpatient treatment for COVID-19 in the last week.
"Rock County COVID-19 inpatient hospitalizations have come in waves. Recently, numbers have largely continued to rise," Harwood said. "In late February-March 2021, for example, the number of hospitalized COVID-19 inpatients was often in single digits throughout Rock County. Hospitals are now seeing those numbers double, triple, or even more."
---
Recent Here & Now
//php dynamic_sidebar( 'news-sidebar-2' ); ?>