Wisconsin's 2022 races for U.S. Senate, governor and attorney general take shape
Here's what candidates and campaigns in the state's highest-profile races – Mandela Barnes and incumbent Sen. Ron Johnson, incumbent Gov. Tony Evers and Tim Michels, and incumbent AG Josh Kaul and Eric Toney – are saying about their opponents as they look toward the fall general election.
By Zac Schultz
August 10, 2022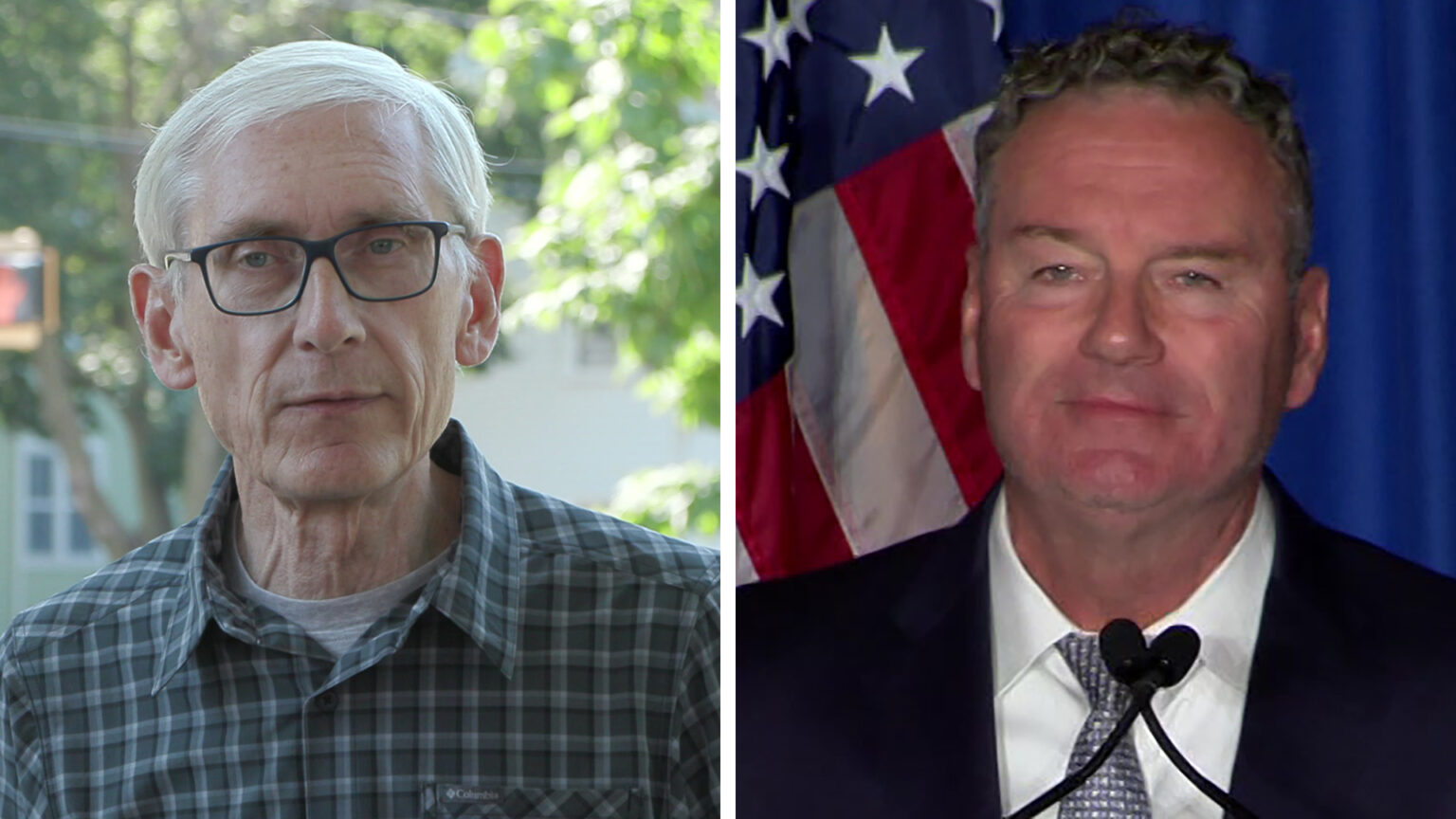 ---
Wisconsin's fall 2022 election slate is set, after the Aug. 9 primary delivered wins for two Republicans and one Democrat in three of the state's biggest races.
In the Republican primary for governor, business executive Tim Michels defeated former Lt. Gov. Rebecca Kleefisch.
Michels poured more than $12 million of his own fortune into the primary and also secured the endorsement of Donald Trump. Michels spent a lot of time and money attacking Kleefisch as an establishment Republican, but pivoted swiftly to criticizing his November opponent, Democrat Tony Evers.
From COVID to Kenosha, Tony Evers has failed our state. Riots and lawlessness, and murder and assault are all at 30-year highs. The state's economy has forced people to have to choose between filling up their tank and paying their rent. His support of radical, green-new deal style policies have led to higher prices at the pump and higher prices for everything from food to clothing.
Evers did not have a primary opponent, and said Michels has already defined himself by his actions in the primary.
After a scorched earth primary that's seen constant attacks and a dizzying race to the radical right, the Republican Party has chosen the most extreme and divisive nominee possible, one that will tell Donald Trump anything just to keep his endorsement. From abortion and voting rights, to gun safety and public education — Tim Michels has staked out the most extreme positions possible, with the goal of dividing our state and pitting neighbors against one another.
Democrats hope the U.S. Supreme Court ruling overturning the constitutional right to an abortion will motivate voters. Evers pointed out the stark contrast with his opponent.
Tim Michels wants to enforce an abortion ban from 1849 that has no exceptions for rape or incest, and he's previously said it's 'not unreasonable' for a rape victim to be forced to give birth. Michels has said he's open to overturning election results if he doesn't like the outcome, he's come out against common sense gun safety legislation that would protect our kids, and Michels has even said it was 'insanity' to invest more money in our public schools.
Michels will focus on Evers' decisions to close schools during the COVID-19 pandemic.
The state suffers from an education bureaucracy that puts the interests of unions before kids and parents and it has an election commission that willfully ignores the law. The state has failed to fulfill the promise we have made to our veterans. Perhaps most egregiously, Wisconsin under Tony Evers had a government that shut down schools and churches, forced mask and vaccine mandates, and deemed many workers non-essential.
Primary night lacked any real suspense in the Democratic primary for U.S. Senator. Lt. Gov. Mandela Barnes won easily, aided by his three closest opponents dropping out in the last few weeks and endorsing him. Barnes told PBS Wisconsin he has built the coalition to defeat incumbent Republican Sen. Ron Johnson.
The coalition we've built includes the entirety of the state of Wisconsin. We have small business owners, farmers, people from my hometown of Milwaukee, here in Madison, and all across the state of Wisconsin who've stepped up to support this campaign. Small business owners, again, from all parts of the state of Wisconsin and the coalition of family farmers that understand that our need to unite is greater now than it has ever been. There is an imminent threat with Senator Johnson in the U.S. Senate, threat to our democracy, a threat to our way of life. And we need leaders who are going to step in, say enough is enough. People are going to step in, put an end to these practices that have made it harder and harder for everyday people to get ahead. We have to change Washington, and only when we change Washington is when we change the people we send to Washington.
Wisconsin's race could be one of the tightest in the country and decide which party controls the U.S. Senate. Johnson's statement about Barnes after the primary reflected a national perspective.
Tonight it became official. The leaders of the Democrat party have chosen their most radical left candidate for the U.S. Senate race. It sure doesn't seem like Wisconsin voters had much of a choice in the matter. These are the same elite leaders who want to "fundamentally transform" America. Unfortunately, now we all know what that means: Open borders, forty year high inflation, record gas prices, rising crime, the indoctrination of our children, and a baby formula shortage. Regardless of how Mandela Barnes and his allies in the mainstream media attempt to paint his views, Wisconsinites should not believe a word they say. The Lieutenant Governor will support all the destructive policies of President Biden and his enablers in congress. This is a contest between radical left socialism versus freedom and prosperity. It will also pit the lies and distortions of Democrats and the media versus the truth.
One race that traditionally flies further under the radar is for Wisconsin attorney general. In the Republican primary for AG, Fond du Lac District Attorney Eric Toney narrowly defeated former legislator Adam Jarchow, with Chippewa Falls attorney Karen Mueller receiving considerable votes in third place. Toney said incumbent Democrat Josh Kaul has politicized the office and undermined support for law enforcement.
Josh Kaul has been lockstep with Tony Evers, where we need an attorney general that is going to stand with our law enforcement, public safety and the rule of law. And Josh Kaul has decided that's not going to be his top priority. Politics has been his top priority. And that's why we need a prosecutor and not a politician as our top cop.
Kaul did not have a primary opponent. Democratic Party of Wisconsin chair Ben Wikler issued a statement on Kaul's behalf.
Eric Toney made clear during the course of his primary campaign that he would say or do anything to get elected. From pursuing politically-motivated felony prosecutions of voters who made simple mistakes filling out paperwork, to seemingly telling two different stories about his support for the failed former president, Eric Toney has shown his true stripes as a Republican politician desperate to pander to a far-right base obsessed with overturning the 2020 election. Wisconsin needs a prosecutor, not a politician, as our Attorney General – and time and again, Eric Toney has shown he is a profoundly cynical politician, eager to tell others just what they want to hear in order to advance his ambitions.
The general election in all three of these races is on Nov. 8.
---
Recent Here & Now
//php dynamic_sidebar( 'news-sidebar-2' ); ?>