Wisconsin demonstrators express solidarity with Ukrainians, outrage at Russian invasion
Led by members of the Ukrainian diaspora, a rally at the Capitol in Madison was among several held across the state denouncing Russia's military aggression against the independent nation and showing support for those threatened by violence.
By Gaby Vinick
February 28, 2022 • South Central Region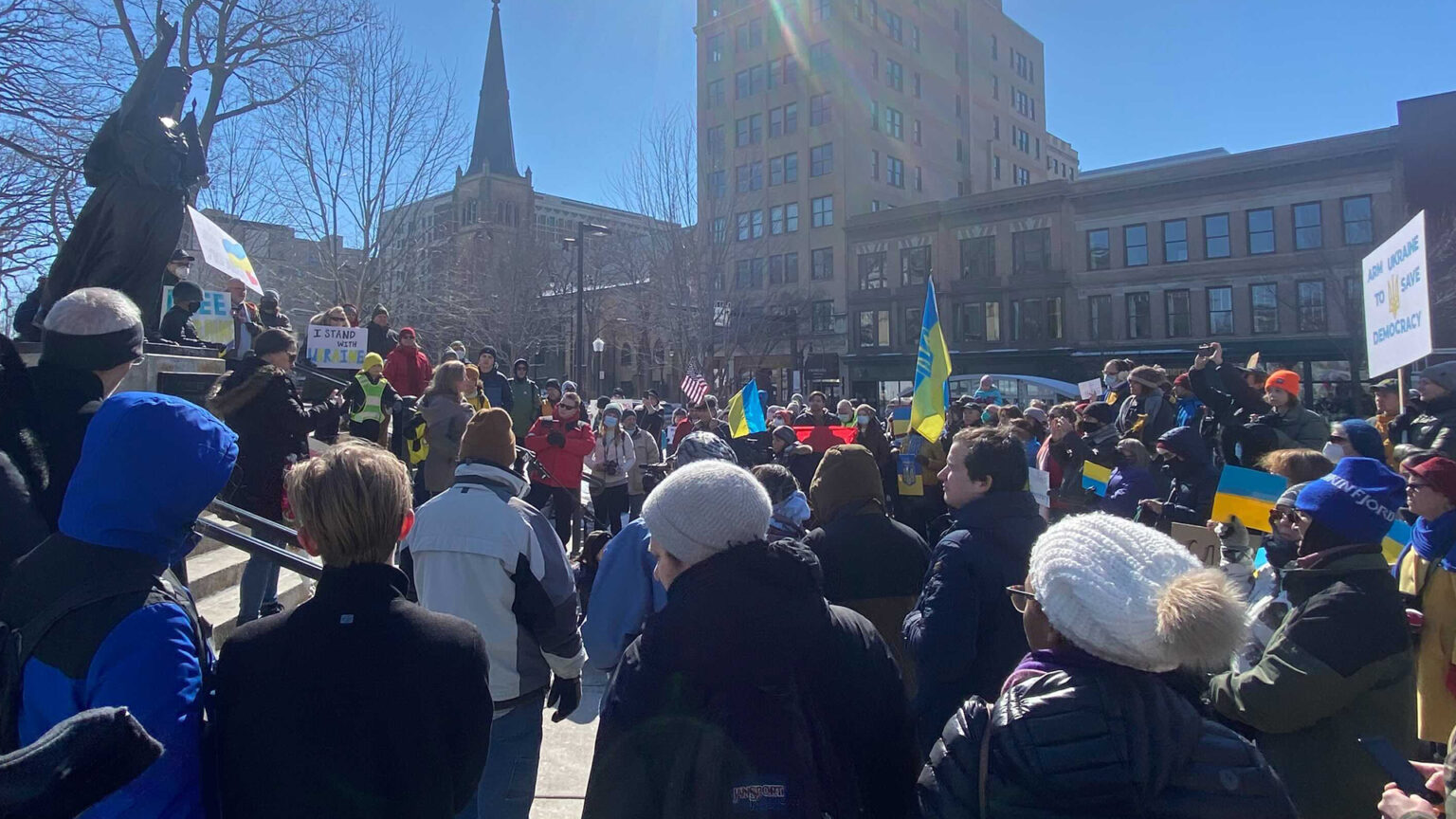 ---
It was a sunny day in southern Wisconsin on Saturday, Feb. 26, but the mood outside the state Capitol in Madison was somber.
Dressed in yellow and blue, a crowd gathered at the foot of the Capitol in solidarity with the people of Ukraine and to protest Russia's invasion of its neighbor. It was one of several rallies organized across Wisconsin in support of Ukrainians following the invasion, including in Green Bay and Milwaukee.
"This is my country. I can't just stay home," said Vlad Chubatko, who helped organize the rally in Madison. While Chubatko lives in Madison, his family, who is spread out in Kyiv and other parts of Ukraine, including Crimea, is watching their homeland under siege from near and far.
For Chubatko, this demonstration was more than a protest. It was a moment to call attention to his home country, demand support and find community with other Ukrainians in Wisconsin. People who identify as ethnically Russian also came out to show their support. It was one snippet of the pain and strength people across the world are feeling as they condemn the assault on Ukraine ordered by Russian President Vladimir Putin.
"People have to help more," Chubatko said. "Together we will stop Putin."
Chubatko and others organized the event on Facebook as a demonstration of the resistance not just built on the front lines in Ukraine but rising around the globe, including in Wisconsin.
When the invasion began days earlier, Chubatko said all he could think about was his family and his country. His mother is based in Chernivtsi, in the western part of Ukraine.
Another demonstrator, Iryna Feldman, whose parents and relatives are also in Ukraine, gave a speech at the event.
"Ukrainian people are free people," she declared. "They do not answer to Putin. They do not submit to terrorists," Feldman said over a loudspeaker. "People are asking, 'How do you feel?' Not upset. I'm mad."
Feldman continued: "I'm mad because Putin is doing this atrocity and the world is watching. Humanity will prevail. Ukraine will prevail."
Children and families across generations could be seen waving Ukrainian flags and heard singing the Ukrainian national anthem.
Yevhen Muzyka held up a poster board inscribed with a message: "Help defend us."
"We need a lot of help, more defense," Muzyka said.
Chubatko's family and friends sent him videos of Russian bombings in Ukraine. He said he had barely slept since the attack started, only getting about four hours of sleep a night.
"It's just terrible, so terrible," he said. "I wish all of the world would stand up and stop these terrorists. I'm really worried."
Despite his all-consuming fears, Chubatko said he was inspired by the strength of the people in Ukraine. In Madison, he felt a sense of unity to see people come together in the heart of Wisconsin.
"I feel grateful," he said. "I really appreciate everybody who supports us. We have to bring peace for Ukraine and for our world."
Marika Olijar, a second-generation Ukrainian and graduate student studying political science at the University of Wisconsin-Madison, also described a feeling of gratitude at the demonstration.
"I think that was powerful to see the Madison community get together," she said. Olijar's friends and extended family live in Ukraine and Poland.
Olijar moved to Madison in August 2021 and is still in the process of slowly connecting with the local Ukrainian community. Still, Olijar felt moved seeing colleagues from her department show up to stand with Ukraine. Another protest on the UW-Madison campus, mostly organized by Russian students, was held a few days prior to the demonstration at the Capitol.
"Since I don't have those people around, it just feels a little more lonely experiencing this conflict," Olijar said. She emphasized that while the attack on Ukraine shocked her, Ukraine had already been fighting a war against Russia-backed separatists in the Donbas region for eight years.
Regardless of whether they have family or friends in Ukraine, people in the Ukrainian diaspora are embedded in other communities and feel an unbreakable connection with their country, Olijar said.
"Their voice matters, and I think it's important to highlight that too," she said. "Everyone's on my mind. We're all connected."
---
Recent Here & Now
//php dynamic_sidebar( 'news-sidebar-2' ); ?>