Protests Take Root in the Northwoods
It's not only Wisconsin's bigger cities seeing demonstrations in the wake of George Floyd's death.
By Andy Soth | Here & Now
June 4, 2020 • Northeast Region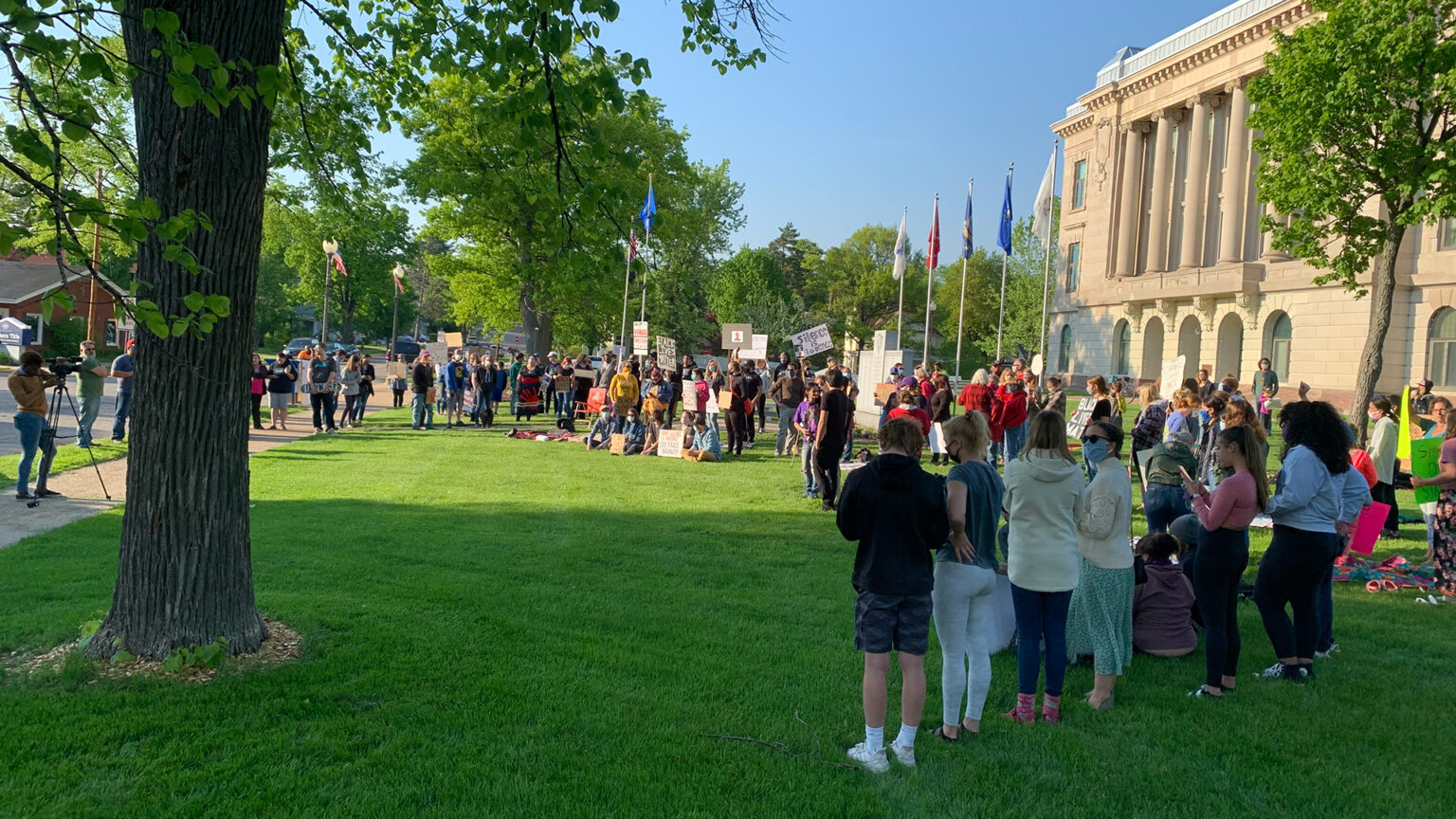 ---
Rhinelander has not seen many protests over the years. The seat of Oneida County which favored Donald Trump by 17 points in 2016 is better known as the home of the mythical Hodag.
But troubling national events after the death of George Floyd at the hands of police in Minneapolis have become all too real, even to this quiet community. And that has motivated action in Rhinelander and all over Wisconsin.  
"I saw so many peaceful protests around the country. That's really what inspired me," said Rhinelander resident Matt Campbell. "And I wanted to be showing solidarity as well. I wanted to be out there."
Being out there became a solidarity demonstration at the county courthouse Monday evening, quickly organized by Campbell. 
"I put out the call into the Facebook post," Campbell said. "It was late at night on Sunday, went to bed and then when I woke up, it had kind of blown up." 
That blow up included both enthusiastic responses to the original post and a lot of speculative commentary elsewhere on social media about what a protest might mean in Rhinelander.
"People recommended arming and guarding stores," reported protest participant Keziah Williams-Alloway in an online interview, adding "they had heard protestors were being bussed in from Milwaukee."
Ultimately about 100 people demonstrated peacefully with some counter-demonstrations witnessed by Willams-Alloway. 
"There were some trucks flying American flags that drove by several times, specifically one that had Trump 2020 written all over the window," Williams-Alloway described. "Some people gathered across the street with arms crossed observing, and I noticed one man on a 4-wheeler with 'All Lives Matter'."
But many observers were supportive, according to Campbell. "Most people that drove by were very positive, had very positive reactions with honking, excited to see that we were out there demonstrating."
Coverage by the local newspaper, the Star Journal, noted that Rhinelander is 90% white and that proportion was consistent with the diversity represented by the protesters. Williams-Alloway, a member of the Forest County Potawatomi, held a sign proclaiming indigenous solidarity with Black Lives Matter. On Facebook she noted statistics that native people are the ethnic group most frequently killed by law enforcement.
But the turnout by Rhinelander's white population was what gave the event special significance to Campbell, even as there was discussion in comments to his original Facebook post about who would be most appropriate to lead the action.
"I wanted to show that, 'Hey, you're not alone. We see this and we want to put an end to it as well,'" said Campbell.
While the original call to action by Campbell was posted to the Democratic Party of Oneida County Discussion Group Facebook page, he doesn't see this as a partisan issue. Williams-Alloway, who took up Campbell's call to action by creating a Facebook event page for the demonstration, is an independent voter.
"I have people that are contacting me and telling me they now have a much better understanding of the issue," Campbell said. "And I know that they would identify as right-leaning or Republican or whatever you want to call it. Which typically you would not associate with this viewpoint. That's why I say this clearly struck a chord."
The Rhinelander action also struck a chord with other Oneida County communities. A similar demonstration is planned for Woodruff, population 1,964, on Friday.
Campbell takes the fact that demonstrations have filtered down to smaller communities as an indicator that change may come. He is even hopeful those communities might lead by example.
"Maybe it is because we're a small town and we have to coexist. Everybody kind of knows everybody that it's like, 'Hey, I don't want to ruin my relationship with you over this,'" Campbell said. "I want to find some common ground that we can work together on to move forward on whatever we find are the common issues. We both agree that this needs to change."
---
Recent Here & Now
//php dynamic_sidebar( 'news-sidebar-2' ); ?>