Northeast Wisconsin's Coronavirus Vaccinations Get a Boost at Lambeau Field
Here & Now Extra: By the end of June, a community clinic at the home of the Green Bay Packers is gearing up to vaccinate tens of thousands of people from around the region.
By Kristian Knutsen | Here & Now
March 23, 2021 • Northeast Region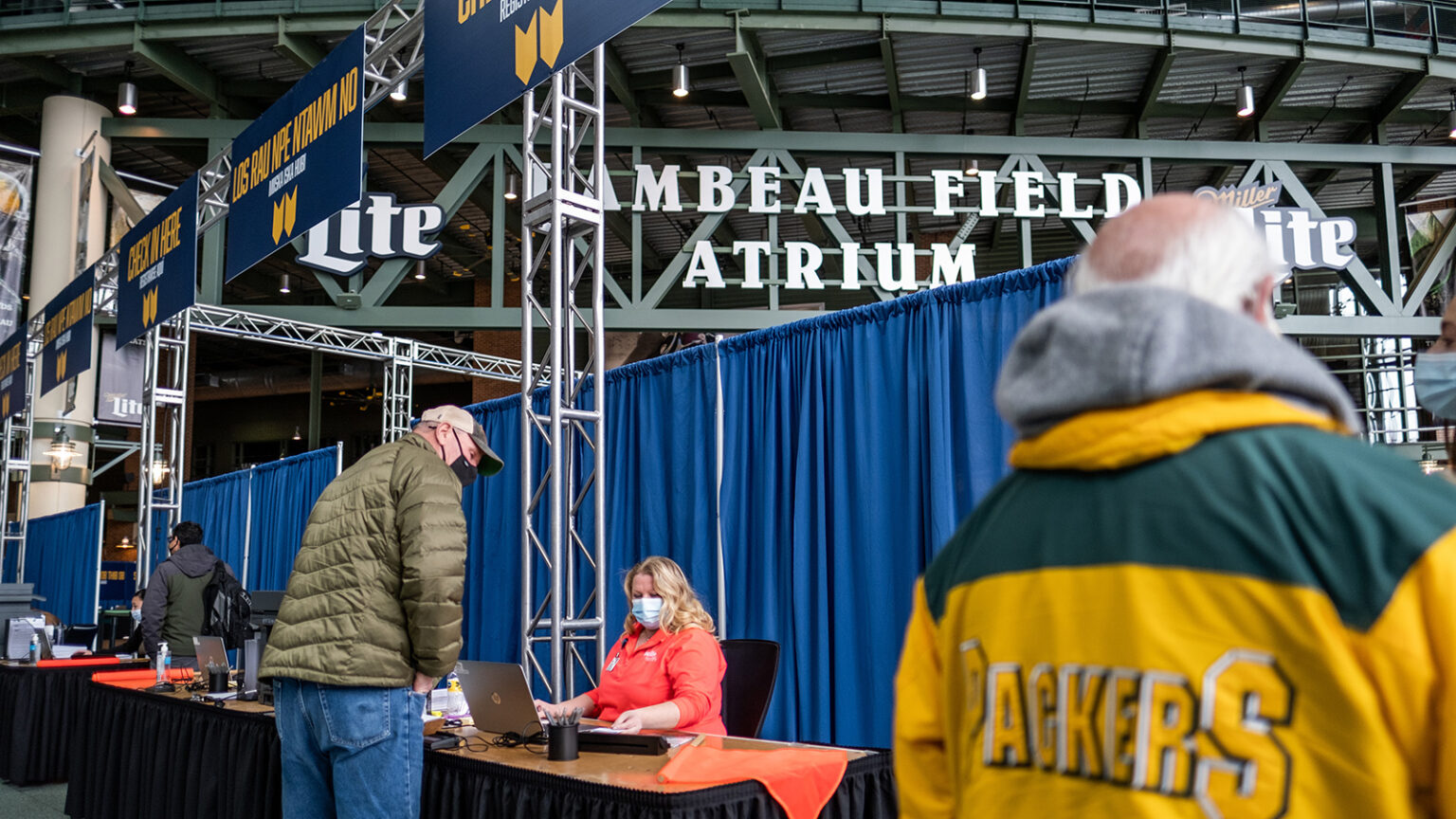 ---
The stands at Lambeau Field sat mostly empty while COVID-19 raged through the tail end of 2020 as the Green Bay area and surrounding swaths of northeast Wisconsin were hit particularly hard by the pandemic. The Packers didn't play before substantial numbers of fans until the postseason in January 2021. In a matter of just a couple weeks, though, more people will pass through the storied stadium to get vaccinated for the coronavirus than were able to watch those playoff games in person.
Starting on March 17, Lambeau Field opened its doors for a COVID-19 community vaccination clinic operated by Brown County Public Health, Bellin Health and the Green Bay Packers. These vaccines are being provided at no cost.
This clinic is operating in the stadium's cavernous Atrium, though organizers indicate its footprint could be expanded depending on weather conditions and vaccine supplies. Should those supplies be sufficient, the clinic could vaccinate up to 6,000 people weekly, with an intention to expand its capacity up to 10,000 per week. The county's operations plan for the clinic focuses on equity in terms of its free access, maintaining extended hours, community outreach, multilingual communications efforts, transportation support and open access to all eligible patients.
The Lambeau Field clinic is scheduled to run until the end of June, which gives it roughly 15 weeks to vaccinate as many people as possible.
Vaccinations are open to individuals who are eligible per state guidelines, which expanded March 22 to include those with any of 20 health-related conditions, covering more than two-thirds of adults in Wisconsin. People interested in signing up for a vaccine need not be patients of Bellin, but they do need to sign-up for an appointment online (or via phone) as walk-in patients are not being accepted, at least not so far. Patients are required to wear masks at all times and wait 15 minutes for monitoring after receiving their vaccinations.
Dr. Michael Landrum, an infectious disease specialist with Bellin Health, spoke about the Lambeau Field clinic in a March 19 interview on Here & Now. Landrum discussed the public health rationale for large vaccination operations of this type, public demand for vaccinations, and the expanding stocks of vaccine supplies, with three different types being administered, manufactured by Pfizer, Moderna and Johnson & Johnson.
"We need places where people can go to get vaccinated that are widely available, easy to get to, can get large numbers of people through in a short period of time in an efficient manner as soon as possible," said Landrum.
He characterized the situation more than a year into the pandemic as "a race between the vaccine and the virus," referencing the critical period when efforts to expand vaccinations seek to outpace the spread of emerging coronavirus variants.
What's the status of coronavirus vaccine administration in northeastern Wisconsin, and how far does the region need to go given the numbers of residents who have been vaccinated so far?
Here & Now extra
In terms of its population, northeastern Wisconsin has seen as many confirmed COVID-19 cases as any part of the state, and for a period of several months at the end of 2020, the region's numbers were easily among the state's worst.
As of late March 2021, both Brown and Kewaunee counties are among Wisconsin's 10 hardest hit counties in terms of COVID-19 cases on a per capita basis, while Oconto, Shawano and Calumet are among the 15 highest. In the region, only Door and Manitowoc counties fall below the state's median level of 9,837.3 cases per 100,000 people as of March 22.
Altogether, a total of 76,860 confirmed COVID-19 cases have been reported as of March 22 in Brown County along with neighboring Calumet, Door, Kewaunee, Manitowoc, Oconto, Outagamie and Shawano counties. That figure represents more than 13% of Wisconsin's total case figure, or nearly one in seven cases statewide. Within those eight counties, that confirmed case total represents over 10% of the total population, which was over 708,000 as of 2019.
As for vaccinations, a total of 98,391 residents of Brown, Calumet, Door, Kewaunee, Manitowoc, Oconto, Outagamie and Shawano counties have completed their series as of March 21, representing nearly 14% of the eight counties' population. Since the Wisconsin Department of Health Services started reporting county-level vaccination figures in mid-February, the percentage of these counties' populations receiving the vaccine has slowly but steadily increased.
When taken together, the individual vaccination rates in Brown, Calumet, Door, Kewaunee, Manitowoc, Oconto and Shawano counties lag behind the statewide level, which approached 15% as of March 21. On its own, Door County is outpacing the state and region considerably, with more than one in five of its residents completing their vaccine series so far. Manitowoc County has pulled up to the state level, while Calumet County lags with less than one in eight of its residents fully vaccinated so far — the rest of the eight northeastern Wisconsin counties fall in between those two.
With coronavirus vaccines authorized for many individuals ages 16 and older, and eligibility for the distribution expected to expand to Wisconsin's general population by the start of May, that leaves hundreds of thousands of vaccinations to go in this region around Green Bay. As for those adults who have faced a bout of COVID-19, public health authorities still recommend they get vaccinated.
In the Here & Now interview, Dr. Michael Landrum noted that the Lambeau Field community clinic is expecting to deliver around 3,000 to 5,000 coronavirus vaccinations per week, but plans are to double that figure or more as vaccine supplies grow. Meanwhile, the formal announcement about the clinic indicated an initial weekly capacity of 6,000 weekly vaccinations and a goal of 10,000.
With a roughly 15-week run, that capacity means the Lambeau clinic could vaccinate as many as 90,000 to 150,000 people overall. It's a big chunk of the total number of vaccinations needed in the eight counties to hit the 80% of the population threshold goal for herd immunity, perhaps as much as a third if the capacity goals are reached.
Landrum was optimistic about the interest in vaccinations among those people already eligible.
"We've seen overwhelming demand here locally in the Green Bay area, northeast Wisconsin as well," he said. "So that has been very, very encouraging. I really hope that the demand like that continues as we expand to these other groups."
As for vaccine hesitancy, Landrum pointed to educational efforts and the role of the doctor-patient relationship as a means for encouraging more people to get vaccinated. He also discussed patients' concerns about variation in the efficacy rates of different vaccine types, and emphasized that virus variants and the high level of protection all vaccines provide against serious COVID-19 infections complicate any head-to-head comparisons.
Wisconsinites who live outside the eight counties in question may also seek vaccination at the Lambeau Field site, such as Waupaca and Winnebago counties to the west and south. As for Marinette and Florence counties to the north, Bellin is operating additional vaccination sites at its facility in Marinette and another at its facility in Iron Mountain, Michigan. The Lambeau Field community clinic is replacing its previous Green Bay area vaccination operation, which was located at its Ashwaubenon facility a couple miles away across Interstate 41.
Bellin Health is providing more information related to making appointments for the Lambeau clinic or other vaccination questions in its COVID-19 resource page. The healthcare provider is also seeking volunteers to help keep its operations up and running at Lambeau. Brown County Public Health also maintains updated information about vaccination distribution by other healthcare providers and pharmacies in its jurisdiction.
The Lambeau Field clinic is among a handful of COVID-19 community vaccination sites around Wisconsin operated by different organizations. One in Rock County started administering vaccines in mid-February, and organizing for several more was put into motion shortly thereafter, with a joint clinic set for Douglas and Barron counties, along with others based in La Crosse, Marathon and Racine counties. Another clinic in Eau Claire County is also in the works.
---
Recent Here & Now
//php dynamic_sidebar( 'news-sidebar-2' ); ?>