Home retrofits are a burgeoning business in the campaign against climate change
Entrepreneurs and government programs in Wisconsin are connecting with homeowners to improve the energy efficiency of buildings and reduce carbon emissions – in Milwaukee, this work connects with efforts to improve community equity.
By Gaby Vinick
May 10, 2022 • Southeast Region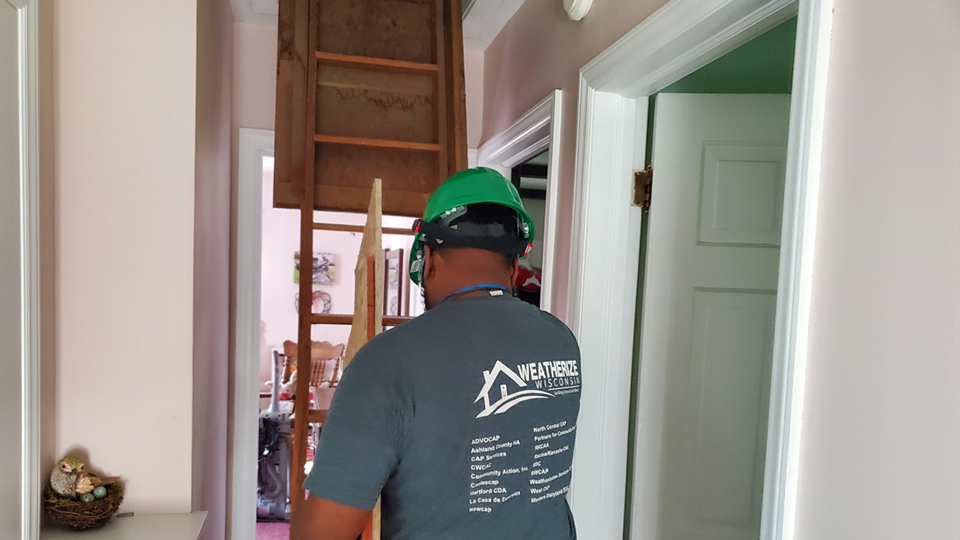 ---
The bungalow-style house wasn't built to conserve energy. With its archway entries, wood trim and "unique character," Gisela Ortega believes it belongs in a fairytale. It may have been built in Milwaukee's Washington Heights neighborhood in 1924, but nearly a century later it is one of many homes around Wisconsin being retrofitted to cut energy costs, and in turn, reduce carbon emissions.
"It's something I've been wanting to do since I purchased this home, but the reality of bringing another person into this world was honestly my kick in the butt to do it," said Ortega, 31, who works as startup community director at the venture capital firm gener8tor.
Since upgrading her heating and insulation systems in April, Ortega is quickly reaping its benefits during a cool spring.
"It's great because my home already feels so much warmer," Ortega said. Her furnace used to run three to four times within an hour, but since she retrofitted her home, it's "maybe once an hour."
Home energy efficiency incentives, challenges
Many Americans meet their electricity needs at home through the burning of fossil fuels. As of 2021, natural gas accounted for more than 69% of home heating in the United States. Overall, electricity production amounted to 25% of greenhouse gas emissions, only trailing behind transportation, according to the U.S. Environmental Protection Agency. Meanwhile, home heating constitutes one-fifth of all energy consumption across the nation, according to the U.S. Energy Information Administration.
In order to avoid worsening effects of climate change, global temperature increases must be kept below 1.5 degrees Celsius, according to an April 2022 report from the United Nations. While research indicates a goal of under 2 C can be achieved if national climate pledges are met, warming has already risen above preindustrial levels by 1.1 C.
In an effort to accelerate Wisconsin's transition toward greater energy independence, Governor Tony Evers and the state Office of Sustainability & Clean Energy on April 19 released a Clean Energy Plan for the state.
Maria Redmond, the office's director, said a primary focus is to shift away from fossil fuels through supporting energy efficiency technologies, such as air source heat pumps.
"What the Clean Energy Plan looks at is, what do we do now — what technology is available now, and where can we get a wider reach?" said Redmond.
Even fervent supporters believe it will take more palpable motivation among home and rental property owners to see more people embrace energy efficiency retrofitting.
Victor Nino, a consultant for the environmental advocacy nonprofit Clean Wisconsin, explained the costs of retrofitting can be a deterrent. Another issue is that energy efficiency is rarely prioritized against the backdrop of more pressing issues for the home budget — even if upgrading results in savings.
"There's some areas of Milwaukee where the energy bill is so high that it's a major percentage of the total salary or the total income for that family," he said.
In a way, it's similar to climate change — if people can't see its short-term effects, it may not spur action.
Douglas Reindl, a professor of mechanical engineering at the University of Wisconsin-Madison, said there is no magic bullet solution when it comes to home energy efficiency.
Some existing buildings will be around for a long time, he noted. In those cases, when owners have an opportunity, it can be a good time for an infrastructure upgrade. However, it's different for homes that are in disrepair.
"I don't think people generally are going to take working hot water heaters, furnaces or air conditioners, and say, 'Well, I'm just going to retire that and replace it with something that's more efficient,'" he said.
Even with these limitations, retrofitting is a burgeoning business.
Monte Kirk, a crime analyst for the Milwaukee Police Department, worked with Green Homeowners United to insulate his attic through GreenPenny, a virtual, carbon-neutral bank aimed at financing solar energy.
The contractors zipped in and out, refurbishing the interior in a matter of two days, Kirk said. His motivation? Saving money.
Likewise, Gisela Ortega found the process to be quick and affordable for her ⁠— upgrading the insulation system came out to under $15,000 after receiving assistance from the city of Milwaukee in the form of a low interest loan.
Although covering such costs can be a hindrance for people with lower incomes, it's only one type of barrier. Another issue can be lack of awareness about available resources.
"A lot of homeowners may not even know that they have a problem, or they might think the problem is windows instead of insulation, so I think there's some information barriers as well as financial," said Erick Shambarger, director of the city of Milwaukee's Environmental Collaboration Office.
U.S. Rep. Gwen Moore, D-Milwaukee, also reiterated the importance of increasing awareness about options.
"Education is what people need right now — to know that this is available and that they are eligible," she said.
How a home gets retrofitted
The first step to retrofit a home and make it more efficient is getting an energy audit.
Clean Wisconsin consultant Victor Nino compared it to a health check-up.
"You have to go to the doctor to see what is wrong with you — it's basically saying, what are the priorities here?" he said.
In the case of a home audit, an energy engineer inspects the structure and its infiltration and insulation levels.
Karl Hilker, senior market outreach manager with Focus on Energy, a statewide energy efficiency program, said that Wisconsinites can apply through the group for incentives to retrofit their home.
Hilker works with a network of contractors across the state on "Trade Ally" solutions that offer residential HVAC insulation, air sealing, and other renewable energy and energy efficiency assistance and expertise. Some 300,000 businesses are eligible for such services, as well as more than 2 million households and rental properties around the state, according to Hilker.
"Accessing the incentives is as simple as filling out a one-page incentive application form," he said.
In terms of incentives, Hilker explained that means income-qualified applicants can earn money to upgrade their heating and cooling equipment. The payback on installation of new thermostats, for instance, can result in savings because the heating system does not run as frequently, he added.
There are some opportunities that have low or no costs as well. For example, Focus on Energy offers energy efficiency packs that consist of LED light bulbs, low-flow faucets and other products, all of which are free to homeowners and renters.
Monte Kirk wants people to know those little pockets of energy lost can add up.
"People don't know about the loss of energy that is leaving their home," he said. "But the little gaps that are there from the doors or windows, even through the basement, things that you don't pay attention to…not being patched up has a very big impact on their energy costs."
Retrofitting — particularly adding insulation and sealing the exterior of a residence — is also meaningful given Wisconsin's seasonal temperature shifts.
"Winter is pretty energy-intensive for home heating. And it's sort of life or death from the standpoint that we don't live in a climate where it's easily survivable without some form of heat," UW-Madison engineering professor Douglas Reindl said.
Reducing carbon emissions
Keith Kinch has the same vision in 2022 as in 2014, when he co-founded BlocPower, a Brooklyn-based climate technology company focused on retrofitting homes and other buildings in cities, particularly in moderate to lower income areas.
In one project in Buffalo, New York, BlocPower provides a no money down lease option for air source heat pump systems to lower operational costs for building owners. In Wisconsin, the company has partnered with the American Family Insurance Institute for Corporate and Social Impact to expand broadband access to historically disadvantaged groups in Milwaukee.
"It's great if you're driving home and you can use your phone to control the heating and building or get data to the utility in what you're doing," Kinch said.
Kinch said BlocPower tells building owners that upgrading not only lowers carbon emissions and operational costs, "but it also makes your air cleaner and your buildings safer."
Ultimately, BlocPower aims to mitigate one contributor to climate change by making structures more energy efficient.
"I want a future where I don't need to learn how to swim well to take my grandkids to school," said Kinch. His family is from Barbados, where he described the effects of global warming as "very real."
Kevin Kane, chief economist at Green Homeowners United, views retrofitting homes as an opportunity to "be rewarded for doing the right thing."
"It's one of the biggest opportunities for people to fight climate change but also help create living wage jobs and save money in the process," he said.
For Victor Nino, the fight to combat climate change also hits a personal nerve.
"Sustainability is basically trying to reduce or use less energy today. So my kids, my grandkids will also have energy and resources for tomorrow. For me, that's most important," he said.
Reducing energy bills
In late March, the Biden administration announced plans to allocate $3.16 billion toward retrofitting low-income homes in an effort to increase energy efficiency and reduce utility bills. The investment comes from the $1.2 billion bipartisan infrastructure law passed in 2021 and allows states, territories and tribal governments to submit an application through the Weatherization Assistance Program, a U.S. Department of Energy's residential energy retrofit initiative.
"This is the program that specifically looks to help low-income homeowners and renters in addition to building more energy-efficient things like insulation, windows, heating systems, things like that," said Kevin Kane. "It's not always as glorious and as exciting as solar. But if anything, it's more important."
The funding is expected to increase the number of homes upgraded through the program from 38,000 annually to a total of 450,000. The retrofitting process involves installing energy-efficient appliances, insulation, and heating and cooling systems.
In March 2022, a city working group issued its Climate and Equity Plan summary recommendations outlining its goals to invest in communities of color through "green" jobs and cut its carbon emissions to a net zero level by 2050. The city's recommendations note that residential buildings in Milwaukee accounted for 31% of its greenhouse gas emissions in 2018.
"Energy is a real big part of people's household income. If we can reduce their fossil fuels and their energy bill at the same time, that's a win-win," Milwaukee sustainability director Erick Shambarger said.
"Homeowners are often spending a much higher percentage of their income on energy bills, not just a percentage of their income," he added. "In some cases, they're spending more in real dollars on energy than higher income homeowners because those homes have older appliances and may not have been insulated…things like that."
U.S. Rep. Gwen Moore offered a similar analysis.
"I think that this is just a win, win, win situation all around, and it is done to support the health of the most vulnerable residents, including seniors and children," she said.
President Joe Biden's plans also aim to fulfill his Justice40 promise — to deliver 40% of federal climate change investments "to disadvantaged communities that have been historically marginalized, underserved, and overburdened by pollution."
As a Latina who grew up in an underrepresented area, Gisela Ortega was grateful for the opportunity to learn about and pursue home retrofitting resources, connecting with the city of Milwaukee's Me2 program and Green Homeowners United.
"Sometimes when you're going through these big projects, it's really scary. And sometimes you don't know who you can trust. But these types of programs really provided it all on a platter for you," Ortega said.
Ortega added that some of her friends are also starting to consider retrofitting as they think about homeownership.
"It's worth the investment," she said.
---
Recent Here & Now
//php dynamic_sidebar( 'news-sidebar-2' ); ?>