Home Movies: A Visit with PBS Wisconsin Director's Cut Host Pete Schwaba
Thoughts on the movie industry during the pandemic
May 19, 2020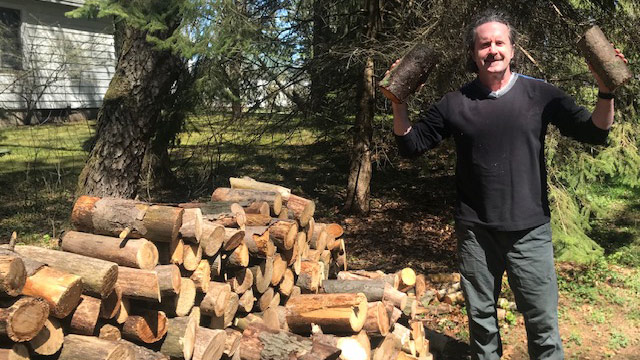 When Marinette-based Pete Schwaba, host of PBS Wisconsin's Director's Cut independent film showcase, started his quarantine at home on March 20, he figured he'd have an abundance of time to watch movies, play games with his family and maybe learn a new hobby. Nine weeks later, he's not so sure.
"It's great having all of us home under the same roof, but it's strange how you still find things to occupy your time," Schwaba said.
A typical workday for Schwaba, who in addition to his TV hosting duties, is also a writer, filmmaker, radio host and comedian, starts with emails, then some writing, followed by catching up with his wife over coffee. Meetings on upcoming projects and overseeing his daughter's homework fill the rest of the day.
Schwaba also devotes time researching and contemplating the movie industry, now in an intermission due to the pandemic. He said the COVID-19 interruption might permanently change the way movies are made.
"The guerilla style of indie filmmaking lends itself more to either breaking the rules of social distancing or being able to keep people apart on the set when there's a smaller crew," he said, adding that this includes, "the smaller budget films that use skeleton crews like a lot of the films we have on Director's Cut. They'll be up and running quicker than big studio films."
Schwaba said he doesn't know how the large film studios will proceed. With hair and makeup people and large crews, it will be difficult without major process changes to social distance. Schwaba said if one person has a cold, they all get a cold.
"There could be a gap when these social distancing laws end, or these orders end, where there's a lack of content from the big theaters, from the big studios. So what do you put in the theaters?"
Meanwhile, back at home, Schwaba said he's binging more on various TV series than on feature-length films. Some of his favorites are Better Call Saul and Bosch. Screen viewing happens alongside other home activities with family members. His wife, a kindergarten teacher, is busy providing online instruction to her students. Their daughter, Kate, is finishing her own school year while their son, Joe, just finished his first year of college remotely at the University of Wisconsin-Madison. Schwaba said Joe was especially disappointed when he had a film selected for the Wisconsin Film Festival, only to see the festival cancelled.
Currently sporting a man-bun and a newly grown mustache, Schwaba admits getting a haircut is one of many things he misses. "I miss doing radio and doing Director's Cut probably the most. And, little things like going to my parents for dinner."
When asked about the attitudes toward quarantine in Marinette, Schwaba said people's attitudes changed especially after the recent spike in cases in Brown County.
"We've been doing it for weeks when it wasn't really an issue here. And, now it's becoming an issue and everybody's kind of fatigued with social distancing," Schwaba said. "It'll be interesting to see where people's tolerance levels are because our cases are increasing still. And, I think people are getting frustrated, want to get out and do stuff, especially as it gets nice out."
---
Recent Here & Now
//php dynamic_sidebar( 'news-sidebar-2' ); ?>