'Here & Now' Recap: Peter David, Dr. Greg Vanichkachorn and Will Kenneally
Here's what guests on the Oct. 15, 2021 episode had to say about the wolf hunt, long-haul covid and the Gableman election probe.
By Frederica Freyberg | Here & Now
October 18, 2021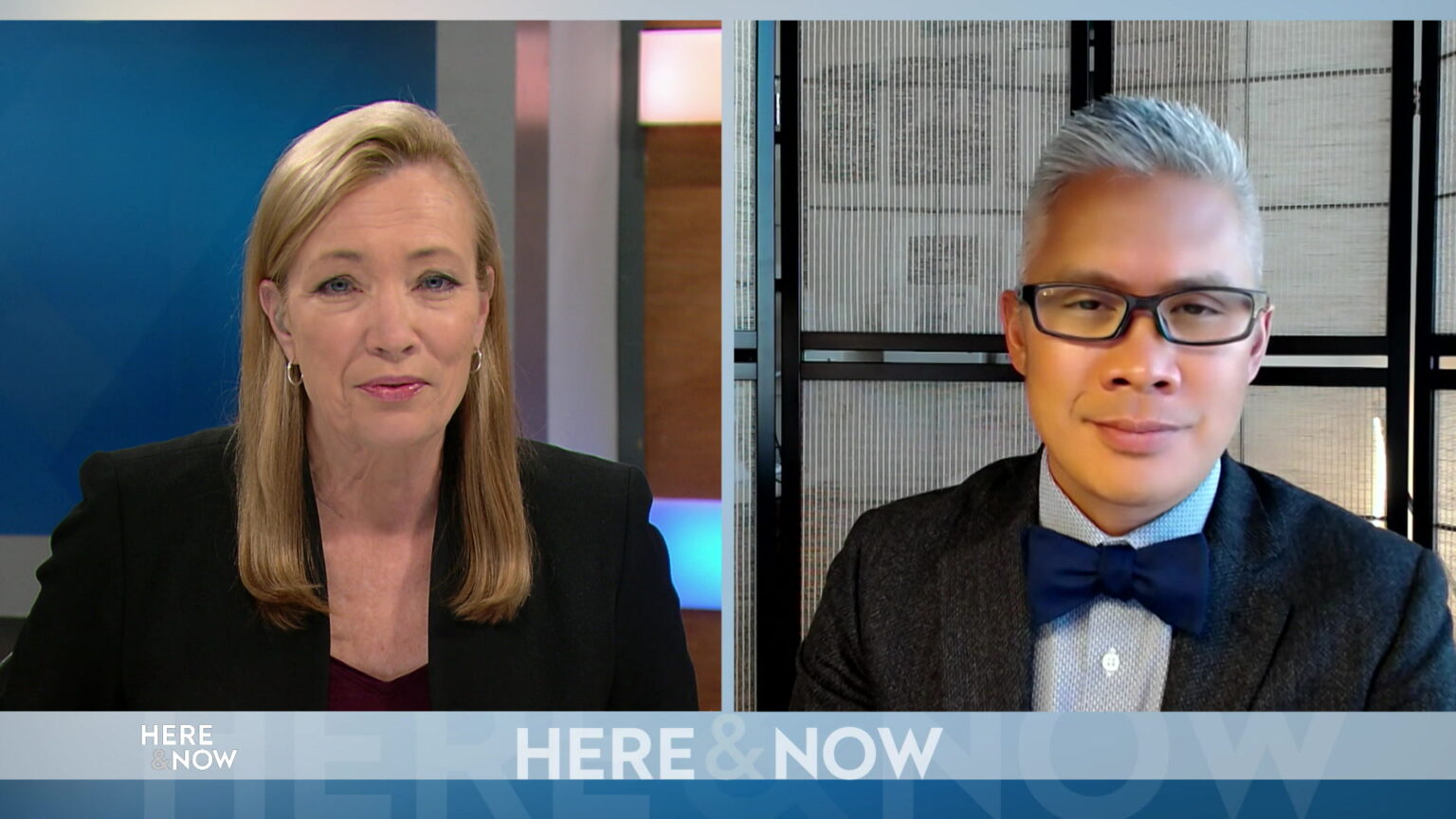 ---
With Wisconsin's controversial wolf hunt set to begin in a little more than three weeks, six Chippewa tribes want a federal judge to halt the hunt, explains a wildlife biologist with the Great Lakes Indian Fish & Wildlife Commission. A Mayo Clinic physician who treats patients with post-COVID-19 syndrome provides information about who gets long-haul symptoms and what treatments exist. Meanwhile, there's a lot to keep up with in the Republican 2020 election investigation and its roll-out by former state Supreme Court Justice Michael Gableman, who is out with new statements about who he's compelling to appear before him — Here & Now reporter Will Kenneally explains.
Peter David
Biologist, Great Lakes Indian Fish & Wildlife Commission
Wisconsin's controversial wolf hunt is scheduled for Nov. 6. Days before the start, though, a federal judge in Madison will consider a lawsuit brought by six Chippewa tribes calling to halt the hunt following an early spring harvest that blew through harvest quotas.
Wolves, or ma'iingan, as Ojibwe tribes know them, are sacred, culturally important animals.
Hunter Nation, which successfully sued to get the state to conduct the February 2021 wolf hunt, and is threatening new litigation over harvest quota numbers for the November hunt, was invited to join the program, but declined.
David: "The February hunt was certainly an unprecedented event compared to wolf hunting in human history. You know, that impact was entirely nested into the heart of the wolf's breeding season, and so we were far from even understanding the biological impact from what happened in February. And yet we're proceeding here with another hunt that's really unconscionable."
David: "It's understood that the wolf is an animal that the tribe's fate is intertwined with, and the relationship is really one of a brotherhood. This is literally like coming into your family and killing family members to traditional Ojibwe people. So it's that raw and it's that close to home, and you can imagine how this feels to tribal people, especially when the justifications given for this event really don't hold up to any scientific scrutiny."
Dr. Greg Vanichkachorn
Medical Director, COVID-19 Activity Rehabilitation Program, Mayo Clinic Health System
Millions of people previously infected with COVID-19 are suffering from long-term effects of the disease, including patients who got breakthrough infections after vaccination. Dr. Vanichkachorn explains that some 30% of people who get infected have post-COVID long-haul symptoms and that the number of people who develop the syndrome could be even higher.
Dr. Vanichkachorn: "It can be quite nebulous, but one of the two things that most people think about are fatigue. That is quite profound. So, for example, patients will say they have to take a three-to-four hour nap after doing something as simple as taking out the trash or doing some simple household chores. The other thing that we hear a lot about is ongoing shortness of breath, and it's not just when people are doing activities, but even at rest. On top of that, we see a lot of other symptoms, though, including neurological symptoms like headaches and brain fog, which is often manifested with things like troubles with short term memory and troubles multitasking."
Dr. Vanichkachorn: "I would say the most important thing is that if patients are suffering this condition, don't be afraid to self advocate for yourself. As I mentioned earlier, there are a lot of barriers to individuals getting care for this, so don't settle for taking no for an answer or there's nothing that we can do for you."
Will Kenneally
PBS Wisconsin Here & Now Reporter
Friday was the first day election clerks were expected to appear before the lead investigator into the 2020 Wisconsin elections, documents in hand. However, former state Supreme Court Justice Michael Gableman has backed off compelling such testimony. Or has he? His public statements are changeable. The Republican investigation has seen twists and turns since its roll-out and Kenneally has been following the issue. Part of the probe looks at a Facebook non-profit that gave money to Wisconsin's five largest cities to conduct the election during a pandemic.
Gableman: "Millions of dollars in private funds may have been used in the public management of elections to achieve a preferred outcome at the expense of election integrity. If indeed, this occurred would be the true definition of a boondoggle, and it would also mark the beginning of tyranny and the end of the American experiment in democracy."
Kenneally on Gableman's accusations: "It stems from a conservative concern that when you put money into democratic cities, you're going to drum up Democratic turnout. This was taken to court last October, and a federal judge ruled that because the funds are going to all voters in the cities not targeting Democrats specifically, that it was OK to go forward. It's just another level of a concern over outside influence kind of being imbued into elections that are supposed to be largely locally run. The important thing to note here is that while these five cities received an initial round of funding, a second round of funding went to more than two hundred of Wisconsin cities, towns and villages, including conservative bastions like Waukesha, for example."
Watch new episodes of Here & Now at 7:30 p.m. on Fridays.
---
Recent Here & Now
//php dynamic_sidebar( 'news-sidebar-2' ); ?>