'Here & Now' Highlights: Zac Schultz, McCoshen & Ross
Here's what guests on the April 7, 2023 episode said about the elections of Janet Protasiewicz to the Wisconsin Supreme Court and Dan Knodl to the 8th Senate District.
By Frederica Freyberg | Here & Now
April 10, 2023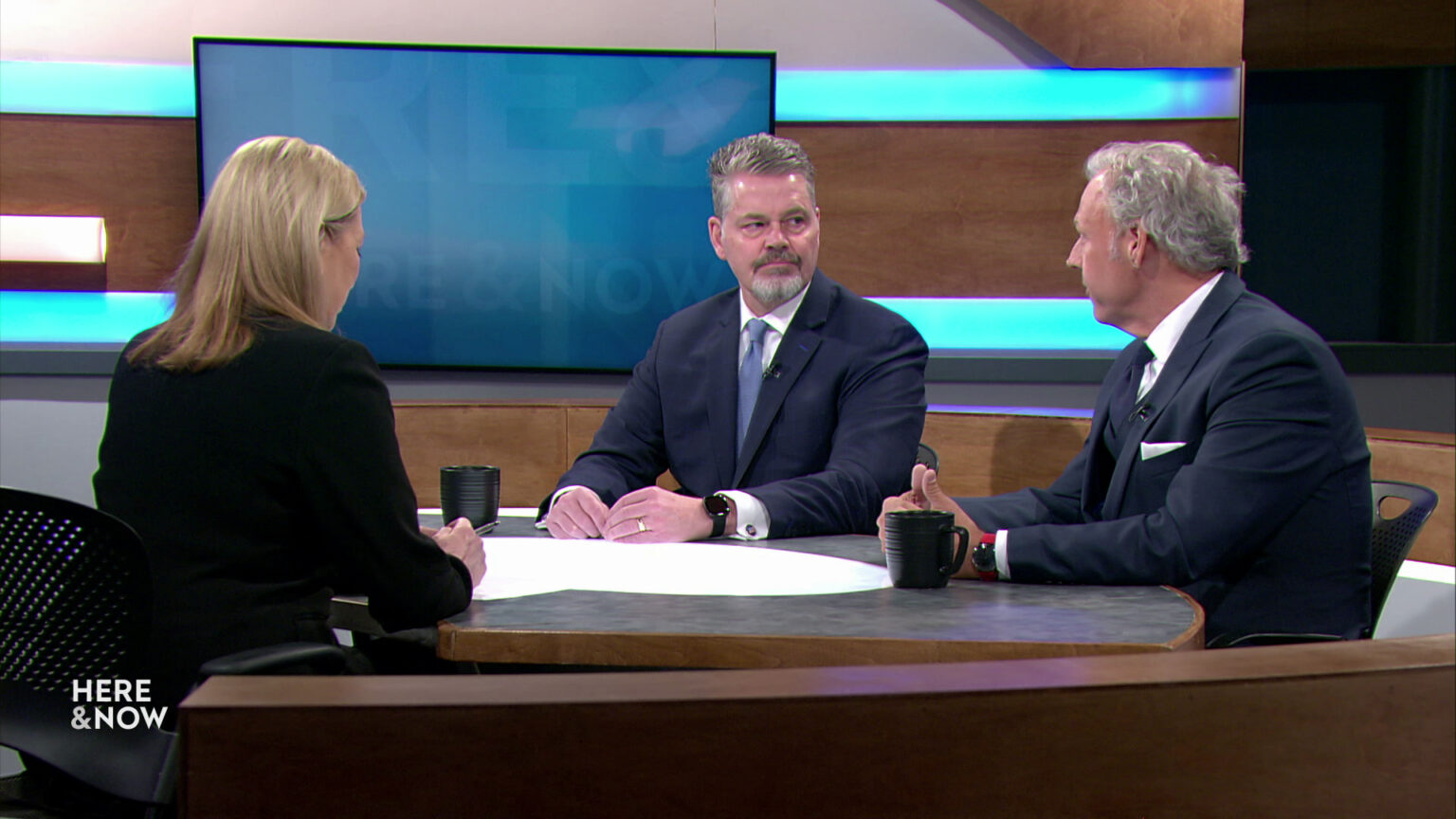 ---
Janet Protasiewicz saw a smashing 11-point victory in the spring 2023 election, winning a seat on the Wisconsin Supreme Court and creating a new liberal majority — Here & Now reporter Zac Schultz breaks down the vote, including the loss by conservative candidate Daniel Kelly. Political panelists Bill McCoshen and Scot Ross likewise weigh in on vote and its implications for future elections.

Zac Schultz
Senior political reporter, Here & Now
Two big issues in the campaign for Wisconsin Supreme Court were abortion and legislative redistricting. Janet Protasiewicz made public her views on both: She supports abortion rights and said the maps are "rigged." Following her landslide election on April 4 that created a new liberal majority of justices, the question is how soon such cases could come before the court.
Schultz: "For abortion, that issue is already in the courts – in a lower court. We've seen the Evers administration and Josh Kaul, the attorney general, file lawsuits regarding that for a while, and they've been kind of slow-playing that. They didn't want that issue to get up to the Supreme Court too fast under the current conservative makeup, because then that wouldn't rule in the way they'd hope they would. And so now maybe that lawsuit picks up a little steam, perhaps even gets picked right up to the Supreme Court once the new majority is in there. … As for redistricting, we've already heard reports of some of the liberal law firms starting to put their case together for their reasons why they believe that it's an unconstitutional gerrymander. We saw the blueprint for one possible overturning redistricting in the liberal dissent to the redistricting case last year, in which at the time three liberals on the court said that they believed that there could be a trial held in response to the U.S. Supreme Court's ruling on Wisconsin's maps. So expect those to be happening going forward, definitely through this fall and into the winter for redistricting. Obviously, there's an election in 2024. Those maps need to be in place by the spring if they're going to be done. So there's not a ton of time for these big, big issues to come before the court and then get settled."
Another race in the spring election saw Dan Knodl win the state Senate's 8th District with a Republican supermajority on the line. This supermajority would allow the Legislature to impeach certain public officials, and Knodl spoke to that possibility. "That really could involve any elected official, particularly elected officials, government officials as well appointed. So I would think it's it's. I view it initially as all encompassing," he said ahead of the election.
Schultz: "Well, that's yet to be tested. This has not been a reality in the modern era of Wisconsin politics. Dan Knodl was campaigning at that time, and he wanted that issue to be salient for the voters in his areas why he should be elected. The question is whether that would actually happen. That is a big process. It's not something to be taken lightly. Even though Republicans have 22 members, that is a huge majority, and not every one of those members would seem to be on board at this time. We've heard from Senate Majority Leader Devin LeMahieu, who's saying they're not just going to willy-nilly impeaching people. The whole process right now is uncertain legally."
Bill McCoshen and Scot Ross
Republican and Democratic panelists
With her trouncing win over conservative Daniel Kelly, liberal Supreme Court Justice-elect Janet Protasiewicz injected Democrats with a tantalizing prospect of leveling the political playing field after years of Republican majority rule. The panelists remarked on implications for the 2024 elections and beyond.
Ross: "The implications are that Derrick Van Orden [a Republican U.S. House representative for the 3rd Congressional District] and Brian Steil [a Republican U.S. House representative for the 1st Congressional District] better watch out because it sounds like they might be going out. If D.C. invests in Wisconsin elections, we're going to win. We've proven it time and time again. Now, you put the money in, we get the right candidates — we win the elections."
McCoshen: "It's too soon to tell. We need a different candidate at the top of the ticket other than Donald Trump. If we want to win back in the suburbs for Republicans, you have to win the BOW [Brown, Outagamie, Winnebago] and the WOW [Waukesha, Ozaukee, Washington] counties. Janet Protasiewicz won all three of the BOW counties and she cut the margins in the WOW significantly. We need a different candidate at the top of the ticket."
Watch new episodes of Here & Now at 7:30 p.m. on Fridays.
---
Recent Here & Now
//php dynamic_sidebar( 'news-sidebar-2' ); ?>