'Here & Now' Highlights: Shawn Johnson, Bob Lang, Kathy Bernier, Craig Czarnecki
Here's what guests on the June 9, 2023 episode said about a deal on shared revenue and K-12 school funding, Wisconsin's larger budget process, combatting election misinformation and air quality alerts.
By Frederica Freyberg, Kristian Knutsen | Here & Now
June 12, 2023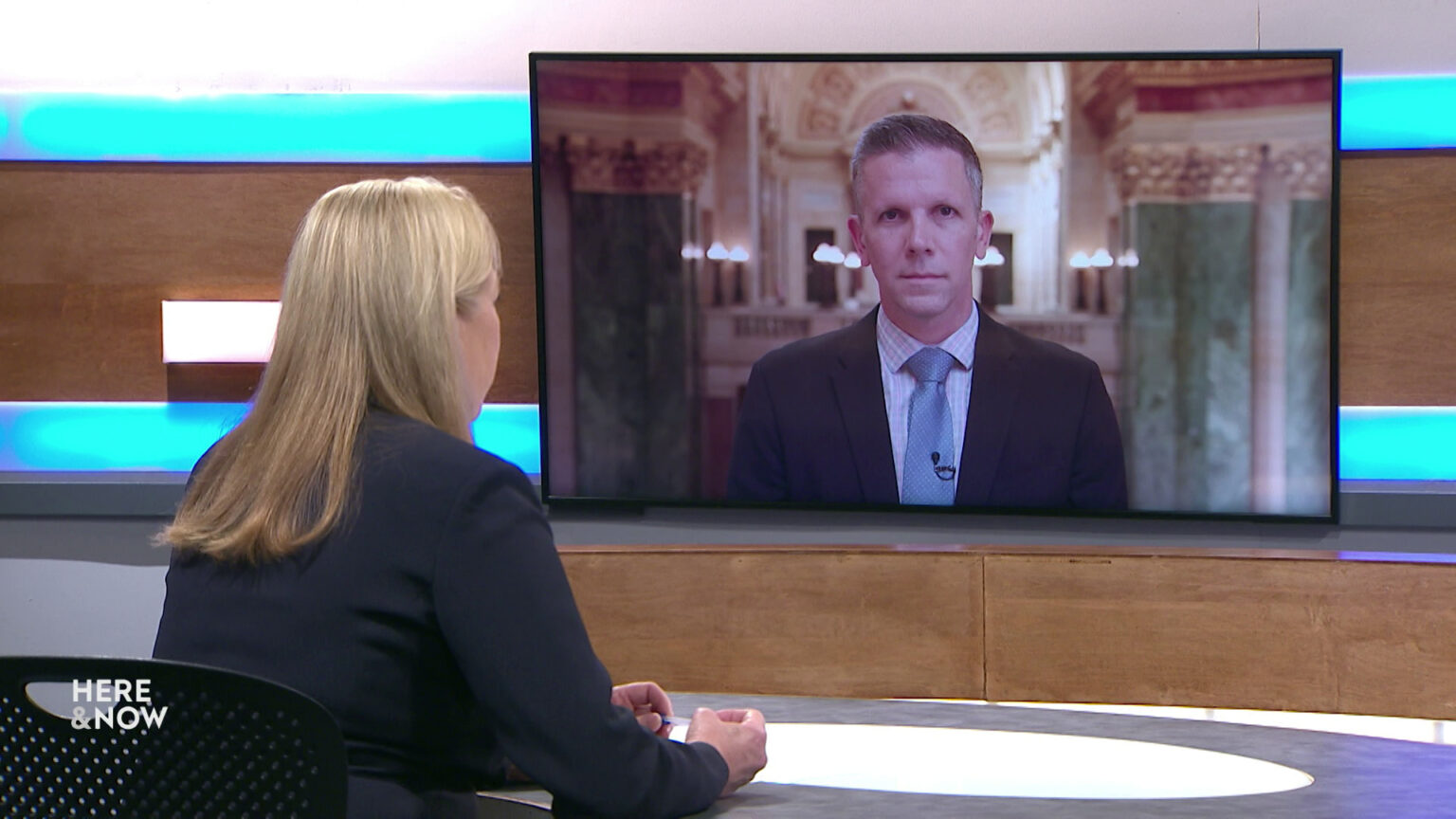 ---
An agreement between legislative leaders and the governor on a shared revenue package that boosts state aid to local governments and allows Milwaukee to raise its sales tax without a referendum was paired with a deal on K-12 education funding in the state budget — Wisconsin Public Radio reporter Shawn Johnson digs into the details. The director of the Legislative Fiscal Bureau, Bob Lang, said that since those major items have been hammered out, he expects the Republican version of Wisconsin's 2023-25 state budget to be ready by July . Former state Sen. Kathy Bernier, has taken the helm of a Wisconsin chapter of an organization called Keep Our Republic, a bipartisan group "dedicated to building trust, respect, and confidence in Wisconsin's election administration and system." As the state is blanketed again and again with smoke from Canadian wildfires, Craig Czarnecki of the Wisconsin DNR explains how both particulate and ozone pollution levels can affect health.
Shawn Johnson
Capitol bureau chief, Wisconsin Public Radio
Republican legislative leadership and Democratic Gov. Tony Evers reached agreement on a bill to increase the share of state tax dollars that goes to local governments, known as shared revenue. At the same time, they also reached an accord on K-12 school funding. Johnson detailed both deals.
Johnson: "Everybody will get at least a 20% increase in the package that was released this week. Then there are those provisions in Milwaukee that were the most contentious, but very key to that city that will let Milwaukee raise its sales tax by 2% and the county raises sales tax by 0.4% without going to voters. …There are still all these restrictions on local governments in terms of how they can spend the money. They have to maintain what they're spending on police, for example, or they would be financially penalized. They can't spend the money, in Milwaukee's case ,on the streetcar or in any case on diversity, equity and inclusion efforts. But just from a money standpoint, this deal is better than where Republicans started a month or so ago."
On a K-12 school deal, Johnson said the agreed upon funding – at least that which was announced – is far less than what the governor proposed.
Johnson: "They're going to set aside one billion dollars between state and local property tax funding for schools. And then there'll also be funding dedicated to literacy, to school mental health, to special education. If you look at that total, it's bigger than Republican lawmakers have approved in years past. Assuming the state does find somewhere close to a billion dollars, it's smaller than the nearly two-and-a-half billion dollars that the governor proposed when he introduced his budget, though, earlier this year."
Bob Lang
Director, Wisconsin Legislative Fiscal Bureau
The director of the Legislative Fiscal Bureau described why the deal between Republican legislators and Democratic governor on a shared revenue package happened at the same time as a K-12 education funding plan. Lang shared the history of the shared revenue program in Wisconsin and how money dedicated to it has been flat for decades, state elected officials wanted to act to shore up local governments – especially Milwaukee.
Lang: "We sort of have two tracks going on, and the shared revenue was really track one that started prior to the budget even being introduced. There was an interest on the part of the governor and an interest on the part of the legislators to dedicate a portion of the state sales tax to local governments in this program we called shared revenue. As very brief background, the state enacted the first income tax in the country in 1911. At that time, the state prohibited local governments from having a local income tax, but pledged in 1911 that the state would share its revenues with local governments. … So for the last 20 years or so, there's really been no increase in shared revenue payments to local governments. We've gotten off the formulas that were there and they've basically been quite flat."
Kathy Bernier
Director, Keep Our Republic Wisconsin Advisory Council
As director of the Wisconsin advisory council for a new national organization pushing back against election misinformation, Bernier said her Republican peers knew what to expect from her. As a former chair of the Wisconsin Senate's elections committee, she pushed back on election conspiracies in the 2020 election, informed by her experiences administering voting as the Chippewa County Clerk. Now she joins other former elected officials and political activists on educating the public about election administration.
Bernier: "This is truly a bipartisan group. And it's not just me. I really want to give kudos to my advisory council. When I contacted Democrats and Republicans asking them to serve on this advisory council, they were eager. Both Democrats and Republicans have questions about our electoral system in general. That election denial is not unique to January 6th people. It's gone on since clearly 2016, and everyone wants to dig in and say once all eligible voters have voted, once the votes have been cast, once they've been counted, we all need to respect and accept the election results."
Craig Czarnecki
Outreach coordinator, Wisconsin Department Natural Resources
A spate of wildfires in multiple regions of Canada has led to an atypical number of air quality advisories being issued for Wisconsin and elsewhere around the Midwest over the spring of 2023. In the first week of June, smoke from these fires blanketed densely populated areas of the East Coast, prompting warnings for people to remain indoors and avoid outdoor activities. An example of how climate change patterns can affect Wisconsin's environmental quality, the state has seen increases in alerts for both particulates and ozone, two types of airborne pollutants. Czarnecki, who works with the Wisconsin DNR on air quality issues, discussed how the spring has stood out.
Czarnecki: "We are seeing that these wildfire impacts are happening a little bit earlier than they typically have been — and that's been the last few years. We've been seeing that, again, those hot, dry conditions — those are just lasting longer, out west and up in Canada as well. So we don't like to think it's getting worse. But, the chances of seeing more of these wildfire impacts seem to be something that this will be more of are not as unusual, I suppose, as it has been in the past. We're seeing this happen a little bit more often with these really hot, really dry conditions here."
Watch new episodes of Here & Now at 7:30 p.m. on Fridays.
---
Recent Here & Now
//php dynamic_sidebar( 'news-sidebar-2' ); ?>