Here & Now' Highlights: Dr. Michael Osterholm, Jeff Mandell, David Rekemeyer
Here's what guests on the Dec. 3, 2021 episode had to say about the Omicron variant, a threat from election investigator Michael Gableman that mayors of two cities could face jail, and the increasing number of opioid overdoses in northern Wisconsin.
By Frederica Freyberg | Here & Now
December 6, 2021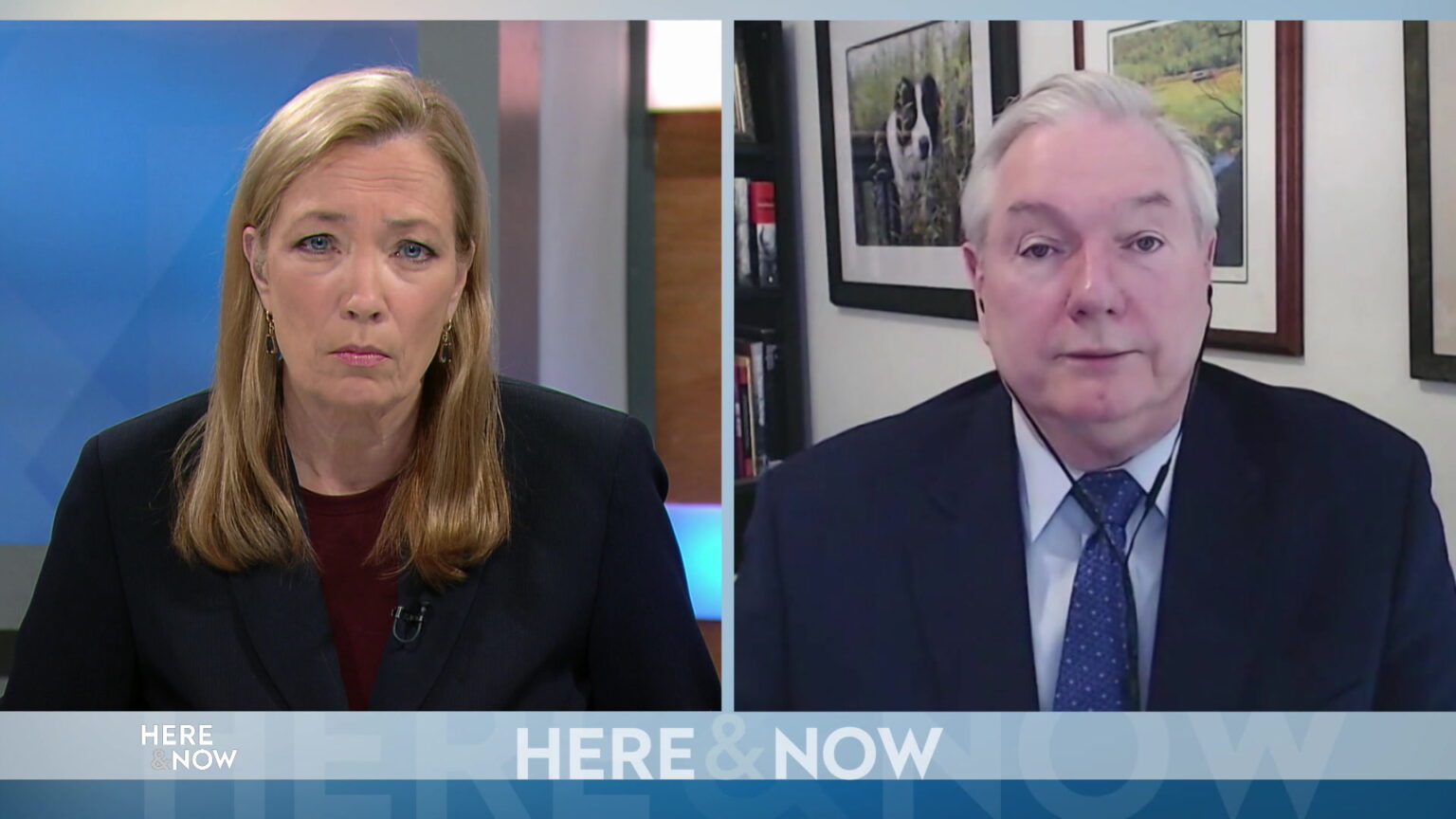 ---
The new COVID-19 variant Omicron poses a very real threat, according to one of the country's leading epidemiologists, Dr. Michael Osterholm. Election investigations in Wisconsin hit another fever pitch, with an attorney representing Green Bay responding to threats of jail time for his client. The city of Ashland experiences the trauma of opioid overdoses, according to a paramedic on the front lines, who said the community is being overrun with the dangerous drug fentanyl.
Dr. Michael Osterholm
Director, University of Minnesota Center for Infectious Disease Research and Policy
The Delta variant of the coronavirus continues its surge in Wisconsin with more than 5,000 positive cases per day reported as December started and hospitals nearing peak capacity. Add to that the new Omicron variant and the news is not good. Scientists predict Omicron could overtake Delta as the dominant COVID-19 variant.
Osterholm: "It's a real concern. It is a 210 mile an hour curveball thrown into this whole mix, and this virus combines both the ability to be much more infectious. I think all the evidence that we see in this first week of data collection is that, in fact, it is more infectious than Delta. It also has the ability to evade immune protection from previously having been infected or from the vaccines that we're still working on."
Public health experts continue to try to understand the severity of illness the Omicron variant causes among infected people, but consider hospitalization and death as lagging indicators, which could take two to three weeks to determine.
Osterholm: "I think based on what we've seen in the last six months and now with this new 210 mile an hour curveball, people are beginning to understand this isn't going to be like an influenza pandemic where basically you're in it for 18 months to two years and then it just becomes seasonal influenza. This one keeps throwing surprises at us. As you are seeing right now with the burden of illness — even with Delta, what we are likely to see with Omicron — I think people can understand that even though they may be done with the pandemic, the virus is not done with us.
Jeff Mandell
Lead Counsel, Law Forward
Former Wisconsin Supreme Court Justice Michael Gableman and 2020 election investigator said Dec. 1 that the mayors of Madison and Green Bay are engaged in a "cover-up" and took his case to court to compel their testimony under threat of jail time. A key focus for Gabeleman is on the millions of dollars cities across Wisconsin received from the Center for Tech and Civic Life for assistance in the 2020 election, including in Madison and Green Bay. Mandell is the outside counsel for Green Bay on the matter.
Mandell: "The latest gambit is that Mr. Gableman has filed papers in Waukesha County trying to have the mayors of Green Bay and Madison arrested for failing to provide testimony. But this is completely crazy. This is the latest example of Mr. Gableman throwing around big legal words but not following Wisconsin law. This is not a remedy that is available, and the facts are simply not with him. No one has refused to give testimony. The city of Green Bay provided 20,000 pages of documents to the special counsel's office, and the special counsel's office expressly agreed that because we provided those documents, there was no need for testimony at this point, and they would let the city know if there was going to be a request later. We never heard from them until on Wednesday [Dec. 1], Mr. Gableman, in a public hearing before the Assembly Committee on Campaigns and Elections, said that he was having these people arrested and that he had filed court papers to do so. He never even notified the city or had us served with those court papers."
David Rekemeyer
EMT, Ashland Fire Department
Wisconsin will be dispersing $410 million in settlement funds from a lawsuit against pharmaceutical companies that manufacture and distribute opioids. Overdose deaths hit a record in 2020, according to state officials, and the money will go toward opioid abuse prevention and recovery programs. A city of Ashland Fire Department paramedic described the scourge of opioid use and the danger of fentanyl, which he said is increasingly abused in communities like his own. Ashland County ranks among the least healthy in Wisconsin.
Rekemeyer: "Social determinants of health — things like access to education, access to food security, access to good health care — all those things are a challenge for people who live in poverty, and in this area of Wisconsin, a lot of people live at or under the poverty line. I think because in our communities drugs are easy to get, our communities are flooded with them. I think people once they get started, in the beginning, I think it can be easier to look at, to face life in an altered state than to face life head-on from a position of poverty and no opportunity."
Watch new episodes of Here & Now at 7:30 p.m. on Fridays.
---
Recent Here & Now
//php dynamic_sidebar( 'news-sidebar-2' ); ?>