Heavy wildfire smoke causes Wisconsin to have worst air quality in the US
The state Department of Natural Resources has issued an advisory warning of 'unhealthy' air across the state as a cloud of haze from wildfires in Canada creates health risks for people with heart and lung issues.
June 27, 2023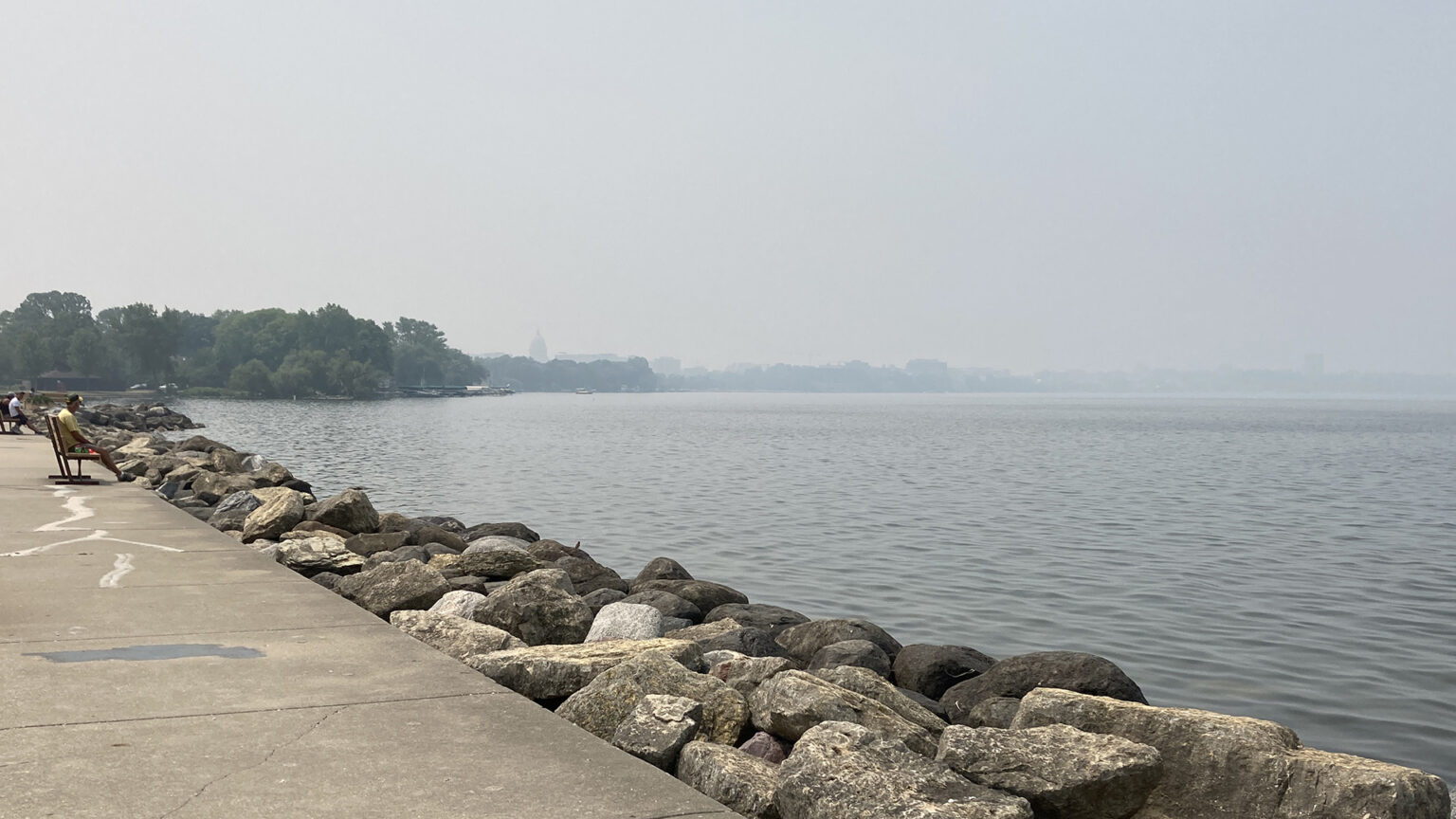 ---
As smoke and harmful chemicals from hundreds of raging wildfires in Canada continue to blow into Wisconsin, air quality across the state has dropped drastically to potentially dangerous levels, according to the state Department of Natural Resources and health officials.
On June 27, the DNR issued a multi-day advisory alerting residents about the poor air quality, telling them to "watch for symptoms like coughing and shortness of breath."
Specifically, a number of counties around the state – from Dane and Dodge counties in the south to Forest and Taylor in the north as well as western counties including Crawford, Eau Claire and La Crosse – have all been designated as "unhealthy" on the U.S. Air Quality Index. Milwaukee and Waukesha counties have been designated as having "very unhealthy" air quality and those areas have even been labeled as having the worst air quality in the nation earlier in the day.
These "unhealthy" and "very unhealthy" air quality designations are prompting medical professionals to give people with respiratory issues and other conditions a simple but direct warning: Don't go outside unless you have to.
Those with asthma, chronic conditions like COPD or other cardiovascular and pulmonary issues "should just stay inside as much as possible," said Dr. Eric Schauberger, an allergy and asthma specialist.
"Anybody who's got an underlying respiratory issue or people who have heart issues are more prone to poor air quality," he explained. "It's more likely to trigger symptoms [such as] coughing, wheezing, tightness in their chest, shortness of breath or breathlessness."
While people with heart and lung problems are at significantly higher risk during the advisory, Schauberger also warns that those without such conditions can have problems breathing the bad air too, and that it can cause headaches and a burning sensation in the lungs.
"It's unhealthy even for people who don't even have underlying respiratory or cardiovascular issues," he said, adding that extra attention should be given to the elderly and children. "Those are two sensitive populations that we do think about because they're not always very good at communicating that they're symptomatic."
Schauberger said the Canadian wildfires are producing "large amounts of particulate matter – those are small little particles that are in the air that are a result of combustion or burning."
"You can actually smell it in the air – it smells like we're all kind of, you know, a couple hundred feet down from a bonfire at a campground," he explained
"As the Canadian wildfires burn, the smoke travels across the continent and follows the jet stream and it makes its way down into the United States," Schauberger continued. "That particular matter then drops down to ground level. And that's what we're experiencing right now – the haze that's in the air is a result of the unburnt and small, tiny little particles from those fires."
Wisconsin has had an atypical number of air quality alerts over the course of May and June due to smoke drifting southward from Canada, driven by prevailing weather patterns that have made conditions hot and stagnant.
There are some things that Wisconsin residents can do until a new weather system carries the smoke away, advised Schaubeger.
"The most important thing probably right now is closing up the windows in your house [and] running your AC," he said. "While it depends on what type of furnace filter and AC filter you have, but many of them will probably help to filter some of this stuff out. If you have air purifiers, they can be helpful, especially if they're HEPA filtered."
For people who must go outside, especially for those with heart and lung issues, Schauberger recommends a high-quality mask.
"Paper and cloth masks are really not going to do a whole lot here – but for people who are sensitive to the air, use an N95 or even a KN95 respirator mask, if they can," he said.
But again, for those with breathing problems, Schauberger recommended that outside activities should be limited as much as possible to important events like doctor's appointments.
"If someone has a known respiratory issue, it would be best for them to just completely avoid going outside as much as possible," he said.
According to the DNR, the worst of the air quality issues are forecast to last through midday on June 28 and that the current air quality advisory will expire at noon on June 29 as a new weather front is expected to push the harmful smoke out of Wisconsin.
---
Recent Here & Now
//php dynamic_sidebar( 'news-sidebar-2' ); ?>